Hello! The sun has arrived, the winter coat has finally been relegated to the loft, and doesn't it feel lovely. Jonny and I have two and bit months to go until the big day (I seem to have misplaced the last 17 months – no idea where they went!), and I thought I would share with you our little wedding planning journey 'hiccup' we experienced a few months' back.
We booked our wedding venue at December 2014. We got straight in there after getting engaged, knowing that as Jonny is a teacher we would have to work around the summer holidays, which get booked up very fast.
As I'm sure many couples will agree, the venue is a biggy. It's one of the key ingredients when concocting your big day, and sets the look and feel of everything. The venue we chose was a bare-bricked Georgian barn in the tiny village near Petersfield, Hampshire. The barn sits in a very cute courtyard surrounded by cottages and the main manor house, situated right next to a beautiful duck pond. Very quaint!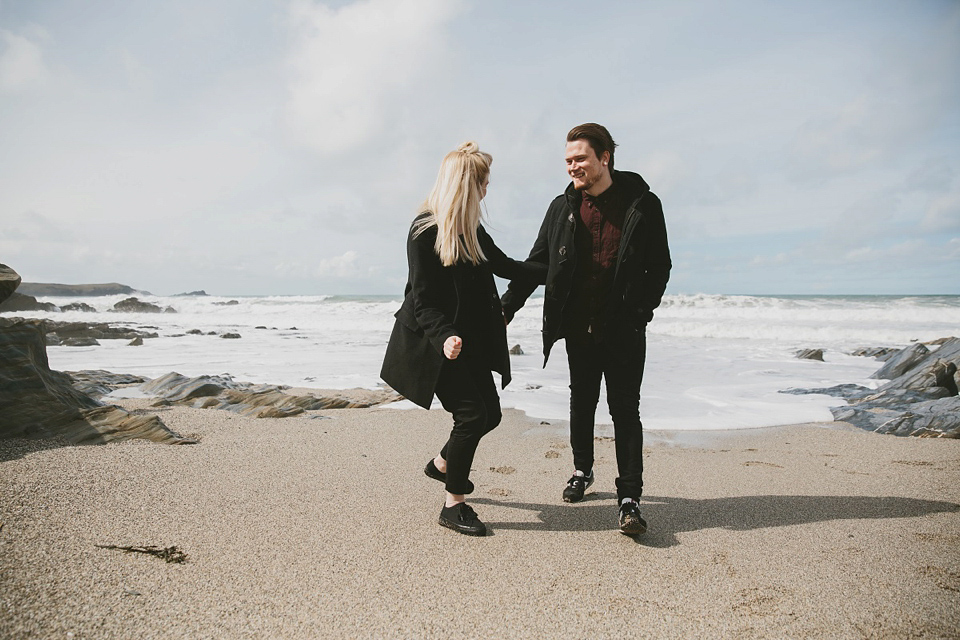 After booking and signing on the dotted line, we spend the following year planning the set up logistics, what décor will go where, picturing myself walking down the aisle and imagining our loved ones strolling up the little village street past the lovely duck pond on their way to the venue on the day.
Then one evening in January, like a brick to the face, I got an email from the events manager of the venue, on behalf of the owner.
"This letter is extremely hard to write…."My blood ran cold, and my heart hit my stomach. This is not going to be something I want to read. The email continued…
"Unfortunately, due to pressure from the Parish Council the entertainment license at The Barn is up for review. We were hoping this issue would be resolved with a minimum of fuss, but this does not seem likely and we felt that we were unable to wait any longer to advise you of this worrying news.  I realise this is a very difficult situation for you both. All I can say is how sorry we are that this has happened."
Cue panic, anger, and tears. Even Jonny, Mr Cool-Cucumber-Head, went a bit pale as I read the email out loud.
And it got better (and by better, I mean worse)…
"The truth of the matter is I cannot afford to pay back your deposit at this time or any room bookings in the accommodation.  I realise this is a double blow for you. I am again so very sorry about the situation."
It didn't feel real. We had been bang-on-it with the forward planning. We hadn't left anything to last minute, we made sensible choices. We had chosen what seemed to be a risk-free venue that's reputation continued to grow…. how the bejesus was this happening?!
My mind started fretting for clues – could I have picked up that something was wrong sooner? The slight delay in getting back to my emails – I had put it down to them labelling me as the crazy bride that still had loads of time still to go… was the truth that their slight ambivalence was a warning sign they knew my wedding was not going to take place??
Funnily enough, I did not sleep the best that night. The worst part of it for me was that I had no choice but to stew it over all night imagining worst-case scenarios, unable to be my control-freak prone self and be proactive and phone everyone and anyone to make things better and sort new plans, as everywhere was closed for the evening!
I am pleased to report however, that this scary story does get better – fear not!
First thing the next day, I got straight on it, and kicked off the search for my dream wedding venue for the second time.
One of the very first things I did that morning was sent a message out to my fellow Lovettes and the Love My Dress team, just on the off chance that someone may have some contacts to any venues. The immediate responses of kind words from the group were an absolute heart-thumper and truly overwhelming. It was so comforting to have a group of people that completely understood how the situation I found myself in could be somewhat flooring!
In the midst of the group kindly scrambling to put forward great suggestions and wedding venues to contact (bless their hearts), the lovely Lovette Charlotte, who by chance recently got married in Petersfield – the same little town I was due to get married in a strikingly similar venue to mine – suggested I contacted the events manager at the Tithe Barn to check their availability (you can see Charlotte's stunning wedding at the Tithe Barn here)
And what do you know… they had some availability for the same weekend! My fabulous parent met me at the new barn the very next day to check it over, and I could not have been happier with it.
From securing the new venue, we got very lucky.  Things seemed to fall into place pretty speedily. The vast majority of our suppliers were happy to swap our date by two days, including our wonderful photographers, McKinley Rodgers (the thought of losing Pen and Cam really got the tears pumping on that miserable Wednesday evening as the news broke!). We (somehow) essentially managed to re-plan a wedding in 48 hours. The relief was amazing.
In hindsight, here are a couple of reflections I have made after the ordeal…
1. Buy wedding insurance!
Simple one, really. I hate to be the bearer of bad news, however things can go wrong on occasions, and it really could happen to you. We were extremely lucky as we hadn't got to the stage where we had handed over full payment to the venue, however my heart goes out to other couples that were not so fortunate, and still have a very complex and difficult situation for get through. I am still slightly dubious of insurance companies in general and some are certainly better than others, however just having it is a weight off the mind.
2. The power of social media can be a beautiful thing
For all of its bad press, social media and online platforms have given people an empowering opportunity to reach out to other individuals at the click of a button. It lets us share insight and advice at times when people desperately need it. Within a day of the incident, a private group has been set up on Facebook for all couples affected by the venue. It was oddly very comforting to be in contact with others experiencing the same drama and panic.
Without social media, there's a strong chance I wouldn't have found such a stunning alternative venue, however thanks to the wonder of 'tinternet, I had another perfect option locked down within 24 hours (still mind blown that we actually pulled it off!)
It really has been so heart-warming to witness the support from my fellow Lovettes and the Love My Dress team, and a massive thank you to each and every one of you! Annabel, you have created a fantastic network for brides-to-be to share experiences via your blog, which can be a major support to brides during the times it most counts!
3. The wedding industry is full of lovely people
Similar to social media, the wedding industry unfairly gets a hard wrap sometimes, often as a result of weddings by their nature being costly affairs. However, the empathy and professionalism I received by the vast majority of our suppliers and reaction to our situation was so touching. They genuinely felt for us and did everything they could to help me ease the burden.
The wedding coordinator at our new venue summed it up perfectly – yes it's about the couple getting married, but your suppliers involved in your wedding are also emotionally invested in your day. They want you to have the best day possible as they know it's something that will live with you forever. Yes, a wedding is essentially just 'one day', but it's likely you may get to know the people you meet along the planning process very well – and possibly see again at different stages of your live. Whether it is popping back to your venue on anniversaries, taking future kids to see where their mum and dad got married. Making memories for people is an aspect of the job they take seriously. Good suppliers choose to work in the industry because they love it.
4. It's a marriage – not just a wedding
It's very easy to get bogged down or obsessed with the little details of your wedding that any other day you wouldn't phase you in the slightest. I'll admit it, I have been unnerved by just how emotionally distressed I have become over confetti options. That's right; I have genuinely found myself above moderately concerned about TINY BITS OF DISINTEGRATING PAPER.
However, nothing helps put things back into perspective like having to confront the thought of potentially not being able to marry your partner. All the little things pale in comparison.
So there it is folks, crisis averted. I hope this hasn't put the fear of God in anyone! Yes there was definitely a six-hour period of epic blubbing; however I am seeing this whole experience as a very positive one. We came out the other side, even more excited about our wedding in July.
Once again, thank you Charlotte, Annabel, and the Lovette team for being absolute stars.
Lots of love,
Clare x
P.S. Apologies for our mugs throughout this piece, however I thought I would share some of our pre-wedding shoot photos by the wonderful McKinley Rodgers. We are absolutely chuffed to bits with them – thanks so much, Pen and Cam!
_____________
Clare and Jonny are marrying on Friday 29th July 2016. The wonderful McKinley Rodgers will be taking their photographs.  You can read Clare's previous posts for Love My Dress here.