Hi there bridal beauties, I hope you've been enjoying the lovely, dare I say, summery weather we've been having? I feel like the whole of London has jumped at the chance to don sunglasses and spend as much time as possible soaking up long overdue rays. Now I'm a Northerner through and through but I have to admit that London has its perks – I love the little East London flat I've renovated with my fiancé, I adore the galleries and museums smattered liberally across the city and the purse-threatening little independent shops. And most of all I've grown to know and love some of the incredibly quirky, alternative spaces that lucky couples use as the settings for their weddings.
In late August, Irma, a Senior Commercial Specialist with Expedia, celebrated her effortlessly cool, vintage inspired modern London wedding to David, who works in Television as a Head of Development. Our lovely pair chose two amazing local East London venues as the backdrop to their day; the charismatic Asylum Chapel in Caroline Gardens and less than two miles away, one of their favourite pubs, The Rye on Peckham Rye. Flamingos, cocktails and a gigantic party with all of your favourite people? Sounds like my kind of wedding – full of personal details, laid back vibes and lots and lots of fun. A most beautiful addition to our wedding blog indeed.
"We both had quite similar ideas of how our special day should be. We basically wanted to have a massive party with all of our friends and family. As my dress was quite vintage, we decided to go for a vintage-styled wedding. We got married at Caroline Gardens and booked some great vintage cocktail bars from How I Partied so our guests could have cocktails while we took photos. Anita did an excellent job and even managed to add some flamingos.
Photography by On Love and Photography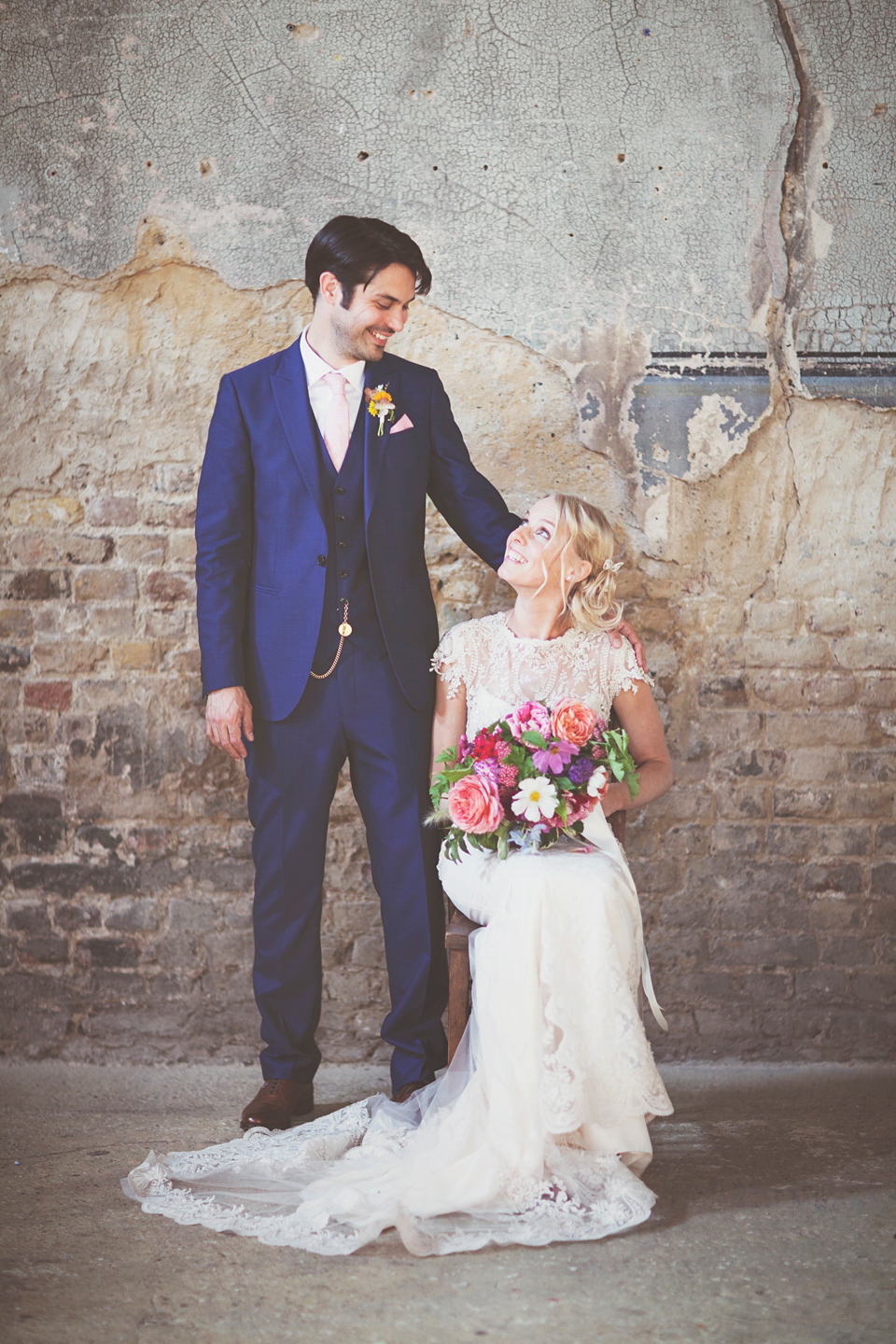 The intricate detail and dramatic train of this gown look like they were designed for Irma. Combining her beautifully embellished gown with bejewelled Jenny Packham shoes and an elegant Etsy hair accessory in her softly coiffed locks – she's pretty as a picture.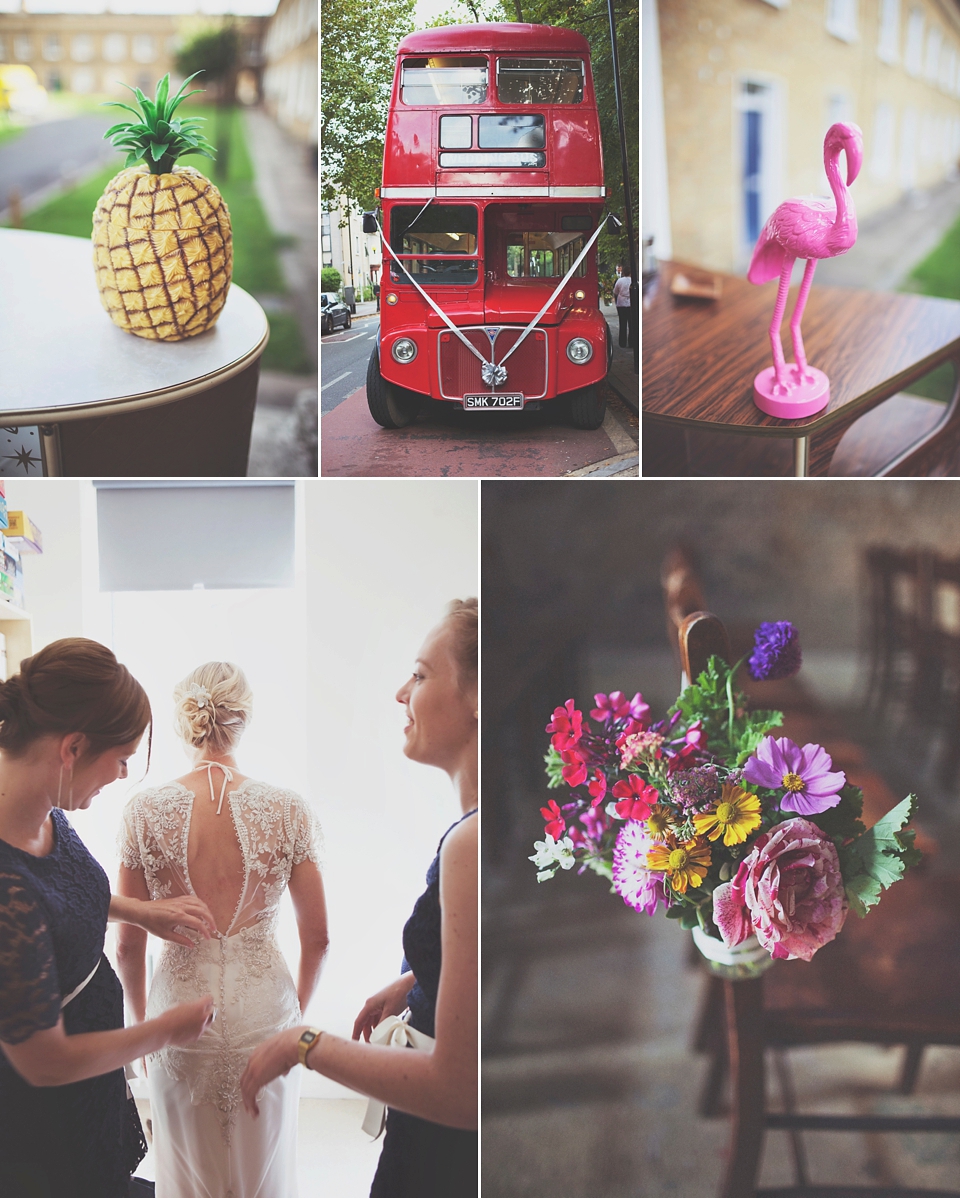 If you're thinking Irma's stunning dress looks familiar; massive avid-Love-My-Dress-reader brownie points to you. If you head over to Instagram and search the tag #lmdinbarcelona you'll find some absolutely show-stopping shots captured by the lovely Annabel featuring some of the newest and hottest Yolan Cris designs. Our talented Editor is perfecting some enviable camera skills – check out her feature on the latest offering from Spanish bridal fashion label Jesús Peiró for more catwalk antics and creative captures.
I'm totally in awe of the super decisive bride; after a festive proposal Irma set straight to work researching wedding dresses. After an initial internet search our very clever Mrs headed to the beautiful boutique of our Little Book for Brides supplier (this basically means they're awesome), Mirror Mirror.
"We met in London, David proposed on Christmas Eve in the South of France and we immediately set about planning the wedding – getting married nine months later. After doing some research online I immediately knew that I wanted a Yolan Cris dress – they create the most amazing gowns. I love the details on these dresses, the vintage look, the fabric choice and all the beading. My dress is called 'Olivia;' bought from the 2015 collection at Mirror Mirror in Angel."
"Both my hair and make-up were done by Katie Arnold. Katie made me look fabulous. She's a pleasure to have there, my make-up looked stunning and it stayed all day long. I was so pleased with her work and couldn't recommend her enough."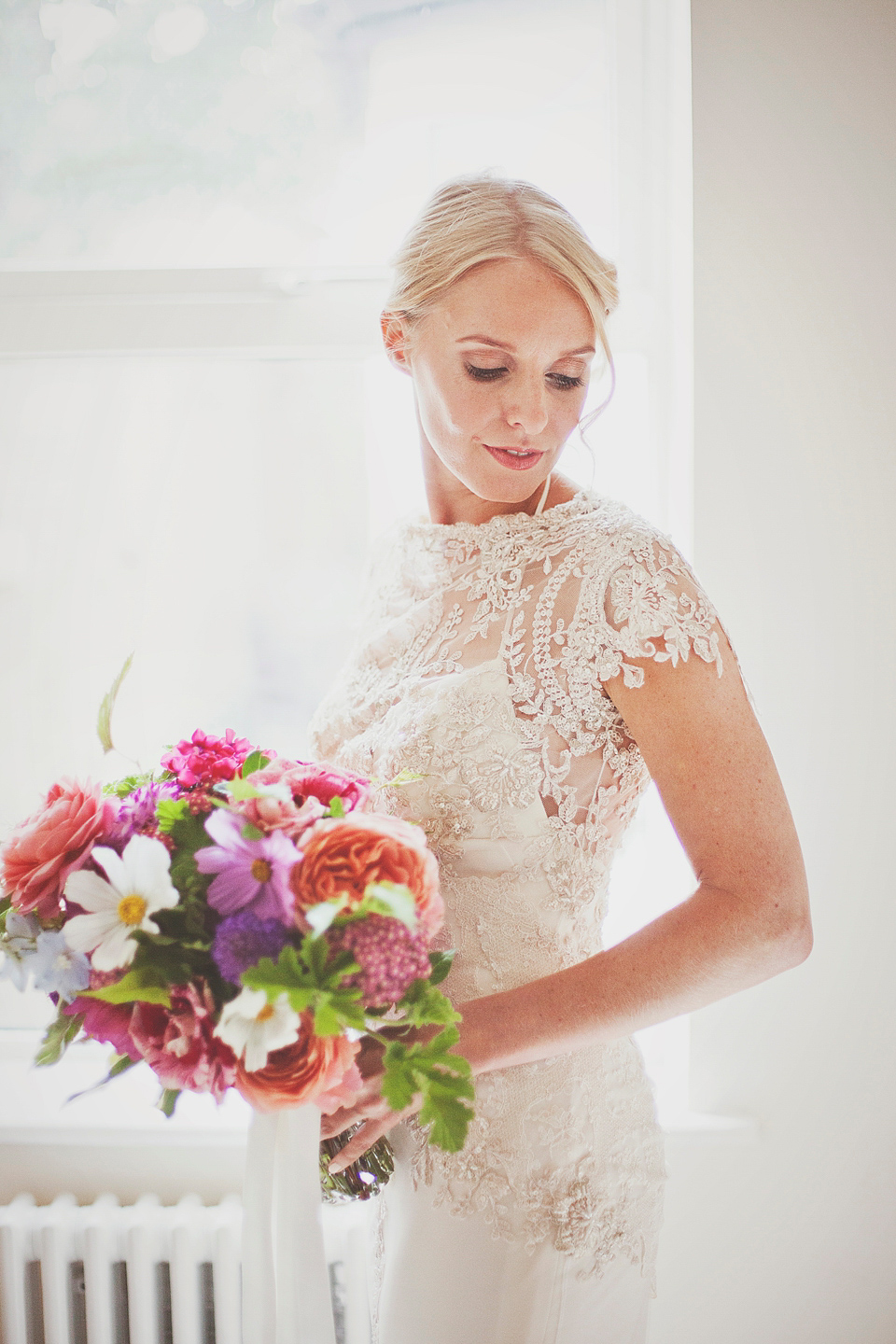 "David went for a three-piece suit from Reiss. His shoes were from Church's and the pocket watch is a family heirloom, originally presented to his great grandfather as a retirement present."
"As soon as we came across Asylum we immediately fell in love with it – the chapel looks absolutely stunning with all the flowers and candles. It's a magical place."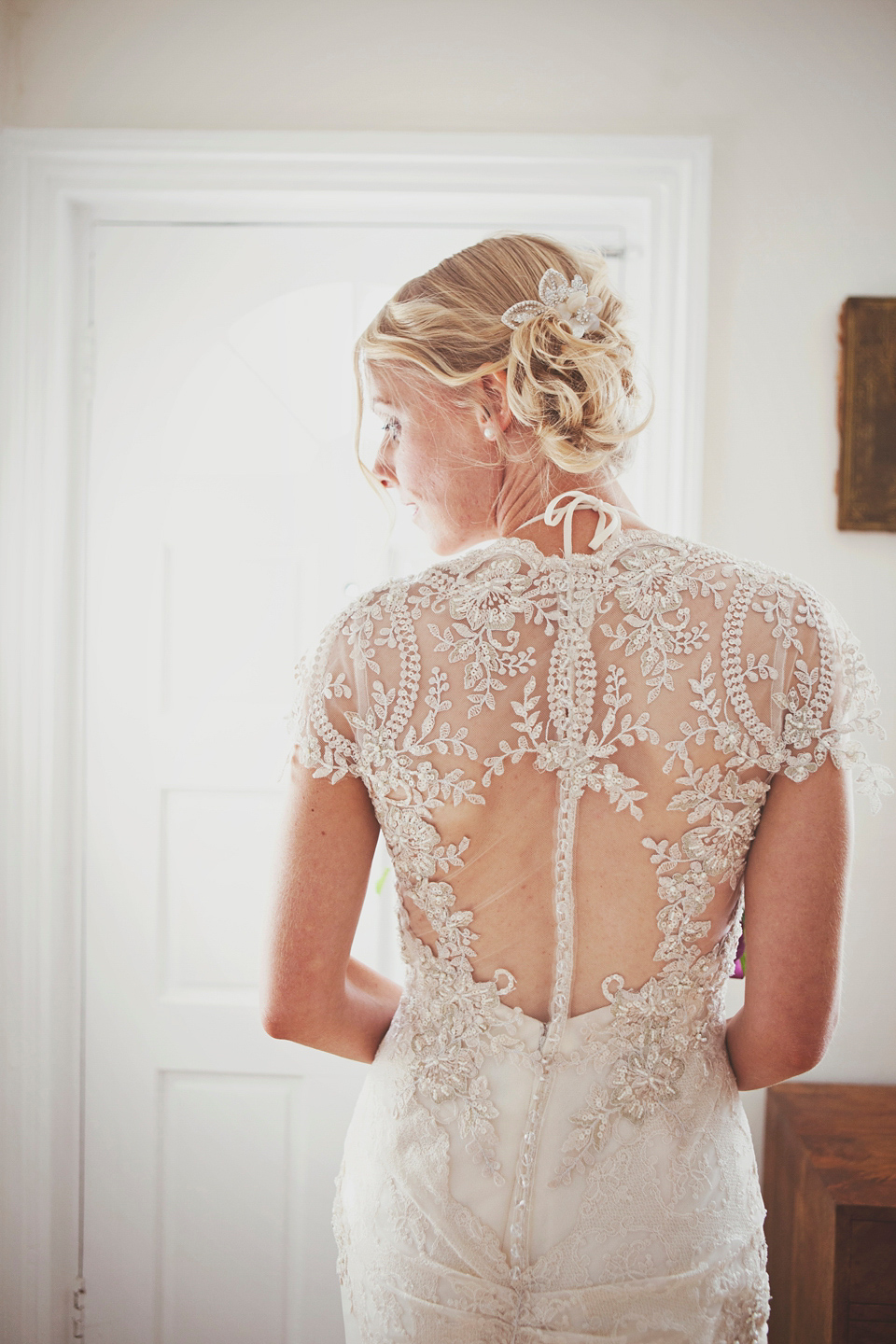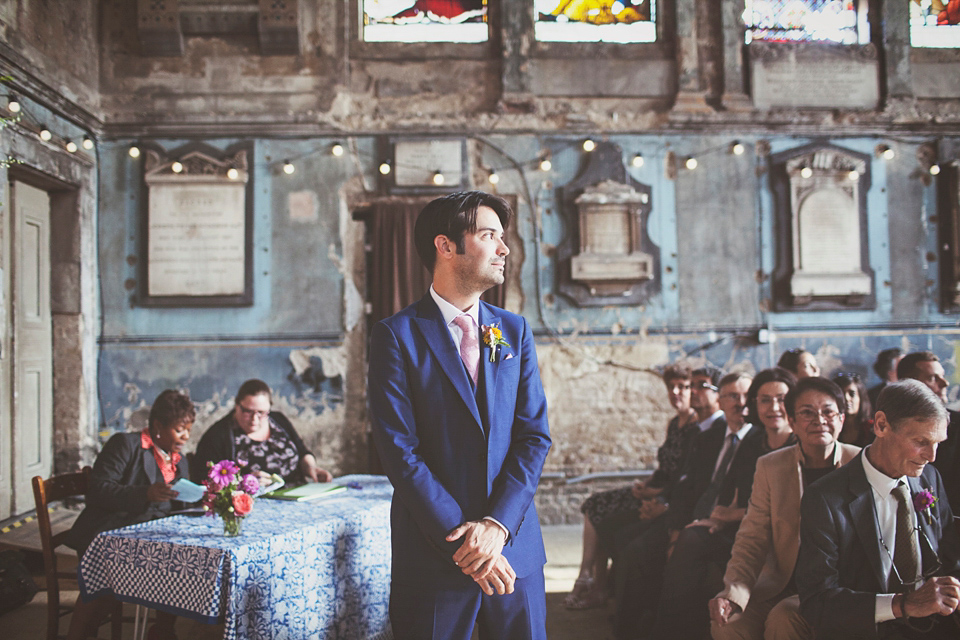 "My father walked me down the aisle to 'Angel' by Jack Johnson. We also played 'She is Love' by Oasis as our exit song and had the following songs when signing the documents: '5 Years Time' by Noah And The Whale, 'Longing to Belong' by Eddie Vedder and 'Me Gustas Tu' by Manu Chao." 
Such an eclectic mix of beautiful, happy songs – the Oasis track is like a great big Northern hug. As guests entered the Asylum Chapel they were greeted by the sight of some truly beautiful bright blooms by Palais Flowers. Irma and David set the brief of 'colourful, bright and wild' and were delighted with the outcome. If you saw this gem of a 'boho luxe' wedding featured last month by my fellow Emily, you might recognise the work of this talented florist, and if you didn't, I bet you know what you'll be reading next don't you?
With the addition of simple wedding bands from Clerkenwell-based jewellers Marc Franklin London firmly in place, the newlyweds hopped onto their vintage London bus to their local, The Rye in Peckham with their well dressed guests. I can't help but notice that the humungous arrangement by Palais Flowers was picked up by a strapping member of the wedding party and loaded safely onto the bus too – just too good to leave behind.
Irma and David chose the lovely double act of Sophia and Giulia from on love and photography to document their laid back nuptials.
"Sophia and Giulia are amazing, they take stunning photos. They are both extremely patient, fabulous and great company. We could see how passionate they are about their work and we were so glad that they were present to capture our day."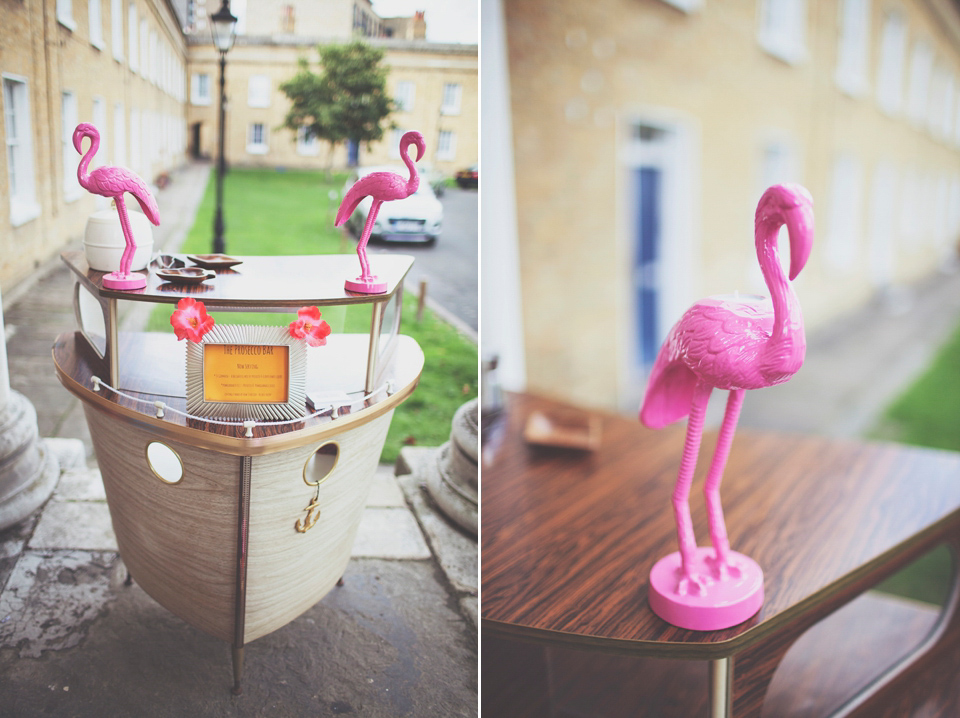 'We wanted to keep the whole affair local and quite relaxed so we had a vintage double-decker London bus ferry our guests to the reception at one of our favourite local pubs, The Rye on Peckham Rye."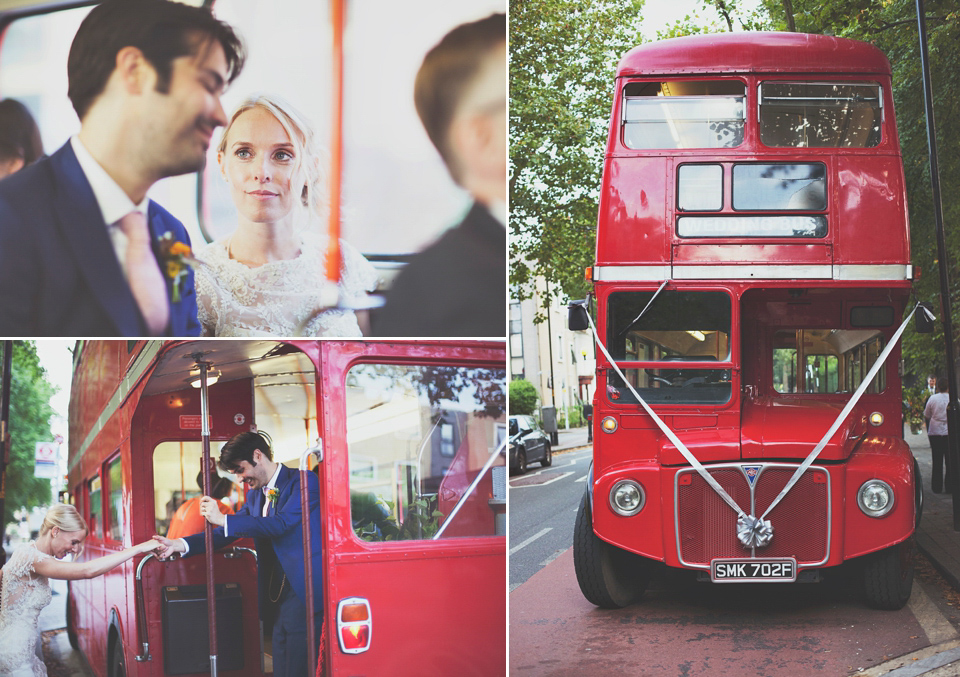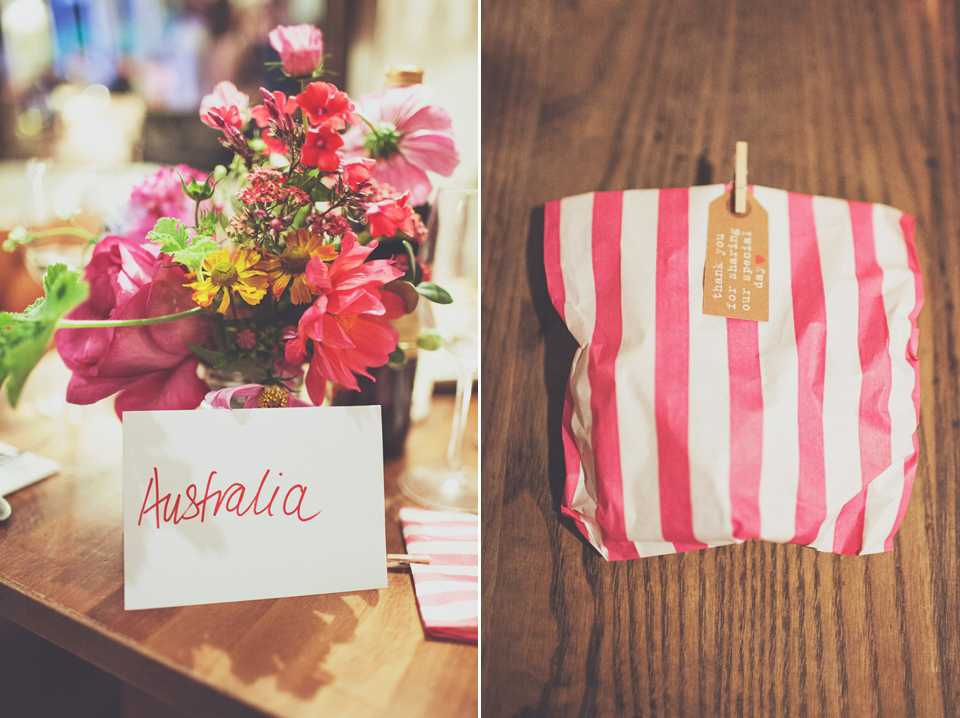 Once at their quirky pub reception, the sweet personal touches continued with yummy cakes baked by friends and internationally inventive wedding favours.
"Our wedding cake and all the cupcakes were made by our friends Marieke and Sarah, both of whom are brilliant amateur bakers. We sourced our own favours; combining Colombian treats bought in Elephant & Castle and Dutch goodies brought over from Holland, with the bags and clips sourced online."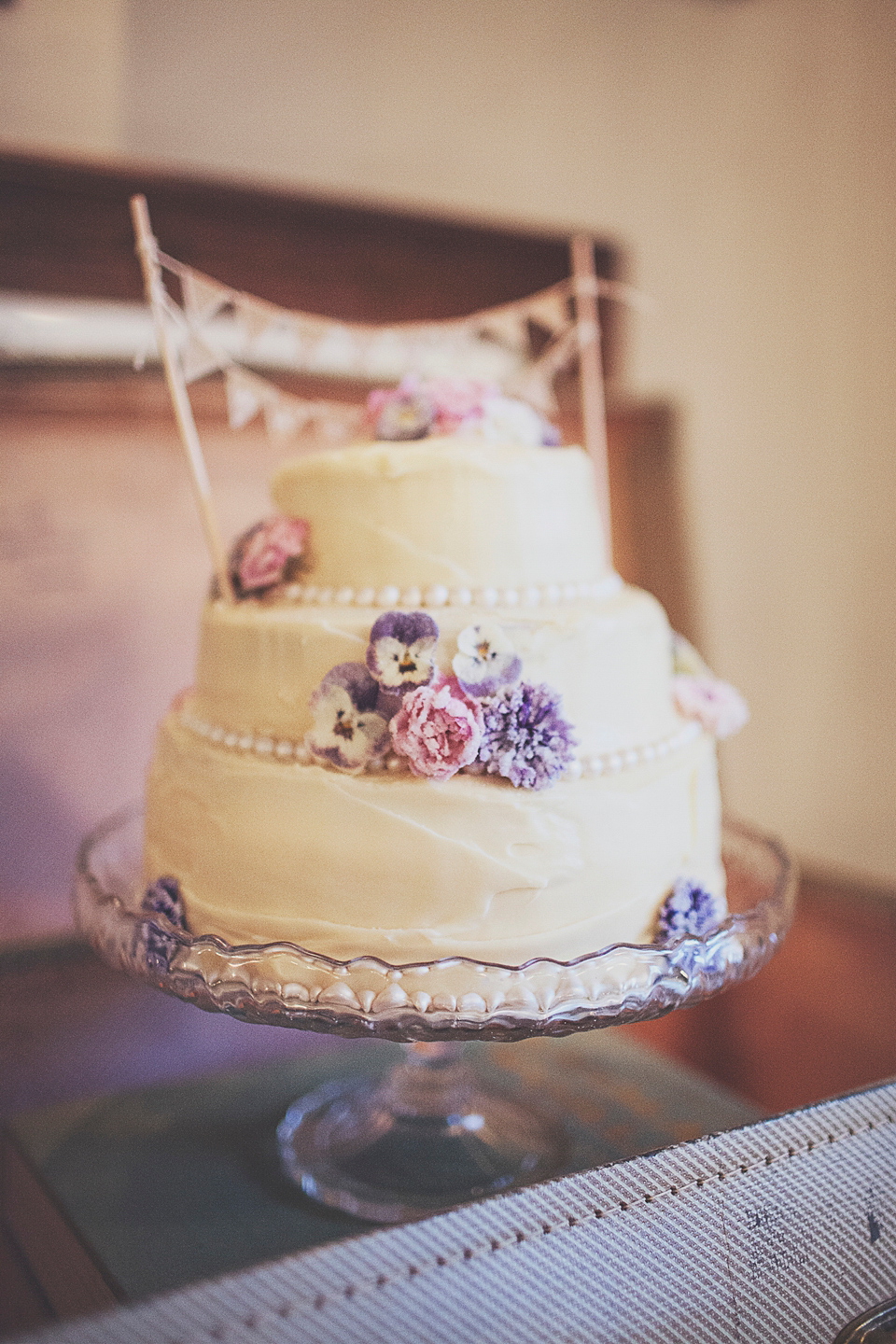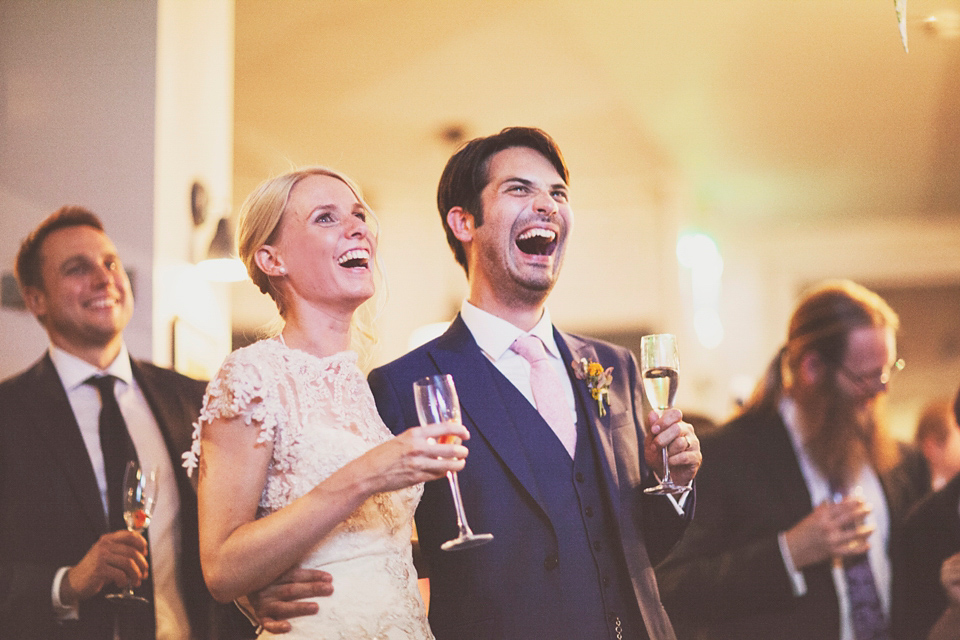 "When they introduced us as Mr and Mrs Arrowsmith in the pub we played 'Walk This Way' by Aerosmith. Our first dance was to Van Morrison's 'Tupelo Honey'. We both love a bit of Van the Man and had just been to see him perform at the Royal Albert Hall. This is a beautiful but perhaps lesser known track that we just fell in love with."
You really can't go wrong with a bit of fancy dress; it always makes for such hilarious, tipsy, end of the night photographs. In addition to the fantastic track list from their ceremony, the new Mr & Mrs chose some sweet and also hilariously pun-laden tunes for their reception.
Words of Wedded Wisdom
"Love My Dress is absolutely great – especially for inspiration. As a bride-to-be it's very useful to see how people with a similar taste planned their weddings and which suppliers they used."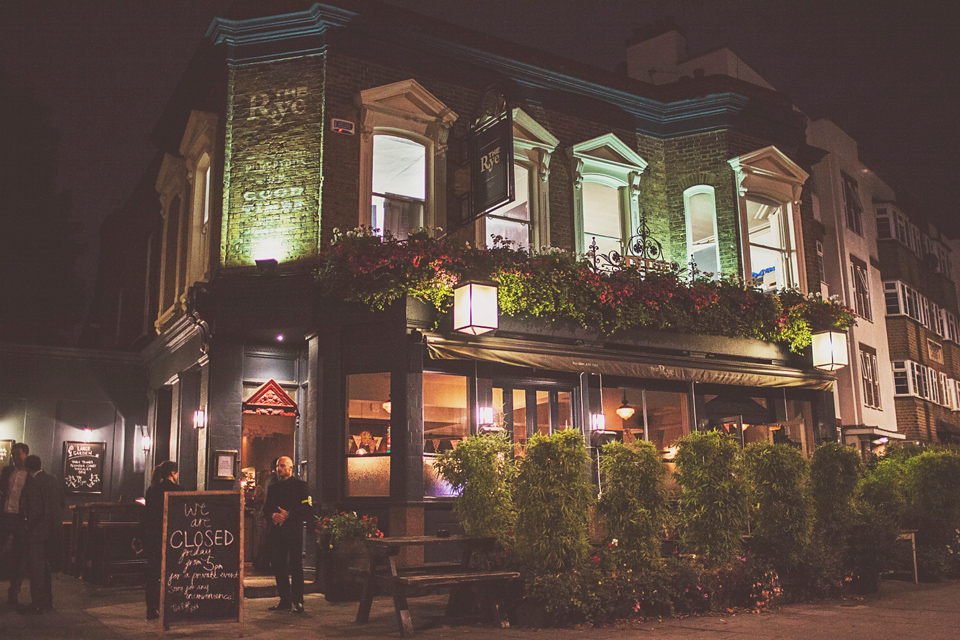 Thank you Irma, for that glowing commendation! I'm super grateful to Irma and David for allowing us to revel in the joy of their day and I must say a big thank you to Sophia and Giulia of on love and photography for the vibrant, fun-filled images.
For more city-chic London wedding vibes click here – there's a whole host of Asylum Chapel weddings to keep you going. I for one can't believe it's only Tuesday *helps self to zillion-calorie fudge reserved for Tuesdays* but stick with us lovelies, we'll float you through to Friday on a fluffy little cloud of wedding wonders.
Love, Em x
Photographer – On Love and Photography
Venue – Asylum, Caroline Gardens Chapel + The Rye, Peckham
Wedding Dress – YolanCris via Mirror Mirror
Shoes – Jenny Packham
Accessories – Etsy
Groom – Reiss suit + Church's shoes
Florist – Palais Flowers
Transport – London Retro Bus Hire
Rings – Marc Franklin London
Catering – The Rye, Peckham + How I Partied cocktail bars
Hair and Make-up Artist – Katie Arnold
Decorations – Beyond Vintage