Hello! Goodness gracious, it feels like an age since I sat down at my actual desk – what with travelling to London, twice, then Barcelona in the past three weeks, it feels like my feet have barely touched the ground. But it's all been for a very good cause, because I've been gathering information and inspiration for you, dear reader.
Last week I had the absolute pleasure of being guest of Spanish bridal fashion label, Jesús Peiró, for their brand new collection launch in Barcelona.  Just like regular 'fashion week', the bridal world have have their own fashion weeks too – with events taking place in New York, London, Milan and Barcelona – a wonderfully cosmopolitan city that was mine and my husband's home for most of last week.
I'm currently in the process of learning how to make films (I wrote about this here, and you can see my very first attempt on Instagram here) so set myself  the challenge of documenting some footage of the show – I truly hope that it captures the essence of this delightful collection.
[fve]https://www.youtube.com/watch?v=QTnIFmo1Fag&feature=youtu.be[/fve]
Now, I know that I make quite a noise about supporting British designers and promoting bridal fashion that is 'Made in England' – this is something I feel incredibly passionately about, but I am equally as passionate about supporting brands with very high quality craftsmanship and integrity no matter where they are from – businesses that stand out for always putting their client and customer first.
All photography provided by Jesús Peiró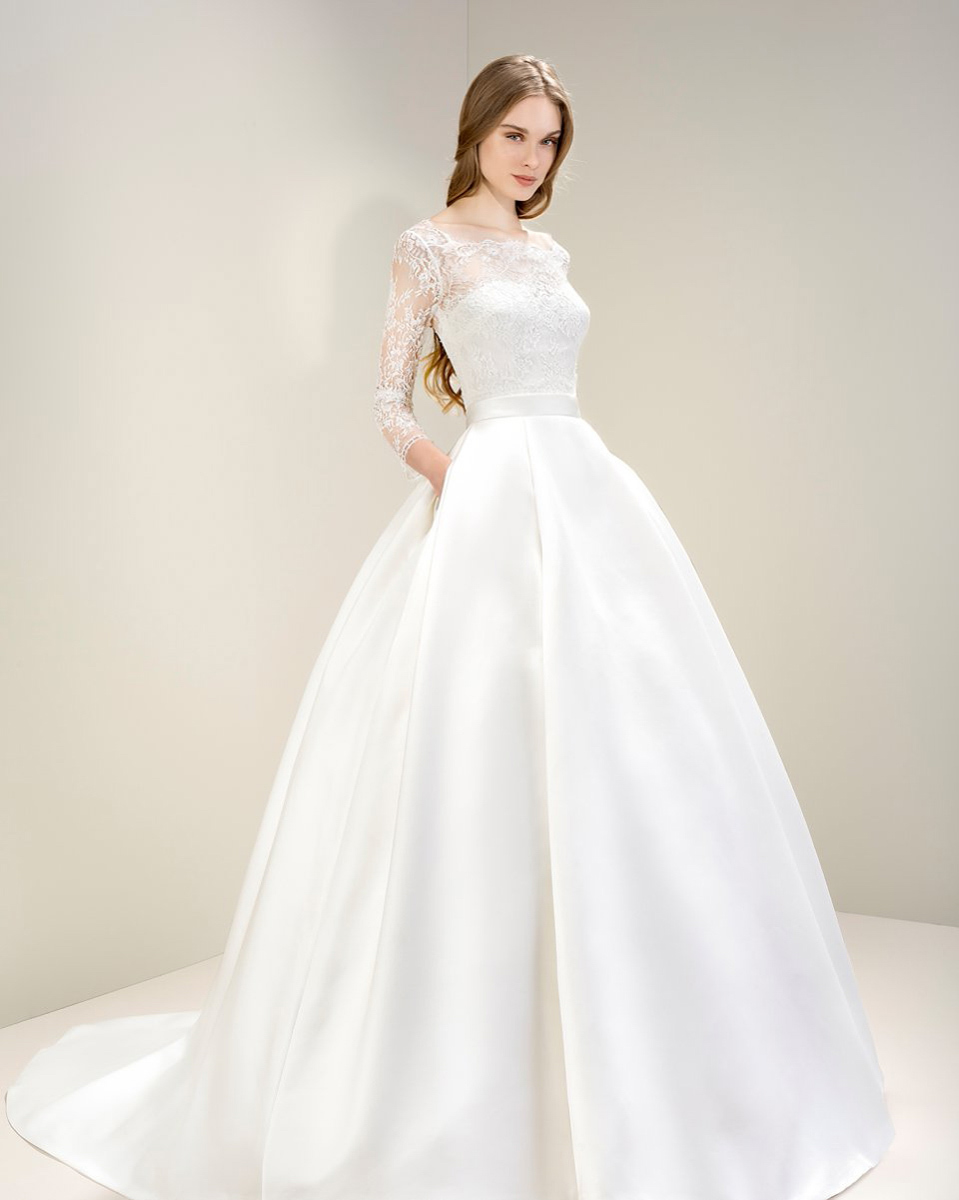 Jesús Peiró is a shining example of such a brand – they way they treat their clients, from brides to boutiques provides an exemplary level of customer service. I am bursting with price that Jesús Peiró is one of our clients.
Jesús Peiró (by the way, that's pronounced 'hayzoos') were founded in 1988 by Jesús Diez. The brand has gone through much change since then, most notably in size and international appeal, yet it has held on tight to a set of core business values that make it one of this brands I'm incredibly proud to support. It has also defined it's design signature throughout this time with consistently clean lines, big voluminous skirts (that float like a butterfly down the aisle) and that 'First Lady Chic' style elegance.
At the helm of the creative team is designer Merche Segarra, an incredibly talented artist whose vision for Jesús Peiró captures a perfect blend of very modern bridal elegance with timeless, effortless glamour.
This new collection for 2017 is named Mirtilli, which means 'sweets' in Spanish – the story goes that Merche was enjoying a rather pleasurable dessert at a Parisian restaurant that was so delicious, it ignited a whole collection design concept.  For months, Merche would immerse herself in a world of Mirtilli – observing the taste, flavour, structure and texture of all things deliciously sweet.
From food blogs to meals out, from puff pastry to luxury desserts, to wedding cake, macarons, ice cream and syrup – it's an  unlikely, at least, unexpected source of inspiration but it clearly worked. The Mirtilli gowns are exceptional and the collection as a whole presents a coherent vision and style.
Jesús Peiró's Mirtilli collection is feminine and very romantic and offers a wide choice of silhouettes – from halterneck to completely backless, from figure hugging to those big beautiful skirts that glide seductively down the catwalk. That's the one thing that really stood out for me in this collection; movement. The movement in this fabric is exquisite – the gown structure is masterfully constructed to turn heads every time, guaranteed.
There was colour too – a kind of soft, sweet pastel injection of shades.  And bows. Big, beauteous bows that made the most stylish of statements without detracting from the overall look. These are gowns for the bride who enjoys and appreciates the playfulness of a beautiful bridal gown.
Every single Jesús Peiró gown and every one of their accessories (they have their own line in shoes, belts, jewellery and headpieces) are made in house, at one of the company's revered ateliers – a team of highly specialised pattern cutters, seamstresses working non-stop to perfect every last detail.
During our visit to Barcelona, we were shown a behind-the-scenes style film that highlighted the whole production process – it was brilliant, and really shone a light on those super hard-working members of the bridal fashion industry so often forgotten – the skilled crafts people responsible for actually making your wedding dress. I'll be sharing this other film with you soon.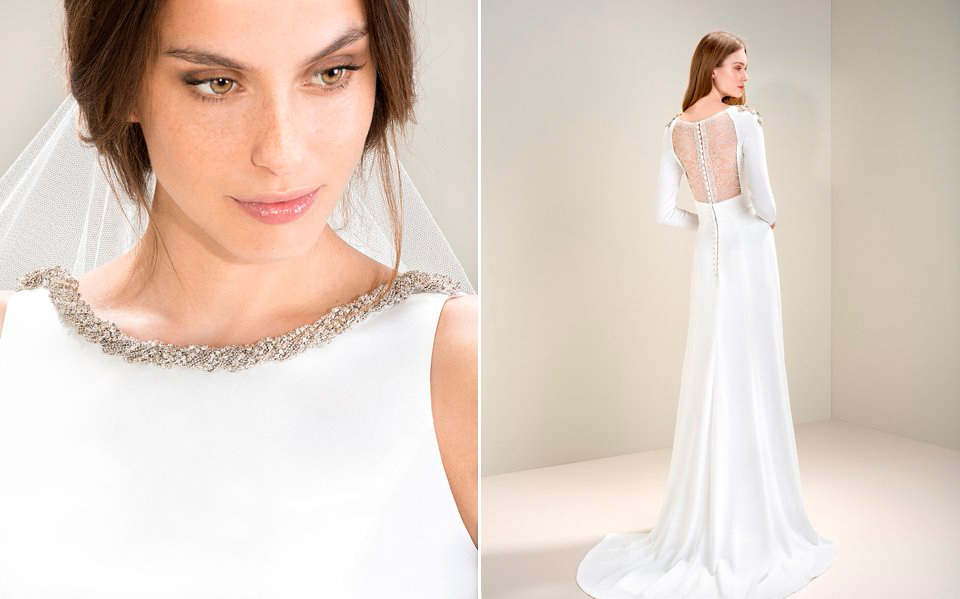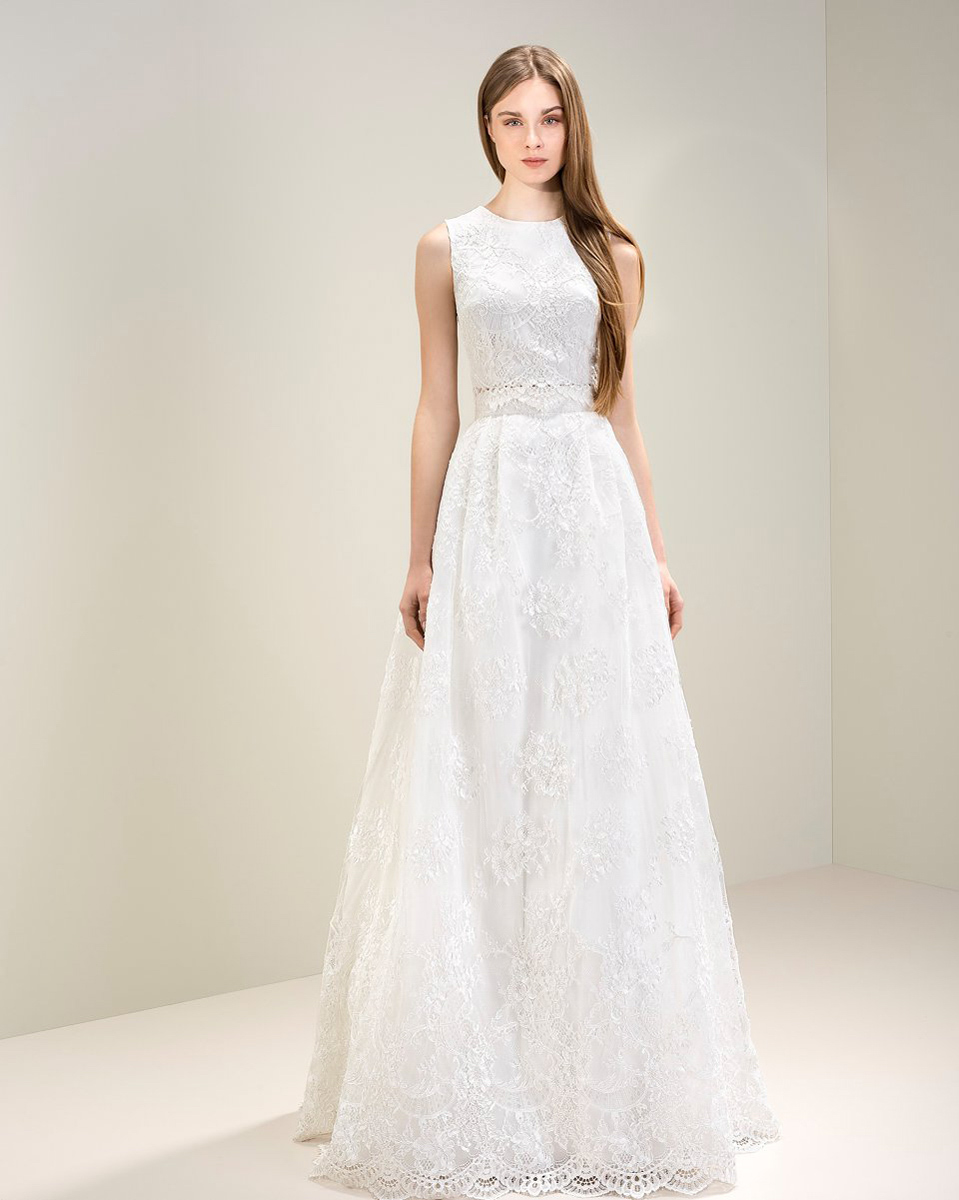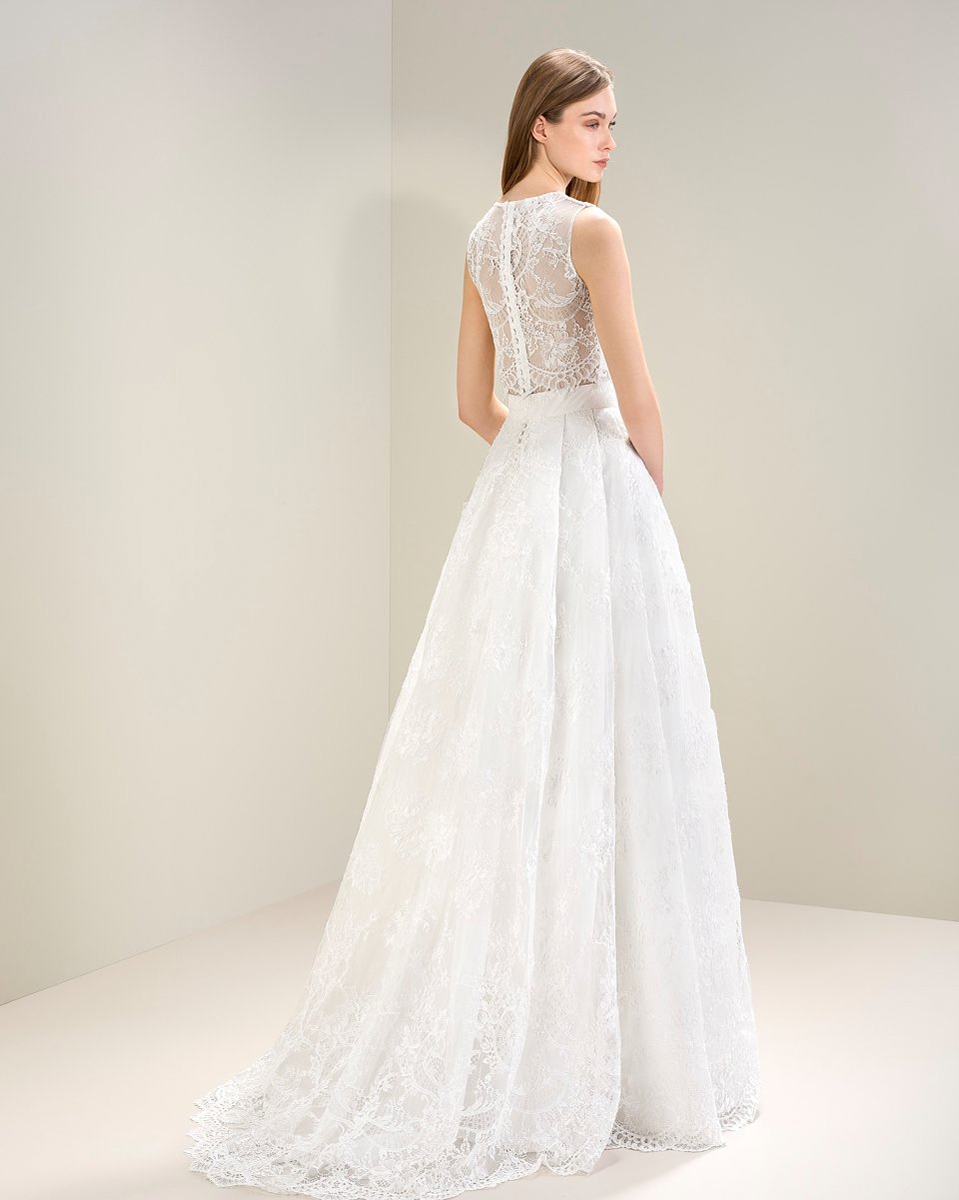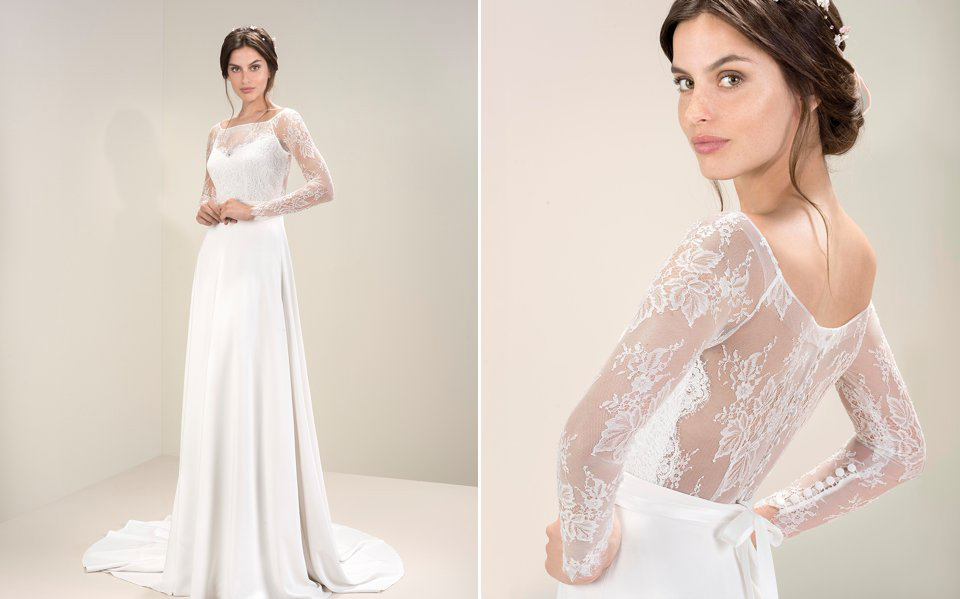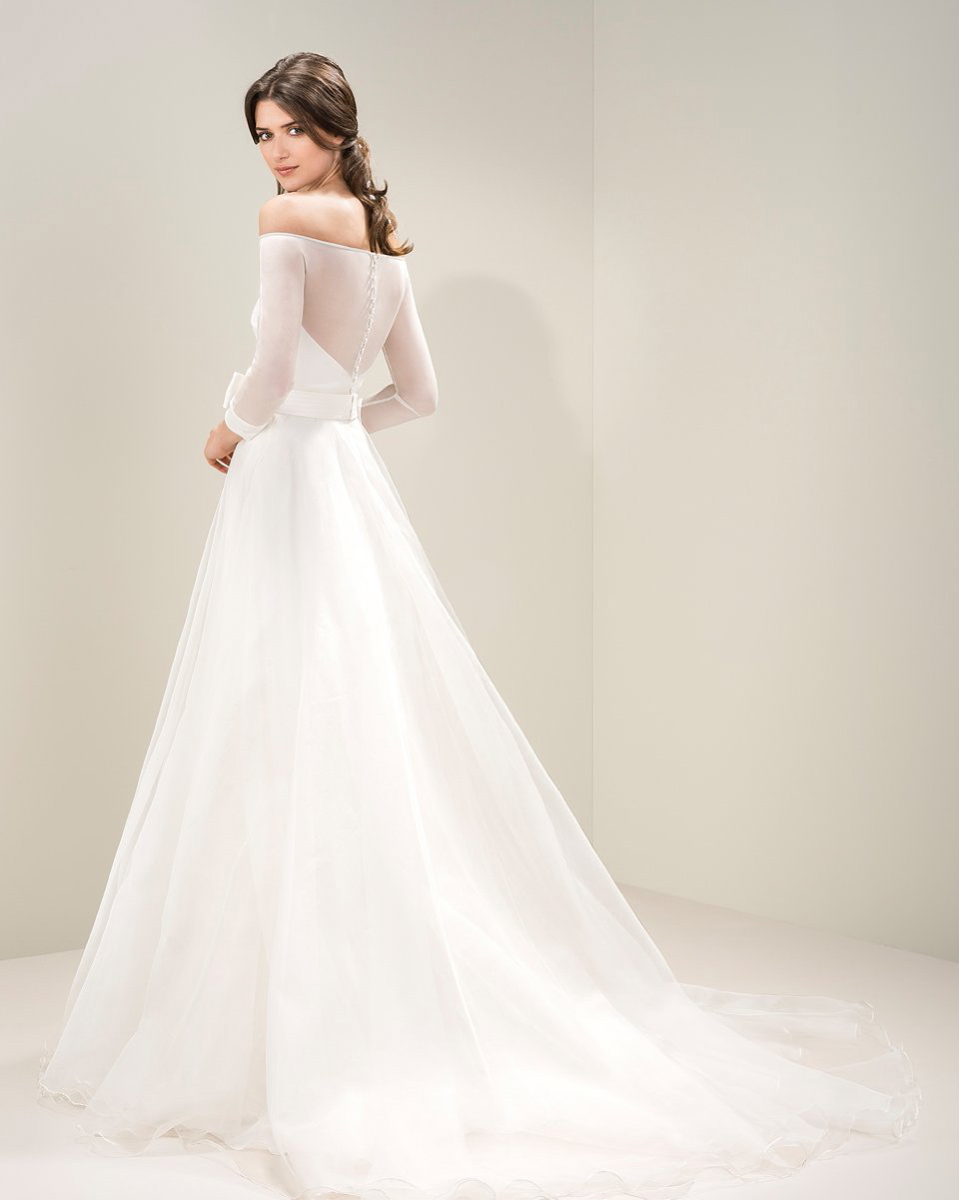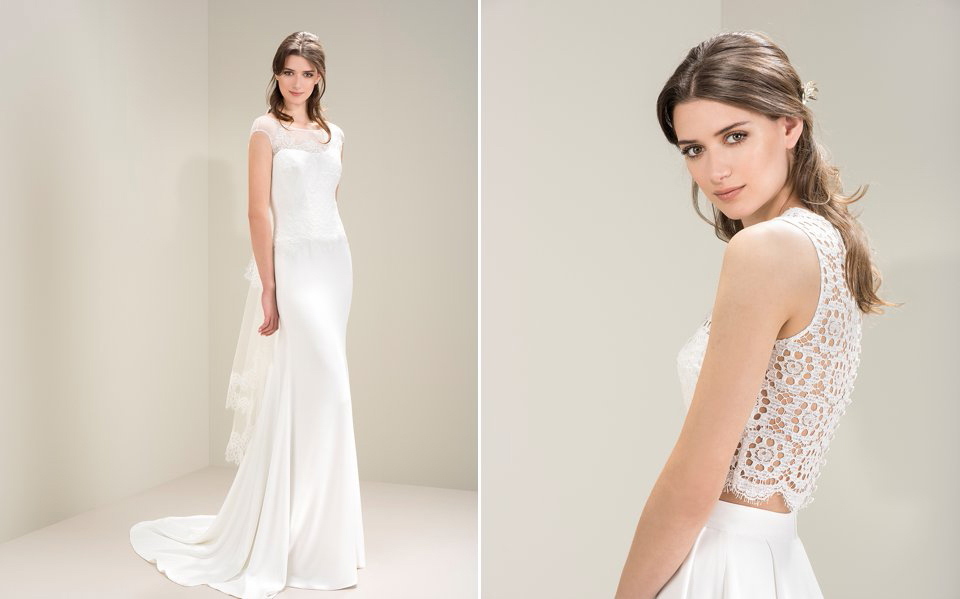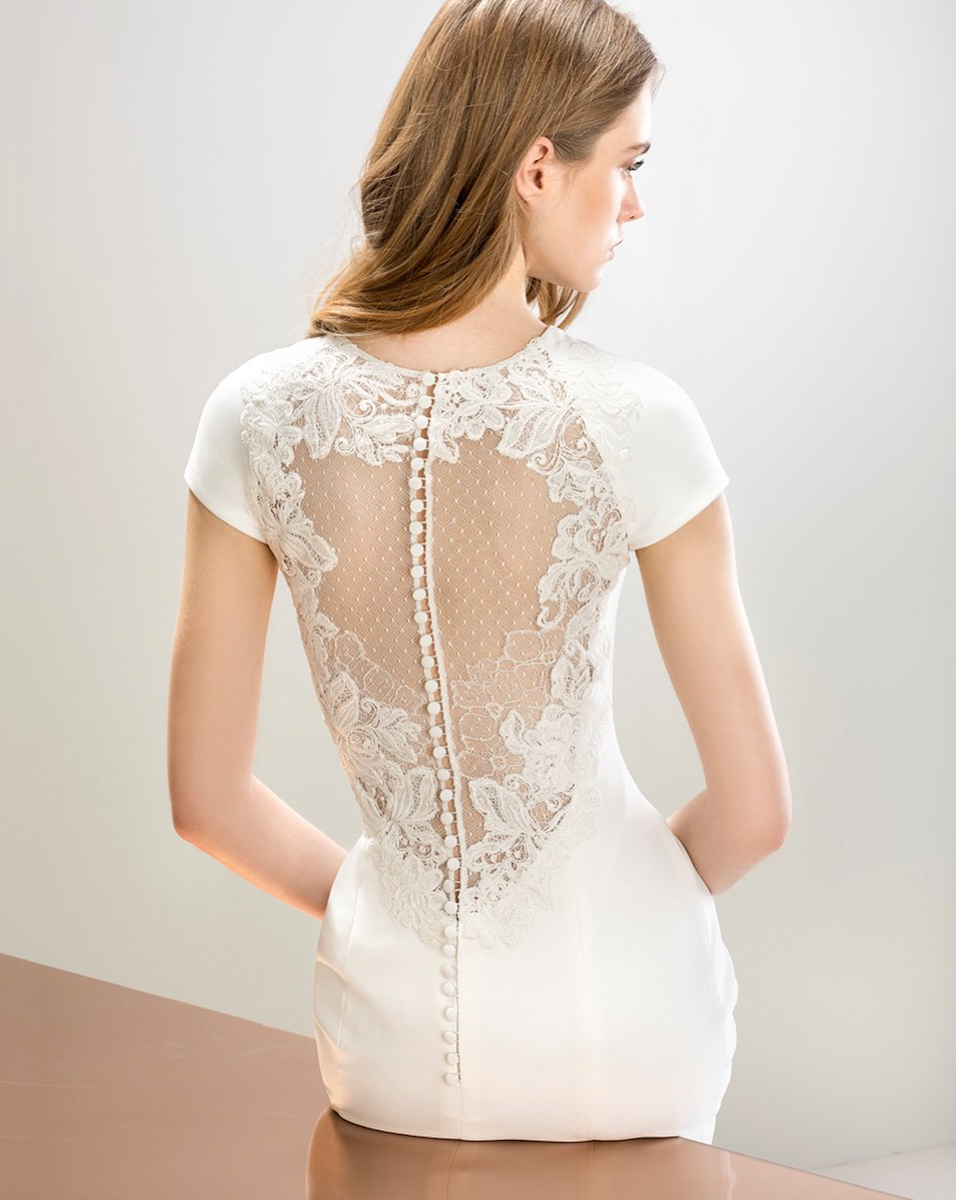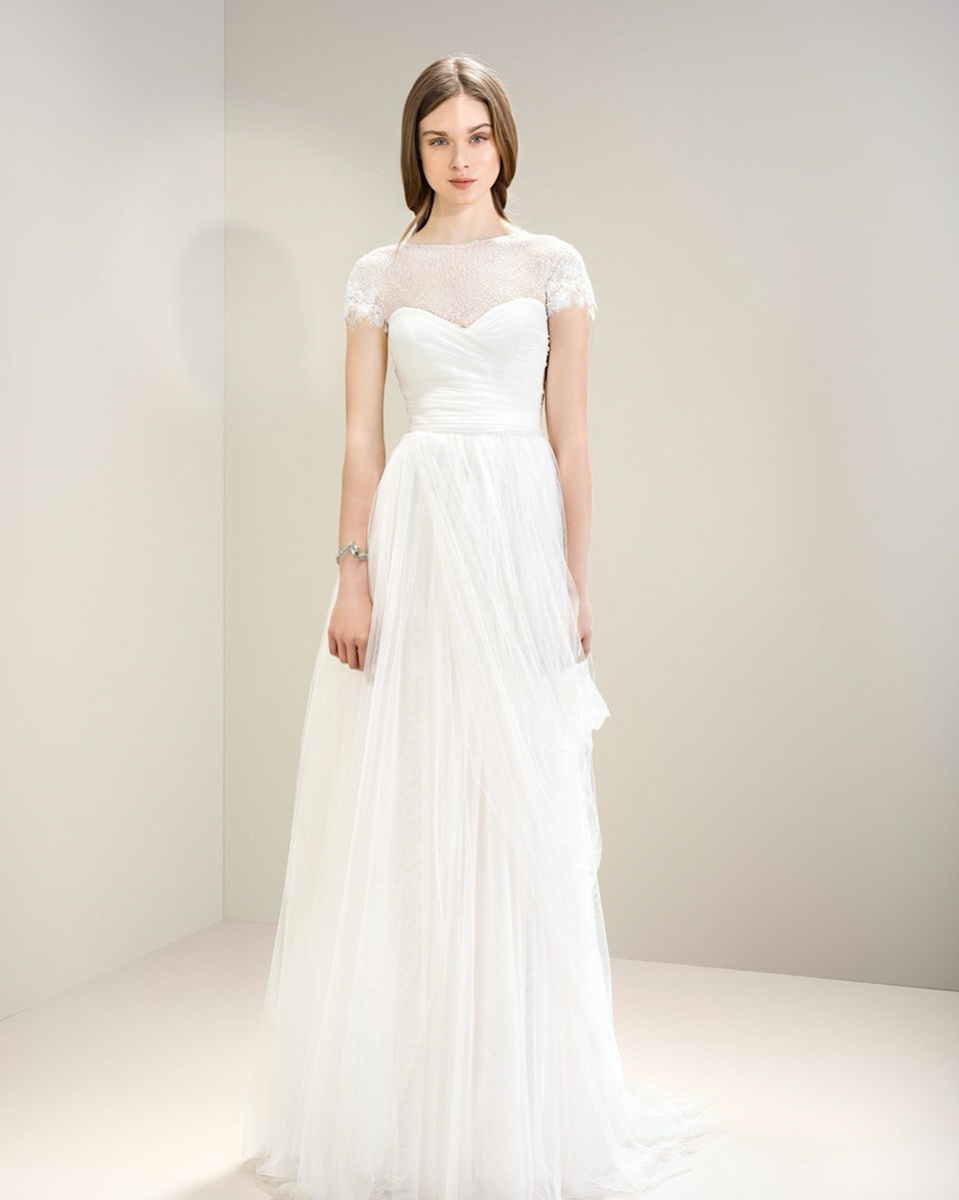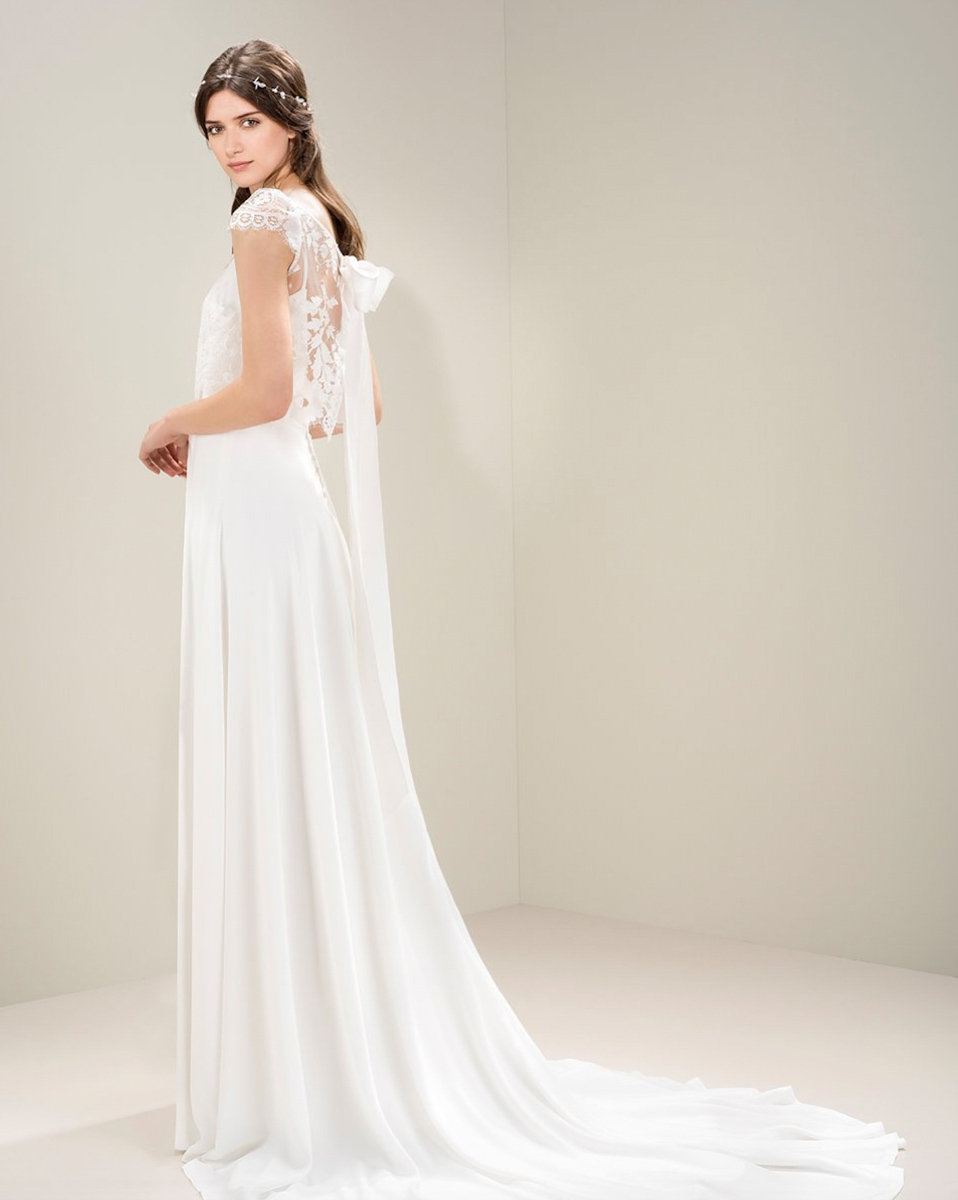 The collection overall is a complete triumph. I so hope that we get lucky enough to be able to share some real Jesús Peiró brides on Love My Dress over the coming months. That would make me one very happy wedding blogger.
I adored the more coquette aspects of this collection – the sweet little crop tops that looked so chic alongside the beautiful big skirts, the backless halternecks and then there was a more avant garde glittery design.
All of Jesús Peiró's main stockists can be found in their listing within our Little Book For Brides wedding directory –   we highly recommend a visit to Miss Bush Bridal of Surrey, on of the UK's biggest Jesús Peiró stockists.You can also connect with Jesús Peiró through Instagram, Facebook and Twitter. You might also want to take a look through these beautiful past Jesús Peiró features, which include a number of weddings where the bride wore Jesús Peiró.
I'd so love to hear from you – might we have convinced you to try on a Jesús Peiró gown? Are, or were you a Jesús Peiró bride?
Love Annabel x
Jesús Peiró is a sponsor of Love My Dress.