Hello lovely readers, I hope your week is going well? We seem to have been experiencing some rather bizarre weather recently, so just for a few moments can we please transport ourselves back to last summer, especially for today's wedding.Please meet Bryony and Matt Lovell, pretty cute surname we think! Bryony is super mum and a part time book keeper and Matt is a restaurateur, this lovely pair were married on the 27th June 2015 at Matt's family church, All Saints Church in Marlow.
I adore weddings at home, and this one is pretty special – the reception was held in the grounds of Matt's parents house – how very lucky Bryony and Matt are to have been able to do this.
"Matt's parents garden and paddock screamed for an English country garden wedding and was a big inspiration on the look of the day. We used their garden for the champagne and canapé reception, moving to the paddock where we had constructed a marquee with decking which showed off the impressive views of the Valley down to Marlow. Our main objective was to have an informal relaxed atmosphere.  Having the wedding at home really helped to create this."
Photography by Kristian Leven
Bryony's Willow dress is by our Little Book for Brides member Claire Pettibone and it was also purchased from another of our Little Book for Brides member's Blackburn Bridal, top marks Bryony! If you are dress hunting in the London region then Blackburn Bridal needs to be at the top of your list, it has some of the most beautiful dresses by some of the most exclusive designers and the decor is sumptuous to say the least, and to top it all off the team are so lovely.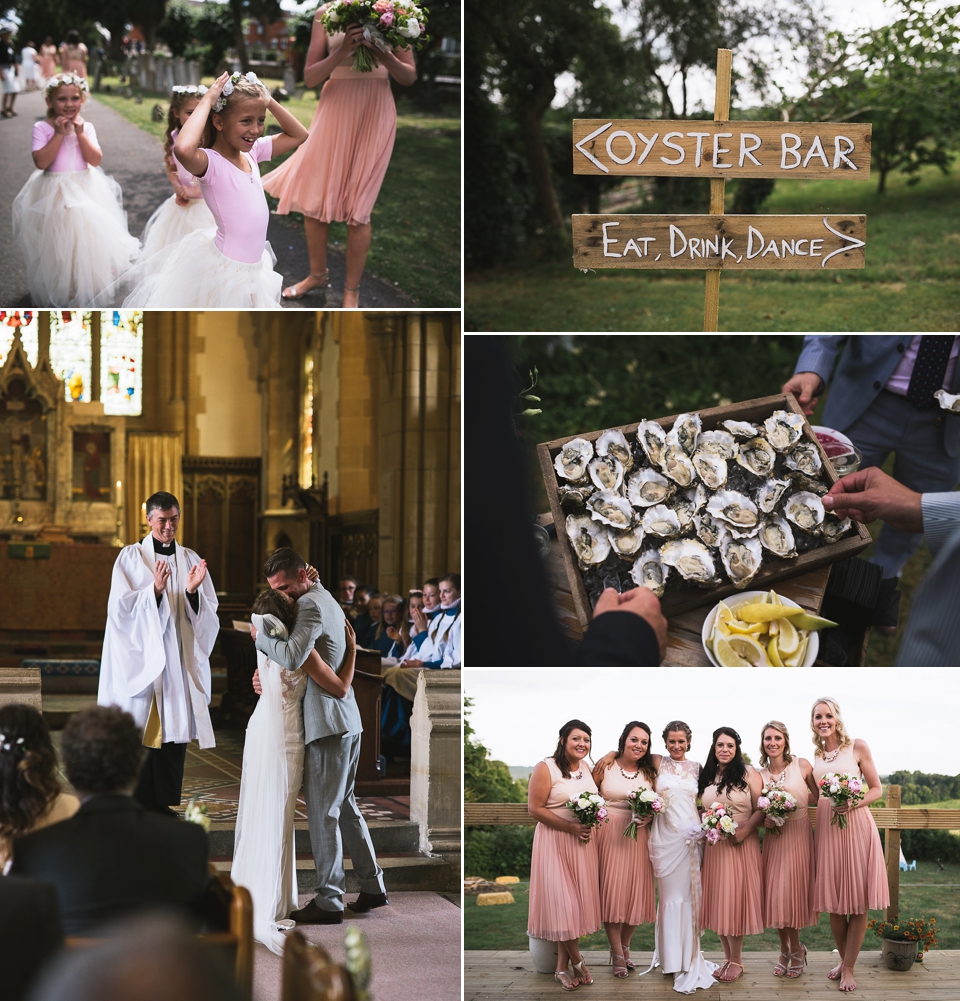 "The most important factor for me when choosing my dress was that I wanted it to feel light. I didn't want to feel restricted with corsets and layers if the weather was hot and when I hit the dance floor! I had seen Claire Pettibone dresses online and loved the romantic delicate style, I knew it would fit well with the English country garden vibe and hoped that when we went to try dresses that they suited me."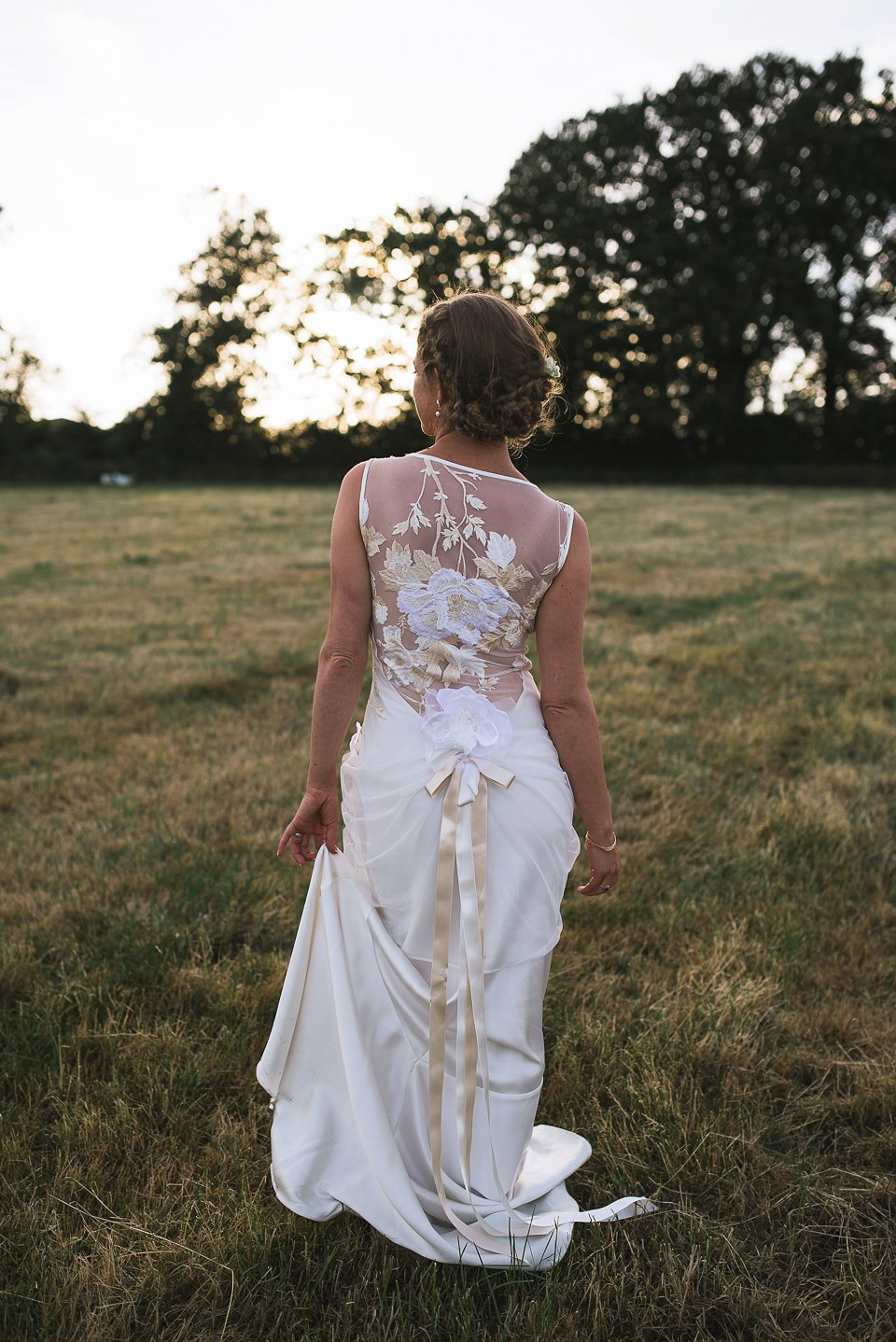 "Willow was a silk dress with embroidered flower detail covering the chest and very low back. The dress gave a great hourglass shape and the long ribbons helped give me some extra height.  The flowers and ribbons were light gold which really made the dress stand out from the other ivory gowns."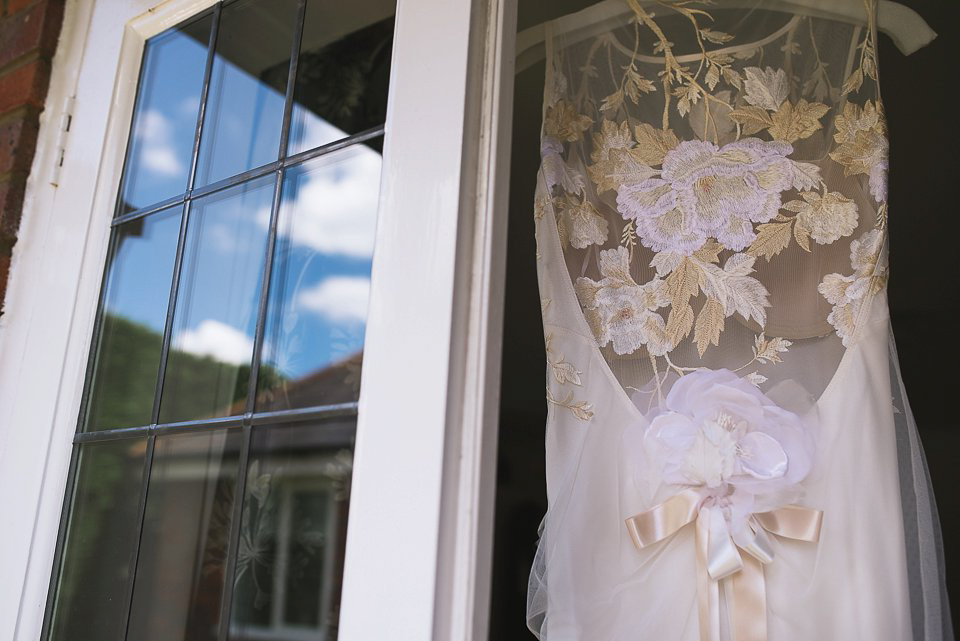 "The reaction of my mum and sister when I tried it on sealed the deal and no other dress made me feel as special. It fitted the theme of the wedding perfectly."
Bryony finished off her Willow dress with a picot edged tulle veil, also from Blackburn Bridal, shoes from Benjamin Walk, rose gold and pearl drop earrings from Katherine Swaine and a dose of the bride's favourite perfume Stella by Stella McCartney. The look was completed with plaits created by Kell Skott and makeup by Laura Lovell.
"We met via a dating website – Guardian Soulmates.  A whirlwind of brilliantly fun and interesting dates followed before we moved in together after 3 months.  As Guardian predicted… we had unexpectedly met our soulmates.
Matt proposed over the Christmas period in 2012.  We were visiting my parents in the Suffolk countryside when he insisted we take some time out for a country pub lunch followed by a long walk.  Matt dropped to one knee at a picturesque spot and I of course did not hesitate to say YES!"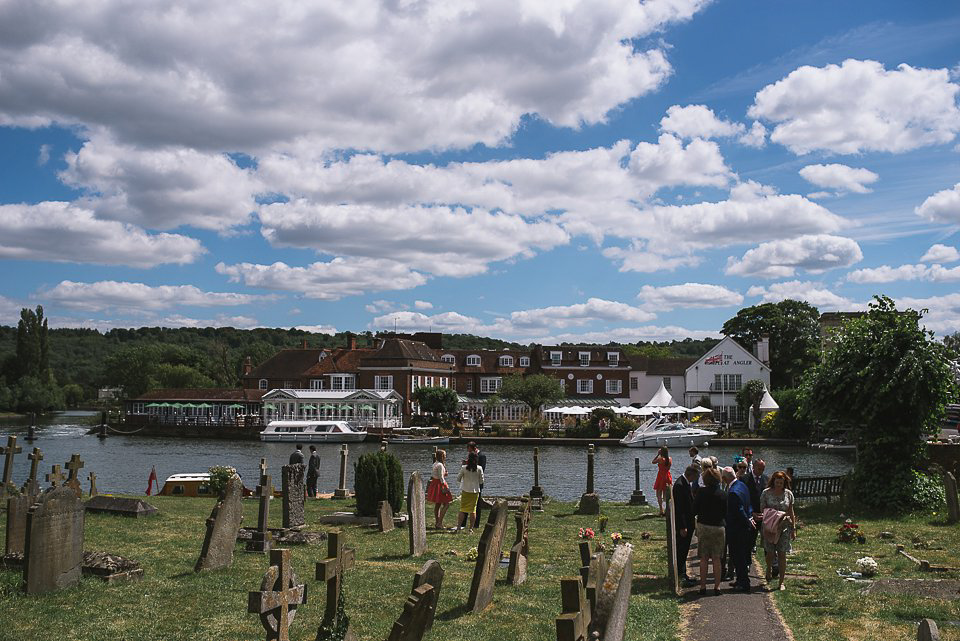 The wedding was planned immediately for May 2015 but the couple encountered a little bump in the road along the way.
"With 6 months to go before the big day and barely a detail booked and thankfully no invites posted, we had the incredible news that instead of becoming Mr and Mrs, we were to become parents! Our beautiful baby boy Louis was born in July 2014, so we rescheduled the big day for June 2015, exactly two and a half years after we became engaged."
Bryony chose Tom Windsor, a freelance designer that she has previously worked with, to create their stationery.
"Our table plan doubled up as our wedding favours, Polaroid pictures of each guest for them to take home, I scoured Facebook for days to get most of them before printing via Printic app."
The Bridesmaids looked lovely in their modern pleated apricot dresses from ASOS paired with metallic strappy sandals from New Look and a Dorothy Perkins necklace. While the flower girls looked like little garden fairies in their custom made Dainty Dizzy tutus and floral halos from Claire's Accessories.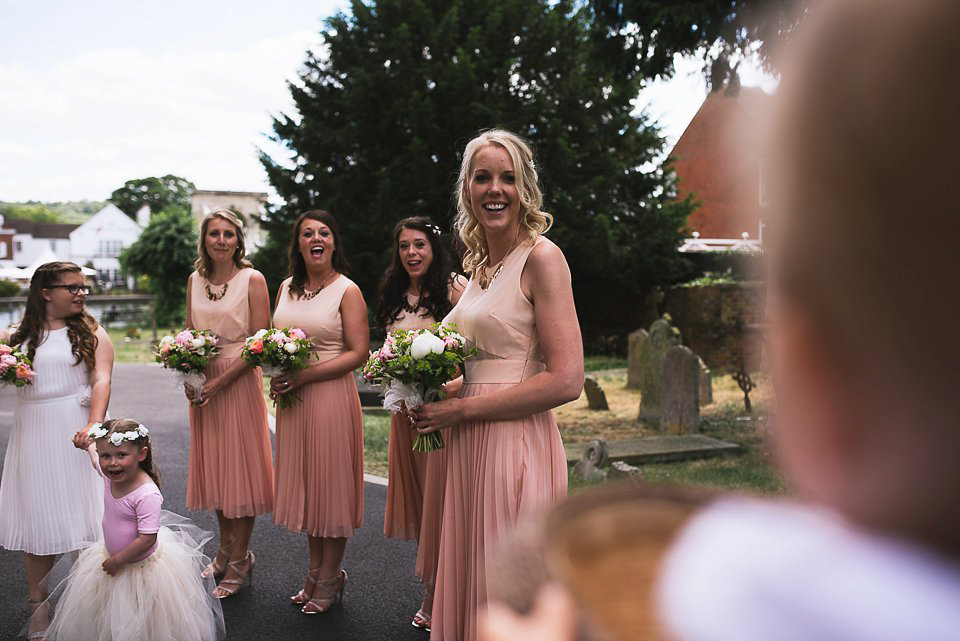 Matt wore a light grey three piece suit with a classic navy tie from Reiss and shoes from Ted Baker.
"The groomsmen wore their own suits as we didn't want a matchy look."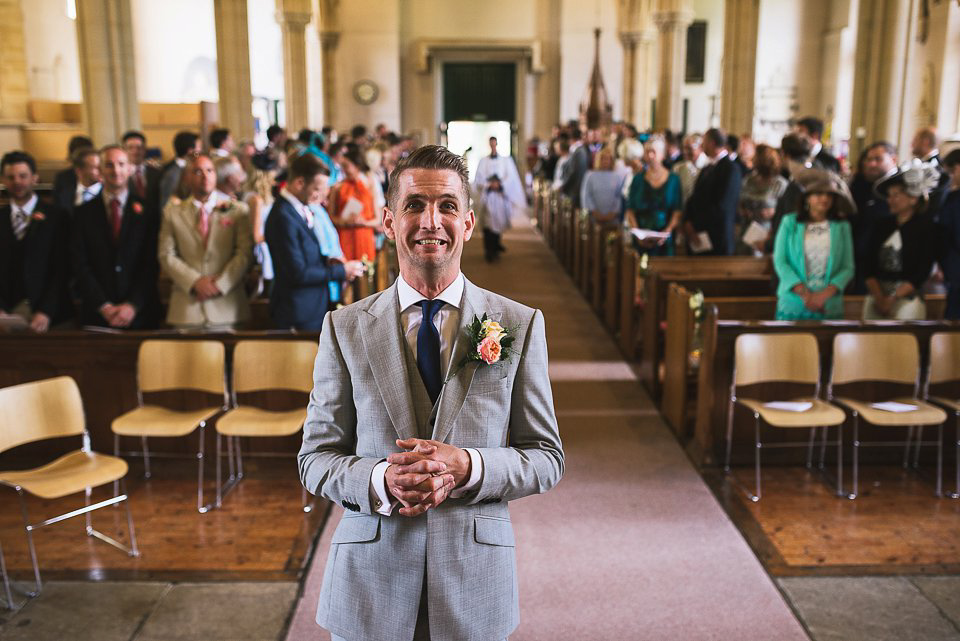 Bryony was walked down the aisle by her Dad to the beautiful 'First time ever I saw your face' by Roberta Flack.
"One of my oldest friends, Lindsey Cleary sang me down the aisle with my sister-in-law Kirsty Lovell accompanying her on the Piano."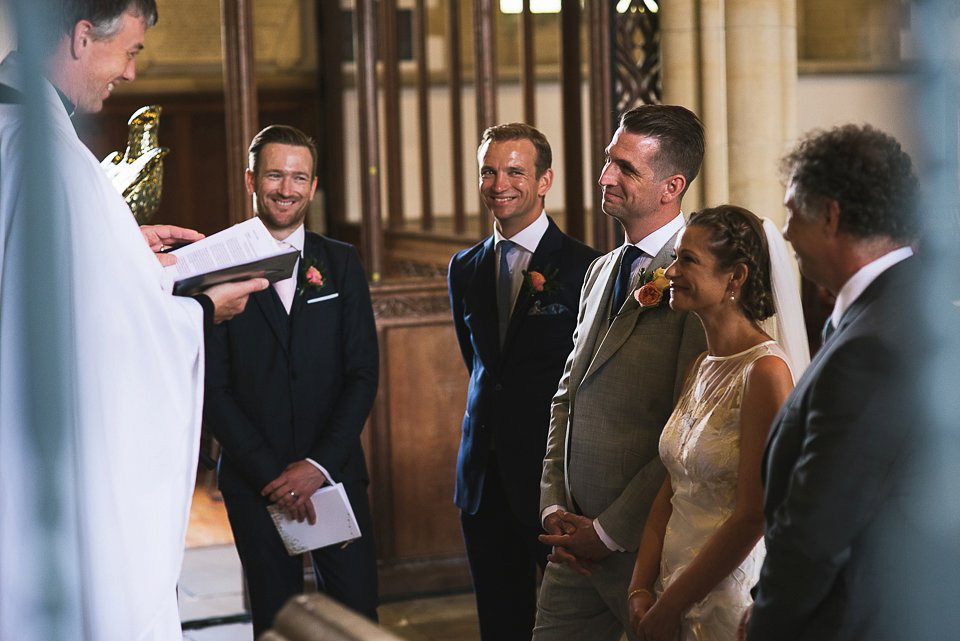 The gorgeous seasonal blooms were put together by Forever Green Florist.
"Pink and white peonies, tanacetum, pink and cream astilbe, vuvuzela roses and bupleurum tied together with organza.  I wanted flowers that were in season and that you could find in an English country garden.
I created my own vases for the tables in the marquee using a mixture of the above with eucalyptus and other flowers found in Matt's parents garden."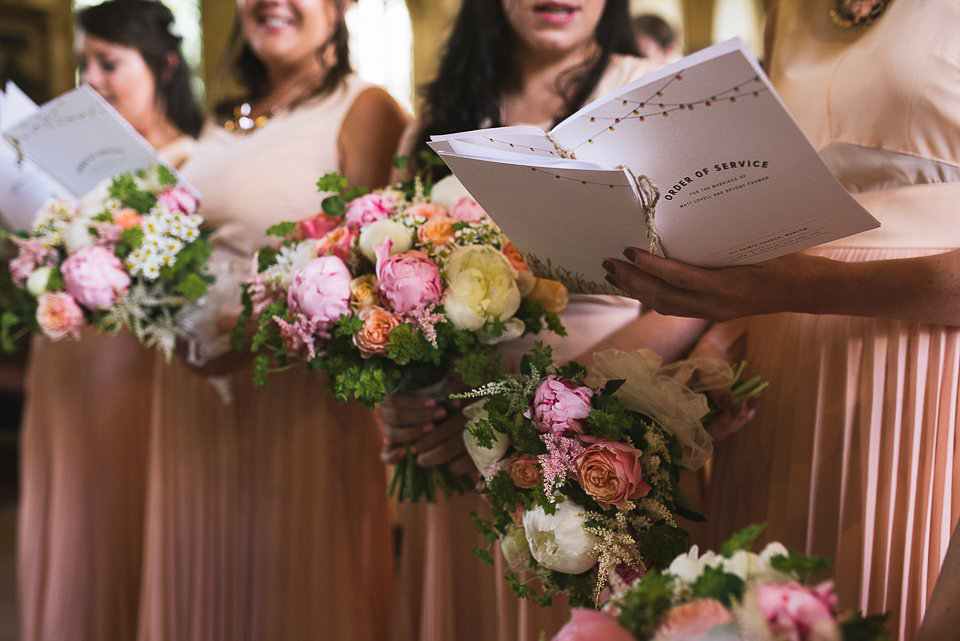 The pair chose for Bryony's brother, Tom, to read out 'He's not perfect' by Bob Marley, I had this for my wedding, so I am a little biased, but I love how honest the words are.
He's not perfect.
You aren't either, and the two of you will never be perfect.
But if he can make you laugh at least once, causes you to think twice, and if he admits to being human and making mistakes, hold onto him and give him the most you can.
He isn't going to quote poetry, he's not thinking about you every moment, but he will give you a part of him that he knows you could break.
Don't hurt him, don't change him, and don't expect more than he can give.
Don't analyze.
Smile when he makes you happy, yell when he makes you mad, and miss him when he's not there.
Love hard when there is love to be had.
Because perfect guys don't exist, but there's always one guy that is perfect for you.
"It felt like it was the perfect advice for a brother to be giving his sister and a non mushy reading he would feel comfortable with."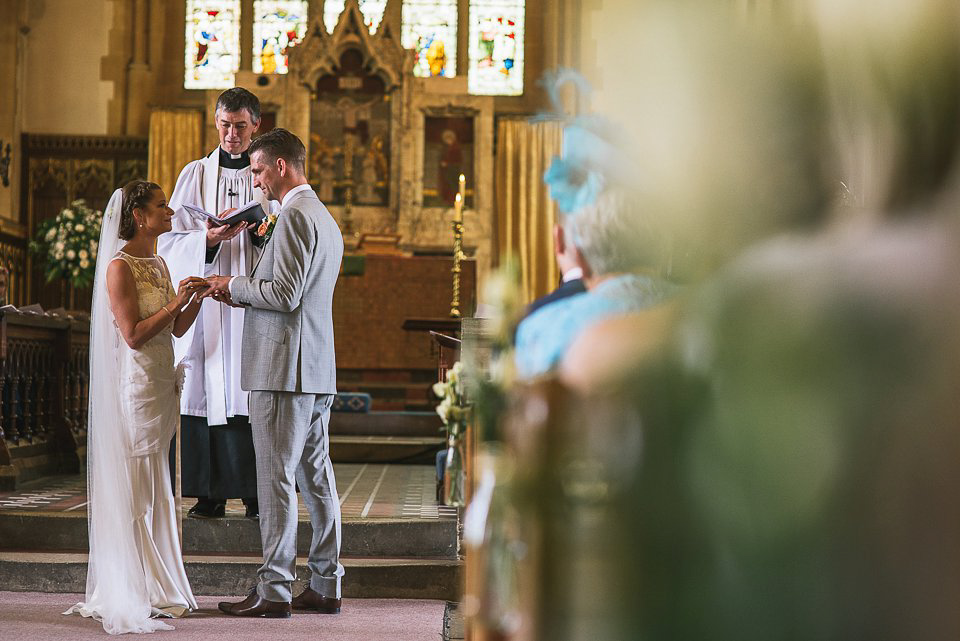 They also had a religious reading – 1 John 3.18-end.
"Matt's mum read the religious reading which was a reading she chose as the words and meaning meant a lot to her."
"Matt's ring was made from his grandmothers wedding ring.  My ring was the matching wedding band to my engagement ring purchased in Hatton Garden."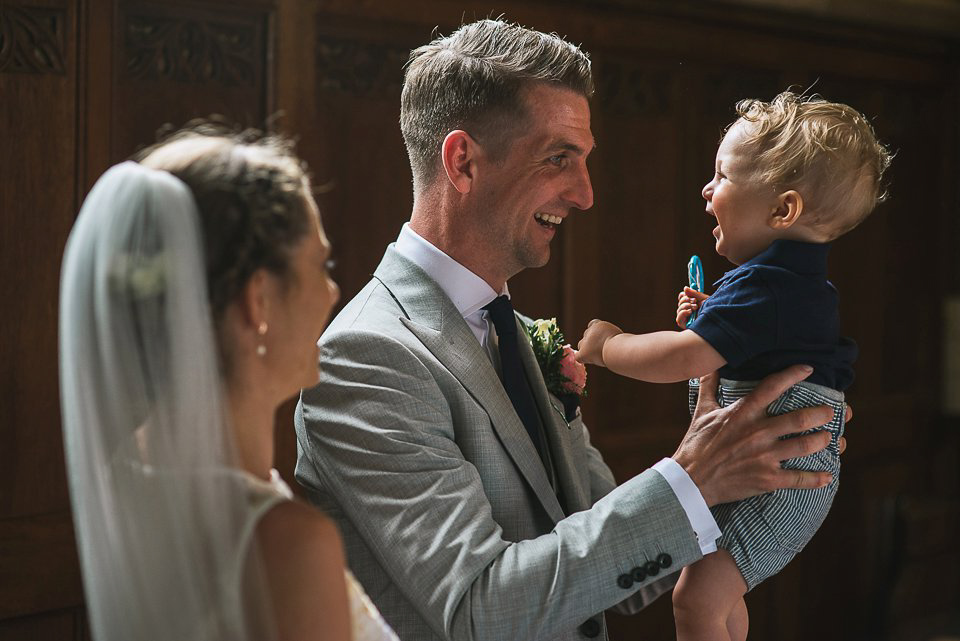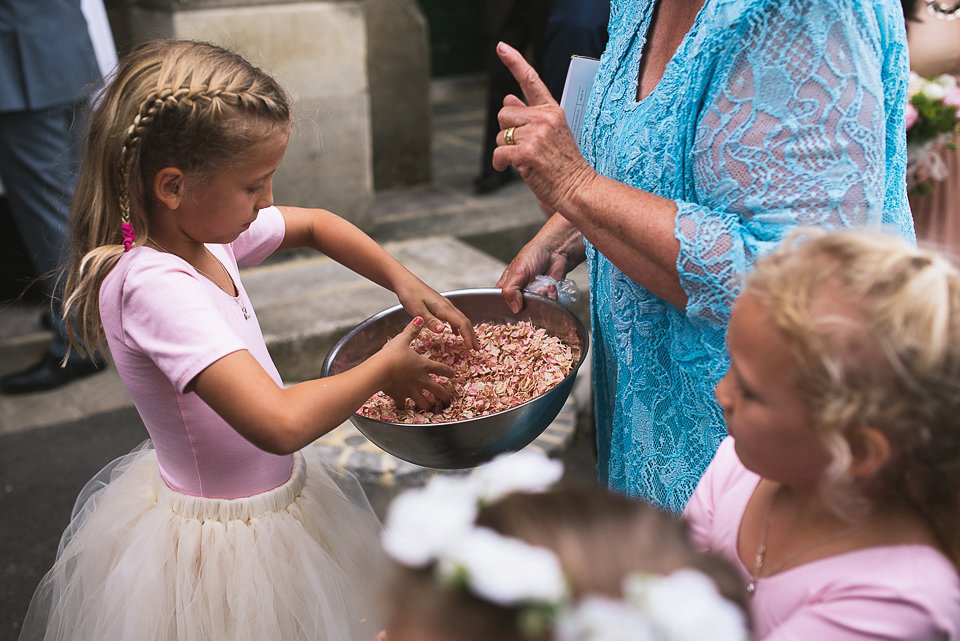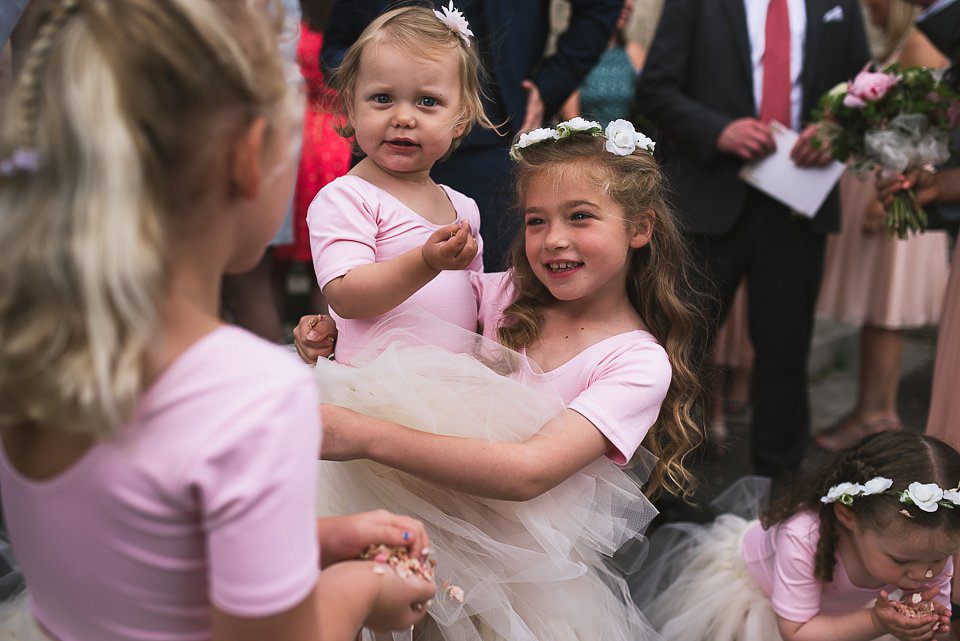 "We left the church by boat, a wooden day launch.  We were told by the vicar that we were only the 2nd couple to have ever left Marlow church by boat (the first being Matts great grandparents).  Cruising down the river sipping champagne straight after the high of the ceremony was so special."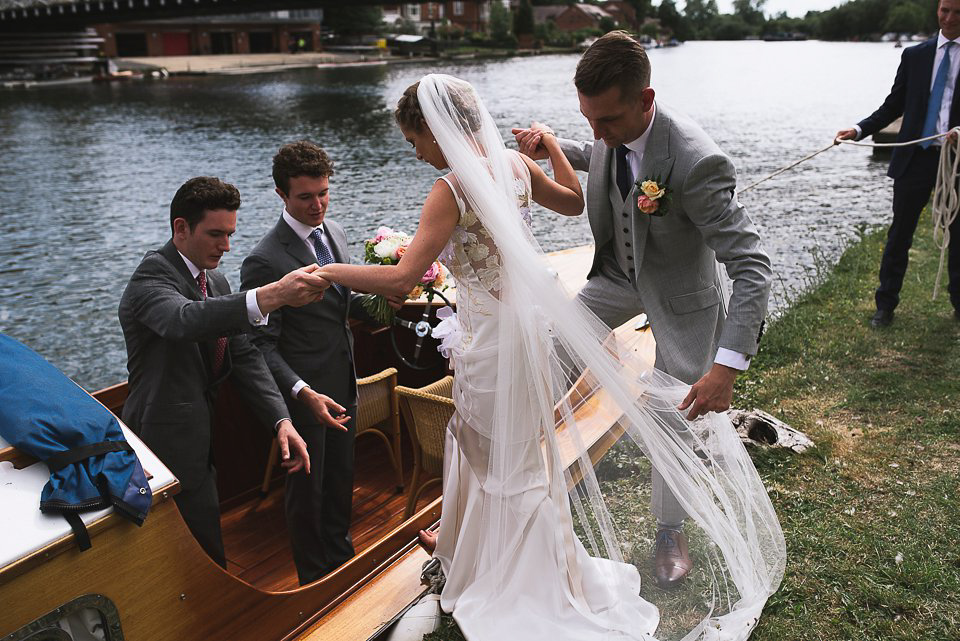 The couple chose Kristian Leven to capture their special day and I just love those shots as the sun is starting to set.
"Kristian was brilliant at making Matt and I feel at ease immediately.  He worked tirelessly all day and understood immediately that we wanted informal, natural shots. His photographs exceeded all our expectations and we were totally blown away when we received them.  He captured the emotion and fun of the day perfectly."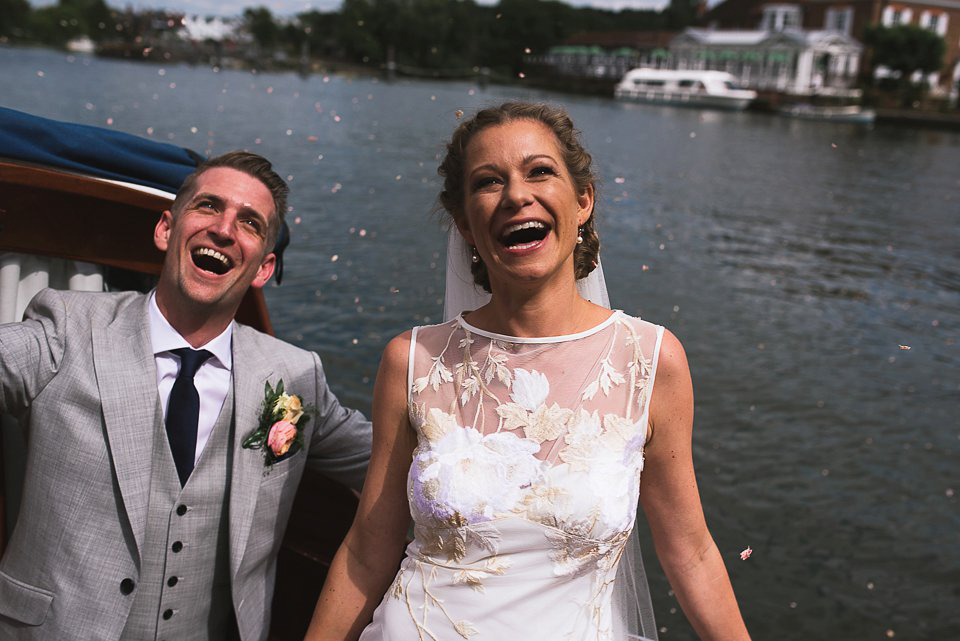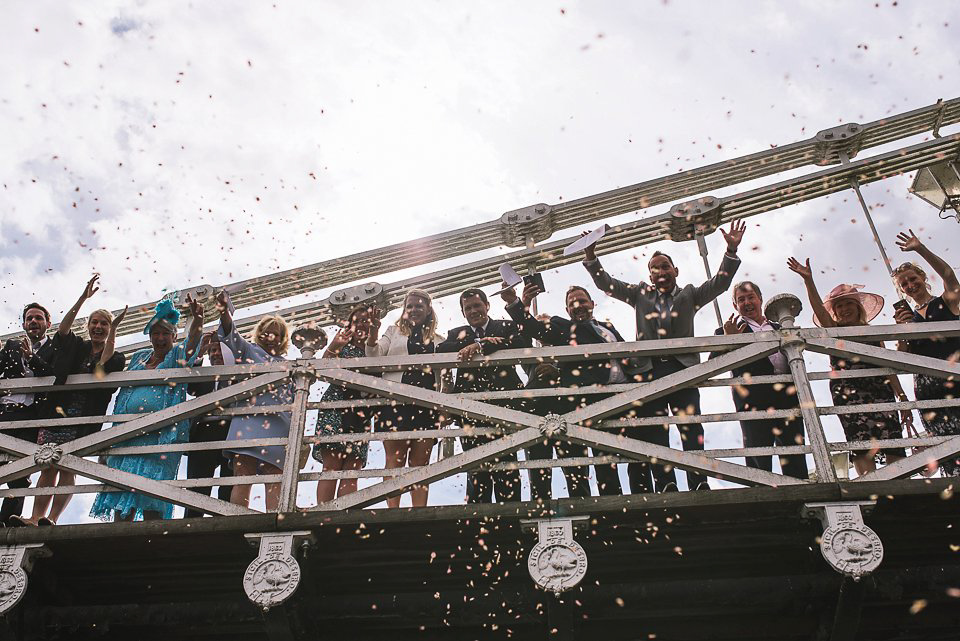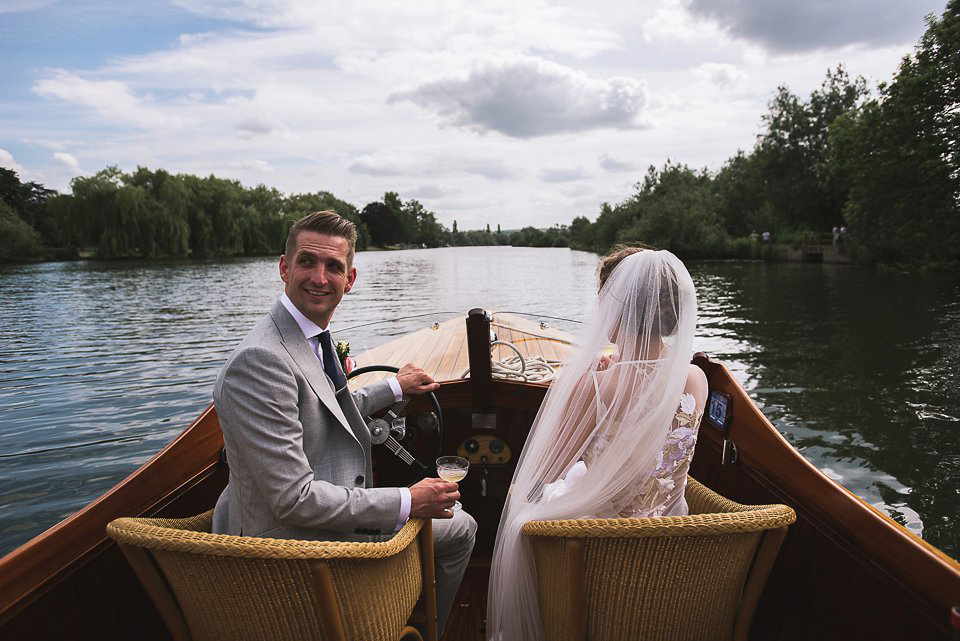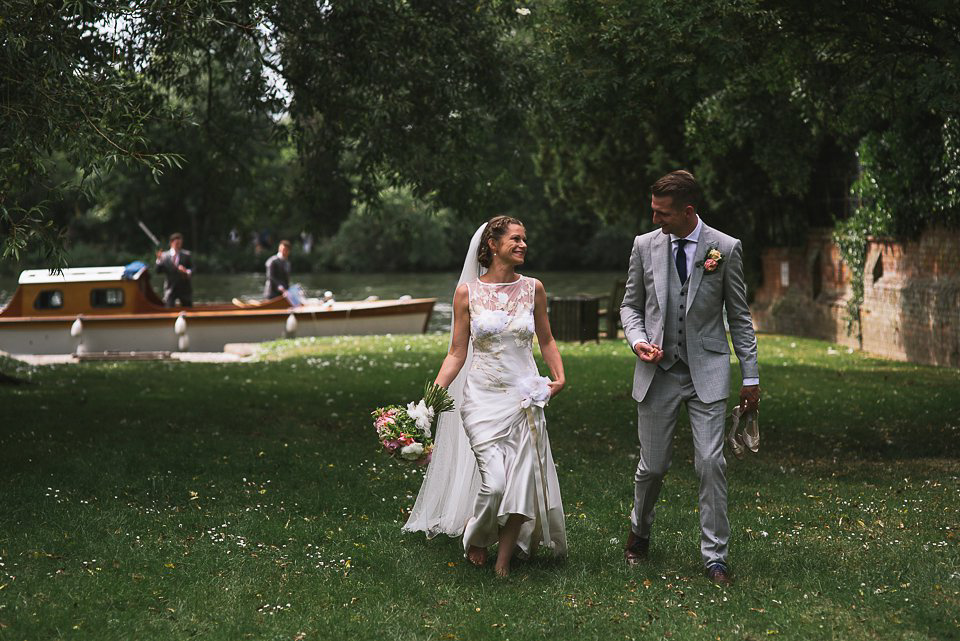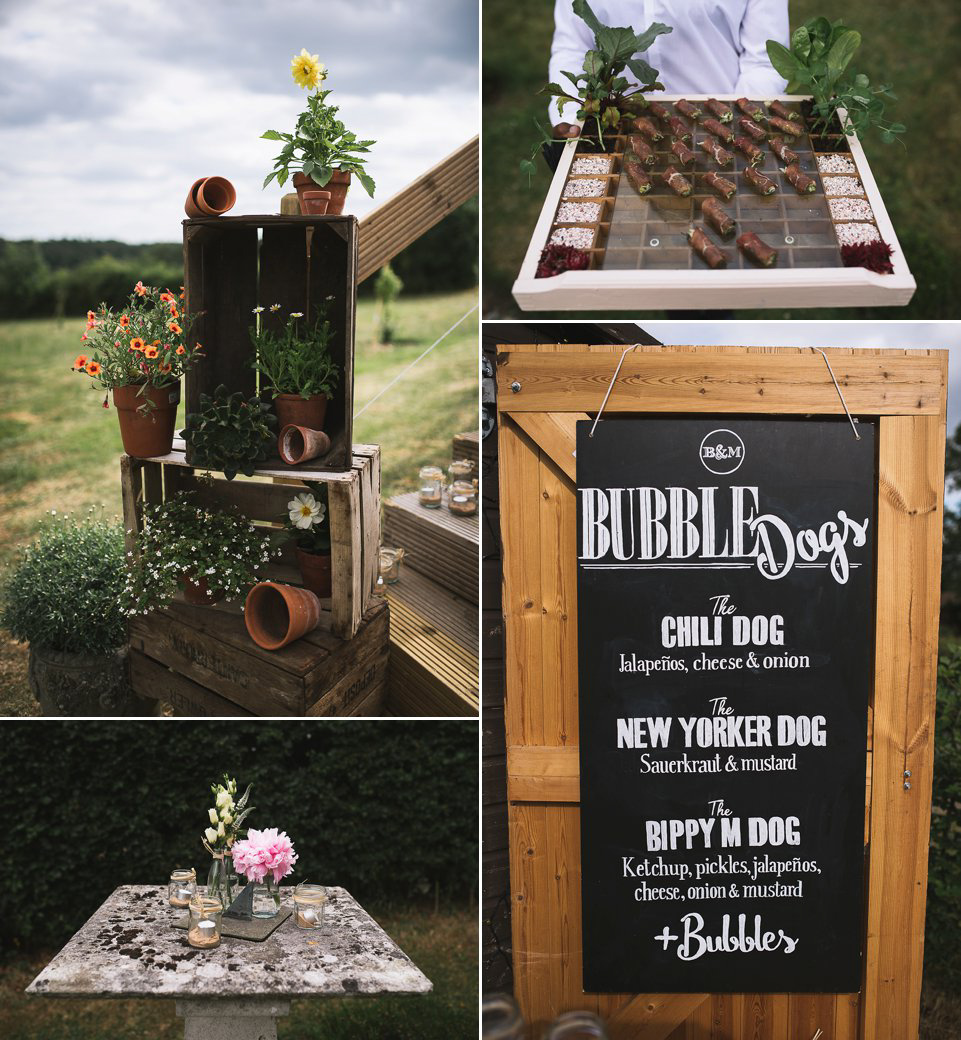 The pair took on the challenge of sourcing every individual catering supplier to create exactly what they wanted for the day, no mean feat. Check out the hotdog and popcorn stands, I'm so envious right now.
" Matt is in the hospitality industry, so getting the food and wine right was very important. We did all the catering independently – as Matt is in hospitality he has contacts with chefs and suppliers.  All the kitchen equipment, crockery, cutlery was sourced by us and we hired a chef and his team to create the incredible wedding breakfast.
During the drinks reception we had an Oyster bar supplied by The Oystermen. Canapes and wedding breakfast was by Christian Edwards, head chef at Bonnie Gull, evening food was DIY hotdogs and champagne served from the garden shed and a popcorn bar in the marquee."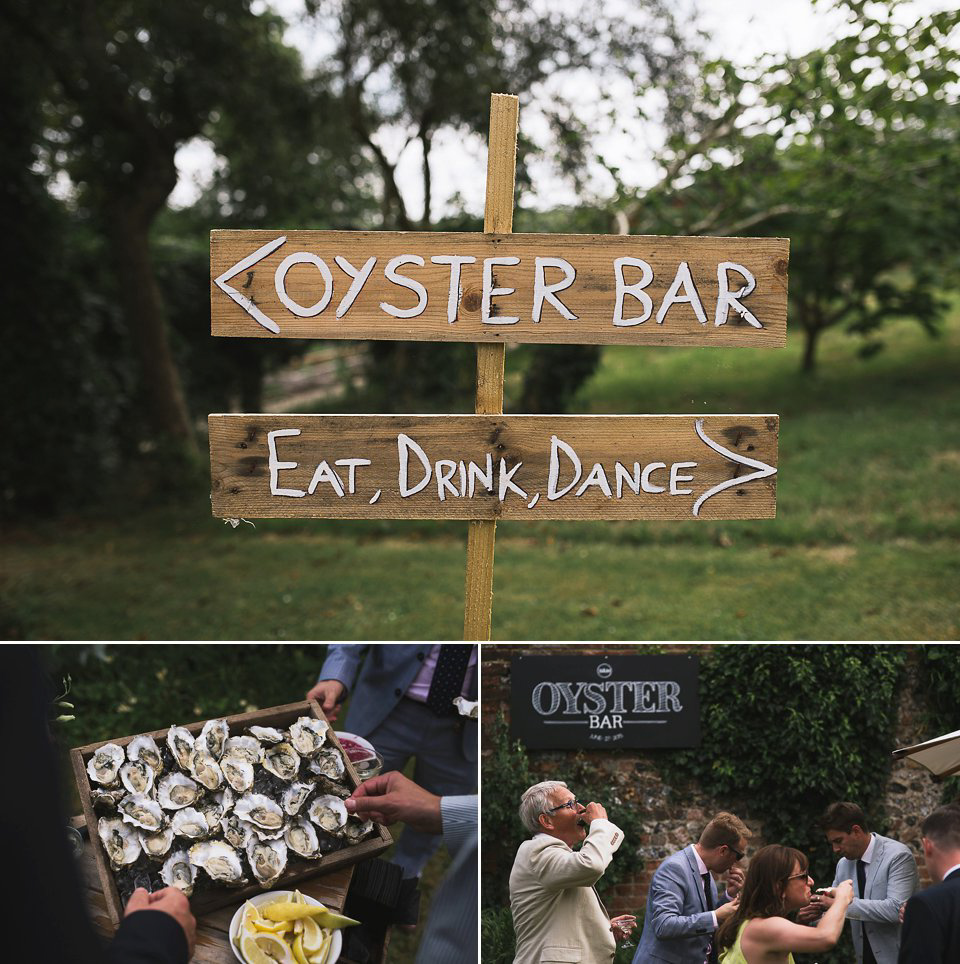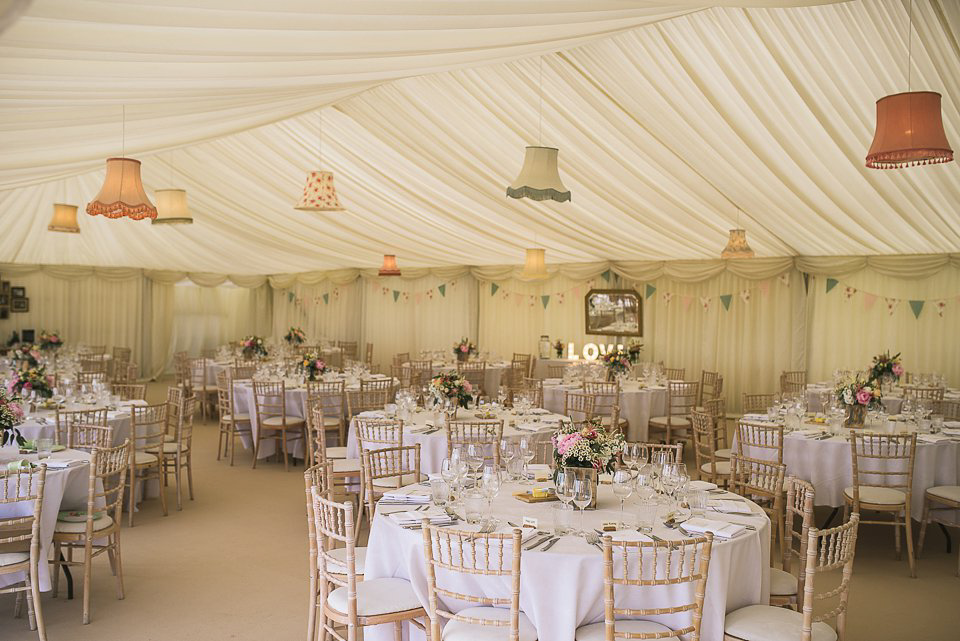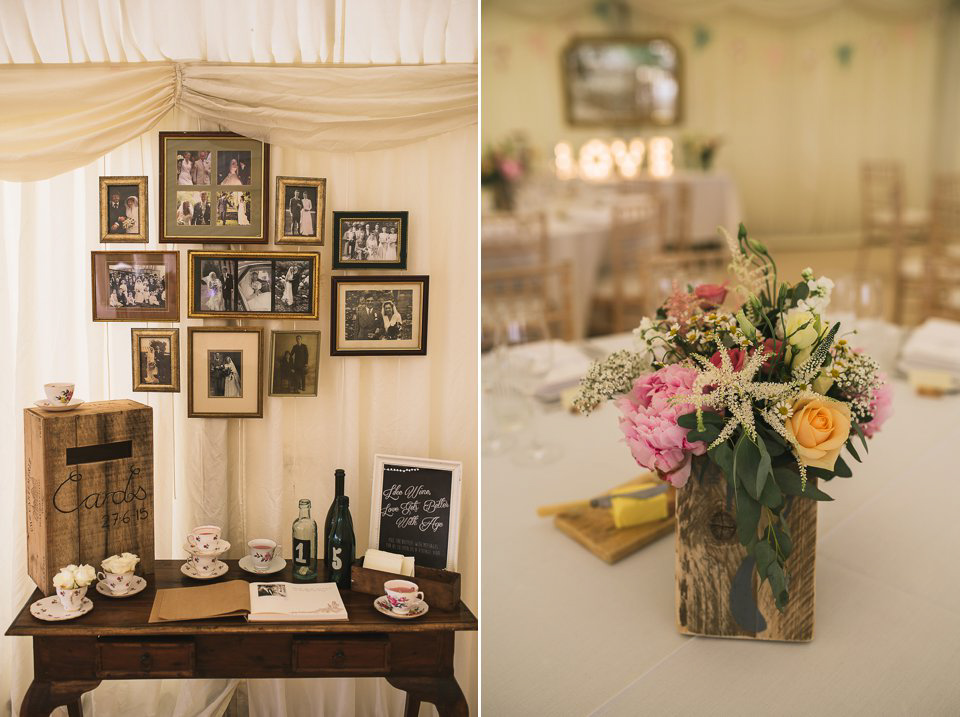 "All decor was either created by us or sourced from charity sales. We picked up some shipping palettes from an industrial estate, a lot of sanding turned them into table numbers, butter boards and hand painted signs (reception, oyster bar, dancing)."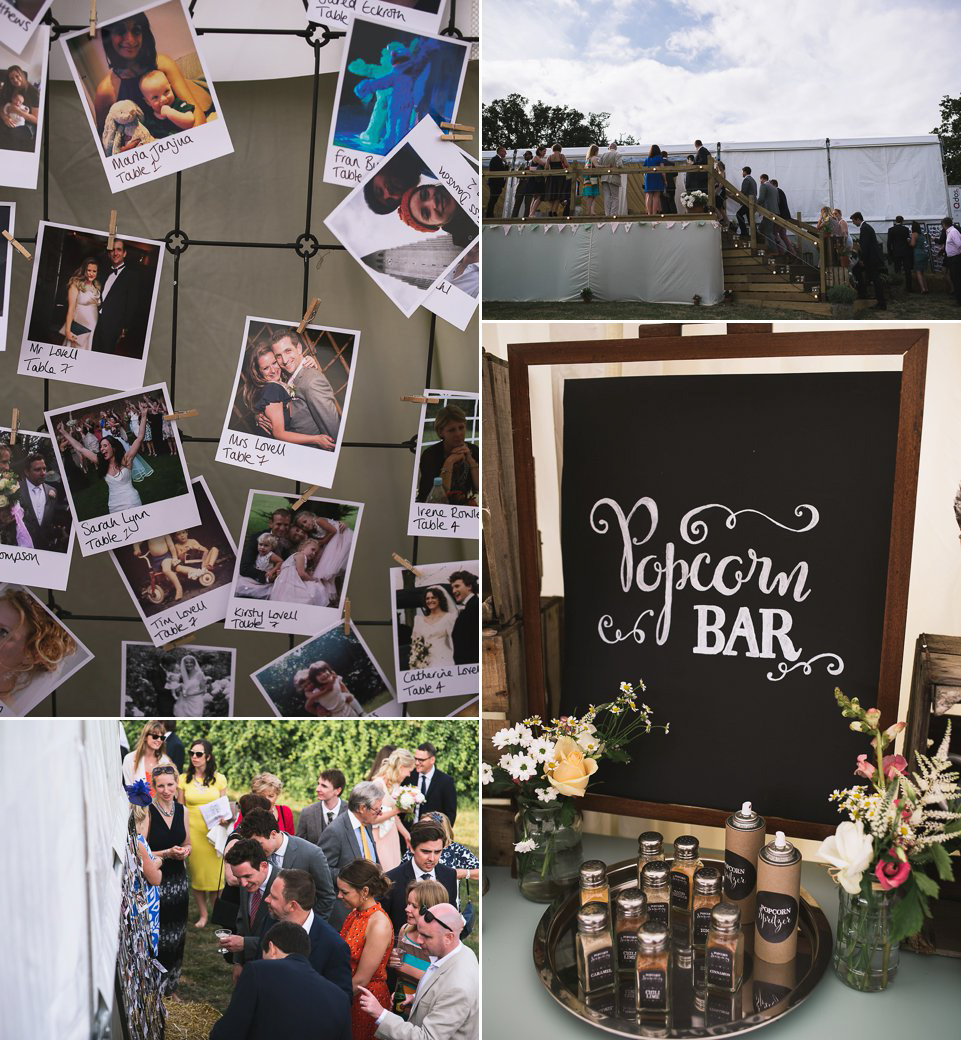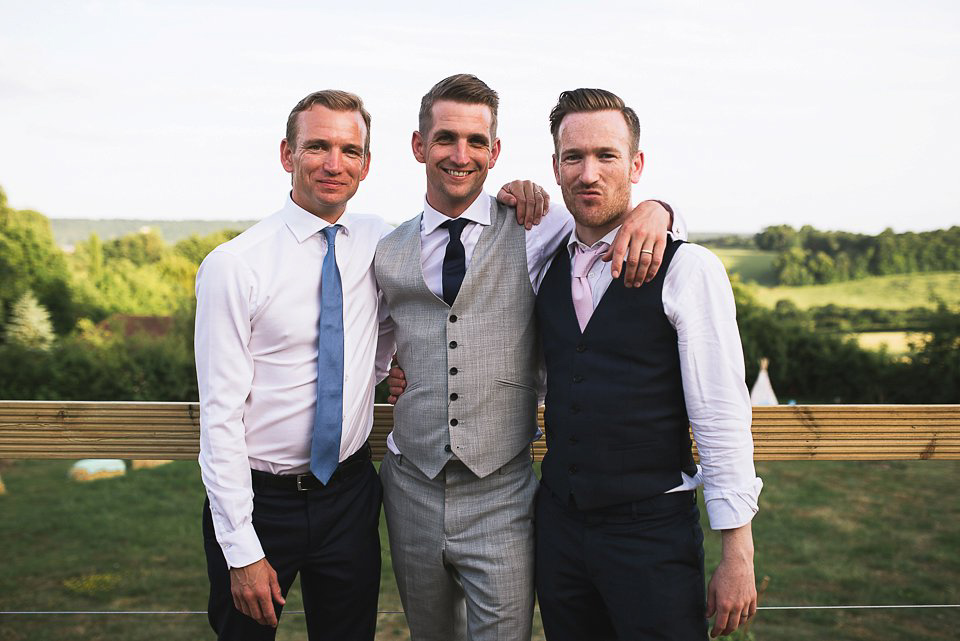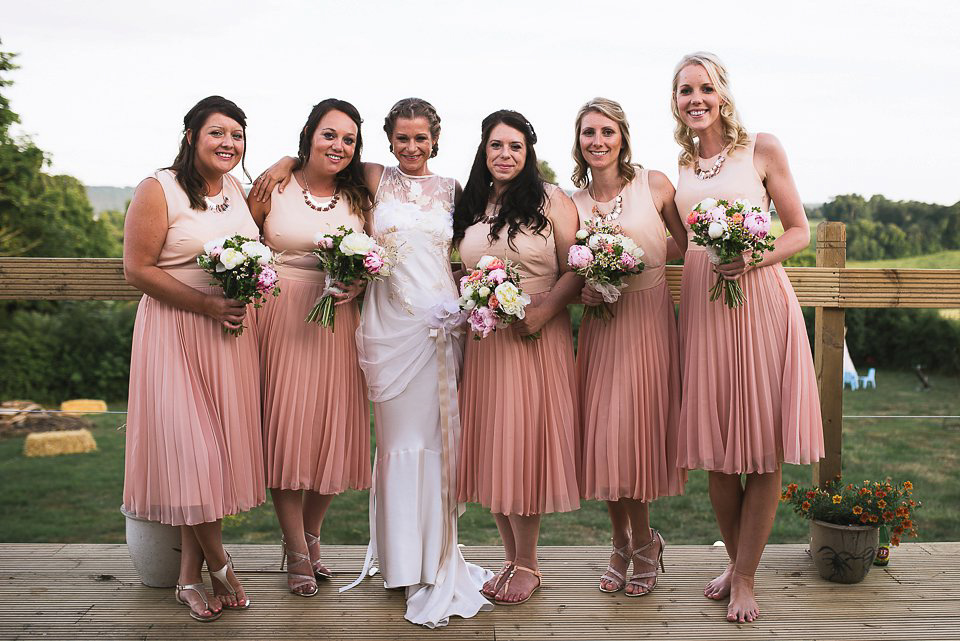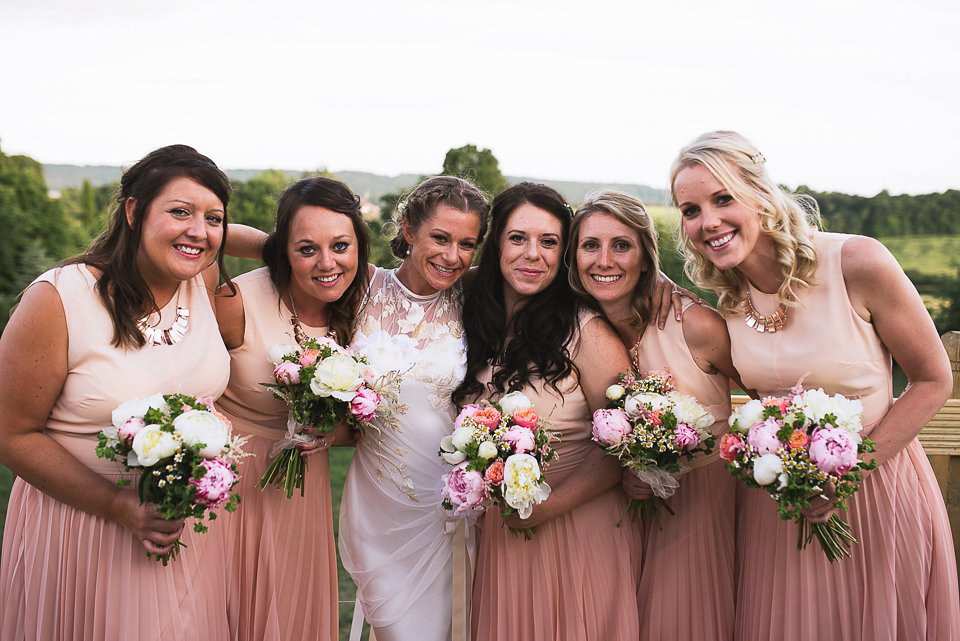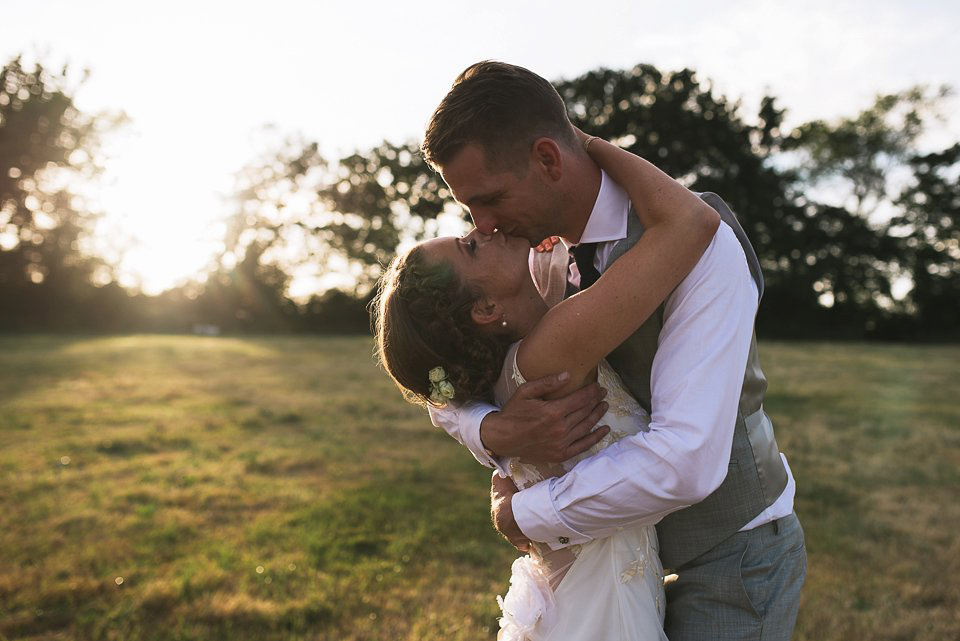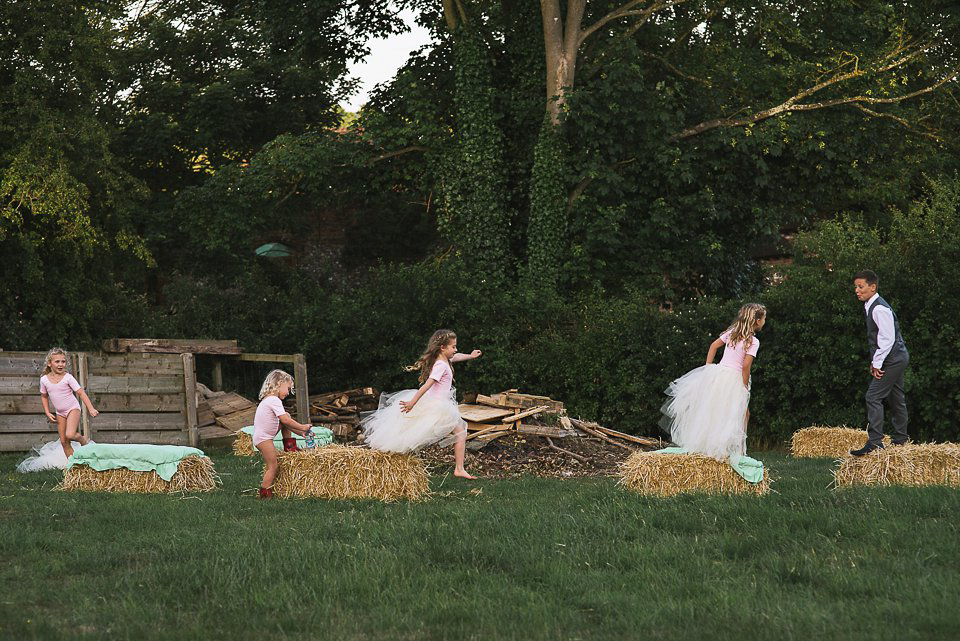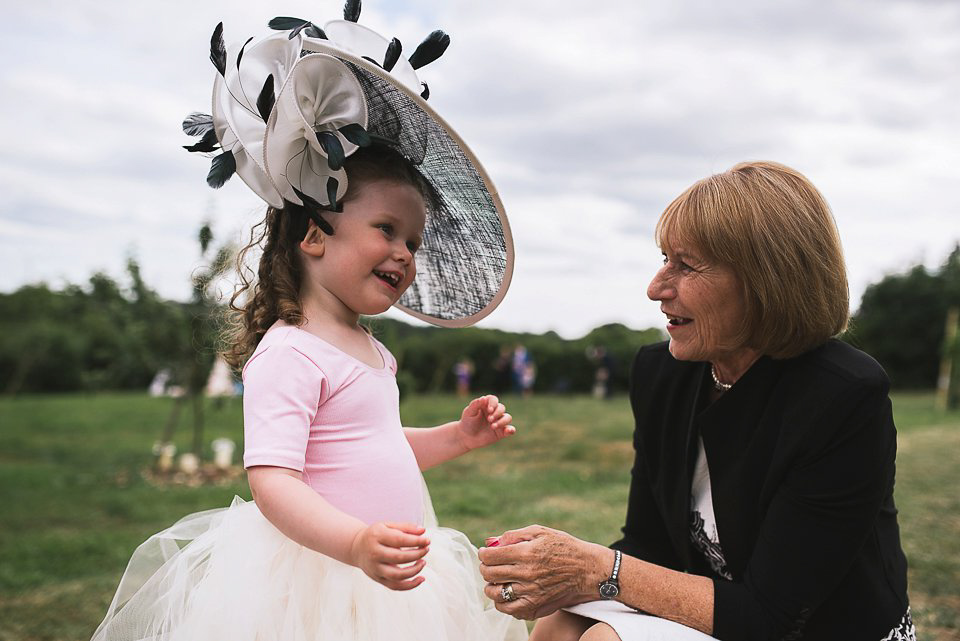 Before sitting down for the meal, the newlyweds got everyone up on the dance floor to 'These days' by Take That
"To get the energy up and set the relaxed vibe for the day."
"With the wedding being at Matts family home, we wanted the marquee to feel like our living room so we made a sofa from haybales, used dressers and mirrors from home. Instead of having chandeliers for the marquee lighting, we sourced old lampshades from the Sue Ryder Sales in Nettlebeds."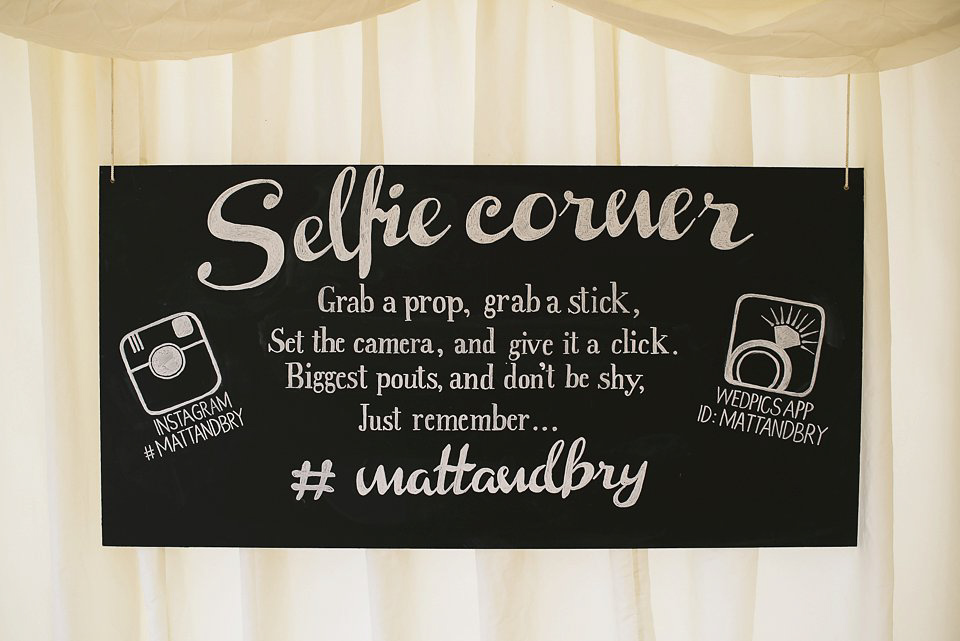 "We added tassles and flower trim to freshen them up.  The sale was also an excellent place to purchase all the vases and decanters used on the tables in the marquee. I roped my mum and mother-in-law to help cut and sew meters of bunting. Matts Dad painstakingly sliced and cut wine bottle corks to hold the name cards for the tables. Festoon lighting outside along with 200 jam jars with tea lights lit the way for our guests.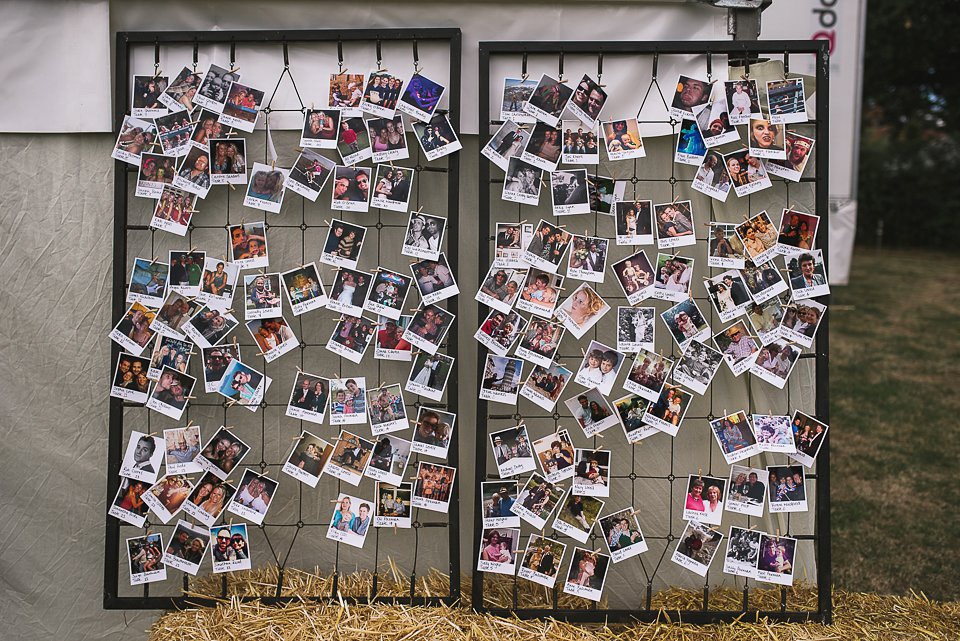 "We designed unique canape trays using old printing press letter trays topped with glass, we used small plants and herbs to decorate."
"We created a selfie corner with props and selfie sticks as an alternative to a photo booth.  We also provided selfie sticks to every table which were a hit."
Words of Wedded Wisdom
"Don't sweat the small stuff! Make sure the big things are in place and don't panic if smaller decorations/favours you were desperate for get missed off.  It doesn't matter.  All your guests are rooting for you, happy to be there and won't even notice if something is missing or out of place.
We had a bonfire in the evening which the guests LOVED.
If you are having a good time, your guests will be sure to – there were parts that didn't go exactly to plan, but no one knew and it didn't change the feel of the day. "
Excellent advice from Bryony, even if you're a bit of a control freak like I was, it does actually all just come together on the day and you're guests will still be super impressed. Thank you so very much to the Lovell's for sharing their very special day with us and thank you to Kristian for sharing these beautiful pictures with us.
Are any of you lovely brides planning on a wedding at home?
Bianca x
Photographer – Kristian Leven
Venue – All Saints Church, Marlow and reception at Groom's parents
Wedding Dress – at Blackburn Bridal
Veil – Blackburn Bridal
Shoes – Benjamin Walk
Accessories – Katherine Swaine earrings
Perfume – Stella by Stella McCartney
Groom – Suit and tie from Reiss and shoes from Ted Baker
Bridesmaids – ASOS
Flowergirls – Dainty Dizzy
Florist – Forever Green Florist
Entertainment – DJ – Peter Roberts
Catering – Christian Edwards, head chef at Bonnie Gull
Stationery – Tom Windsor
Hair Stylist – Kell Skott
Makeup Artist – Laura Lovell