In the almost seven years since I established Love My Dress, there is one brand that has been a constant fixture on my beloved wedding blog.  One brand and a very special lady behind it. I fell in love with the brand back in 2008 when I was planning my own wedding – I can distinctly recall the day I discovered them in an online forum for brides – the same forum as it happens, that my username for which would eventually lend itself to become the name of this blog. 'My beautiful wedding shoes have arrived!', I recall one fellow forum user declaring, having uploaded a tiny image of bare legs elevated high as though she were lying on the sofa – her feet adorned by the most exquisite pair of sparkly heels. And in that precious, exciting, wedding planning moment, I became smitten.
The brand was Emmy London. I'd spent many an hour pouring over websites up to that point in a vain attempt to find the right shoes to wear on my wedding day. I'd tried on so many pairs of heels that it had all become a rather joyless task; open toe, closed to, high, mid, lower heel – sparkle or no sparkle, t-bar or not? Nothing seemed to work. But that beautiful pair of Emmy London shoes I spotted in the forum – they were in a different league. They were exactly what I'd been looking for, without even realising it. I had to try a pair on.
And so began my relationship with Emmy London and it truly was love at first sight. I recall telephoning the office and chatting with the lovely, friendly assistant who explained that Emmy shoes took on average four months to deliver as they were all handmade to order, and that they'd send me some sample shoes in the post to try for size. I recall those sample shoes arriving and literally squealing with excitement. They fit so perfectly, they looked so unbelievably beautiful. I placed my order immediately. The whole experience for me, plays such a fond part of my wedding planning memory. I'm so delighted that I discovered Emmy before I tied the knot.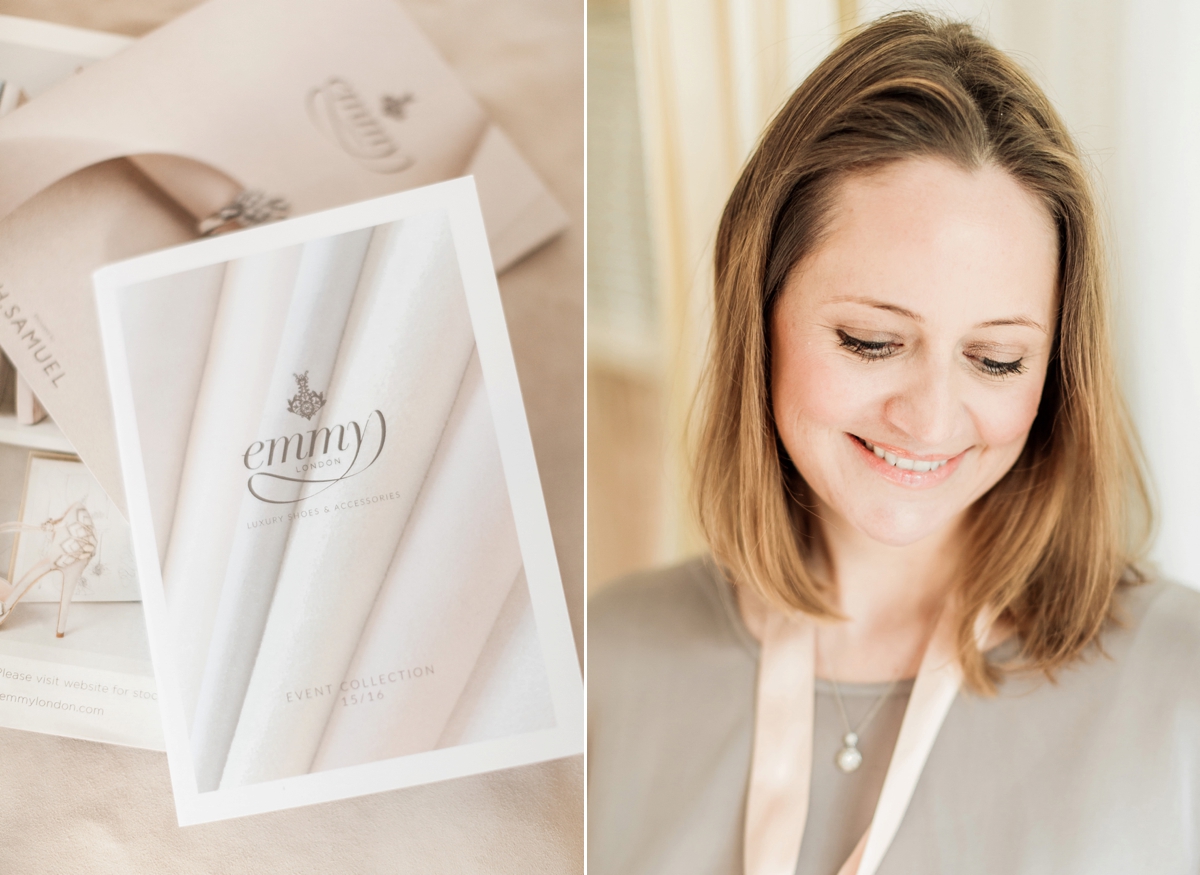 Emmy Scarterfield of Emmy London
All photography on this page by Naomi Kenton
I didn't know at the time of course that I would go on to set up 'Love My Dress' after getting married, or that Emmy would be part of a group of wedding industry suppliers who would welcome me into the industry so warmly, inviting me to London to join and support them at industry events. I had absolutely no idea that eight years after first discovering Emmy London, that I would be proudly supporting the brand as a loyal and much loved sponsor of Love My Dress or that Emmy would go on to become a lovely friend, as well as a colleague. Life really can be full of wonderful surprises.
Back in 2008, Emmy boasted a most exquisite collection of luxury shoes. Since then, the brand has expanded to include a full ready to wear collection of heels, the most charming accessories and headpiece designs, clutch bags and more recently, an exciting new collaboration with H Samuel.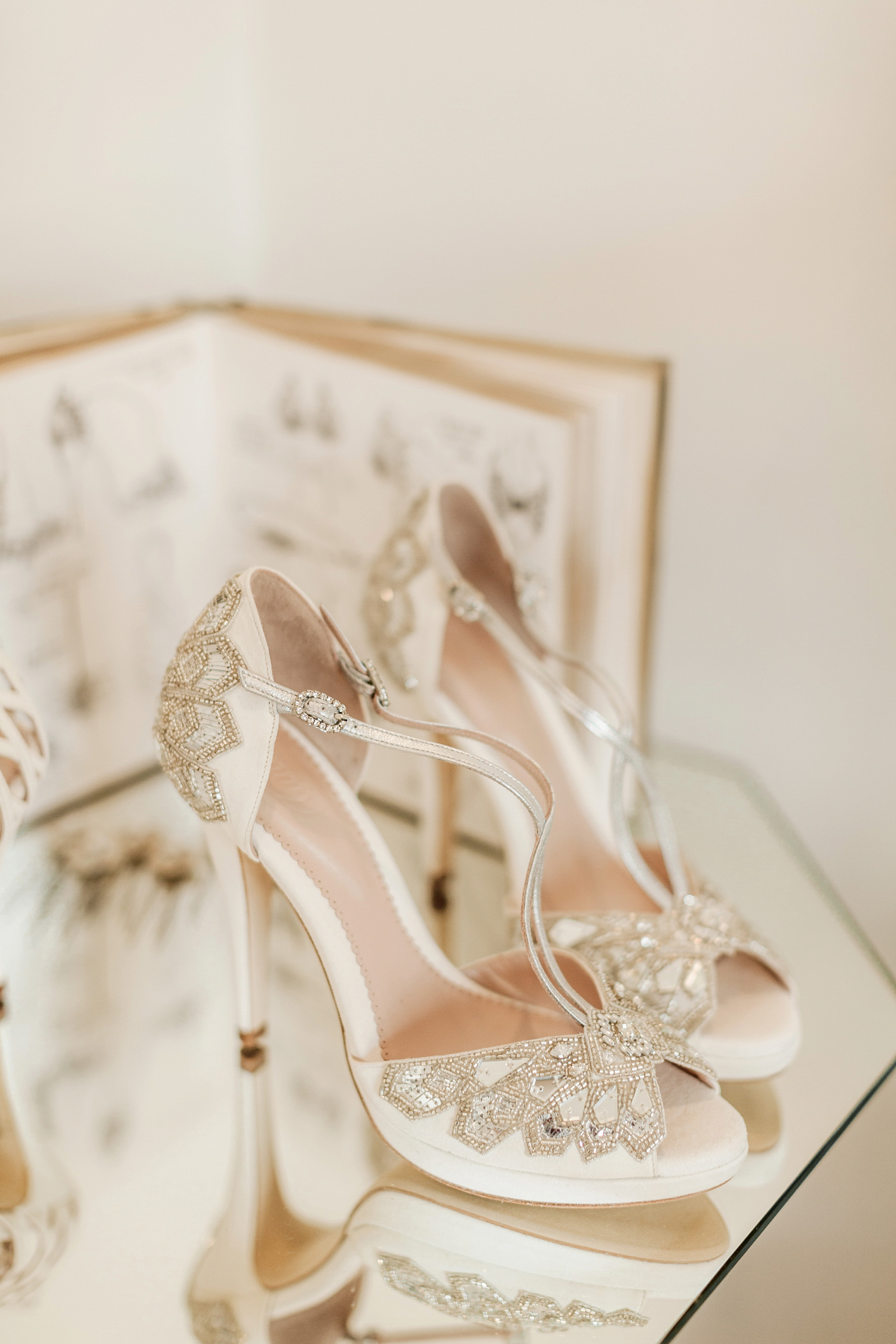 Today, it is my absolute pleasure and honour to be able to share an intimate interview with the creative genius behind the Emmy London brand, my talented friend and gifted designer, the lovely Emmy Scarterfield. My huge thanks to photographer Naomi Kenton for taking these lovely images inside Emmy's London boutique.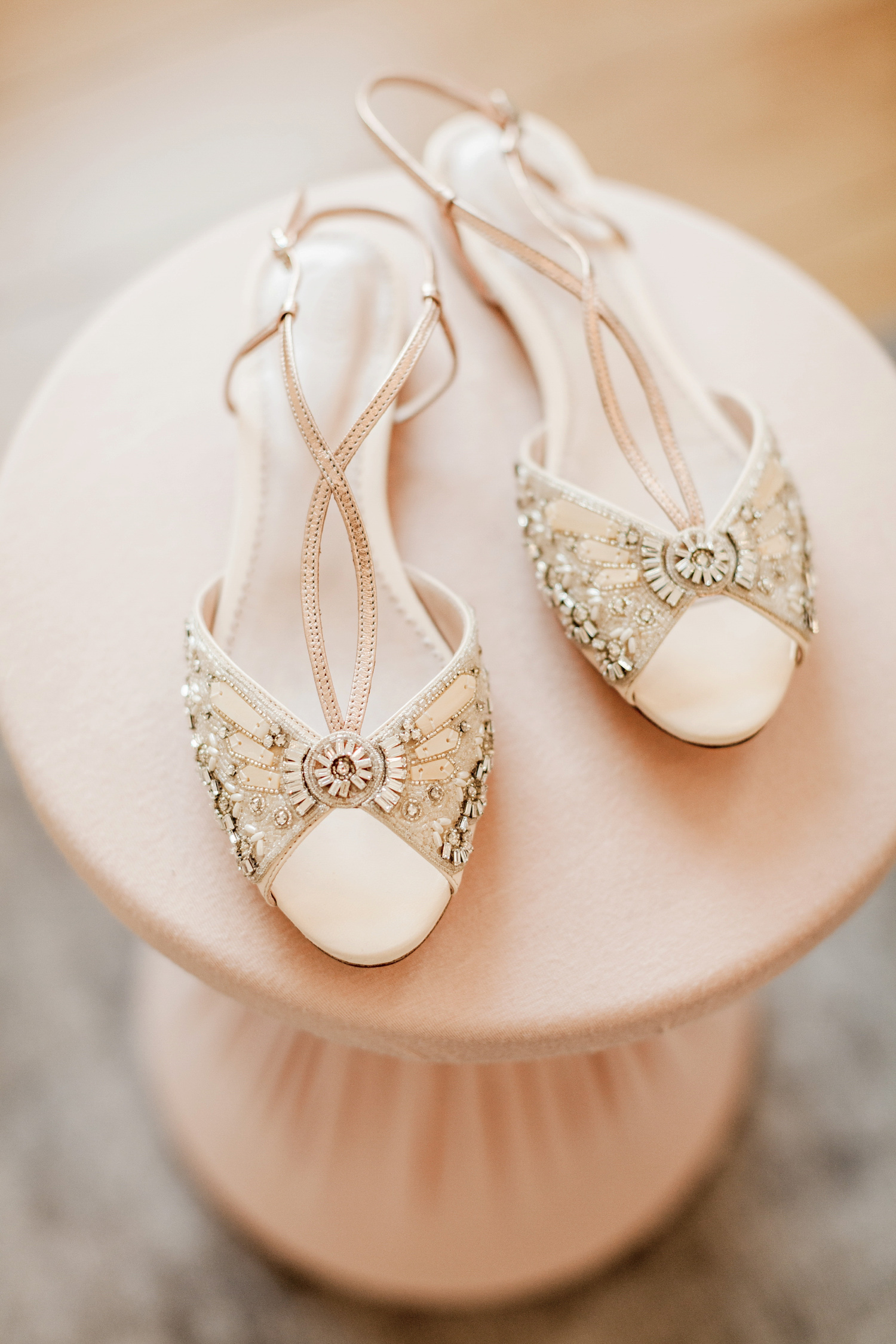 What inspired you to start designing shoes?
Interestingly, I never really considered doing anything else! I think I railroaded myself from the age of two! I really remember dropping my sister at school when I was quite small and just taking in everyone's shoes, and one pair, a red pair, really caught my eye. I remember asking my Mum on the way home if she'd ask that little girl's Mum about the shoes and ask if I could have them once she grew out of them. It was a passion and longing for shoes that really started to develop from an early age. At my primary school the renowned shoe company Clarkes use to do wear tests with the pupils but I was never chosen to take part, no matter how hard I waved my hand during assembly. Little things like this ignited a drive inside me that I think led to me designing shoes.

Can you tell us about the first pair of shoes you designed?
The first pair of shoes I designed as Emmy London were actually for one of my best friends, someone I've known all my life, and it was really preparing for her wedding that gave me the idea of creating Emmy London. She got engaged and asked me as her shoe expert friend to help her find her wedding shoes, which I was hugely excited about. So, we ventured off into the centre of London and went too all the go-to places – you name it, we went there. By lunchtime, we had to console ourselves with a glass of champagne as we were thoroughly disappointed!
In our opinion, there wasn't really anything as special as her dress or something that matched up with her dress and there was nothing that matched up with what she was looking for. And she wasn't looking for anything that different in terms of design but it certainly wasn't a hooker shoe and it certainly wasn't a grandma shoe either! There really didn't seem to be anything out there and we both found this really disappointing. That's when I spotted a gap in the market and decided that my friend can't be the only bride in the world looking for this unattainable shoe. So that's when I started to think about the concept of bespoke bridal shoes and began the initial plans for the Emmy London brand.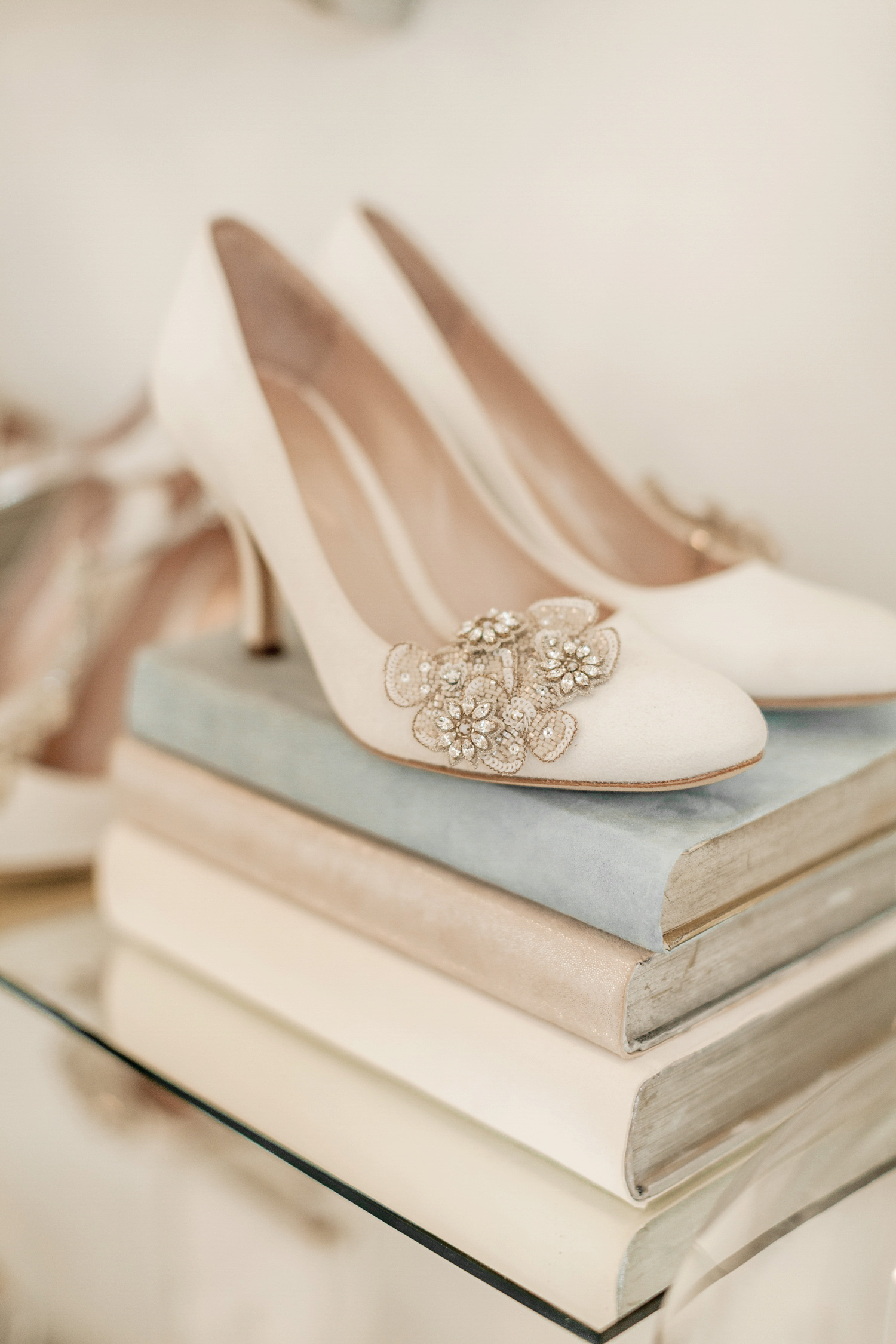 How do you go about designing a collection?
I'm kind of addicted to sketching! I have shelves and shelves of old sketchbooks at home and I've always got one on the go and although most of the development with shoes is done in 3d, my collections always start in a sketchbook. Sketching is almost my preferred way of communicating – I'd rather sketch a shopping list than write one! So for me, sketching is a very natural way to convey my ideas and to the perfect way to start the process.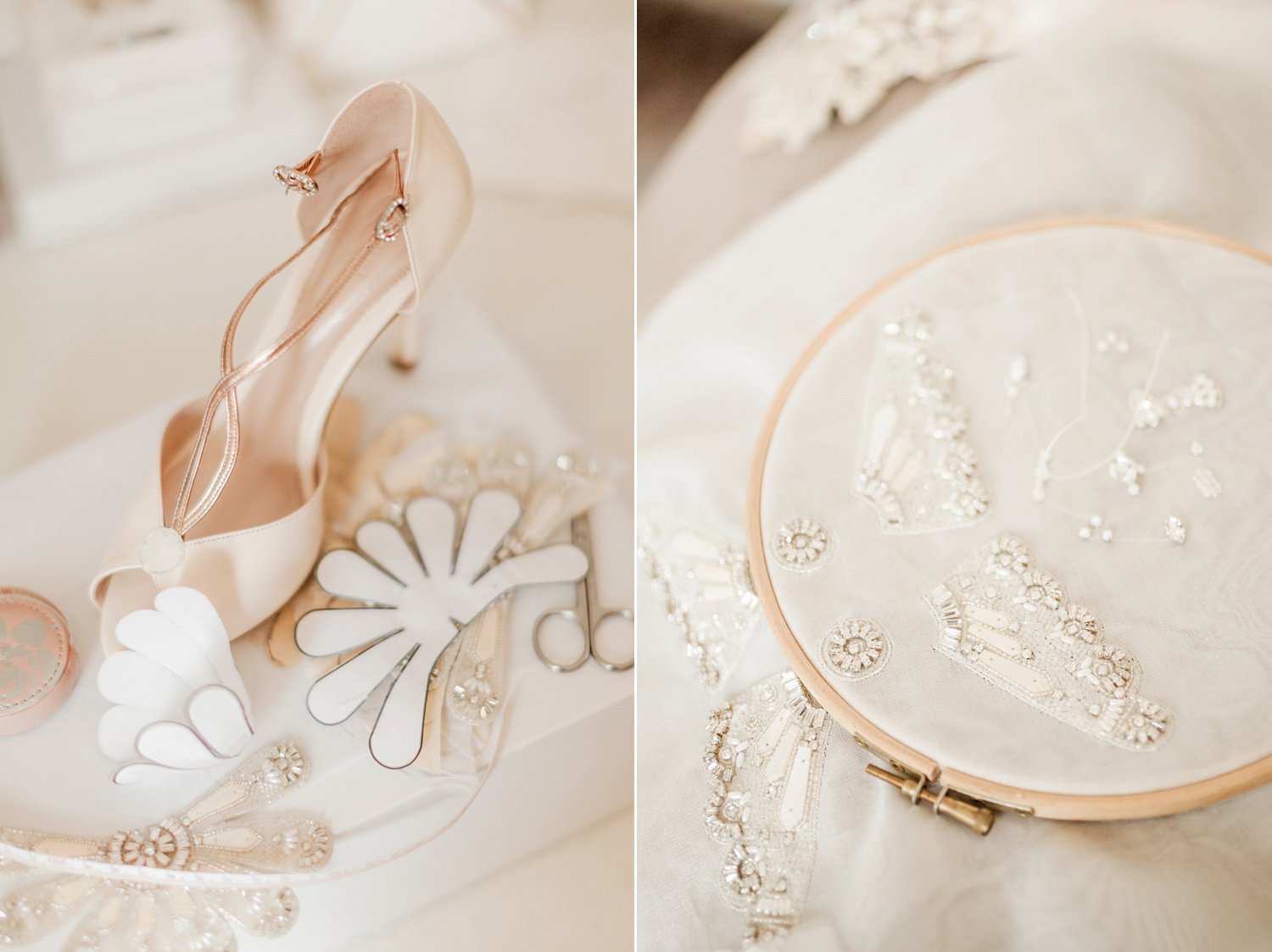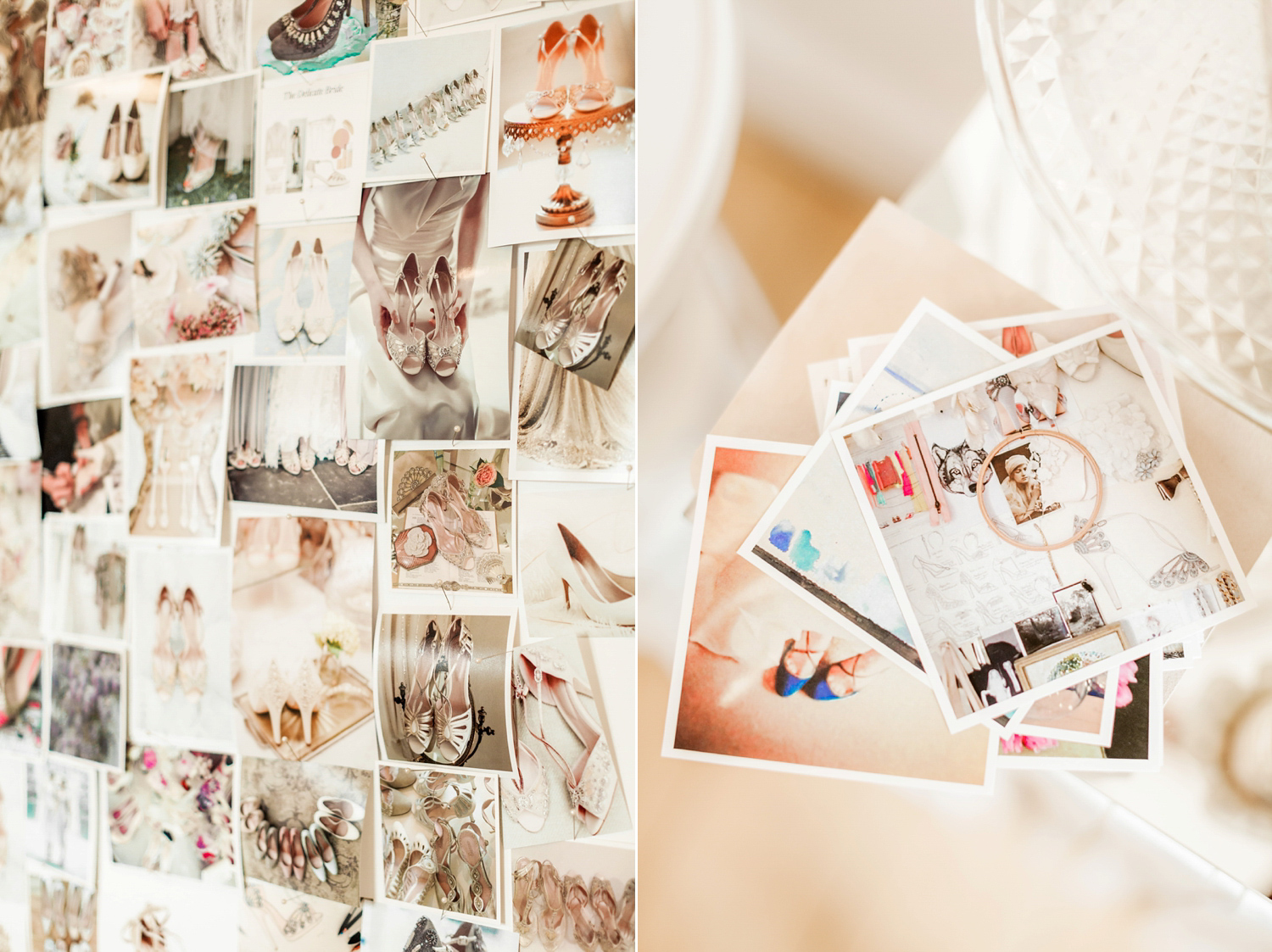 Where does your inspiration come from? Do you have a muse?
I don't really have a muse to be honest, I kind of wish I did! I think initially my designers were very self indulgent but as our collection has evolved, I feel that we have something for everyone. In terms of inspiration, lots of things really – architectural references including tiles, porticos and doors, which you might have noticed on my Instagram!
I love the intricacies of insect wings and I'm massively into jewellery, which is a slight obsession I think I inherited from my Grandma. But it could be anything that captures my imagination – it's always fairly random, it's not a mapped out process but maybe I'm dropping my kids at a park and I walk back through a park and see a beautiful gate for example. It's true that you can find inspiration, even in a busy life!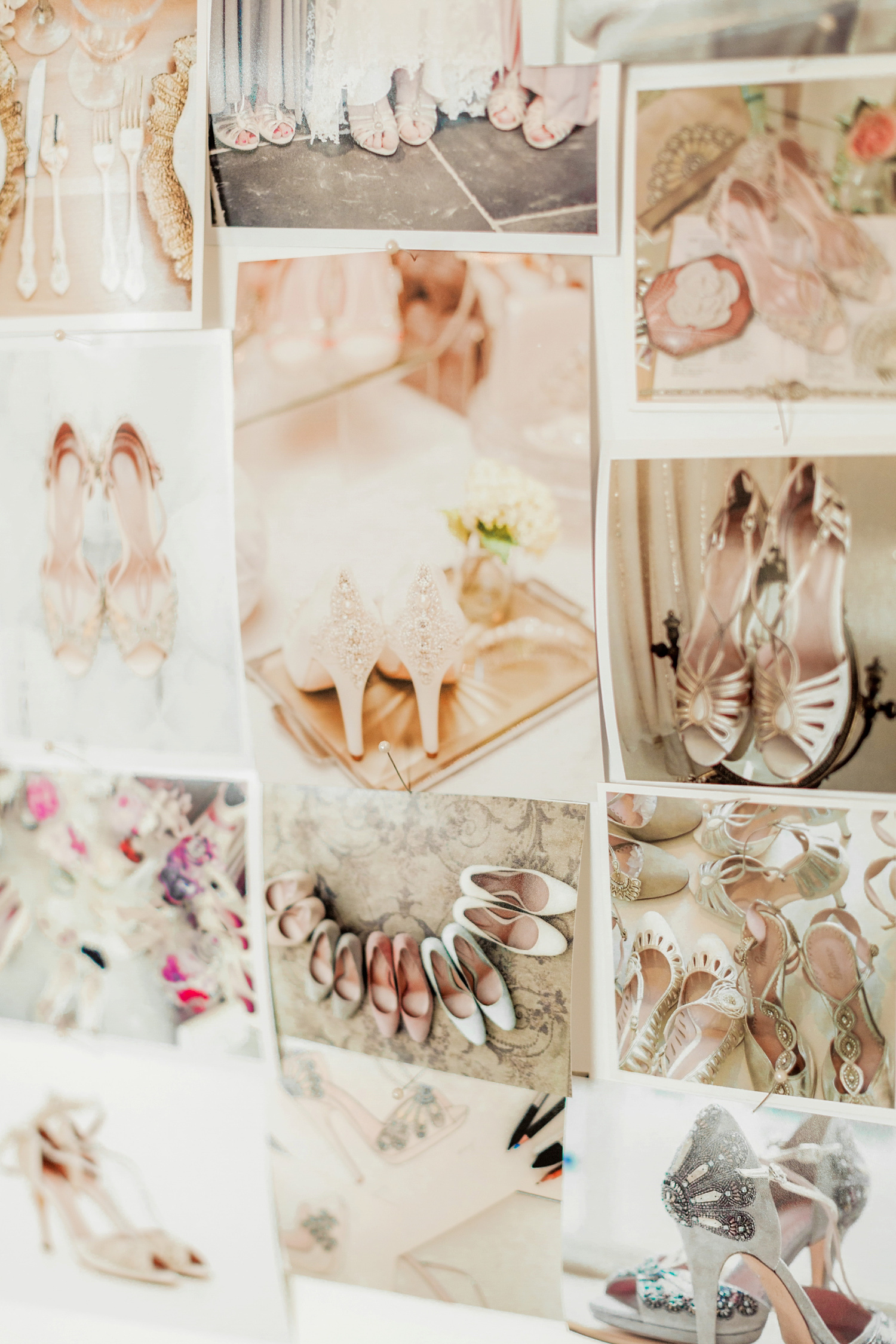 Tell us a little bit about your working day. What does it look like?
My day starts quite early and the first part of it is always focused on my kids, getting them up and ready for school. We live in a four-storey house so there's a lot of running up and down stairs and quite a lot of shouting! I always feel like I'd start the day with a run and a bit of headspace but I always feel that I get the same amount of exercise in my house just getting ready! So my day starts when I get into my studio which is a ten minute bus ride from my house or I walk and pick up a coffee on the way which always feels very civilised!
When I get to work I always really really like to catch up with the team and make sure that everyone knows what's happening and share any news. We also have a lot of online customers from overseas so we get quite a lot of interaction from them through the night. It's great to share all the feedback with the team to give them a boost as they work so hard. We are a very close, hard-working team, so the days are busy but often full of laughter. At the end of a busy day I like to relax at home with my girls and Dickie my husband. It's a chance to unwind and prepare for the day ahead.
What do you like to do to relax in your spare time?
Relax? Spare time?! What's that?! In all seriousness, as I've had my business for 12 years, I've had to get really good at switching off so although I work really hard and over quite long hours, when I'm not working I'm pretty good at relaxing. If I light a candle, my whole mood changes and I do like to eat a lot. I like to eat good food and I like cooking, I find that relaxing. Listening to music, a good glass of wine, and, as I'm getting older, I do get a lot of joy from gardening and going for walks.
But the big secret is, and not many people know this, that I love camping. That's the ultimate way to wind down.
When you look at the development of your business, what are you most proud of?
There are some really pivotal moments in our business history, which have really shaped us. They're the kind of things that on paper, I should say are our highlights but actually, it's the little things that can really be the 'pinch me' moments. For example, having branded tissue paper, our own amazing shoe box, a team of people that help me every day, a website that lots of people love using and our fabulous customers that give us so much great feedback and constant reassurance that we're doing a great job. That's what I'm most proud of.
Do you design with an Emmy client in mind?
I design very much with my own handwriting, which luckily, people really like! I feel like now we have a really balanced collection so there are lots of brides, looks and venues that I'm thinking about. I guess all of those looks and people focus on the shoes so it's relatively easy to create designs people love. Also, because we see so many of our clients on a daily basis, I'm always getting great feedback so I know that this heel height or that toe shape is really popular and the design details really work for Emmy London clients.
Is there a shoe in your new collection that you might say is your favourite?
I absolutely love the Celestina sandal, I just think it's so delicate and beautiful and flattering and ultimately so comfortable. I literally think you could run for a bus wearing these! I also love the slight Swan Lake reference in the design; I'm really tempted to order these for myself in a gorgeous soft grey.
Why do you think we all love gorgeous shoes?
Interesting! Its' a topic that I'd really like to explore more and in hindsight, I wish I'd done my dissertation on this subject! I think new shoes for women is a really interesting relationship and I think it has lots to do with the fact that you can be any shape or size but still wear amazing shoes. You can be having a bad hair day, a bad skin day but when you put on a pair of shoes, you feel different.
Shoes, particularly high-heeled shoes make you stand a different way so you can instantly feel more feminine, sexier, more attractive so all things make us feel good about ourselves.  There's something personal about buying yourself a pair of shoes, it's a treat that feels quite practical as we need to wear shoes in day to day life. But I also think that our feet are one of the most sensitive parts of your body. If your feet are uncomfortable it can have an unfortunate effect on your mood and day. Great shoes are the shoes that are not only stunning to look at but also sublimely comfortable. When you slip on a pair of shoes that fits you effortlessly and have the perfect balance, you feel instantly at ease.
When I am designing new styles, I always consider both beauty and comfort, quality and craftsmanship are of paramount importance to me. I love hearing from brides how comfortable and happy they have been on their wedding day in our shoes, it really makes my job incredibly rewarding.
What excites you most about your work?
I really enjoy developing the business and growing our business and building a luxury brand name, I get a lot of satisfaction from that. I also really enjoy being the face of the brand – I love meeting people, engaging with people. Mostly, I love shoes so being the position where you make people happy all day every day well, I just don't think you can get better than that!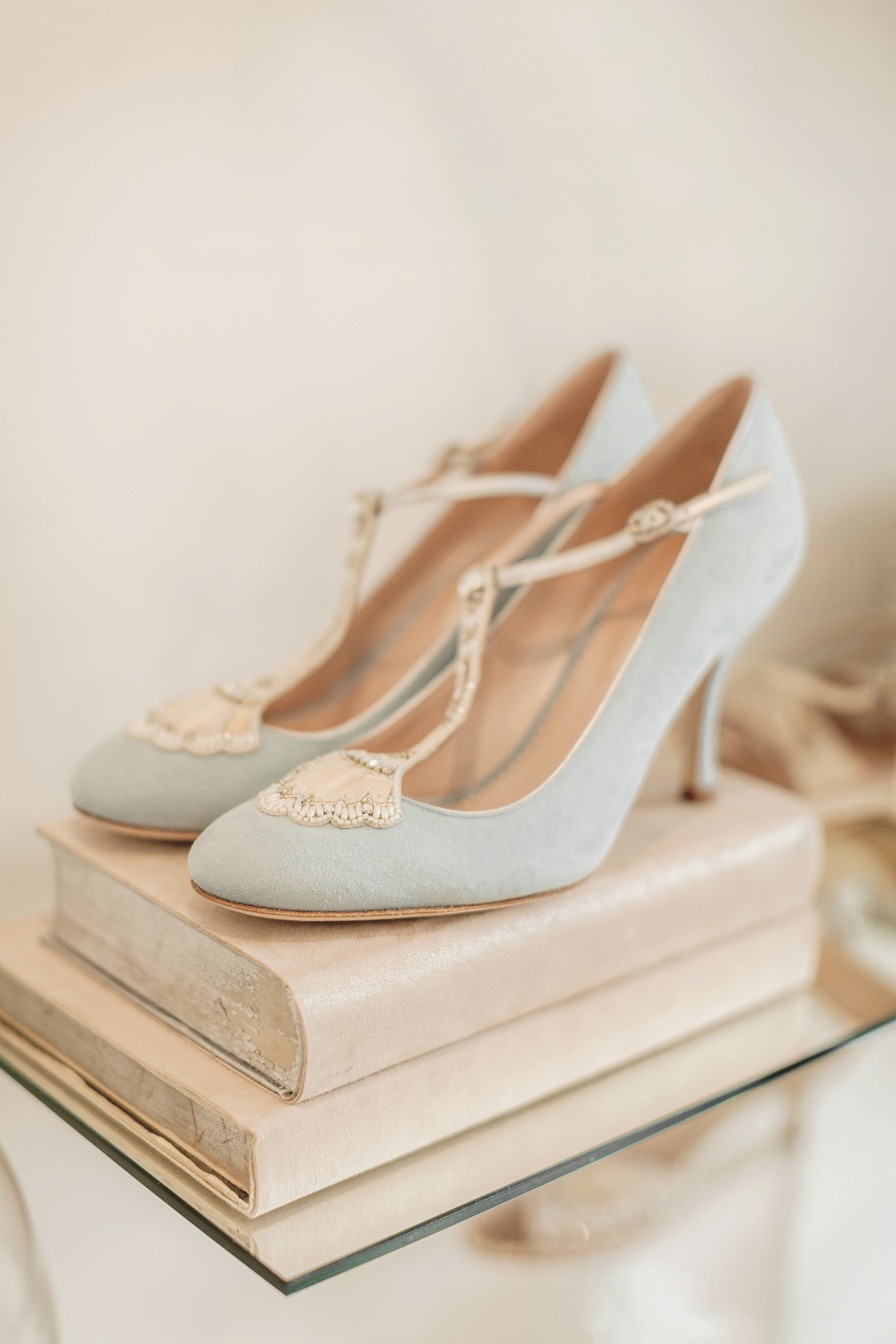 Interestingly, I started the process by really defining the key ingredients of the Emmy London brand that have always been in my head but I've never documented this in a visual way for anyone else to interpret. I was really quite adamant that I didn't want to delegate that process to anyone else so it literally was quite soul searching in terms of defining what makes an Emmy London product.
[fve]https://www.youtube.com/watch?v=lupCc23ofWs[/fve]
See the full collection at H Samuel here
I created a board of lots of images and it turned out that they were all really quite blush in colour and this board summed up Emmy London as a brand and I identified three themes that could be interpreted as starting points for design. One of those was architecture and the Cinderella and Francesca shoes are examples of this.
Another was the teardrop, which is our signature cutout, which has been in the collection ever since we launched. The last was botanical and we have a lot of floral and leaf details throughout the collection in shoes and accessories. So, it was really key to have those elements represented in the new collection, especially for a collaboration. From those themes, I did sketches and with the H Samuel technical team, we interpreted these into technical specs and these were used to make real items of jewellery with real diamonds!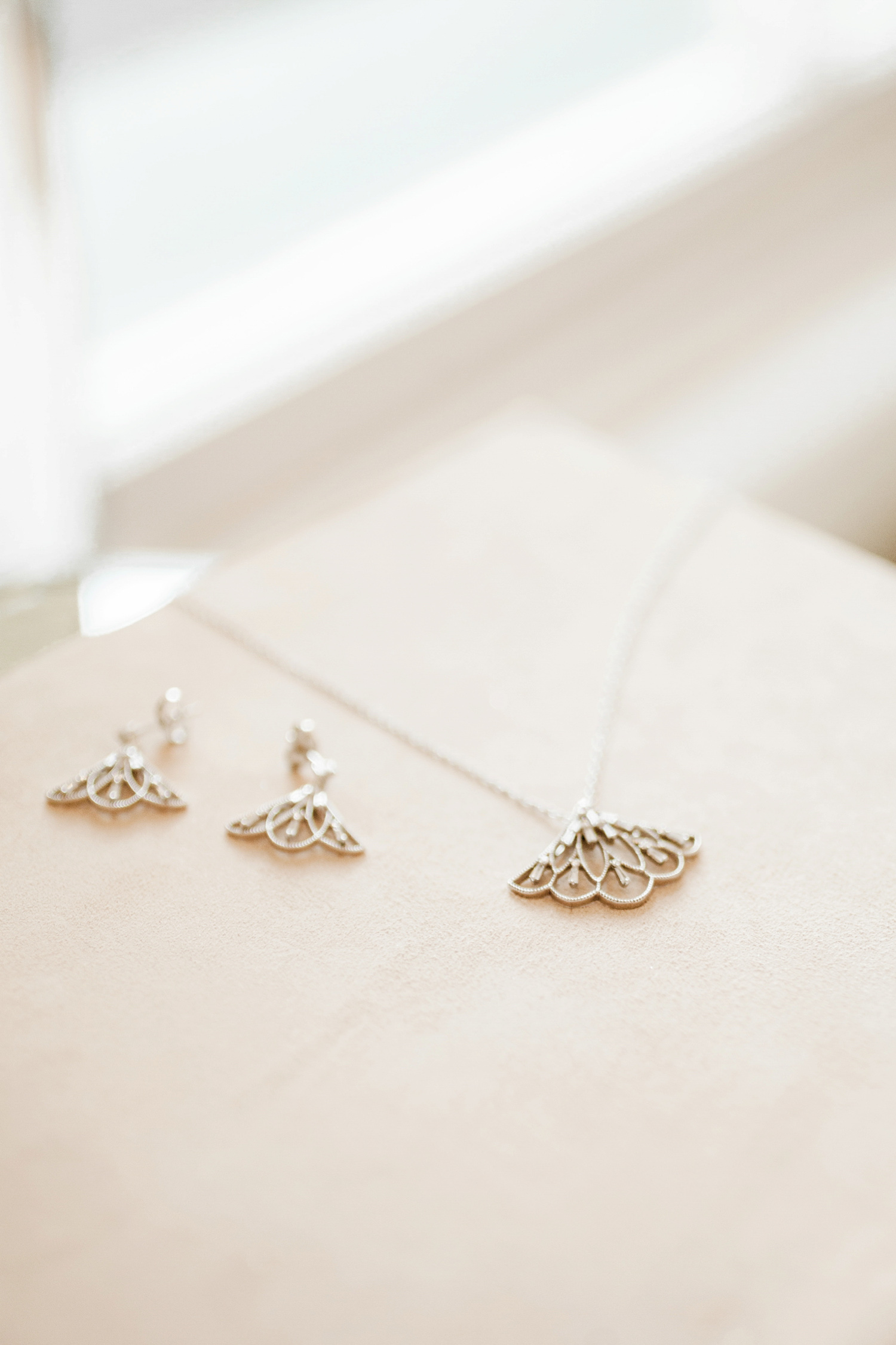 One day before Christmas, I spent the whole day with their design team, reviewing the collection, choosing which ones were going to stay, which would go, which designs needed more work and that was a really fun process. Also, we worked out how pieces would be displayed in store, the colours, the packaging, the branding, including the branding that's on each piece so what's really cute is that there's a little diamond on the inside of the ring or on the back of the earrings that really echoes the crystal that you find on the soles of Emmy shoes.
It was really important to me that those touches were done well and I'm really pleased with the collection, I'm really proud of it. You can see the synergy between the shoes and the jewellery the product feels like a true reflection of the Emmy brand and that is why I am so thrilled with the finished pieces.
What might we see next from Emmy London?
So… in the short term, we're relocating to Fulham Road in Chelsea so that's a really exciting project that I'm really focused on right now and of course we're always growing and evolving so the collection is likely to develop to include beautiful evening shoes, I'm really hoping to develop a bag range too. But, very much, focusing on our core routes, which is bespoke, bridal and beautiful.
To find out more about the divine shoes from Emmy London, do take a look at the beautiful website. Here you'll find the online shop, details of the bespoke process, a fabulous blog plus details on the London boutique and much more. You can also connect with Emmy London on Facebook, Instagram, Twitter and Pinterest.
Love Annabel x
Emmy London is a sponsor of Love My Dress
All photography on this page by Naomi Kenton