Hello again dear readers, how are you this Tuesday morning? Everyone seems to be so busy with wedmin at the moment, I don't know how you all find the hours in the day. I think you've earned a well deserved break so grab some snacks (party rings are making a comeback in my office at the moment, though we balance them out with fruit ice lollies so it's honestly fine) and settle in to enjoy this sunny September wedding in Liverpool.
Lovely stay at home mum, Kayte, married Michael, an import clerk, on 27th September 2014 in beautiful vintage style. They wed at the stunning Grade I listed neo-classical St George's Hall in Liverpool and carried on their celebrations at Aigburth Peoples Hall.
"When we started wedding planning we always knew we were going to go for a quirky vintage look; lots of lace and mismatched cups and saucers, VW campervans and a big red double-decker bus."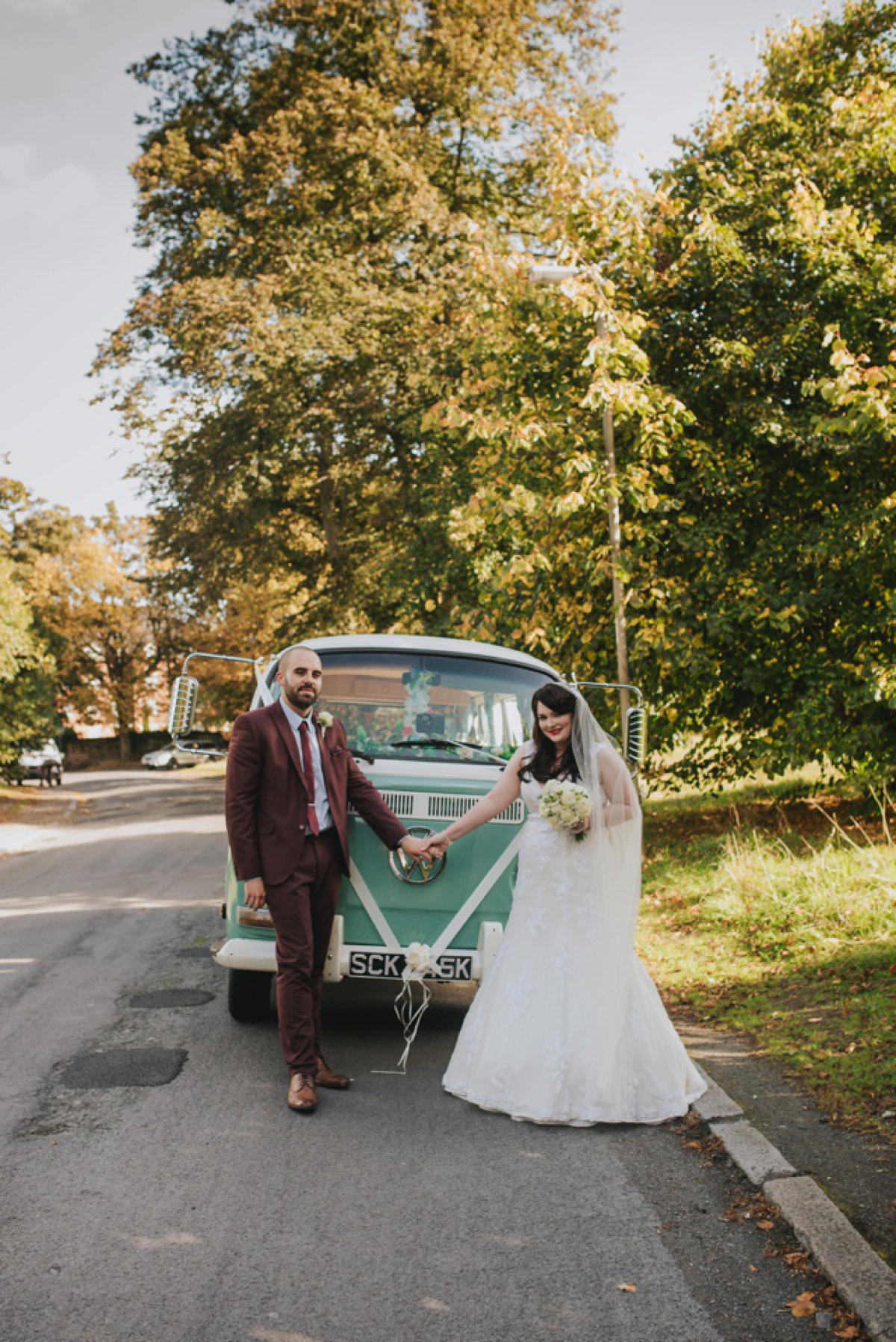 The new Mr and Mrs Cleverley wisely (had to try SO hard not to write cleverly there) chose the ever so lovely Becky Ryan, much loved member of our Little Book for Brides directory, to capture all the emotion of their day. Becky herself is a quirky, vintage-inspired sweetheart (she lists laughing at Flight of the Conchords, cake and hand-written letters as a few of her favourite things, so of course I instantly love her) and I can't think of a more perfect photographer for Kayte and Michael.
"We chose Becky right at the beginning of our wedding planning; we stumbled across her website and knew instantly that we would just be a perfect match. Her quirky style and lack of 'posed' shots were exactly what we were looking for. Her photos tell a story and capture the tiny details in the day that would otherwise go unnoticed. We met Becky for an engagement shoot a couple of months before the wedding at Speke Hall in Liverpool and we knew we had made the right decision."
"Becky was easy to talk to, fun and made us feel totally at ease. It put my mind at rest and on the wedding day itself I hardly even noticed that she was there snapping away. We were over the moon with the wedding photographs and cannot recommend Becky enough."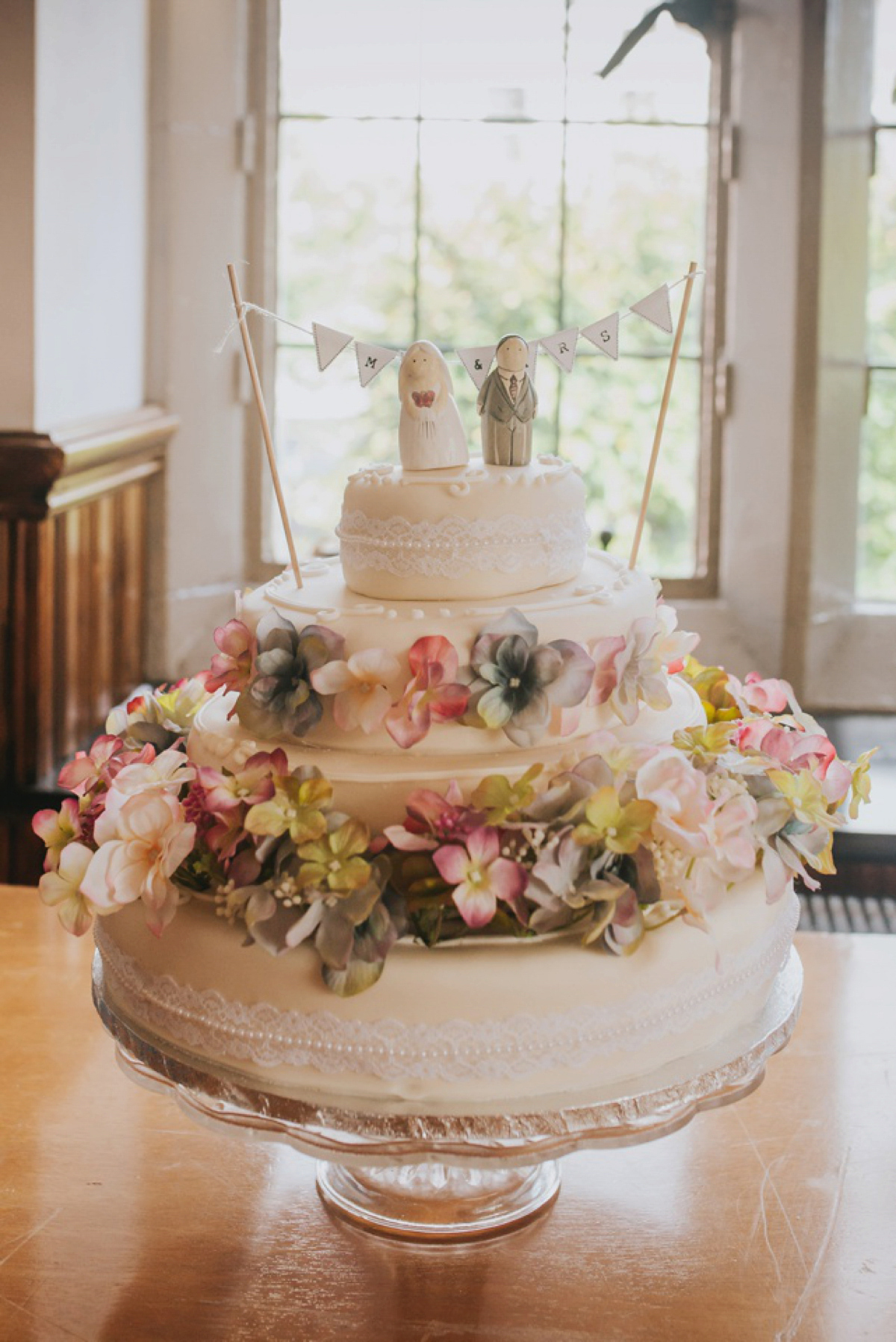 Kayte kept her accessories simple with diamond stud earrings, a silver necklace given to her by her mum for her 'something new' and a silver Tiffany bracelet with a blue heart; a surprise gift from Michael on the morning of the wedding to be his bride's 'something blue.' A spritz of Sweetheart by Ghost, the first perfume Michael ever bought her, reminded Kayte of their early time together.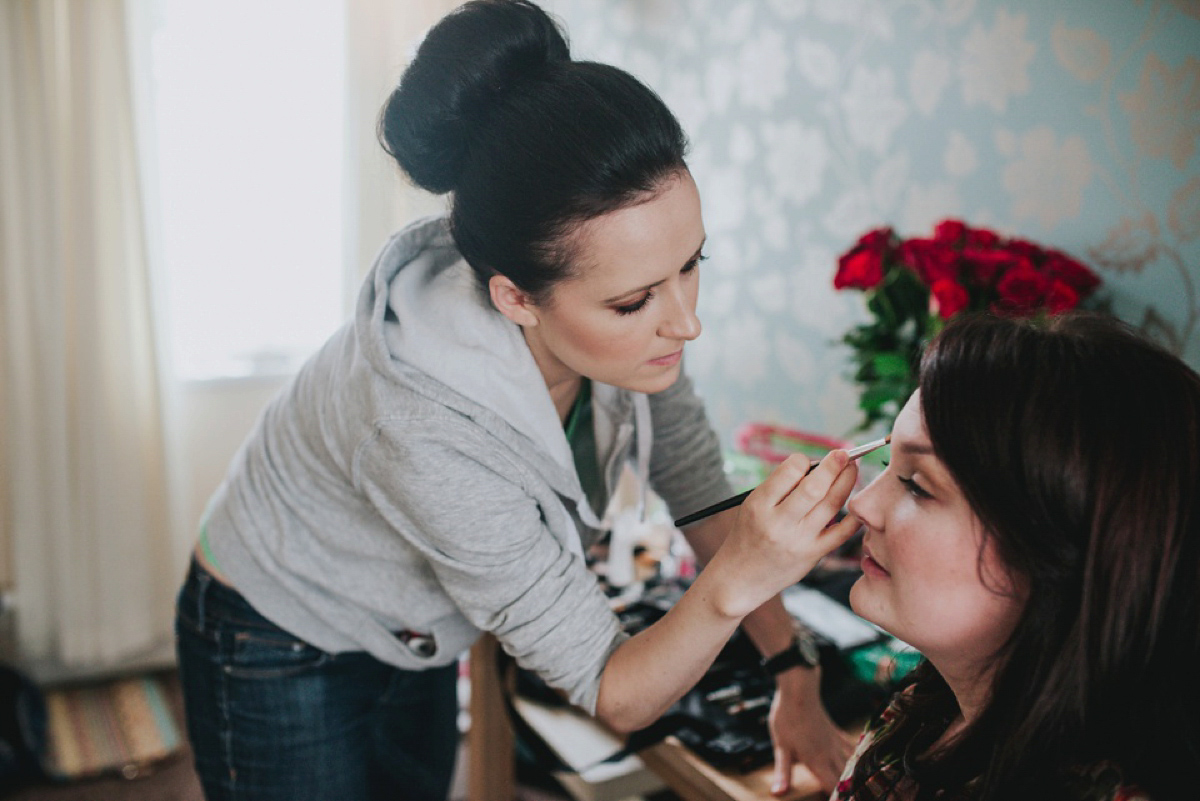 "After countless trials for both hair and make-up with different people, I finally decided to use my regular hairdresser, Sarah Noonan, and my friend Natalie, who is a make-up artist, for my make-up. I am so glad I went with good friends to look after me on my big day. Who better to look after you whilst you sip champagne in your PJ's!"
"Michael and I met in December 2011 in Hannah's Bar in Liverpool city centre, both lost our friends on work nights out and found each other. We hit it off immediately talking about a festival in Spain called Benicassim that we had both visited that summer. Michael proposed in Venice, in some lovely gardens next to St Mark's Square after we had been together for ten months; we got married two years later almost to the day."
I like Michael immediately, what a romantic proposal. There's been an interesting conversation recently (thanks to lovely bride-to-be Laura) in our private Facebook group about how long our Love My Dress readers have been with their beaus and it's so lovely to see that they range from long term loves who've been together for decades, childhood sweethearts and spontaneous pairs who moved in together in a matter of weeks (definitely not me).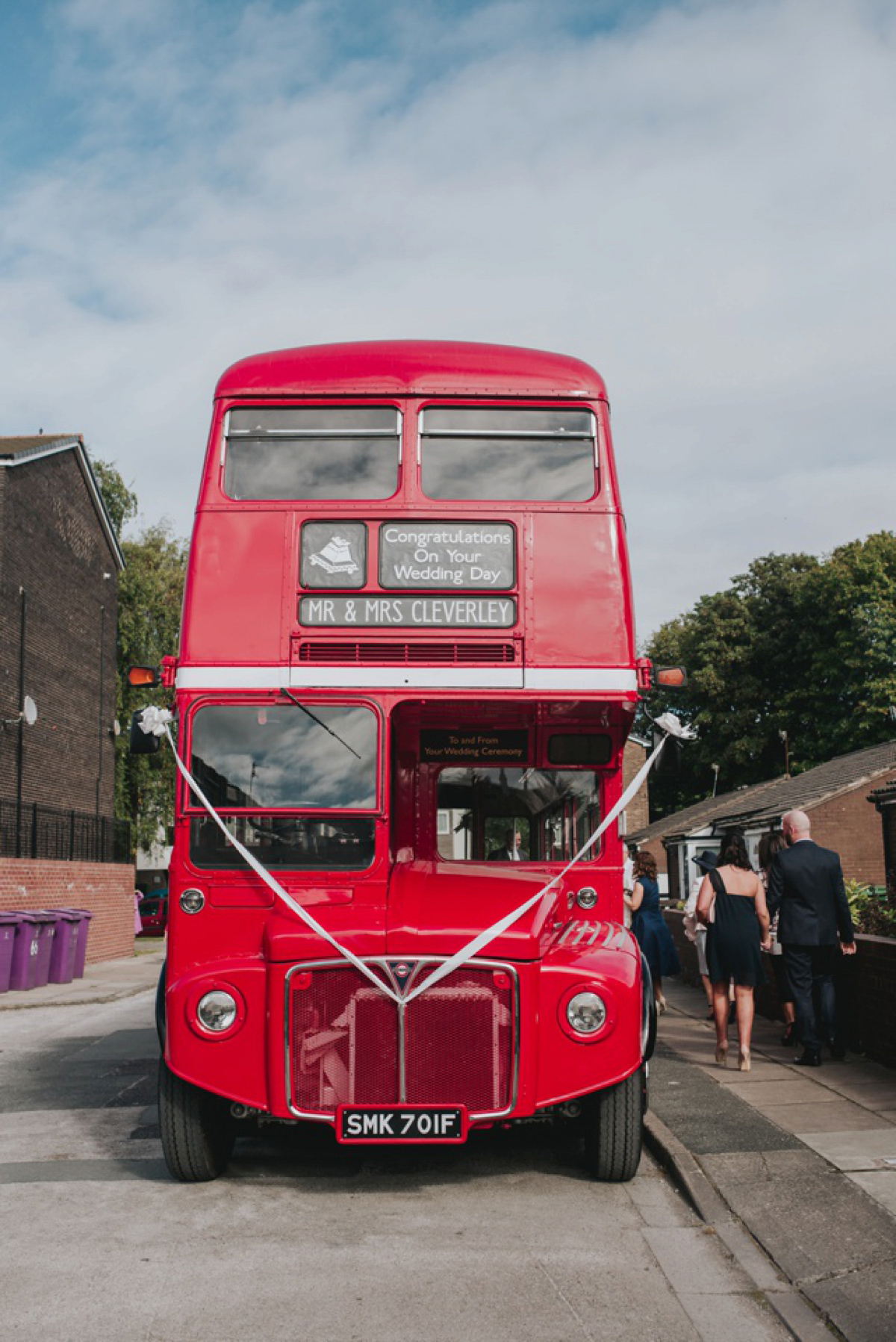 Kayte wore a gorgeous full-length lace gown with a pretty juliet cap veil (I do so love these), which looks particularly stunning against her tumbling dark tresses and bright red lips.
"The designer of my wedding dress was Kay Mason. I loved the vintage lace aspect of the dress and all of the hand sewn sequins. The dress originally came without straps and I had these added to complete the look I was going for. "
"My veil was handmade by a lovely lady from Etsy; I opted for an ivory Juliet cap veil with lace appliqué."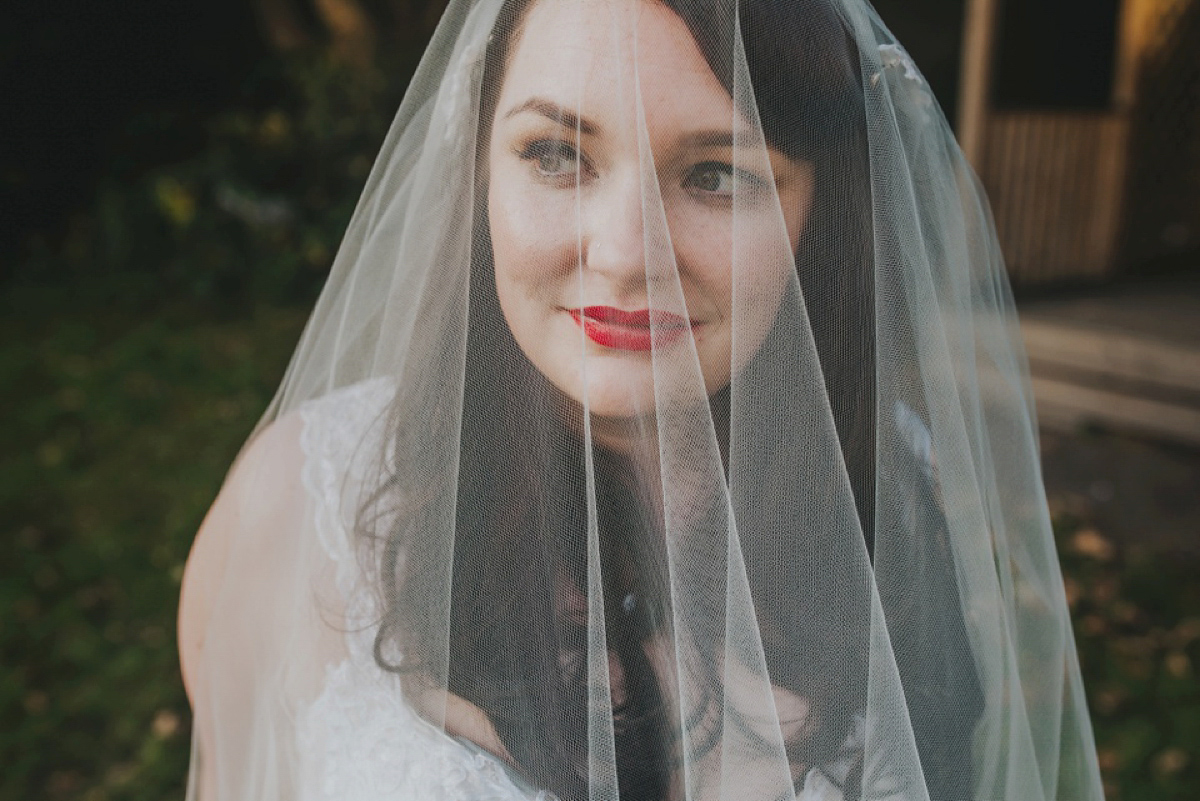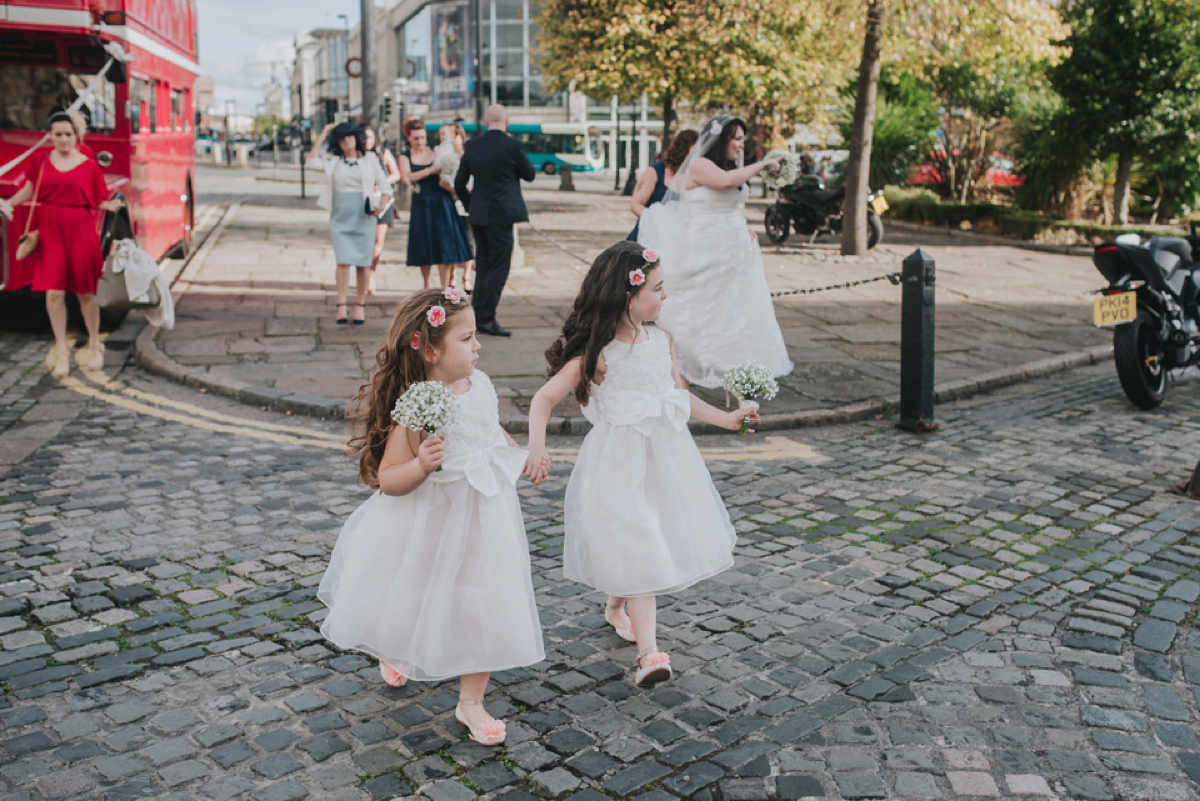 Kayte's bridesmaids wore Hepburn dresses from Lindy Bop; I love the pretty cap sleeves. The stylish groom wore a lovely maroon suit, which perfectly compliments the quirky vintage vibe of the day.
"Michael knew from the start he did not want to wear a typical wedding morning suit. He searched high and low for the right suit, I just left him to it, and he finally decided on a maroon woven suit from Next with a pale blue shirt, a maroon tie and braces. I think he did a pretty good job! As a wedding gift I got Michael an engraved pocket watch and my mum bought him a silver tie pin."
Kayte was walked down the aisle by the older brother William in truly authentic Liverpool style to And I Love Her by The Beatles. Becky has captured the most gorgeous images of a proud as punch big brother and a very emotional groom; proper lump in the throat moments.
"My mum read out a poem she had written and we also had a friend read 'Oh the places you'll go' by Dr Seuss. We chose it as a light hearted alternative to normal wedding readings. All of our stationery was supplied by The Vow Sheffield."
"Our rings were from Weldons Jewelry. This was the shop where Michael bought my antique engagement ring so we decided to go back there for our wedding rings. Michael opted for a plain silver band and mine was custom made to fit around my engagement ring."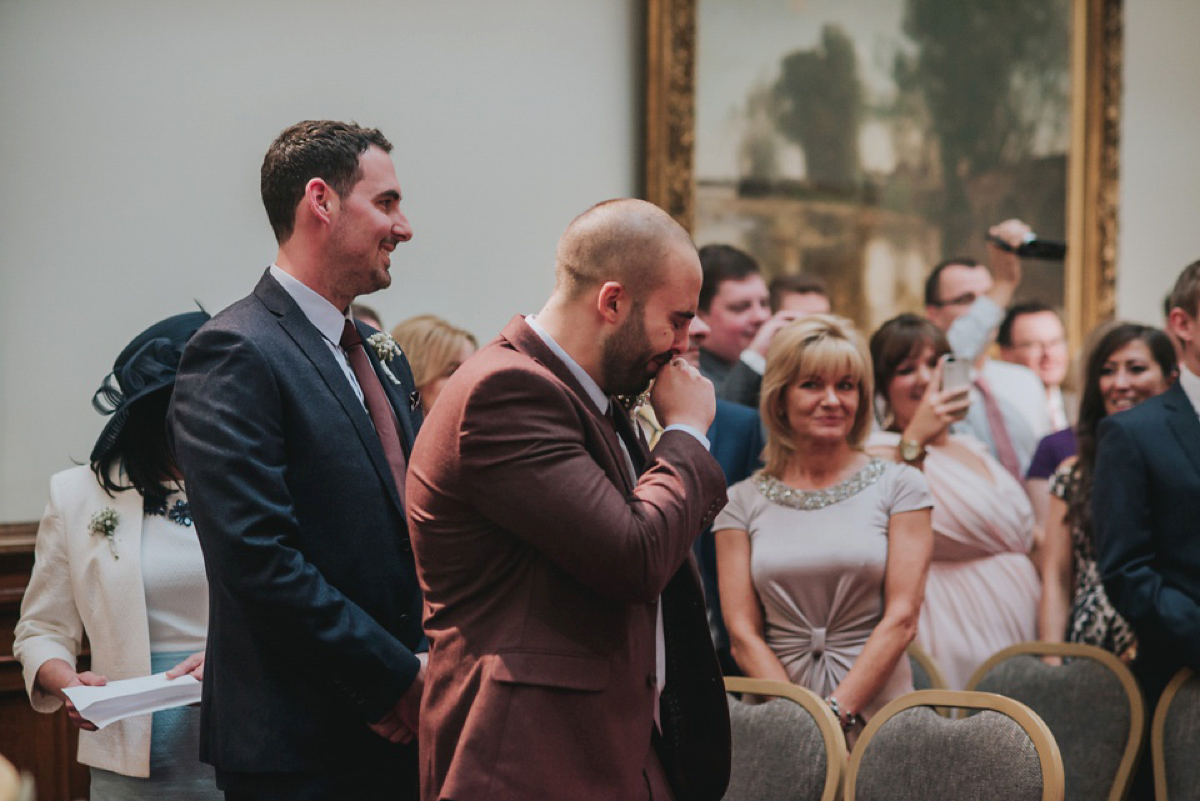 "A friend of mine (luckily) is a flower wholesaler, so we got all of our flowers directly from their stockist over in Holland and we paid a florist friend of his to do the arrangements for us. We knew we wanted predominantly gypsophila and wildflowers to give it a really informal feel, with a few roses thrown in to jazz it up. I pretty much just went with my friends recommendation on how to arrange them once I had chosen the flowers I liked."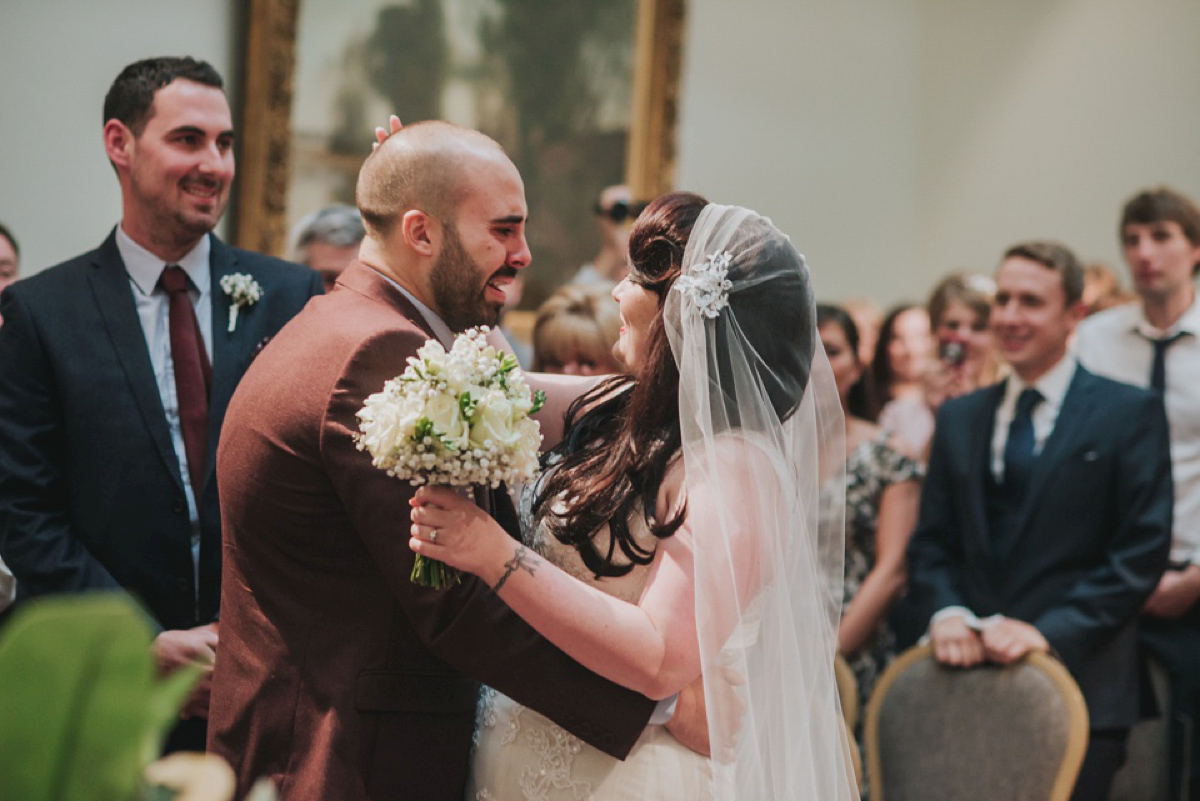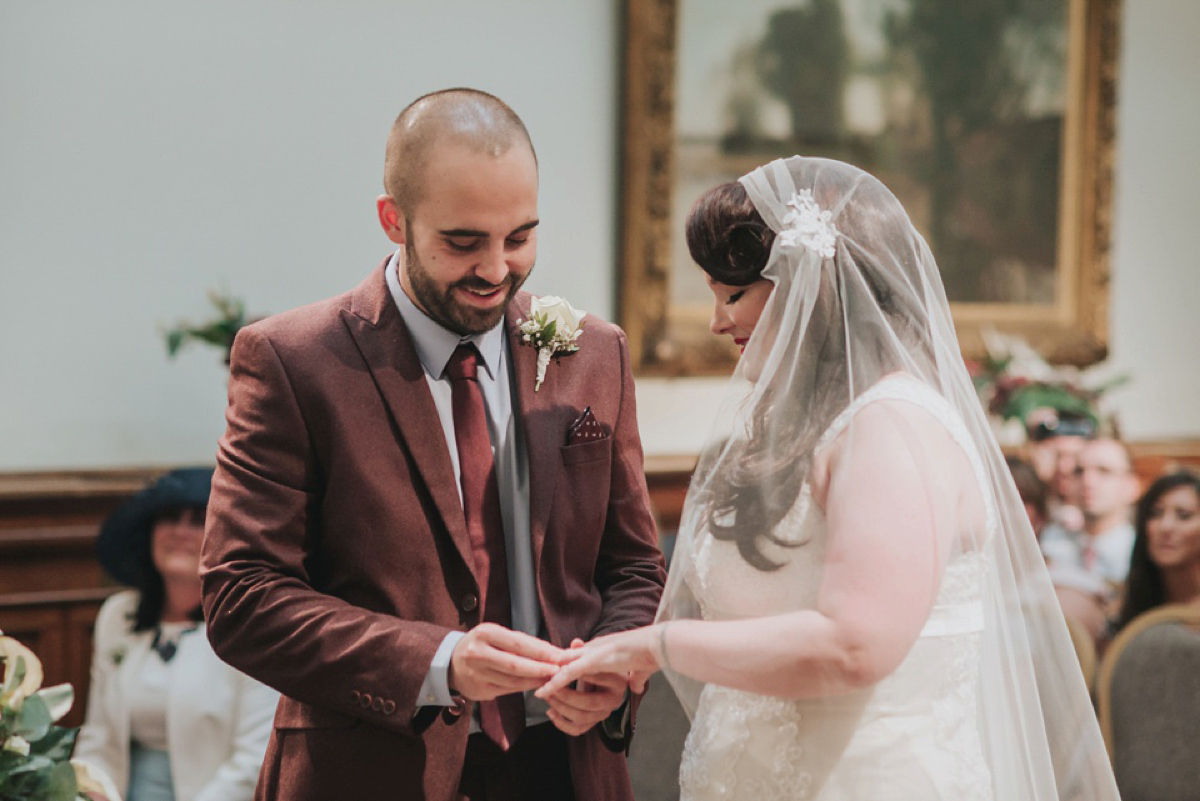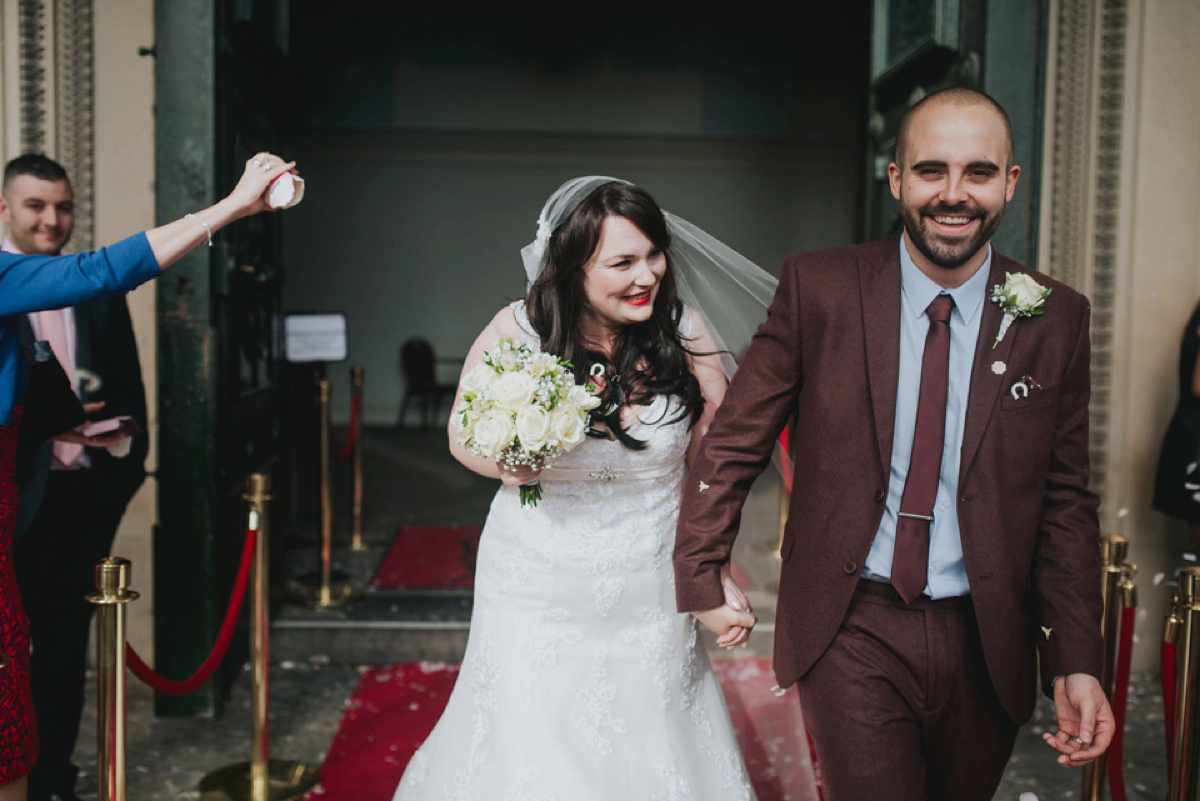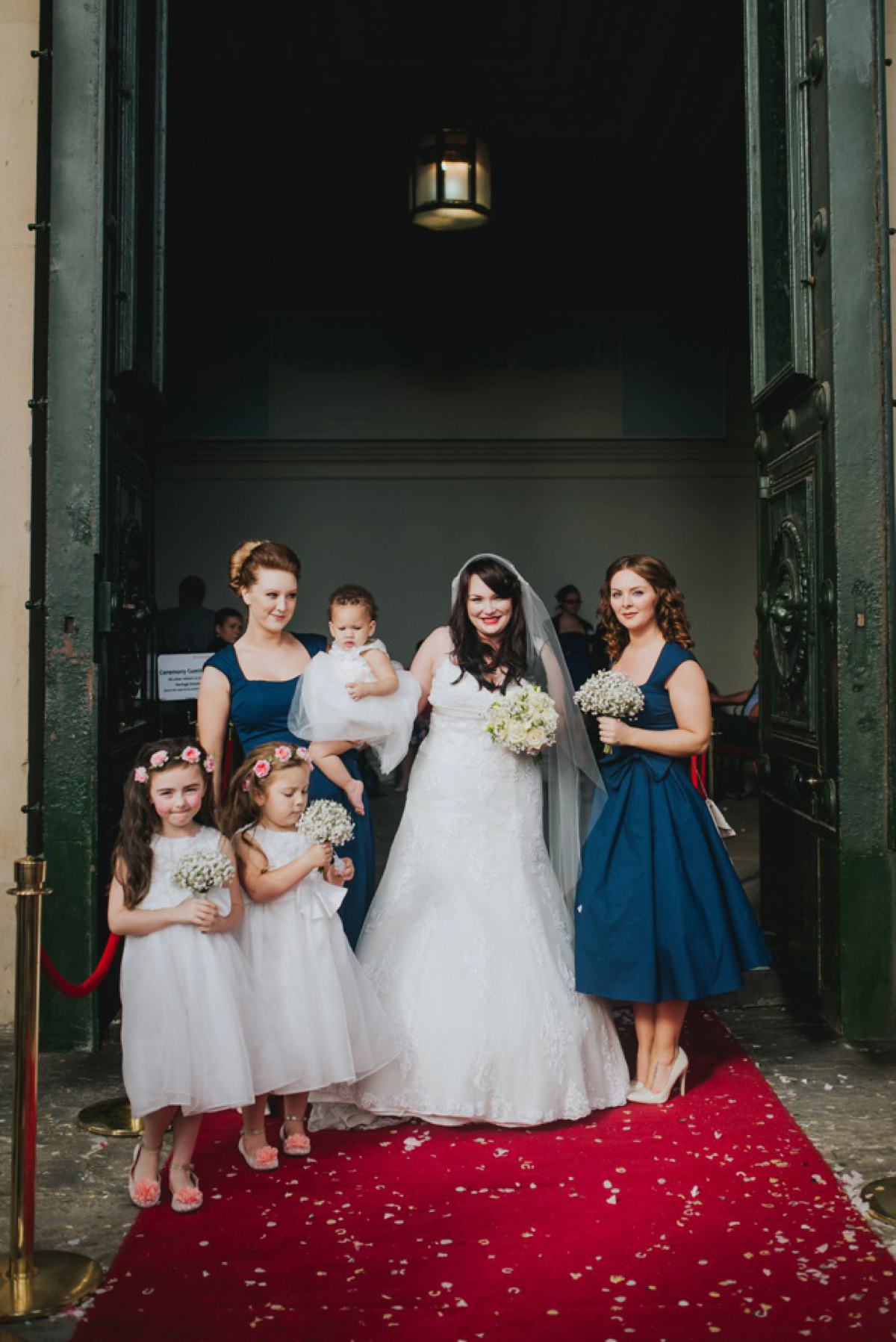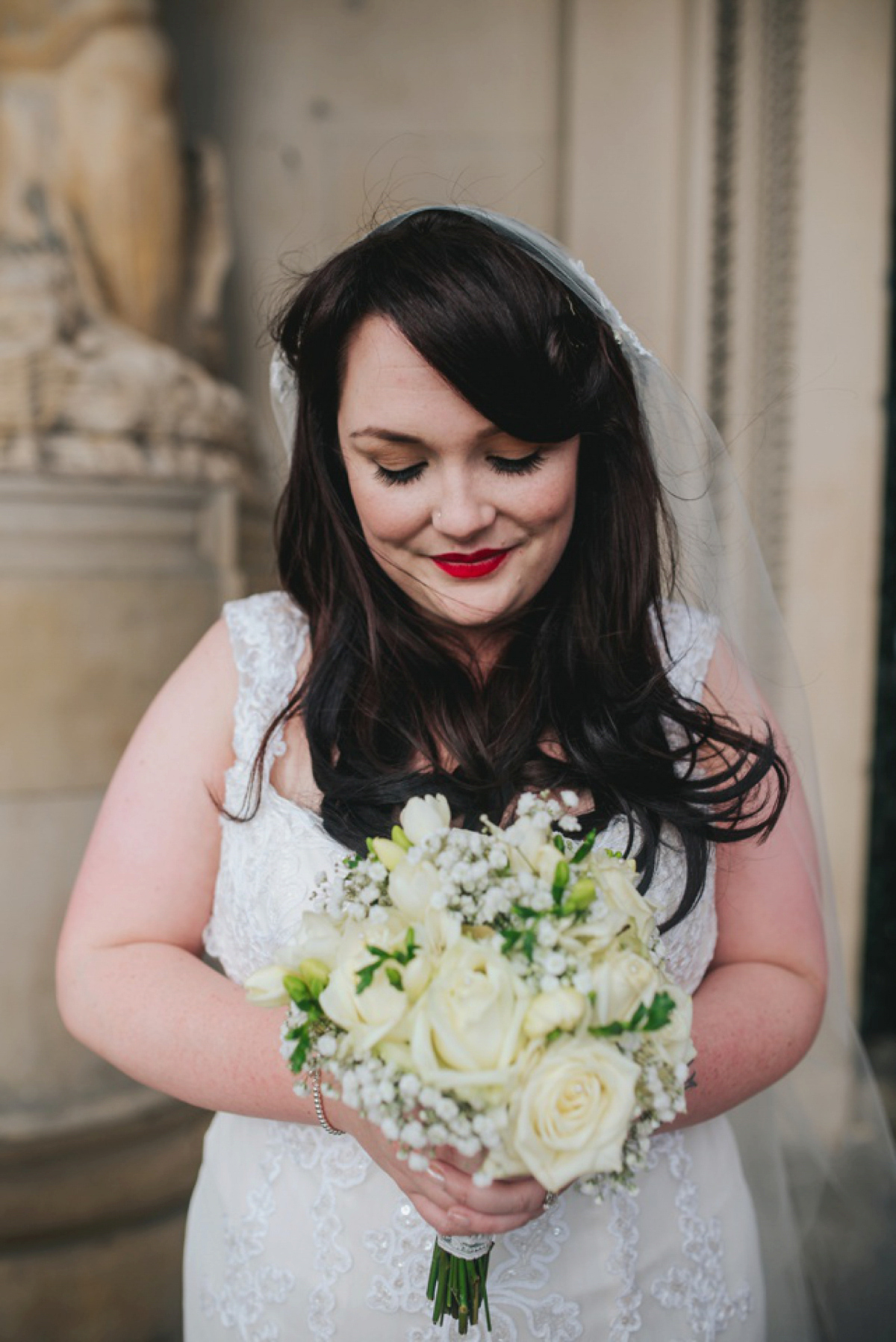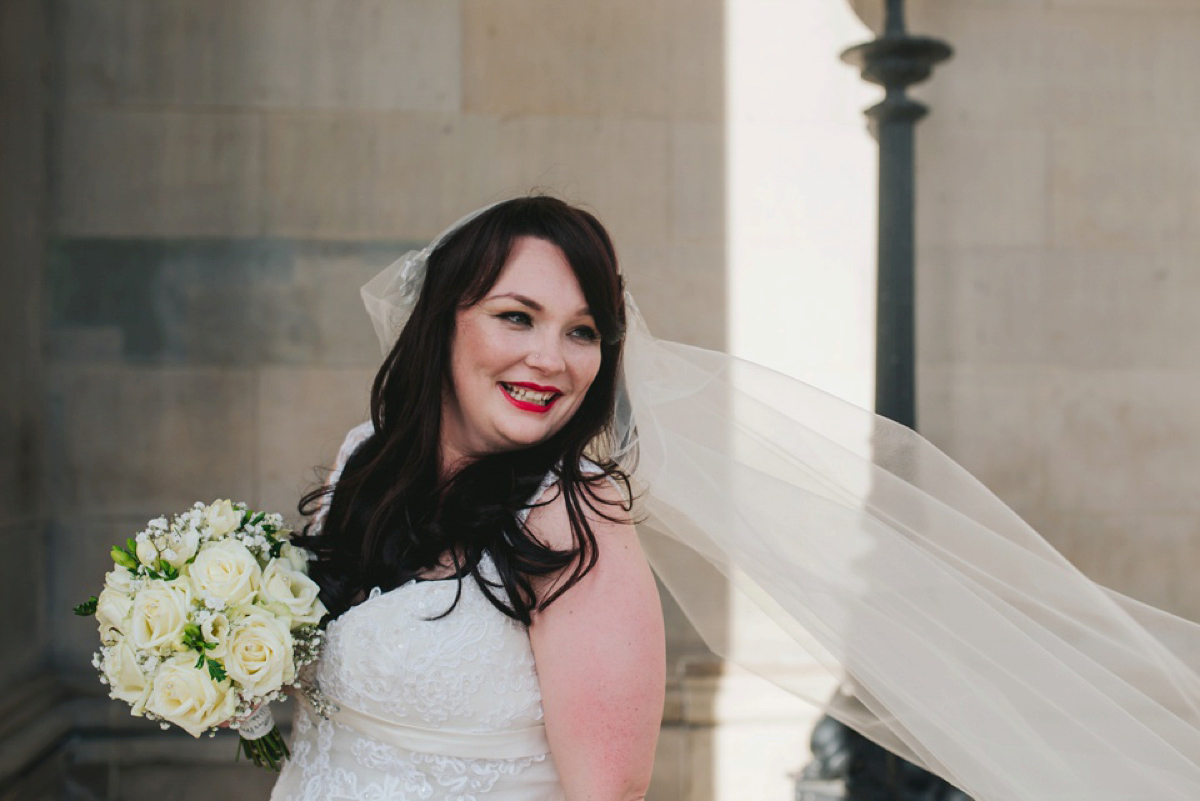 Gorgeous VW campervans were on hand to whisk the new Mr and Mrs Cleverley off to their reception, supplied by Vinnie at Chase the Sun, who also did an excellent job of keeping Michael calm before the wedding as the groom and his best man were driven to the venue. A fun London bus was also provided by RM Buses.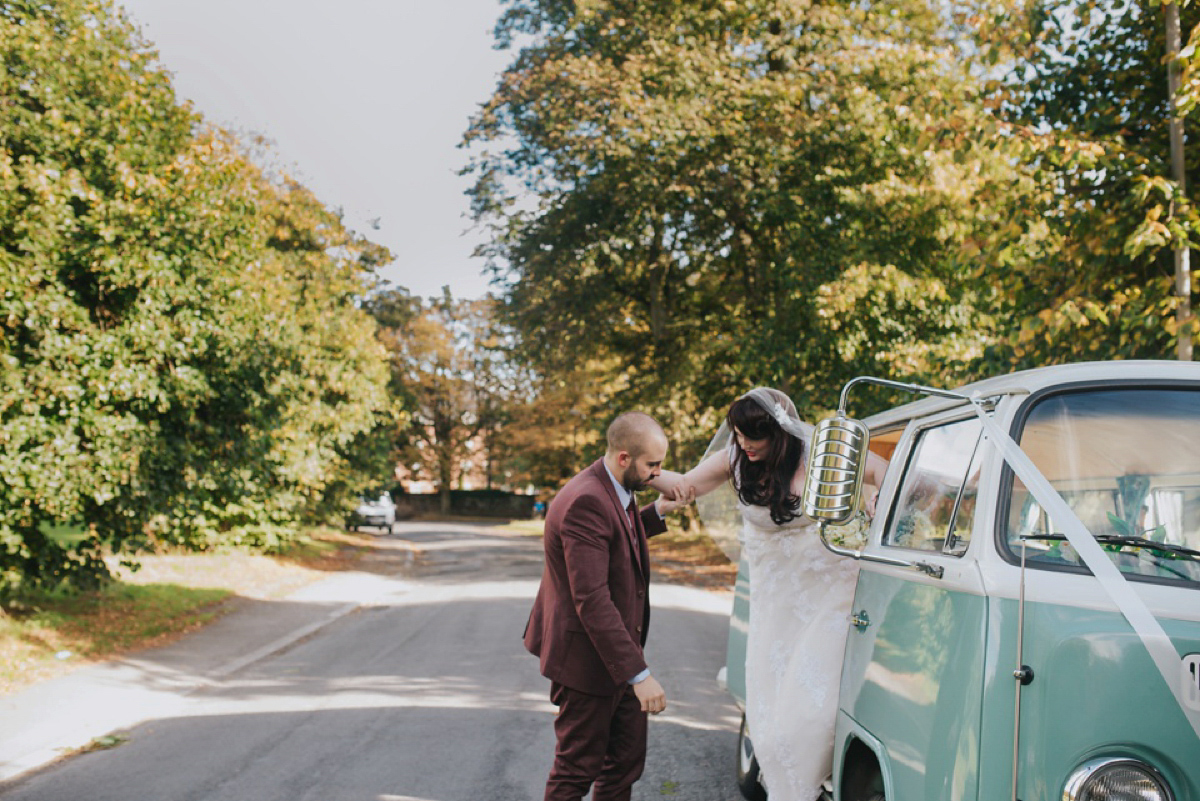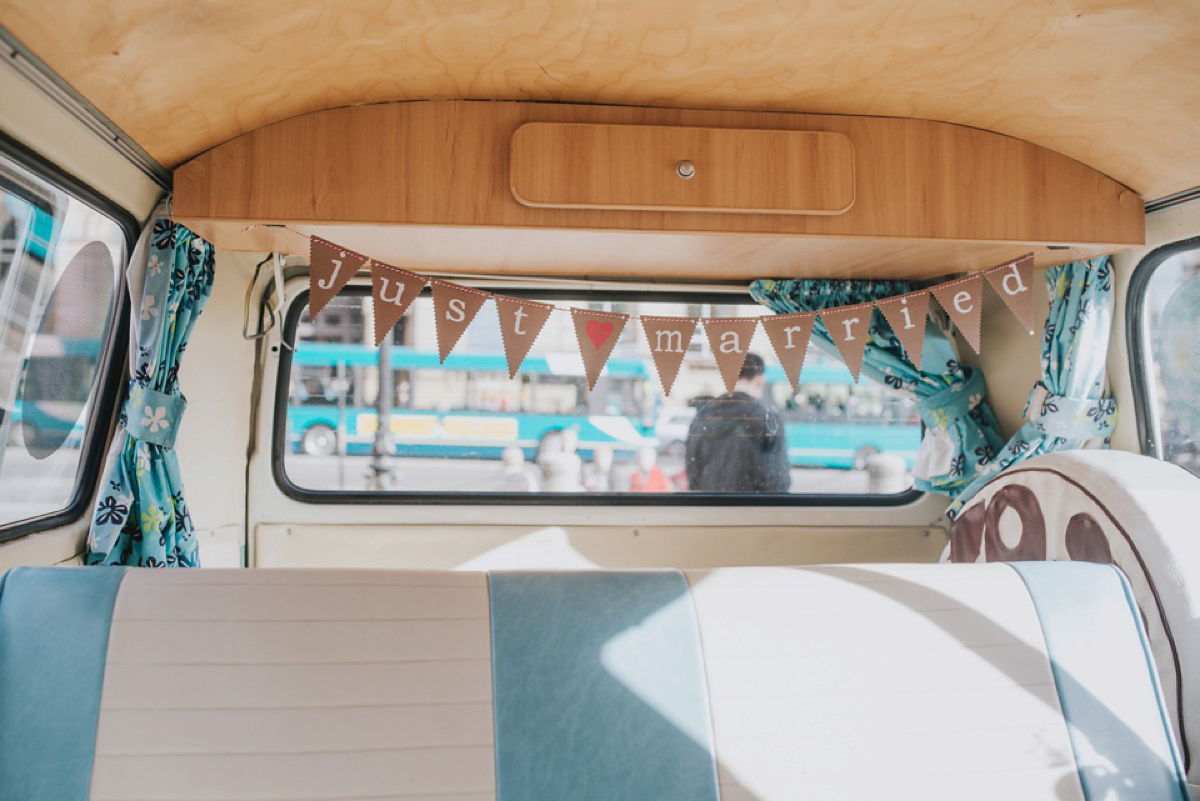 "Aigburth Peoples Hall is a venue I visited a lot as a child, attending their infamous summer fairs doing egg and spoons races and Little Miss Lovely competitions. It has recently been taken over and renovated and made into a lovely wedding venue. We made hessian bunting signs, hired Cath Kidston bunting for the ceiling and had tea cups filled with gypsophila for the table decorations."
Kayte and Michael also painstakingly made individual miniature pots of homemade jam with personalised labels, topped with a little gingham material covers as favours for their guests – how cute.
"Entertainment was supplied by the very talented Calder McLaughlin. Our first dance was a track we had asked him to learn for us specially; 'Something' by The Beatles. We used to dance around our kitchen to this song and as you might have guessed we both love The Beatles."
"The food was supplied by Four Seasons Catering Company and Michael and I made the cake ourselves two days before the wedding. It was hard work but so worth it. Our cake topper was from East of India and we sourced the lace and flowers from a local haberdashery."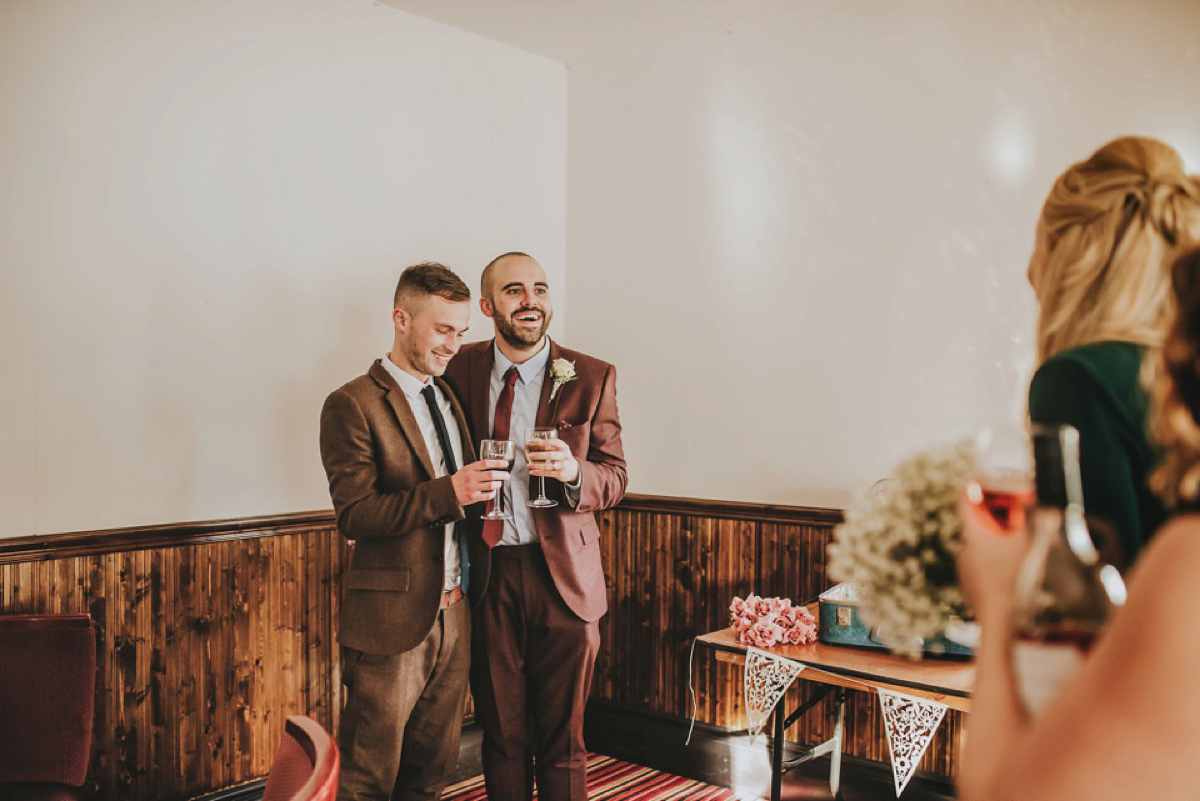 "My favourite part of the day was the speeches, everyone had put so much effort into them and I went through every emotion imaginable watching and listening to them. Michael's was having a drink after he had done his speech as he had kept a level head until that point! We honestly wouldn't change a thing about our day as corny as that sounds."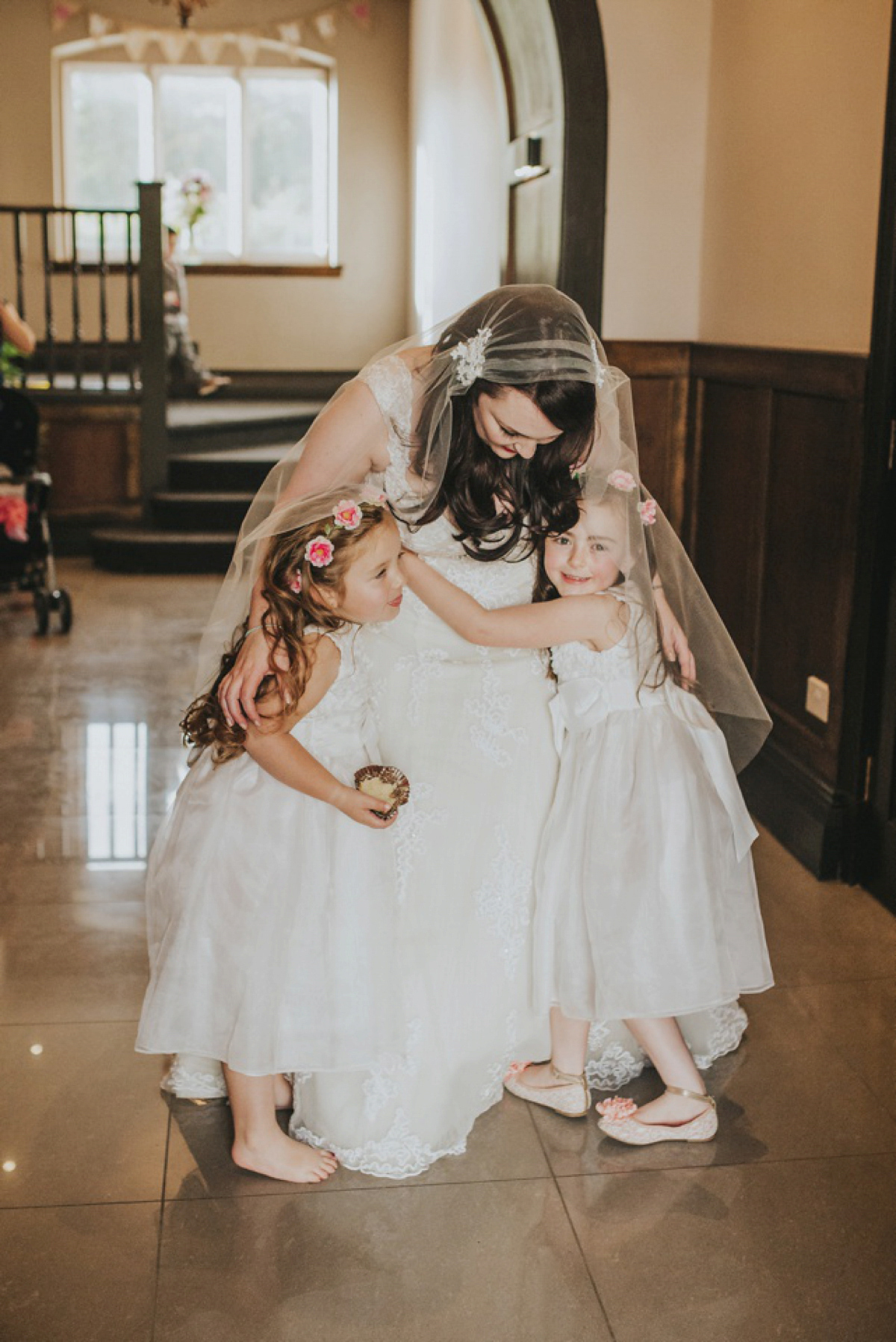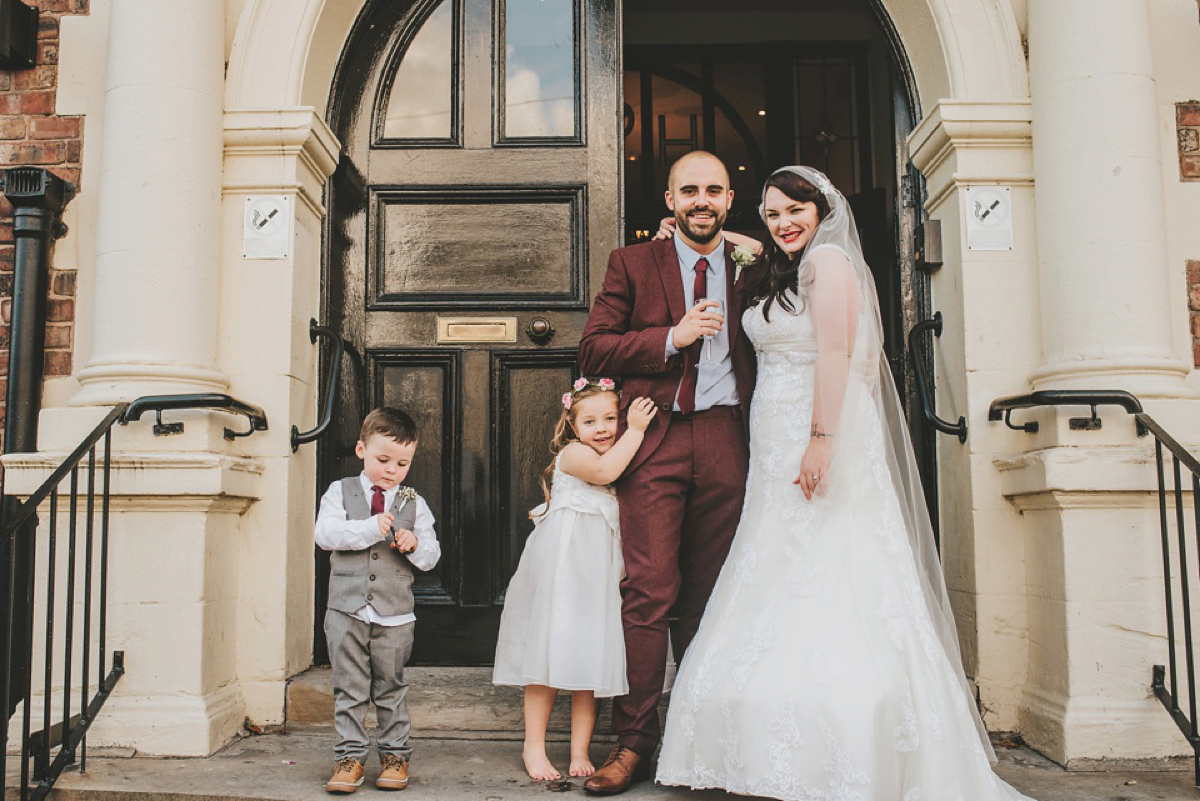 Words of Wedded Wisdom
"Try not to take things too seriously, things are bound to sometimes go wrong no matter how much planning you put into the day. And don't be hard on yourself if they do, all that matters is that you both turn up and get married, anything else can be fixed. Also make sure you choose a designated toilet assistant! It's no fun trying to pee when you have a big heavy dress with a hooped underskirt to contend with."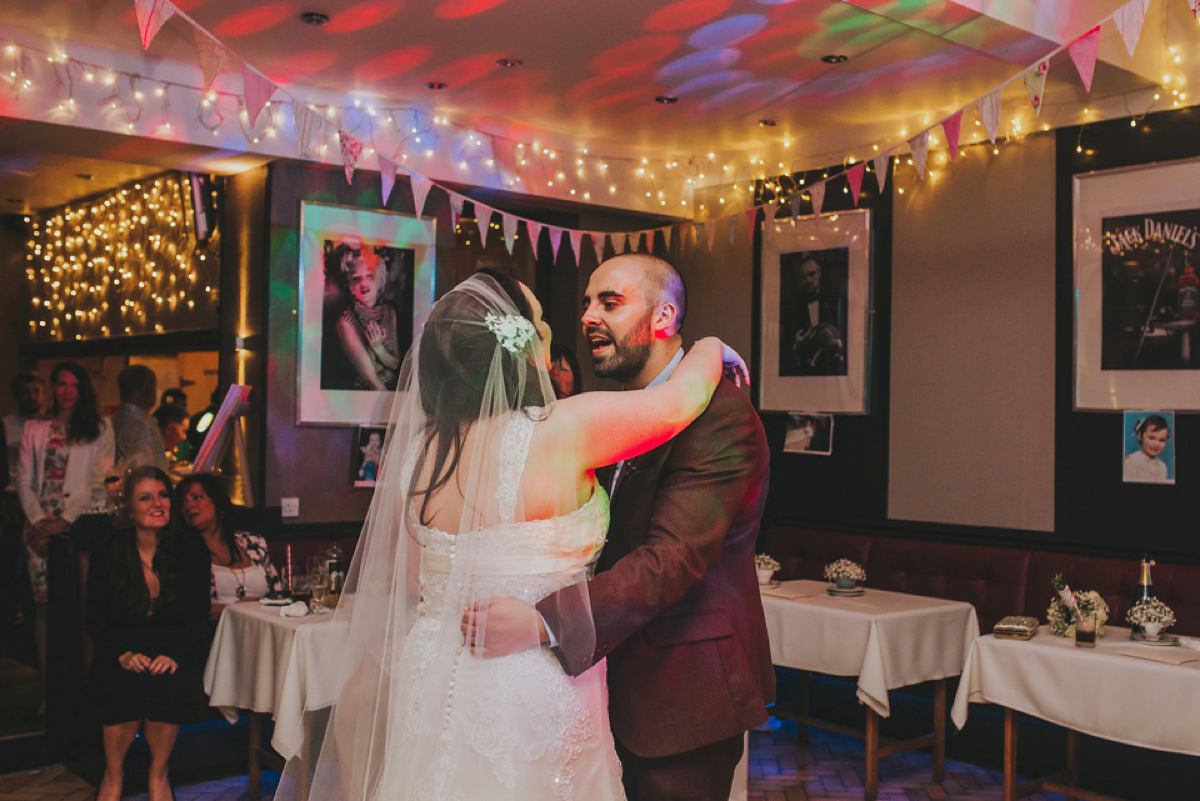 Thank you so much Kayte for those very wise (and very useful practical) words of advice and a huge thanks to you and your lovely husband for sharing your gorgeously quirky, vintage-inspired day with us all. And our very heartfelt thanks as always to Becky Ryan Photography for these wonderfully love-filled images. You can see more fabulous weddings shot by Becky here on the blog.
Love, Em x
Photographer – Becky Ryan Photography
Venue – St George's Hall + Aigburth Peoples Hall
Wedding Dress – Kay Mason
Veil – Vintage Bridal by Carol via Etsy
Accessories – Tiffany & Co. bracelet
Perfume – Sweetheart by Ghost
Bridesmaids – Lindy Bop
Groom – Next
Rings – Weldons Jewelry
Stationery – The Vow Sheffield
Transport – VW Campervans via Chase the Sun + double-decker bus via RM Buses
Catering – Four Seasons Catering Company
Hair Stylist – Sarah Noonan Hair
Enterainment – Calder McLaughlin