New readers might not be aware that I've had a book published.  Style Me Vintage Weddings was my first book, published in April 2013 – you can purchase it on Amazon and in all good book stores.  Way back in 2012 when I was first approached by the publishers about writing the book, I remember feeling overwhelmed as I stared at the exciting but most unexpected project that lay ahead of me. Bewildered – where did one even start in writing a book?  How on earth would I fill it with beautiful images? I didn't know at the time that a whole swathe of creative, talented, brilliant industry friends and colleagues would step forward to support me, offering to help supply products that would be photographed and end up gracing the pages of my book, but in one special case, volunteering to be 'helper' on a 3 day photoshoot. We had 3 days to shoot and capture every single image that would feature in the book. It was one of the most intense, non-stop 3 working days of my life!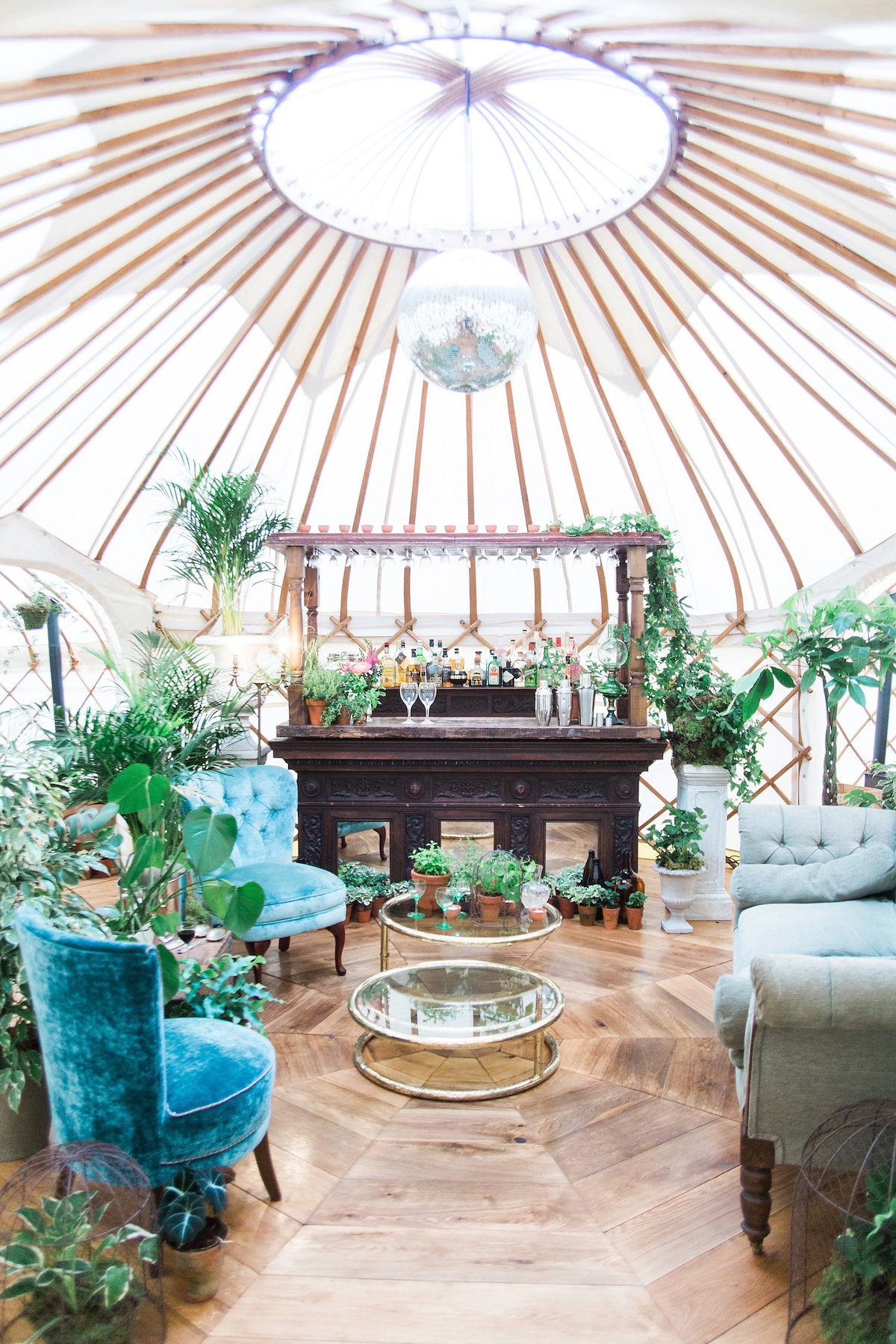 It was also exhilarating and exciting and wonderful and I will never ever forget the experience, not least because that 'helper' on the day turned out to be Lizzie of Wedding Yurts. She worked her butt off for 3 days solid – making endless cups of tea for a team of 15-20 people and bringing with her a magical, constant supply of utterly delicious raw, homemade chocolate to keep us all going.  And that wasn't all – Lizzie was the first to roll up her sleeves and get busy moving props (I mean, big, heavy props). She didn't think twice about it, but then, as the owner of rather special wedding yurt company, she's more than used to a spot of physical activity. I've witnessed Lizzie first hand building and then taking down a huge wedding yurt all with her own bare hands.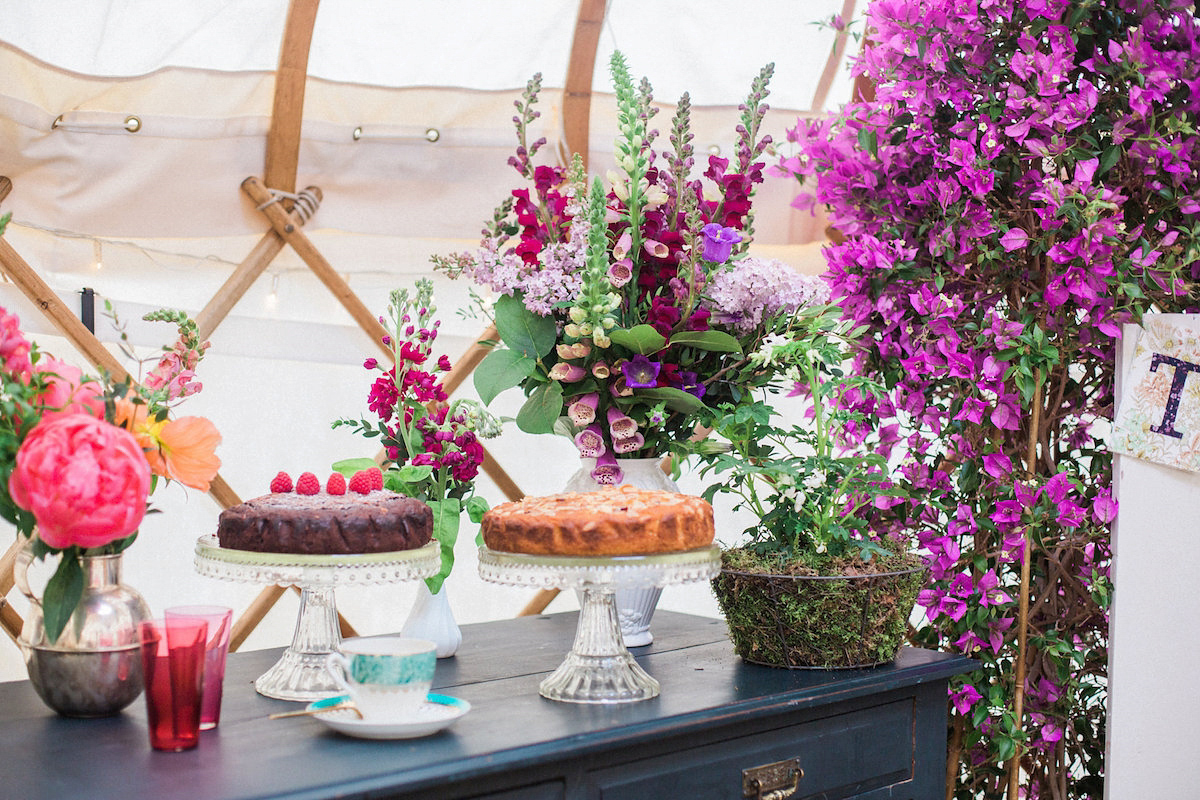 I'm so pleased I got to meet Lizzie that day. She's one of life's good people – a woman with a generous heart, a grafter who I can never imagine complaining about having to work hard, ever. I'm completely delighted this evening to be sharing details with you of Lizzie's wonderful company Wedding Yurts – a business I am also very proud we have listed over in our Little Book For Brides.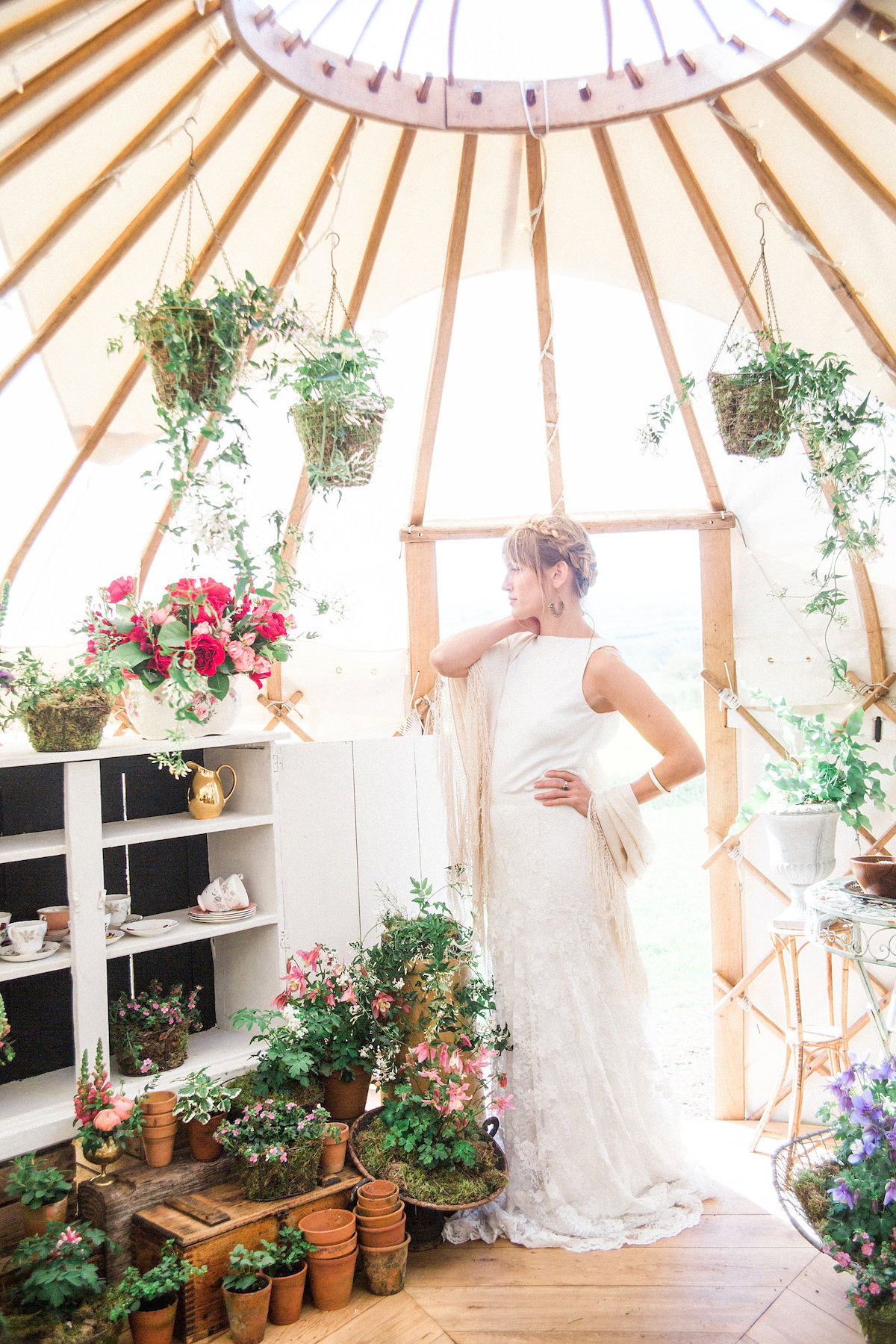 Lizzie and the Wedding Yurts team spent time recently at the Spring Open Week for Wye Valley View Weddings, a brand new venue in the glorious Herefordshire countryside. Lizzie couldn't resist the opportunity at the time of bringing together her favourite wedding suppliers to create this lovely shoot which showcase her yurts and the potential for styling them just beautifully.
The title of this collection of images, 'Natural Beauty', couldn't be more appropriate. The handmade yurts are the most glorious and beautifully constructed backdrops and Lizzie's styling is pure perfection. The combination of those plush seats and sofas against the starker woods and the rich green foliage against the canvas yurt linings just make me smile.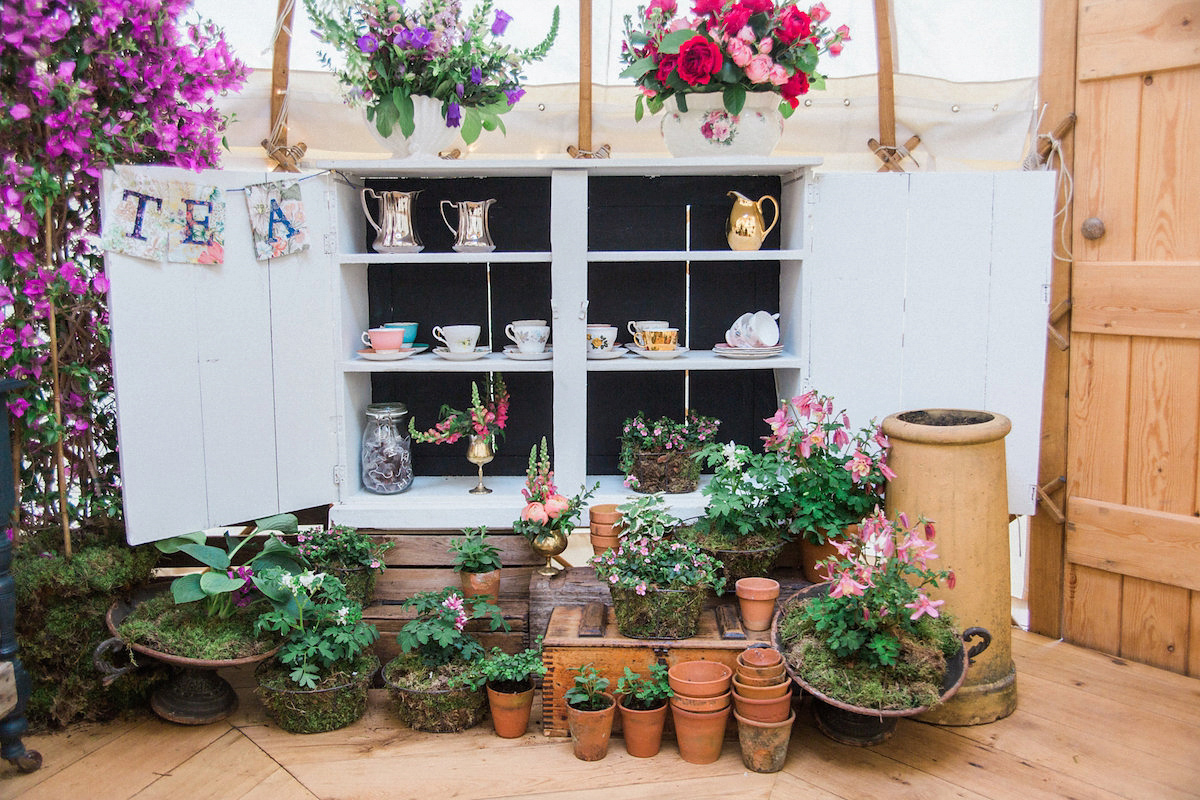 This shoot, captured by the ridiculously talented Aletheia of Xander & Thea, also debuts Lizzie's new Cocktail Garden concept and I am smitten. The whole 'outside inside' vibe suits the yurts perfectly and the decadence and natural glory of this botanical bar is just sublime. I can well imagine guests filling this area with conversation and laughter well into the night. Why would you want to leave?!
Christiane from the Honeysuckle Flower Co has produced fabulous florals for this shoot. From the Cocktail Garden to the vibrant arrangements that are full of seasonal flowers and unstructured appeal, these flowers completely fulfill Lizzie's request for Natural Beauty.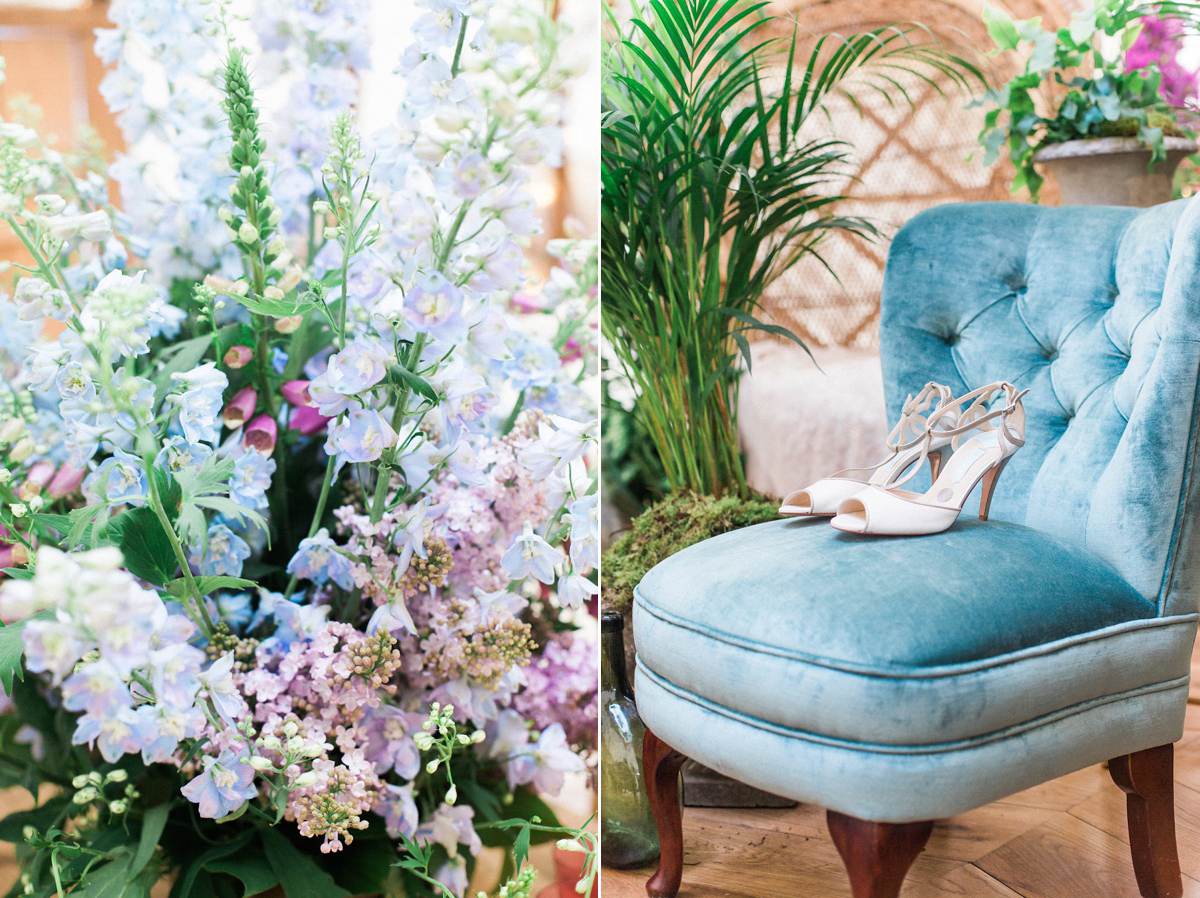 More beauty comes from the wedding gowns themselves and these Charlie Brear designs from Perfect Day Bridal are also perfect. More organic shapes, understated fabrics and a distinct lack of hard embellishments perfectly compliment the whole ensemble. Similarly, shoes by Charlotte Mills, again from Perfect Day Bridal, offer luxury in a very soft and pure style.
The bride's look is faultlessly finished thanks to her gorgeous hair and make-up. Hair stylist Annie Russell of Honeystone Hair has created a wonderfully undone yet polished look (oh, that plait!) and Amy Doolan's make-up is the epitome of perfect simplicity.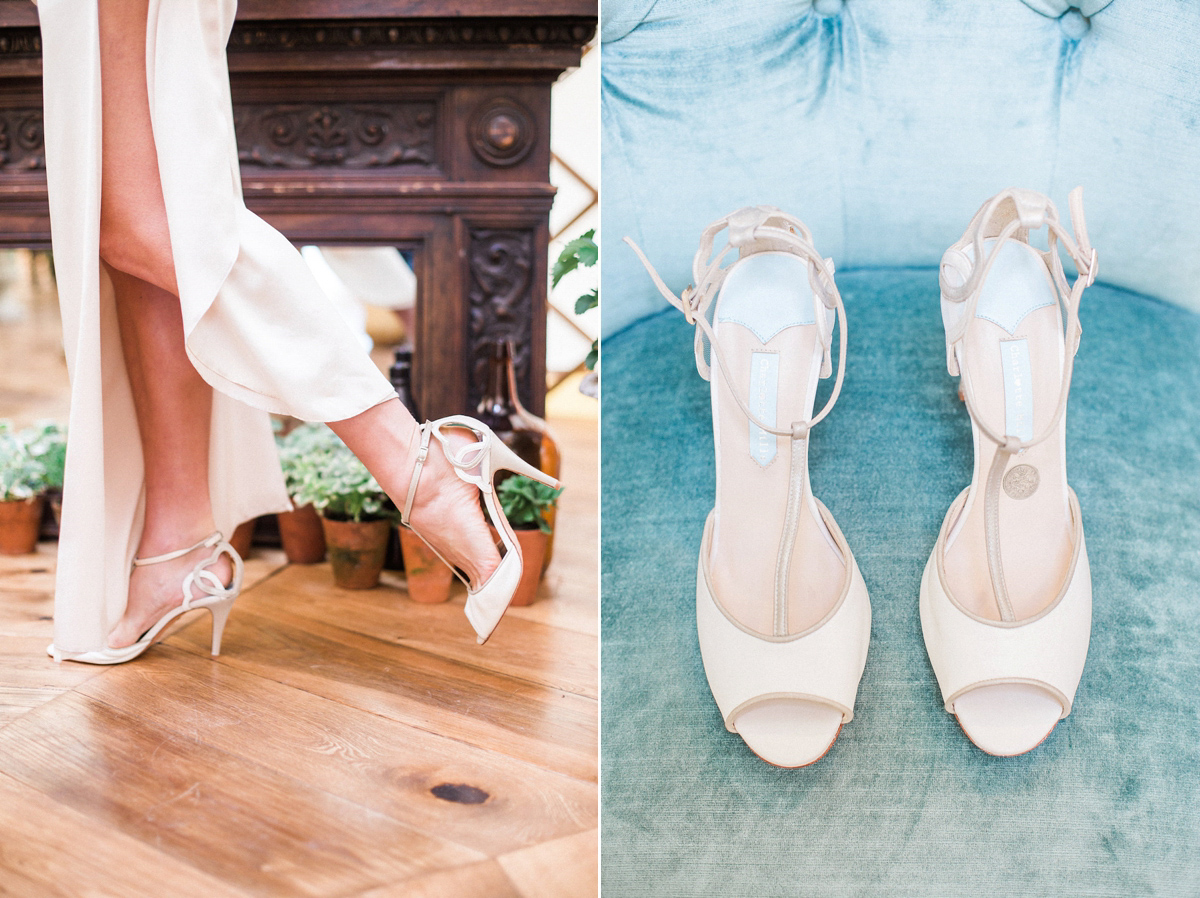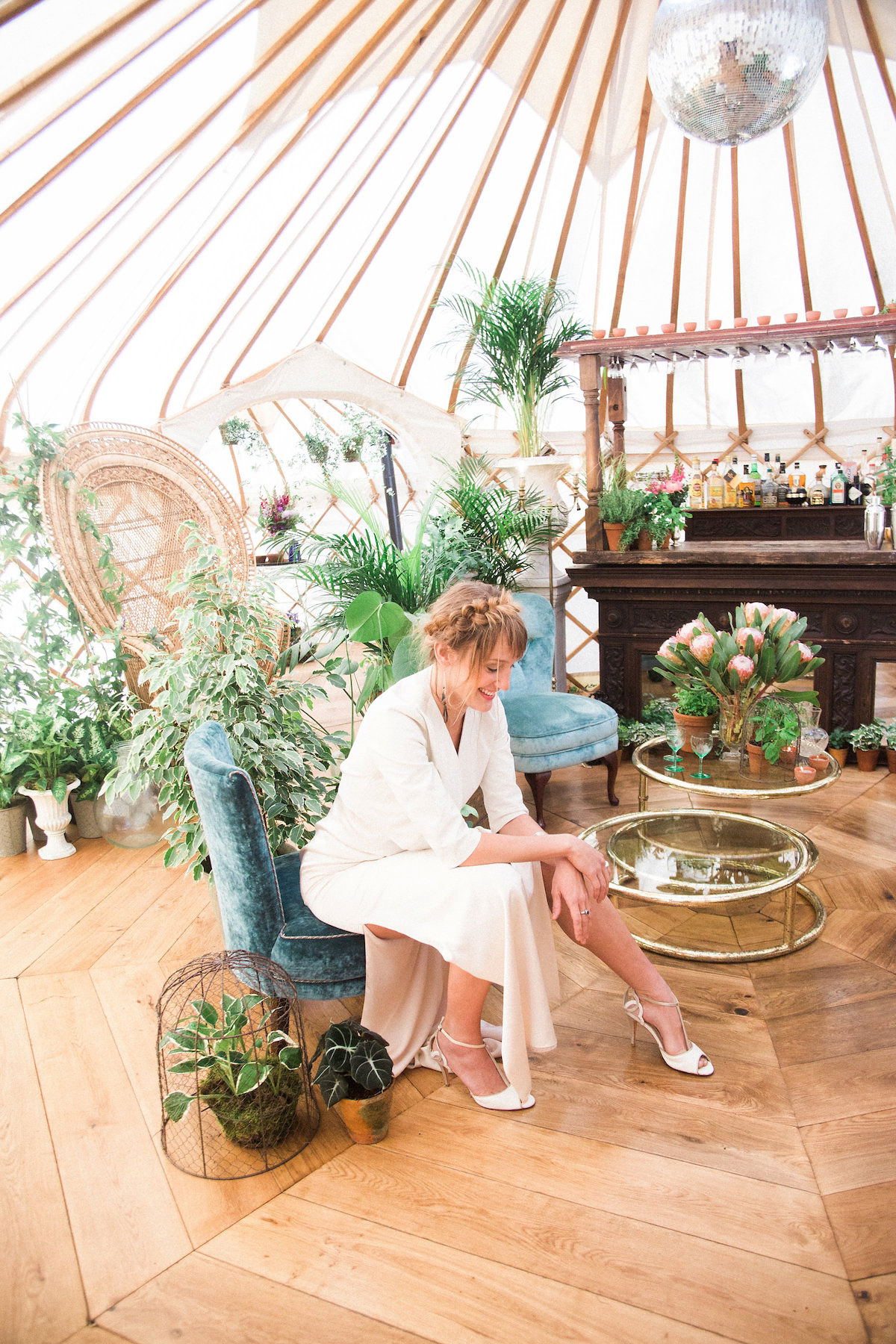 This is a shoot that, quite frankly, I'd like to go and live in for the entire summer! Lizzie's transformation of the yurts into spaces that are just so appealing is magical and I envy anyone who's able to enjoy such a naturally beautiful backdrop for their wedding.
A huge thank you to Lizzie, Wedding Yurts and the entire shoot team for allowing us to share these images with you – Natural Beauty has never looked so utterly spectacular.
Love Annabel
P.s. Wedding Yurts are already taking bookings for 2017 so do get in touch with Lizzie soon if you'd like to know more.
Venue: Wedding Yurts set up at Wye Valley View Weddings
Styling & Props: Lizzie Jones of Wedding Yurts
Photographer: Alethiea De Pasquale of Xander and Thea
Model: Tilly Webber
Flowers & Plants: Christiane Simmons of Honeysuckle Flower Co
Wedding Gowns: Charlie Brear from  Perfect Day Bridal
Shoes: Charlotte Mills from Perfect Day Bridal
Hair: Annie Russell of Honeystone Hair
Make-up: Amy Doolan
Jewellery & Accessories: Model and Stylist's own