A big hello to you our lovely Monday readers! I hope you had a lovely weekend? Now on Friday two pretty amazing things happened that I'd like to share with you – it marked exactly one year to go until mio fidanzato becomes mio marito and I met fellow writer Emily B for the very first time for prosecco and Peruvian food. I feel like I've developed so many connections with fellow brides since becoming a part of this amazingly brilliant community so a big Monday shout out to all you fabulous women!
Speaking of fabulous women, it's my extraordinary pleasure to introduce you to today's bride Vicky, a university researcher, who wed the lovely Gareth, a technical supervisor and researcher, on 15th August last year at Halifax Hall in Sheffield. Their day was a beautiful celebration of their loving partnership, set against the stunningly rugged backdrop of the Yorkshire moors. And then there's that delicate teal-blue dress…
"We didn't really have a particular theme for our wedding style; we got inspiration from wedding blogs and Pinterest and just followed our instincts on colours and designs that we liked. We tried to style things to suit the venue. Vicky grew up in the Peak District and we love spending time out on the moors, so we started off with a loose 'moorlands' inspiration for colours – the purple of the heather, the blue of the sky, the greys and honey colours of the rocks, but as we went on it became more of a mish-mash."
Photography by Kindred Photography
Vicky and Gareth chose to walk down the aisle together to Arthur Russell's This Is How We Walk On The Moon.
"We are both feminists so didn't feel very comfortable with the idea of Vicky being 'given away' (luckily Vicky's dad totally understood this). We felt it was much more meaningful and representative of our relationship to walk into the ceremony together as equals and partners. We deliberately chose not to write our own vows."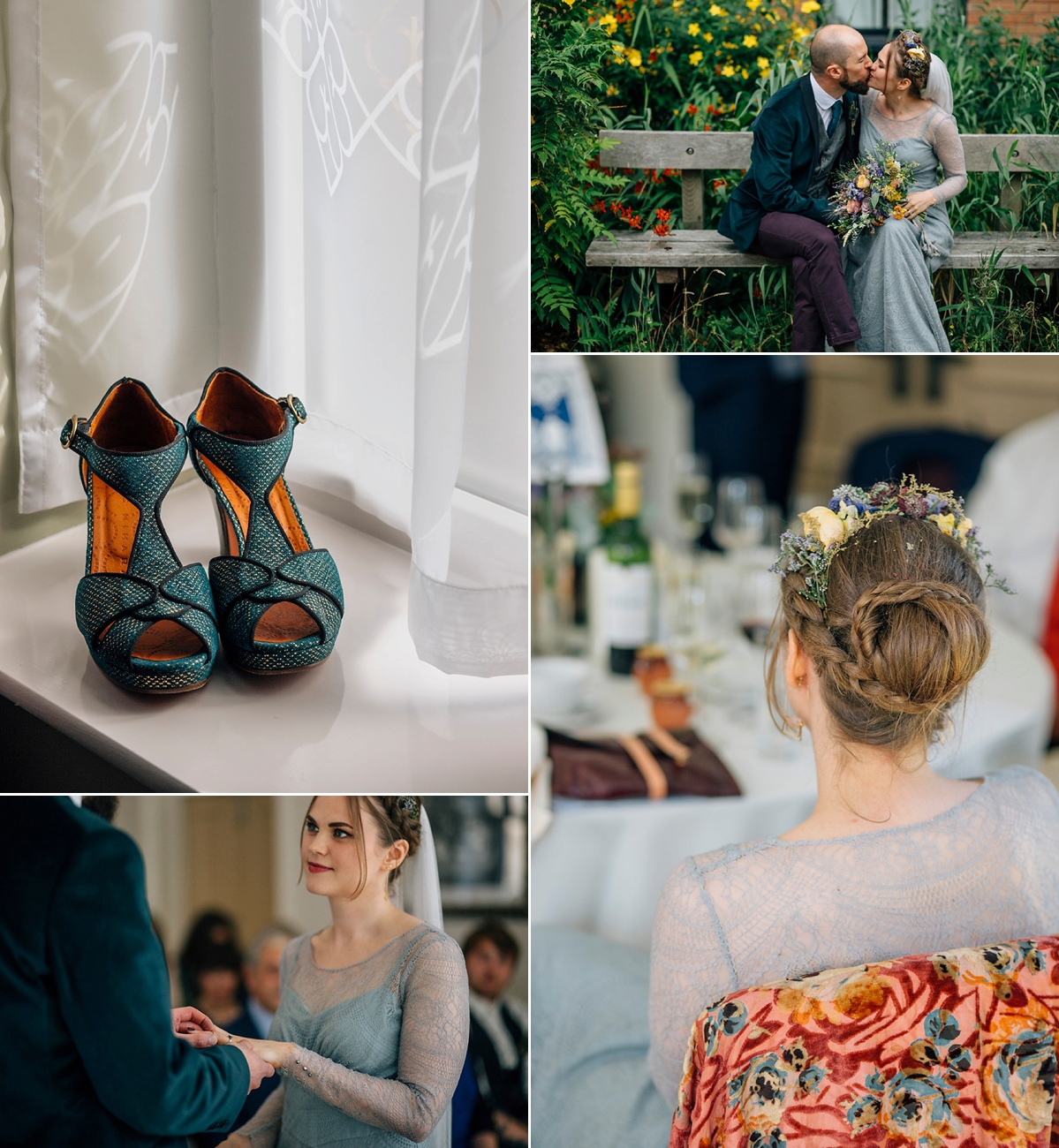 "We chose Of The Wild to do our flowers – Kath is lovely, enthusiastic and totally understood what we wanted from our garbled descriptions and the pictures we sent. We absolutely loved what she created, and had so many compliments from guests."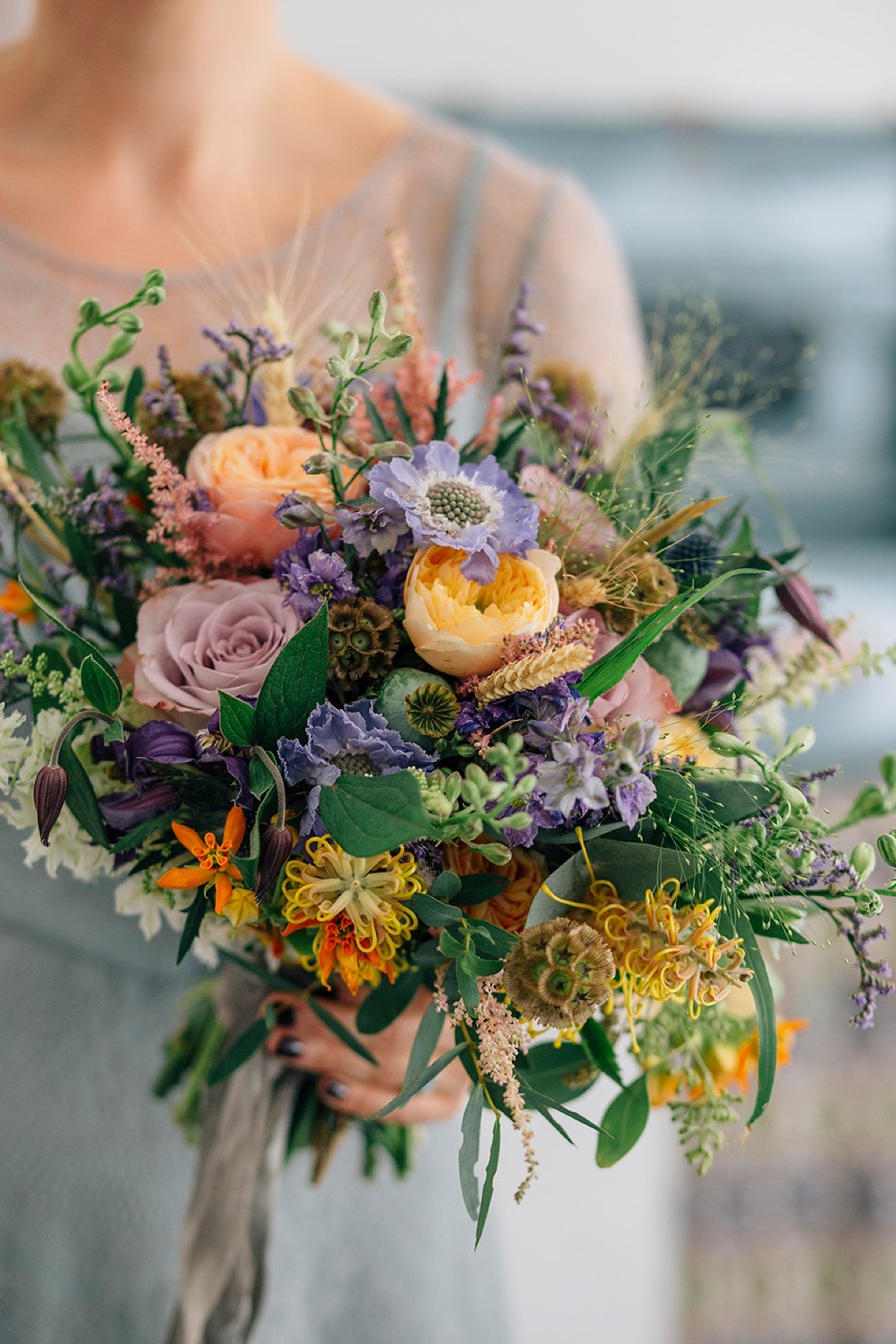 Vicky added a super comfy pair of blue-green and gold Chie Mihara sandals; the most expensive and beautiful pair of shoes she's ever owned. The bride saw her accessories as investments that she'd love to wear again after her wedding, including a pair of geometric gold and pink quartz Is Was + Will Be earrings. Vicky also wore a selection of antique rings gifted to her by family members over the years; all of them reminding her of special women. Her hair was styled by Billie from Laundry, who cleverly wove in beautiful fresh flowers supplied by Vicky's florist, Of The Wild, and the bride wore her usual perfume by Agent Provocateur.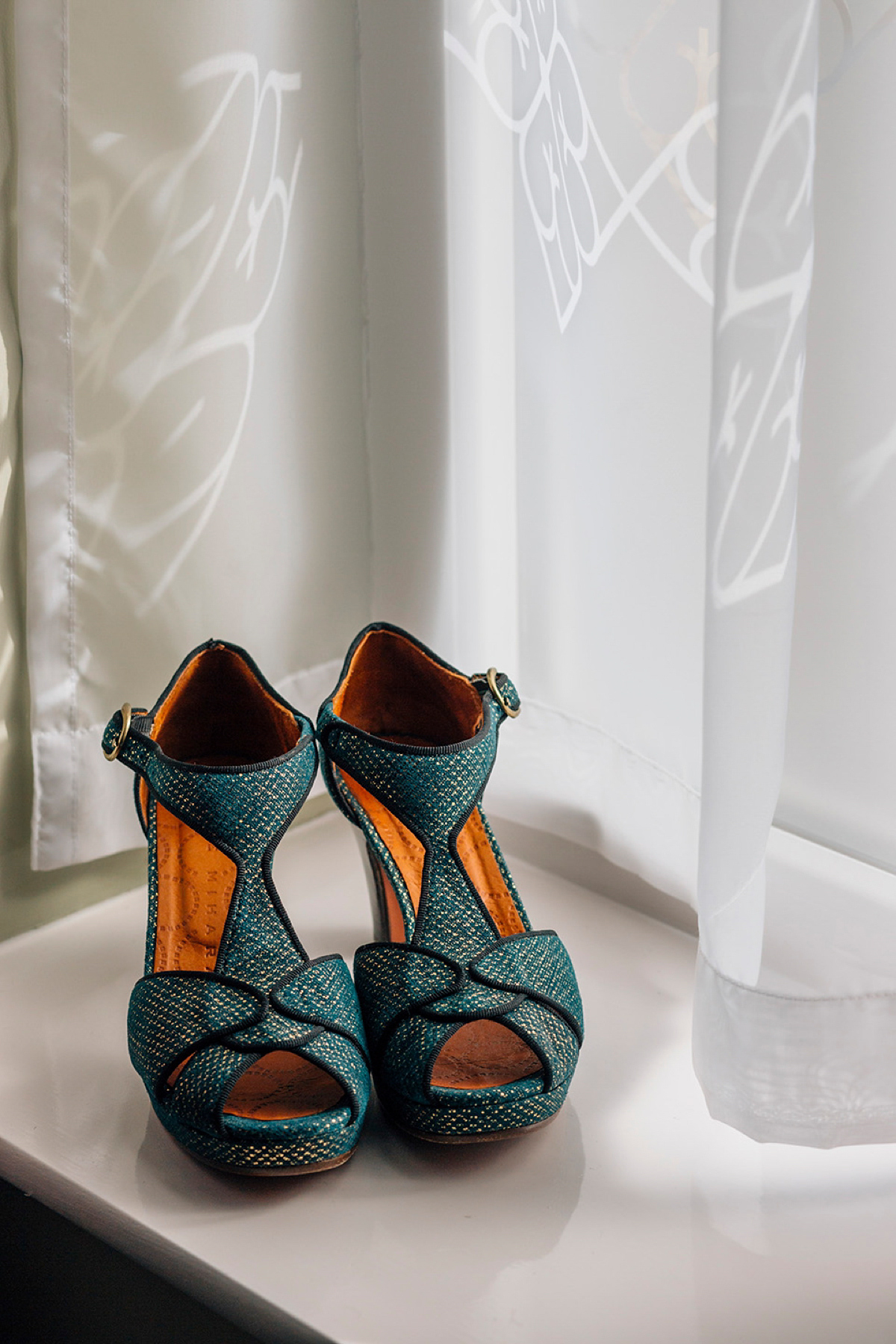 While Vicky made her own pretty veil following a few online tutorials and did her own make-up (anyone else got serious brow envy?), her beautiful coloured dress was designed and made by the talented Kate Beaumont.
If you caught the gorgeous wedding featured by Annabel on Thursday, you may recognise the incredible craftsmanship of this independent dress designer, and we're exceptionally proud to say, one of our Little Book for Brides darlings.
"I have always known that I didn't want to get married in a white dress – I love colours, I never wear white, it's just not me. However, I do love the beautiful fabrics of wedding gowns and wanted to keep the 'special' feeling of wearing a wedding dress. I'd seen Kate's website before we even got engaged and always had an inkling she'd be the designer for me. She was wonderful to work with and totally understood my desire to look a bit bridal, but not too bridal. She even sent off the lace to be specially dyed so that we got just the right colour. I loved my dress – it was just what I wanted and really comfortable to wear."
"I would recommend having a custom-made dress to any bride who's thinking about it but be warned – while the freedom to choose is amazing, it does bring a lot of pressure when it comes to making decisions. You'll probably find yourself waking up in the night worrying whether you've made the right choices about sleeves, fabrics, train length. Make sure you really trust the person who's designing and making it – Kate was the only person who knew what my outfit was like until a month or so before the wedding, when I took my mum to see the finished dress."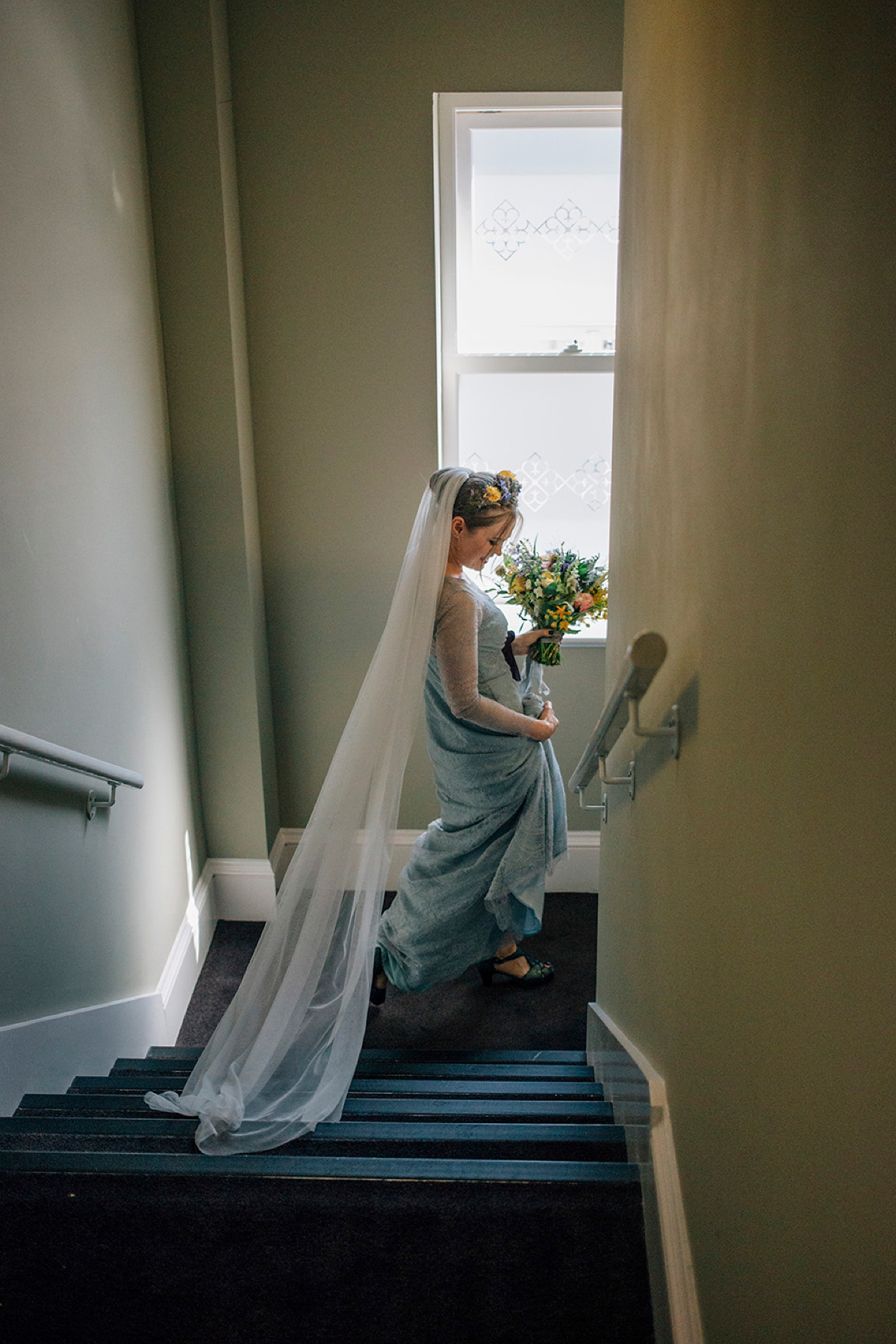 I do so love it when couples choose to have a 'first look;' it's so romantic and perfect for revelling in that about-to-be-married excitement together. Vicky (by this point sporting a bargain eBay find pair of lace-up brown boots) and Gareth also chose to slip away from their reception for some just married snaps at scenic Higgar Tor with their photographer Shelley.
"Doing a first look worked brilliantly for us. It meant that we could still have the build-up and excitement of getting ready separately, but we had some time alone to compose ourselves before the ceremony."
"Our photographer was Shelley Richmond from Kindred Photography, and she was accompanied by an assistant, Peter. When we found out she was free on our date we booked her without hesitating. She and Peter slotted into the day seamlessly and put everyone at ease. They took some amazing, natural photos, which are wonderful for remembering the day."
"We really appreciated the fact that Shelley was so enthusiastic when we suggested going to Higgar Tor, just outside Sheffield, for photos – it's a really special place for us and we visit it a lot, so we thought it'd be the perfect place to spend a bit of time together after the wedding meal. We couldn't be happier with the images she took out on the moors; they're better than we ever expected."
I prodded my fiancé rather hard when I read that Vicky and Gareth got engaged in Copenhagen just as we did, and poked him even harder when I opened up the shots from Higgar Tor; not only are they breath-takingly beautiful, but also gave me happy butterflies remembering our engagement shoot on the North Yorkshire moors were I grew up.
"We met in summer 2006 on a dig in Lincolnshire, when we were both doing postgraduate degrees in archaeology. We got engaged in Copenhagen on one the world's oldest rollercoasters in Tivoli Gardens. We'd already talked about getting married so the proposal was surprising but not unexpected – the biggest surprise was that Gareth secretly got hold of an antique ring which had belonged to my great aunt and had successfully hidden it in the house (and through the airport baggage check) for nearly 6 months. We were engaged for just over a year before getting married and our wedding day coincided almost to the day with our 9-year anniversary."
"We made our own wedding rings with Victoria Delaney at The Quarterworkshop in Birmingham, which was a fantastic experience; we'd definitely recommend it."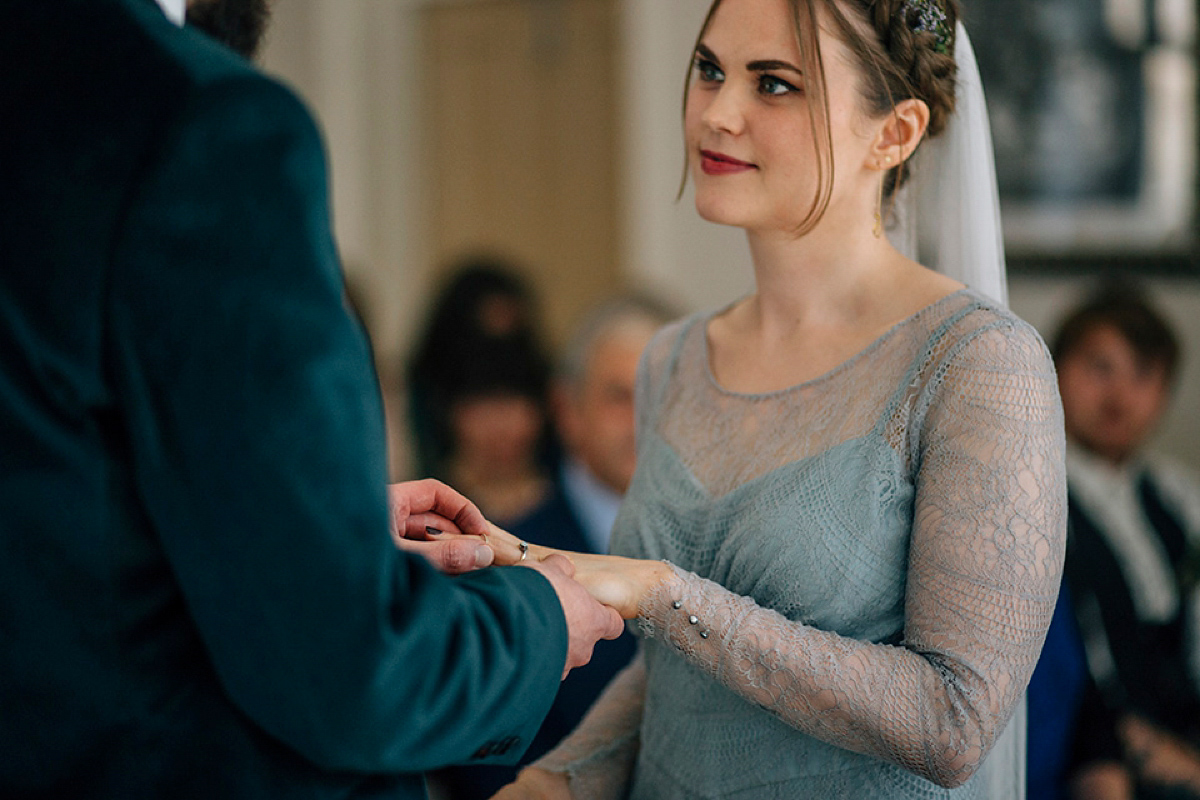 "We both liked the idea that by sticking with the standard registrar's format, we were saying the same words that other couples had said before us – we liked that those are the legal, contractual words, which take you from 'unmarried' to 'married'."
"Vicky's brother, Charlie, played 'Into the Mystic' by Van Morrison, while one of Vicky's oldest friends read a poem by John Agard called 'On Nuptials'. Vicky also read an extract about marriage from Raine Maria Rilke's book, 'Letters to a Young Poet'. We chose both because of their imagery about love and partnership."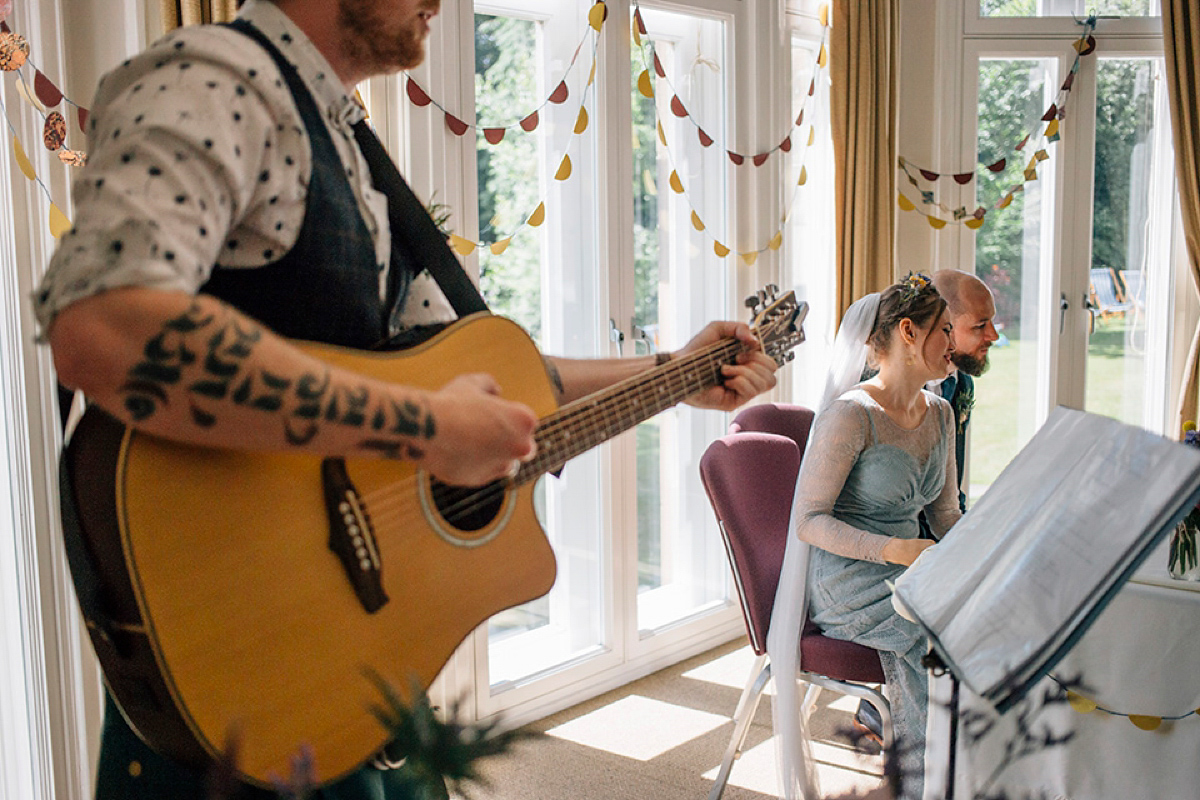 The couple chose not to have a best man or groomsmen; instead Gareth asked his two oldest friends to act as his witnesses. The couple were allowed as many as four witnesses and Vicky saw this as a lovely way of involving good friends without having lots of bridesmaids – Vicky's trio of maids wore high street gems from Mango and ASOS teamed with their own shoes and accessories, and a shawl gifted to them by the bride.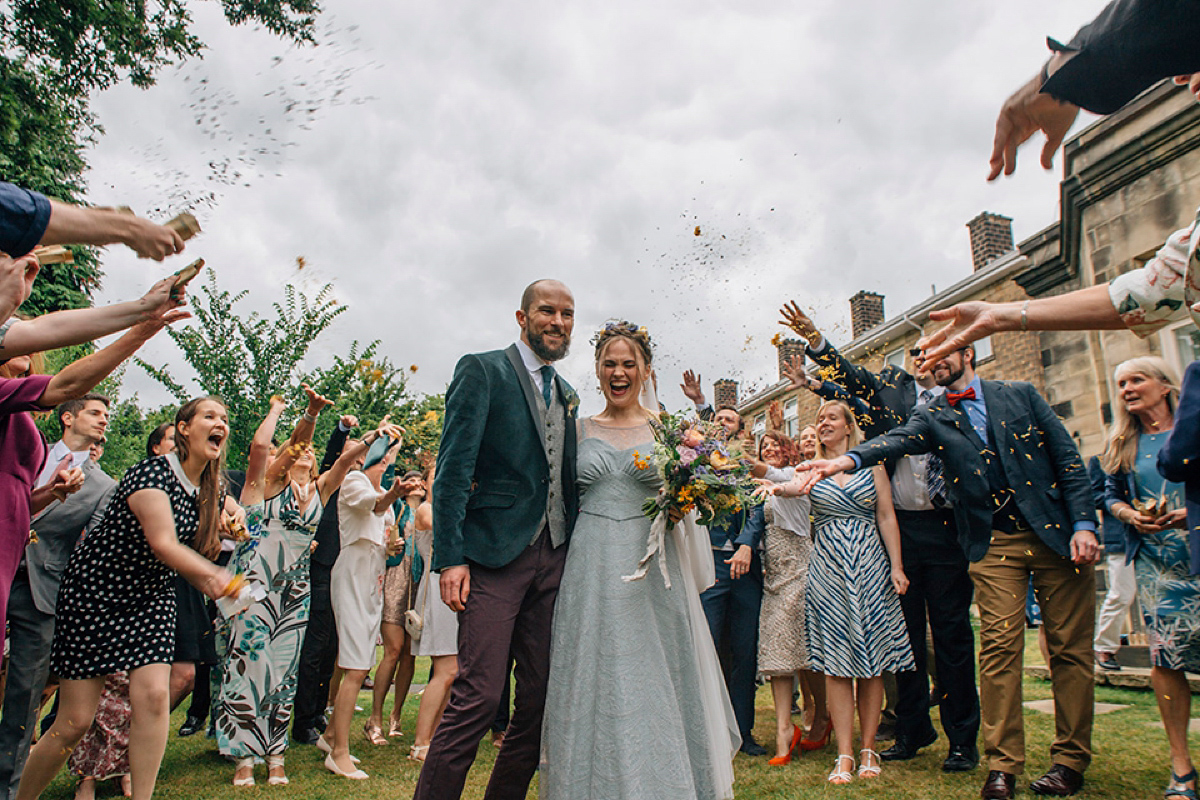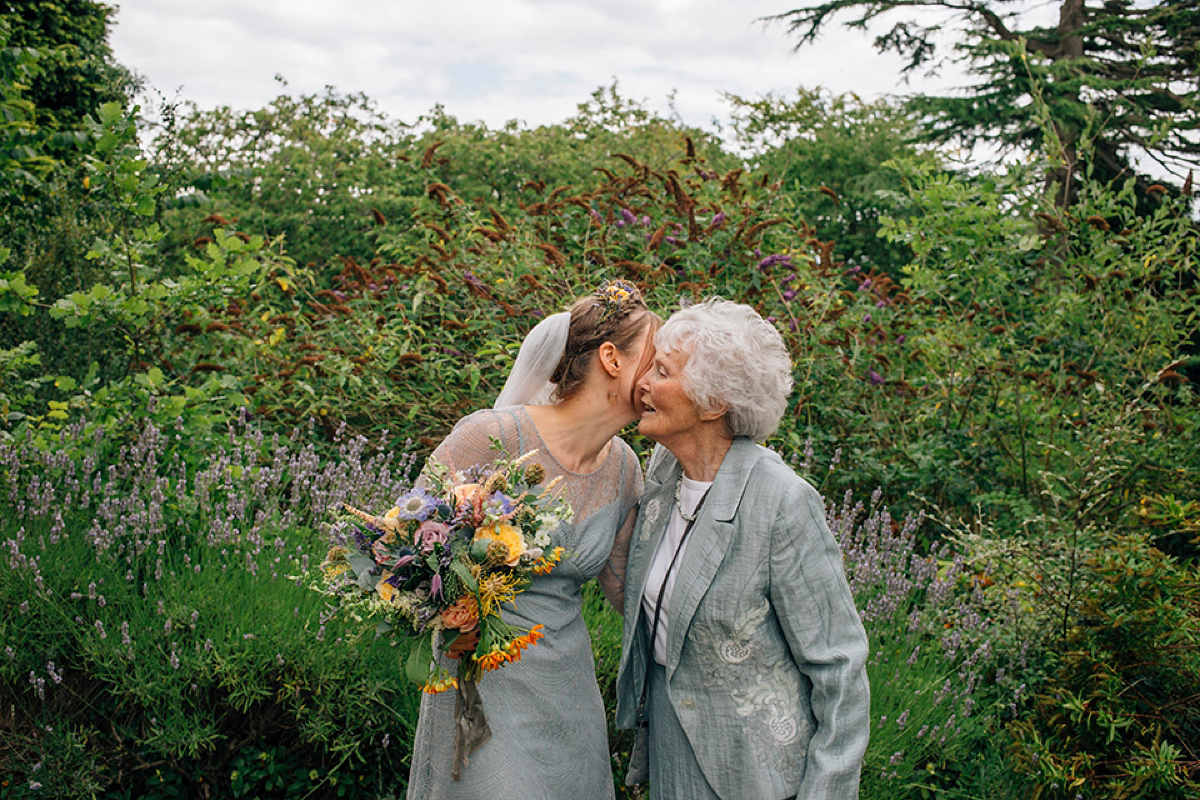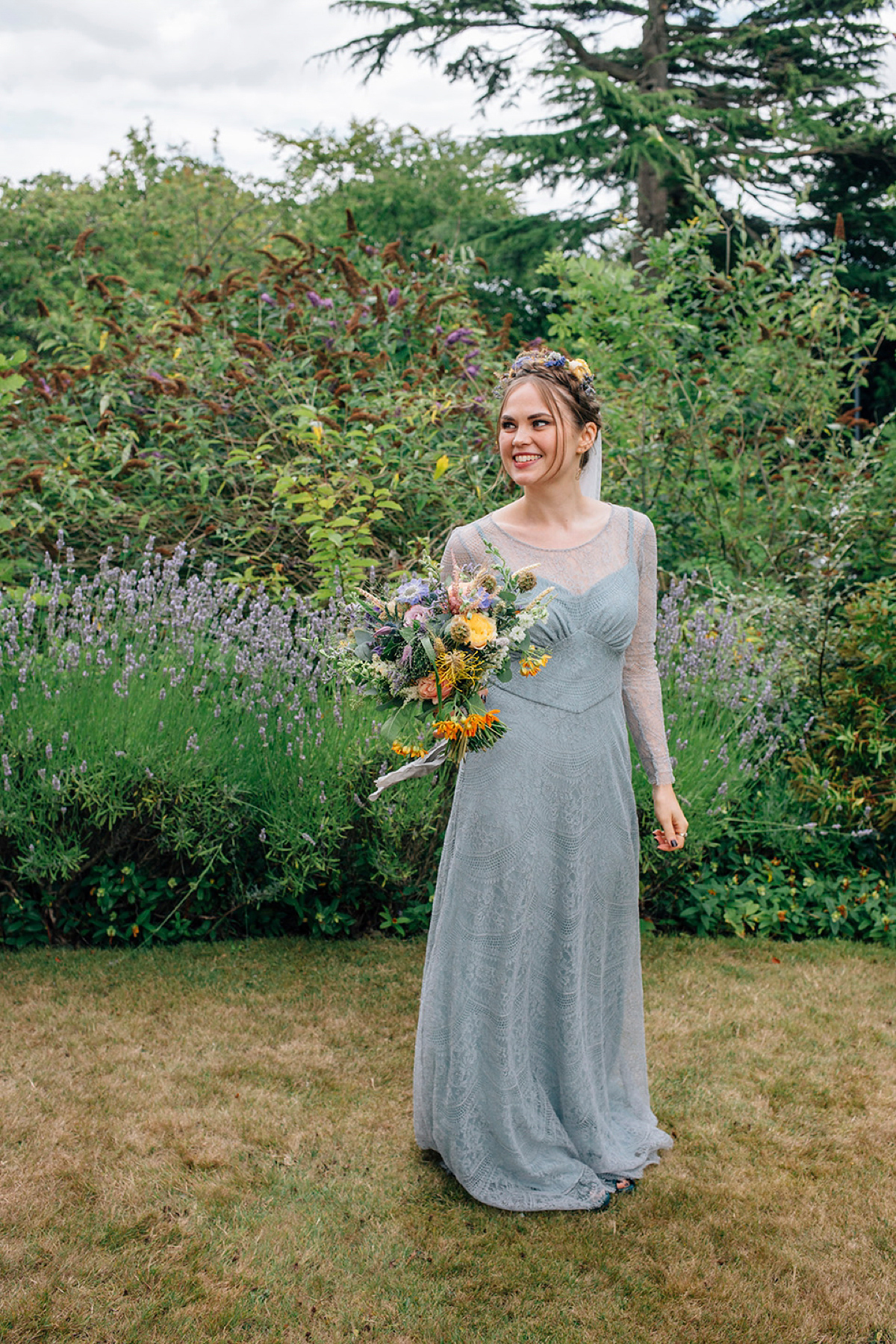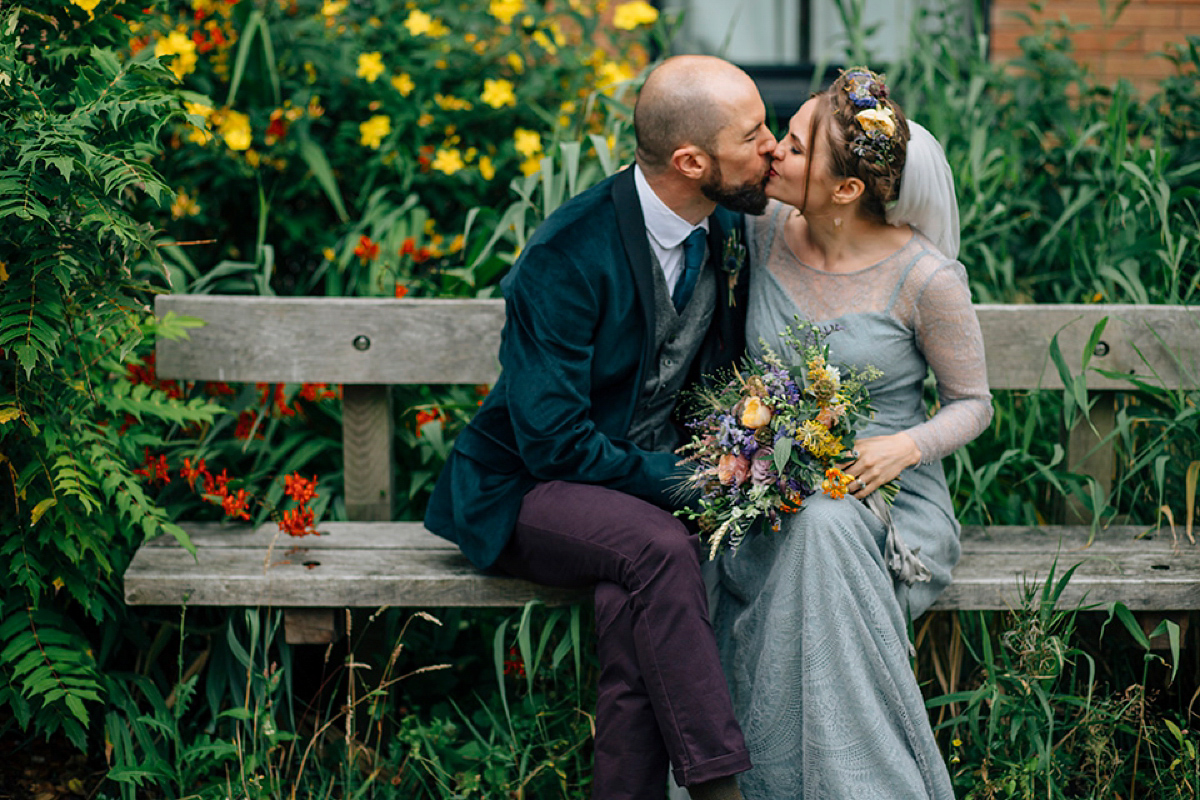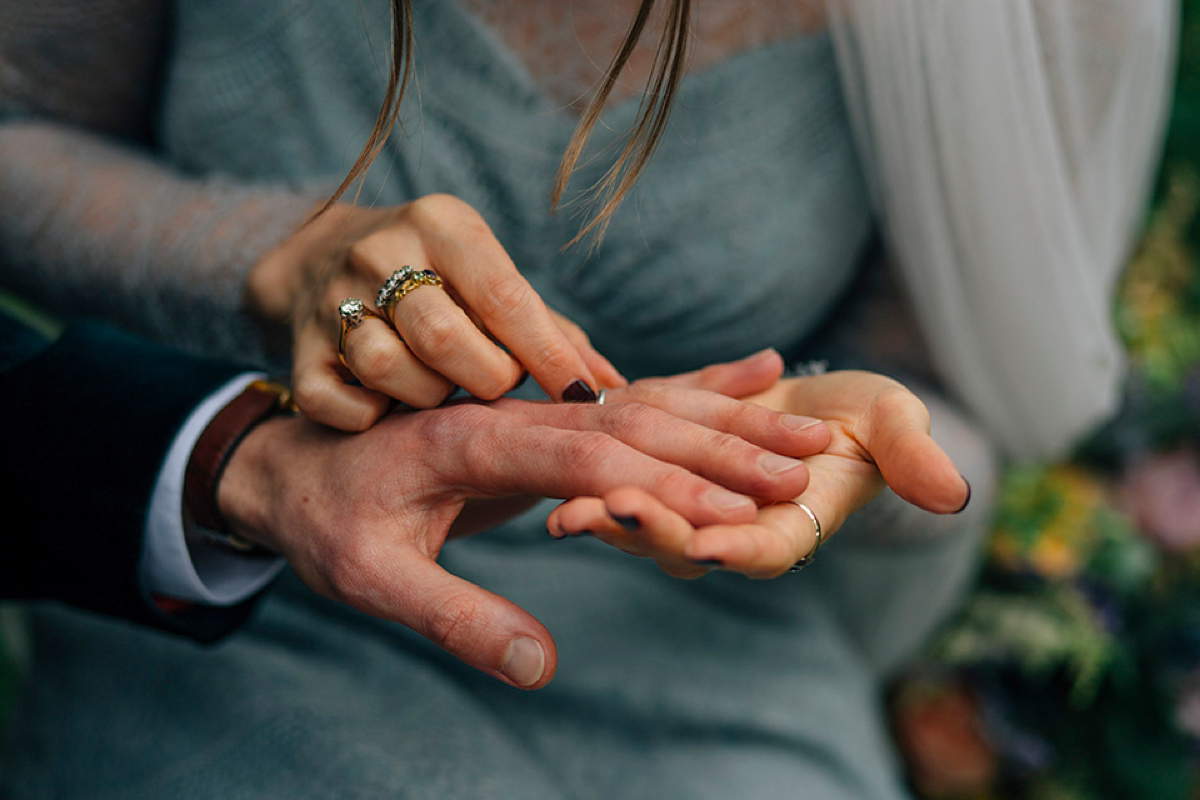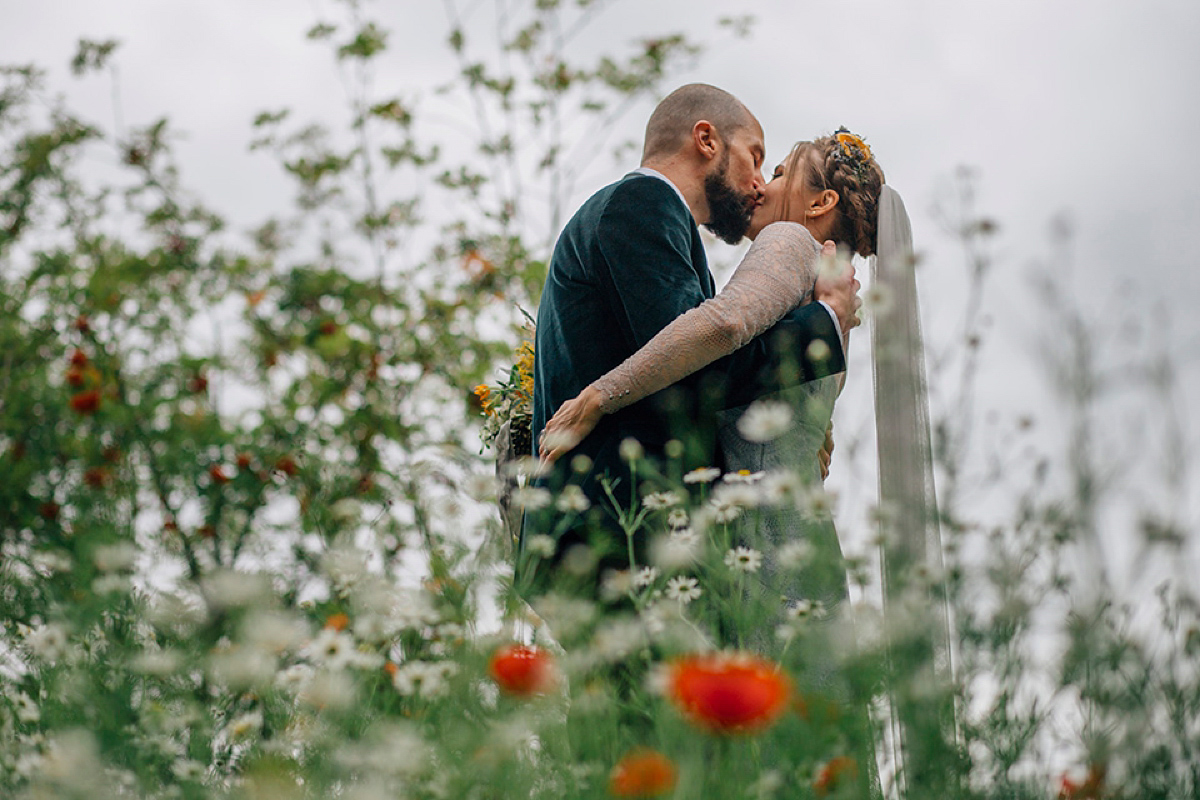 "We chose Halifax Hall for quite a few reasons; both practical and aesthetic. It was in our price range, and we were able to have the ceremony and reception there, as well as staying there with friends and family. It also eliminated transport costs. We particularly liked the outside space (thankfully the weather allowed us to enjoy it; it rained torrentially the day before the wedding, but luckily the sun shone for us). The team at Halifax Hall won us over too – they were lovely, so flexible and happy to accommodate our ideas. They did an incredible job of setting up and decorating the venue for us."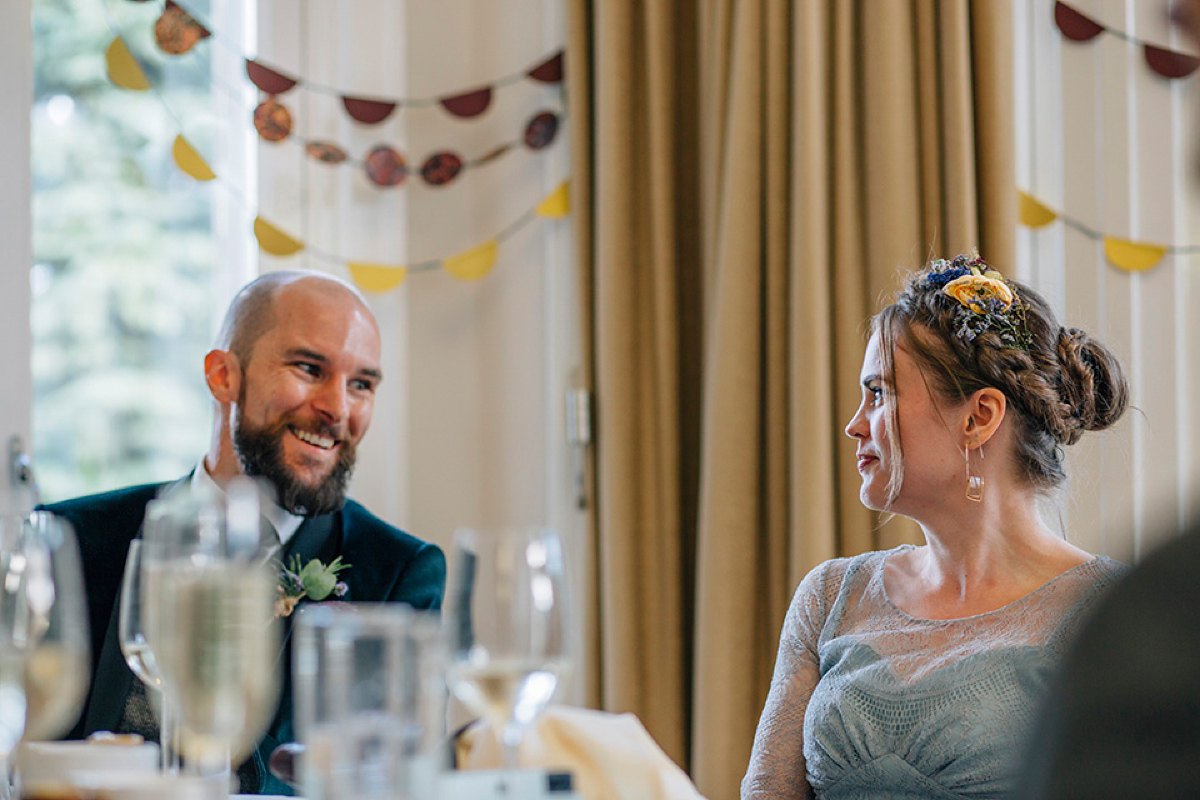 "It was also really important for us that our venue was somewhere accessible for all our guests, as many were travelling from other parts of the country – and from further afield – to be with us. We wanted a venue with a range of affordable accommodation options nearby, especially for friends with young families. As much as we would have loved a rural wedding, they can push up accommodation and travel costs for guests."
"Vicky made metres and metres of paper garlands from coloured paper, as well as table runners from patterned fabric. We had lots of coloured tissue paper poms poms hanging from the ceiling, candles and fairy lights added to the atmosphere, and flowers provided loads of colour. We collected antique Henderson's Relish bottles for the flowers, while others went in jam jars, tea cups and glass bowls. We also made a photo collage of pictures of each us of from over the years, which kept people amused. Vicky made silk flags for the garden and we also hired deckchairs from Yellow Bus Events."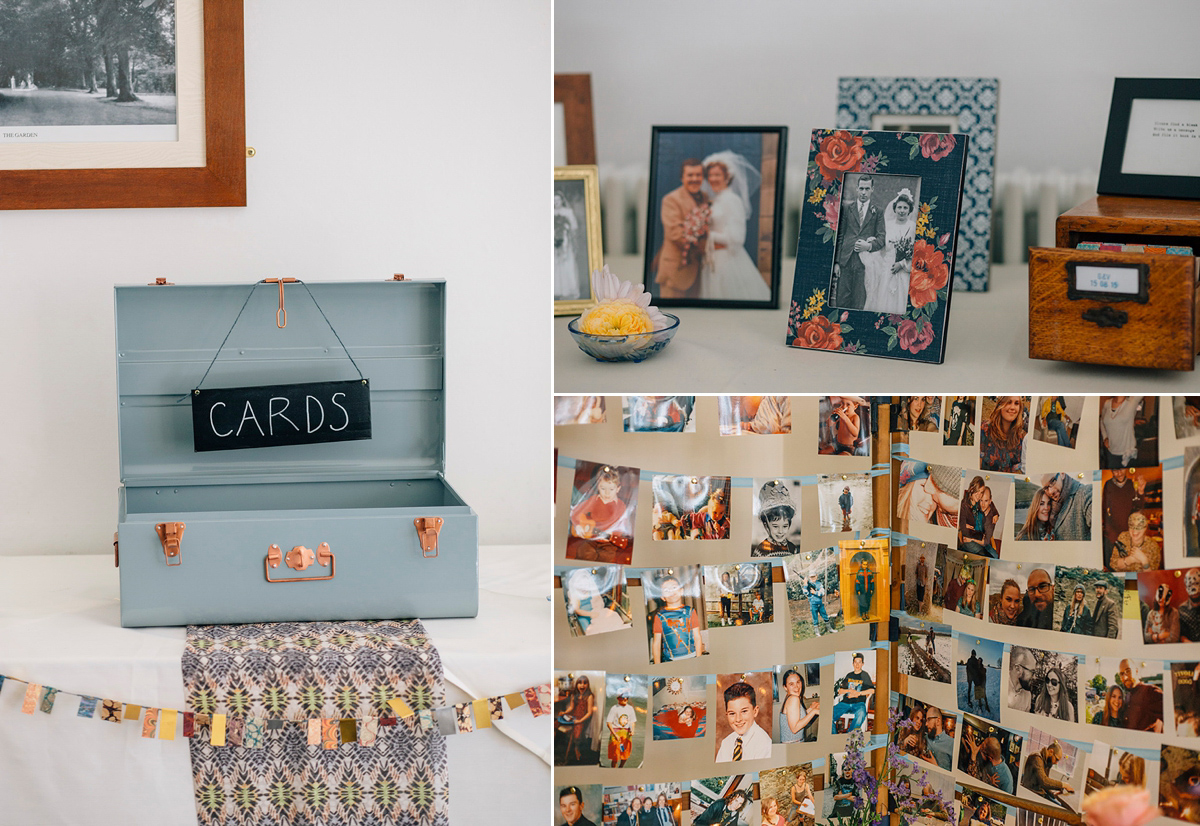 The talented groom, who makes pots as a hobby, crafted individual ceramic jugs as favours; stamped with his and his wife's initials and the date of their wedding. The couple also provided garden games, which were thoroughly enjoyed in the sunshine.
Halifax Hall provided the catering; as vegetarians Vicky and Gareth opted for veggie food as standard and offered a meat option for the main course. Delicious pie was followed by trifle and in the evening guests were treated to sausage sandwiches, salads, wedding cake and boxes of Tunnocks caramel wafers, snowballs and teacakes.
"The three cakes were boozy homemade fruitcakes – one was made by Vicky's mum, one by Gareth's mum, and one by Vicky's stepmum. They all make a mean fruitcake and we liked the symbolism of combining them (we originally planned to stack them but chickened out in the end). We decorated them using gold leaf, edible paint and edible flowers."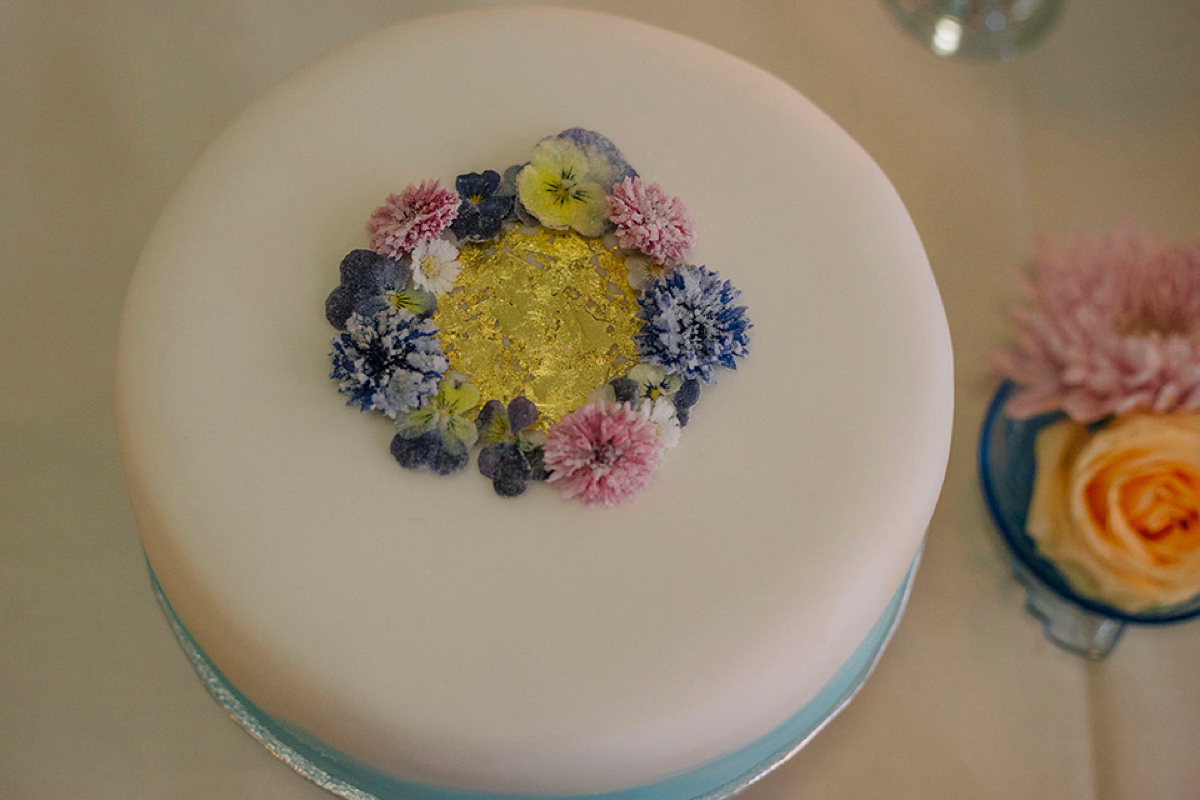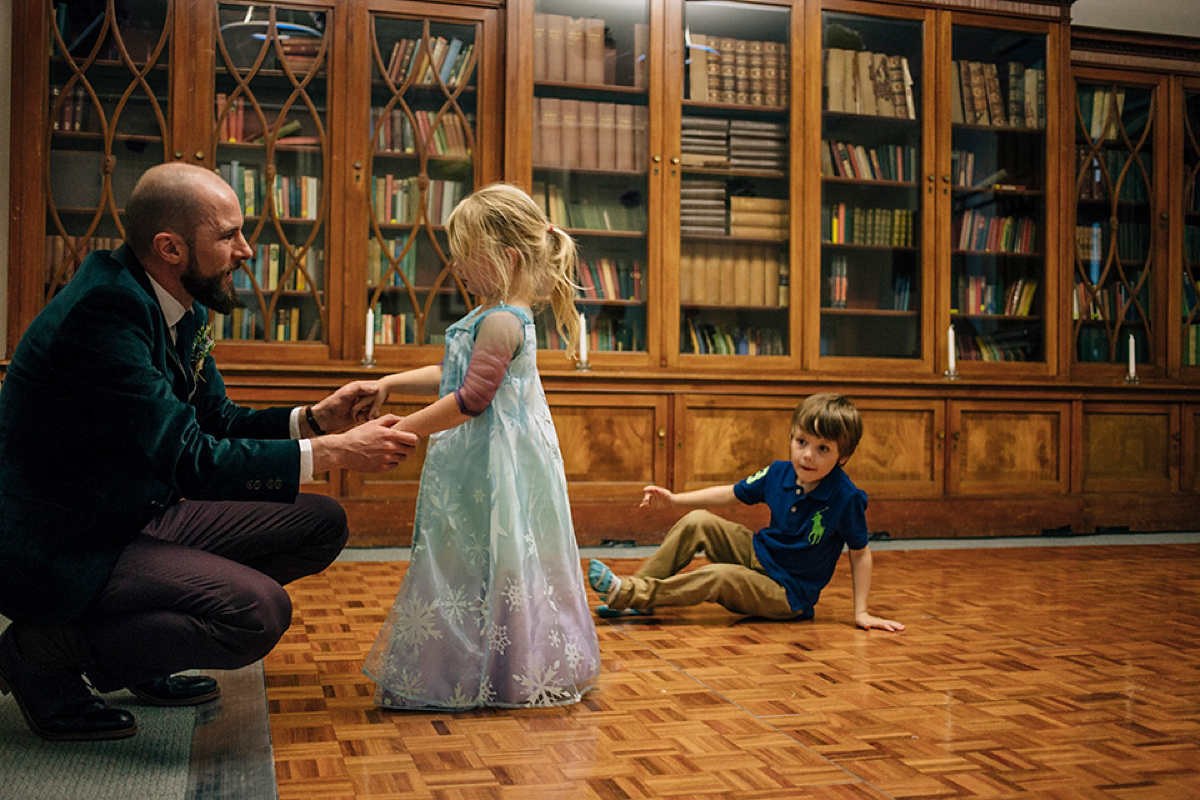 "Our first dance was 'Do I Love You?' by Frank Wilson. We wanted something upbeat and fun, and we both love soul music. Initially, we weren't that bothered about doing one but in the end we decided to learn a dance from the lovely Reo at Sheffield's Hype Dance Academy. This turned out to be really enjoyable – going to the classes was a nice way of spending time together and doing something fun when Vicky came home from working away at the weekends."
"We had a DJ for the evening. Our friends and family can always be relied on to fill a dancefloor, so we didn't see the need for anything else in the way of entertainment."
"It really was the best day of our lives. Everyone says that, but we didn't really buy into it before the wedding; we thought it'd be amazing, obviously, but we were blown away. The best thing about the whole day was being surrounded by so many people we love and feeling the good vibes; that was so much more important than anything else."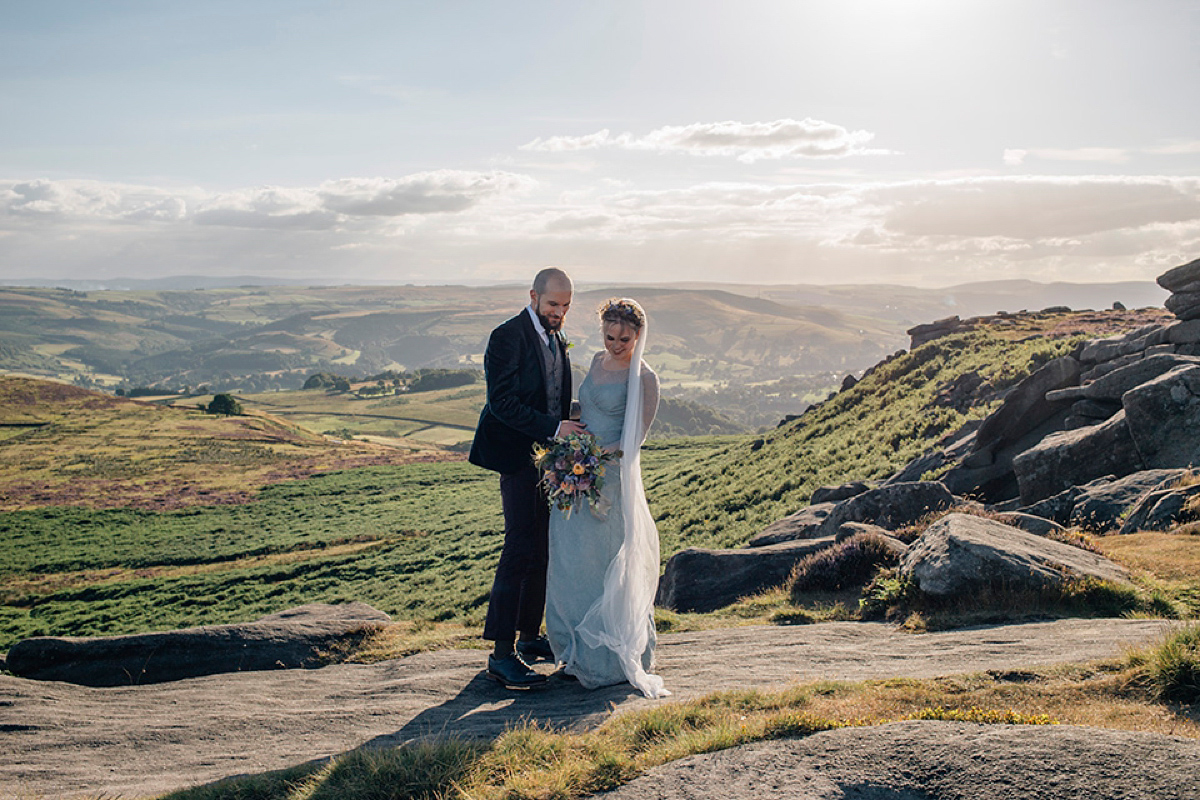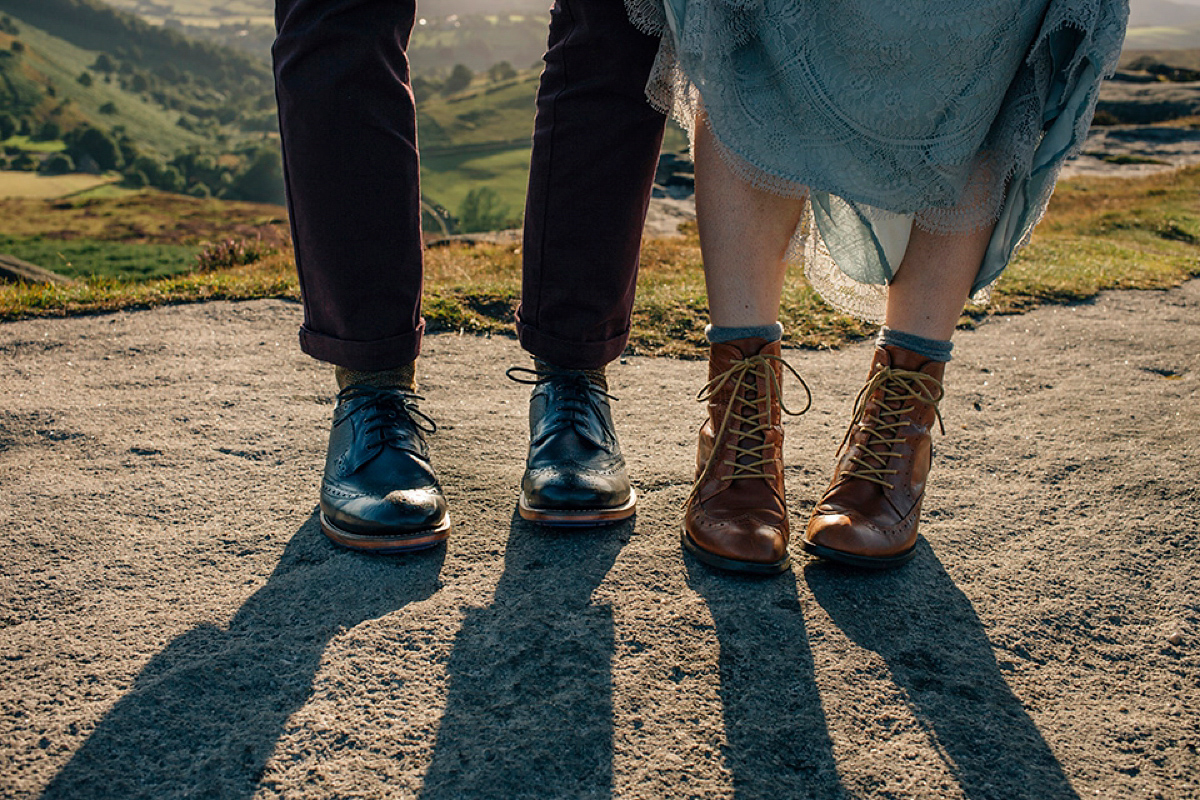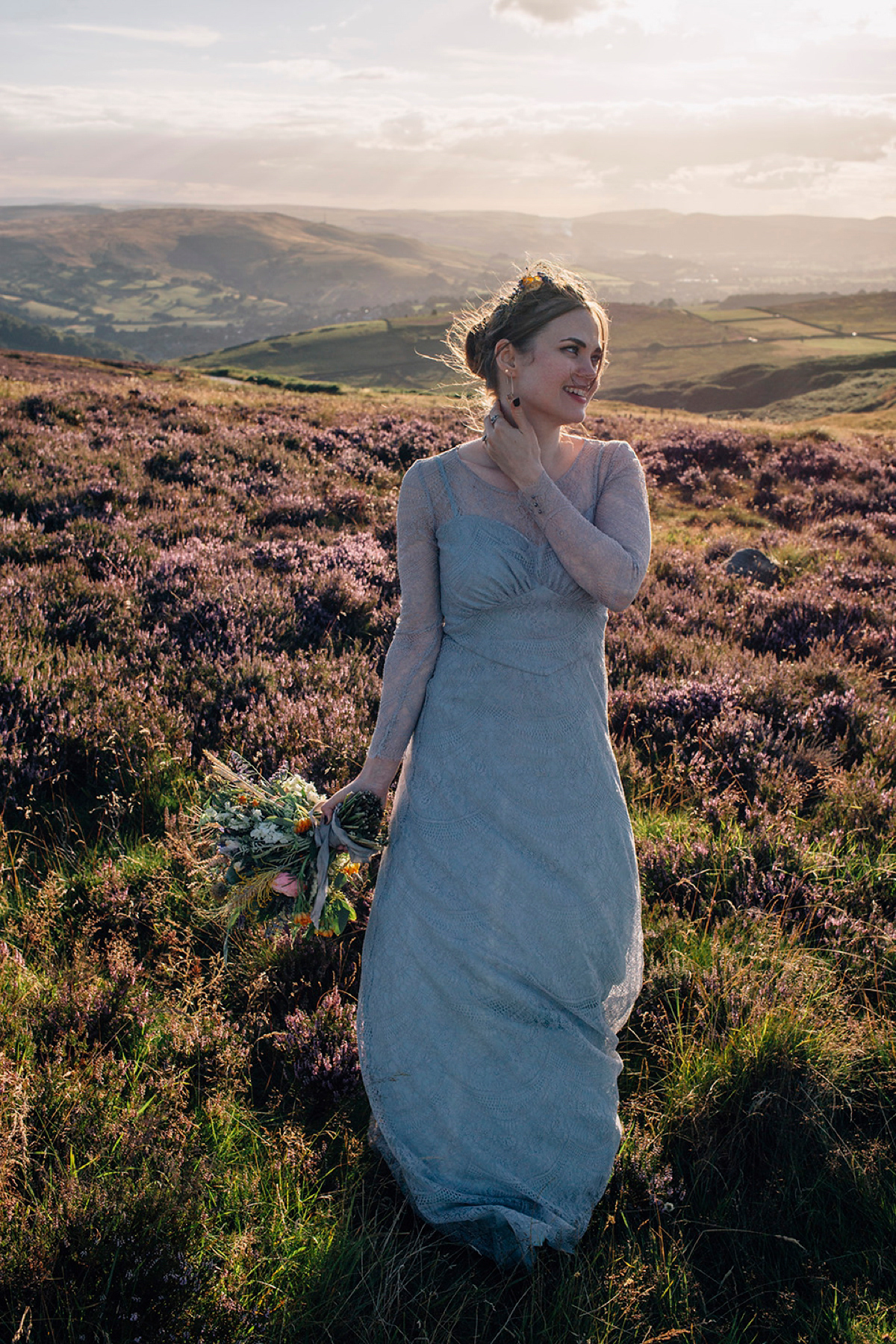 "Gareth's outfit started with his green velvet jacket, bought from ASOS in the sale, and grew from there. Everything else was chosen to complement the jacket – the trousers and shirt were from Reiss and the waistcoat and tie were from Ted Baker."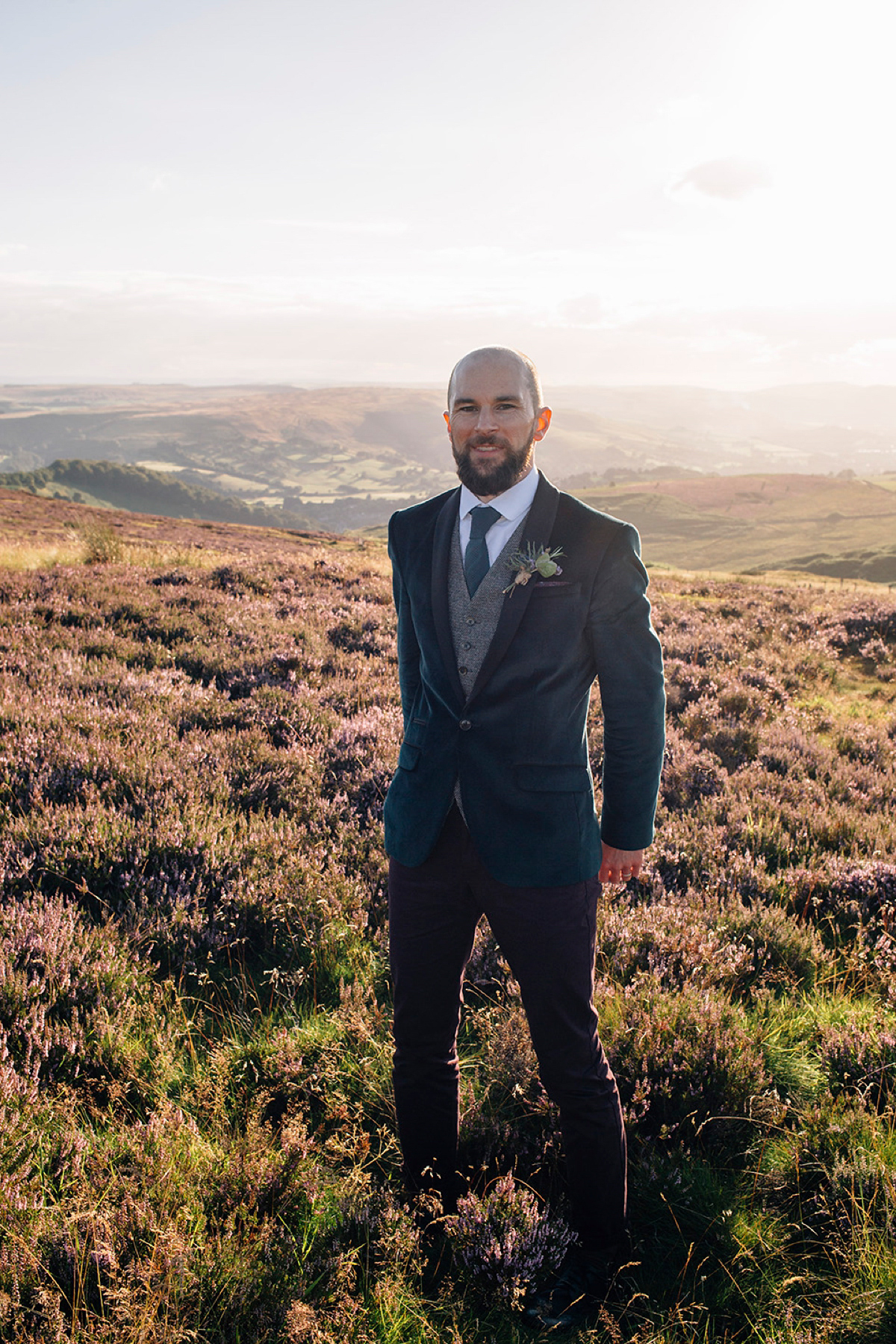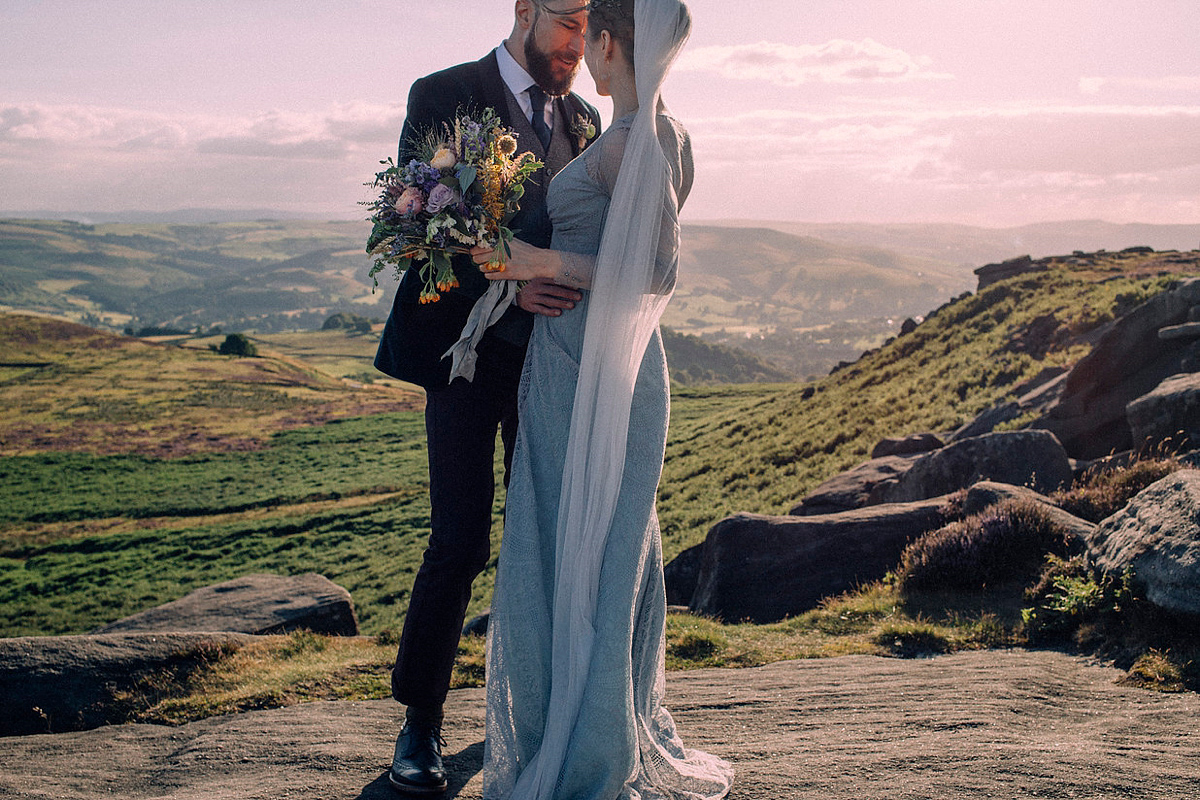 Words of Wedded Wisdom
"I didn't change my surname when we got married and we both go by Dr anyway, so there was no 'Mr and Mrs'. To avoid people making assumptions and getting lots of cards addressed to the wrong name, we included a sentence about this on the wedding invite.
I wish I'd worried less in the run-up (easier said than done) and trusted our decisions more as the day grew nearer. I would also have asked to add my mother's name to the marriage record – it's ridiculous that marriage certificates still don't show this, and I've been told since the wedding that you can ask the registrar to add it to the form outside the formal boxes (some will and some won't, apparently, but it's worth asking)."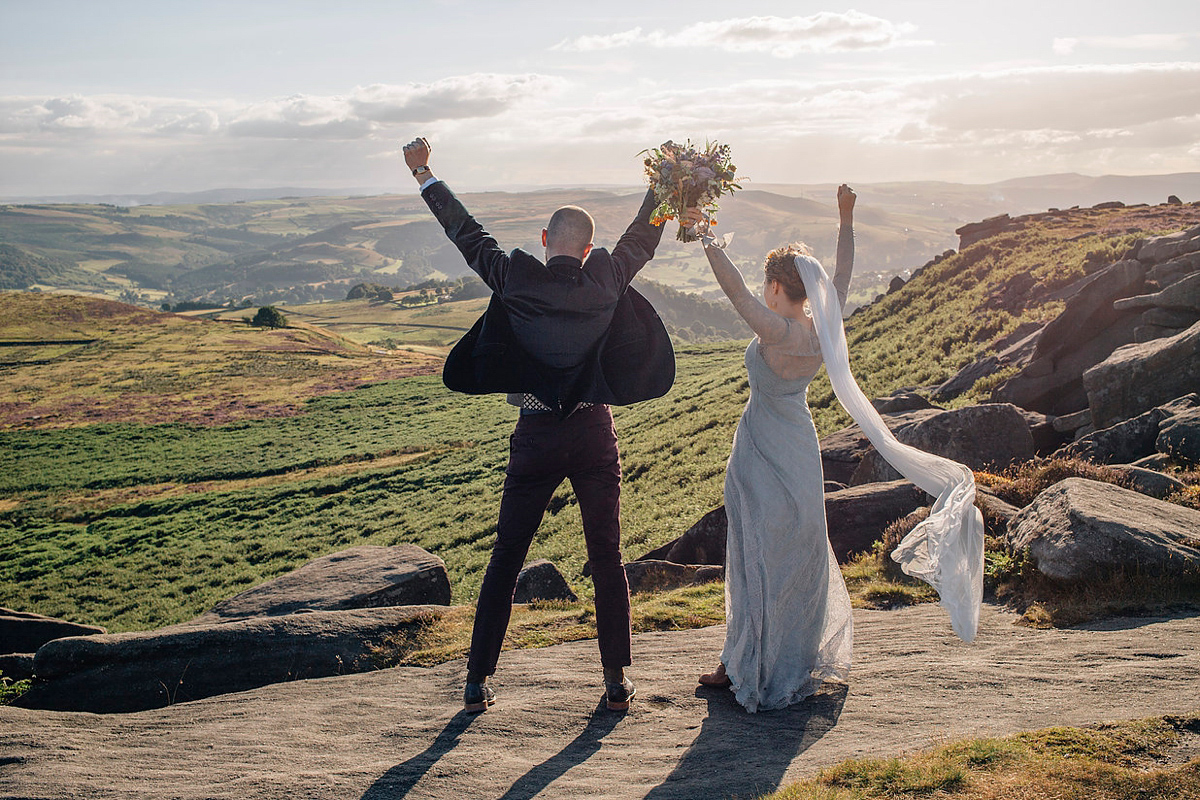 "I would definitely recommend to brides that they do a speech if they feel like they can/want to – I really enjoyed doing mine, as I was able to talk about my perspective on marriage, why I love Gareth, and personally thank everyone for being there.
Get a group photo of all your guests – we chose not to but we really wish we had now."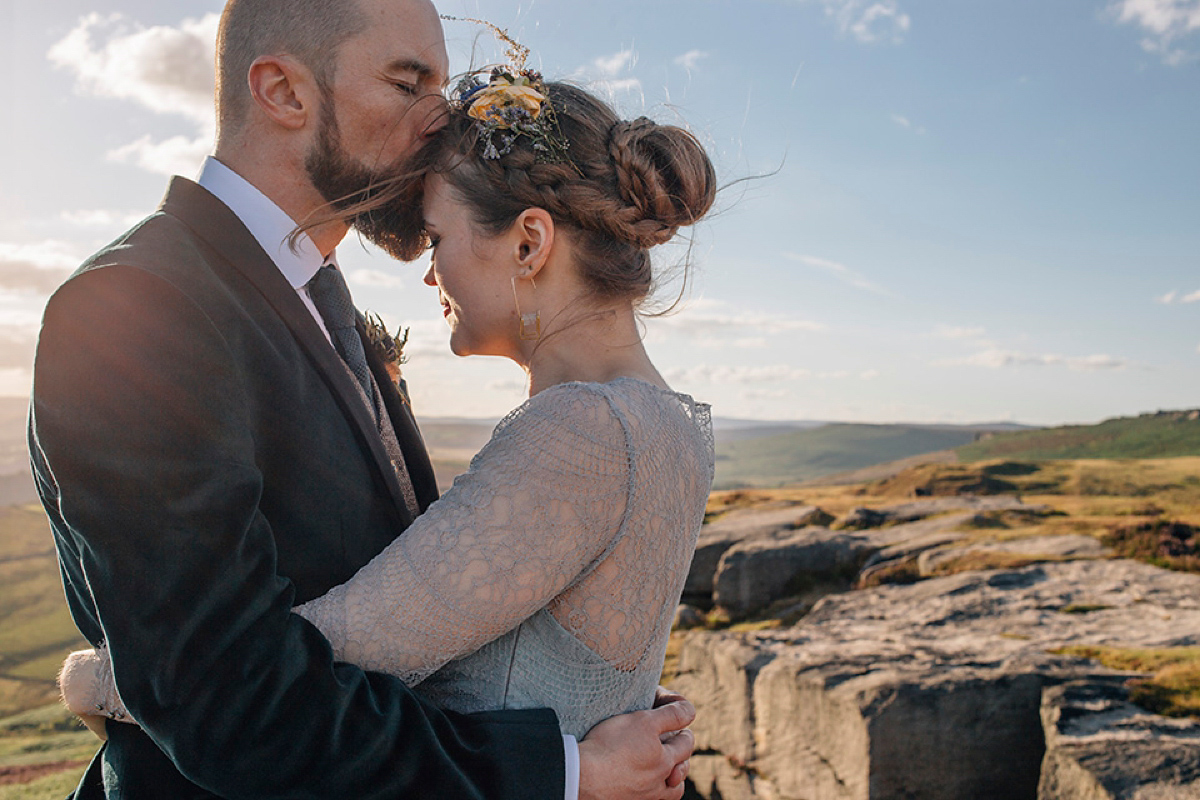 "Question things, especially wedding traditions. Does it work for you? If not, throw it out and only keep the ones that do.
Don't get pressured into over-entertaining and going over budget. The more I looked at other weddings on blogs, the more I found myself thinking ' should we have a bouncy castle/popcorn stand/ice cream truck/band/photo booth'? As amazing as those things can be, it's so easy to get sucked into thinking they're essential to make your wedding amazing. They aren't."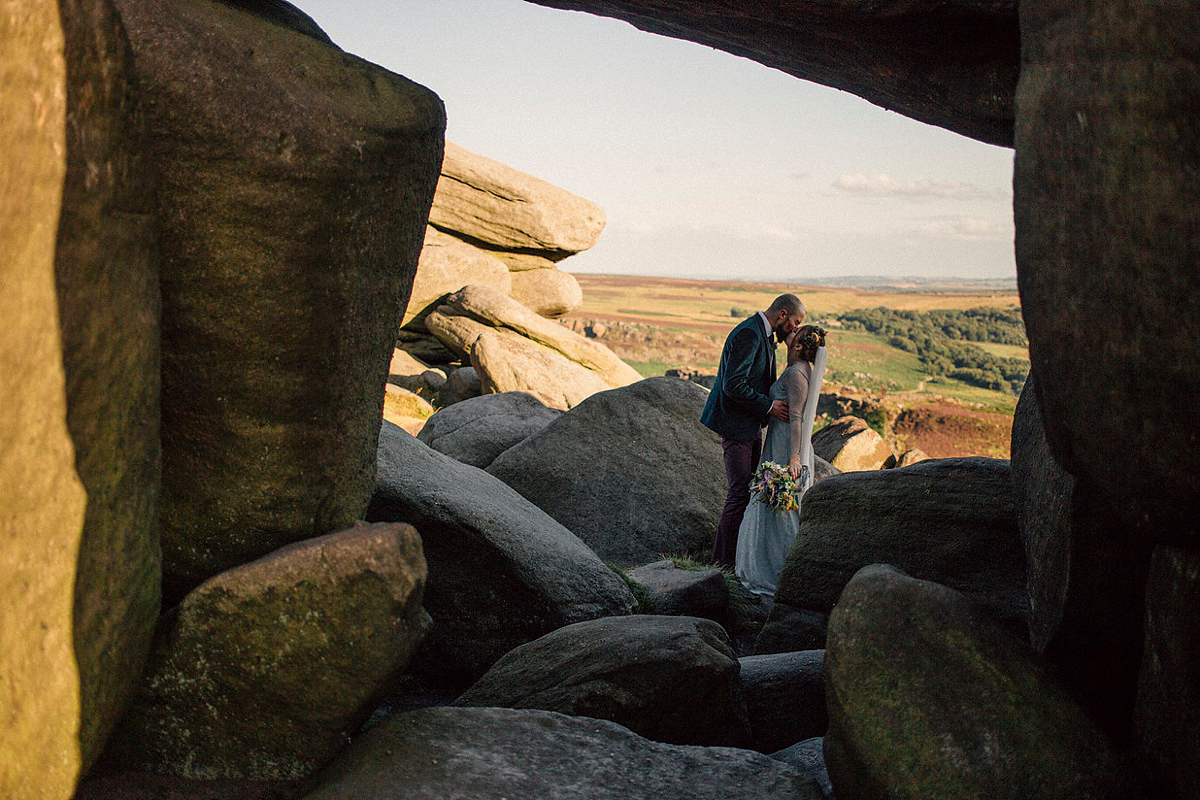 Vicky, who was drawn to the non-traditional weddings and supplier features on our beloved blog, is proof that a wedding is whatever you make of it; you don't have to wear a white dress, you can choose the person you walk down the aisle with, the vows you make and the food you select. There's been a lot of 'wedding bashing' recently (did you see Annabel's recent From The Heart post on the subject?) and for what? Is a wedding not, when it all boils down to it, a celebration of love? So bring on the paper pom poms (love yours by the way Vicky and Gareth) and the calligraphy, and bring on the non-traditional coloured dresses and the alternative choices – it's all love. And we could always use more love in the world.
My hugest thanks to Vicky and Gareth for sharing their beautiful day with us, and a massive thank you too to Shelley of Kindred Photography for the stunning images of love on the Yorkshire moors. If you're as obsessed with Vicky's gorgeous Kate Beaumont dress as I am, you can see other brides wearing Kate Beaumont on the blog here.
Have a wonderful week,
Em x
Photographer – Kindred Photography
Venue – Halifax Hall
Wedding Dress – Kate Beaumont
Shoes – Chie Mihara
Accessories – Is Was + Will Be earrings
Bridesmaids – Mango + ASOS + Bonbi Forest shawls
Perfume – Agent Provocateur
Groom – ASOS jacket + Reiss waistcoat + Ted Baker tie and brogues + Ben Sherman pocket square + Pantherella socks + Dents belt
Florist – Of The Wild
Rings – The Quarterworkshop
Catering – Halifax Hall
Hair Stylist – Billie via Laundry
Décor – Yellow Bus Events