Happy morning all! Feel like I'm hanging on for life out of the window of a speeding train this week – everything rushing by so fast. I must focus on finding a little time to be in 'the moment' and bring myself back down to planet earth. Or maybe just go make a giant cup of coffee 🙂 Being able to enjoy these beautiful photographs this morning is helping.  This couple is primary school teacher Grace who married Academic Hugh in April this year. The couple tied the knot at Sheffield Town Hall and celebrated with a reception at the Burton Street Foundation restaurant in Sheffield.
I am passionate about supporting independent dress designers through Love My Dress, so it brings me a lot of pleasure to be sharing this particular wedding, as the bride wore a gown  by one of my very favourite designers, our Little Book For Brides member, Kate Beaumont. Some of you in fact might recognise the bride who has modelled for Kate on a number of times in the past. Grace and Hugh wanted to pay homage to the city they love and live in on their wedding day, so the celebrations took place in the centre of Sheffield. The whole wedding was tastefully captured by Photography by Kindred Photography.
"I had been involved in many photo shoots as a model, particularly for my friend wedding dress maker, Kate Beaumont,  so I had lots of ideas about how to style our wedding from these experiences. We also live within the beautiful Peak District in Sheffield, and this is my favourite place to be. The city is very lush and green, so we wanted to go with a 'natural' vibe, inspired by the colours of the area. We chose our venues because I am Sheffield born and bred, and Hugh has adopted Sheffield as his home. We love the city and wanted to get married right in the centre."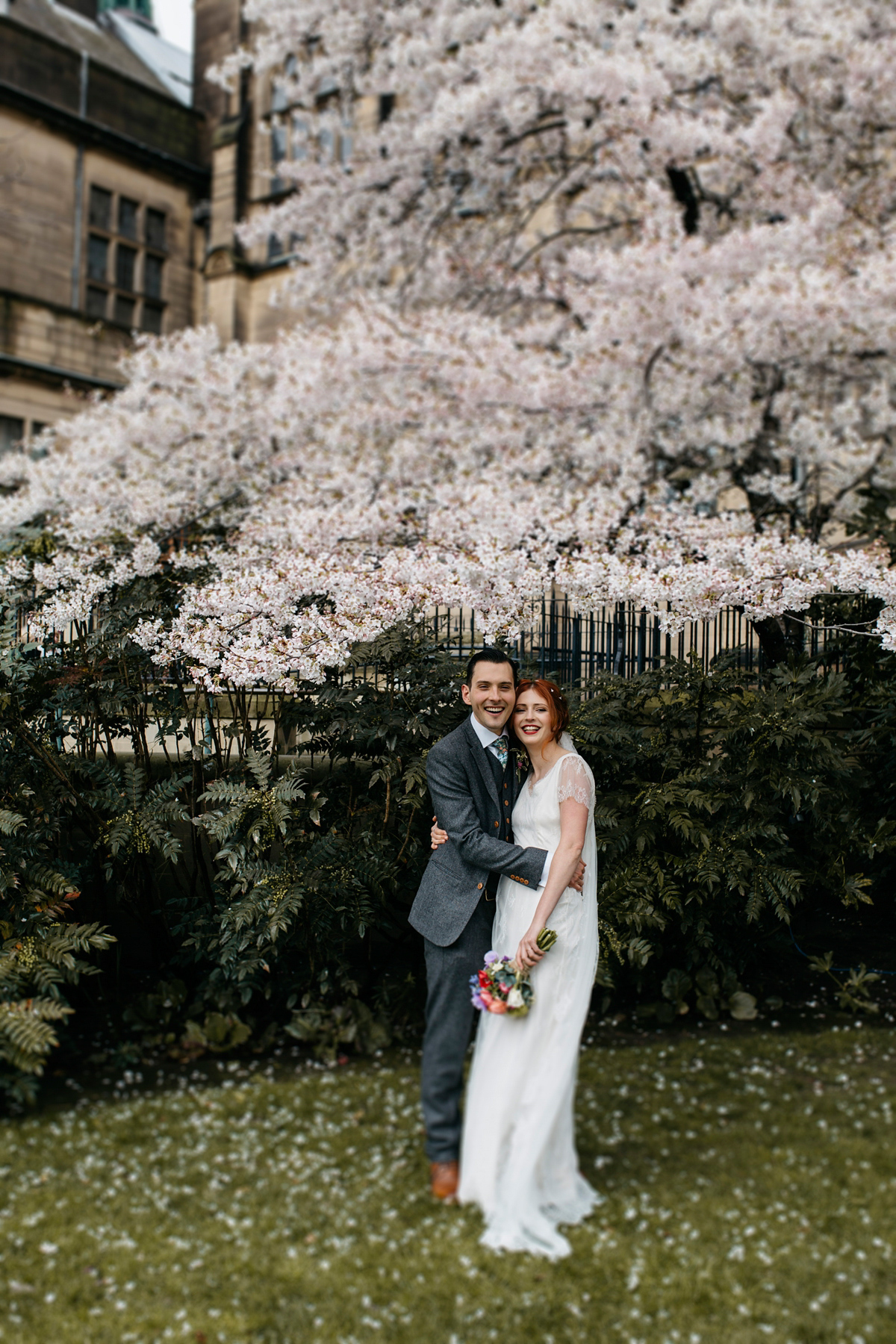 "Kate Beaumont is a good friend of mine and so designed my wedding dress.  I have modelled for her over the past four years. I've worn most of her dresses and so had an idea of what I would like. We based the dress on one of her previous styles, but changed quite a few things about it to suit my style.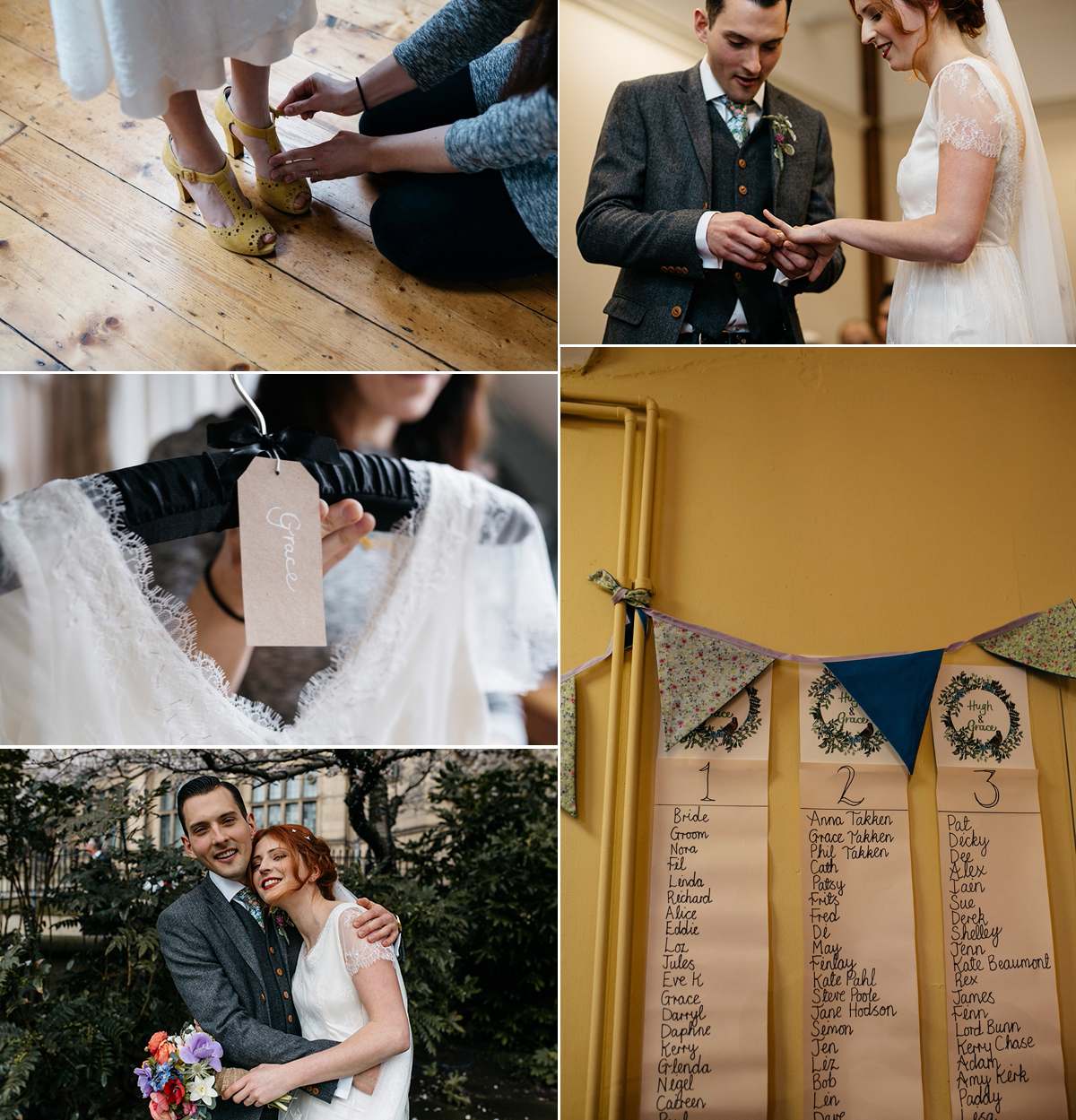 Kate's bridesmaids looked resplendent in soft grey chiffon gowns from the ASOS Wedding Shop and beautiful foliage crowns that were provided by another of our Little Book For Brides members, Campbell's Flowers.

"When it came to my dress – I knew I wanted something comfortable, which I could have a proper dance in, and also something which I didn't feel different to 'me' in. The cut was so pretty, but also very relaxed and the lace was delicate and light. "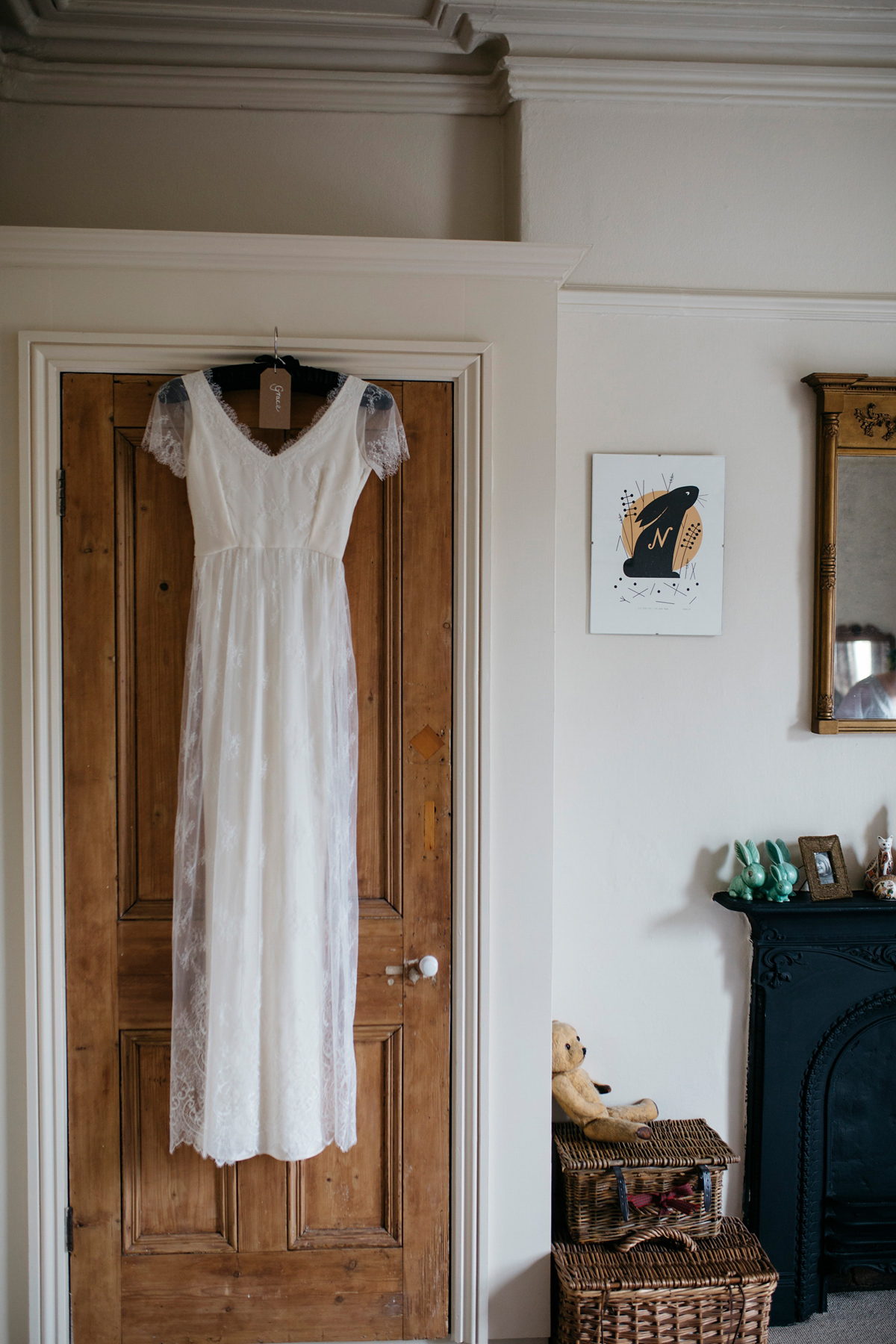 "The dress was not clingy, heavy or too revealing, but had just the right amount of skin showing to make me feel glamorous, yet comfortable. I had so many compliments, even from strangers outside the town hall about it."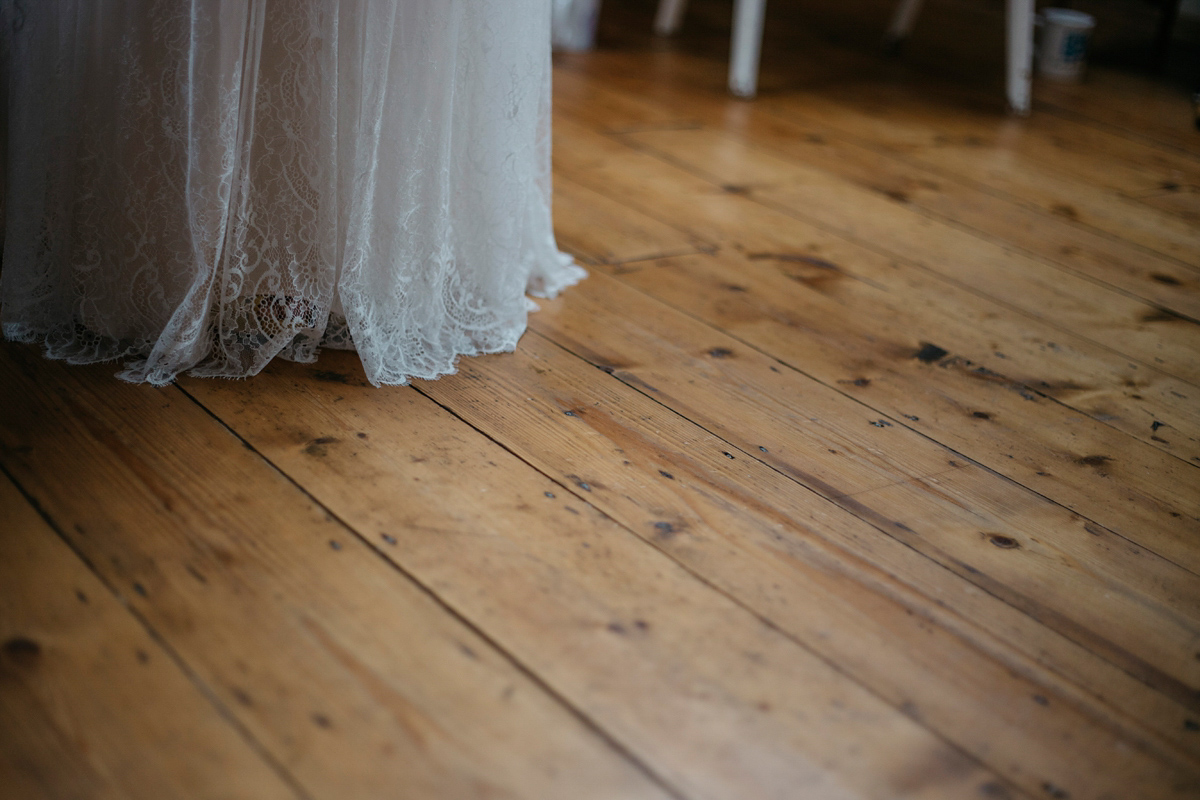 "Since we got married near to Easter, I wanted to go with spring flowers in lots of different vibrant colours and had a 'green' theme running through other aspects of the day with our green favour bags and green floral invitations and stickers made by my bridesmaid, Grace Taylor of Wildwood Paper. We're also a fan of William Morris and the arts and crafts movement, which has a strong place in Sheffield since Ruskin set up a gallery here. As such, the men wore some beautiful green and blue William Morris floral silk ties and the green theme was repeated in the bridesmaids' foliage crowns."
"I wore Gorilla Perfume by Lush as my scent this because it's what I always wear and I wanted to smell like me, and I always get asked what it is when I walk by."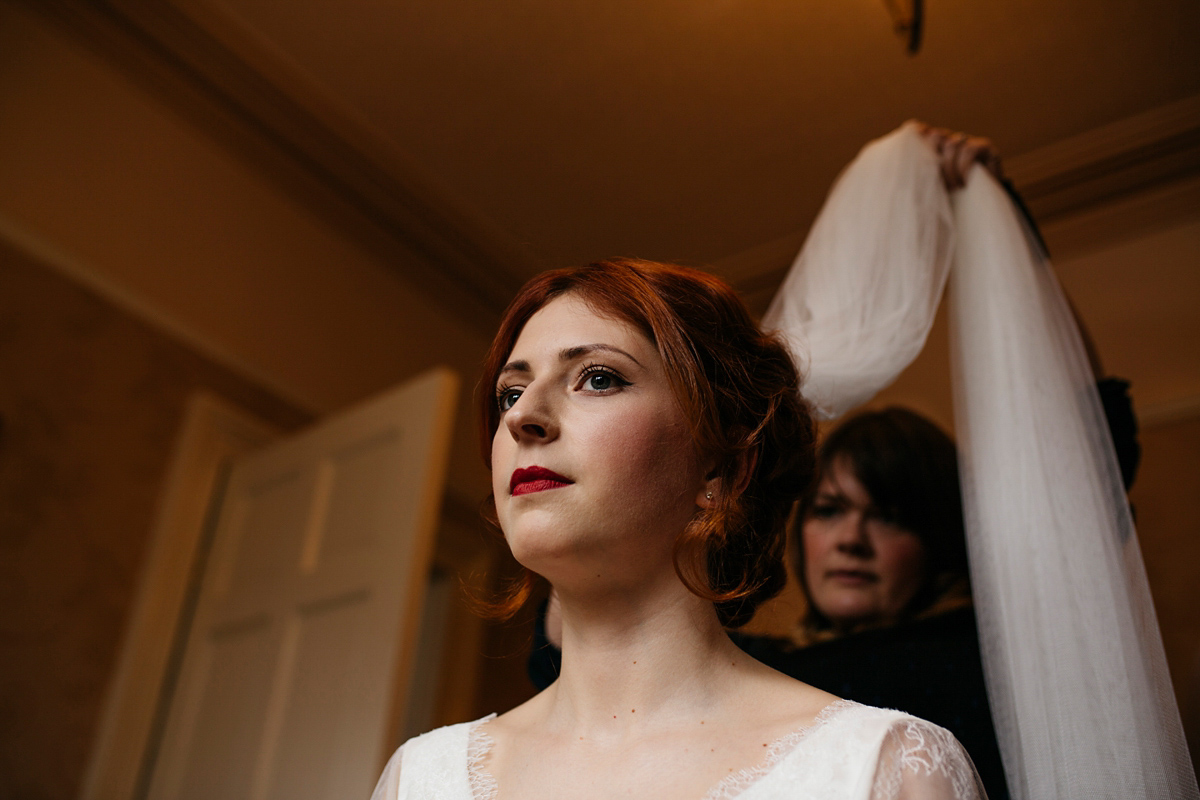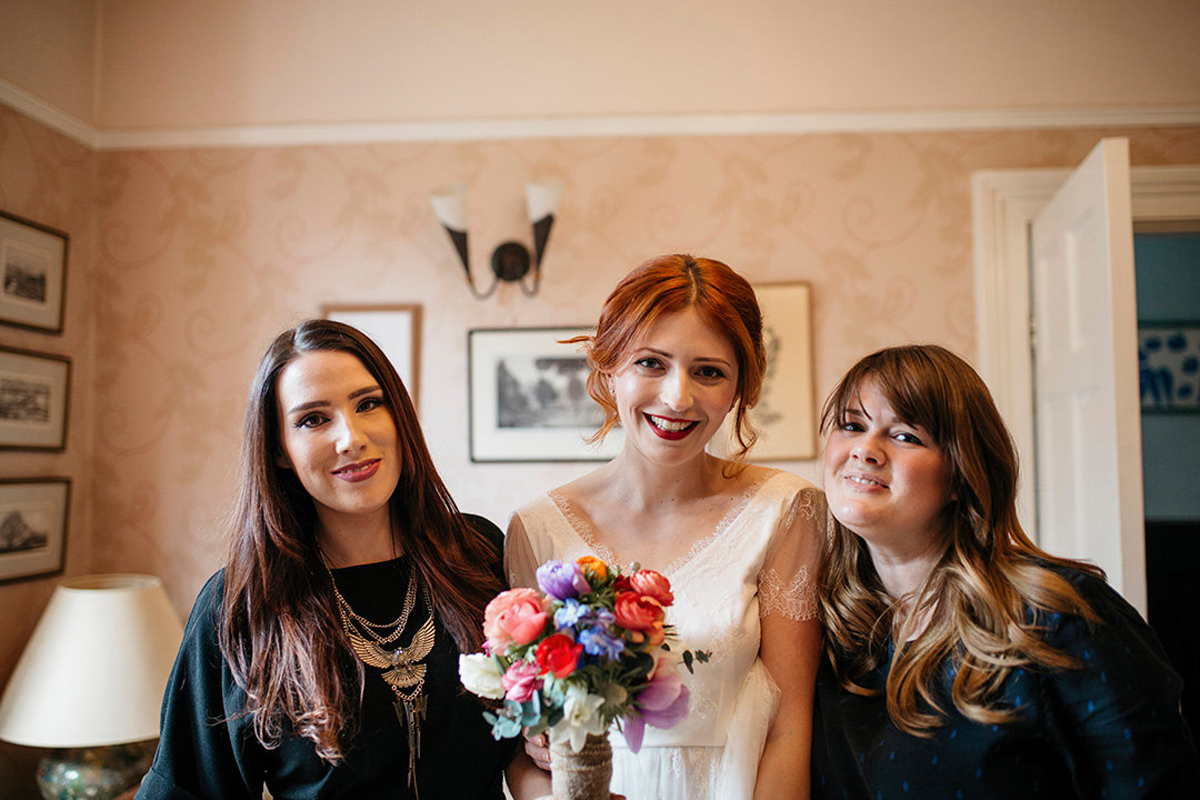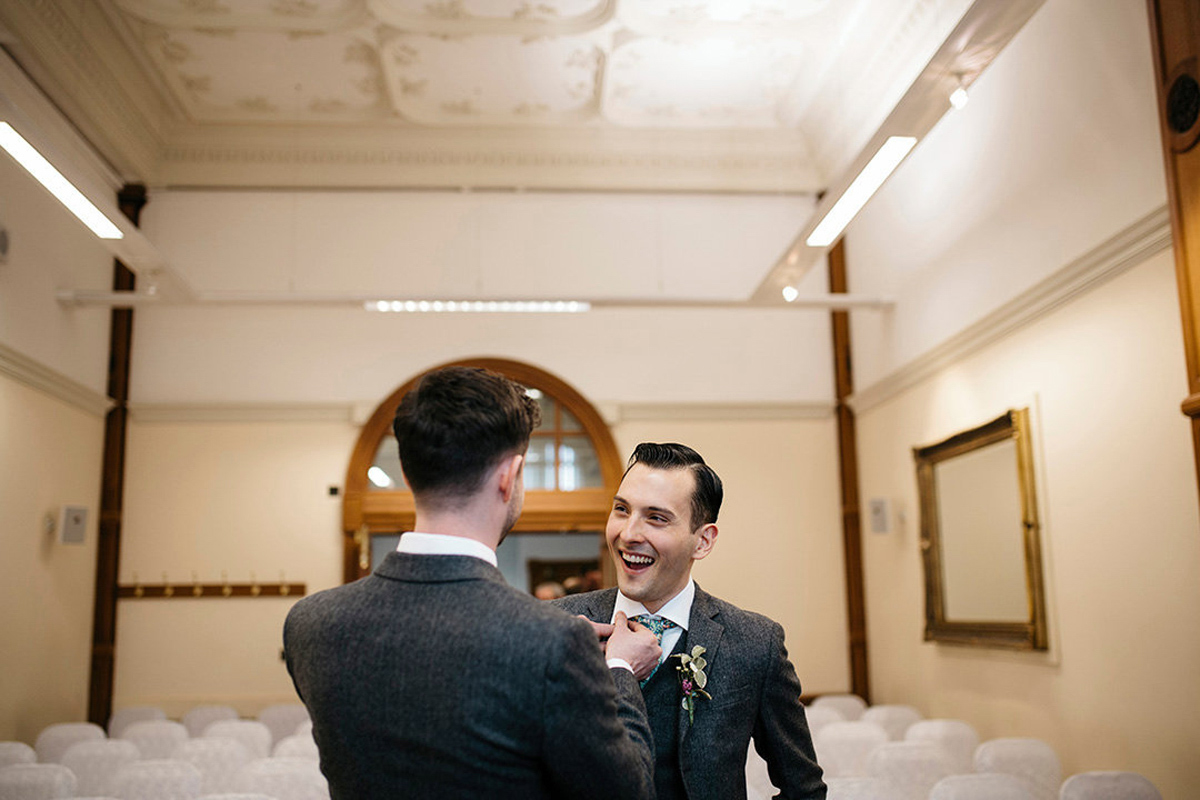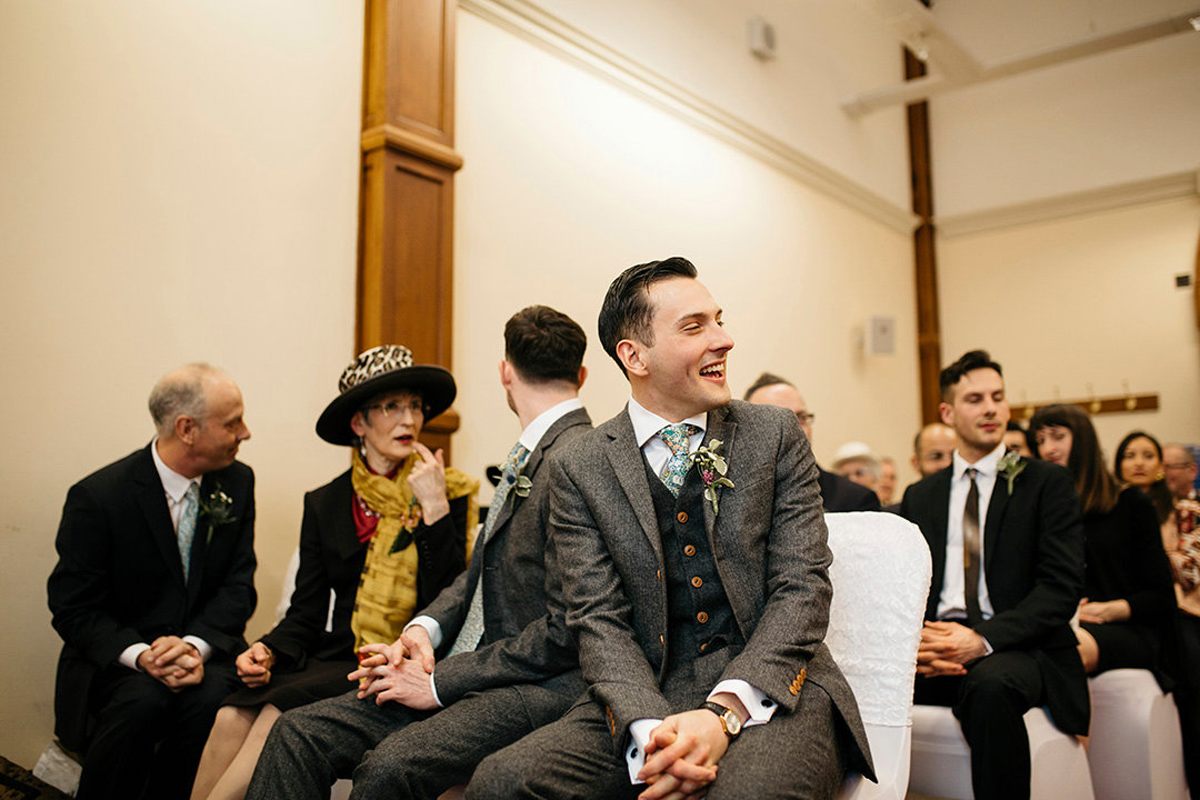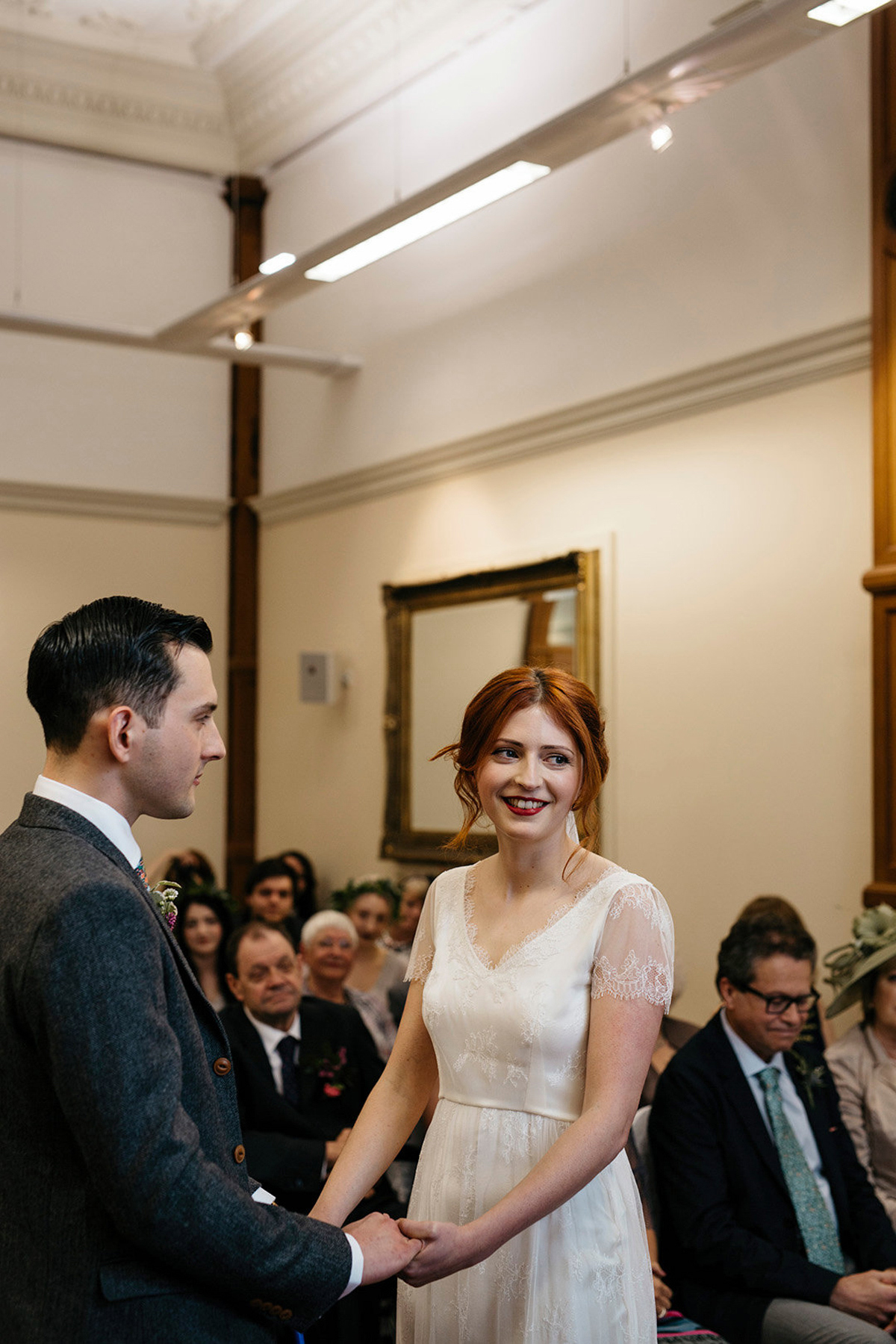 The bride's Father accompanied her into the ceremony to the sound of 'God Only Knows' by the Beach Boys.
"We had two readings. One was a Shakespeare sonnet as our 'serious/romantic' one, which we changed some of the lines so it read as 'eight years' rather than 'three years' to fit it to or relationship. We also had the lyrics to 'Ride a White Swan' by T Rex read by our good friend Julia, who managed to keep a straight face throughout! This was our less serious one, as we both like a bit of silliness, but we also like it because it makes you want to be free and do whatever you want to do."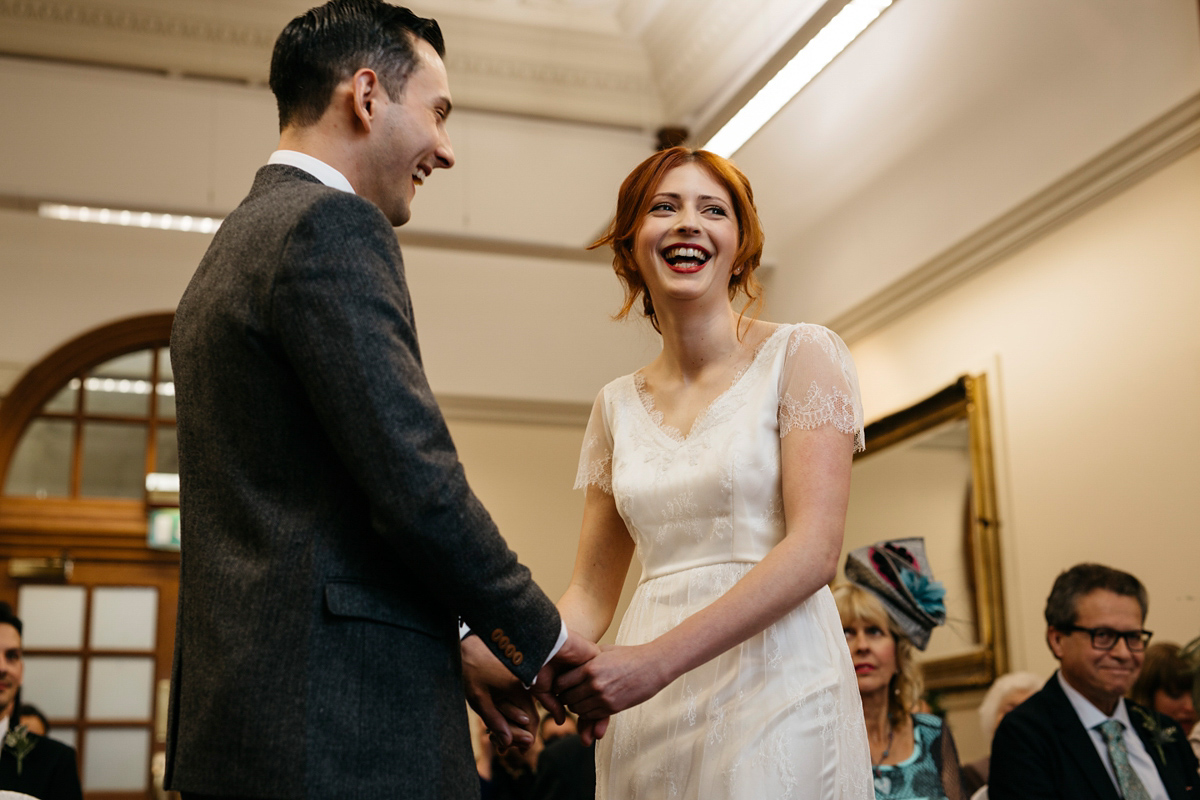 "Hugh and I met when he worked with an old friend in the bars in Sheffield city centre. We were acquaintances for a few years after this, and became good friends for a while. Eventually Hugh asked me out on a date when we were out partying at one of our favourite club nights in Sheffield. He presented me with some train tickets to Scarborough, my favourite local holiday venue, and we went for a day out to eat fish and chips and walk on the windy beach.
Eight years later, after completing many challenges together (walking the Yorkshire Three Peaks for a mental health charity being one of our favourite) we made a mutual decision to get married (this decision may have been initiated by myself!) last June, which gave us 10 months of engagement before we tied the knot."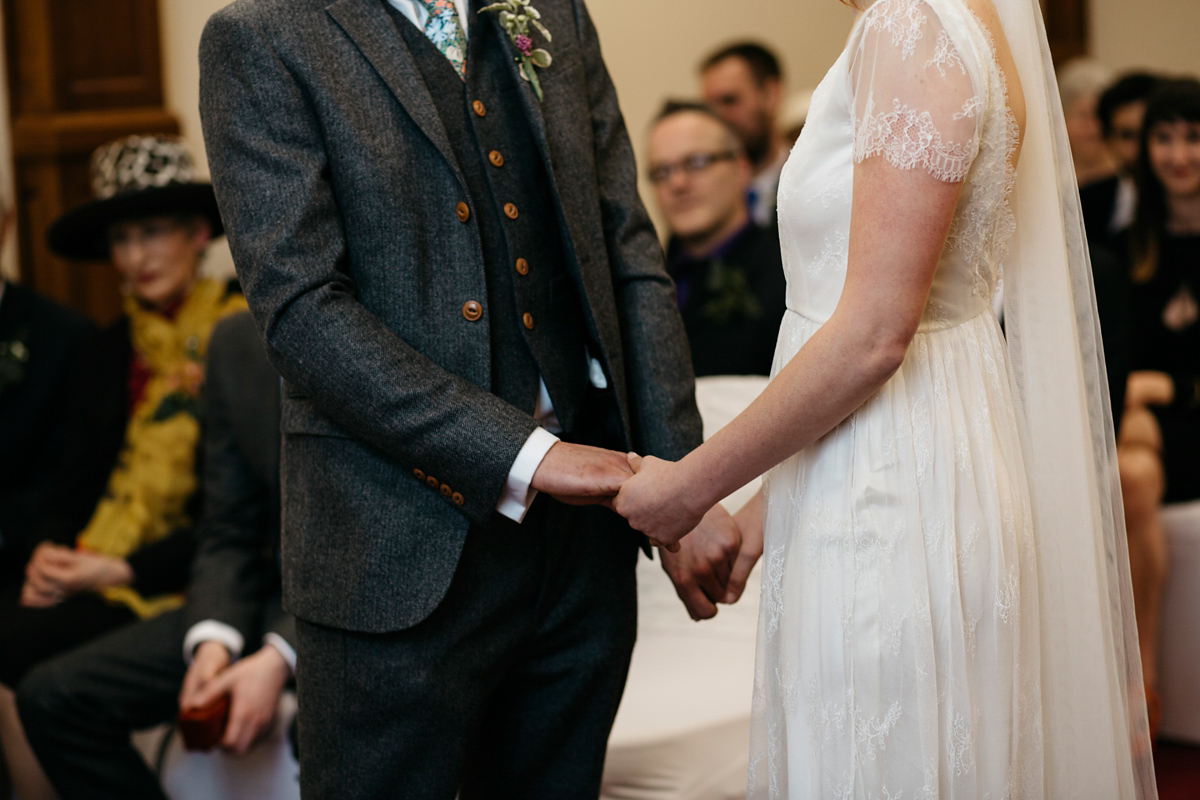 "We had our rings made by Tash at Tarr and Fether, as she is a local artist and made us rings with each others names carved into them in morse code."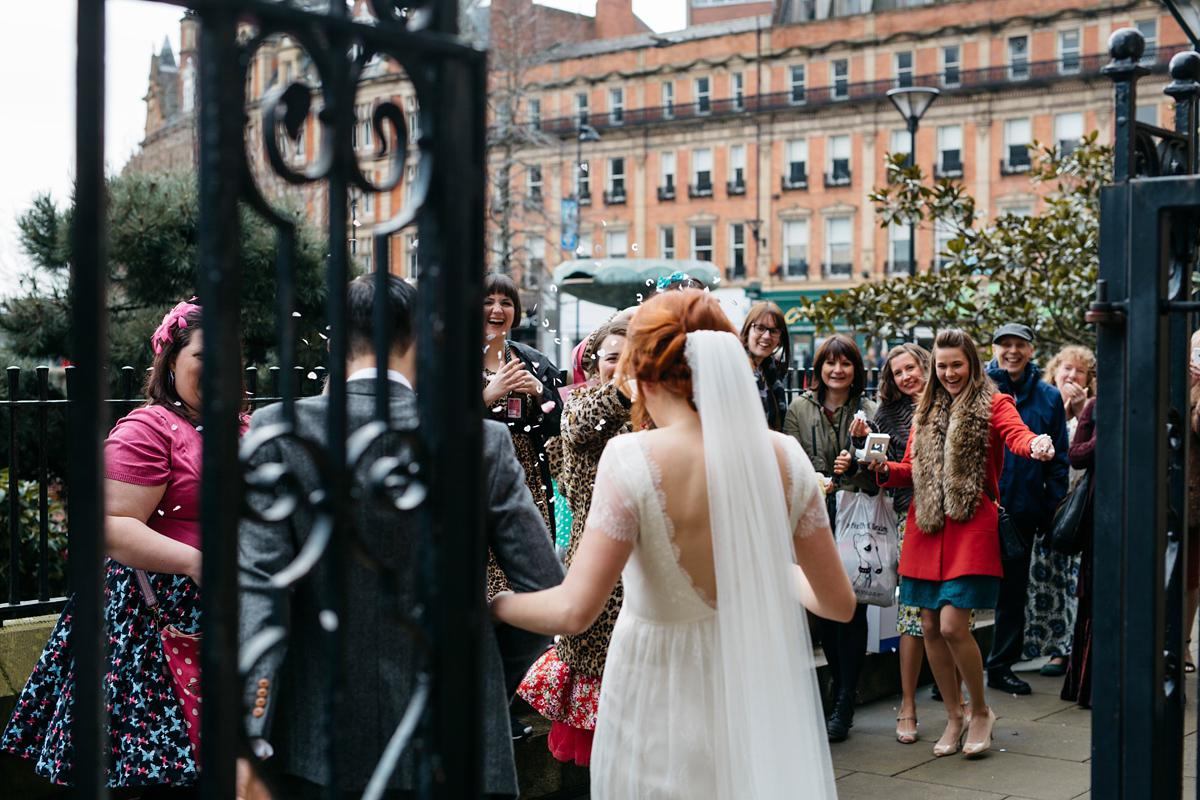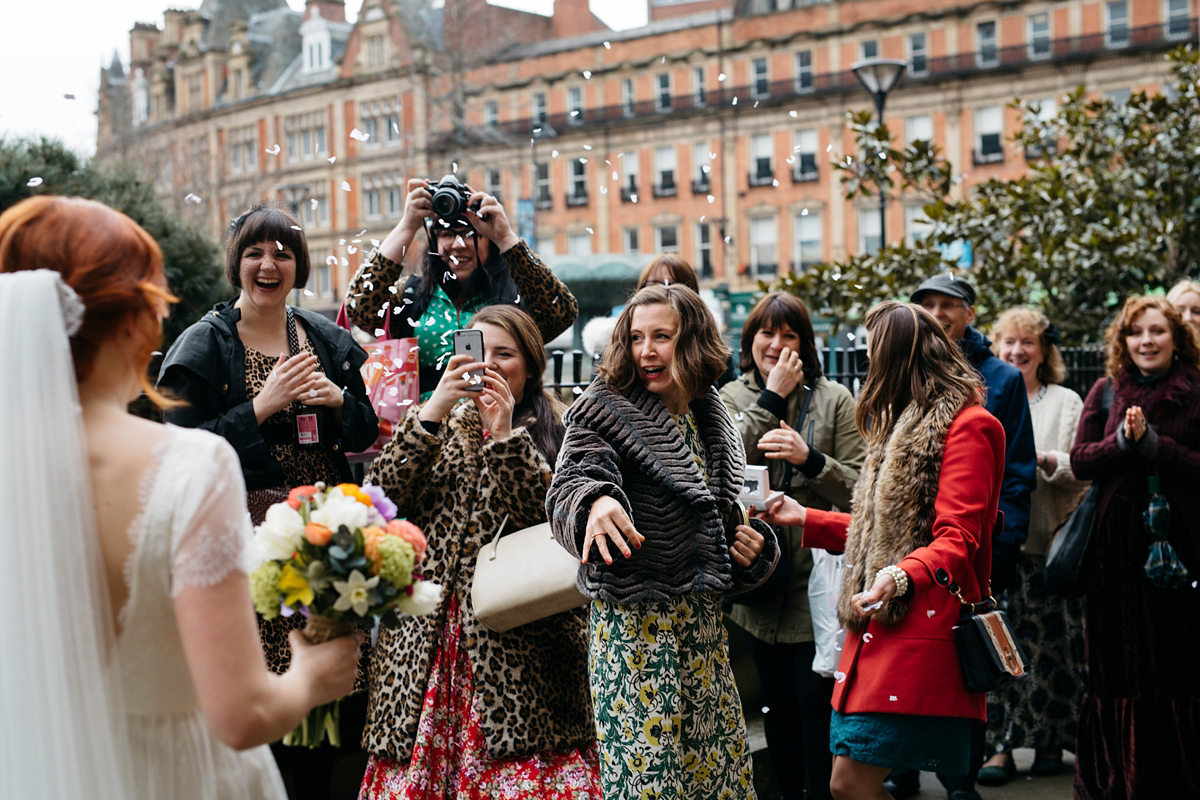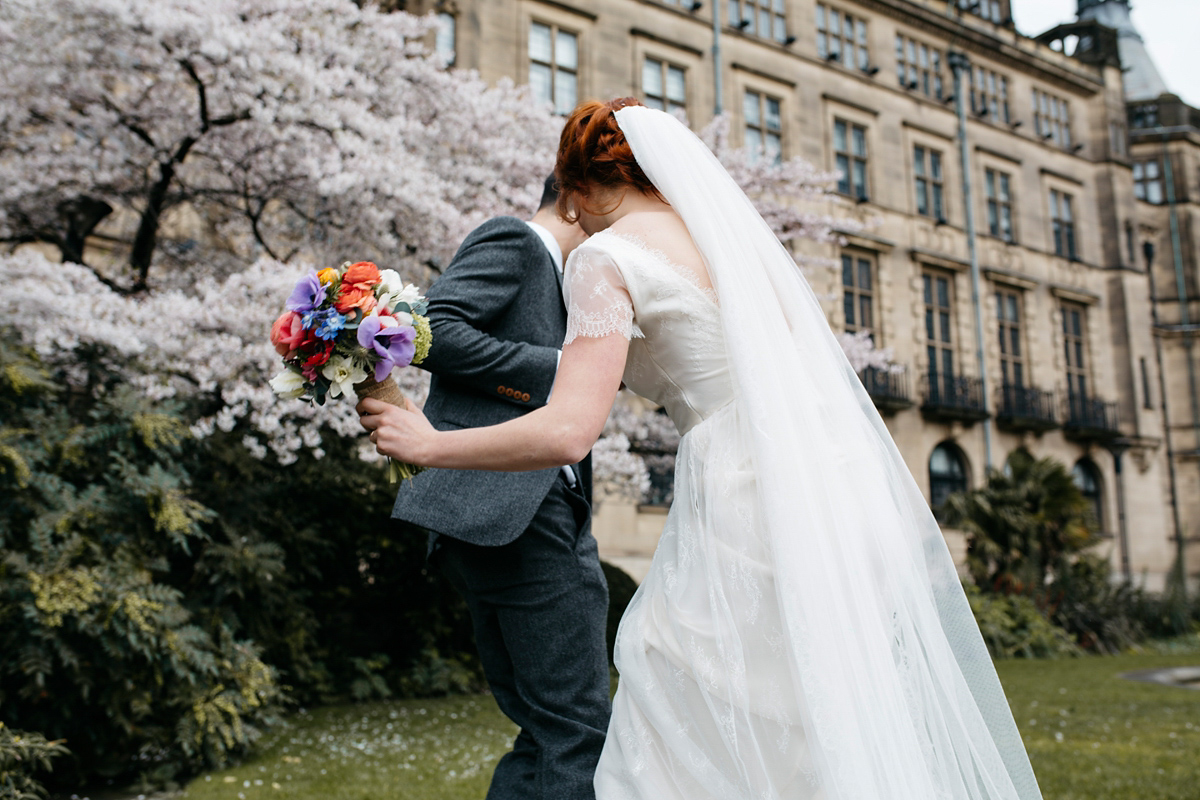 "We used Shelley Richmond from Kindred Photography as she is a good friend of mine, but also an absolutely amazing photographer! If you want somebody who will make you feel comfortable on the day, but will also capture moments from the day which will bring happy tears to your eyes when you look back, then she is the woman for you."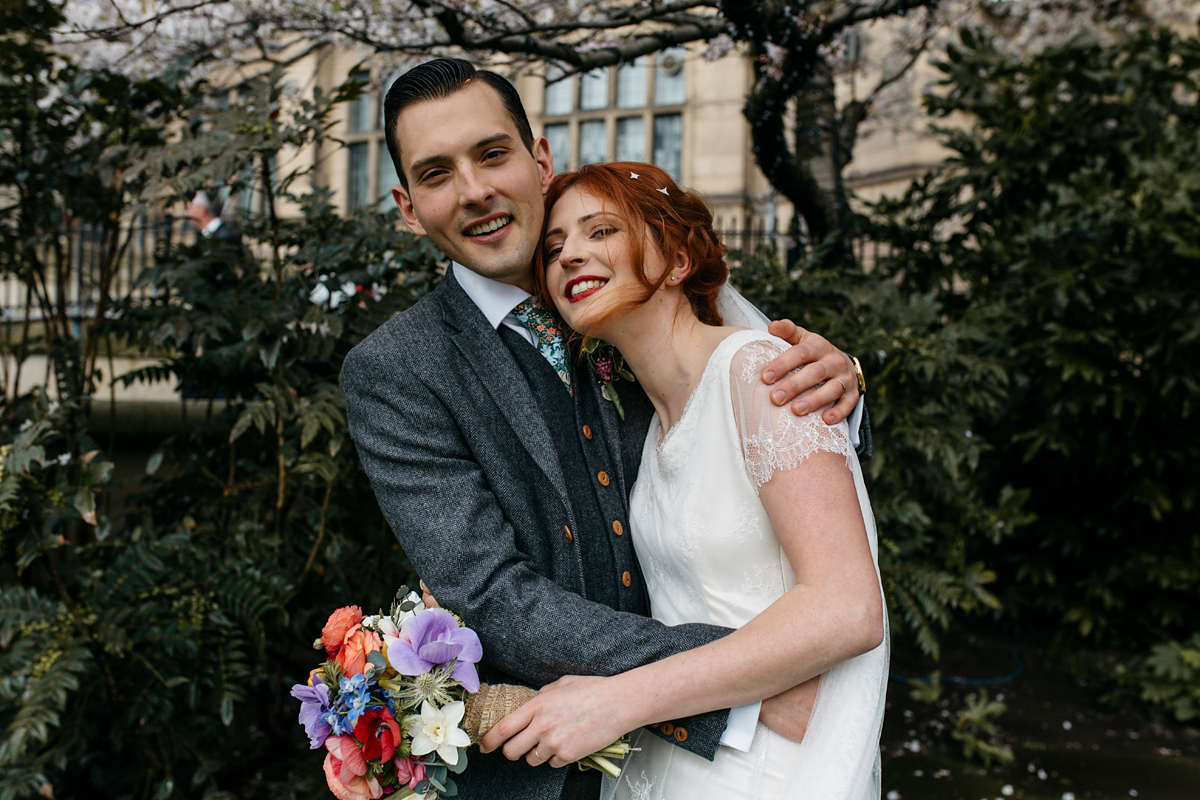 "We bought flowers from the local florists market and also ordered two buckets of spring flowers from Hollow Meadows, which my mum arranged at home."
"We borrowed bunting from a friend and used beer bottles to decorate the tables with flowers."
The crafty bride created her guest's wedding favours herself.
"I bought paper bags from eBay, and filled them with penny sweets and Easter chicks from Poundland! I also put My Neighbour Totoro stickers in them from eBay as we are going to Japan for our honeymoon."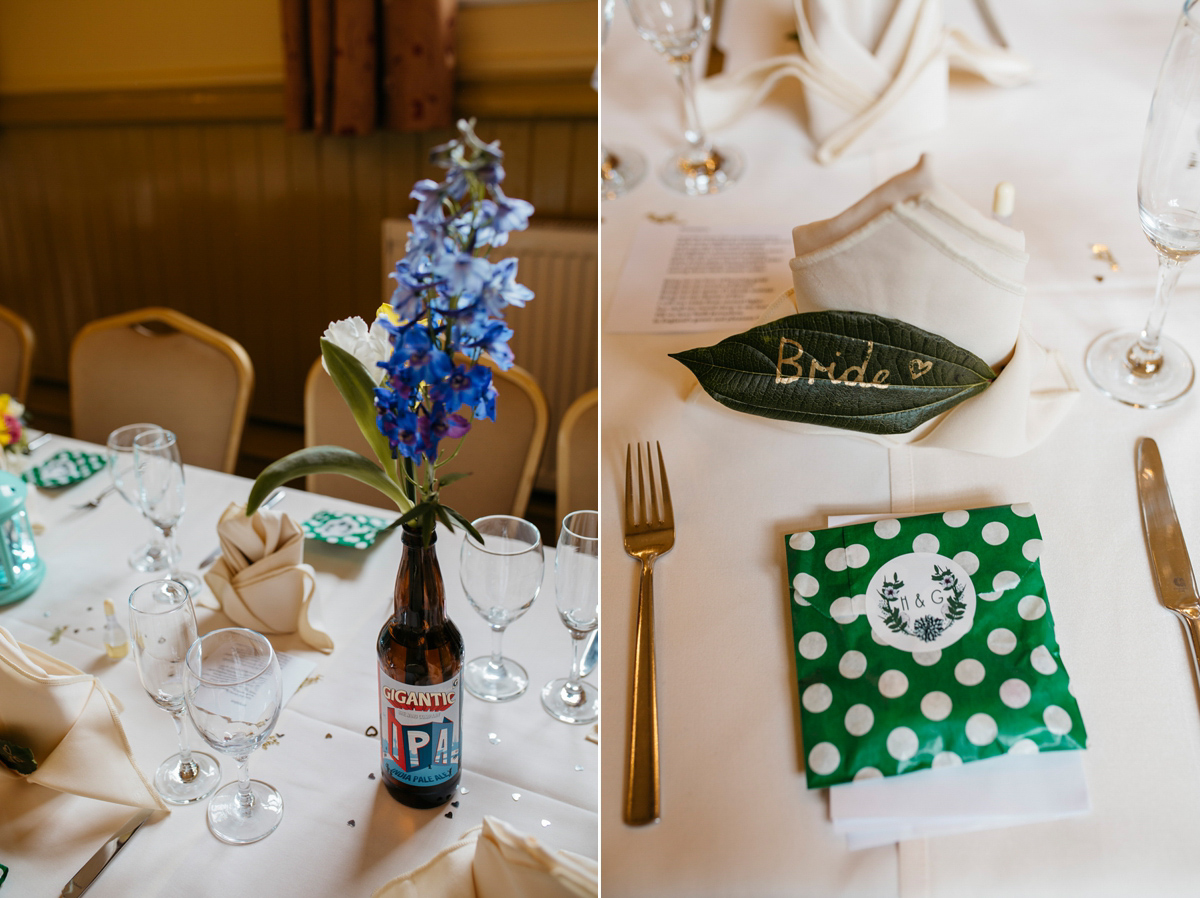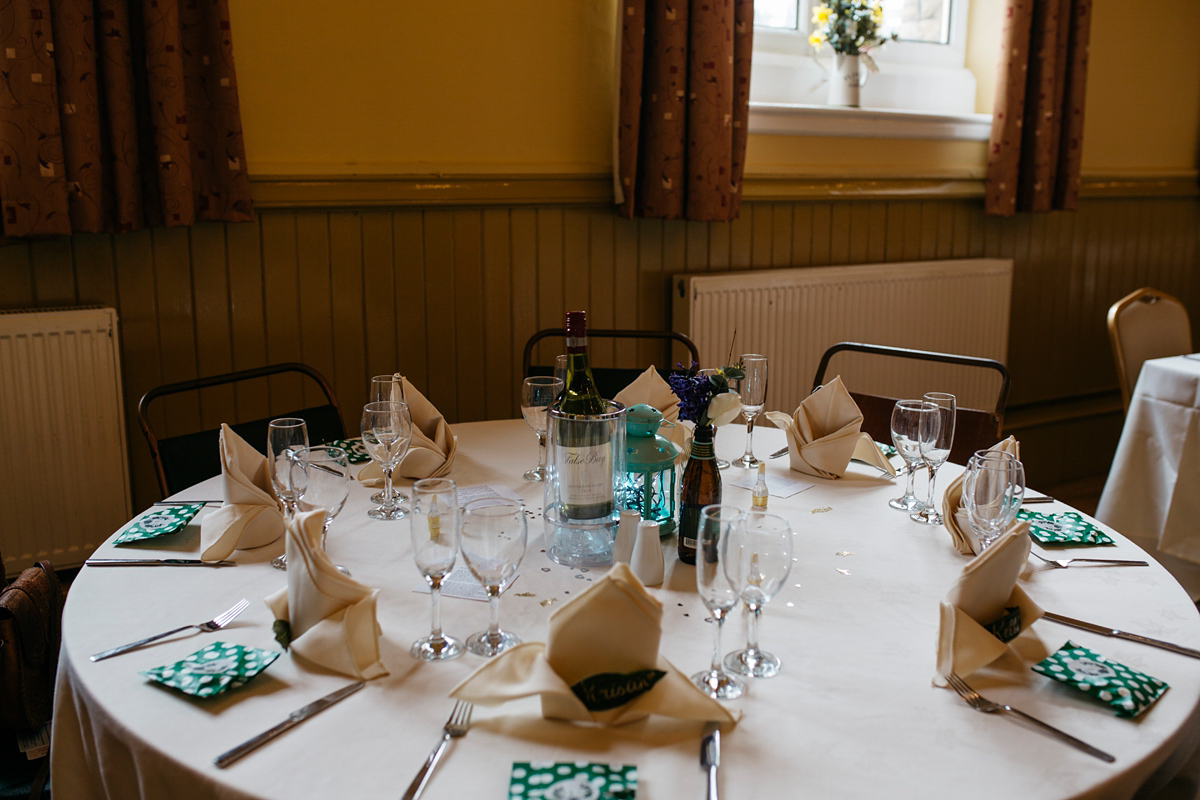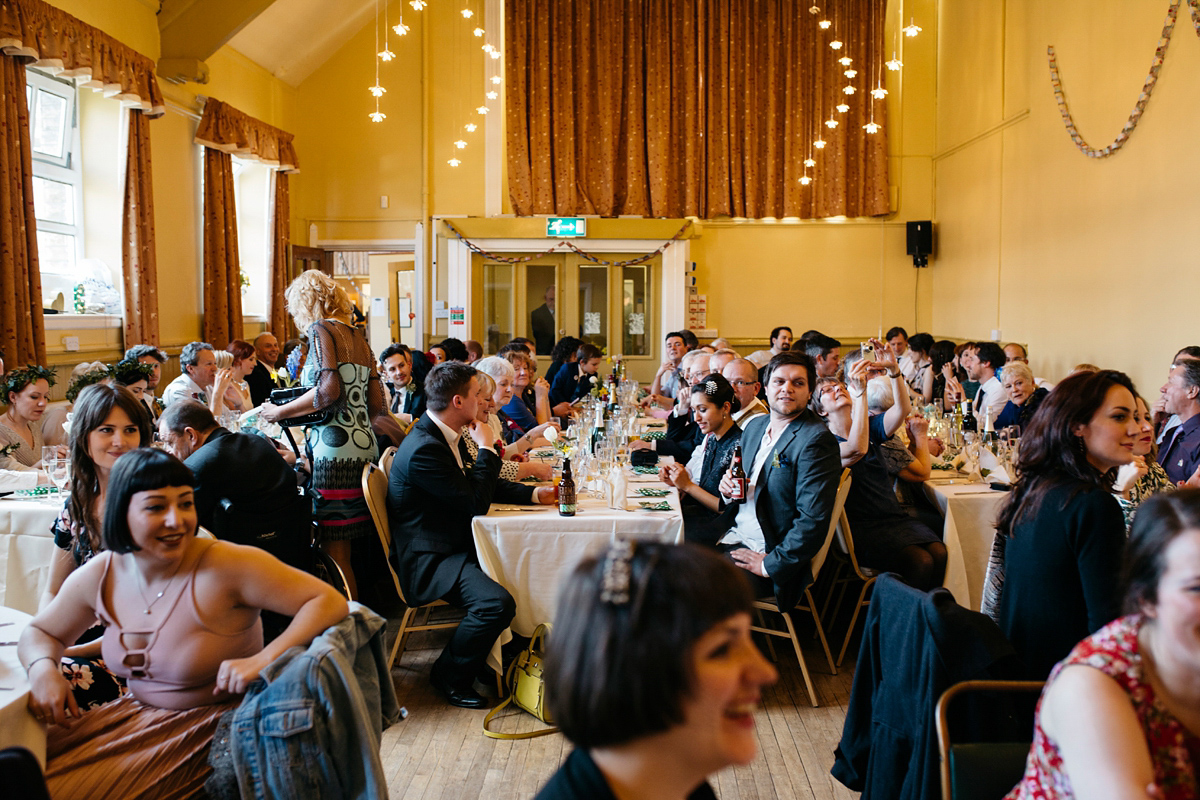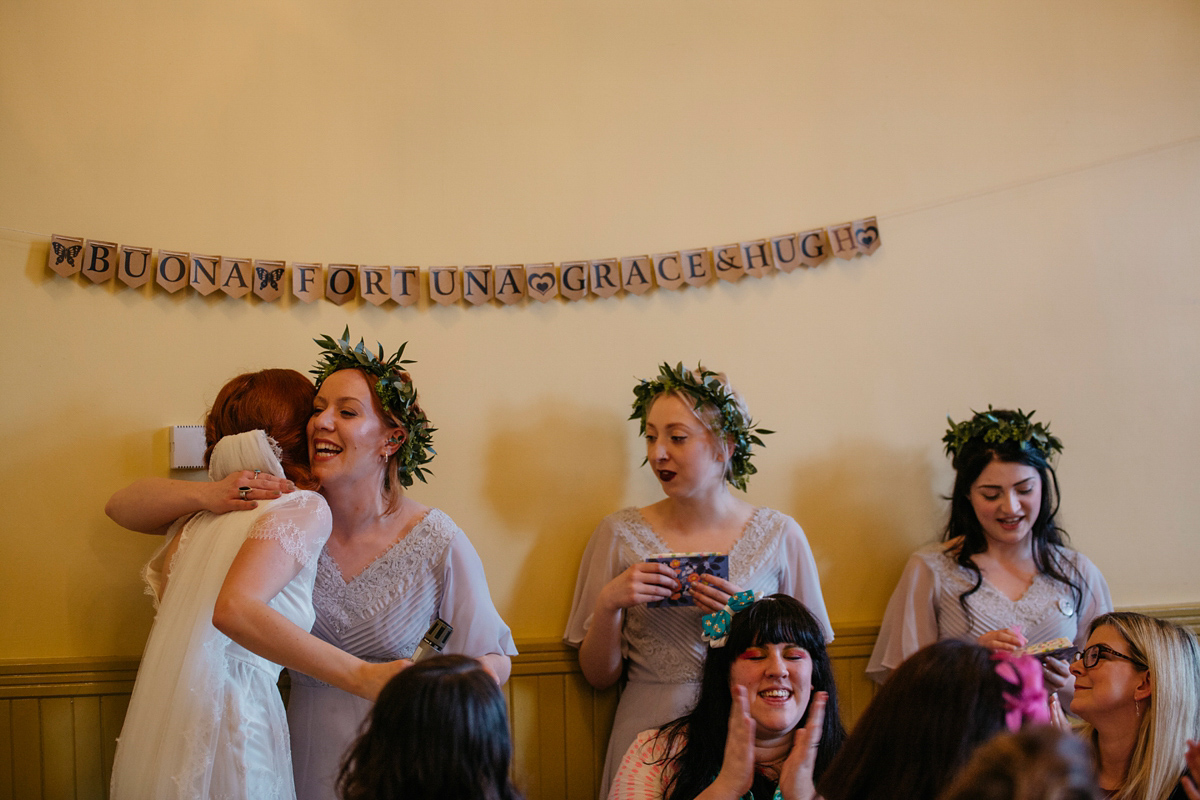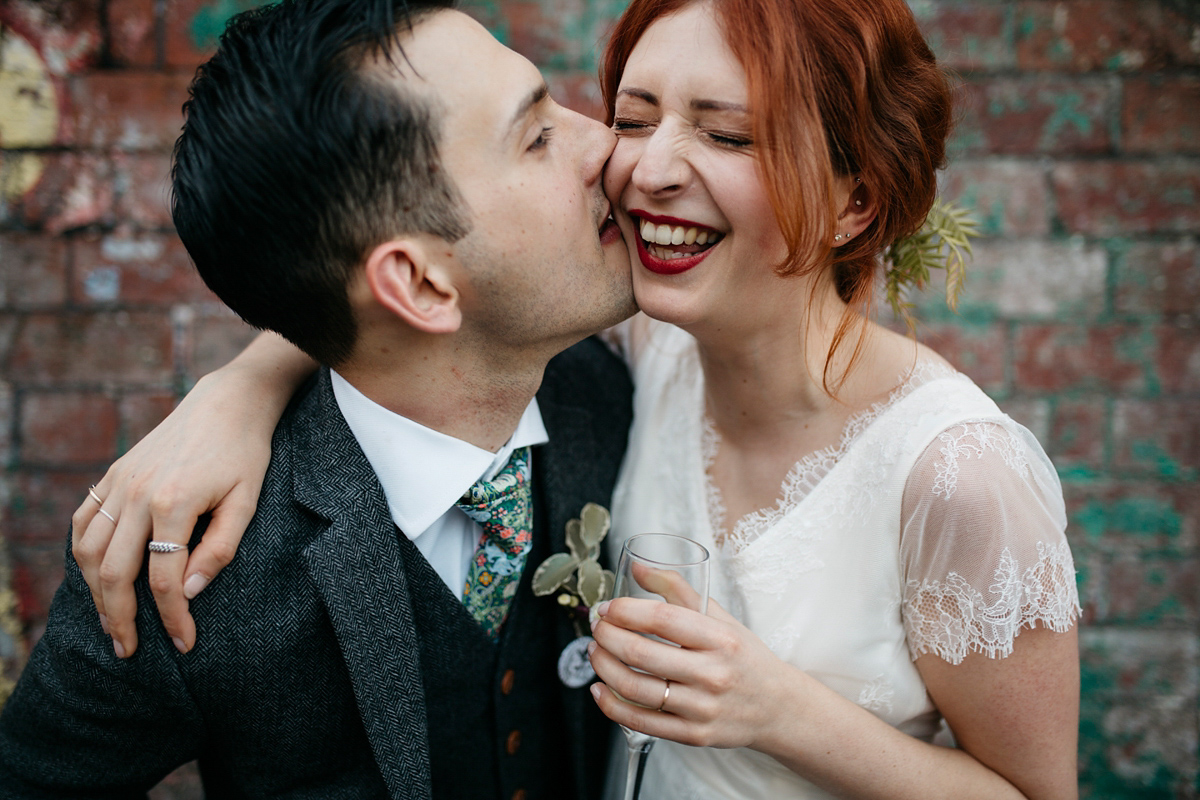 "I really cannot pick a favourite part of the day. It was just so fantastic spending such an exciting time with so many friends and family, and also having a little escape into the Peak District in the camper van in between the ceremony and reception, which gave us the time to be with each other."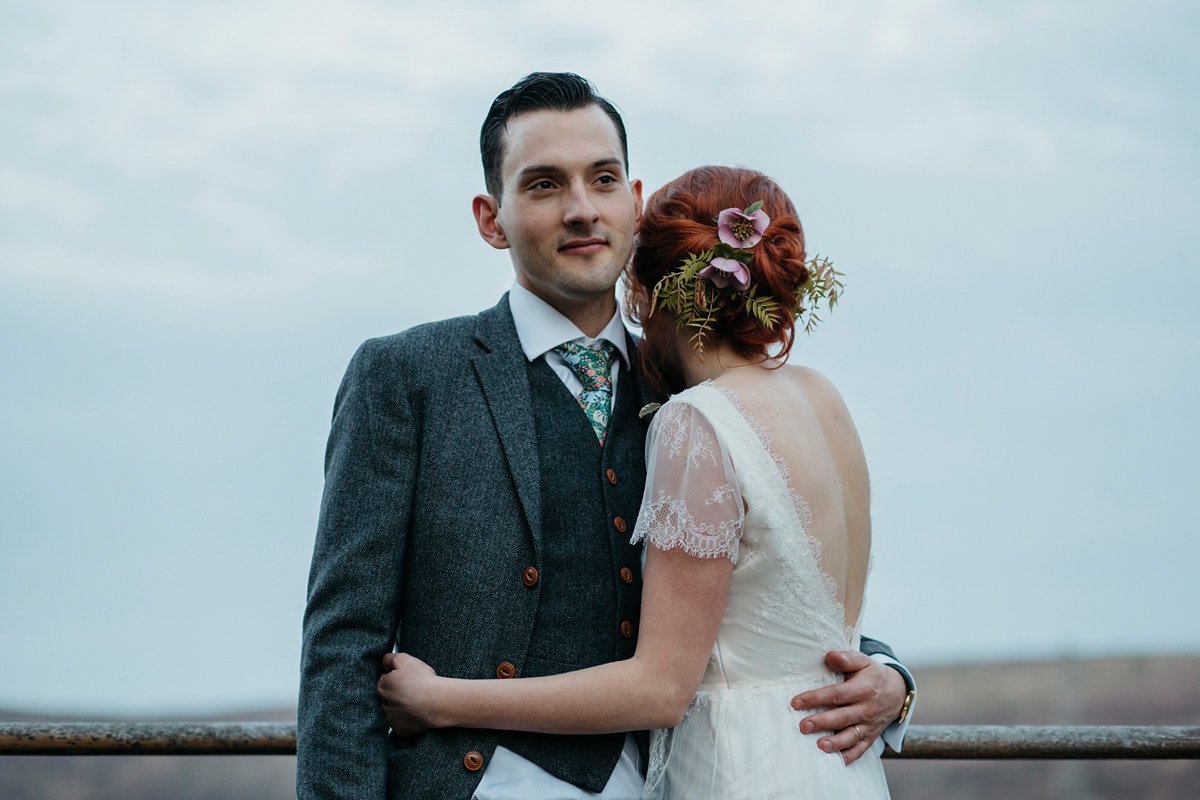 "The day was so full of joy from beginning to end – I would do it all again many more times if we could. I certainly enjoyed the speeches though. Hugh did a sterling job, and has been told by many that his was the 'best groom's speech ever' as he managed to mix our silliness with a little romance to get everybody crying and laughing."
Words of Wedded Wisdom
"All I can say is, the best way to enjoy your day is to realise it will never go to an exact plan. Do your best to organise a big party for everybody, but on the day you really just need to go with it. Savour every moment – I had a minute when everybody was in the same room listening to speeches to just become aware of everything around me and I felt so thankful. Also, be selfish – it's your day, and everybody has different ideas of what a wedding should be, but you have to do it your way and if people love you, then they will go with it.
I wouldn't do anything different. We were so happy and relaxed on the day as we had both made sure that there was nothing to be anxious about. We didn't have a strict plan, so if it all went differently to how we had expected, it really didn't matter. Our main aim was to have a massive love-filled party, and thinking about it in that way just made it fun."
Huge congratulations to you both Grace and Hugh, you look so happy on your wedding day. My enormous thanks too, to designer Kate Beaumont for bringing this lovely wedding to my attention, and to photographer Shelly Richmond of Kindred Photography for sharing her work with us also.
If you're keen to have your wedding dress crafted by an independent designer, you might want to look up Kate and will find more details over in our beautiful wedding directory, Little Book For Brides.  You can also see other brides wearing Kate Beaumont on Love My Dress here, including the designers own wedding here. You absolutely MUST take a look at this too – it's the best animated gif in the history of all animated wedding gifs. Just go and look!
Have a lovely morning all,
Annabel x
Photographer – Kindred Photography
Venue – Sheffield Town Hall + Burton Street Foundation restaurant
Wedding Dress – Kate Beaumont
Bride's Veil – H M Veils
Bride's Shoes – Clarks shoes
Bride's Hair Accessories
Accessories – diamond earrings borrowed from Mum
Perfume – Gorilla Perfume by Lus
Grooms – ASOS suit + tie by William Morris + Clarks shoes
Bridesmaid shoes + dresses – ASOS Wedding Shop + foliage crowns by Campbell's Flowers
Florist – Hollow Meadows
Cake – Friends
Rings – Tarr and Fether
Catering Company – Burton Street
Stationery – Wildwood Paper
Hair and make-up Artist – Jenn Edwards Artistry