Happy Thursday evening readers.  Will you forgive me if I hijack the start of this feature to say a great big congratulations to my lovely friend Jess and her new fiance James, who got engaged a few days ago?  I'm absolutely thrilled for them and hope they find masses of inspiration on this most lovely of blogs. So onto this evening's beautiful feature.
There is something about this wedding that just makes me GRIN. Every wedding we feature is beautiful, every wedding is happy and I adore each and every one of them, but something about this one really made me glad to be a modern woman in this present day world of weddings. Perhaps it's the fact that this is the first feature I have personally written up which features two beautiful brides, perhaps it's just the massive smiles that appears on these ladies' faces all day long, or the incredibly personal and unique day they created, but whatever it is, I love it and I'm delighted to be sharing it with you today. Meet Laura, payment operations manager and Nicole, a DJ and playlist curator, who married at 1 Cathedral St, Borough Market, London on the 29th of January this year, surrounded by family, friends and masses of food and laughter.
"With us both being from West Indian heritage we wanted to impart that culture into our wedding and one of the ways we wanted to do that was with food so we needed a venue that was flexible with catering.  We're both Londoners and wanted our venue to reflect us – although fields and tranquility are beautiful, we wanted to be immersed in city life. We followed a relatively traditional wedding structure but took out things that added no value for us.  The most important thing for us was to make every person in attendance feel special."
Photography by Francesca Secolonovo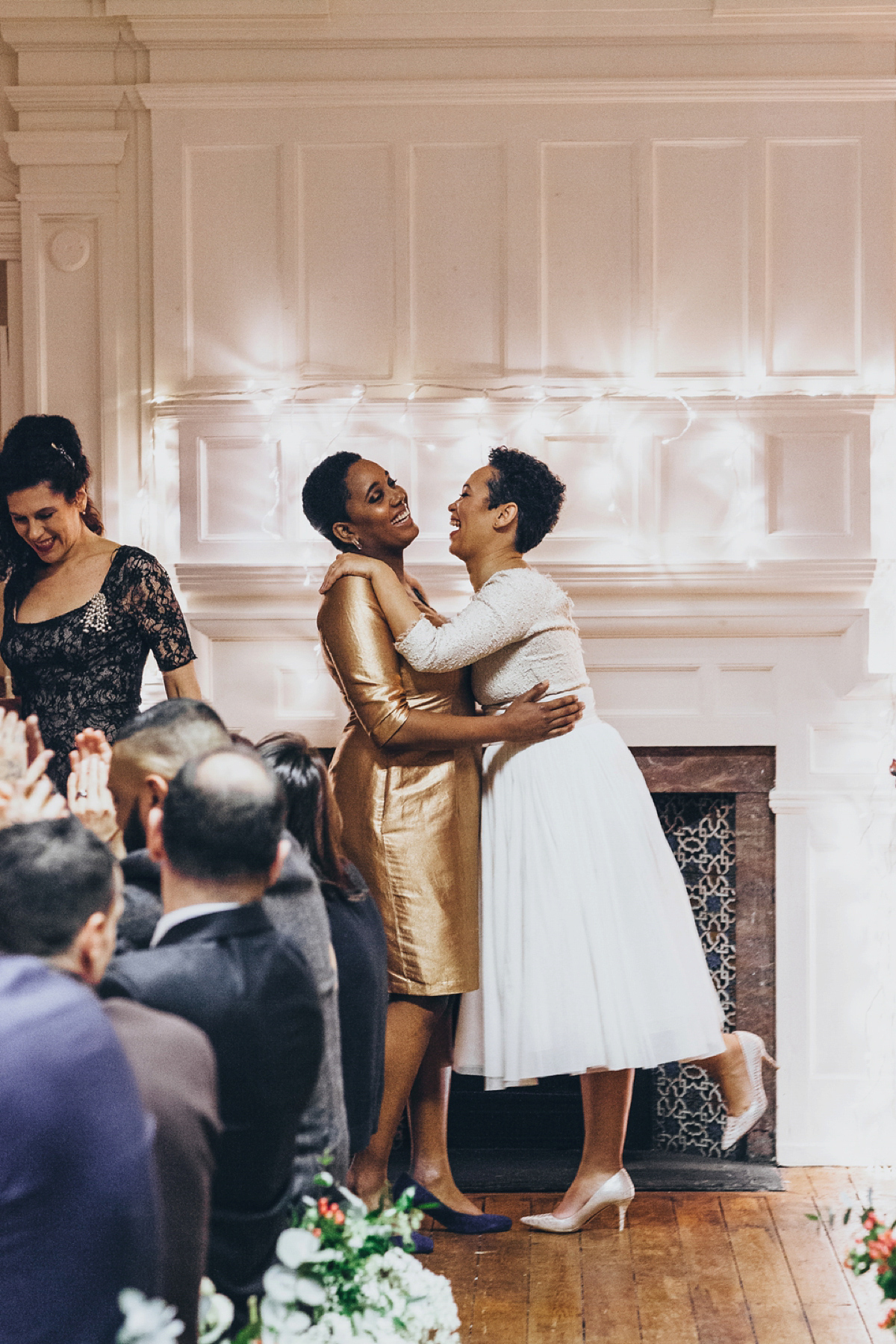 "We didn't set out to create a theme and we absolutely didn't want to be limited to a colour scheme.  All we wanted was African print for our table runners and rubber plants to evoke memories of a 1970's West Indian household. We also jokingly placed a music inspired logo on our wedding invites that read '100% pure love' and that wording ending up on everything."
Laura wore a beautiful tea length dress with floaty skirt from Italian designers Cortana, purchased online from the store in Madrid, while Nicole chose a fabulous gold gown made by designer friend Rosie Srao, with material from Missan Textiles, Soho. I love how their dresses look wonderful together but at the same time are totally different and celebrate their own style- just perfect.
Alessia Grace did the make up for both brides, while Laura had her hair styled by Gemma Hummes at Paul Edmonds and Nicole by Eve Owusu at Errol Douglas.
To accessorise, Laura wore heels from Dune and a pair of earrings from Make Do and Mend, while Nicole went for blue shoes from LK Bennett, earrings from Topshop and a long necklace, also from Make Do and Mend.
"Cathedral St offered everything: the tranquility of the Thames, the romance of the Cathedral right opposite and the vibrancy of Borough Market.  They had only just started to receive wedding bookings so we knew that none of our guests would have been to the venue before – it was like discovering a hidden gem in one of our favourite parts of London. We now get all gooey when we stroll along the South Bank together."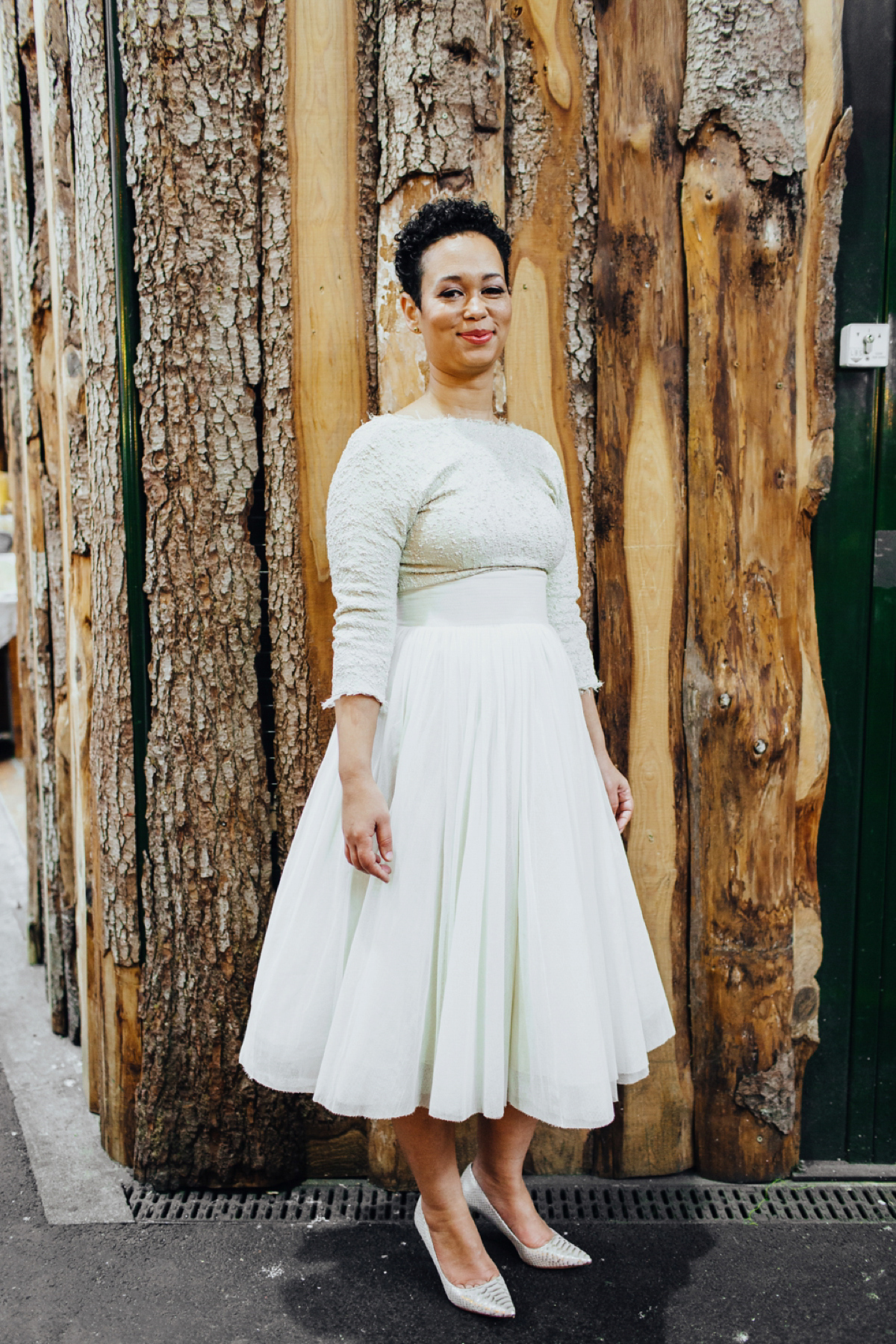 Francesca Secolonovo was the woman behind today's evocative images. I love the feeling of warmth and true emotion she has captured on this chilly January day.
"We found Fran's website through a wedding blog and instantly fell in love with her work.  I'm a nervous wreck when it comes to having my photograph taken and was dreading that part of the day, but I loved every single bit of it.  We laughed, we joked, we were relaxed – I don't know how she did it but we're eternally grateful."
The flower arrangements were the work of the ladies themselves, with blooms bought from Dennis Edwards at New Covent Garden Market in Battersea.  Aren't they gorgeous? I love the flowers running up the aisle.  The nostalgic rubber plants came from homeware staple, IKEA.
Laura and Nicole walked down the aisle together to 'My Cherie Amour' by Stevie Wonder, played on the flute by Tenderlonious.
The ladies were determined to do their day in a way which worked best for them, something I truly admire.  They chose to hold a welcome reception before the ceremony, walked down the aisle together and, perhaps most unusually, seated guests for the ceremony in the places they would sit for the cheese and wine reception which took place immediately afterwards.  I have never seen this done before but I love it.
"Our registrar was a close friend which made the ceremony so special and the whole service was entirely unique with wording created for us. We didn't have readings, instead we played a song and asked everyone to sing along (and play their percussion instrument favour).  Music was a very important element of our day and we chose Bill Withers, 'Lovely Day', which starts:
When I wake up in the morning love,
and the sunlight hurts my eyes,
there's something without warning love,
plays heavy on my mind,
then I look at you,
and I know it's gonna be, a lovely day.
"The lyrics were personal to us, but also universal.  For me (Laura), my world came crashing down early in our relationship when a family member died – during that time Nicole was that glimmer of hope."
The ladies swapped the most gorgeous rings, purchased from Astley Clarke, Paddington.
"Without question our favourite part of the day was singing the song in the ceremony and seeing everyone so happy.  I think in some weddings, guests are isolated from the ceremony so we wanted everyone there to feel included in forming a special part of our union."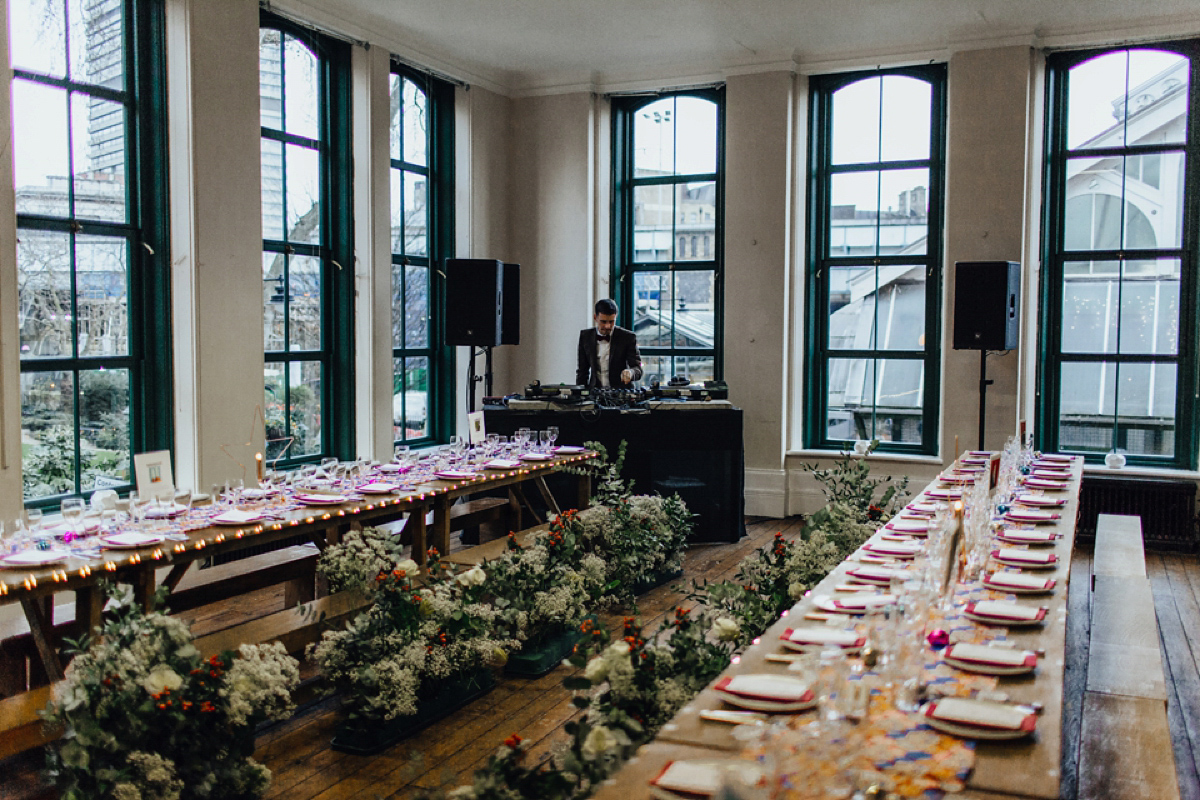 "During our welcome reception we had a steel pan man play (who Nicole heard playing in Brixton Market whilst picking stuff up for the wedding, took his number and booked him).  His name is Macca, and he plays all across London.  In the evening we then had three vinyl DJs on rotation, all friends. These were Everything is Everything, Speech Debelle and Abi Clarke."
The food served on the day was important to our couple and so they sourced the suppliers themselves.  For the main reception they chose a seated cheese and wine selection and then in the late evening they served a West Indian buffet provided by Roti Joupa, who are located in Clapham North.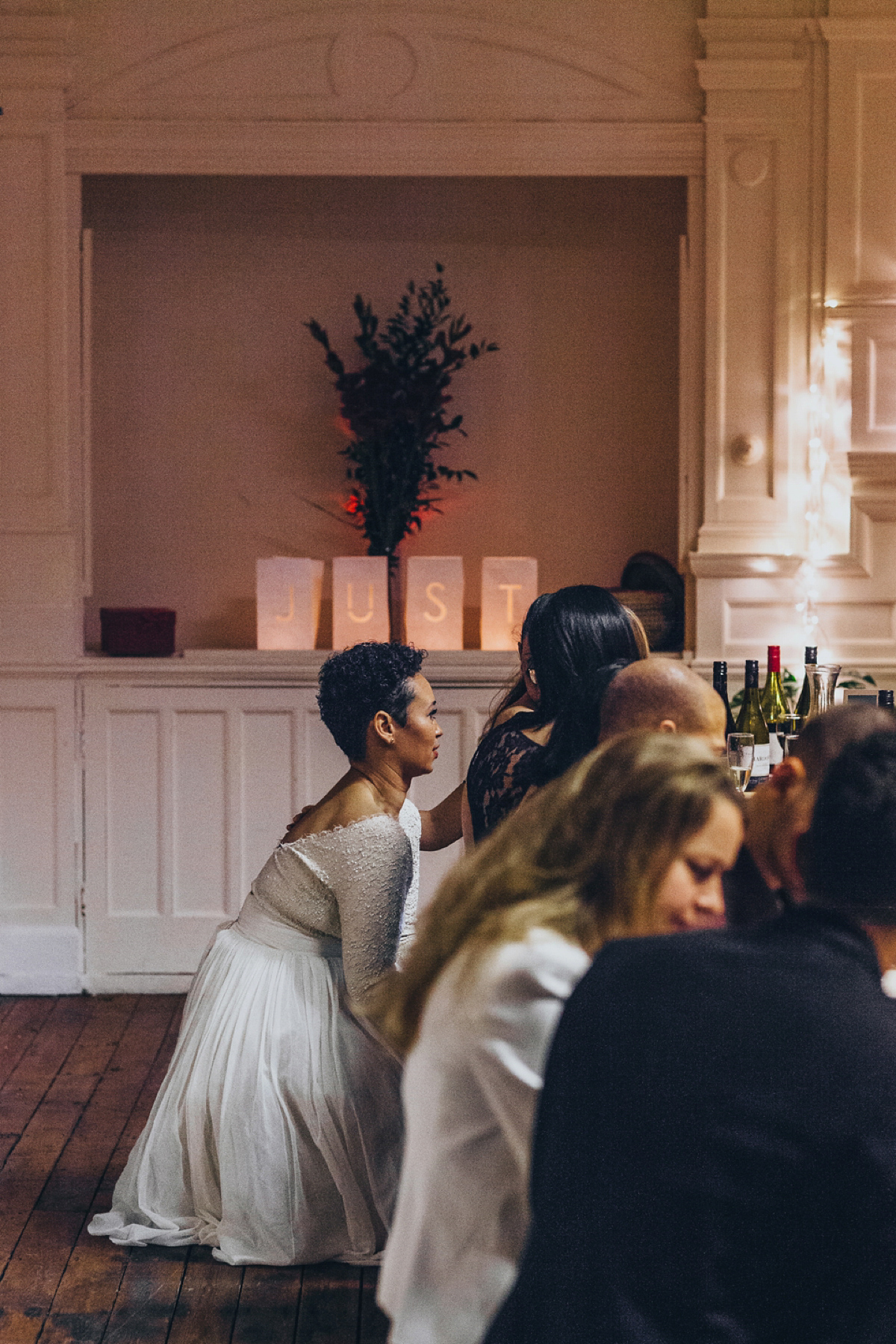 The couple's first dance was a surprise to Laura, planned by Nicole and friends.
"I know you, I live you' by Chakka Khan is a track that Nicole would play out to me whenever I attended one of her DJ sets.  A friend suggested the song to Nicole and somehow I was tricked onto the dance floor for a first dance."
Words of Wedded Wisdom
"Don't be afraid to ask for help.  People really want to offer any form of contribution they can. The amount of support we got brought us both to tears. Don't try and fit too much in, or have strict timelines.  The less rigid a structure, the less worry there is.
We wished we'd arranged a casual lunch or something the following day  so we could meet up with friends and laugh over the whole day. We went away on honeymoon for a month, and missed all the gossip! And finally, skip the wedding rehearsal, why practice declaring your love?"
Absolutely gorgeous, I love every moment.  Thank you so much to Laura and Nicole for sharing their day and of course to photographer Francesca Secolonovo for allowing us to use her emotion-filled images.
This is the first time I have come across this venue- do we have any other brides who are planning to host their big day here?  Get in touch and let us know!
Much love,
Shona x
Photographer – Francesca Secolonovo
Venue – 1 Cathedral St, Borough Market, London
Laura – Cortana dress + Dune shoes + Make Do and Mend earrings
Nicole – Rosie Srao gown + LK Bennett shoes + Topshop earrings + Make Do and Mend necklace
Makeup Artist – Alessia Grace
Laura's hair stylist – Gemma Hummes at Paul Edmonds, Knightsbridge
Nicole's hair stylist  – Eve Owusu at Errol Douglas, Knightsbridge
Entertainment – Everything is Everything, Speech Debelle and Abi Clarke (DJs), Steel Pan Man and Tenderlonious
Catering – Roti Joupa, Clapham North, London
Rings  – Astley Clarke, Paddington
Flowers – Bought from Dennis Edwards at New Covent Garden Market, Battersea
Invitations – Jeyda
Wooden benches and stools – Wooden Bench Hire Company 
Retro bar – Wooden Bench Hire Company 
Wire lights – Etsy
African fabric for table runners – Brixton market
Table numbers – South Bank Centre
Copper star lights – IKEA Christmas collection
Tealights and candle holders  – IKEA
Wine wipes  – Wine Wipes