You're in for a delightful mid-week treat lovelies with this beautiful Spring wedding I'm sharing today. After the ceremony at the local village church on Saturday 23rd May 2015, Mr and Mrs M's nuptials were held at The Coachman Inn in Snainton; a venue that the bride had always thought would be amazing for a wedding, with its countryside feel in the quaint little village of Snainton in North Yorkshire. The couple's day perfectly reflected the countryside, woodlands and cycling; a few of their favourite things.
"We wanted to have a relaxed country wedding that wasn't too formal so everyone could have an enjoyable day; with nothing too big or planned to the absolute final detail. We thought about what we loved, such as the countryside, woodlands and cycling and just took it from there, using these elements as a basis for inspiration."
Photography by Photography34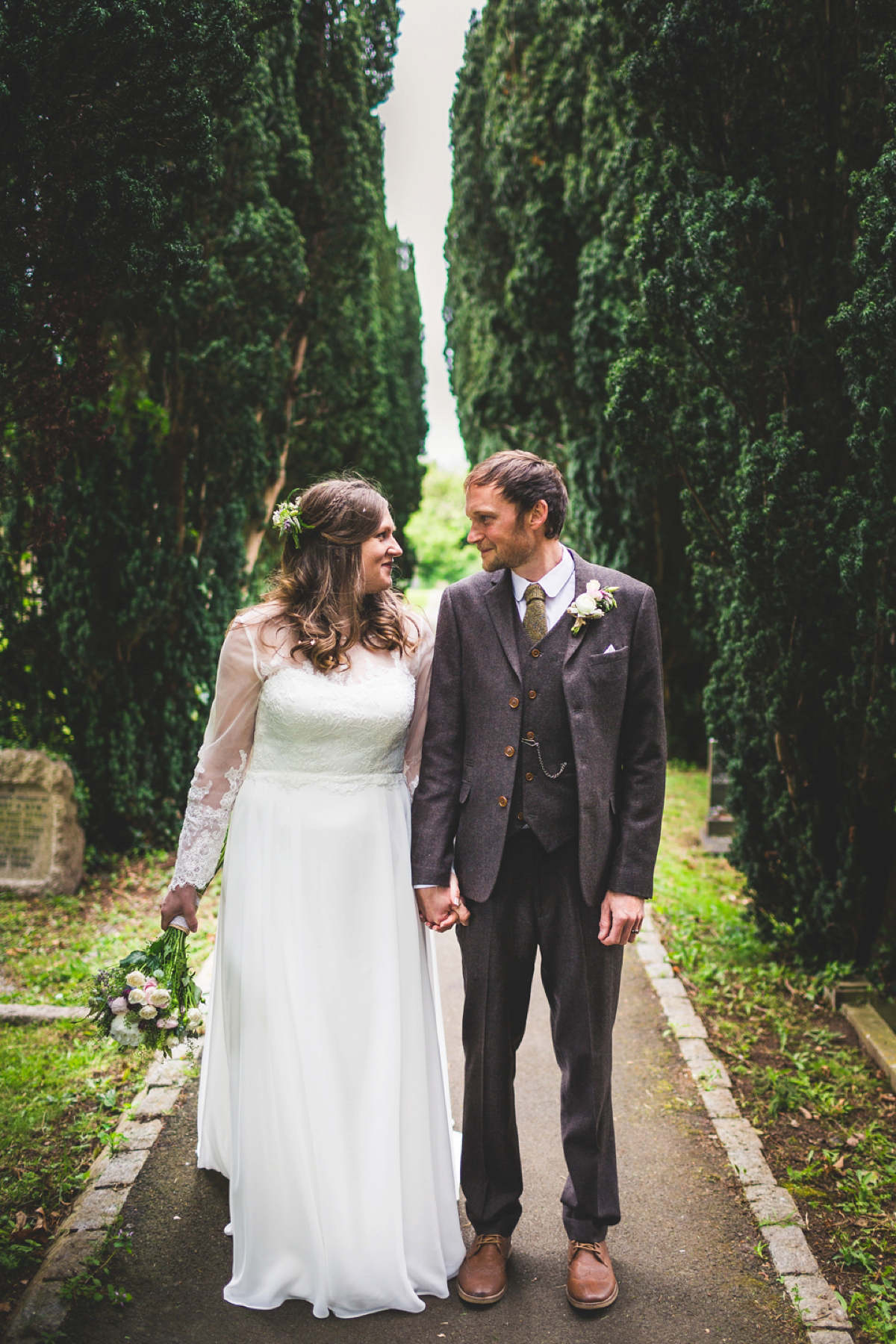 In her gorgeous gown from The Bridal Lounge of York with long lace sleeves and train, the bride is simply stunning. I adore the addition of fresh flowers in her hair to incorporate the country vibe.
"I fell in love with this dress because it had a natural, relaxed country feel. I loved the lace bodice and the long lace detailed sleeves with the chiffon skirt. The intricacy of the bodice contrasted perfectly with the simplicity of the skirt. The train was just the right length and flowed beautifully. It was comfortable and I loved its simplicity. It also meant that when we got to the venue and were relaxing in the garden or on the dance floor I could wear some sandals without them looking out of place."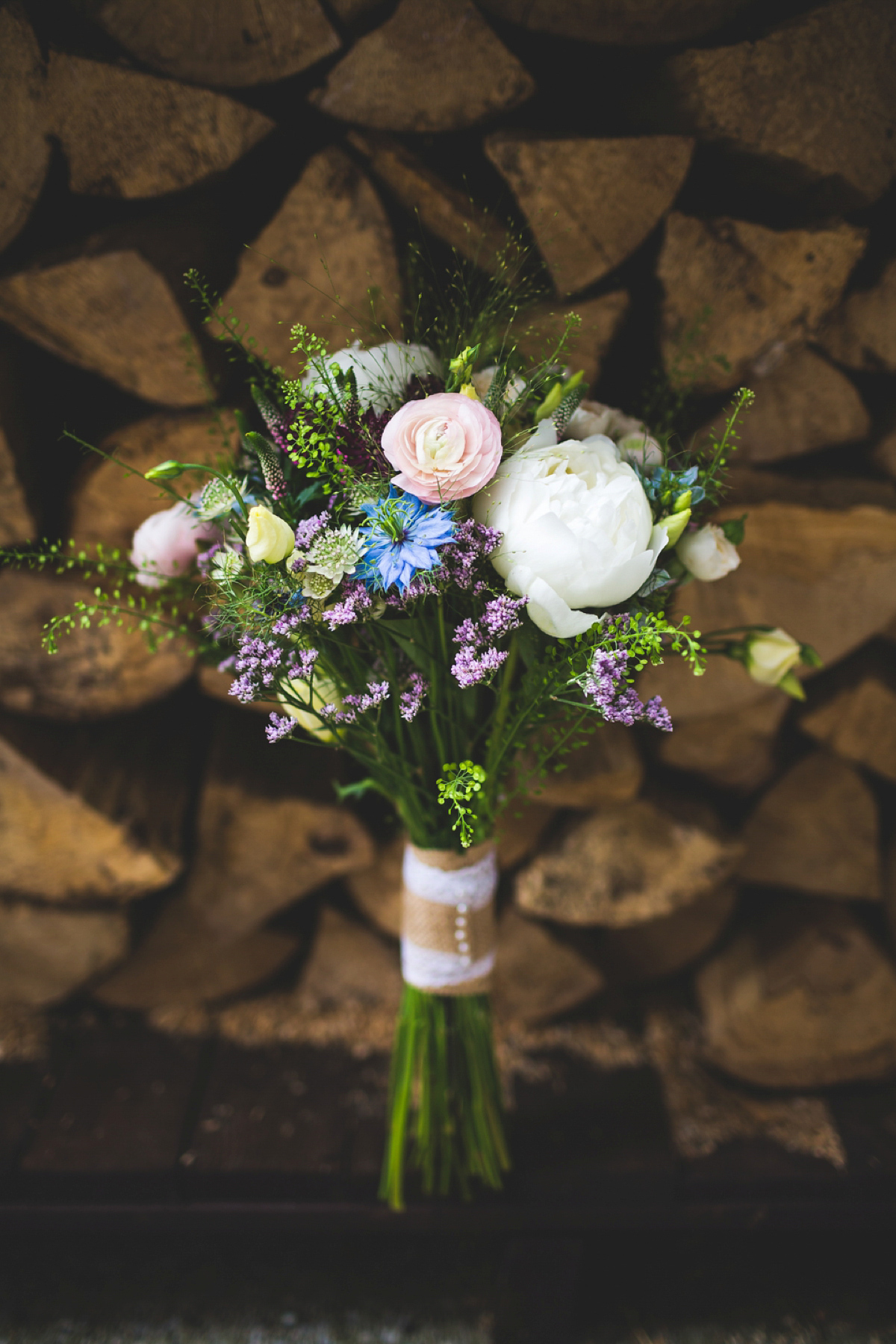 "To fit in with this relaxed country theme, I chose to wear real flowers in my hair. One of my friends is a florist and after describing what I was interested in she expertly made the flower piece for my hair. It was truly beautiful and I was thrilled with the flowers she chose."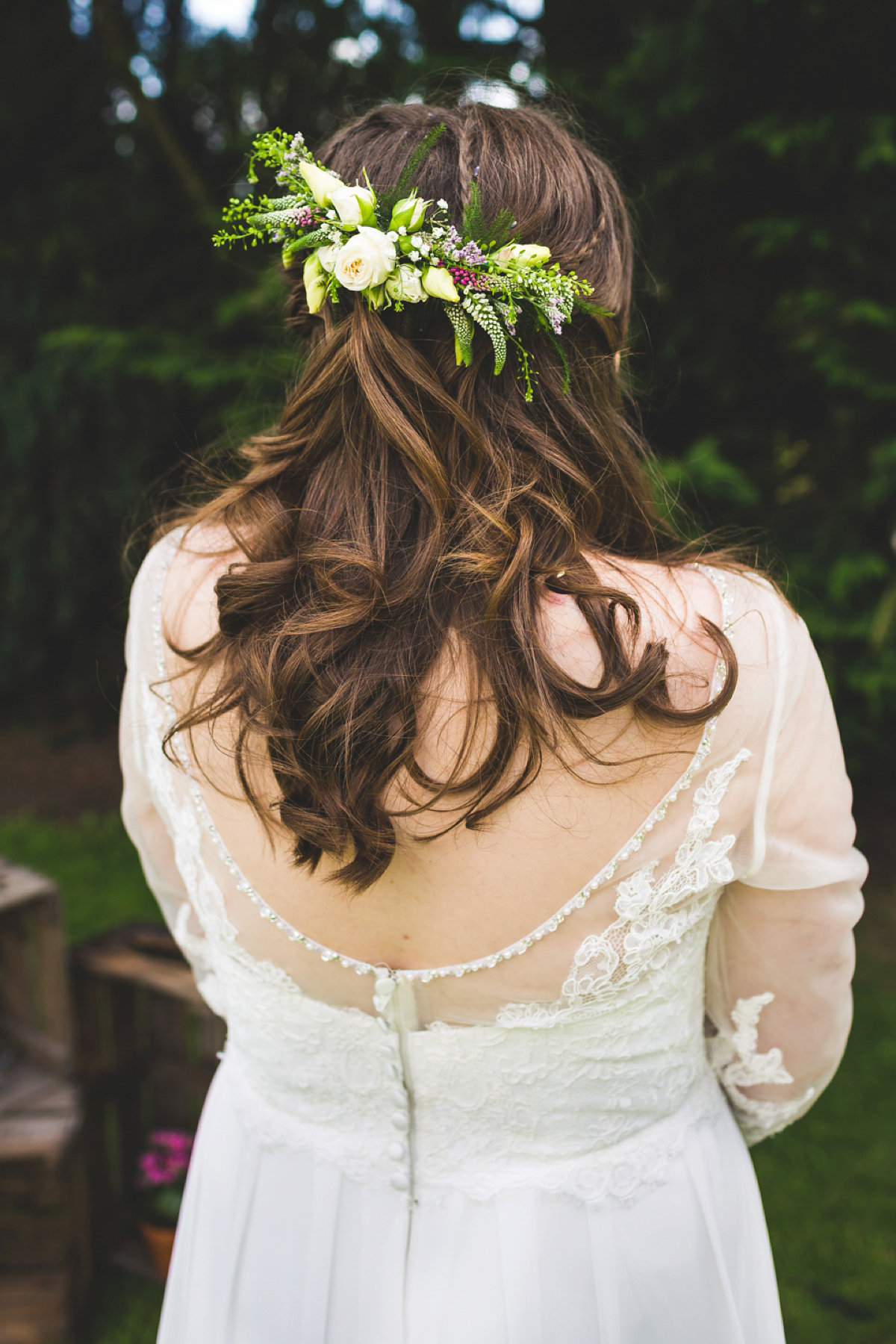 "We met through mutual friends and found that we both had a love of the outdoors in common. Chris works as a forestry operative and was always taking his bike out into the countryside and woods; I was a regular walker in the Lake District.
Chris and I had discussed getting married before we got engaged and I was happy to give him some pointers on the type of engagement ring I would like. However, he was very secretive about when and where he would propose. Unknown to myself he had shared his plans with my parents and discussed possible locations to propose.
He discovered that one of my favourite places from trips to the Lake District is Loughrigg Tarn near Ambleside. While we were on holiday in the area he suggested we take a walk around that area and during a short stop near the tarn he proposed. It was a very special moment and to mark the occasion he had also managed to hide a bottle of chilled fizz into the back pack without me knowing. So we sat by the tarn with our plastic green cups celebrating the moment!"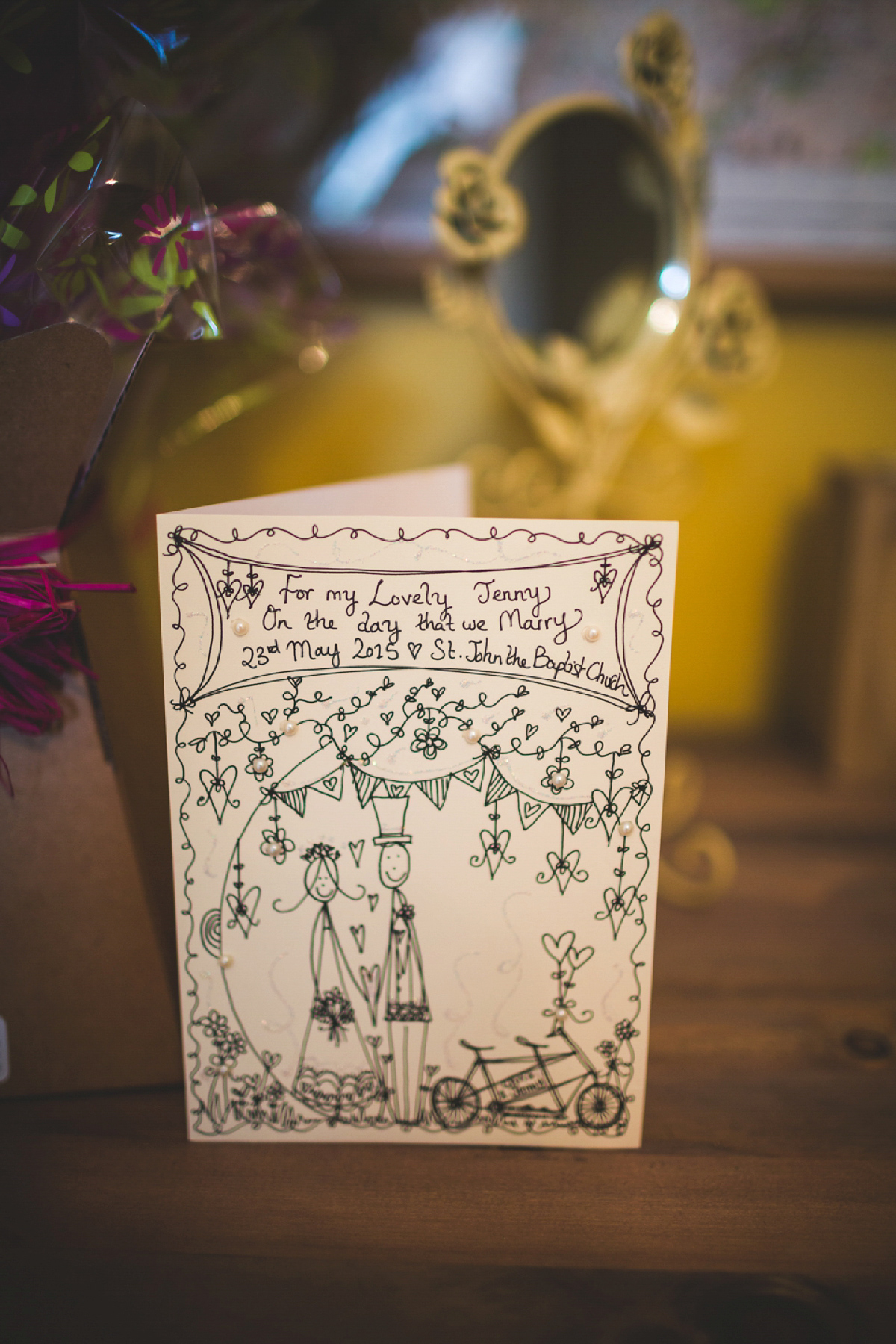 The bride added a lovely pair of Debut Collection via Debenhams heels, a spritz of 'Mademoiselle' by Chanel and pretty jewellery pieces.
"My nanna had bought me some pearl earrings and my bridesmaid bought me an anklet for my something new. The earrings were just perfect with the dress; pretty and unfussy."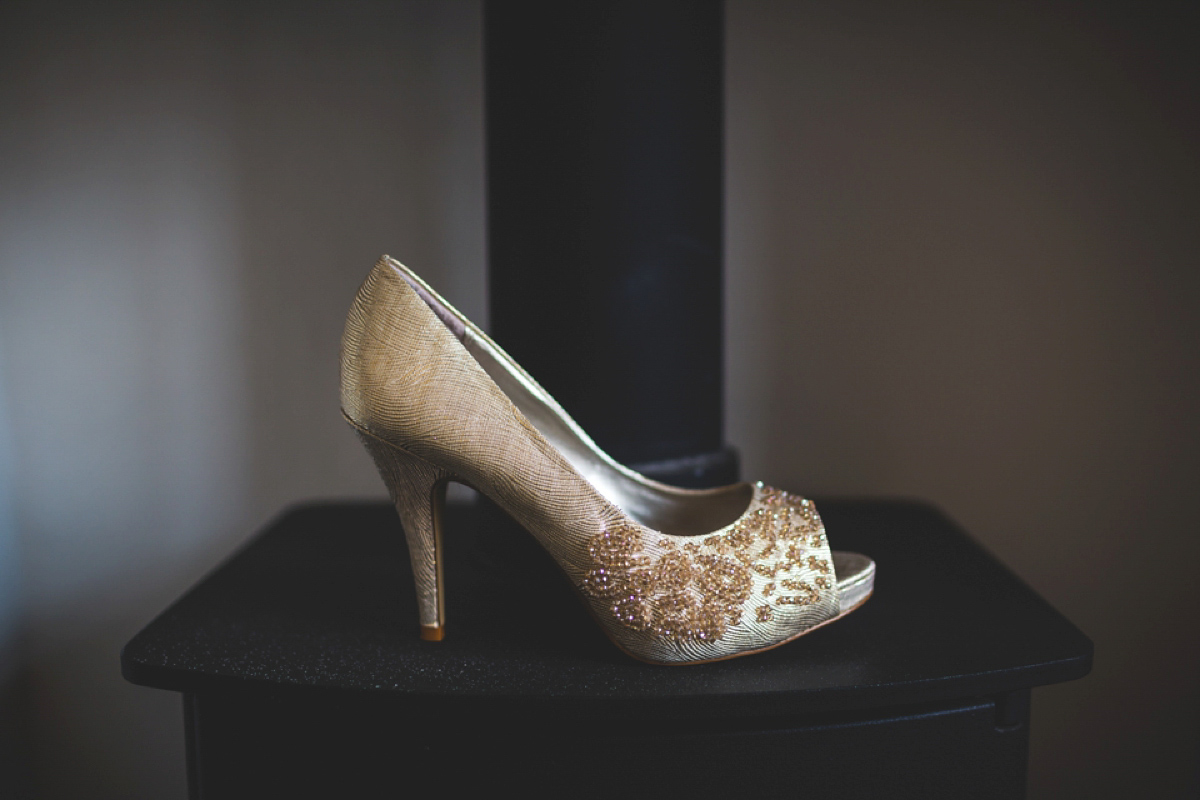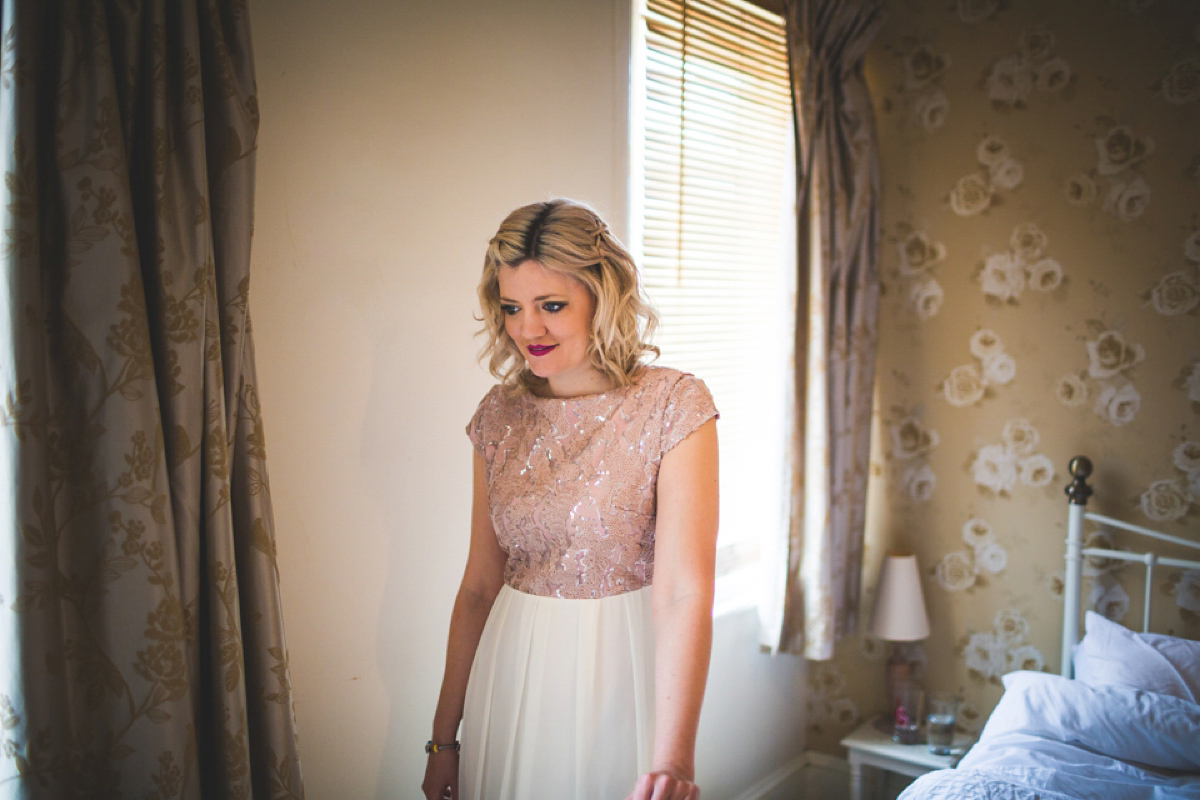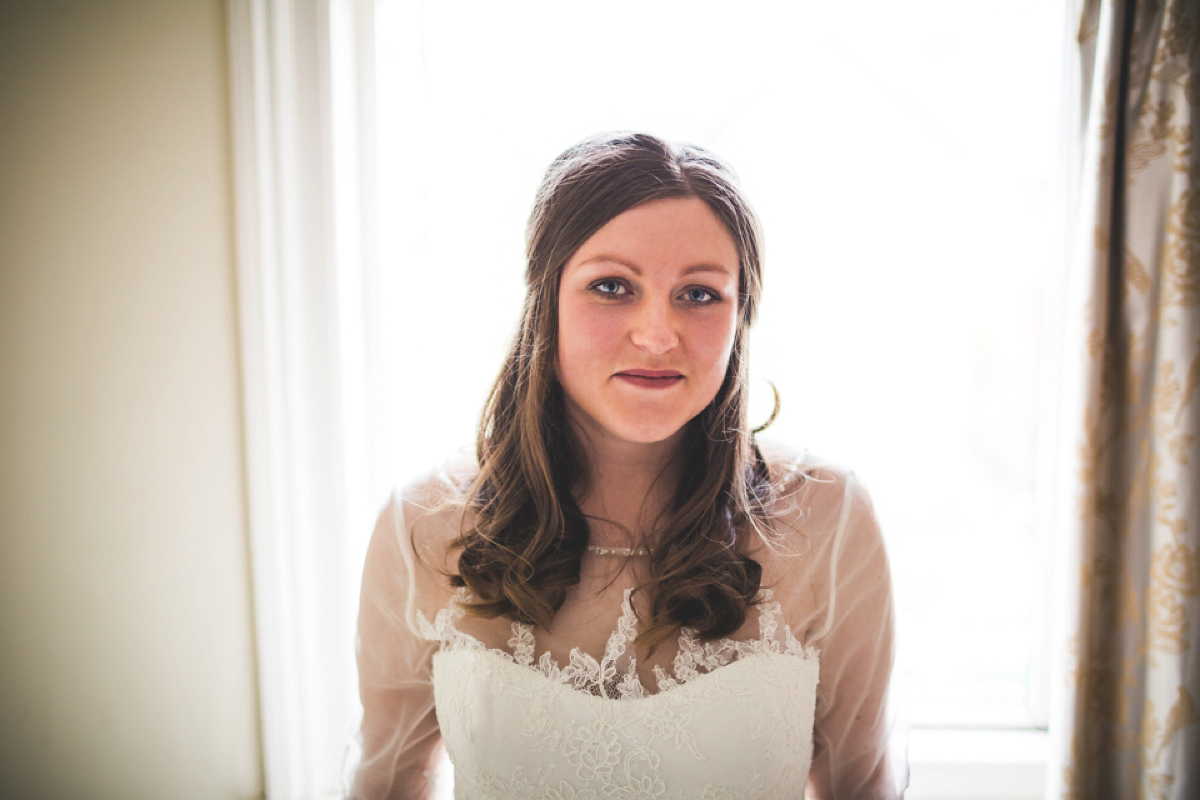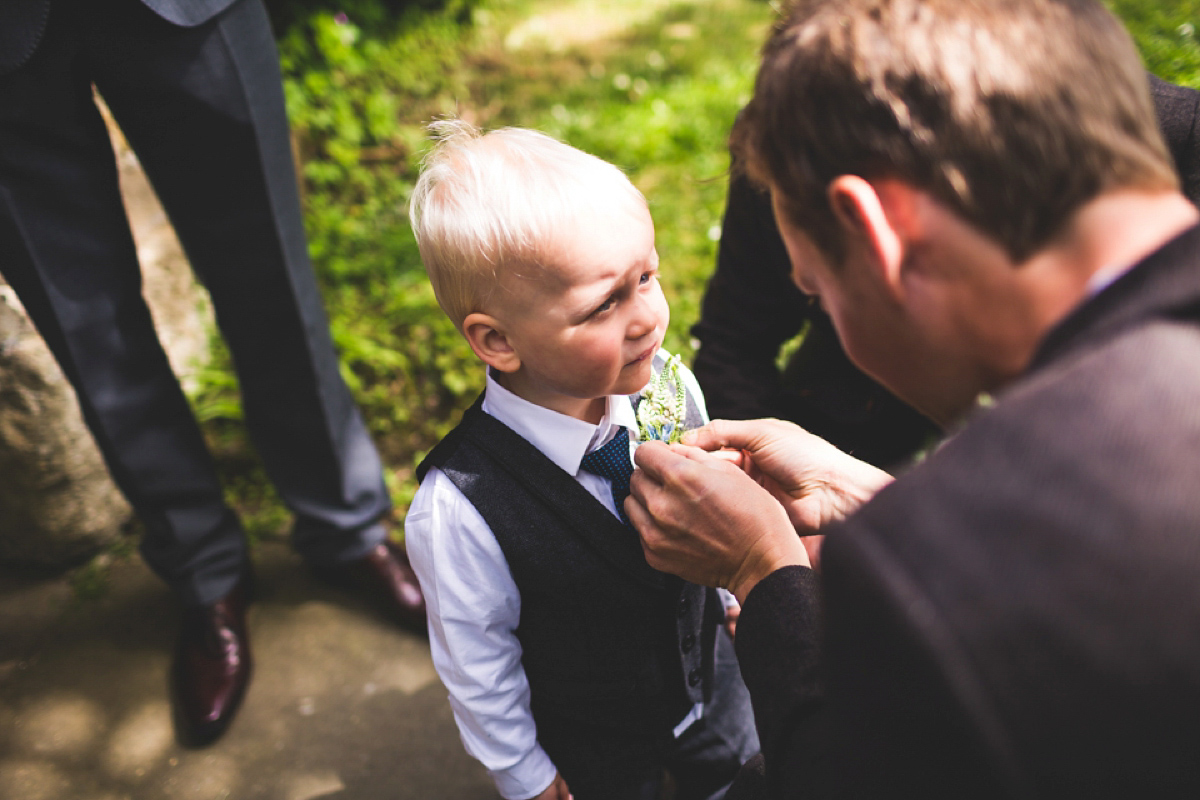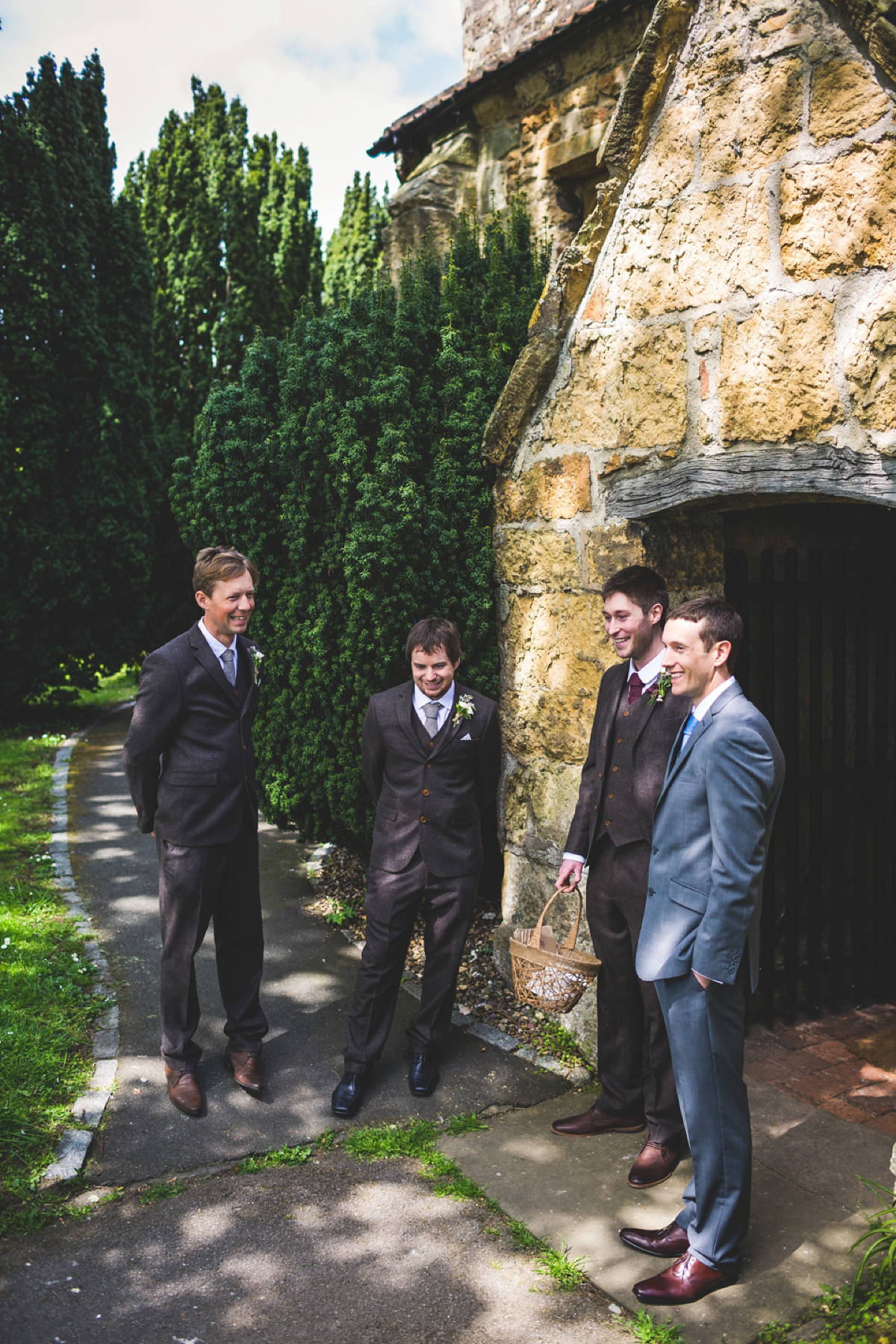 The groom and his fellas wore striking herringbone suits from ASOS, with tweed ties and a pocket watch for the groom.
"The herringbone suits we chose really exceeded our expectations and were just perfect for our relaxed country wedding, with the colours complementing my dress and the bridesmaids' dresses really well. All of the groomsmen had different buttonholes because we wanted to get away from a uniformed look."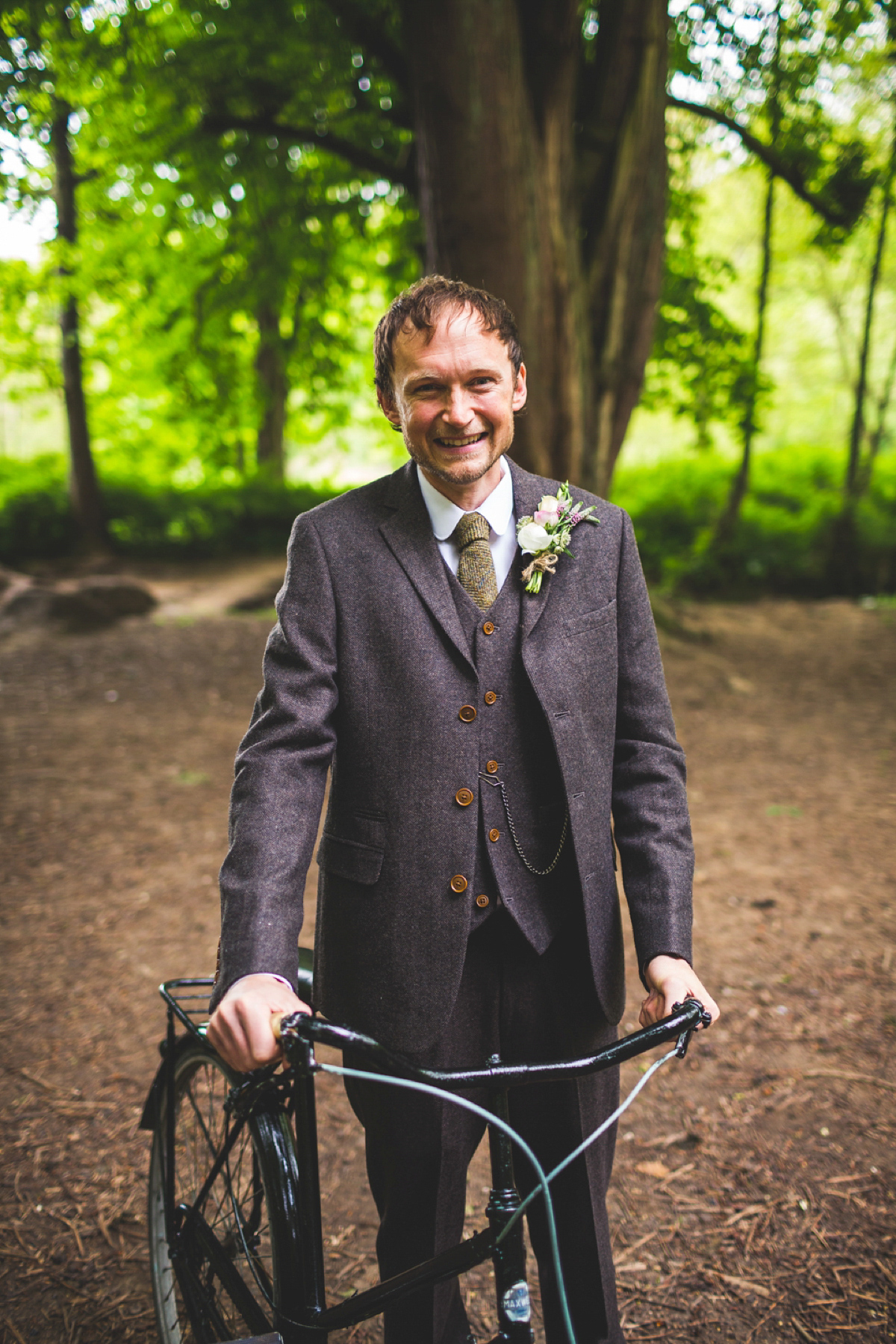 Real bikes featured as decor in the garden of the venue, on their stationery, place settings and accents on the confetti bags – and were also a method of transport for the groom and groomsmen! They used natural colours and textures, such as log centrepieces and hessian bunting, and the range of flowers arranged in milk churns and jugs perfectly summed up the country feel.
"We used vintage bicycles with potted plants to decorate the garden at the venue and we made the stationery ourselves. We took a free tandem bicycle design from online and adapted it to suit our needs. I also bought some personalised bicycle stamps with a tandem bike, our names and the wedding date on to add to the designs. The stamps helped to create consistency across the stationery."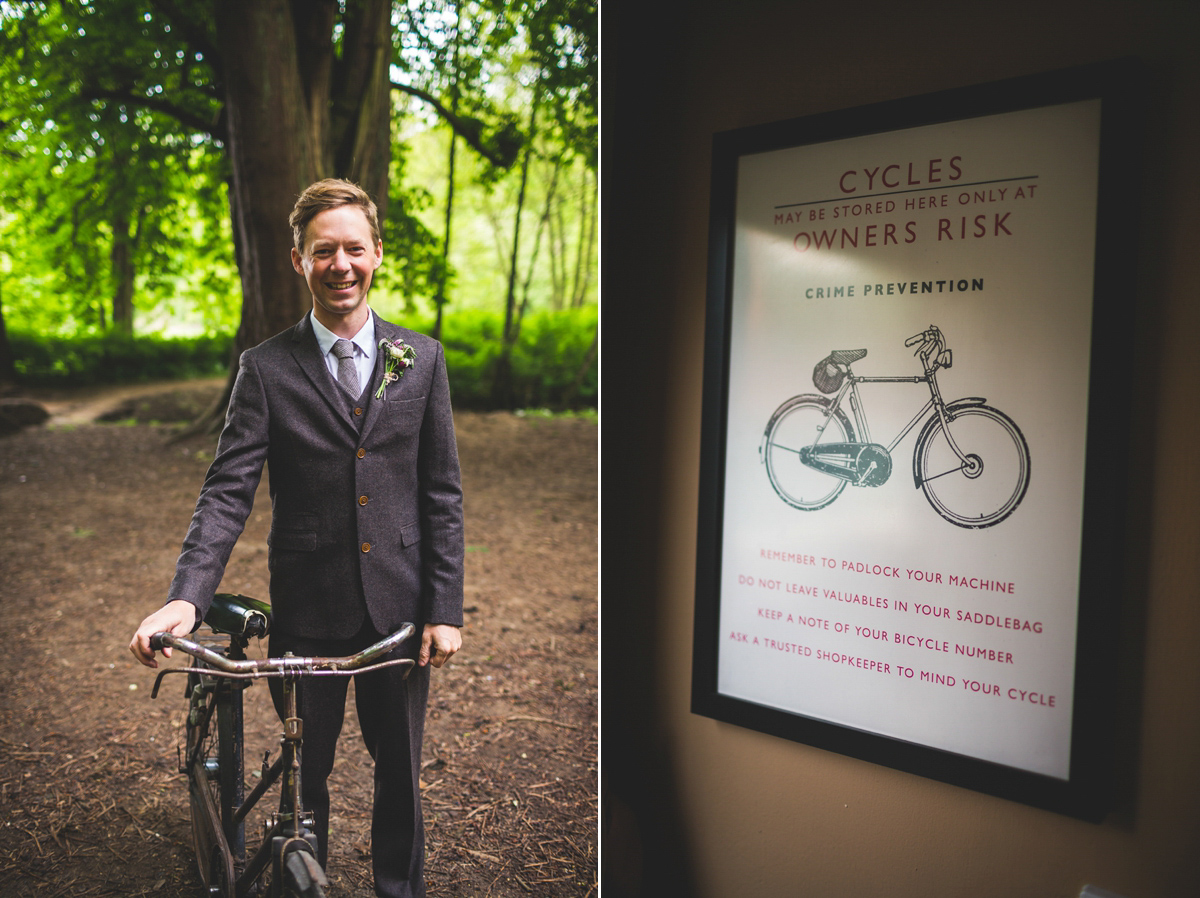 The groom was particularly keen to marry his beautiful bride in his local village church; it was just the right size for their intimate wedding and the site of where both his sister married and the christening of the couple's niece and nephew. And after buying some vintage bicycles for decoration around the venue, he realised they were ridable and decided to ride to the church with his best men on the bikes – what fun!
"It was such a great idea. Chris and his friends have ridden bikes together since they were young and still do."
The soon-to-be Mrs M was walked down the aisle at the church by her dad to a very sweet song.
"My Dad was very keen to give me away because he started walking me down the aisle before the part of the song I had chosen to start the walk! I walked the aisle to 'Songbird' by Fleetwood Mac and it's one of my Mum's favourite songs which made it a special choice. It just sounded so beautiful as I walked.
The reading was Corinthians 13 vs 4 – 13 read by my dad – we chose this as felt it reflected how we felt about love and each other."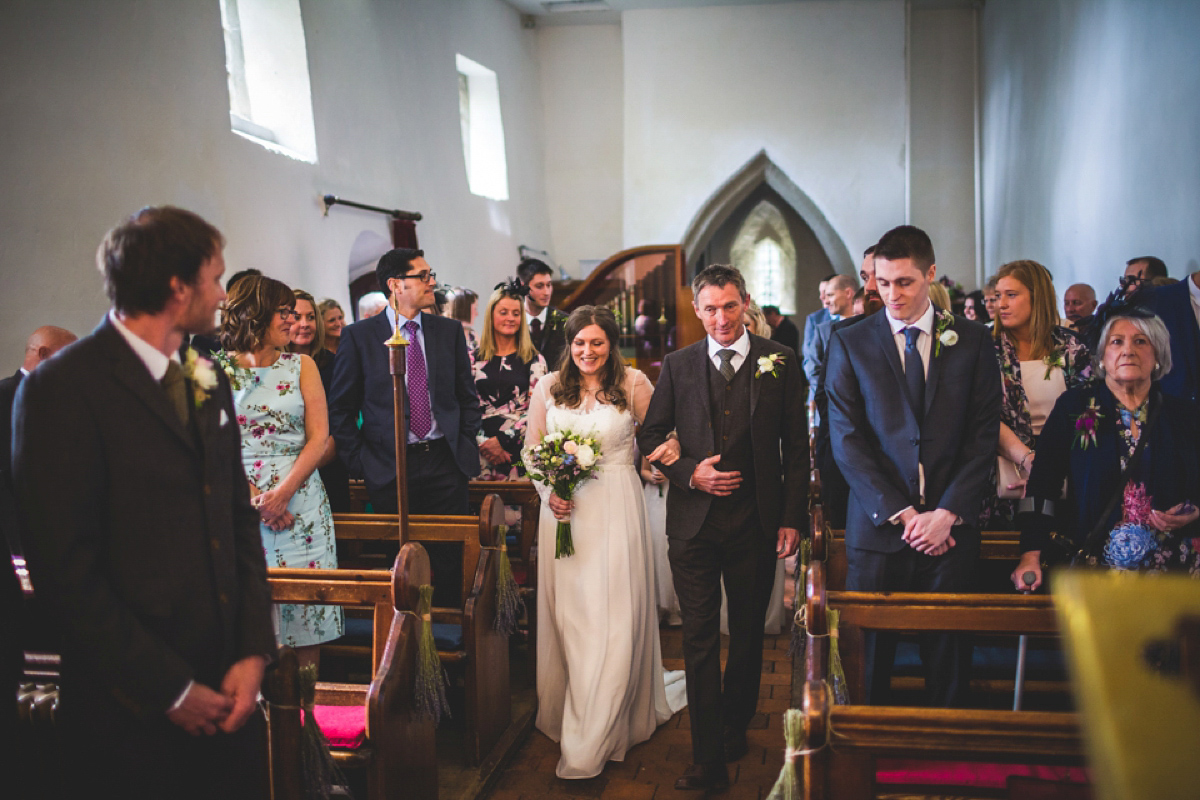 "My engagement ring was from The Antiques Centre York. It's a platinum and gold ring with a diamond and an ornate flower design on the shoulders dating from the early 1900s. I love how unique it is – Chris made a fantastic choice, it is stunning.
My wedding band is from Bradleys The Jewellers in York. The ornate design of my engagement ring made it difficult to find a ring that would complement it and not detract from its beauty. In the end I chose a delicate white gold band hand engraved with flowers and leaves. Not only did this echo the theme of the wedding, it matched my engagement ring perfectly.
Chris is not someone who typically wears jewellery. We therefore decided that it didn't matter if our rings matched. It was more important to have something that he would feel comfortable wearing. With this in mind Chris chose a ring from Justin Duance. His rings were very appealing as they had a wooden centre. He was able to choose the wood and metal for the ring. After some consideration we choose a titanium ring with an oak centre band. The ring was perfect and looks very natural on him."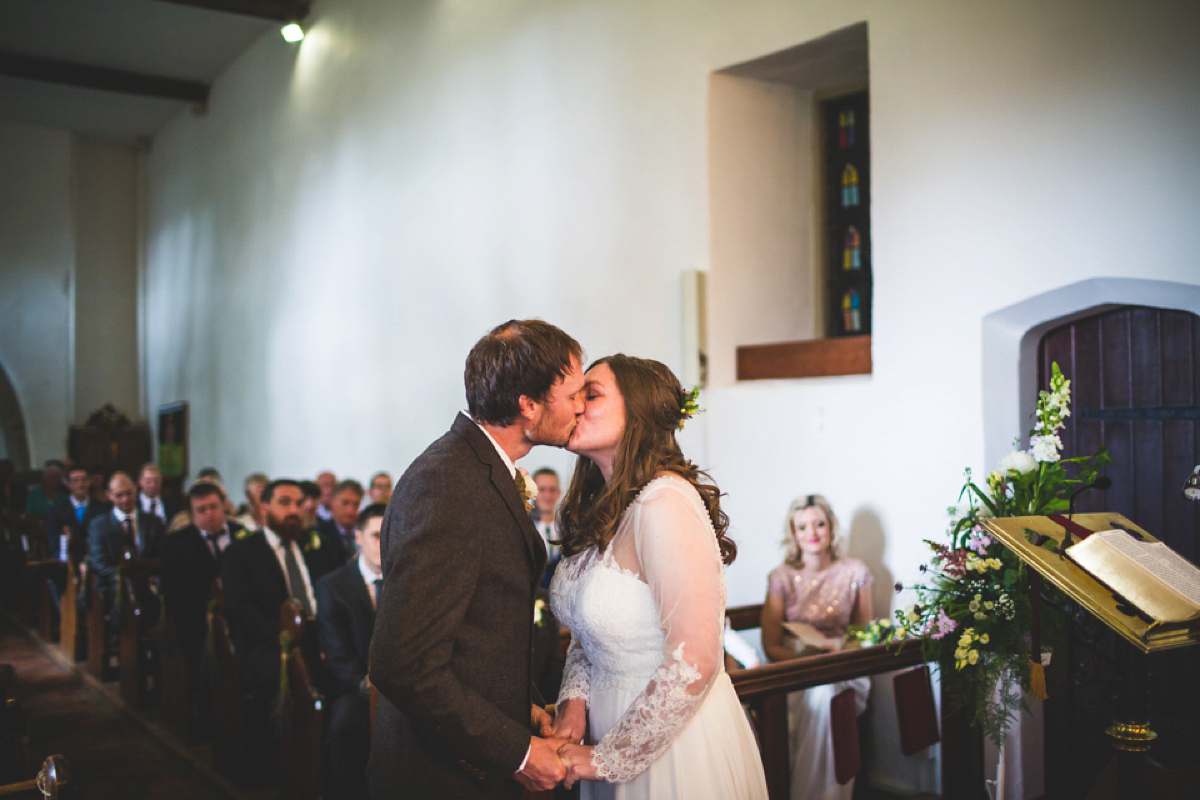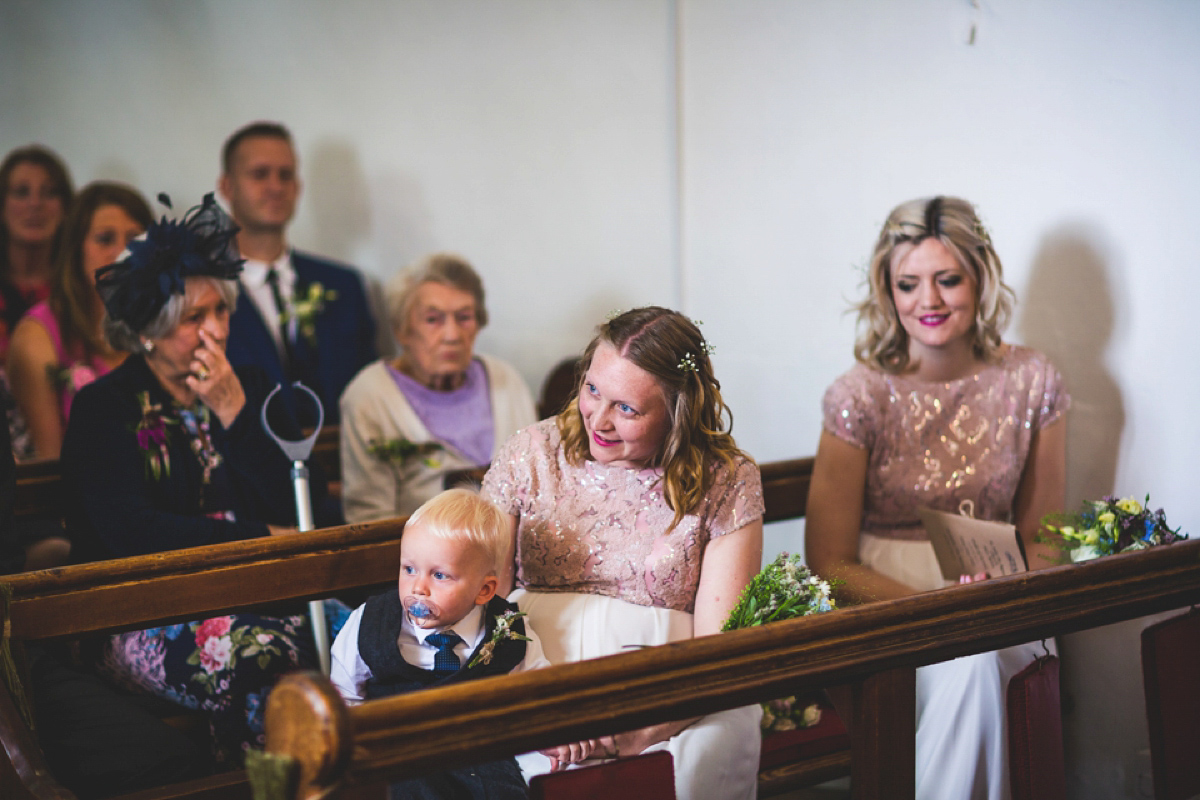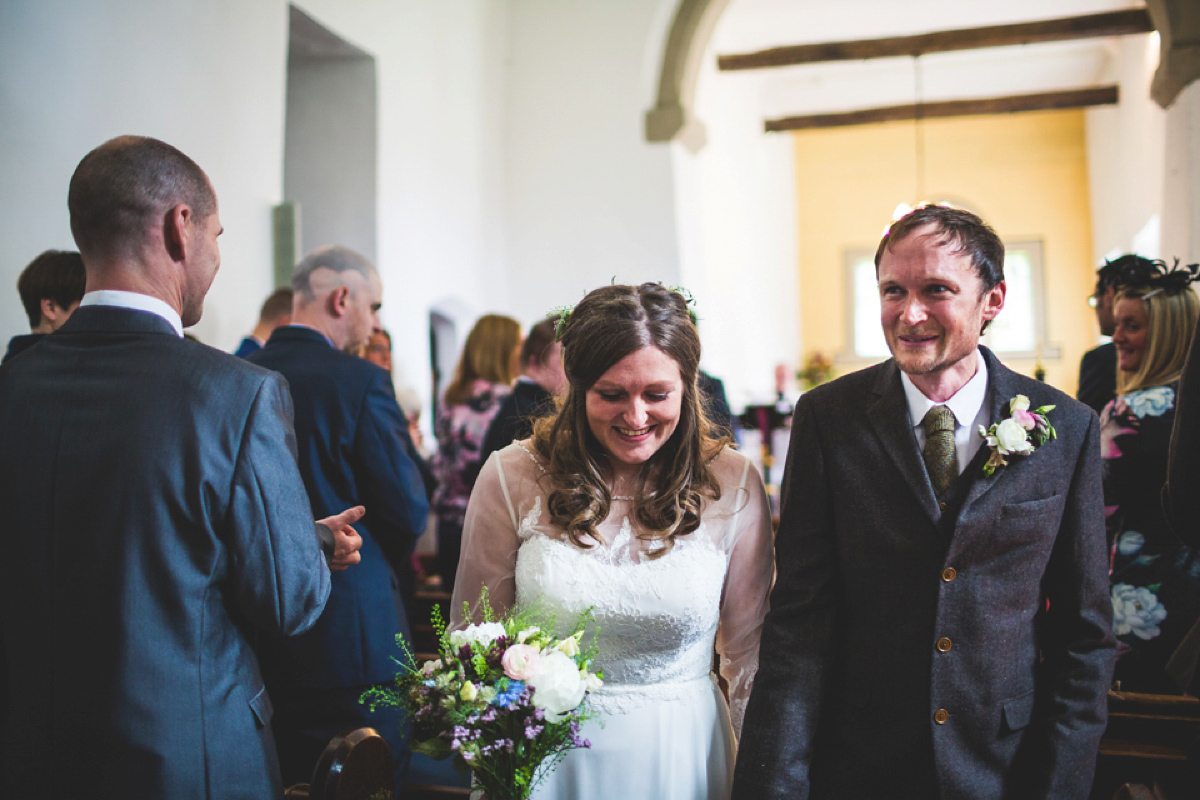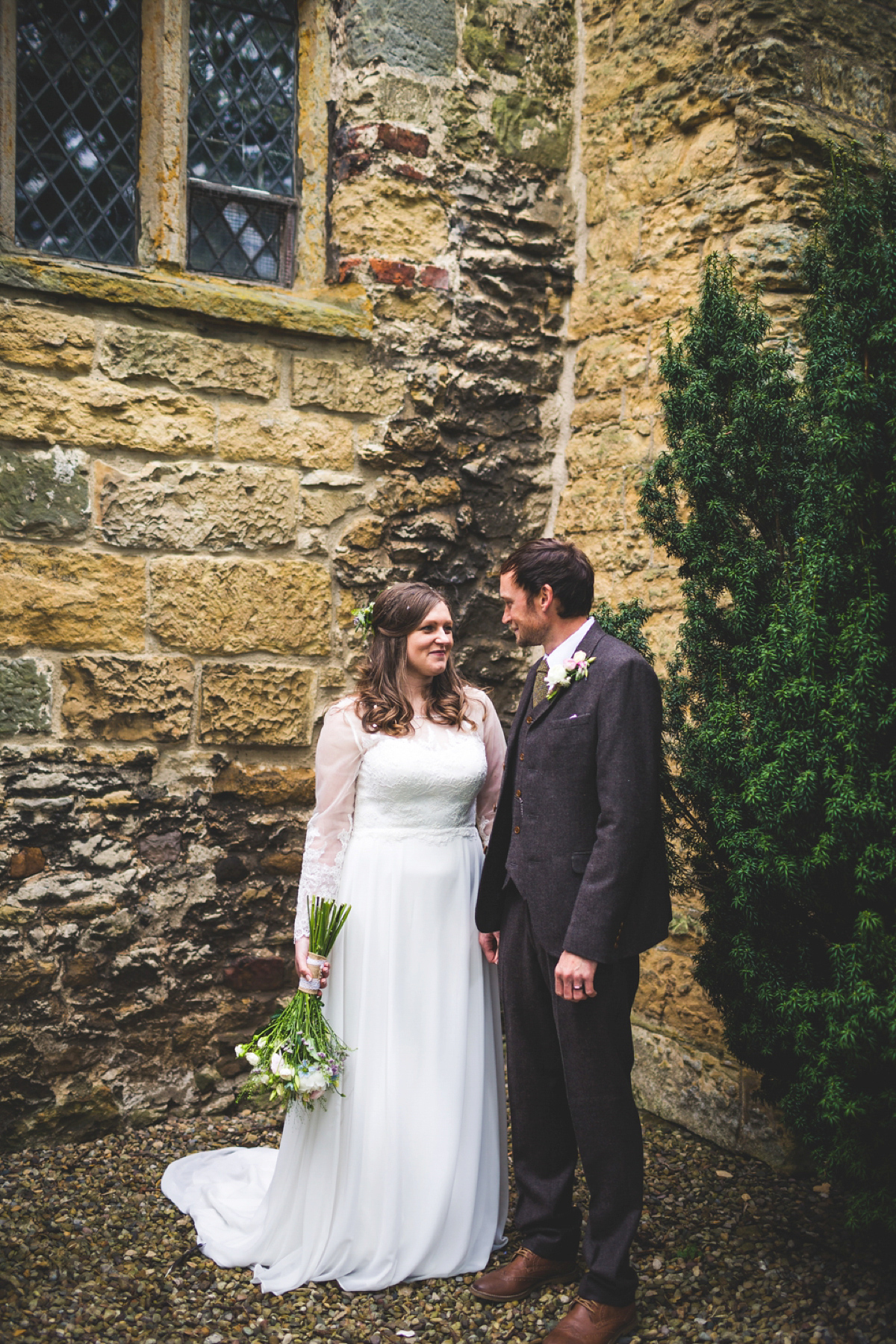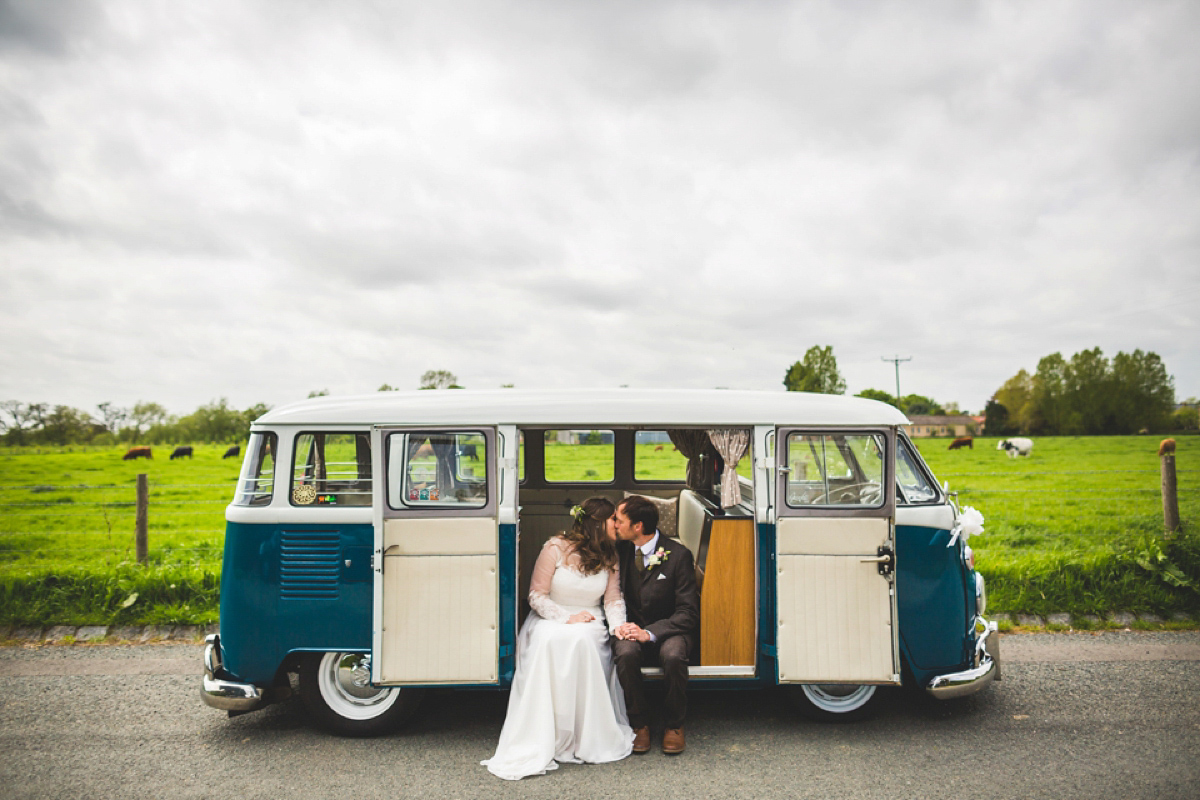 "Chris was eager to get a VW Campervan, and I have to admit I was too. He found a great company called The Blue Campervan of York and the person who owned it was great. Any other transport would have seemed strange at the wedding and this fit perfectly with the theme. It was a split bay left-hand drive and was truly perfect and immaculately turned out by Ian Cooper, the owner."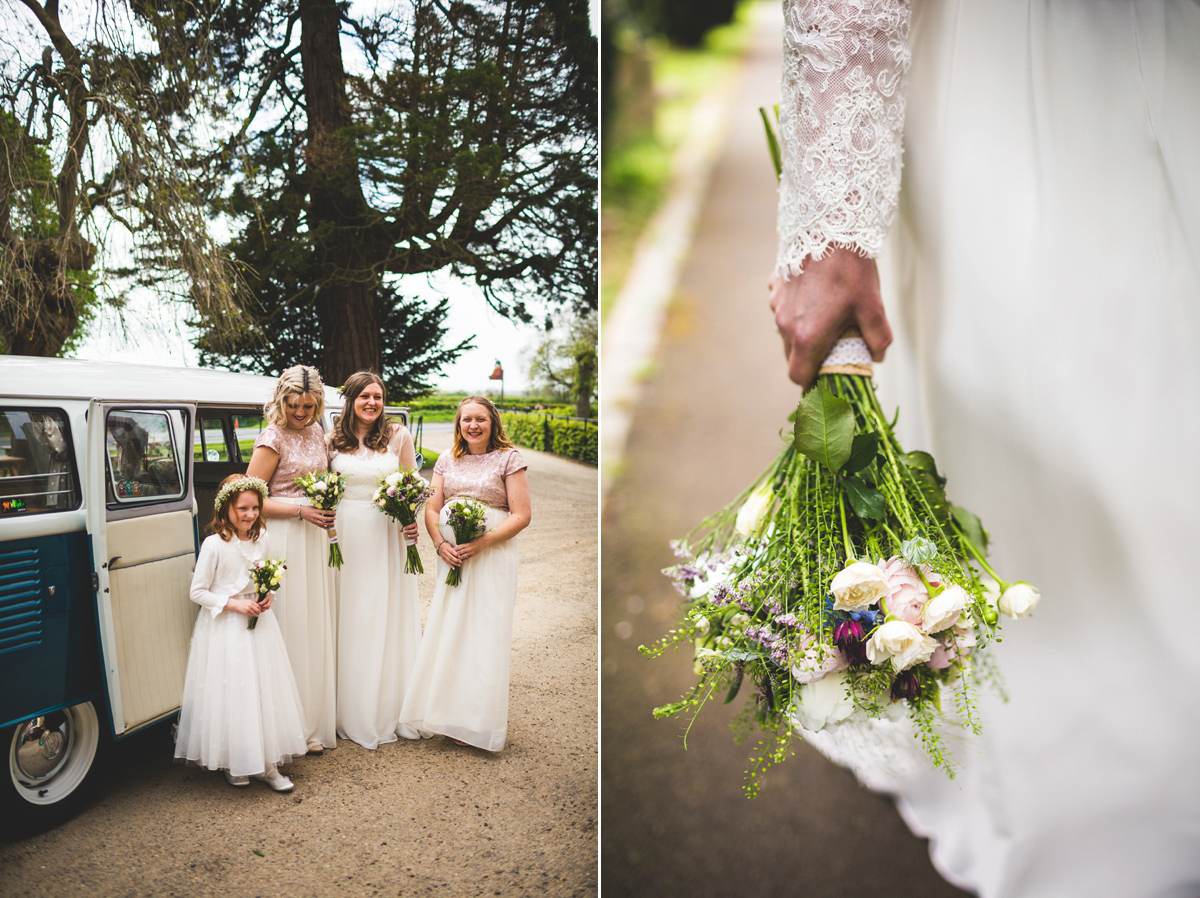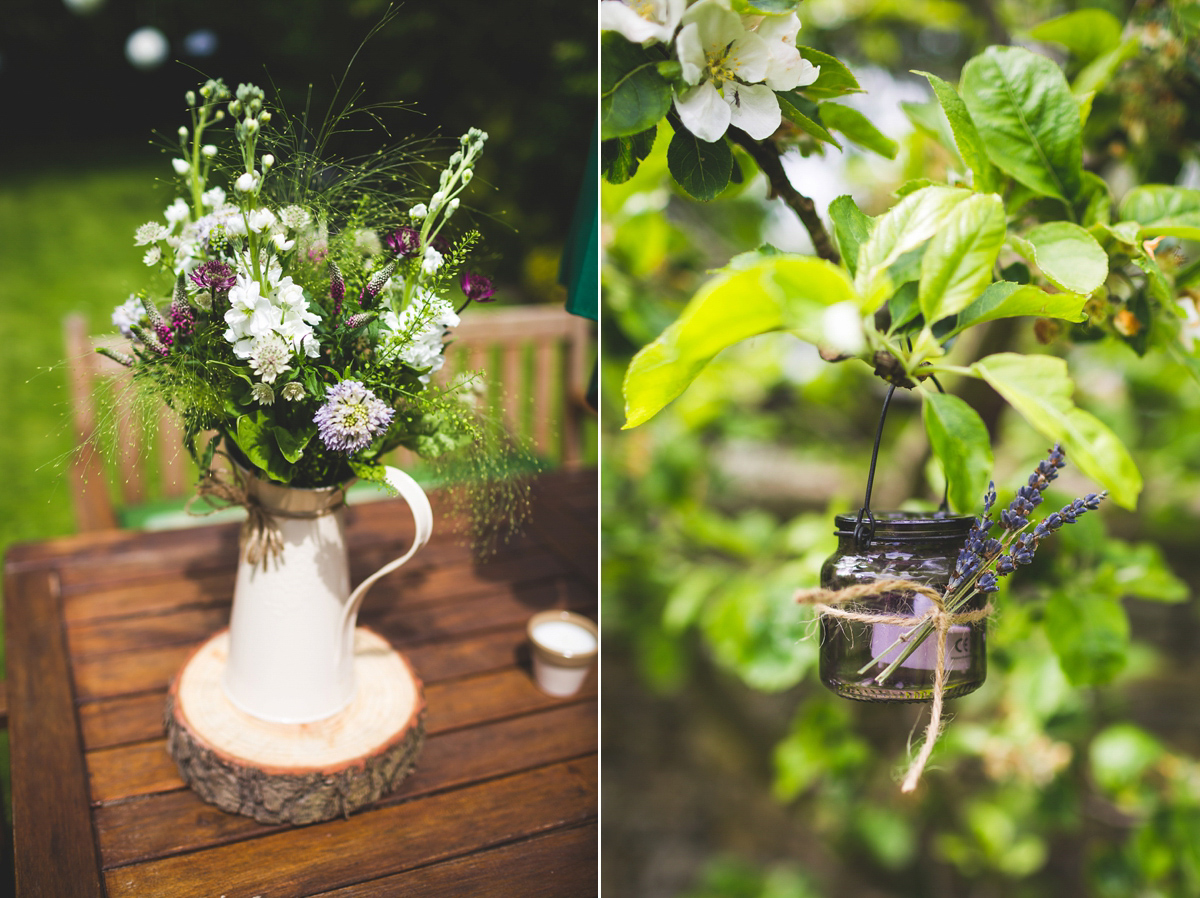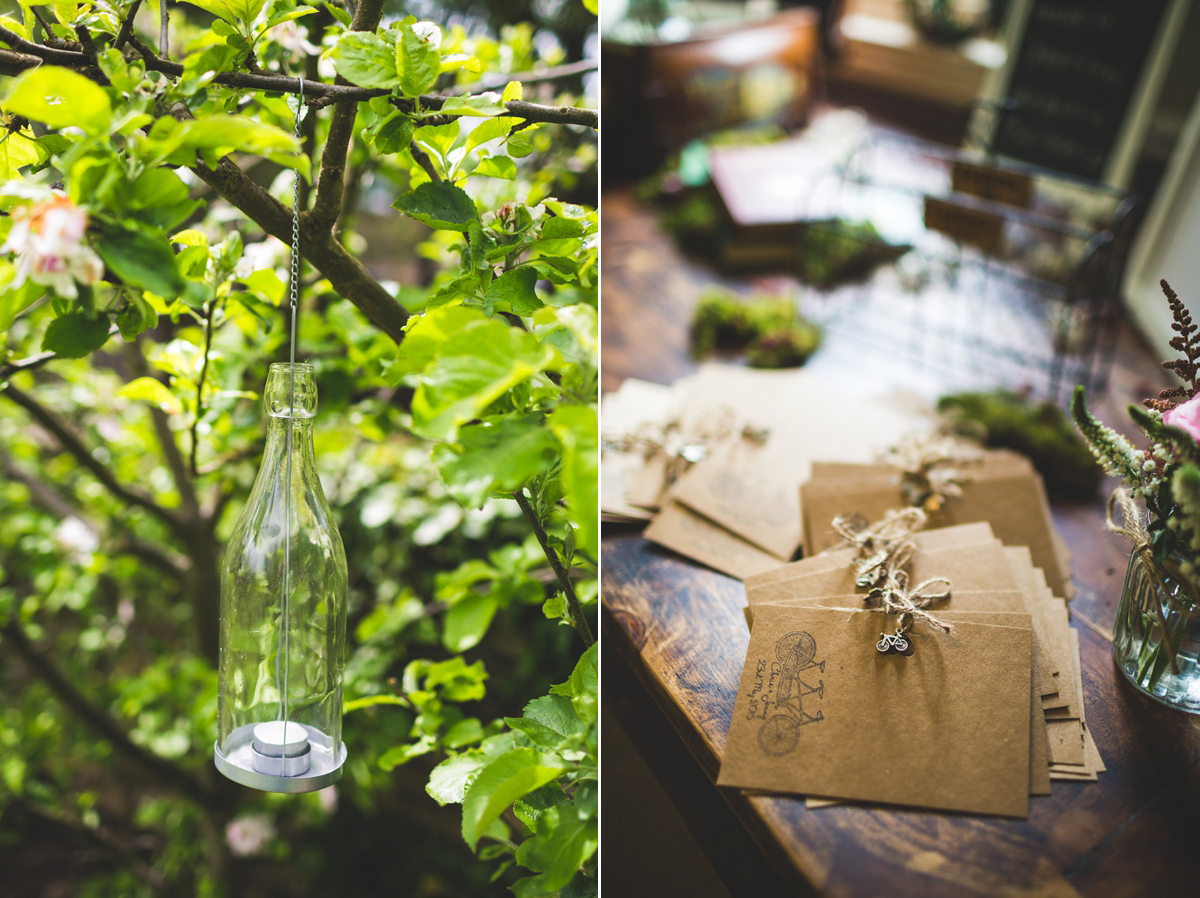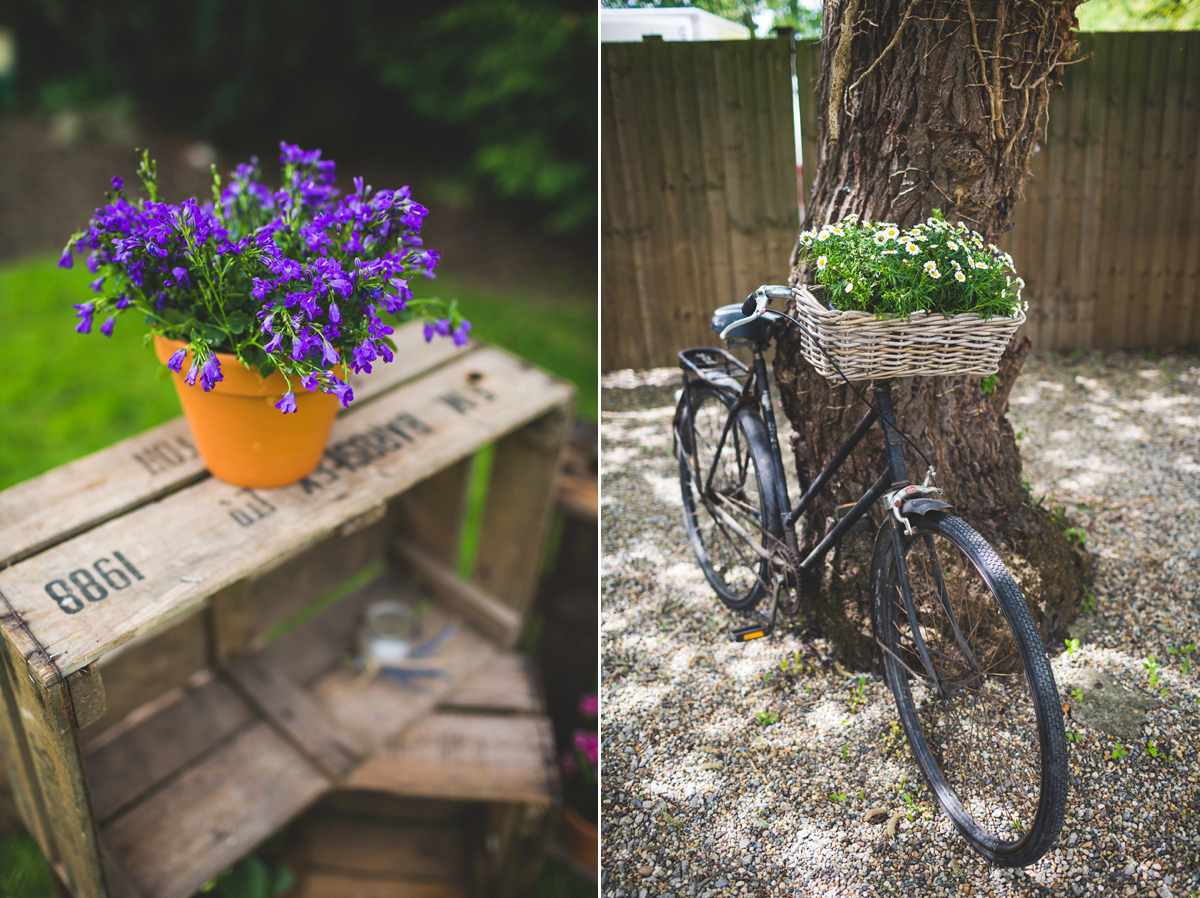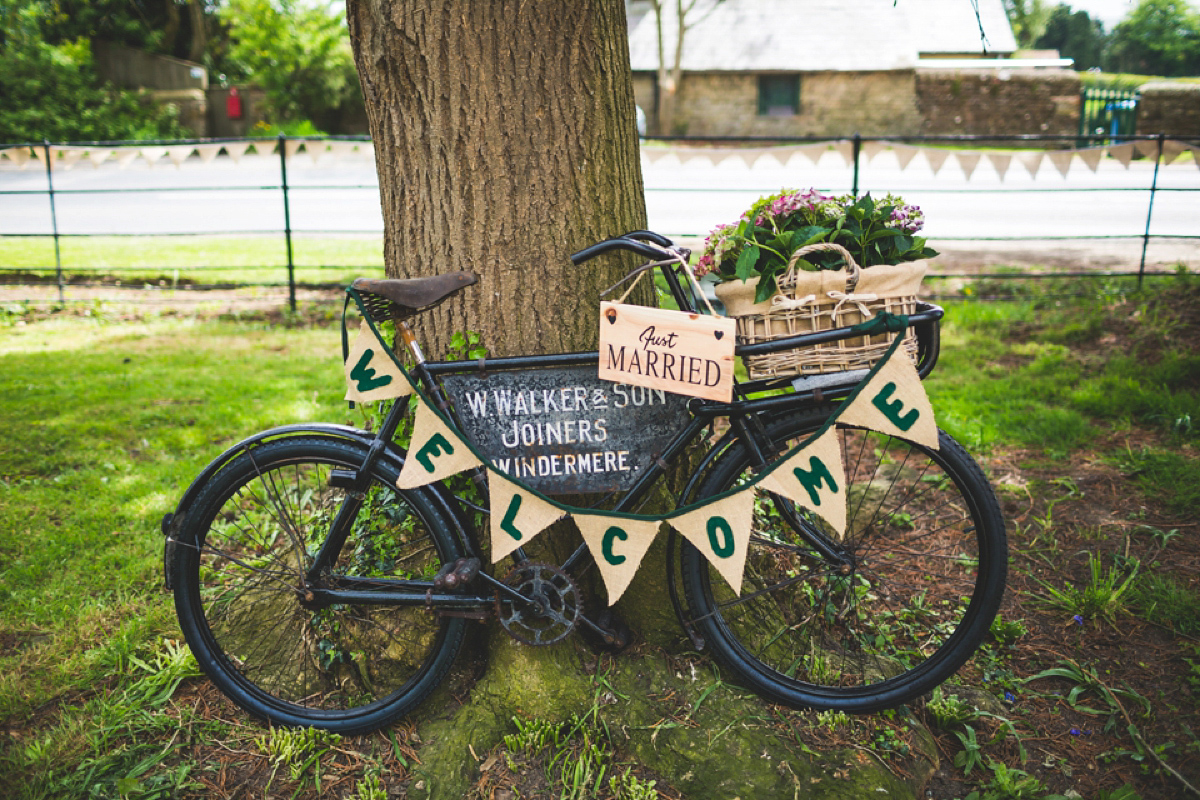 The two maids wore pretty pastel 'Little Mistress' gowns from Dorothy Perkins, with their own shoes and accessories. Hairstyles for all the ladies were created by Leanne at Gallery in Scarborough, with makeup by Anna at Jill Kelly Beauty Salon.
"I choose the gowns for the pastel colours and they reflected the style I had chosen for my dress. My bridesmaid's had plaits in their hair with sprigs of gypsophila threaded through.
Leanne was absolutely fantastic during the wedding hair trial; she was willing to have a little experiment and work with the flowers my florist had provided. This meant I had the hair style that I truly wanted. I chose to have some small plaits in my hair, pinned back with the intricate hair piece my florist had created. I also had my hair loosely curled to create the relaxed boho feel.
Initially, I felt a bit out of my depth and was not too sure what I wanted other than a 'natural look.' I left it in Anna's hands and she was able to give me some professional makeup that felt comfortable, but more special than what I would normally wear. She also did some fantastic facials and nails before the wedding. In the chaos of wedding planning, the trips I had to see Anna were a real treat."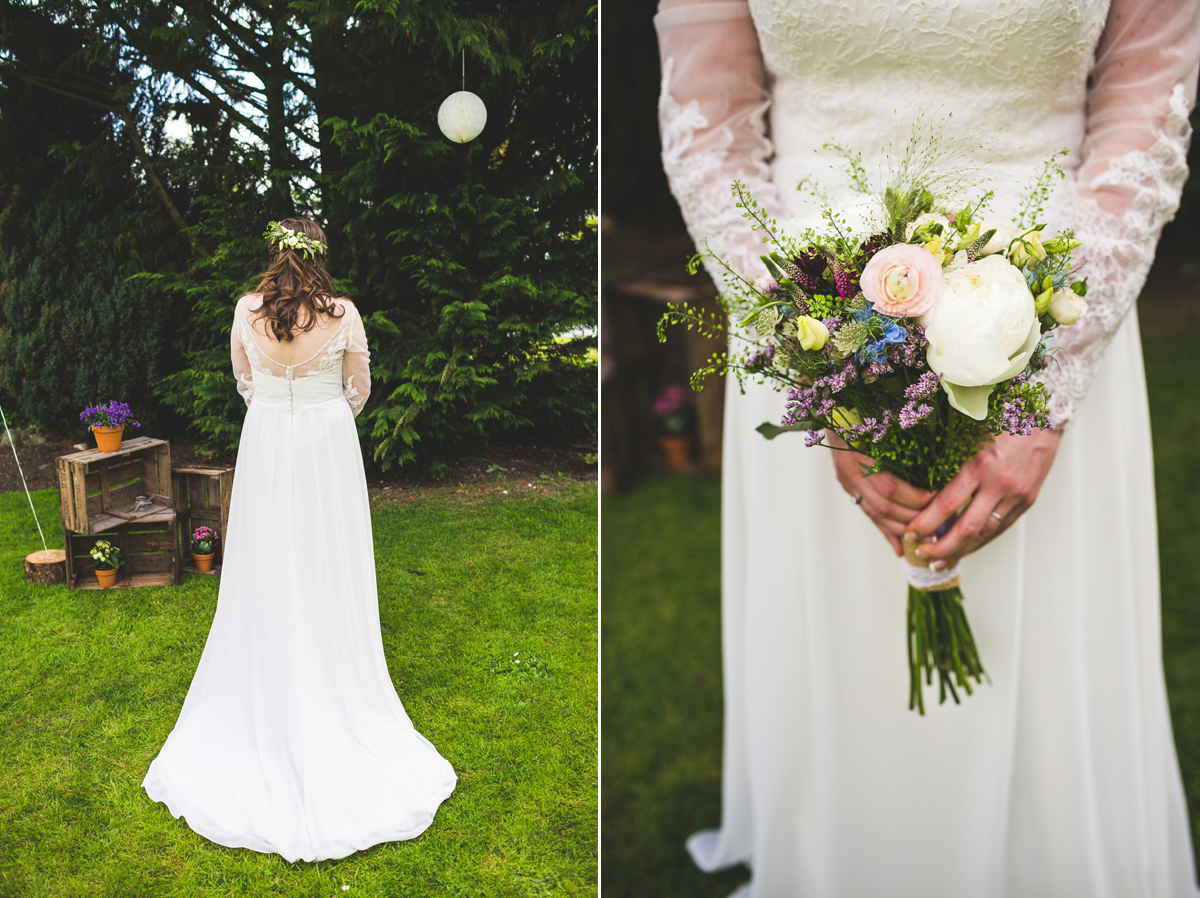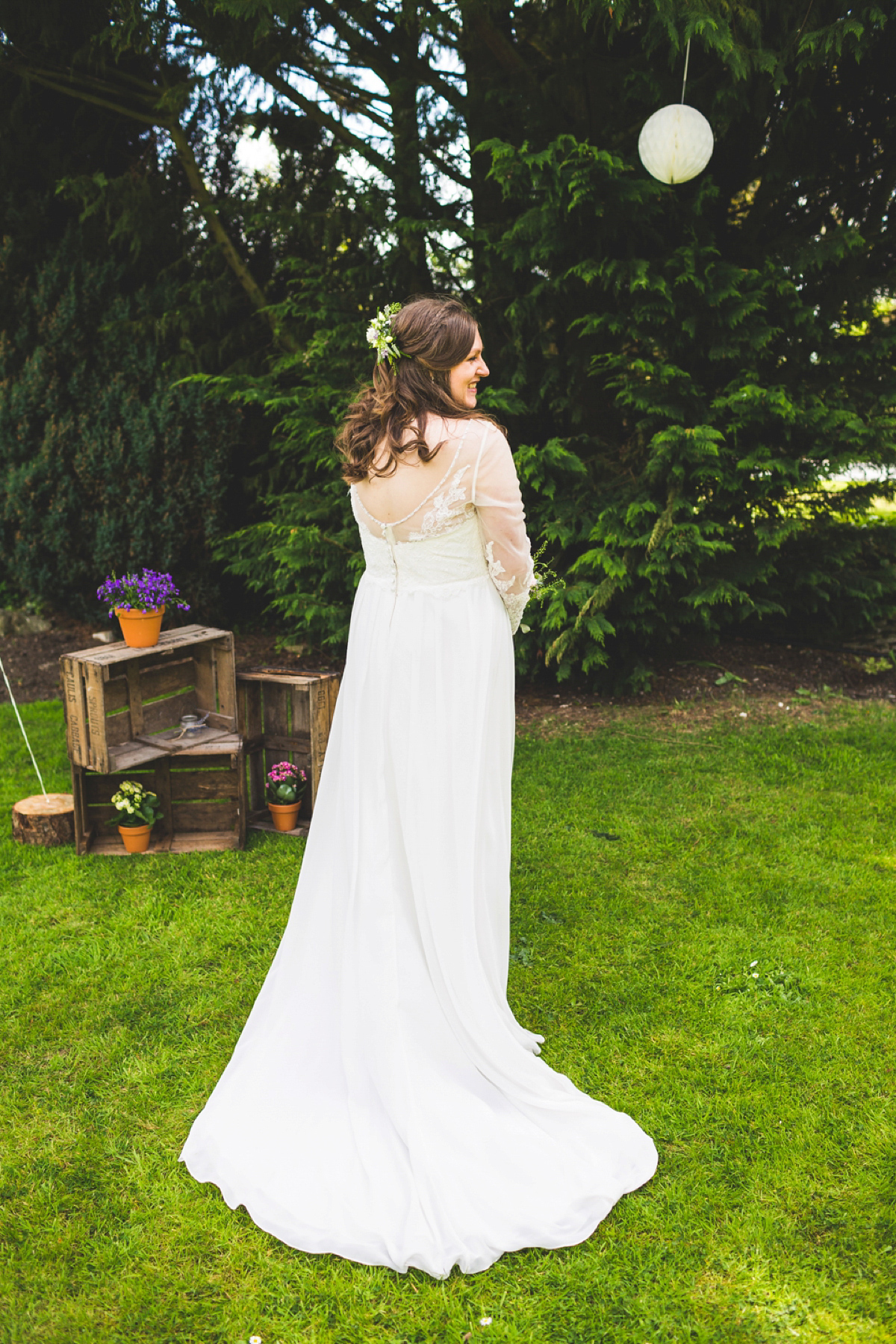 These lovely images were taken by Tony from Photography34 – whose work we have featured many a time on the blog.
"We really wanted to hire a photographer who would capture the essence of the day. We are not keen on formal photographs, as they are not true reflections of the emotions of the day. We have always felt that the best photographs are the ones that are taken when people do not know they are being photographed. When we viewed the photographs on Tony's blog we knew that he would be able to take the moments of our wedding in a natural and interesting way. I love looking at all the special moments he captured."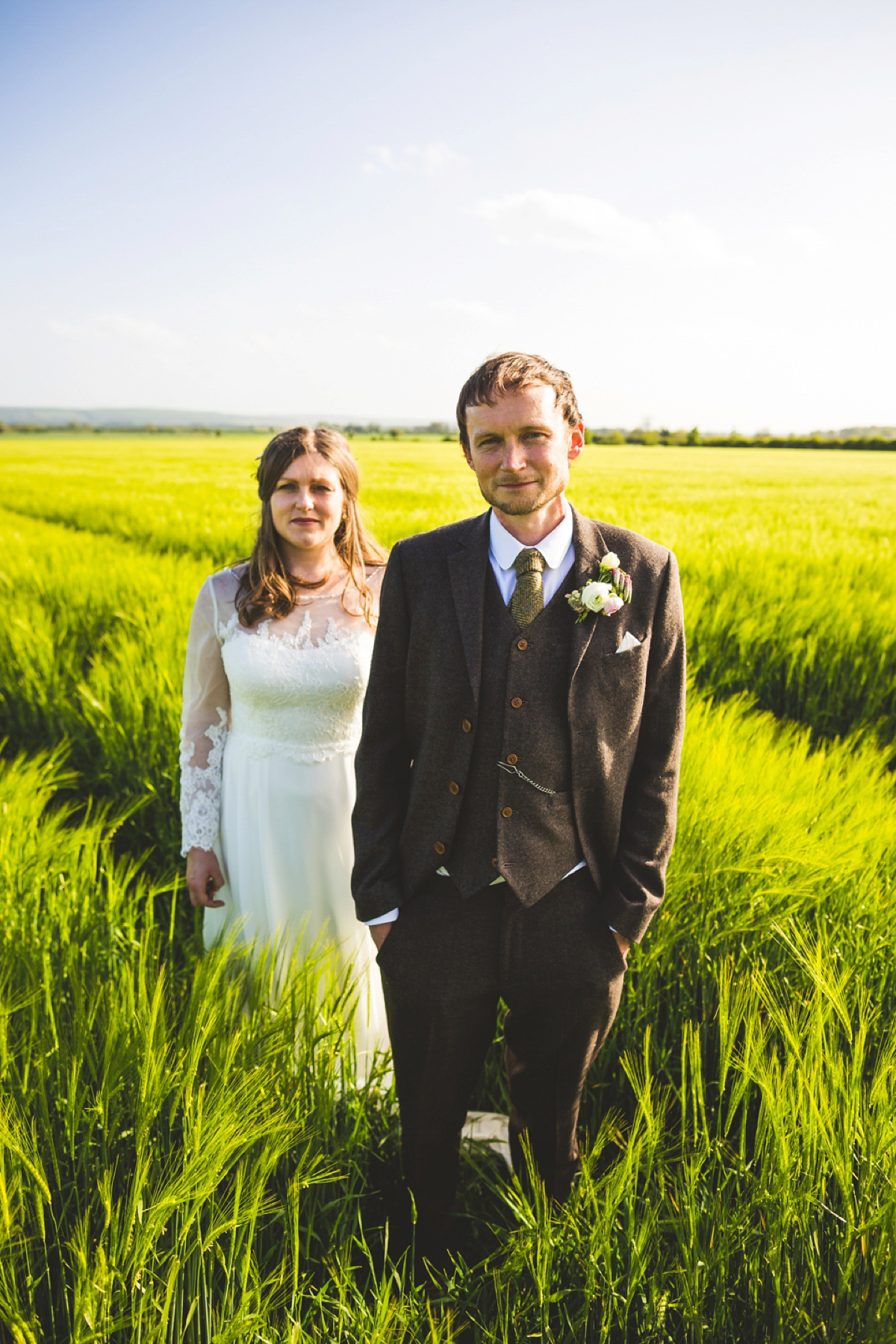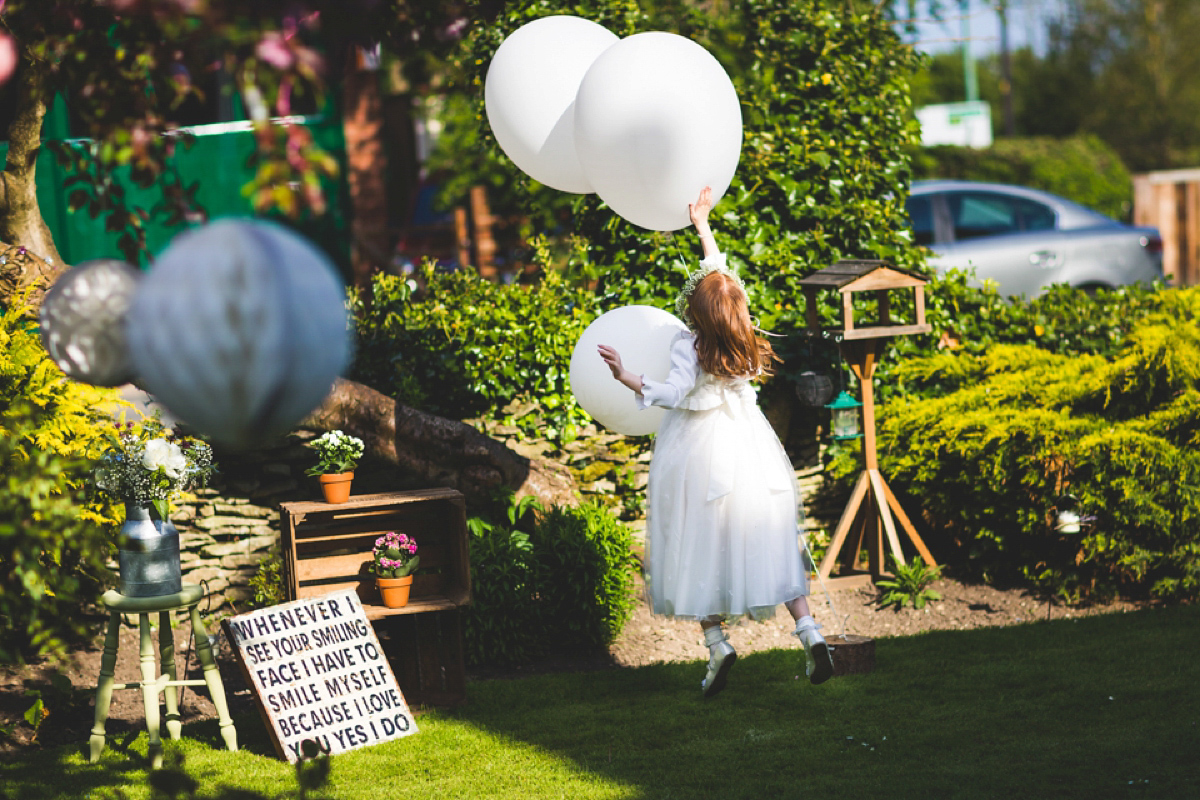 The decor at The Coachman Inn looked absolutely stunning and, with lots of help from the bride's mum, the newlyweds completely nailed their brief of a relaxed vibe set in the countryside. I can just imagine how wonderful it would have been sitting in the garden in the sunshine with a drink and chilling out amongst all the groovy bicycle decor, then later on in the evening with the pretty lanterns and a cosy blanket.
"The weather was perfect and the garden looked amazing during the sunny afternoon and in the evening was truly magical with all the hanging paper lanterns in the trees to create a romantic atmosphere. The patio doors of The Coachman opened onto the garden and this added to the relaxed atmosphere, allowing people to drift in and out."
"We decorated the inside of the venue with jars of flowers scattered around the room. We used an old leather suitcase we had borrowed from Annie, my auntie's friend at Jop Ridding Farm at Austwick which we decorated inside with bicycle paper to store gifts. The table was decorated with vintage woodland and nature books to reinforce the countryside theme and also used moss to make it appear more rural. In addition, we had a small letter rack with custom made cards with the personalised stamp on for guests to leave us messages. We also had another vintage suitcase from Annie in here that we used to store picnic blankets for people sit on in the garden and to keep them warm in the evening."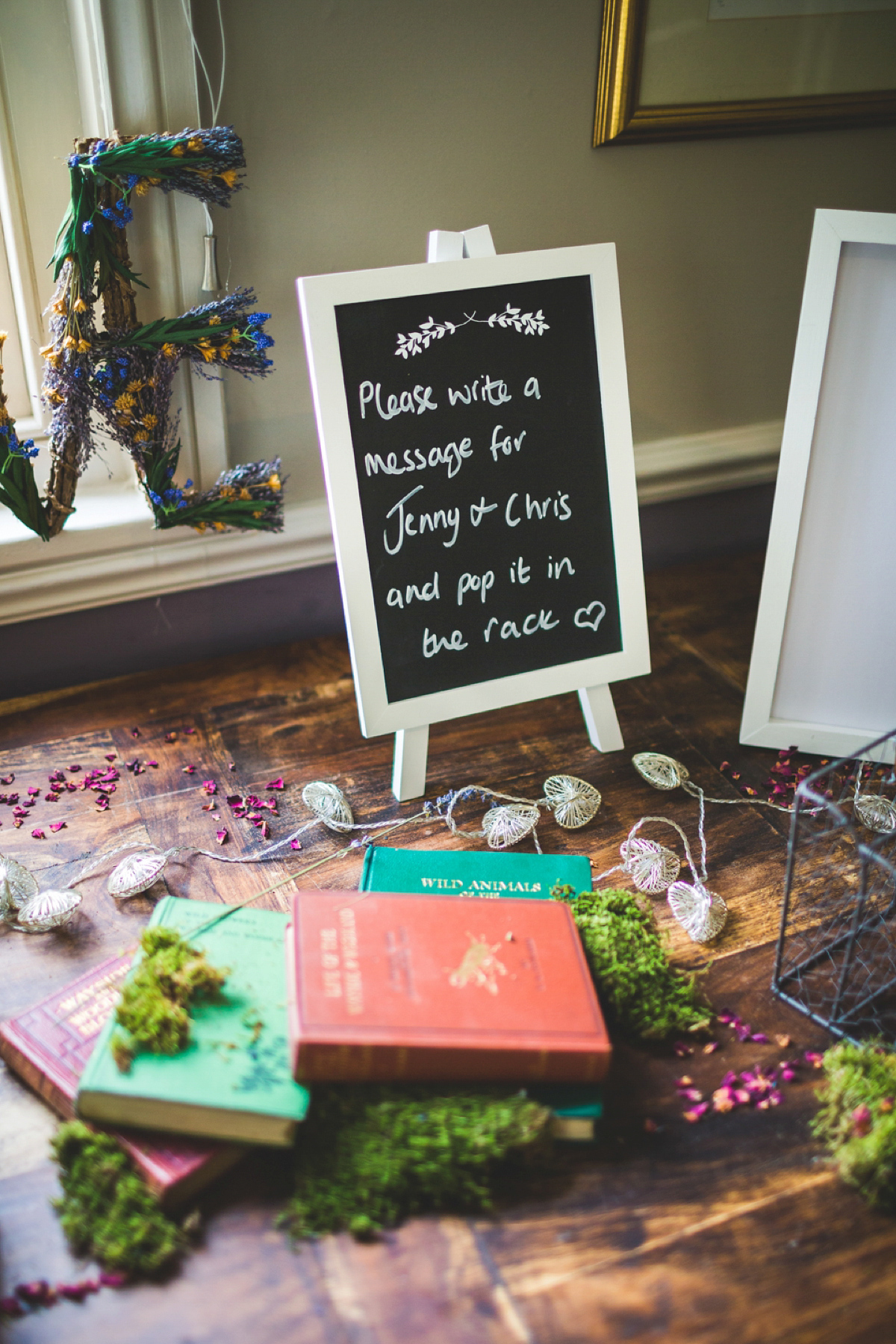 "There was a lot of decorating to do outside the venue and whilst it took some time the day before getting everything prepared, it was worth it. The place looked amazing and I was so proud of what my mum and I had accomplished. We made a good deal of hessian bunting to hang around the venue. We also bought oversized balloons and tied them to logs in the garden at different heights."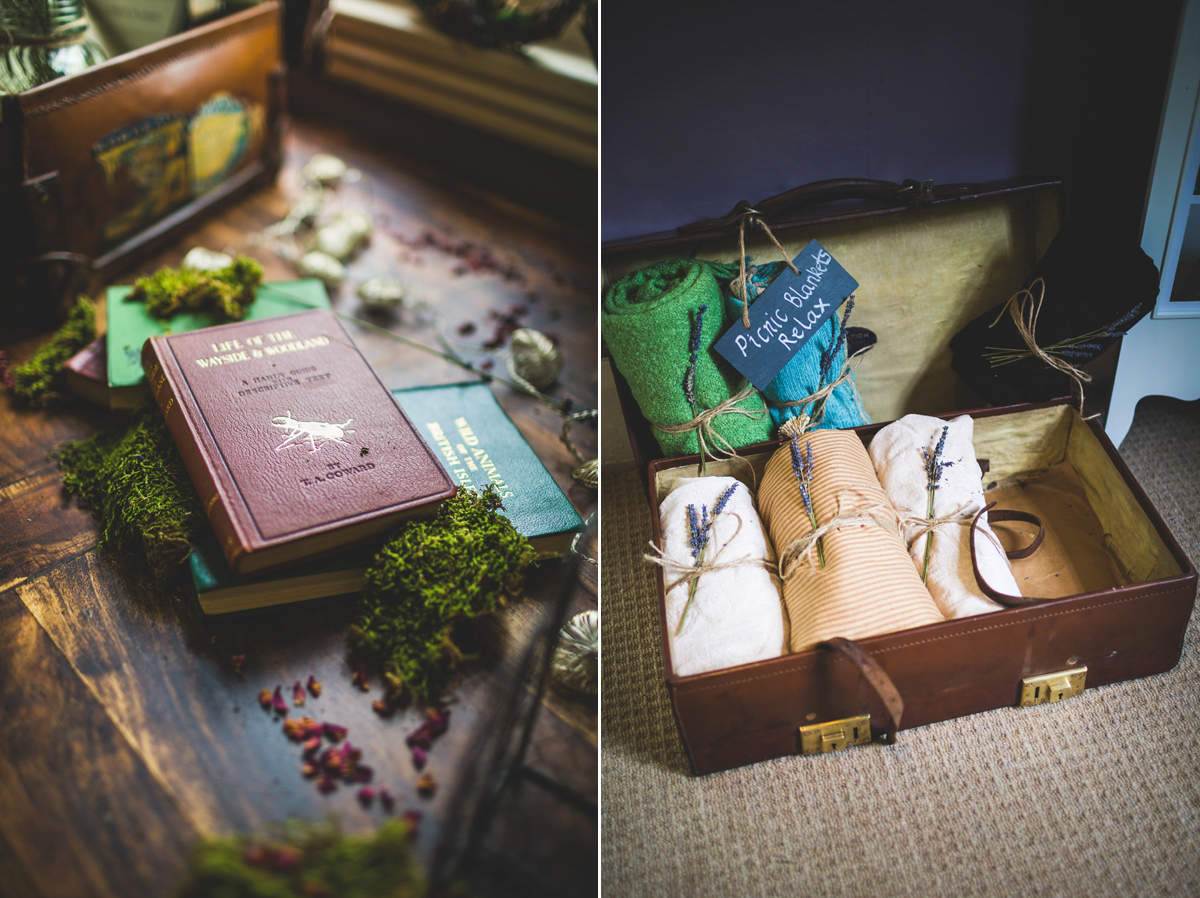 "To create continuity of theme we had vintage bikes decorated with flowers and welcome signs – this included a vintage butcher's bike that we bought from the Penrith and Chris restored it especially for the wedding. This was one of our best wedding features as it echoed our love of cycling and the lakes.
We also took some small step ladders, stools, churns, vintage crates, terracotta potted plants and other ornaments and arranged them in small areas around the venue with jars of flowered and potted plants to create areas of interest."
The couple sourced delicious Sarah Nelson's Grasmere Gingerbread favours from the famous traditional gingerbread shop that they both love.
"The gingerbread had a traditional, rustic, countryside feel and it was from the Lake District we love and only a short distance from where we got engaged. I couldn't believe I hadn't thought of it sooner. People knew it was us and many complimented the choice at the wedding. It was great to see people tucking in and enjoying it."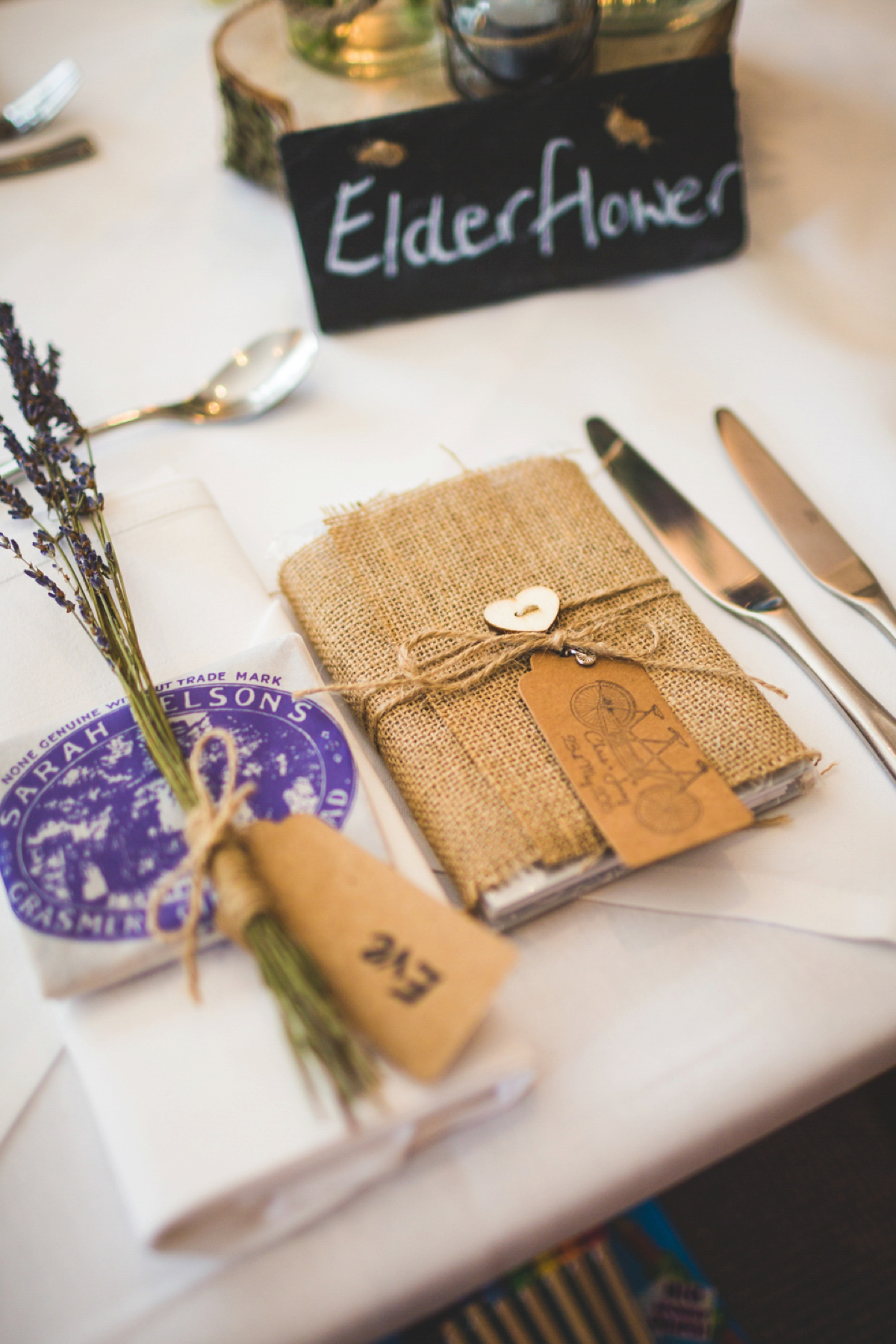 The wedding party and guests were treated to locally sourced and high quality food, as well as tasty ale.
"The owners at the time of the wedding had a fantastic wedding menu and were accomodating to our requests for a BBQ in the evening.
My Dad is a real ale fan and so were other guests, so we looked for somewhere that would facilitate by putting on our favourite ale, 'Peasholm Pale' from the North Riding Brewery. Kevin, the proprietor, was accommodating and Stuart Neilson from the brewery ensured there was a cask brewed in time for the wedding."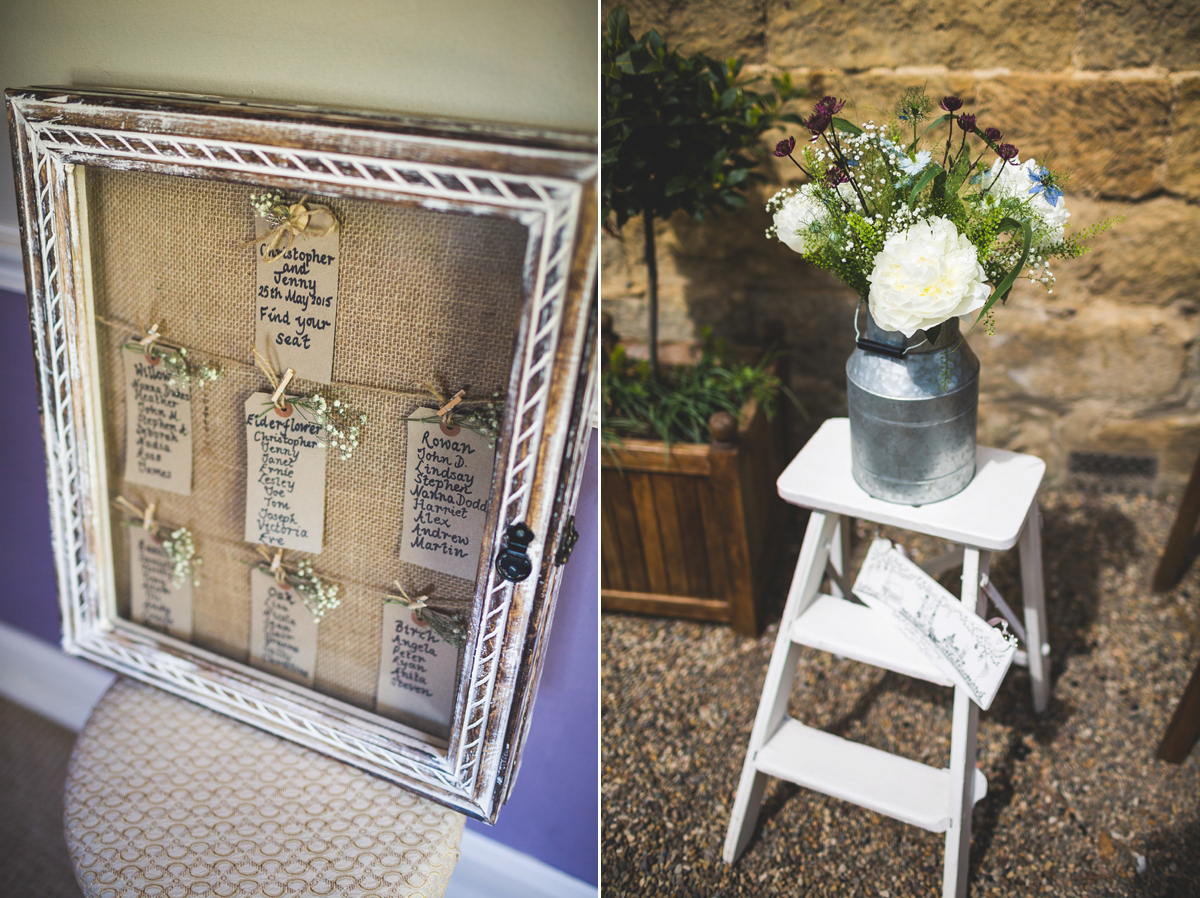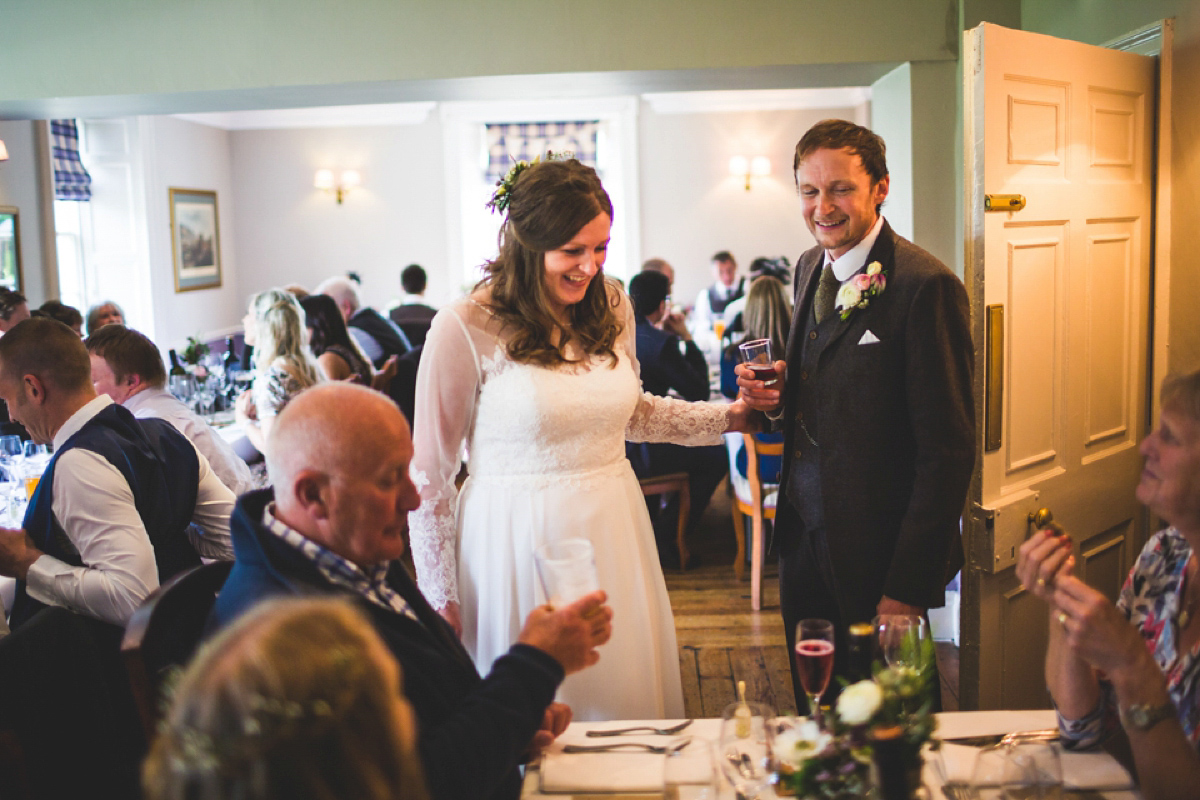 The bride was lucky enough to have a clever florist friend, who also performed the very important task of bridesmaid. Keen for a mixture of subtle colours, with nothing too structured to reflect the relaxed atmosphere, the resulting blooms were just right.
"My talented friend, Danielle, is a professional florist and was also my bridesmaid and she created the most perfect bouquets and table decorations. Danielle knew exactly what sort of flowers to use and I trusted her expertise and creativity. She created three beautiful bouquets from the prettiest flowers; all different colours, shapes and textures that were very subtle, pretty and just perfect for our country theme.
I wanted the centrepieces to have an earthy and rustic feel. I chose different sized jars and decorated them with twine and the florist arranged a mixture of flowers in each. My husband prepared some logs for the flower jars and tea light holders to be arranged on. I also bought some churns and cream metal jugs to decorate the tables in the garden with the same sort of flowers as the centrepieces."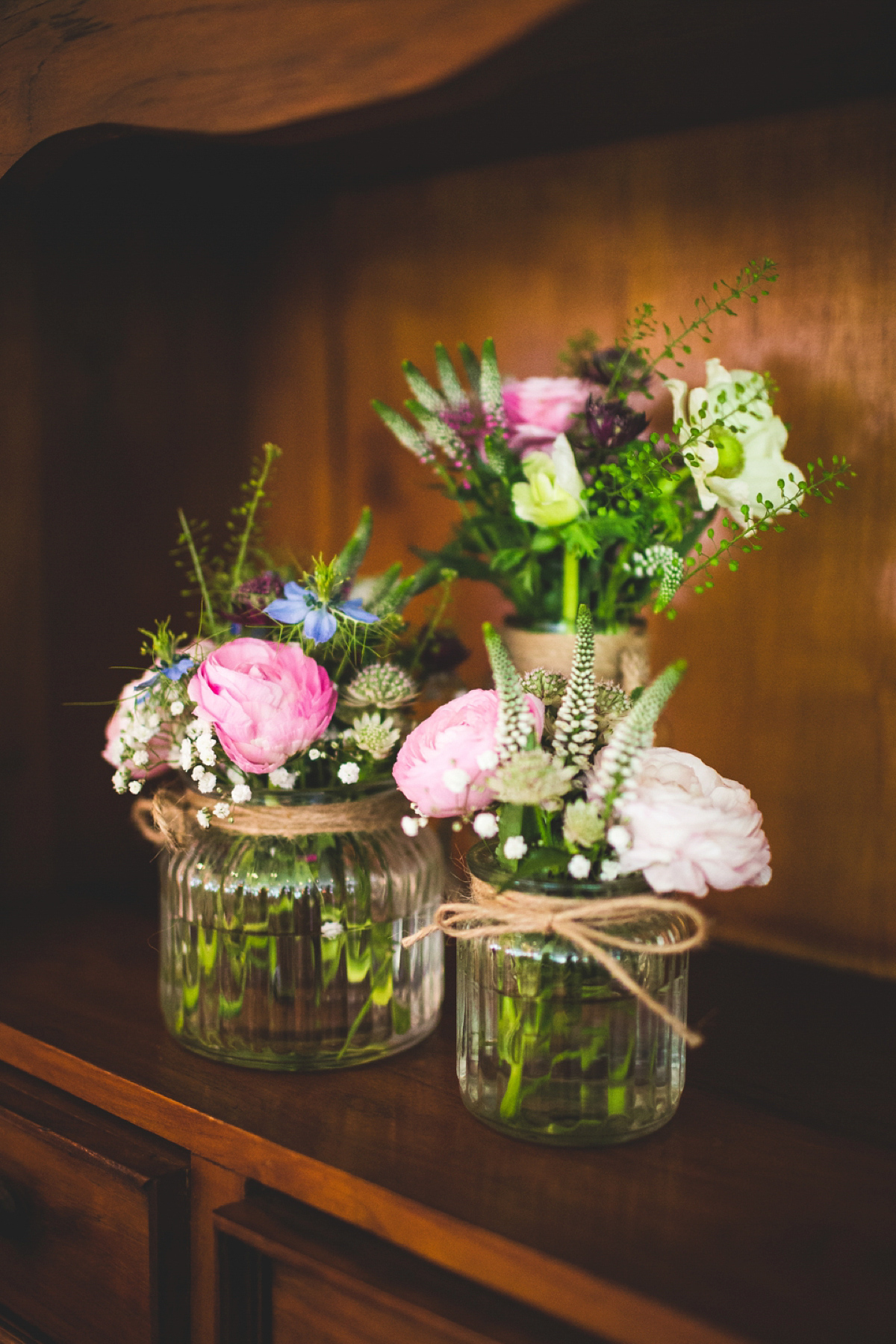 "As Chris and I were not sticklers for keeping with tradition, we decided to have a cake of cheese from Marks and Spencer rather than cake. We love cheese and thought it would provide an additional snack for people in the evening.
We also had cakes made by a very talented friend of my Mum's, Amanda Mountford, who was very generous with her time to make taster cakes and experiment with designs. They were absolutely gorgeous and guests went back for more!"
"We had seen a very talented local musician, Connor Lawlor-Mahon, at a wedding the previous summer and decided to see if he was available and thankfully he was. Connor did various acoustic sets interspersed with playing some of our favourite tracks that we had selected before the wedding.
One of the best moments of the wedding was when he played and sang outside at the front of the inn because the sun was shining and all of our guests were in the gardens at the front of the pub. He was playing just as our evening guests started to arrive. I couldn't have planned it better.
We both decided that the first dance would be more special and original if sung live. Connor sang Ben Howard's 'Only Love'; a song we both love and felt it showed our type of music and that we are each other's only love. Connor did a fantastic job."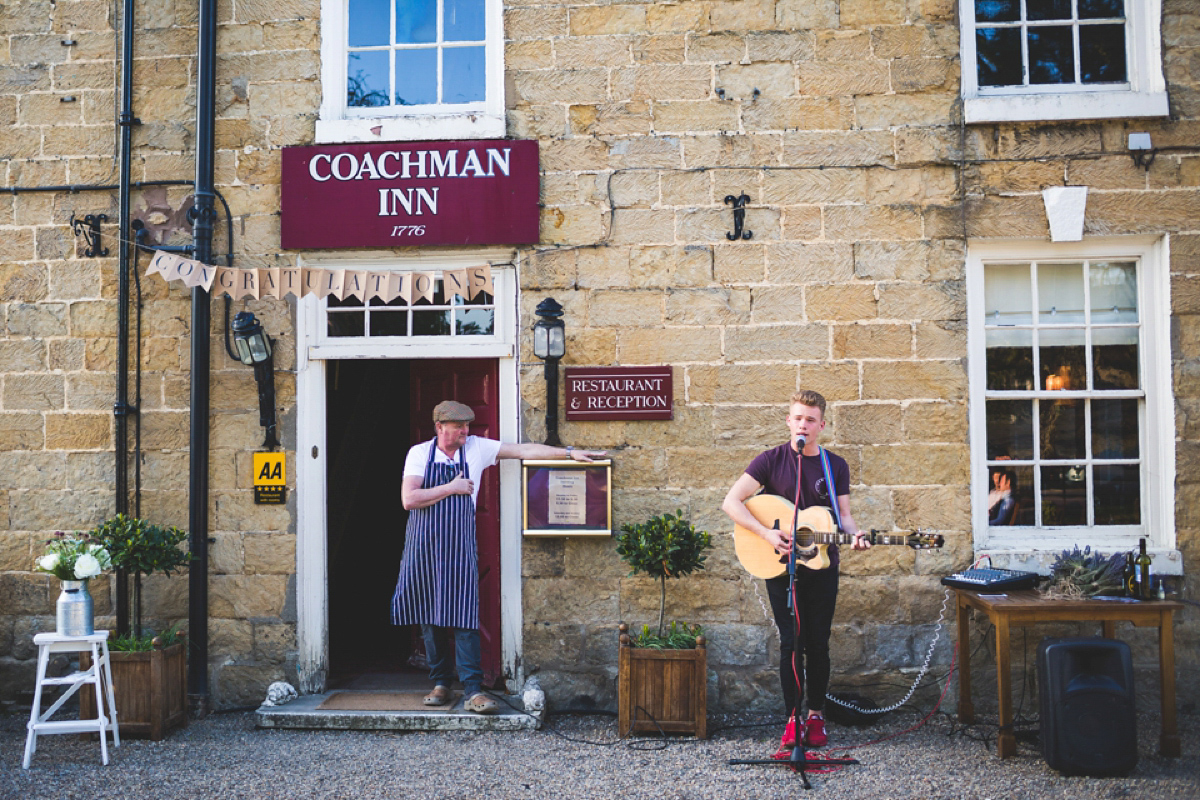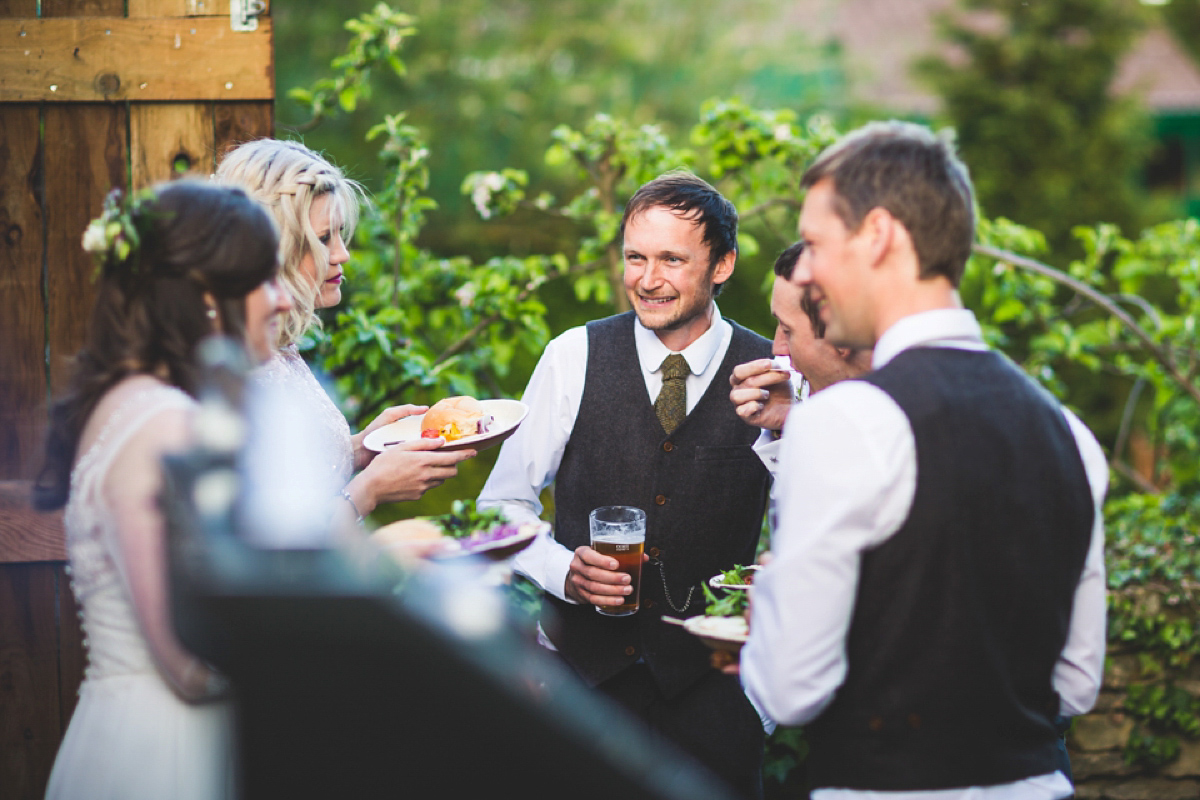 Words of Wedded Wisdom
"Don't be rigid with timings except for meal times. Let the day flow and don't be too concerned if things don't quite go as you imagined – let it go or it will stop you from enjoying everything else. I think doing this let me relax and have a day that worked out much better than I could have dreamt!
Don't forget about the little touches – make it reflect you. It's your day. The extra bit of detail gives the wedding that special touch."
Letting it go if something doesn't go to plan is very wise advice! A huge thanks to our lovely bride and groom and I've truly loved sharing your special day with our readers. I'm so inspired by the garden decor that I may just have to steal a few of your ideas.
Thank you also to Tony for sharing the couple's magical moments and be sure to see here for more of Tony's brilliant work we've previously highlighted.
Wishing everyone a wonderful and productive rest of week!
Love Jo -x-