I'm incredibly excited to be sharing this utterly magic wedding with you lovely readers today. I actually squealed with delight at first sight of the bride's stylish dress, tweed jacket and lace-up boots combo in these luscious images by Mirrorbox Photography – firm favourites of all of us here at Love My Dress headquarters and members of our Little Book for Brides.
Charlotte, an operations manager at a language school and Jim, a bar manager, married on 10th October 2015 at Errol Park in Perthshire, Scotland; a stunning estate complete with converted stables and a beautiful woodland where they held their ceremony.
"Our wedding was an eclectic mixture of things that look beautiful when you put them all together – including colours of turquoise, gold, and grey, gypsy banquet, feathers, knick-knacks, quirky, music festival, autumn, free-spirited, flea-market, woodland, and family and friends."
Many brides are able to find their outfit at a bridal boutique or online, but sometimes, even searching high and low, it's impossible to find what you're looking for – this very thing happened to me and I had my dress made.
Charlotte also experienced this dilemma during her search, so decided to design her dress with the help of her mum, grandmother and a clever dressmaker, Andrea Lucantoni. I love the result – look at the amazing detailing on the sleeves.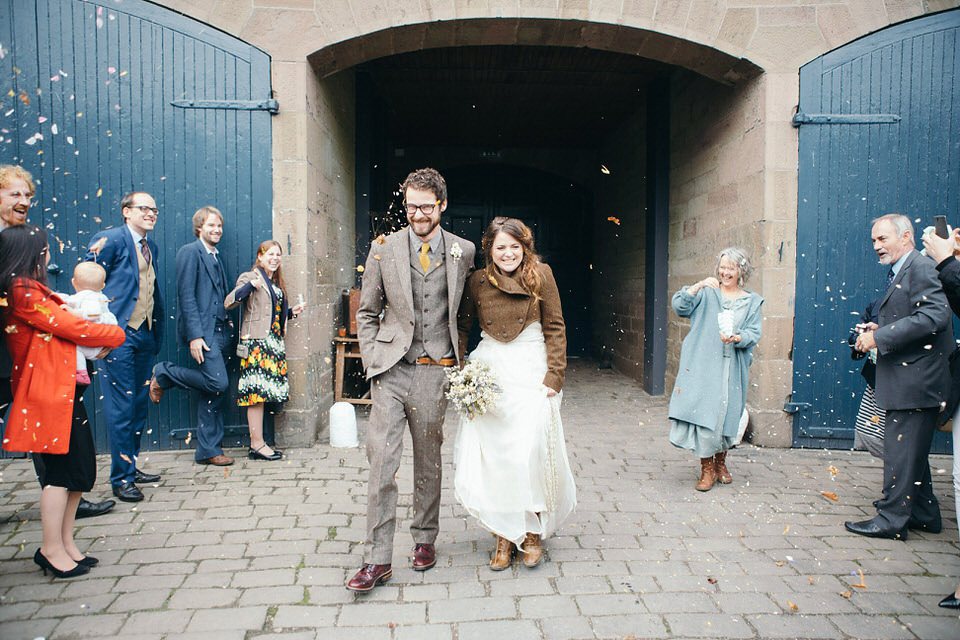 "I designed the dress with my mum, Brigit. I had a really specific design in mind and couldn't find anything like it in shops or online. The design definitely developed as my mum started pinning scraps of fabric to me but we just kept going until I had exactly what I wanted. She was very patient and I was very fussy.
My grandmother was lovely enough to buy all the chiffon and silk for us to make it and, for the details, we used some gorgeous vintage 20s lace that my mum had always had hanging in the house when I was a child."
"We found an amazing woman to help my mum put it together, Andrea Lucantoni. Andrea is very experienced and, as well as being an amazing tailoress, she is a great designer so she really helped guide us with what was actually possible and what would work well. She made me the dress I had always pictured and it was so comfortable, unique and didn't feel out of place in a woodland or boogying on a dance floor."
Charlotte donned *the* most groovy pair of leather lace-up boots by Steve Madden, a brown tweed jacket to keep the autumn chill at bay, wore feathers in her hair and accessorised with her everyday beaded necklace.
"I wear my Mala beads every day, so it made sense to wear them on my wedding day."
Charlotte's brother James was her 'Man of Honour' and her sister-in-law was bridesmaid and the epitome of hippy chic in her Anthropologie dress and Timberland knee high boots. Hair was by Gaye Taylor from Hairzone Perth with make-up by Elaine from Top Drawer Make-up.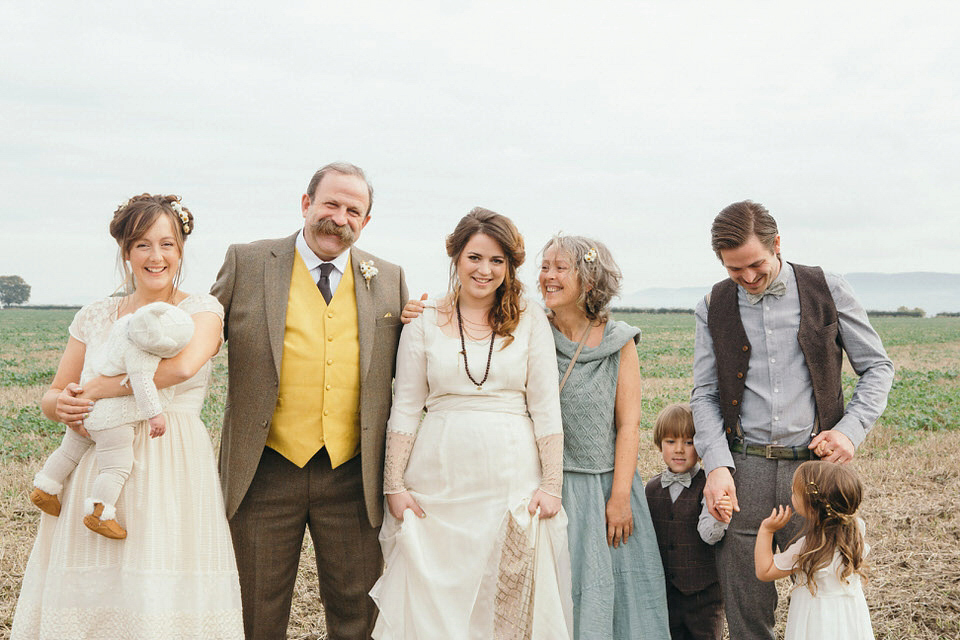 Jim sported a striking Walker Slater suit and tie, with shoes from Base London and an H&M shirt, whilst the rest of the party wore brilliant mismatched attire.
"Nick, Jim's best man, the other groomsmen, and my dad and brother all chose their own outfits. We just told them to go with a mismatch of suits, blazers, waistcoats, ties, bowties, smart trousers and keep to a colour theme."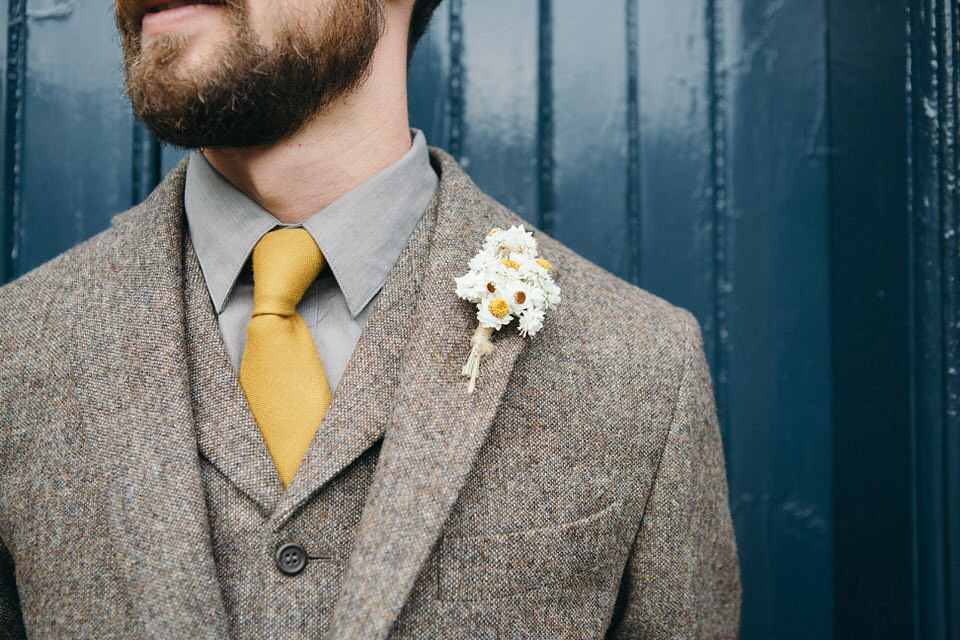 The dried wild meadow flowers were from Artisan Dried Flowers and I'm a big fan particularly of the pretty buttonholes featuring dried daisies – just right for a boho wedding.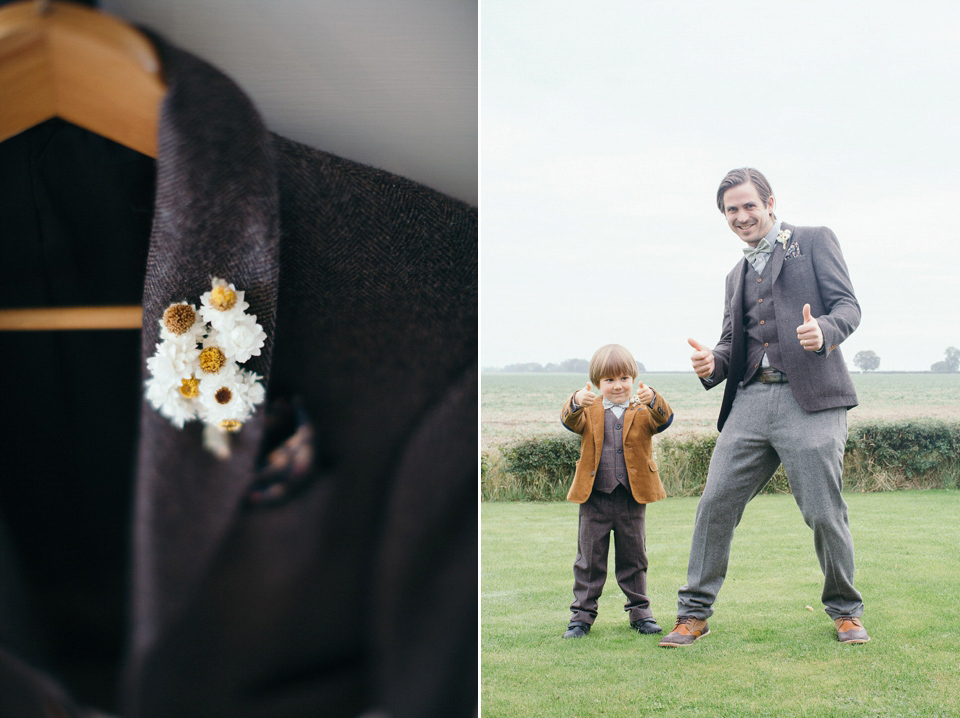 "Jim and I met when I was fifteen and was my first serious boyfriend, but I foolishly split up with him. He was my best friend then for the next eight years so was always a big part of my life. I think we both always assumed we would get back together one day, but I was always off travelling or working in different cities, so we led very different lives. We got back together about seven years ago. He was definitely my first love – I went off and experienced the world with out him for a while, but I'm very glad he waited for me!
When we got together again I spent the next five years asking him to propose and after me annoying him for long enough he eventually did (Jim might tell the story a little differently!)."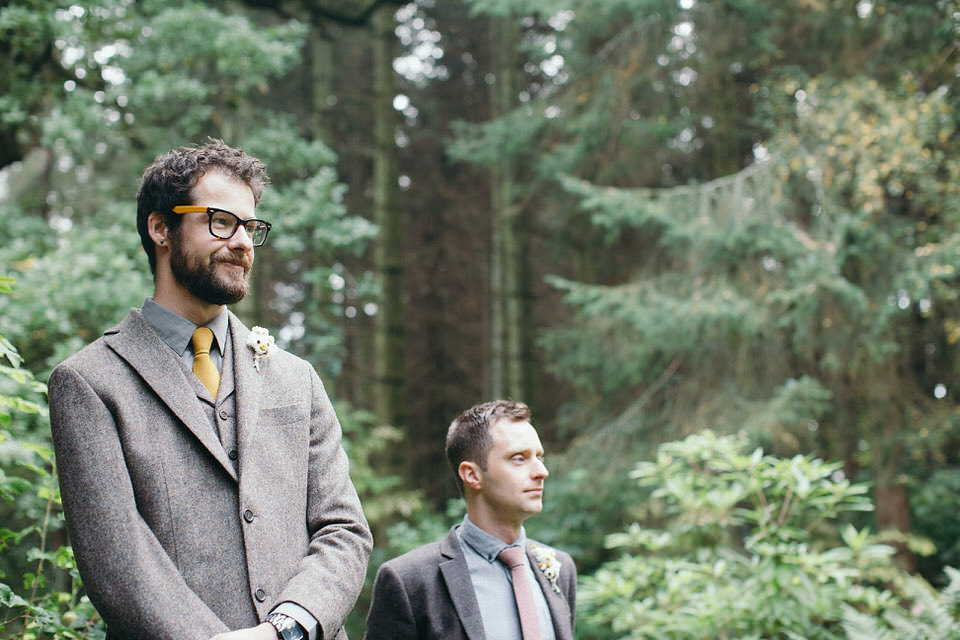 Charlotte's niece and nephew were the two little helpers and look so adorable in their wee outfits.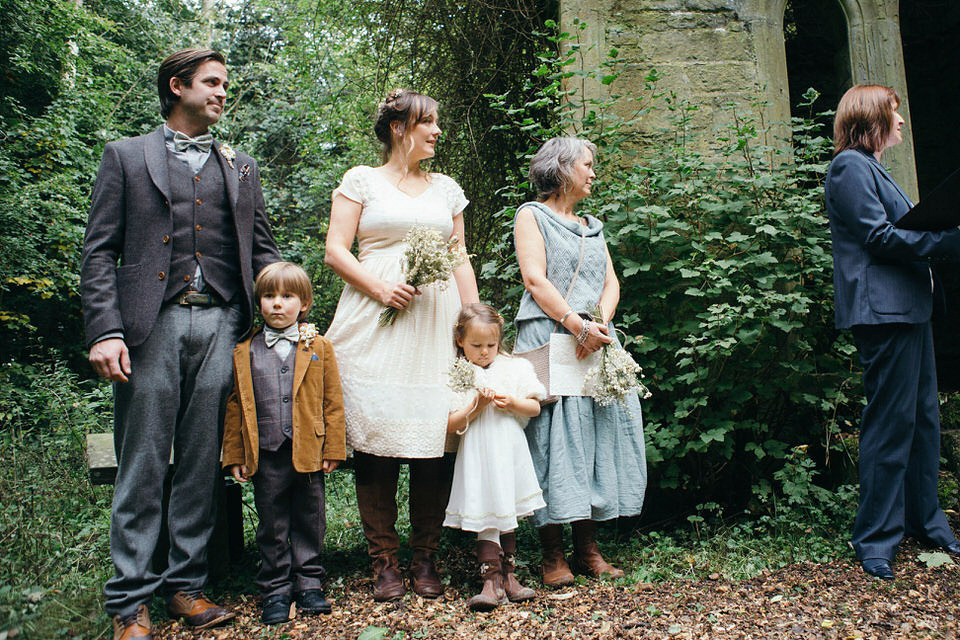 "My niece's dress was a 'shot of gold' dress we found online from I Love Gorgeous and my nephew's outfit was a mix of things from Boden and Accessorize."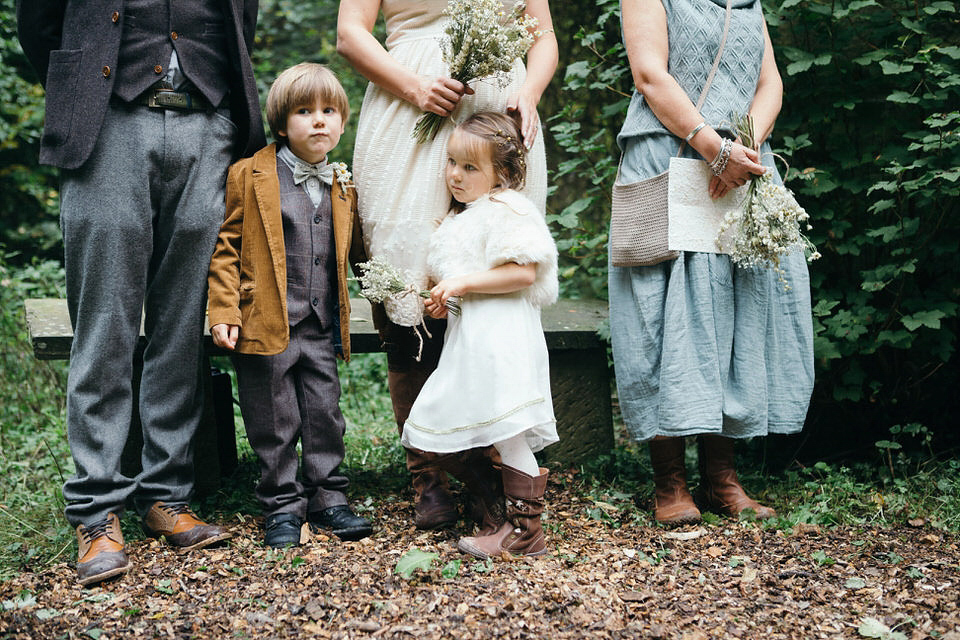 The couple married in a beautiful woodland area on the Errol Park estate. Music was by a very talented musical friend of Charlotte's and I simply adore these images of her walking down the aisle proudly with her dad amongst the trees.
"On the estate was a gorgeous little woodland area with an old folly we chose to use for our ceremony. I've always wanted to get married in a pretty woodland area so it was so perfect. It didn't need anything doing to it; it was just naturally beautiful."
"My engagement ring was actually my grandmother's. My wedding band was from 'Rock candy' in Edinburgh, whilst Jim's ring was from Rock Lobster.
A friend of mine, Anna-Mieke Music, provided the music for the ceremony, reception and our first dance. She has the most magical voice and I was so happy that her and her band were able to travel over from Ireland to play for us. Anna-Mieke's version of  'Love is All' (with slightly edited lyrics!) by the Tallest Man on Earth was so beautiful; an acoustic guitar, two female voices and a ukulele. The moment I heard it I started to cry! I honestly couldn't have asked for more, walking into the woodland to see all my friends and family smiling and a gorgeous song being sung. It was more perfect than I could have ever imagined it to be."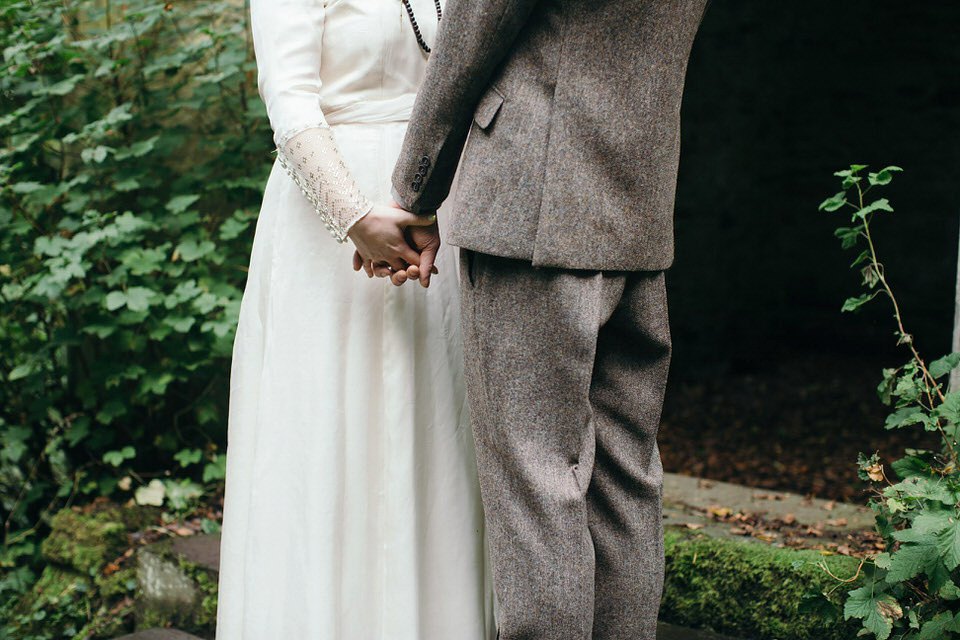 Charlotte's mum and brother chose the couple's readings – this is a really special way to include family members in the ceremony.
"My mum, Brigit, read 'A Lovely Love Story' by Edward Monkton. It's about two dinosaurs!
My brother, James, read an extract from Phillip Pullman's 'The Amber Spyglass'. It's lovely and it finishes as follows:
"Every atom of me and every atom of you…
We'll live in birds and flowers and dragonflies and pine trees and in clouds and in those little specks of light you see floating in sunbeams …
And when they use our atoms to make new lives, they won't just be able to      take one, they'll have to take two, one of you and one of me."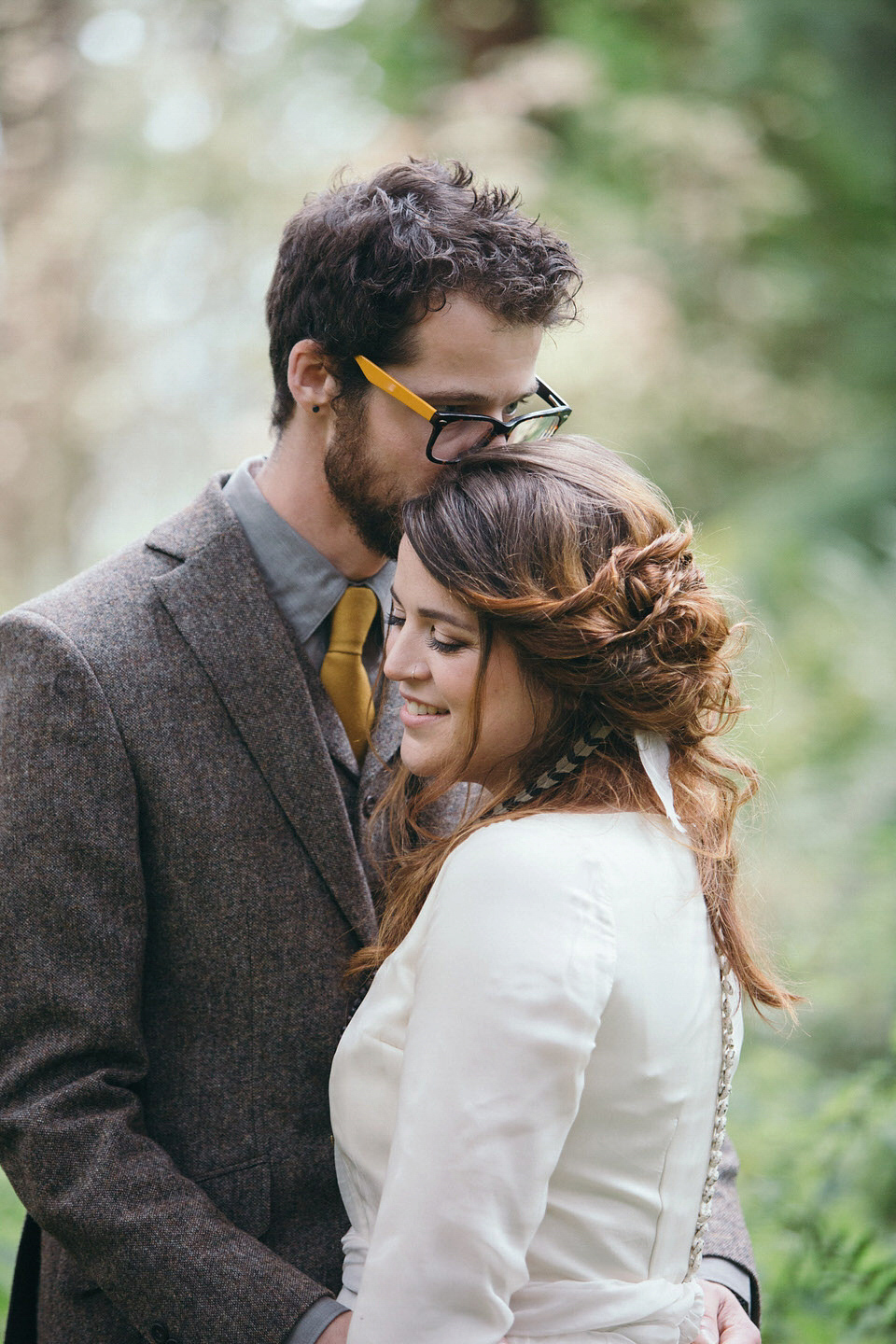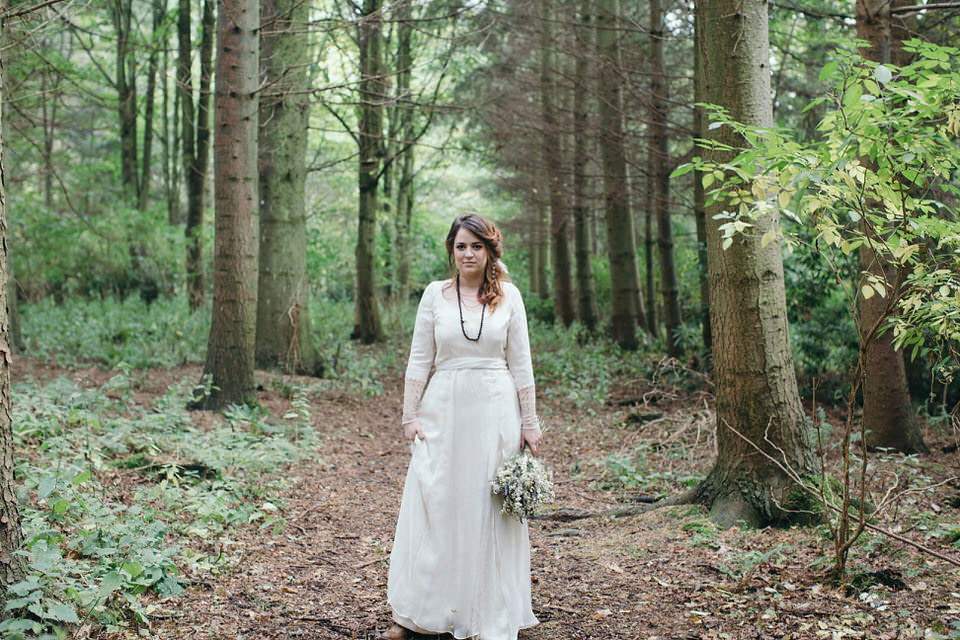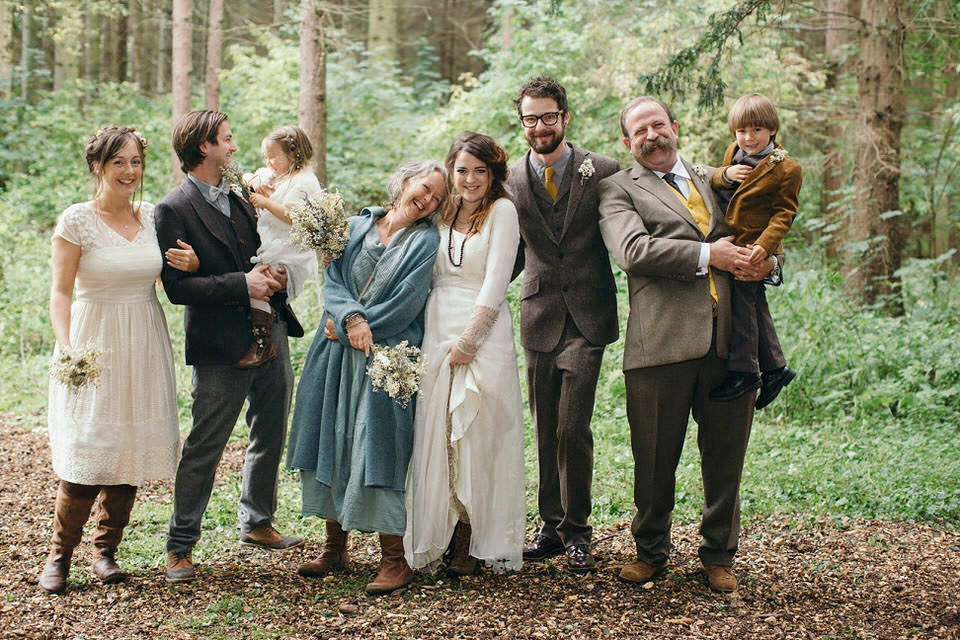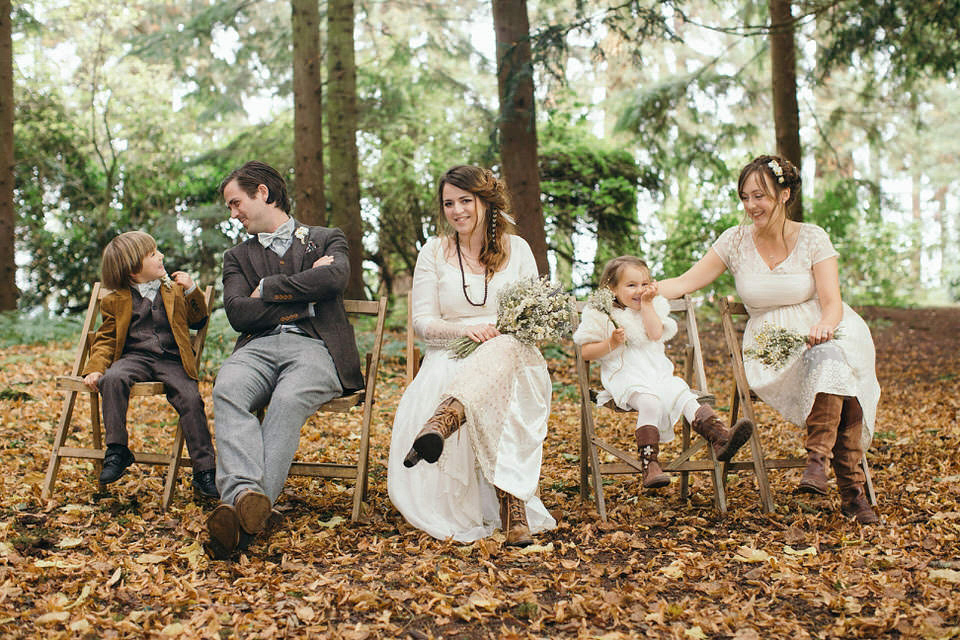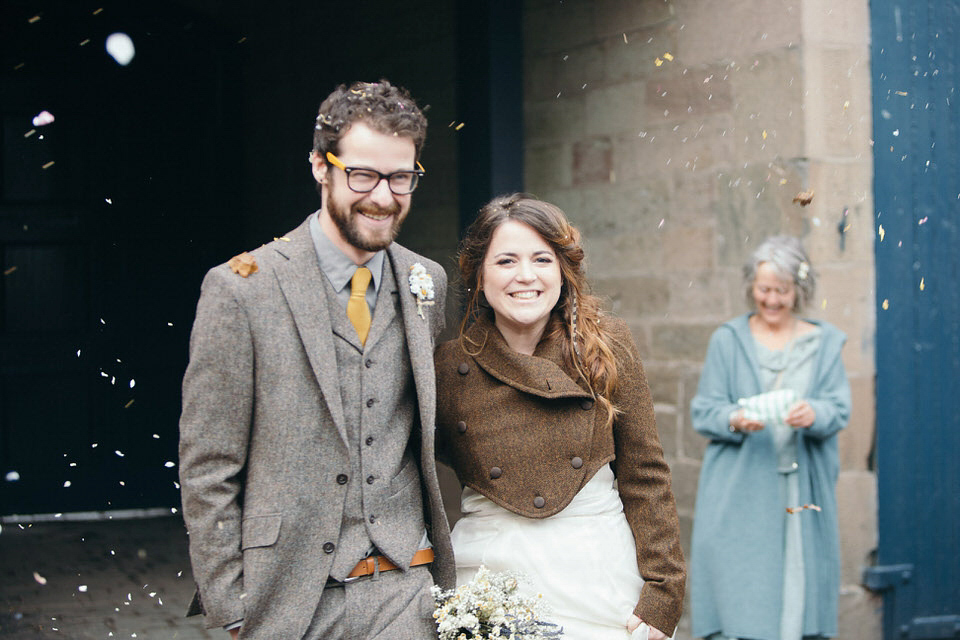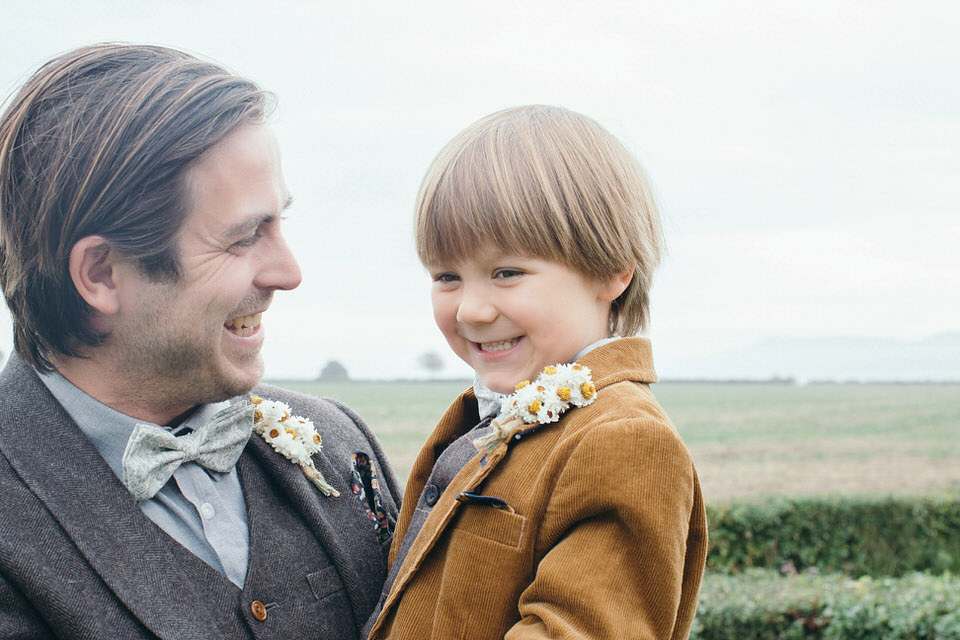 Banjo Lounge 4 entertained guests for the evening party – and Anna-Mieke played their first dance song, which took a wee while to decide upon.
"We spent so long trying to choose a song. Everyone these days seems to be really creative or most couples have a song they think of as 'their song' so it's a simple choice. We very nearly choose to have a Smiths' song, but decided the lyrics were way too depressing for a wedding. Eventually, we decided to keep it short and sweet (and a little soppy) and went for 'The Wedding Song' by Angus and Julia Stone as we both love the song."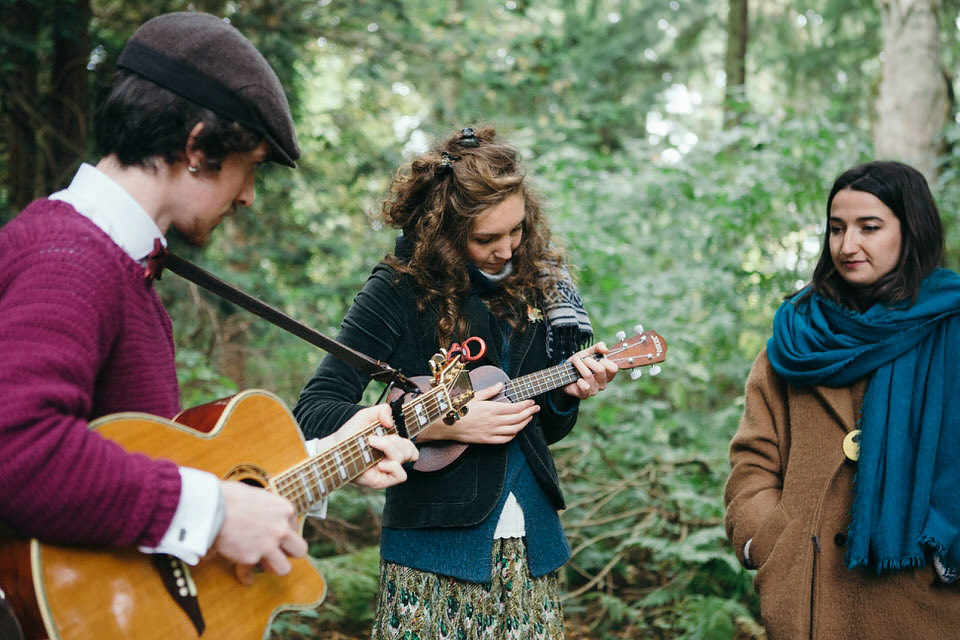 Wild Rover Food provided tempting cuisine for everyone – then the couple opted for a dessert table full of delicious goodies. Check out the sweet little felt cake-toppers.
"Our friend, Grace, made three amazing cakes for us – apple and cinnamon, pumpkin and maple, and a vegan carrot cake. We also had brownies from our caterers and about two hundred little friand cakes from Karen, an artisan baker from The Friand Cake Company who we met at Stockbridge Market in Edinburgh."
The reception was held indoors in the converted stables space. Tables and chairs were from Virginia's Vintage Hire, with the tables covered in an assortment of candlesticks, bottles, lace, table names of photos of the couple in frames – and beautiful dried flower arrangements via Artisan Dried Flowers. The creative couple designed and made their stationery and for favours for their guests, they gave everyone a scratch card in a little envelope, which doubled up as a place name. Jim and Charlotte loved their venue for different reasons.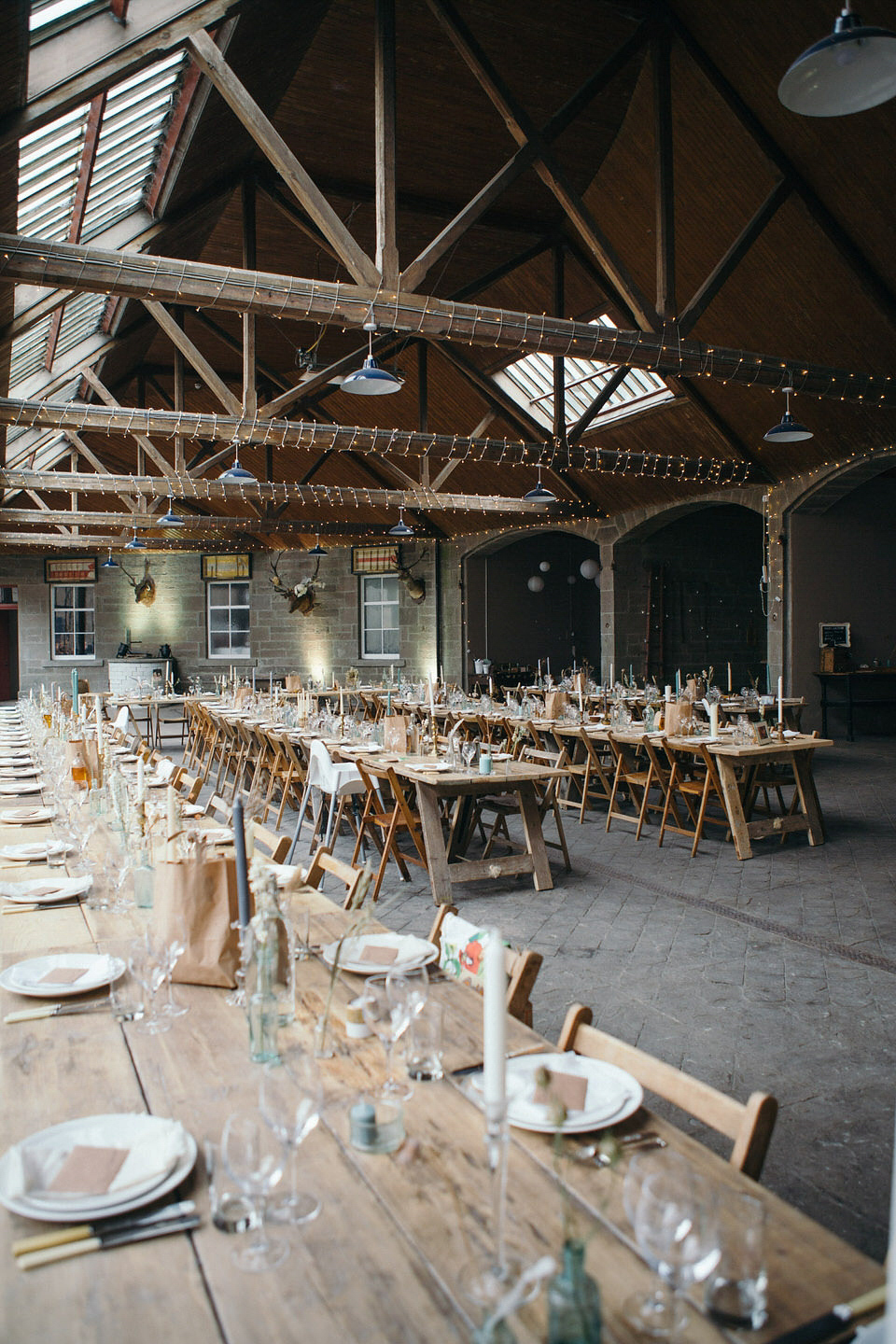 "Jim liked the rustic, slightly more masculine part of the venue – the bar and a couple of the little reception rooms, the stags on the walls, vintage leather chairs, lots of old stone and original features. For me, I loved the fact it was a bit of a blank canvas and we were able to put our own stamp on it. The area we had our main reception in was really adaptable, light and spacious; lots of space to choose how to arrange things but also some nice little nooks and crannies for things like a children's area, sofas and guitars, cake table or somewhere for the band to play. It was obvious that you could easily get creative with the space so it was perfect for what we had in mind."
Another bonus was that we had access to the converted stables for the four days before the wedding to set up everything. It just seemed like the ideal location for a DIY wedding.
It's definitely worth mentioning that Jamie and Jamie, who own Errol Park, were so helpful and kind and extremely laid back but there to help whenever we needed them. They really helped make our wedding special."
In the lead up to their nuptials, the couple collected an eclectic range of decor to style their wedding (which completely filled a room in their home!) and I just adore the relaxed and homely look they achieved.
"We found most of the decorations from going to car boot sales, charity shops, and shopping on eBay for a year and picking up bargains every time we went out. I couldn't resist a couple of beautiful items from Anthropologie to mix in with everything. We ended up with a room in our house full of candlesticks, vintage glass bottles, platters, cutlery, blankets, cushions, fabric, fabric and more fabric!"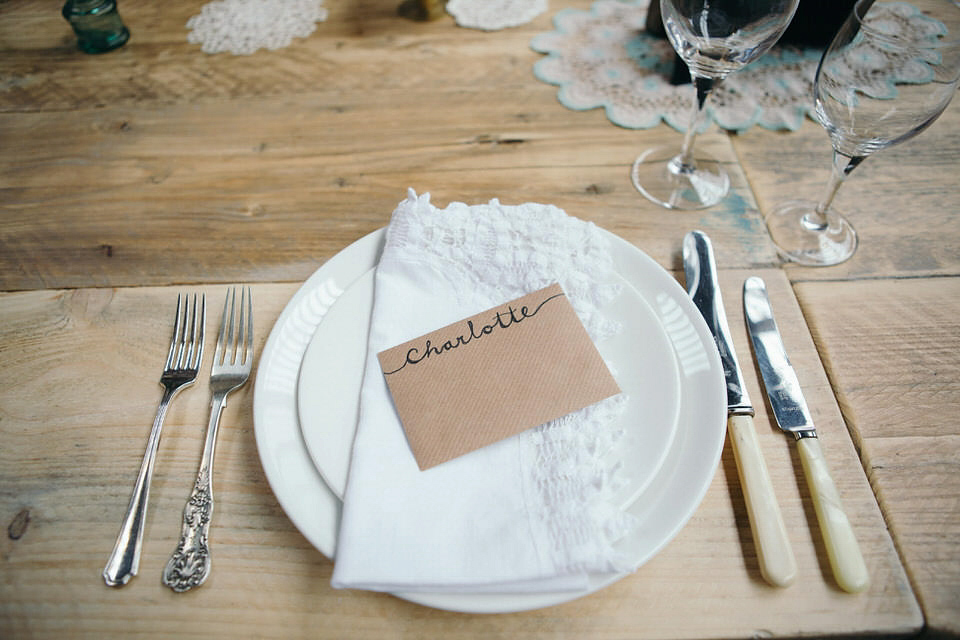 "We created a children's area with a teepee, arts and crafts table, sweets and goodies table and comfy throws and cushions galore.
We also had an 'escape' area with guitars, a ukulele and a banjo, board games, a polaroid camera guest book, warm blankets and comfy sofas."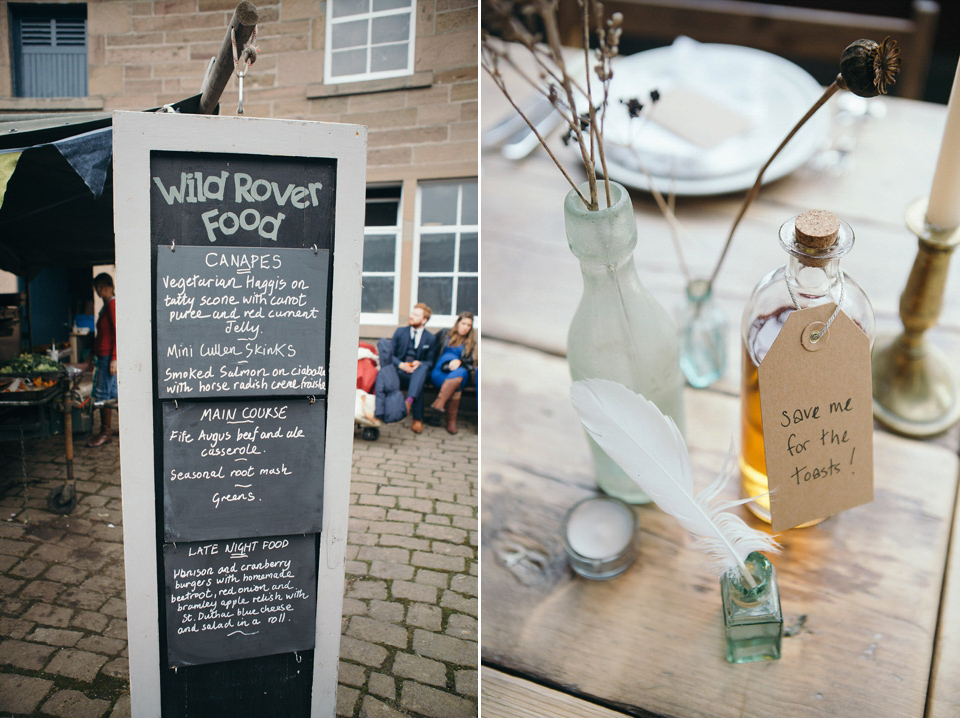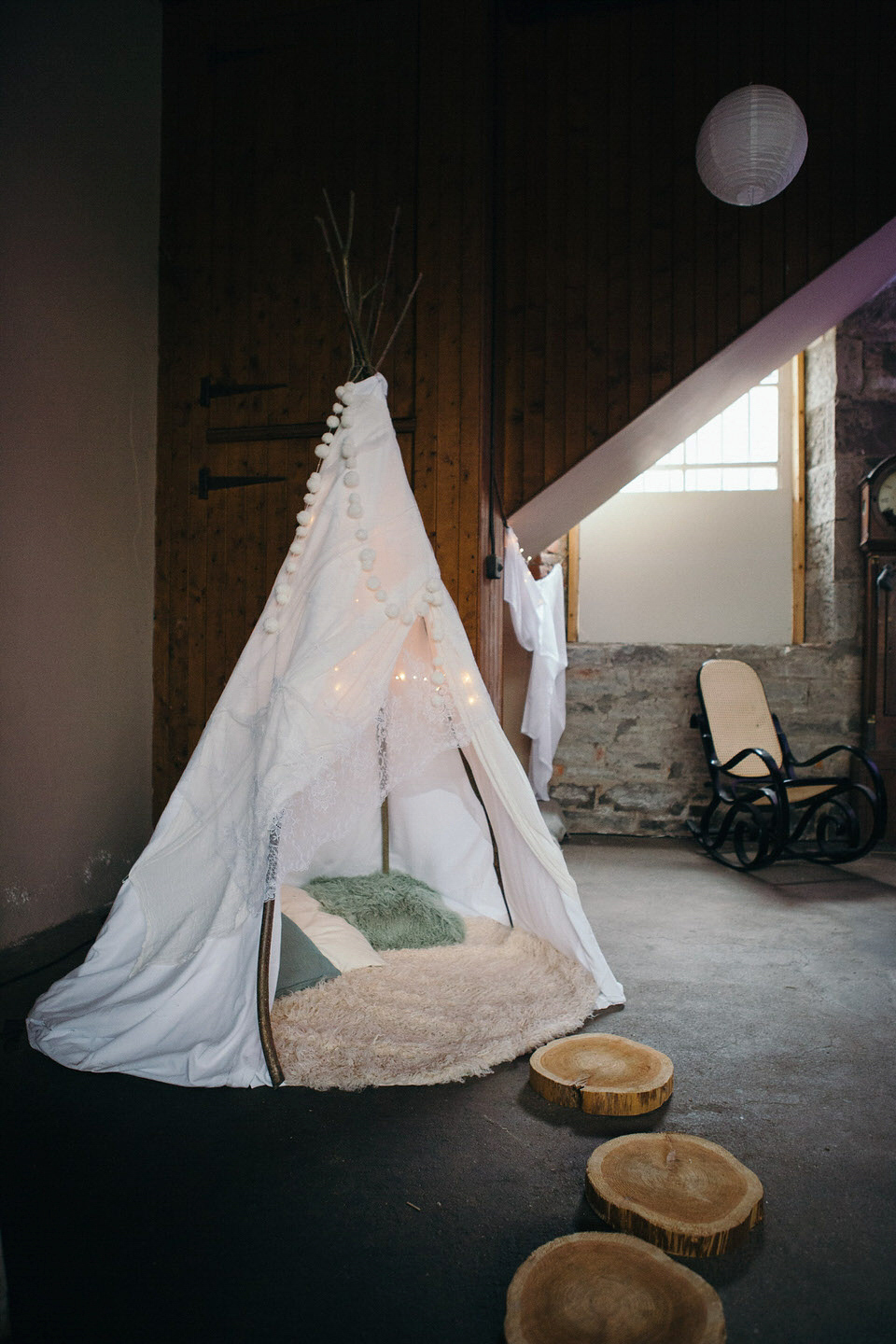 "I loved my dad's reaction when he saw me in my dress, I enjoyed the fact that everyone was smiling, cheering and giggling during our ceremony, saying our vows made me surprisingly emotional, seeing family and friends I haven't seen for ages was amazing but probably the best part was just feeling so happy all day! I don't think either Jim or I have ever smiled so much in one day."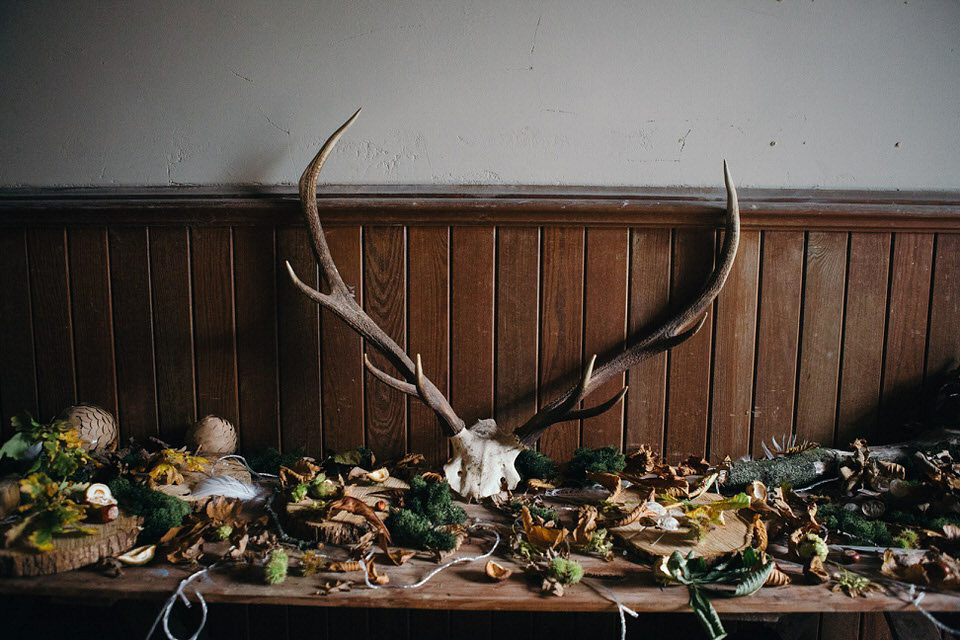 "Our wedding day wouldn't have been possible without the help of our family. They did everything to make the day as special as we had hoped and we couldn't have done it without them.
I really wouldn't change anything on the day. I would maybe go back and not stress as much with the planning. It all came together and even if something had gone wrong I wouldn't have cared, I was distracted having a good time and being happy I was finally married to Jim!"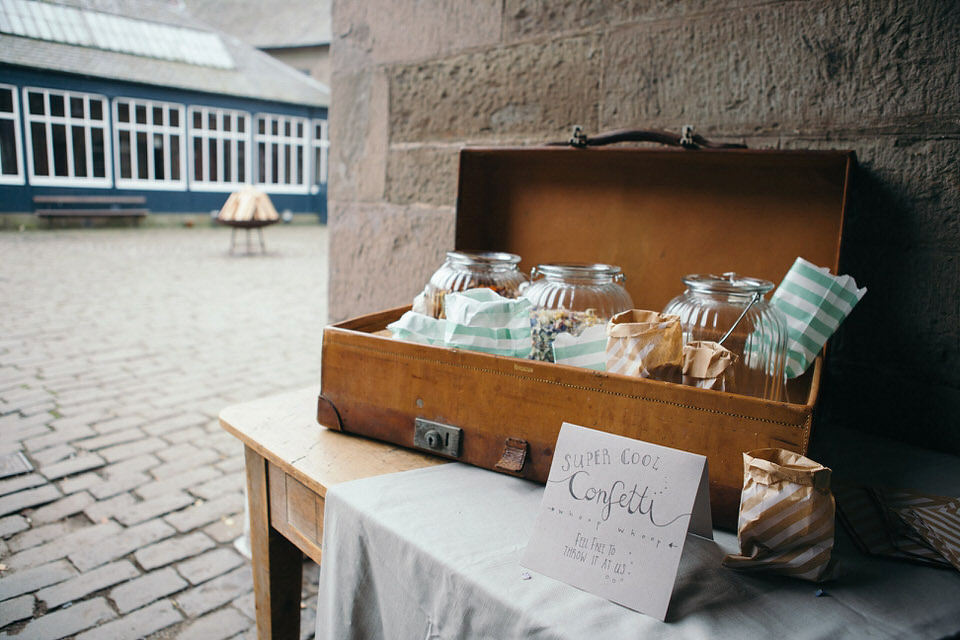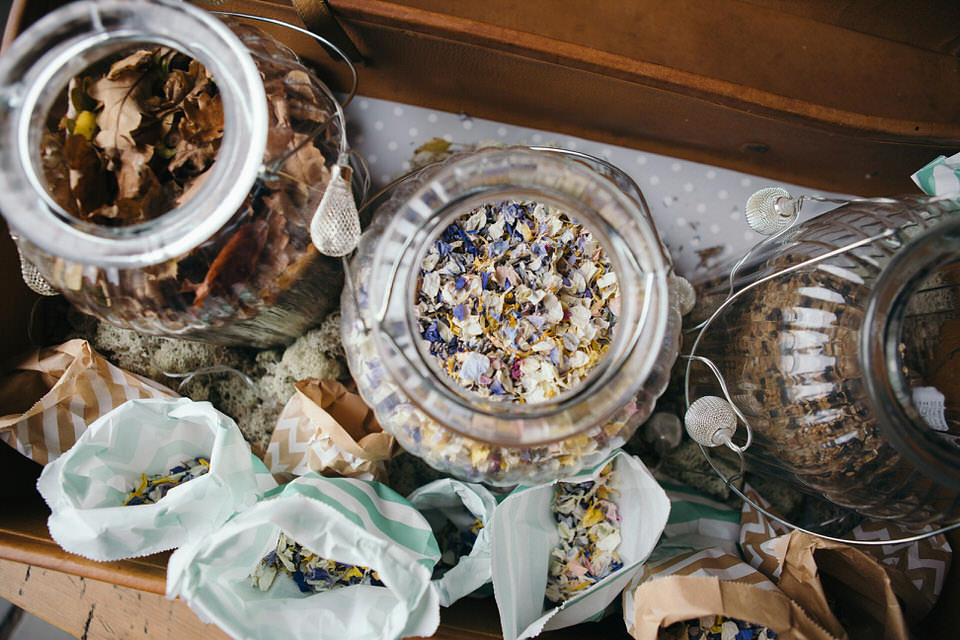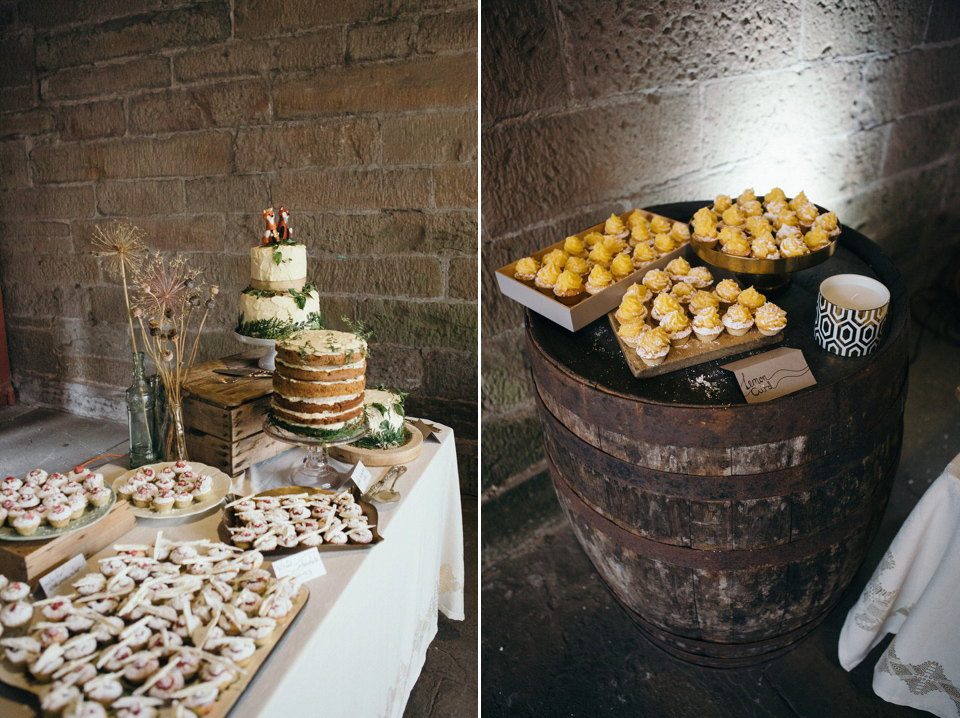 The family photos of everyone in their relaxed attire bring such a huge smile to my face and I bet they make you happy too. Yes, it's the incredible work of the gorgeous and hugely talented ladies from Mirrorbox Photography – you can view more of their fabulous work we've previously highlighted here.
"Sequoia and Lauren from were fantastic. We had a little meeting before hand with Sequoia for her to get to know us and she took some engagement shots so we could get used to being photographed.
The photography was one of the most important things for me to get right and I was not disappointed. Sequoia is great at making you feel completely at ease and fitted in around us and our day. She took beautiful, natural shots and really captured how happy the day was. We would recommend Mirrorbox Photography to anyone who wanted natural, creative, reportage-style photographs."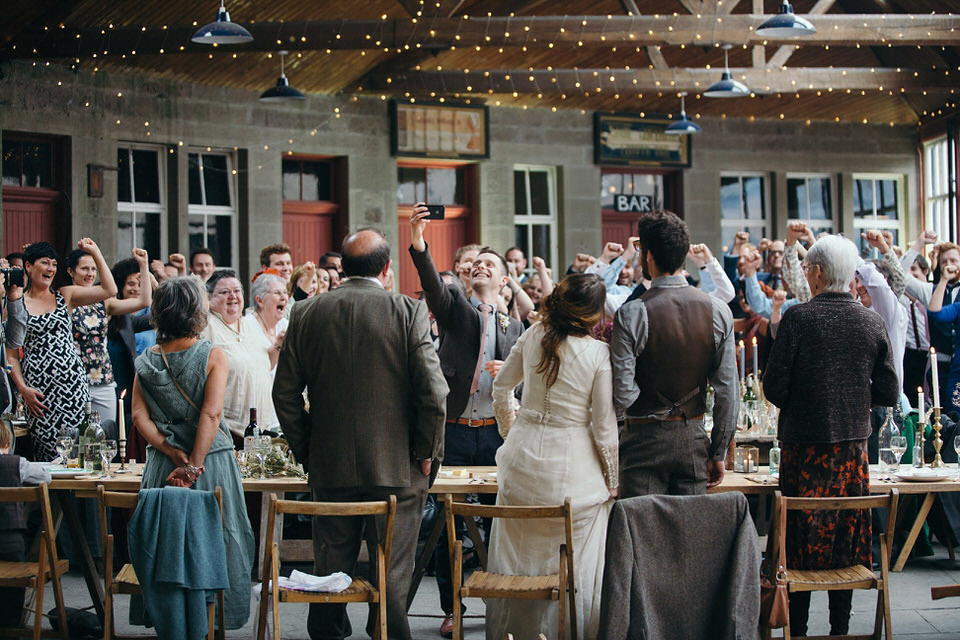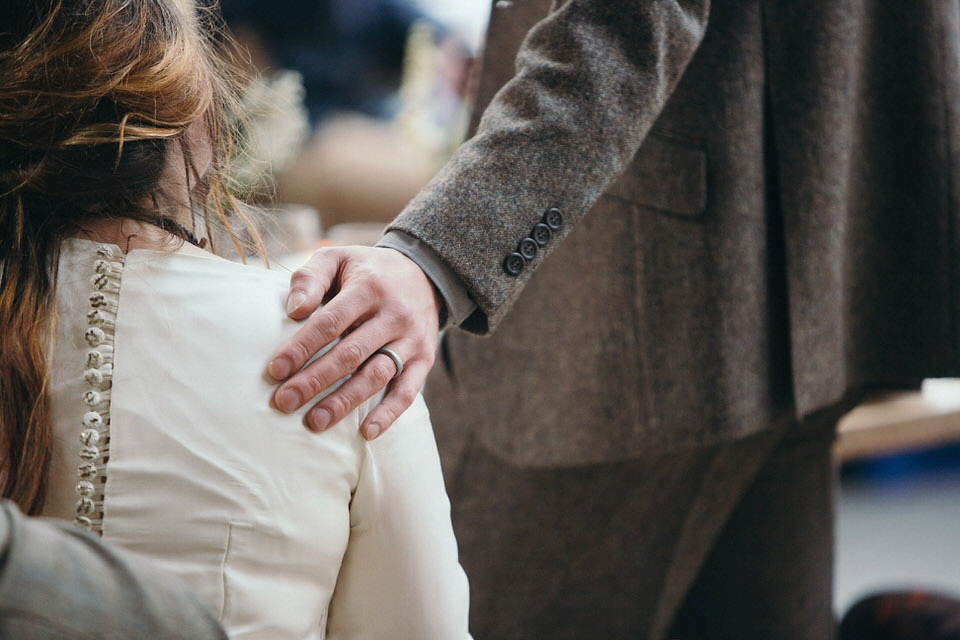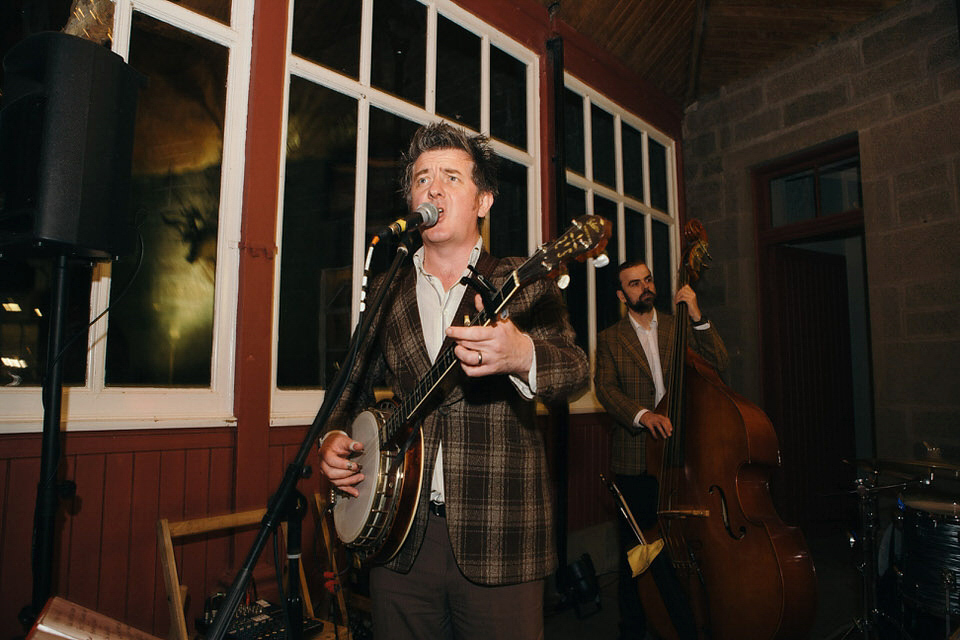 Words of Wedded Wisdom
"Definitely don't worry about things going wrong or not to plan. Try to take some time when it's just the two of you. It's so easy to make the wedding all about your guests but the little moments with the person you are marrying are the special bits.
Dance a lot! But most importantly, get the caterers to save you some of the nibbles! You'll be so busy with guests and photos that you might miss out on all the yummy canapés."
This is such excellent advice from lovely Charlotte – I only received a tiny morsel of the divine canapés that hubby and I had spent ages ogling over in the planning! Wow, it's been such a pleasure preparing this feature for you wonderful readers. Be sure to soak up all of its divine beauty and thank you so much to Mirrorbox Photography and the gorgeous couple for sharing their simply magical day.
Wishing you all a productive week ahead – I'm off right now to find a tweed jacket just like Charlotte's that's going to keep me warm and toasty here in Australia. Winter is coming!
Love Jo -x-