Hello readers, today I am presenting to you my first wedding at Aynhoe Park, this is a venue I have long been in awe of and is host to some of the most beautiful weddings, although with a setting like that it's near impossible to go wrong. It's also not very often (in fact, I'm not sure it's ever happened before!) we hear of this but the groom organised the whole day, as he works in events.  How cool is that? Please meet Naomi and Anthony as they share their spectacular wedding day held on the 17th of October 2015.
"We made our wedding a weekend event, with 30 of our close family and friends staying in the venue with us the night before the wedding. We had tea and cake on arrival (hosted by the Aynhoe butlers) and then got ready for a relaxed supper and champagne reception in the Orangery. We awoke the next day and the boys of the wedding party went clay pigeon shooting nearby, so the girls could have the run of the house getting ready. This worked really well for everyone as it meant the boys could get any tensions out of their system and I wasn't trapped up in my room all morning!"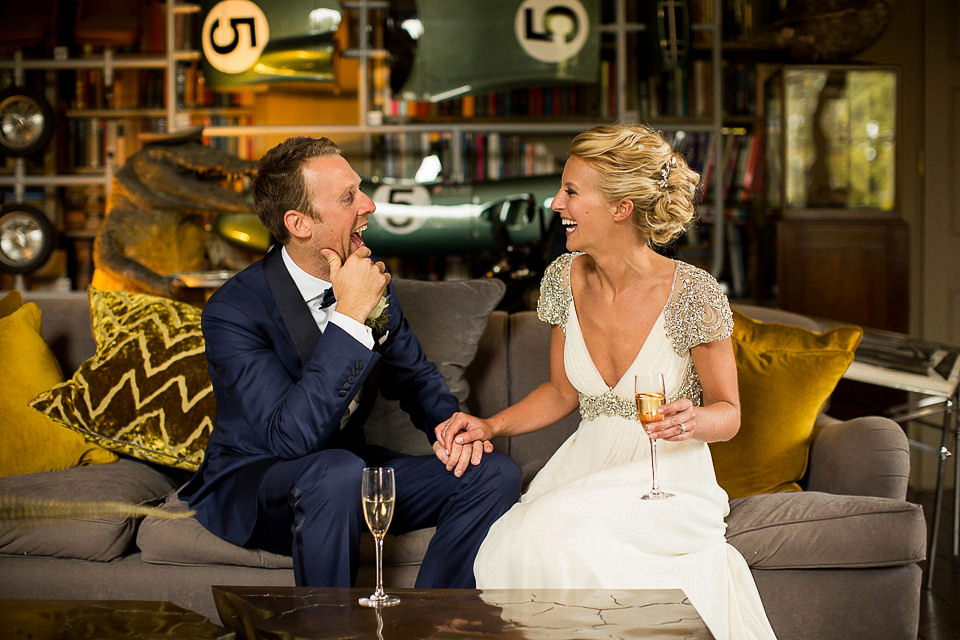 Naomi and Anthony chose Little Book for Brides member Matt Parry to capture their day in the most beautiful possible way.
"Matt really captured the emotion's of the day for us, as we didn't have a videographer the photography piece was key- and Matt really checked all our boxes and more."
"The images are so emotive, and capture some wonderful moments we will cherish forever.  We have recommended Matt to many other couples, and a few have already signed him up for their upcoming weddings!"
"We met four years (almost to the day) before our wedding – introduced by two close friends. We were engaged fourteen months until we were married – this was the perfect amount of time to plan our wedding, not too long, not too short."
"The venue was the key – we felt like that Aynhoe Park had history, a story, a sense of fun, adventure and surprise! As Aynhoe is so spectacular filled to the brim with taxidermy and amazing furniture we knew we wouldn't need much to style the venue. Anthony was also familiar with the venue, and the second I laid eyes on it on the website – before even visiting, I knew it would be perfect – we had pretty much agreed everything before I had even seen it for the first time."
Jo Irving of Loves Hair did both the bride's and bridesmaids hair and makeup.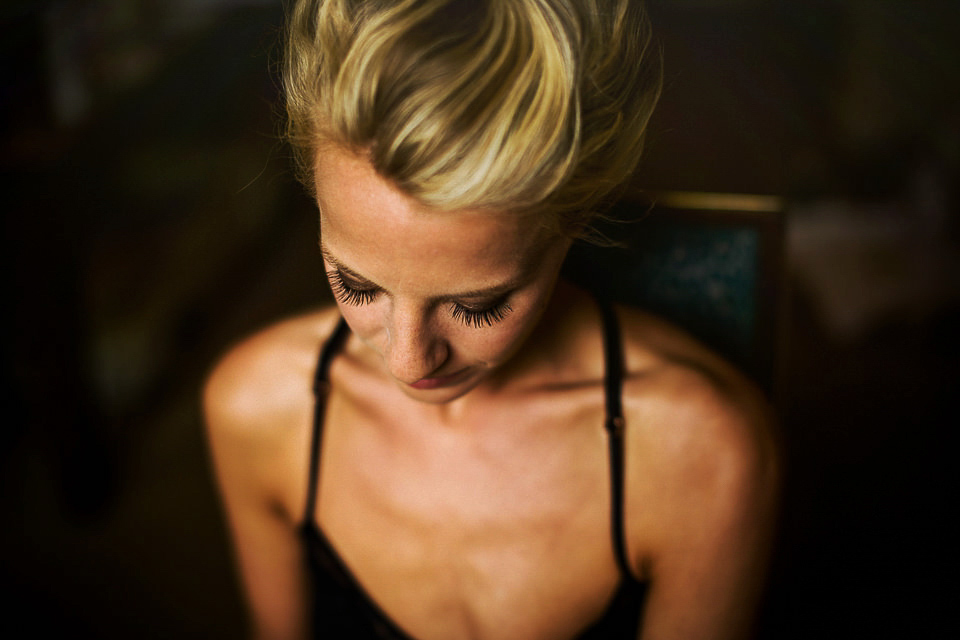 Naomi completed her look with a pair of Jimmy Choo's, Kelly Spence hairpins and Chanel Mademoiselle.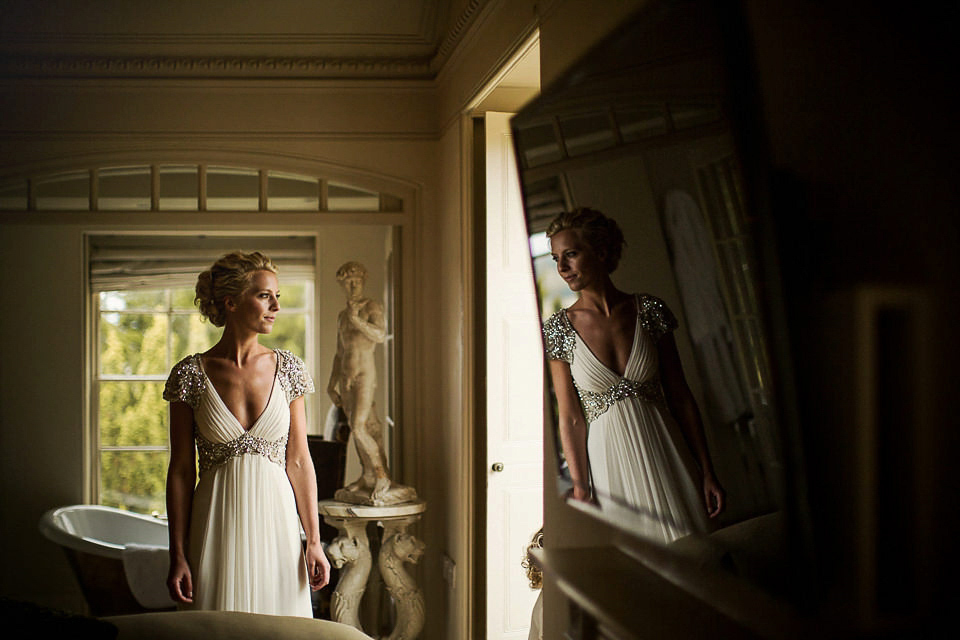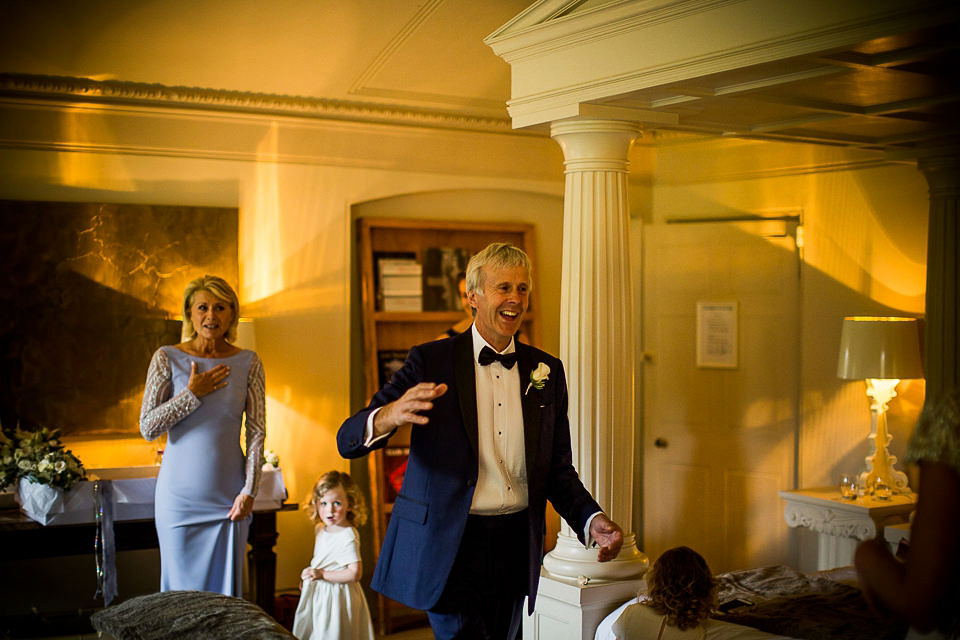 Now maybe I have spent far too many hours looking at dresses but I could immediately tell that Naomi was wearing Jenny Packham, the Noa dress just oozes her signature style with that stunning back. Naomi got her dress directly from the Jenny Packham boutique in London.
"The back detail won me over, it was the perfect amount of sparkle! We hadn't decided to do black tie until I chose the dress, then it all started coming together."
Anthony and his groomsmen all had navy tuxedos bespoke made by Neil from McCann Bespoke and the groom finished his look off with a pair of Loakes also from McCann Bespoke.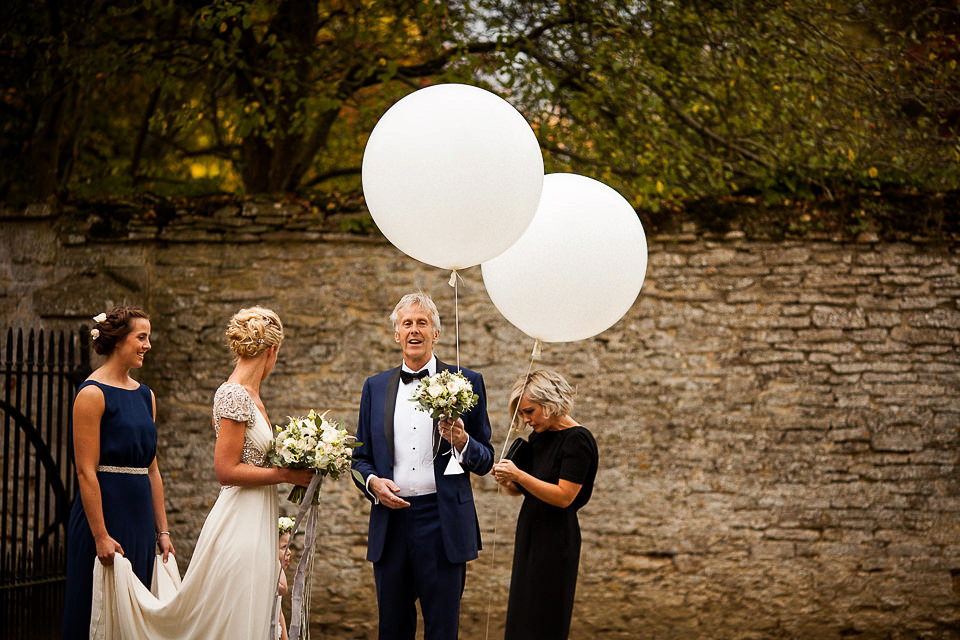 "The two flower girls walked down the aisle in church holding a giant white balloon each, made for some amazing photos. We also had two silver balloons on each table holding the table number, and a mixture of silver and ivory balloons in the Orangery which really set the room off and went well with the disco balls."
Naomi walked down the aisle with her father to Canon in D Major by Johann Pachelbel.
"My father sings in a choir at a local church so his choir and organist came to perform at our wedding. We have never heard a wedding party sing so loudly!"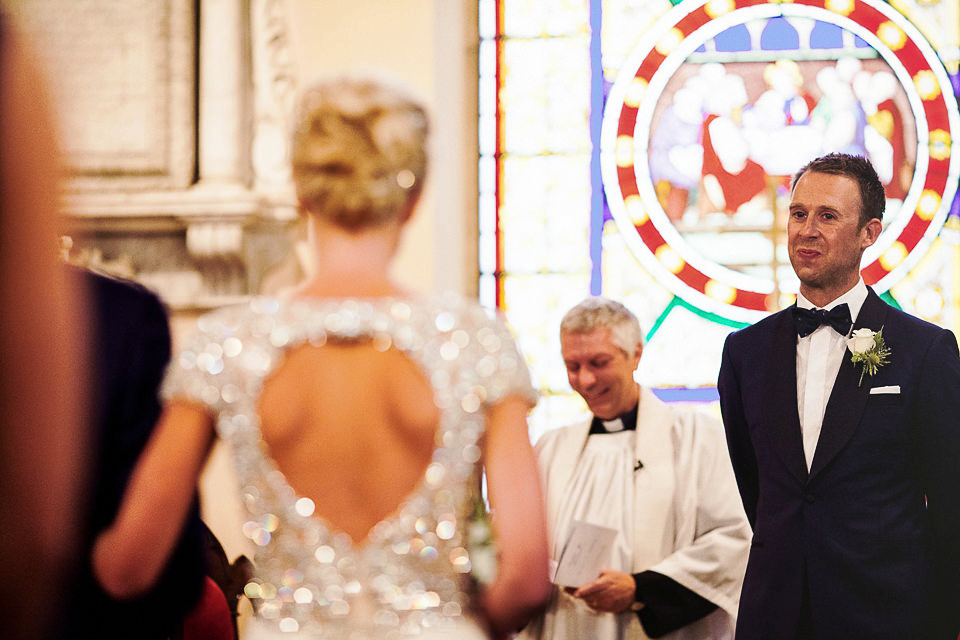 The couple chose a reading from the Bible for their ceremony, Romans 12: 9-21, 'Love in Action'
Love must be sincere. Hate what is evil; cling to what is good. Be devoted to one another in love. Honor one another above yourselves. Never be lacking in zeal, but keep your spiritual fervor, serving the Lord. Be joyful in hope, patient in affliction, faithful in prayer. 13Share with the Lord's people who are in need. Practice hospitality.

Bless those who persecute you; bless and do not curse. Rejoice with those who rejoice; mourn with those who mourn. Live in harmony with one another. Do not be proud, but be willing to associate with people of low position.c Do not be conceited.

Do not repay anyone evil for evil. Be careful to do what is right in the eyes of everyone. If it is possible, as far as it depends on you, live at peace with everyone. Do not take revenge, my dear friends, but leave room for God's wrath, for it is written: "It is mine to avenge; I will repay,"d says the Lord. On the contrary:

"If your enemy is hungry, feed him;
if he is thirsty, give him something to drink.
In doing this, you will heap burning coals on his head."

Do not be overcome by evil, but overcome evil with good.
"Anthony's usher also read 'The Life That I Have' by Leo Marks."
The life that I have
Is all that I have
And the life that I have
Is yours.
The love that I have
Of the life that I have
Is yours and yours and yours.
A sleep I shall have
A rest I shall have
Yet death will be but a pause.
For the peace of my years
In the long green grass
Will be yours and yours and yours.
"The Life that I have was written by Leo Marks on Christmas eve of 1943 during WW2 as a tribute to to his late girlfriend. The poem was chosen as Anthony's father proudly fought in WW2 as a member of the Bomber command.
Sadly Anthony's father Geoffrey is no longer here with us so we remembered him through this poem in church. Ian gave a tribute to Anthony's late father before the reading and it had the whole service in tears and was very moving. Anthony designed my engagement ring with James Heath who made our rings."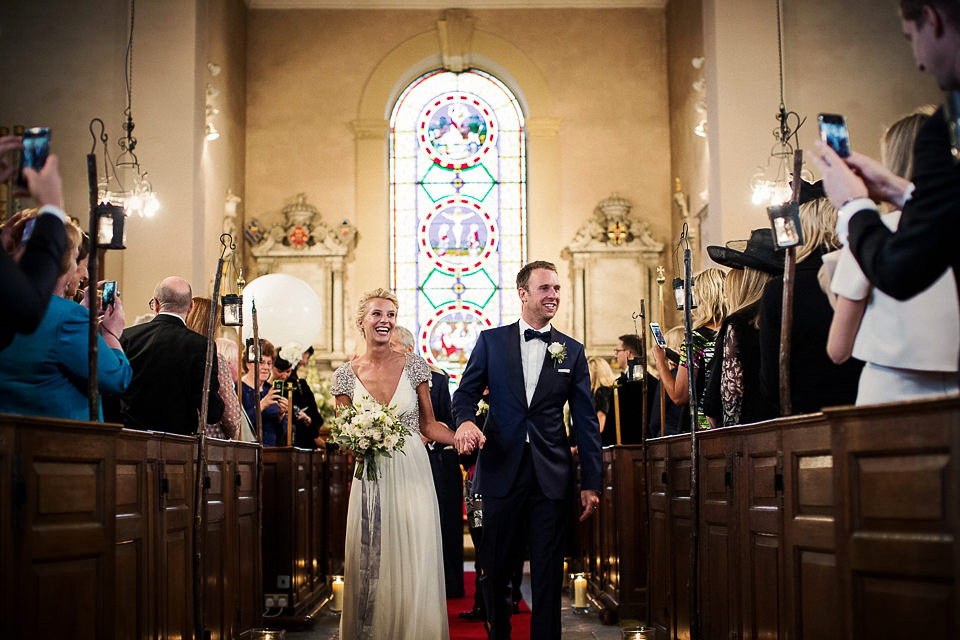 "There was no doubt we would also get married in church, so having the St Michaels church pretty much on Aynhoe's grounds made for a perfect day – no transport required!  However, as Anthony and his family have always been involved in cars, despite there being no need we just had to get a car involved somewhere- Anthony's Step Father Mike's Jaguar E type looked great in the photos- and meant we could get a quick escape from the wedding party after saying our vows and have a moment or two as husband and wife alone."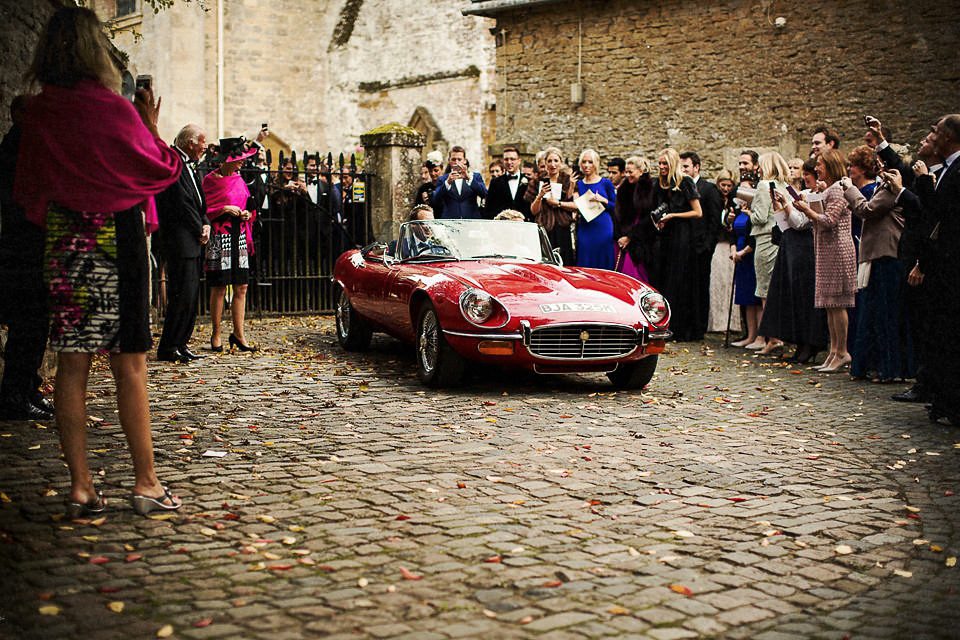 The couple chose Charlie Quarterly of The Flower Fairies to create the exquisite white and green arrangements for their day.
"We loved Charlie's style and how she puts flowers together. I couldn't have dreamt how perfect the flowers would be…and seeing them for the first time brought the first tears of the day to my eyes!
For me the whites, with the slight hints of blush was exactly what I was looking for.
I purchased some beautiful silk ribbon from Lancaster & Cornish so I could have ribbons (and sequins!) trailing from my amazing bouquet.
I also begged Charlie to source some anemones for me…it was touch and go as they were slightly out of season, but thankfully she was able too. Anemones are my absolute favourite flower now."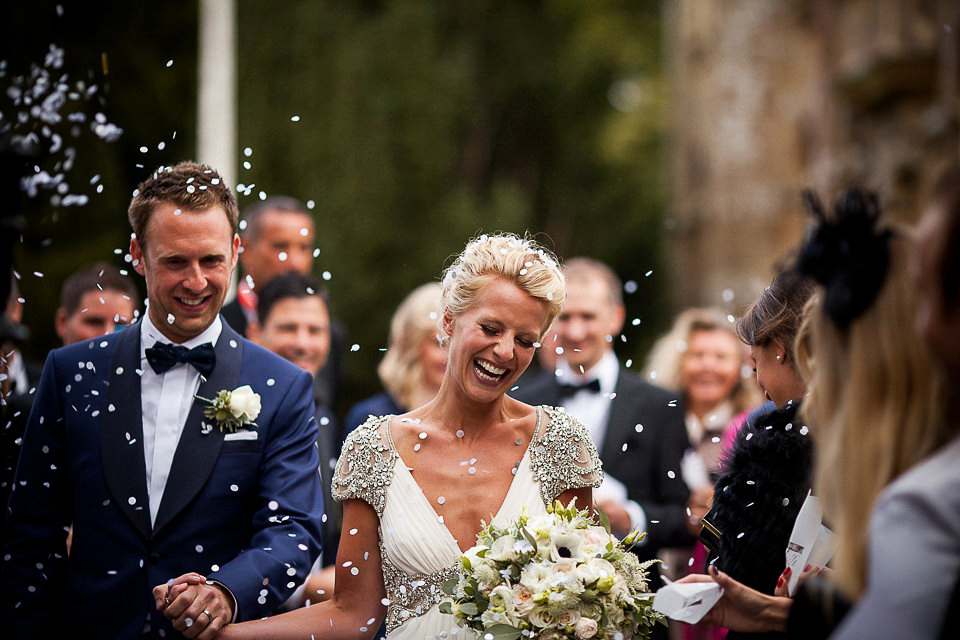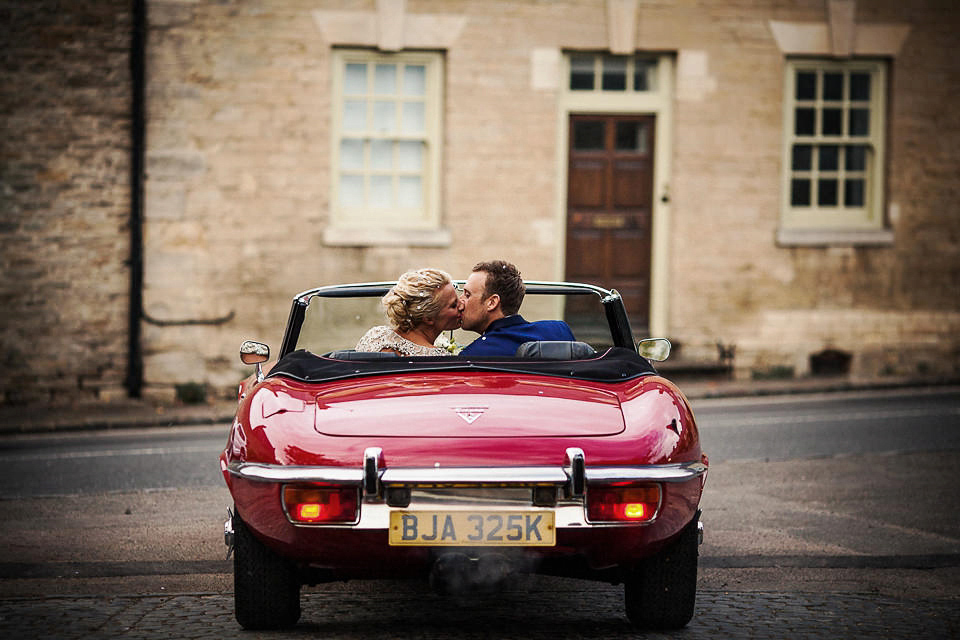 Naomi sourced her giant balloons from Bubblegum Balloons.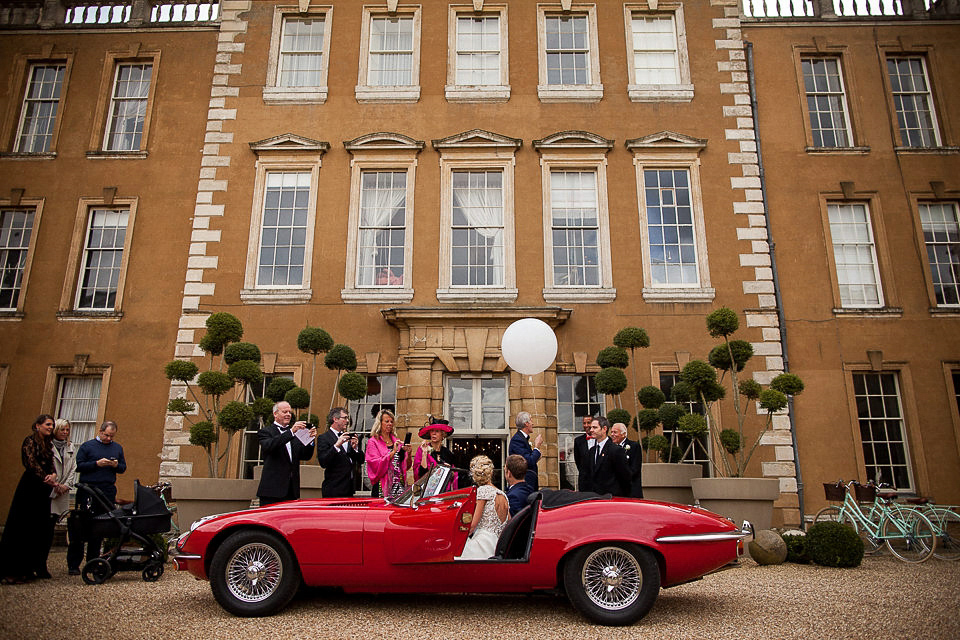 Naomi's bridesmaid looked simply elegant in a navy blue Maids to Measure dress and silver Kurt Geiger Shoes. Whilst the flowergirls were far too cute in white Zara dresses and very cool mini silver Superga trainers.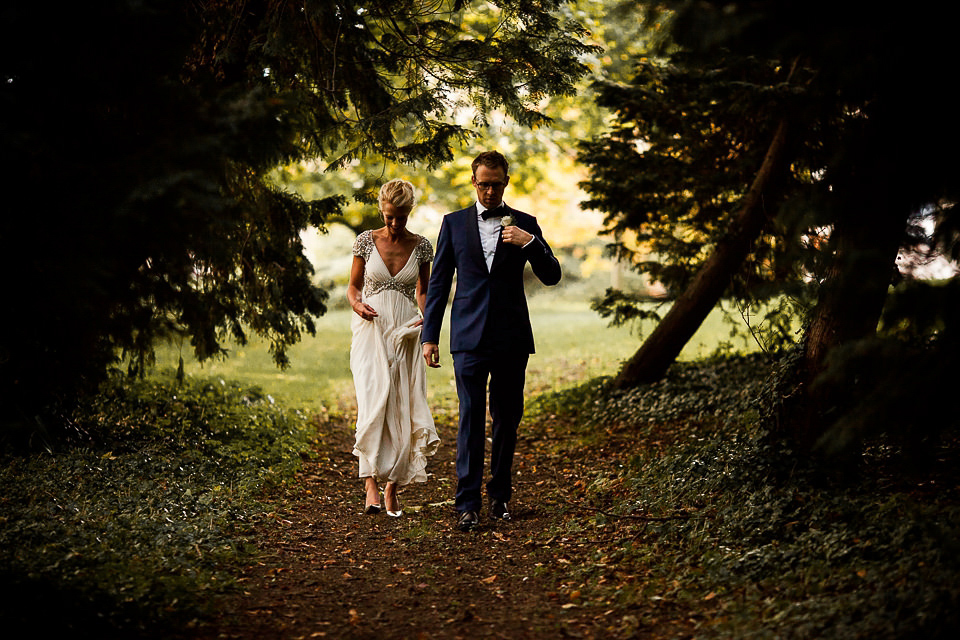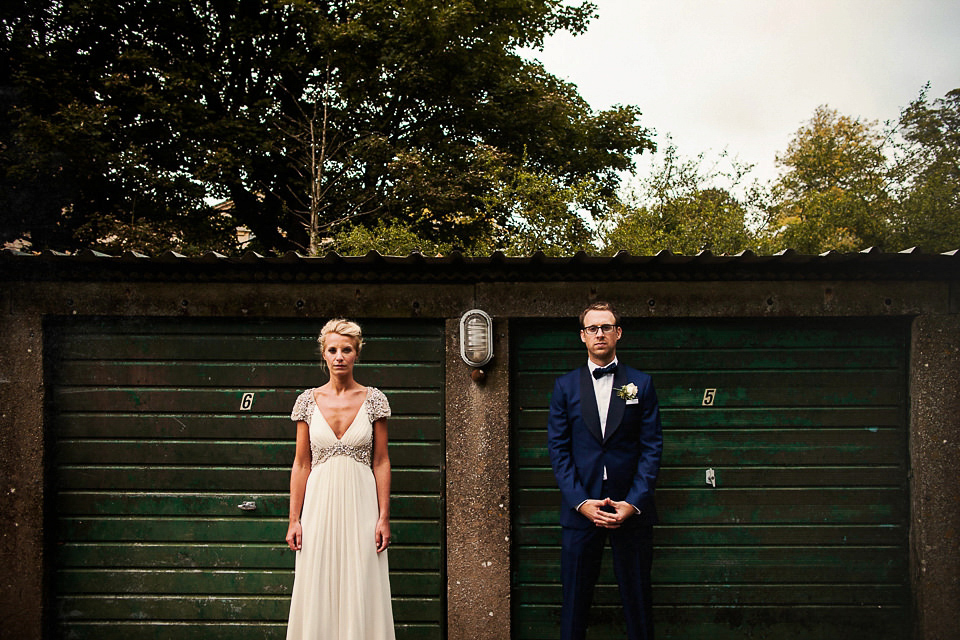 "We didn't do favours, but in the absence of favours and wondering how to make the name place cards more exciting we got Navy blue envelopes, with the names written in calligraphy on them by Gemma Milly and put some mini silver sparklers inside!"
Do check out Gemma Milly, I have been in awe of her work for quite some time now.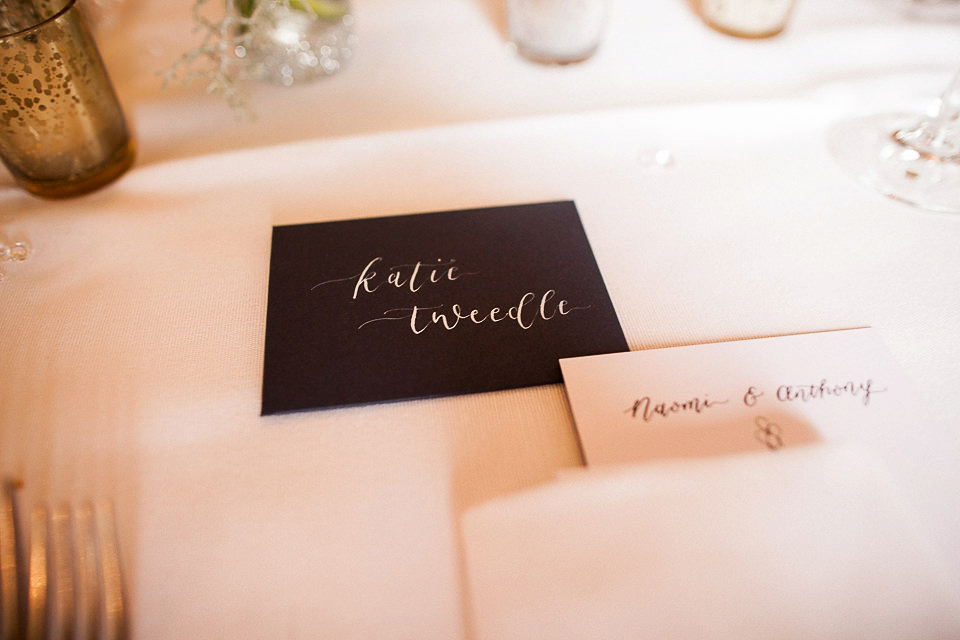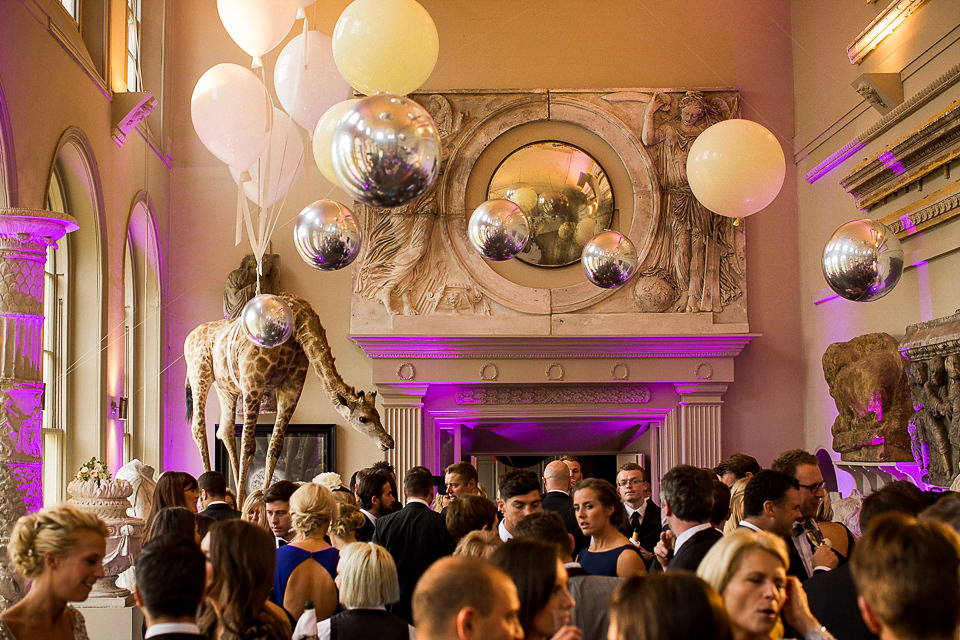 Music and entertainment was important to the couple and they had a whole host of performers.
"Jonathon Holland – A busker we found at Broadway Market on a Saturday about 8 months before our wedding, he was doing an amazing rendition of the Thong Song – he played our champagne reception with his unusual style.  
We also hired The Soul Jets, an 8 piece band performed our first dance and got the party properly started for the first couple of hours, Duke, who provided a touch of beatboxing, because, why not! Duke hit the stage at 11pm. And finally, DJ EROK – a close friend, normally busy travelling the world, but we shipped him in for his best gig ever. He covered the time between 12pm and 1.30am. The party then moved downstairs into Aynhoe's cellar bar for a private party for the remaining 40 guests! Aynhoe's resident in house DJ played us some final tunes up till 4.30am, when we finally retired to bed."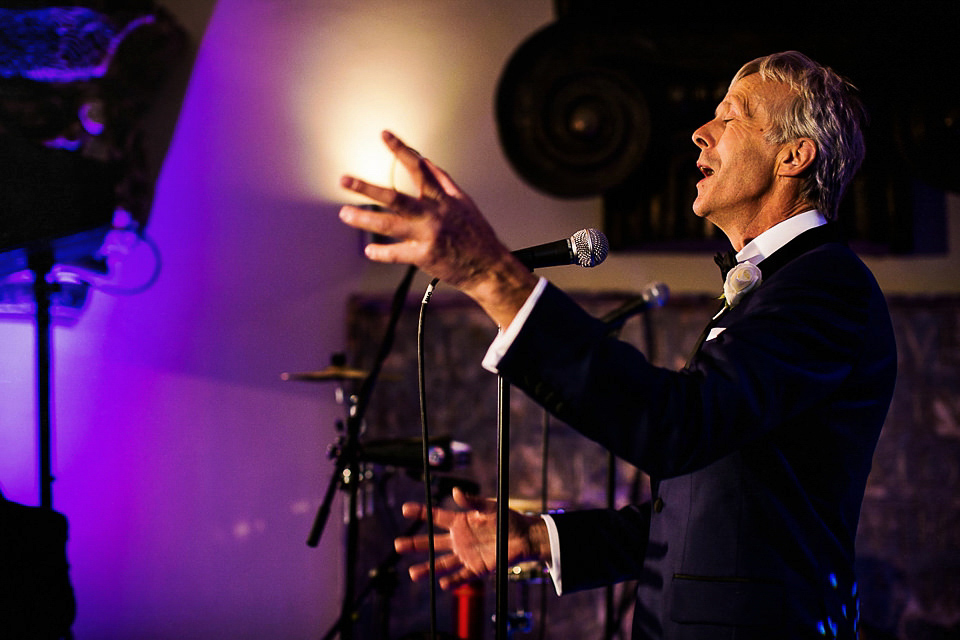 "I grew up on a dairy farm with my parents making cheese – so it was obvious we just had to incorporate cheese on our big day! We had a 'cheese cake' comprised of 7 layers of full size wheels of our favourite cheeses. Decorated with Rosemary & Olive sprigs."
"There isn't a thing we would have done differently, apart from maybe over purchasing alcohol- we had a last minute panic we would run out, but 6 months later we still have a fully stocked drinks cabinet. Aynhoe, and the butlers at Aynhoe did a wonderful job of looking after us the whole weekend- and keeping us plied with champagne. A massive thank you to everyone who supported us and helped us."
Words of Wedded Wisdom
"Get on Excel to make a great spreadsheet of guest list/dietary requirements/invitation acceptances/rejects and also for managing the budget.
Our other piece of advice is get married to someone who works in events! Anthony's expertise was so helpful, and he was able to coordinate the bigger aspects for us with ease, which left me just to sort my dress, the flowers and some of the girlie bits."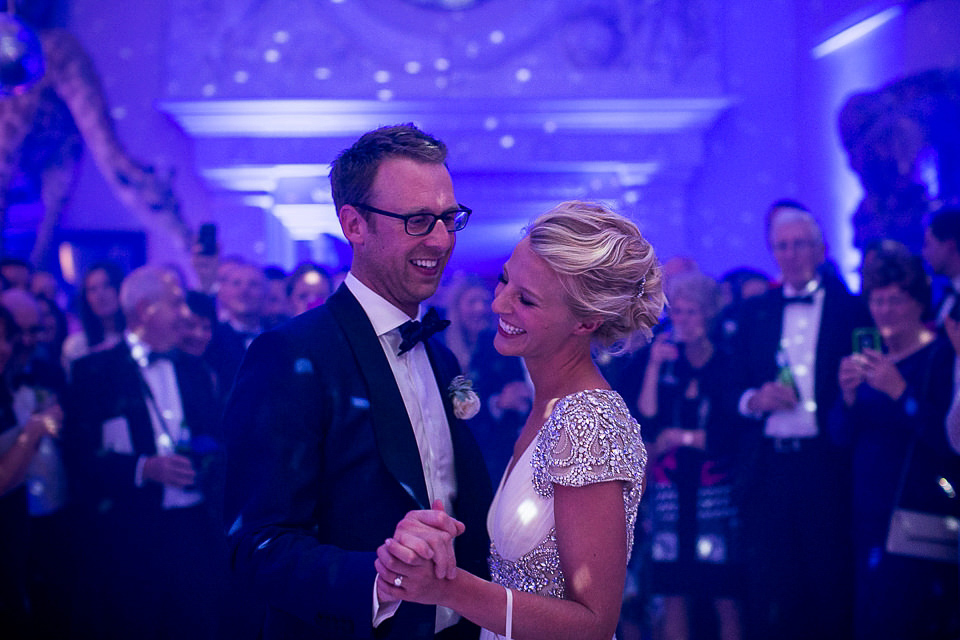 Thank you so much to Naomi and Anthony for sharing their spectacular wedding day, congratulations to you both. And thank you to photographer Matt Parry for the most sublime images.
Fallen in love with Aynhoe Park? Then be sure to check out these Aynhoe Park weddings too.
Bianca x