Hi lovelies, it's me again; I hope Tuesday is treating you well so far? I always wonder before I read about the weddings of designers and industry insiders, whether they'll have have been inspired, excited and worried about the same things as all of us brides – and do you know what it's totally refreshing and reassuring to know that we're all in this together. Weddings are such beautiful, unifying, celebratory things.
Allow me to introduce you to the lovely Cherry, owner of Cherry Williams London: designer and maker of bespoke bridal wear and one of our celebrated Little Book for Brides members. Cherry married her incredibly dapper beau Will, a drummer, drum teacher and part time model, in gloriously festive style on 5th December 2015.
"As our wedding was close to Christmas we wanted it to have a festive feel without using obvious Christmas decorations. We decided on having lots of seasonal foliage with lots of textures and scents instead of flowers to decorate the venue, along with lots of candles and rich wintry colours for the bouquet, bridesmaid dresses and accessories."
Cherry lovingly created her own lace wedding dress, drawing on years of experience within the costume and bridal arena and with a little help from the ladies at Jane Law Costumiers – isn't the result beautiful? Cherry looks so elegant and regal.
"I designed and made my own dress, it's something I had always wanted to do and as it's my job it wasn't so scary. I did however, have a little help from my friends at Jane Law Costumiers who I have known since I did my work experience with them at the age of fifteen. They are amazingly clever ladies."
"I always knew which lace I wanted my dress to be made out of but couldn't find anywhere that supplied what I was looking for. I searched the internet and finally found some antique table cloths on eBay. I had no idea how I was going to achieve what I wanted but I relish a challenge. The dress was designed around the lace and what worked best to accentuate its features."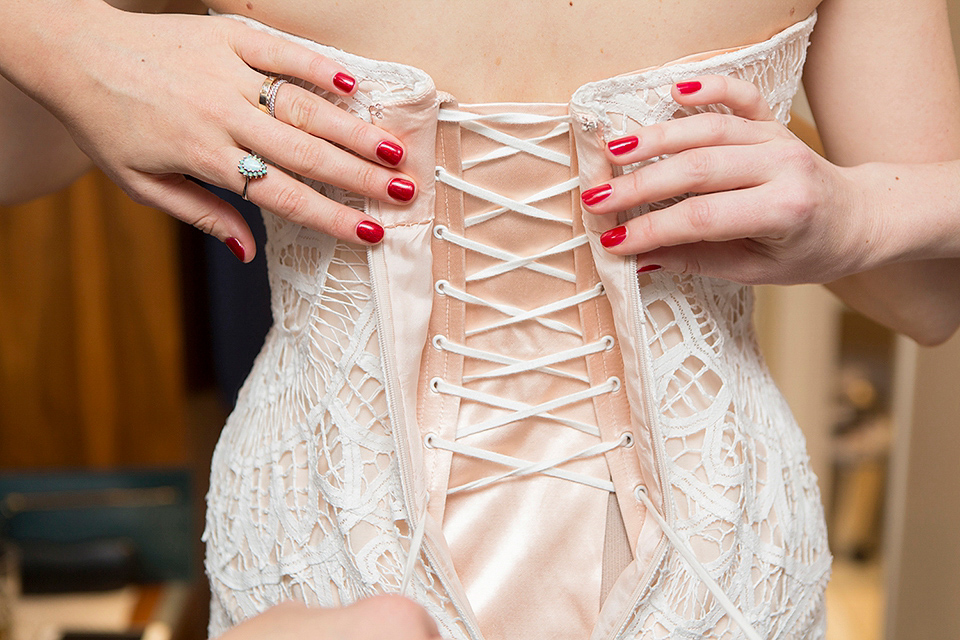 Cherry was lucky enough to have her delicately dramatic veil made by the incredible Kate Halfpenny; an incredibly special treasure that the bride will be sure to pass down through her family, hand embroidered with Cherry and Will's initials and the date of their wedding.
"I wore bright red shoes from Carvela to match some of the reds used in my bouquet and an antique wax head piece, which I found while we were on holiday in France. It wasn't quite right so Sally at Tilly Thomas Lux very kindly gave it some TLC and added some embellishment to make it more how I wanted it."
Victoria Flowers created our flowers. Victoria is such a brilliant florist; I knew we were in the best hands. I showed her some images of bouquets I liked and she then recommended which flowers would look best. I completely trusted her judgement and I have never seen any of her work that I didn't love."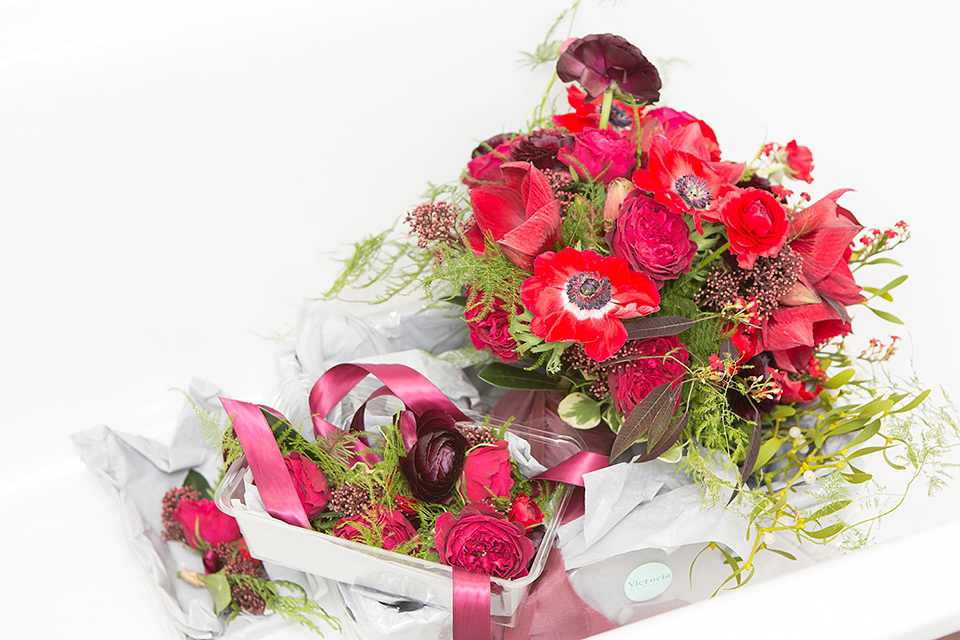 I love the jewel-bright rich tones of Cherry's bouquet; how perfect for the season and the abundant foliage makes everything so fresh and wintery. Us brides love our leaves don't we? I have a new appreciation for scented eucalyptus and rustic olive leaves I'm also beyond excited to meet up with the lovely Sally to start designing my own bridal headpiece, especially after ogling Cherry's gorgeous hair accessory.
"My something borrowed was an opal ring that belonged to Will's aunt, my something blue was a pair of blue topaz earring from my mother-in-law and I also wore a fine gold necklace with a pendant that belonged to my nan; it was my way of having her with me. My hair and make-up were done by Freddie Stopler and Gabi Linwood and I wore Daisy by Marc Jacobs perfume; it's what I always wear and I wanted to smell like me."
Will's lovely tweed suit was from Victor Valentine and he paired it with Grenson shoes, Socks from Drakes of London and a pocket square designed and made by Grace Turner. His best men all wore their own suits and also accessorised with the stylish Grace Turner pocket squares the couple gave them as gifts.
"We found an image on Pinterest of a lovely tweed suit from Victor Valentine and decided to go and check them out. They offer an amazing range of fabrics to choose from, plus you can pick the lining colours and button hole details too so every aspect is designed by you. Will managed to pick a fabric that nobody else had ever picked before, so he was very happy to have a suit unique to him. The quality was amazing too."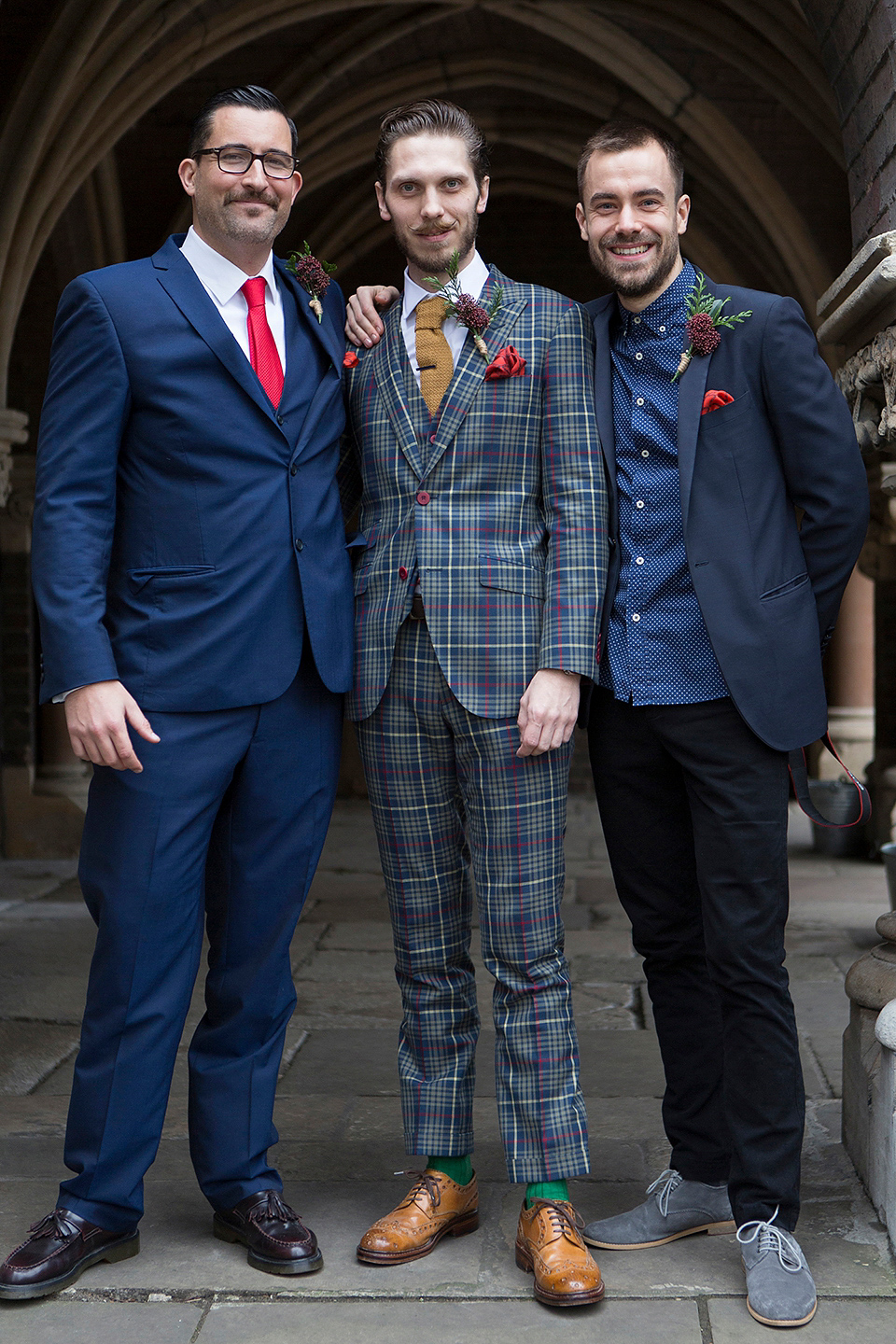 "Will and I met at a mutual friends birthday at a pub in Highgate and got on straight away. After two years together Will started talking about wanting to propose so it wasn't a surprise; he had told me he wanted me to pick the ring with him. He proposed at home one night after I asked him what he was waiting for and seven months later we were married."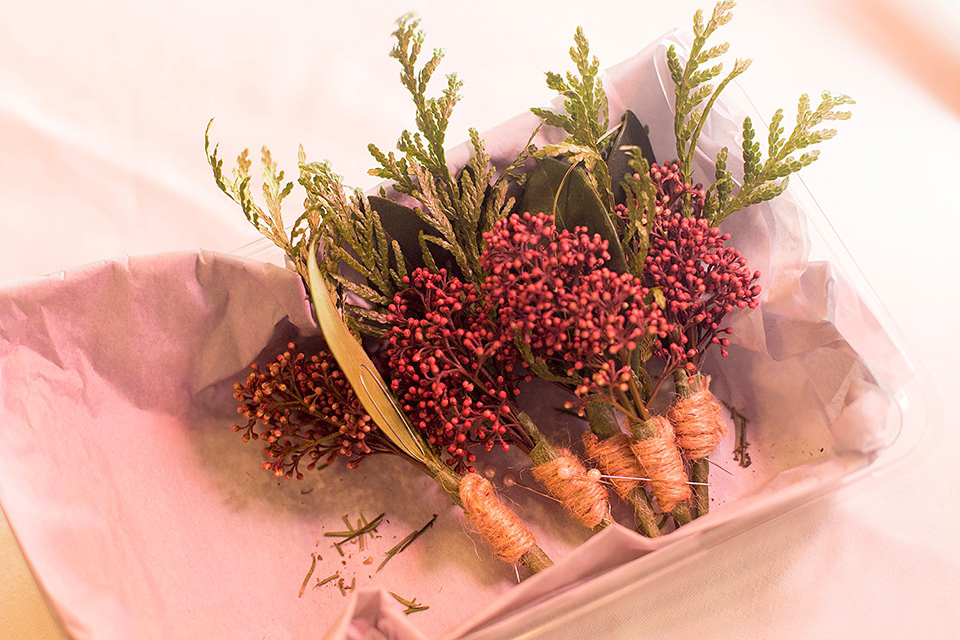 "We chose St Stephen's Church on Rosslyn Hill in Hampstead. We were both drawn to the beautiful architecture and grandeur and were so happy we could have the ceremony and reception all in the same building. It felt like we didn't need to decorate too much as the church spoke for itself."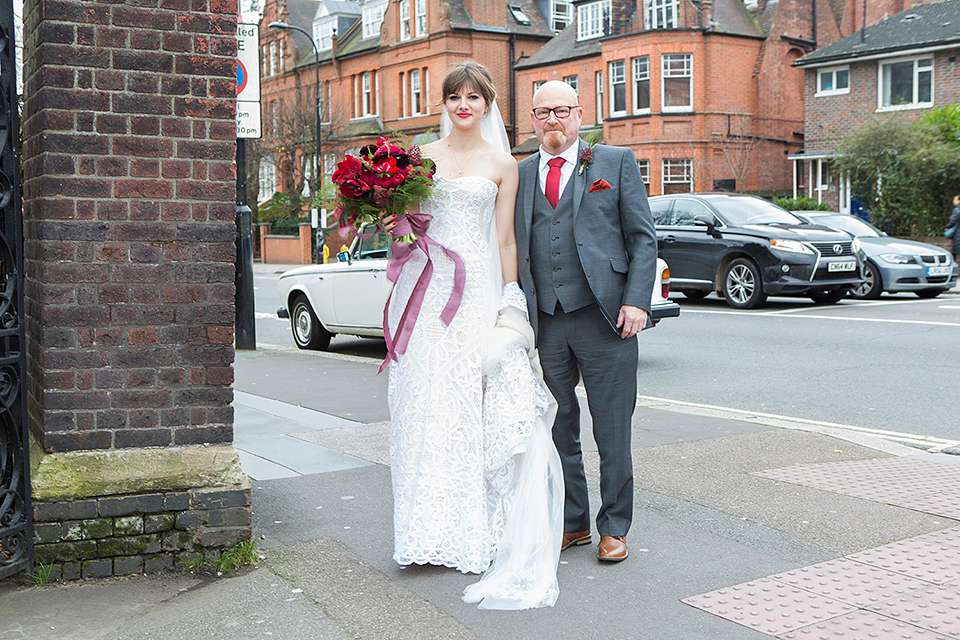 One of Cherry's lovely maids surprised her with a vintage Rolls Royce to pick her up and drive her to the church – how lovely and what a thoughtful friend. Speaking of lovely friends, Cherry and Will's friend William designed their wedding website and invitations as his gift to the couple.
"My Grandad walked me down the aisle to Welcome to Jurrassic Park by John Williams (yep, the song from the film Jurassic Park). We didn't tailor our vows but we did pick a service we felt best reflected us about the meaning of marriage. Two of our lovely friends (who are both musicians) played an acoustic cover of Starship's 'Nothing's Gonna Stop Us Now' while we signed the register."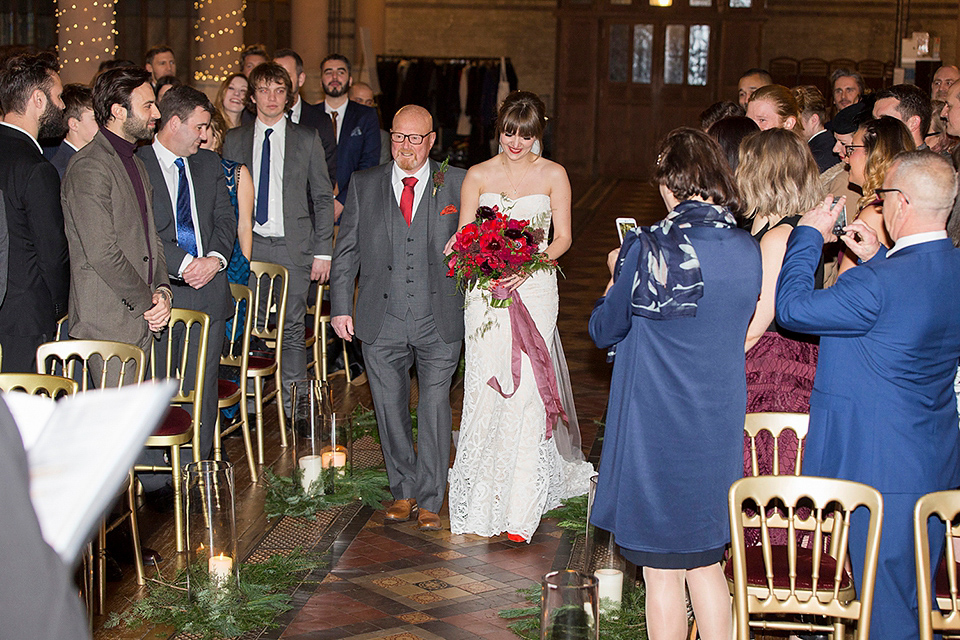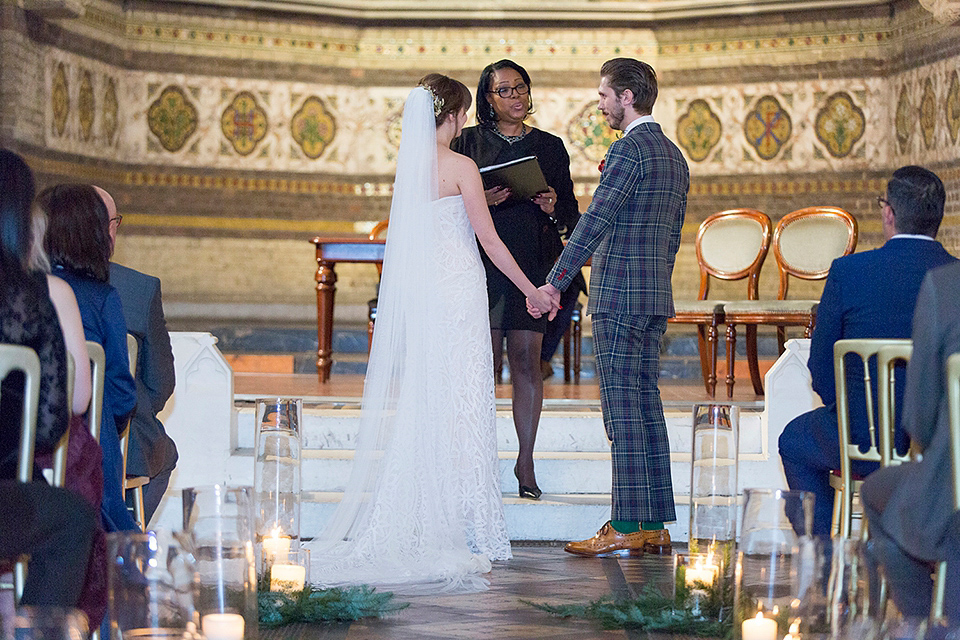 "We picked the engagement ring together from a little jewellers in Hatton garden; it's a 1940's sapphire with three diamonds either side. Wills wedding ring was from DotJewellery and mine was from ShopClementine."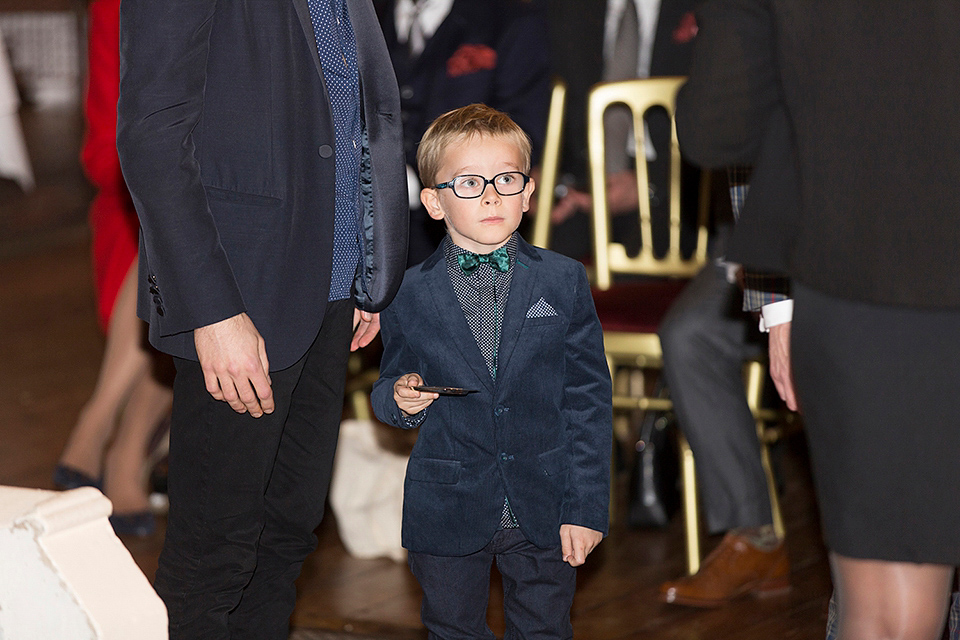 "We decided to go for different style rings from each other; I wanted a very thin band to sit underneath my engagement ring and Will wanted a wider rose gold band."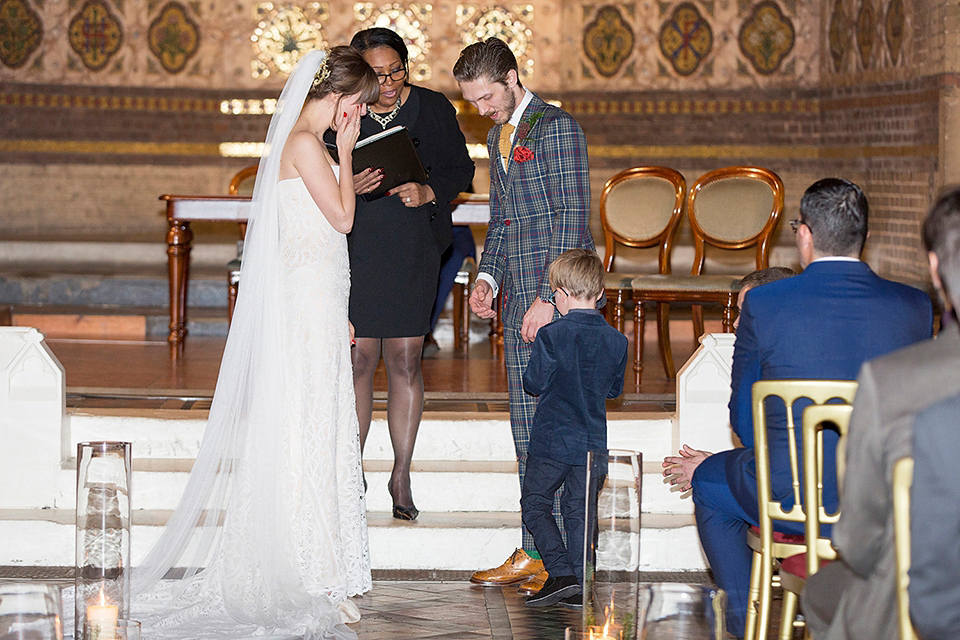 Cherry also designed and made her sapphire-hued bridesmaid's dresses – I love how the sequinned bodices catch the light.
"I wanted them to be elegant but also fun, which is why I chose to make a long royal blue dress with a bit of sequin sparkle. I found some custom made gold necklaces on Etsy, which I had engraved with the girls initials as gifts."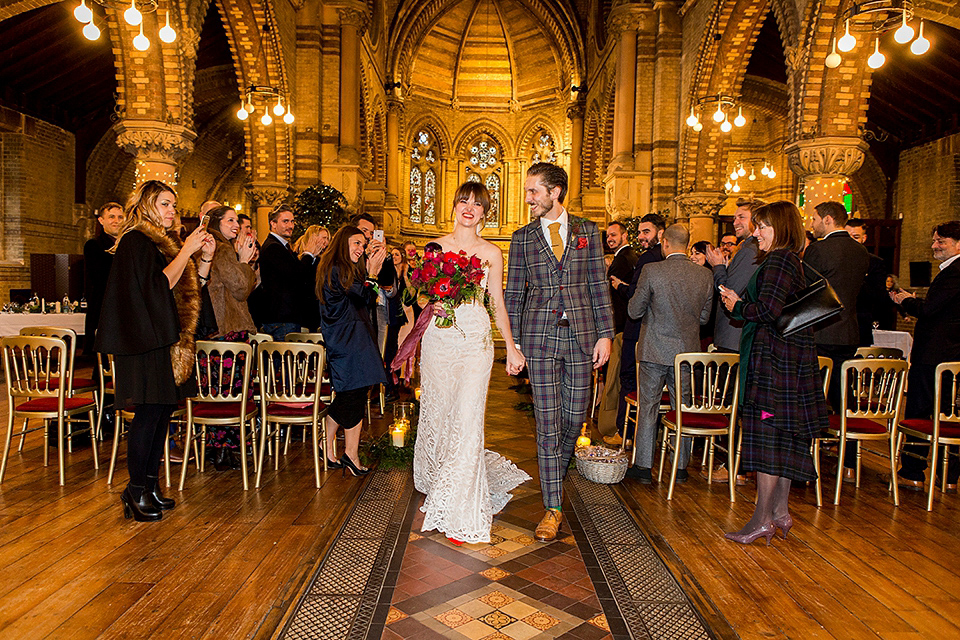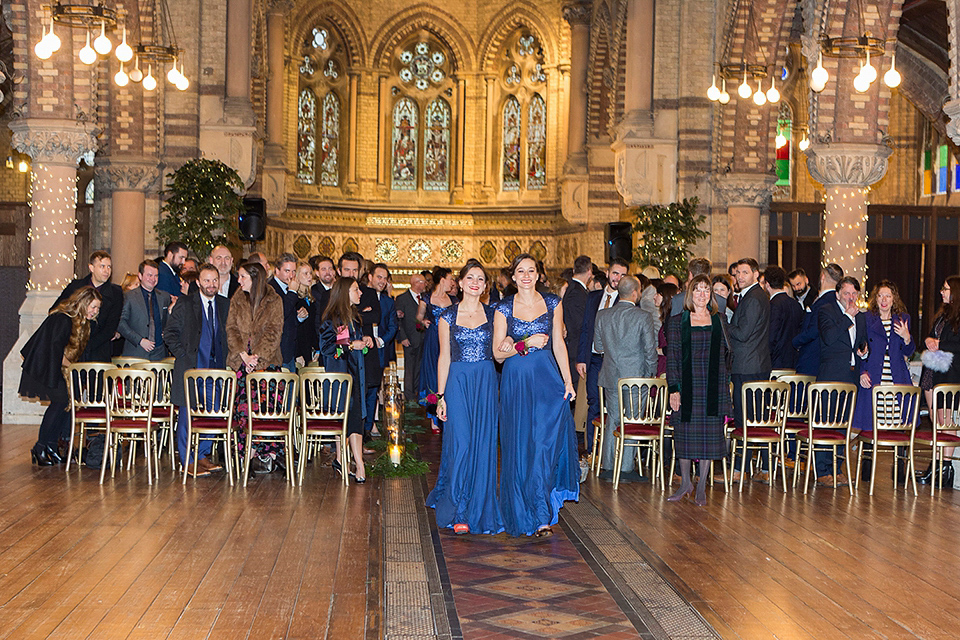 Nicholas Andrews is the man responsible for these glamorous images; I really think his fashion photography background is evident in the style of the shots and what fashion-savvy subjects he had to work with! He's also captured some really beautiful emotive moments and lucky Cherry is one of those brides who cries prettily.
"Nick is an amazing fashion photographer, who also does weddings and luckily is a friend of ours too. Im not a fan of having my picture taken but Nick made me feel completely at ease and he knew how to bring the best out of everybody."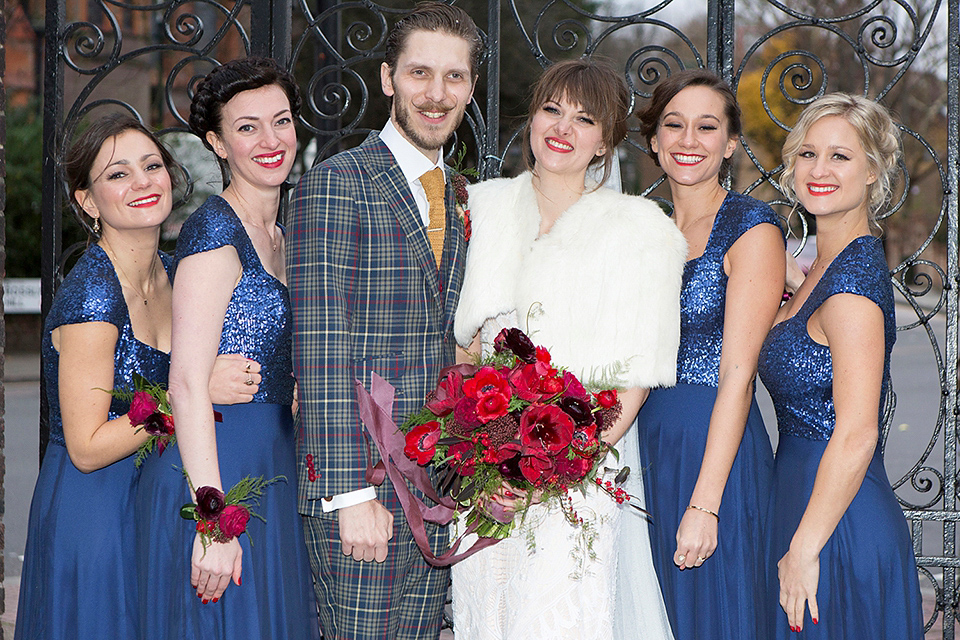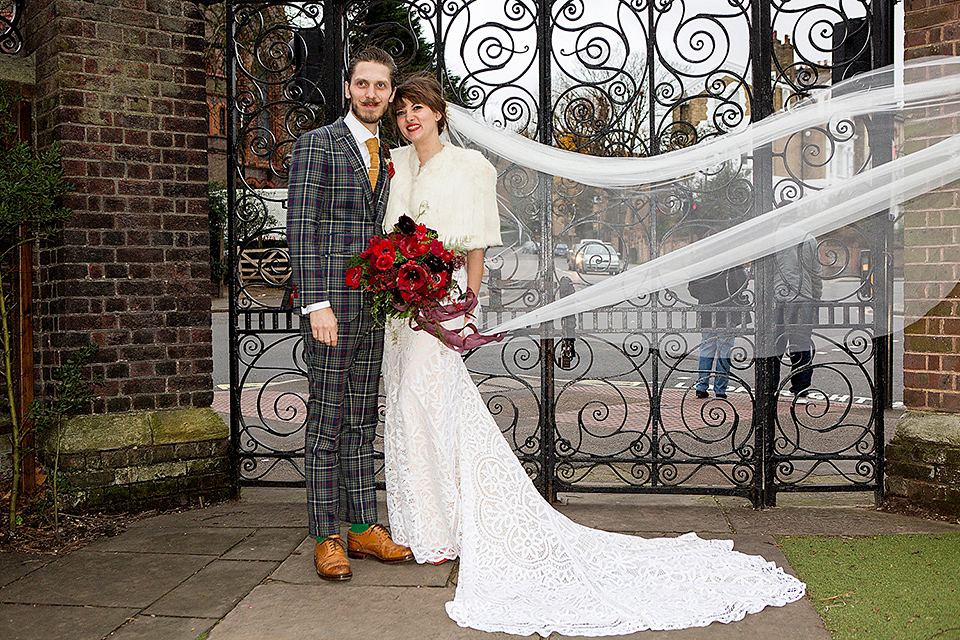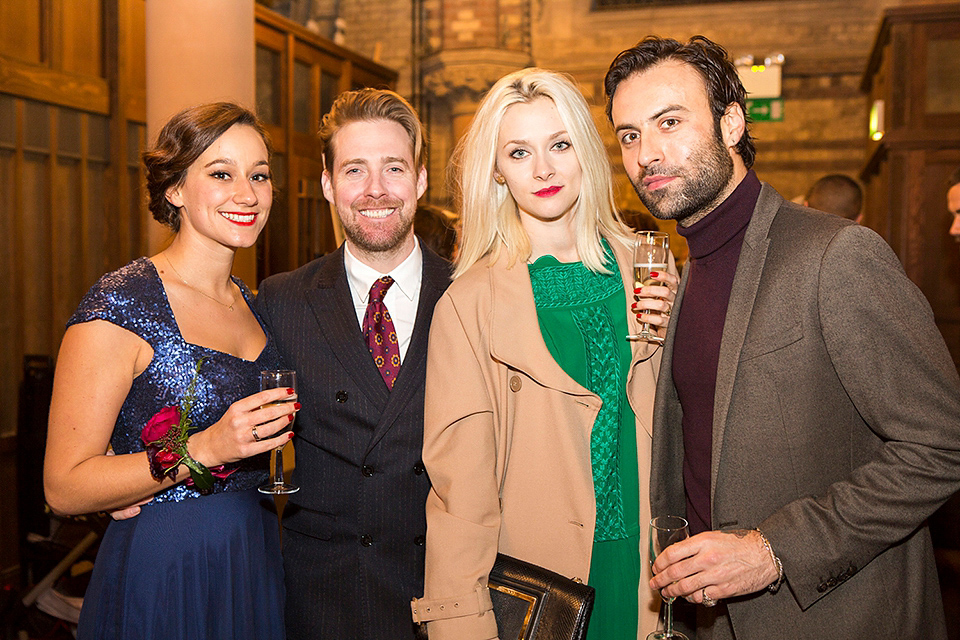 The ceremony morphed seamlessly into the reception with the help of Lisa of Blackpot who supplied the wedding catering. Lisa sounds like a guardian angel; events manager cum provider of delicious treats? Winner. Cherry and Will added to the grandeur of St Stephen's by dotting around hundreds of atmospheric candles, foliage garlands and some absolutely gorgeous and realistic artificial birch trees.
"We felt the venue didn't need much decorating; as it already felt so grand we just wanted to accentuate the amazing decor. From the minute we met Lisa at Blackpot we felt she was perfect for us, she knew exactly what we wanted and worked to our budget to create the perfect menu for our day. She also ran the whole day for us and organised any extra bits we needed to hire. The whole day and lead up to the wedding was stress free thanks to Lisa and her team of wonderful staff."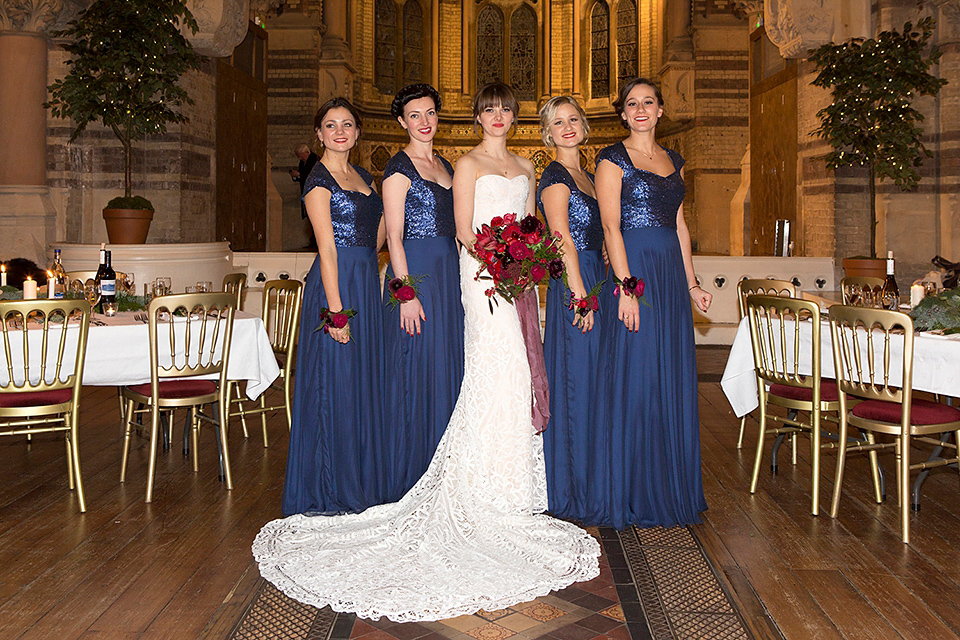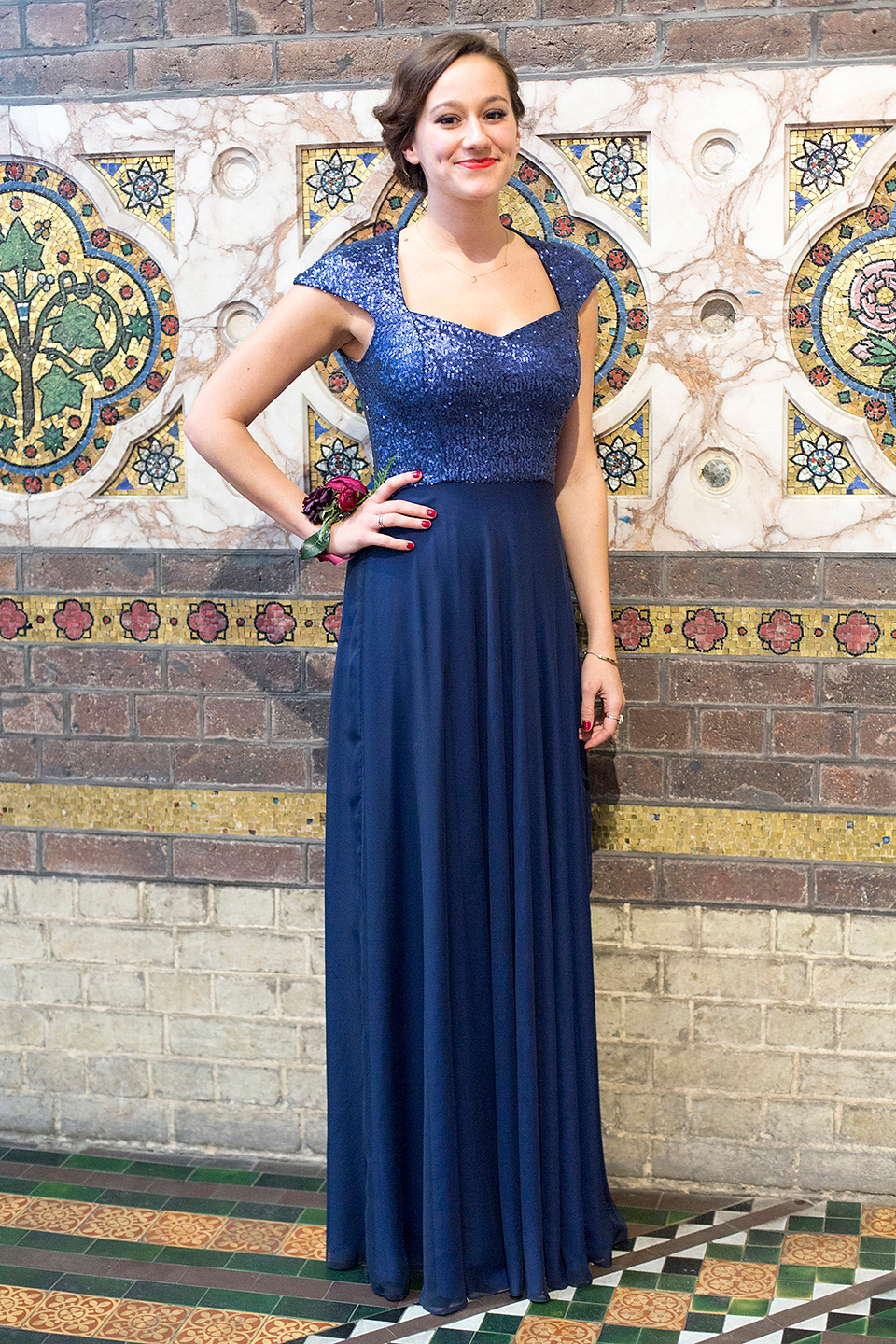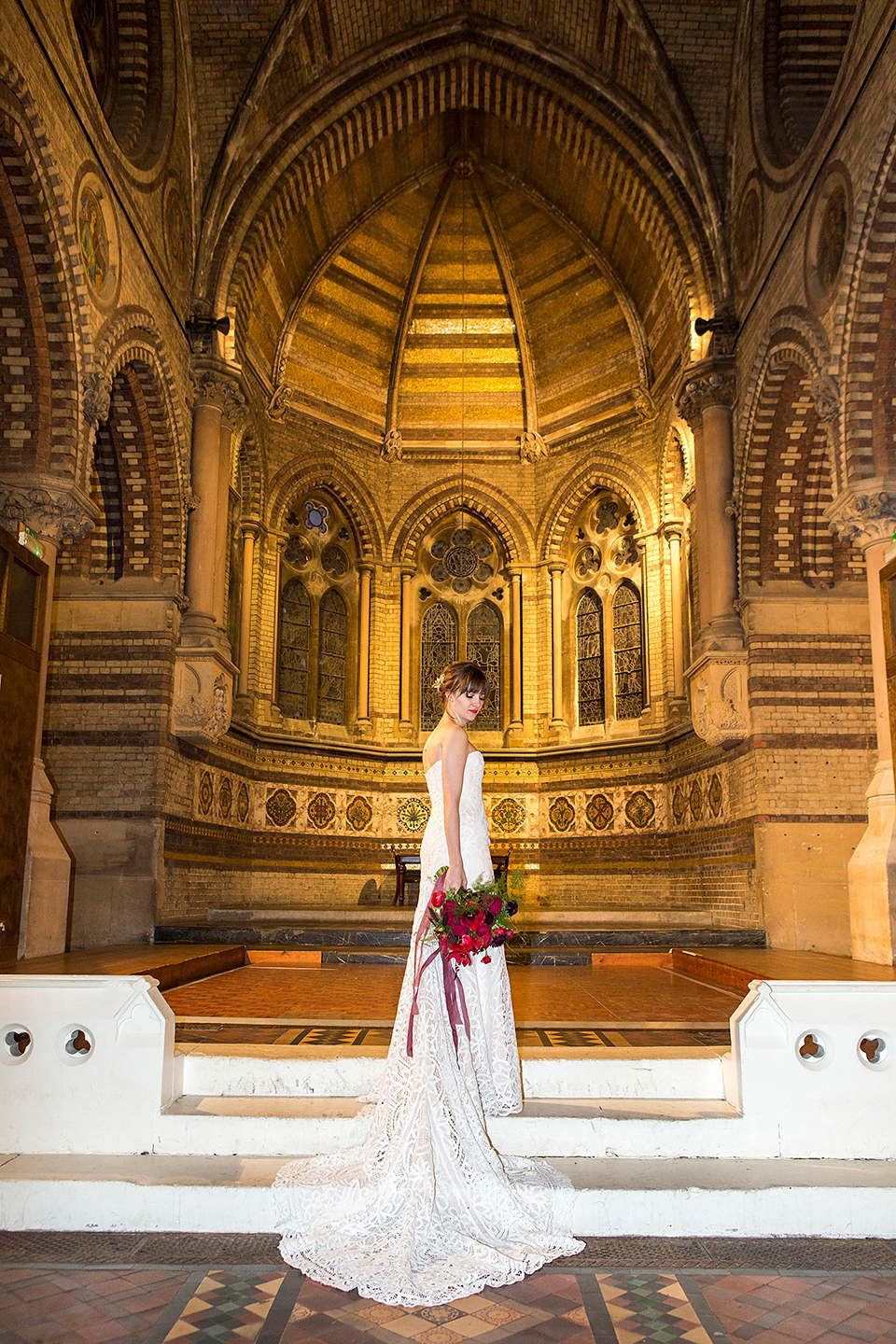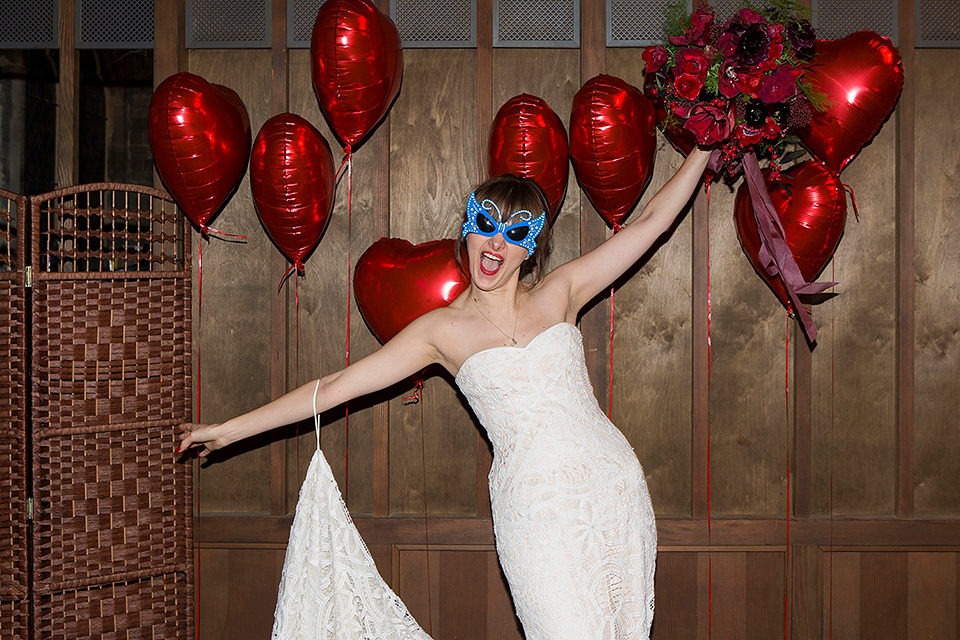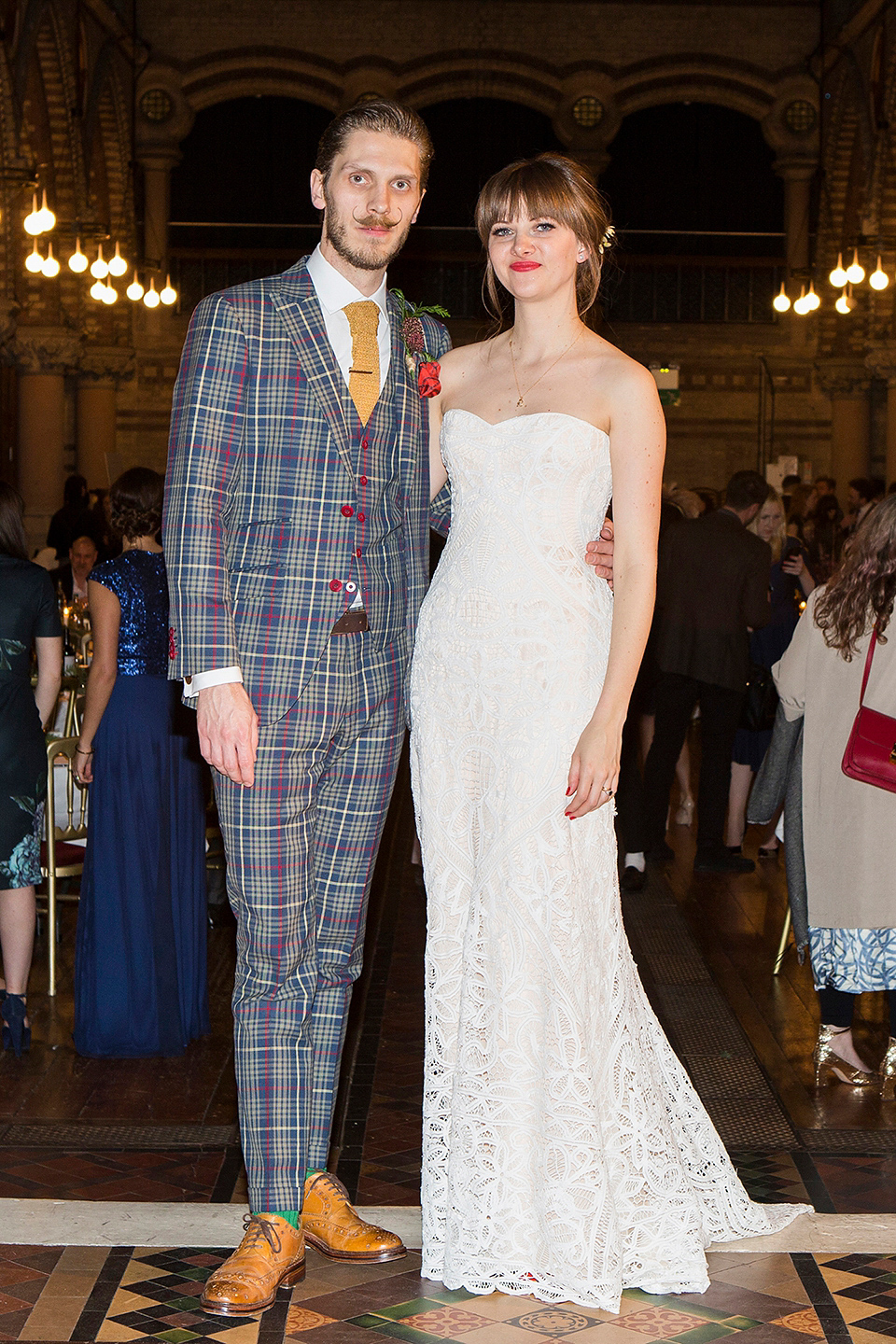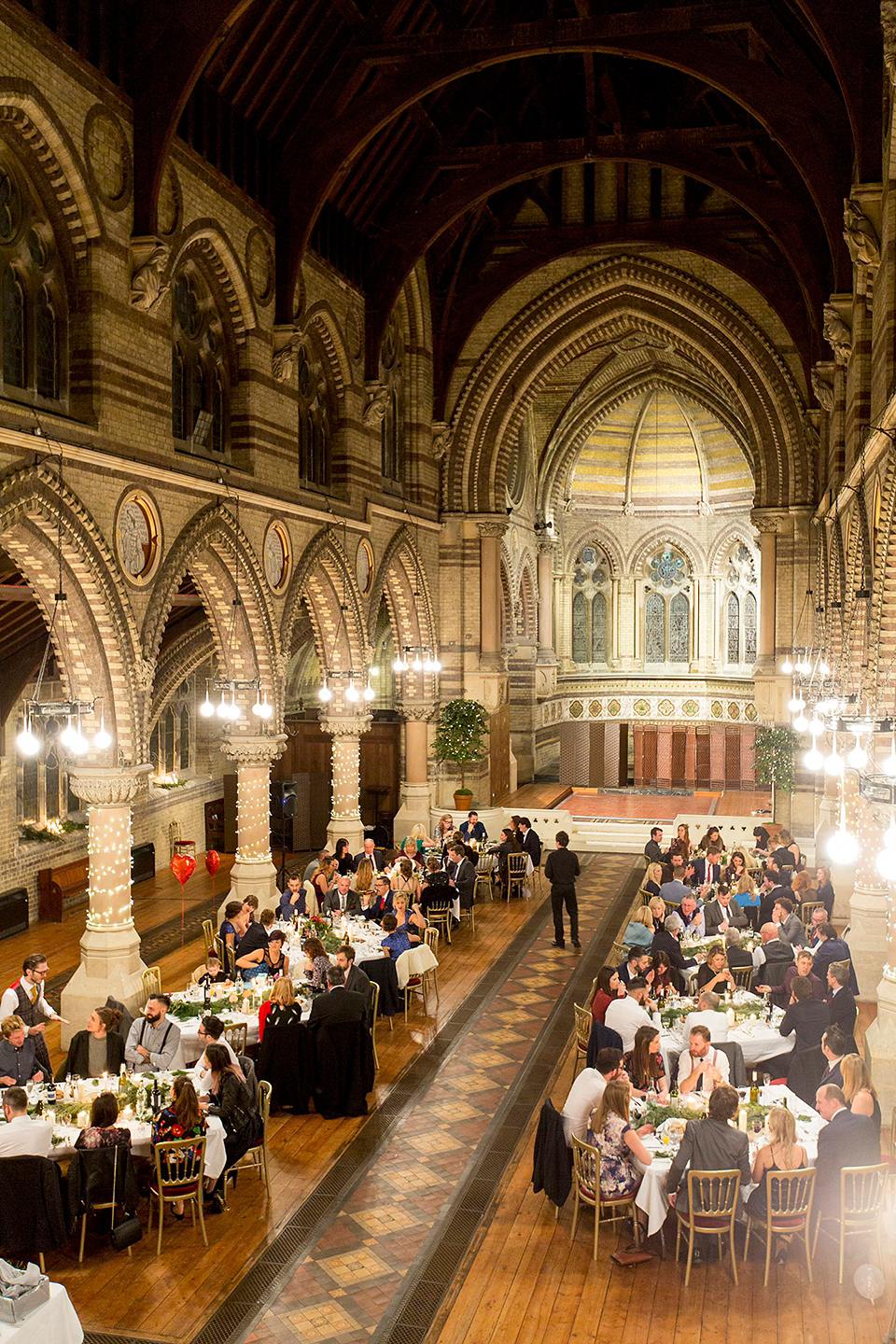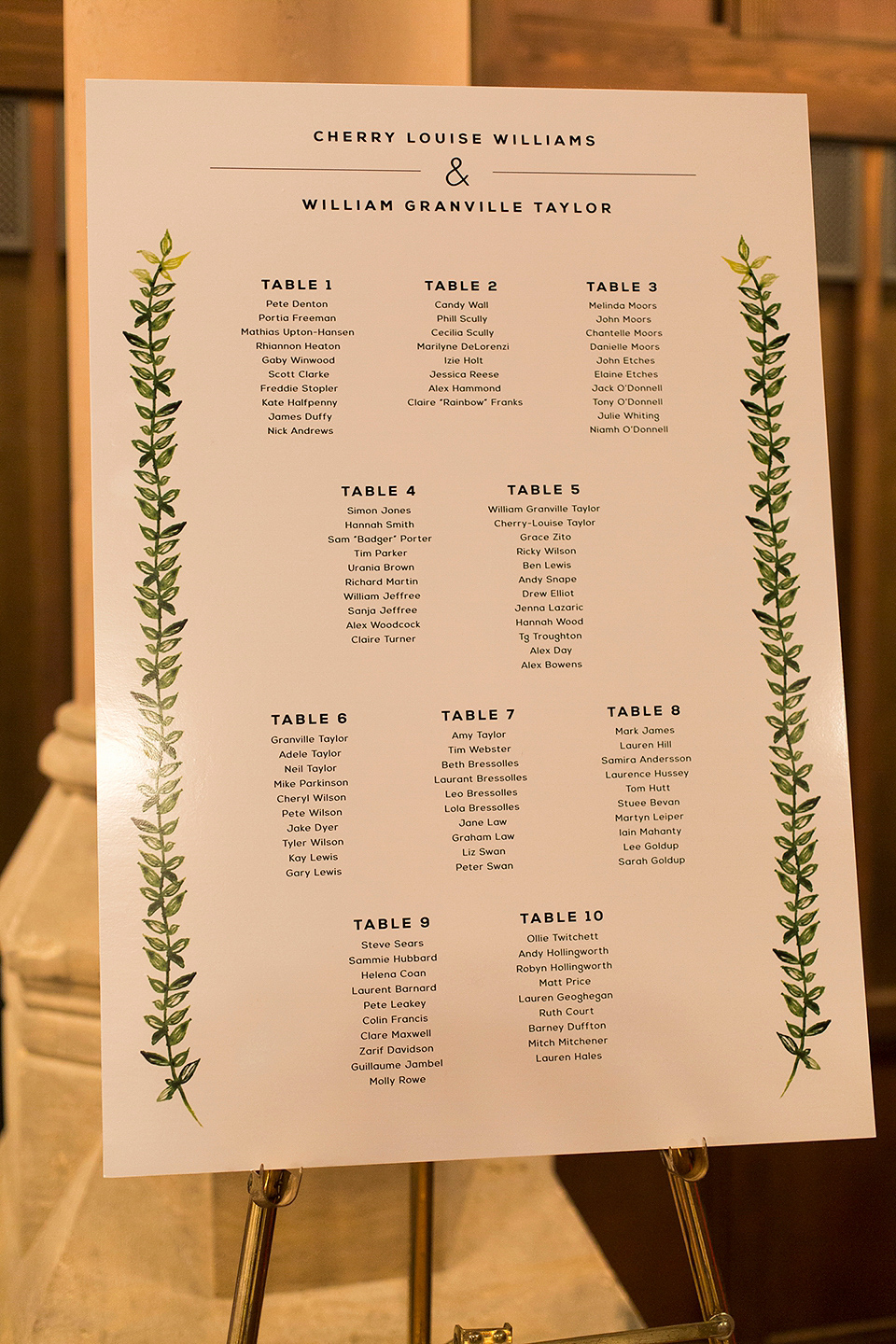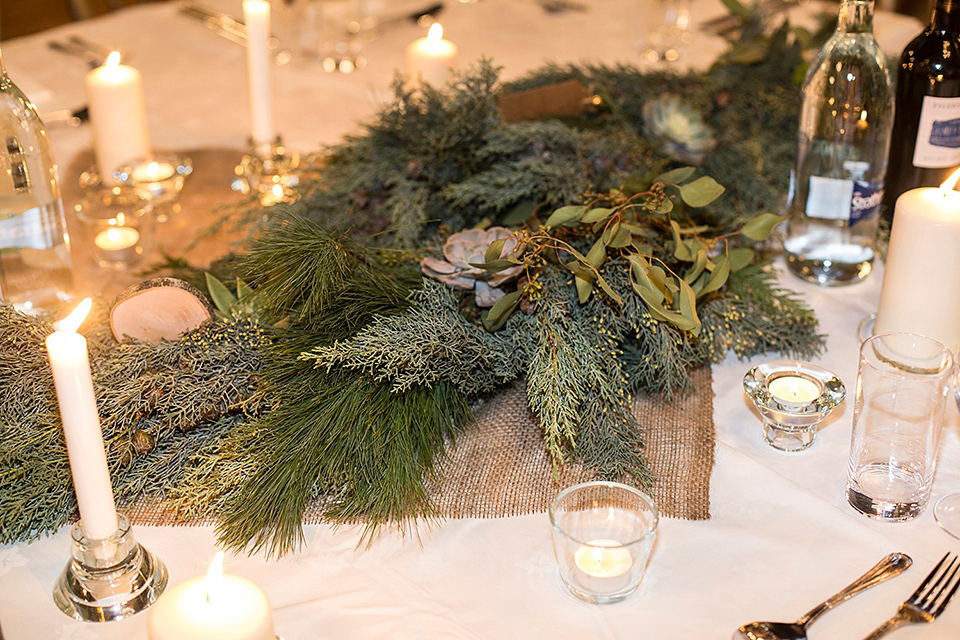 Cherry and Will couldn't decide between a traditional wedding cake and a cheese wedding cake so they had both (a girl after my own heart). The couple cut the sweet cake together and then served up the cheese for guests to snack on later in the evening. Anyone else craving cheese now?
"We made the wedding favours ourselves. They were shots of Christmas pudding flavoured rum, which we infused ourselves for three months then put into mini glass bottles we found on eBay. They also doubled up as peoples place settings as they had little tags with their names on."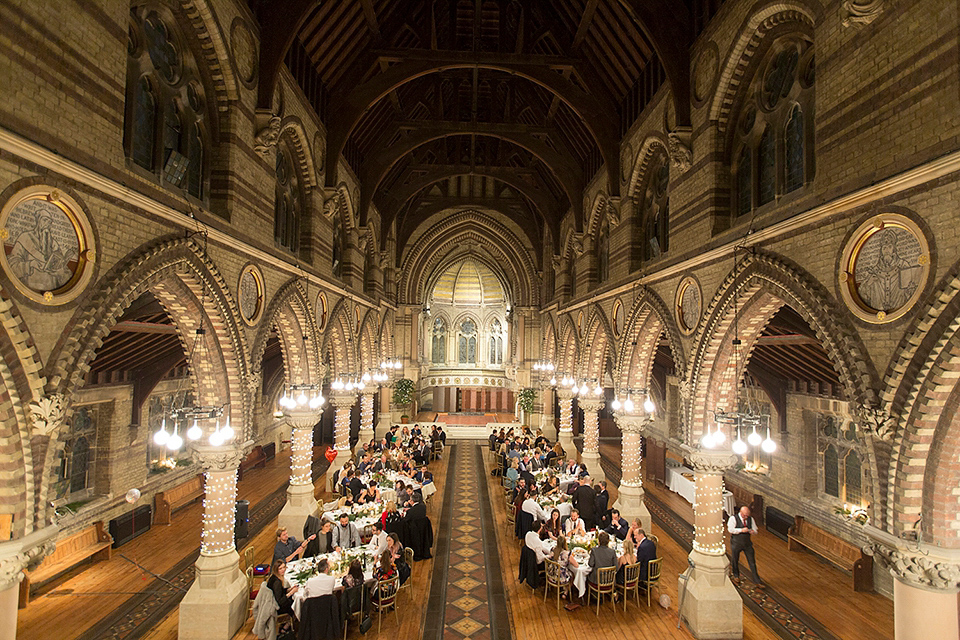 "In the evening we had friends DJ-ing. Along with a homemade photo booth area we created with lots of fun props and supplied a polaroid camera. We both love cheesy 80s music and for our first dance we chose one of our faves: 'Waiting for a Star to Fall' by Boy Meets Girl."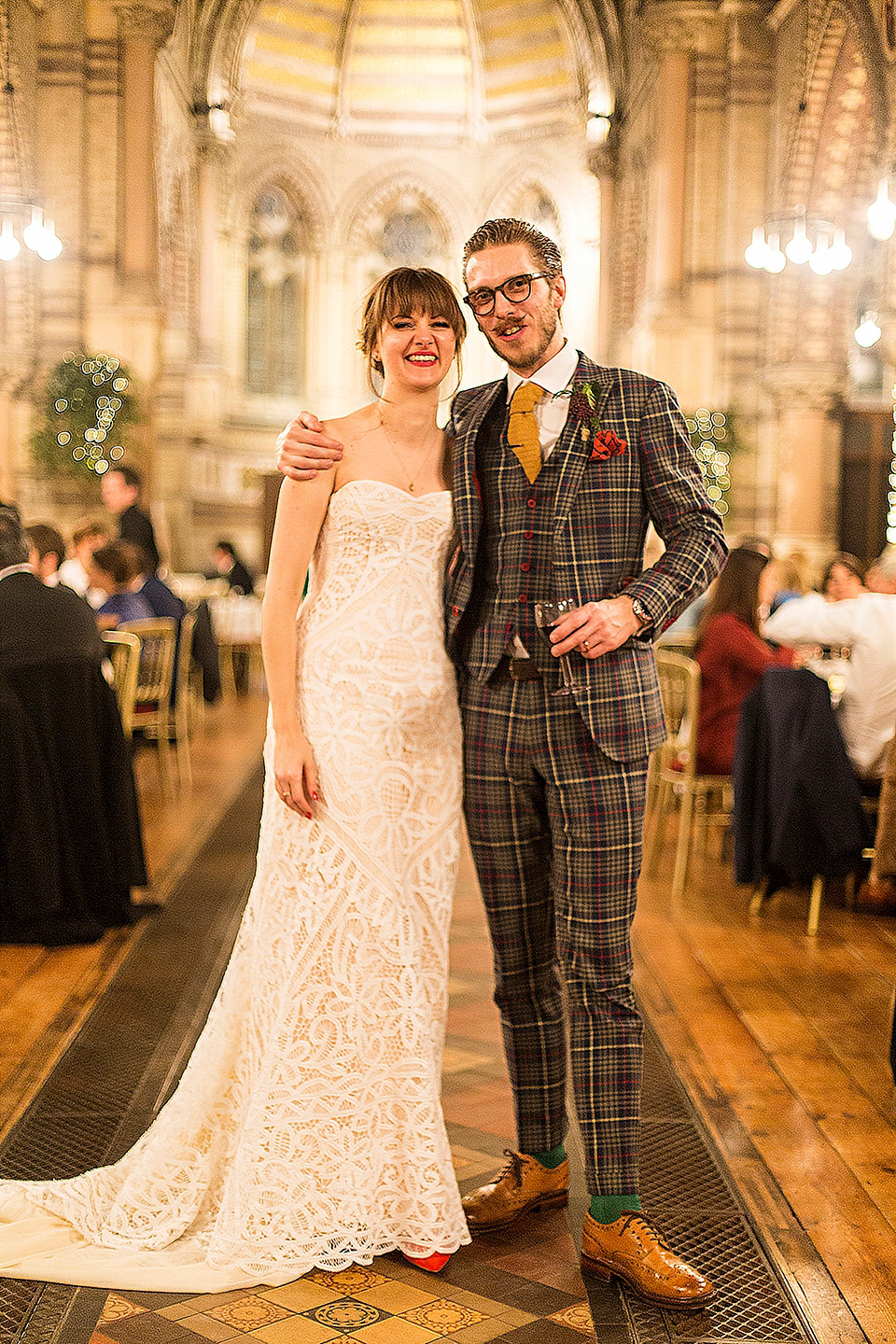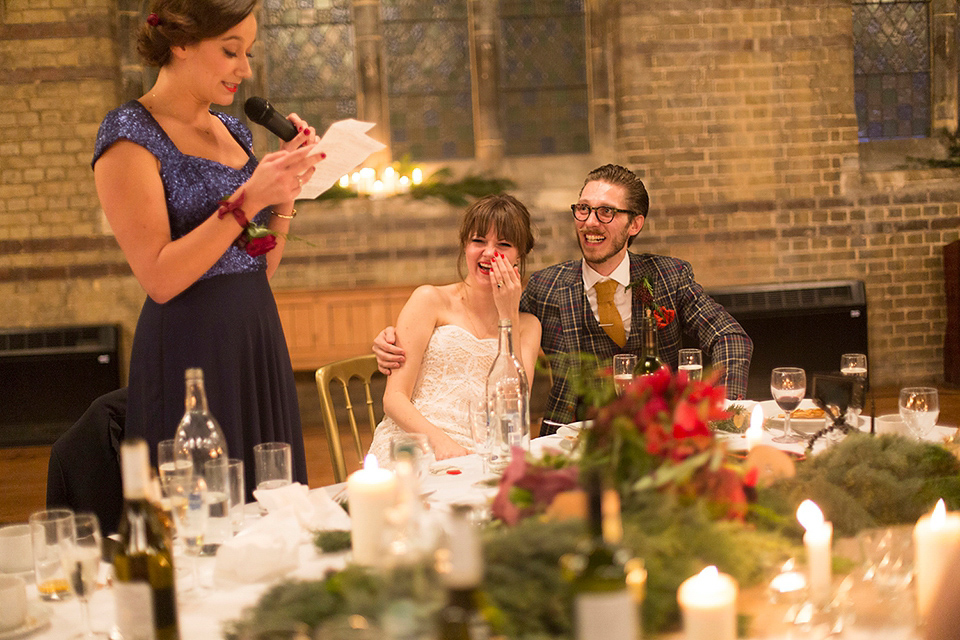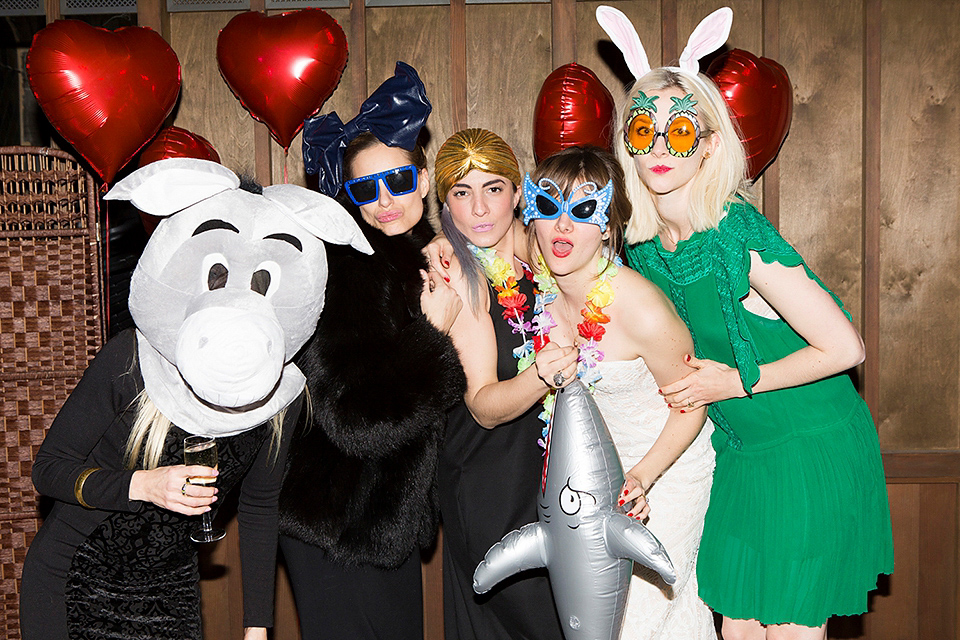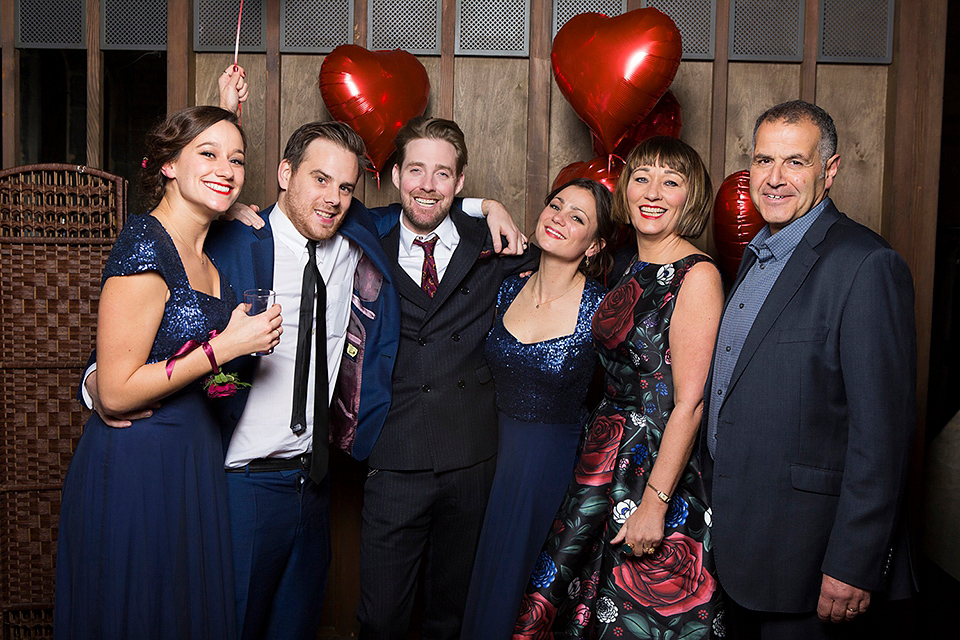 "There were so many favourite parts of the day from Will's memorable, funny speech, a surprise message from my friend who couldn't be there, the polaroid photo booth, the first dance, catching up with all of our friends and family, everyone singing Take That's Never Forget when the music was turned off at the end. But the best bit was walking down the aisle and getting married to my best friend. Neither of us would have done a thing differently."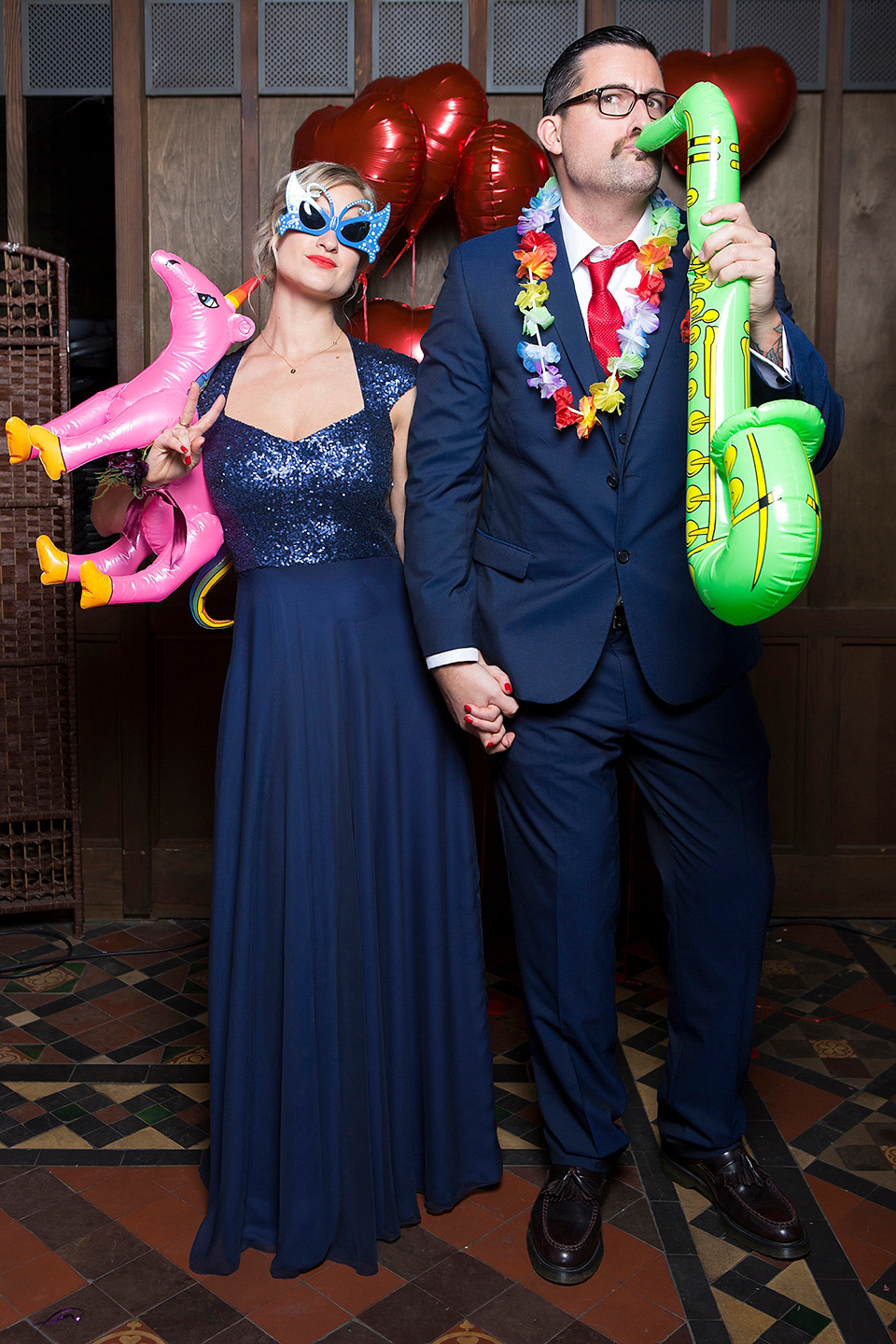 Words of Wedded Wisdom
Cherry was a regular visitor to Love My Dress during her wedding planning process and like too many of our brides has some very wise words of advice for all you future wifeys.
"I love the range of different styles of wedding Love My Dress covers; it's nice to see such a rich variety of people, styles and budgets covered. It makes a bride feel like anything is possible with a bit of inspiration, creativity and guidance.
Don't leave everything to the last minute, even though you may think you have lots of time left to organise. I found doing some jobs very early on left me with more time closer to the wedding for those surprise jobs that popped up. Try and soak up every second of the day, take some time to sit and take it all in because the day goes so quickly."
I know exactly what you mean Cherry, when I was sending out save the dates with well over eighteen months to go I felt a bit nuts but now the date is under a year away every day flies by faster than the last! Thank you ever so much to Cherry (who you can find on Instagram and Twitter as well as her website by the way) and Will for sharing their beautifully festive celebrations with us, and a big thanks too to Nicholas Andrews for the stylish images.
Hope this week treats you well lovelies,
Em x