A big hello to you lovely Monday readers! I have the most gorgeous light-filled celebration of love for you today with a bride in separates and some seriously stunning photography. Aren't weddings just the most glorious thing in the entire world?
The very beautiful Katherine, a dancer, wed her beau Jack, a civil servant, on 31st December last year at the iconic Baltic Centre for Contemporary Art in Gateshead. Their beautiful New Year's Eve celebrations were full to the brim with stylish guests, happy faces and the most spectacular views over the river Tyne.
"The most important thing for us was to have all of our loved ones there and for everyone to have fun. We never had a particular theme and just picked things that we liked along the way. A great thing about the Baltic was that we didn't need to do much to it as the building is so striking inside. We wanted to keep the ceremony room quite simple so just used festoon lighting to create a backdrop on one wall."
Katherine and Jack chose the wonderful sister duo The Twins as their photographers; one of our absolute Little Book for Brides favourites. Their poetic 'about us' section on their website is enough to make me want to lust after every shot they've ever taken: 'It's the colour of the sky. The sunshine through the clouds. The wind whipping up your dress as you walk into the ceremony.' Caroline and Kelly have used light and composition in such a natural, magnificently clever way to capture this beautiful day.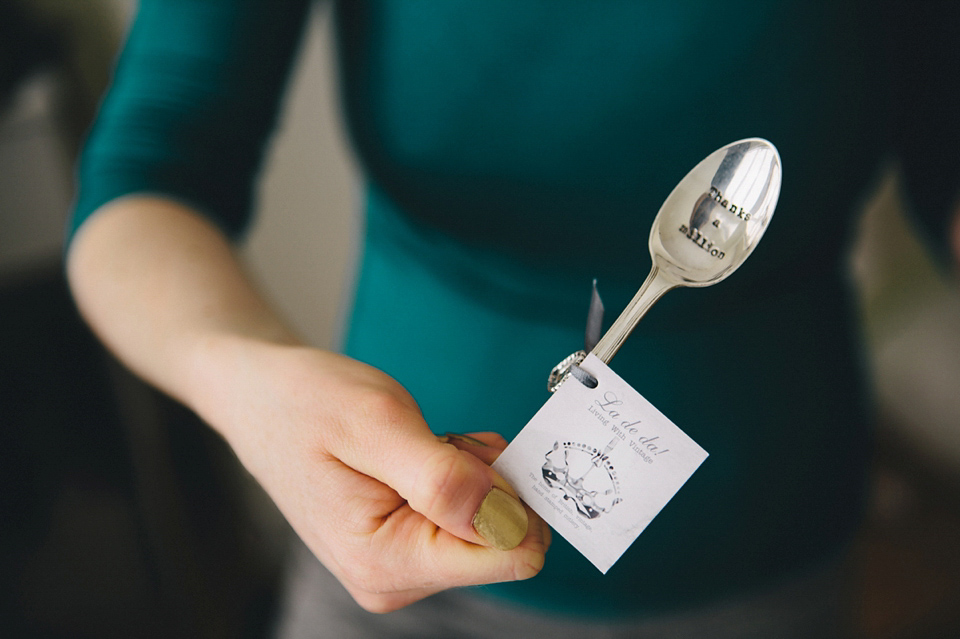 "Our photographers were The Twins. We loved the photos on their website and met Caroline (and her gorgeous little boy) for a coffee at the Baltic and got on with her really well. We're so happy with our photos; Caroline and Kelly captured the day beautifully and we felt so comfortable having them there with us. We would highly recommend them."
"On the day we got back from our honeymoon they emailed a slideshow of the day and later on that day we received a parcel, with our USB stick and a selection of prints that we weren't expecting. It made coming back down to earth after five weeks away much better."
The bride did her own make-up and her hair was styled by Liam from Salon LRM in Newcastle, all finished off with a spritz of Tonka by Laboratory Perfumes; Katherine's current favourite scent.
Katherine wore a pair of gorgeous gold embellished Head Over Heels By Dune court shoes, which she bought on ASOS. She accessorised with a necklace, which was a gift from her Grandma on her 21st birthday, a bracelet which belonged to Jack's Grandma and statement earrings from ASOS.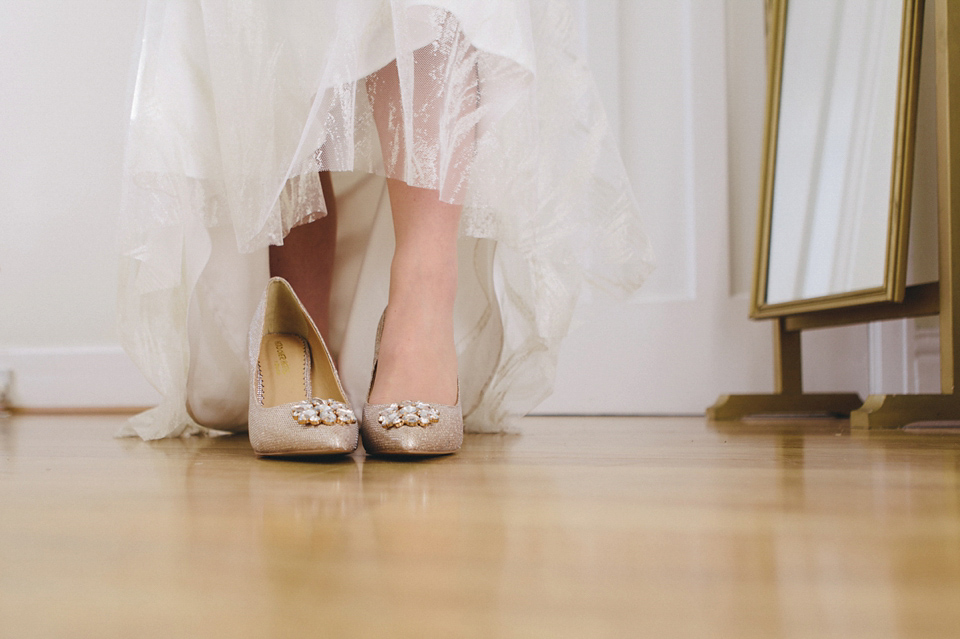 Katherine bought her gorgeous Charlie Brear bridal ensemble in their sample sale – doesn't she look stunning? I'm a little bit obsessed with her bomber jacket. I'm not sure if there's an intentional nod to her career in dance but there's something of the ethereal ballerina about her elegant slip and shimmering skirt.
"I bought my outfit from the Charlie Brear sample sale and the lovely Nanna from Splendid Stitches at Atelier Tammam altered it. I almost wore my Mum's dress but due to the short time for alterations decided to have a look around. I felt so comfortable in the Charlie Brear slip and skirt and it felt perfect for a New Year's Eve wedding as it had a bit of sparkle. My friend Charlotte came with me and defended the dress from the other women at the sample sale whilst I ruled out other options."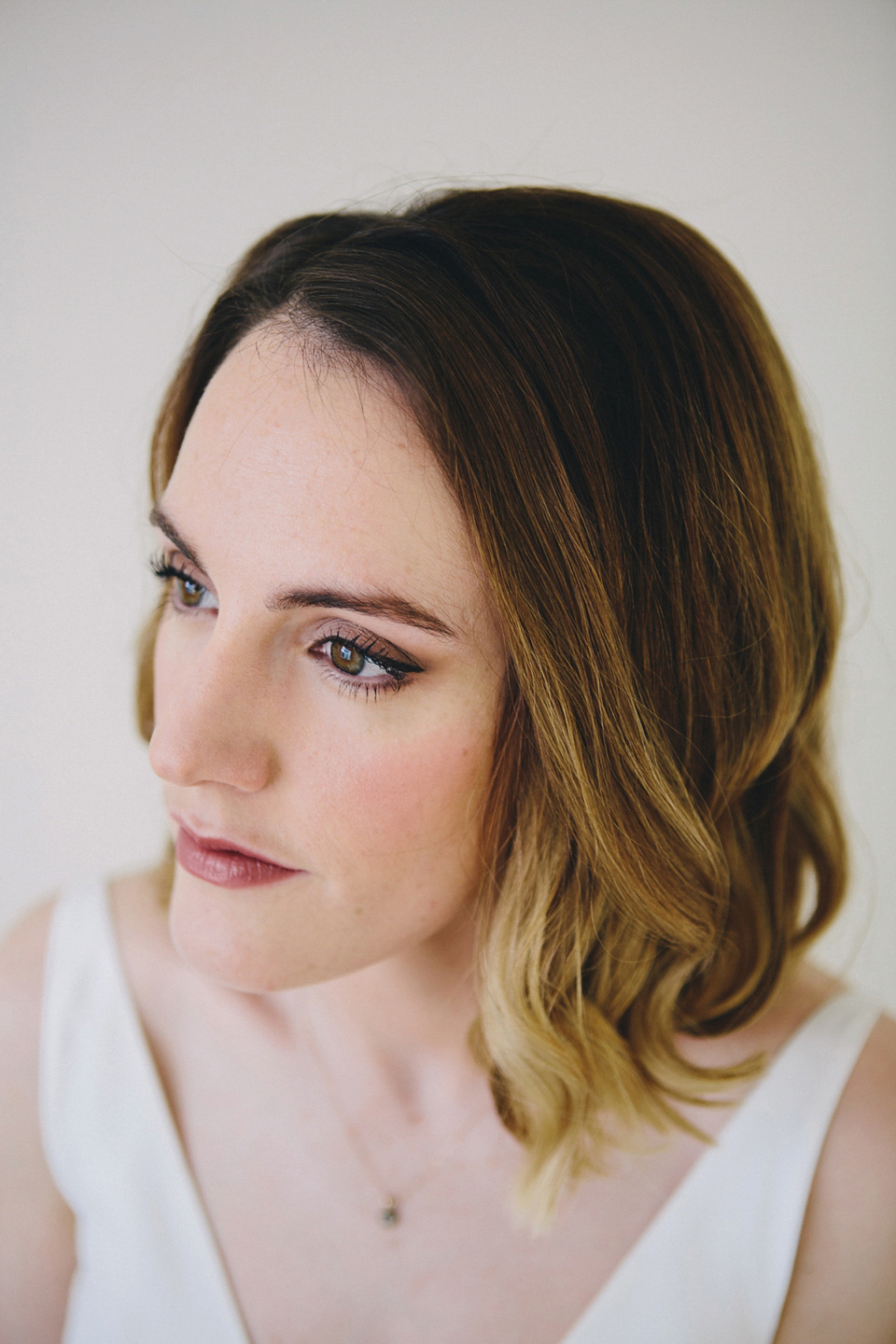 "We met in Durham through our good friend Simon who was at uni with Jack and went to school with me. We decided we wanted to get married last year and Jack surprised me with an antique ring we'd seen together (he told me when he went back to get it that it had gone) whilst we were out rowing in Durham. We'd been together for seven years, and engaged for four months, when we tied the knot."
Hold on, Katherine and Jack planned this beauty in just four months!? I am seriously impressed.
"I did my own flowers, and the bridesmaids did the button holes. Jack and I found a wholesale place near his Mam and Dad's; they were really helpful and advised us on what would be available between Christmas and New Year. We did a practise run and really like the combination of chrysanthemums, alstromeria and dark green leaves. Jack decided on roses for his button holes."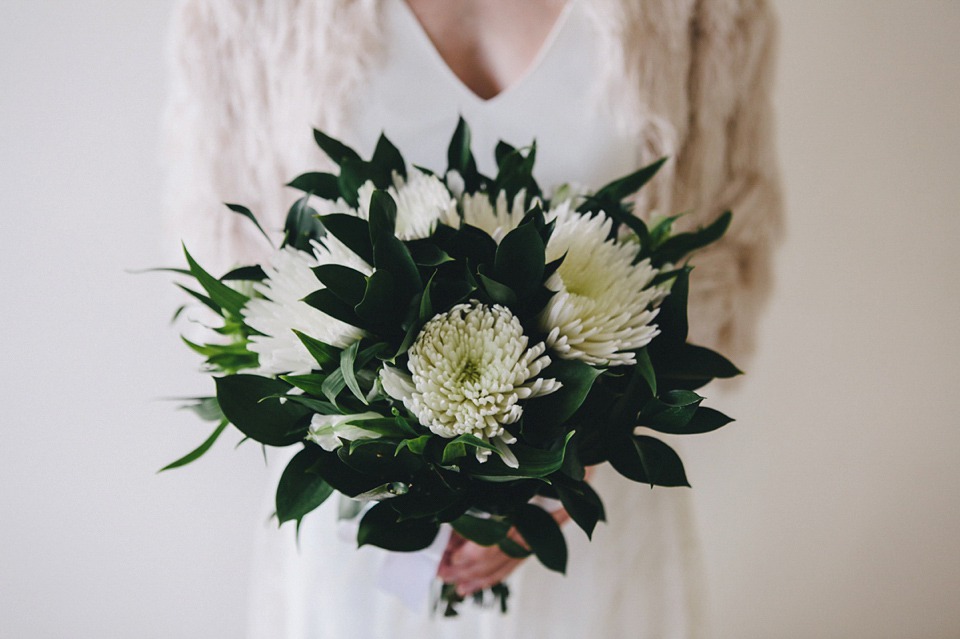 "Jack is from Gateshead and we wanted to make it as easy as possible for his Nanny, who is in her nineties to be at the wedding. Mary-Jane at the Baltic was a huge help. We'd visited lots before and loved the building and its location on the river Tyne; such a fantastic setting, especially on New Year's Eve."
"After lots of trying on Jack decided on a suit from TM Lewin. The accessories came together on a last minute Christmas Eve dash to Charles Tyrwhitt for ties and pocket squares. His shoes were from Barker."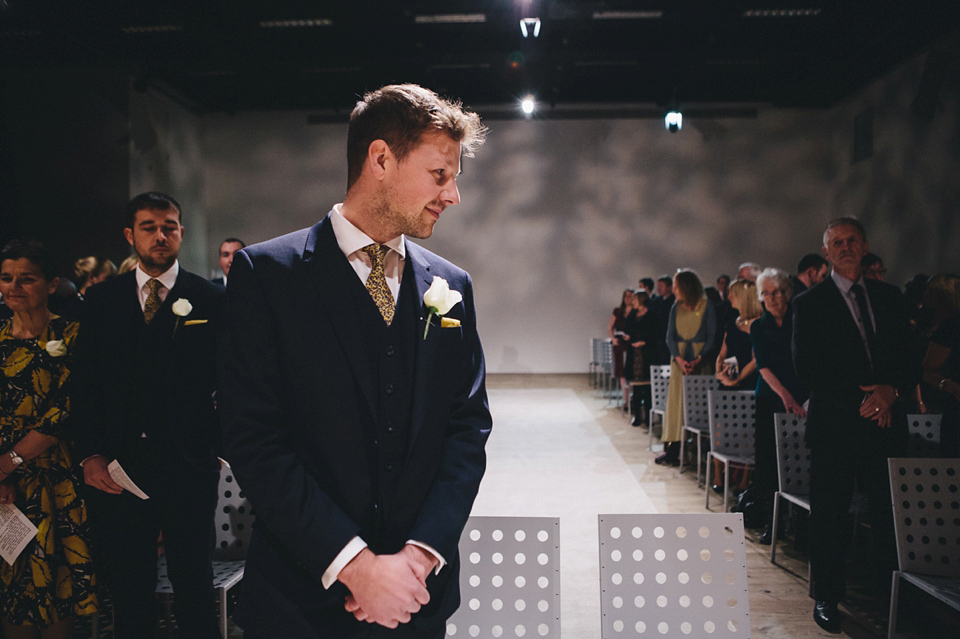 Katherine's bridesmaids wore a eclectically gorgeous array of dark blue dresses; ASOS played a hand role in supplying those beauties. In a sweet gesture, bridesmaid Lucie wore a necklace belonging to the bride, which she'd bought from another maid, Charlotte, who creates pretty bespoke and vintage accessories. How touching that Lucie carried something belonging to her friend on the day.
Laid back bride Katherine hopped in a taxi to take her to the Baltic, where she walked down the aisle with both her Mum and Dad to greet her groom under the most atmospheric backdrop of festoon lighting, supplied by the DJ's the couple employed for the evening; Bride and Groove.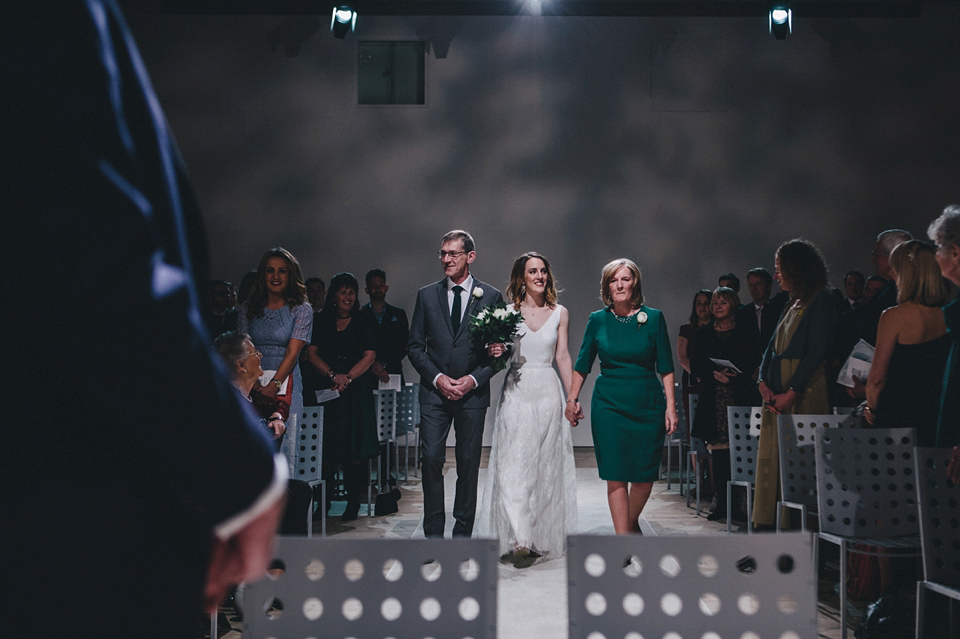 "I'd never really liked the notion of being 'given away' but wanted both of my parents with me. It was a lovely moment walking into the room and seeing everyone. I walked in to Vivaldi's The Four Seasons; the largo movement from Winter. I wanted to walk down to something classical and it felt right for the winter's day. We both exited to 'Do I love you (Indeed I do)' by Frank Wilson; such a fun track!"
Katherine and Jack chose not to tailor their vows as they thought neither of them would make it through them; I sincerely doubt I'll make my way through mine without crying. The brides's sister, Lucy, read 'Us Two' by A.A.Milne and Jack's Dad read 'Scaffolding' by Seamus Heaney.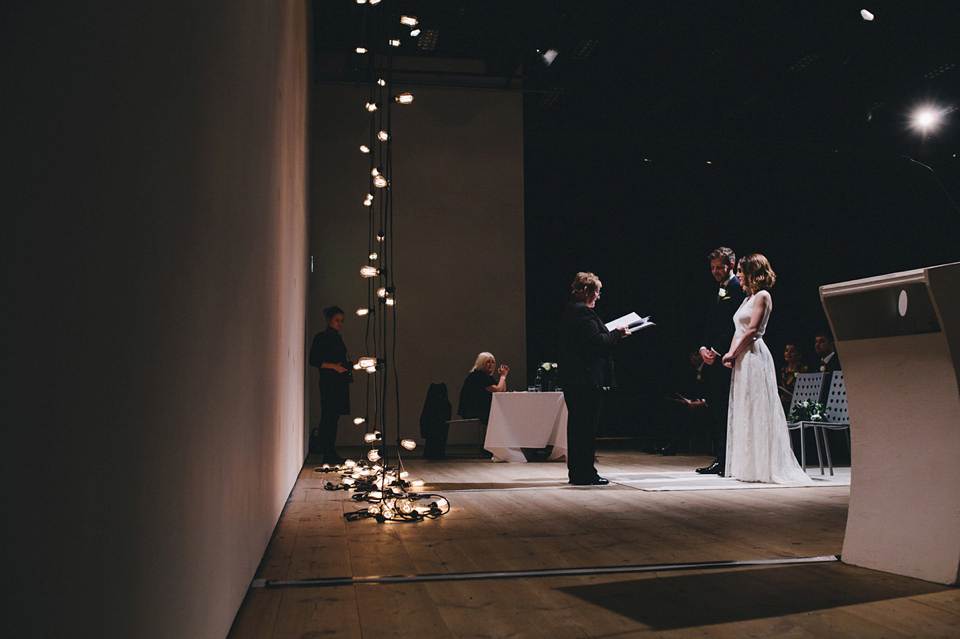 "My ring was made by M & A Kaae at Grays Antiques where we got my engagement ring from. Jack has my Dad's wedding ring, which he inherited from his Grandmother. My Dad had to have the ring cut off a few years ago due to arthritis and he wanted it to go to a special home."
How very special and poignant that Jack now wears such a lovely heirloom; such an important and meainingful piece of family history for the couple to carry into their married lives together.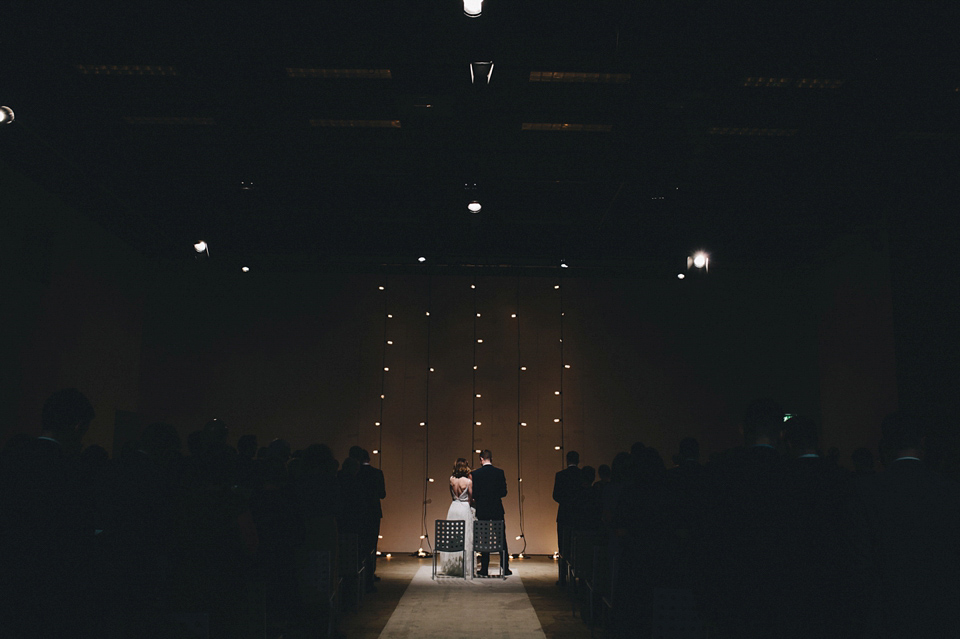 "We also all sang 'Bring Me Sunshine' by Morecambe and Wise. We liked how light-hearted 'Us Two' was and I loved Winnie the Pooh when I was little. It got a few giggles on the day! 'Scaffolding' was one of the first poems we read and we both loved it. It talks in a beautiful but honest way about marriage and was one of the first poems that Seamus Heaney wrote to his wife."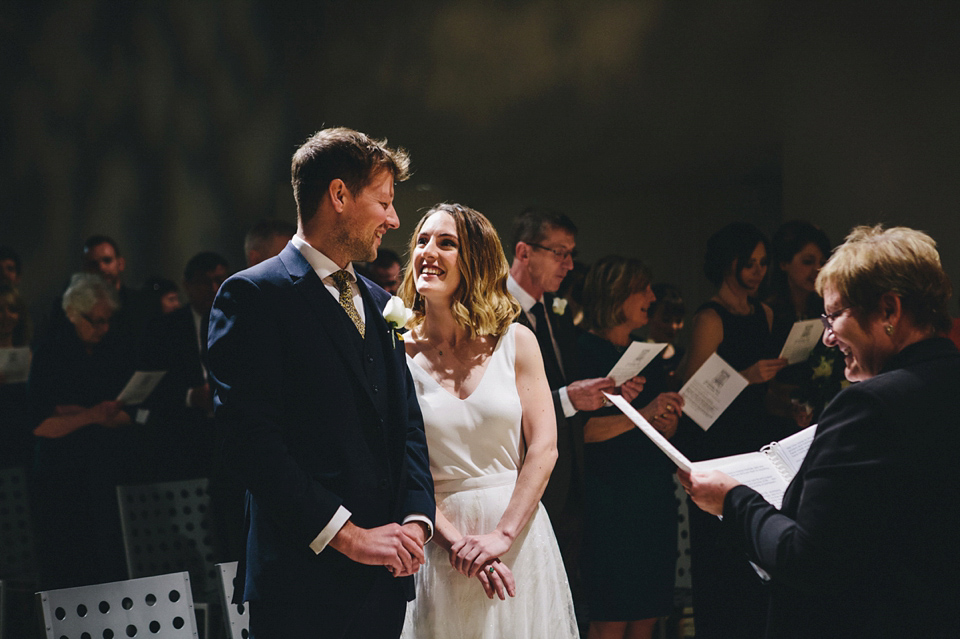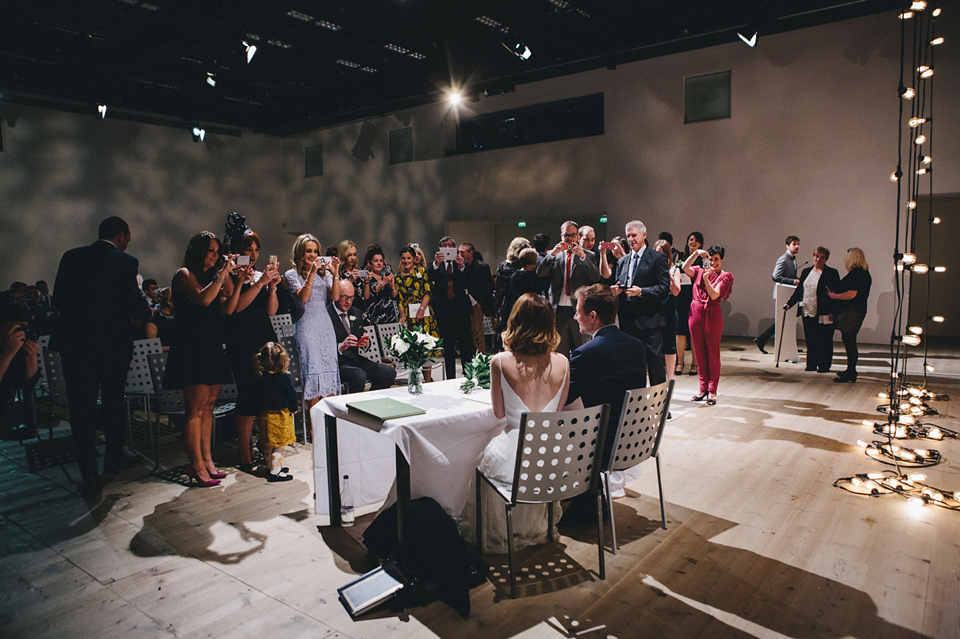 "The festoon lighting from Bride and Groove was the main decoration. My Mum and Dad made some glittery numbers for the table and lots of friends and family collected jars for candles. My sister, Lucy, made a post box for the cards too, a group effort."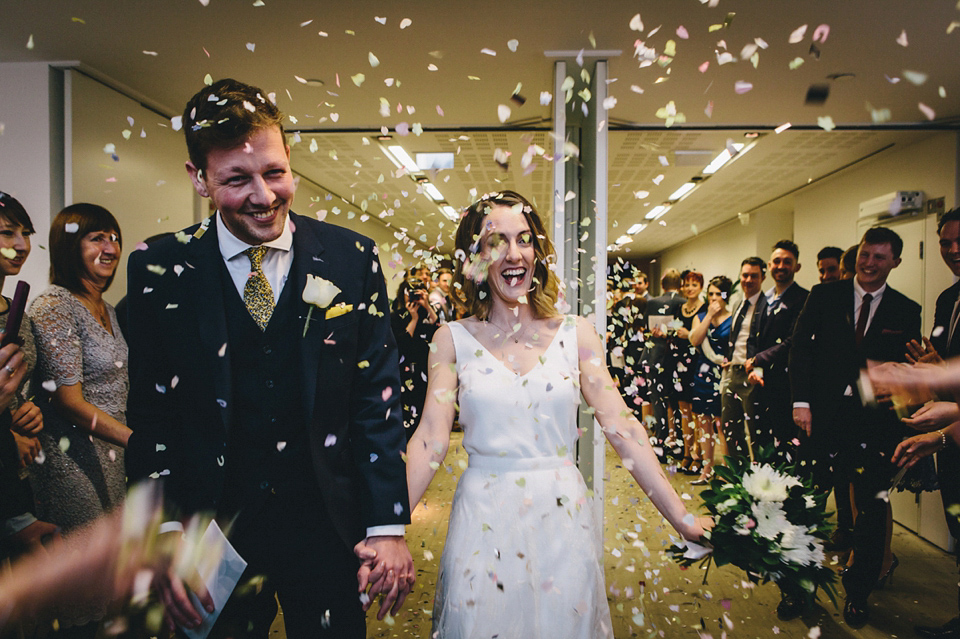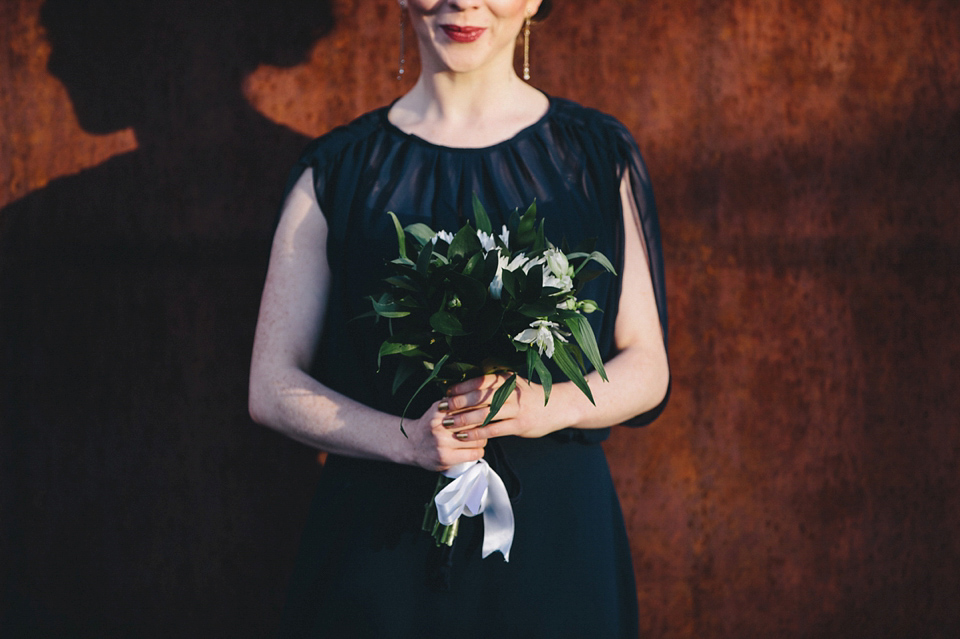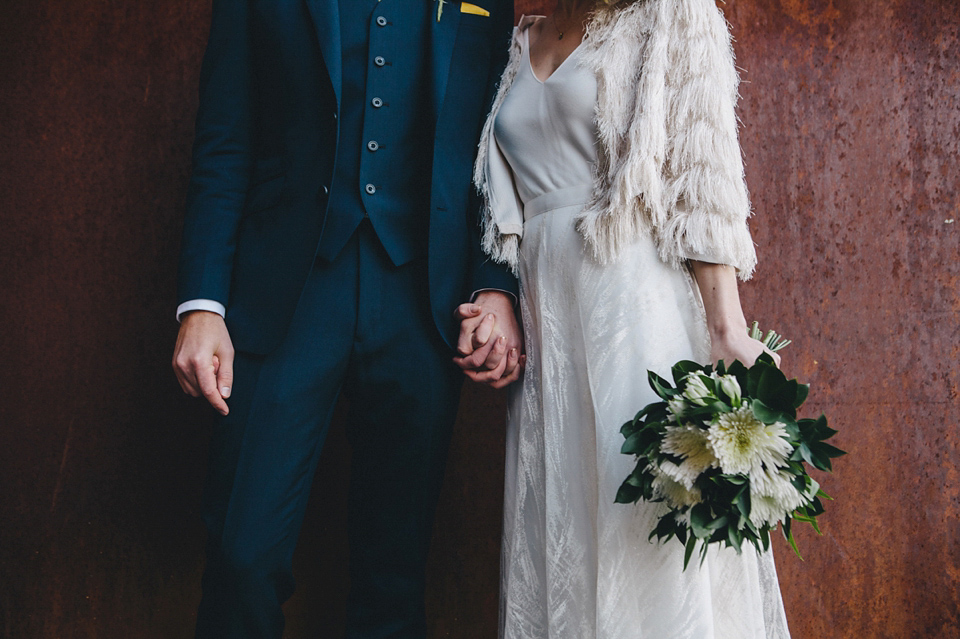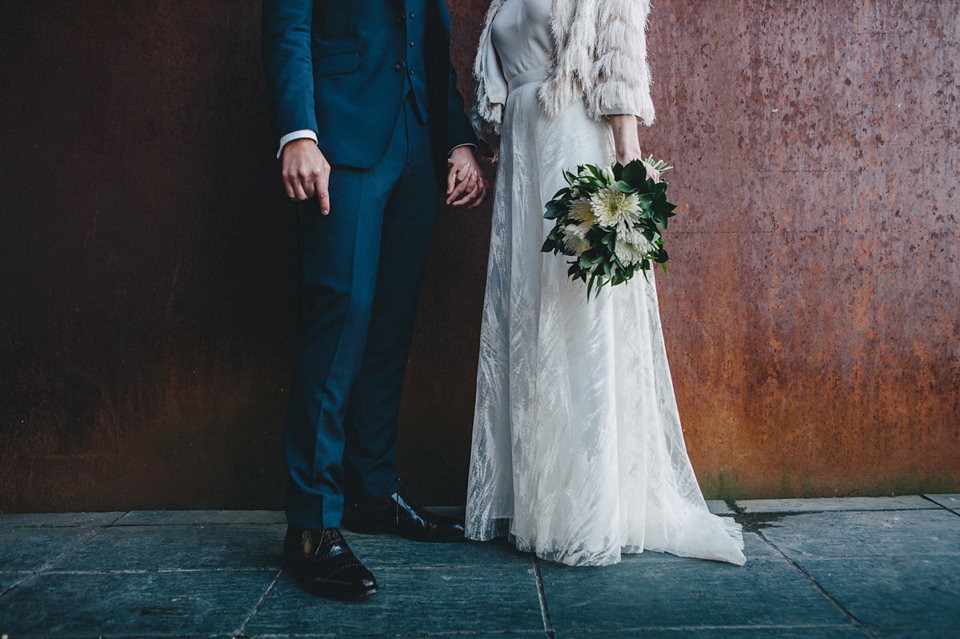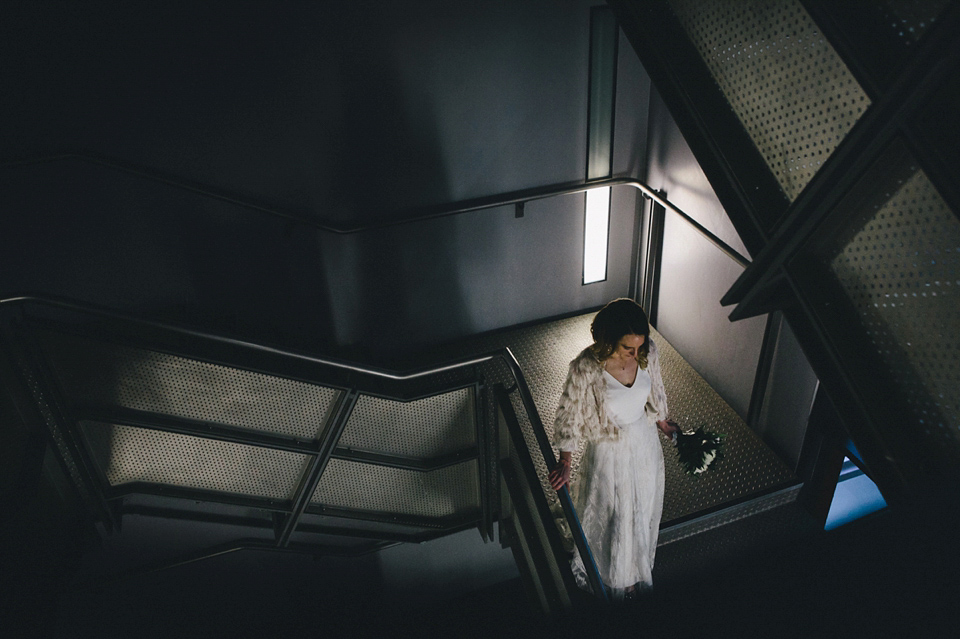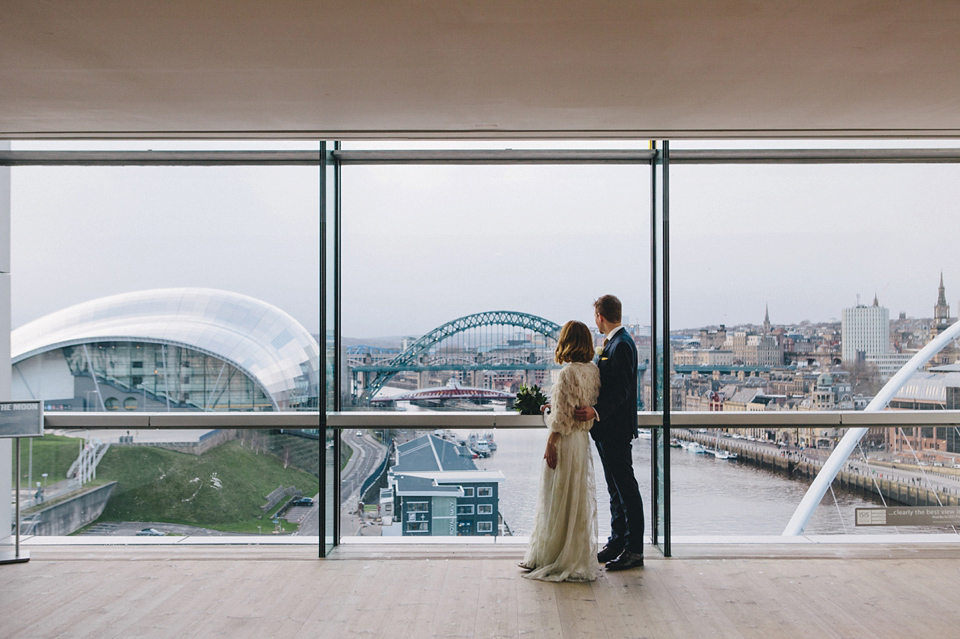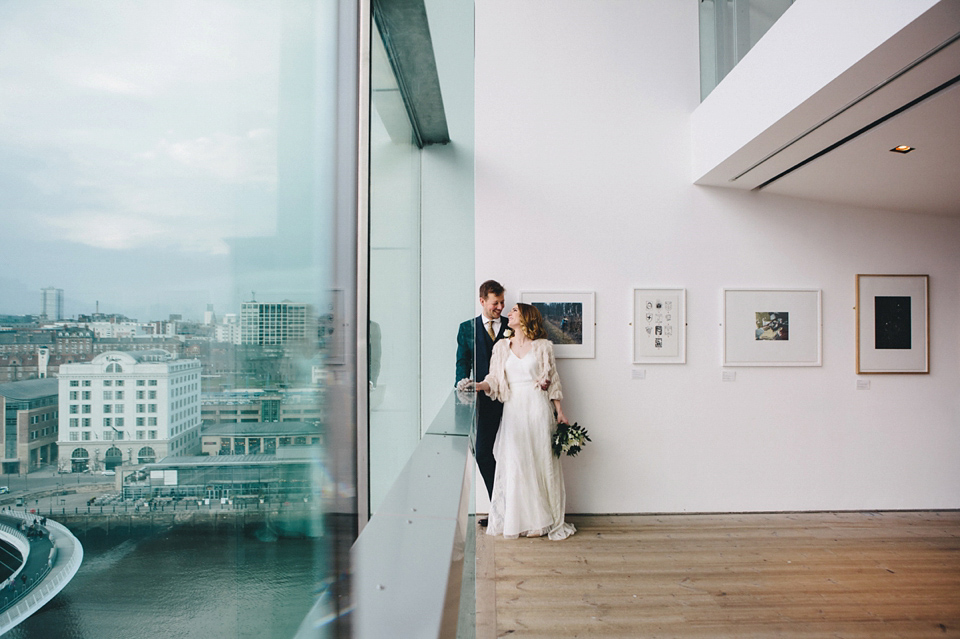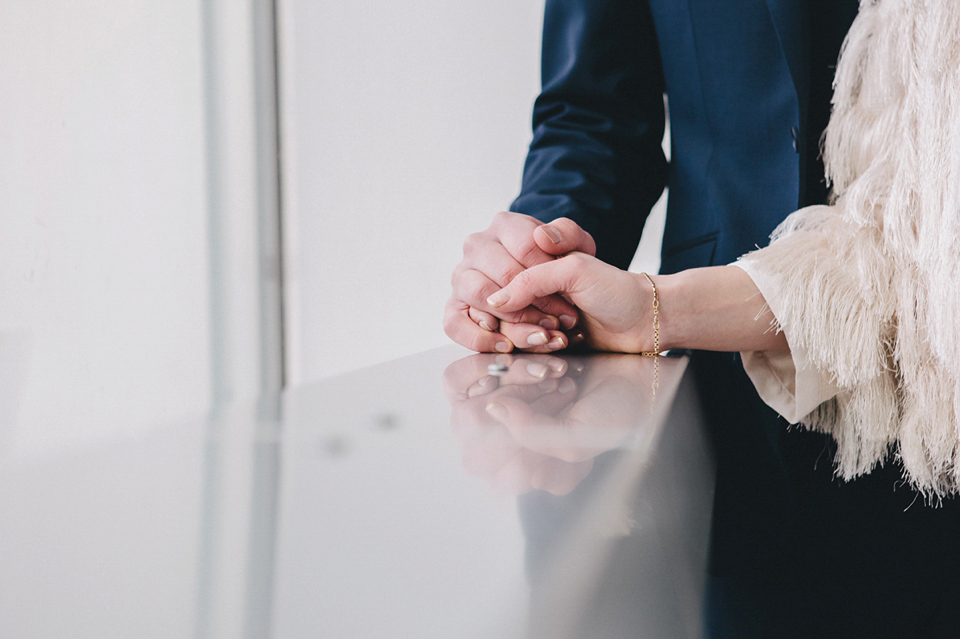 "The Baltic did all the catering for us and the food was delicious. A highlight of the planning was going for a tasting session at Six, the restaurant at the top of the Baltic."
Jack's talented Mum designed and made all of the stationery for the day including invitations, song sheets, table plan and place cards. She illustrated them with an image of the Baltic and painstakingly hand wrote all of the information.
"We asked friends and family to make a selection of cakes, they were so fantastic we ended up with an amazing spread. There was so much cake leftover that we still had some fruit cake at Easter that we'd kept in the freezer!"
Katherine and Jack gave their guests fun kinder eggs as favours and the bride's cousin Lydia made goody bags for the children to keep them entertained. Bride and Groove provided the soundtrack for the evening and the couple chose David Bowie's Heroes as their first dance track. I can only imagine how triumphantly epic that must have been.
"The whole day was fantastic but we particularly loved the ceremony. It was so lovely to be surrounded by loved ones, to sing together and to say our vows to each other. We were super lucky to be able to see the city's fireworks at midnight from the terrace at the Baltic. It was a magical moment when everyone started to sing Auld Lang Syne. We'll never forget it."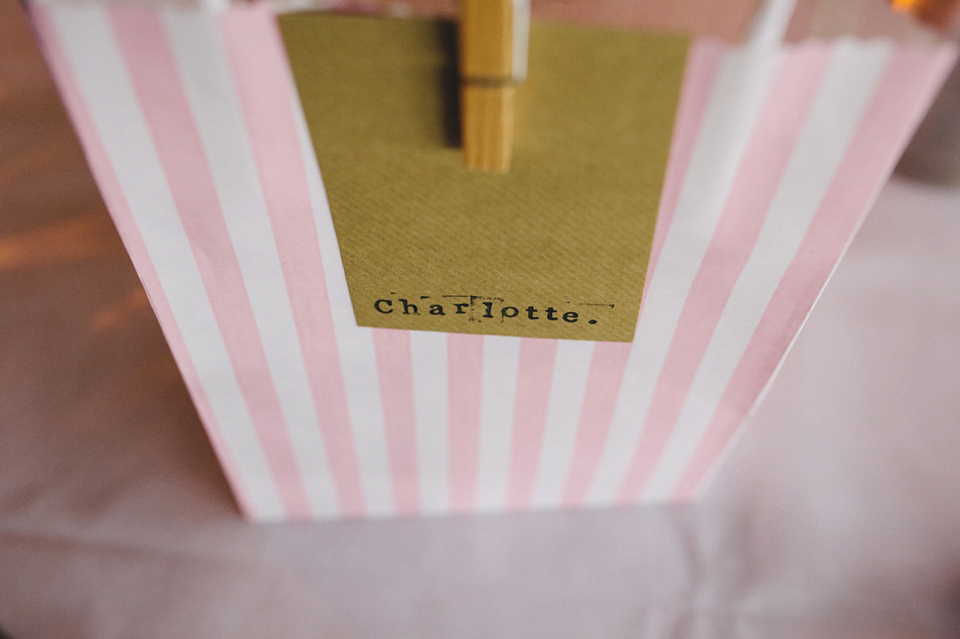 Words of Wedded Wisdom
"We really enjoyed planning our day, it was so much fun choosing things together. Just remember that there are no rules; you can do whatever you like. The day itself it goes so quickly, make sure you take some moments to look around and take it all in.  A lot of people also told us not to scrimp on the photography and we'd have to say they were right!"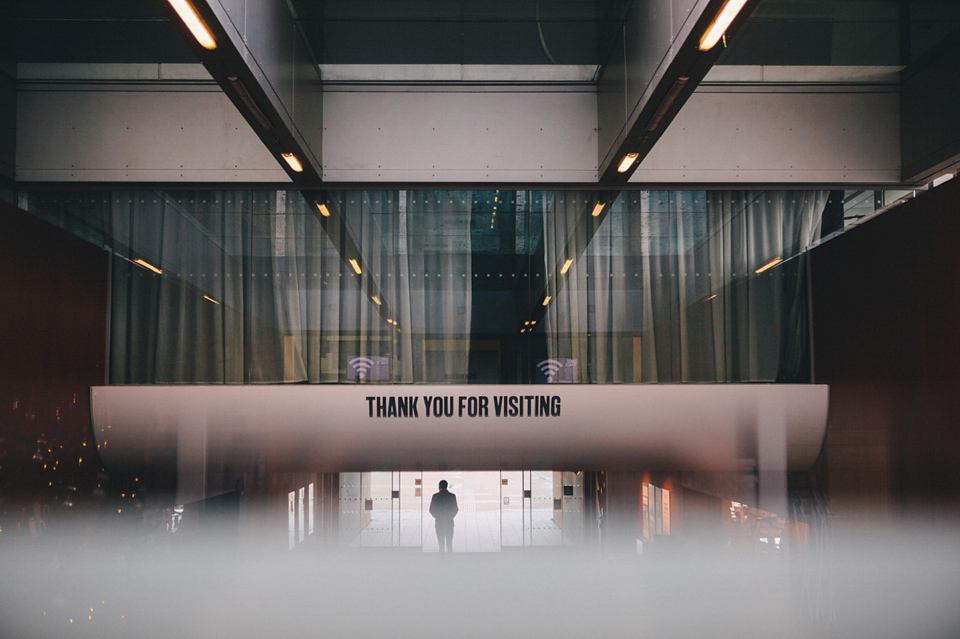 I would 100% agree with you there Katherine; you're wedding shots are some of the most atmospheric, beautiful images I've seen. A huge thank you to Katherine and Jack for allowing us an insight in their wedding day and as always a great big thank you also to The Twins for the beyond gorgeous captures. Obsessed? Follow this link for more beauty from this incredible duo on our lovely blog.
Love, Em x