Good morning lovely readers.  How are things in your world?  We have such a pretty wedding for you today.  Meet Ben and Nik, who married on the 14th of March 2015 at the beautiful and stately Compton Verney House, Warwickshire. Let me begin by showing you their lovely wedding film, captured by RB Films.
"We were inspired by art deco, the 1920's and 1930's and our mutual love of music but we didn't want to be too strict with the styling of things.  Similarly we didn't have a strict colour scheme but wanted to incorporate blues, greens and purples, from the bridesmaid dresses to the small decorative vases."
Ben and Nik chose our Little Book For Brides member Boy Called Ben, to capture their big day.  I absolutely love the photos of the happy couple in the evening sun by the lake- such beautiful light.
"We couldn't rate Ben any higher.  He is so good at what he does and he made us both feel so comfortable which was especially important for my husband as he's not very keen on having his picture taken.  We feel like at every step Ben went above and beyond his duties not only to make us happy but also to get incredible photos."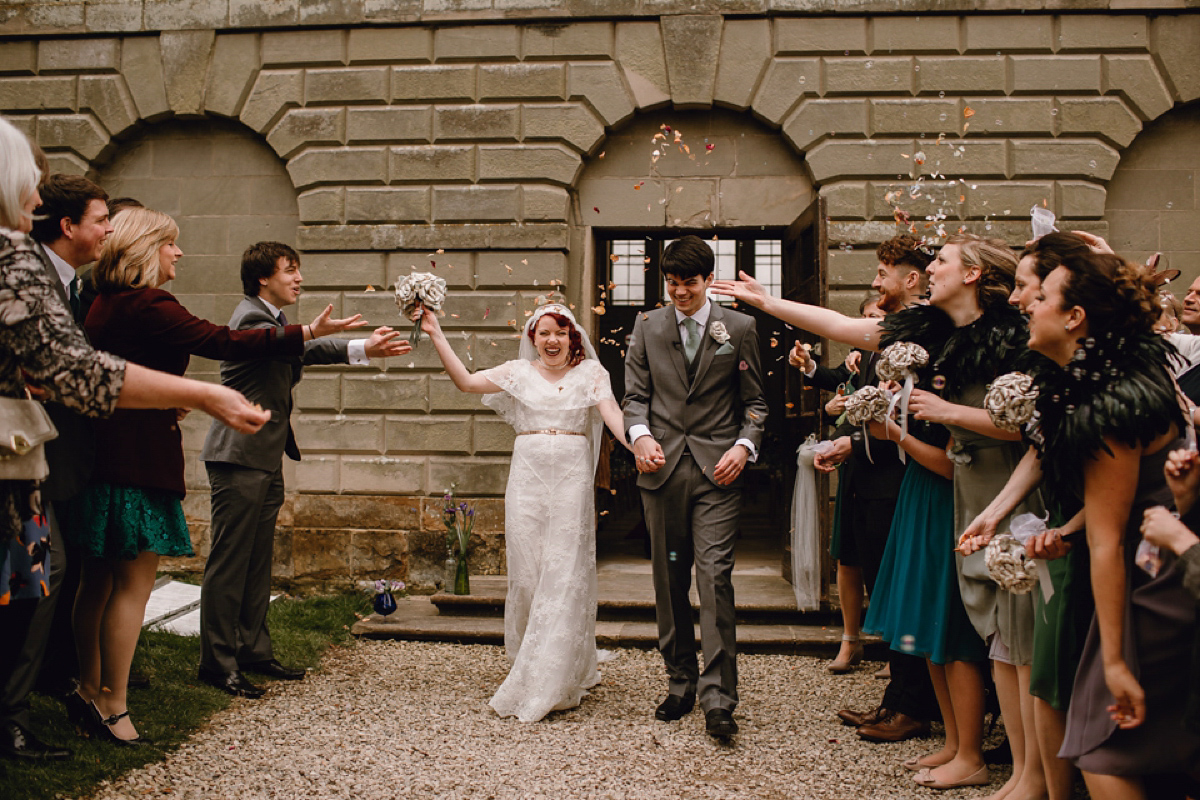 Nik's five bridesmaids looked wonderful all in different dresses in shades of blue, purple and green.  The dark green, light blue and purple gowns were all purchased from Dessy, the light green from Coast and the dark blue from Lela Rose.  They're all gorgeous, don't you agree? The ladies all accessorised with flats from New Look, pearl earrings from Good Good Jewelry and finished with wonderfully fun feather capes from Biba at House of Fraser.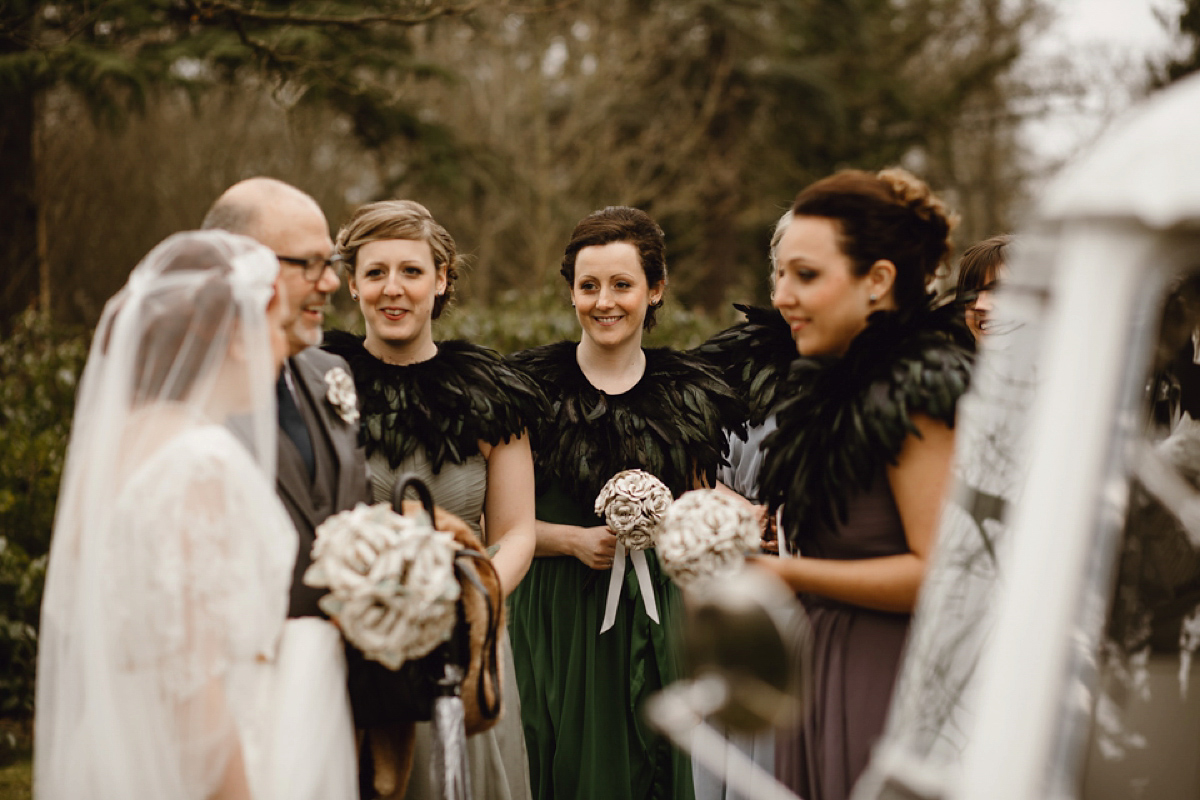 This silver fingered seamstress also made her gorgeous Juliet Cap veil, from silk tulle and the same beautiful lace that she used for her dress.  Underneath Nik wore a headpiece she had made from lace and pearl beads, which she revealed once her veil was removed.  Just lovely.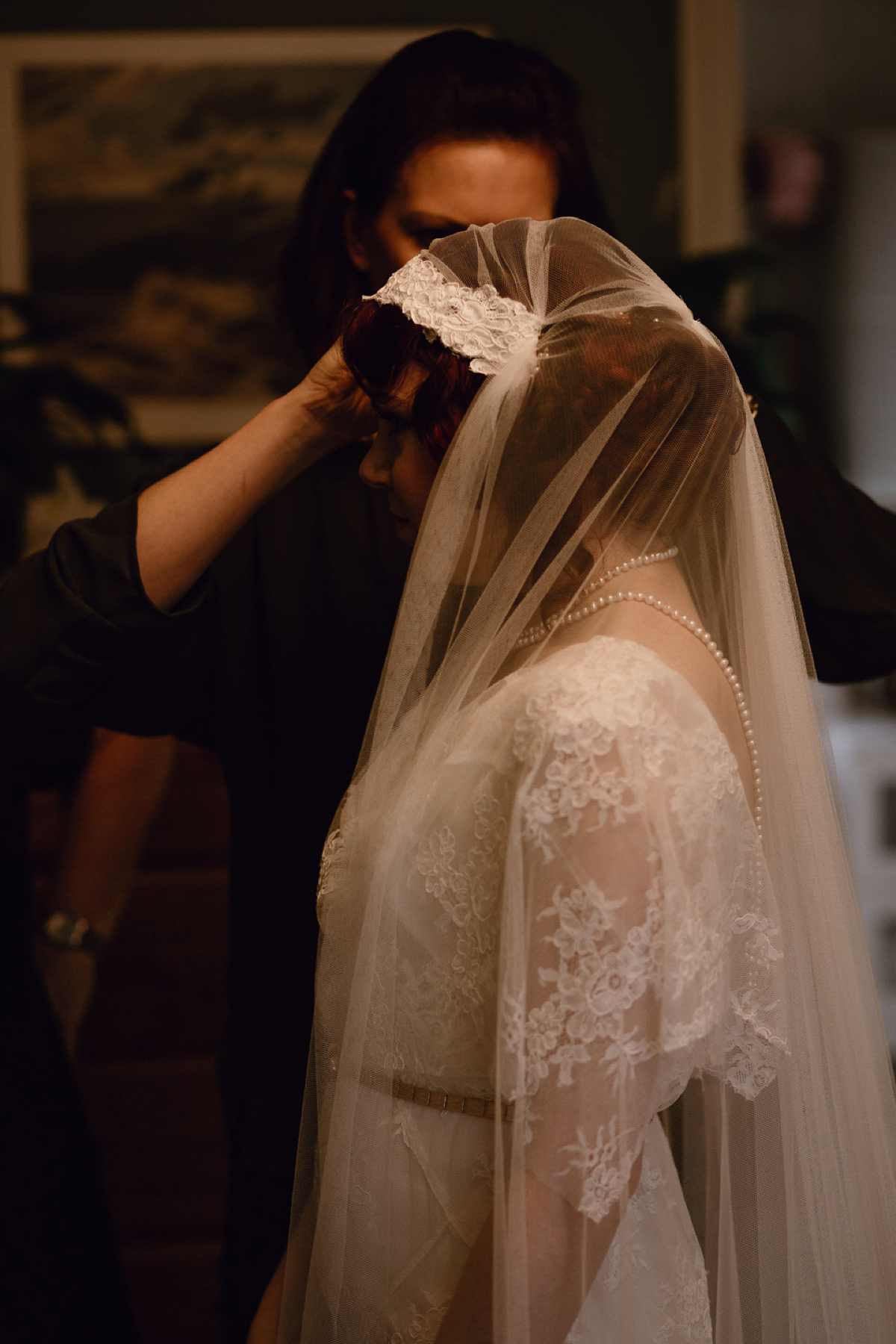 On her feet Nik boasted a pair of mint green heels from New Look, while for jewellery she chose classic pearl stud earrings and a pearl back necklace, both from Good Good Jewelry on Etsy. Finally, she finished her look with an original art deco belt, bought on eBay, and a vintage fur stole.
Talented Nik made her own wedding dress.  I am always genuinely astounded when I hear about brides that do this, as I have no sewing skills whatsoever and so I am blown away by the idea of being able to sew something so wonderful as a wedding gown. Nik used two vintage patterns, (from 1925 and 1931) and combined them, adding other design features as she went along to create her dream gown.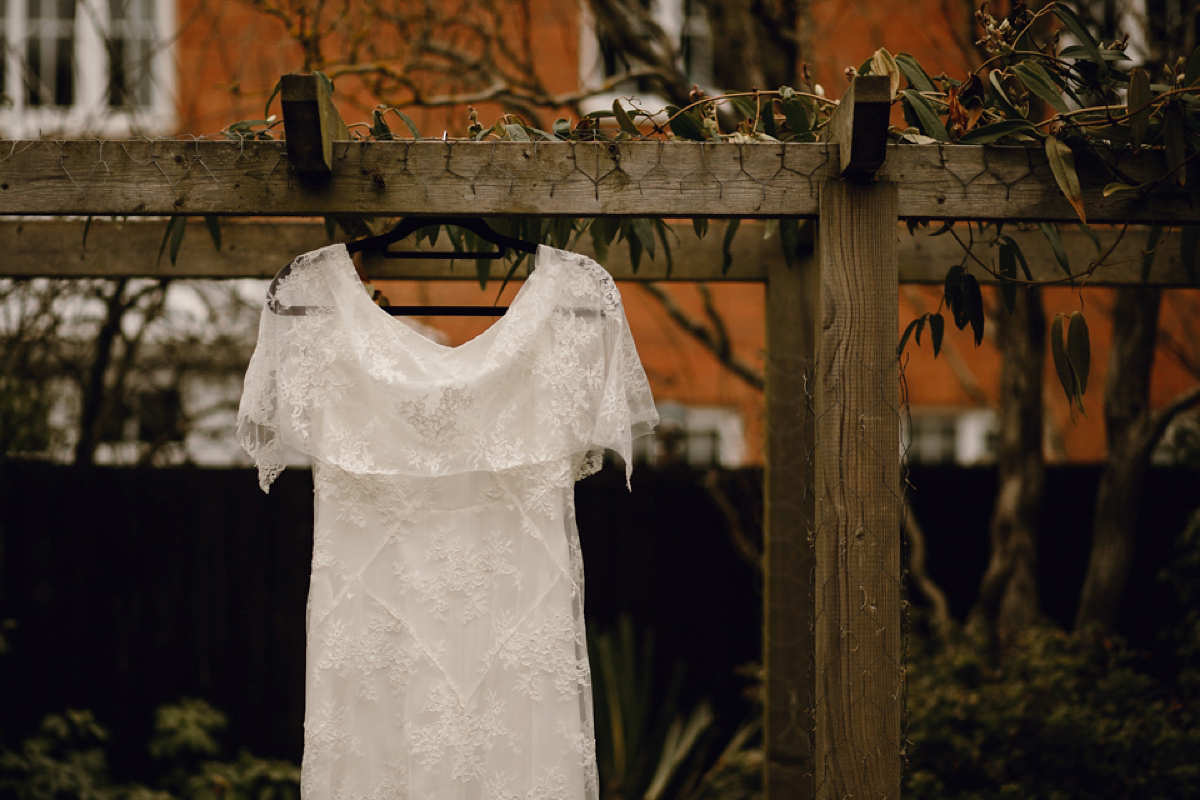 "The design I chose was what I truly wanted down to the finest detail.  I started in May 2014 and finished about a month before the wedding, which gave me the freedom to take time off from working on it when I came across frustrating parts.  It certainly wasn't a process without stress but it was so worth it in the end."
"Ben said in his speech his favourite part about my dress was that it was so clearly 'me', which made me so happy to hear.  I really did put my whole self into making it so I was thrilled that he could see that."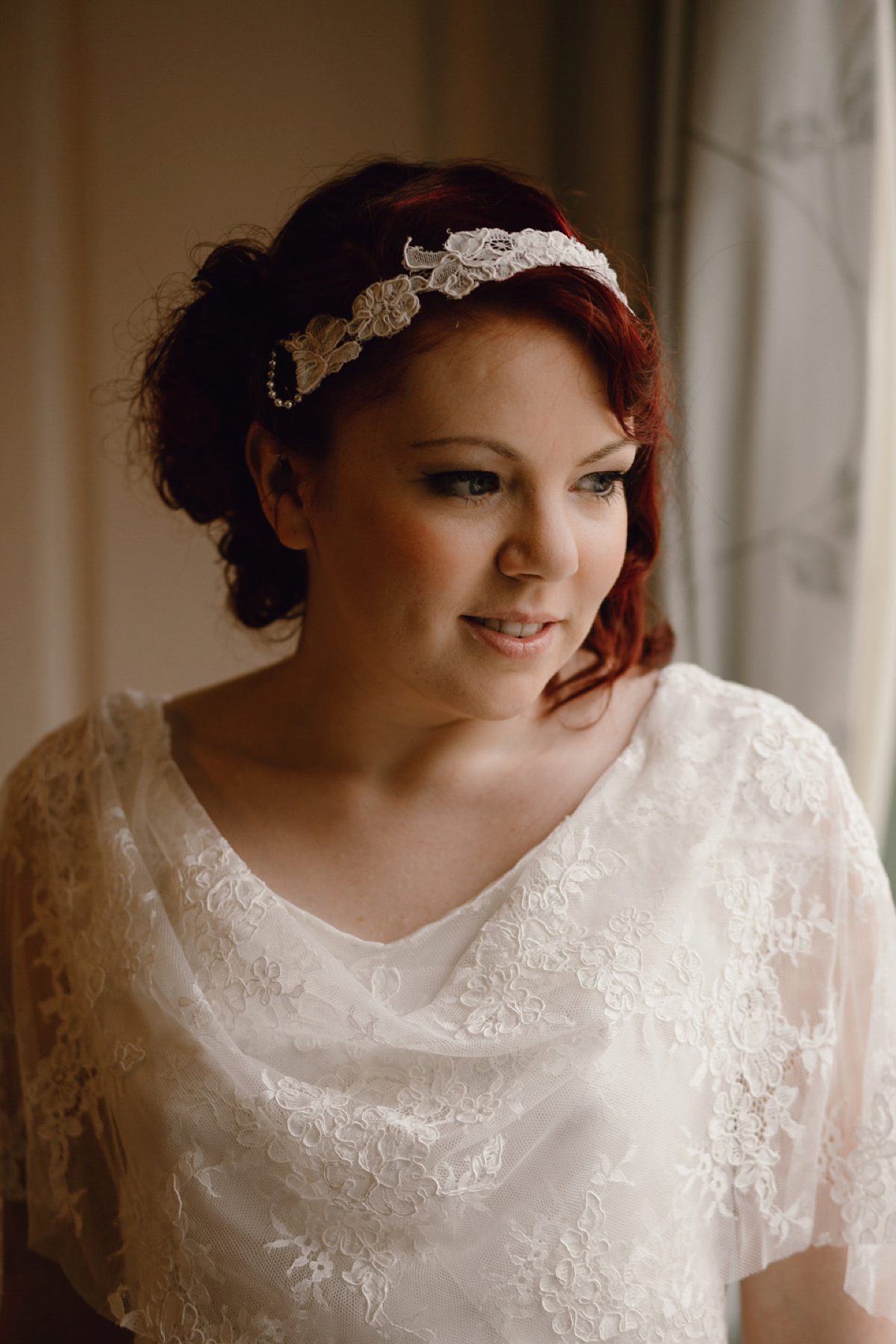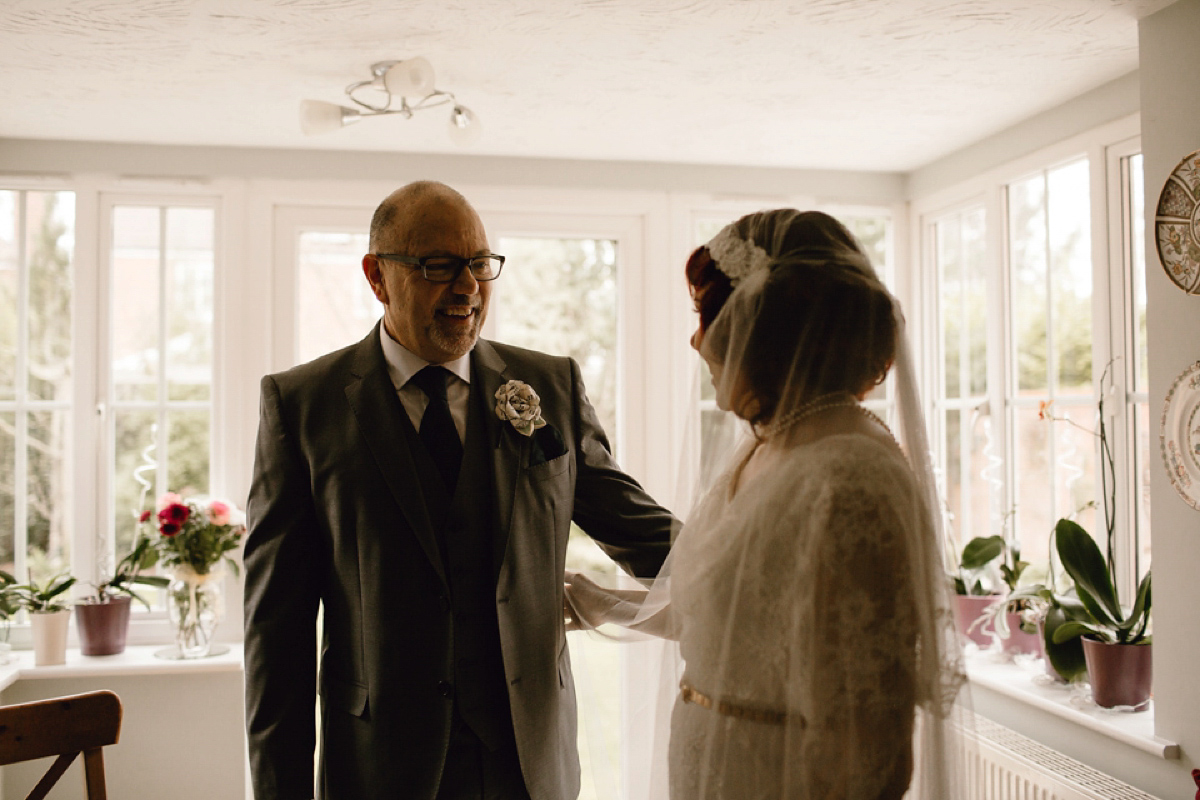 Nik was walked down the aisle by her Dad to 'Old Fashioned Hat' by Anais Mitchell.
"My Dad walked me down the aisle although it was more a chance to share a special moment with my Dad than being 'given away'.  We were also driven, just us two, in the camper van (hired from Pear Tree Weddings) to the ceremony.  It was a really special time and one I'll always cherish."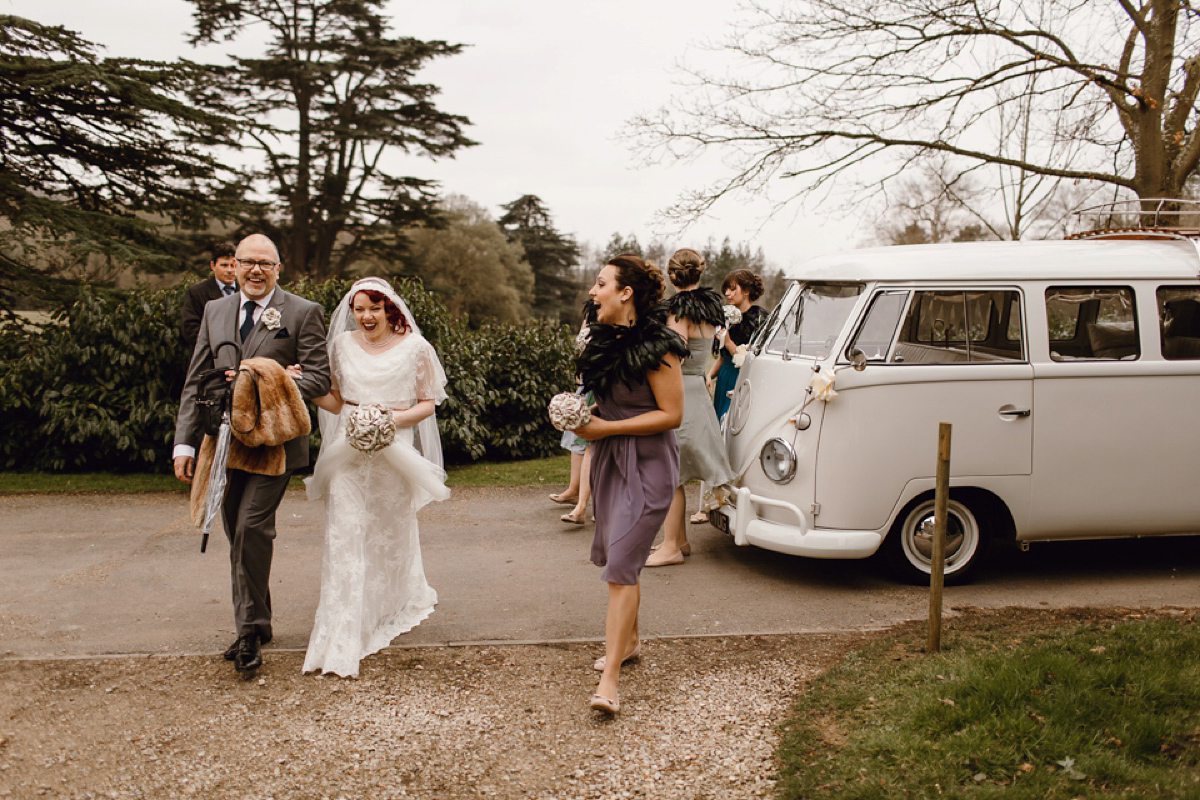 Nik and Ben combined fresh flowers from Jean Cheshire and paper flowers they made from old sheet music to create a wonderful mix of floral arrangements.
"Jean did such an amazing job with our flowers.  We wanted them to complement all the other colours used throughout the day and so had a lot of purples and greens (foliage) and blues where we seasonally could.  I particularly loved the use of the silver dollar eucalyptus and the vibrant freesias."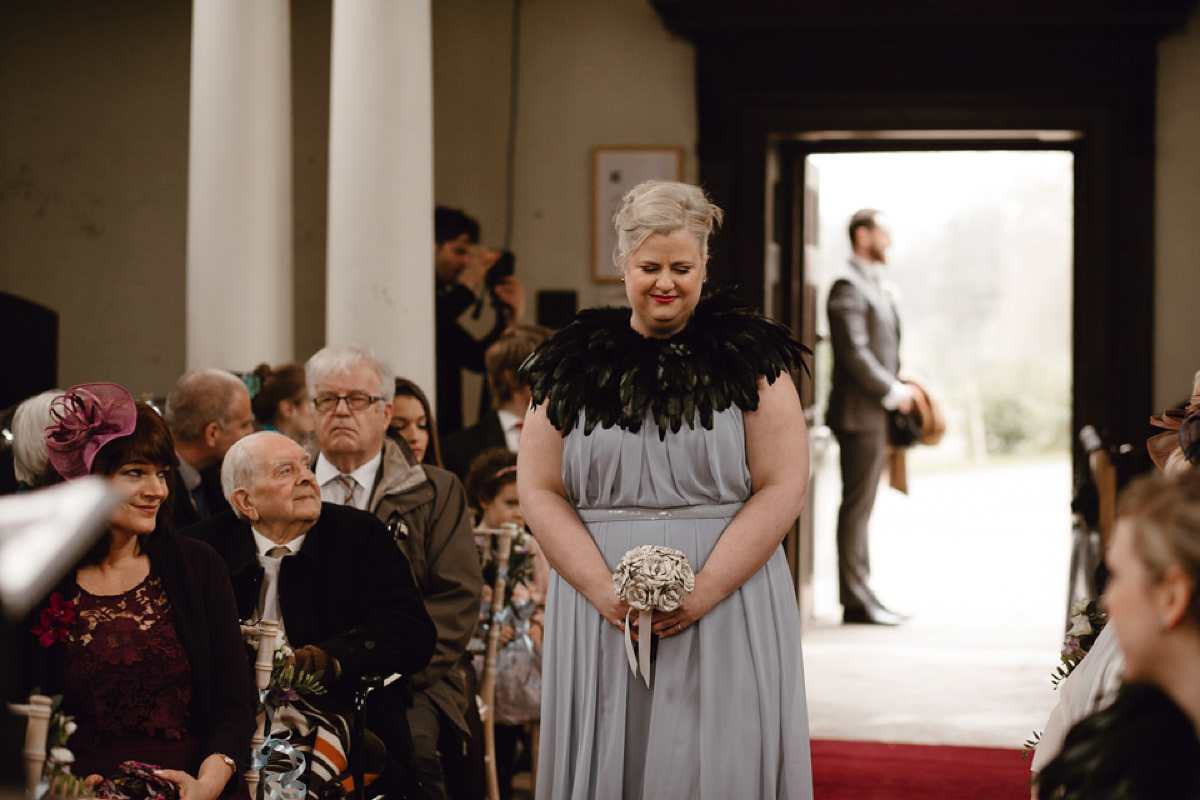 "From the moment we arrived at Compton Verney, we knew it was the venue for us.  We had our ceremony in their on-site chapel which was under restoration at the time and despite it not being perfectly polished it was so beautiful and unique."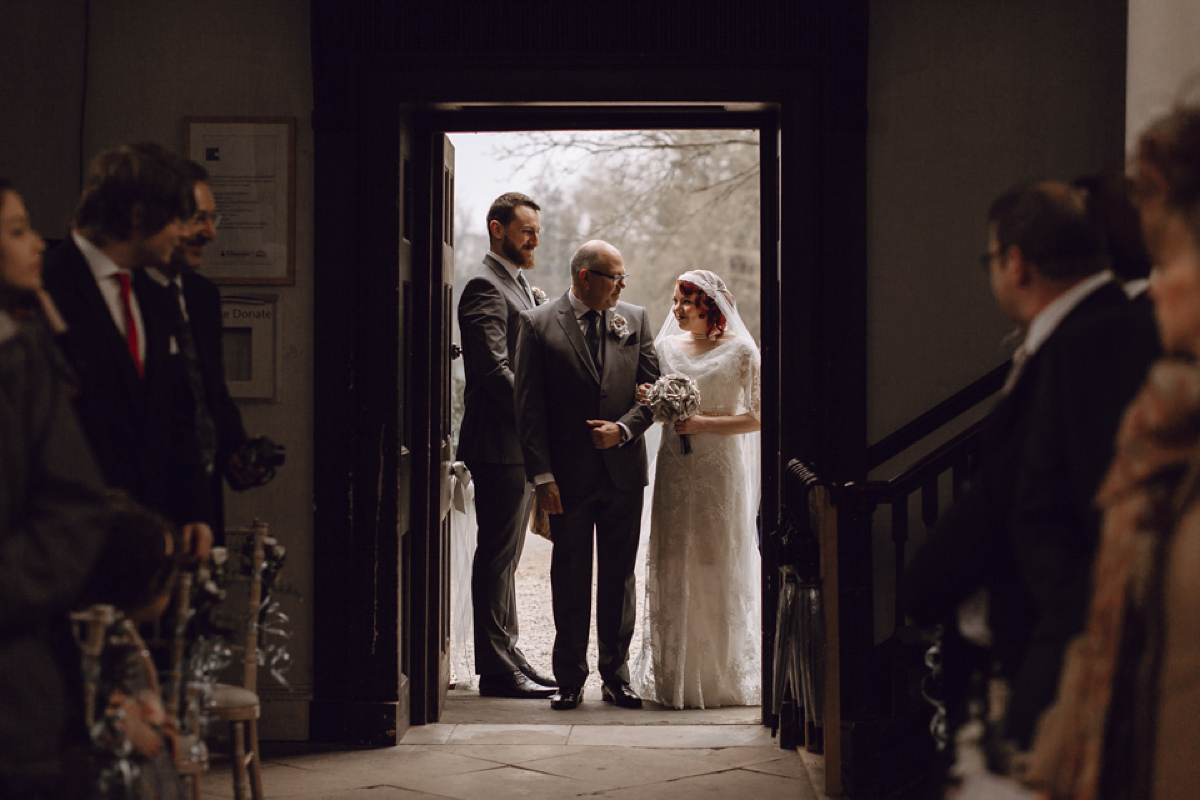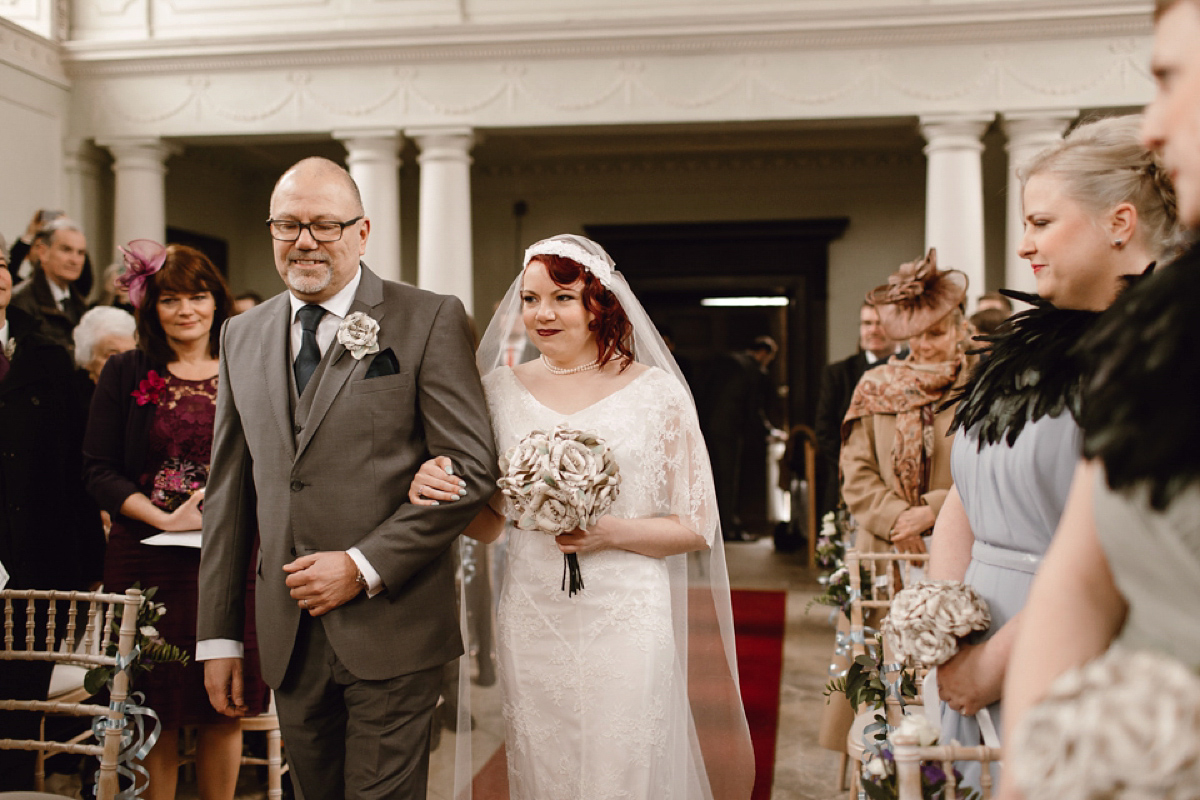 Ben looked very smart indeed in a grey three-piece suit from Slaters in Birmingham, worn with a duck egg greeny blue tie and handkerchief, which matched Nik's shoes and the feathers in her bouquet. His buttonhole was an paper flower made from sheet music.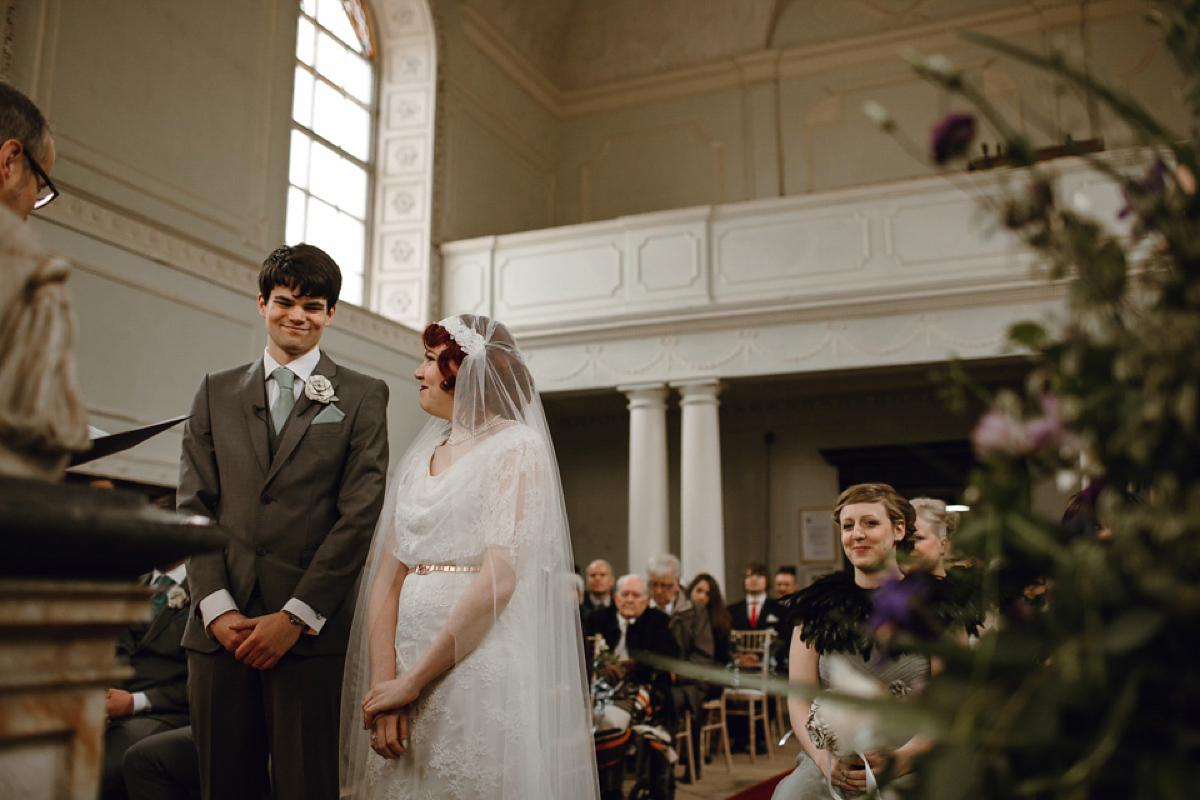 Nik and Ben are Christian and therefore spoke the traditional  vows as the words meant a lot to them.  For readings,  a family friend read an excerpt from the novel 'Les Miserables' by Victor Hugo.  Rather wonderfully, while the newly weds were signing the register, four of the bridesmaids also sang for the congregation ('Stay Young, Go Dancing' by Death Cab For Cutie).
"We are so lucky to have such talented friends and family and it was incredibly special for them to be a part of our day like that."
The couple exchanged wedding bands purchased from J & M Jewellers in Birmingham's Jewellery Quarter.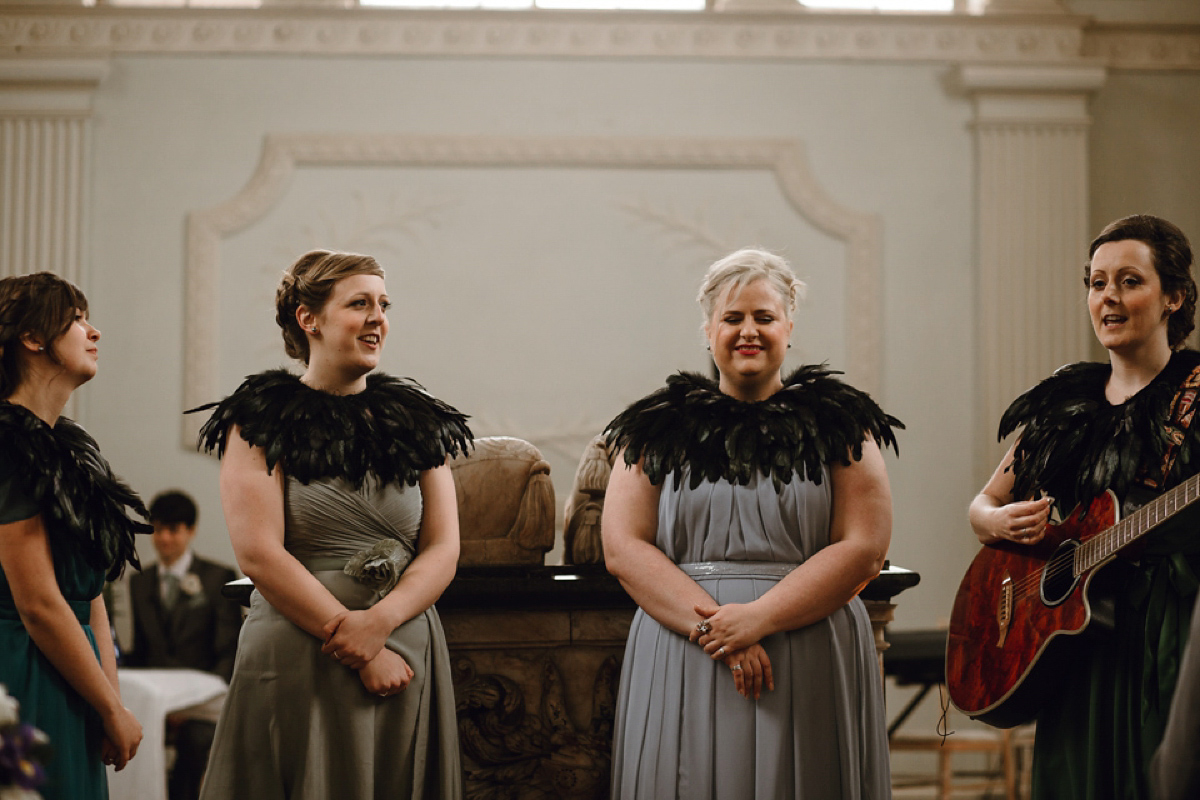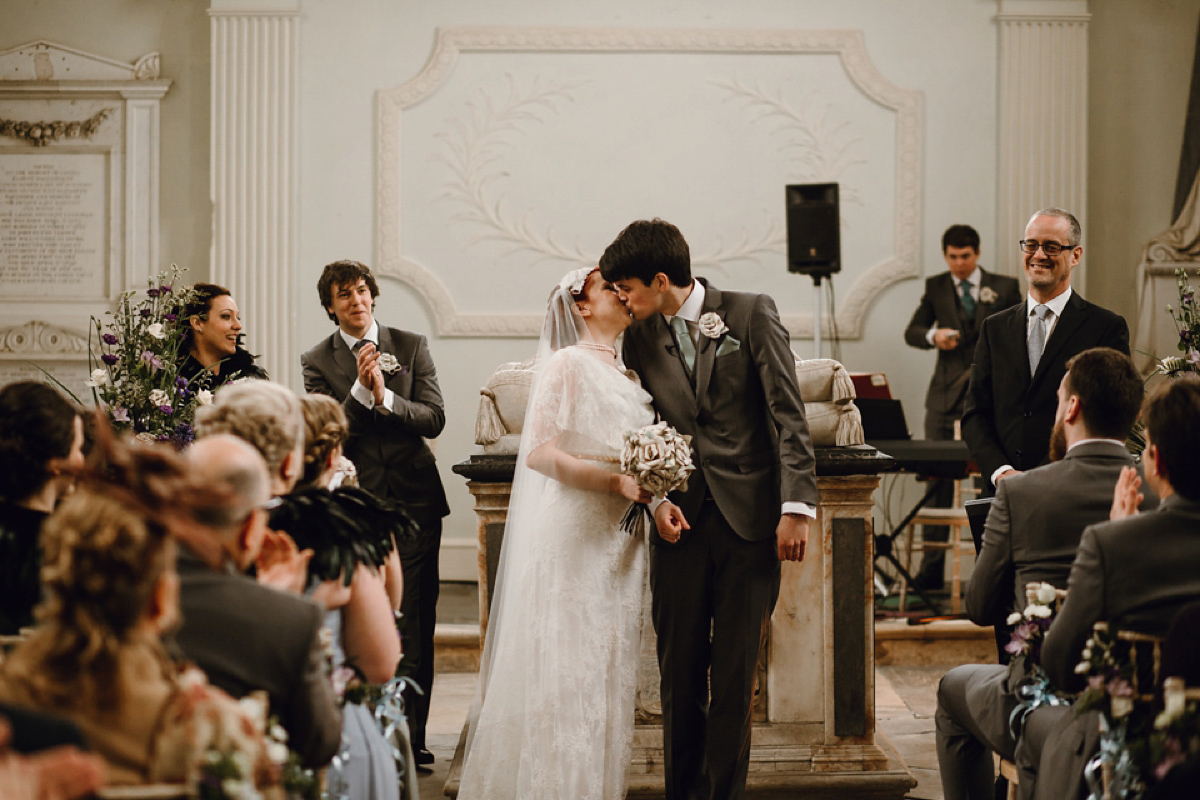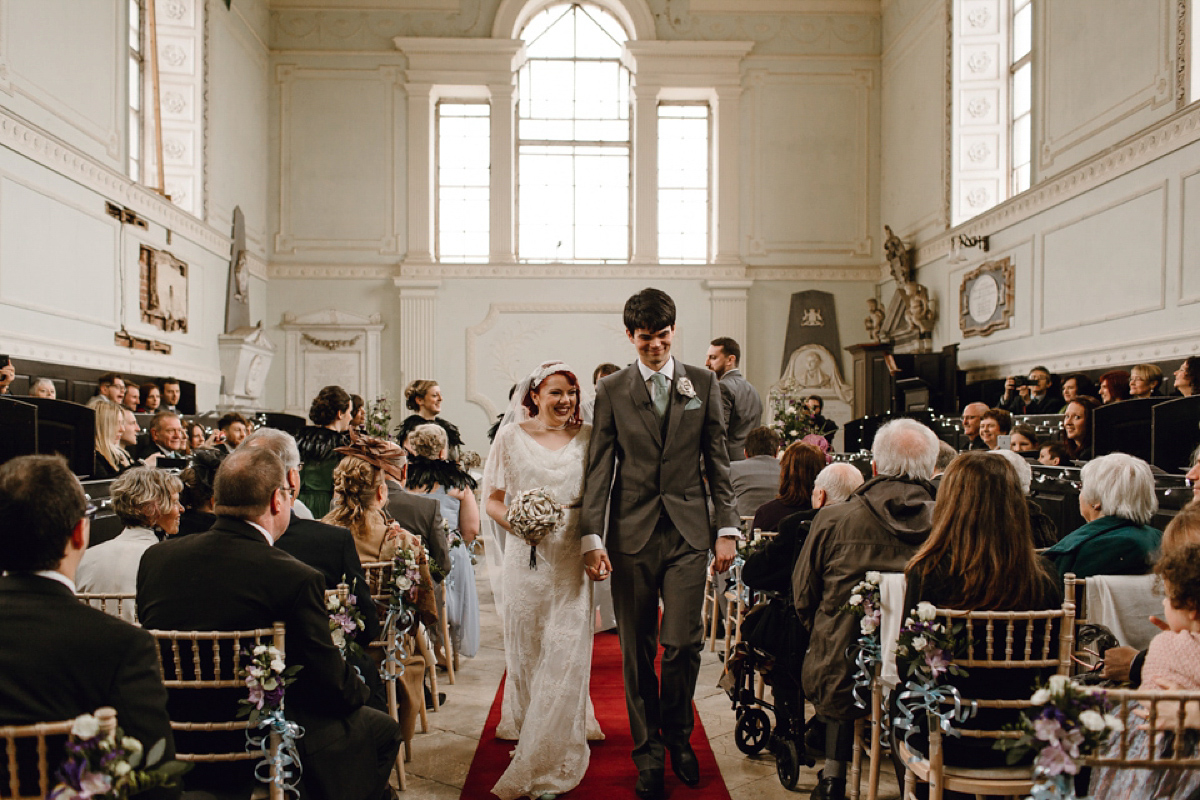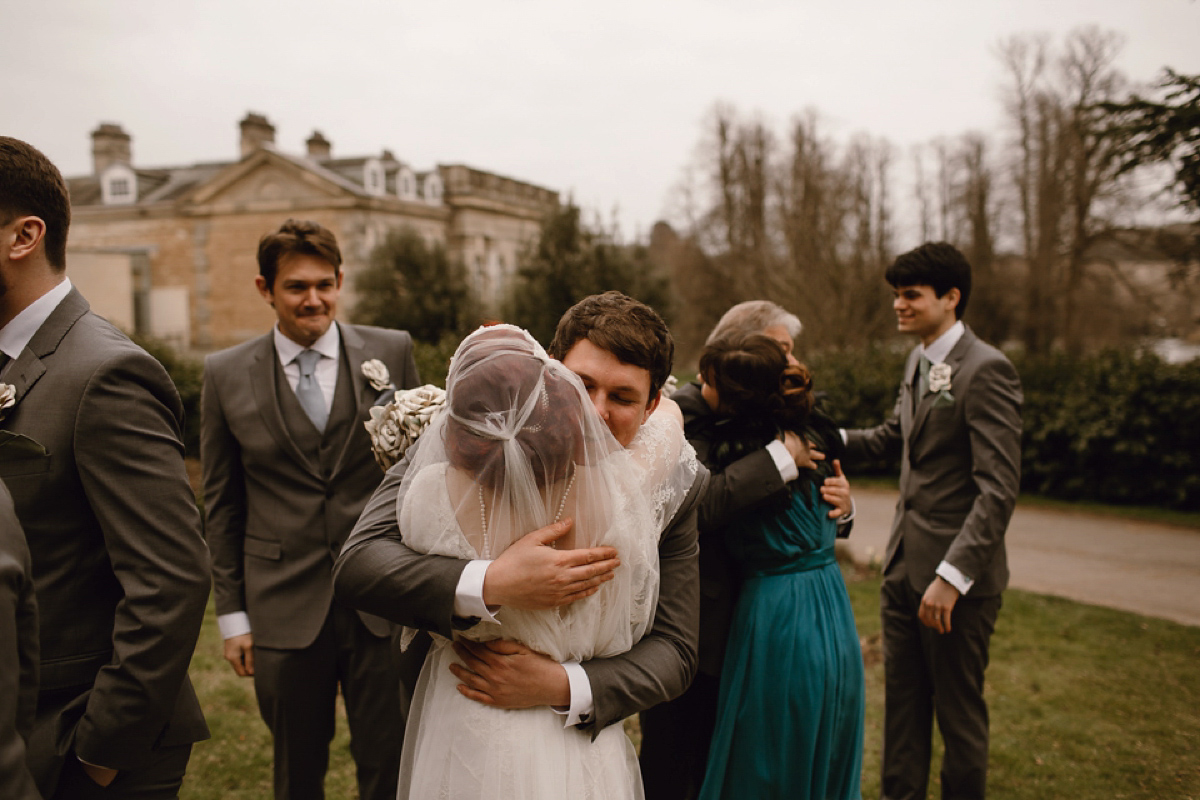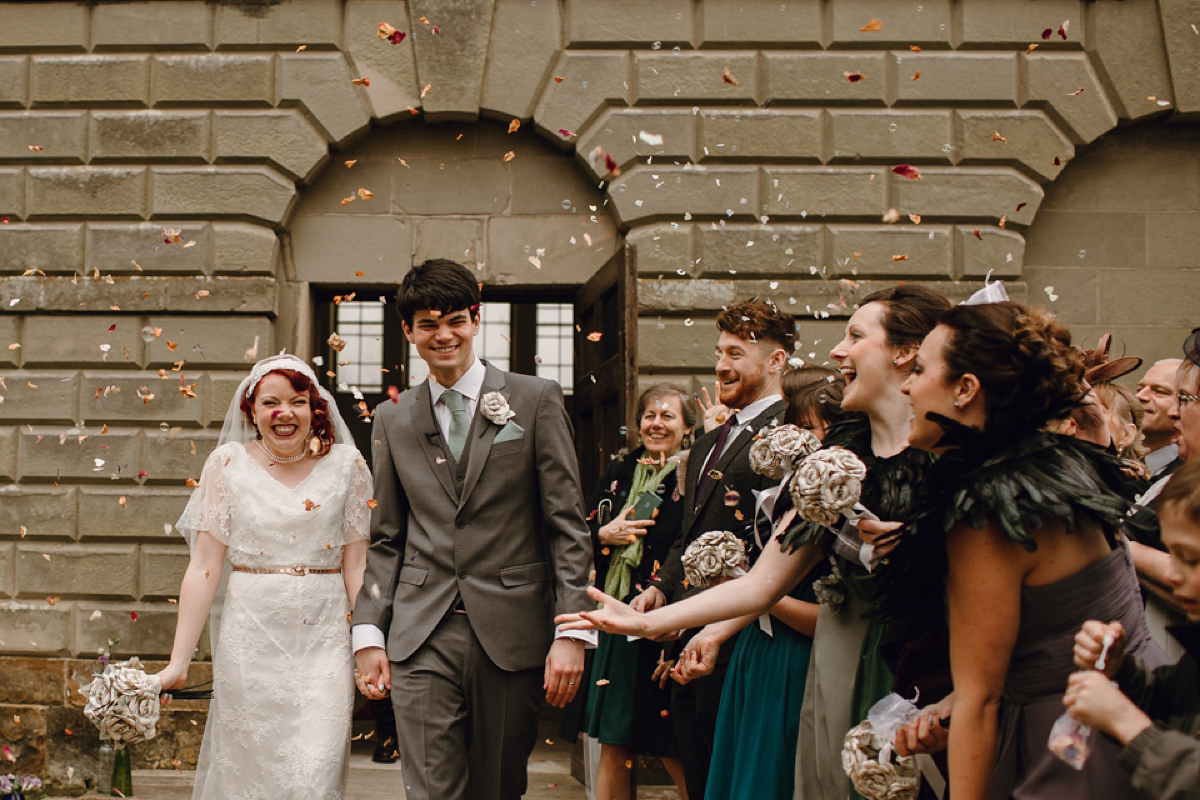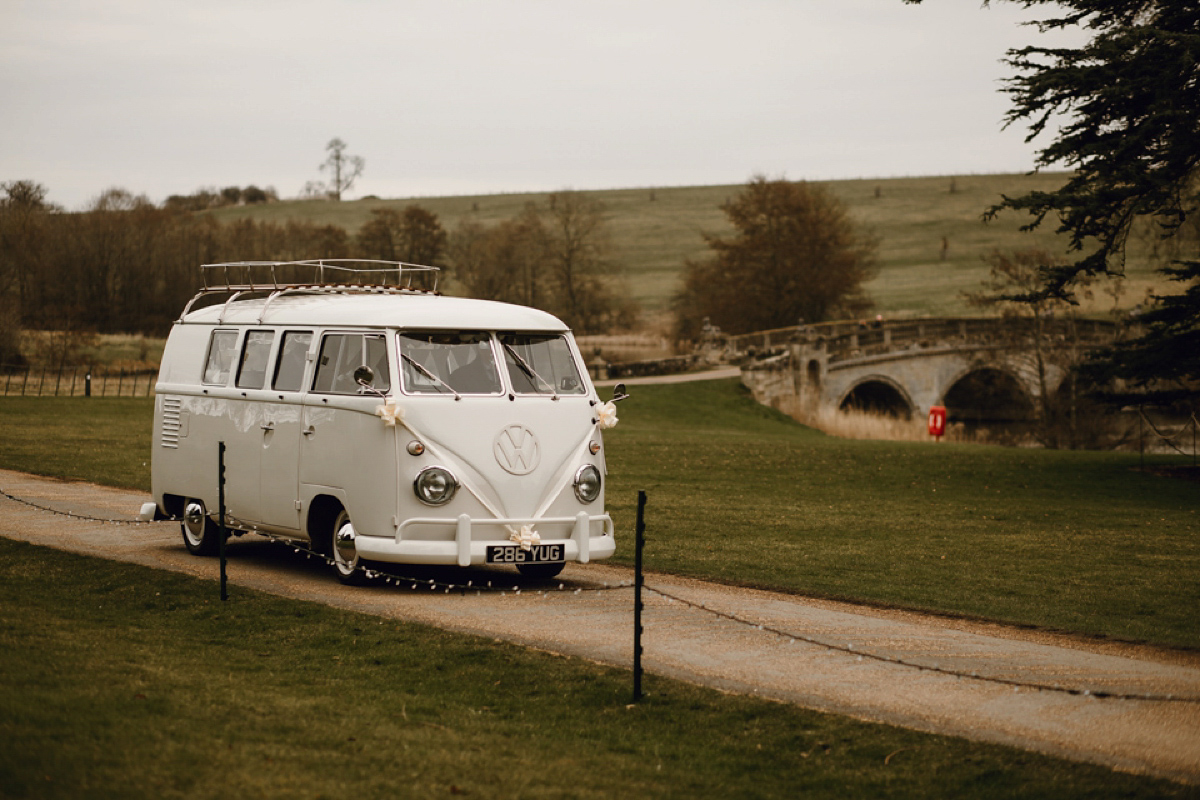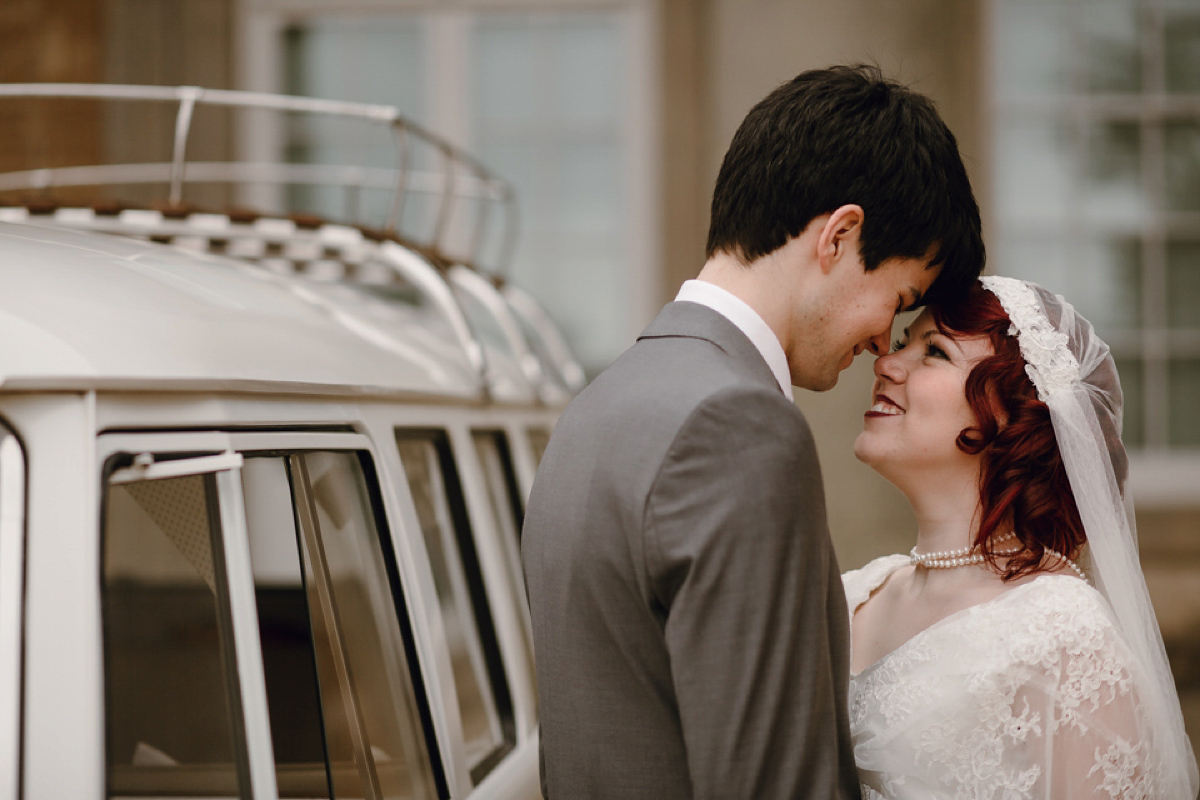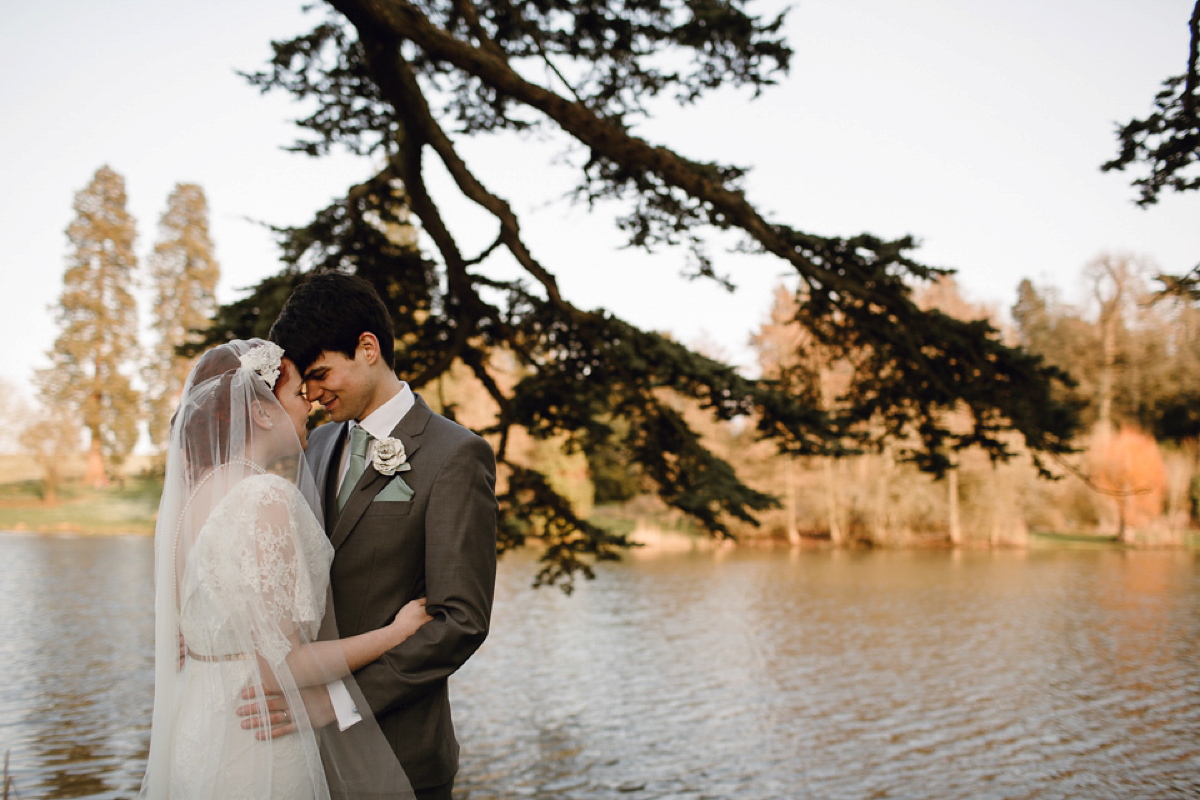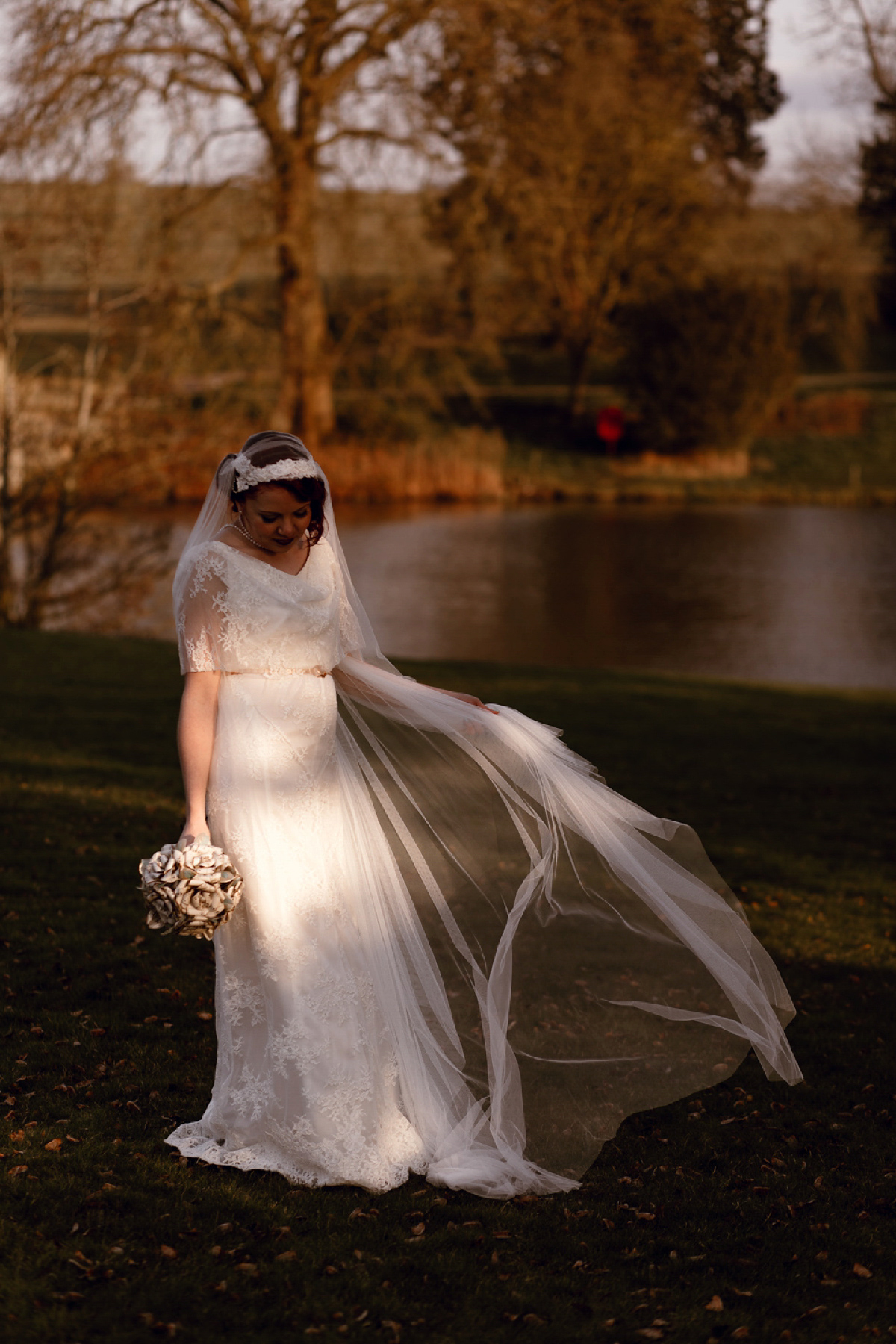 The Adam Hall in which the reception was held didn't really need additional decoration, but the couple added a few little touches to personalise the space, with large floral decorations presented on old LPs, (to match their music-themed invitations, designed by Claire's Studio) an Art Deco blackboard by Katie's Blackboards to display their seating plan and a range of little coloured vases which they collected in the run up to the big day.
"The Adam Hall is an absolutely stunning room with a  dramatic high ceiling and original marble flooring.  The all-white walls provided a blank canvas for us but also made us feel that little decoration was required, as the room really does speak for itself."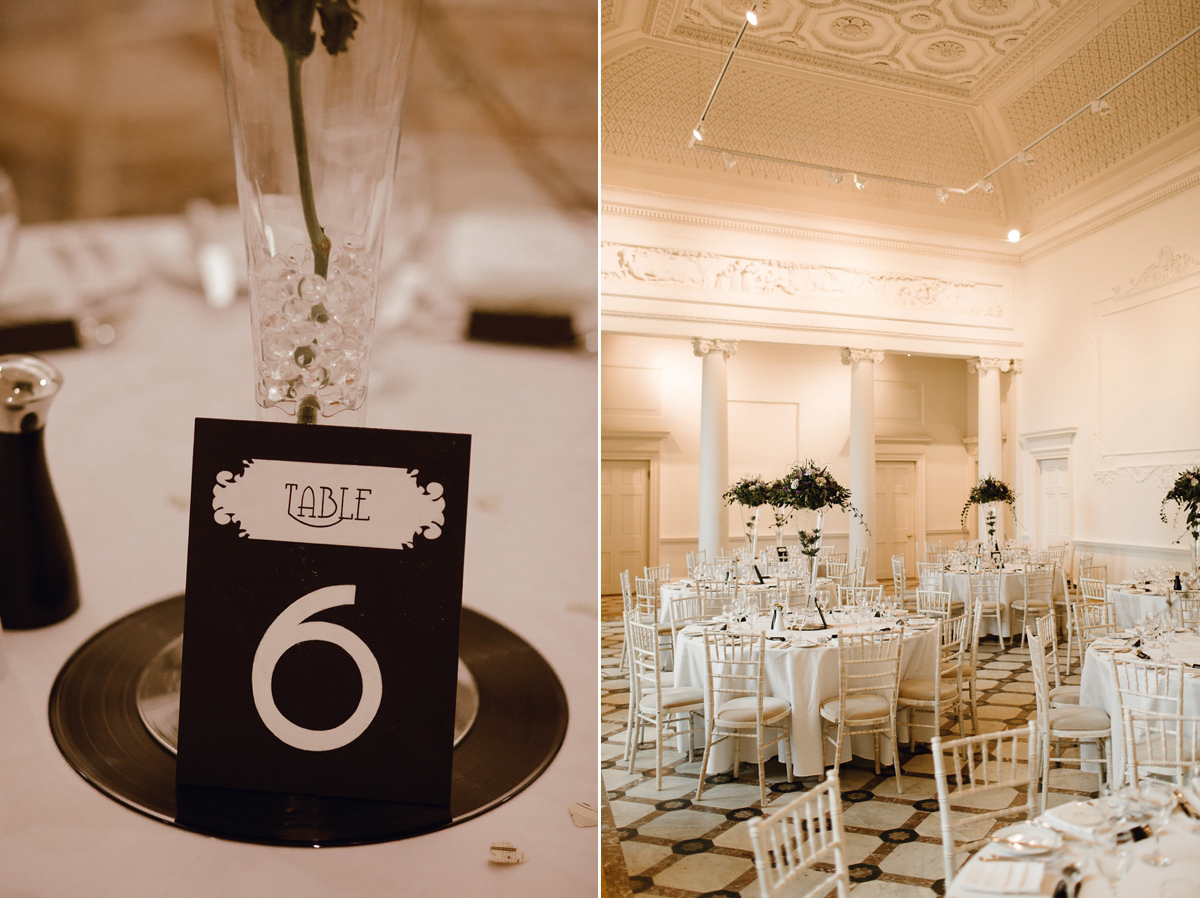 "In the months leading up to the wedding Ben and my Dad worked together to make a Fun Photo Wall.  We bought old frames from charity shops and also used old family photos to decorate the wall, including our parents wedding photos and both of our sets of grandparents wedding portraits.  It was pretty special for me and my family to have my grandparents represented on the day as they have all passed away."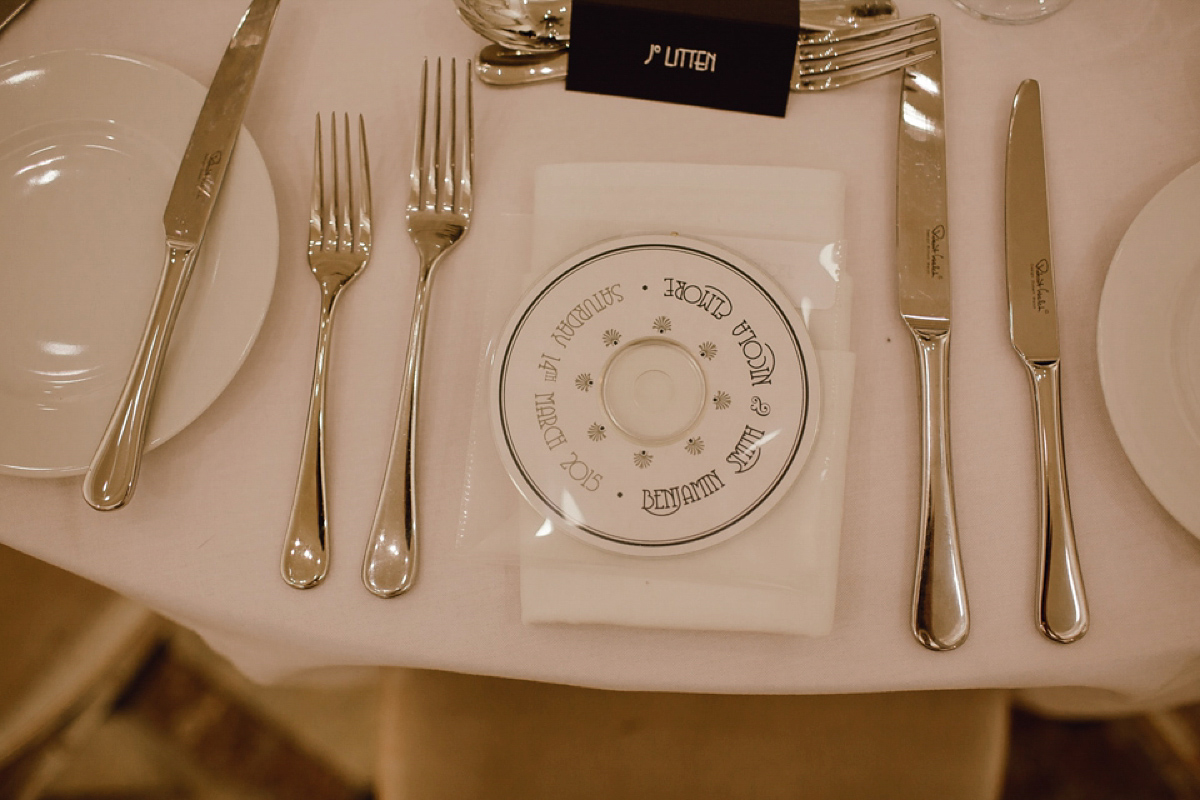 Catering was the work of New Folium and the lovely naked cake was by Cakes of Coundon.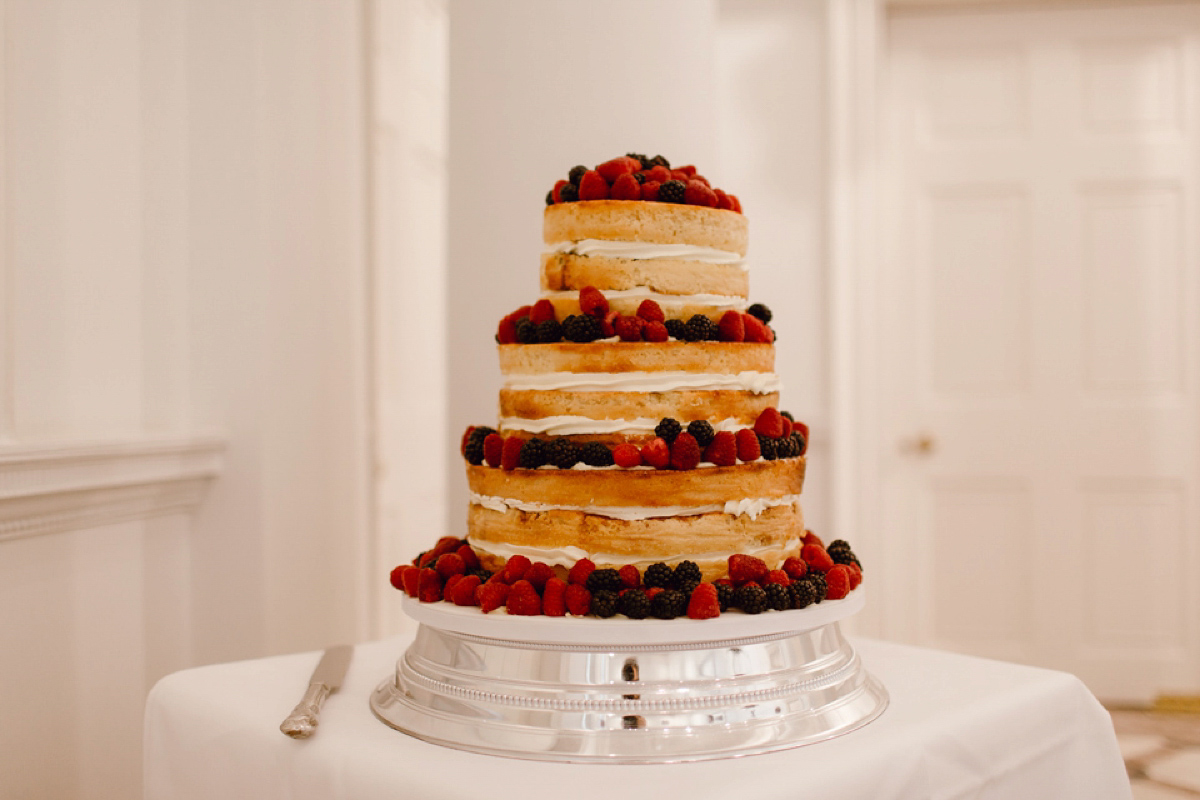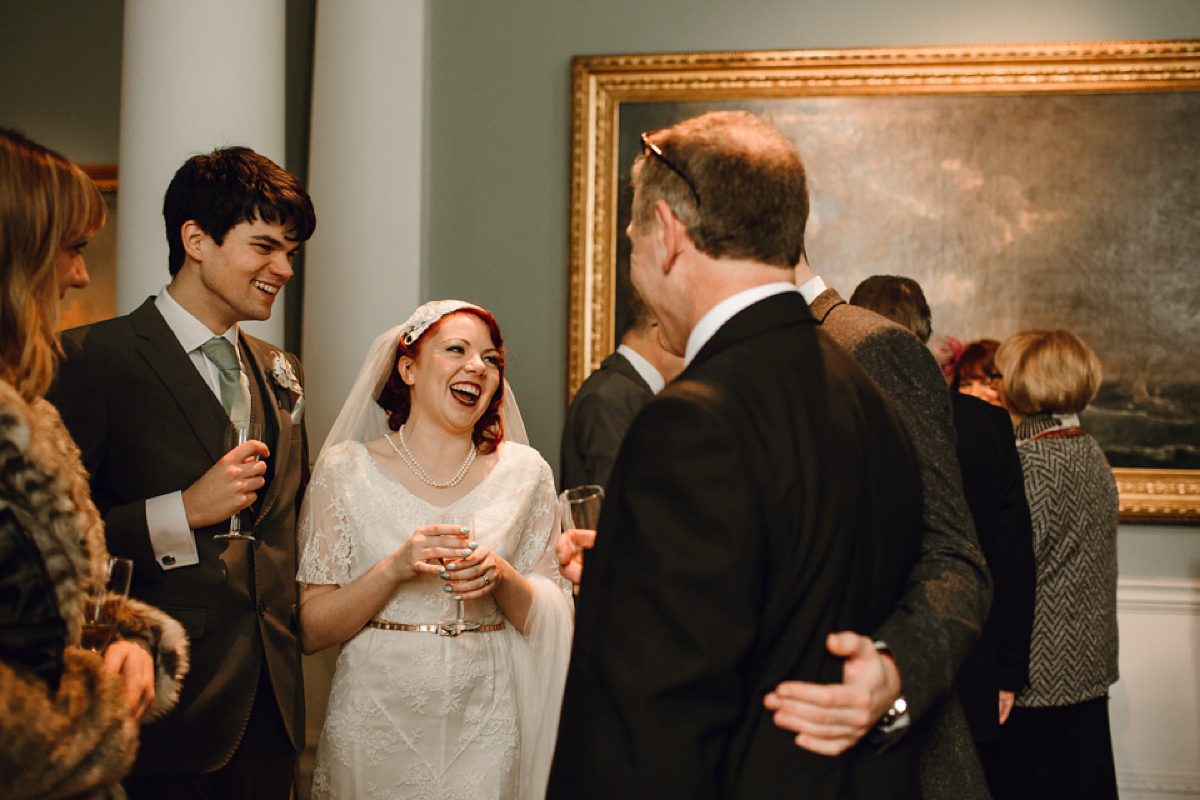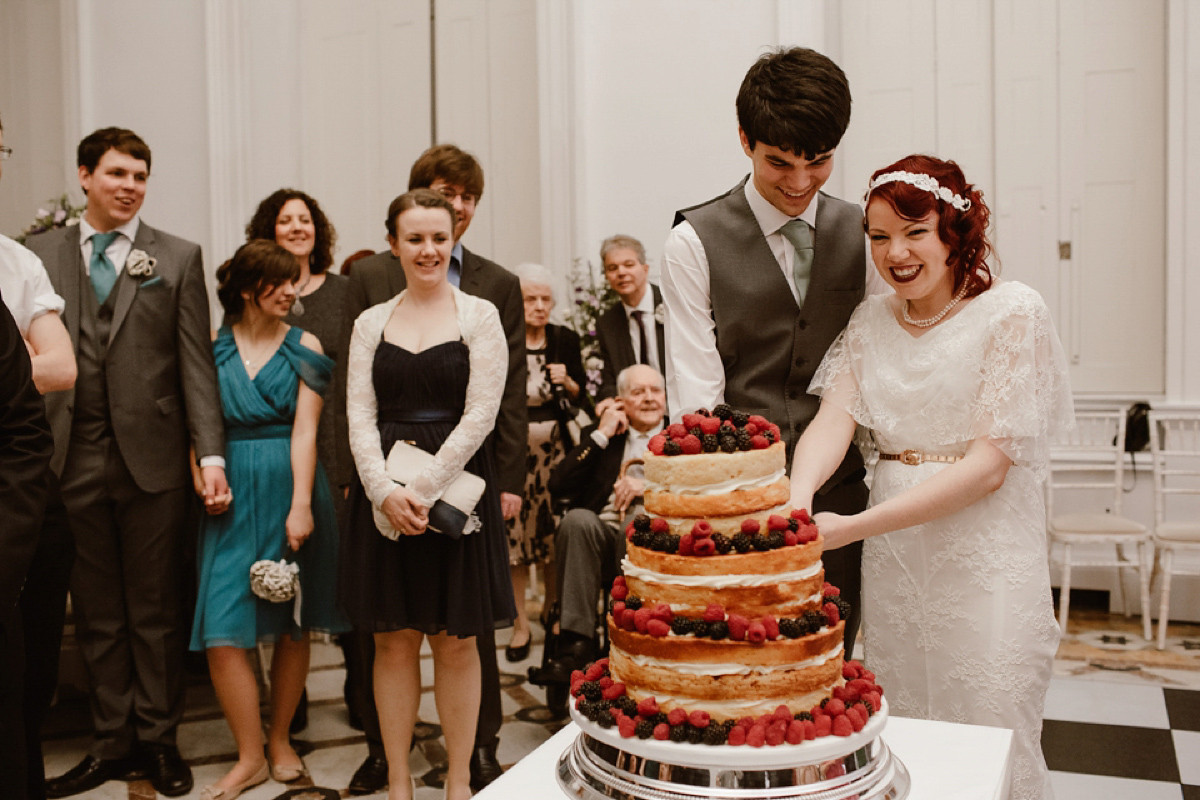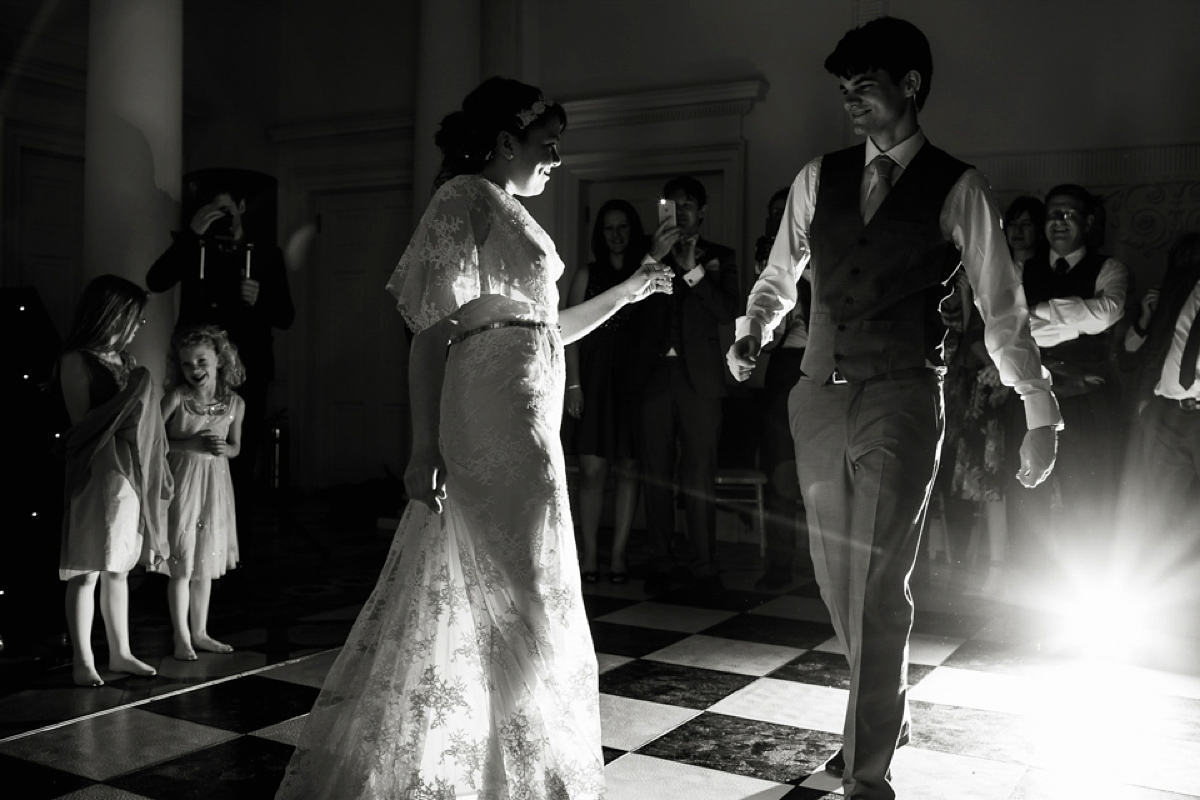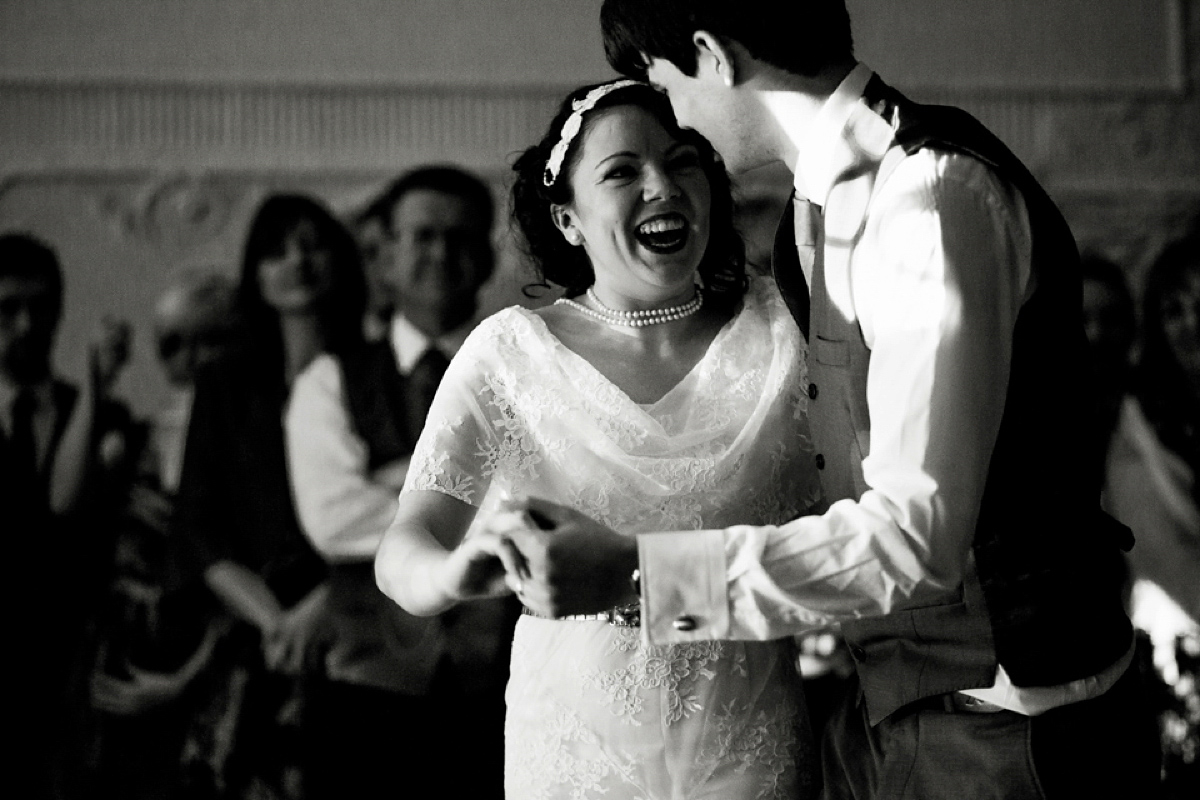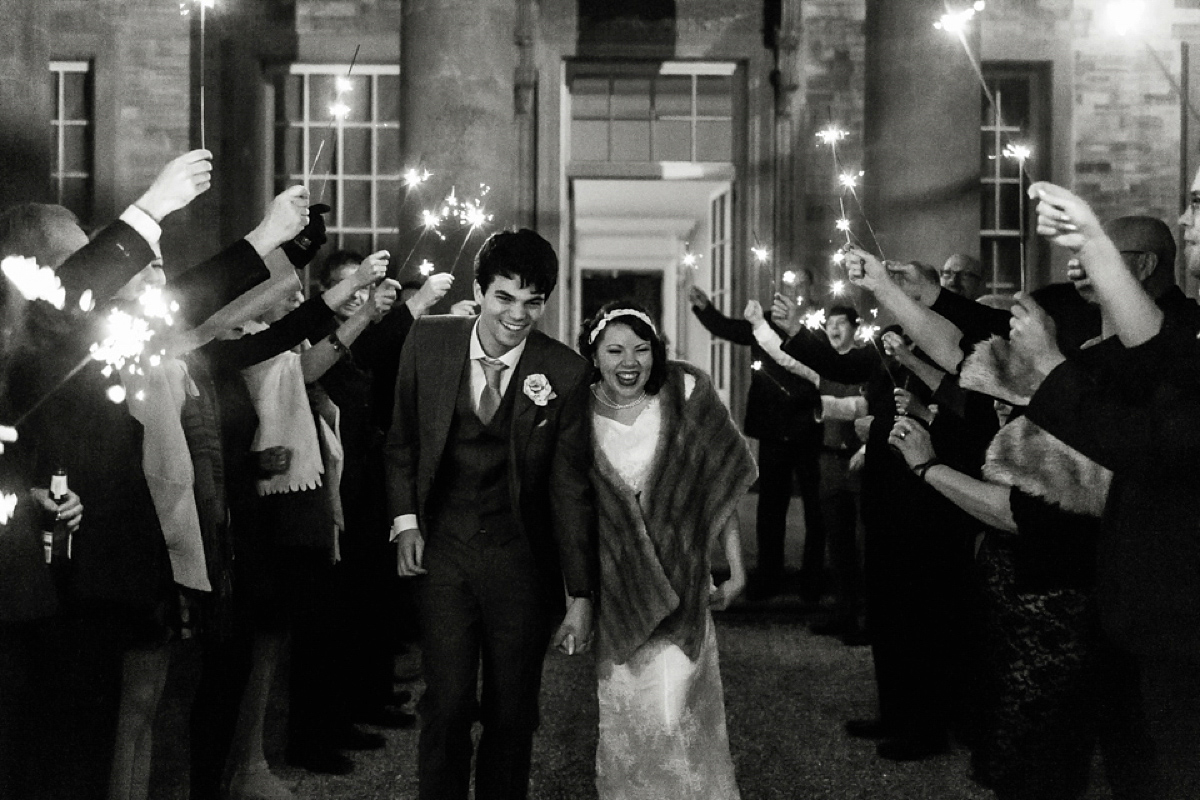 Words of Wedded Wisdom
"Take a little time between getting engaged and starting to plan.  We waited a month and so enjoyed that time of just living in the moment and enjoying the new stage of our relationship.
Take some time out together in the few weeks before the wedding, and forbid wedding talk.   We went out for dinner about ten days before the wedding and it gave us a chance to just focus on each other, forget the whirlwind going on around us and remember that the wedding was only one day of our lives together.  The day doesn't have to be perfect and the important thing is just doing it all together."
Many thanks and congratulations to the happy couple and of course many thanks to Boy Called Ben for his stunning images.  Are you thinking of a 1920's or 1930's inspired day?  Have a look at our 'Era' search tab, which allows you to search for real weddings by time period- perfect for those of you having a vintage themed day.
Much love,
Shona x