Hello you glorious lot, I've been bursting at the seams with exciting news to share with you all. On Sunday 3rd July, I became godmother to my two beautiful nieces, basked in the sun at the gorgeous Cowley Manor, ate about a million scones and then sobbed my heart out as my little brother got down on one knee, very sparkly ring and wobbling glass of prosecco in hand (two of my favourite things ever), and proposed to his girlfriend during his speech to thank us all for coming to the Christening! The ensuing shock, tears, laughter and absolute joy made it such a beautiful, unforgettable day that I'll treasure forever. Are any of you reading newly engaged? Let us know about it in the comments box below; mainly because I'm incorrigibly nosy but also because who doesn't love to read about a proposal?
Today's lovely couple married on 17th October 2015 in the beautiful city of Edinburgh. The bride wore a stunning silk embroidered gown by one of our treasured Little Book for Brides suppliers, the incredible Catherine Deane.
"We were married in the groom's grandmother's family church, where his parents had also wed and where grandmother is still a parishioner. For the reception, simplicity was key; we both have demanding lives so we wanted minimum fuss."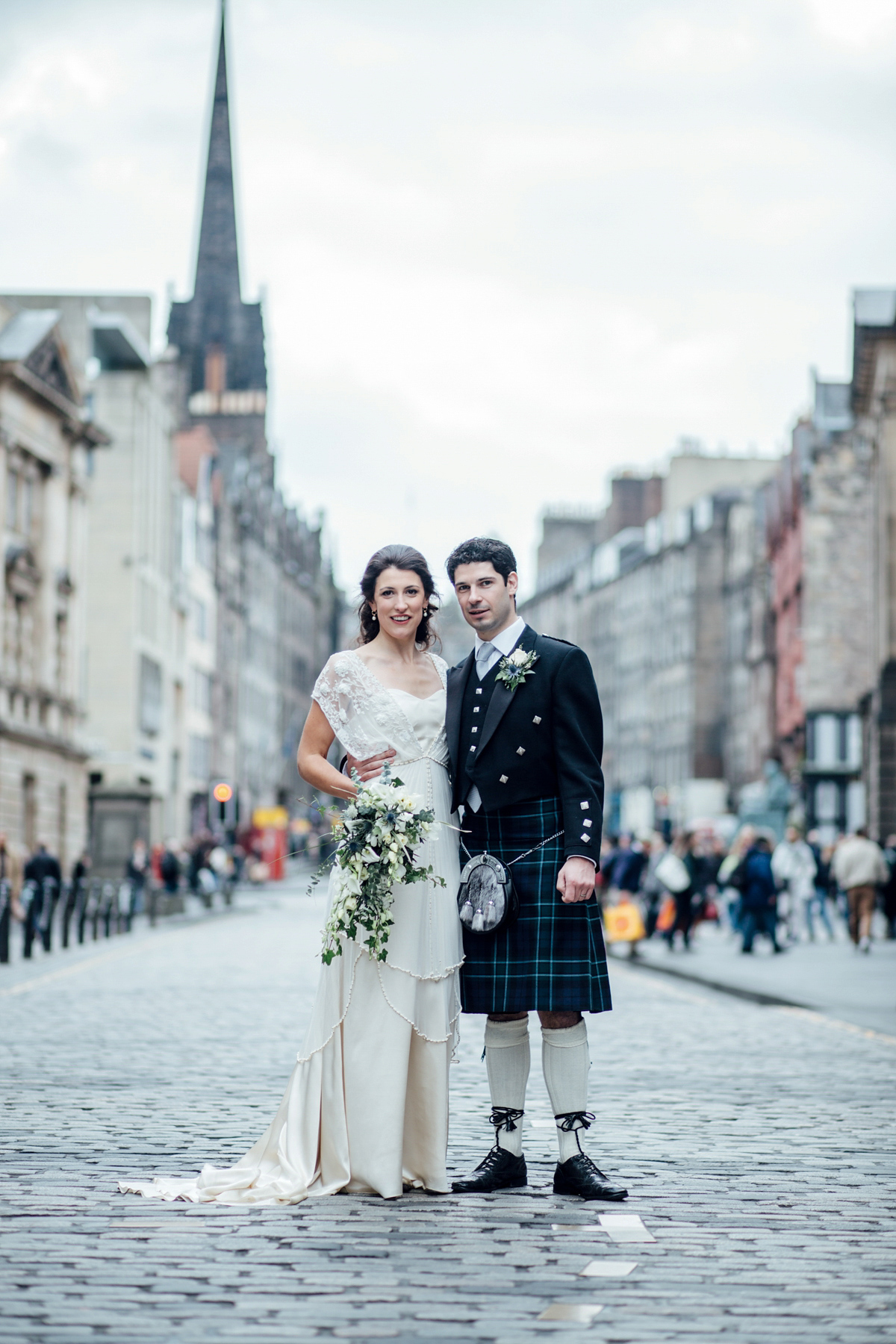 The bride chose elegant Ghost dresses in teal for her bridesmaids, which look gorgeous against the coloured stone of her engagement ring and the pretty white and green blooms arranged by Vivacious Flowers. I just adore Scottish weddings with thistle bouquets.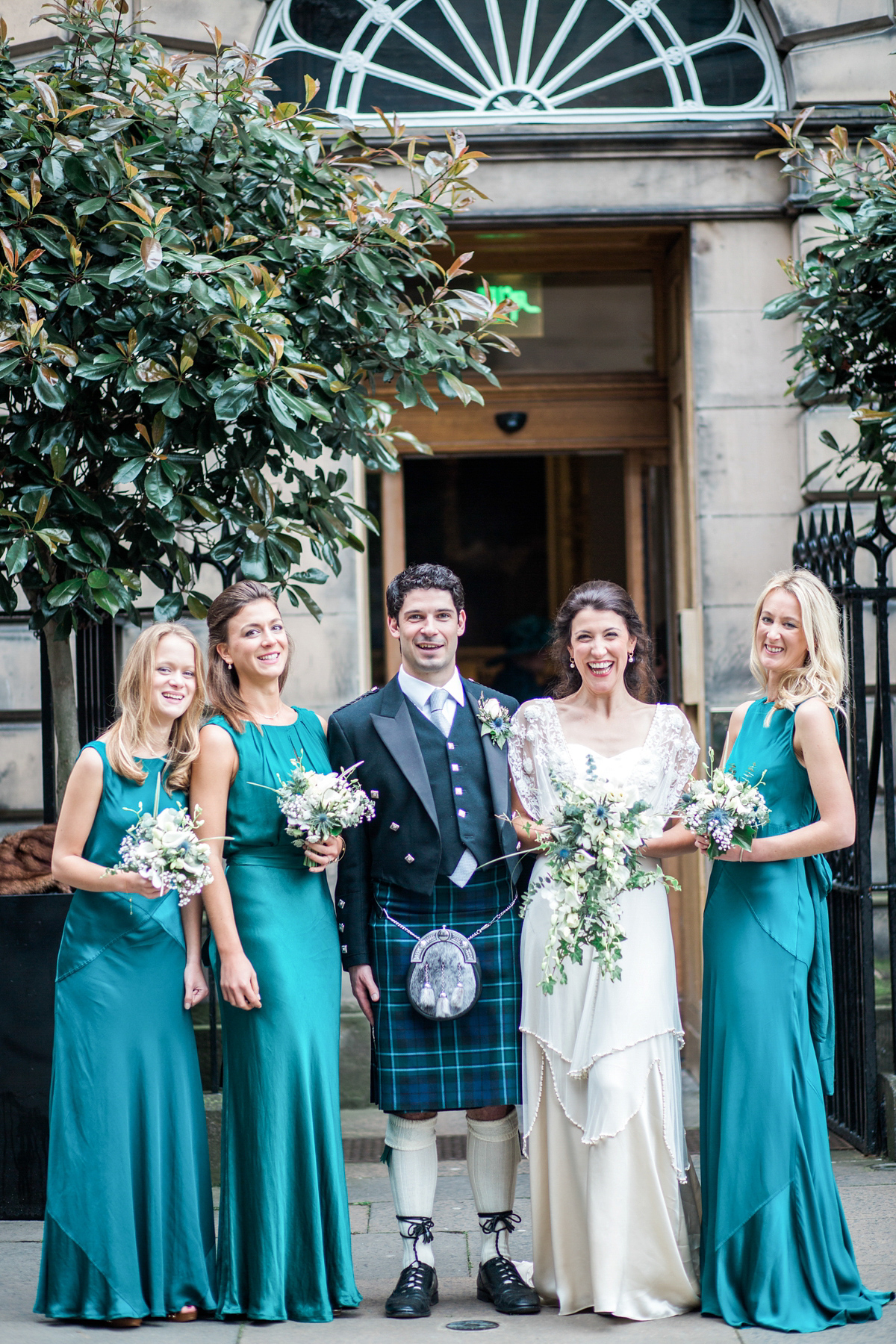 Poetic and dreamy pretty much sums up how I'd describe the bride's stunning Catherine Deane gown. The Lita dress is a sensational silk creation, hand embroidered with three dimensional flowers and subtle cream and silver beading; "I wore the Lita gown from Catherine Deane, purchased from her London Wapping studio. I stalked it online and it was the only dress I wanted. It has echoes of my mother's wedding dress and a hint of the bohemian whilst still being glamorous."
The couple tied the knot in the stunning catholic church of St Andrew in Ravelston, followed by a laid-back reception at The Signet Library in Edinburgh. I can't get over how incredibly atmospheric the church is; the wooden vaulted ceilings and soft lighting have raised goosebumps on my skin, and how lovely for the couple to be married in a place with such meaningful family history. The choice of The Signet Library for their reception venue was also a particularly poignant one for the couple.
"We met at university in Edinburgh and had both worked at The Signet Library separately as students. Plus it was one of the only places that could accommodate both of our large extended families. We met in our second year of university and after ten years together, and after quitting our jobs to volunteer at Charity in East Africa, we travelled through Southern and Eastern Africa."
"Near the end of trip, when camping under the canopy of stars without tents on the Botswana Salt Pans, he proposed, apparently on a whim; he hadn't planned to do anything until we got to Mozambique, where I have family history. We were engaged for a year and a half before we walked down the aisle."
I am just obsessed with proposal stories at the moment and this one is a beauty; a canopy of stars? How incredibly poetic and dreamy.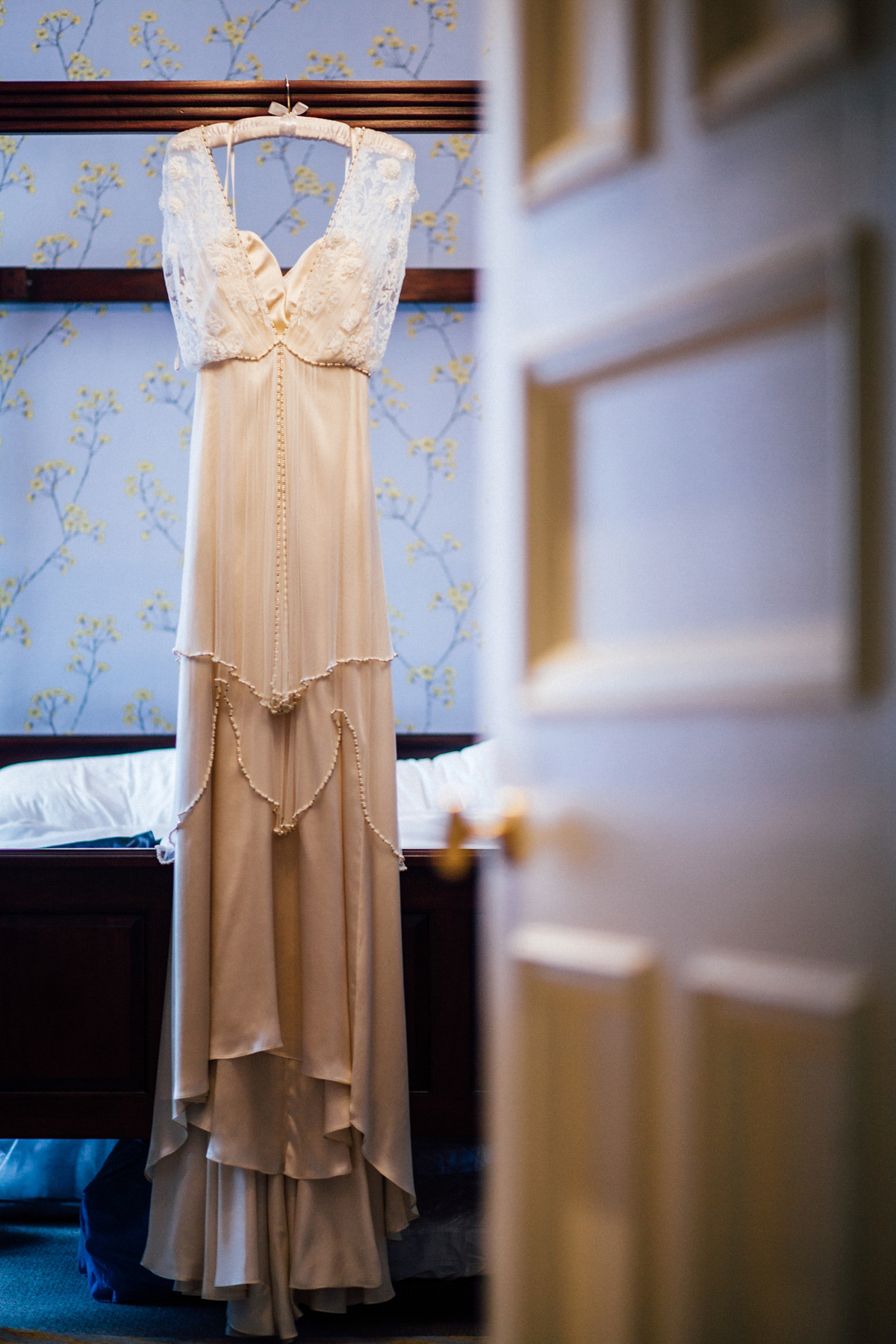 "Our florist is a personal friend of the groom's mother and offered a more affordable deal than our venue. We gave her a lot of freedom with the flowers and the only guidance was simplicity, lots of white flowers, thistles and large foliage pieces like banana leaves and ferns to give volume to the larger arrangements at the alter and at the entrance to the reception. The only thing I was very specific about was my desire for a cascade bouquet for me, as I like the length and think it complimented the dress nicely."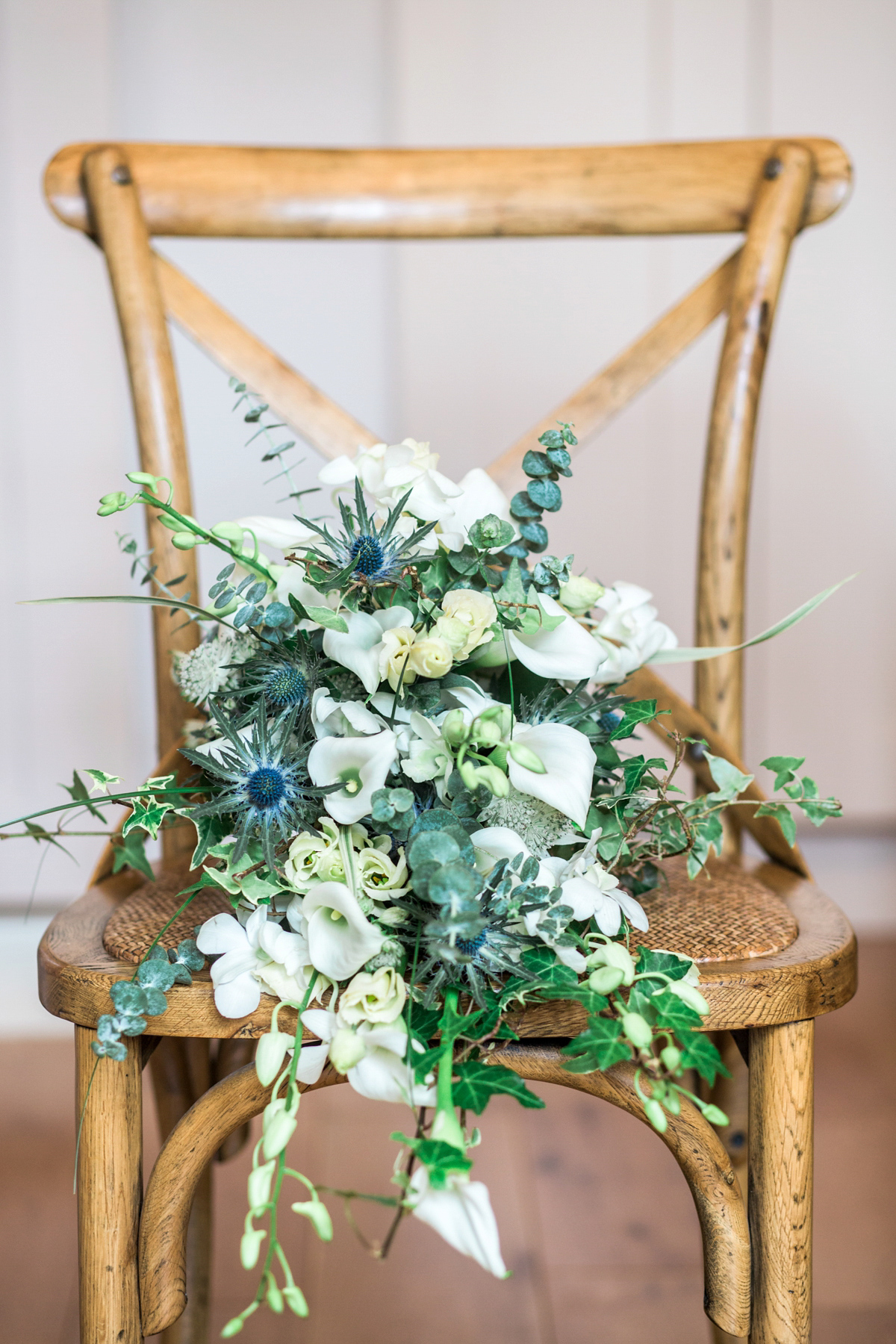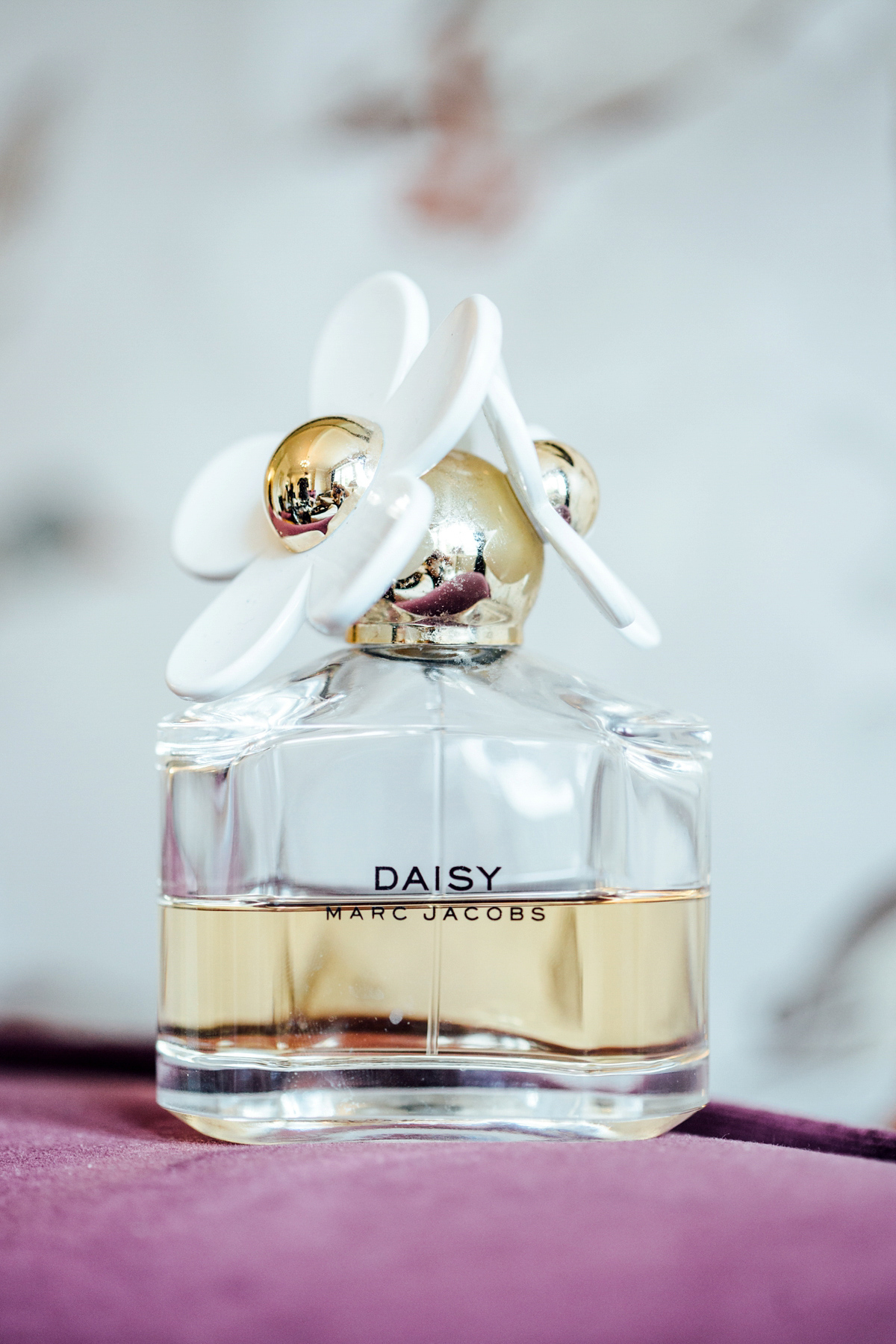 The bride paired her dress with gold flats from Russell & Bromley, a handmade brooch by Helen Scott at Lovage and Lace, a family friend of the groom, and pretty pearl John Lewis earrings. A spritz of fresh and floral Daisy by Marc Jacobs, the bride's everyday perfume, complemented her soft make-up and divine loosely gathered up-do, crafted by Carol Harper at Morin Harper Hairdressing.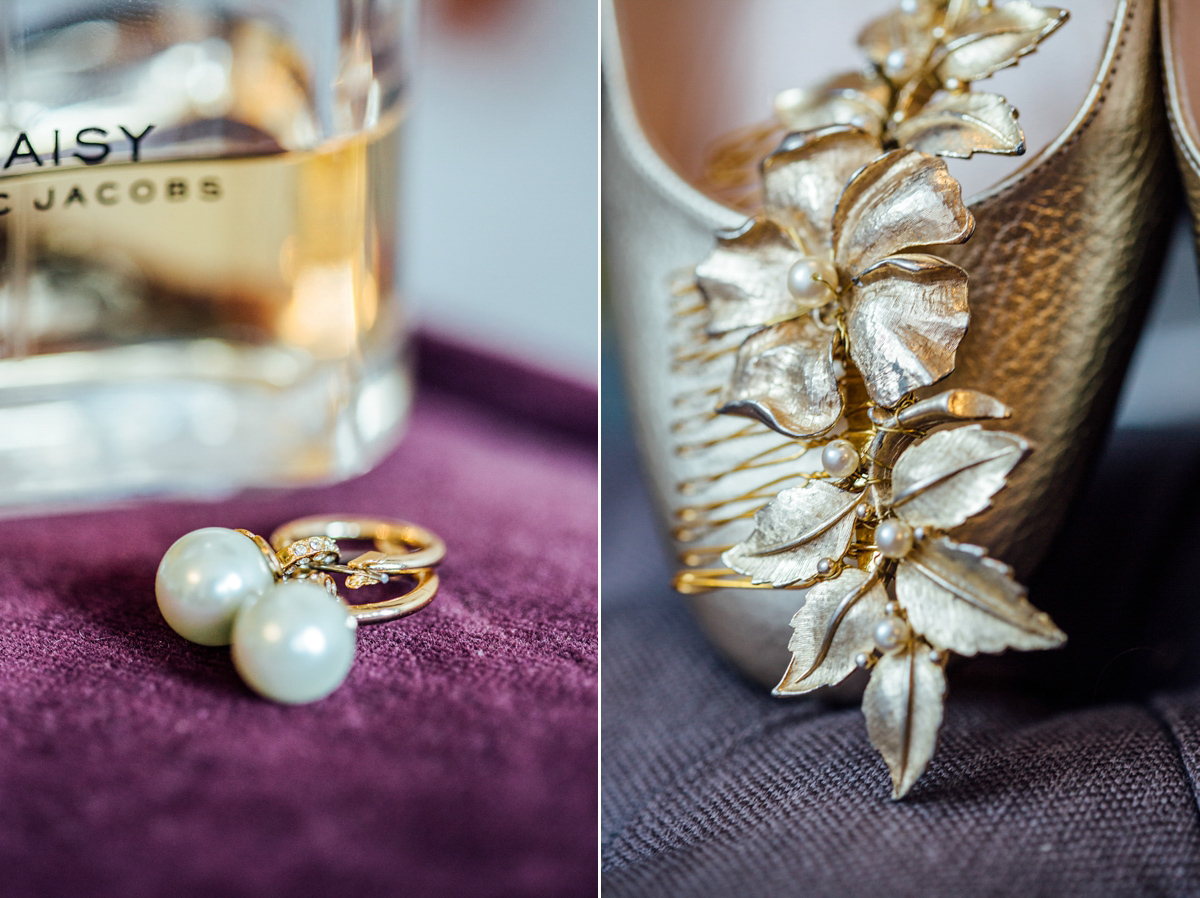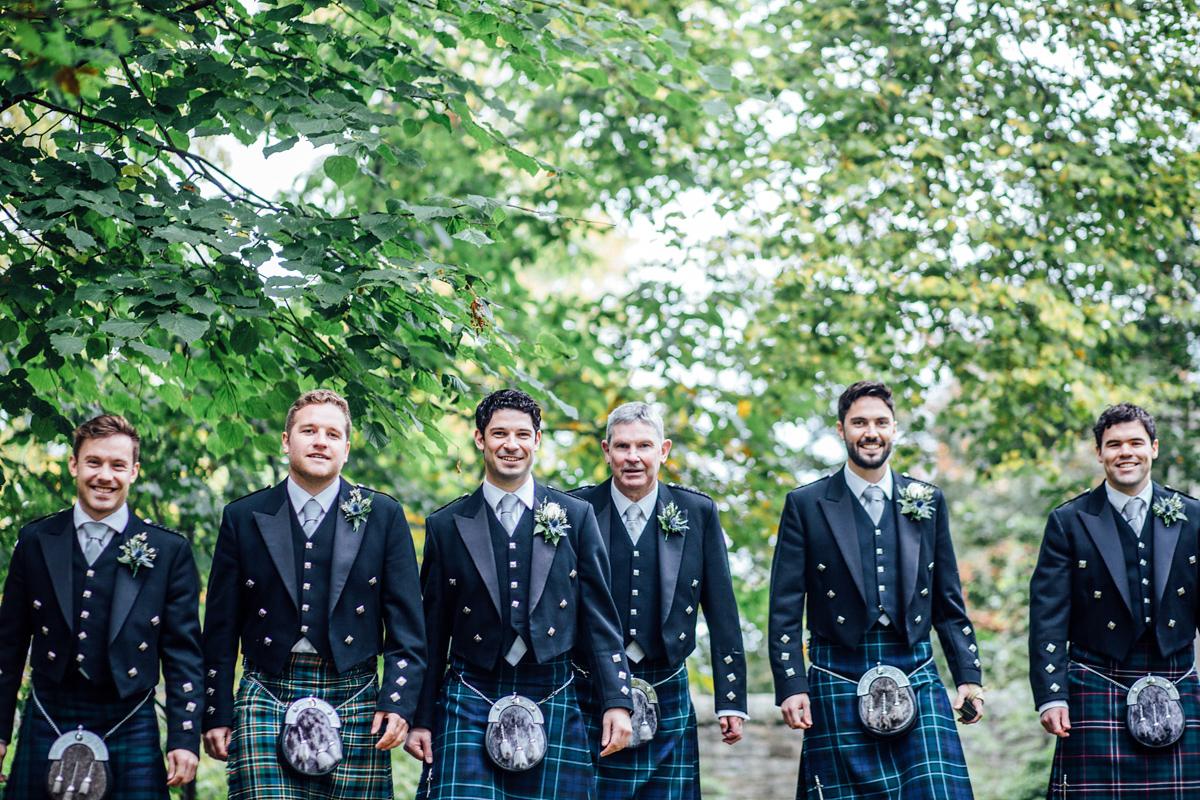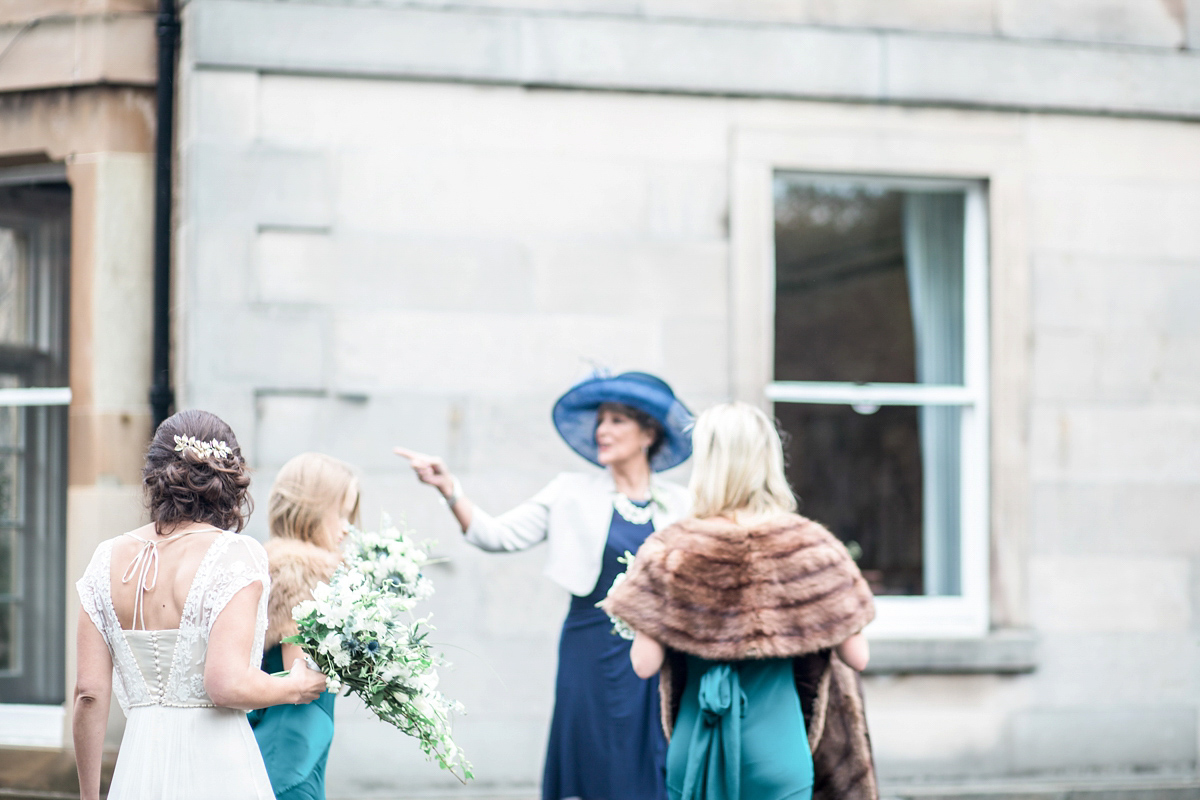 "My mother walked me down the aisle to Henry Purcell's 'Trumpet Voluntary'; she was widowed when she was pregnant with me. We used the traditional vows and exchanged simple white gold rings to match my engagement ring, bought from Rachel Garcia at Hatton Garden."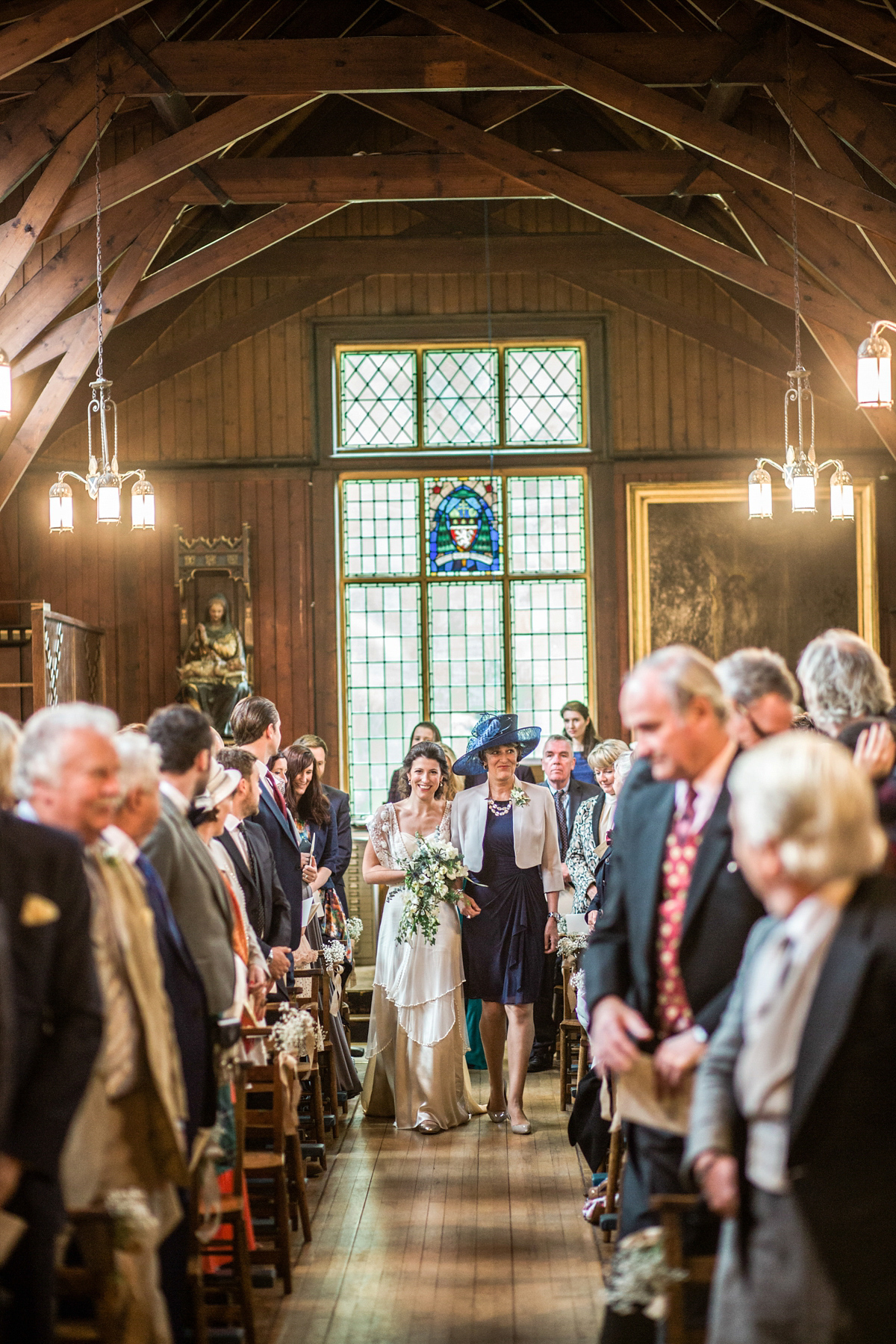 I adore that shot above; these images are so full of love and emotion, captured beautifully by Edinburgh-based photographer Carley Buick. Carley originally studied interior architecture and worked in interior design and this combined with her candid natural style has led to a series of beautifully composed, natural shots.
"Carley Buick was very discrete and has a great eye for a touching moment. I love the shots where the background or foreground are out of focus so your eye is drawn in to the main focal point, but they still give a sense of what's happening around it. I also really liked the effect she used for the dancing shots."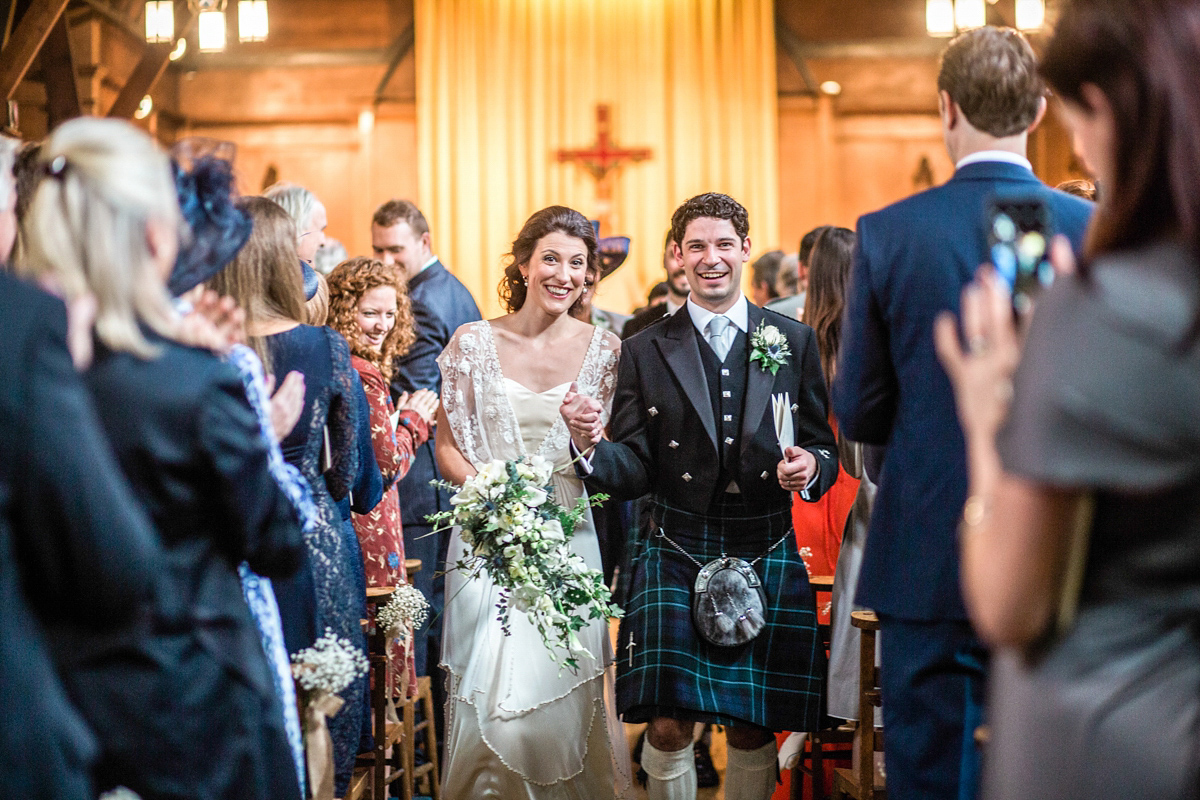 After the 'I dos' and a rather gorgeous outdoor couple shoot, complete with carpet of coppery leaves, the wedding party headed on to the reception where Heritage Portfolio kept guests happily fed and watered in the beautiful surroundings of The Signet Library. Happy loved ones enjoyed champagne and canapés; serenaded by Philip Contain and his Be Happy Band and the couple chose not to add any decorations other than some floral arrangements, allowing the stunning Georgian architecture to speak for itself.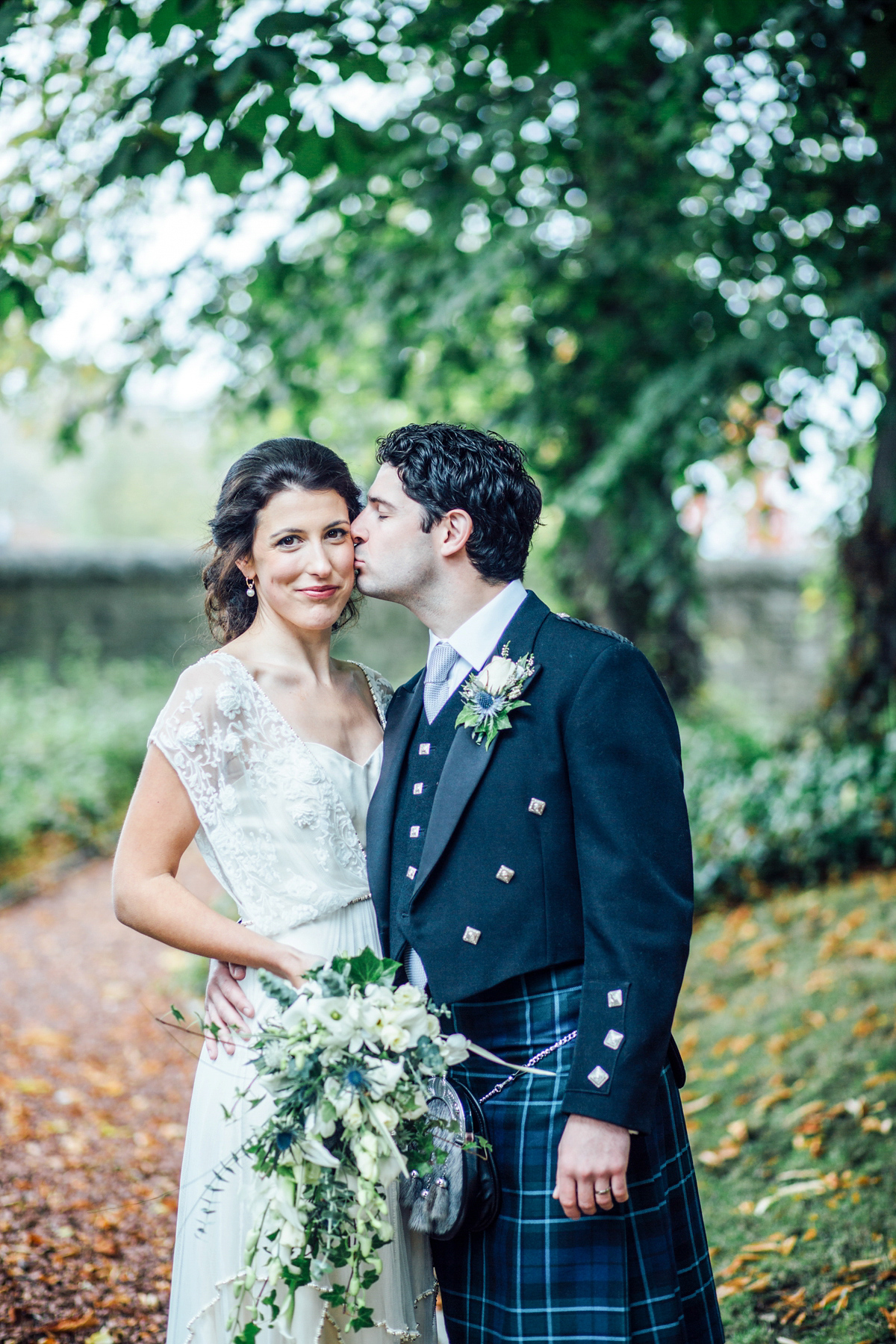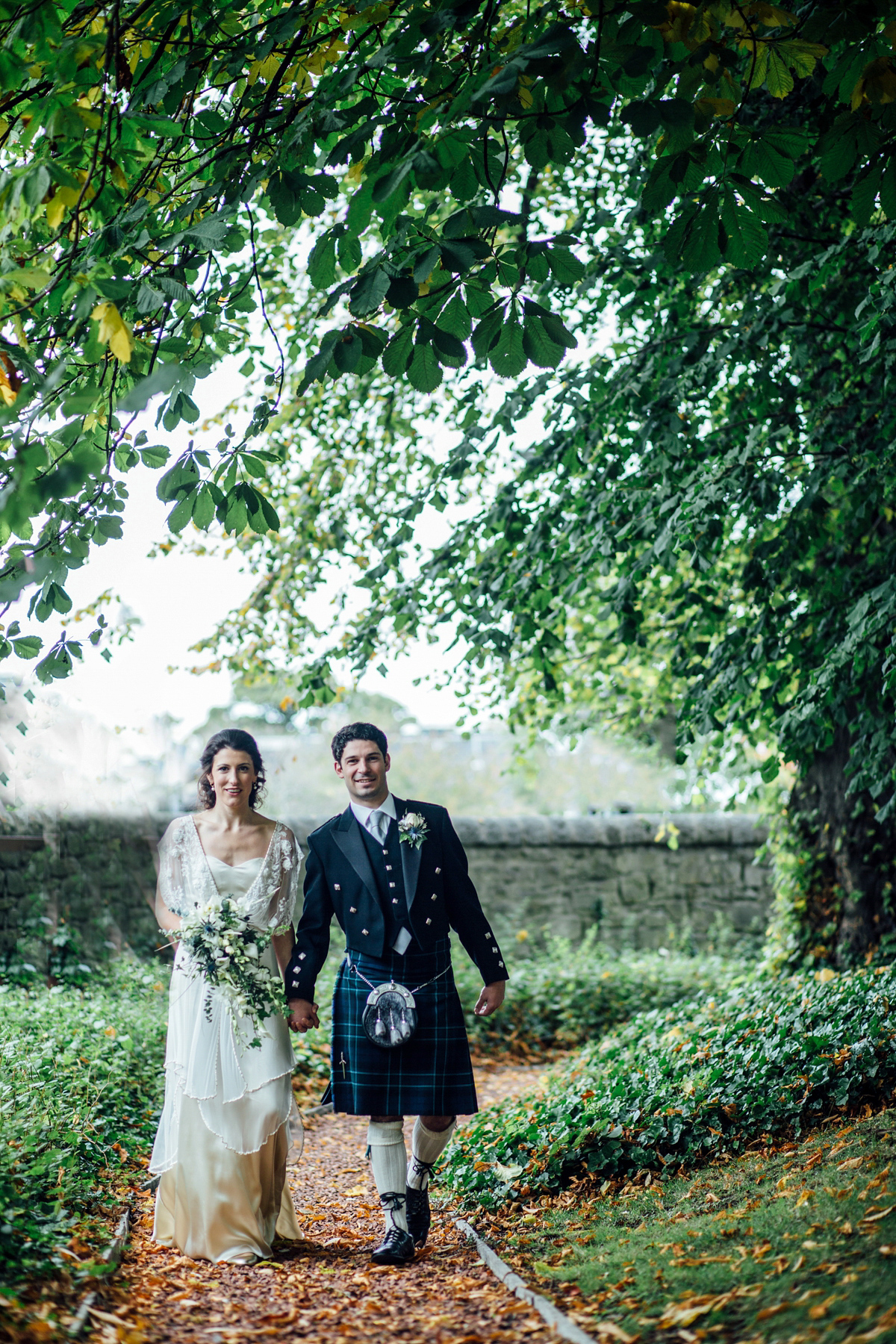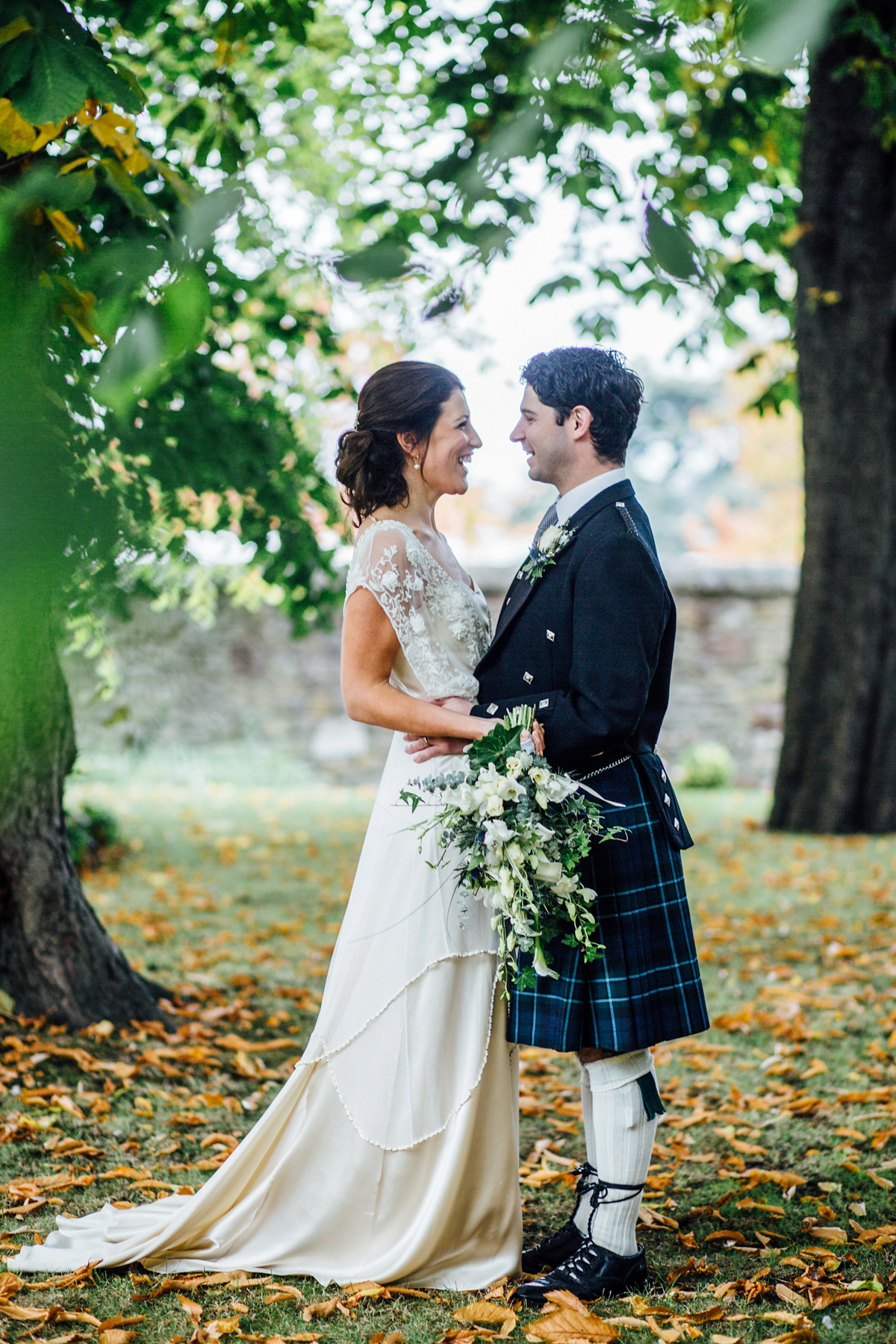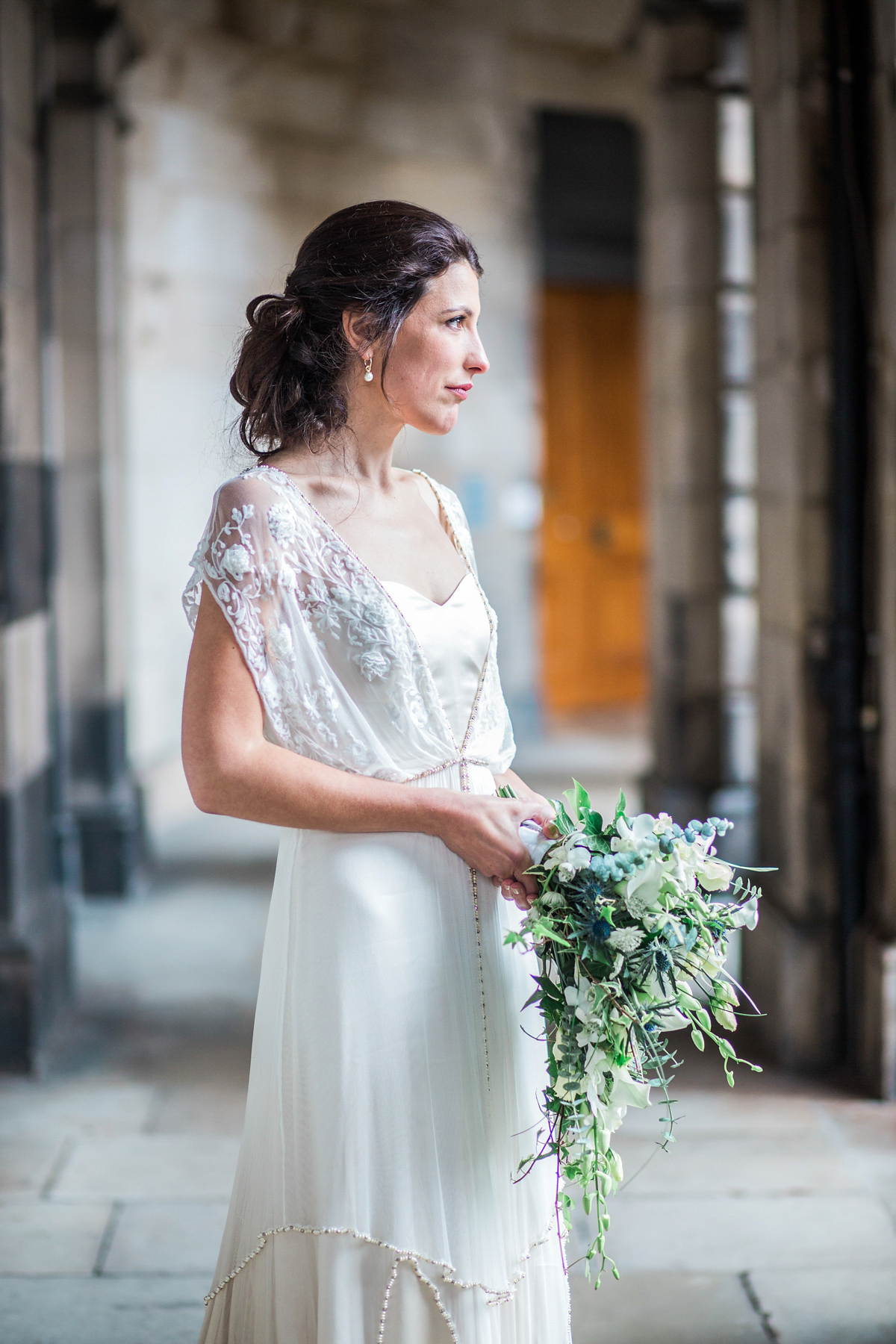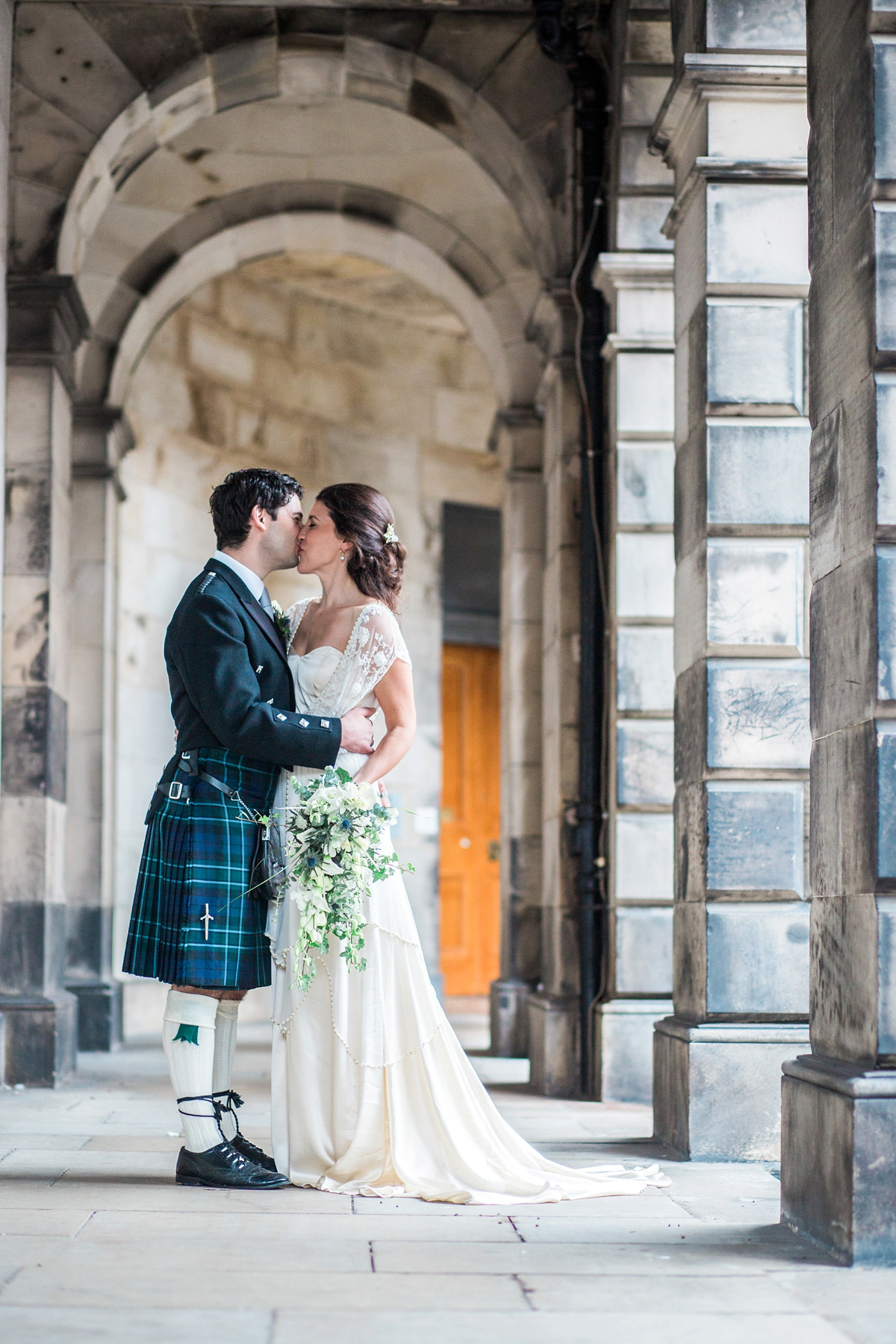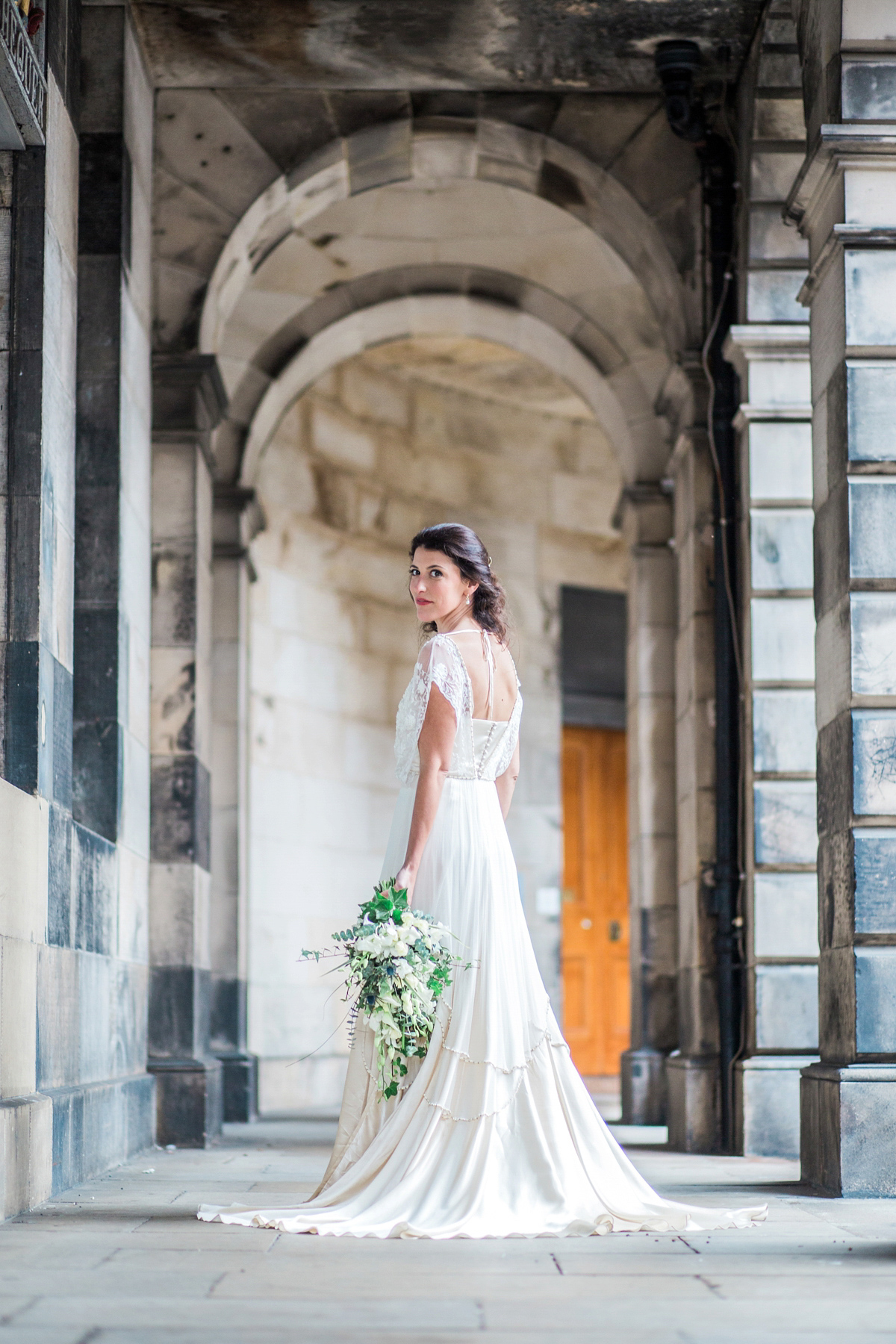 "The venue itself was so beautiful that it need minimal decoration; the main personal touch was a twist of Rock and Roll in the table names; as our shared love is live music, all our tables were named after some of our favourite albums."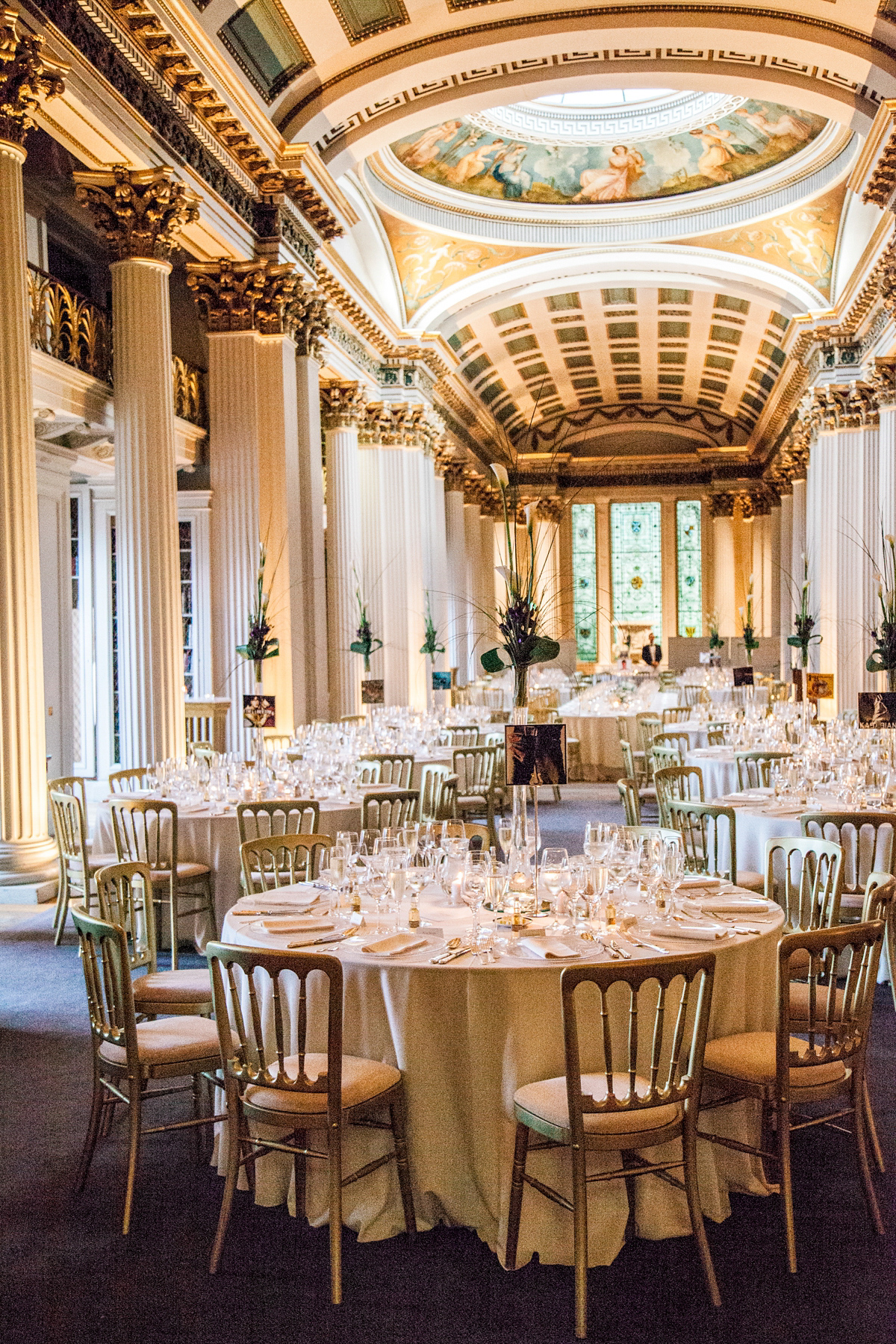 "We had a traditional tiered fruitcake made by my grandmother. I chose her because she used to make wedding cakes semi-professionally and she wanted to do it. For favours we gave a wee dram of whisky with a thank you. The bottles were purchased from a company in Germany, the whisky from the supermarket and the labels were printed using Vistaprint."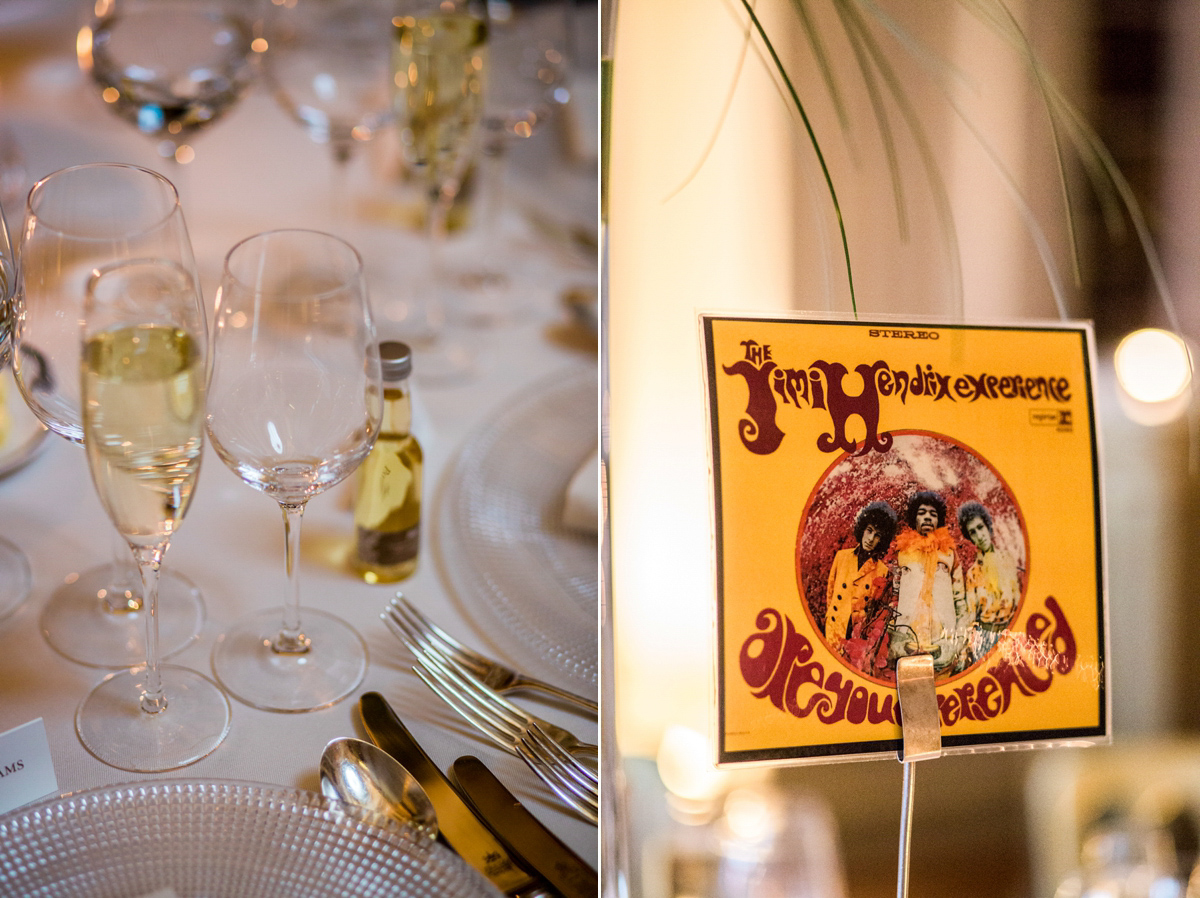 It looks like the couple narrowly avoided a cake-related disaster when cutting into the sugary icing; I just love that their faces are lit up with smiles and laughter. The merriment continued as the couple danced the night away accompanied by their band, Cranachan. Ceilidhs look like so much fun; I'm really hoping to attend a Scottish wedding at some point and give one of these a whirl, even though I'm about 99% sure it will end up with me and those around me on the floor.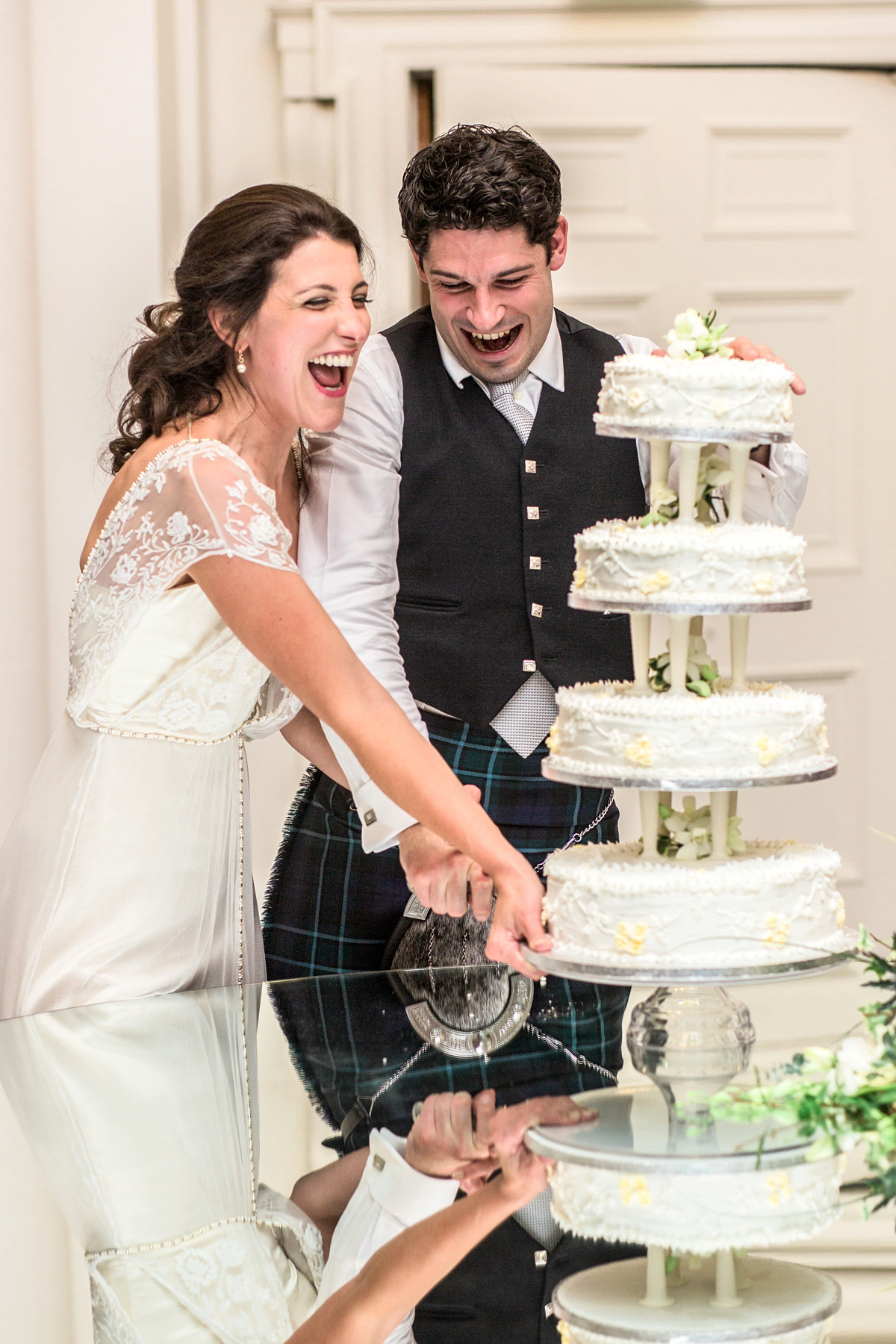 "My favourite part of the day was the dancing – I just loved seeing all our friends and family having such a great time and dancing so vigorously I thought we were going to fall through the floor. The only thing I would have changed was that the top table was a little big; I would have taken a leaf out of the middle so we could have sat closer together, we all felt a little far apart."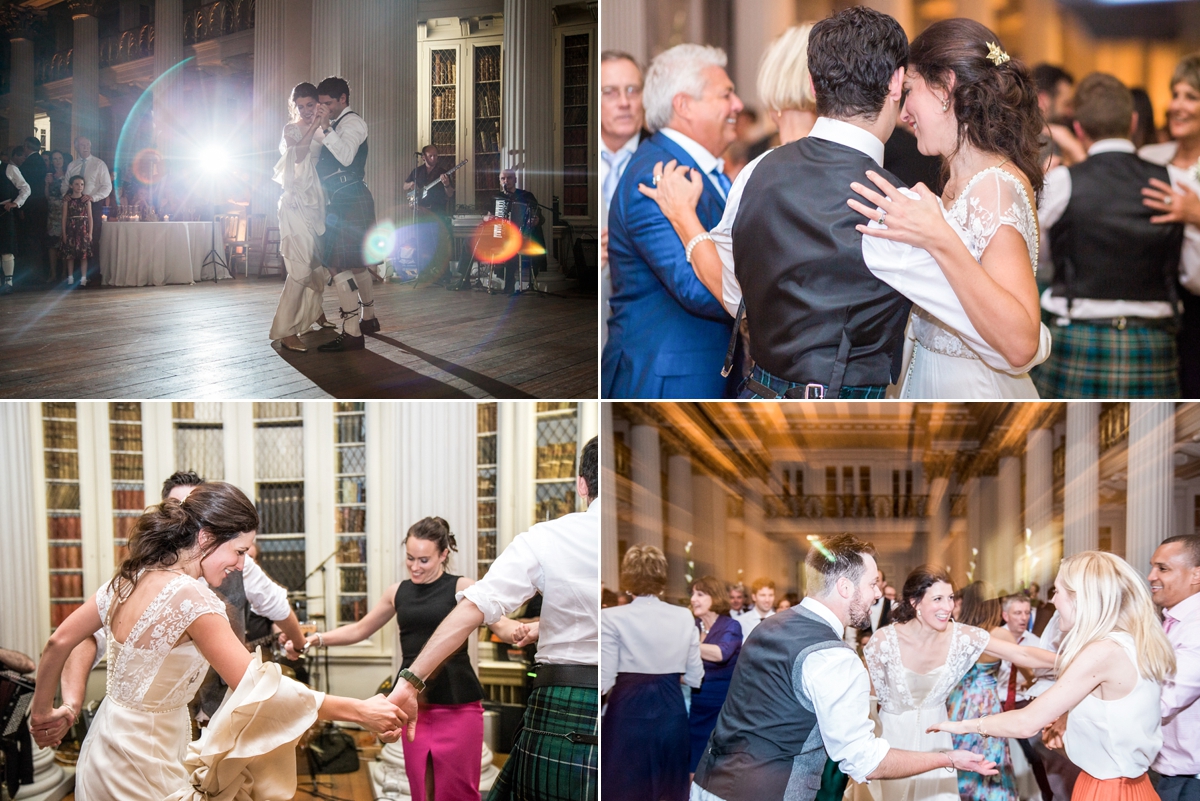 Words of Wedded Wisdom
"Take on board suggestions from friends and family but don't feel obliged to obey them, stay true to your vision. Be sensitive to any family rifts but also recognise that you cannot please everyone."
Those are two very sage pieces of advice from our bride; be sure to bookmark these words ladies. That just leaves me to say our very grateful thanks to the happy couple for sharing their relaxed autumnal nuptials with us and a big thank you to Carley Buick Photography too for the beautifully captured images.
I hope your Mondays are filled with smiles and tea dear readers; what else do you really need? Except for maybe cake. Cake is always a good thing.
Love, Em x