I have to tell you that the wedding we are sharing on this lovely Thursday is right up my street. There's more glamour than you can shake a stick at and it oozes style. Bride Leona is an art teacher and designer who loved getting her teeth into wedding planning – and it really shows. She married Aidan who works in financial services at gorgeous Tankardstown House in the Irish countryside earlier this year with the fabulously talented Tomasz Kornas behind the lens capturing these beautiful images.
"I have my own particular bohemian laid back style and I'm obsessed with all forms of design so styling the wedding was my dream job. Family and friends are so important to us and we wanted to make our wedding as relaxed as possible for them. We chose Tankardstown House because it is so stylish and elegant, yet homely at the same time. You also have exclusive use of the venue on the day which is a big plus. We fell in love with the place the minute we walked through the gates."
Photography by Tomasz Kornas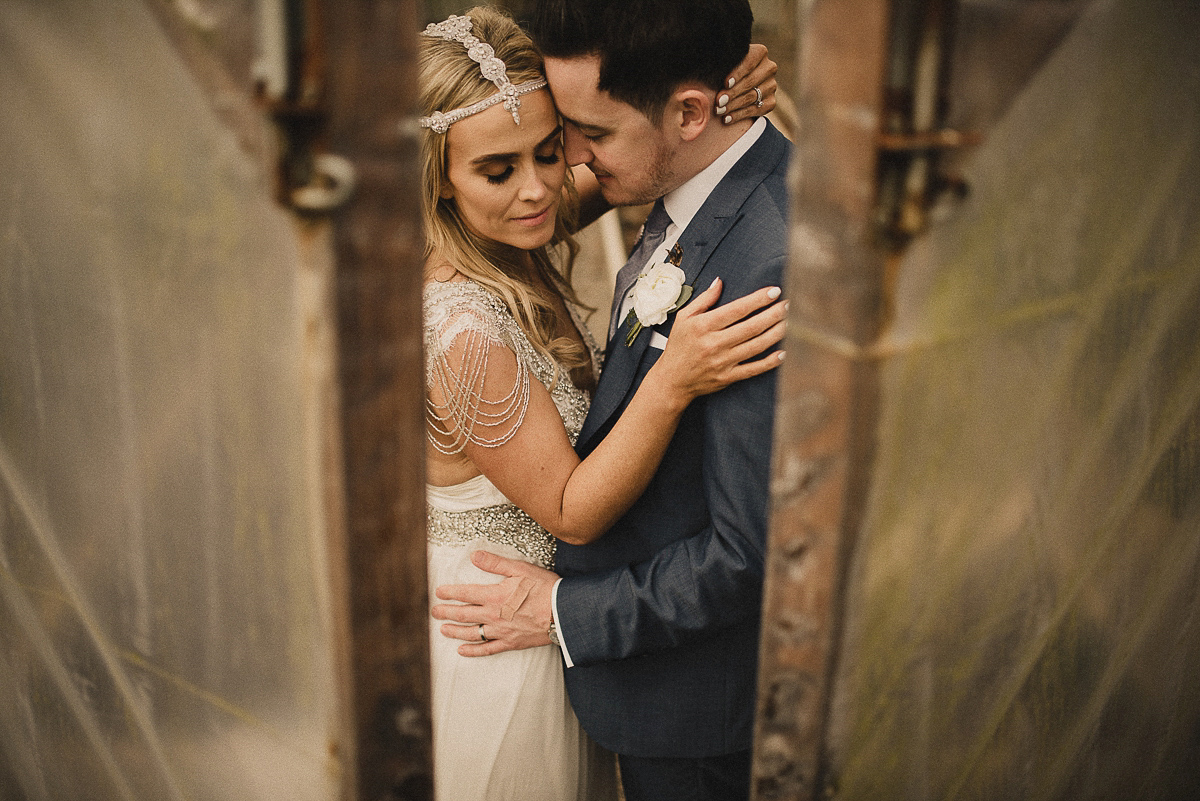 Bride Leona knew that when she found her dress she would get that 'feeling' but was getting increasingly worried the closer she got to her wedding without a dress. Luckily Instagram and Pinterest ended up pointing her in the direction of the fabulous Anna Campbell and Leona got the 'feels' she was looking for. Little White Dress in Dublin exclusively stocks Anna Campbell so off Leona went to find her perfect dress and didn't she choose a stunner.
The bride teamed her dress with a lightweight veil for the ceremony, then changed into a gorgeous headpiece for the reception. Just visible under her dress are a pair of Manolo Blahnik shoes, I told you this girl has great taste.
"I loved everything about my dress but it was hard to pick as Anna Campbell makes dresses that for the first time made me feel like I could get married in a dress that was me. It made me feel free, easy to wear but still had the wow factor. I adored my dress so much that I want to do a photo shoot in it with our dog Millie and I am already thinking of renewing our vows some day so that I can wear an Anna again."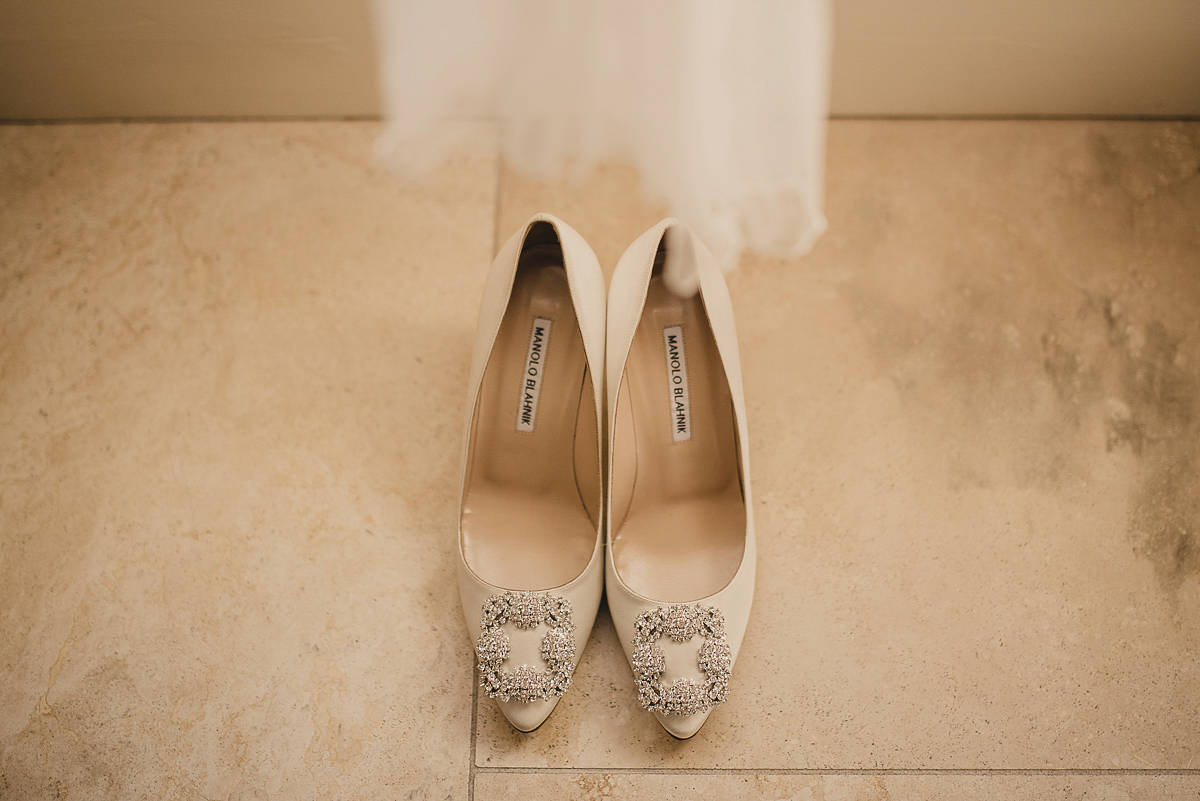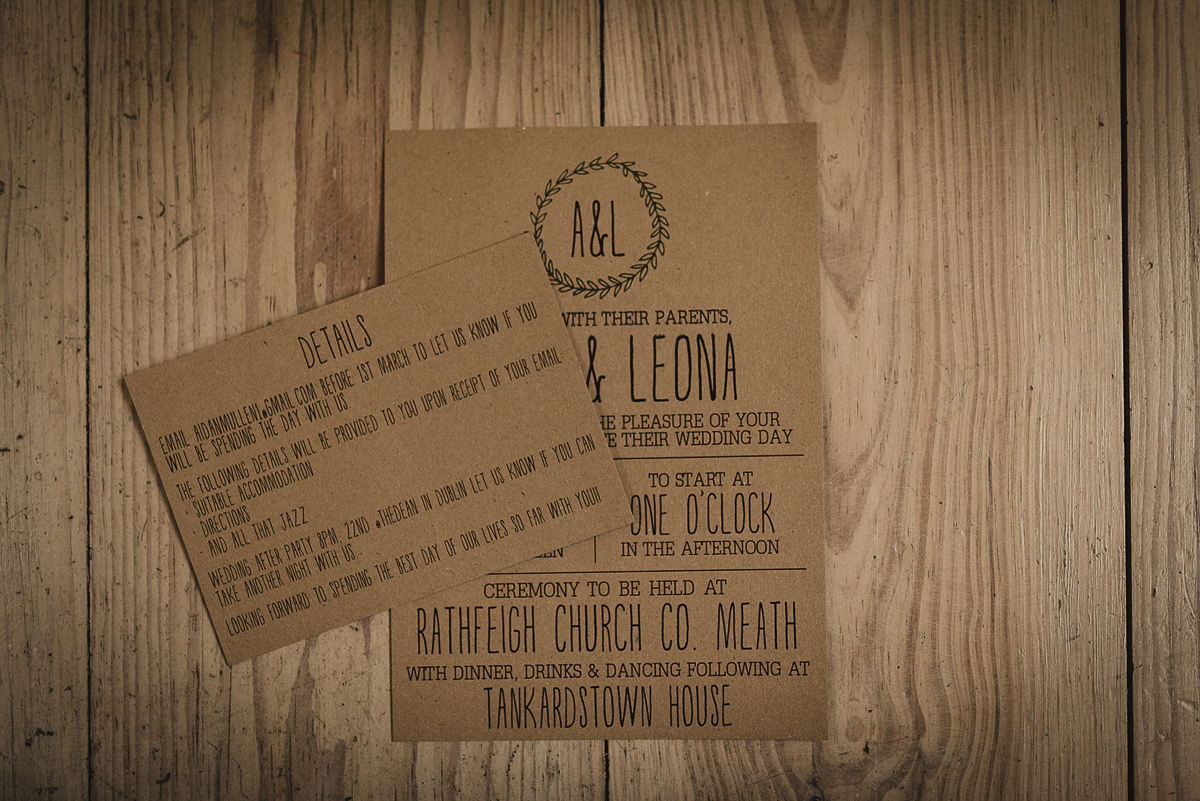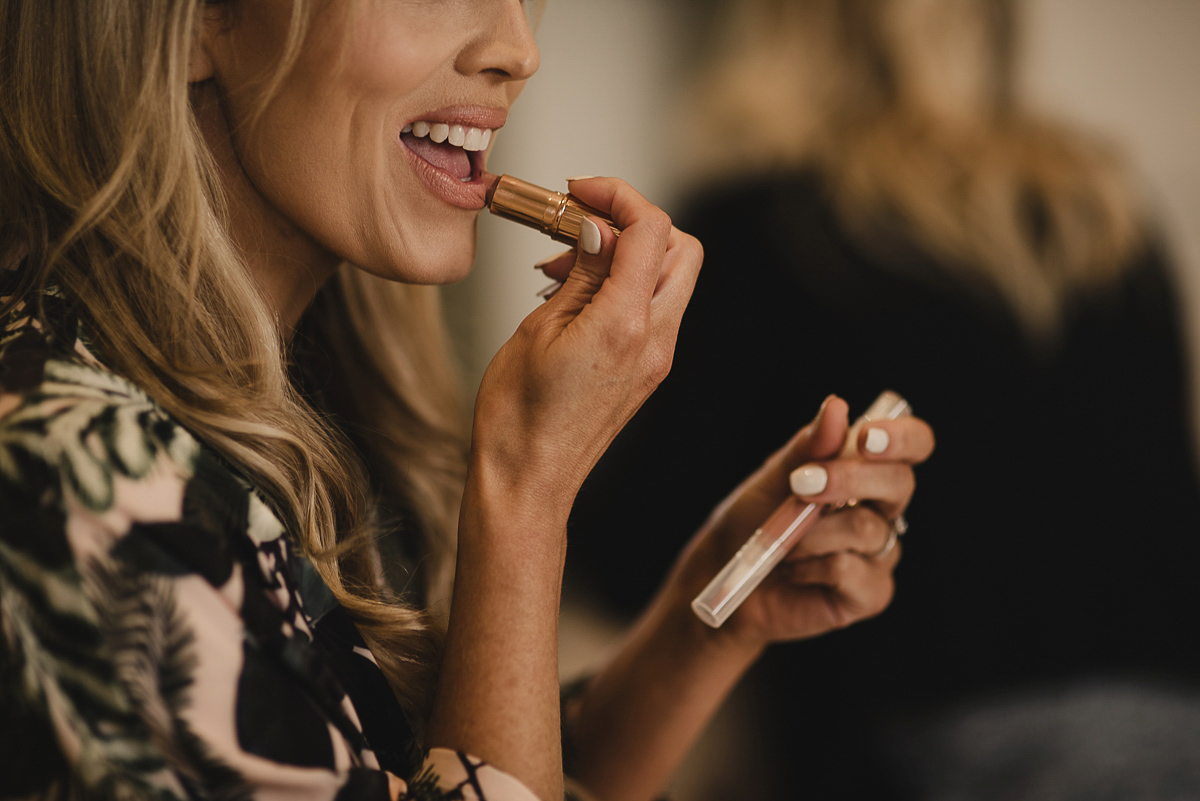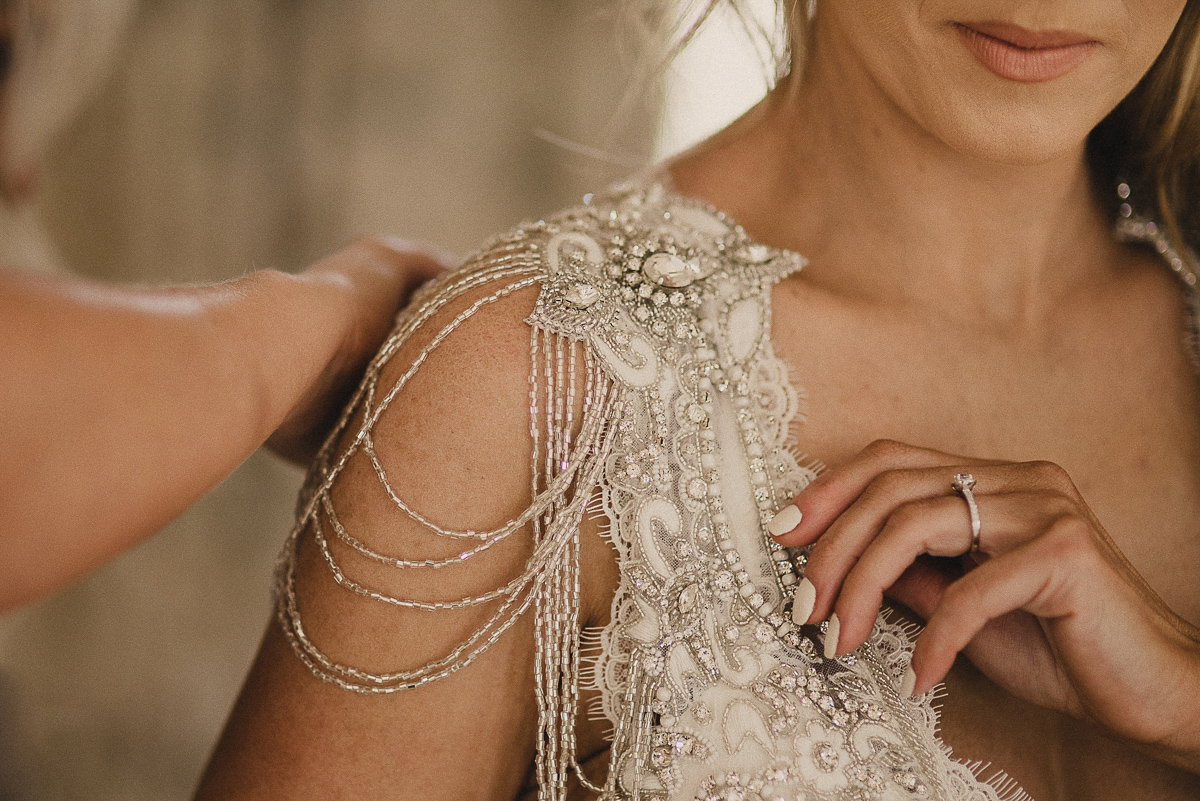 "My makeup artist Chloe Boucher was an ex student, now friend who has gone on to achieve amazing things. She is an amazing makeup artist and it was lovely that she was able to do my makeup on the day. Aimee Connolly did the bridesmaid's and mummies's makeup. She is so friendly and super relaxed and made our morning so enjoyable by her professionalism and friendly nature."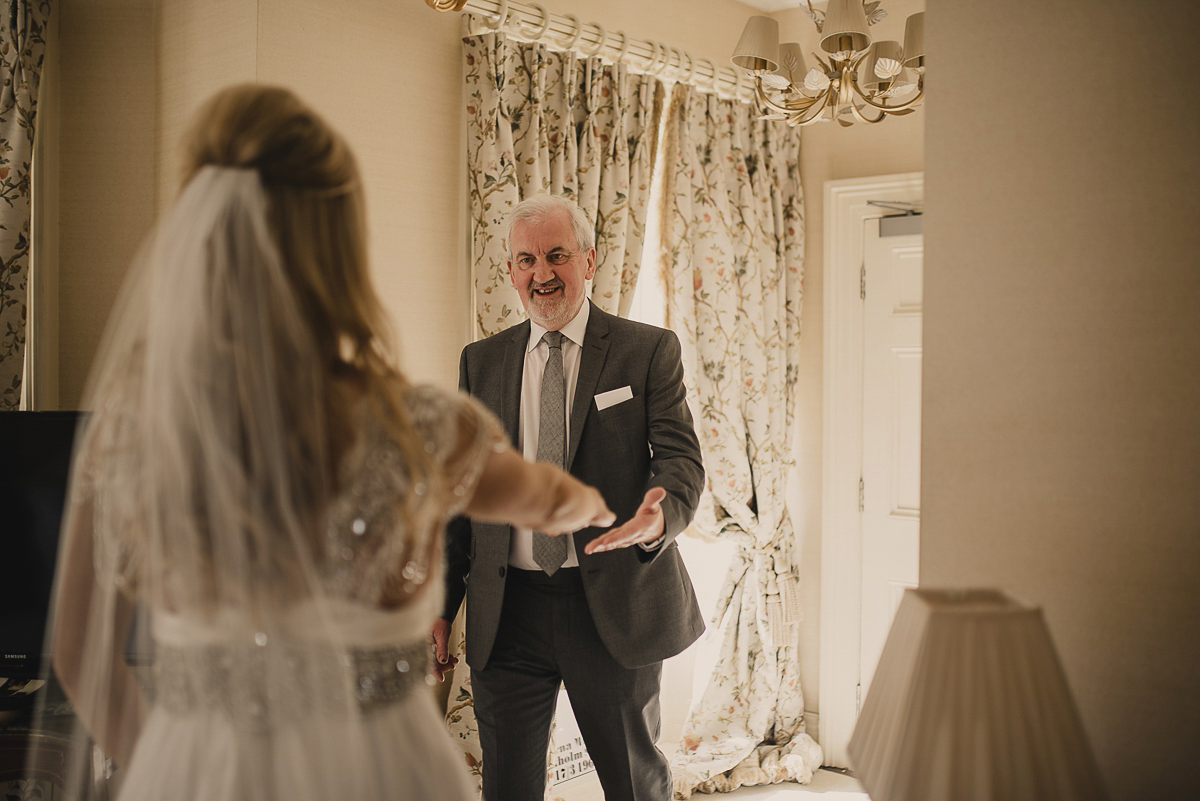 The bridesmaids continue with the glamour in gold Debenhams dresses and shoes with Loulerie letter necklaces. The gorgeous flower girl wore a white tulle dress by Paul Costelloe and the cute page boy's outfit was from Zara and River Island.
"We met in 2002 working part time in a sports shop and began dating shortly after. Everything just seemed to click, no fairy tales, just a lot of love, laughing, and mutual respect. Our engagement was one of perfection. For our ten year anniversary Aidan booked a repeat of our first trip together to Paris, on July 24th (or as Aidan likes to say '24/7 – like our love'). After we filled our bellies with fabulous food and wine we found ourselves on the Love Lock Bridge where Aidan got down on one knee with a lock reading 'Will you marry me?' with '24/7′ written on the back."
As a designer herself it was only natural that Leona took on the stationery design herself, doing all of the artwork and styling with her brand Mill.Lane.Studios.
Mark Grehan at The Garden at Powerscourt took care of Leona's vision for evergreen flowers and foliage in a boho meets chic style.
"Mark met me in Powerscourt before our wedding and when he looked at my mood boards, he immediately got my vision, he was awesome."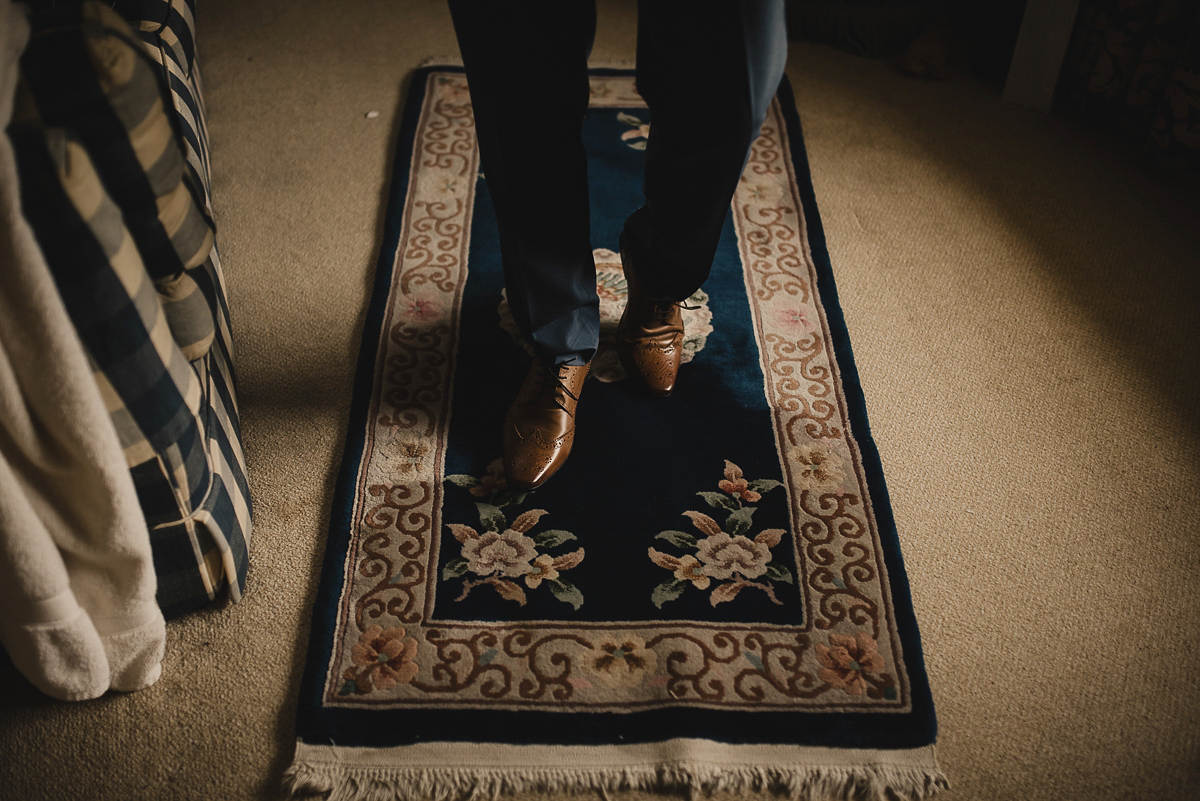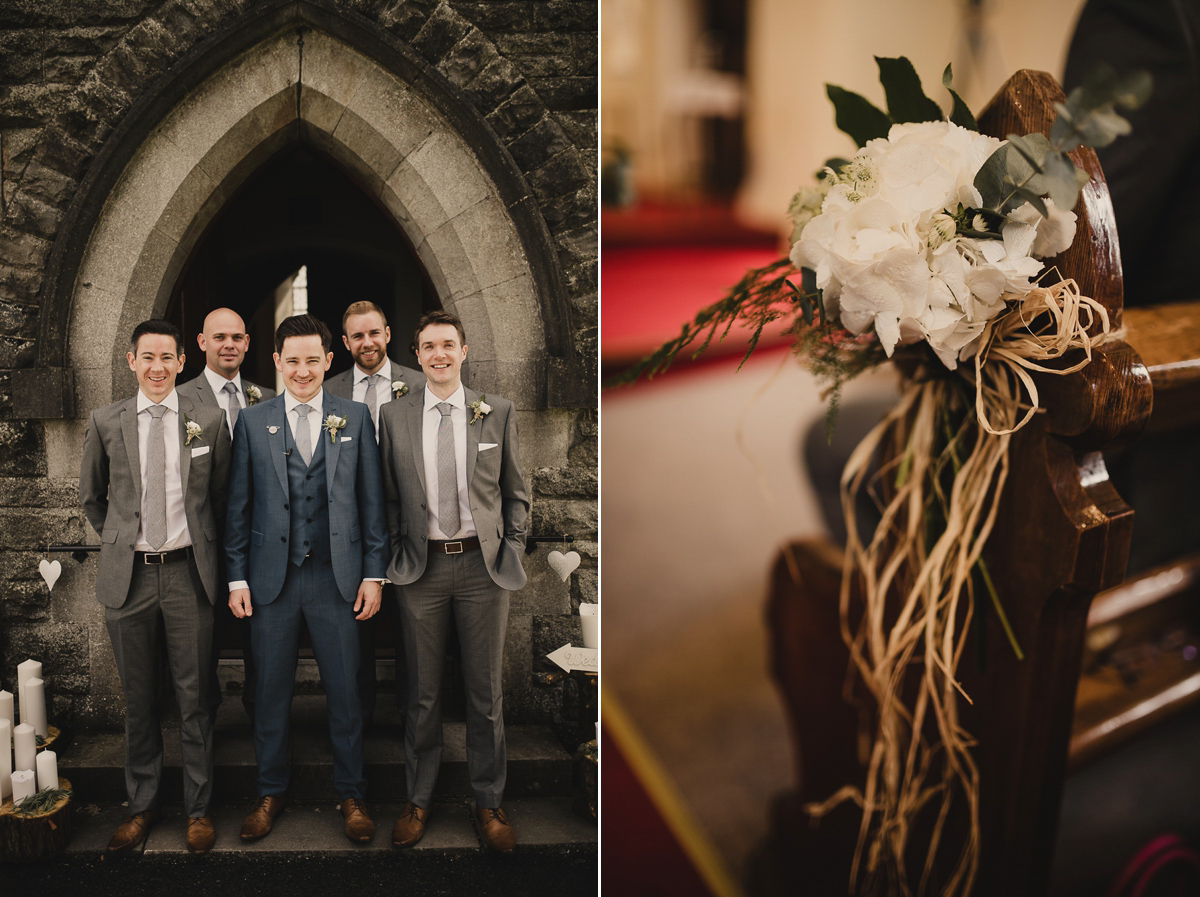 Aidan and his groomsmen certainly rival the ladies in the style stakes. The groom was kitted out with his blue suit at French Connection and his groomsmen wore grey suits from Debenhams.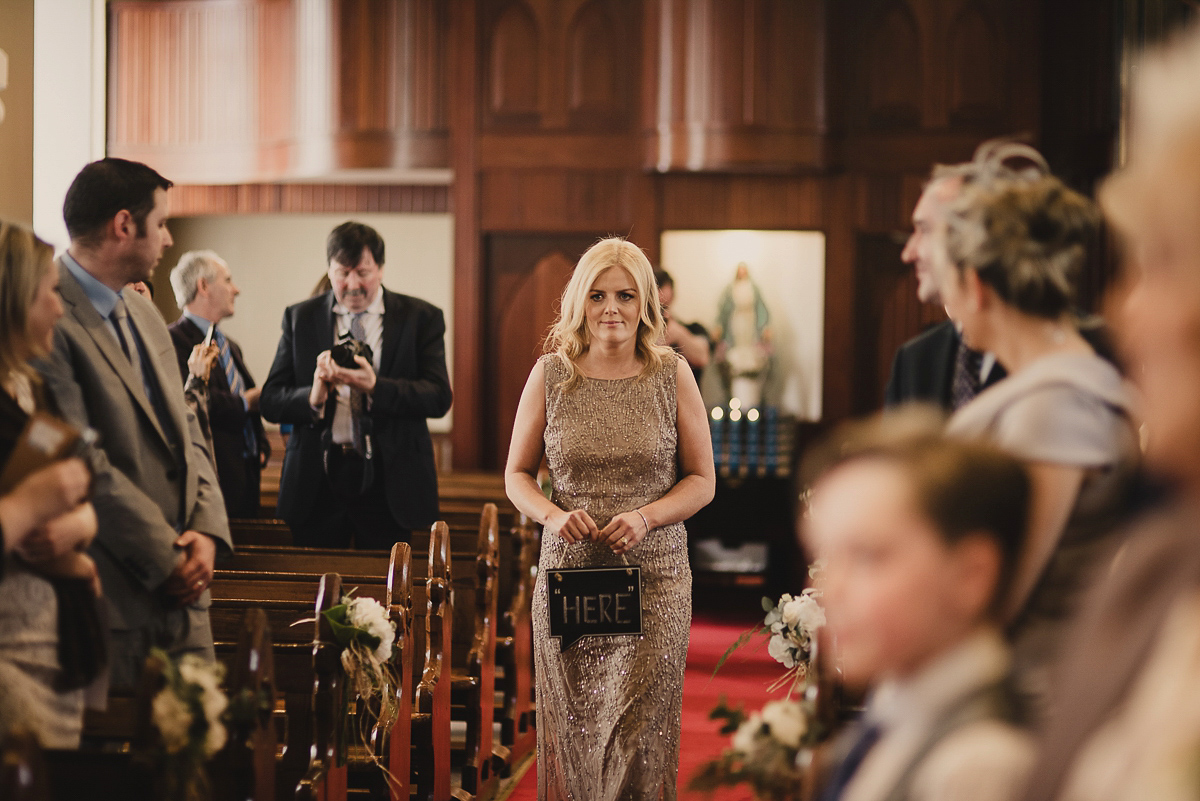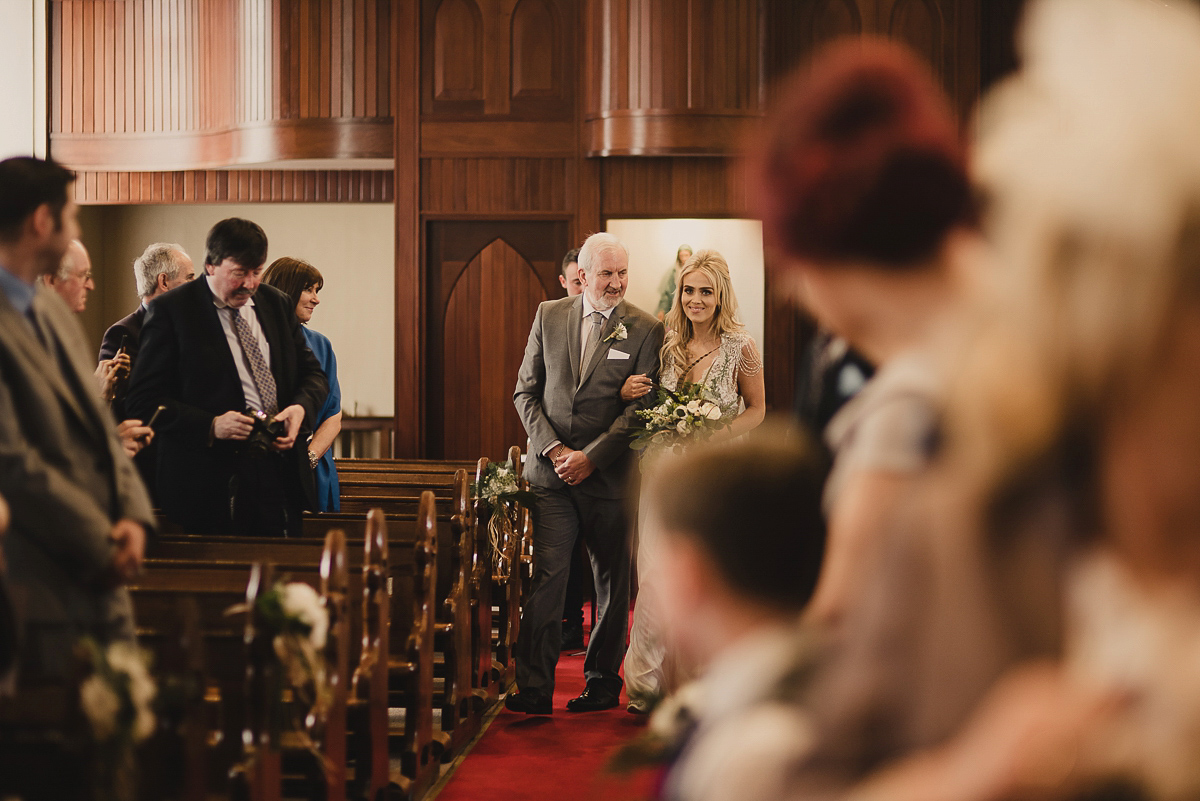 Leona's dad Tony walked her down the aisle to Aidan to the theme from 'Forrest Gump' and husband and wife walked back up the aisle to the theme from'Up'.
"Our wedding would not have been as special without the legend that is Father Dave Twohig. He made it super relaxed and personal and we are blessed to have him in our lives."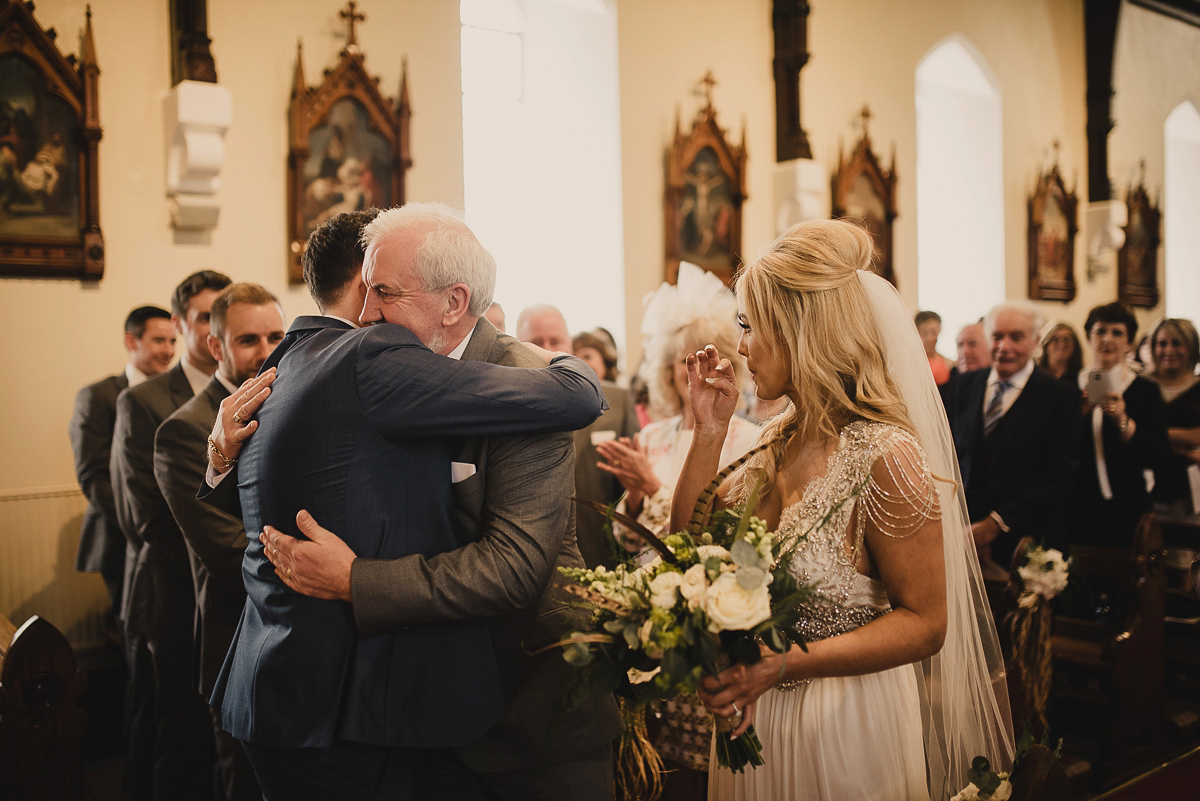 Singer Catherine Byrne is an old primary school friend of Aidan so it was a no brainer to ask her to sing in the church.
"We wanted to have connections with everyone who played a part in our wedding and she is awesome. She sang every song we asked plus learnt three new songs – no fuss, no hassle, just a star performer."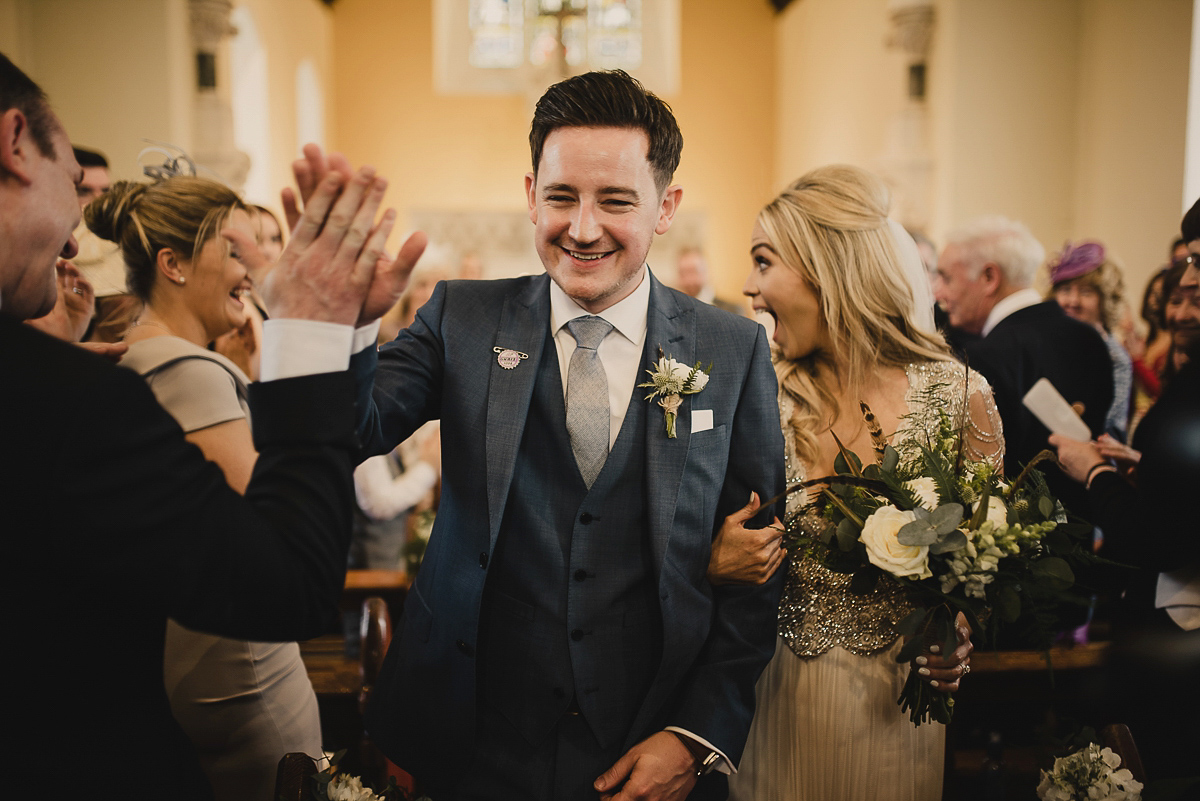 The bride travelled to her wedding in her grandad's gorgeous 1970's VW Beetle. What a lovely way to honour him.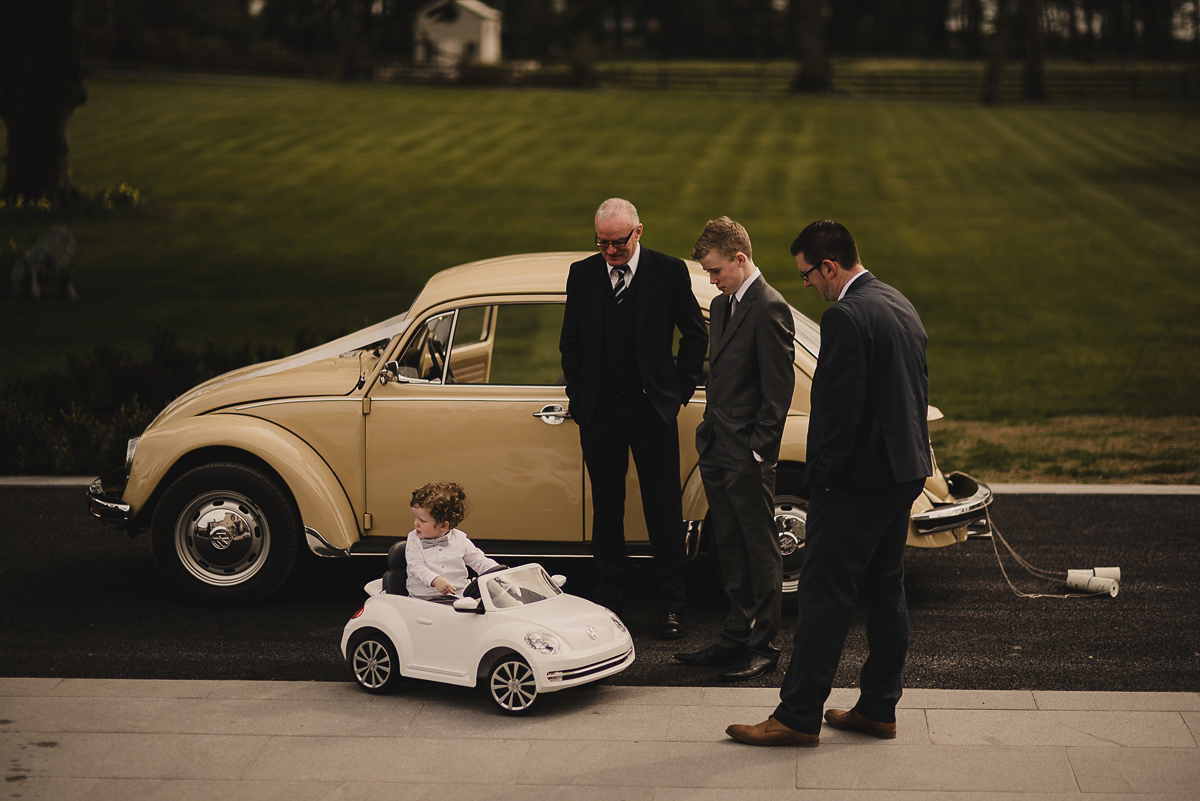 A self-confessed 'photo-ninja' Tomasz Kornas has a style all of his own. He captures the beautiful details and fleeting moments in a relaxed way, allowing his images to tell the full story. With such a great photographer on hand, I love that couple asked guests to rest their cameras for the ceremony.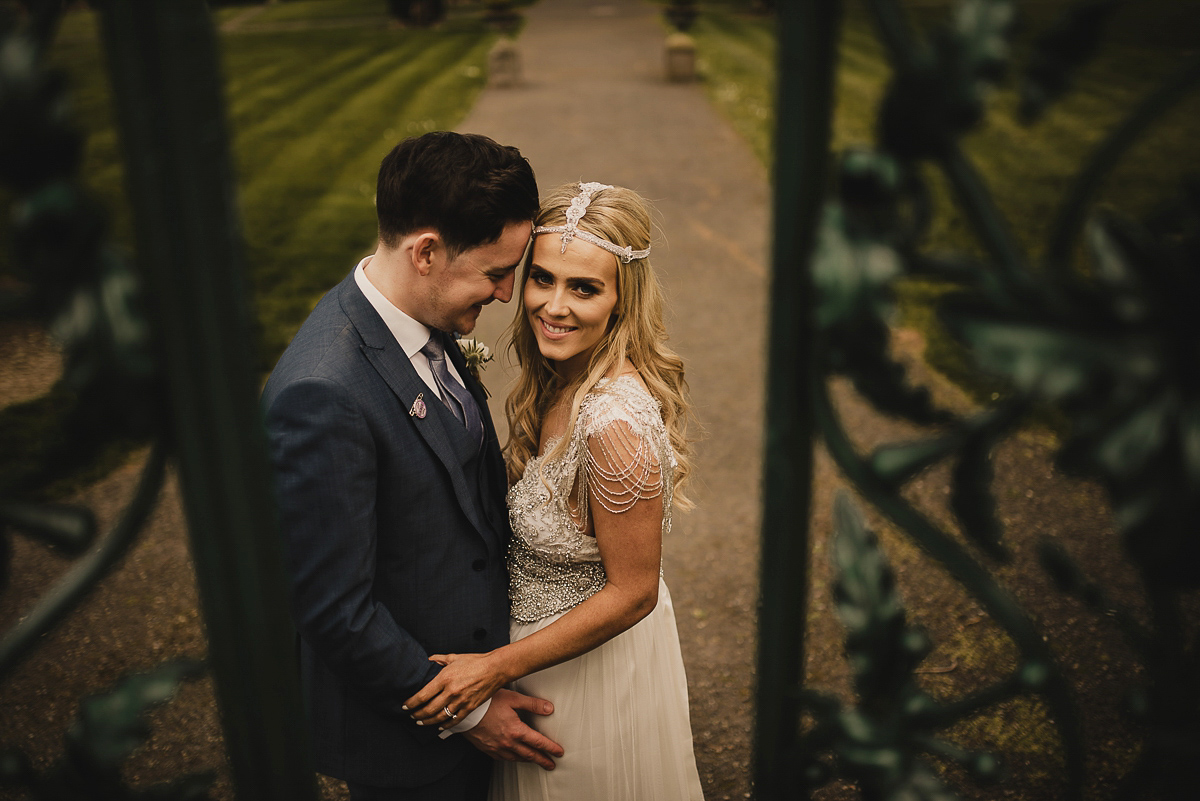 "We could have got anyone to shoot the day, but what we really wanted was to have someone to document what it meant for us to be in Tankardstown with our family and friends, making the commitment of our lives. We're thirteen years together, so our history is something we're both very passionate about and we needed a guy to get all of those 'feels' and jam them into the photos. Tomasz really did do that."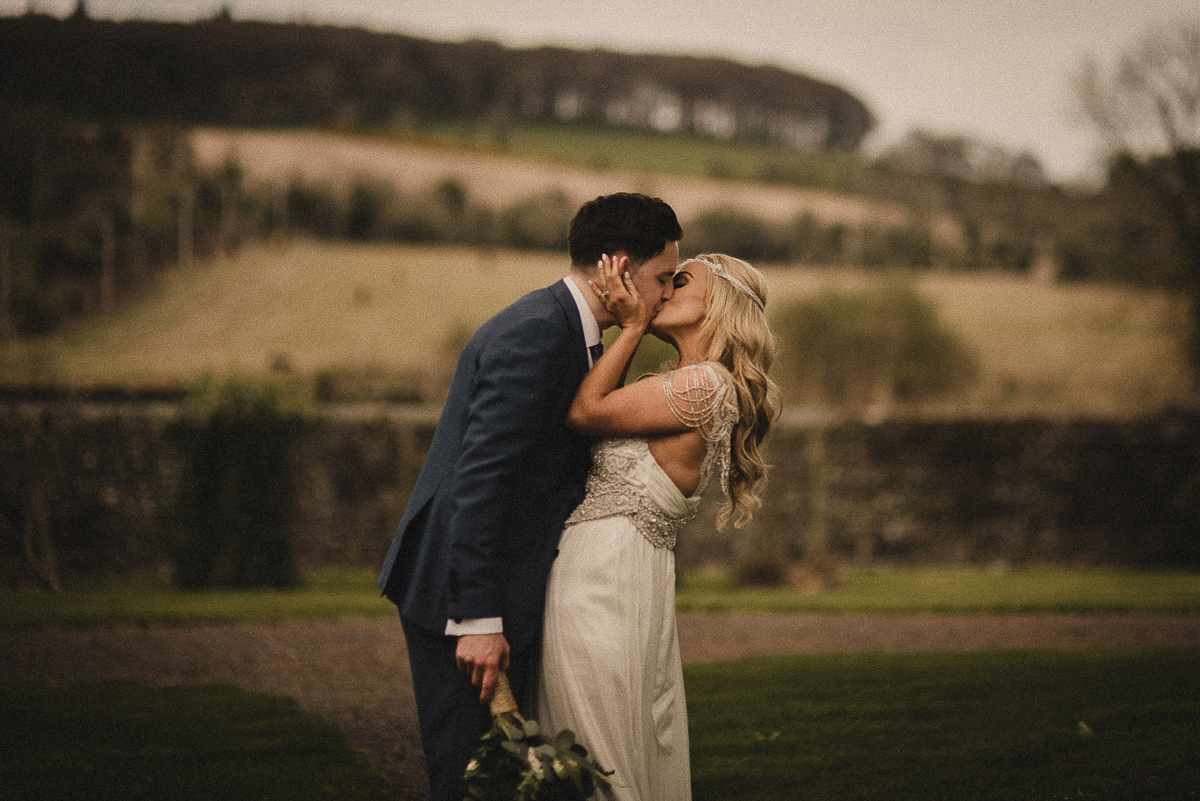 "The minute we met him we knew this was our guy, he's really warm and funny, making you feel relaxed and open. Tomasz was such an important part of our day and his relaxed yet professional approach meant we could treat him like one of the family. And in return, he surpassed our expectations in every way."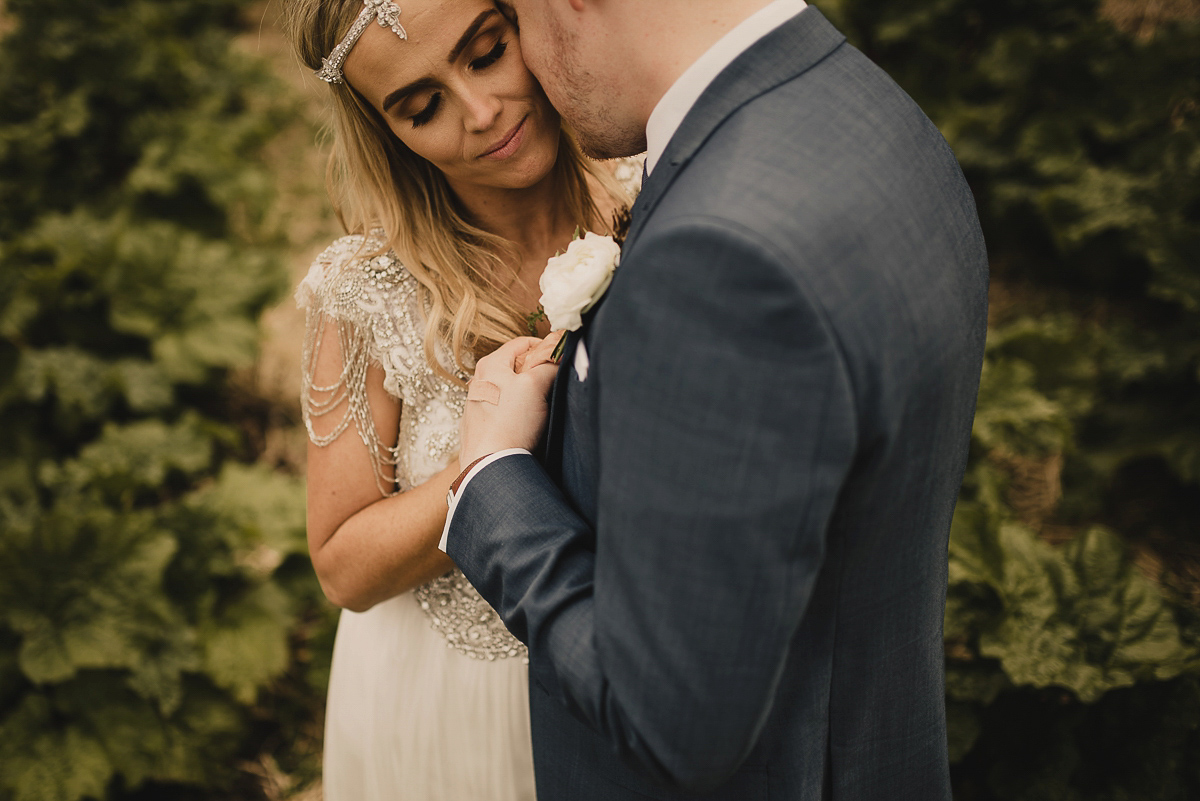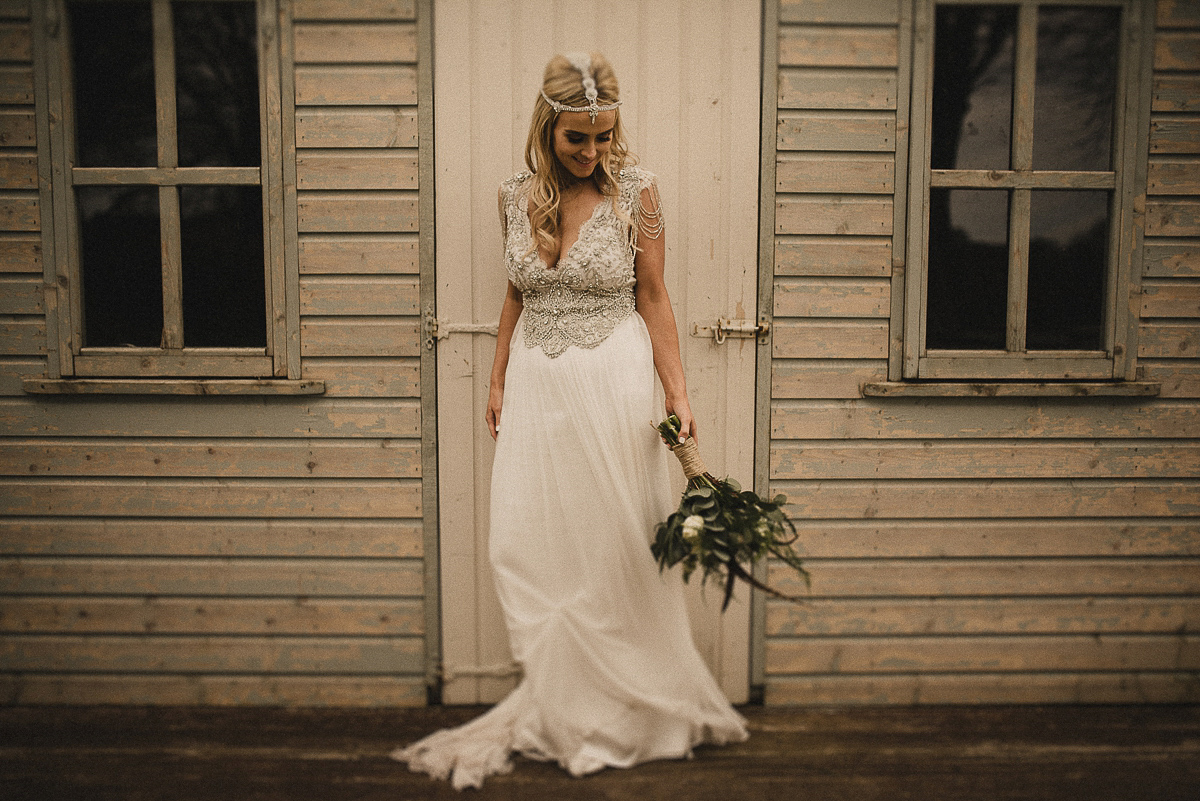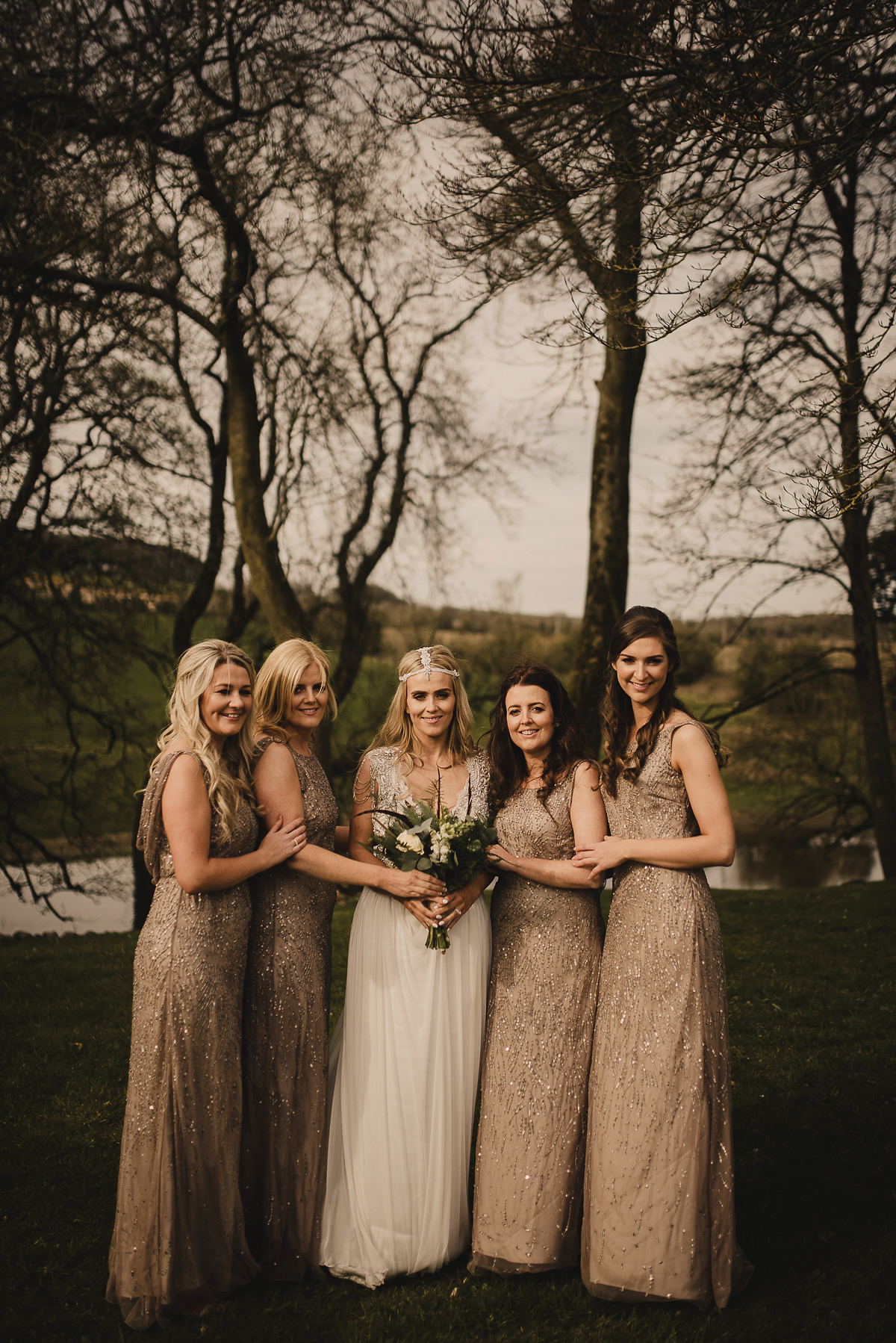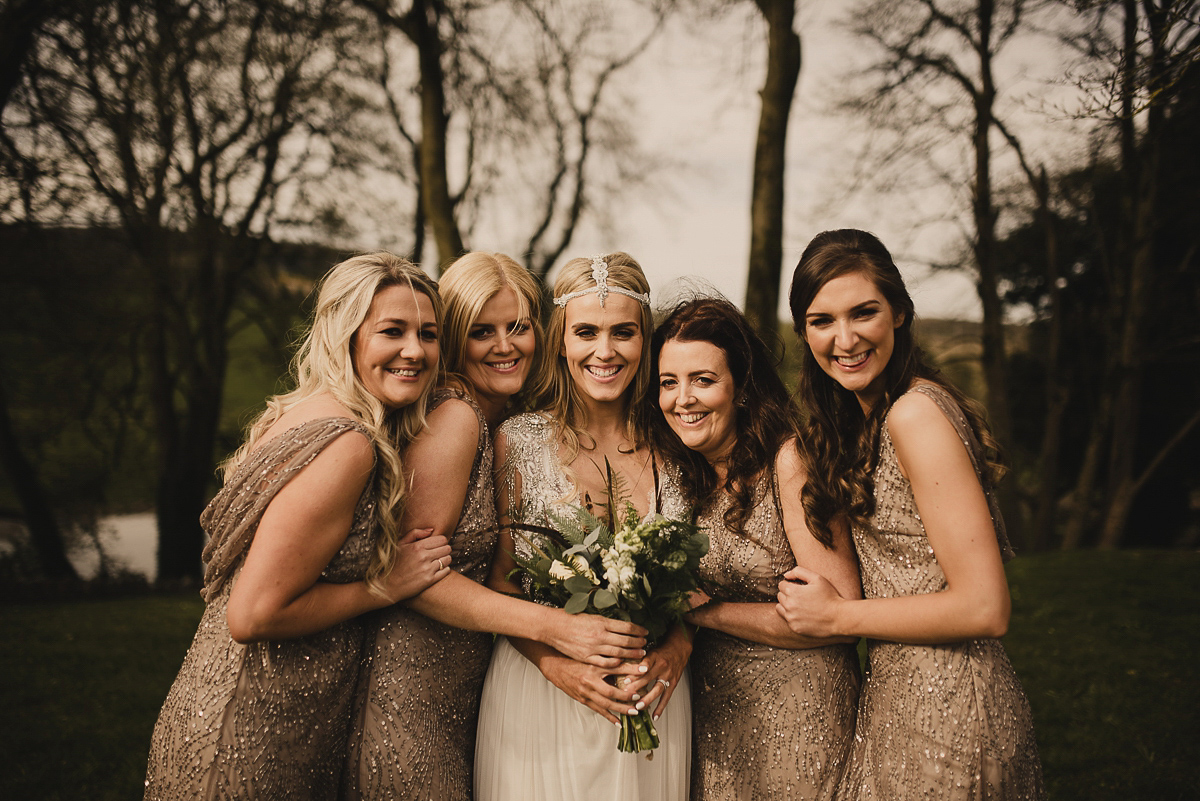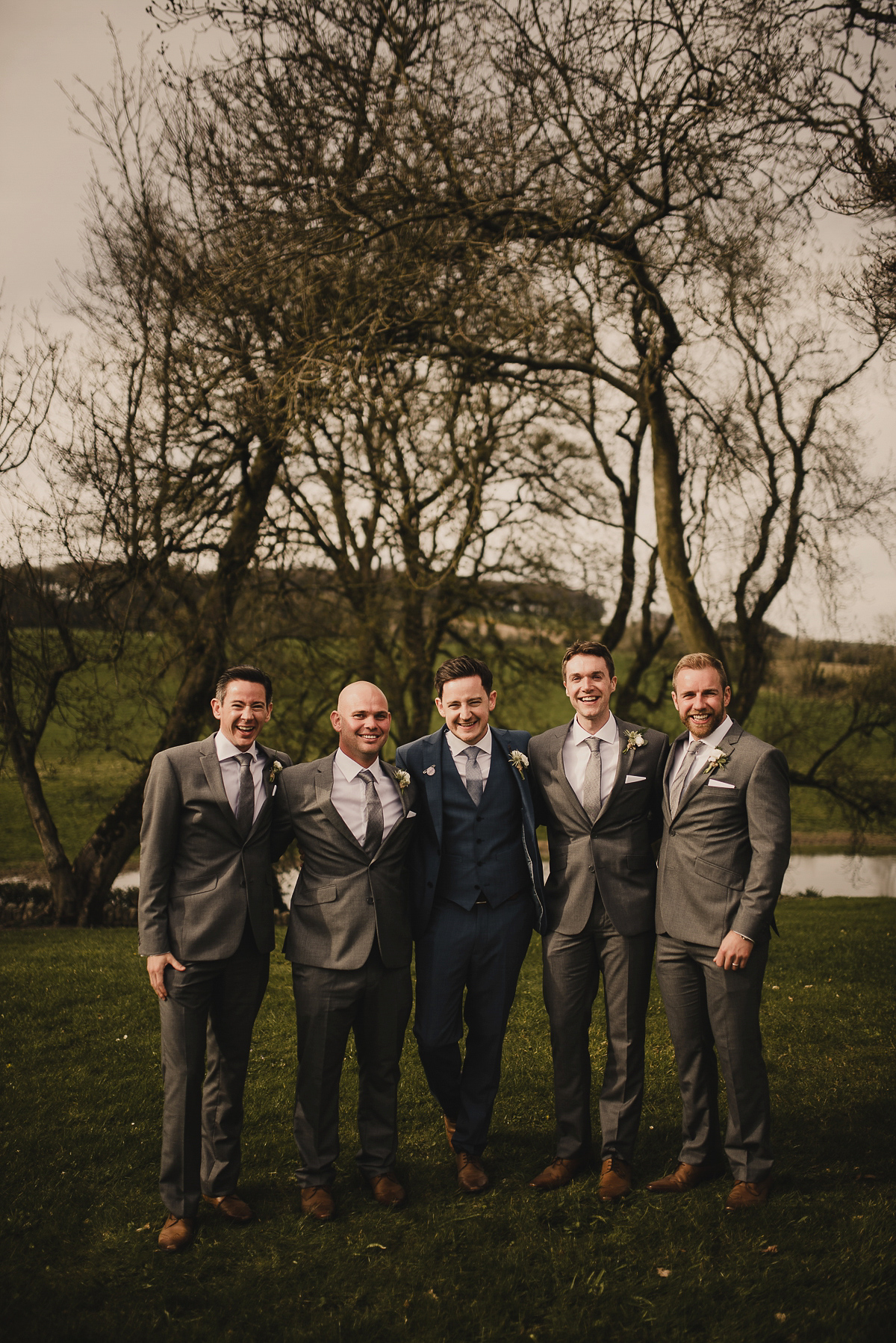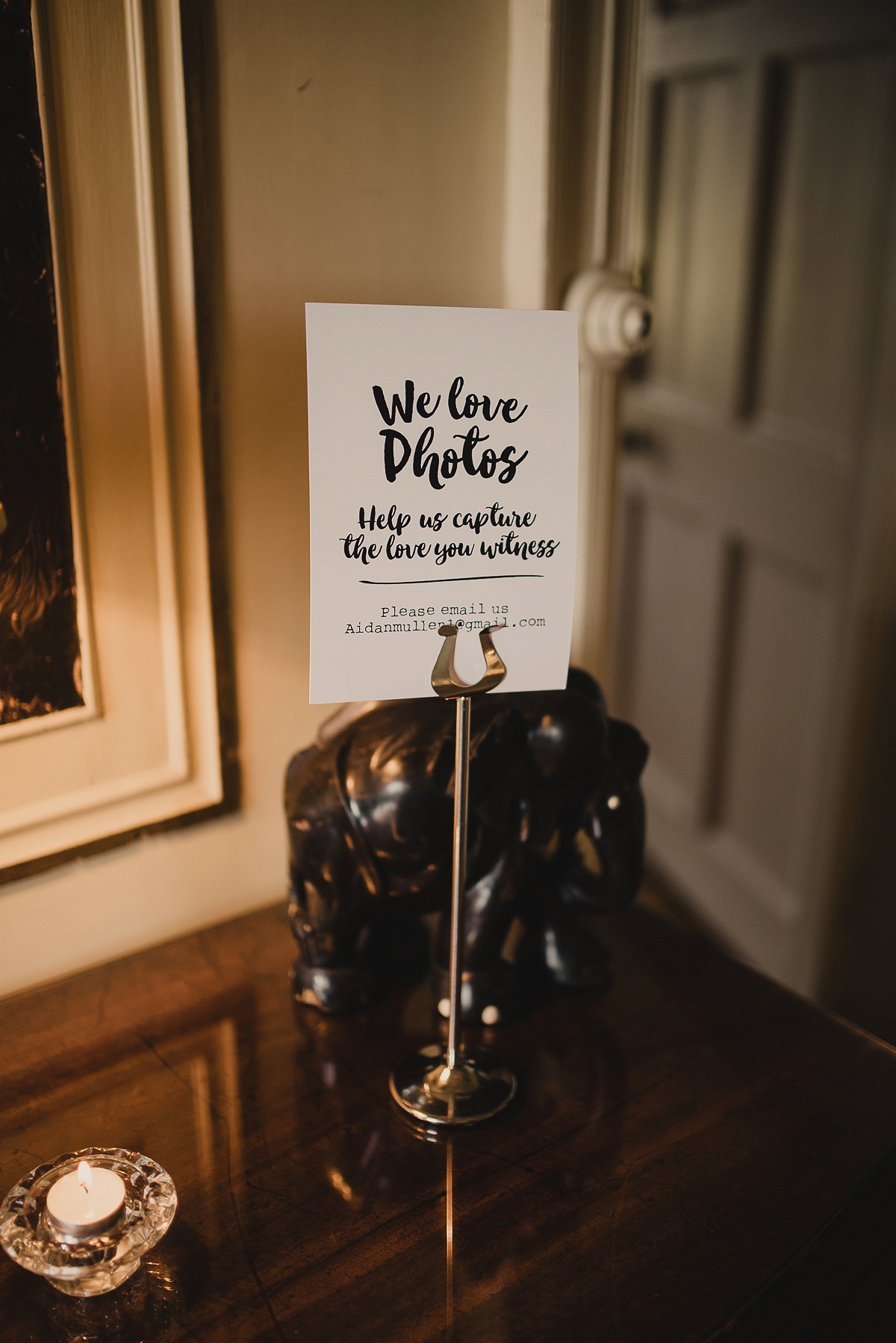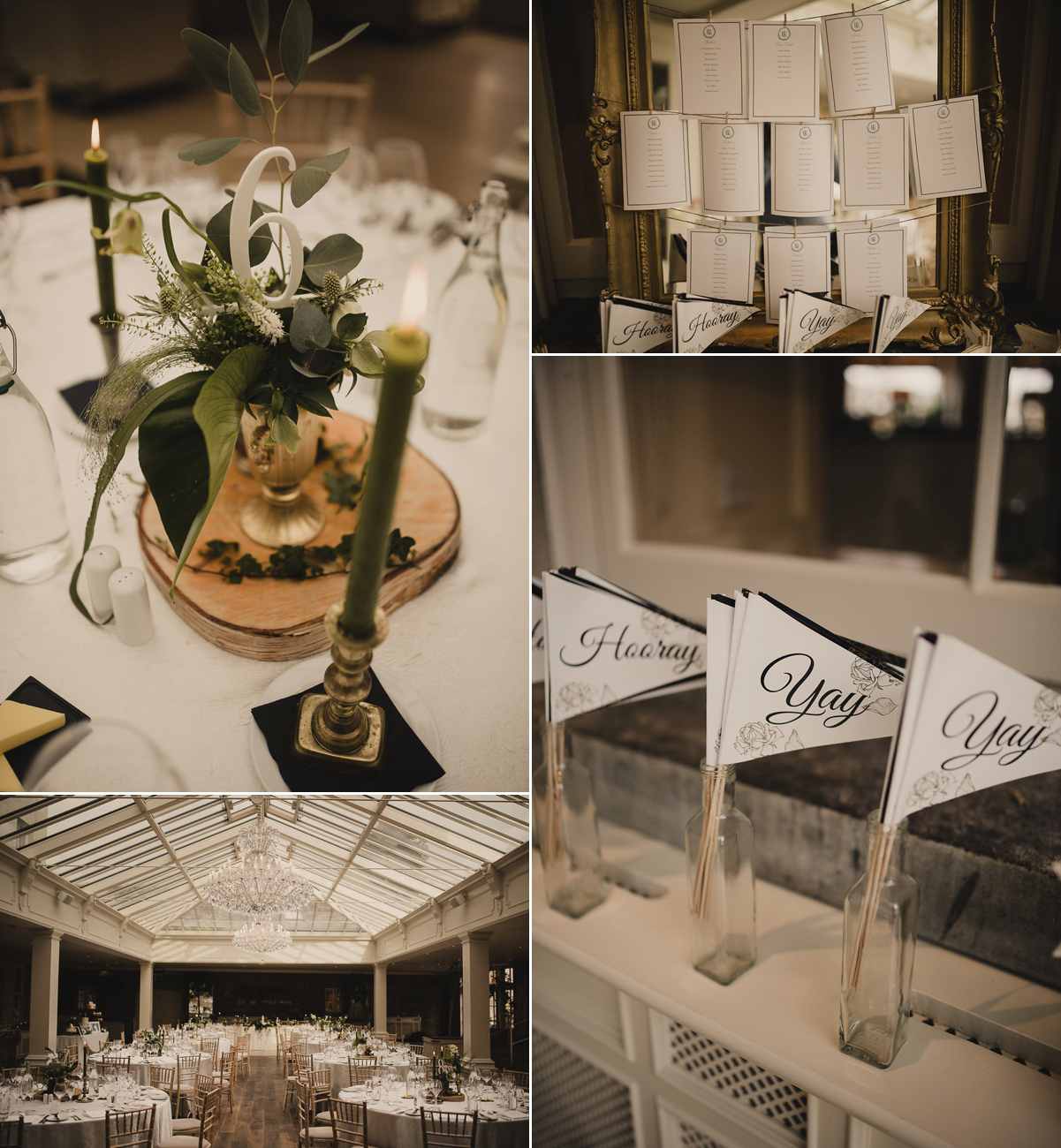 This is a bride with impeccable taste and it even extended to the beautiful cake table. Talented bridesmaid Rosina made the cupcakes and two gold foil cakes and the main wedding cake with gold marble effect was made by Paula Pic n Mix Cakes with a monogram designed by Leona on top.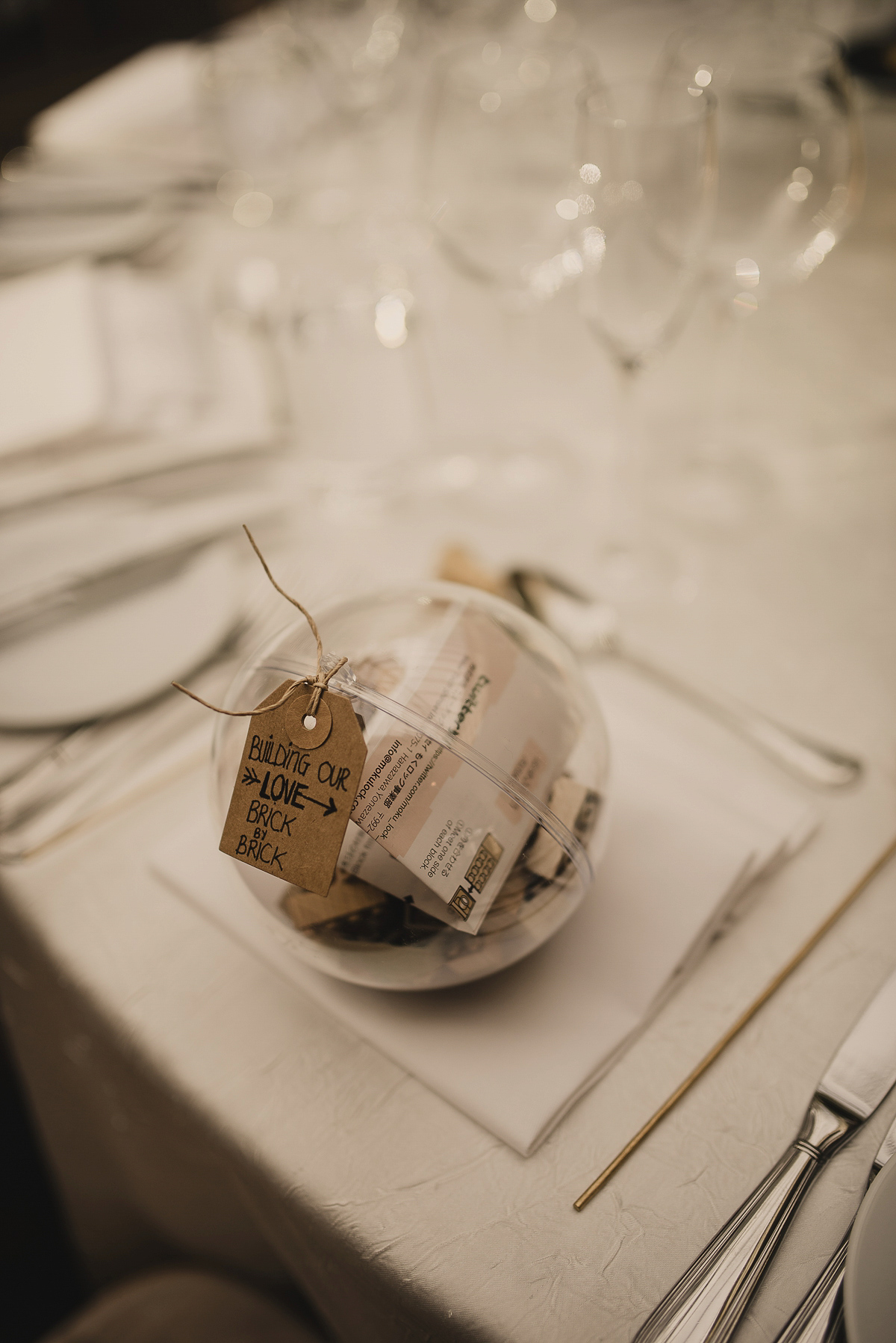 Aidan's favourite part of the day was the speeches.
"Seeing both Dads get up and speak so well on the terrace in the sunshine will live long in my memory. It was great to see them so relaxed, so natural and they really set the tone for the rest of the evening."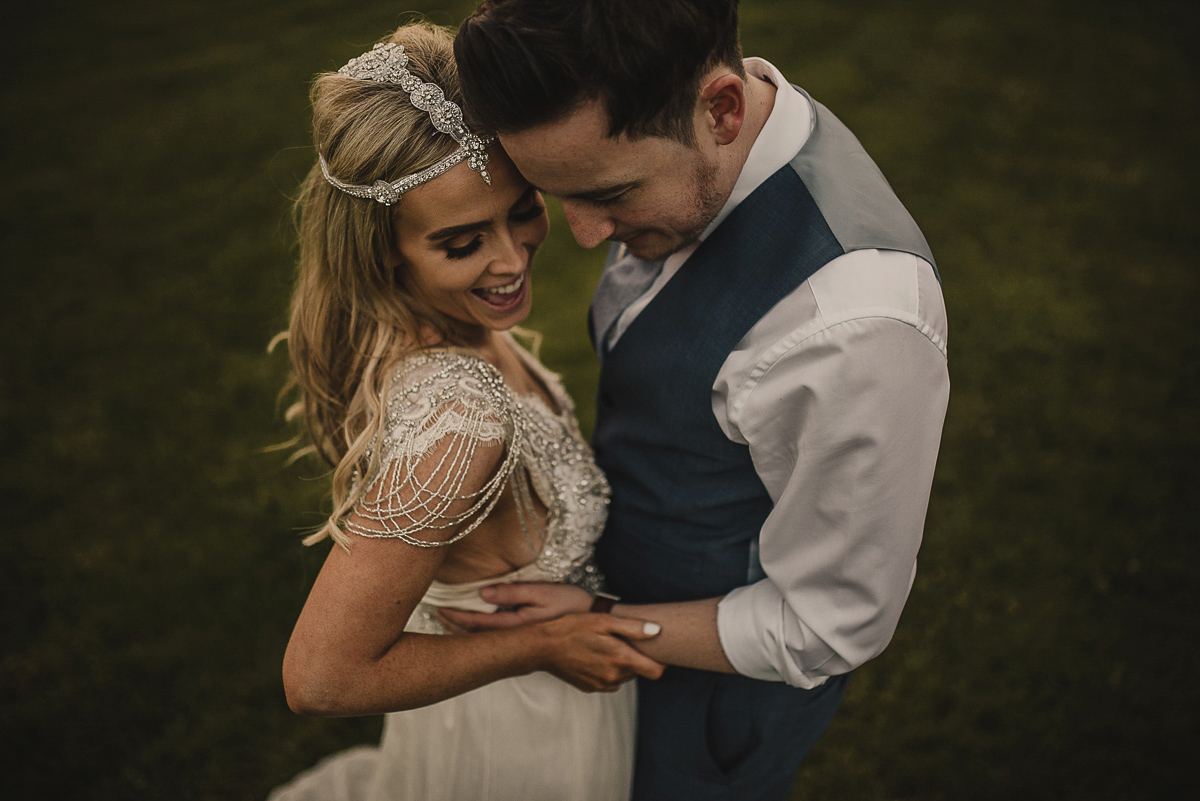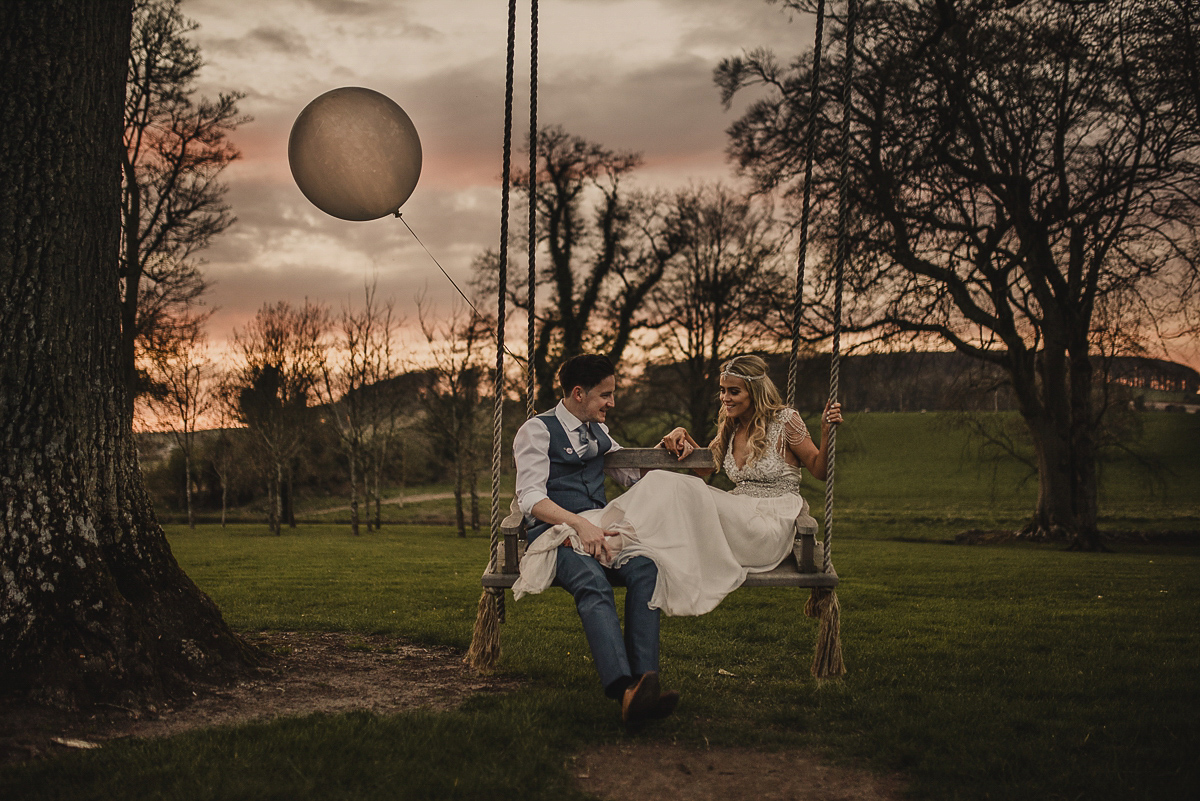 The newlyweds had their first dance to the beautiful tones of  'Once in a Lifetime' by Beyoncé.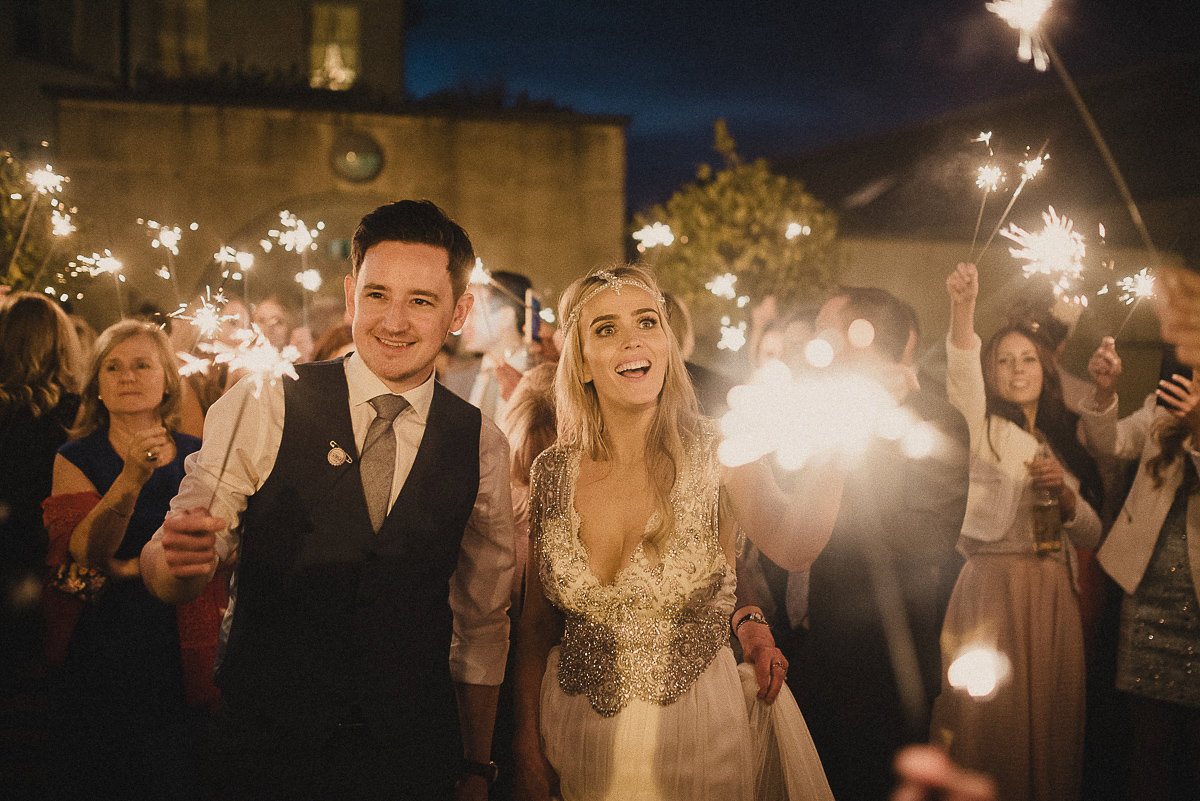 Words of Wedded Wisdom
"Don't sweat the small things – the journey is a part of the day so don't let it consume you, let it become a great part of your life. Keep it as personal as you can and try not fall into what you 'should' have or what you 'should' be doing. It's your day and as long as you and your husband to be are happy everyone who loves you will follow that happiness. I will always be thankful and grateful to our wonderful parents, friends and family who helped make our day the best so far.
I started to get sad thinking that I won't ever have this amazing day again, feel this way again or wear such beautiful dress again but you have to think that your wedding day is just the beginning of the rest of more great adventures ahead with amazing things yet to come. Our motto was 'best day of our lives so far'.
Remember to spend as much time with your husband on the day. I never felt more in love, more connected, more admiration towards Aidan than on that day and I'm so happy that I didn't put pressure on myself to make sure everyone was enjoying themselves but just let the day be. Afterwards it was so lovely to hear our guests tell us that they felt they had witnessed something really special and that they had never been to such a relaxed loving friendly wedding. For us that was the icing on the cake."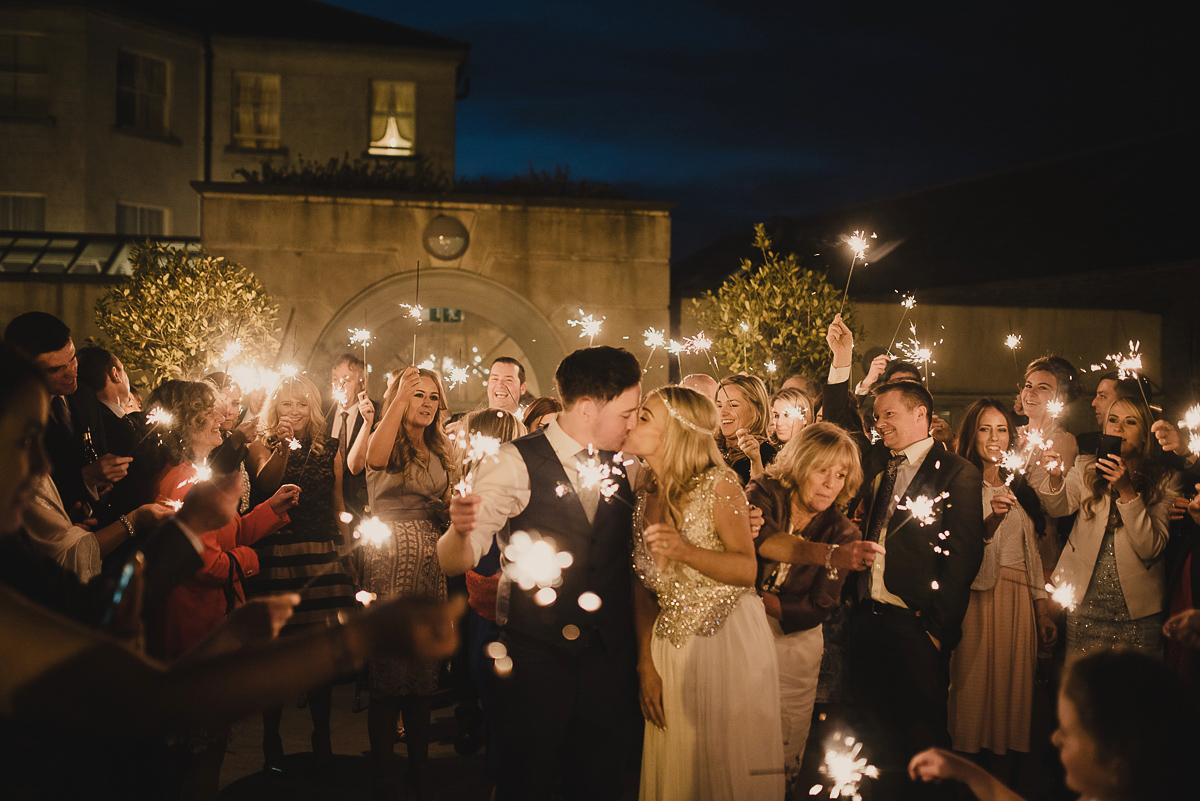 Thank you so very much to the lovely Leona and Aidan for sharing the details of your amazing wedding day with us. Huge thanks also for the stunning photography by Tomasz Kornas, I'm sure it won't be the last time we see this guy on our pages.
Love Caoimhe xx