It gives me great pleasure to introduce you to Julia, who works in PR and Ian, a Project Manager. These Scottish love birds sprinkled classic elegance and twinkling gold glints all over their 24th October 2015 celebration and, with the help of Jen Owens Images, have an utterly gorgeous collection of images to share with us today.
"The most important thing to us was making sure our friends and family had a great day, with lots of good food and drinks. We wanted a celebration that carried the importance of the day, yet was relaxed and good fun."
Photography by Jen Owens Images
Julia fell hard for Jenny Packham the moment she started browsing wedding magazines and blogs, something I'm sure many of our style savvy readers can relate to. Eventually deciding on 'The Leila', Julia looked radiant in the divine delicacy of this intricately embellished gown. I know I'm certainly going to treat myself to ogling more Jenny Packham clad brides here.
"The relaxed style of the gown fitted my idea of the day, with a really special sparkly element. I adore anything gold and sparkly and fell in love with the gold detailing on the gown."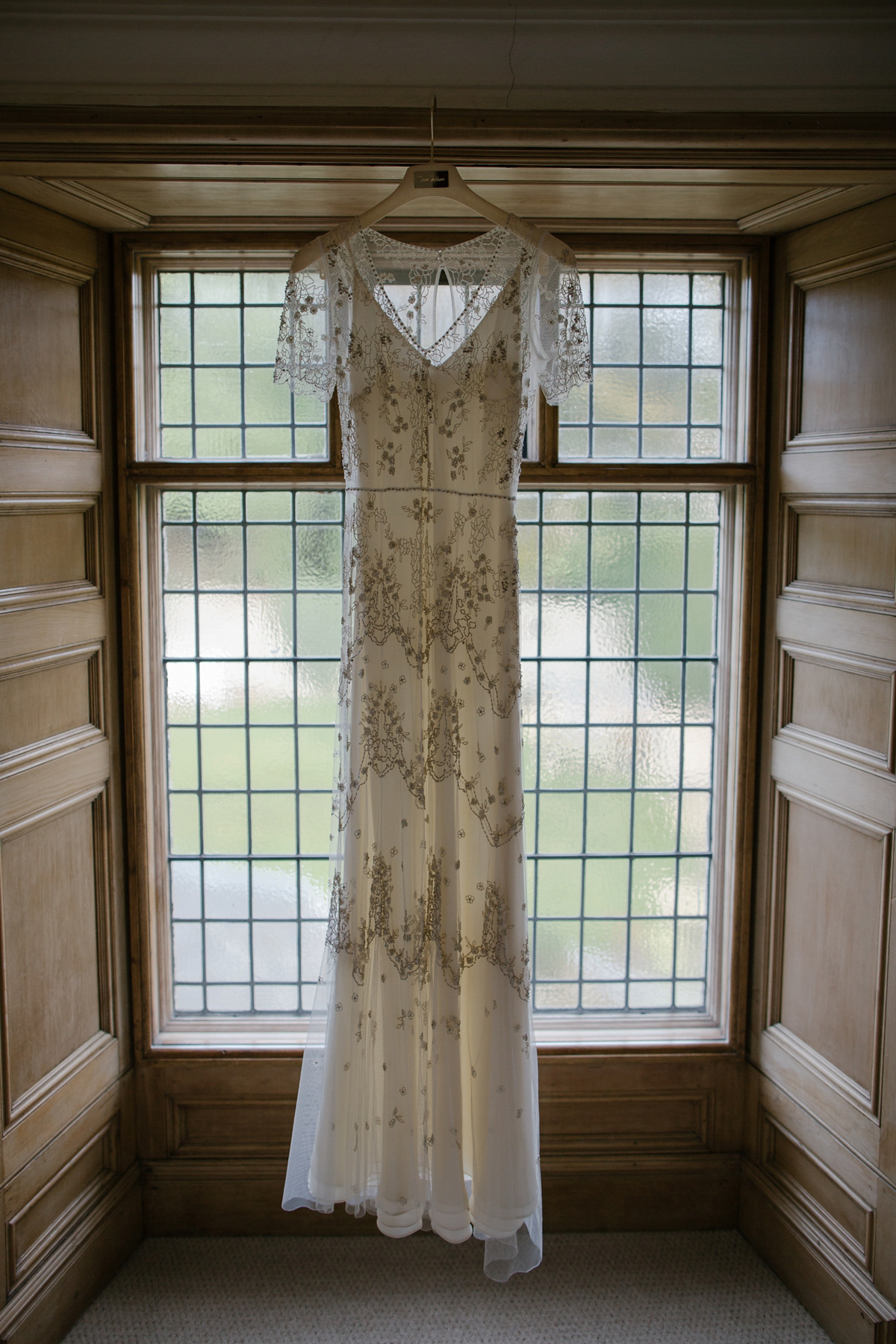 Stucio & Waow were called in to fulfil a brief of 'nothing too flowery' and used roses, burlap, dried berries, feathers and pine cones to enhance the Autumnal splendour.
"Two of my girlfriends had used Stucio & Waow for their own weddings and their flowers were absolutely fabulous. They are based very near my family home in Dundee, making it easy to pop in when I was at home. They completely transformed our church; we couldn't believe it when we saw it the day before."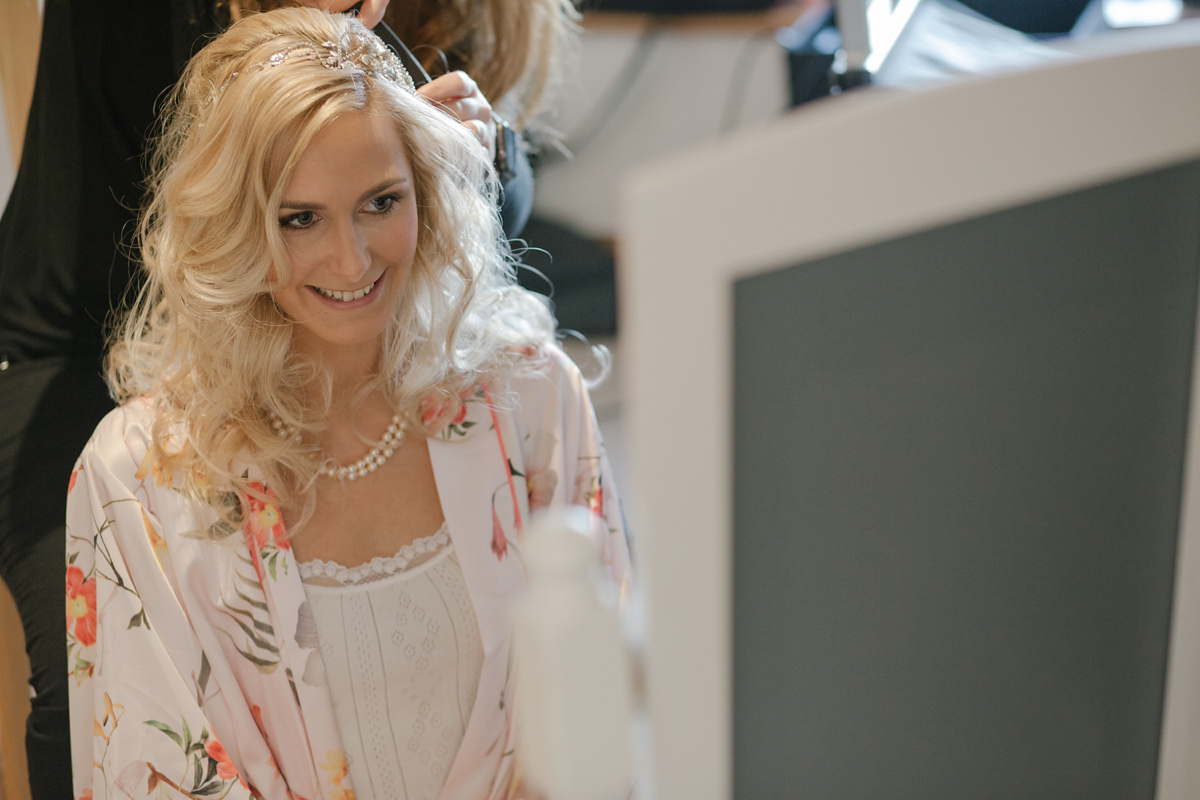 A matching Jenny Packham veil and headpiece dress was purchased along with the glistening gown at Anne Priscilla Bridal in Glasgow. A classic bridal designer was perfectly paired with a classic shoe designer, sans the price tag, for our blushing bride's footwear.
With an enviable stroke of luck, Julia found the perfect pair of nearly new, gold Jimmy Choo sandals in an Edinburgh charity shop and got lots of use out of them even before the wedding (to make sure they were comfortable of course).
"I wore a string of pearls that were a gift from Ian on the morning of the wedding. They belonged to his Great Aunt Mary Louise who had sadly passed away the year before. We had visited her home in Florida a few years earlier and I was so touched to be able to wear her pearls on my wedding day."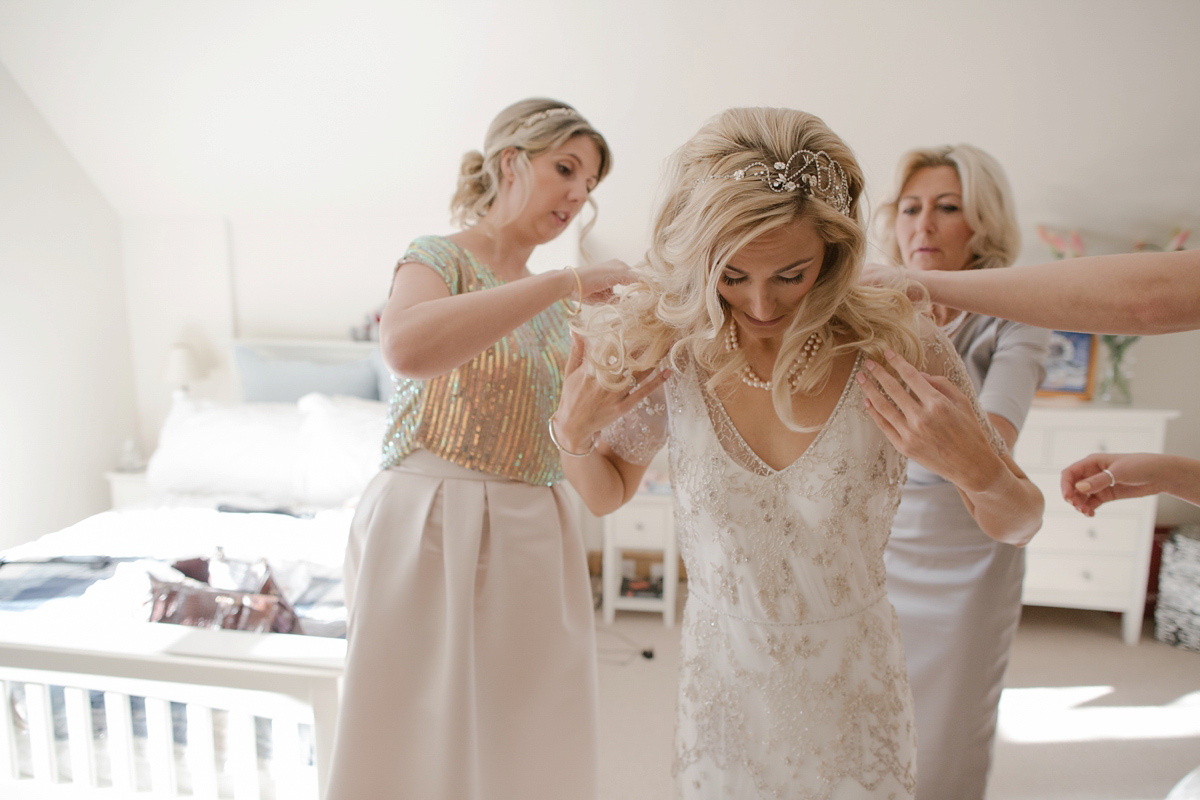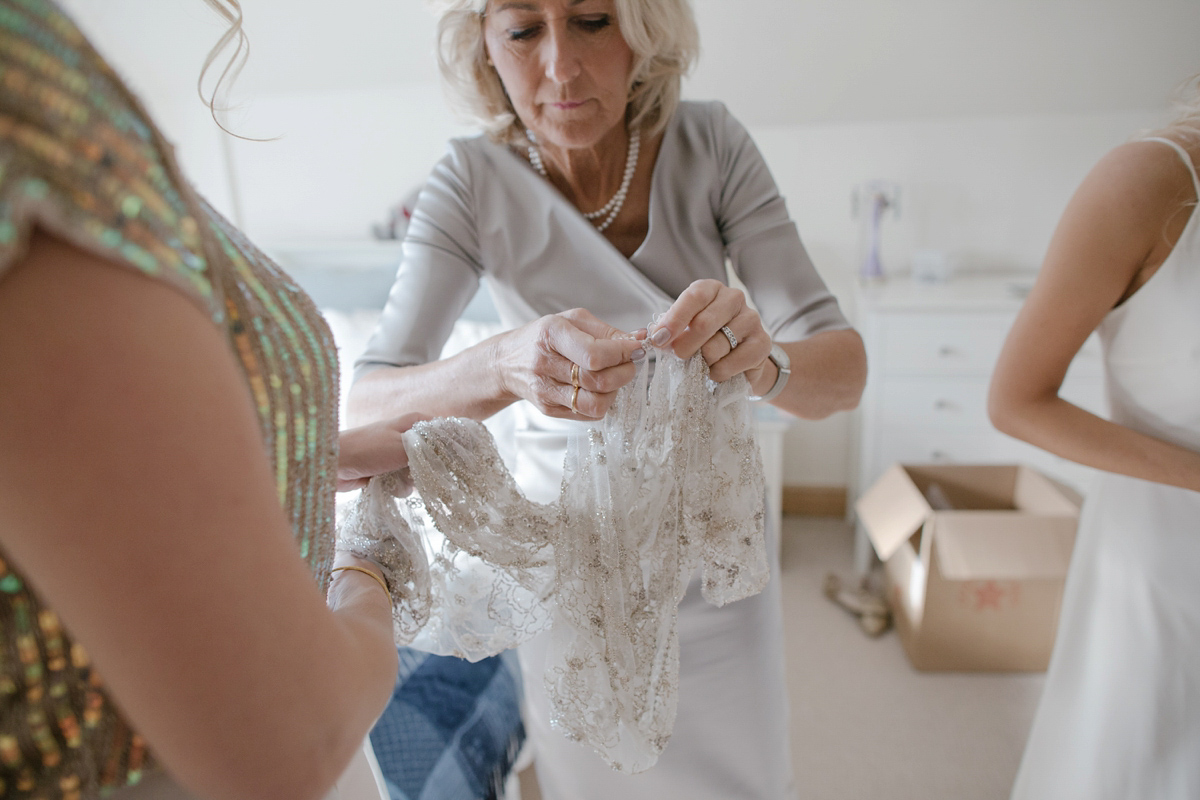 A bride after my own heart, Julia added gold accents to so many elements of her day, looking glorious against the Autumnal rust. Glittery dream shoes from Kate Spade adorned the feet of the bridesmaids, looking perfect next to the sparkle of tops from Coast. Unable to find the skirts she had envisioned, Kate commissioned Ian's cousin Daisy, a talented seamstress, to make them in just the right fabric. Anthropologie headbands topped the girl gang look off wonderfully.
To those of you hunting for the perfect wedding day scent to bring on a rush of 'best day ever' memories, I highly recommend a Jo Malone bridal consultation. Much like today's beautiful bride Julia, I took my Mum along with me and it felt so special to be pampered (and get slightly tipsy on 9am prosecco) together.
"My mum and I had a great time going to a bridal consultation at Jo Malone. It was such a fun day. I ended up with Peony & Blush perfume, which I layered over a Blackberry & Bay (my usual perfume) shower gel & moisturiser. The scent really did last all day, and we all enjoyed a peony & blush candle in my room on the morning of the wedding."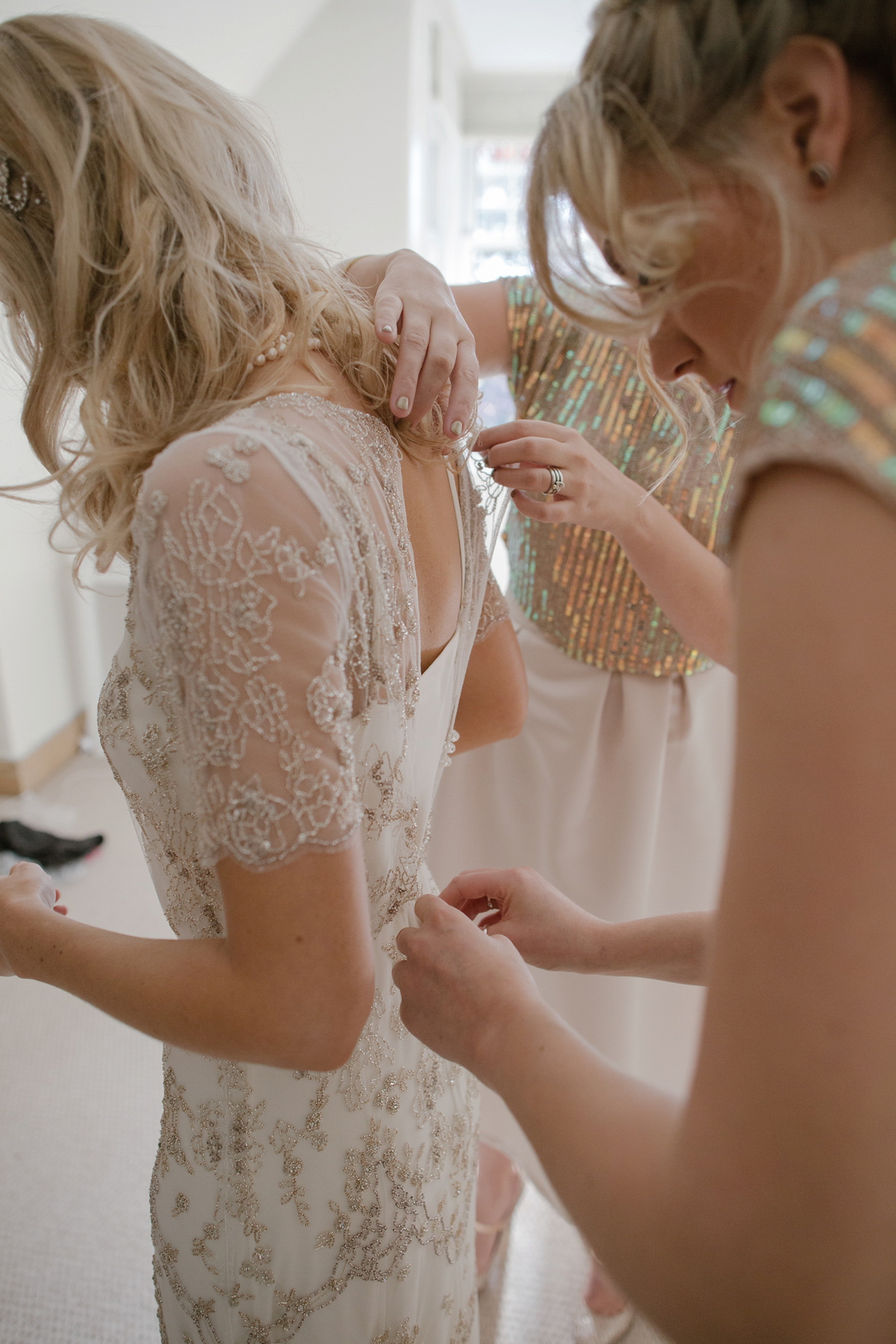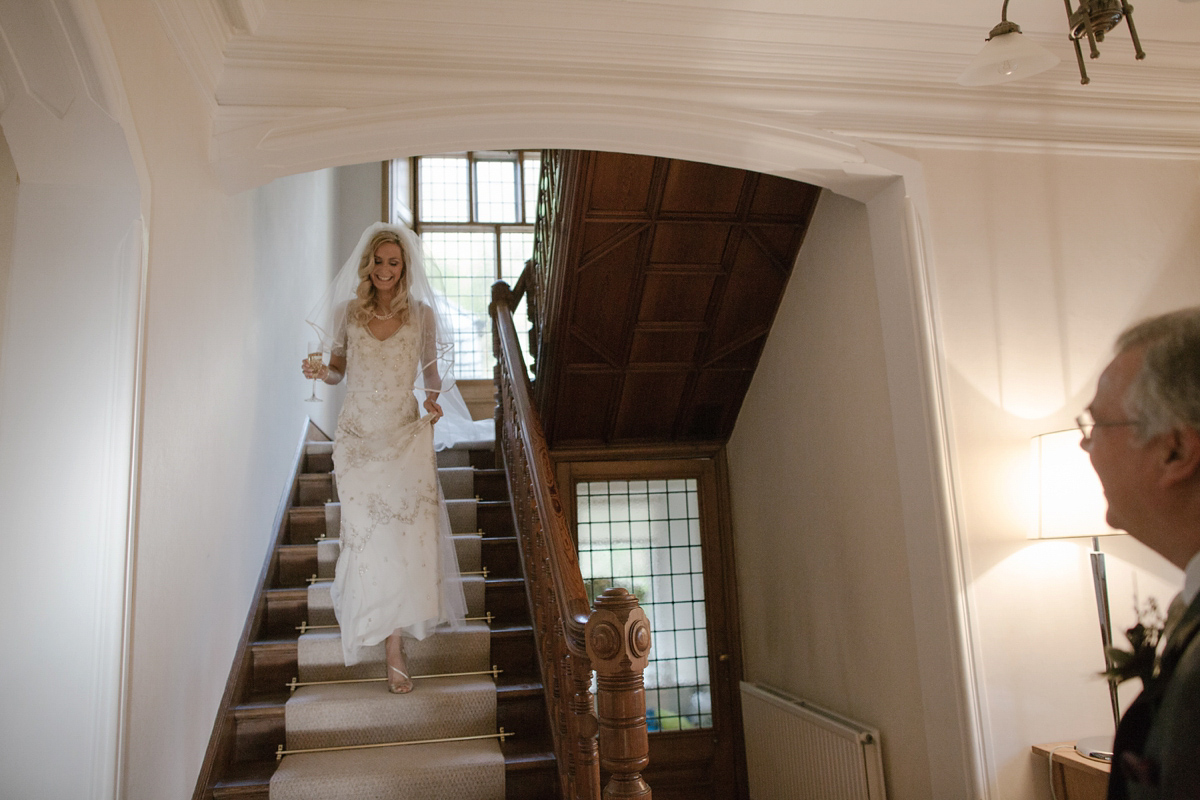 "My friend Claire kindly designed all our wedding stationery as a gift to us –save the dates, invites and RSVPs cards, orders or service, name cards & the table plan – everything! We had so much fun designing them together and it was great to have bespoke stationery."
Julia and Ian tied the knot at Logie & St John Cross Church near the Bride's home in Dundee and transformed the space into pure rustic romance with the help of their florists.
Groom Ian wore earthy tones that worked perfectly with the shimmering white of his bride's Jenny Packham gown. Touchingly, he wore his Grandfather's kilt, a sporran that was a 21st birthday gift from his Gran and a skean dhu that was his Dad's. Tying together all of those memory-laden pieces was a jacket and waistcoat from 21st Century Kilts and a pocket watch that was a present from his nearly-wife Julia on the morning of the wedding.
Two beautiful vintage cars from Chauffeurs of Carnoustie were hired to transport the excited bridal party in all their finery to the Church. Very sweetly, the organist, Pam, who played Canon in D as Julia and her Dad walked into the Church was also our Bride's primary school teacher. Vows were kept traditional and two readings were chosen from the Bible- 1 Corinthians 13 and Ecclesiastes 4:8. The new Mrs MacGregor remembers this all important moment as a highlight of the day.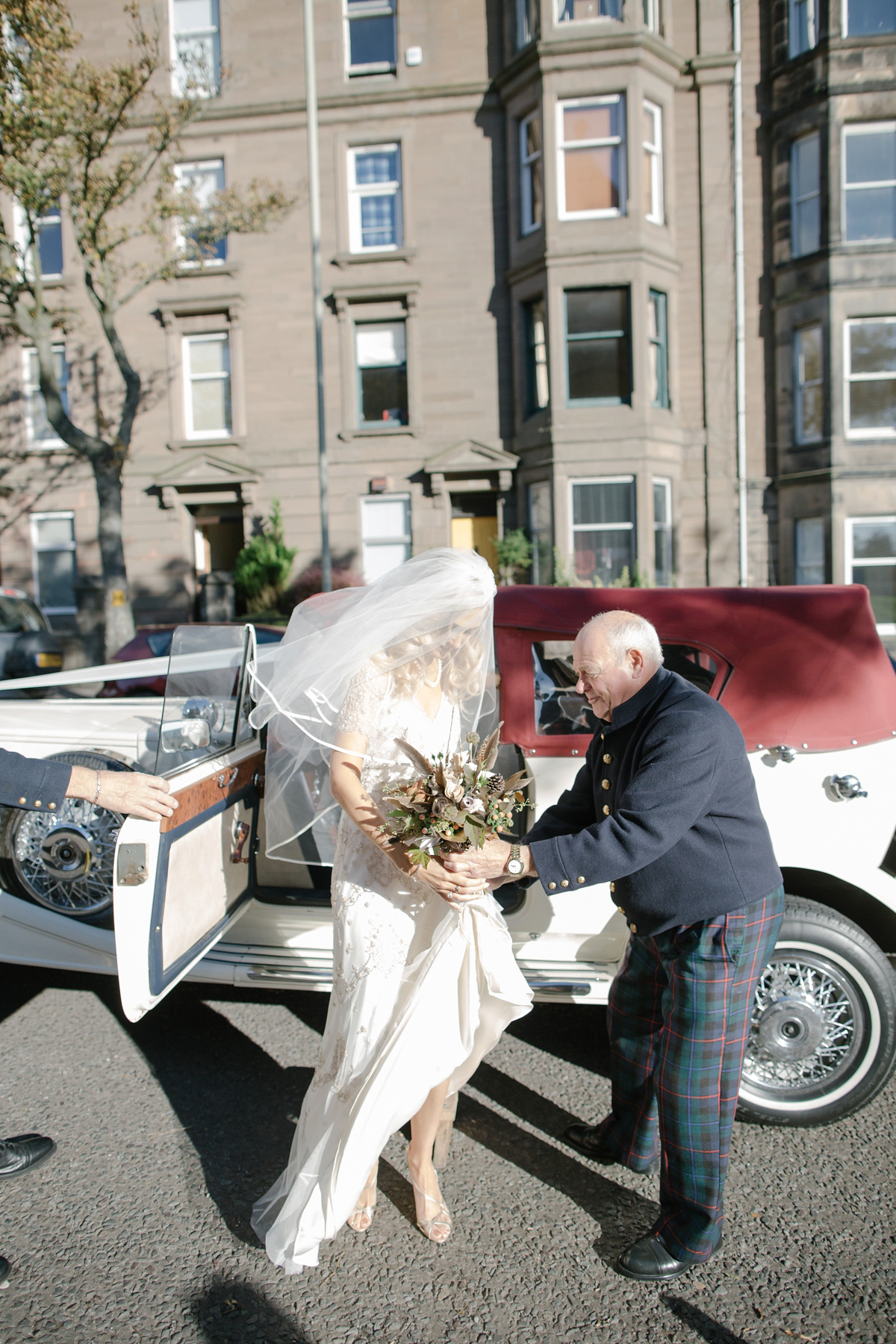 "Ian and I were introduced through Ian's cousin when I first moved to Edinburgh. We were together for 5 years. One Friday night Ian popped the question whilst sitting on the sofa and then took me out for dinner to my favourite restaurant in Edinburgh – The Honours. We were then engaged for just over a year before getting married – it flew by!"
"I absolutely loved saying my vows; I felt so calm, clear and content. Everything else throughout the day was really fast paced and buzzing with nerves and excitement so that was a really lovely calm moment."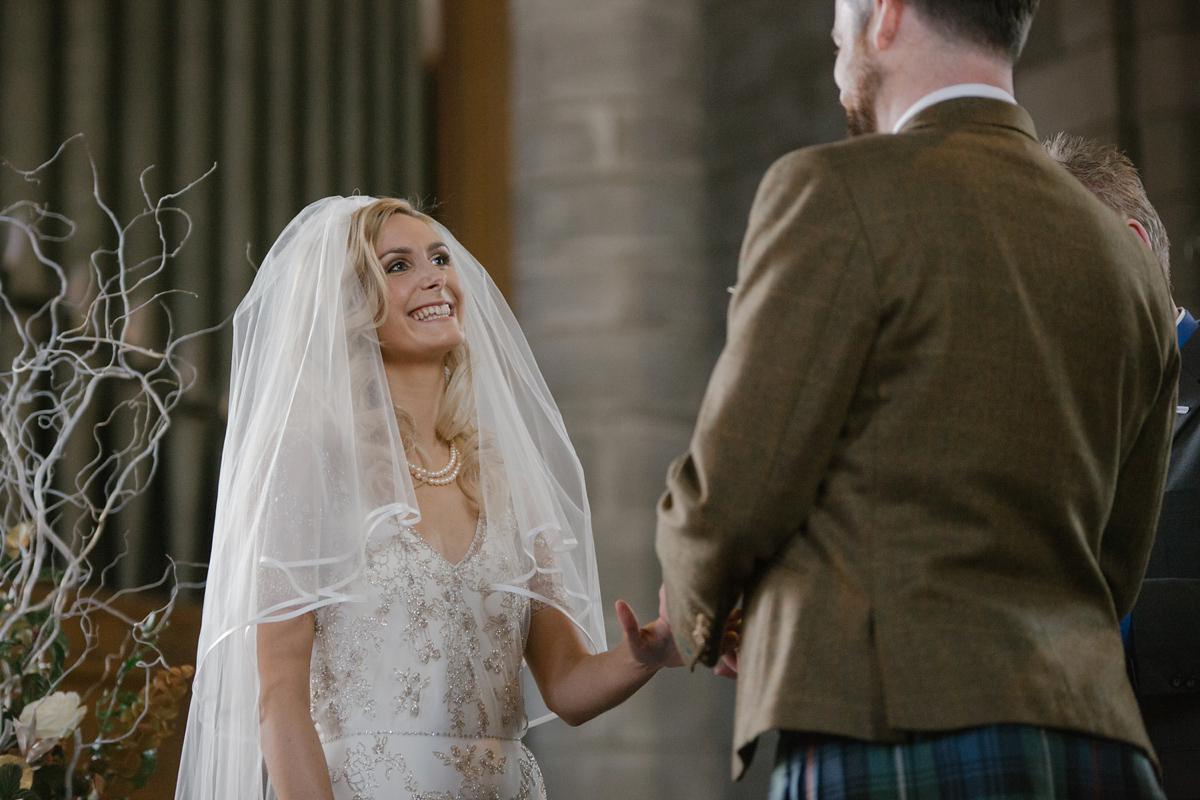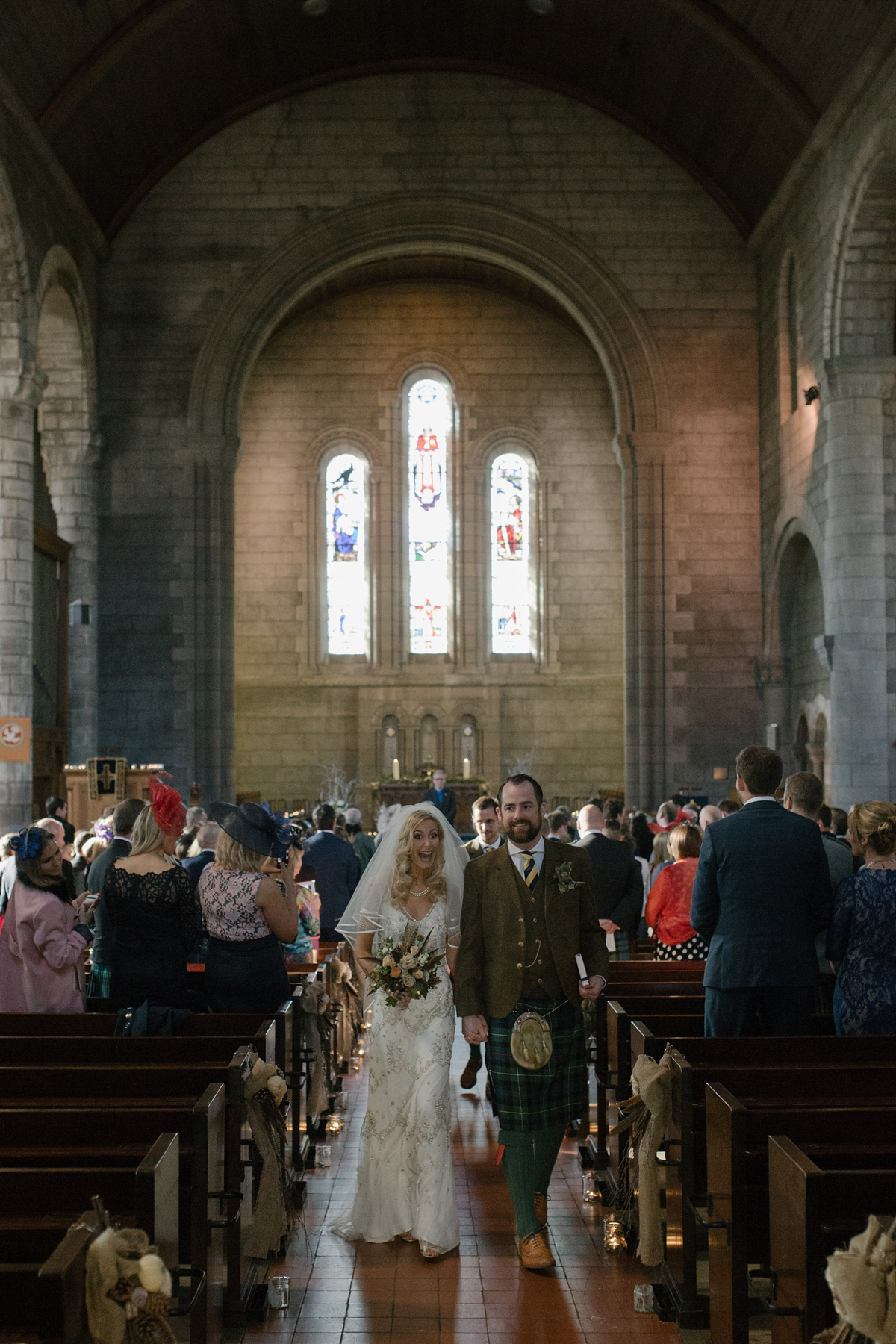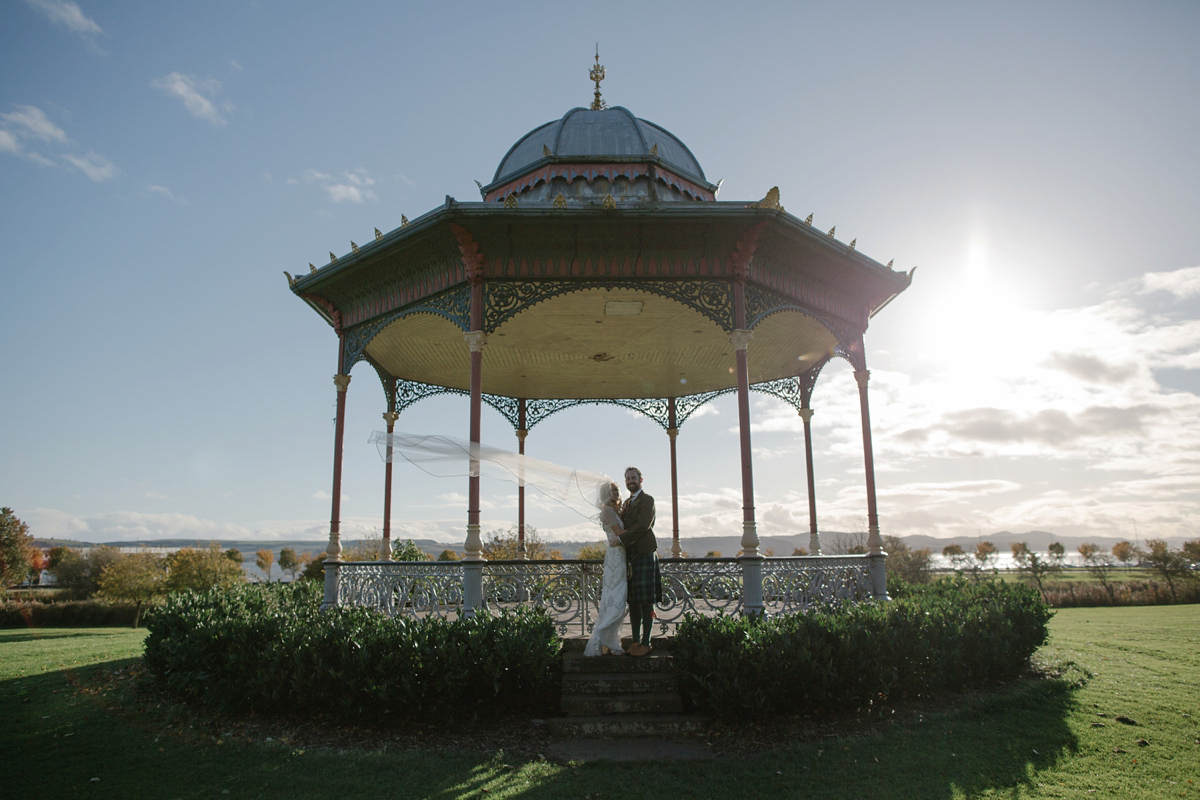 Jen Owens shots capture the crispest, sunniest autumn day in breath-taking clarity. I love the way the light has been captured to convey this glorious time of year; the fading green of the trees and onset of rusty, golden tones.
"Jen was an absolute star, from the moment we met her at the beginning of the wedding year, through our engagement shoot and the wedding day. She made us feel so at ease, and captured the whole day beautifully. The style of her shots was relaxed and candid, exactly what we were after. I can't recommend her more highly, she's the best!"
Evening celebrations took place at The Byre at Inchyra. This rustic barn was transformed into a sumptuous party den and looked beautiful covered in a smattering of seasonal golden leaves. Scotland hosts a huge amount of spellbinding weddings that we have shared over the years, the unique landscape and atmosphere takes some beating. As its Wednesday, why not zone out and have a wee hike through our impressive Scottish highlights.
"It's a big venue, so we used a lot of tea lights, hanging lights and white heart bunting to create a cosy yet elegant feel. We put hessian runners down the trestle tables, and scattered gold stars over the tables. The most effective decoration was the hanging pom-poms which I found online. The best man and my bridesmaid's boyfriend dutifully spent about 3 hours hanging 100 of them over the dancefloor, and the result was worth all of their hard work!"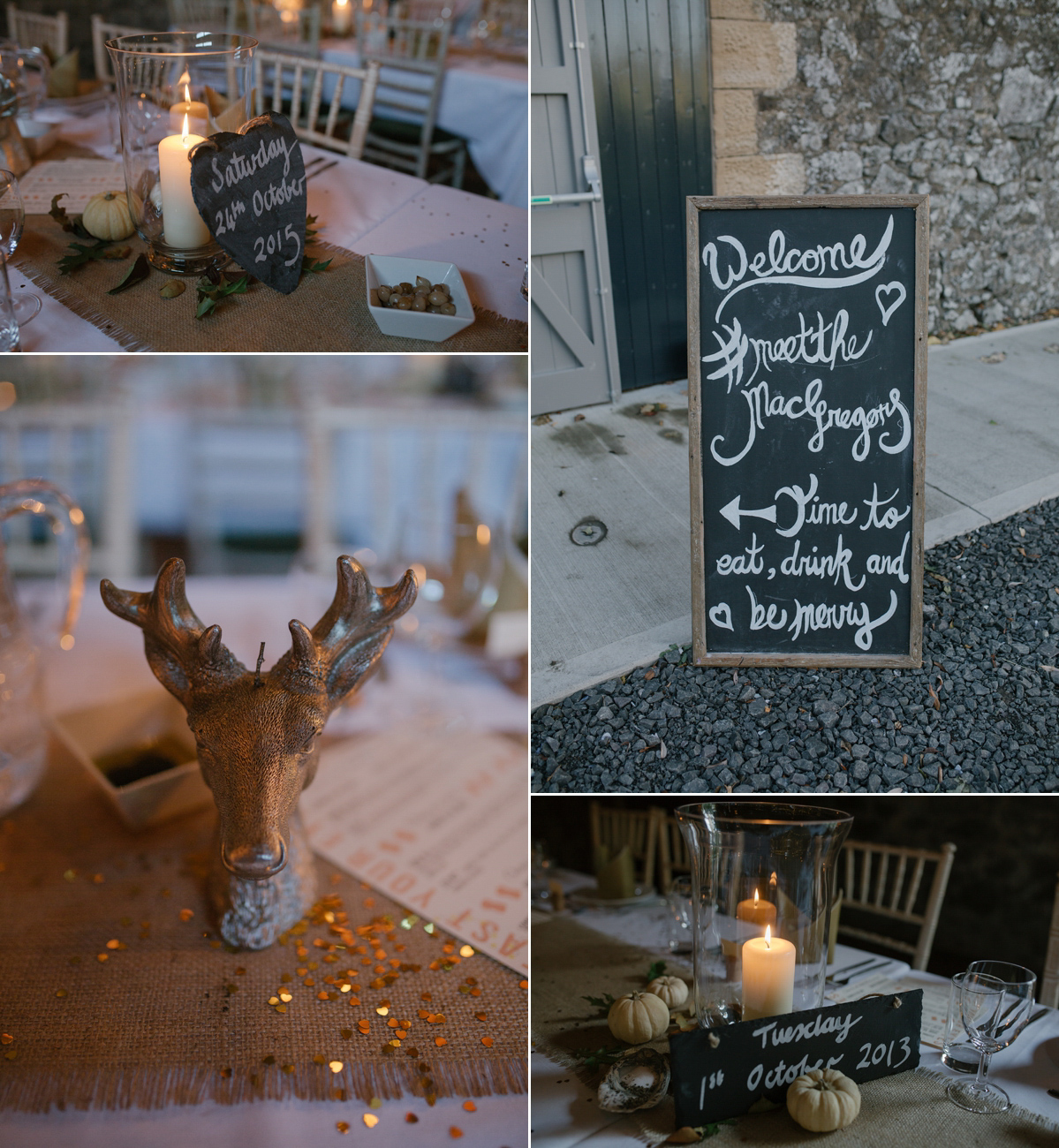 When I picture an Autumnal feast, I think of comforting, flavourful food to enjoy with loved ones as the cool dusk chill surrounds you (with maybe a blanket or two, I love a blanket). Julia and Ian chose an exciting array thoroughly befitting delicious treats from Lazy Sunday to wow guests.
"We had long trestle tables so went for relaxed sharing patters. We mixed our love for Spanish tapas and seafood by having langoustine and charcuterie platters to start then had an autumnal beef daube with roasted vegetables and a pearl barley salad for the main. Dessert was a cosy plum crumble, served with local berries from a family friend's farm – Arbuckle Soft Fruits. We served our wedding cake with tea & coffee later in the evening."
"We went for a butter icing cake, I liked the rustic feel to it and knowing it was going to be sitting on a log and barrel at the venue, that seemed to tie and in nicely. It was made by Ian's sister's business – The Storehouse, a café/restaurant farm shop up north, known for their amazing desserts and fabulous home baking. The sponge was red velvet – my favourite flavour, and decorated with flowers provided by my florist."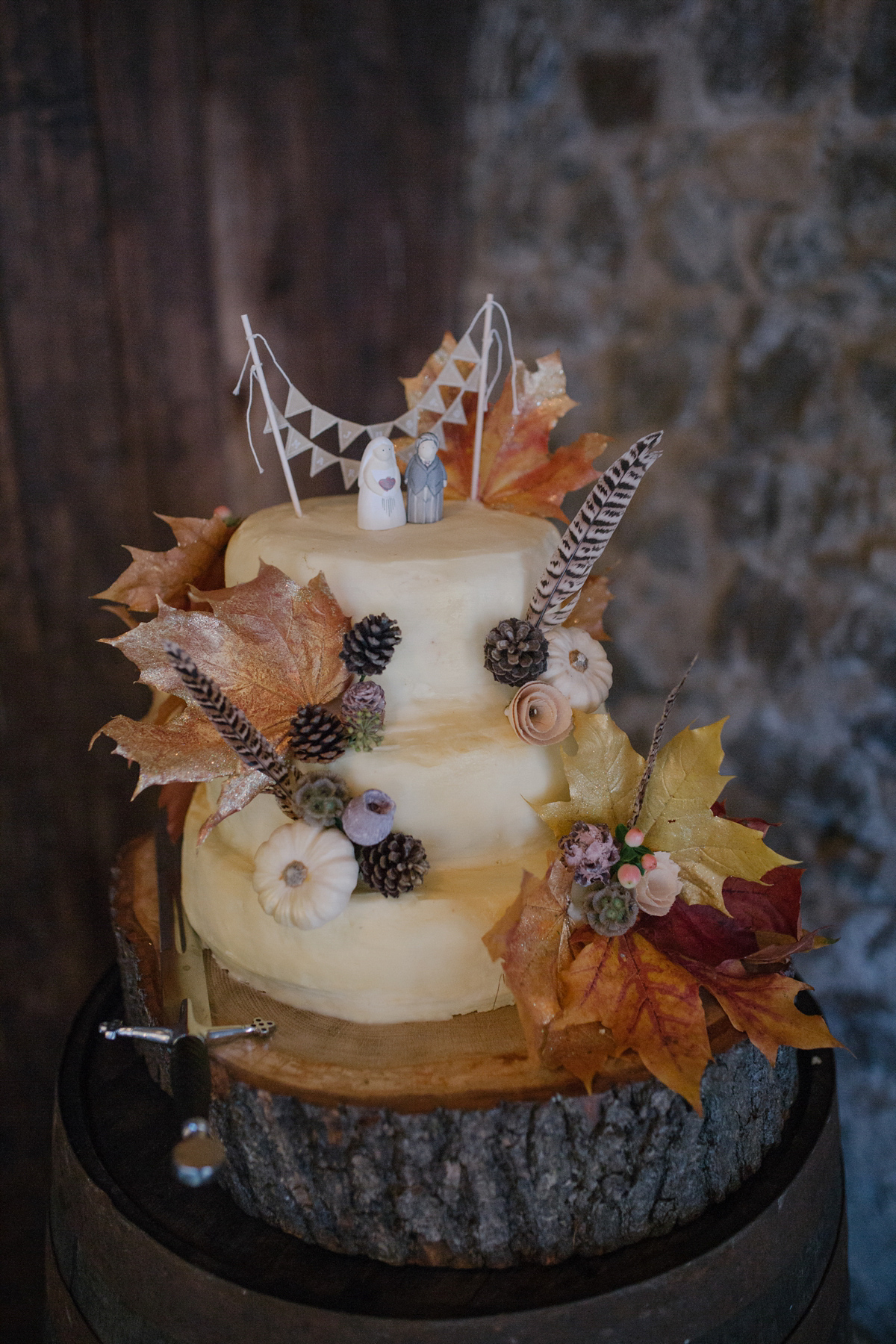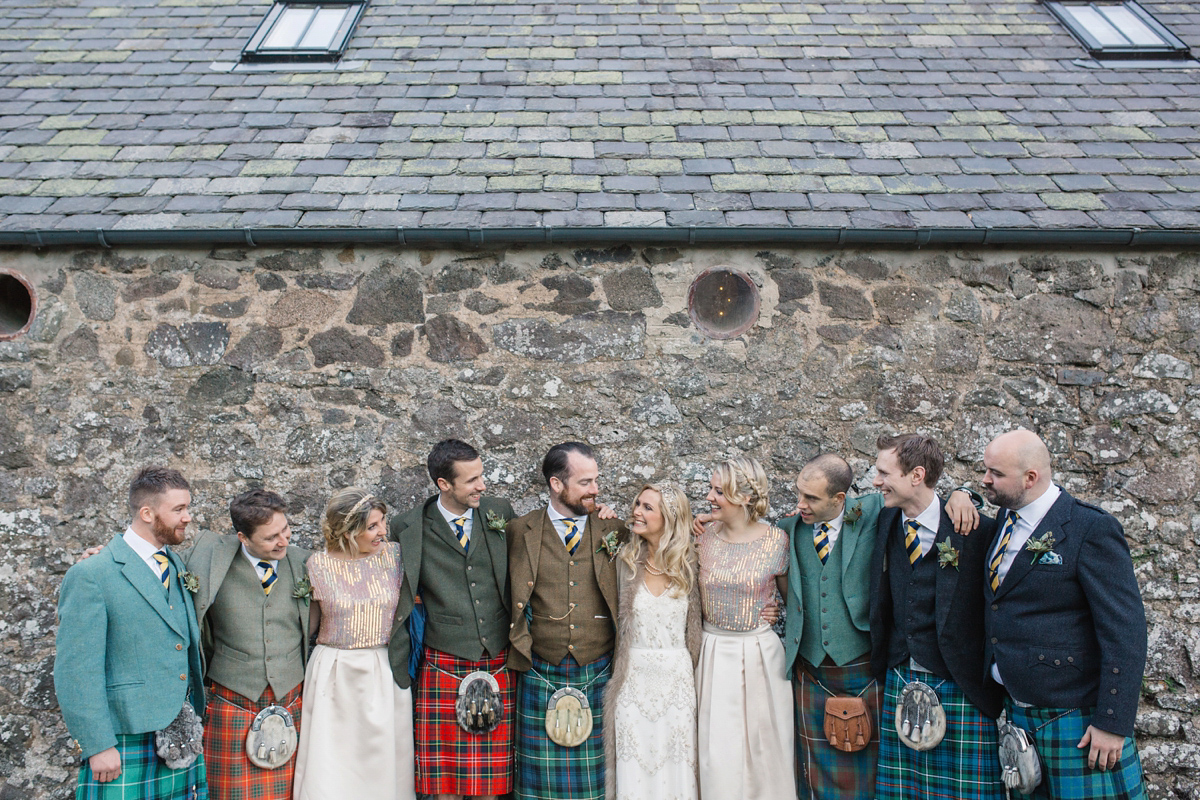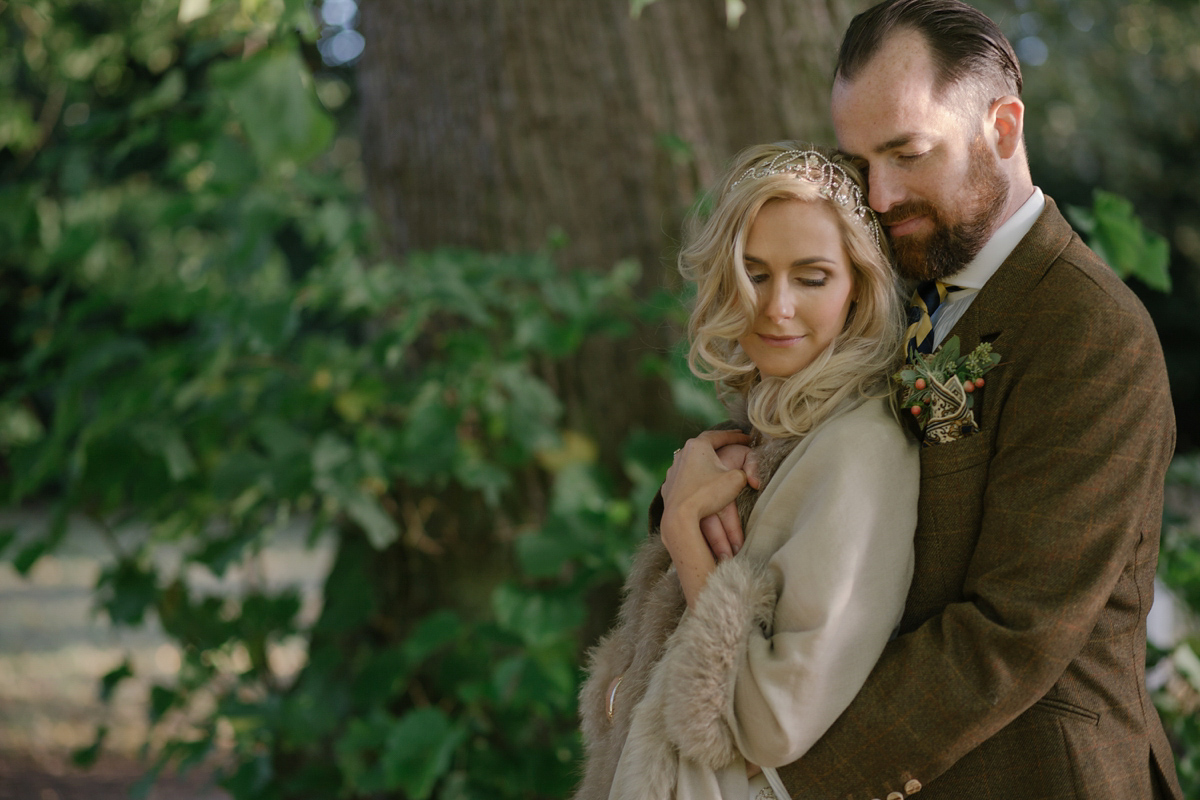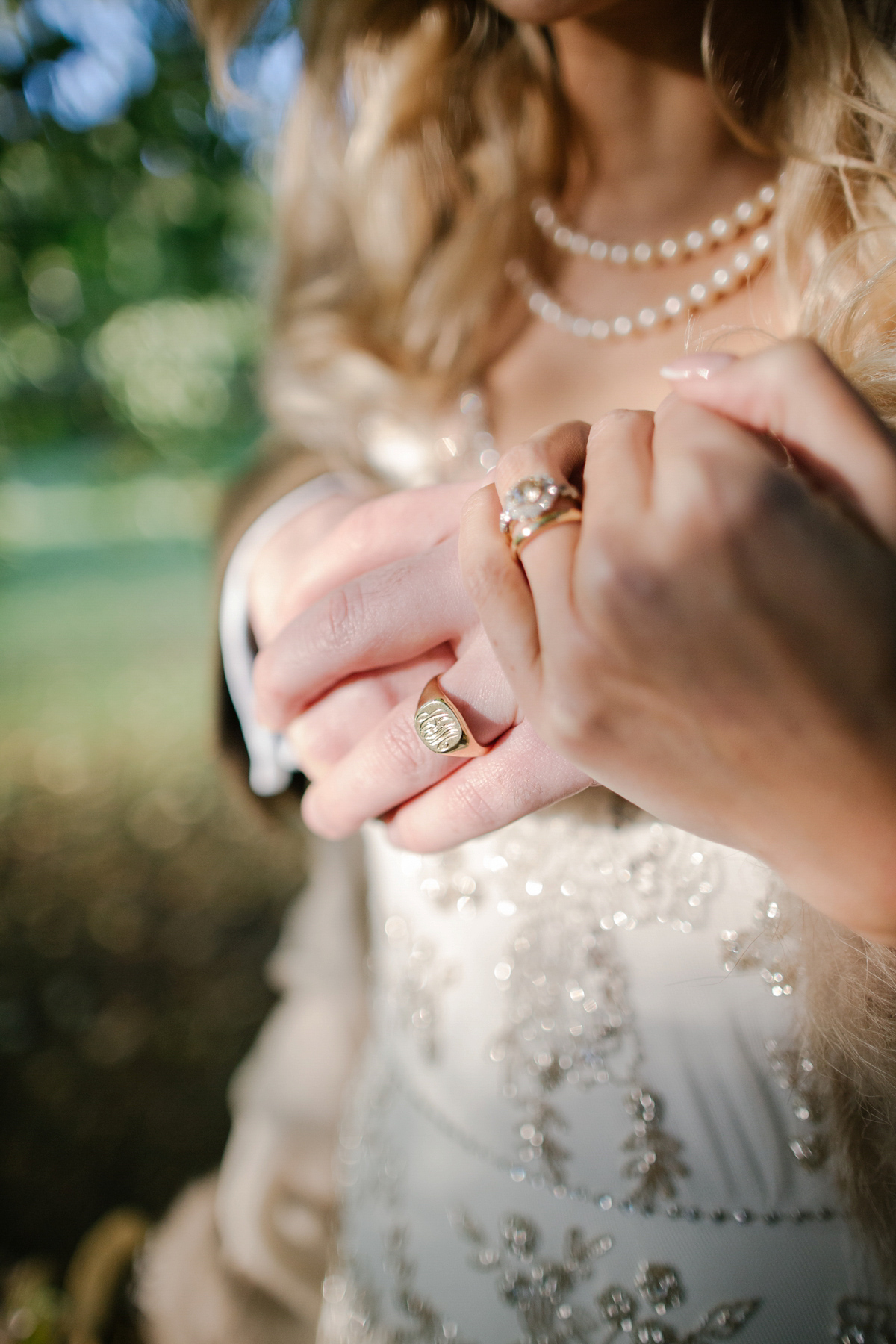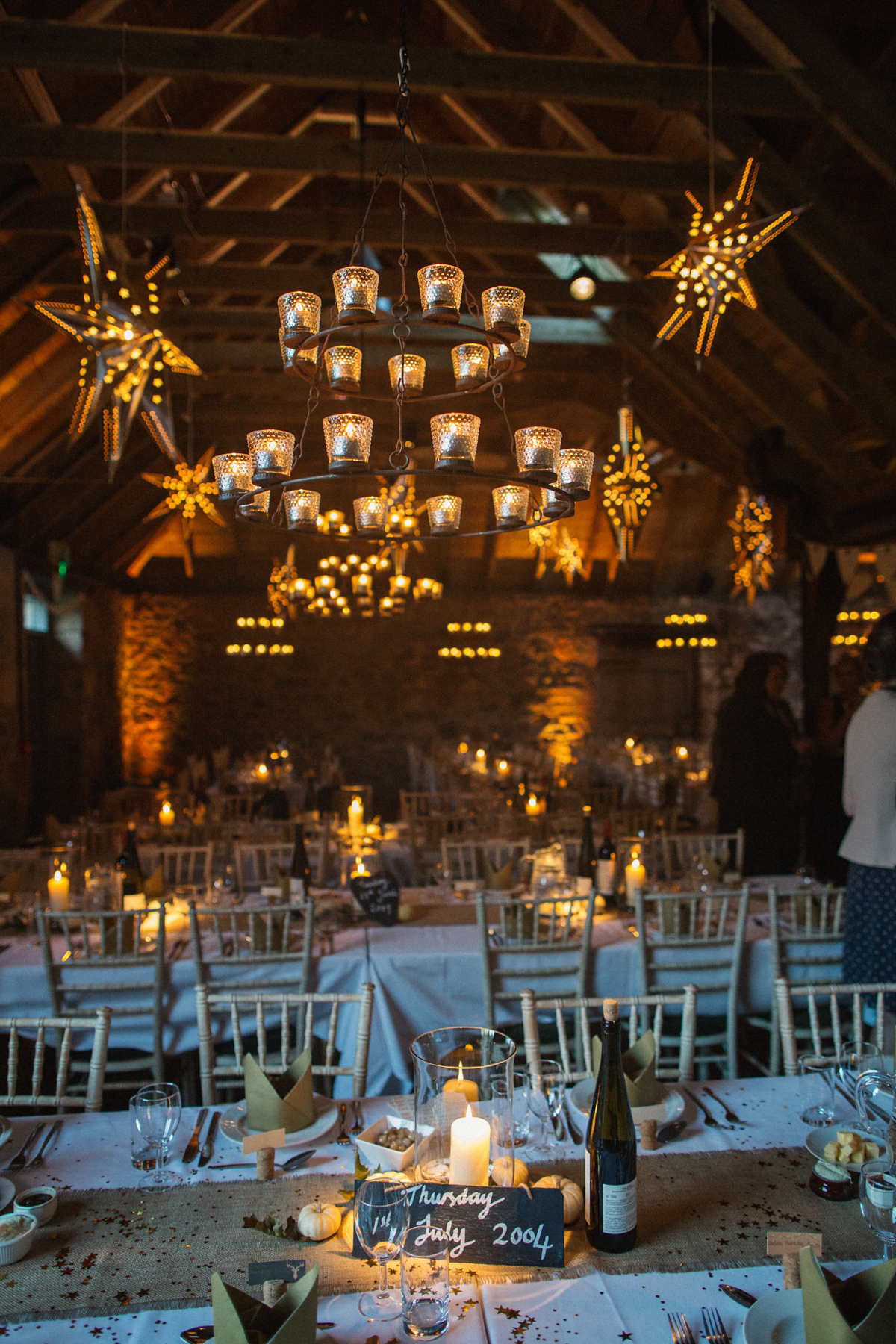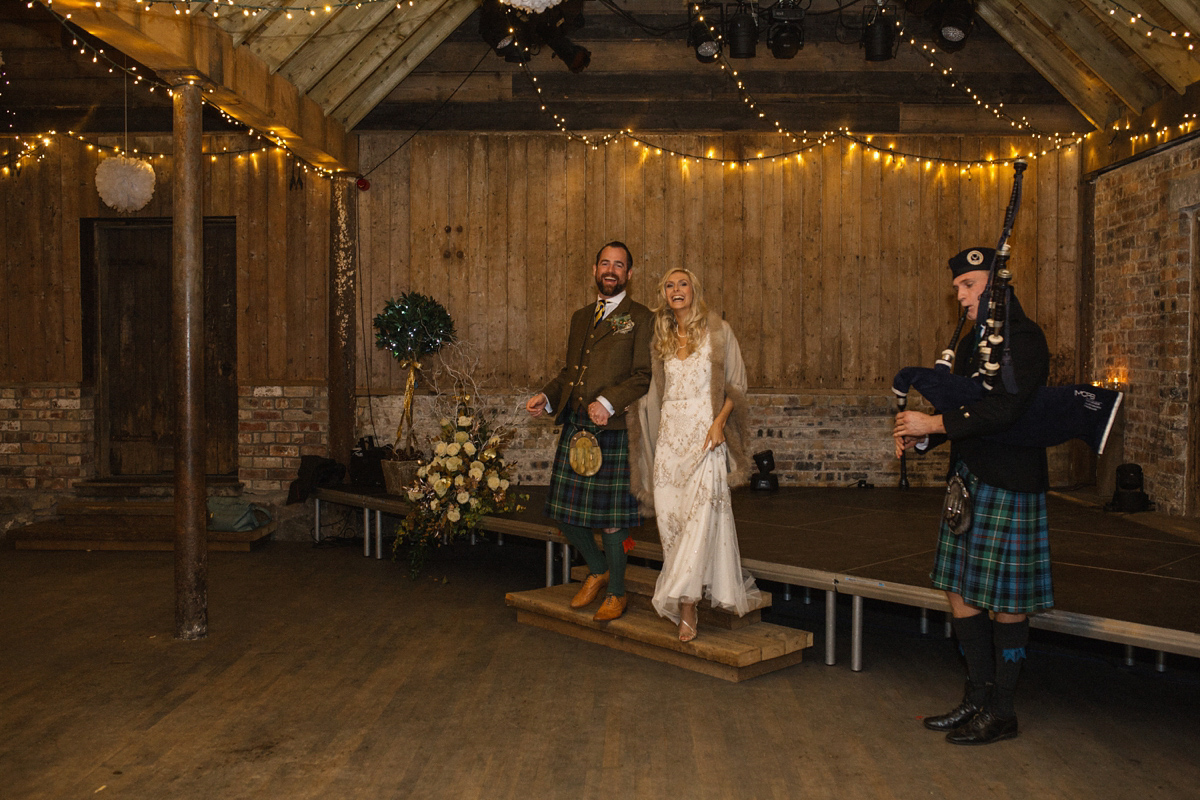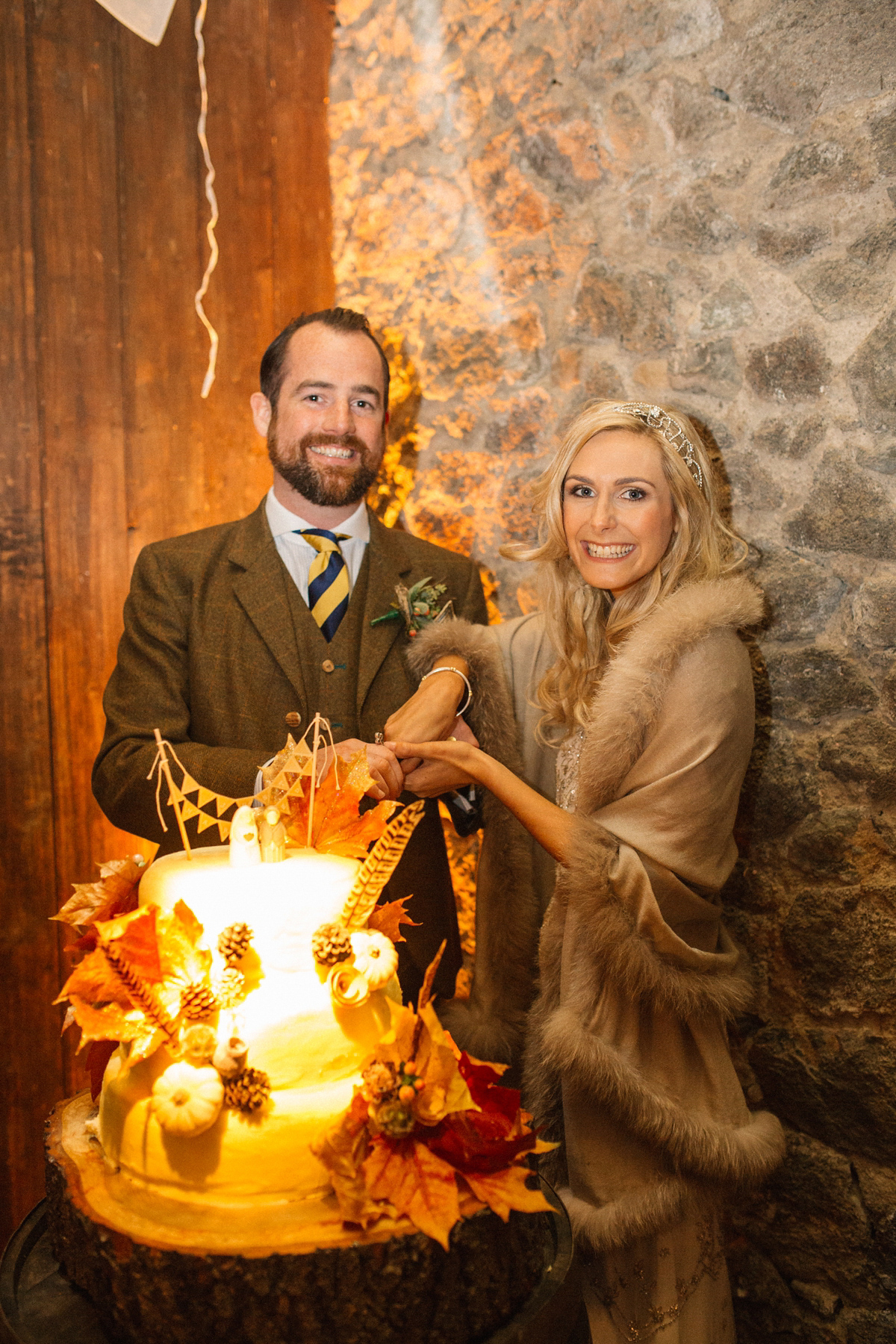 The new Mr and Mrs MacGregor had their first dance to the soulful sounds of 'Sitting on The Dock of the Bay' by Otis Redding. A Ceilidh band comprised of family friends had guests dancing the night away under the pom-poms. Perfect.
Words of Wedded Wisdom
"I was a regular at Love My Dress and kept an eye out for brides who had worn the same dress to see how they had styled their own day. I love the categorisation on the website – being able to search by style and by dress is great.
Enjoy the planning, and don't get caught up on what other people think; people you care about are there to have a great time and celebrate, so they will think everything you've planned is fantastic, no matter what. No one is attending with their critical hats on, or at least they shouldn't be!
Everyone you love in the same place is a pretty special moment, and it probably won't ever happen again. Take time to appreciate that, it's an amazing thing."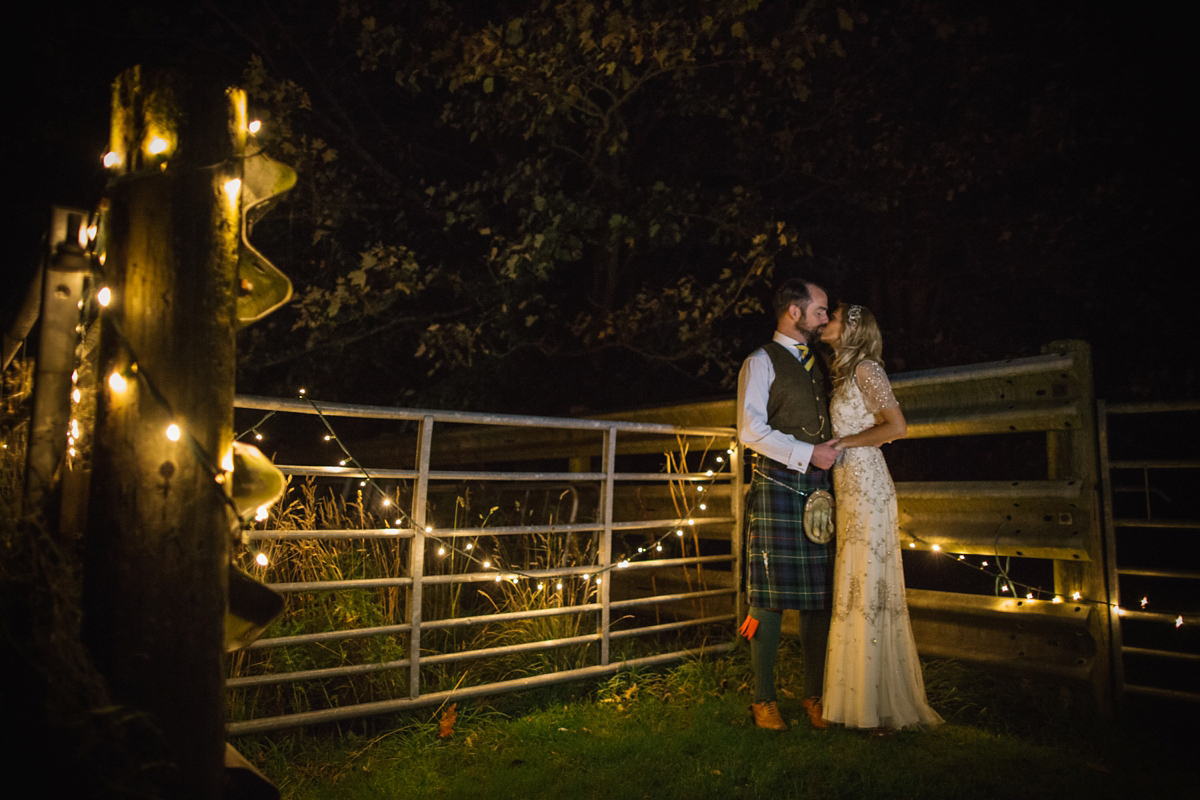 It *is* an amazing thing Julia, thank you for putting that so beautifully and reminding us all of that fact. Using the search tools, tags and category's on Love My Dress can bring forth a wealth of inspiration that's specific to your intended vision. I can't tell you the amount of times I have lovingly pored over the weddings that come up under the search topic 'balloons' and frantically scribbled notes in one of my many wedding notebooks (just another excuse to buy things from Paperchase).
It's been a pleasure to share lovely Julia and Ian's wedding with everyone today, and a huge thank you to Jen Owens for reminding us all how beautiful autumn (and love) really are.  After the impossibly perfect wedding day of my bestie last weekend, I had fallen into a brain loop of things I hadn't done and what could go wrong with my own day. Crisp, autumnal glamour and a soothing cup of tea have helped no end. With 3 ½ weeks to go, it's time to wear my shoes in and get cracking with signage, is this real life?!
With love, as always
Emily B xxx