Good afternoon all! As much as I love summer, it can be quite disappointing when the weather is dull (which happens a lot where I am in Northern Ireland). Springtime on the other hand holds promise of longer, brighter days and it doesn't quite matter so much when the days do turn. This is exactly what happened when today's couple Hannah and Craig took Jon of S6 Photography up a rather picturesque hill for some shots. Looking through the images though the ones with heavy grey clouds rolling in are raw and beautiful, contrasting perfectly with the bright sunny images outside the church.
Bridesmaids in pale green and fresh bouquets of wild seasonal flowers add to the springtime feel of this gorgeous mid April wedding held earlier this year at Losehill House Hotel in the Peak District.
"We fell in love with Losehill House Hotel almost instantaneously on our first visit. It was the perfect size, had the most amazing surroundings (rolling countryside views for days and sheep galore) and the orangery where our wedding breakfast would be held looked out onto all of this, giving a sense of the outdoors coming in. It couldn't have been more perfect and us."
Photography by S6 Photography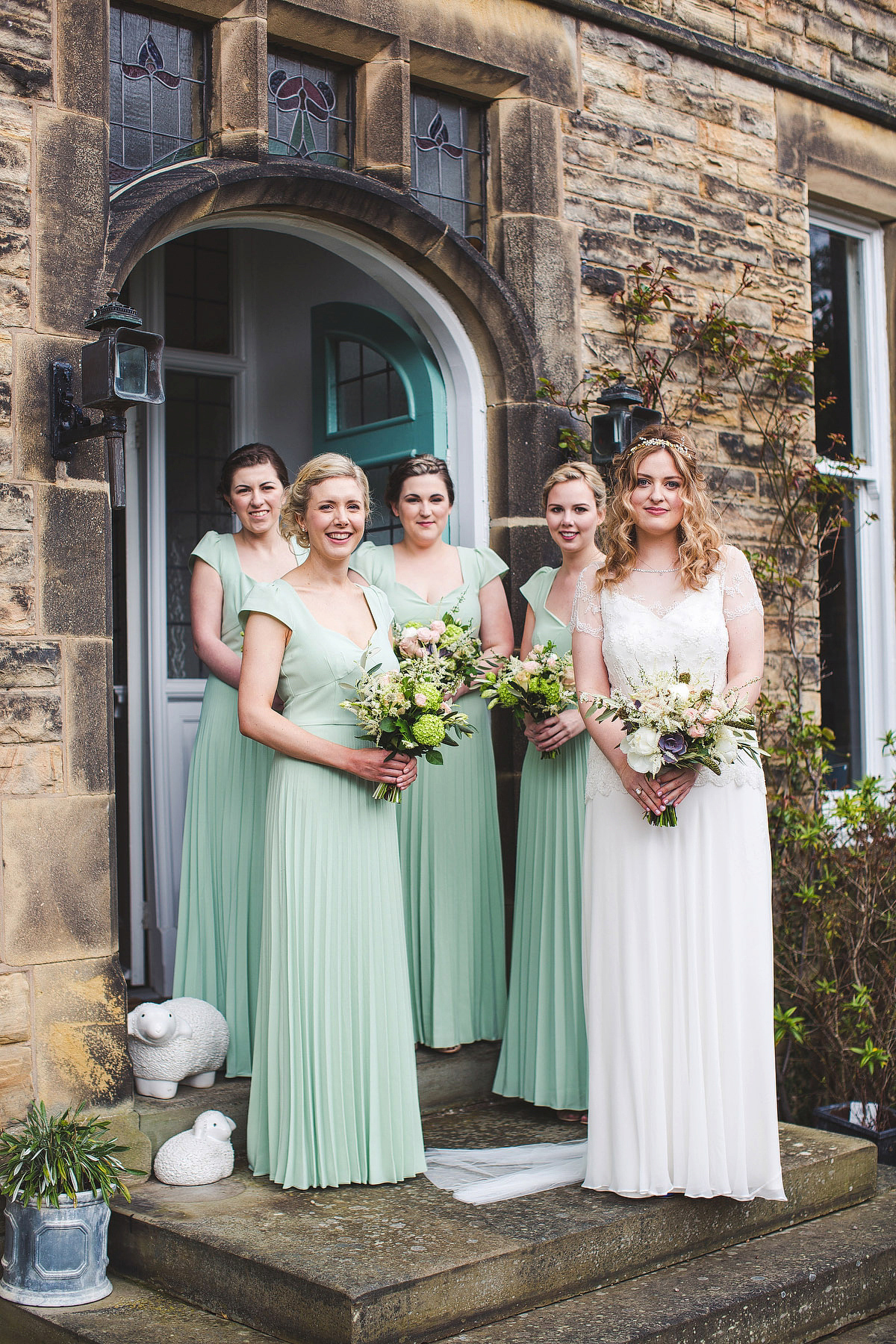 Hannah's gorgeous Jenny Packham number has all of the elements of the perfect wedding dress – a touch of lace, a bit of sparkle and a flowing skirt – it also fit like a glove and looks fabulous on her. The pretty gold and crystal headband is also by Jenny Packham from The Bridal Collection in Harrogate. This is the second Jenny Packham bride we're featured today – have you seen this glorious Autumn wedding we shared this morning?
"I'd tried a few dresses but was yet to try a dress that felt like me until I looked at myself in the Georgia. I knew it was the one, even in the small sample size, three months after having my baby. I could have happily hopped to the registry office next door and got married with all of the clips holding it together at the back. I loved it that much, and it had everything I was looking for."
"Craig and I met at an Ordinary Boys gig in Leadmill (an independent night club in Sheffield) in 2004. After years of dating we spent about eighteen months apart before realising we should be together for keeps, circa 2011. We got engaged on an incredibly rainy day in Norfolk on the 13th of October 2014."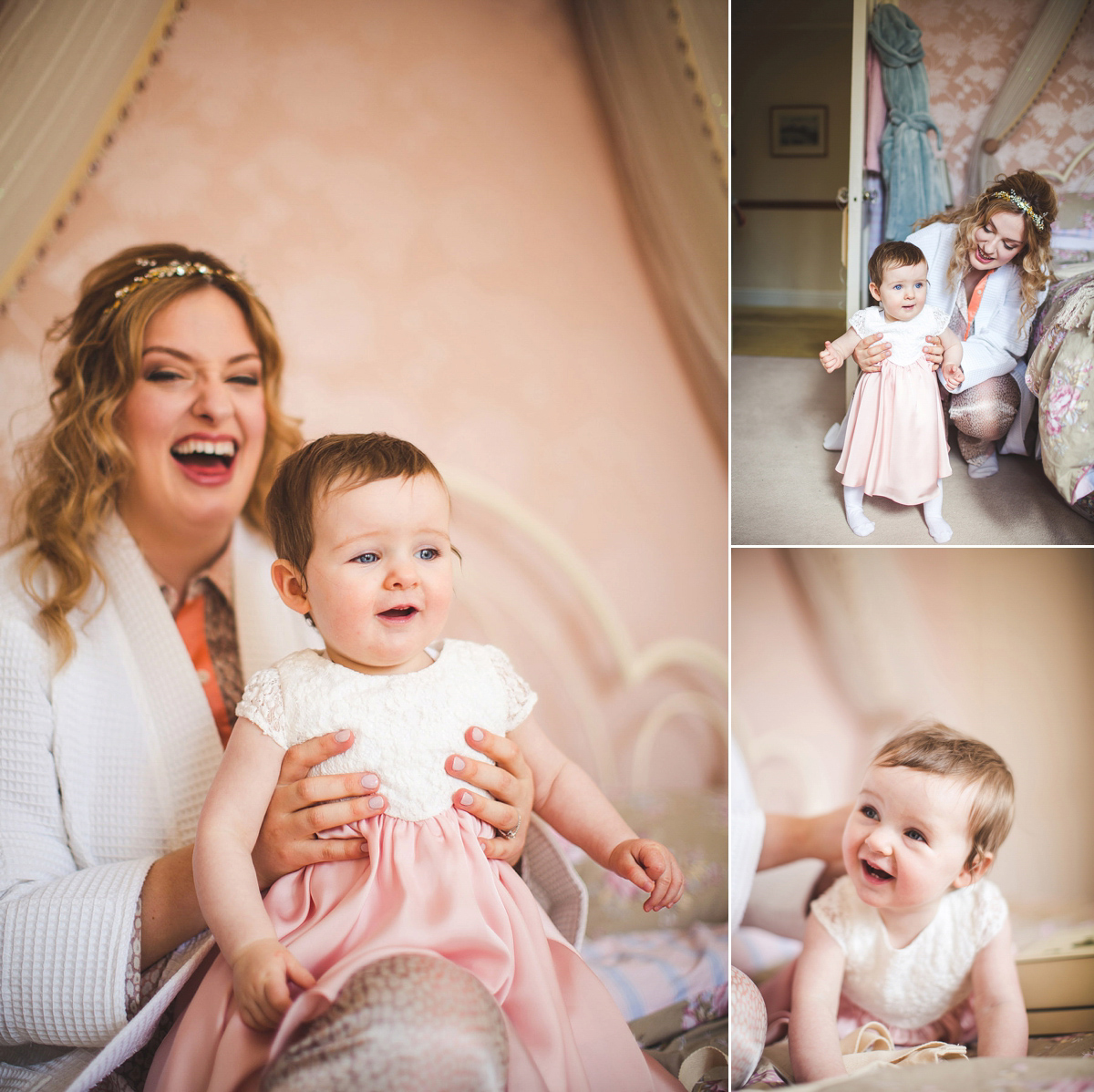 "When Craig suggested going to the beach I thought he had lost his mind and as we parked up in a deserted car park I was still sat thinking he was crazy. The door almost blew off its hinges with the wind when I got out of the car! As I was looking out to the grey skies merging into the grey sea and clean sandy beach, I turned back to see Craig on one knee on the rain soaked floor."
"I burst into tears asking, 'is that real?' Craig laughed and said yes and so did I. He had picked the ring himself and I couldn't believe how me it was and exactly what I'd always imagined wearing. We had an eighteen month engagement which worked perfectly for us as weeks after our engagement we found out I was pregnant. We welcomed our daughter Sadie Florence into the world on the 28th of June 2015."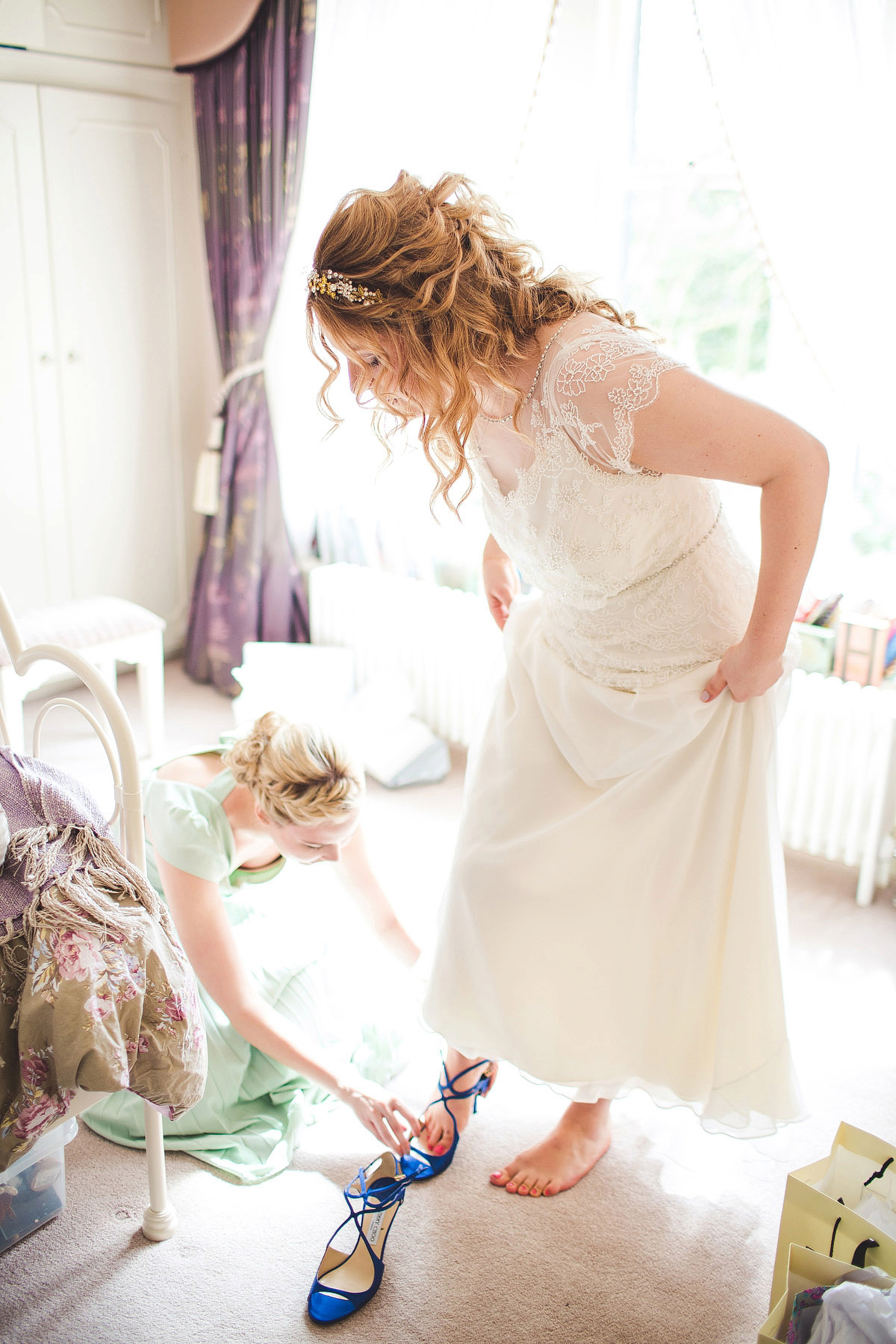 I might also be a teeny bit obsessed with Hannah's electric blue made to order Jimmy Choos.
"Ever since I saw Olivia Palermo's wedding day look I was determined to wear those blue Manolos but after trying on a pair I found them both uncomfortable and far too high so I was thrilled to discover the MTO service at Jimmy Choo. My chosen sandals had my new initials engraved on the sole and I kept them on all day and night."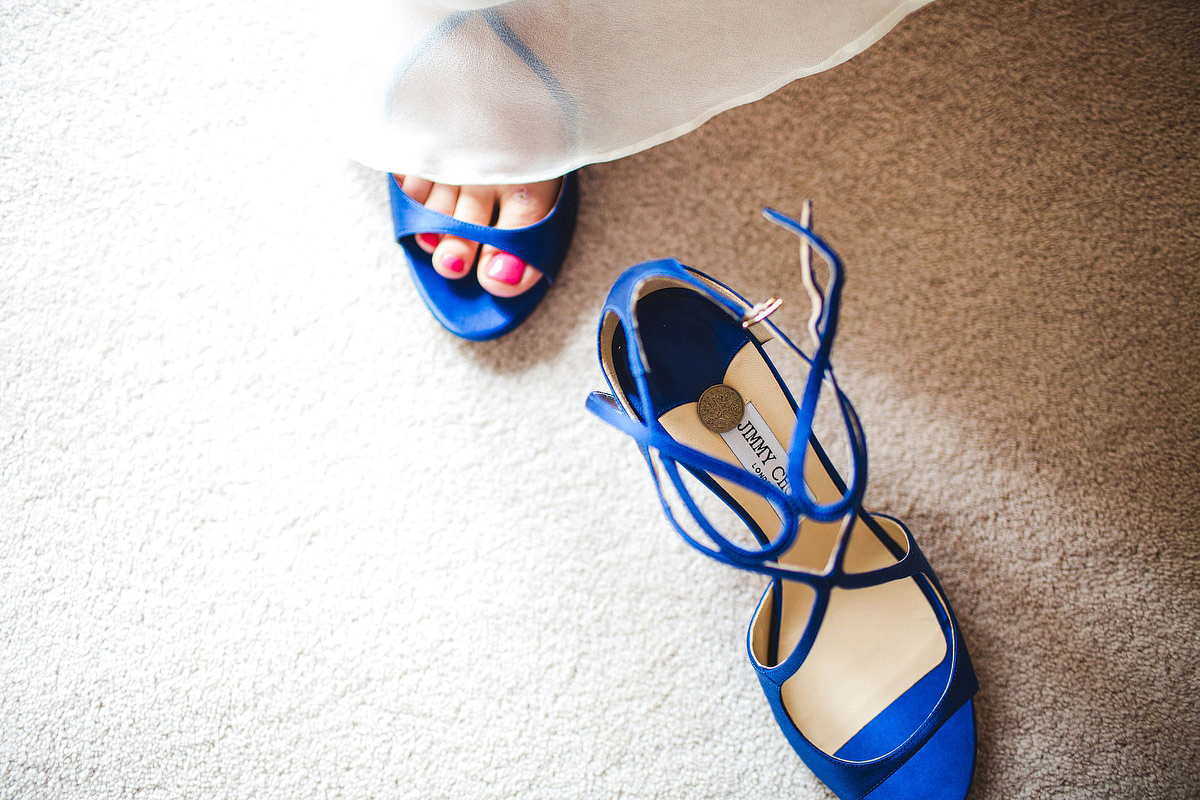 "I wore Jo Malone Blackberry & Bay (one of my favourite everyday scents), combined with Jo Malone Sorrel & Lemon Thyme from the Herb Garden collection which felt incredibly in keeping with our wedding concept."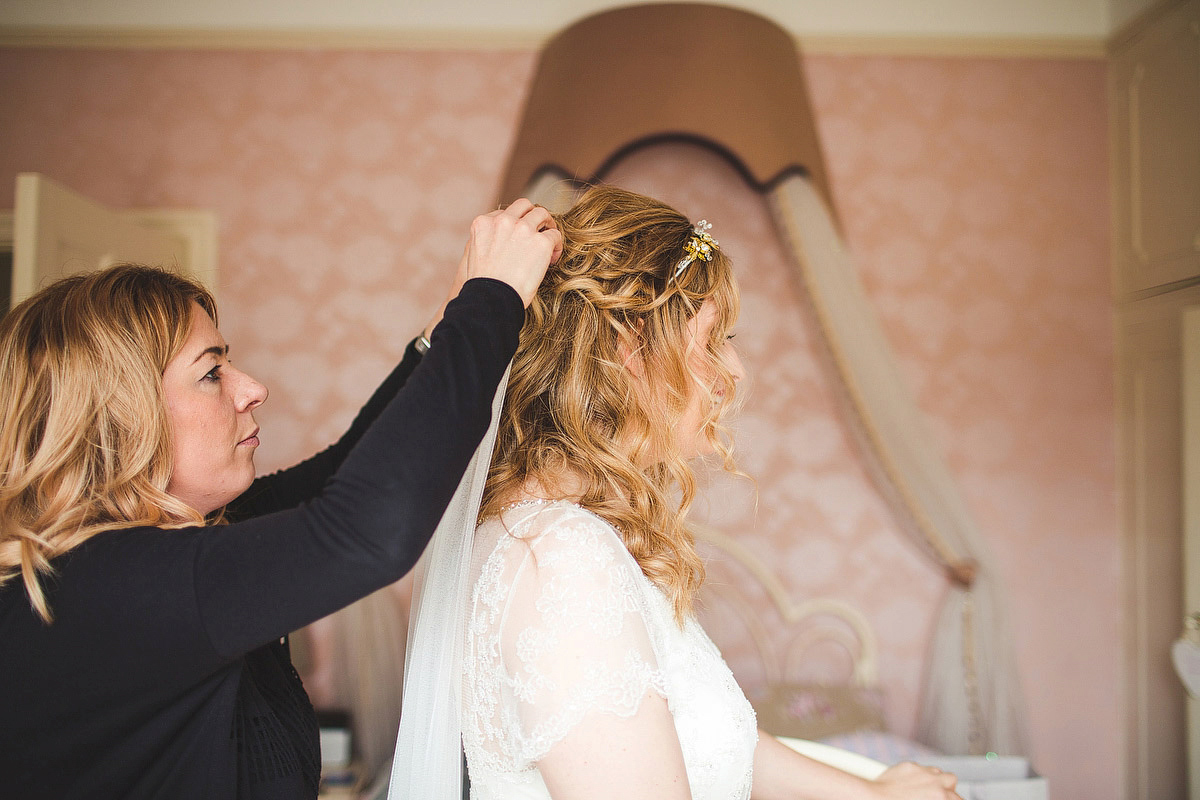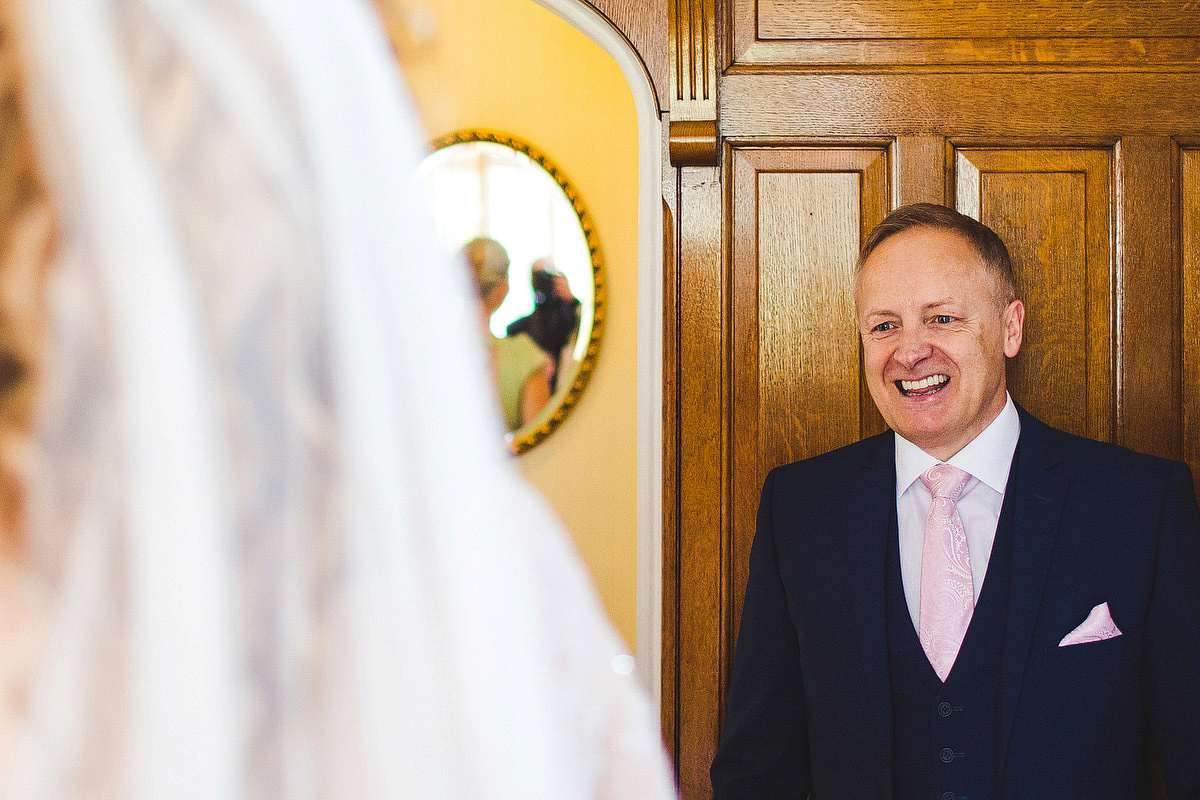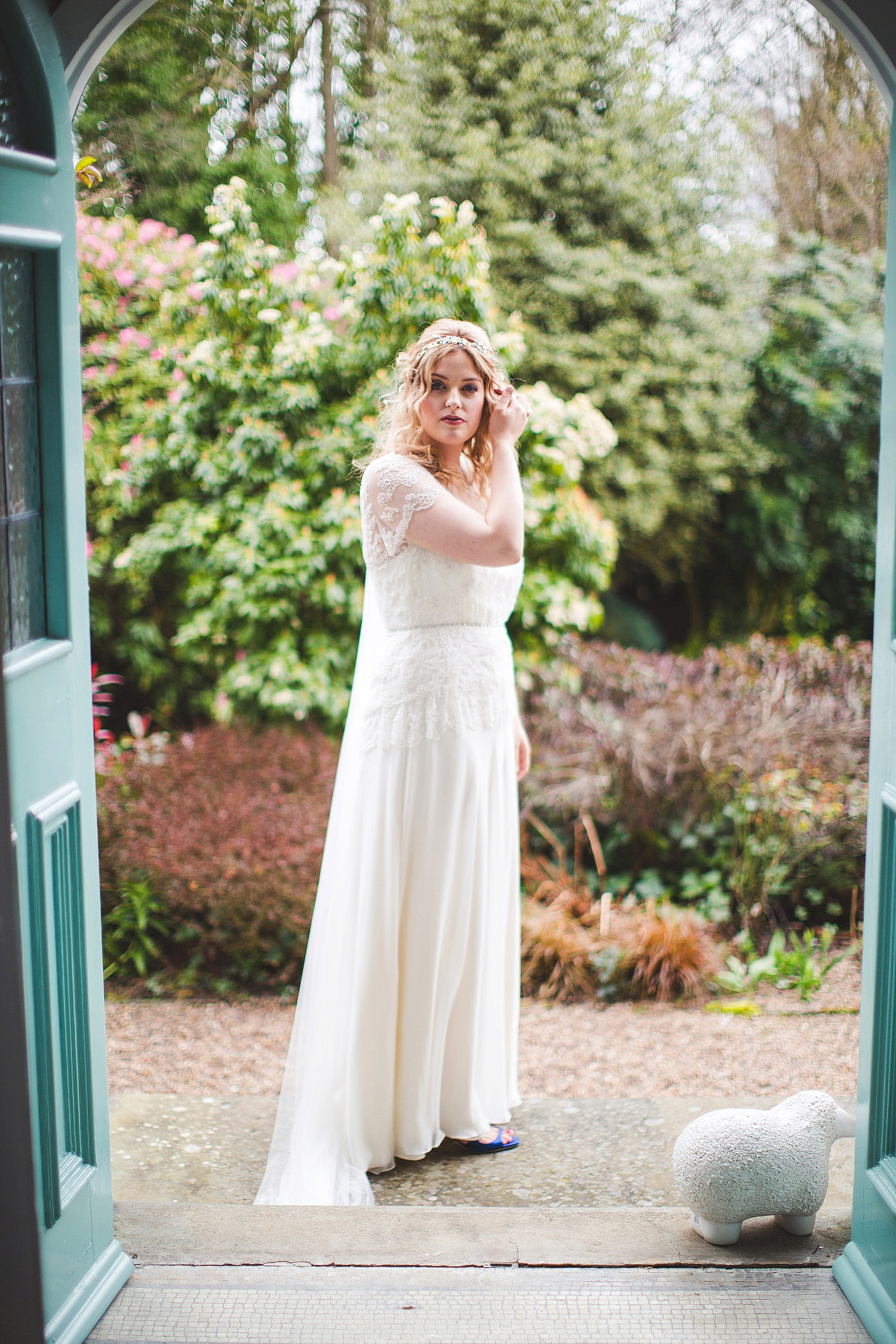 I adore the mint hue of the ASOS bridesmaids dresses which Hannah spotted early on into the planning. Although the alterations ended up pushing the budget, the dresses suited everyone and looked fabulous on the day.
The couple gave each girl a gorgeous pair of Estella Bartlett mini wildflower earrings.
The couple chose Catherine at Petalis to create their vision of natural, blousey wildflowers.
"Catherine is incredibly creative and loved our wild, Springtime wedding brief. She completely understood what I was trying to achieve. I knew I wanted succulents, something fragrant and peonies with a natural look but I also wanted a polished sophistication. Catherine suggested the bombastic rose as it had a gold hue to it, and we both began singing 'Mr Bombastic' and this confirmed to me that she was the florist for us."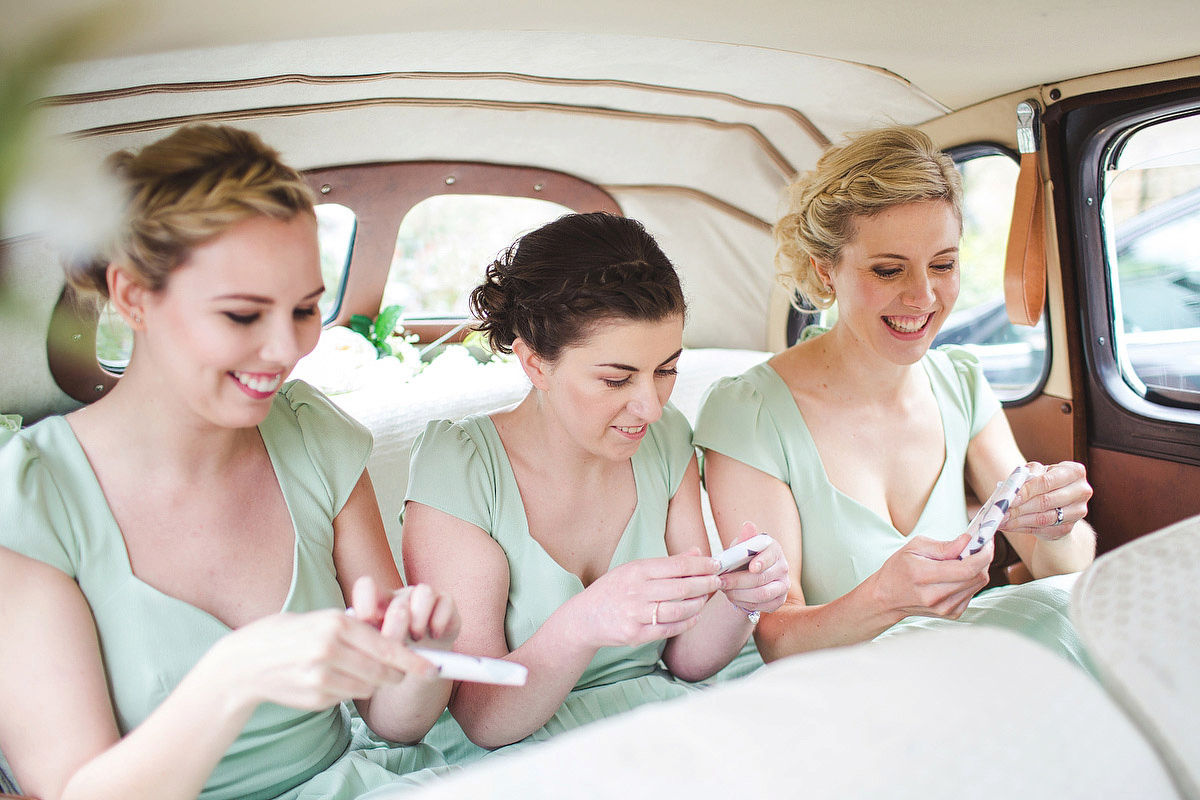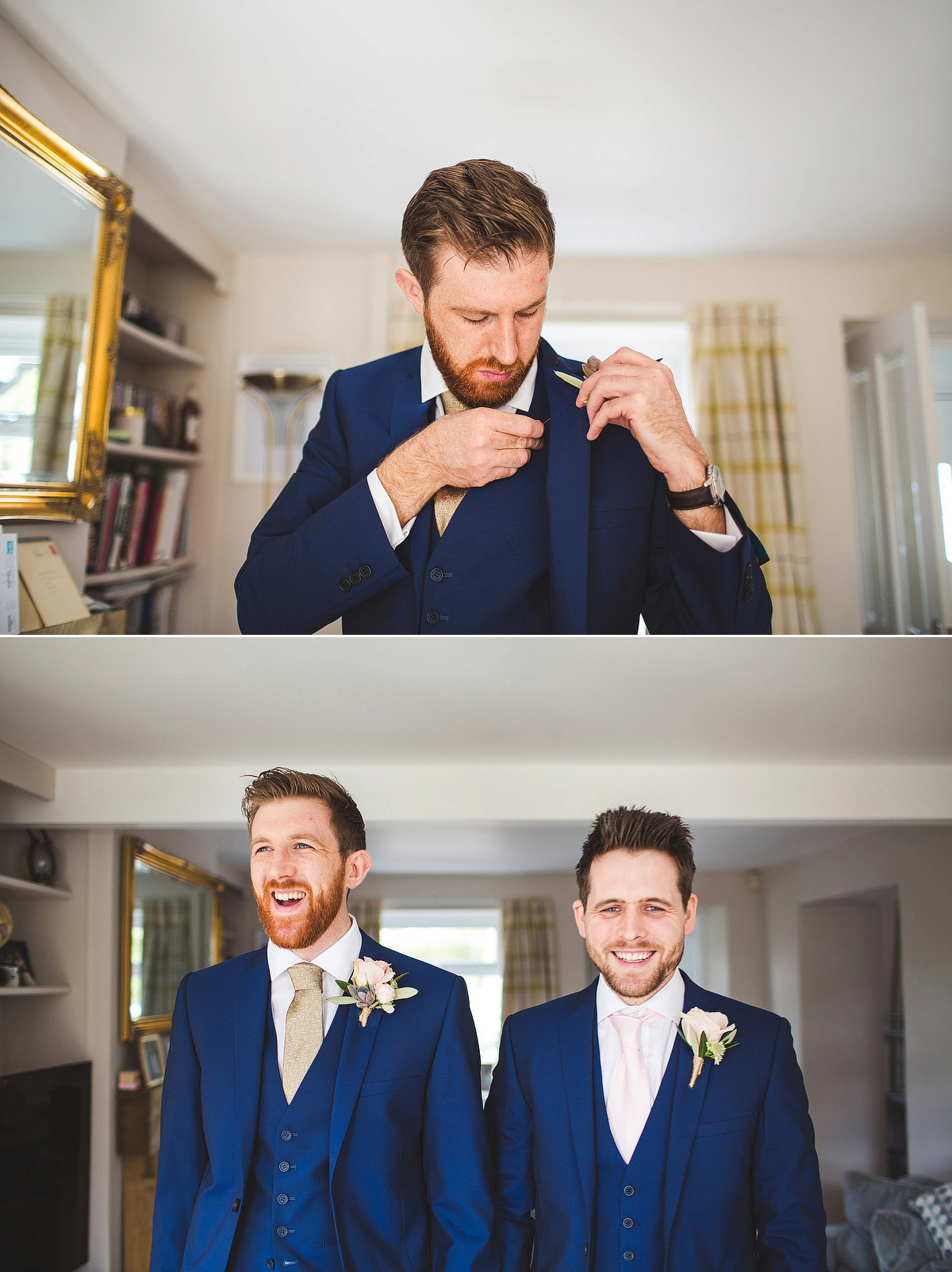 "While we originally debated marrying abroad we really wanted a traditional English church wedding. We didn't have a set theme for the day (matchy matchy isn't us) but inspired by our venue we wanted to bring the outdoors in, with a springtime feel and I also wanted to represent my new surname (Wild). It was also very important to use seasonal and British produce. A colour palette of mint, pale pink, grey and gold helped us to give suppliers a feel for the day and the mood we were trying to create and the design concept evolved further with the stationery to include botanical flowers."
"My dad walked me down the aisle, which was incredibly special, to the Bridal March by Wagner played by the church organist. As we walked down the aisle I started to look at friends and family but soon felt myself welling up so decided it was best to concentrate on looking forwards. My best friend and maid of honour Gemma insists she saw Craig turning round to take a peek at me and saying 'wow'.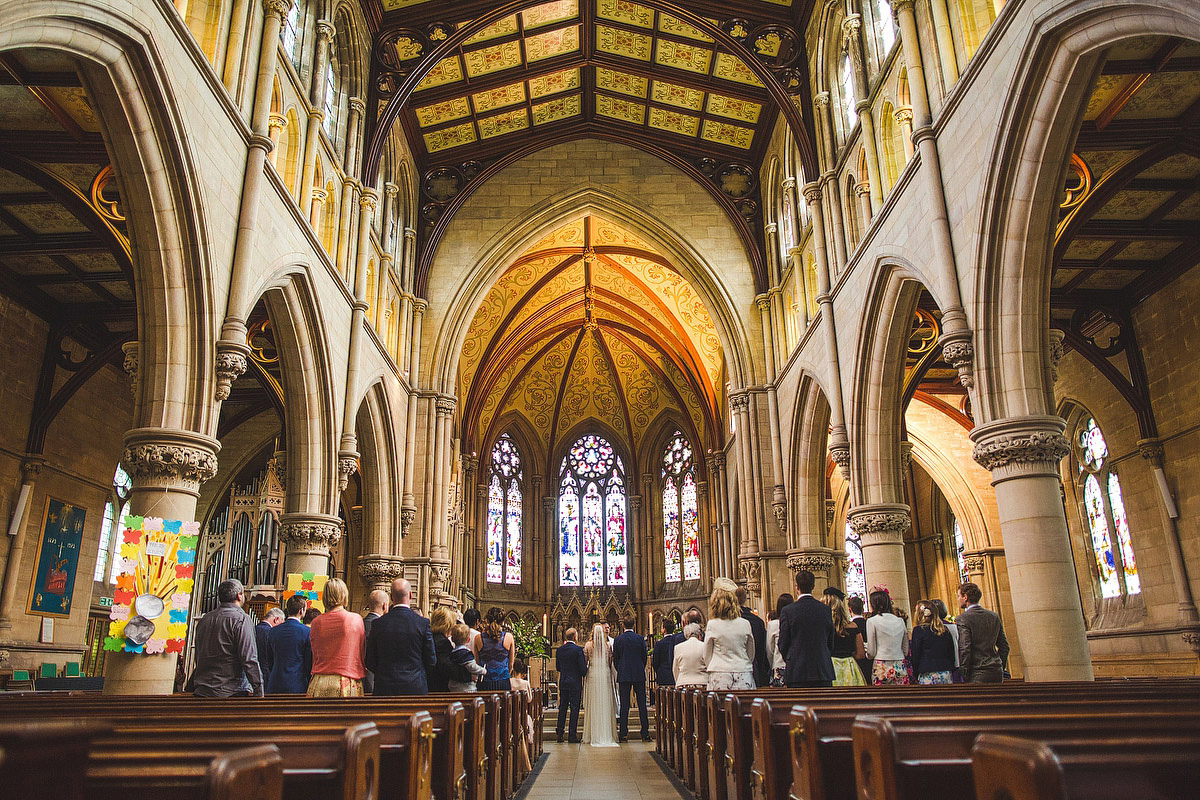 One of Hannah's oldest and dearest friends Joasia is a very talented graphic designer. She created all of the stationery based around botanical and seasonal wild British flowers and the result is absolutely swoon worthy.
"Our wedding stationery couldn't have been more special and bespoke to us. Joasia hand painted each flower/herb and then scanned each into her computer to create the designs. Our top table was called The Foragers and featured all of the flowers/herbs while the other seven tables just featured one design and each guest had a place card and menu featuring the one that corresponded to their table."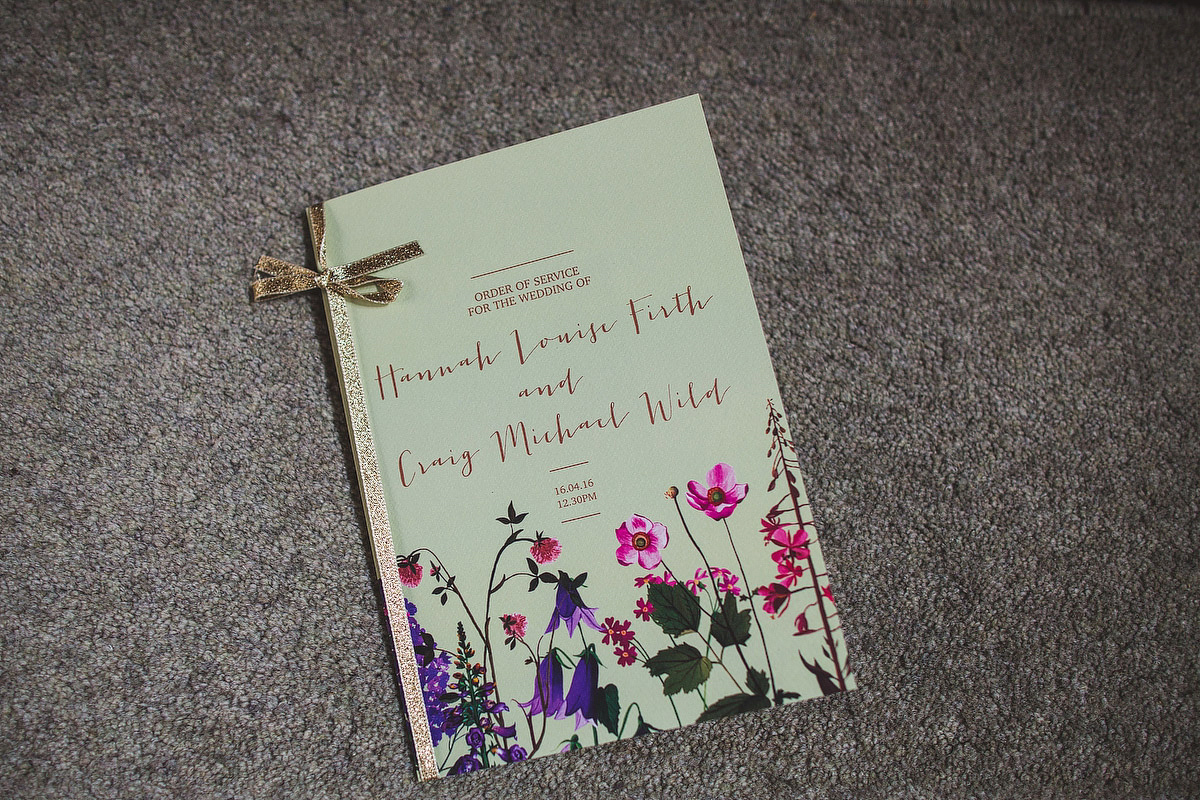 "We felt that the traditional vows are truly beautiful and representational of marriage. I didn't realise how emotional I'd feel saying my vows to Craig and almost burst into tears towards the very end but managed to hold it together at the last moment."
"We had two readings. Craig's great aunt read Corinthians 13 and my close friend Scarlett read an extract from Captain Corelli's Mandolin.
Love is a temporary madness, it erupts like volcanoes and then subsides.
And when it subsides you have to make a decision. You have to work out whether your root was so entwined together that it is inconceivable that you should ever part.
Because this is what love is. Love is not breathlessness, it is not excitement, it is not the promulgation of promises of eternal passion. that is just being in love, which any fool can do.
Love itself is what is left over when being in love has burned away, and this is both an art and a fortunate accident. Those that truly love have roots that grow towards each other underground, and when all the pretty blossoms have fallen from their branches, they find that they are one tree and not two.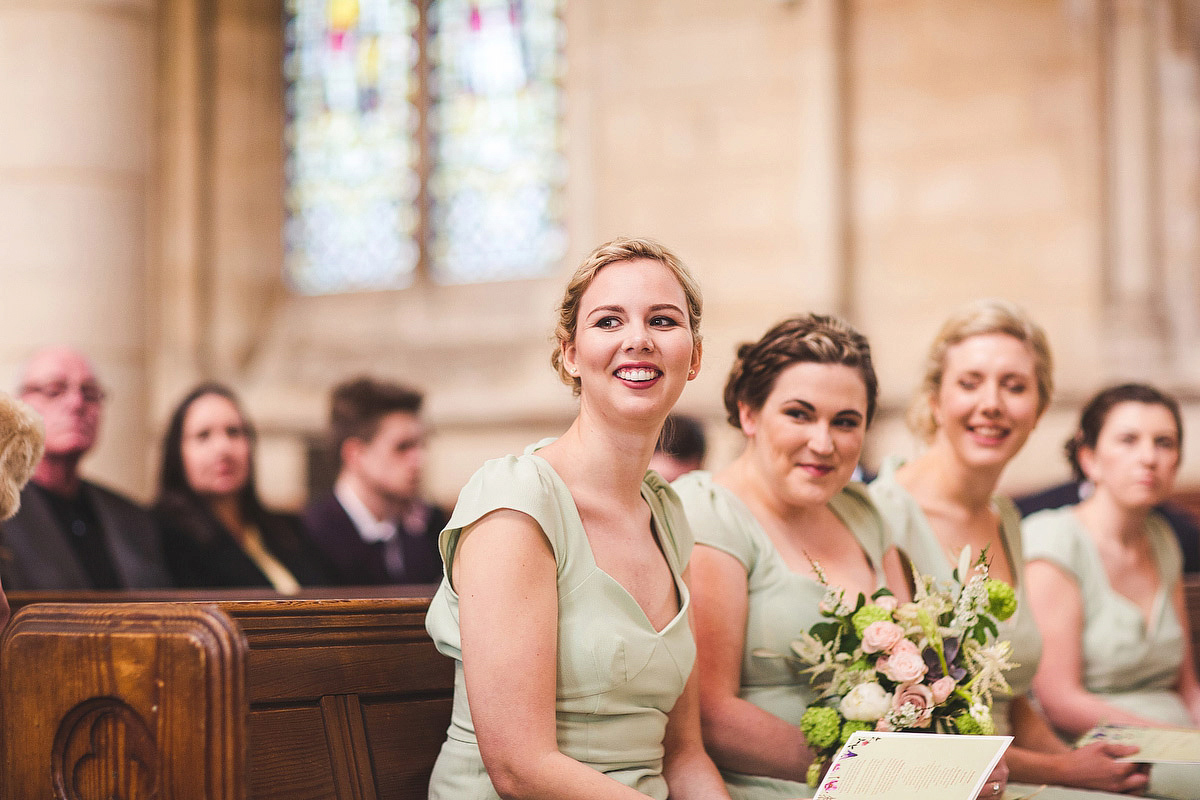 "We also added one of my favourite quotes by the wise and wonderful Winnie the Pooh to our order of service; 'As soon as I saw you, I knew an adventure was about to happen.'"
Hannah and Craig knew they would be in safe hands with Jon from S6 Photography, not least because he had already photographed Hannah's brother's wedding. The images of the couple taking some time out together are totally breathtaking and I cannot ignore that amazing confetti shot.
"Jon was the first person we booked when we got engaged, he's a triple threat – he can achieve the natural non posed shots in no time, he gets the dreamy ethereal frames like no one else and he's a lovely guy too. Jon and Martin and Gary from First Sight Films were incredibly chilled while we were getting ready which helped to calm any nerves that felt like appearing."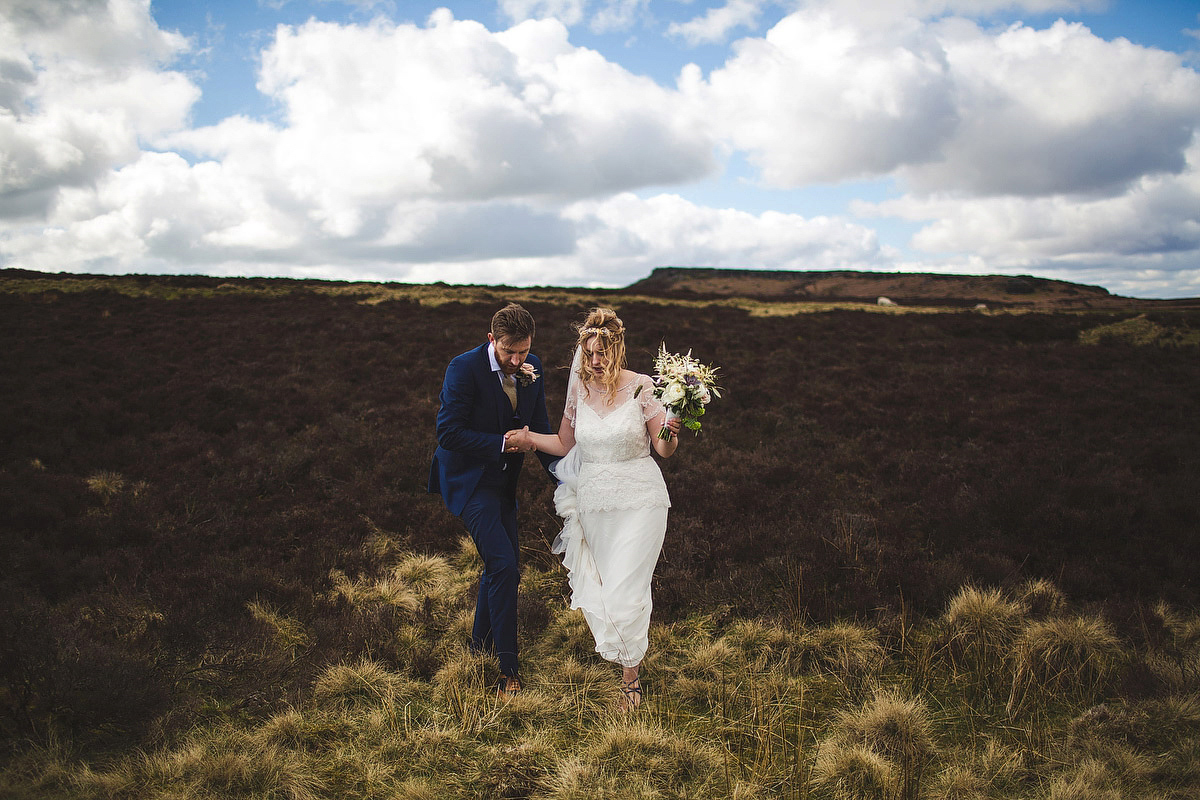 Craig makes a very handsome groom in his blue three piece suit from Ted Baker from Moss Bros., DKNY shirt and gold Richard James tie. His groomsmen also hired the same suit from Moss Bros.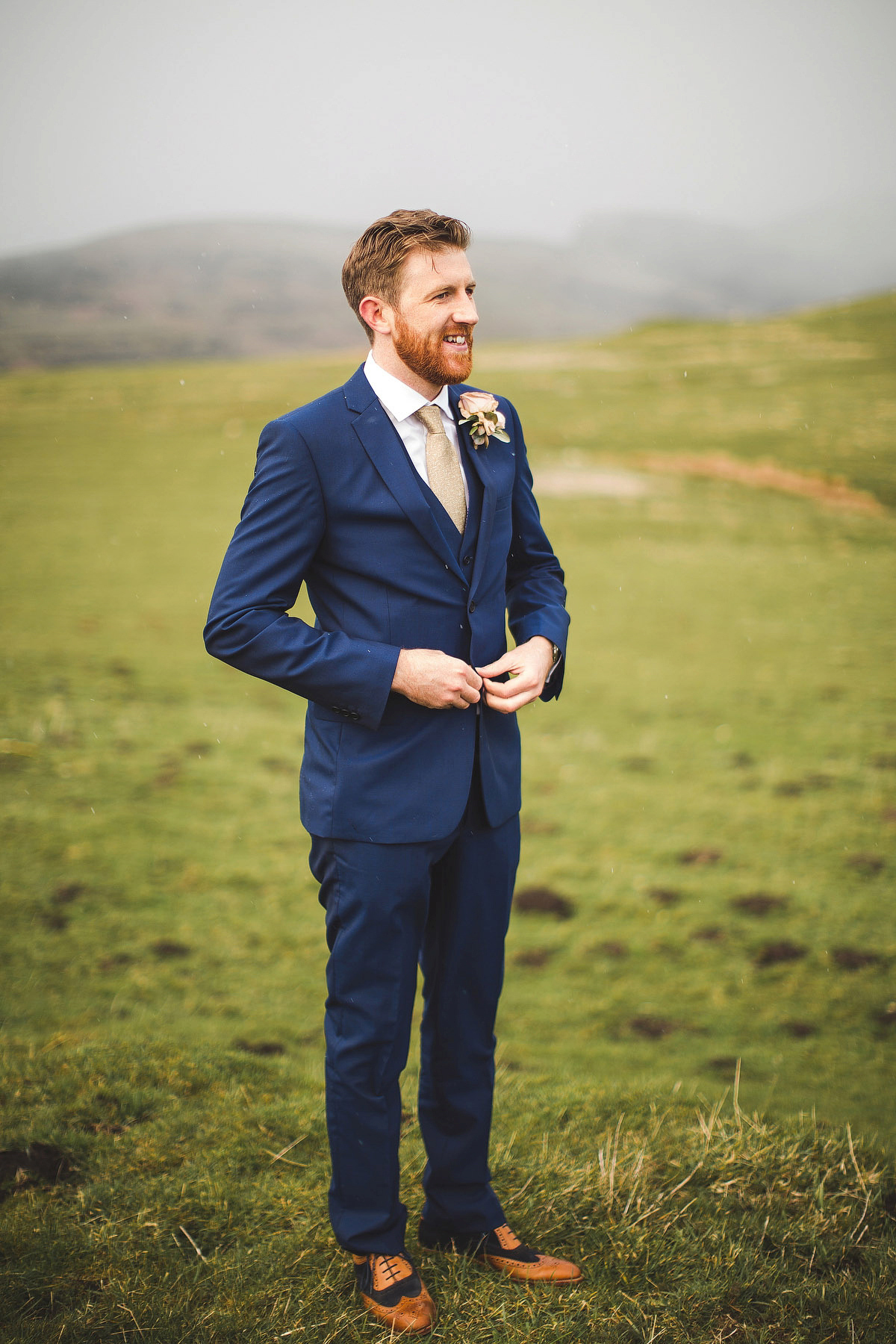 The couple agree that the hour they spent having photographs taken at the top of Winnat's Pass, Castleton was their favourite part of the day.
Craig: "It was great being whisked away by Jon to have some special photos taken of just Han and I. We started with sunshine, then came a breeze and in blew the snow. We had an hour to ourselves so were really able to absorb the day and take it all in."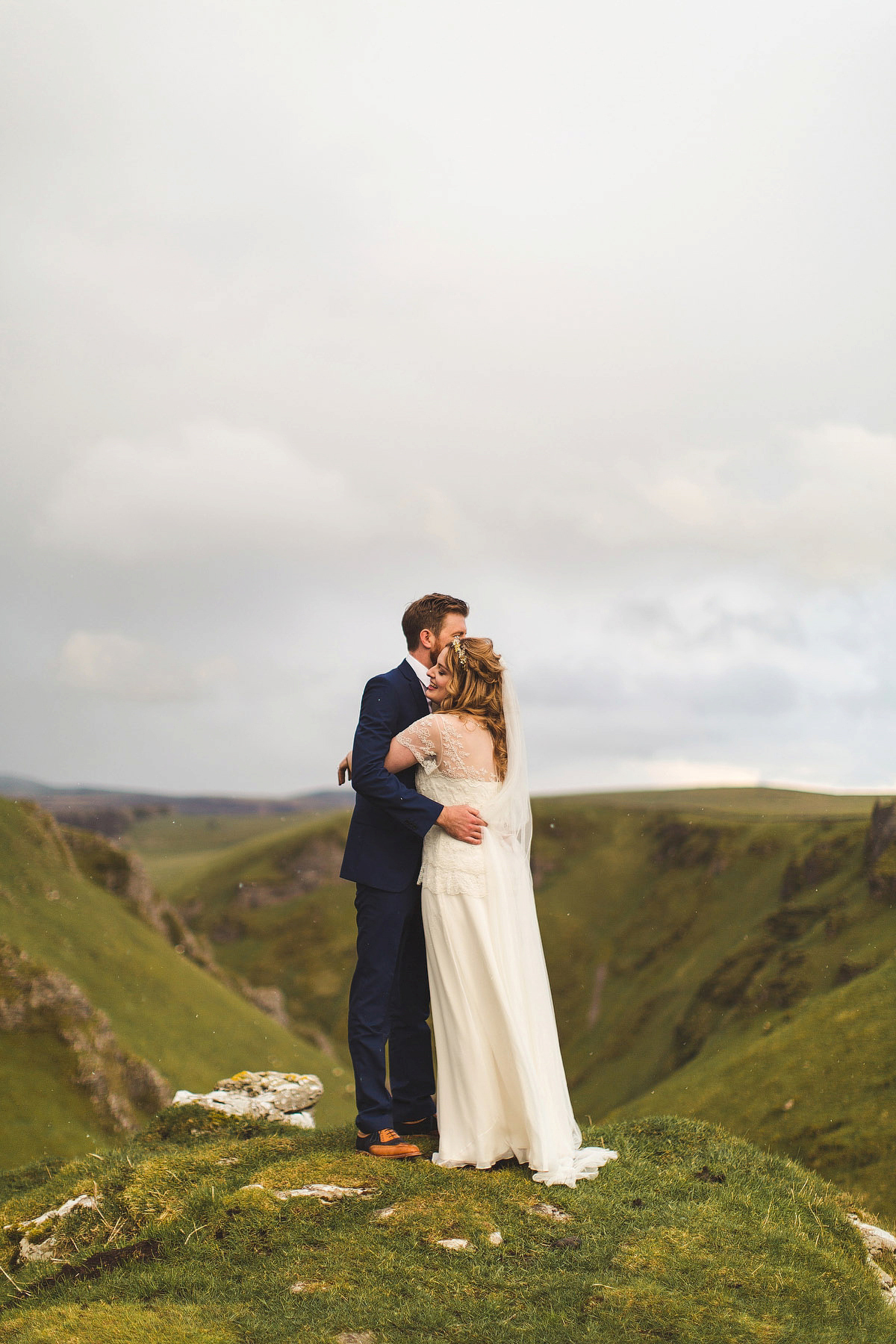 Hannah: "It was just perfect having Craig all to myself and being able to talk about everything that had happened earlier in the day. Although the walk up wasn't the easiest (think sheep poo, Choos sinking into the grass and a leap across a muddy puddle) it was beyond worth it especially when Craig spotted a rogue hare running around."
"The arrival of snow was just surreal and thankfully we managed to get back to the wedding before the heavens opened with gusto. The vows themselves were also a real highlight for me, after all that's what we were there for."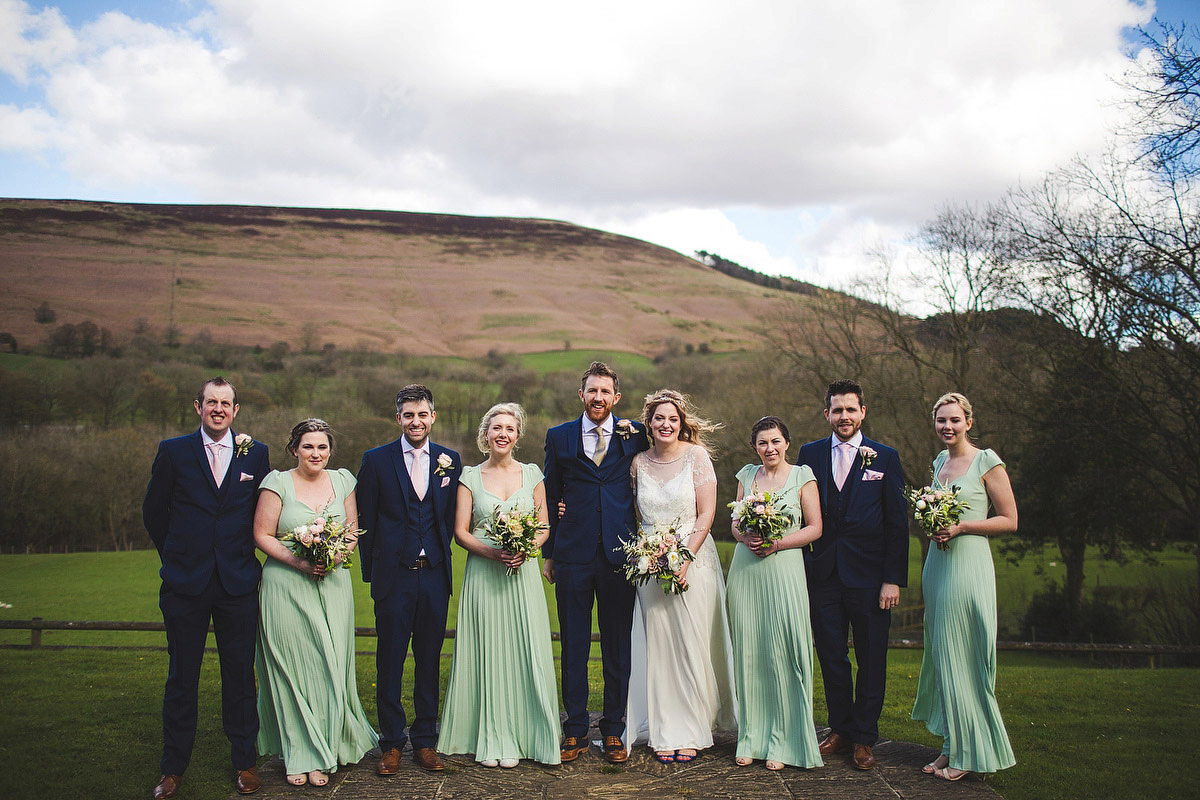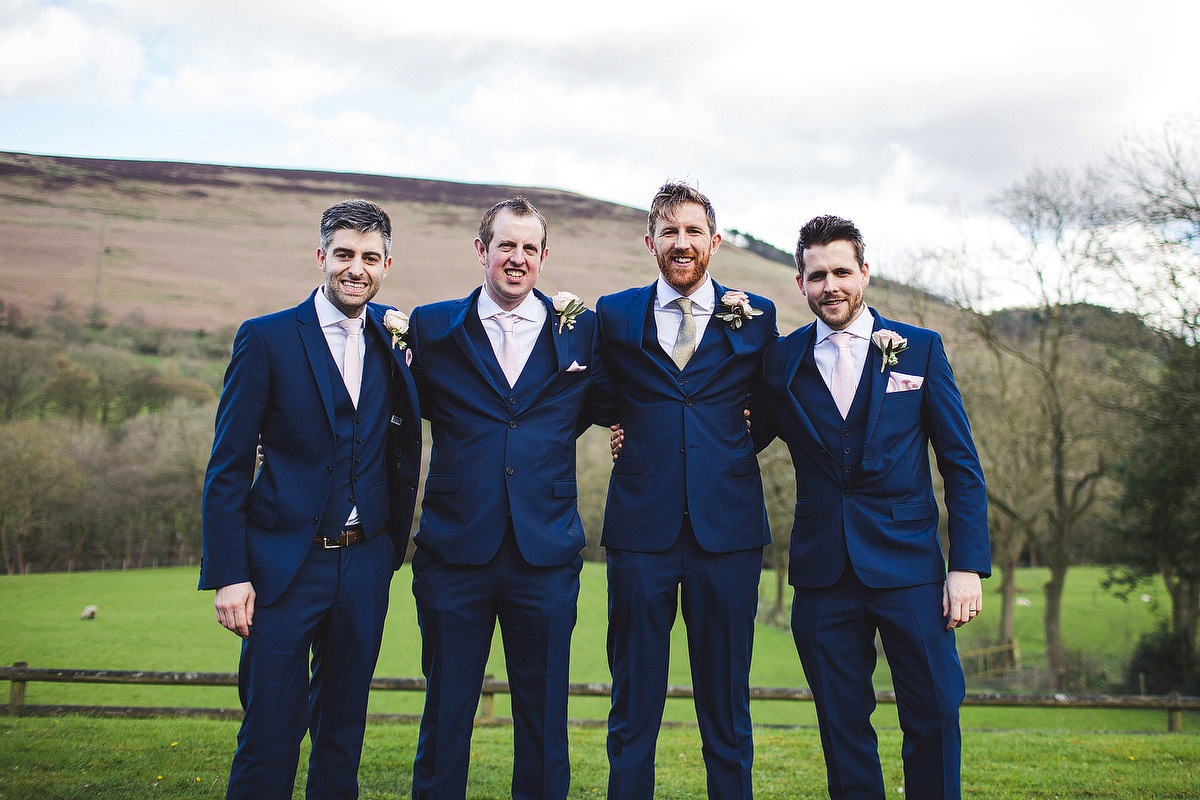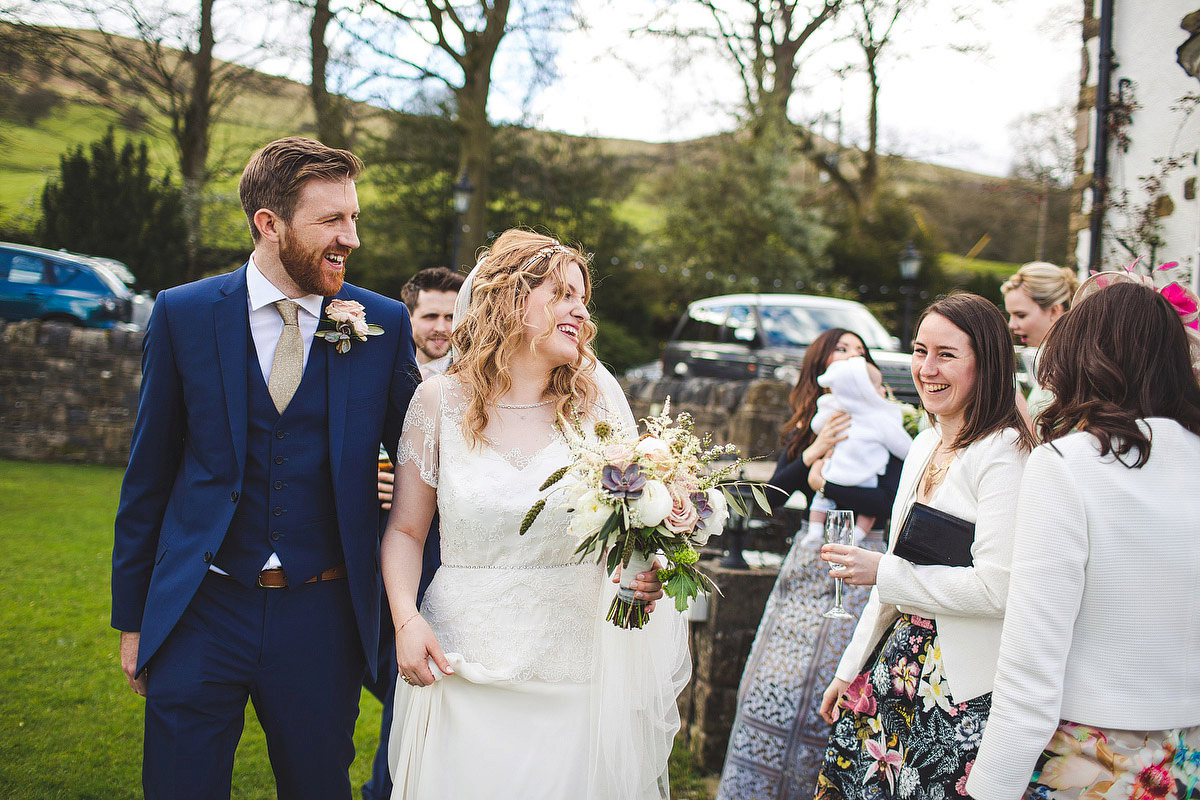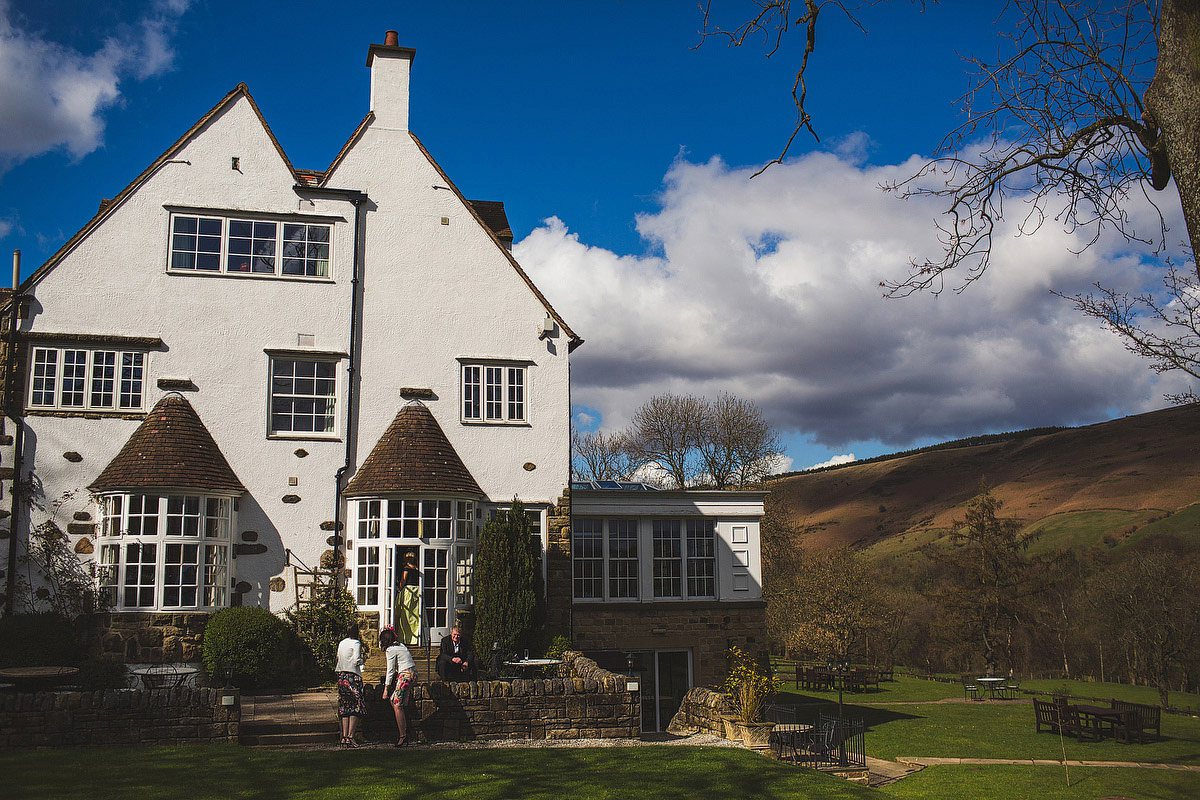 This wedding is full of gorgeous details, the pops of colour and flashes of gold only add to the beauty of the orangery with its stunning views.
"We used British wild flower bunting from Peony & Thistle to frame the orangery windows and put floral arrangements on the tables with gold tealight holders from Dunelm. A rounded top window mirror served as our table plan, beside a print that read 'Bloom Where You Are Planted' – we felt this was a cute play on words and incredibly fitting with our floral/herb table names."
"Craig also created a photo booth backdrop from a sheet of MDF and fake flowers from IKEA. We had a suitcase of props and a personalised guest book next to it for guests to snap, stick and sign. My mum bought the white tree which we hung pictures from years ago and we also used it at my baby shower so it was lovely to have it at the wedding."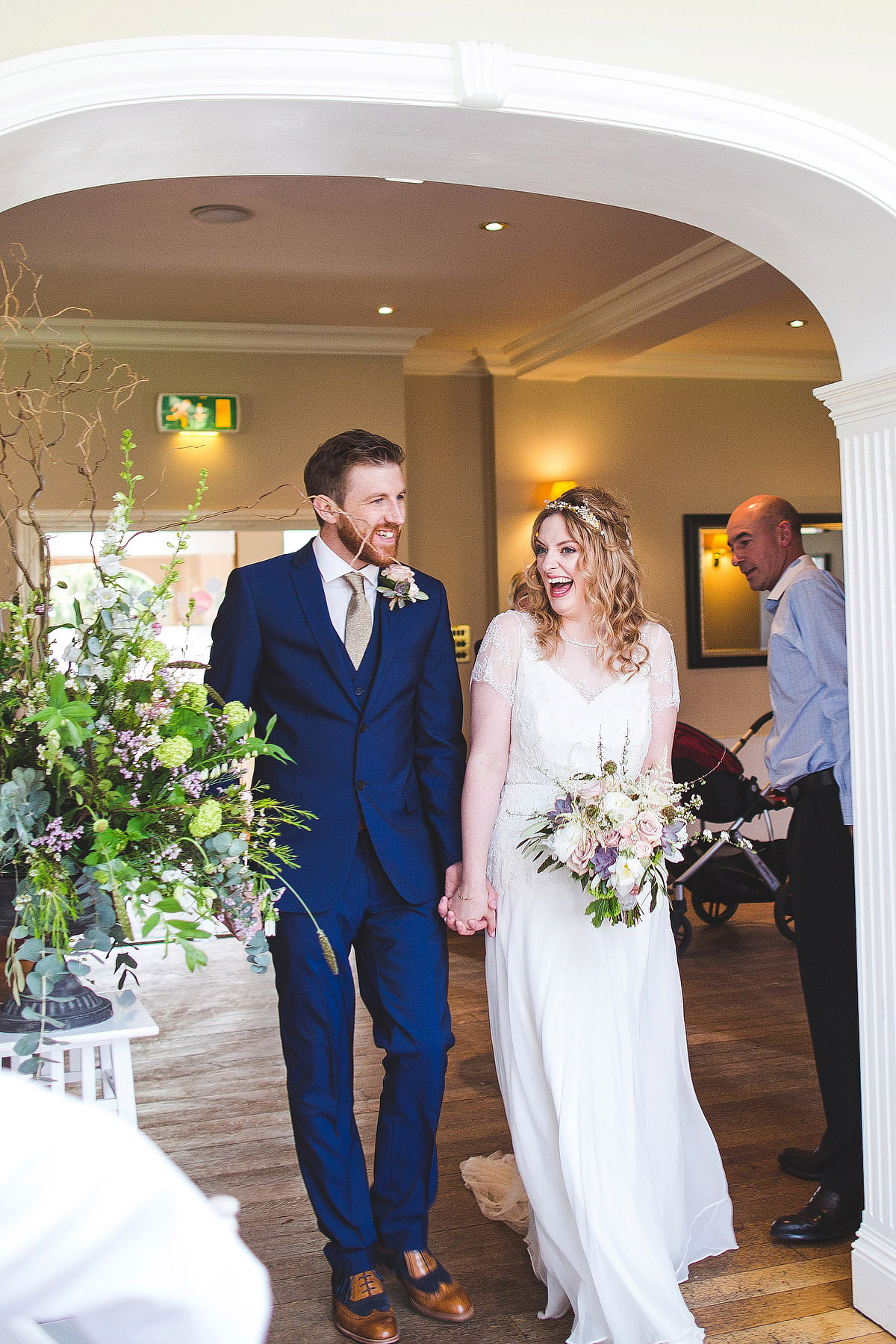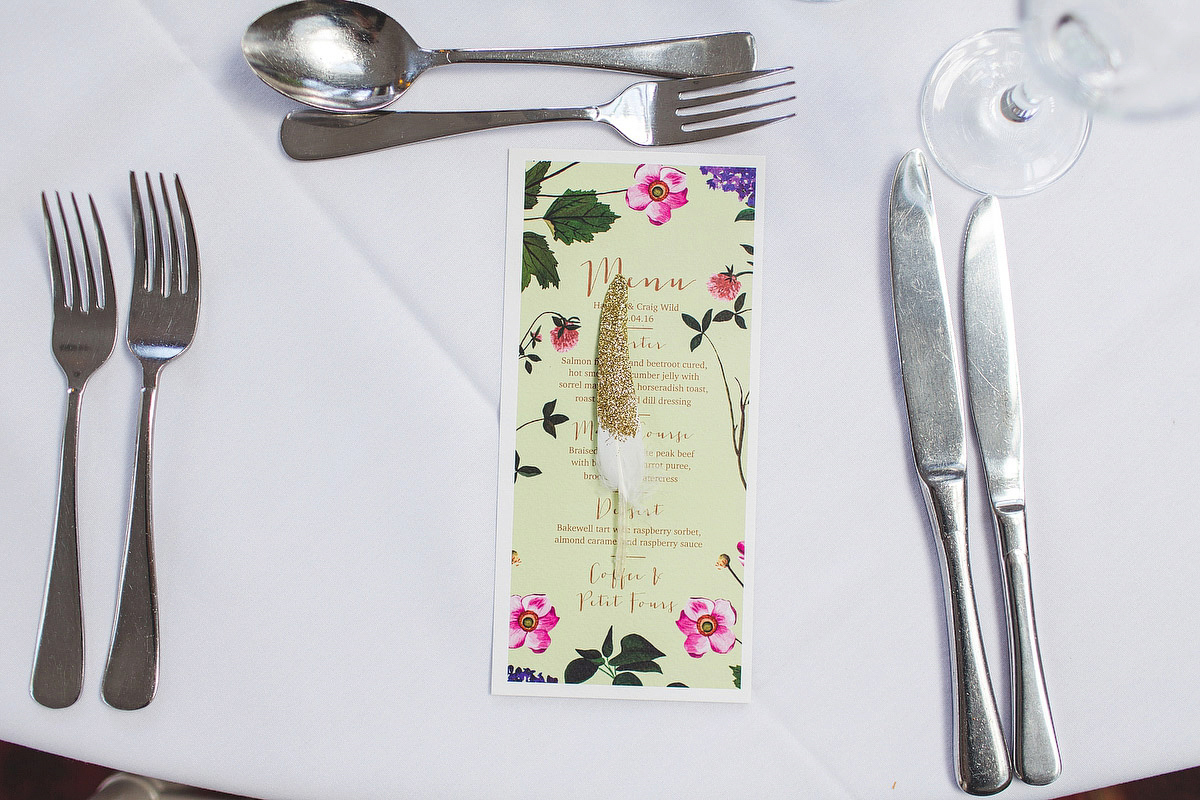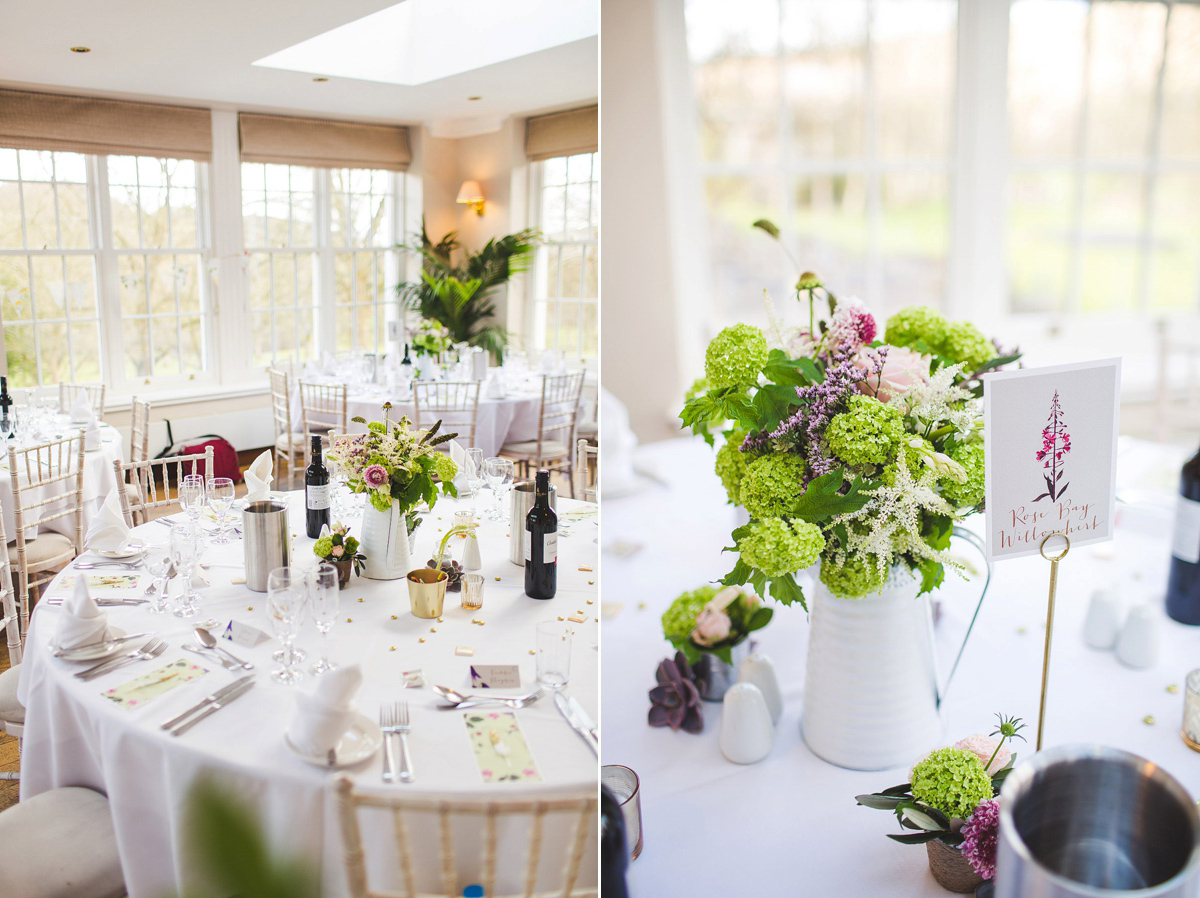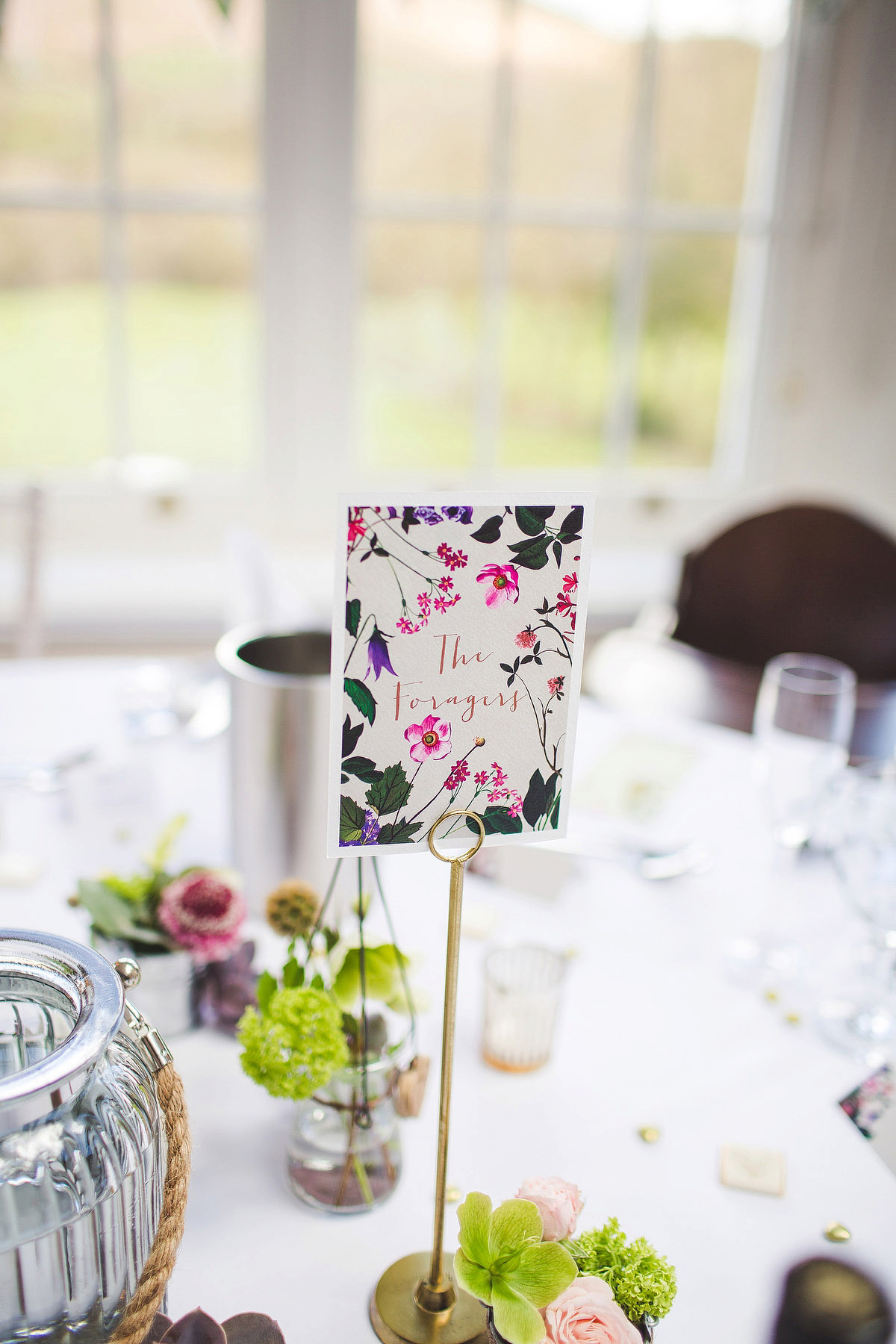 "We found Jo of Joanna Rose Cakes at a local wedding fair. Her cakes were exactly what I'd envisaged and I particularly loved one featuring silver leaf, icing ruffles and an edible peony. We played around with the colours and came up with mint green, gold leaf, the palest pink, edible peonies and an ivory/cream dress layer that was inspired by my dress. We had numerous compliments on the cake at breakfast the next day."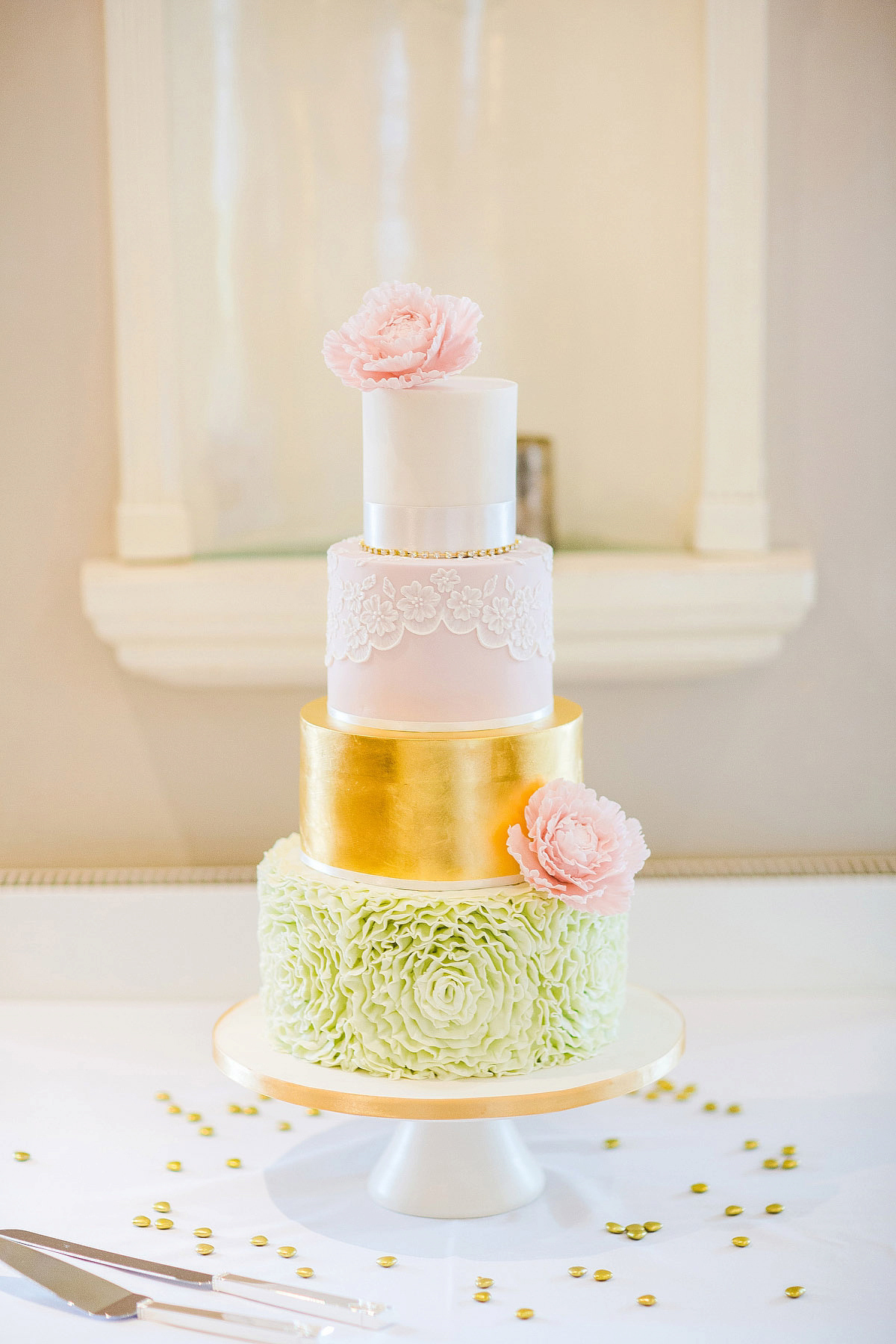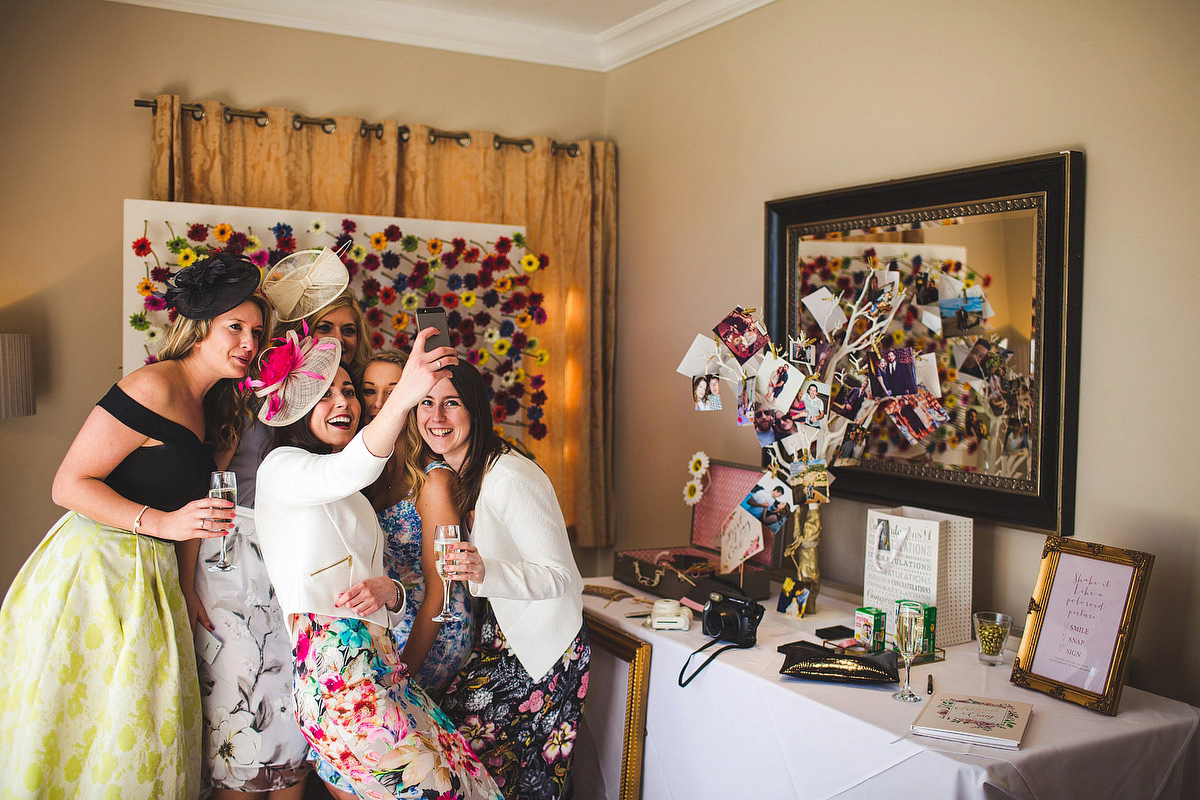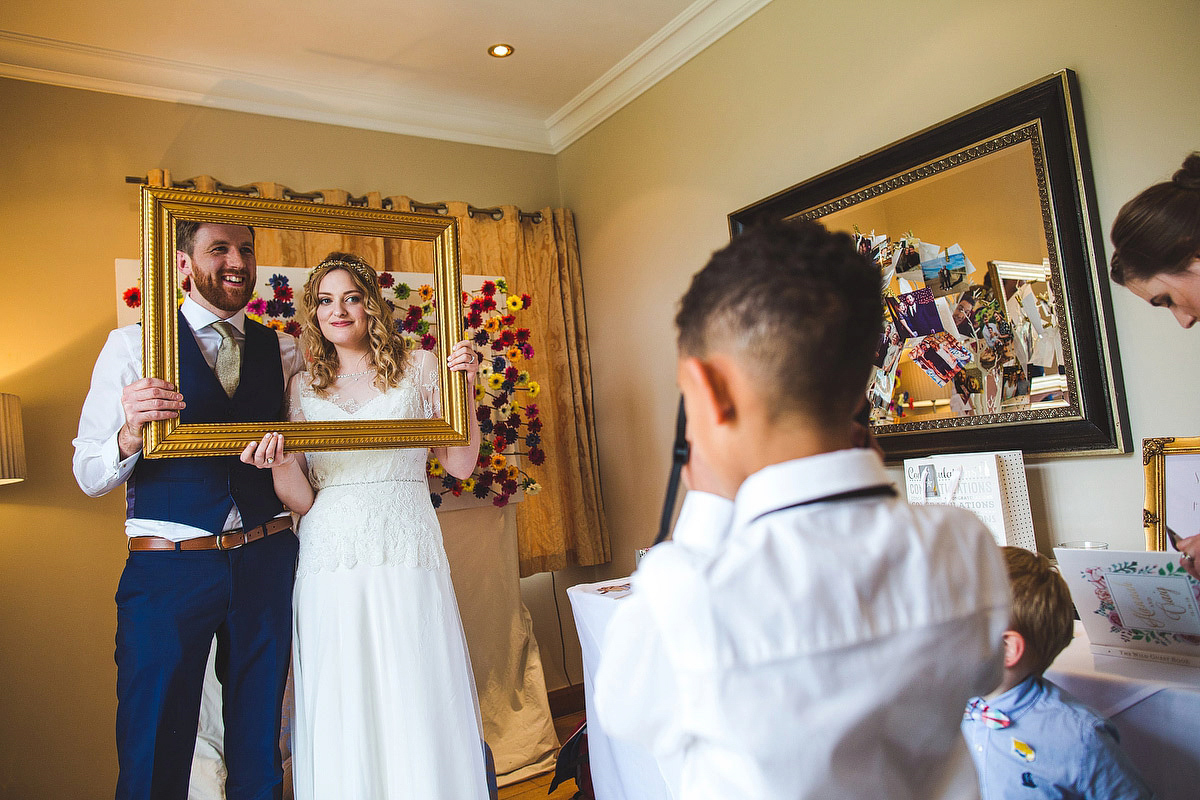 "We chose 'Grow Old With Me' by Tom Odell for our first dance. Tom has a beautiful tone to his voice and the lyrics are meaningful as well as smile inducing. The song starts slow but finishes uptempo so perfect for dancing slowly and reflecting on the day to being spun around in the air!"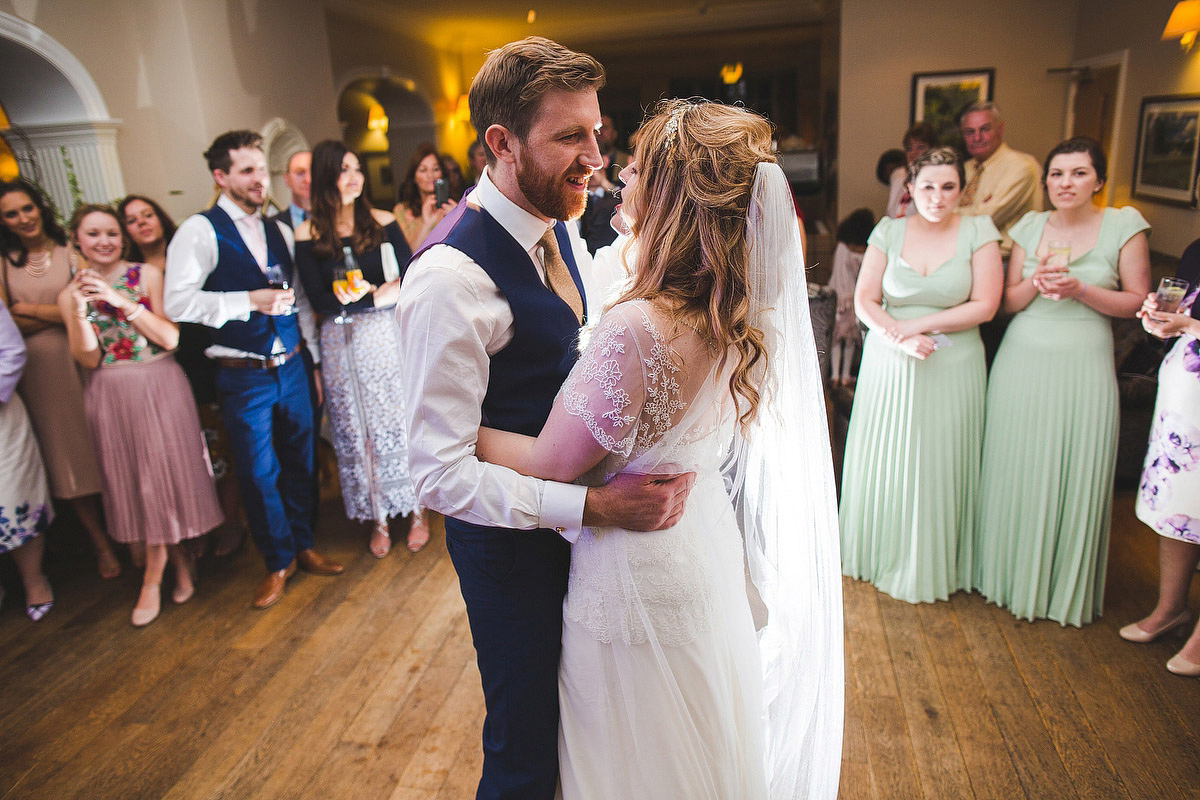 "After a long search (there's a lot of naff wedding bands out there!) we found a local band called We Have You Covered. They play a mixture of 60's hits through to the noughties with a really authentic sound and they put their own twist on covers."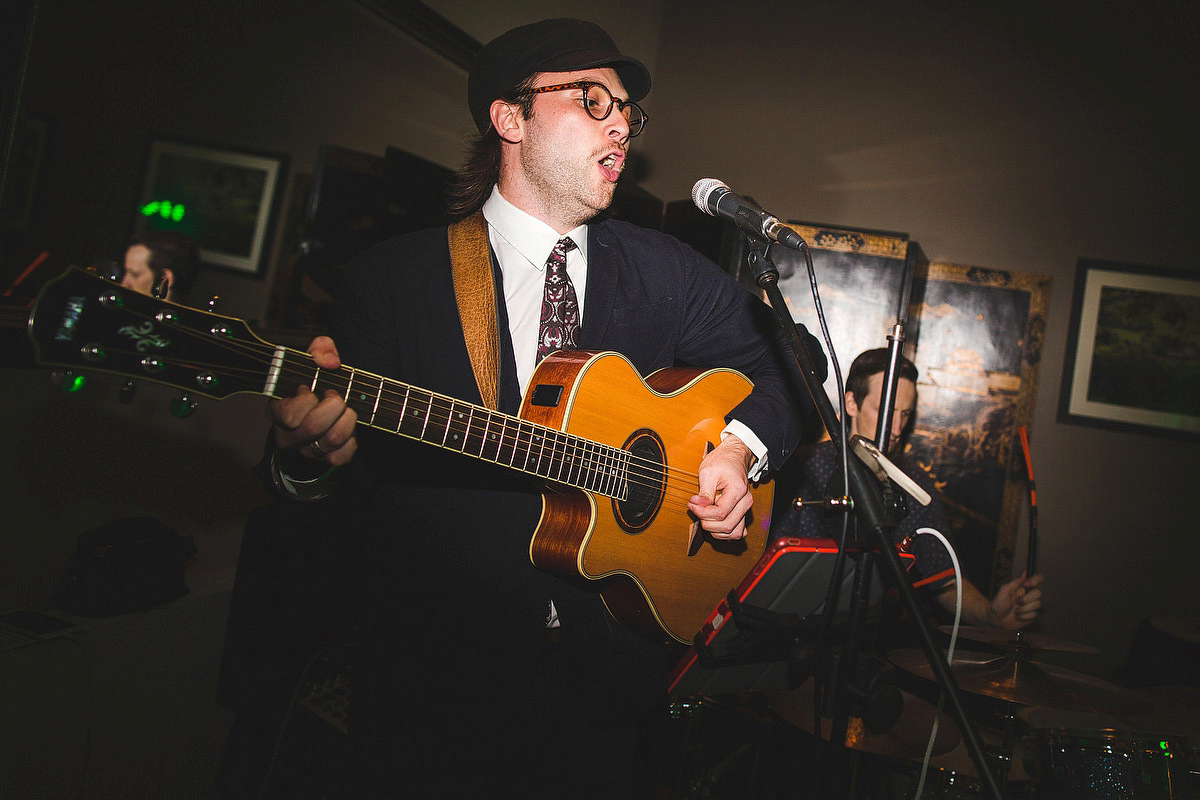 Words of Wedded Wisdom
"Take a moment  just you and your new husband. Everyone will tell you that your wedding day goes by quickly and you'll think yeah whatever (I did too) but it really does pass by in a flash which is incredibly unfair, especially as you've spent so much time planning. Both Craig and I agree now that our moments together, just as Mr and Mrs Wild were the best. 
Relax… So much easier said than done but I promise everything will come together and no one will notice if a photo frame is at an 80 degree angle instead of a 90. The day before our wedding Craig was so excited and dancing round the house while I was a grump as I was too busy thinking about the ribbon to tie around the bay trees. After searching the house high and low I couldn't find it anywhere and even contemplated a trip to town when I realised (with a lot of help from my husband to be) that it wasn't an issue. While I've no doubt you'll have a million and one things to do the day before your big day take time to relax and enjoy yourself with your loves.
My nan was diagnosed with cancer almost two years ago so Craig and I were keen to have favours that supported causes close to our hearts so we chose pins from The British Heart Foundation and Cancer Research UK for the adults and gave age appropriate gifts for the children."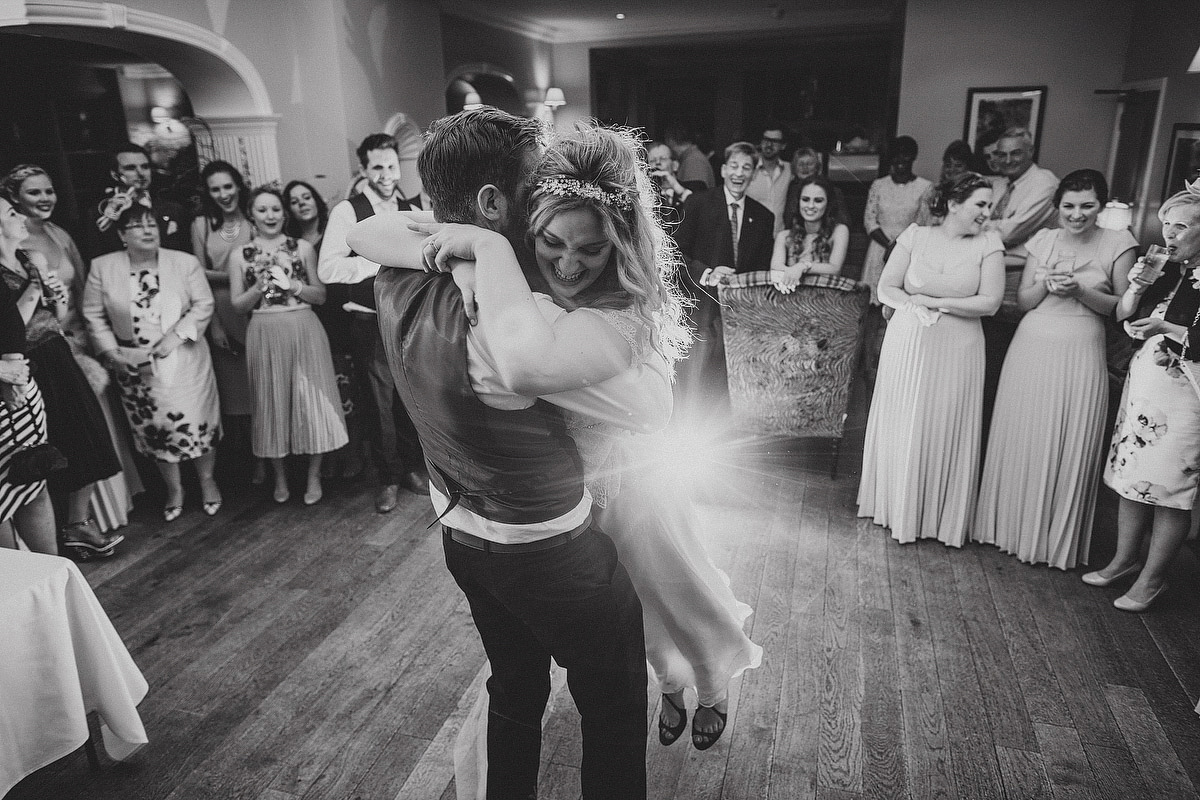 How amazing are those drizzly shots of the couple, Jon of S6 Photography never fails to capture those images that just make you linger for a little longer. Thank you so much to the lovely Mr and Mrs Wild for being such good subjects.
Love Caoimhe xx