Hi lovely readers and welcome to a brand new week. I hope you were able to make the most of the heatwave over the weekend? If you were cooped up inside in the throes of wedmin, I hope this beautiful set of images will bring a little sunshine and love into your life. I love it when I open my inbox to something a little unexpected (though every email from Annabel has tonnes of lovely wedding goodies to offer) and today's gorgeously boho offering is just that; a festival-vibe vow renewal packed full of quirky little touches and some of the sweetest flower girls I've ever seen.
Fran, a newborn and child photographer, and Gordon, who owns Vintage Car and Camper Hire and VW Photo Booth (this comes in very handy as you'll soon see), pledged their love to one another for the second time on 21st May this year.
"We met back in 1997 when we lived opposite each other in a small village. We met in the August and got married the following May. Our vow renewal marked 19 years of marriage. We wanted a relaxed, boho, festival feel – I love to craft and enjoy setting up for parties so this was the ultimate challenge. Give me anything floaty, crocheted or quirky and I'm happy!"
Photography by Joshua Patrick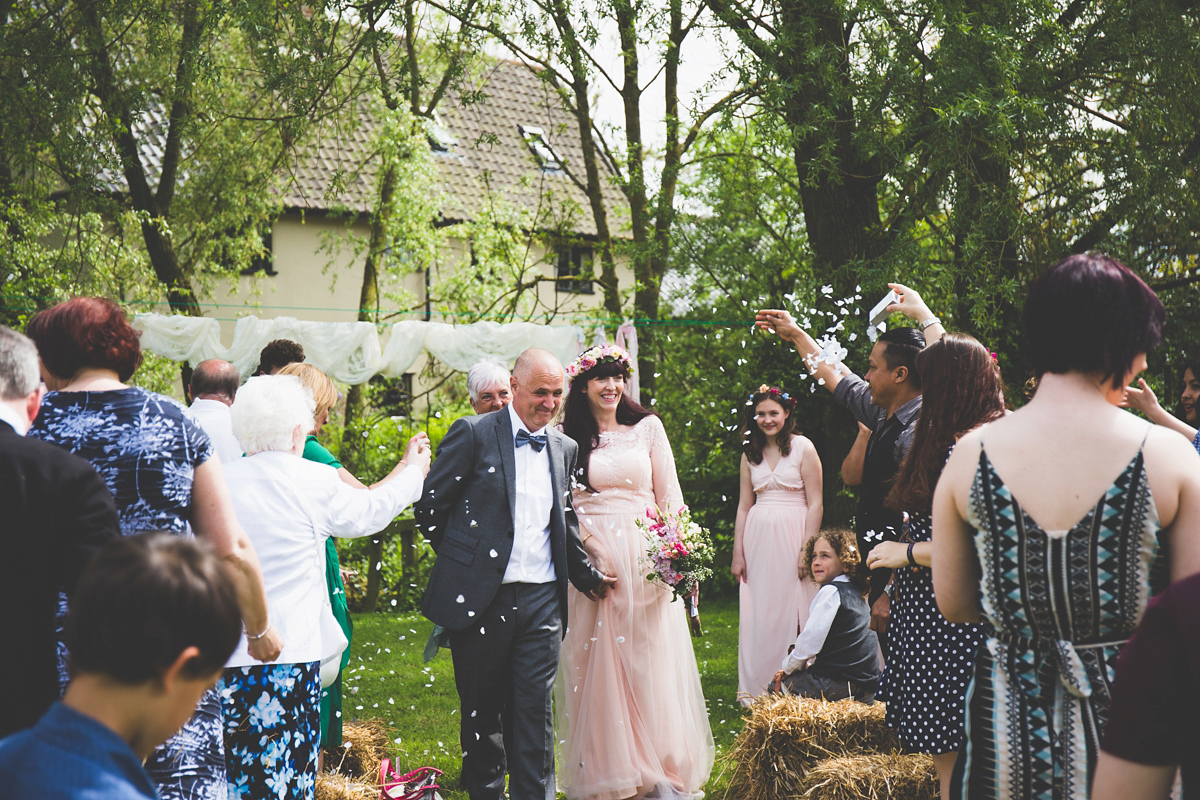 Such a beautifully bohemian setting called for a fittingly dreamy dress. Fran purchased her gorgeous blush (even the word 'blush' is divine) from Chi Chi London and paired it with her go-to shoes. And of course no festival-style bride would be complete without braids and a crown of freshest blooms.
"My dress was from Chi Chi London. I loved the colour and the lace top and sleeves – it was floaty and dreamy without being over the top and it really did look boho without costing the earth. I'm renowned for wearing Converse so I found some pretty blue lace ones to wear with my dress. I made my own flower crown so I could chose the flowers and colours I wanted."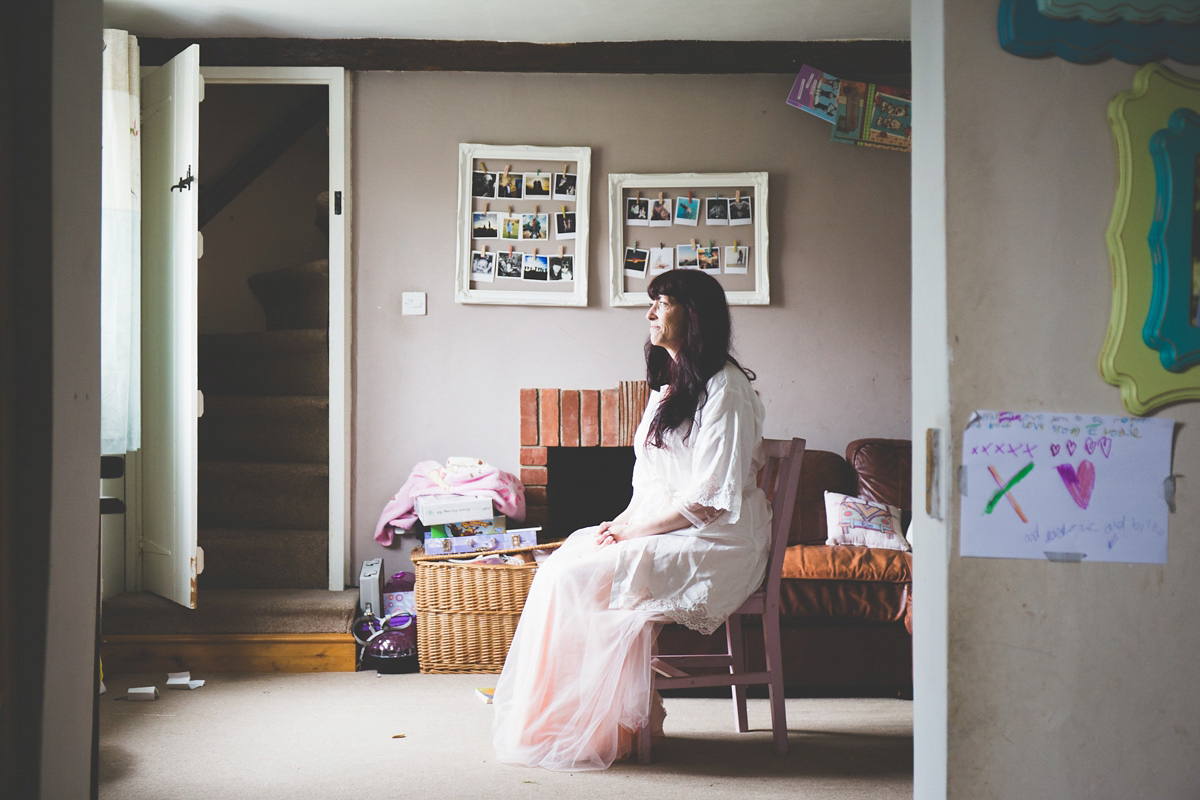 "I wore a gold bangle that was my grandmothers; I wore it on my wedding day as well as our vow renewal.  I also had a gorgeous crocheted shawl that I bought online from a newborn prop vendor and I roped my friends in to help with my hair and make-up. I wanted a relaxed style so didn't feel the need for a make-up artist or hairdresser. I had a trial run for my make-up with Rav so she knew what I liked, and Tricia plaited the top part of my hair under my crown – minimum fuss."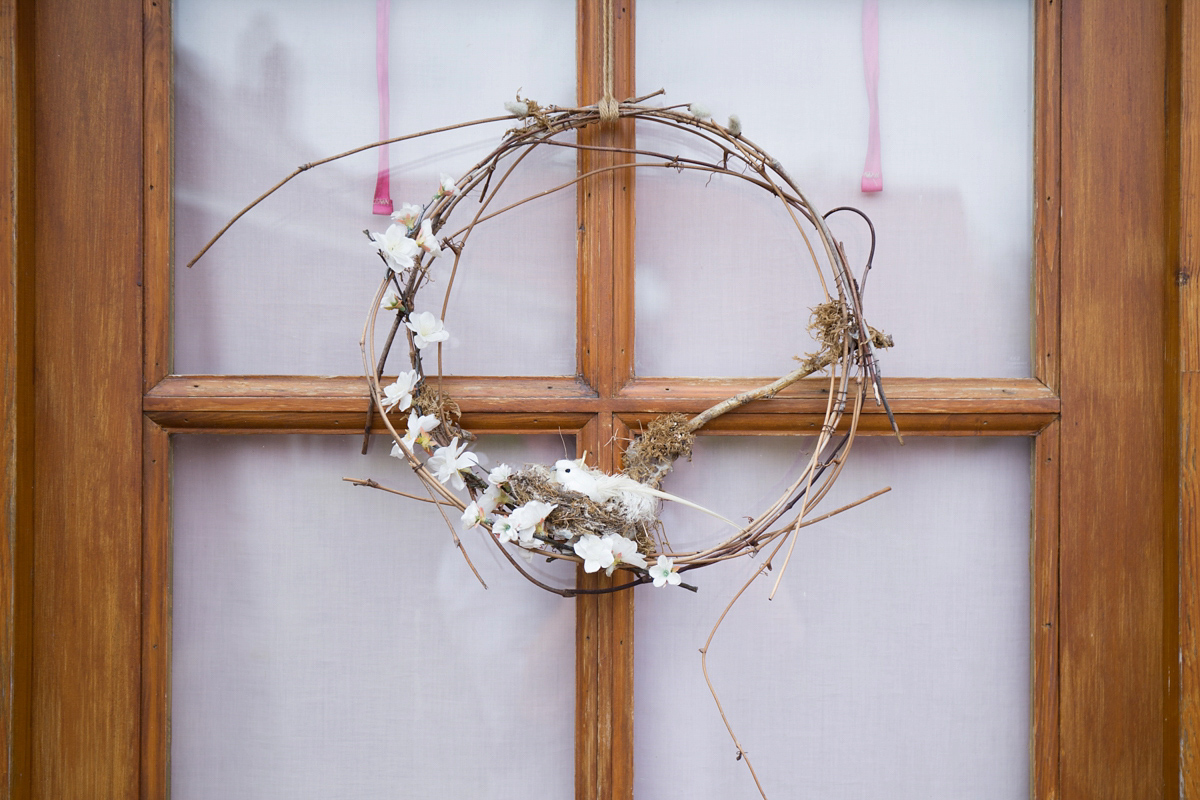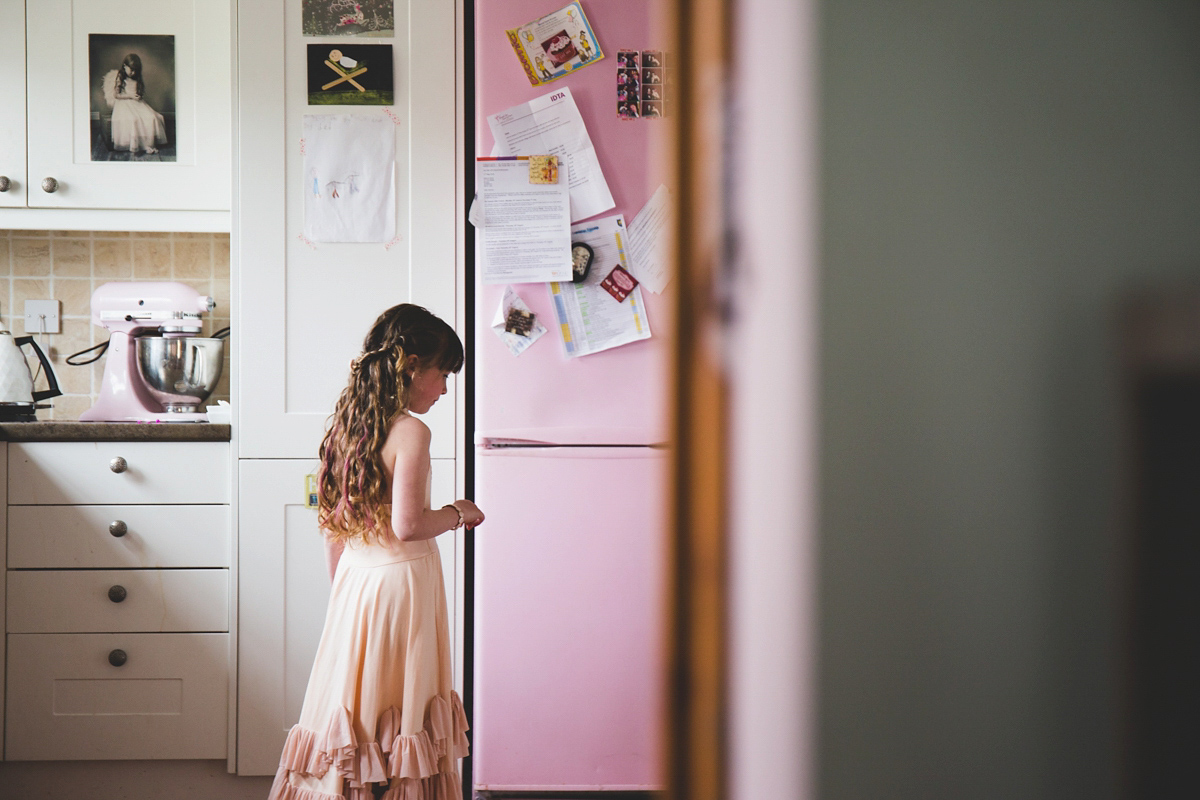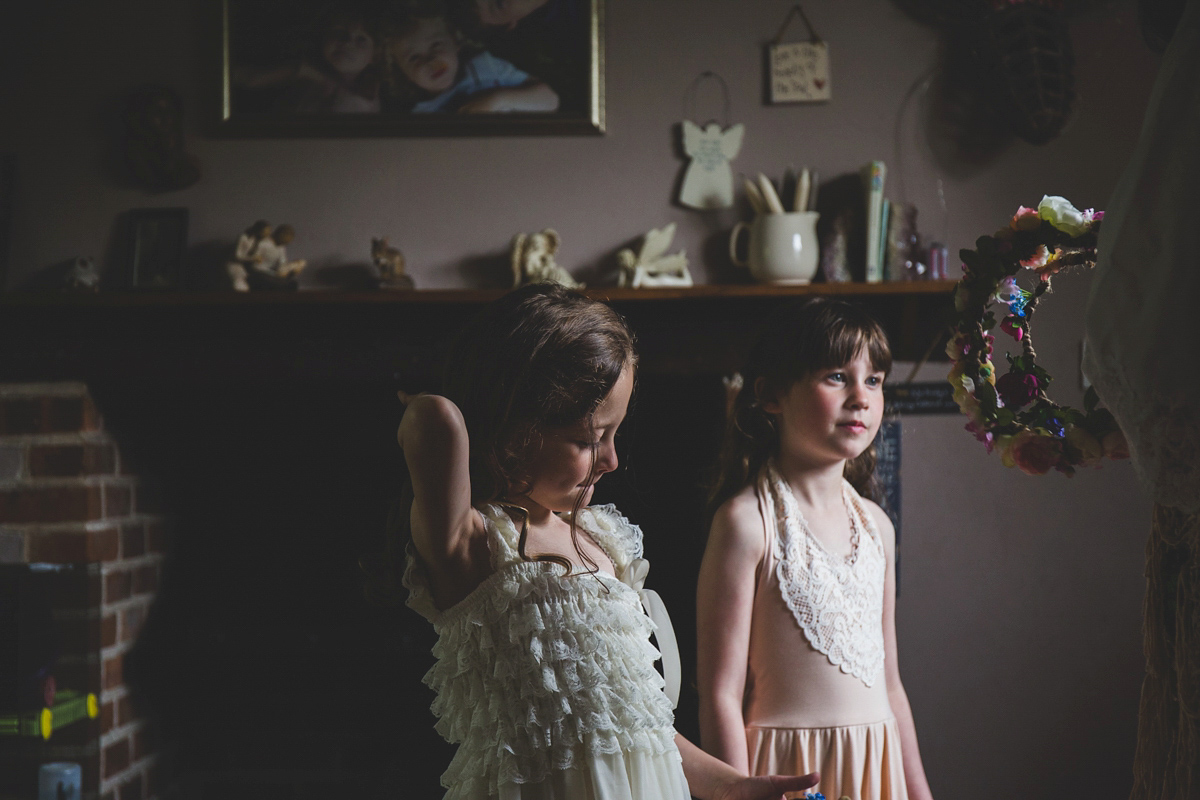 In keeping with the festival feel of their day, Fran and Gordon found a venue not only oozing with laid-back charm, but that also allowed their nearest and dearest to turn their celebrations into a whole weekend of fun. Did you catch this gorgeous festival-inspired Cornwall wedding back in June? I adore the concept of a wedding being more than just one day and it seems to be increasingly popular with our brides.
"We chose The Barnyard in Norfolk as our venue; we wanted a festival feel to our day and this just fitted perfectly. We had meadows to use for our vow renewal, an old fashioned marquee for a sit down buffet and a gorgeous barn for the evening. And our guests could camp for the entire weekend."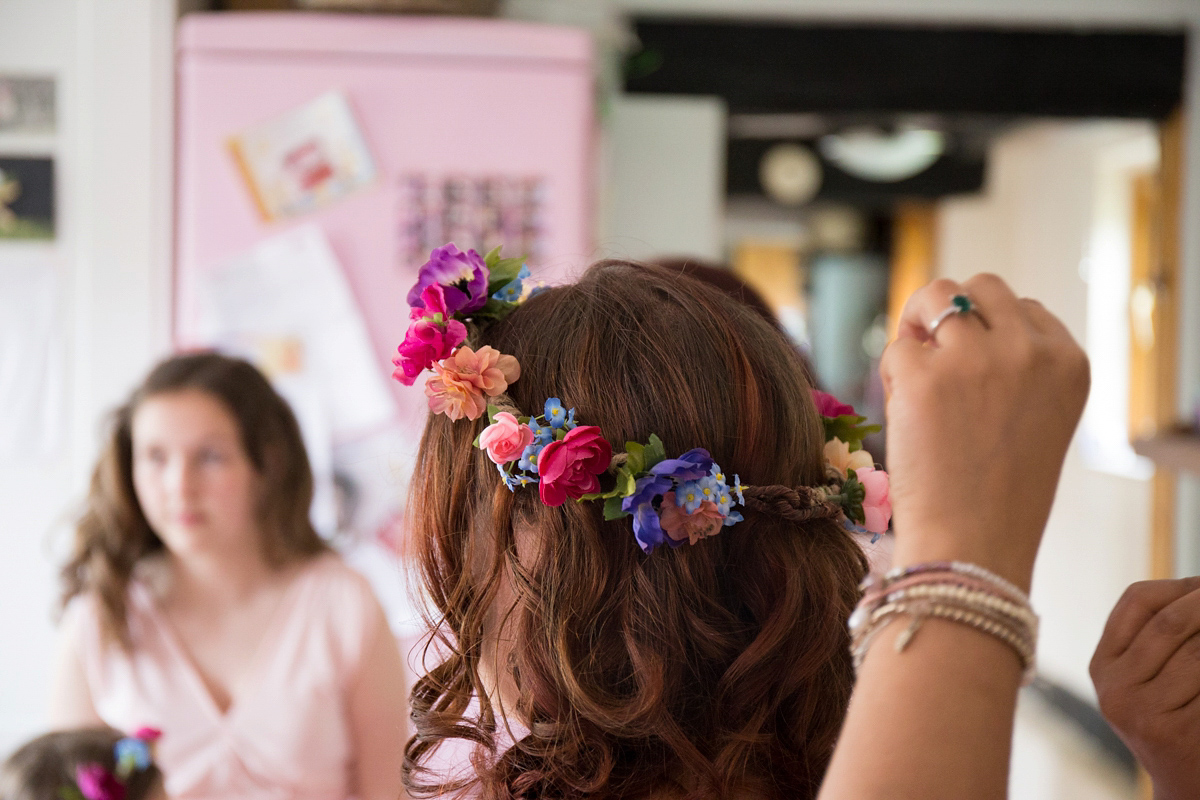 With Gordon owning a vintage car and camper hire company, there was only ever going to be one choice when it came to wedding transportation. Connie, a gorgeous split-screen camper, turned heads on her way to the ceremony; the embodiment of festival-style cool.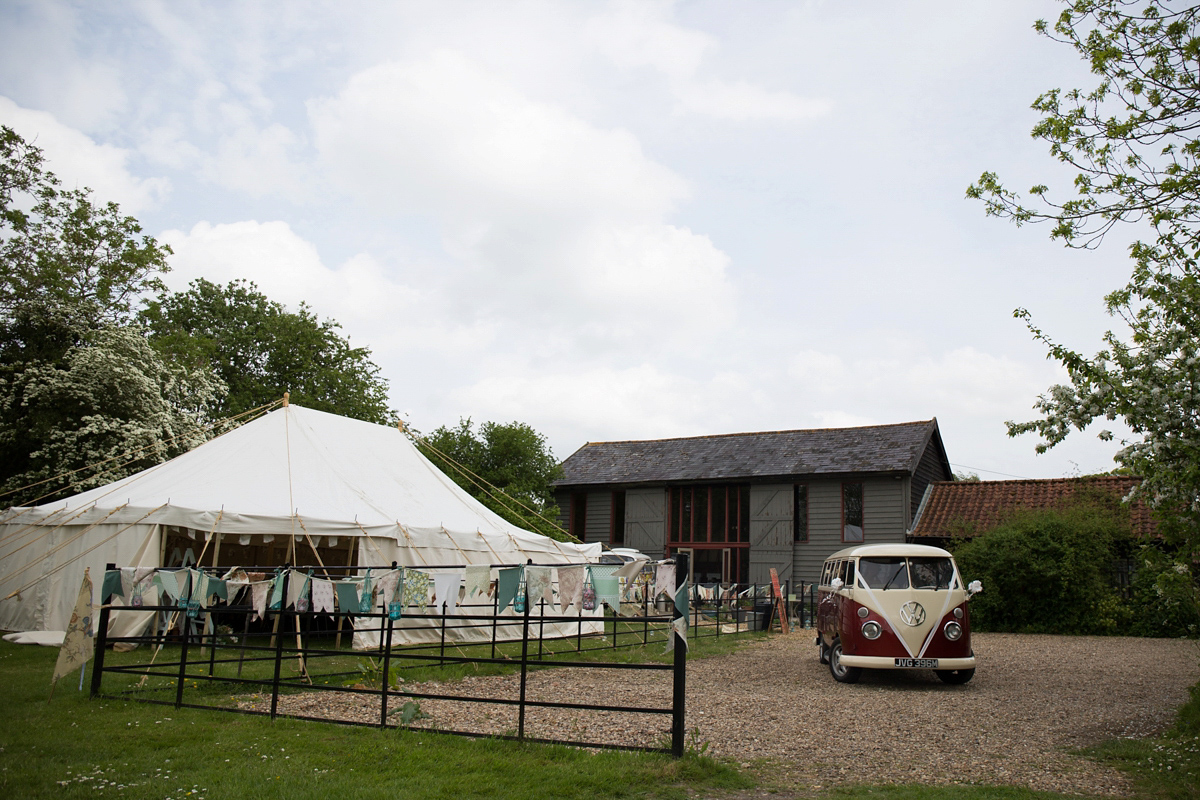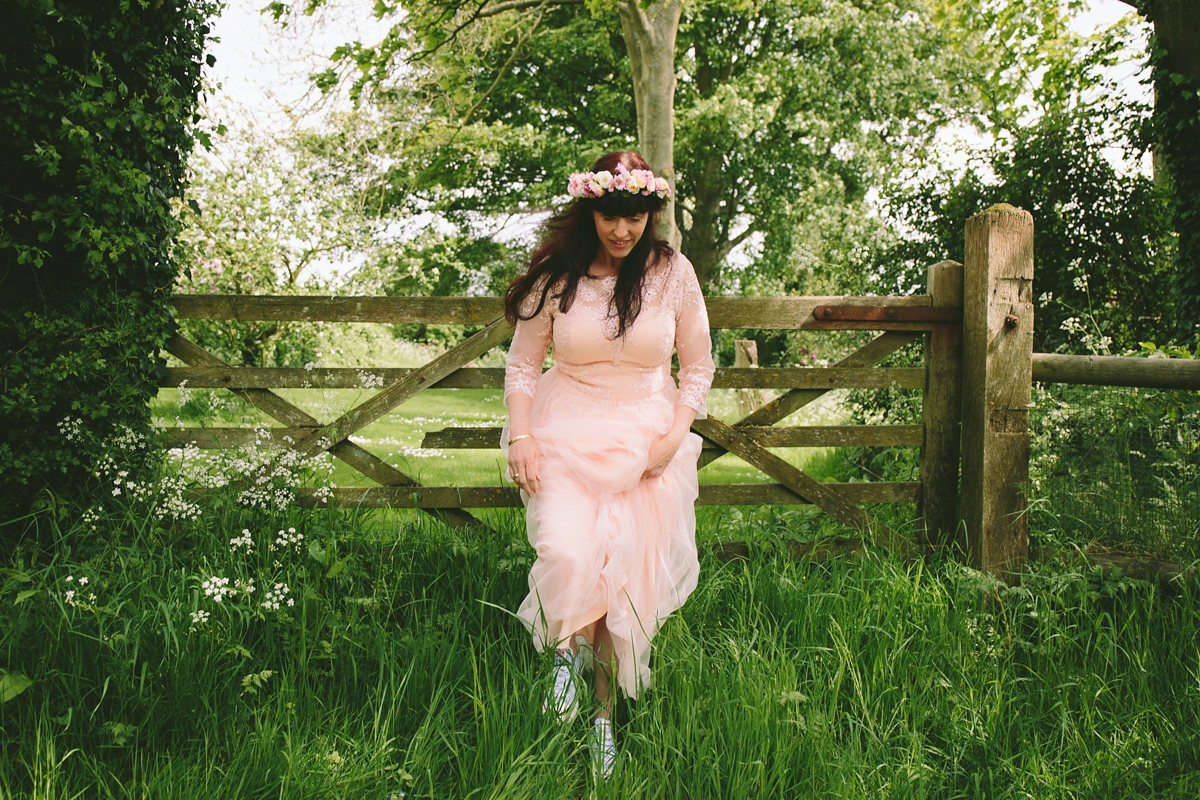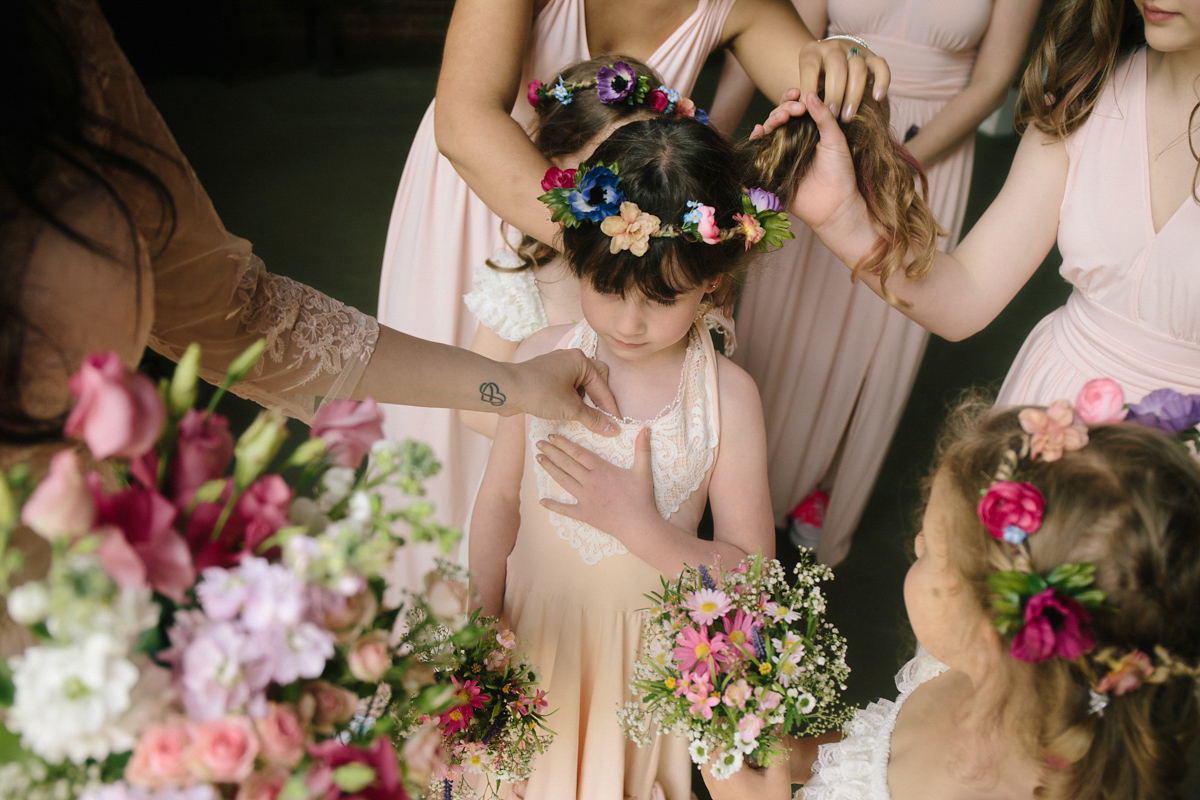 Fran chose a lovely track by Birdy to serenade her through the meadow as she approached her broadly-smiling husband, resplendent in his dicky bow and dark grey herringbone suit from Next. Now even the best-laid plans sometimes to go awry, but as we've learned from so many of our wonderful brides, in the grand scheme of the day it. just. doesn't. matter.
"I had chosen 'Wings' by Birdy to walk through the meadow to, however just before we arrived the amp broke so it was very muted."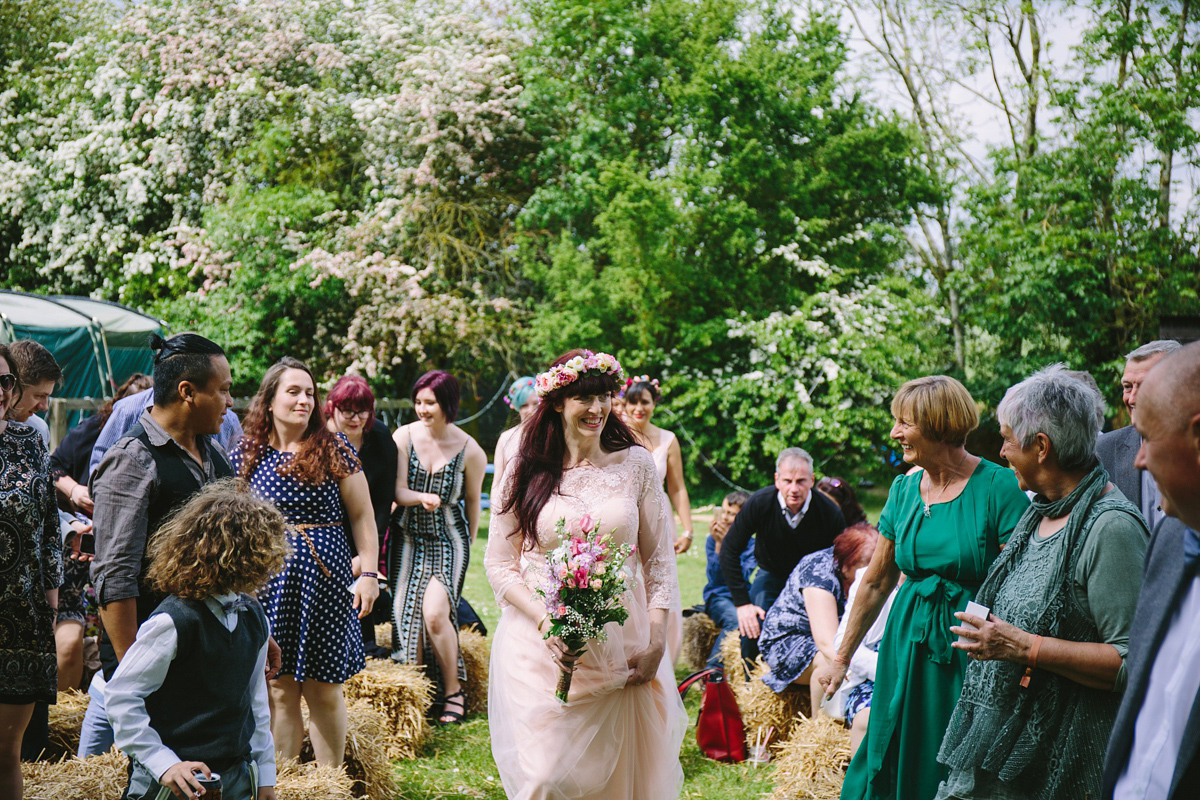 Now I promised you adorable flower girls and wasn't I right? Fran's mini maids wore softly ethereal dresses in white and blush paired with their own tiny Converse and colourful delicate flower crowns. They look like little woodland nymphs frolicking amongst the hay bales in the sunshine.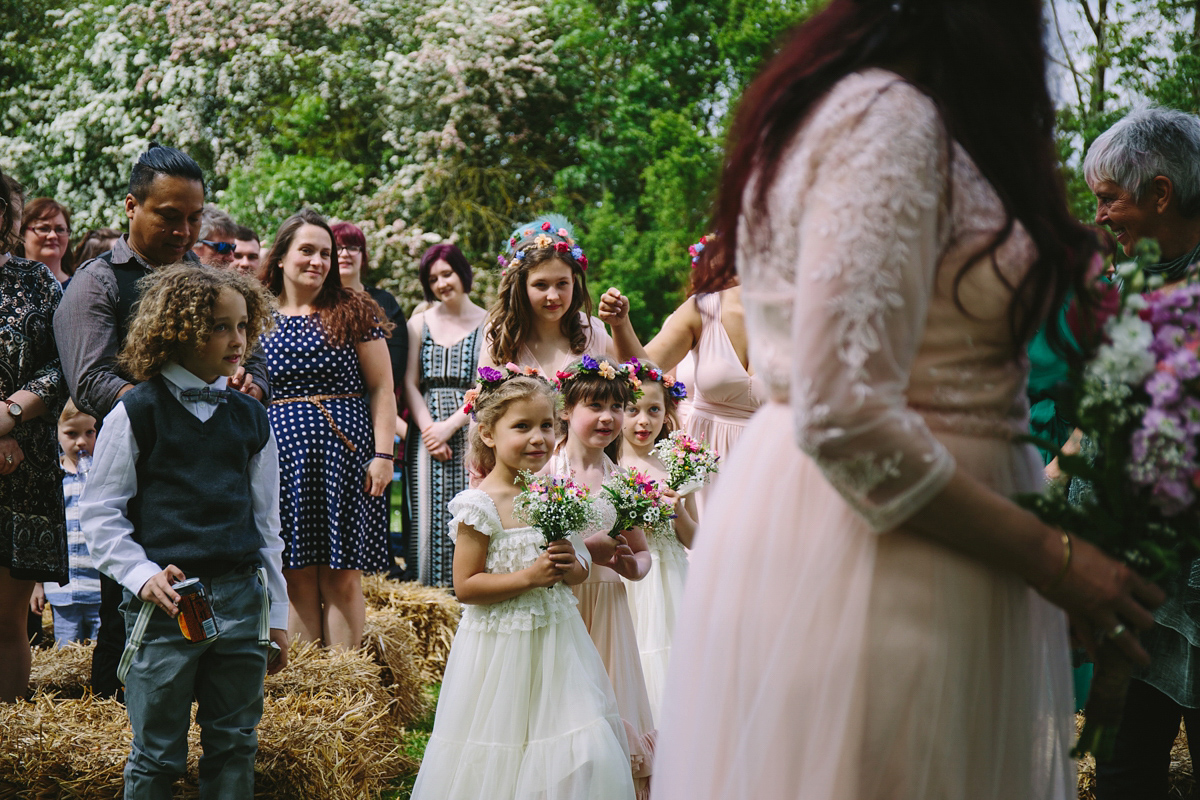 "The four older bridesmaids wore dresses bought from ASOS; I bought them before my dress and the colours just matched beautifully. My bridesmaids (also known as my posse) all chose their own Converse – I didn't mind what colour they picked. Two of our flower girls wore cream dresses from Zulily and my youngest daughter wore a dress the same colour as mine. I bought it online from Australia and she loved it as it was super twirly! I made all the flower crowns for my posse."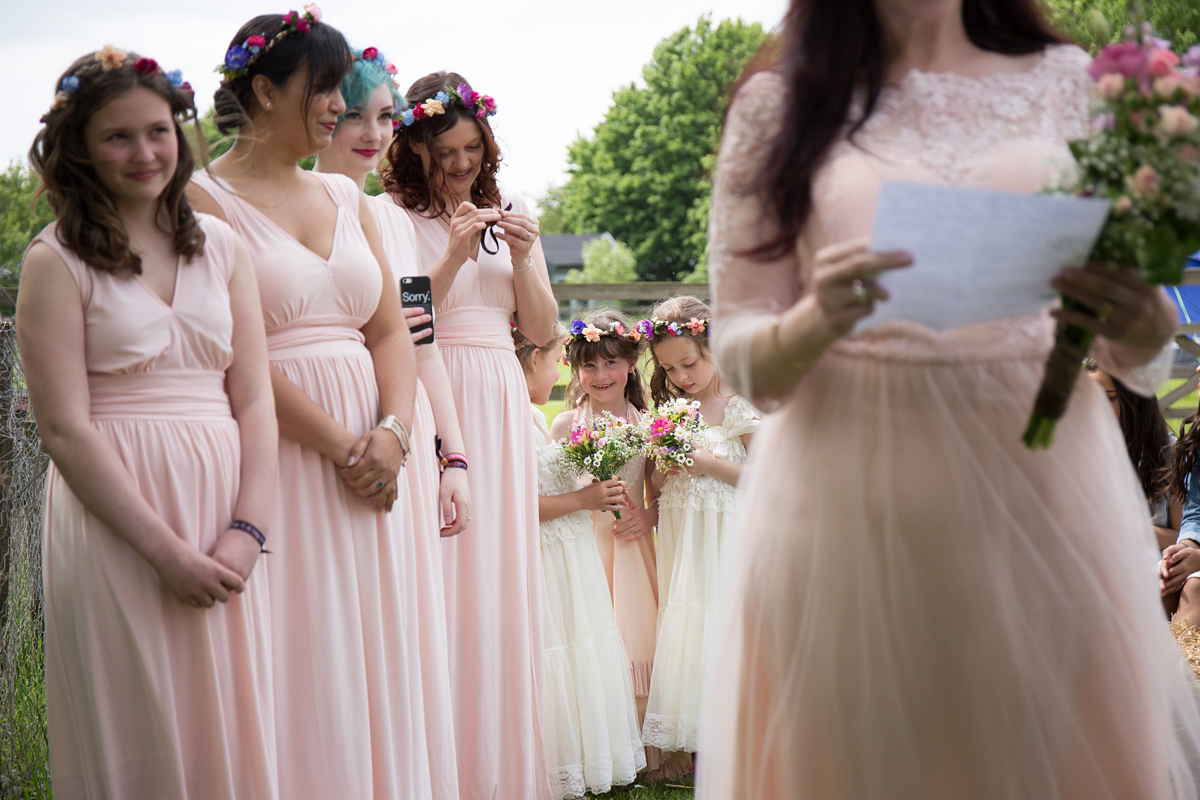 With such a sweet bridal party, it's completely unsurprising that the couple's photographer has captured so many beautifully fleeting moments of childhood; sure to be photographs and memories that Fran and Gordon will cherish forever. Joshua Patrick has also captured some divine shots of the re-newlyweds in a sunny-yellow field of blooms.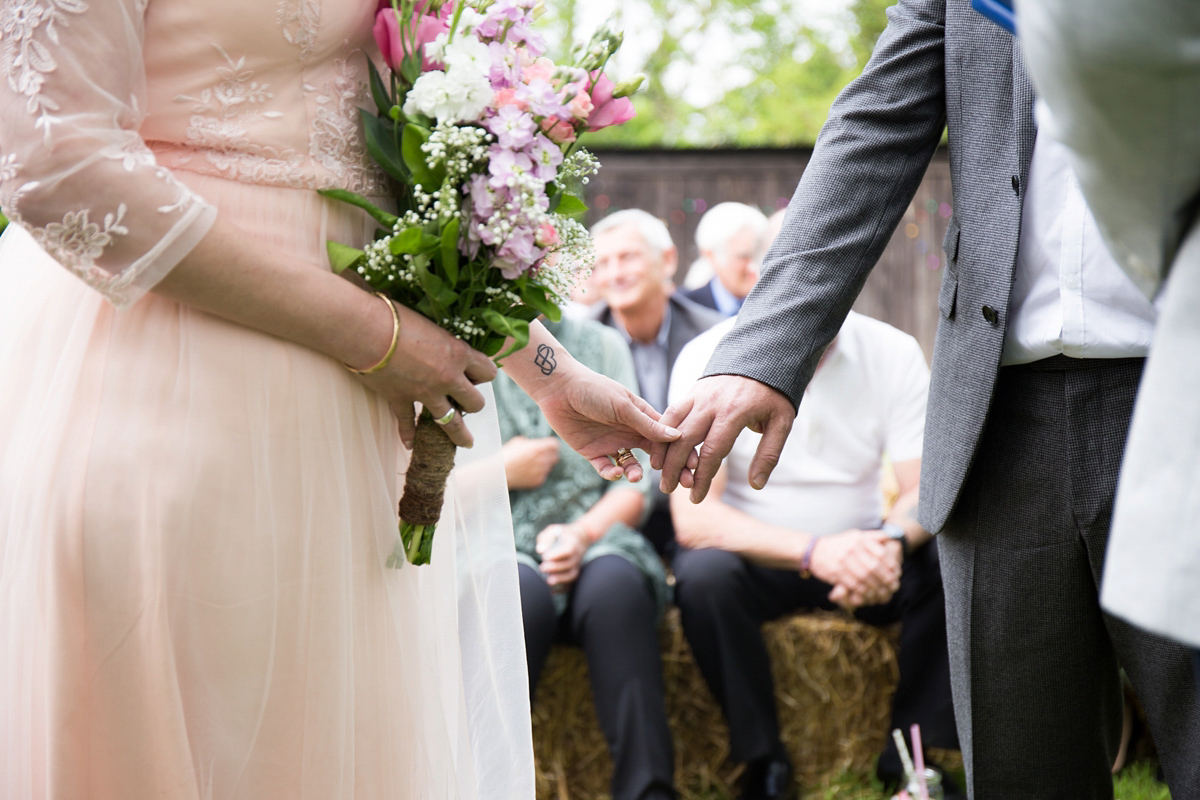 "We chose Josh from Joshua Patrick Photography, for our day – he had been recommended to us so I checked him out online. We really liked what we saw on his website so we arranged to meet for a coffee; we knew there and then that we wanted to book him. On the day Josh went to the venue to get all the little detail shots before coming to take some shots of myself and my girls getting ready.
I'm not one for being in front of the camera but he really put me at ease – I think the photos he's taken really show how relaxed and easy-going our day was."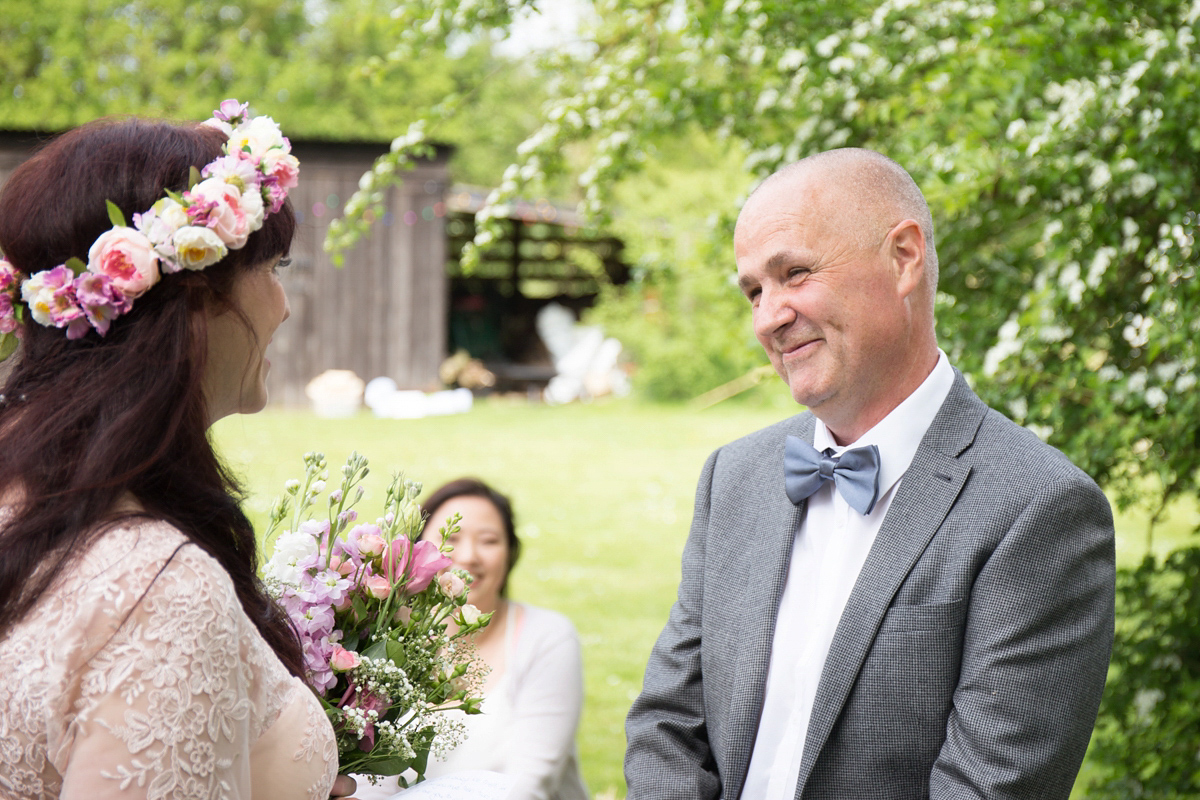 "Not only do we have lovely candid shots, but really beautiful and intimate couple shots too. Josh strives to get the best shots; he puts himself out there to make sure each image is perfect and  unique. We got a few stinging nettles injuries along the way but they were so worth it."
"All our guests have since told us how at ease they felt with Josh and how lovely it was to not have a 'stuffy photographer.' The intimate photos he took have made other people feel emotional, not just us."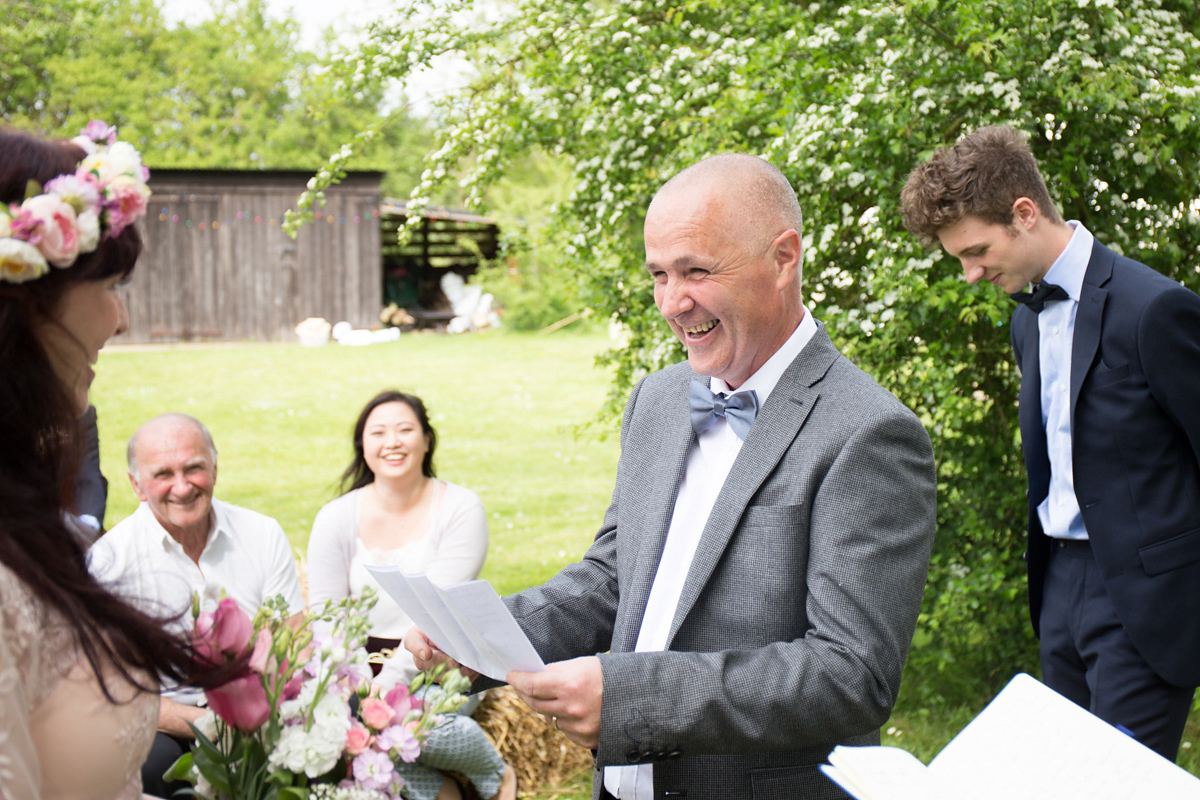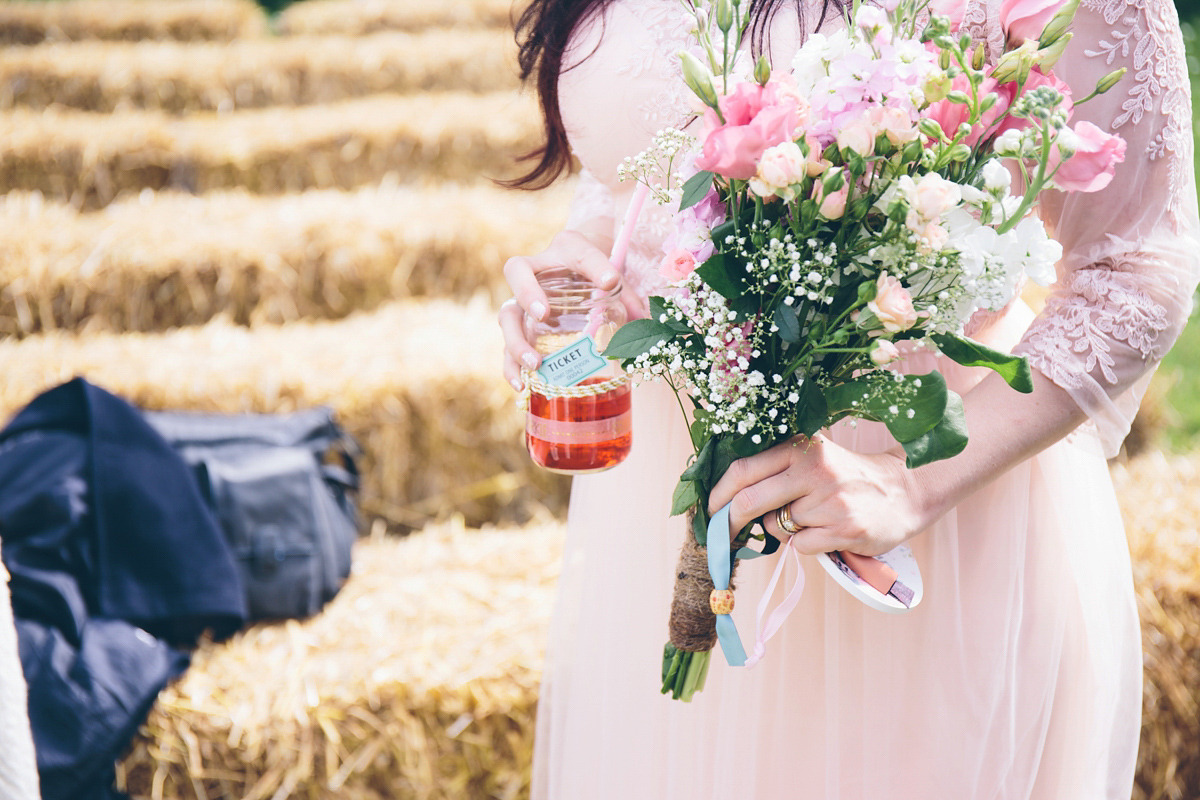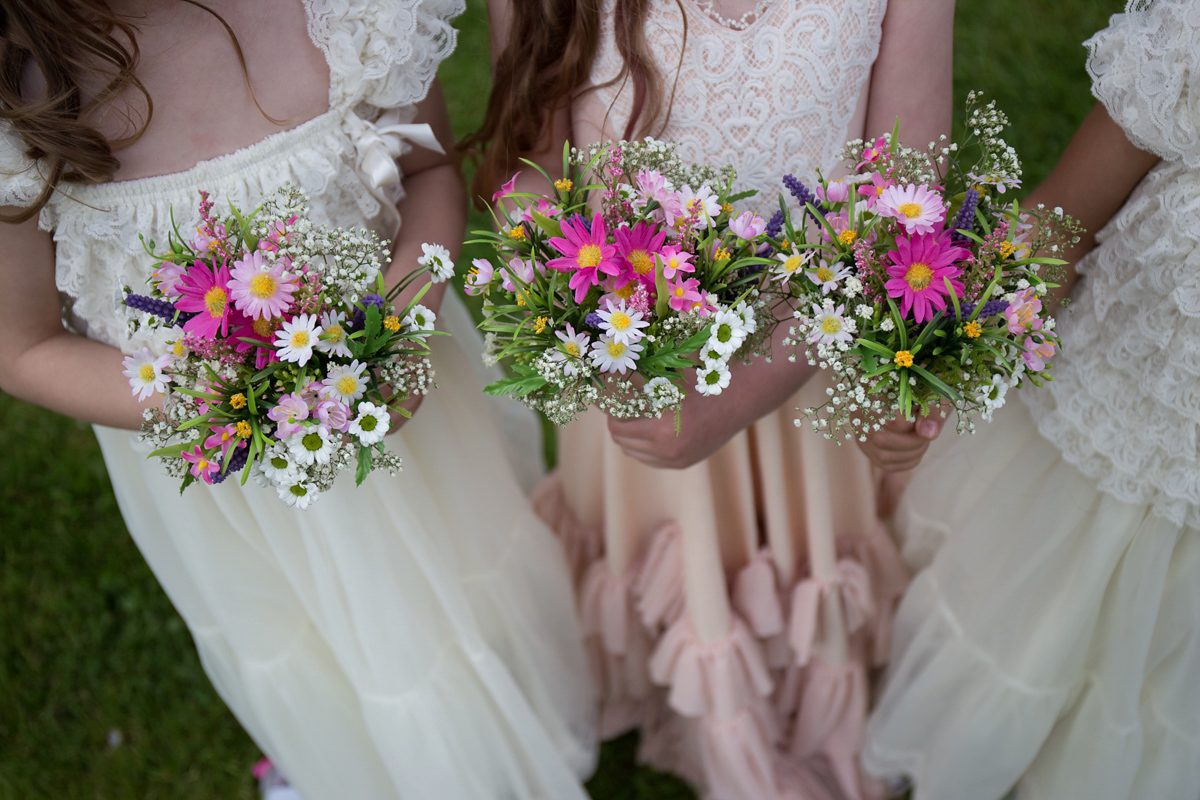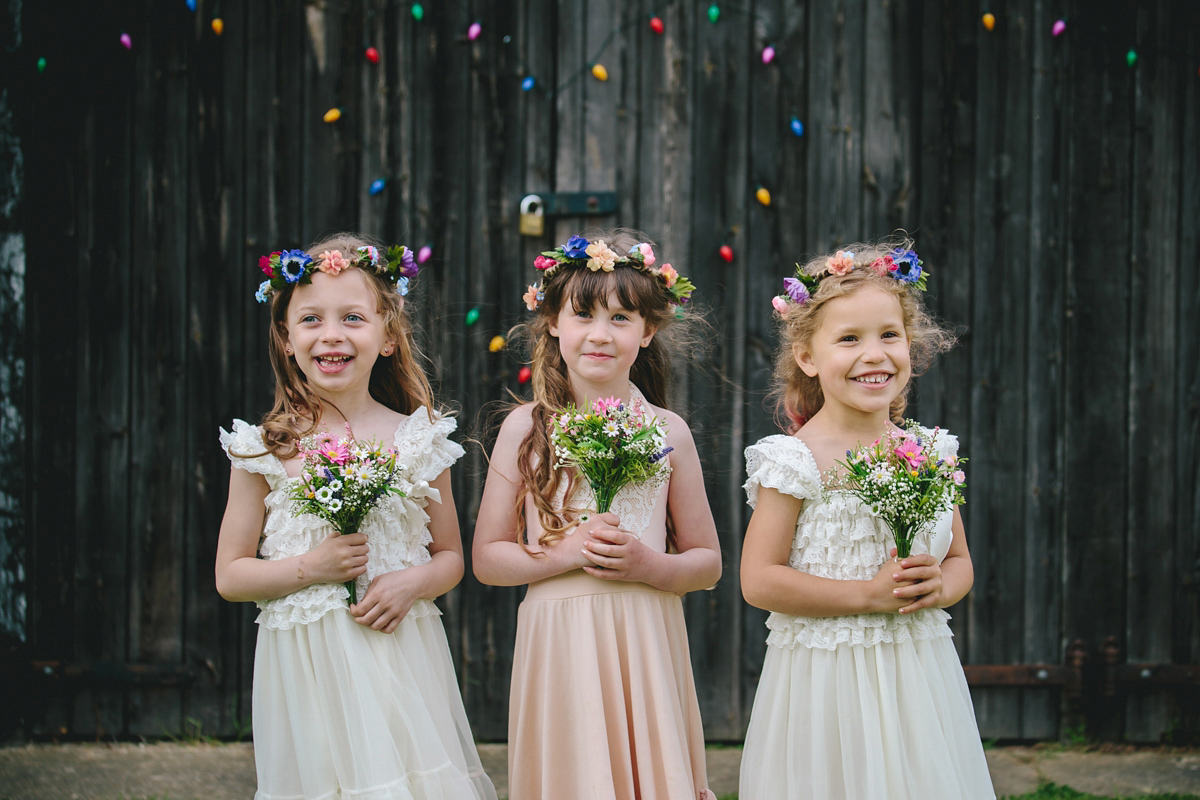 To keep their guests entertained, Fran and Gordon supplied a photo booth and an array of props – I'm positive a plethora of hilarious images ensued! Reminiscent of a kitsch village fete, the youngsters frolicked around a maypole and were kept very busy with fun lawn games.
"We had Candy, our tug along photo booth for the day and evening; our guests loved putting on silly wigs and glasses and we made sure the strip prints were duplicated so they could stick a copy into a message book – great fun to look back on."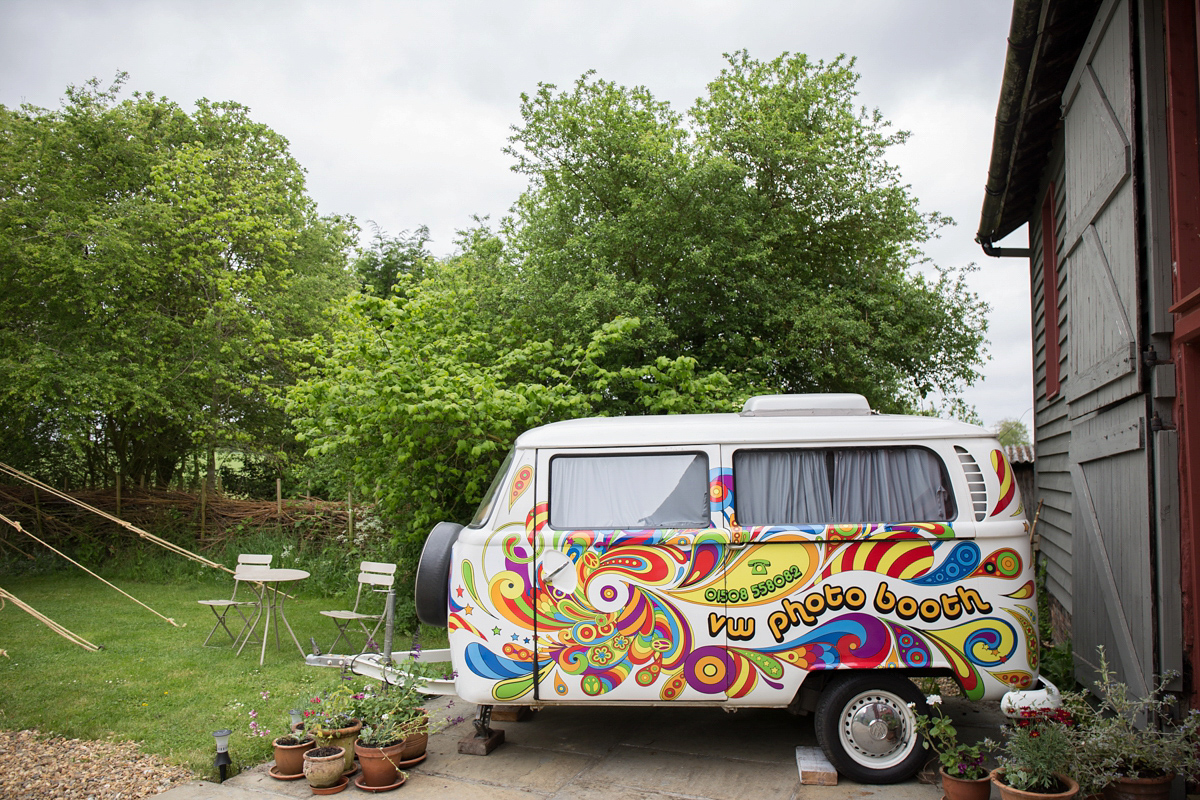 "We also provided lawn games and a maypole which I made for the youngsters to dance around (though there is a photo of us adults enjoying it too)."
"The tug of war was a huge hit – especially when we found out that one of our guests had once been a tug of war champion. For the evening we had The Floating Greyhounds band."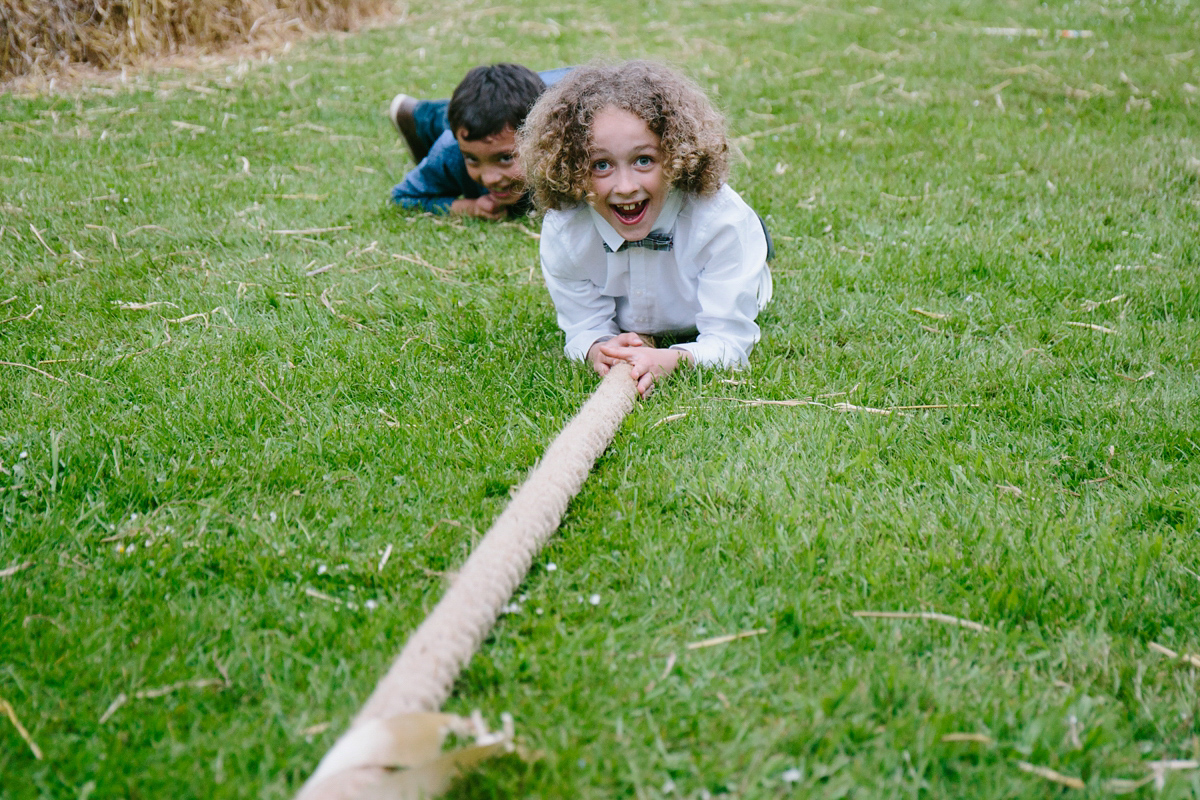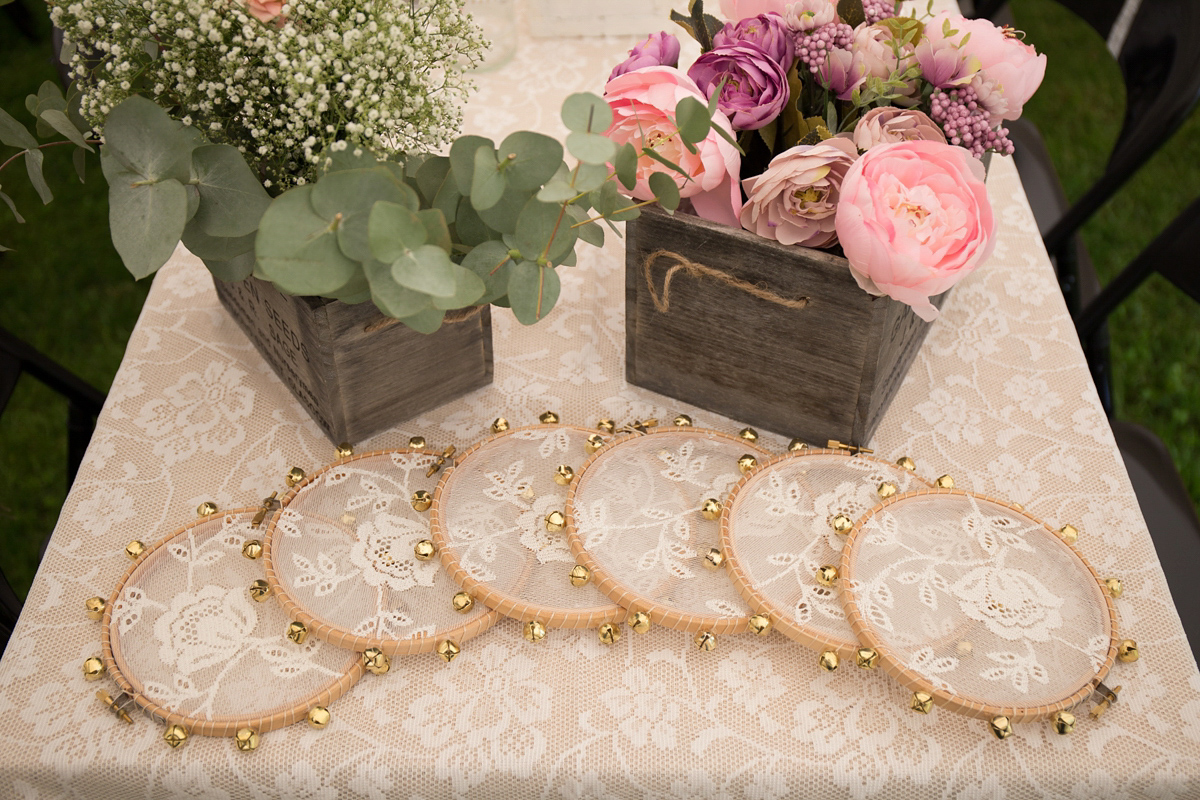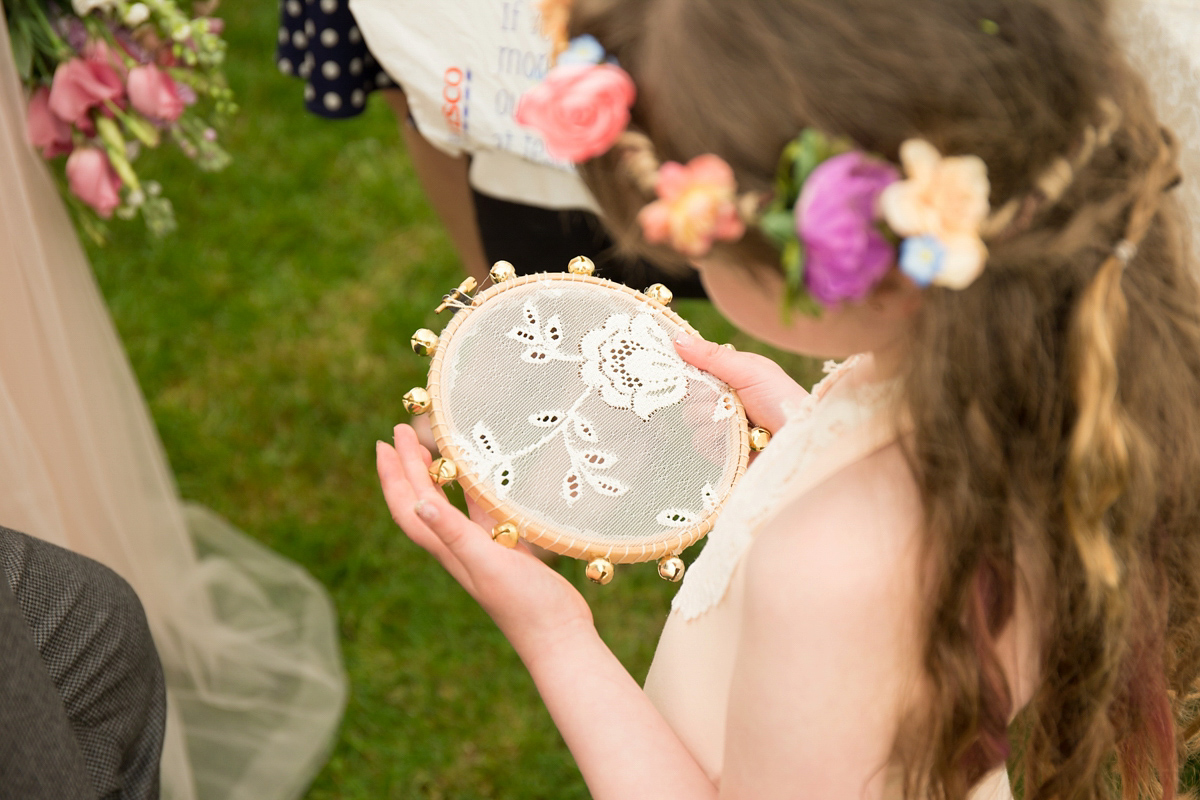 Crafty Fran created a beautiful array of lovingly handmade decorations to bedeck their pretty marquee – you can just sense the amount of love and care that went in to making every single gorgeous item.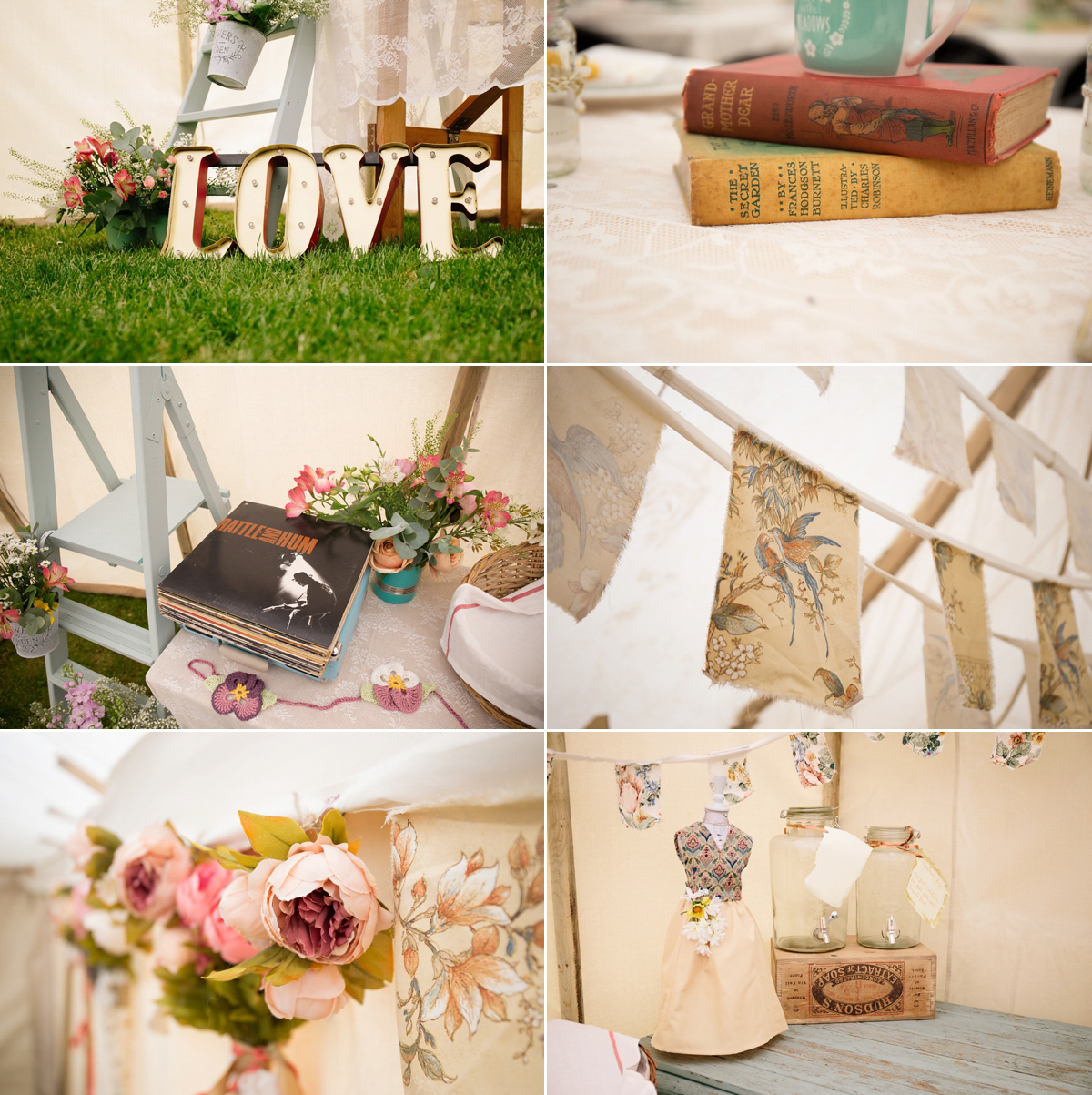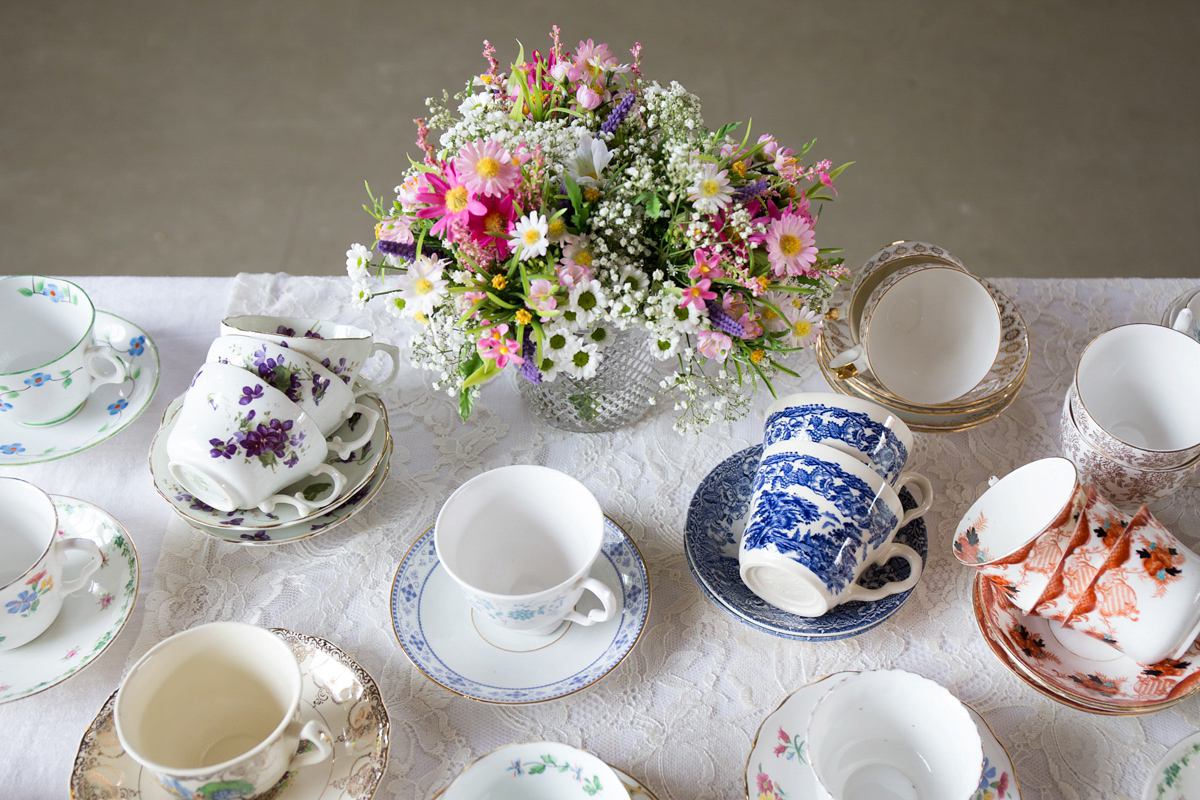 "As we wanted a boho feel I made tonnes of bunting and matching flags and I also made little tambourines using wooden hoops, lace and bells. Gordon made me some boxes and I painted them and cut Disney quotes out of vinyl.
I bought vintage books to put on the tables with a mixture of vases and tins for flowers – it's amazing how lovely flowers can look in biscuit tins and kilner jars! We used jam jars for cocktails, which were jazzed up with washi tape, glitter string and pretty pink and gold straws topped with a party ring biscuit."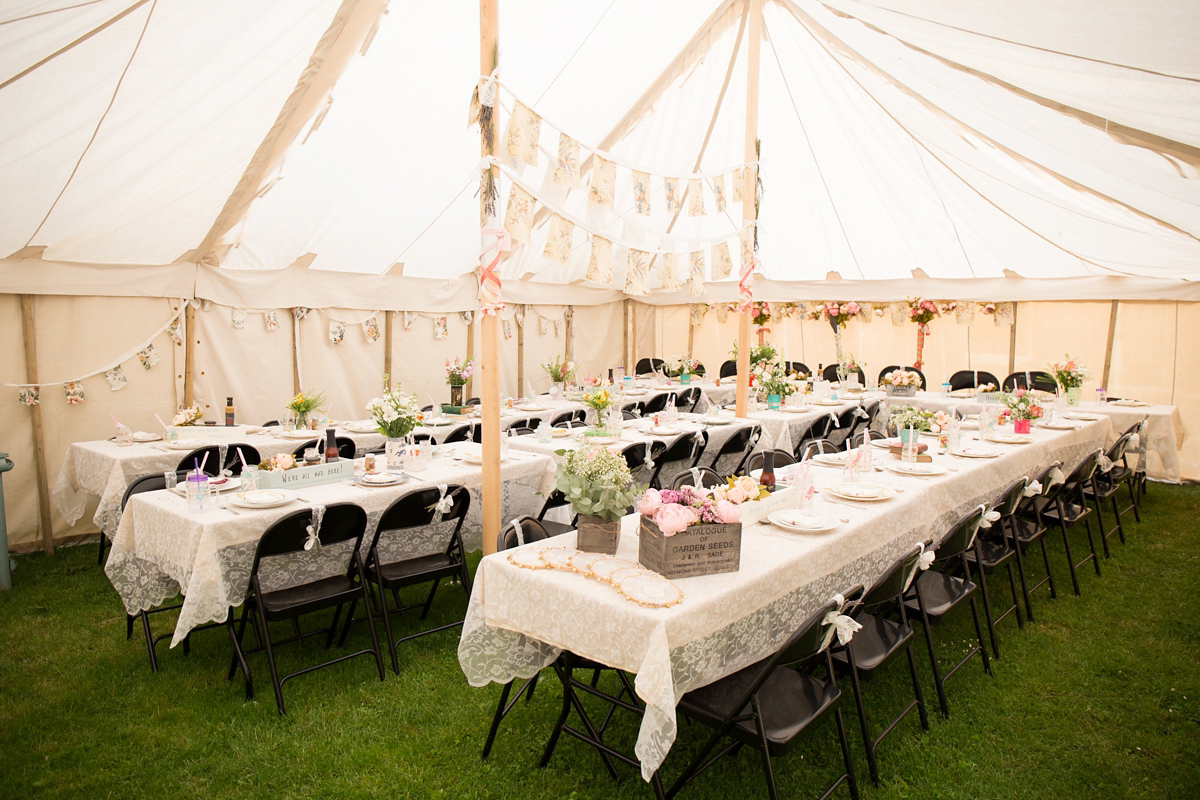 The tables were lined with linen and cotton and topped with lace. I made napkins and crocheted a pretty edge for the ladies, we used mismatched crockery and I dipped feathers into gold glitter to be placed on top of the napkins. I also crocheted pansies for the food table and we had a pretty painted ladder to hold vinyls for our retro turntable – everybody enjoyed looking through the vinyls and choosing a few to put on as we ate. My son also handed out custom made festival bands as a keepsake for everybody."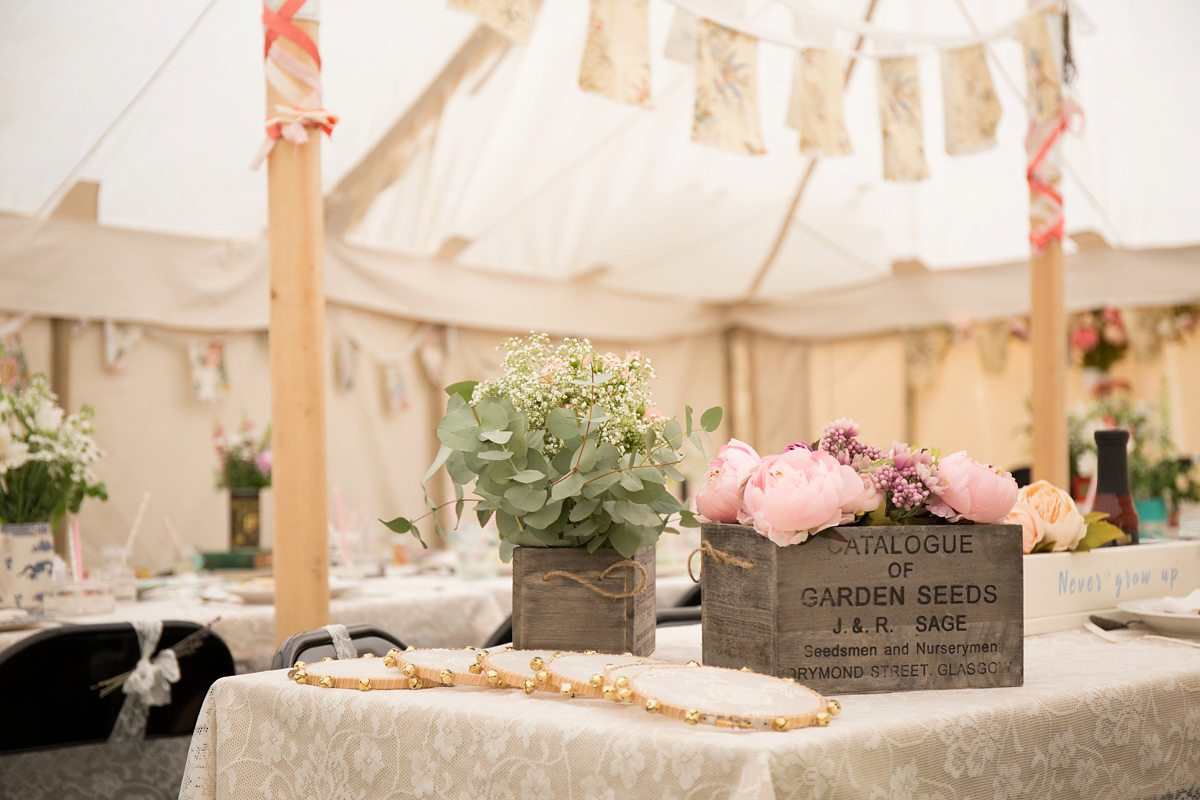 Fran and Gordon opted for a mixture of artificial and fresh blooms, which they arranged themselves. The lovely couple also catered a delicious spread for all of their family and friends, including cream teas – yum!
"Although a lot of my flowers were artificial, I did bulk them out with fresh flowers from New Beginnings Florist in Suffolk. After chatting to the ladies there about how I wanted our marquee to feel, they recommended certain flowers. They were delivered to our venue first thing on the Friday morning for us to arrange. We got a lot of flowers for our money and they were all beautifully fresh and exactly what I wanted."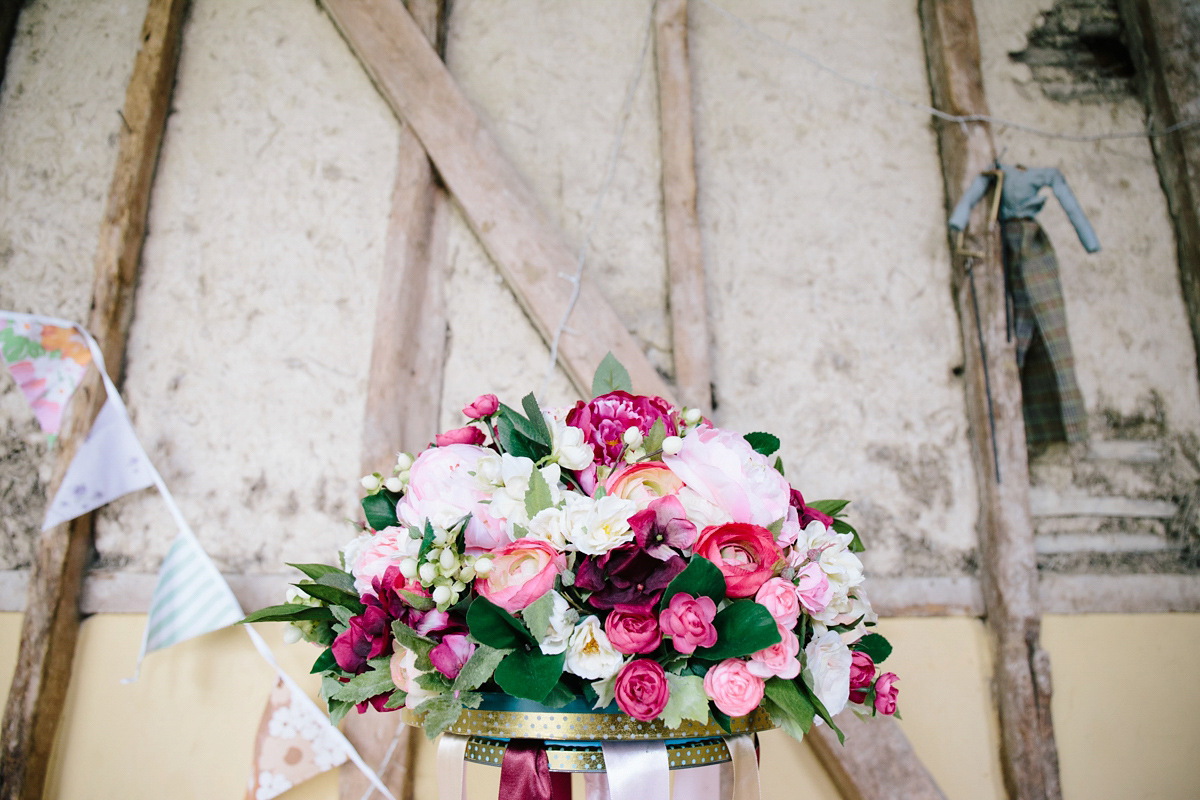 Cake lovers, brace yourselves – this is one seriously amazing wedding cake. I know my fellow writer Emily B for one will squeal with excitement over this Up-inspired creation.
"Our cake was made by the amazing Tori from And Eat It. She is a very good friend of mine who just so happens to make stunning cakes. I gave her a challenge of an 'Up cake' – the house from the Disney movie ( I am a bit of a Disney geek). She rose to the challenge and produced a fantastic cake with balloons floating from the chimney."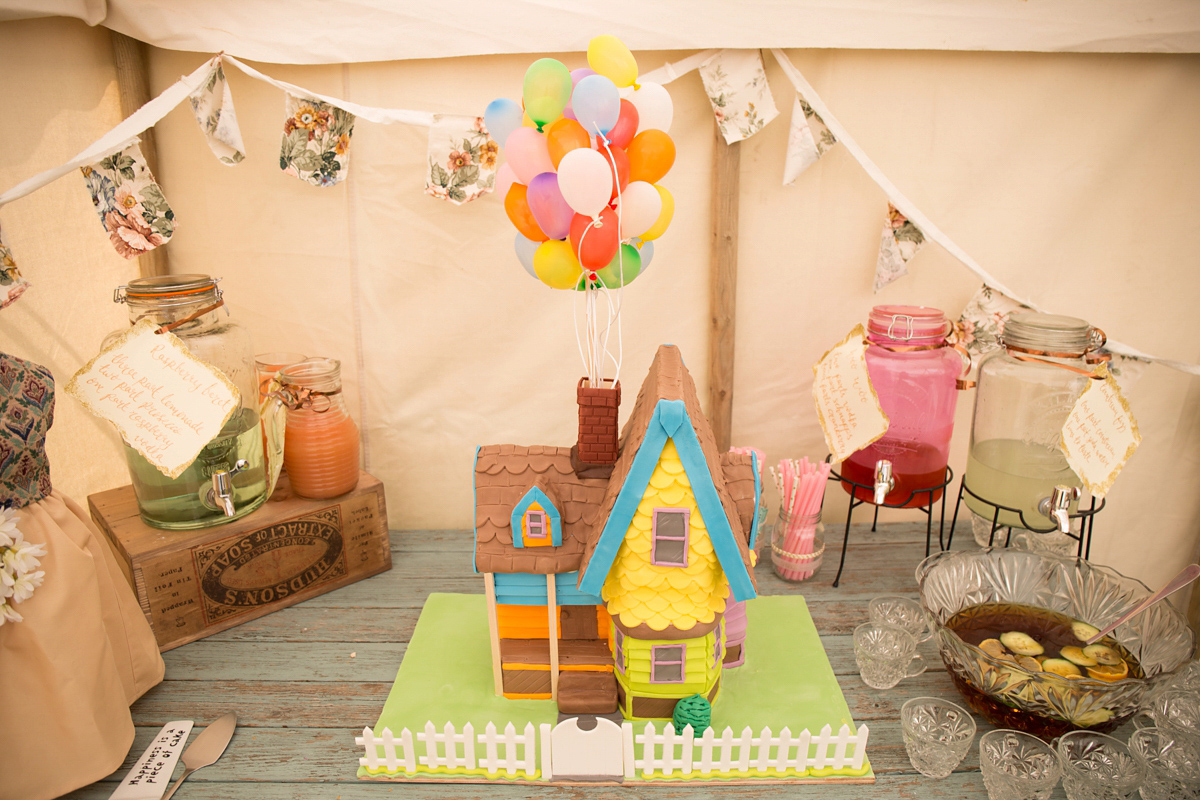 "Gordon and I catered for our family and friends; we had a traditional buffet type affair where everybody could help themselves and we also had home-made cream teas. The catering was easy to do – even though we had an egg intolerant, a gluten-free guest and a vegan to cater for! I painted little crates with their names on so food didn't get muddled and they were much appreciated."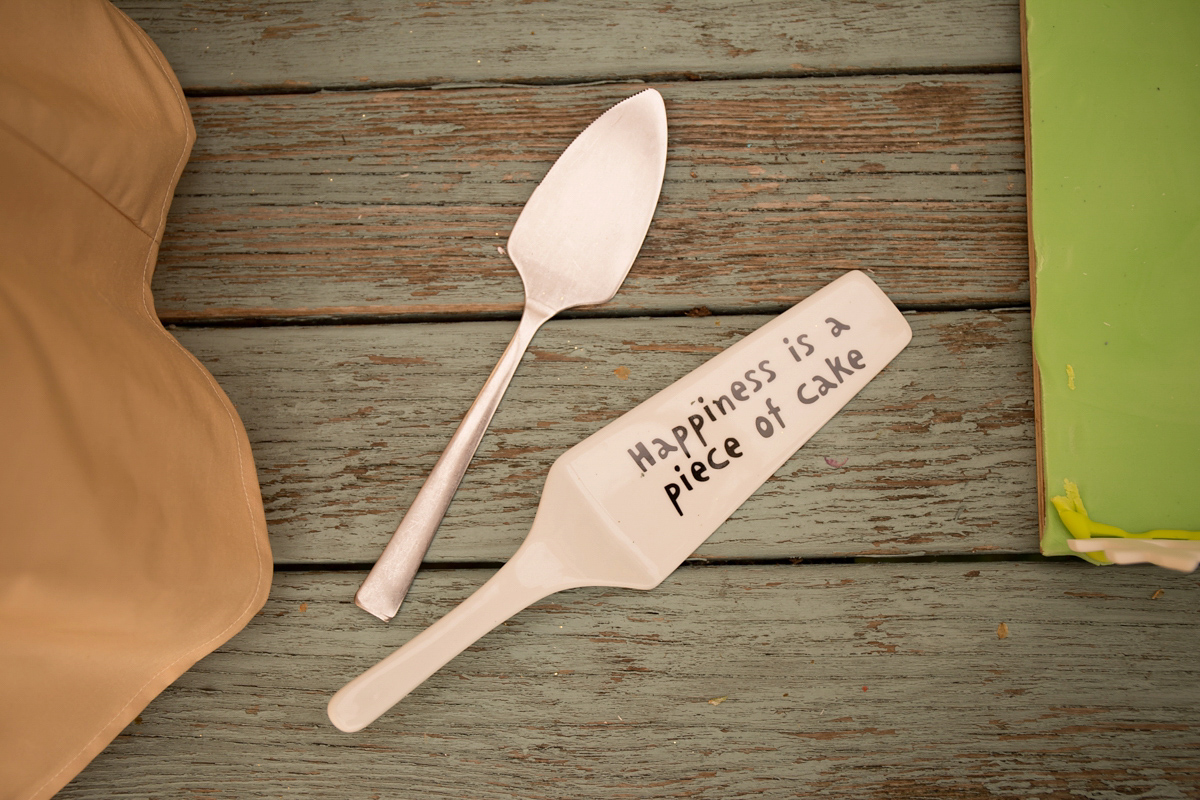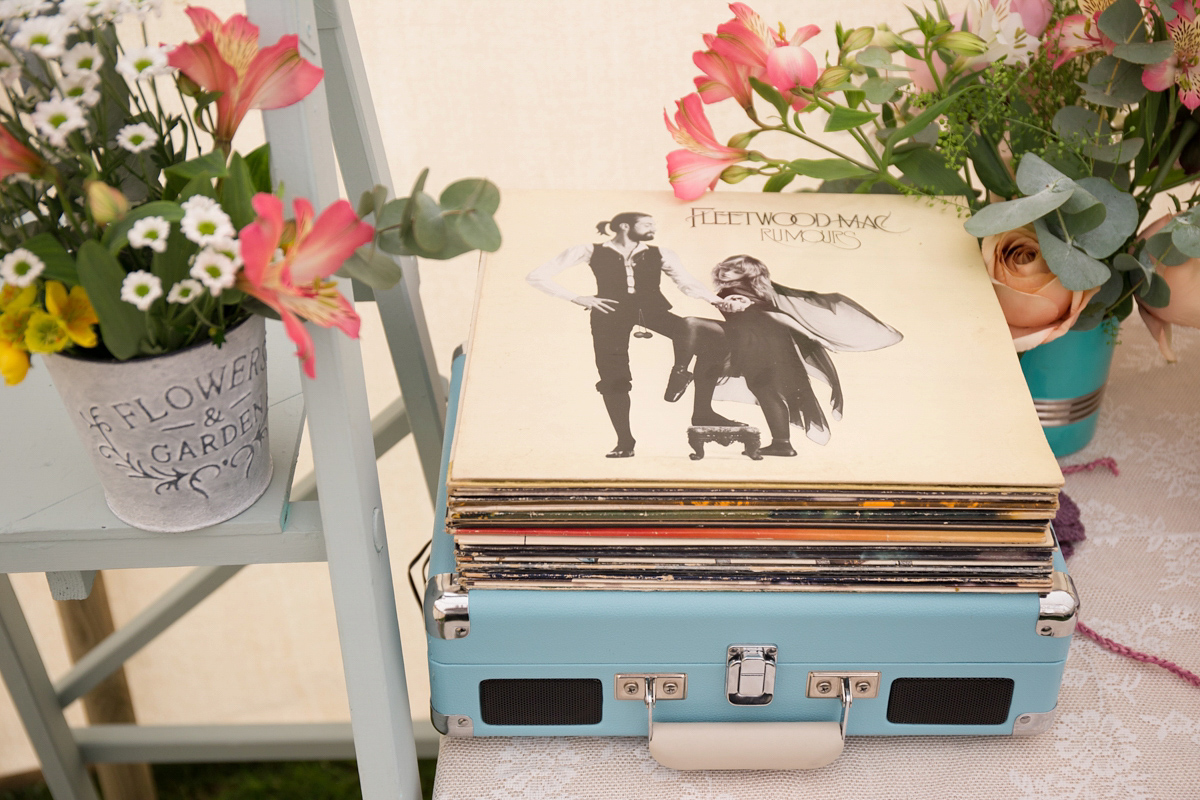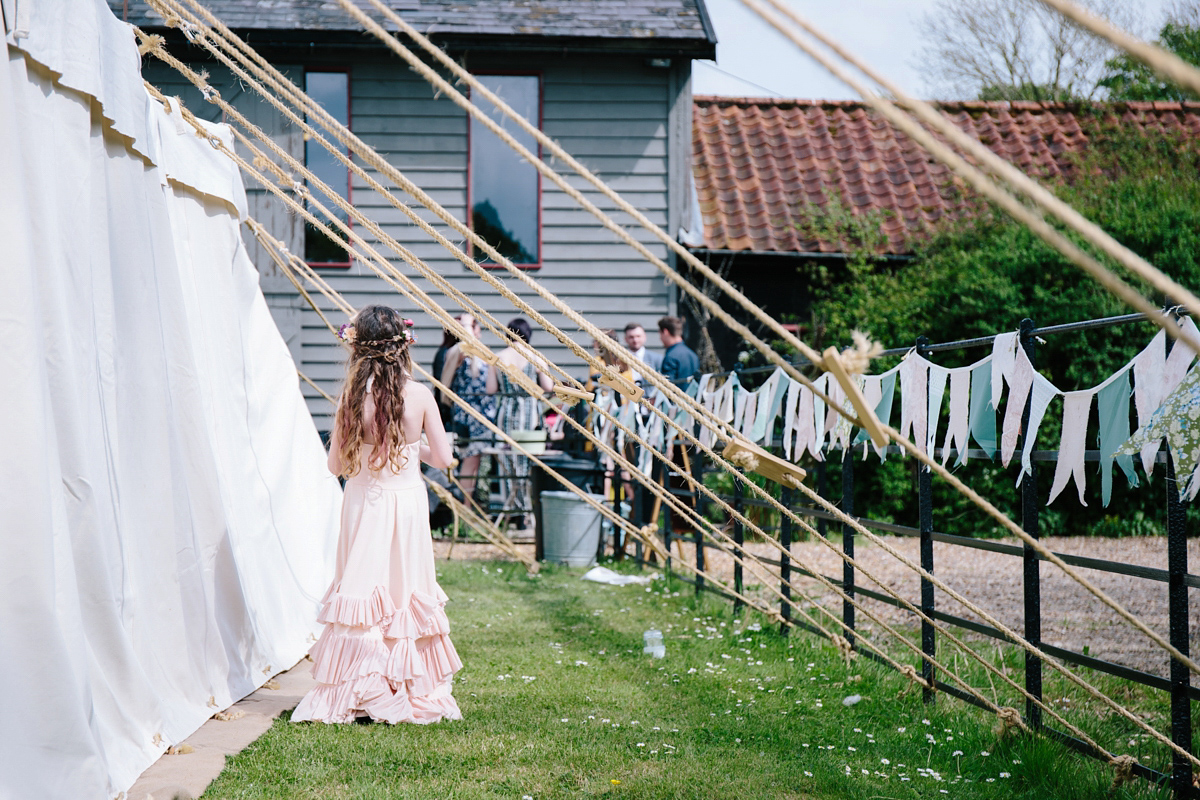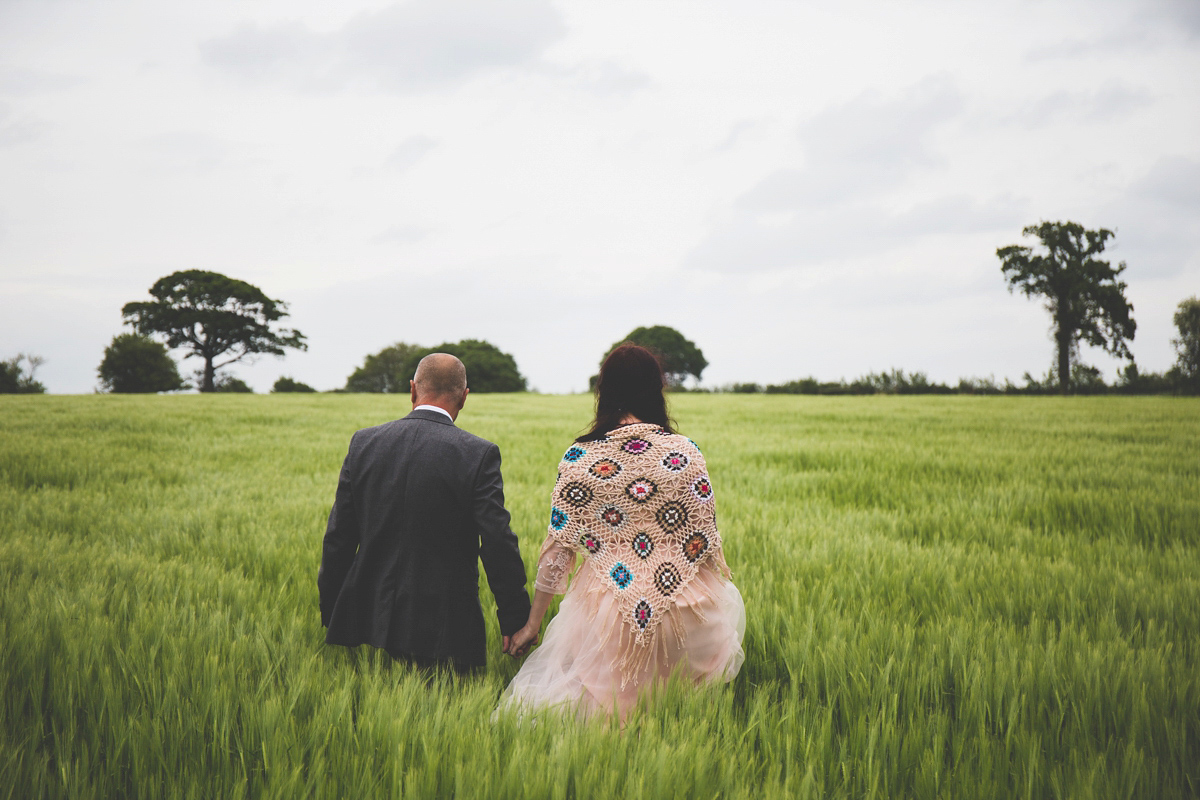 "Our day was so relaxed and we enjoyed every minute of it; we wouldn't change a thing. My friends and family helped set up the venue the day before and they did a beautiful job helping to arrange flowers and set tables. We didn't really plan too much and I think that's why the day felt so relaxed."
"We didn't have a strict timetable and although we'd put an awful lot into the day, we didn't feel stressed about anything – we just went along with everything and it all slotted into place beautifully."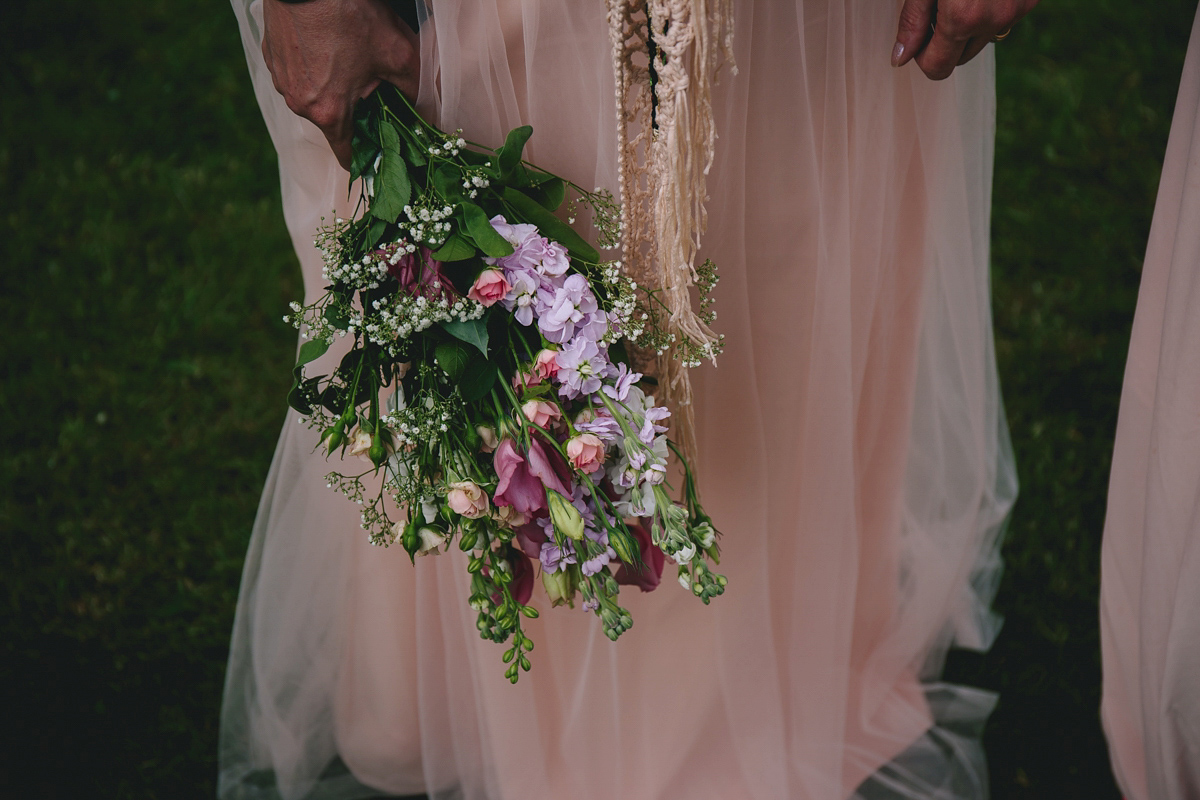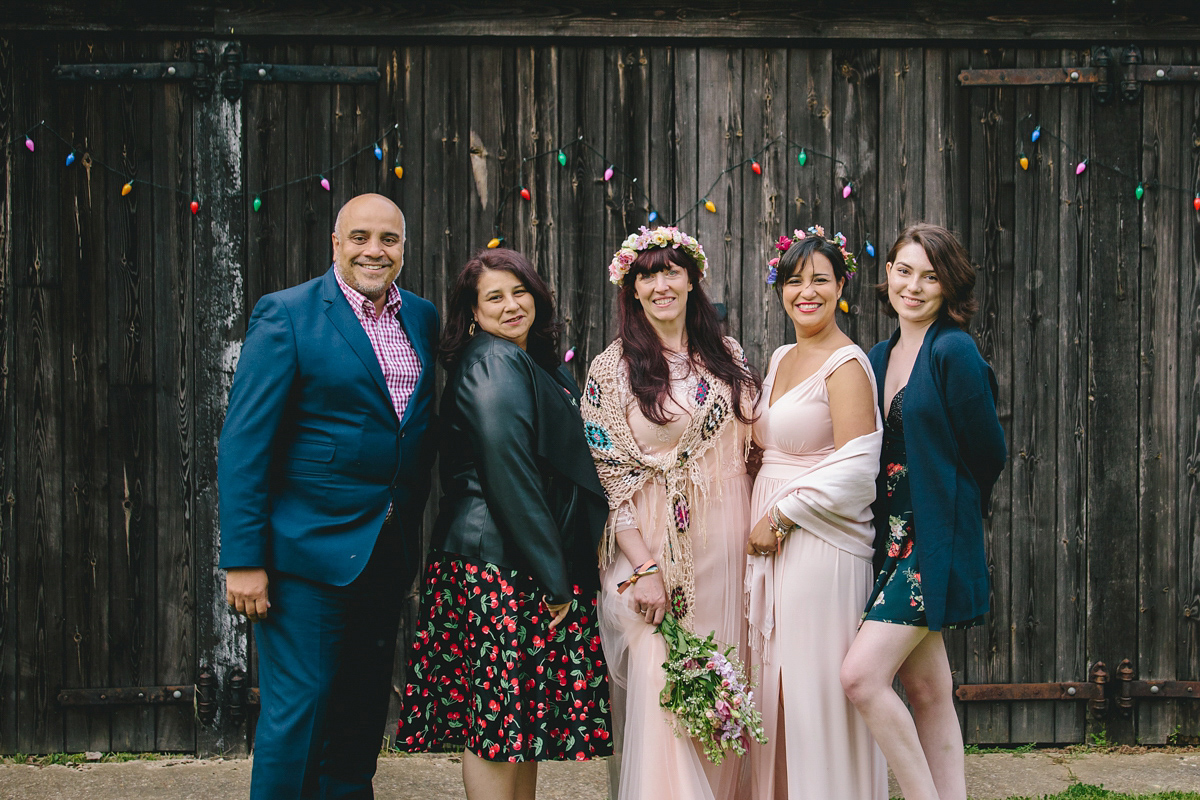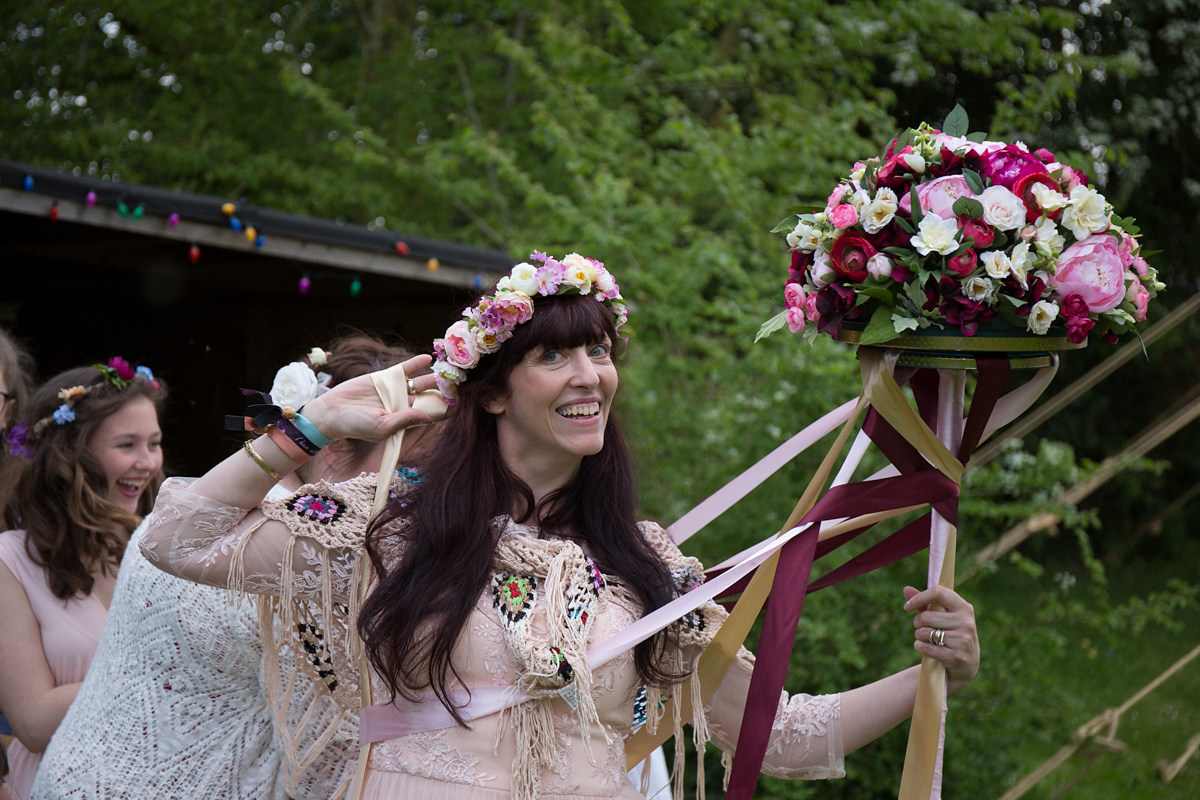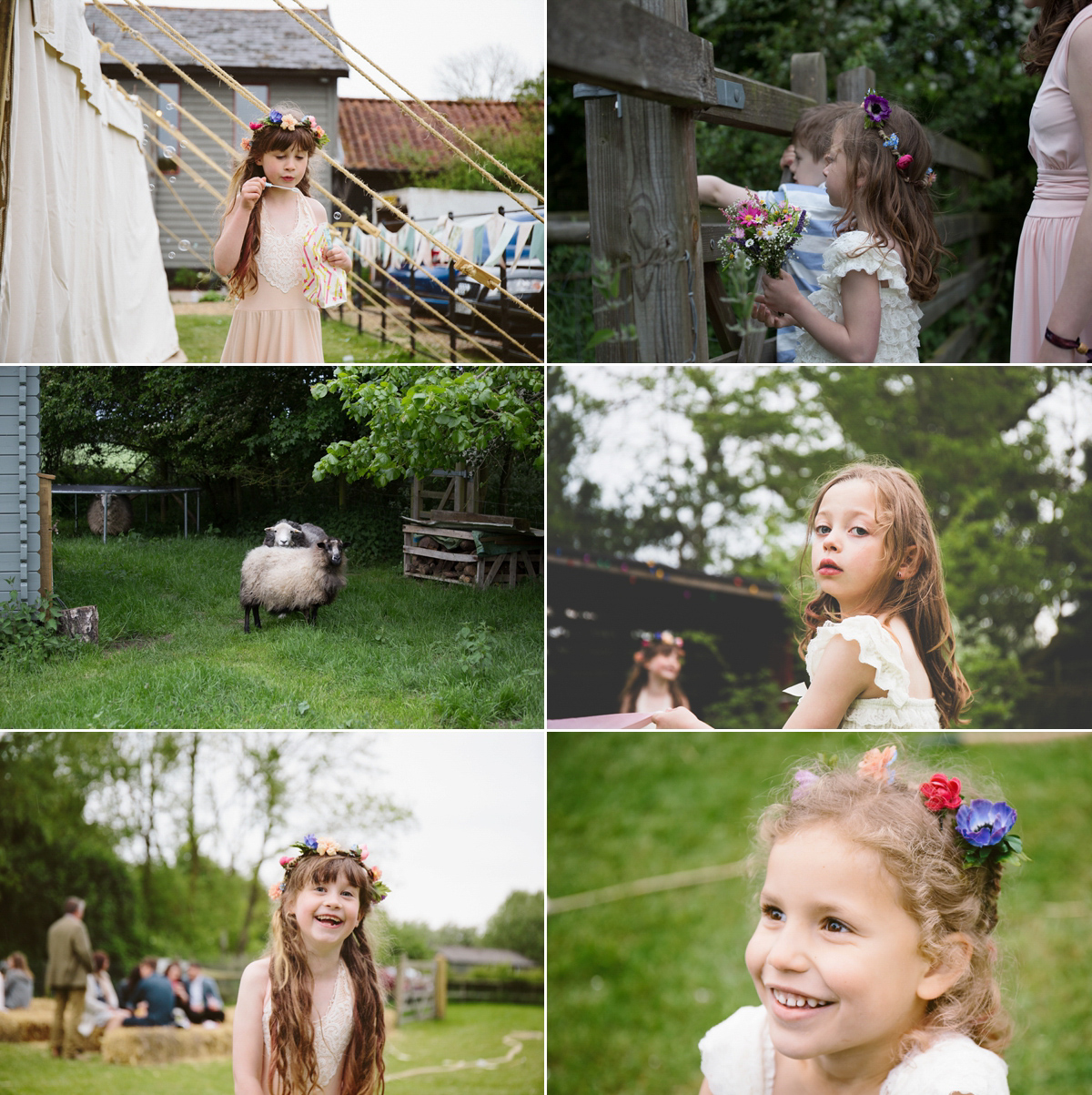 Words of Wedded Wisdom
"My main advice would be to go with the flow – it's all too easy to get caught up in wanting the perfect day, but you can only prepare so much. The actual day of our vow renewal was a relief; it meant whatever I had forgotten couldn't have been that important and it was too late to do anything about it.
Try to take time out on the morning of your wedding for yourself, know that you've done all you could do and that the day will be perfect. The actual day goes so quickly so try to step back a little to admire all your hard work.
And above all, book a good photographer as he or she will capture so many bits that you may forget. Make sure you meet up with them and are relaxed around them or you won't get the stunning intimate shots you'll cherish."
My hugest and most heartfelt thanks to Fran and Gordon for sharing their gorgeously bohemian celebrations with us, and of course to Joshua Patrick Photography for these beautiful love-filled images.
I fully recommend you take a look at this chic vow renewal from our wonderful archives – I'm not even married yet and I'm already wondering if I can convince my nearly-husband to say yes to vow renewal of our own. What do you think ladies, how long do we need to wait? A year is long enough surely? Answers on a postcard (or in our comments box below).
Love, Em x