Hello again you lovely people, how was your weekend? I hope you're sitting comfortably, for I'm whisking you away through our beautiful wedding blog this morning to our very own team member Emily B's neck of the woods. This one calls for a steaming brew and a thick slice of jam roly-poly (I'm rediscovering favourite cakes from my childhood and my gosh is it delicious). Emma and Bill, who own the restaurant The Rose Garden in Manchester, tied the knot on 9th August in a beautifully laid back celebration at Cornish Tipi Weddings' scenic site.
"We wanted to escape the city life and head to a remote, picturesque location. Having spent a lot of time in Cornwall, I fell in love with the countryside and the laid back approach to life. Choosing to celebrate our wedding in picturesque woodland in Cornwall inspired aspects of the styling. We wanted a relaxed day with little fuss and formality; the beautiful setting complemented a rustic theme."
Photography by Lucy Little Photography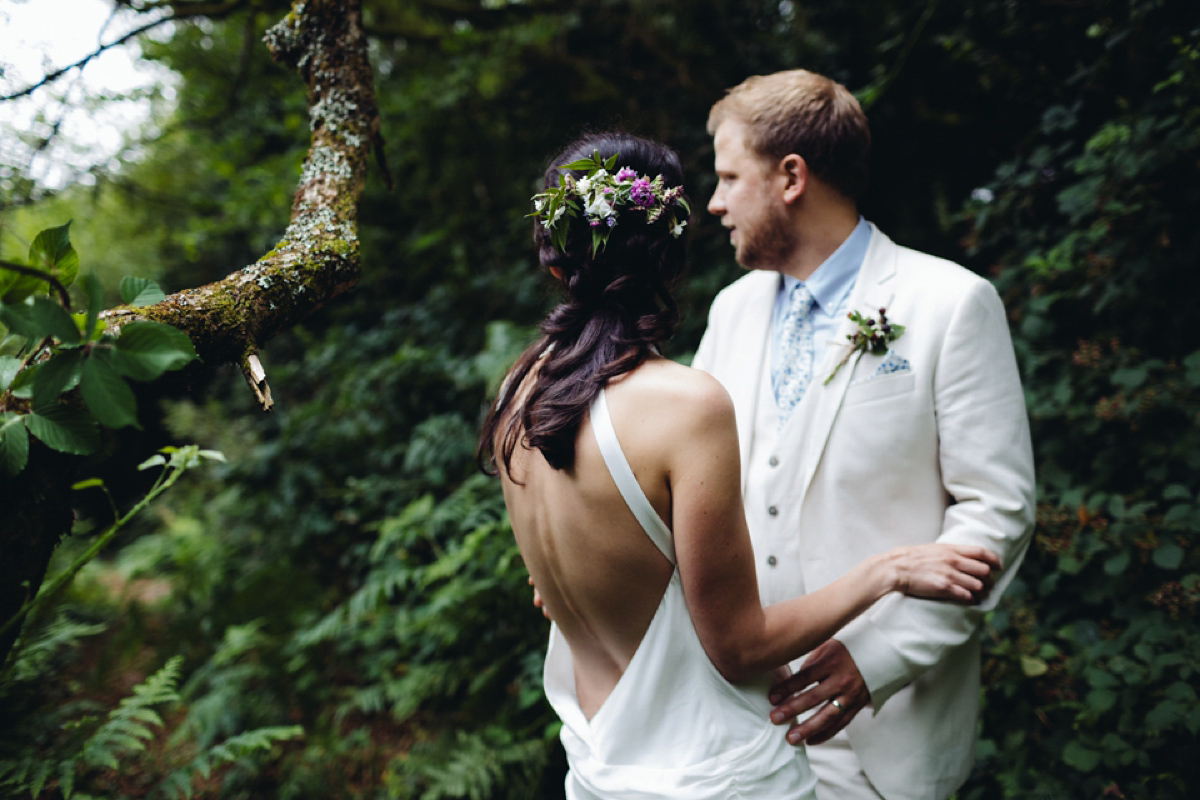 Apart from the spectacularly beautiful scenery, the first thing to jump out at me when I received this stunning set of images was Emma's jaw-dropping backless Charlie Brear gown, which she paired with a fabulous feather cape and shoes from Rachel Simpson; one of our Little Book for Brides darlings.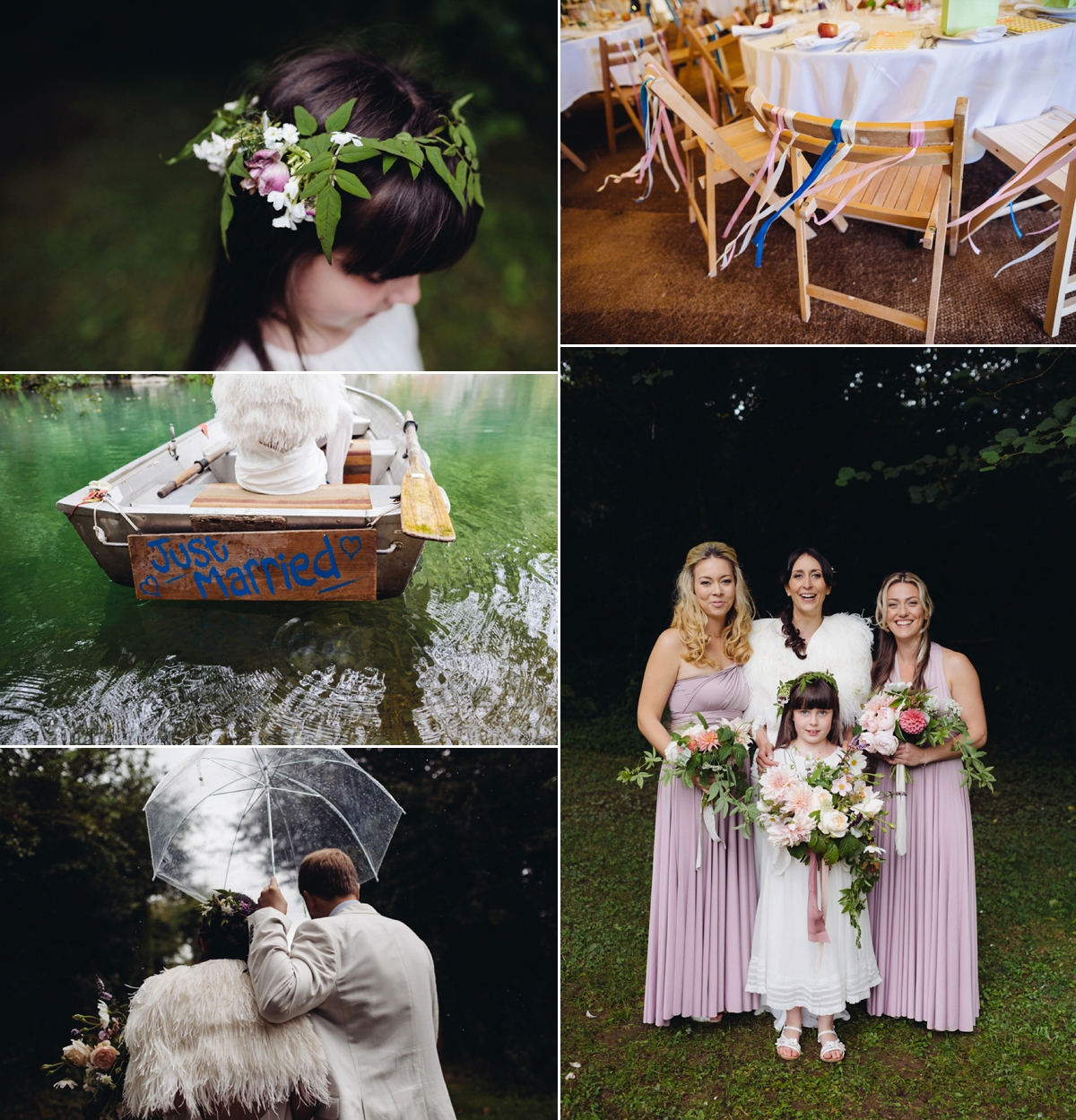 Later in the day Emma added an incredible tasseled skirt reminiscent of the iconic flapper era, which transformed her look and, if it's even possible, made me love her bridal ensemble even more.
"I bought my dress from The White Closet. I adored the vintage and unusual styles of Charlie Brear, I also loved the idea of creating my own look. For the ceremony I wore a very simple but elegant 1920's inspired dress, then for the evening I had a full length tassel skirt which I wore over the top."
"A beautiful feather cape finished my look. I didn't want to look like a conventional bride."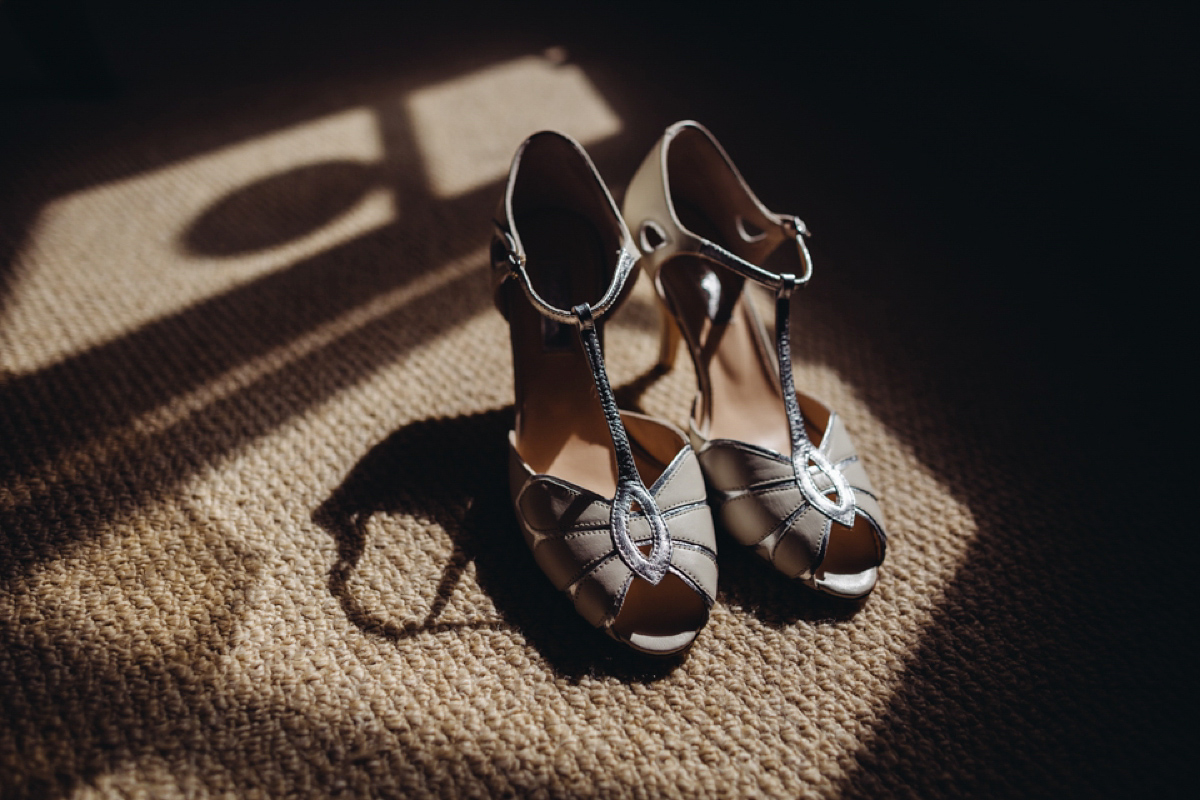 "My hair was done by Sarah Hooper at Capella and my make-up by Ella Butler. I had Marie Canning bracelets made for myself, my two bridesmaids and my flower girl.  I also wore a beautiful necklace, which I bought from the Manchester Craft Centre but I can't remember the designer."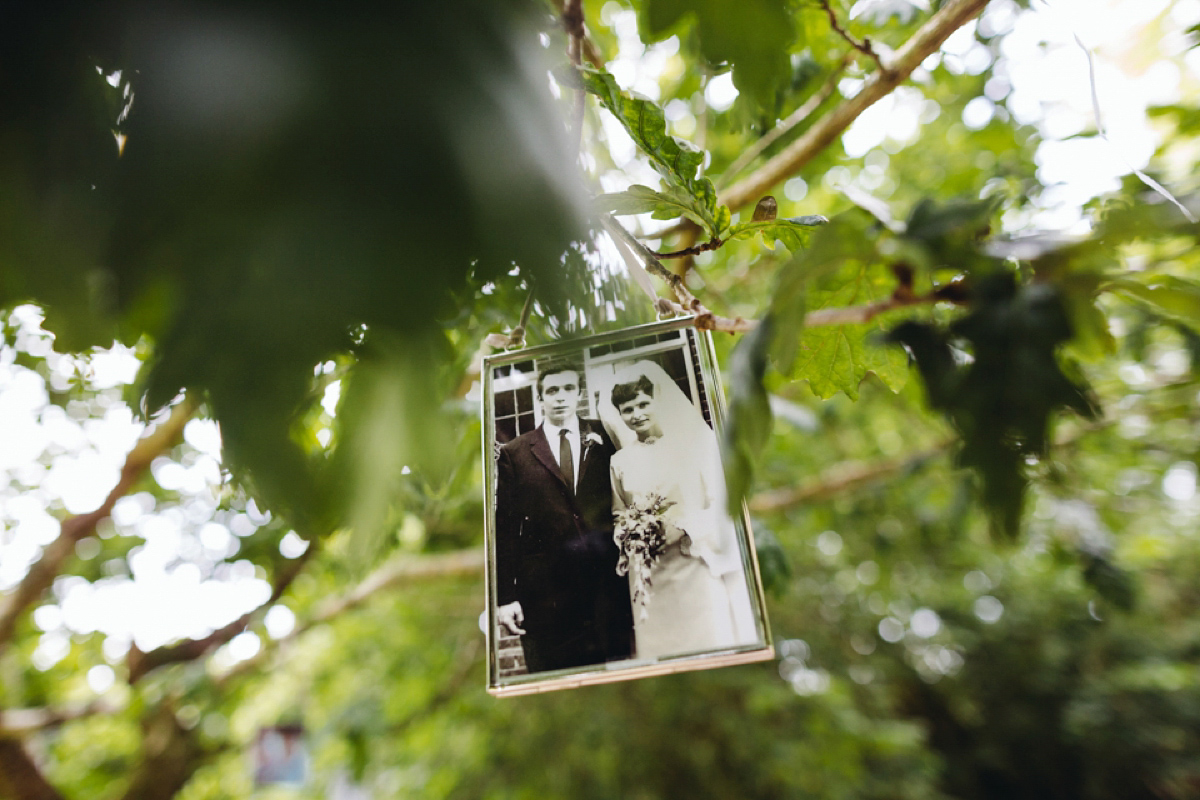 "I had a red VW camper van called Romeo that picked me up in the harbour of Port Isaac. My dad gave me away and I was meant to walk down the aisle to Roberta Flack's 'The First Time Ever I Saw Your Face' but I forgot my music! So instead Bill's best man Martin and good friend Dave who were entertaining the guests before I arrived, continued to play their guitars for me; I think this made it even more special."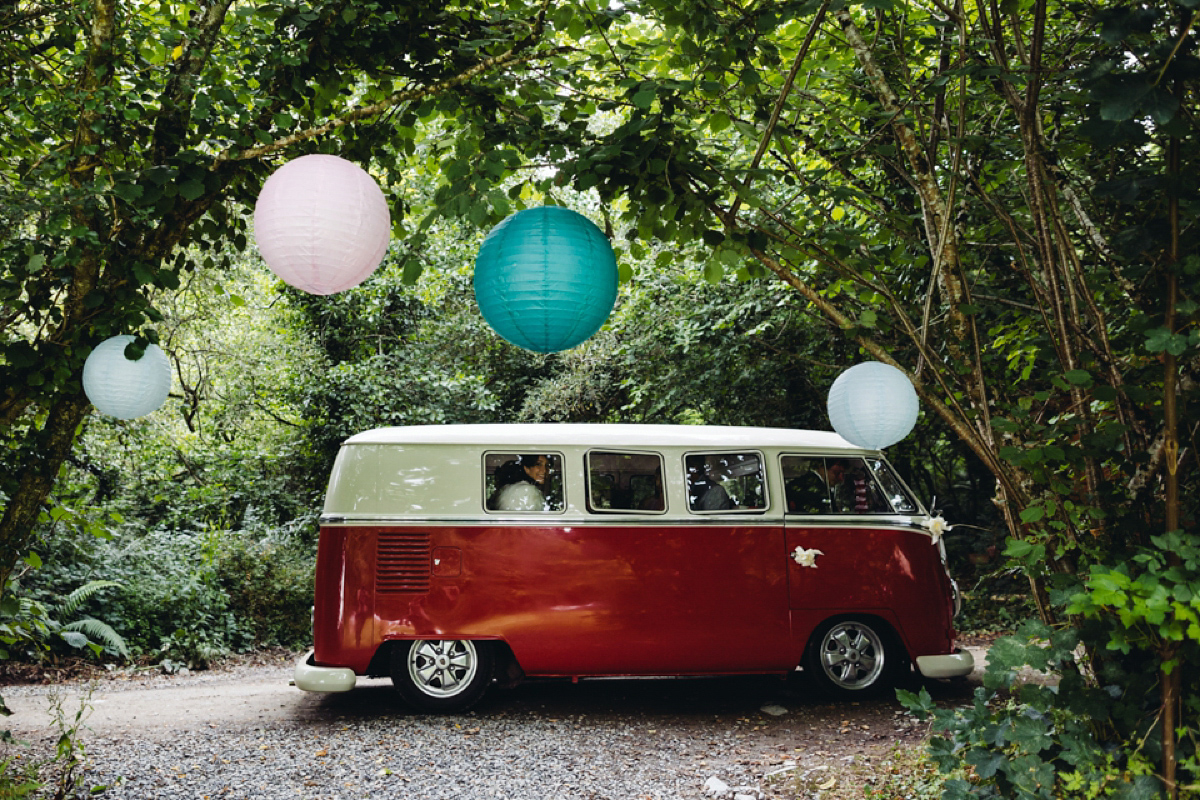 Lovely Emma wore delicate flowers in hair, as did her gorgeous girls. The beautiful wedding blooms look so fresh and pretty; I spy the most magnificent dahlias and an abundance of foliage and sugar sweet ribbons dripping everywhere. Emma and Bill continued the floral theme and later gifted their guests with personalised seed packets from Wildflower Favours.
"The amazing Garden Gate Flower Company were responsible for our flowers. I really wanted a natural look and I also really wanted English flowers grown here, the idea of my flowers coming from abroad didn't appeal to me. I grew up in the Cambridgeshire countryside spending so much time growing and picking beautiful flowers, they were really important to get right. When I contacted Becca I couldn't believe that they grew everything on their family farm. My flowers were all seasonal; amazingly they even planted some just for the wedding. Becca also got to know me and Bill and personalised the flowers by adding herbs and berries to echo our food and restaurant background. I was completely obsessed with my flowers, I hardly put them down all day. My sister and two bridesmaids took all ten table displays and decorated our tipi with them so I even slept surrounded by them."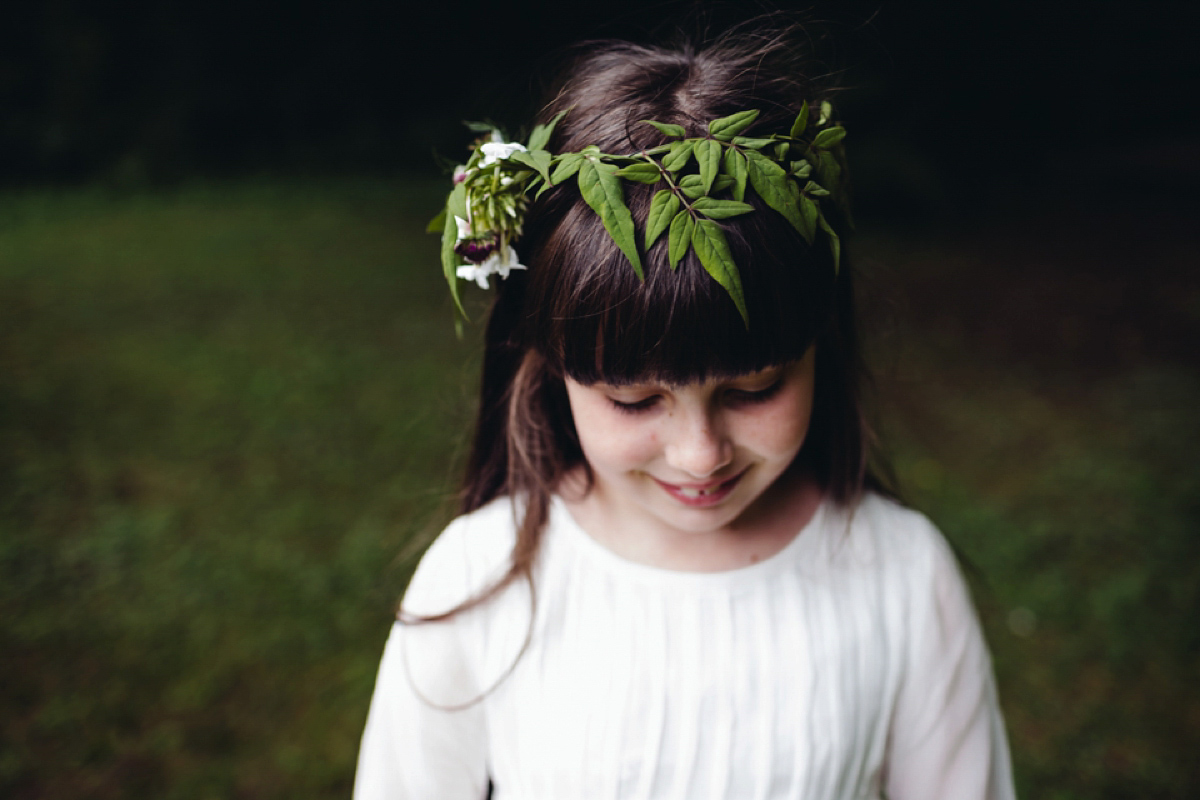 The bridal party look effortlessly elegant in dusky pink Twobirds gowns; one of my very favourite Little Book for Brides members. Another of our wonderful listings from our cherished supplier source was modelled beautifully by the sweet flower girl; doesn't she look gorgeous in her I Love Gorgeous frock?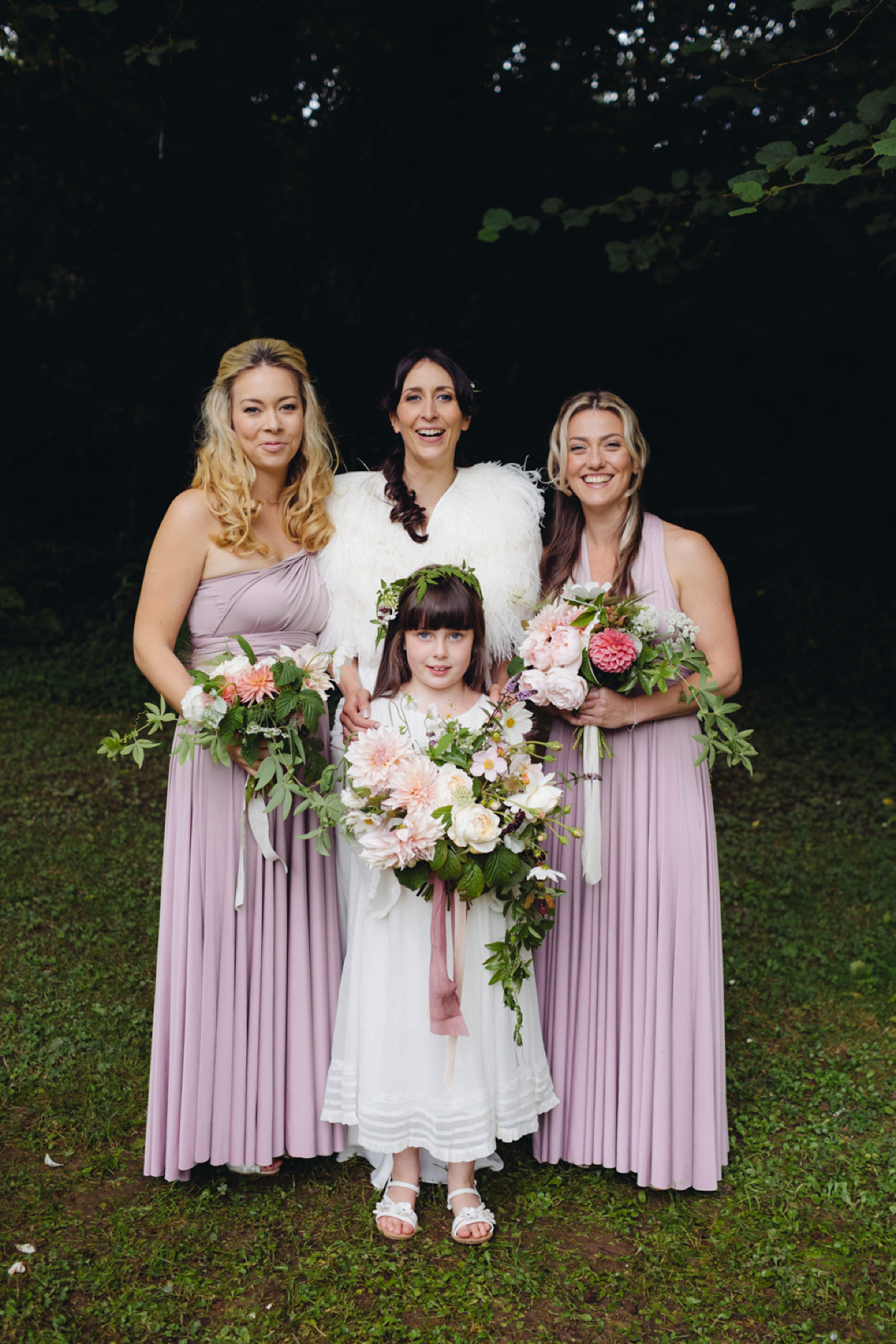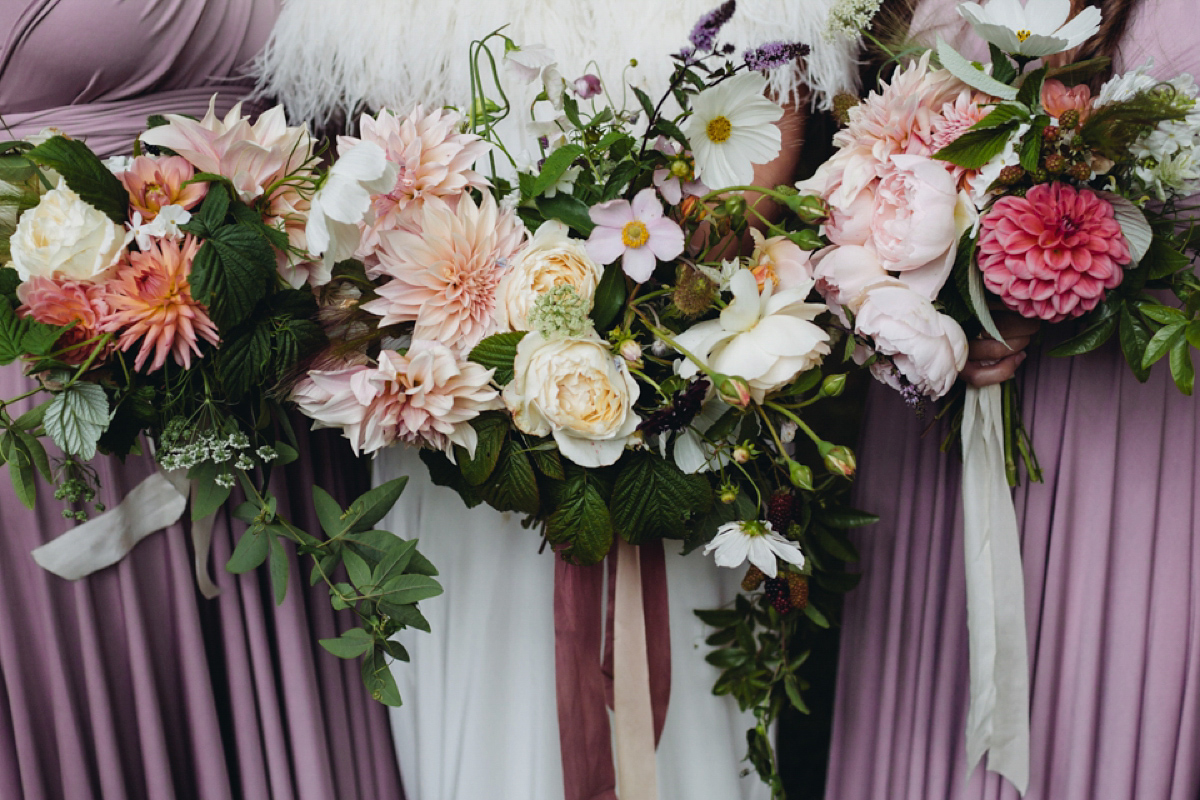 Emma and Bill's son Rufus wore an outfit from Monsoon, another Little Book for Brides member, and looked just dapper alongside the groom in his River Island suit. Bill's shirt and shoes came from Reiss and his tie and handkerchief from Next. His three best men were all resplendent in Next ensembles.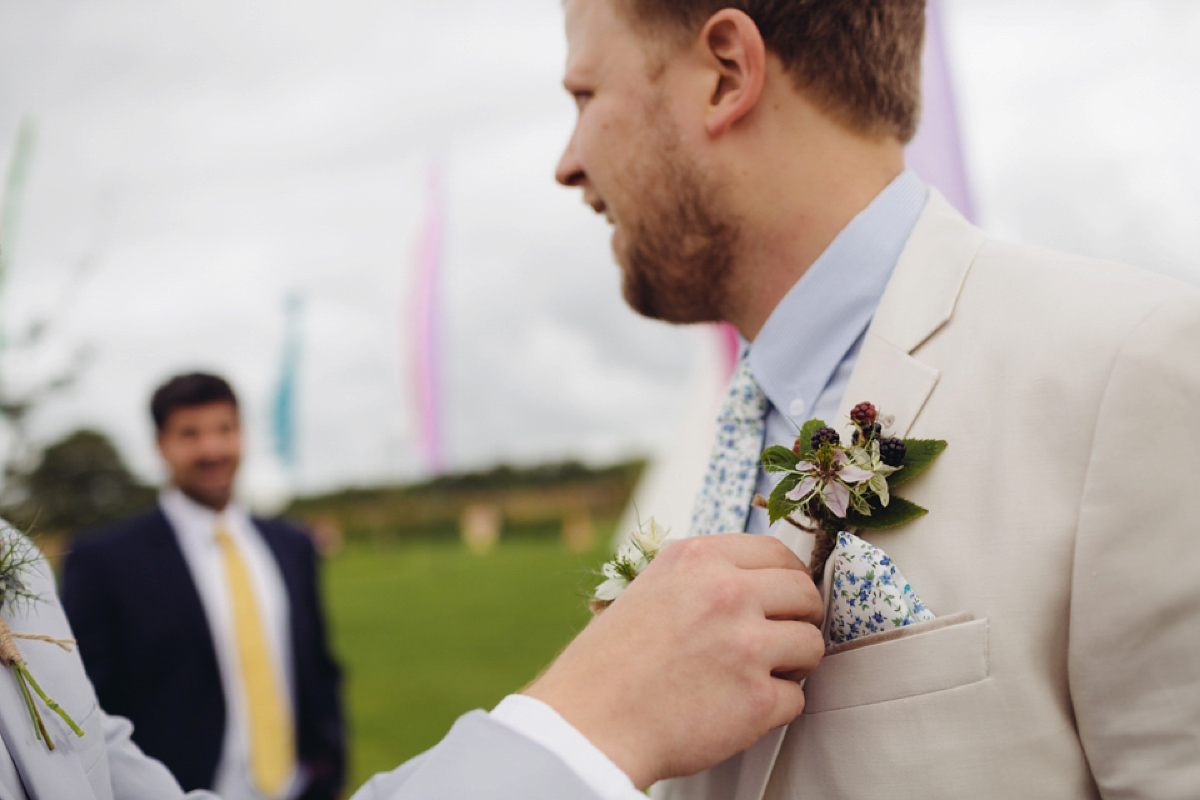 "The ceremony was conducted in a small woodland clearing beneath a wooden & willow pavilion, we used the backdrop of nature with beautiful handmade bunting (my mum & sister's hard work) to decorate. Hay bales with vintage crocheted blankets provided seats in the sunshine and we had prosecco and mojitos served with canapés in the clearing.  A beautiful apple tree became the 'family tree' with vintage frames holding memories of past and present Millses & Caresses."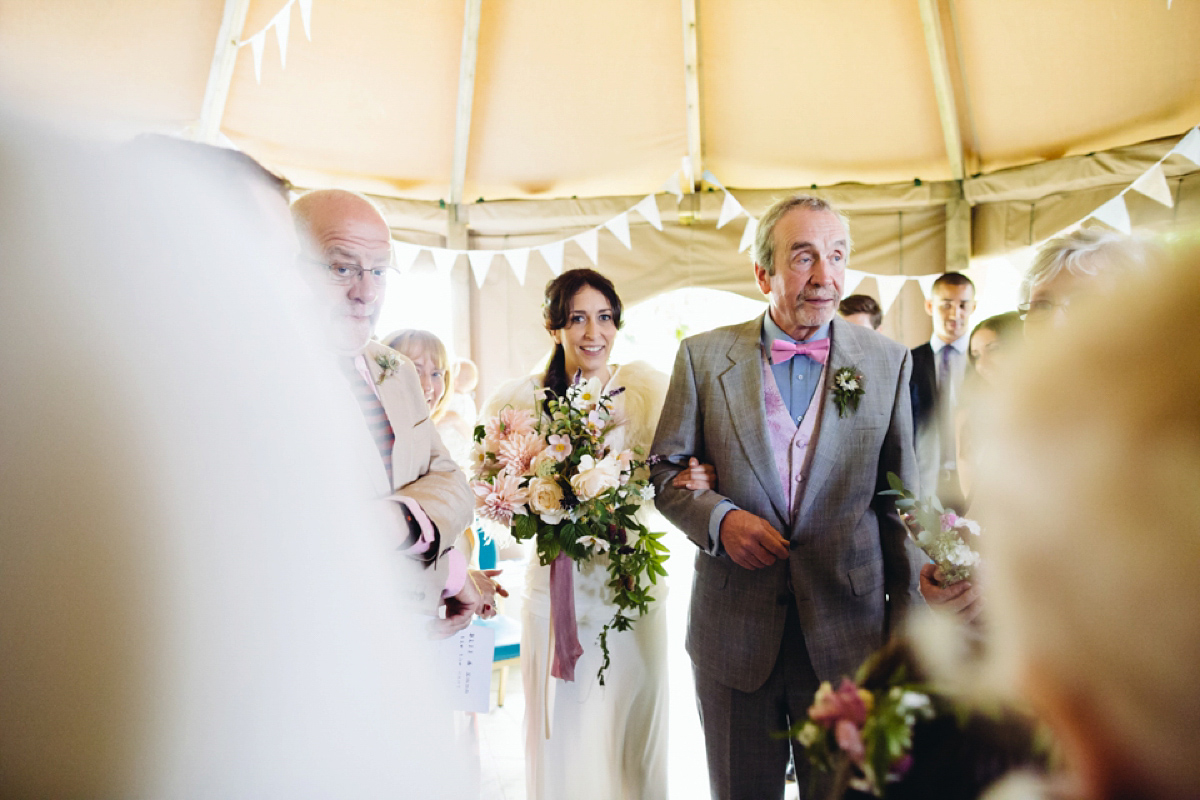 Emma and Bill exchanged simple bands bought from Wave Jewellery in Manchester and bridesmaid Katie sang the gorgeous aria, 'O Mia Babbino Caro' by Puccini as the couple signed the register. Emma tells us there wasn't a dry eye in the house. Bill's brothers read 'I wanna be yours' by John Cooper Clarke and the lyrics of Ryan Adams' 'Life is beautiful.' I had to share Emma and Bill's beautiful vows with you; they're just so personal and moving.
Emma's vow to Bill:
"I give you my heart to hold and to cherish, and my promise I will walk with you hand in hand, wherever our journey may lead us.I promise to give you my friendship, my patience, and to be adventurous and brave with our future without forgetting our past. I promise to be your biggest fan, to protect you, to laugh and smile with you, and above all, spend my life loving you and Rufus."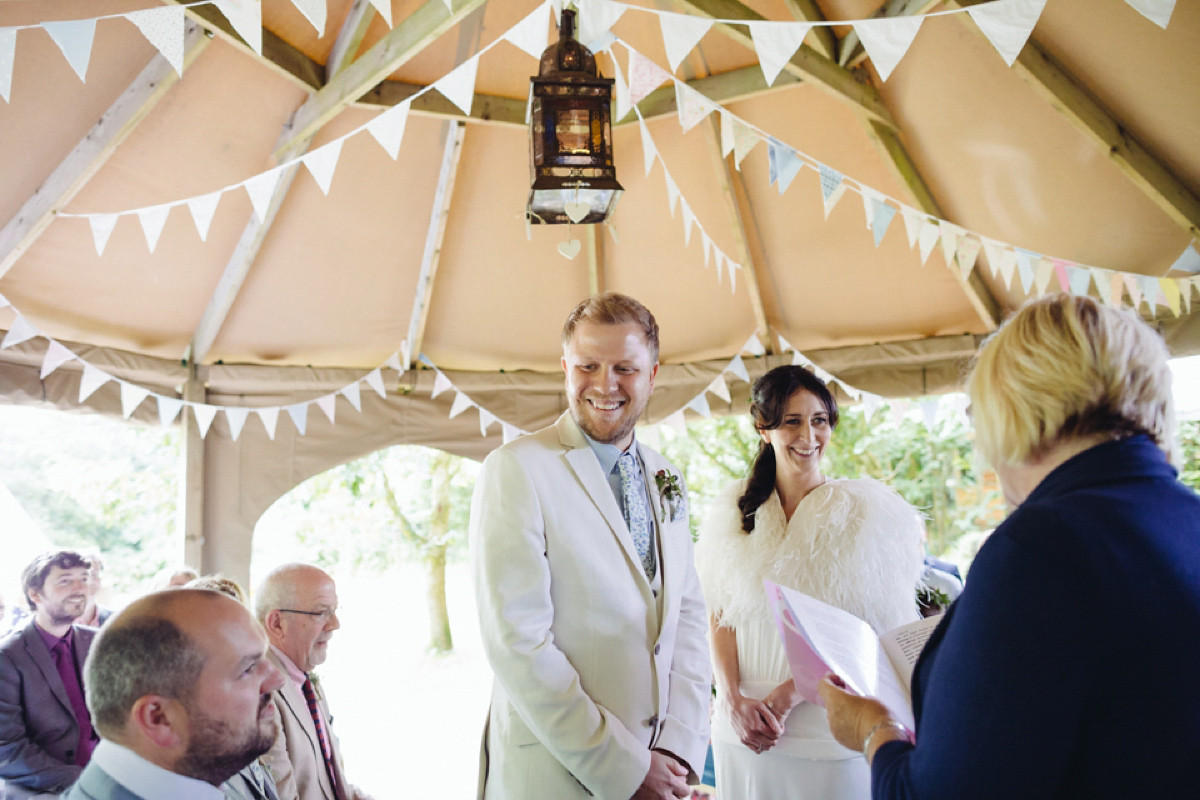 Bill's vow to Emma:
"You have been my best friend, my confidant and my greatest challenge. I knew I liked you from the moment I met you, and I knew I loved you about a week later! You are the love of my life and you make me happier than I could ever imagine and more loved than I ever thought possible, and you have given me the greatest gift of all…our little Rufus. Today you have made my life complete by making our family complete."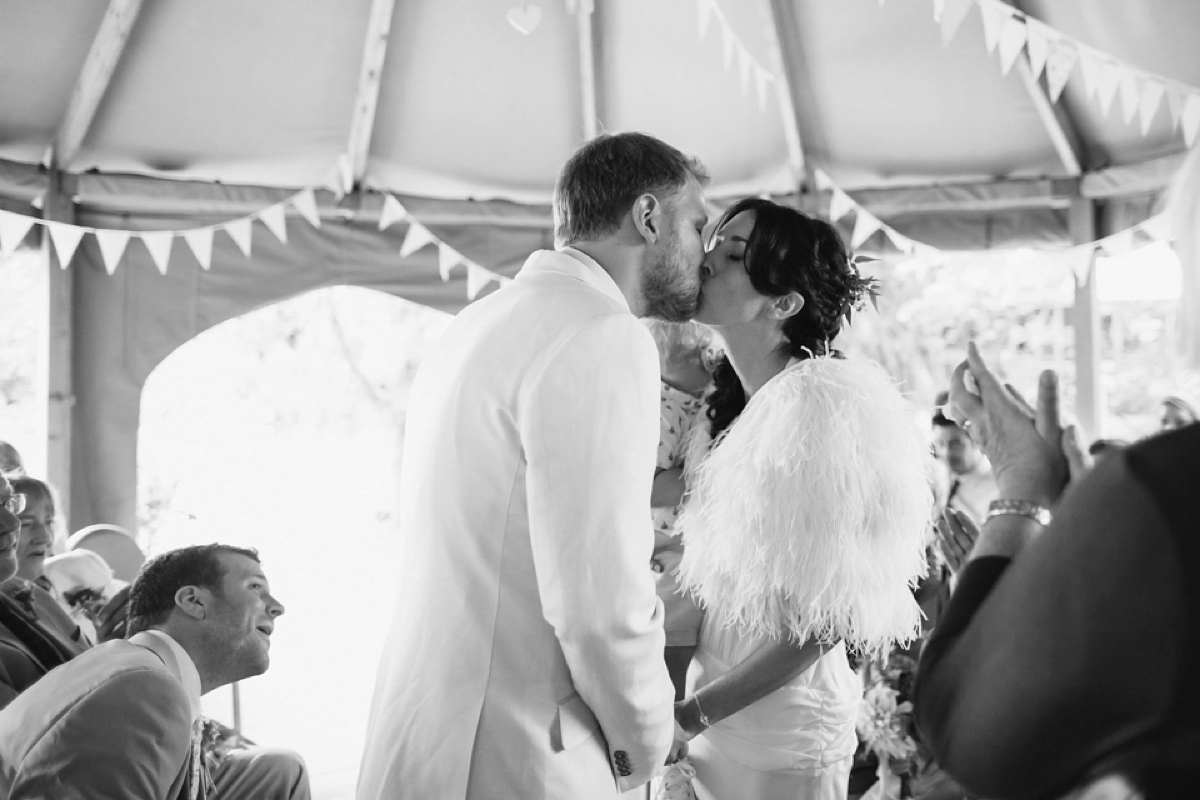 Emma hand picked confetti from Shropshire Petals and Manchester-based photographer Lucy Little was ready and waiting to capture the ensuing cloud of flowery wonderfulness. Lucy has captured some beautiful details and the spirit of jubilant celebration is wonderfully conveyed through these images, don't you think? Emma and Bill's woodland couple shots are divine and I adore that they had a little time alone by the water to bask in their just married joy.
"Lucy was amazing, she really took the time to get to know us as a family, our son Rufus loved her and she made us feel very relaxed. It was a honour to have her photograph our wedding. A huge big up to Lucy!"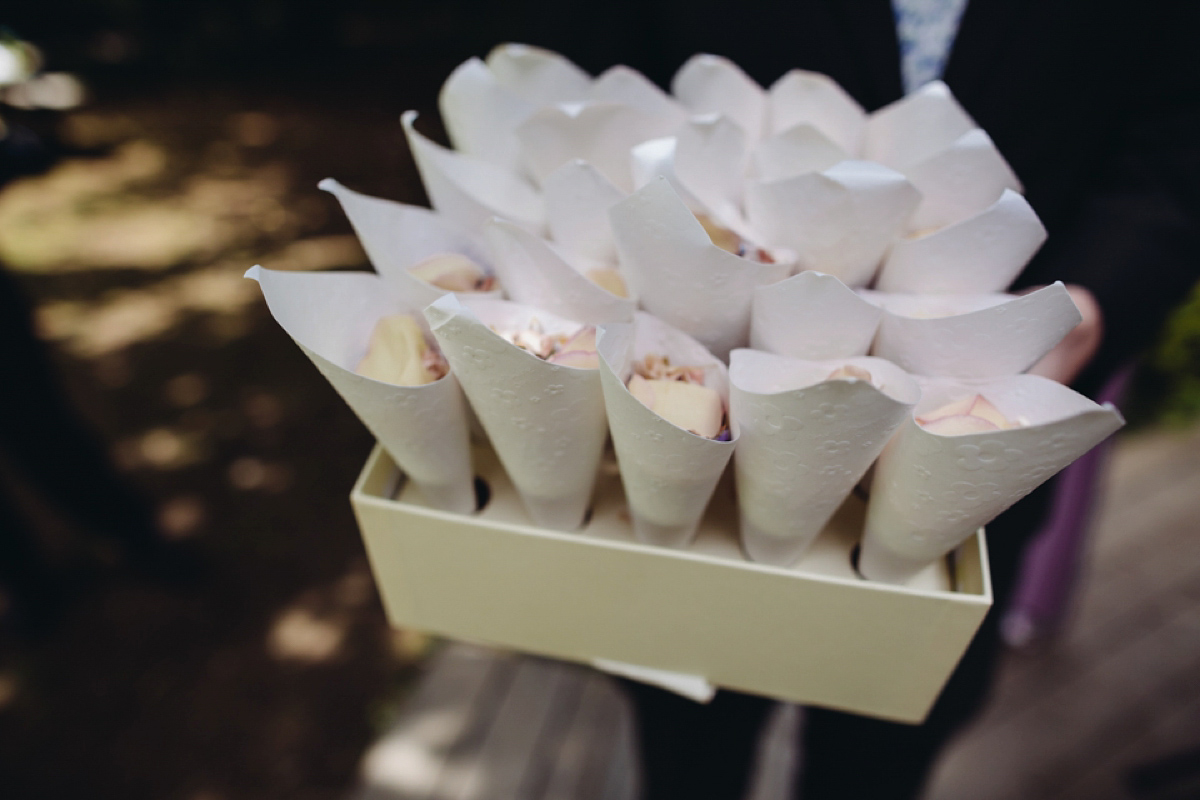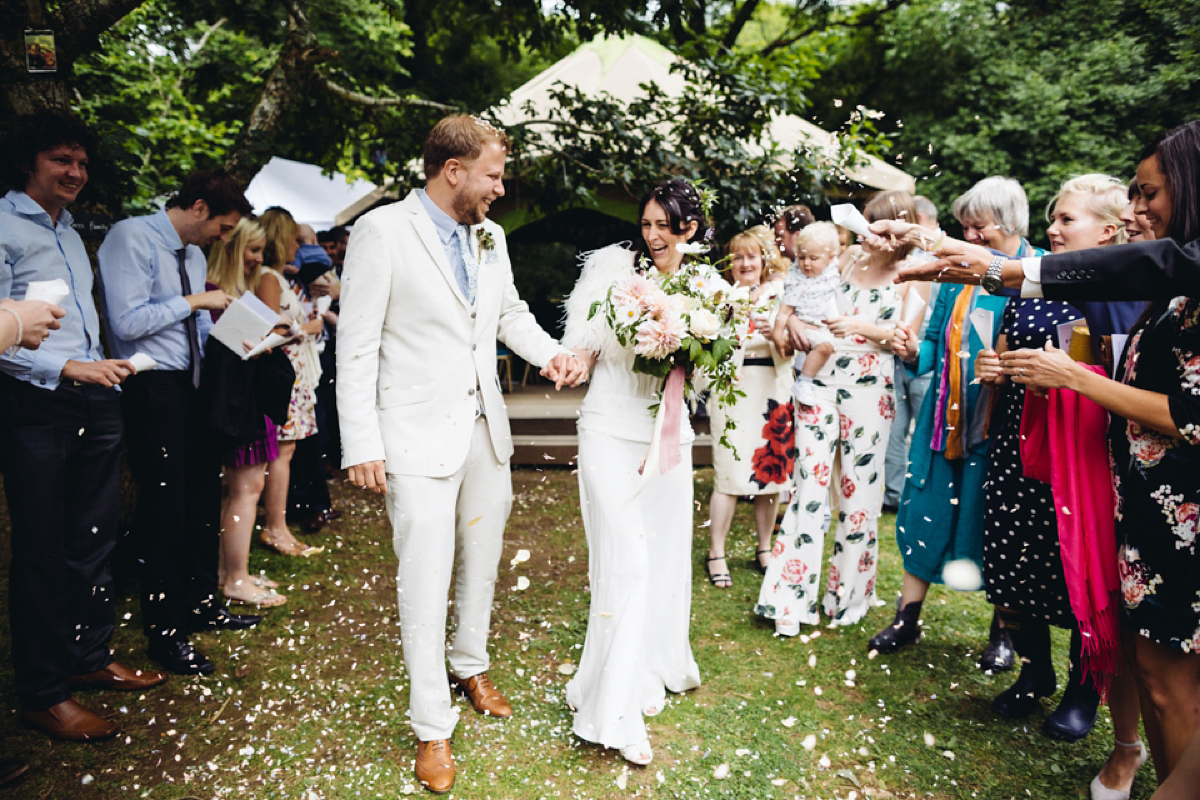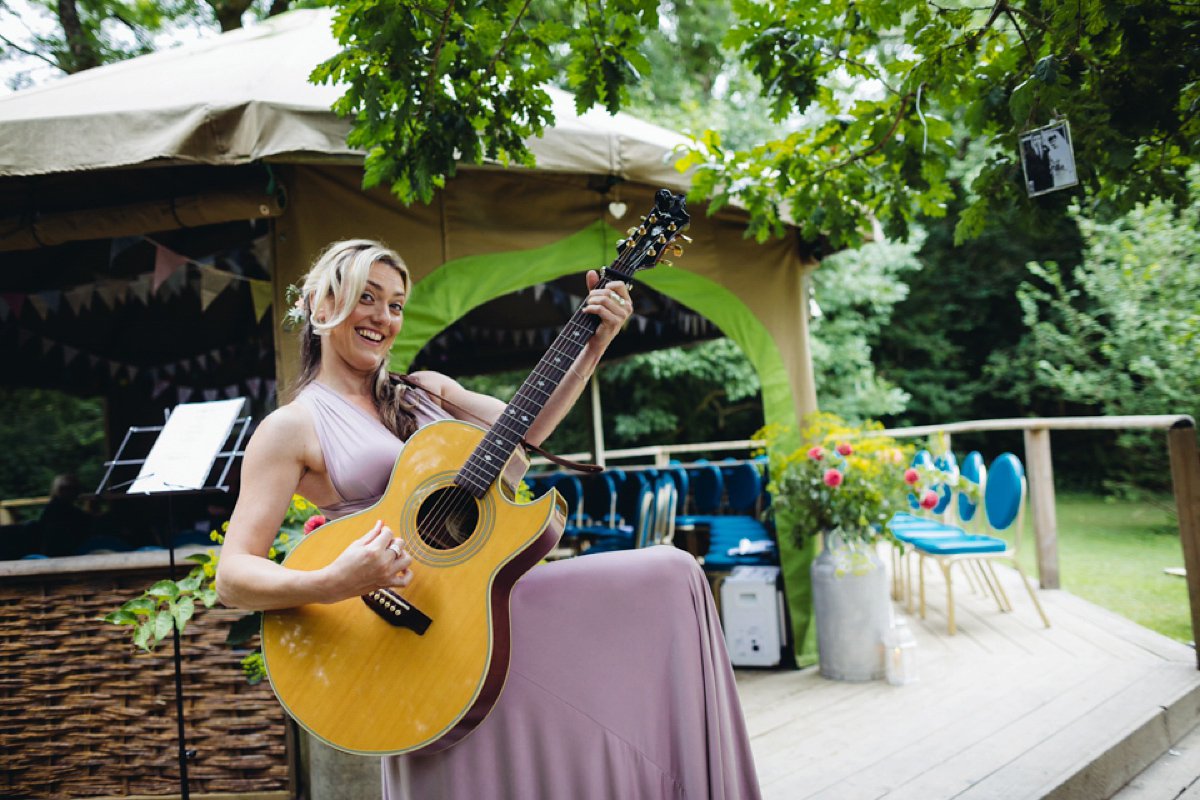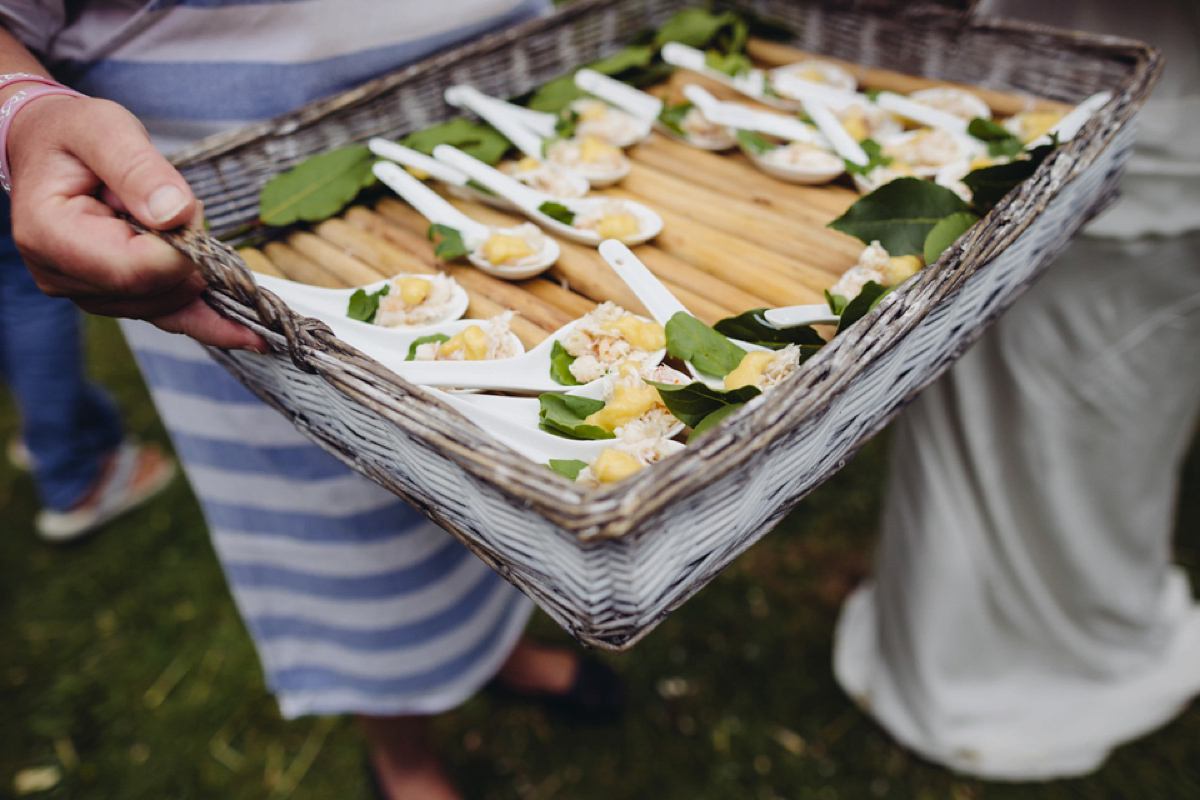 Cornish Tipi Weddings provided a beautiful setting for the couple's relaxed celebrations and with so much on site, many of the guests turned the wedding into a beautifully organised little escape to the country.
"We wanted a venue that would offer more than just one day; many of our friends mentioned how quick the day goes and the amount of people they didn't properly catch up with, so we wanted to create a weekend festival of celebration and the Cornish tipi site offered this in buckets. We hired the site from the Friday to Monday; everyone arrived at different points on the Friday, helping to set up the decorations, playing football, playing music and relaxing.  It also allowed us and the guests to relax the following day, we had a prosecco picnic at the lake with swimming, an eventful game of rounders and a barbeque at sunset. Amazingly there is a yurt café on site run by a wonderful couple who provided a feast on the Friday and breakfast for all the guests the morning after the wedding.It certainly made the celebration more personal and memorable."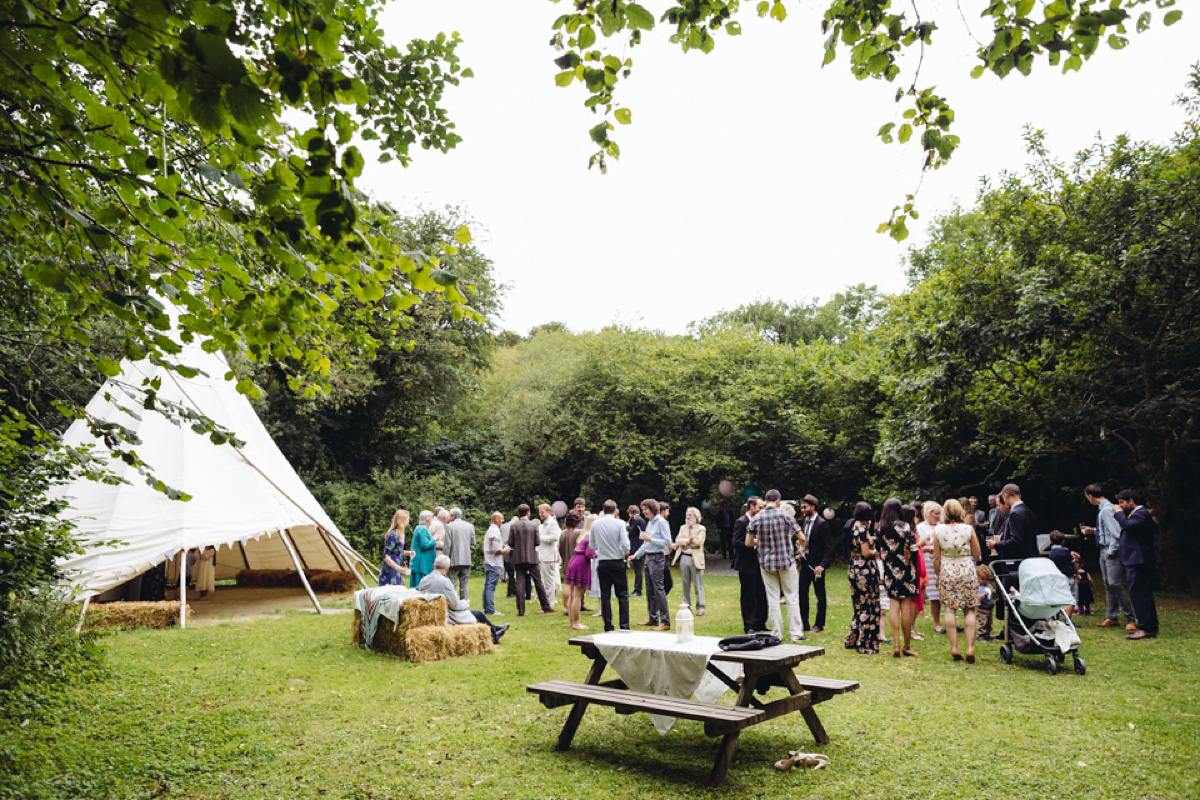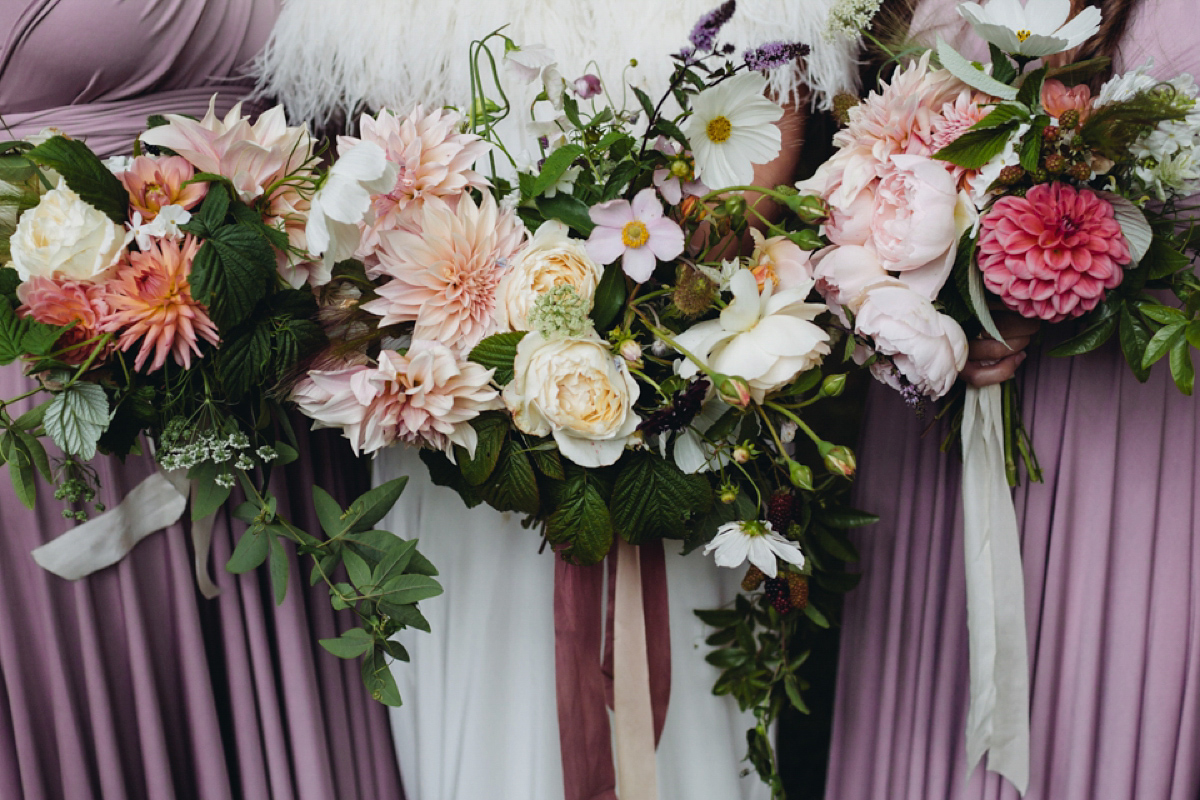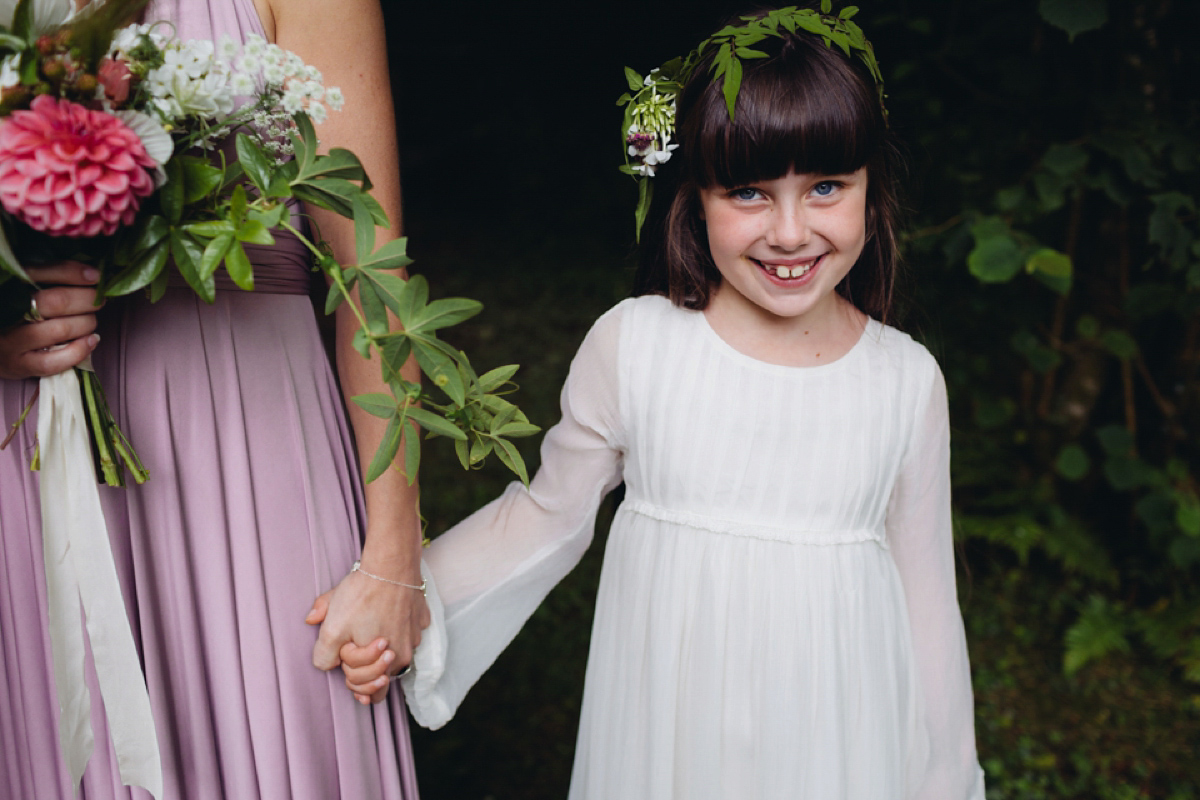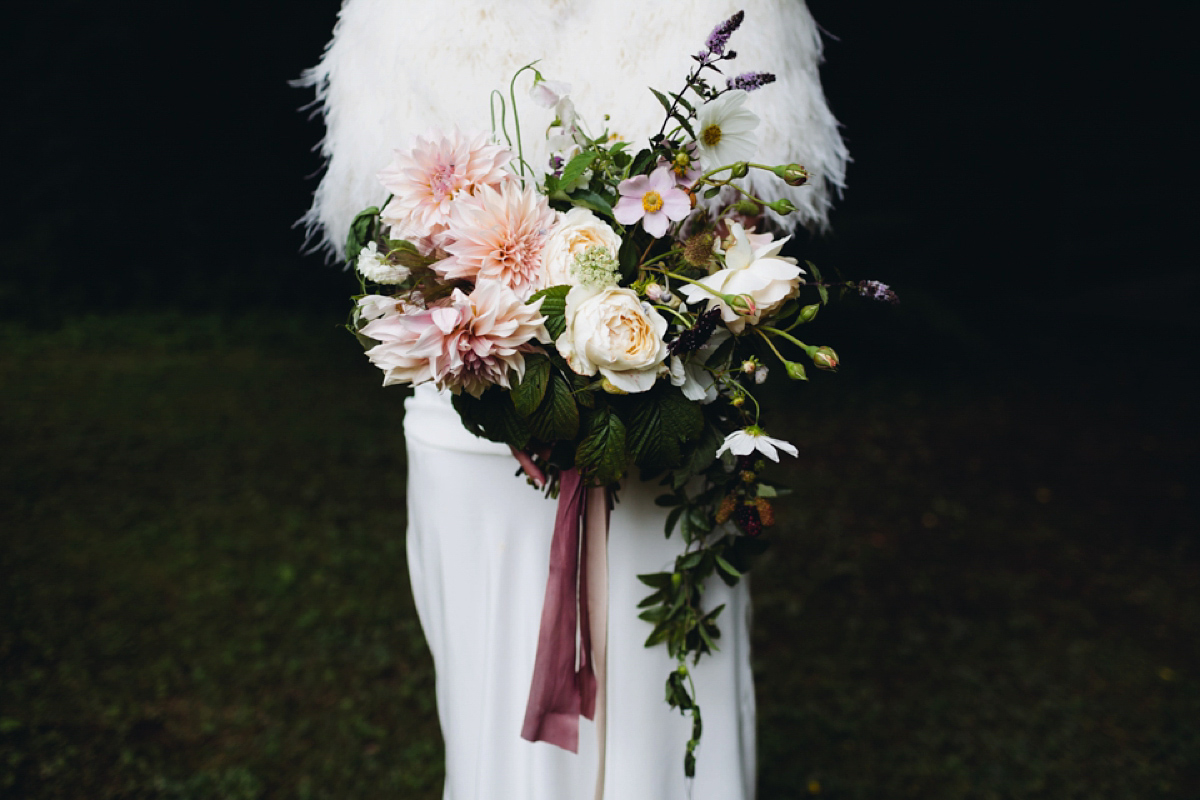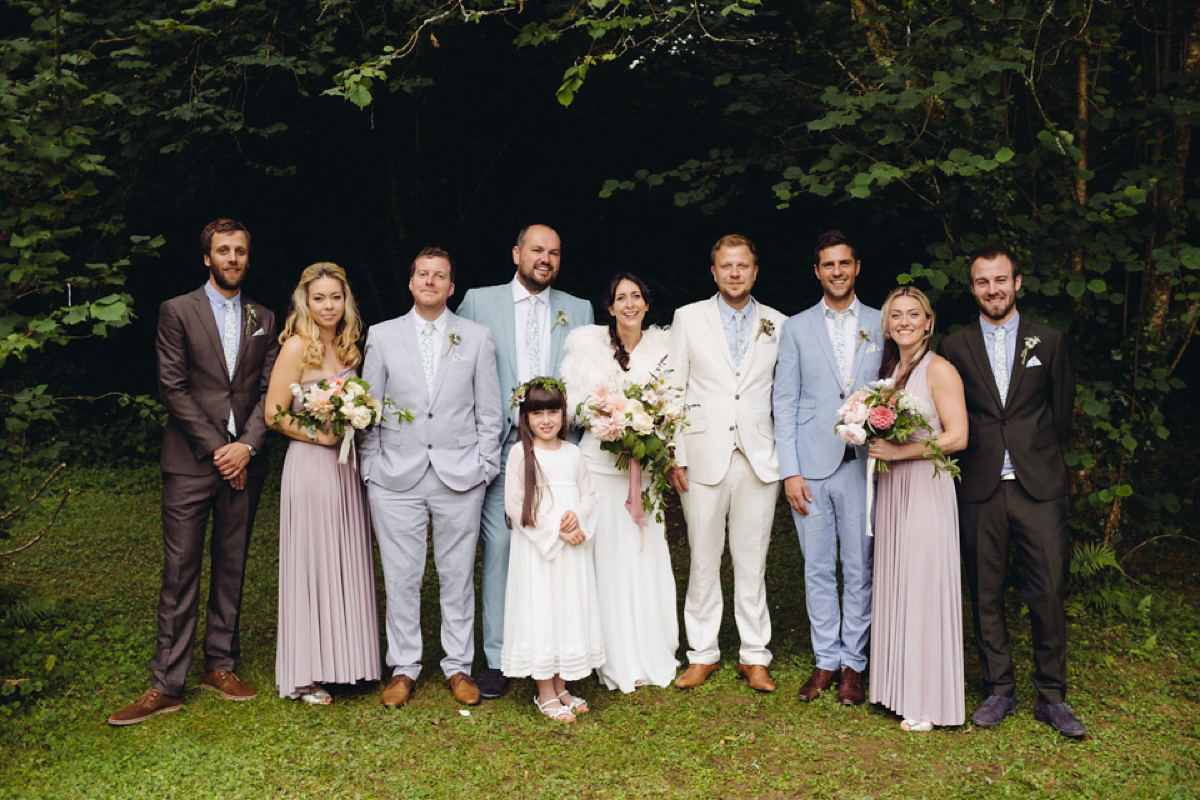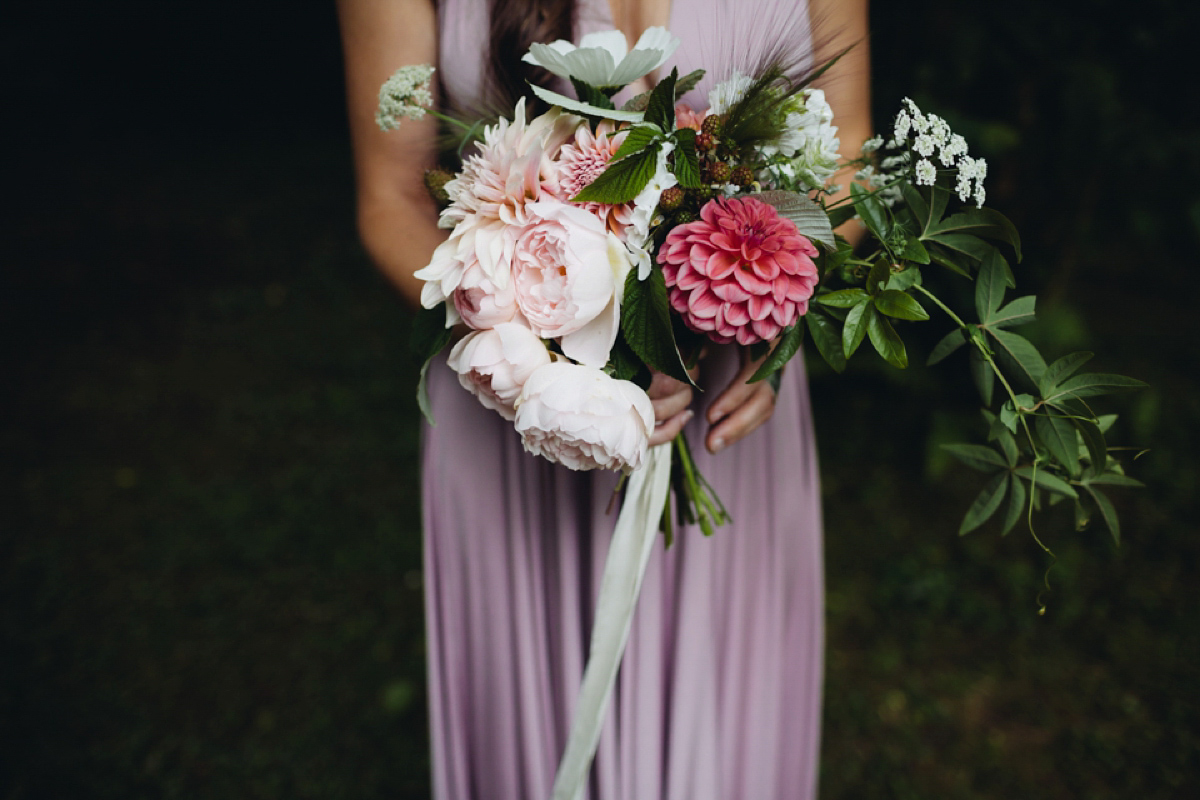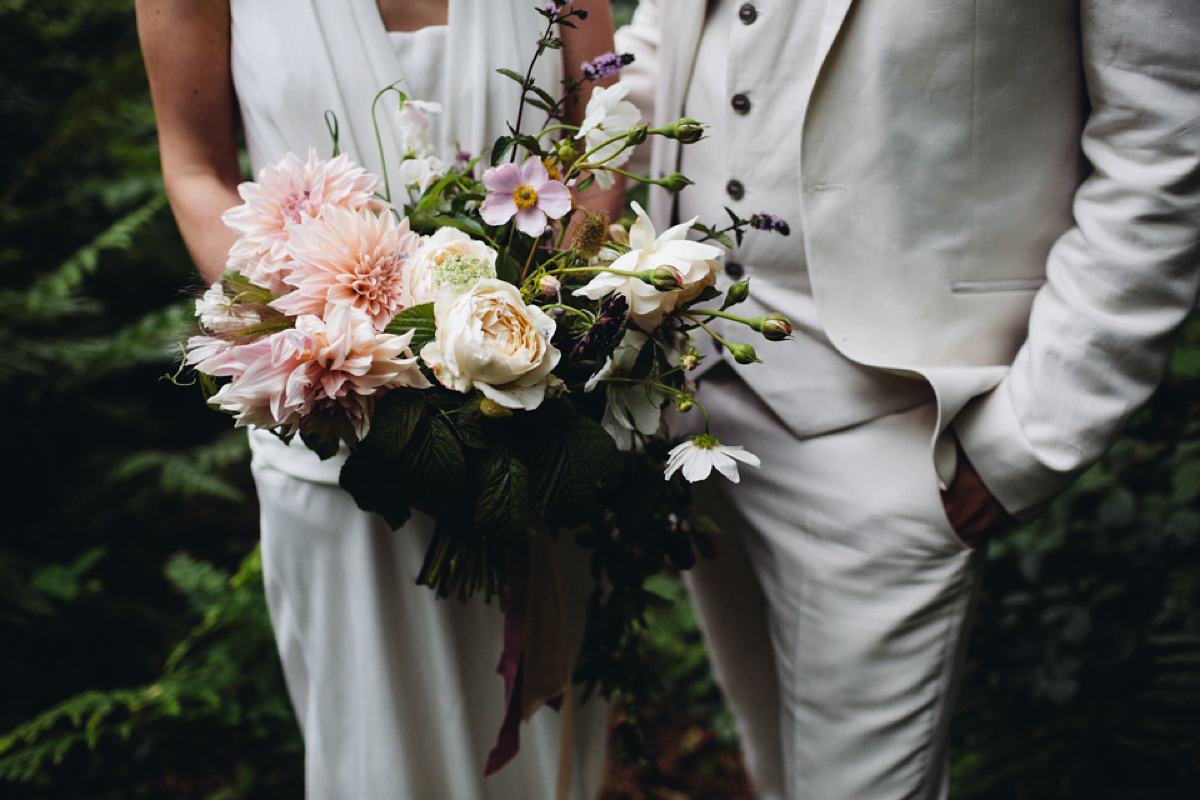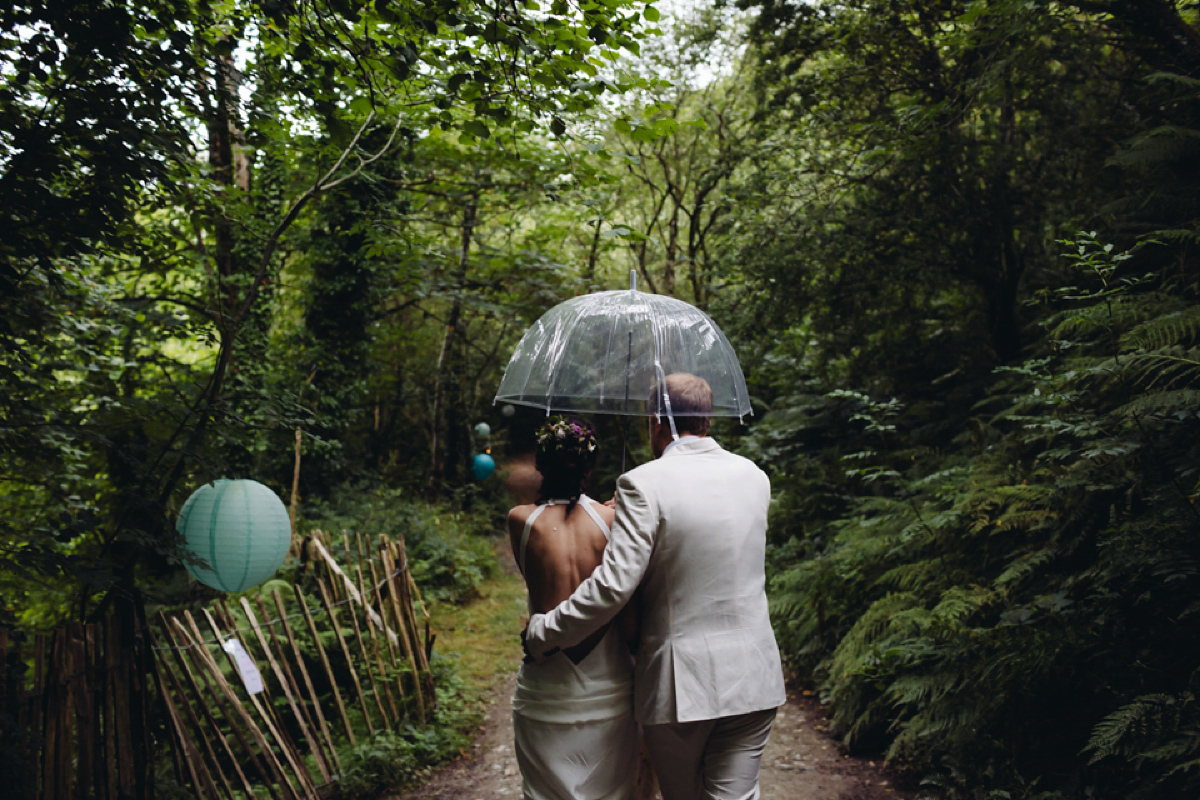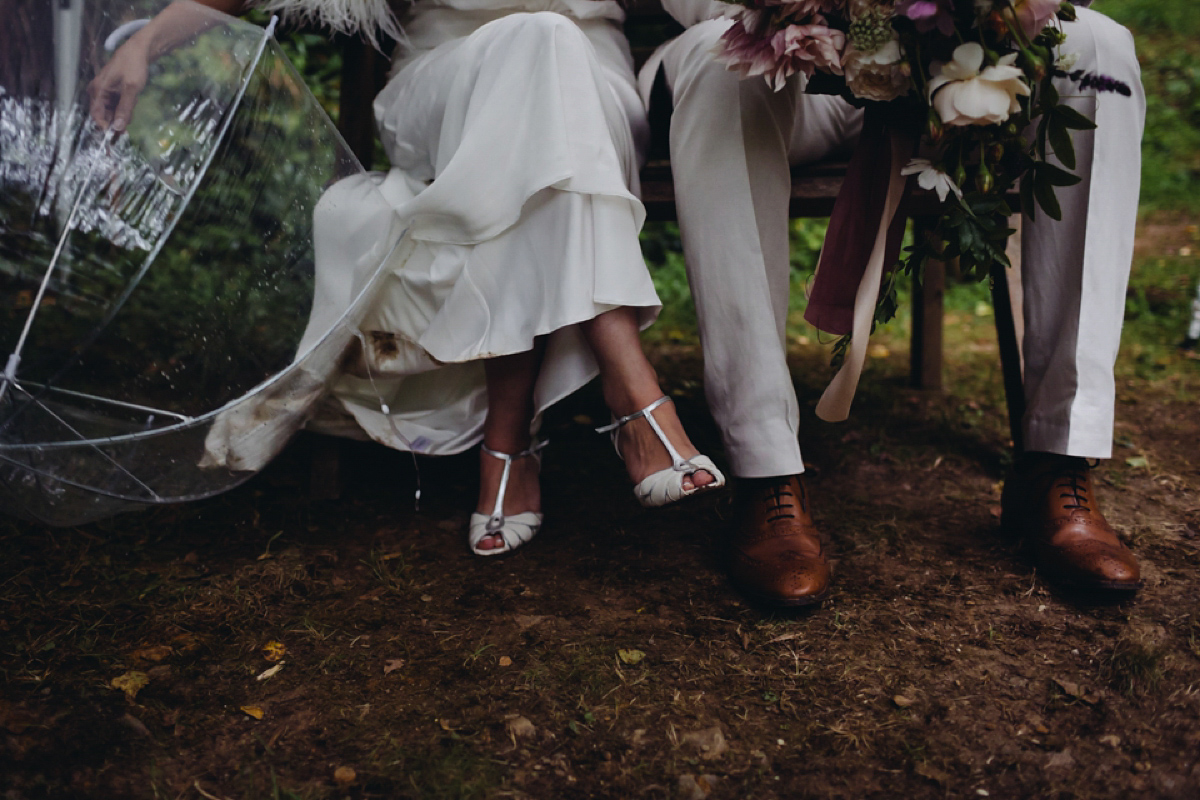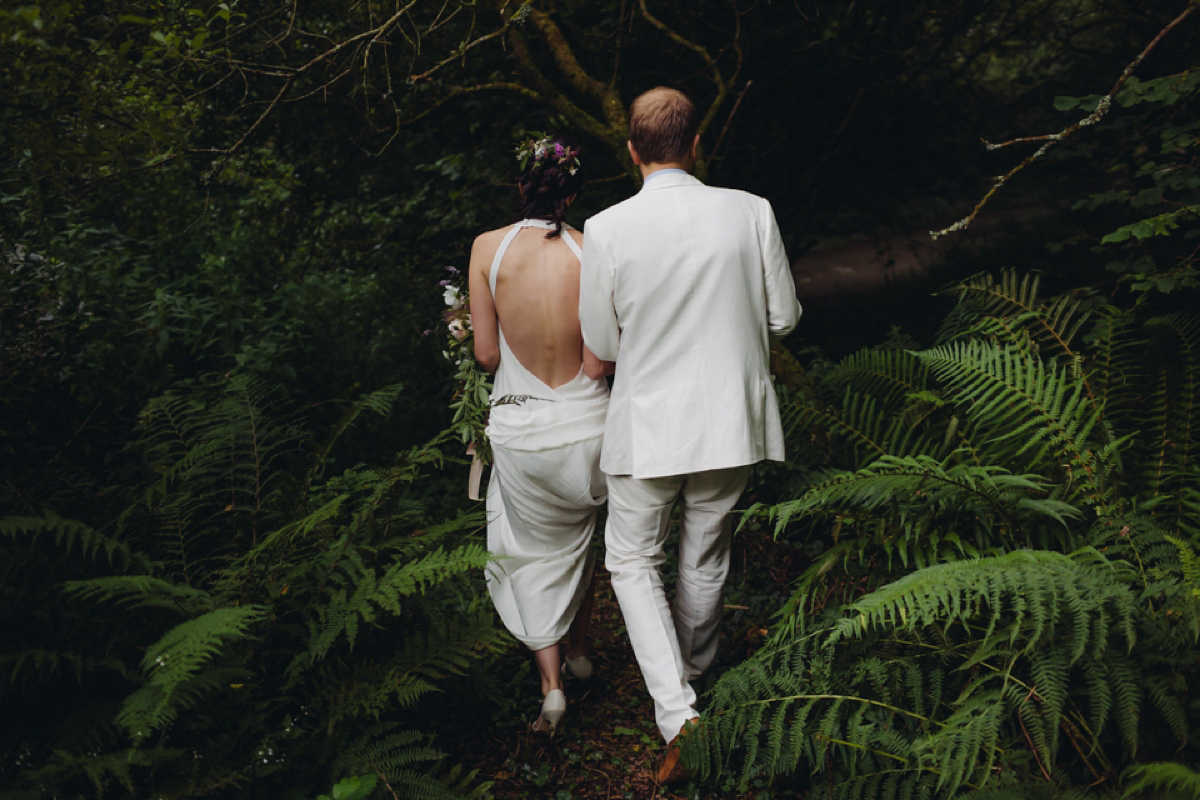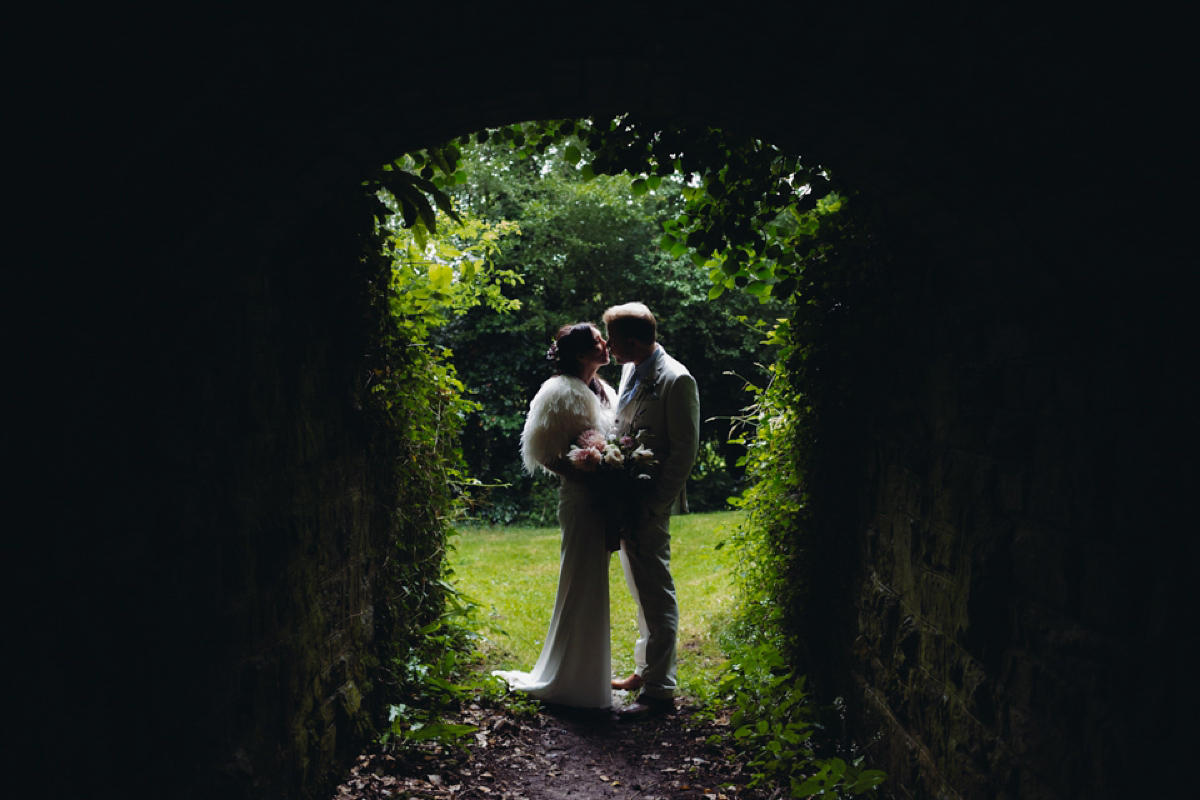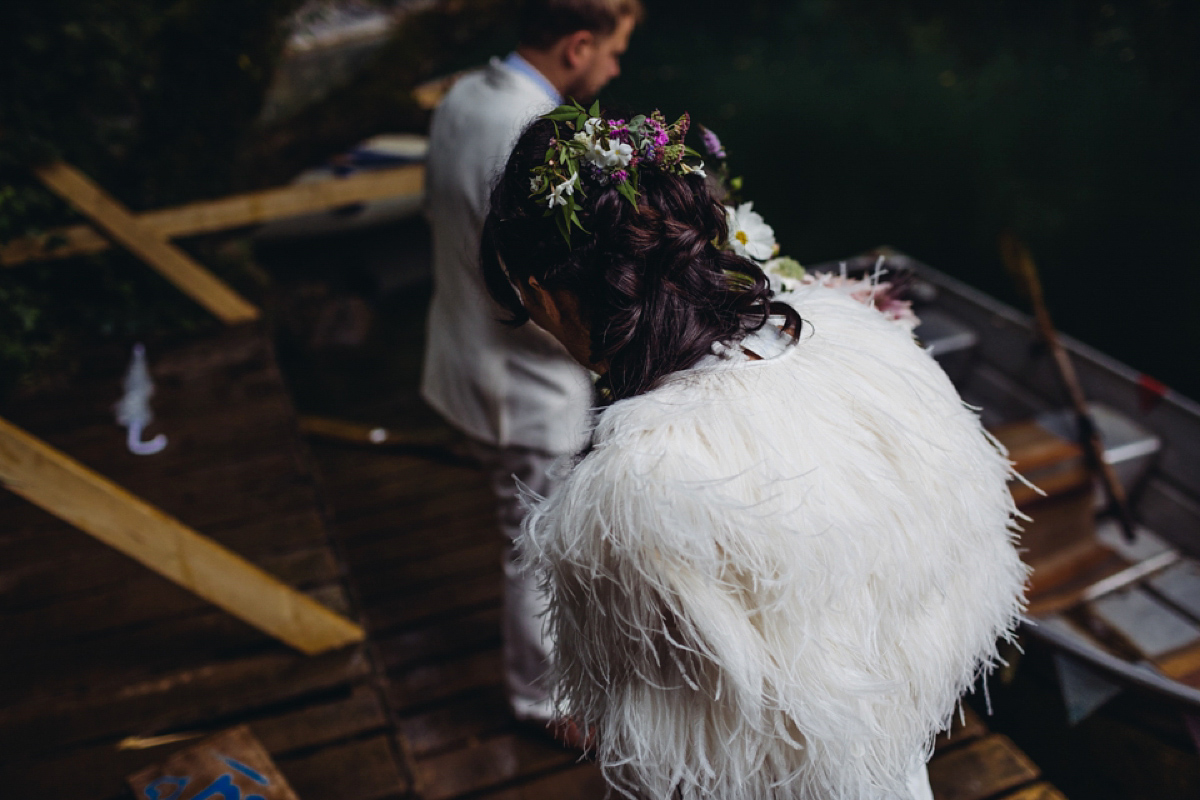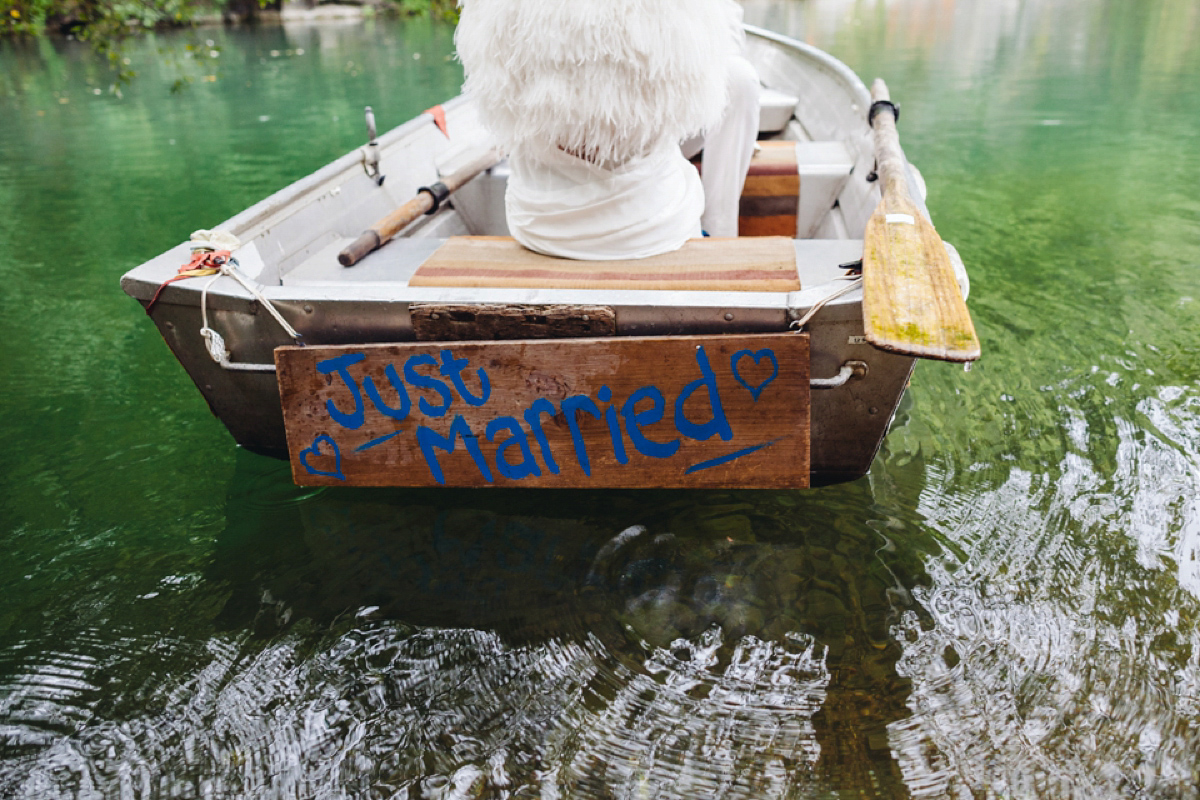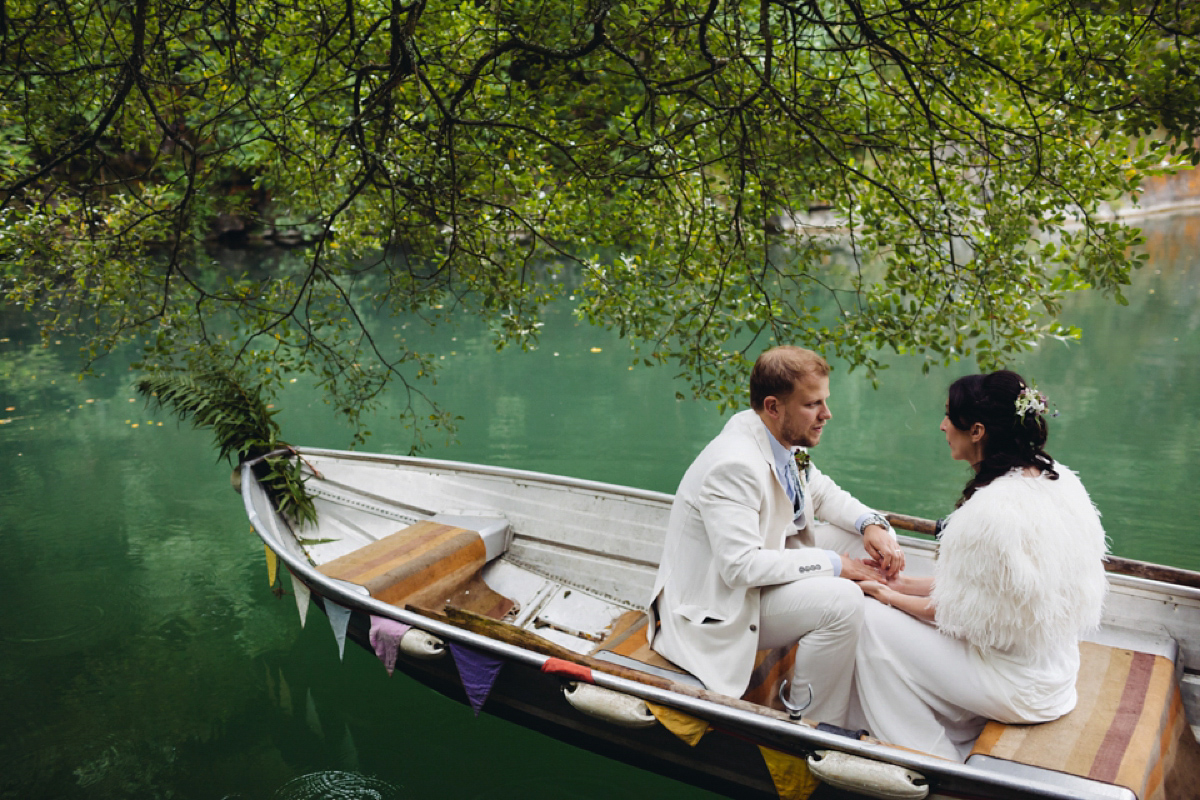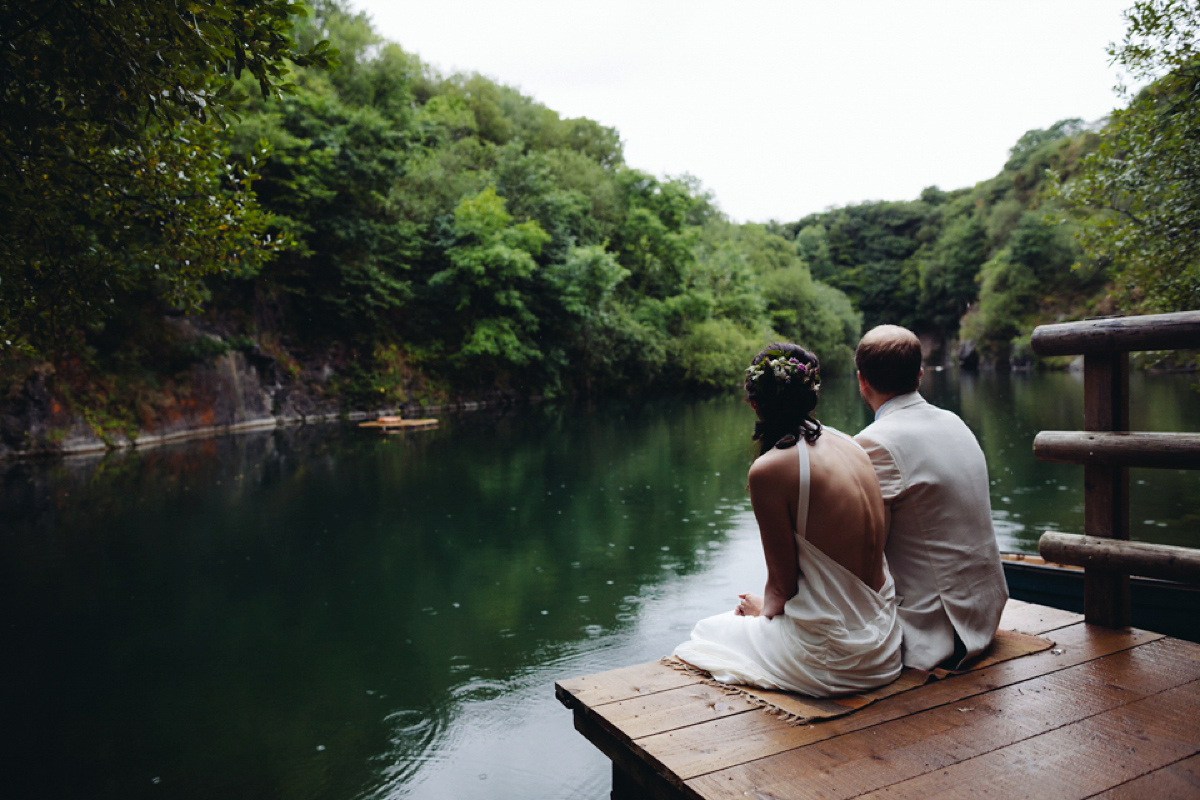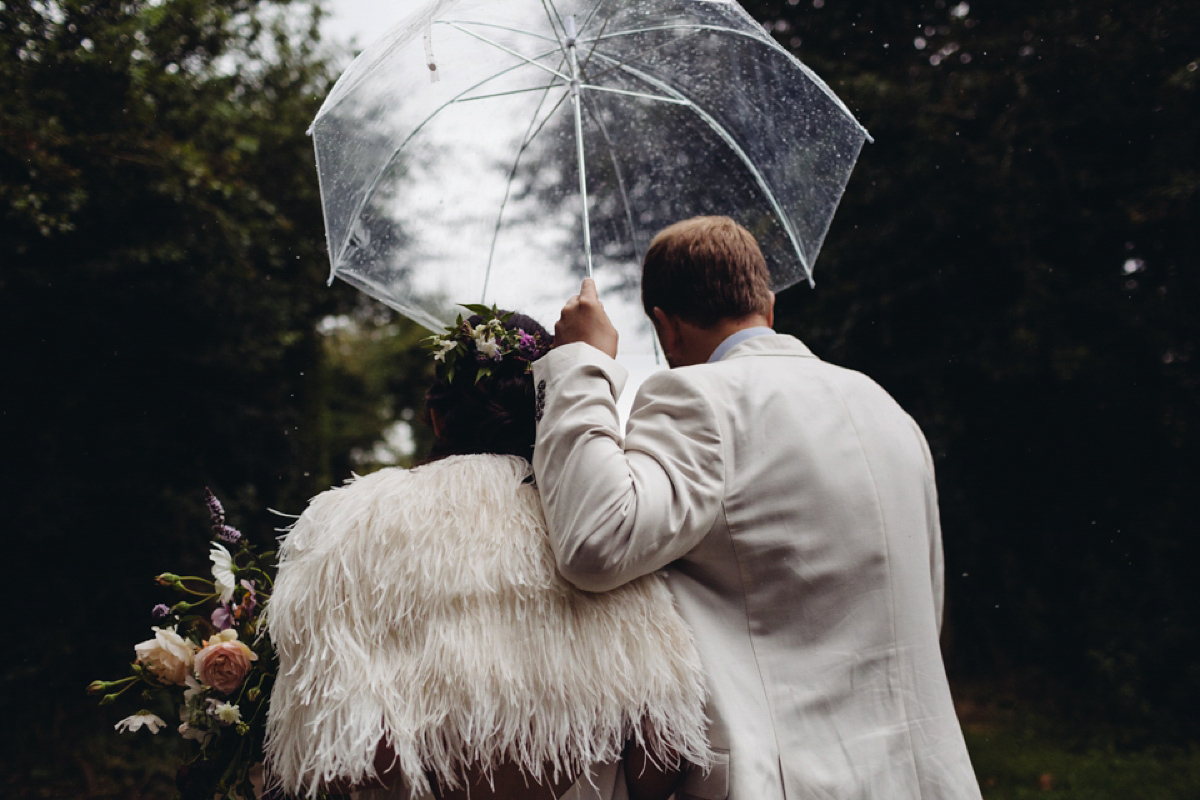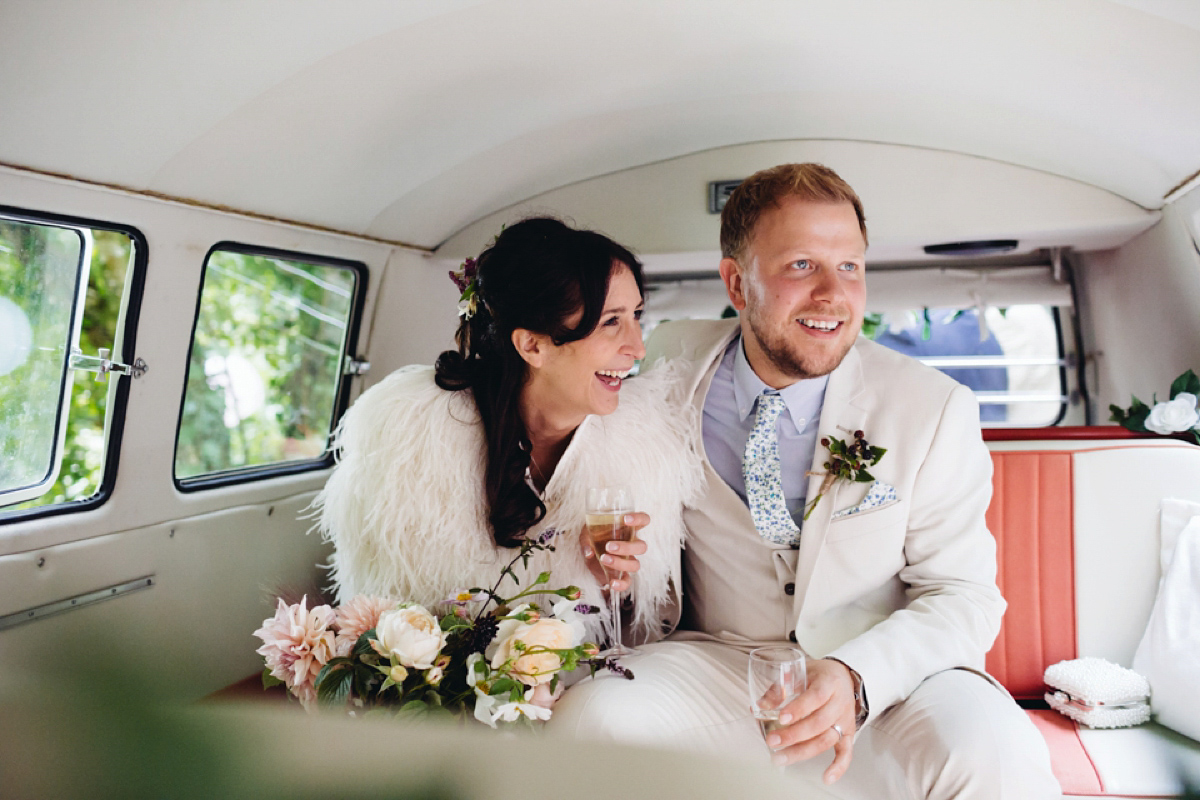 Bill's brother Joe created all the artwork for the couple's stationery and the main marquee was a haven of pastel-hued loveliness among the trees. What with Bill being a head chef and Emma running the show front of house at their restaurant; food was always going to play a major part in their wedding celebrations.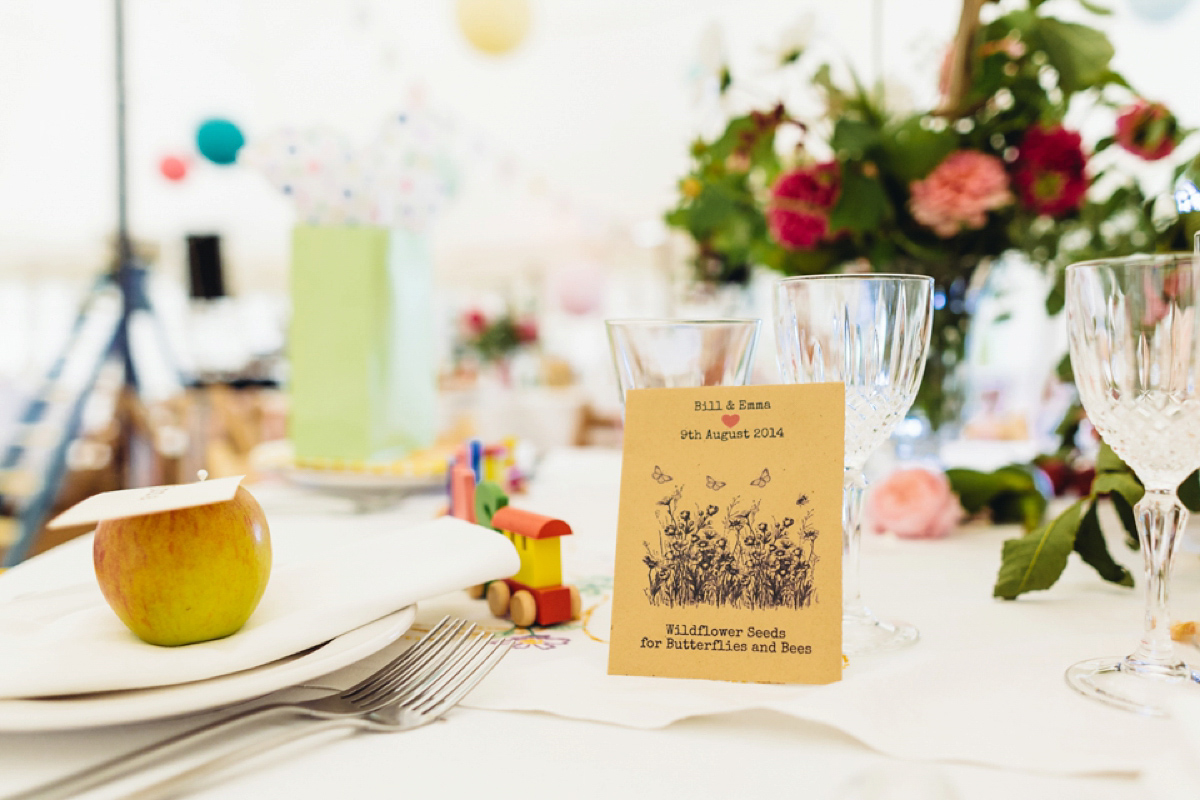 "The main marquee is a short stroll through the woodland, paper lanterns in soft pastels hung in the trees to lead the way, in the top field the Moroccan marquee was decorated in yet more bunting and paper lanterns, the tables were decorated with vintage table cloths, mismatched tea lights, flower centre pieces and vintage glassware. We also had a vintage sweet table which the children loved. I hired vintage wooden games for the kids which were scattered around the top field, I also hired props such as an old gramophone and a chaise lounge for the photo booth.
Fee Turner Catering had a very relaxed approach to catering; we wanted sharing platters of seasonal local produce from Cornwall and it was amazing. To complement Fee's food we had a hog roast by Chris Jopling aka Snout & Trotter – such a top guy. Chris and Boz, best men, carried the pig into the marquee!"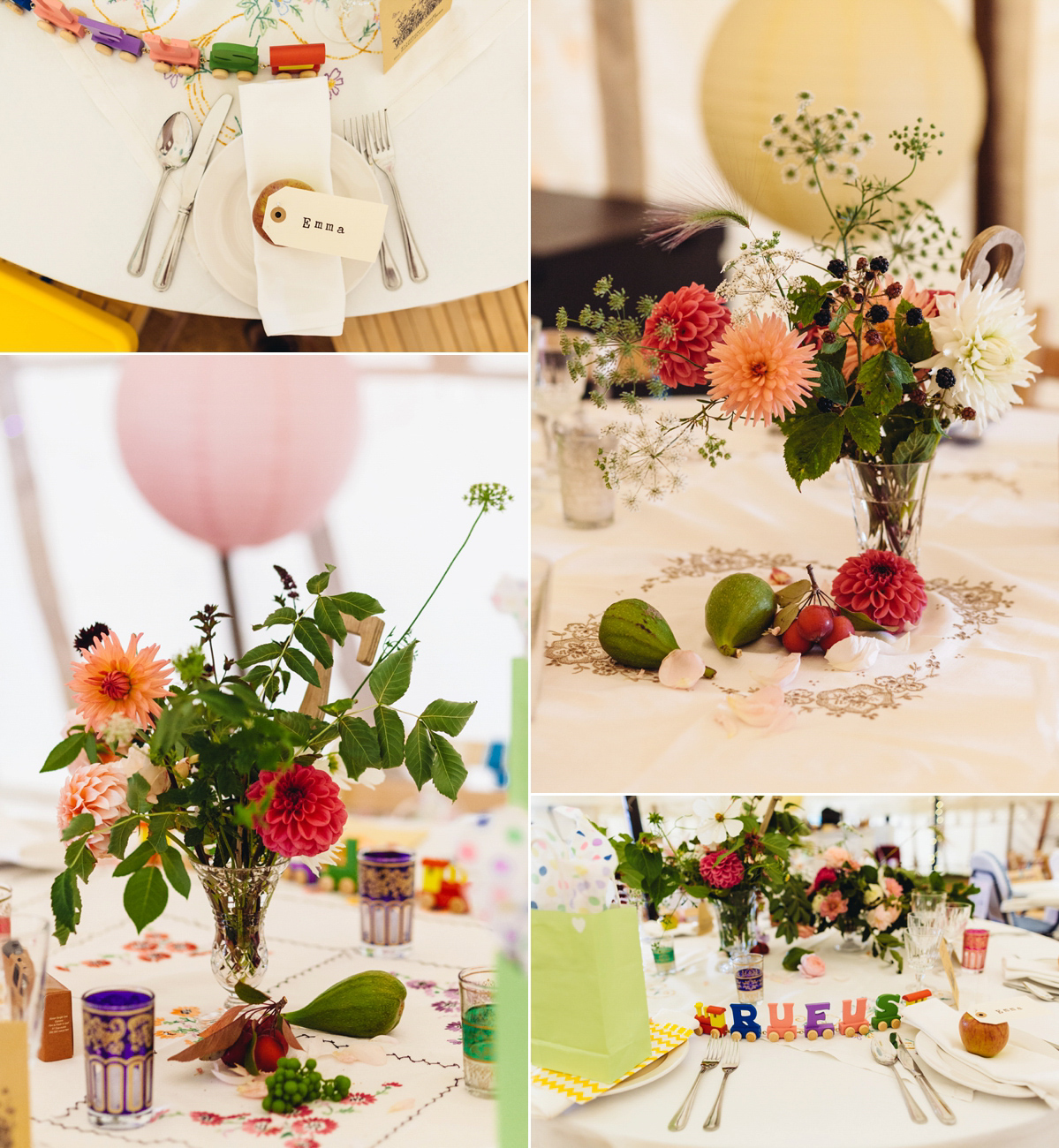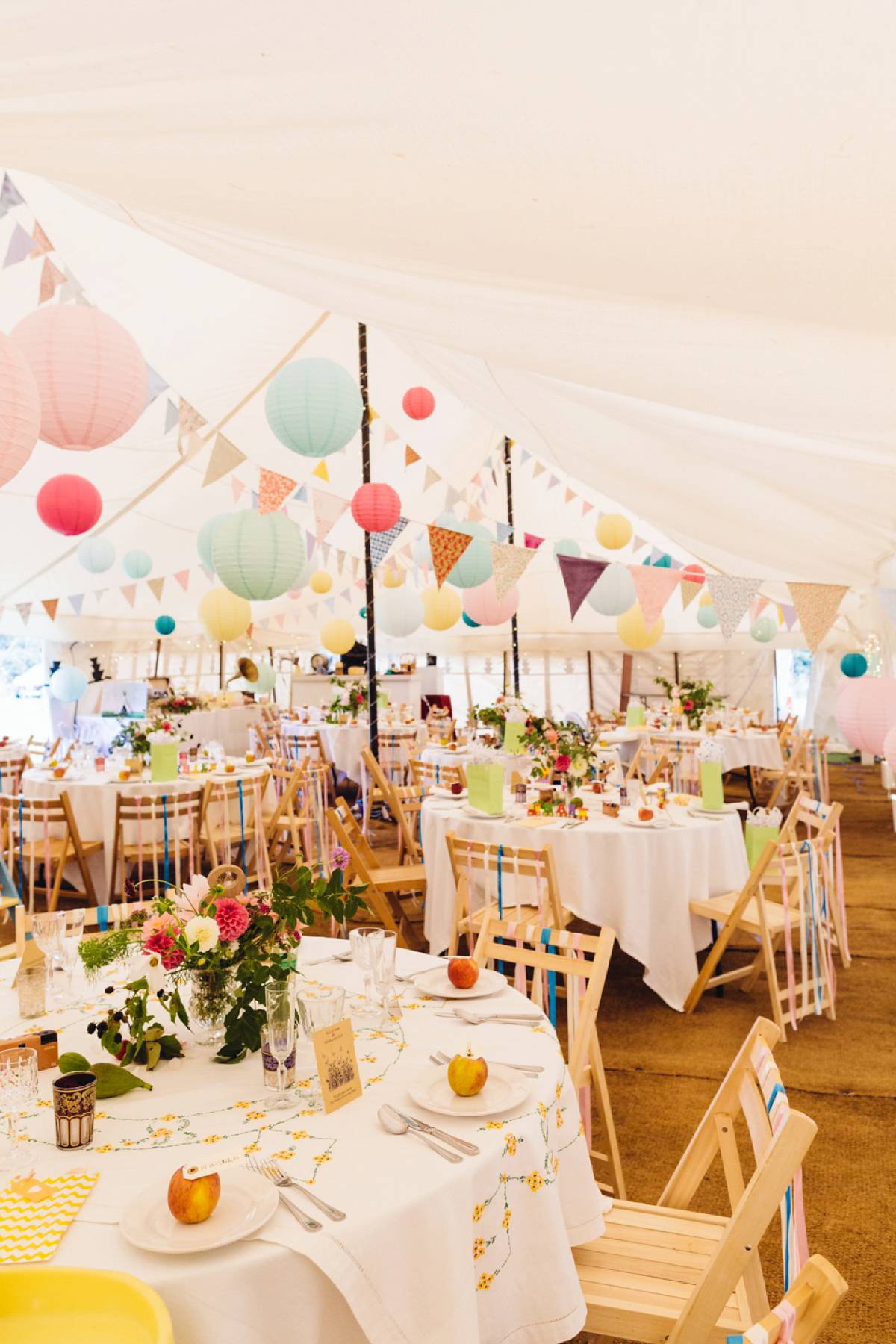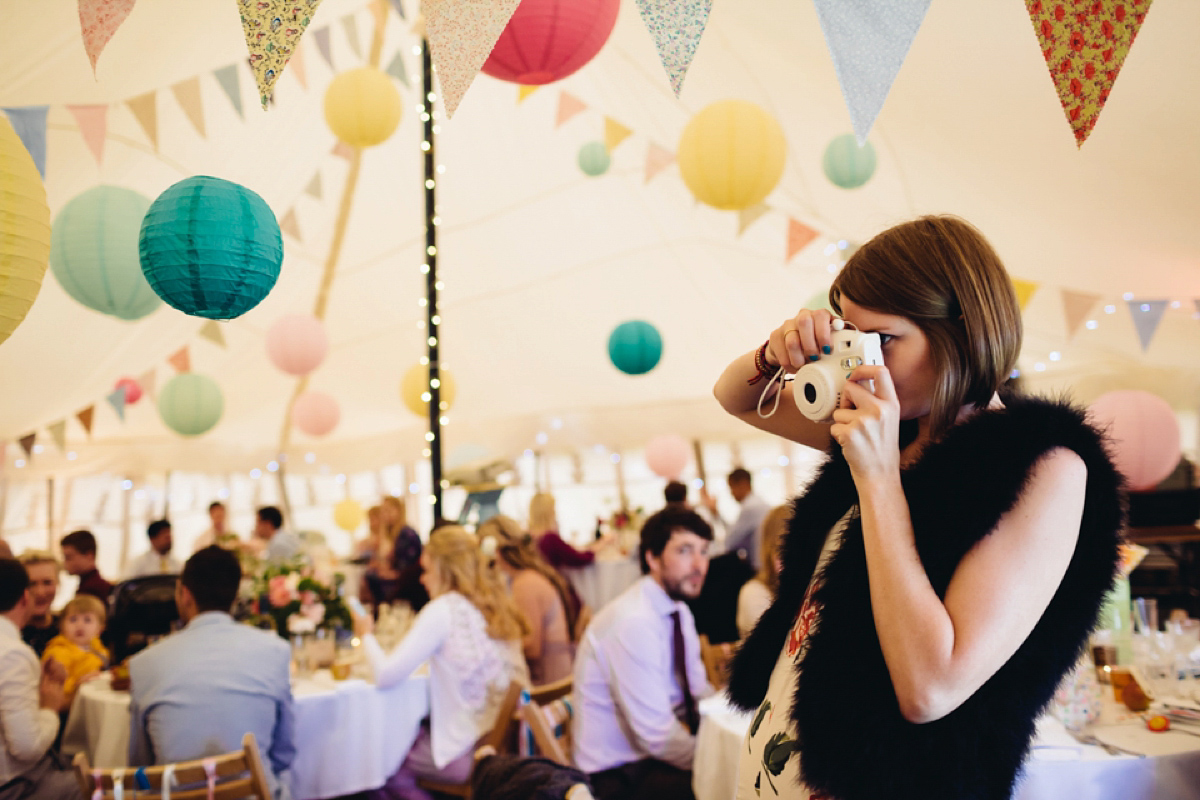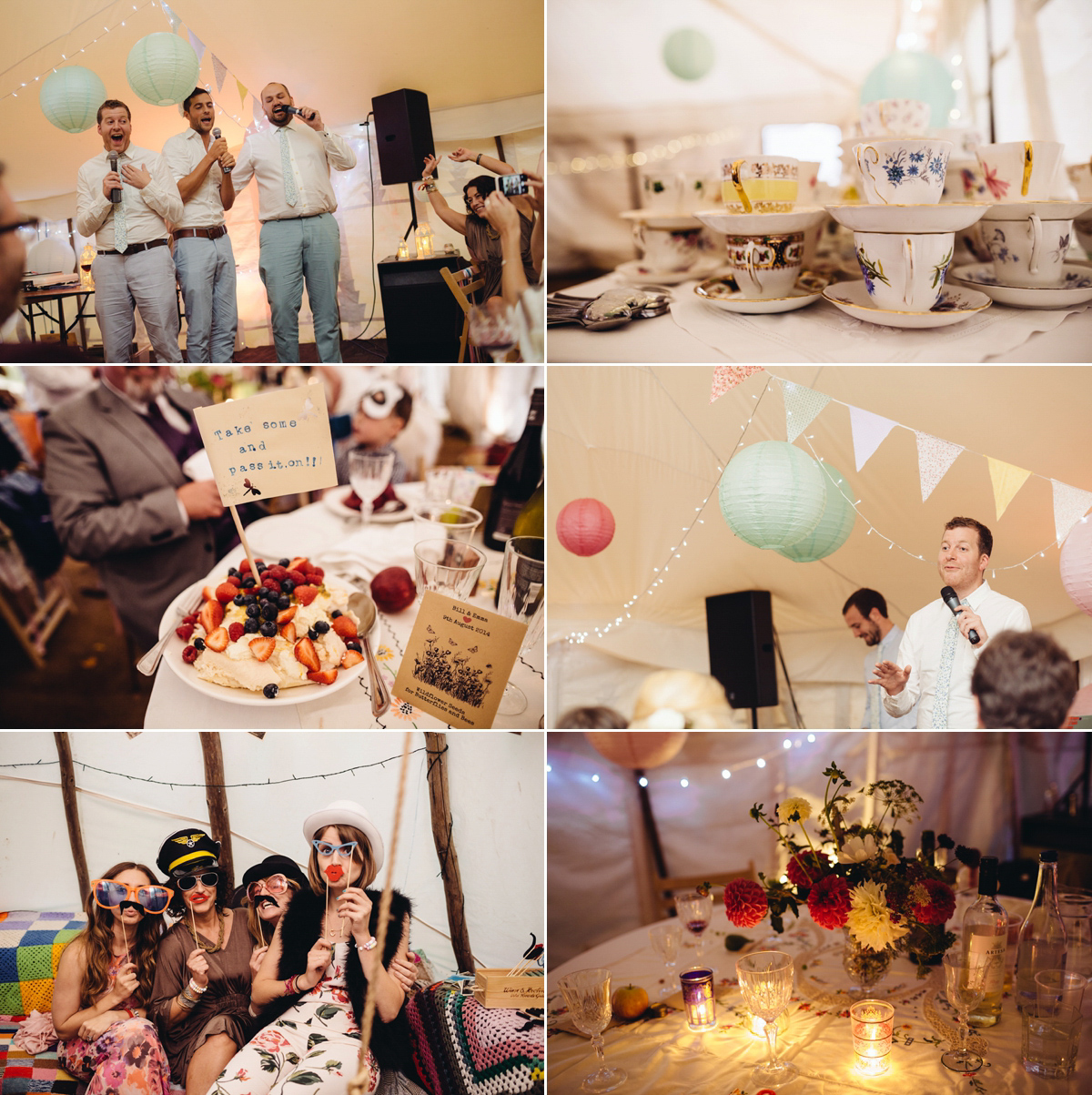 Incredibly usefully, Bill's younger brother Joe, older brother Tom and his wife Catherine were the wedding DJ's and Emma and Bill chose Stevie Wonder's 'Signed sealed delivered I'm yours' simply because they loved the track. With a whole weekend of fun and laughter, I'm not surprised the couple struggled to pick a favourite moment from the festival style celebrations.
"No one part stands out, it was all wonderful; just having all our family and friends together in such a wonderful setting was truly magical."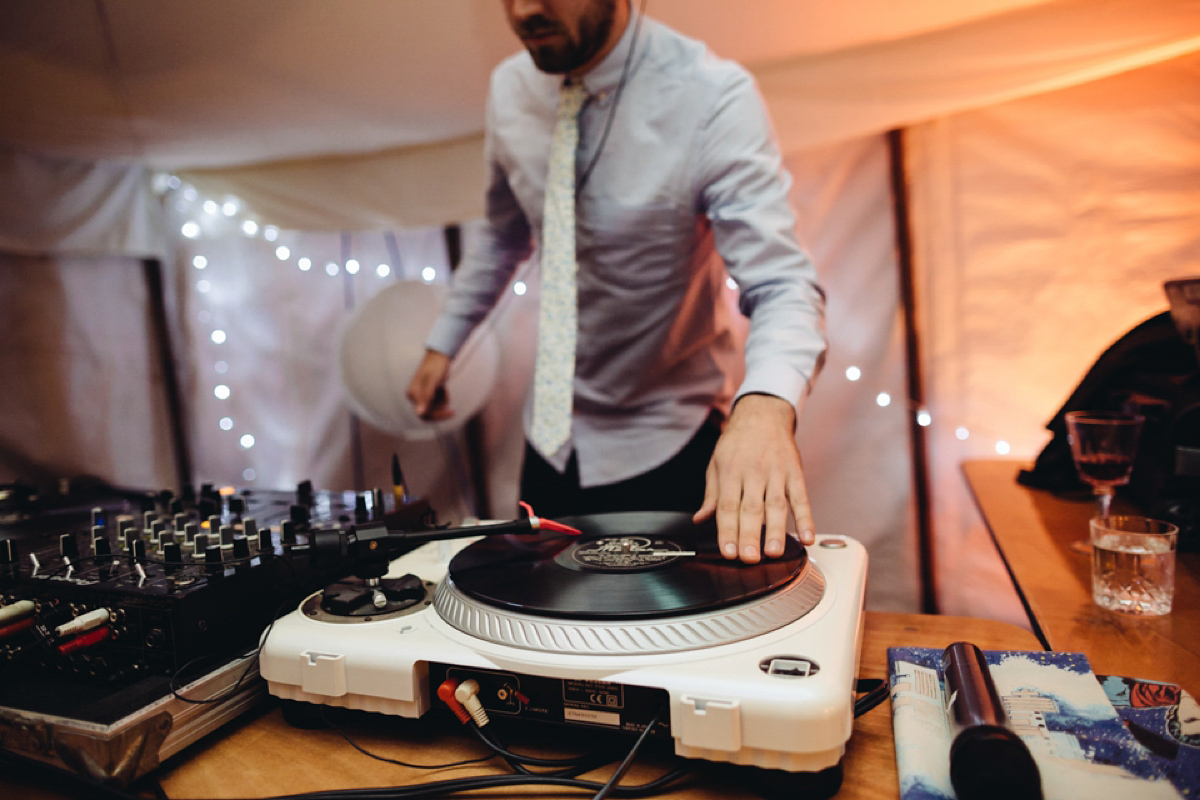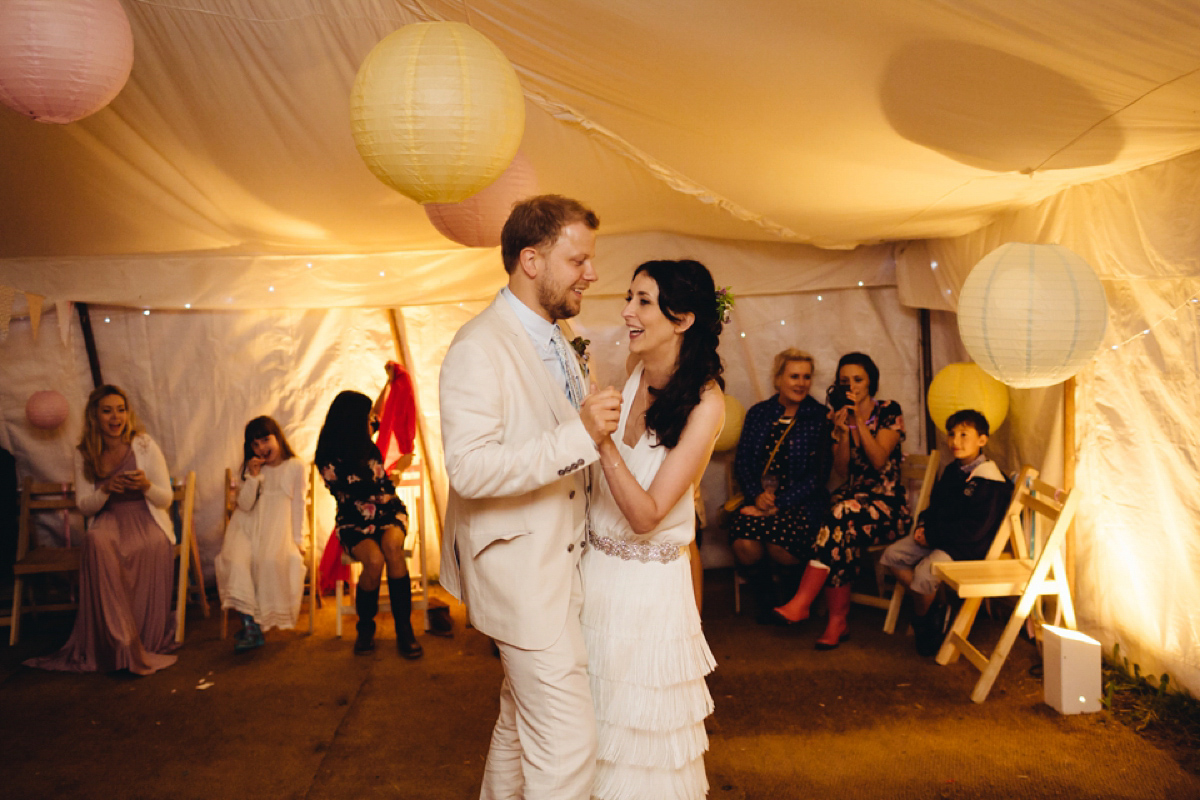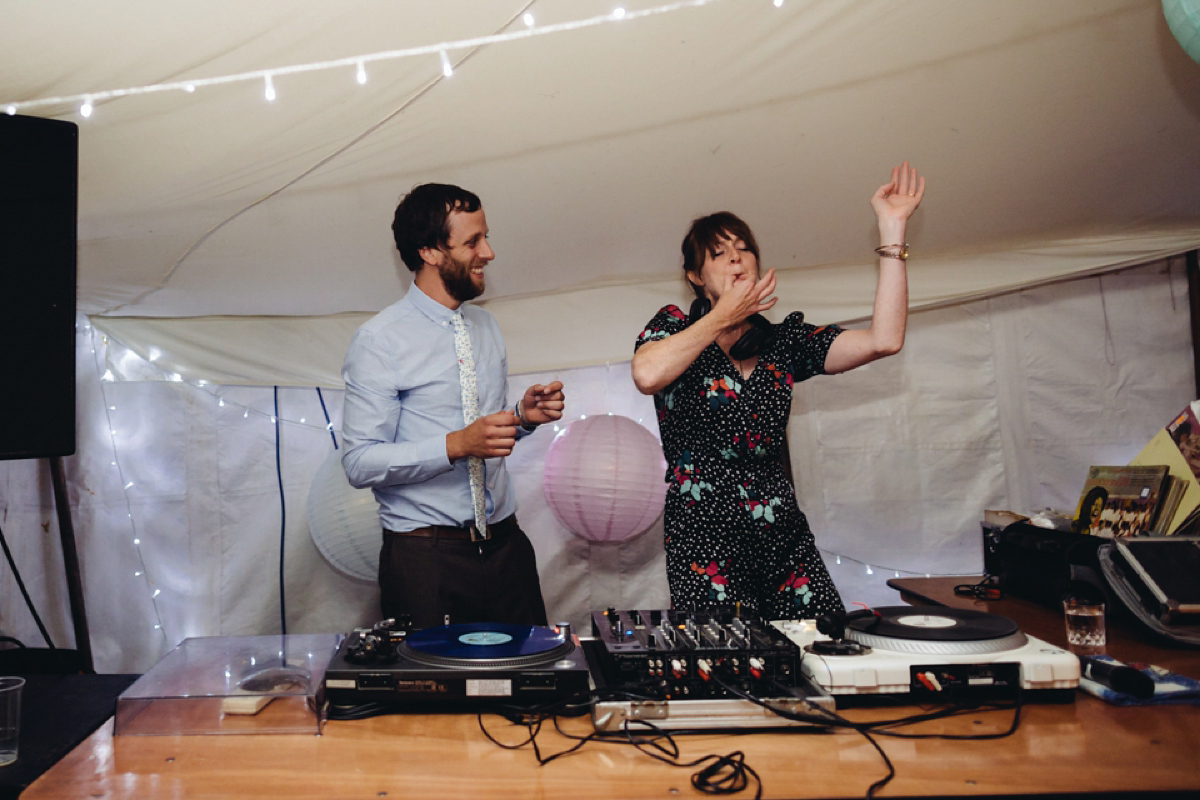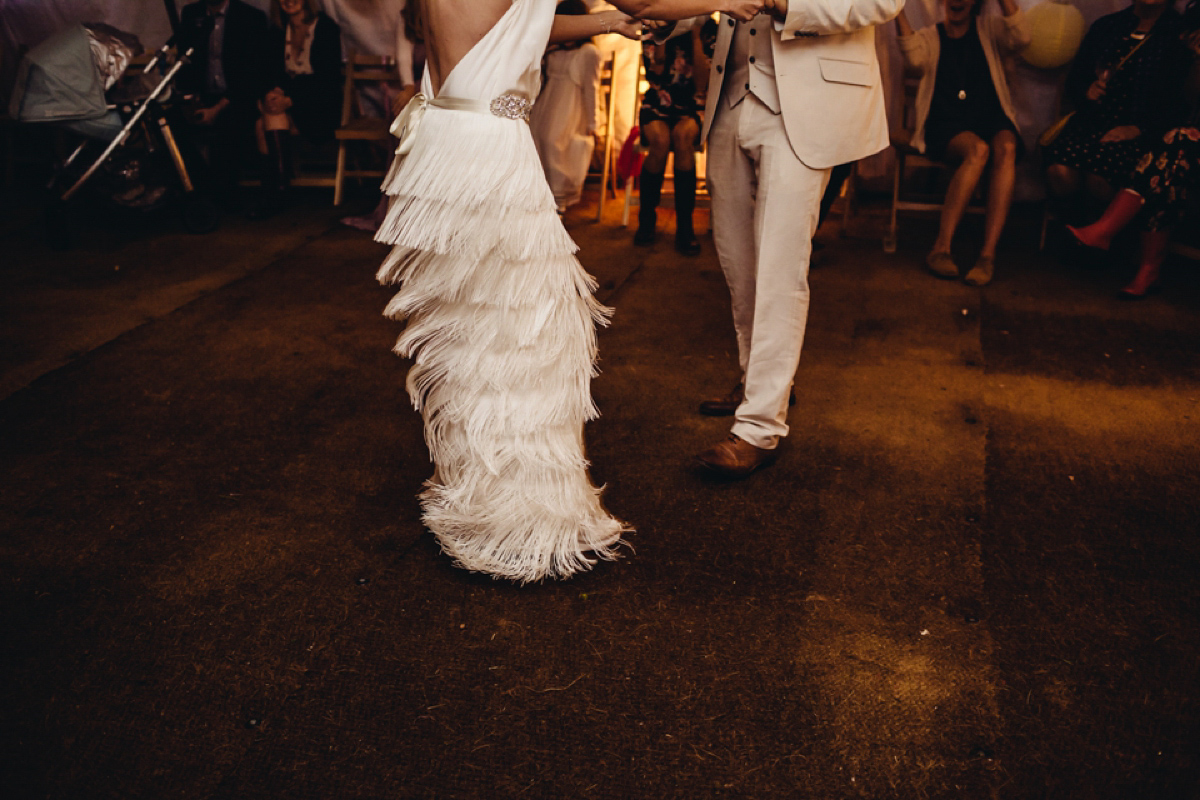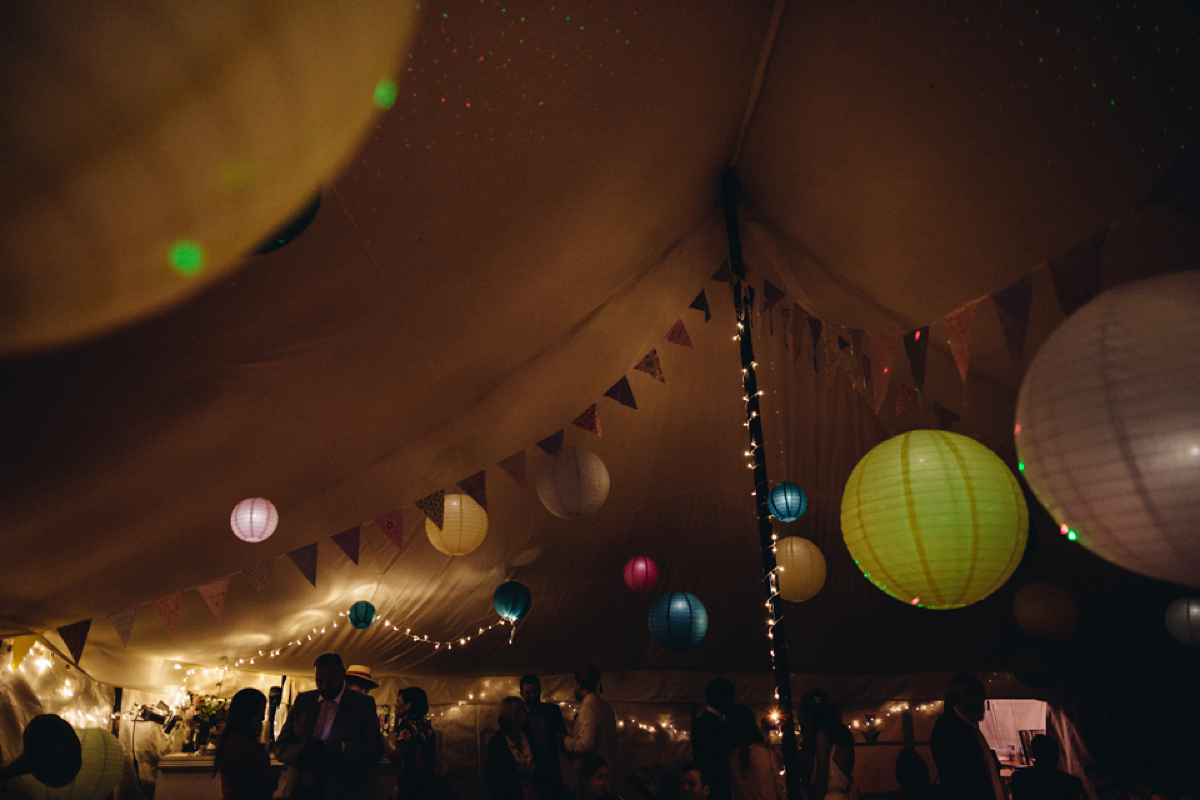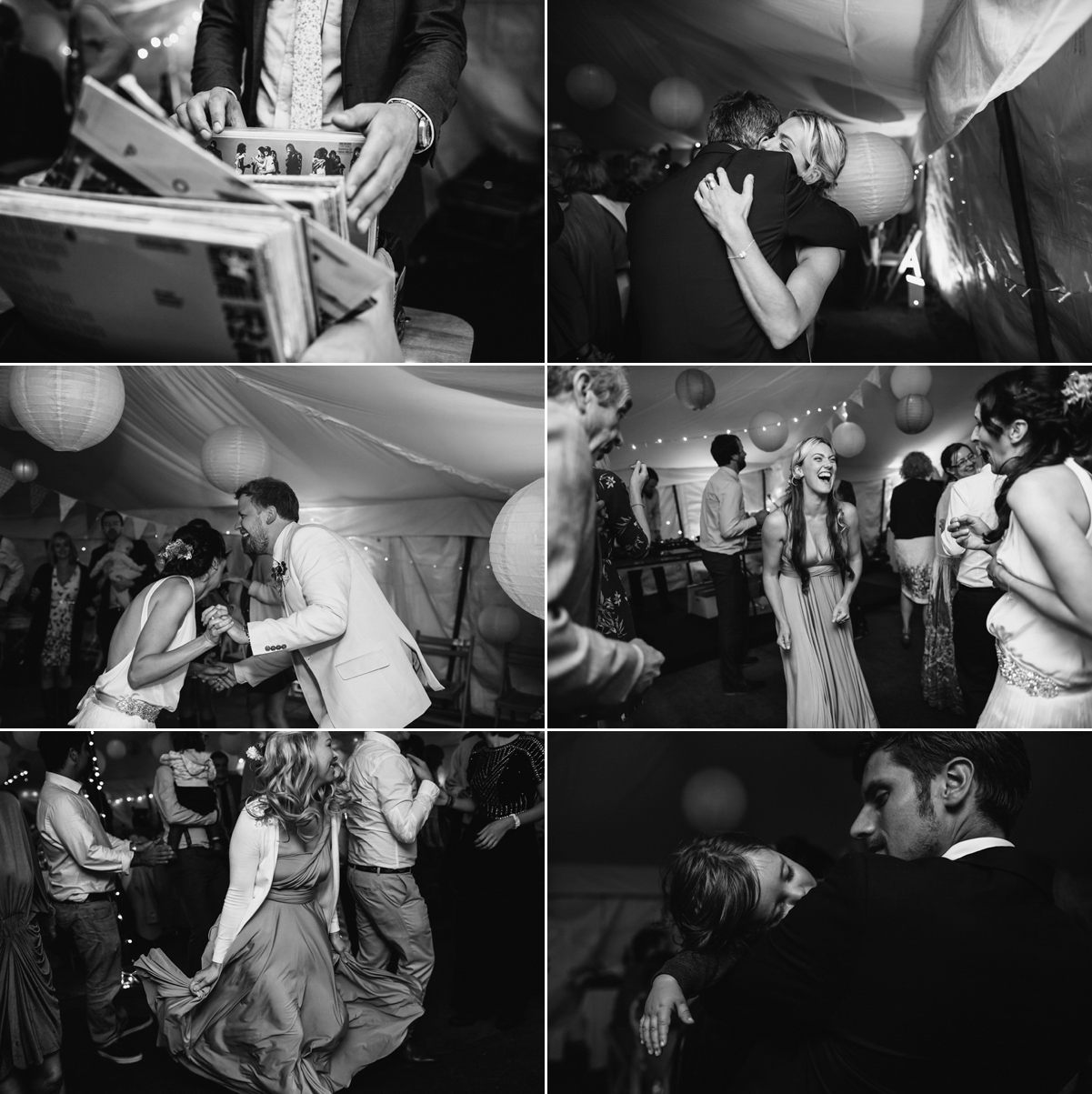 Words of Wedded Wisdom
"I wish I had realised how long it would take to style on our own! Don't under estimate how long things take, we did so much ourselves that everything took ages. It was also very problematic organising the event from Manchester; it meant lots of site visits and planning but it was well worth it."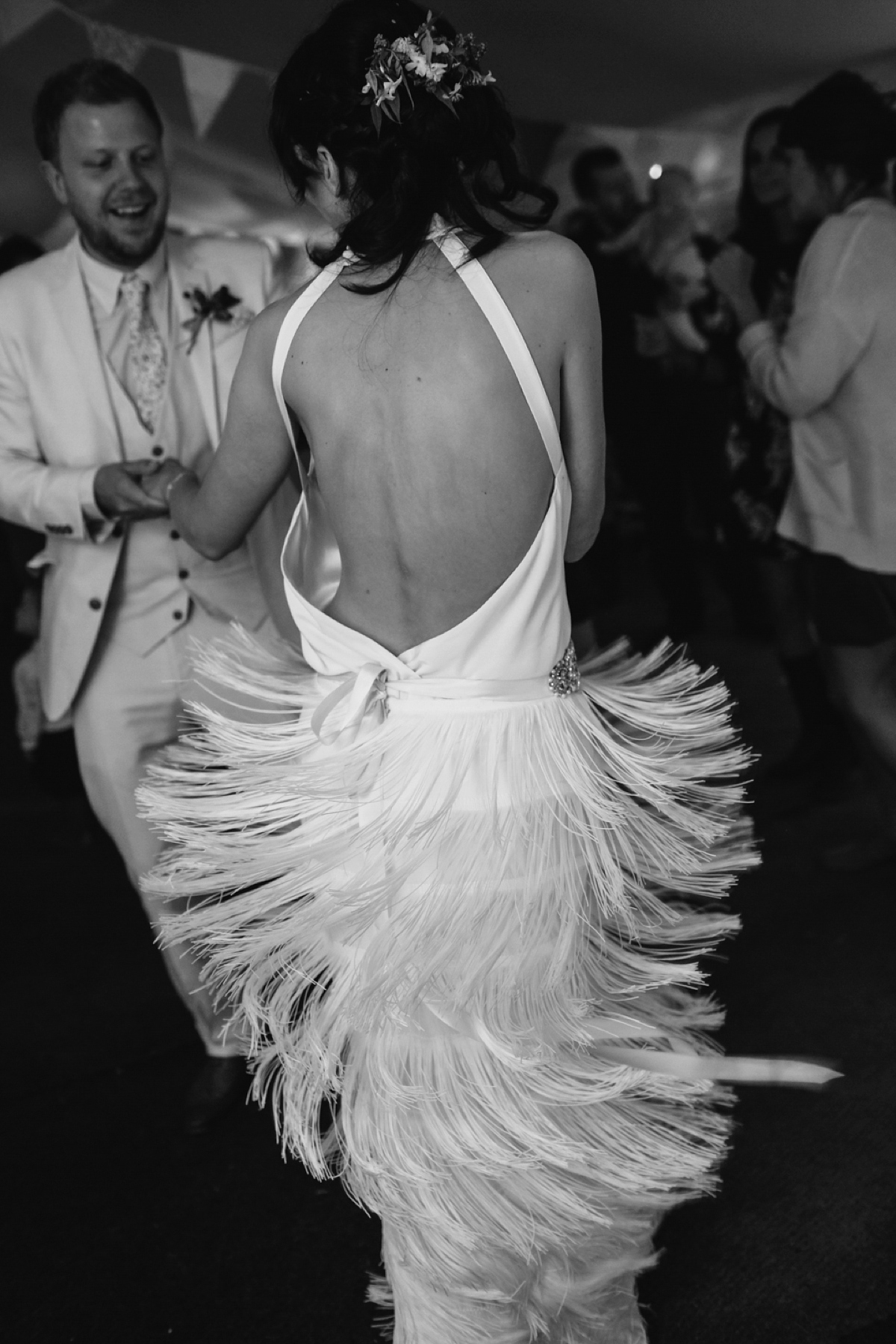 So worth it Emma! If the happy faces and endless giggles in these images are anything to go by, I'd say your guests had an incredible weekend. Thank you so much Emma and Bill for sharing your gorgeous celebrations with us and our heartfelt thanks too to Lucy Little Photography for the truly beautiful captures. If you're feeling inspired and adventurous, go ahead and peruse these fabulous tipi weddings and get ready to pack up your camping gear.
Love as always, Em x
Photographer – Lucy Little Photography
Venue – Cornish Tipi Weddings
Wedding Dress – Charlie Brear via The White Closet
Shoes – Rachel Simpson
Accessories – Marie Canning bracelet
Bridesmaids – Twobirds + Debenhams shoes + Marie Canning bracelets
Flower girl – I Love Gorgeous + Marie Canning bracelet
Page boy – Monsoon
Groom – River Island suit + Reiss shirt and shoes + Next tie and handkerchief
Florist – Garden Gate Flower Company
Rings – Wave Jewellery in Manchester
Transport – VW camper van via Cornwall VW Wedding Hire
Catering – Fee Turner Catering + hog roast via Snout & Trotter
Make-up Artist – Ella Butler
Hair Stylist – Sarah Hooper at Capella