Morning all! In case you've missed it, we've launched a new weekly Friday morning series, in which we share proposal stories from our darling community of readers.  This new feature was inspired by the amazing community we have established over in our private Facebook group for brides to be and newlyweds – if you're not yet a member, you can apply to be one via the page itself – we'd really love you to join us. You can also submit your own proposal story for sharing with Love My Dress by completing this form. We look forward to hearing from you!
___________
Emily *(25) and Dunstan (26) 
Dunstan and I met by chance at University; he lived with some of my best friends and we crossed paths for the first time, when I was visiting them during my year placement year which I was doing at home, in an open air bar at lunchtime; no-one thought to introduce us! I only stayed for a short time and when I left I immediately text my friend to ask who He was! We met again a few months later on another of my visits; I had never met anyone so captivating and I knew he was something extra special. That was four years ago in 2012.
Connect with Emily
Stacey is on Instagram at @emily.l.hall
How He Asked…
Dunstan built a Canadian canoe whilst he was at University and we have spent many a blissful trip and adventure paddling up and down the creeks in Essex where we live. We had moved and his canoe hadn't come with us but we had recently found somewhere to keep it and he had been working hard doing some maintenance to get it ship shape prior to its arrival.
We had planned our maiden voyage from its new home; an early morning paddle out to one of the islands in the river for a picnic breakfast. On the Friday night Dunstan was busy organising the picnic, packing bags and doing all sorts of preparation, quite unlike his usual laissez-faire and relaxed self!
On the Saturday morning we woke up, bright and early, at 6am to glorious sunshine. Again, Dunstan was up and preparing things, cooking the bacon for our rolls… We left at 6:30 to walk down to the river, it was stunning, crisp, clear and so quiet. We set off at 7 and paddled down the river, our first adventure in this river. We moored up on a small beach on Northey Island at about 8am and started our picnic. Dunstan couldn't finish his roll and threw the leftovers to the fish; I remember thinking "I won't be wasting mine!".
We had a chat and were enjoying the tranquility of the morning, then he stood up, turned away from me and switched on our GoPro, he panned the surroundings and turned back towards me. He sat back down in the canoe, suddenly appearing openly nervous and I twigged, not being good with surprises, I panicked and suggested that we "make a move…" to which he responded "to the next step in our relationship?" and then proceeded to propose to me! I was so shocked that it took me a while to say yes! It was completely perfect!
Superficially I felt completely shocked, I never thought the day, which I wanted so desperately, would come but deep down I felt one step closer to feeling complete which I know I'll feel when we get married.
When we arrived back at the Quay his mum and brother were waiting for us with an enormous, personalised, red, heart-shaped balloon and champagne, my parents joined us later on that morning!

The Ring
Dunstan designed my ring and had it made prior to proposing at a jewellers local to our home; Mitchells Jewellers. It is an 18ct yellow gold band and the centrepiece is a beautiful oval diamond which is surrounded by eight smaller diamonds. Albeit coincidentally it is remarkably similar to my mum's engagement ring.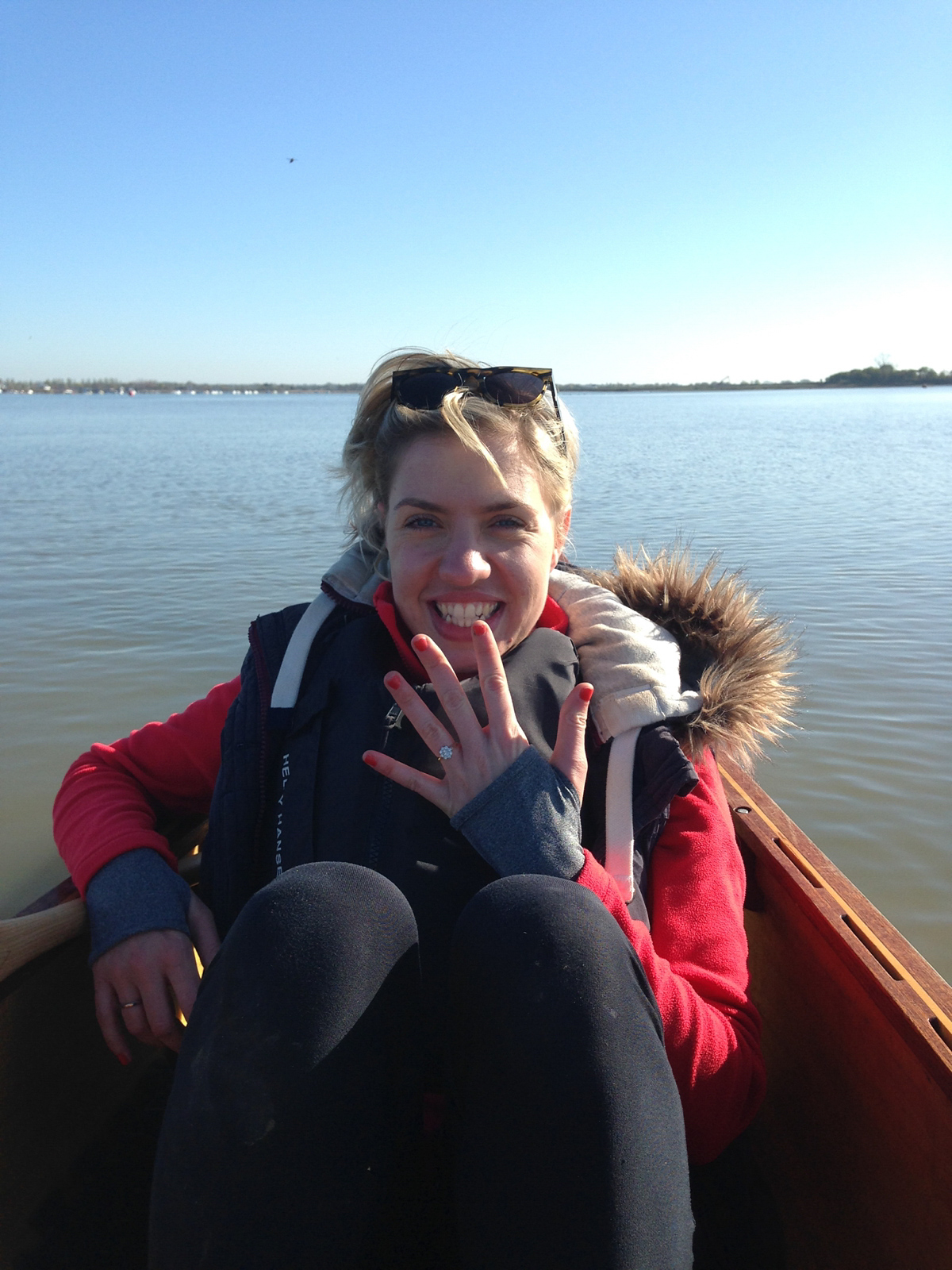 Wedding Plans
We are planning to get married next year, 1st July 2017 local to where I grew up in Sussex. We want to have a day filled with fun, laughter and love and be surrounded by our friends and family.
Love My Dress is my absolutely favourite wedding blog and definitely feeds my unhealthy obsession with weddings!
______________________
Huge congratulations to you both Emily and Dunstan!
If you would like to share your proposal on Love My Dress, bookmark this form here and fill it in when you have just a few minutes spare. We really look forward to hearing from you.
Love Annabel x