If you're currently searching for your wedding dress and are thinking of something a little bit different, then look no further than this absolutely divine dress by Sassi Holford. Grab a hot cuppa, perhaps even a sneaky sweet treat, and take a break over these gorgeous images by Ellie Grace Photography of primary school teachers Amelia and Richard, who chose one of their favourite walking settings for their summer nuptials just a few weeks ago on the 3rd of June – Losehill House in the Hope Valley, Derbyshire.
Amelia was a stunning English rose in her Sassi Holford 'Marilyn' gown with soft organza overlay, shoulder detailing and accents of pink and green.
"I saw the 'Marilyn' style as I was walking past the shop – she wasn't in the window but my eyes instantly fixated on her. Richard and I had discussed going mauve, with heather at the centre of the colour scheme, but then I found my pink and green dress. It was hard to convince Richard to change the colour without being able to tell him why!"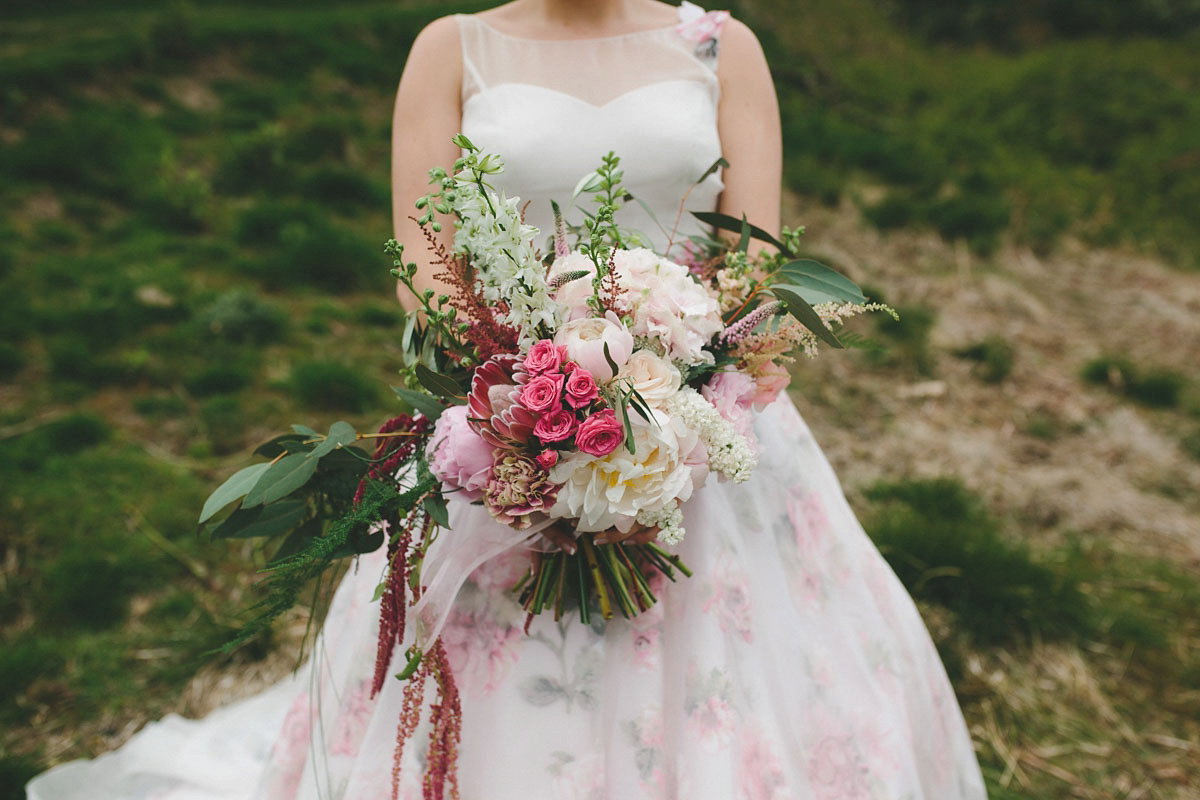 Bouquet by Campbell's Flowers
Amelia wore 'Stella' by Stella McCartney, her favourite scent; pink pearl drop earrings from her mum, a pink pearl bracelet, and the most beautiful floral headpiece from Campbell's Flowers, with hair and make-up by her good friend Emily Rose Almond from The Laurels Hair and Beauty Boutique.
Another of our brilliant Little Book For Brides suppliers, Campbell's Flowers, supplied the blooms for this charming wedding. We adore florist Jen's artistry – her beautiful bouquets have graced our pages many times and in some of our very favourite weddings (you must see this Whitby wedding that Annabel shared, it's just so lovely).
"Tracey Campbell of Campbell's Flowers was our wonderful florist. My mum and I met her through the photographer Ellie, as they both work at the Light Space Collective. She is such a lovely calming lady who is truly talented. Bizarrely, Tracey had done an Autumn photo shoot with my wedding dress at my wedding venue a week or so before we met her."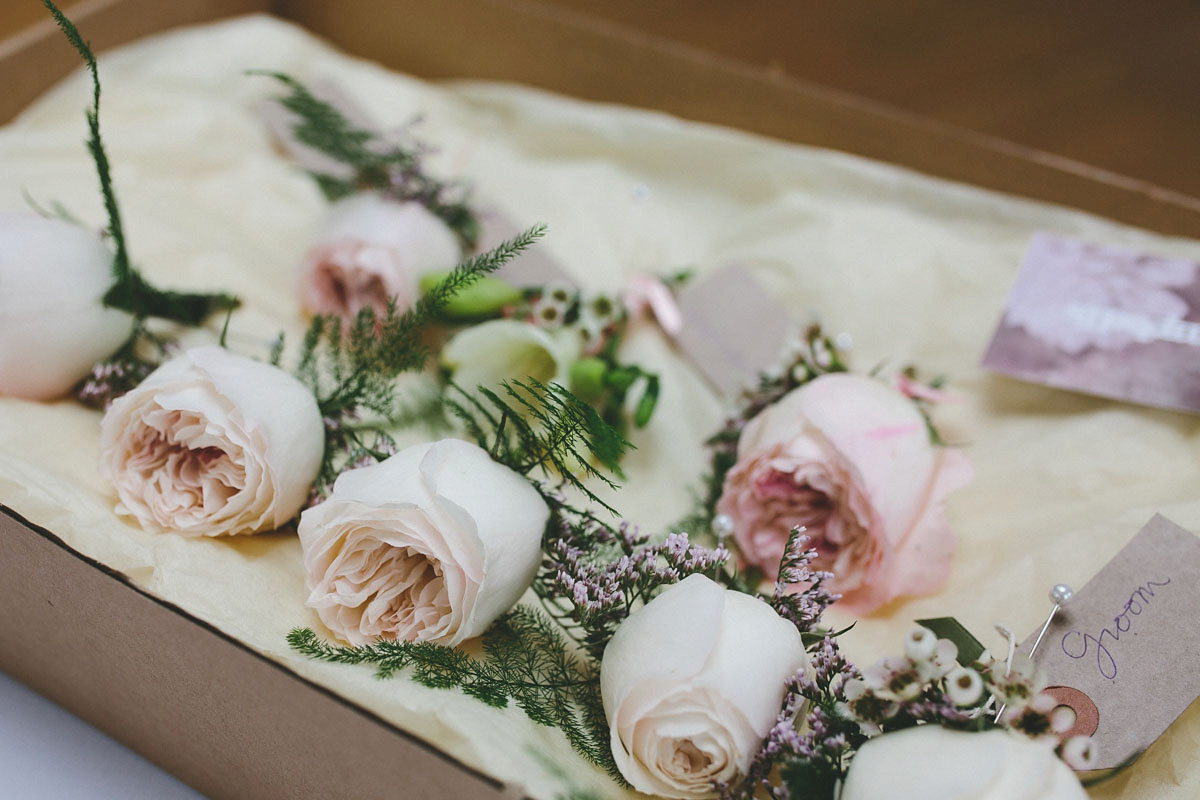 "As I don't know anything about flowers, I gave her artistic license; my mum and Tracey spent some time talking flowers. Tracey came up with a colour palette and then went from there. She kept me involved and created stunning centre-pieces, headpieces for all three of us and our bouquets – everyone commented on how amazing they were."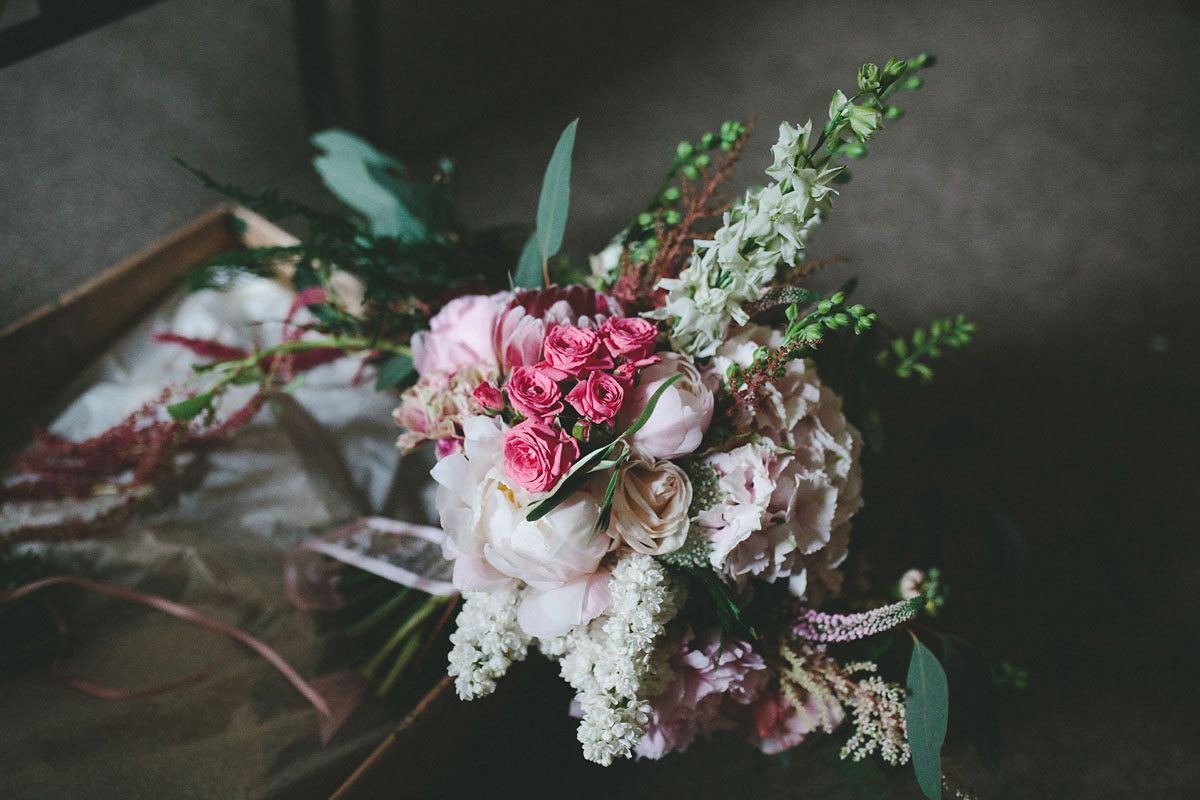 "We met on a night out in 2011 and were engaged on the 16th October 2015. We often go up to our friend's house in a tiny village overlooking Filey Brigg and Bempton cliffs. It was the place we actually went on our fourth date to stay the weekend. That particular weekend we got there and our friends were stuck in traffic; we therefore decided to wander down to the fields and found a bench that overlooked Filey Bay. As it was bonfire night, we cracked some beers and enjoyed the fireworks for a few hours.
Fast forward to years later and we were going to the same place for the weekend again. We walked through the fields and got to the bench and it was covered in candles and photographs. I turned round, Richard was on one knee, and of course I said yes! Minutes later, from the bottom of the field, amazing fireworks started going off. Our friends appeared from a bush nearby – Richard had arranged it all with them; we popped the Prosecco and had a brilliant night!"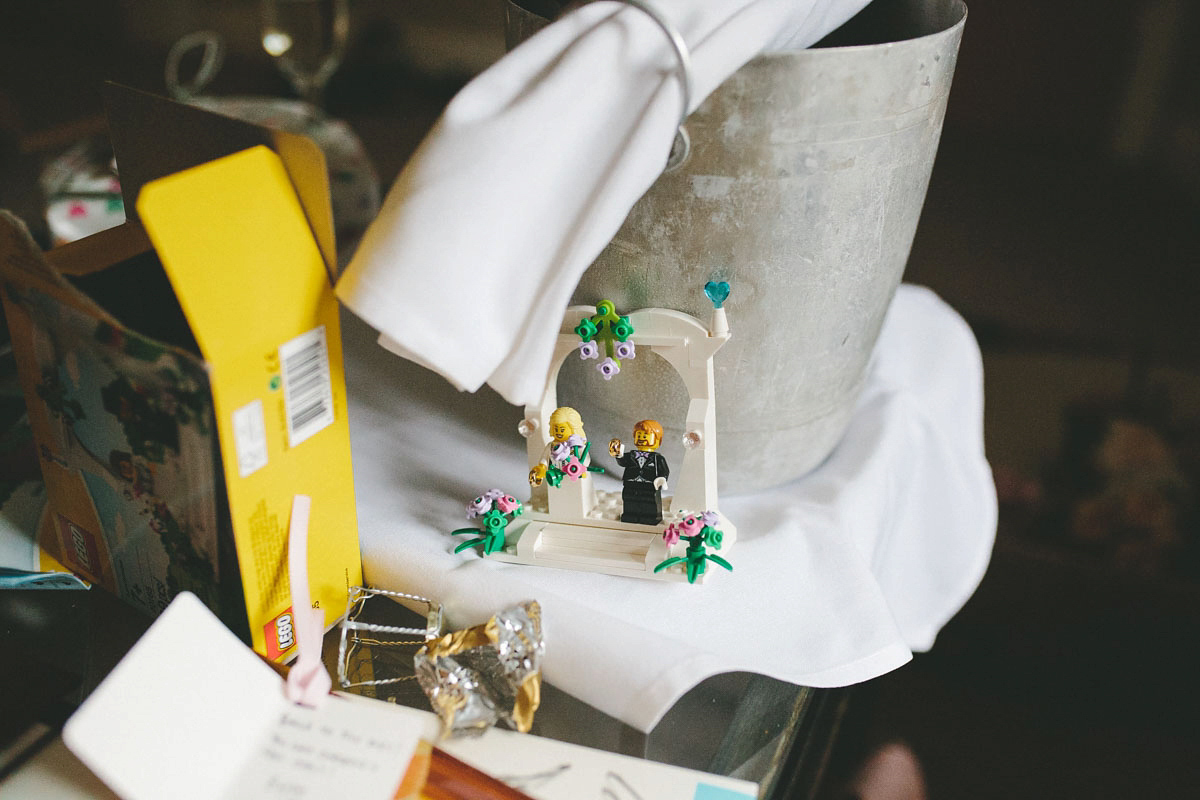 "We chose the venue as we love walking and climbing in the Peaks. Losehill and Win Hill are ones that we have walked numerous times, so it was just perfect to marry in the valley between them. Originally, we wanted to disappear to Scotland with close family, but it wasn't possible with my grandparents."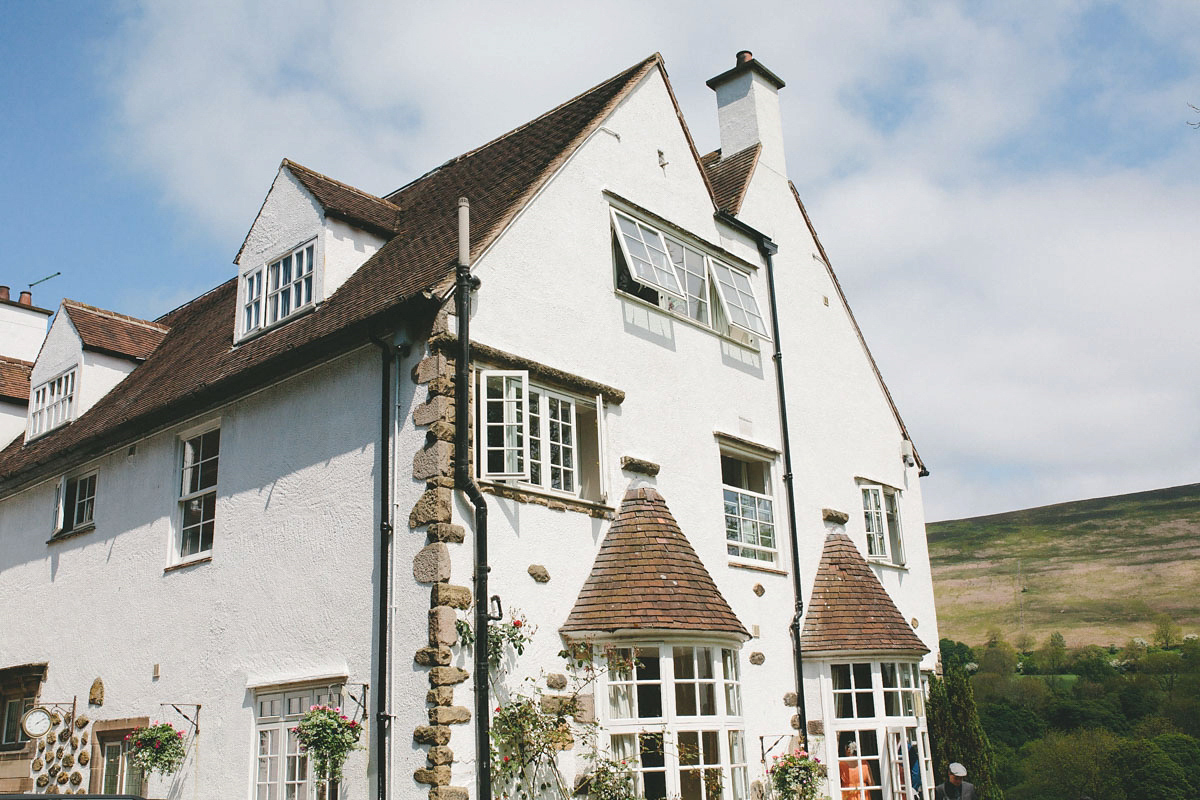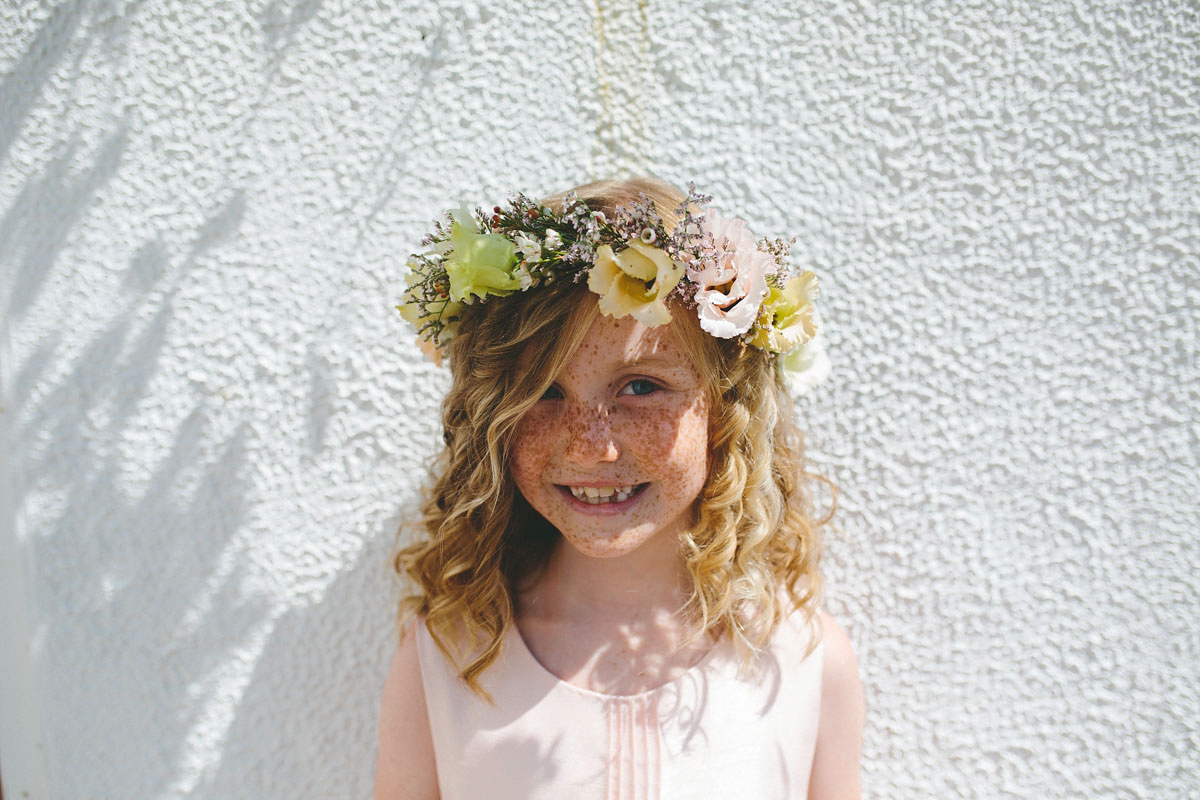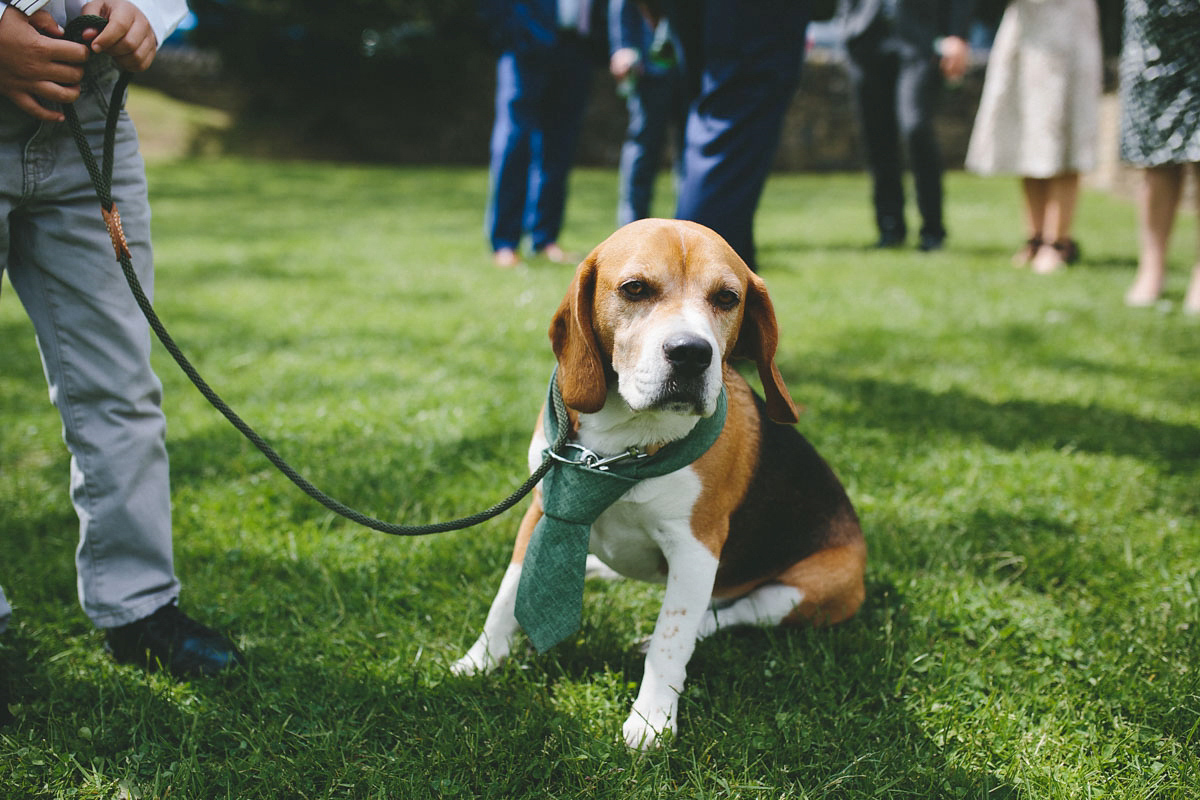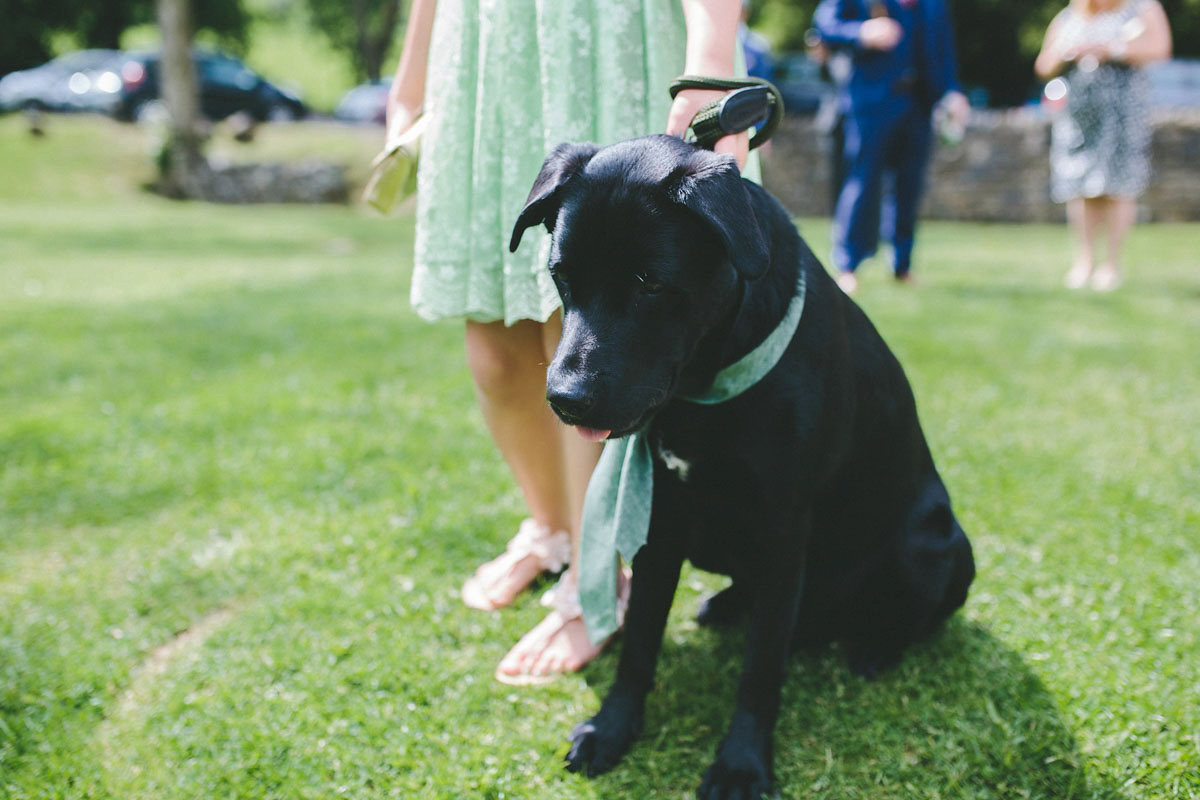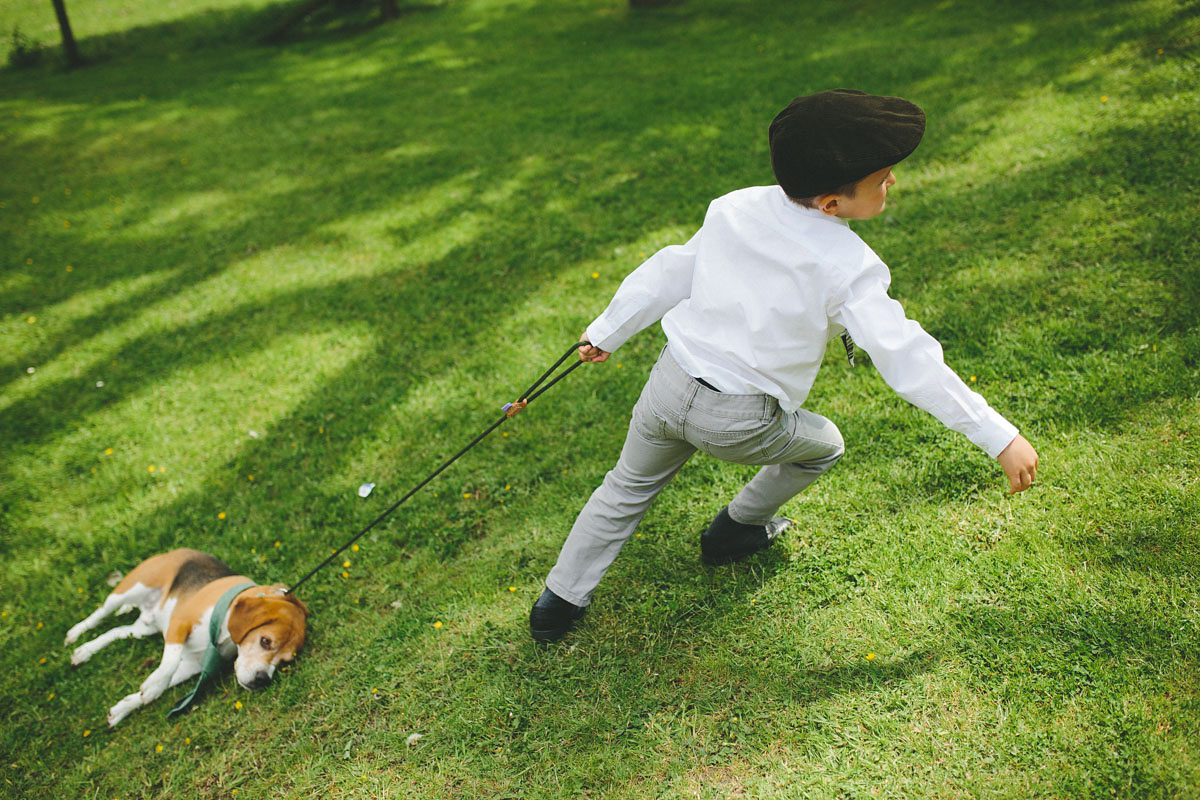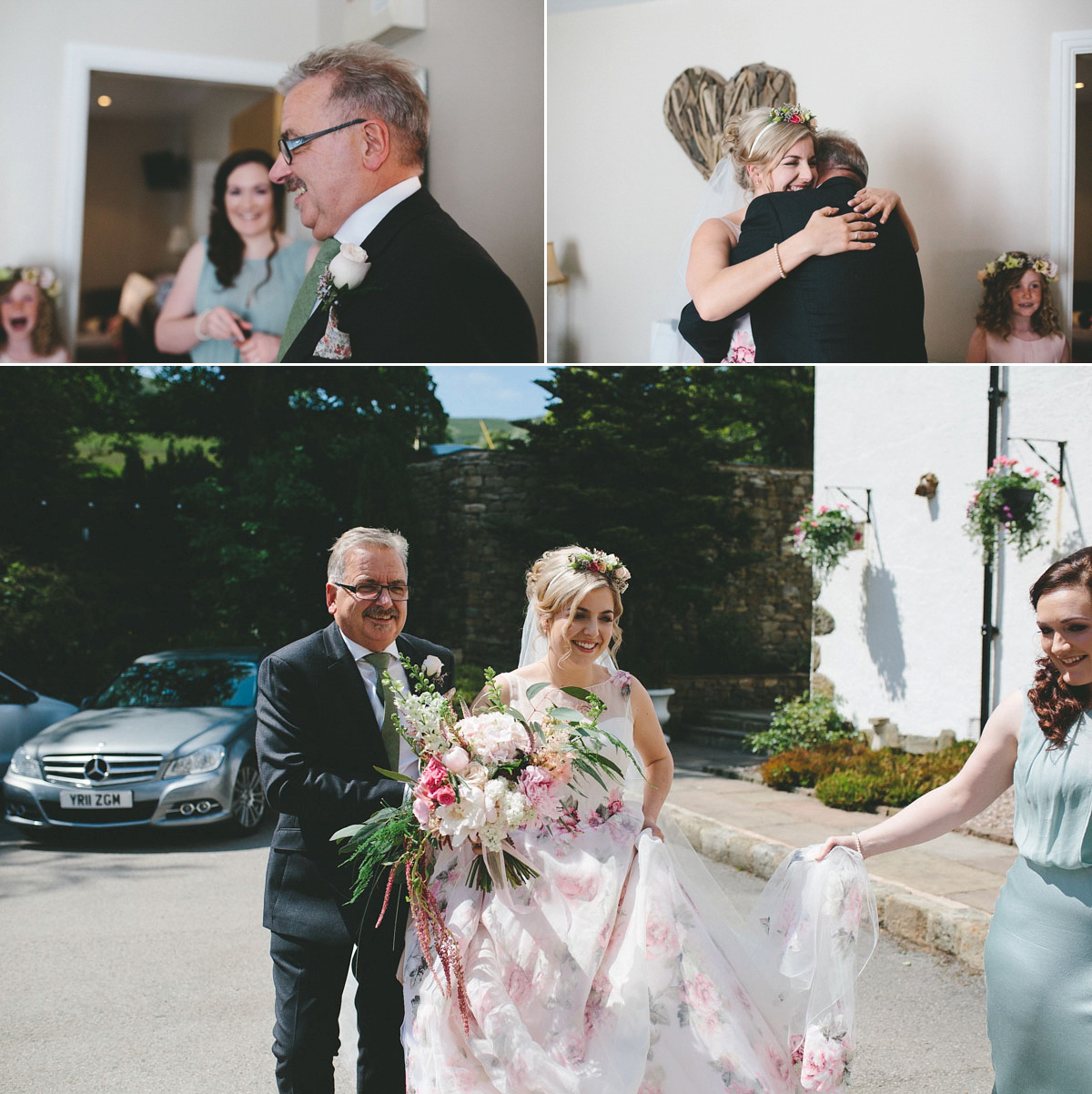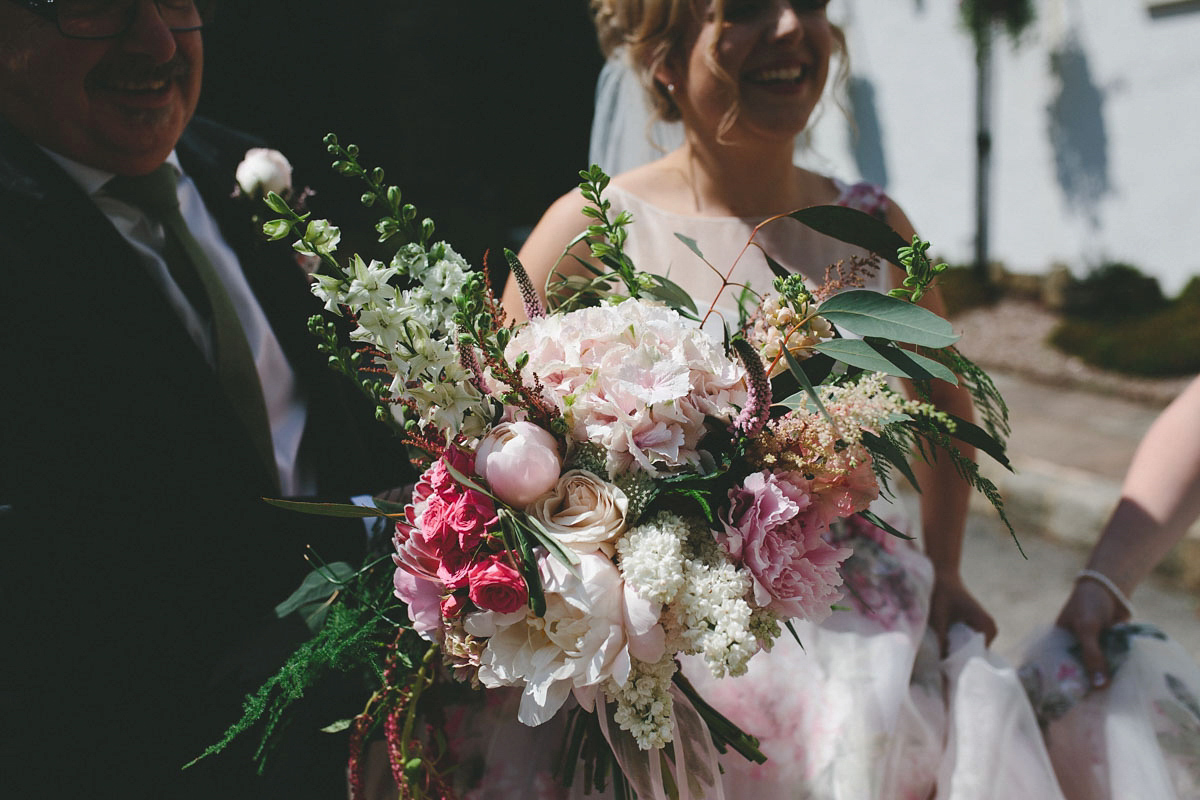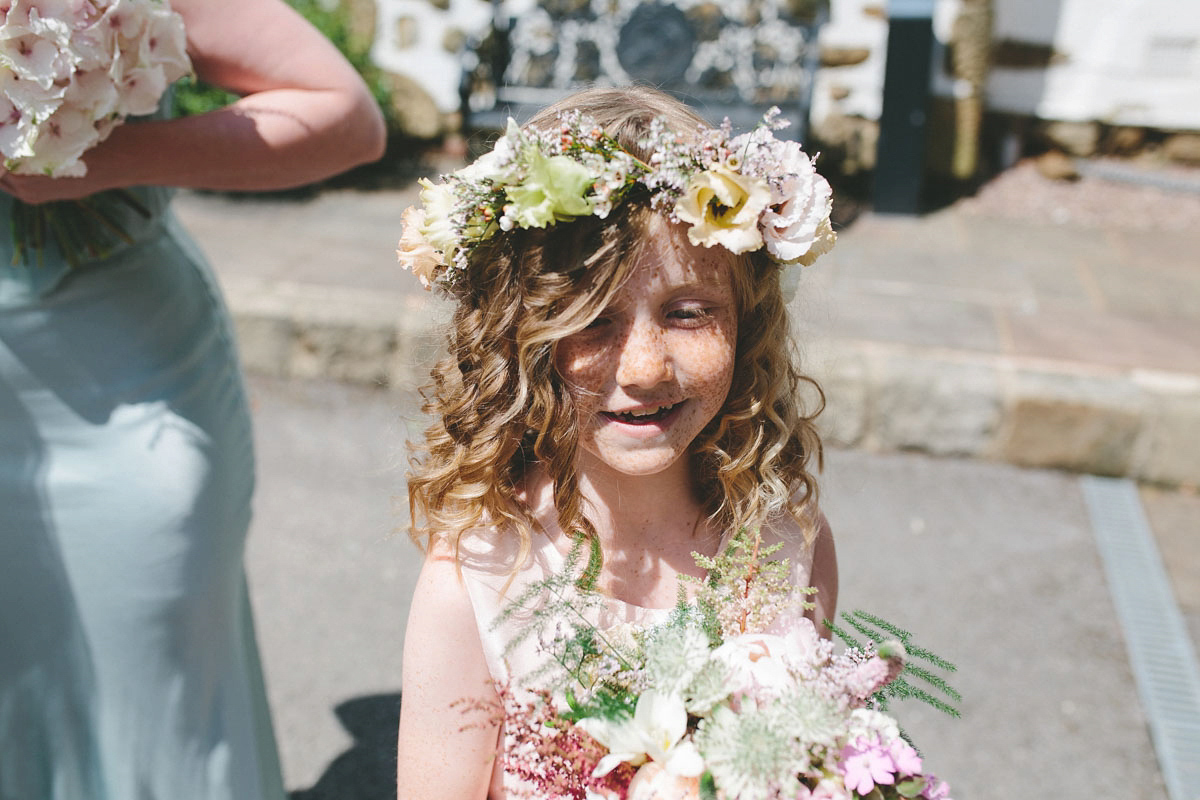 The maid of honour wore a lovely Ghost gown in dusty green, Kurt Geiger shoes and white pearl earrings from John Lewis, whilst the sweet flower girl was pretty in pink in a BHS dress and a floral crown created by Campbell's Flowers.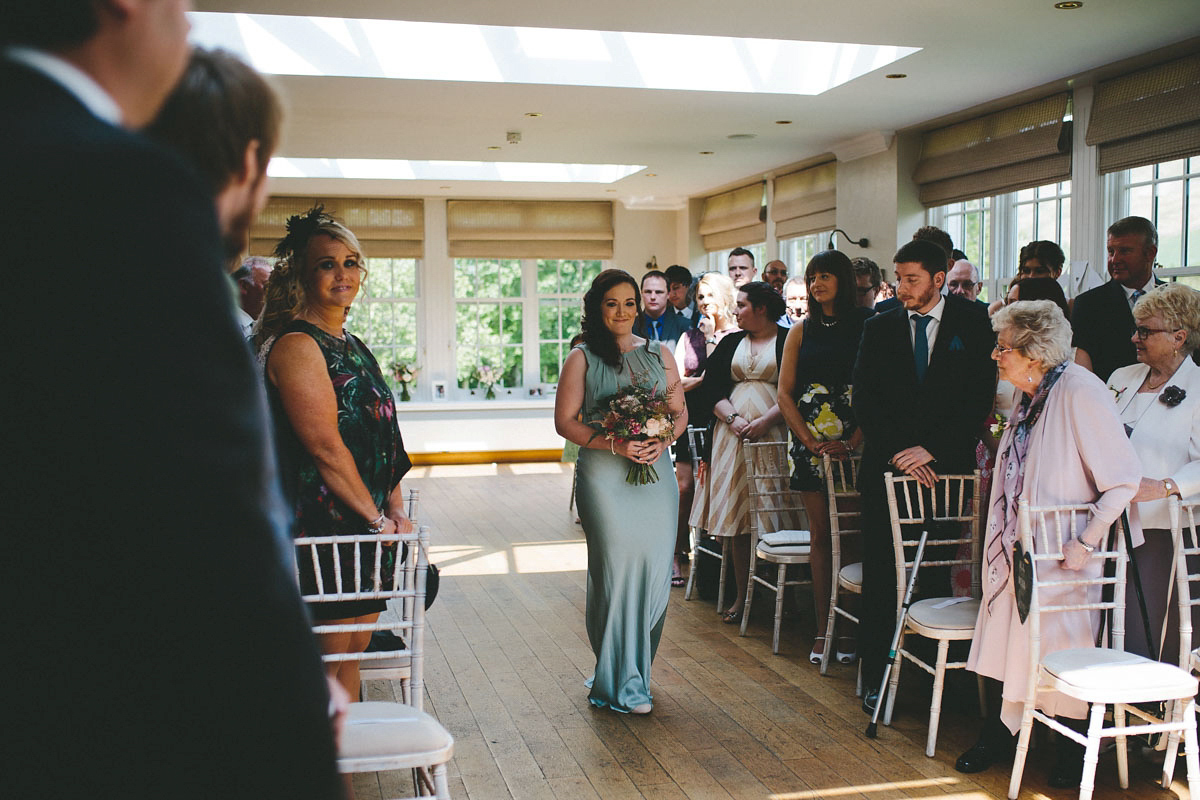 "My dad walked me down the aisle on the day to Olsen Olsen' by Icelandic band Sigur Ros – we laughed all the way after a funny comment from him!
Our friends Cheryl and Ian, who assisted with the proposal, made their own version of 'I wanna be yours' by John Cooper Clark (made famous by the Arctic Monkeys) for the reading. They tailored it to include all the things we love, like camping, climbing and spicy food."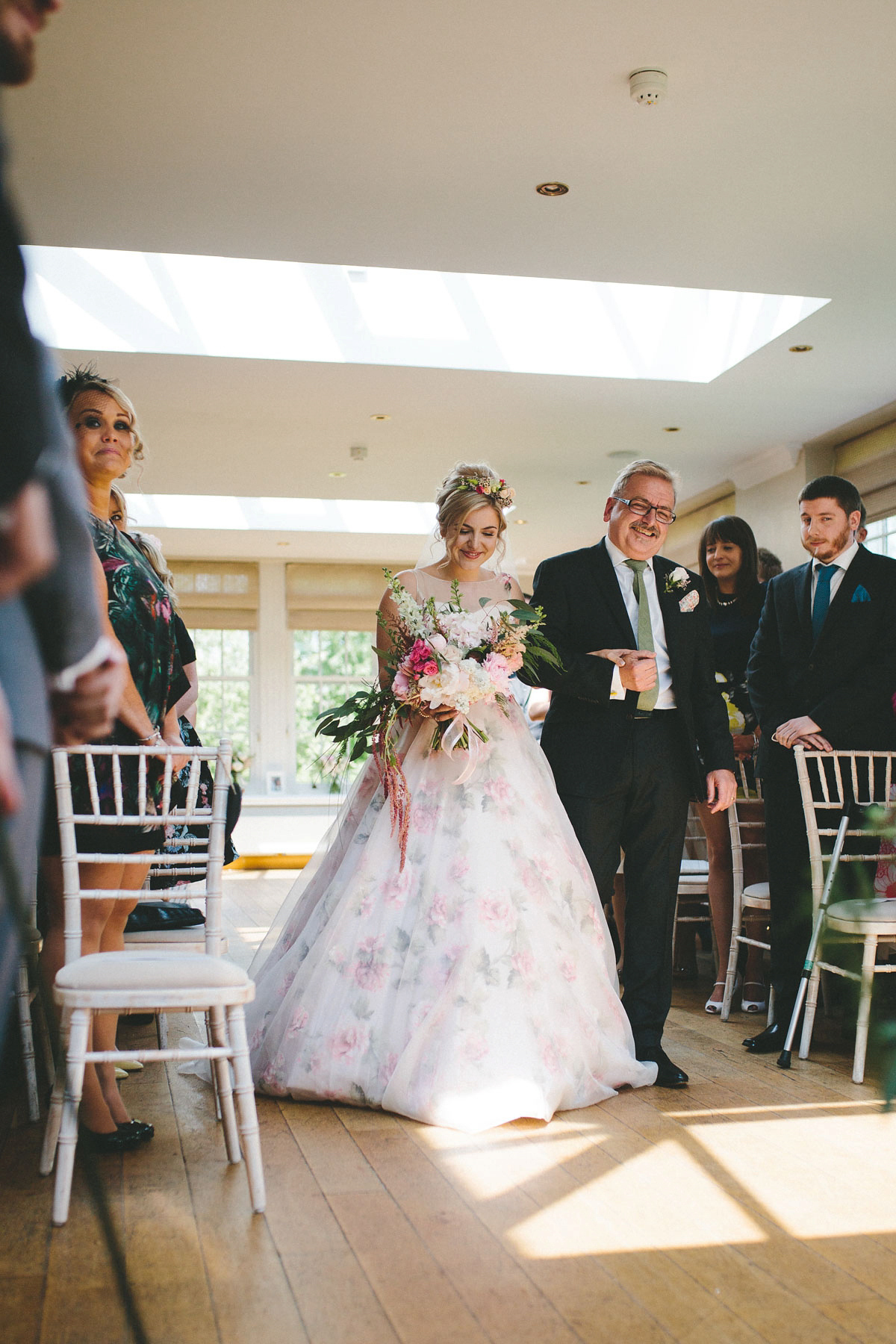 "Richard's suit was tailor-made in Thailand when we were backpacking there last summer. Little did we know it would be a wedding suit – we only had it made because it was a bargain! He added a flat cap from Fjӓllrӓven and tie from TM Lewin and his silver pocket watch belonged to my great grandparents.
The best man and our dads had matching suits from TM Lewin – we opted for a small groom party as we both could have gone on and on!"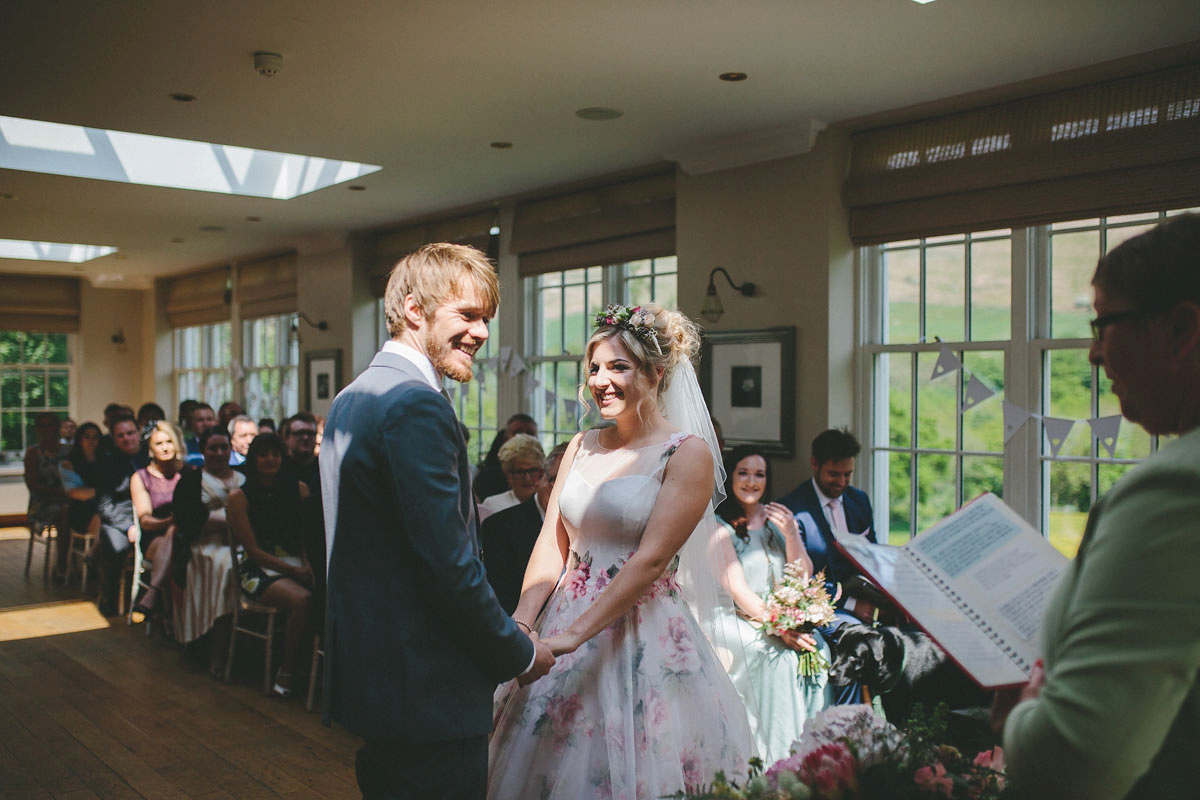 And I must give a special mention to the ring bearers – or 'best dogs' – Jeremy (a Beagle) and his best friend Helgi (Labrador-cross-Rotweiler), who looked dapper in ties from Frederick Thomas.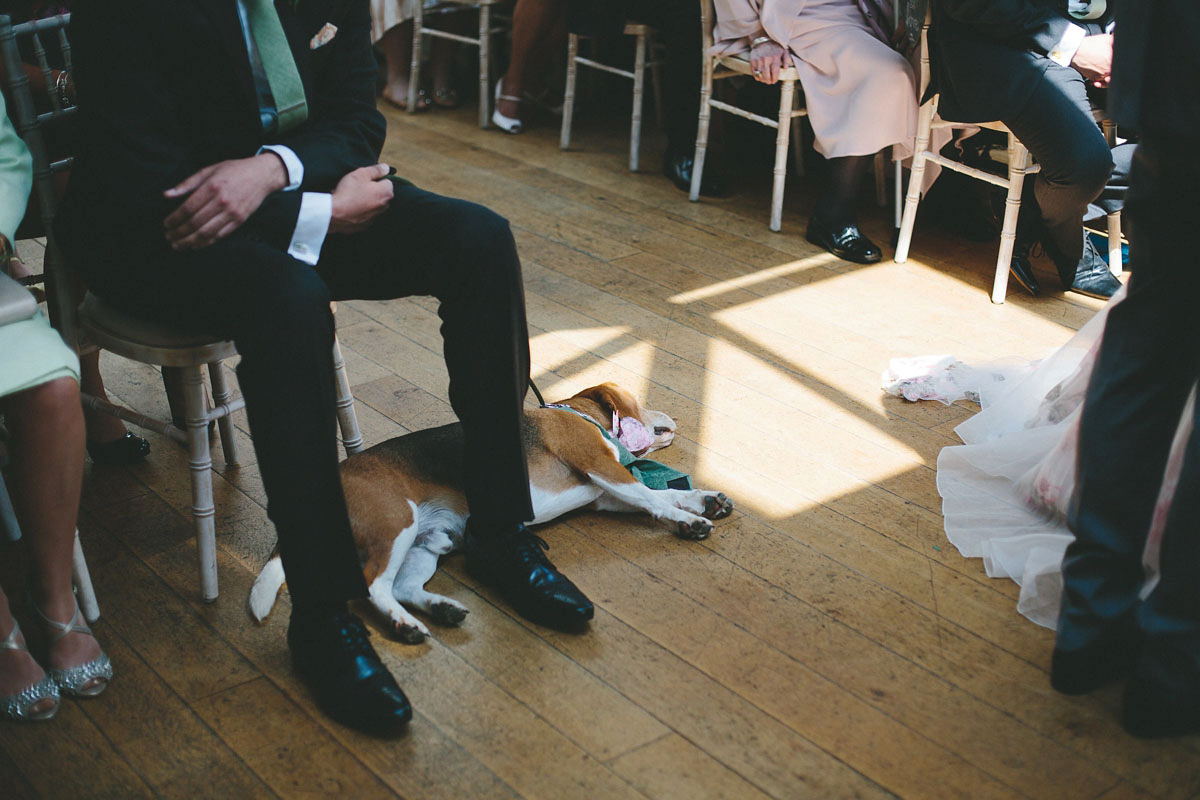 I adore Amelia and Richard's beautiful heartfelt rings, which were made by their friend Emma Pearson (you can contact Emma on [email protected] if you're interested in her designs – she makes everything to order).
"I went for two rings both made from white gold. One has a ridge in it so my square diamond fits perfectly inside it. The other has 'Hope' inscribed as that's where we got married. Richard has 'Hope' written in and has the outline of the mountain range that we walk regularly (Mam Tor, LoseHill and Win Hill)."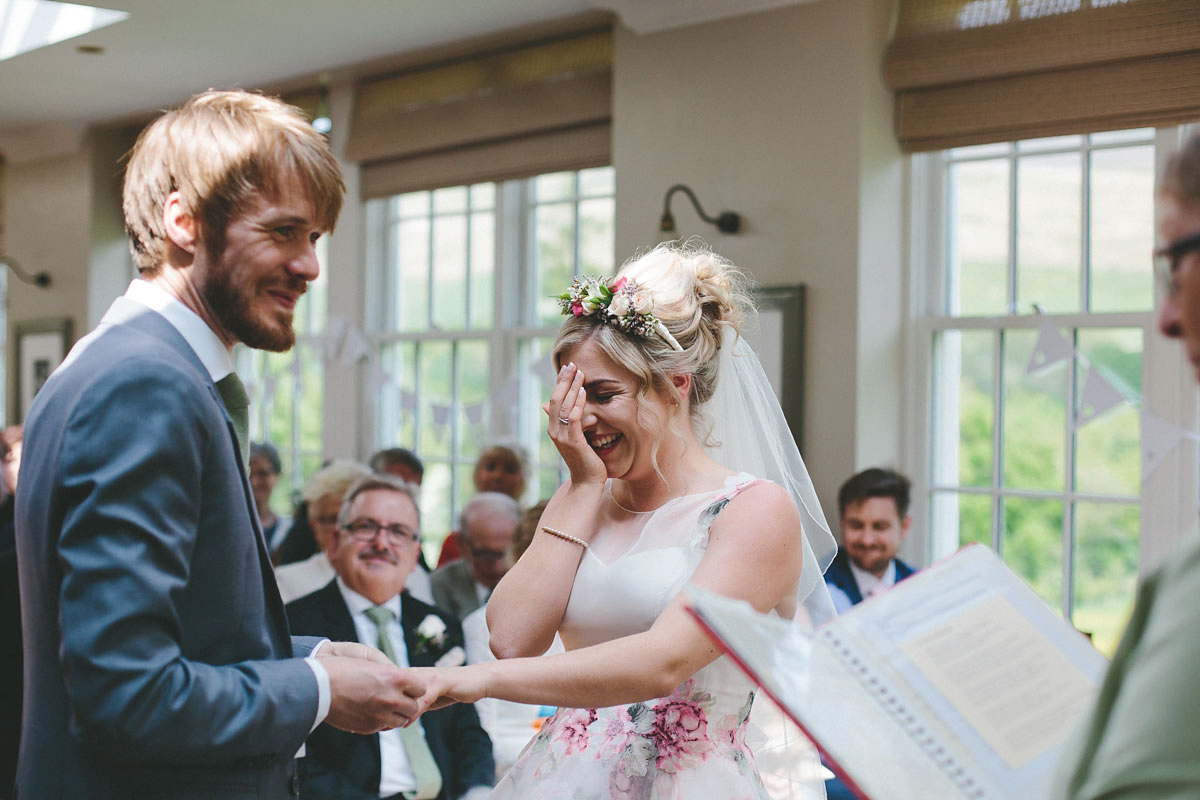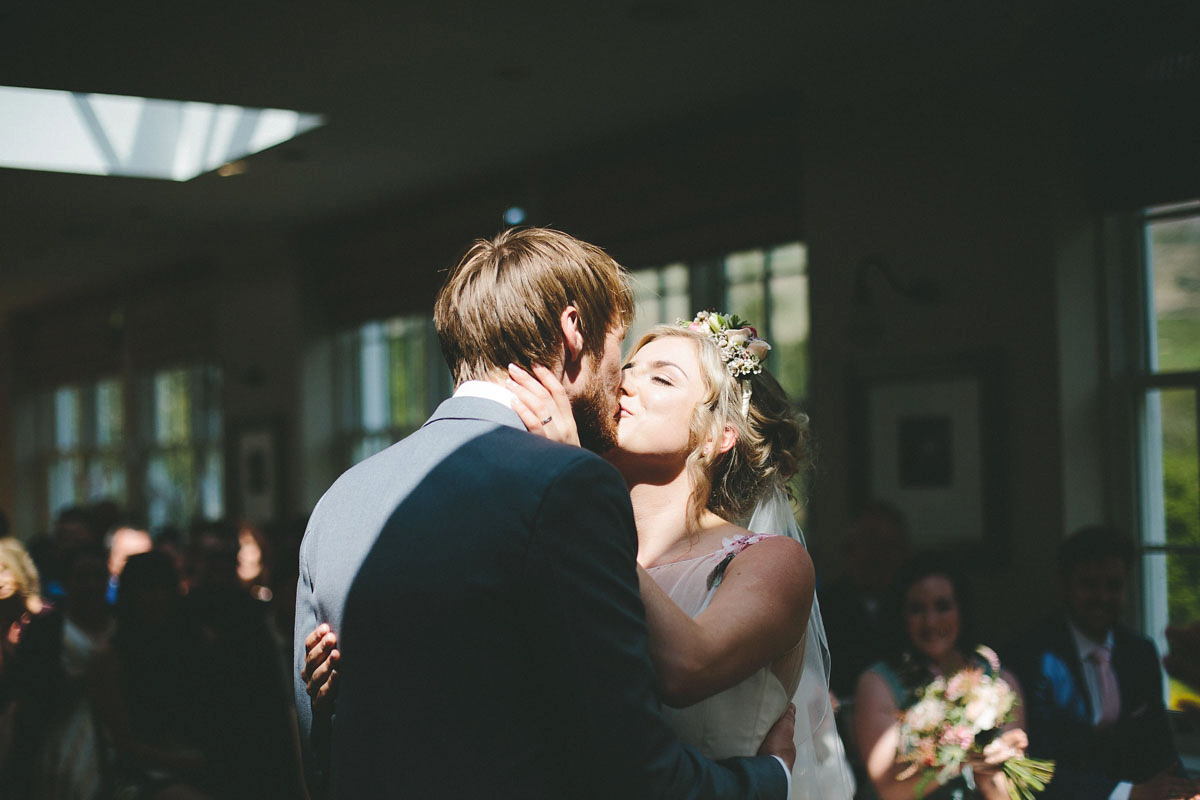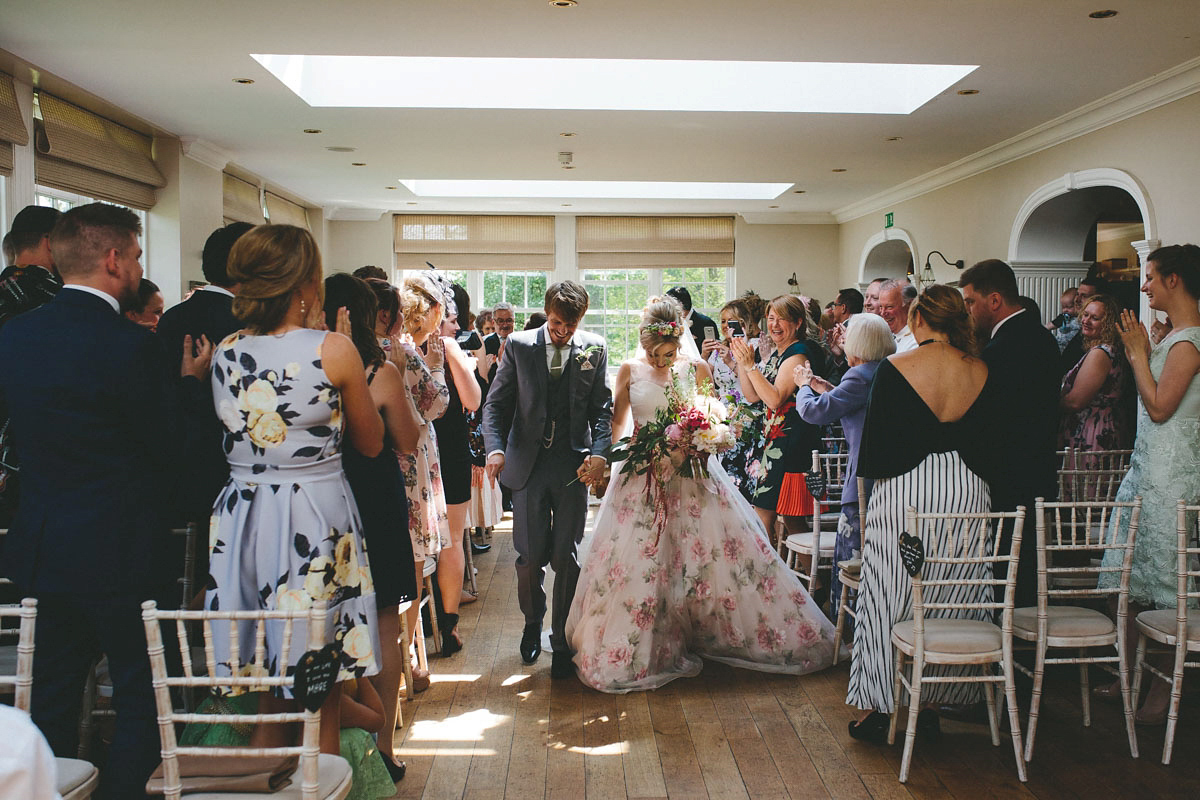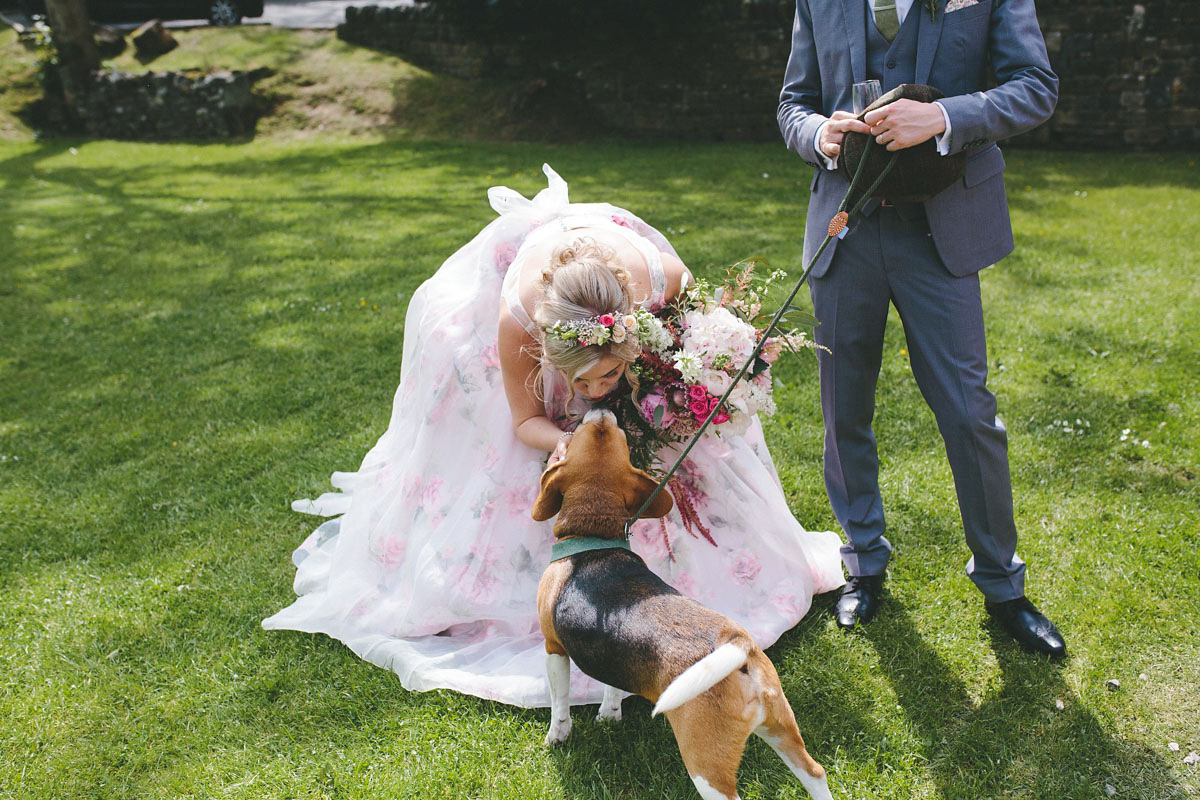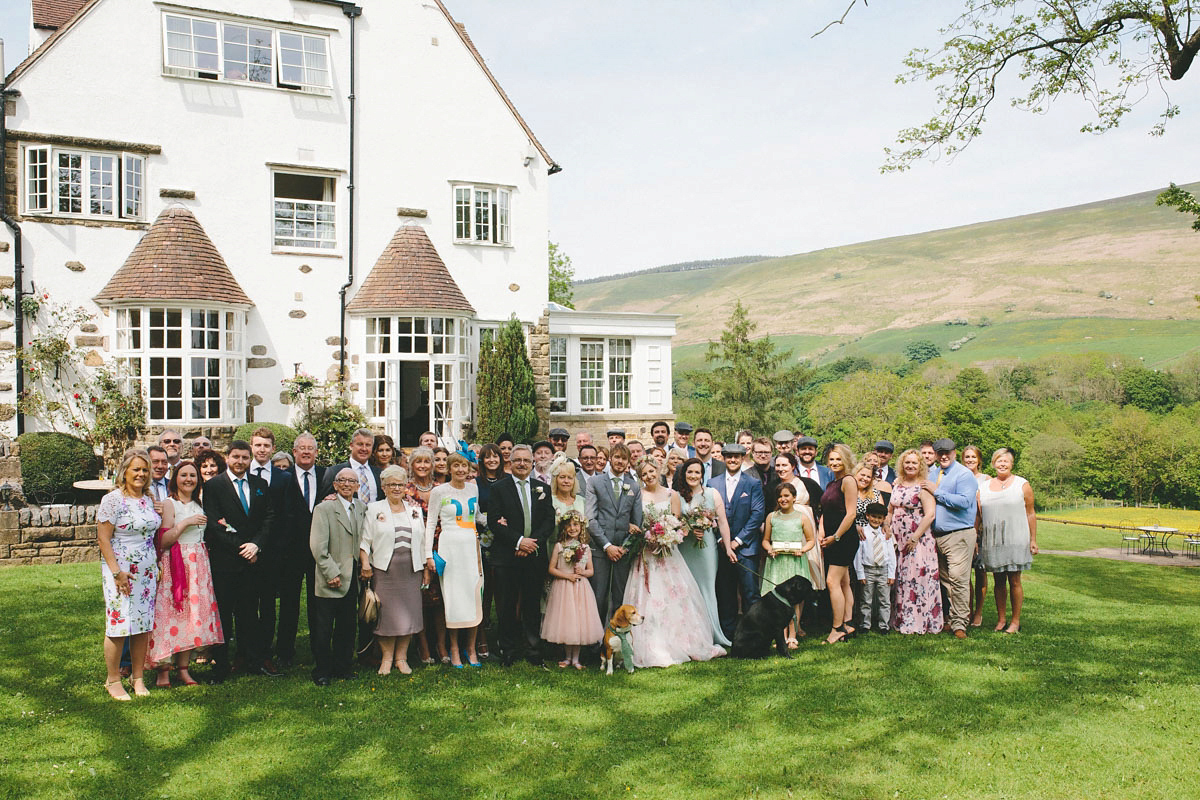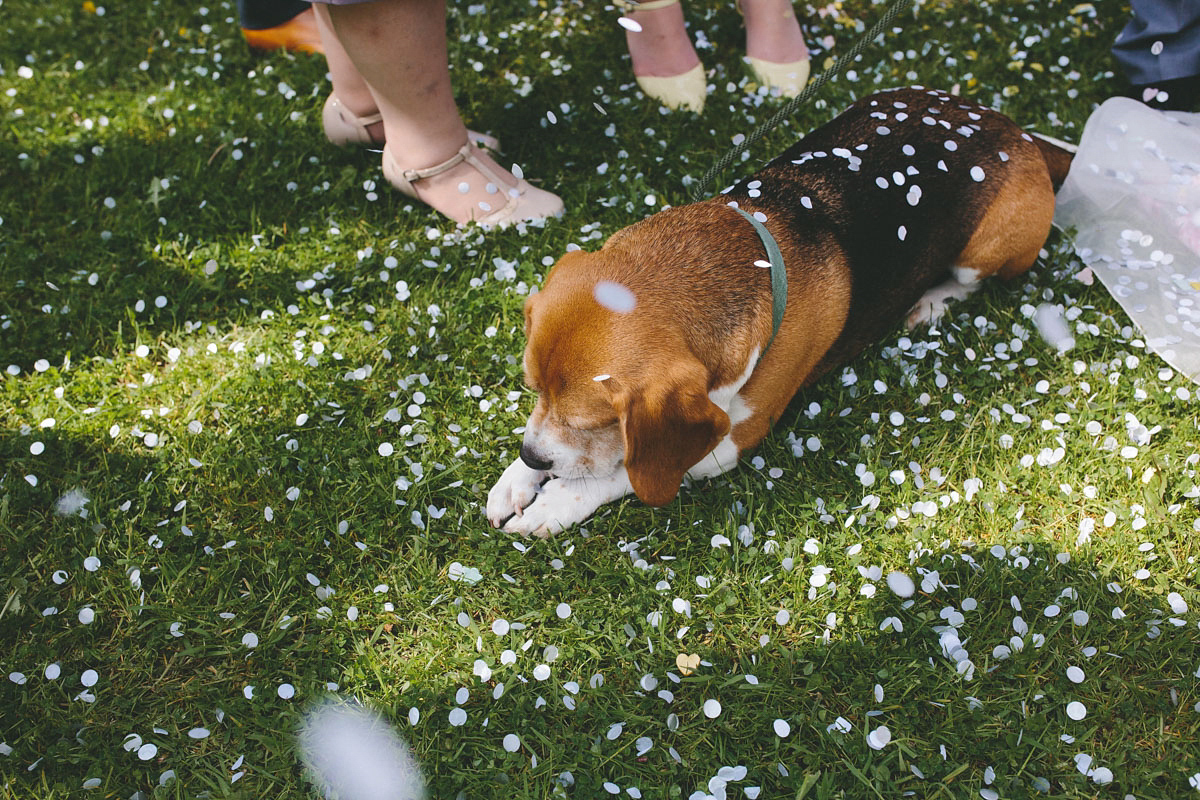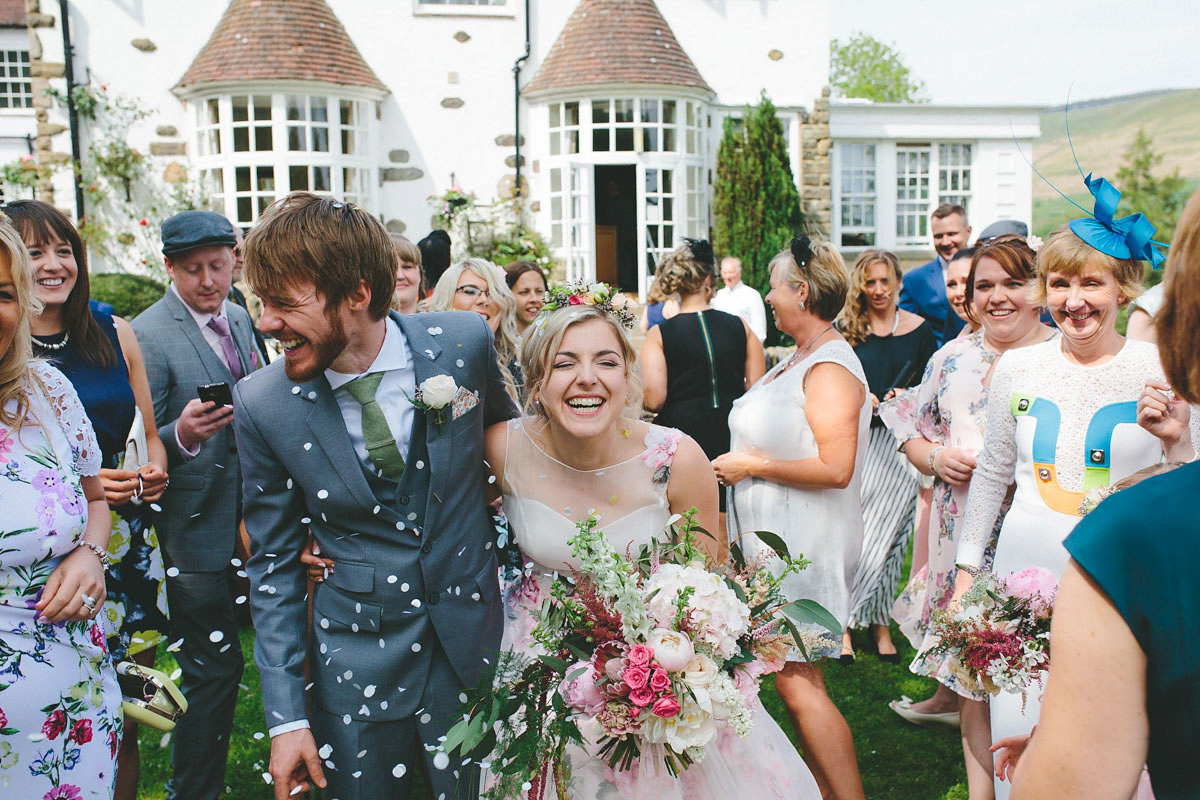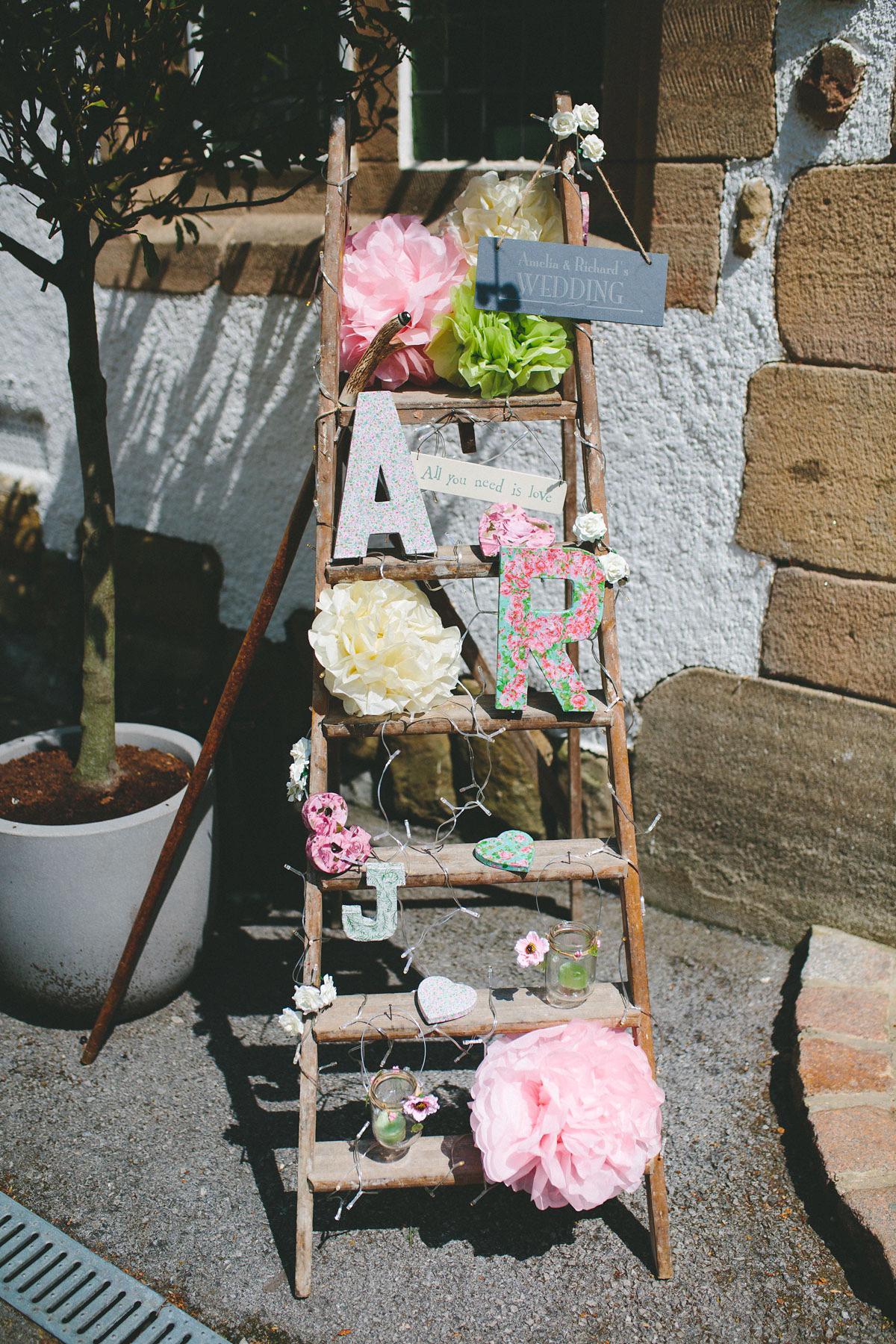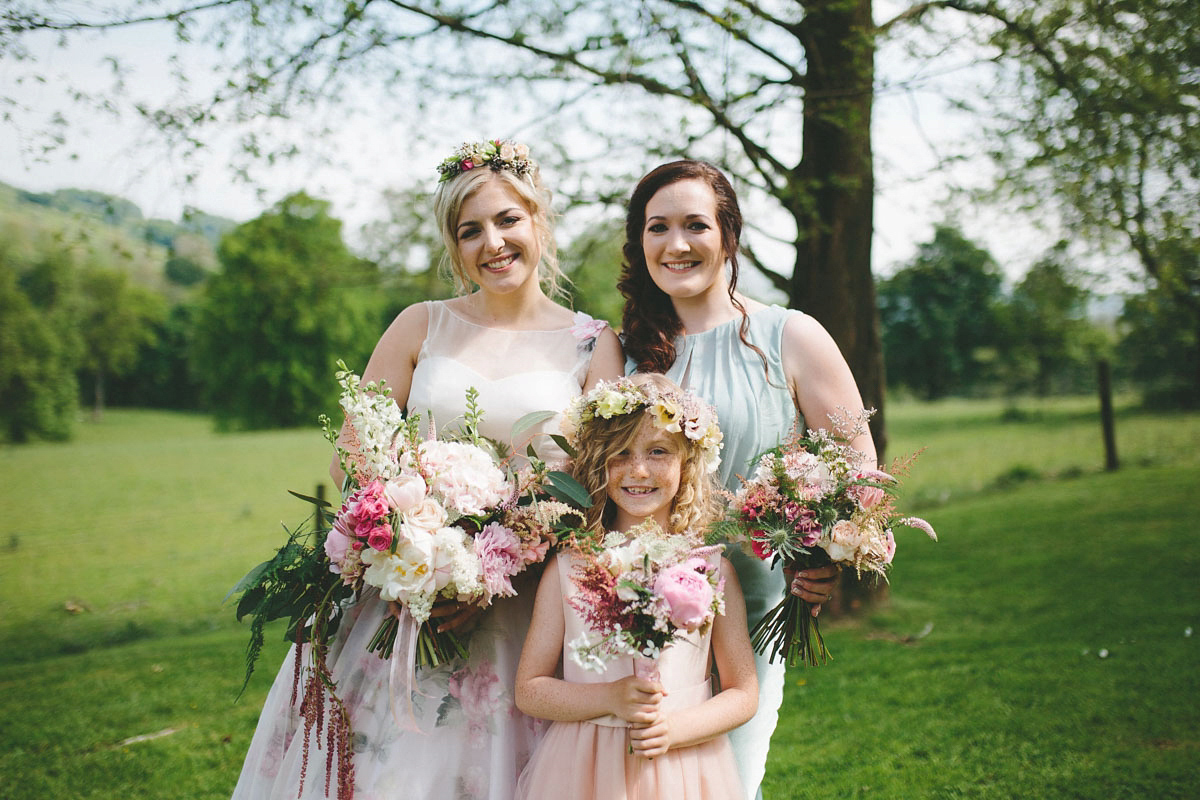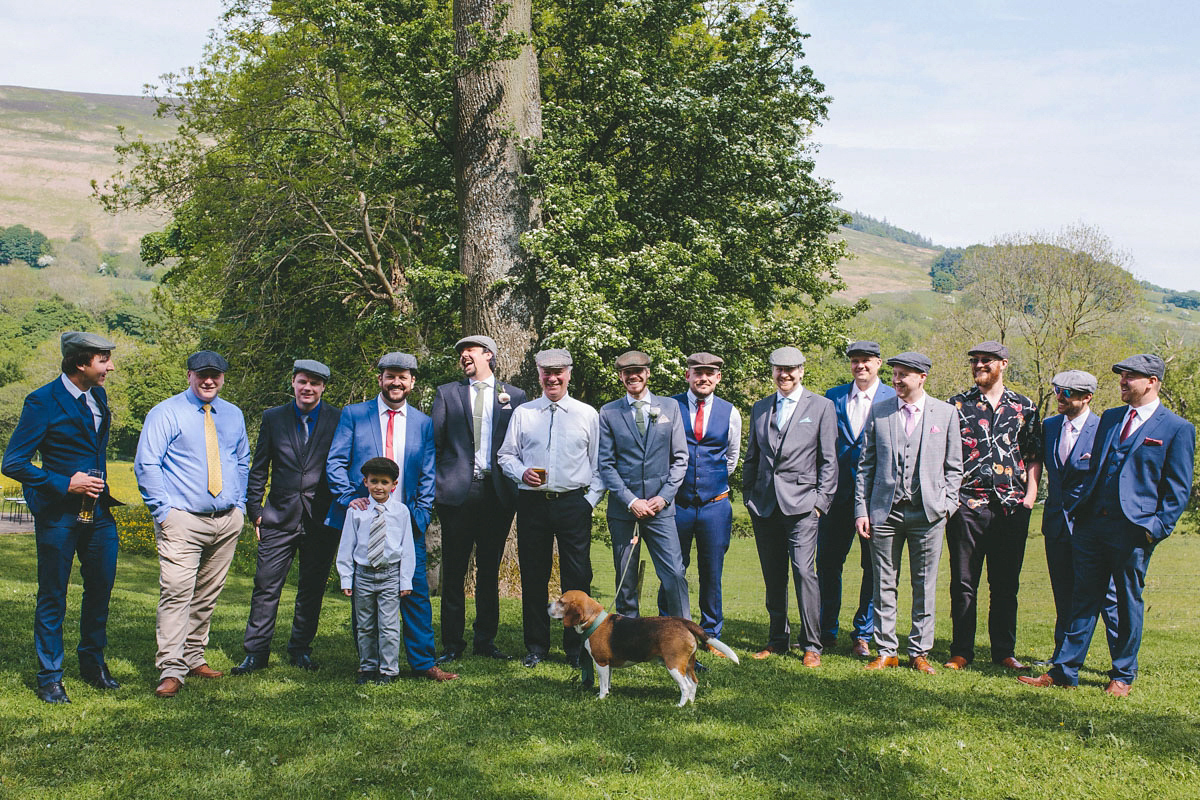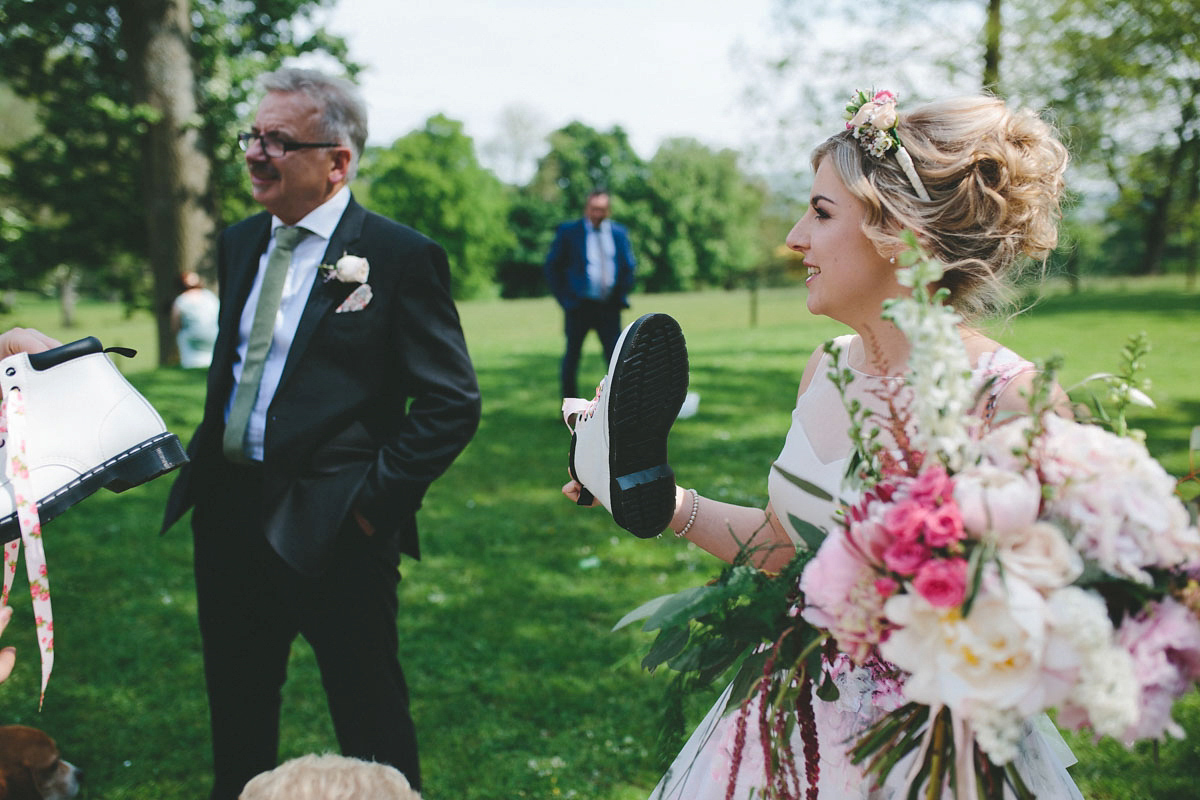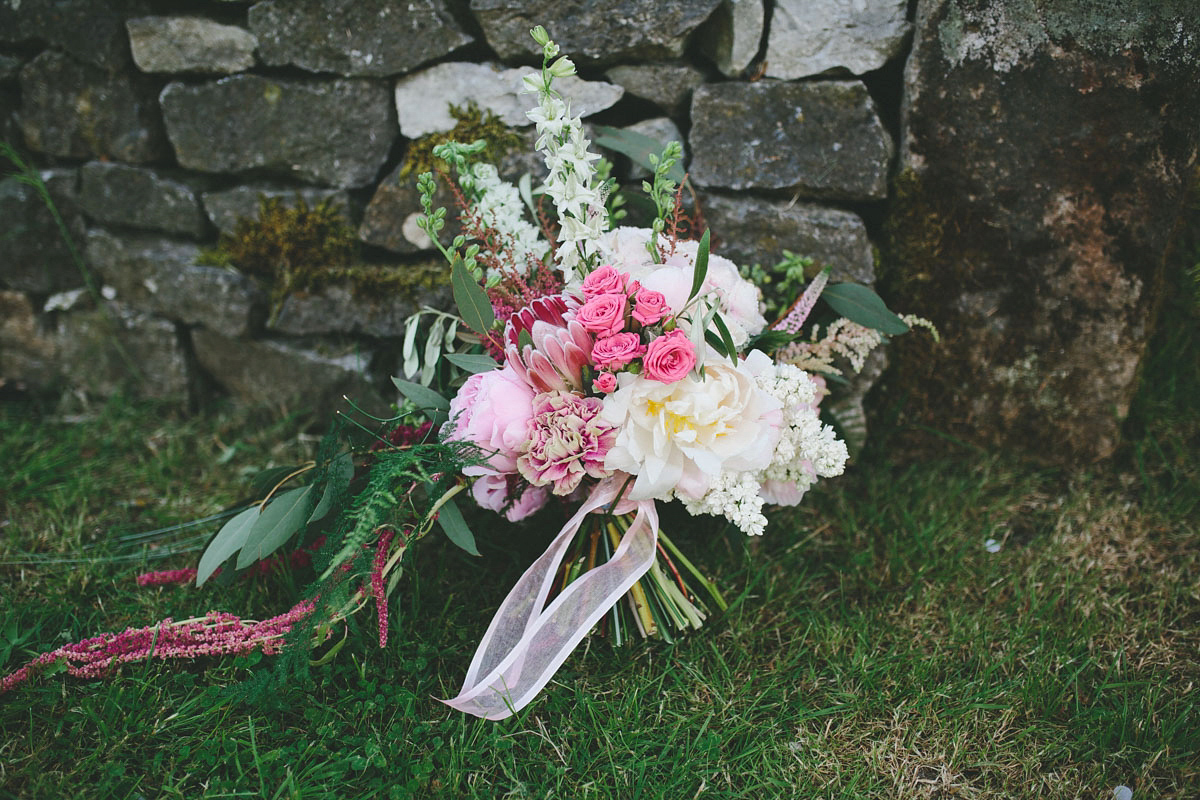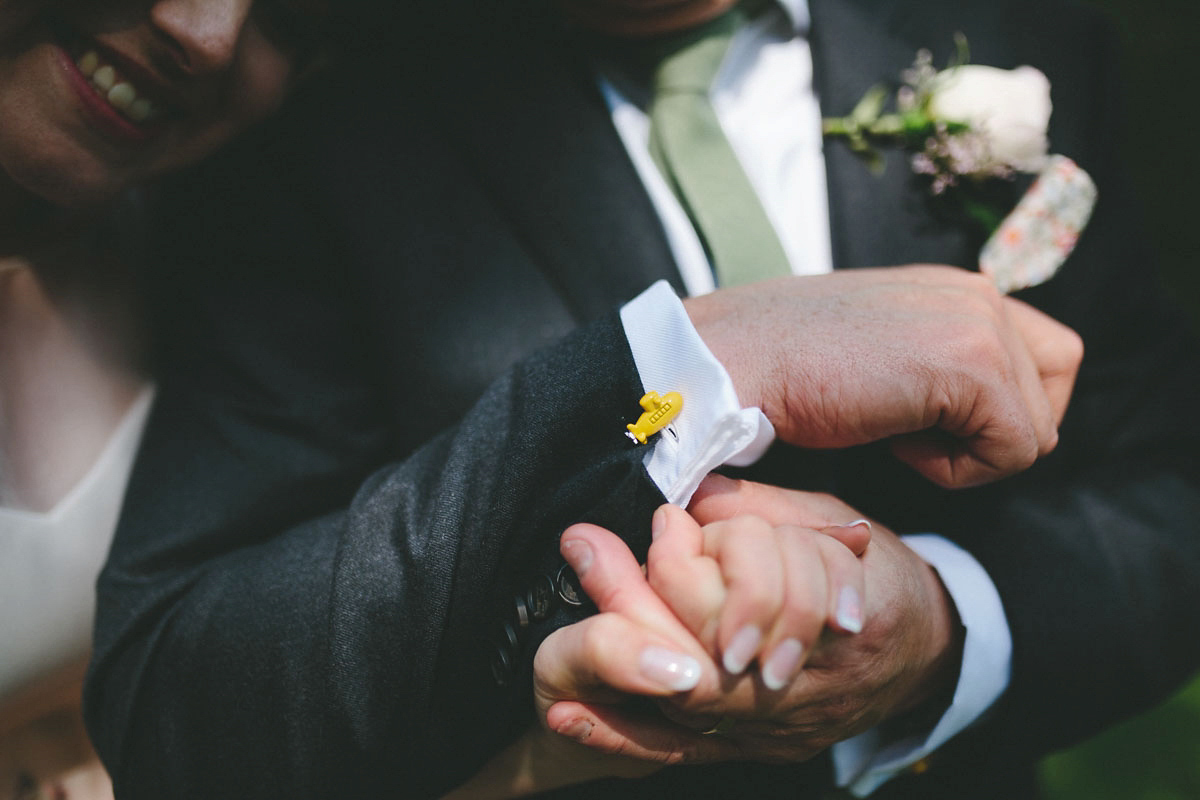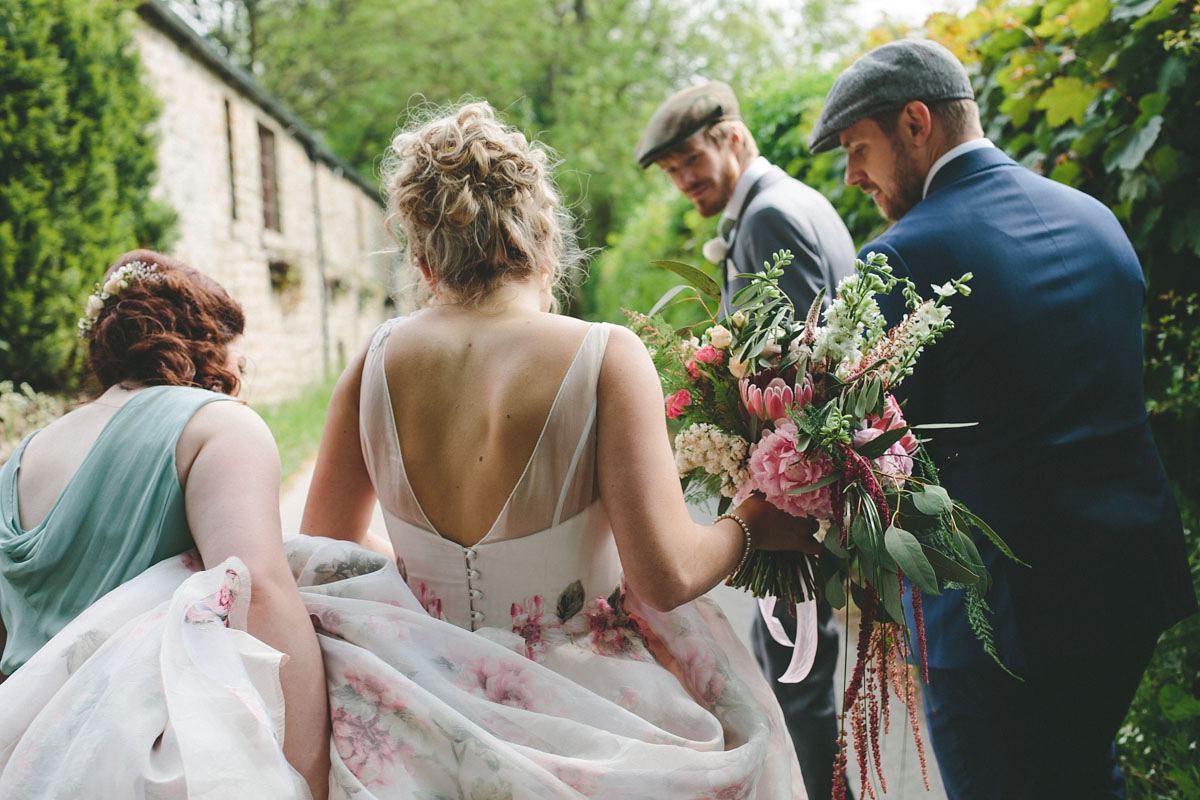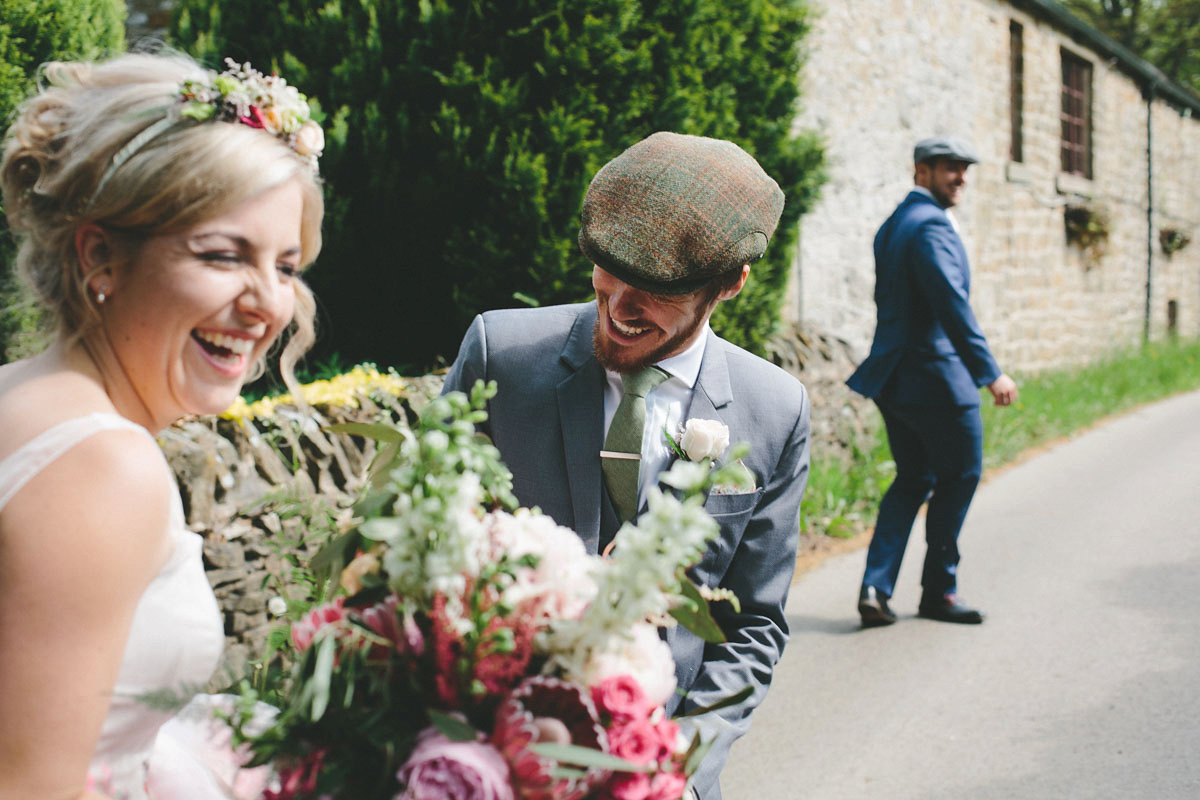 After wearing Jacques Vert heels for the ceremony, Amelia changed into groovy Dr Martens boots with pink floral laces for the remainder of the day.
"My only regret was that I didn't put socks on with my Dr Martens before going up Losehill! My poor feet are still healing."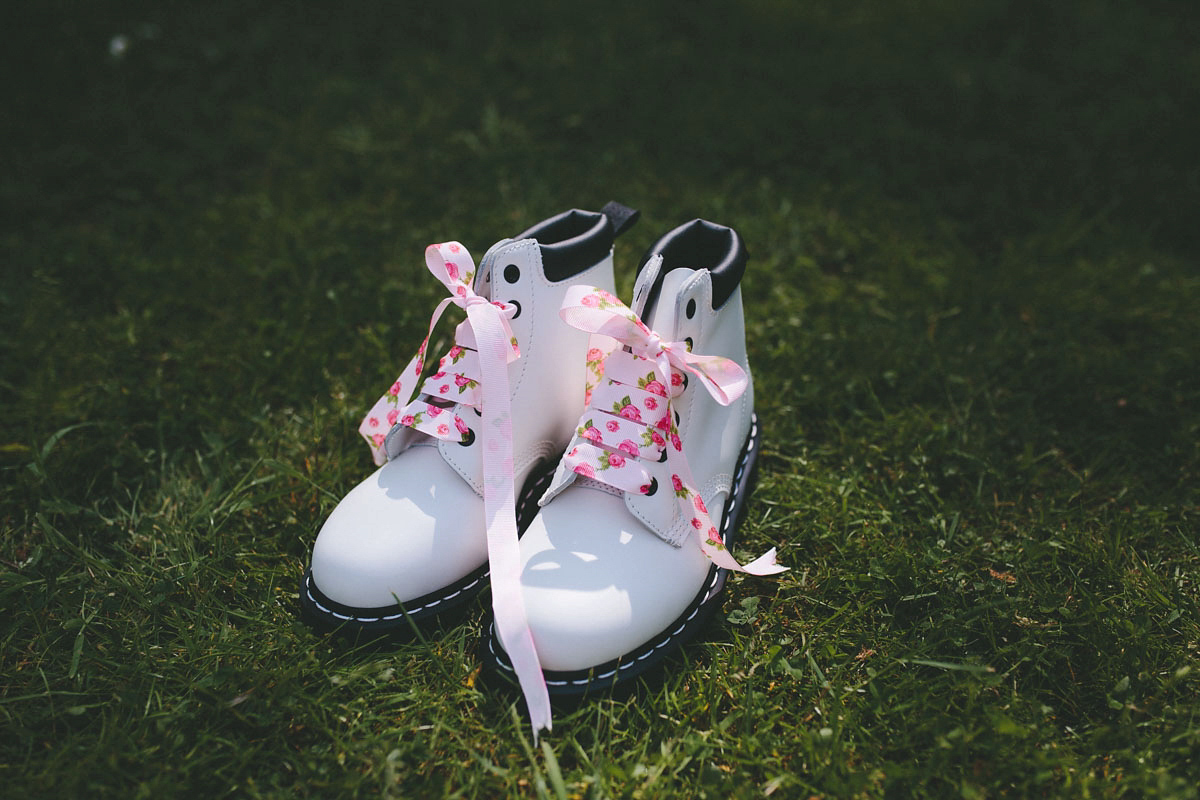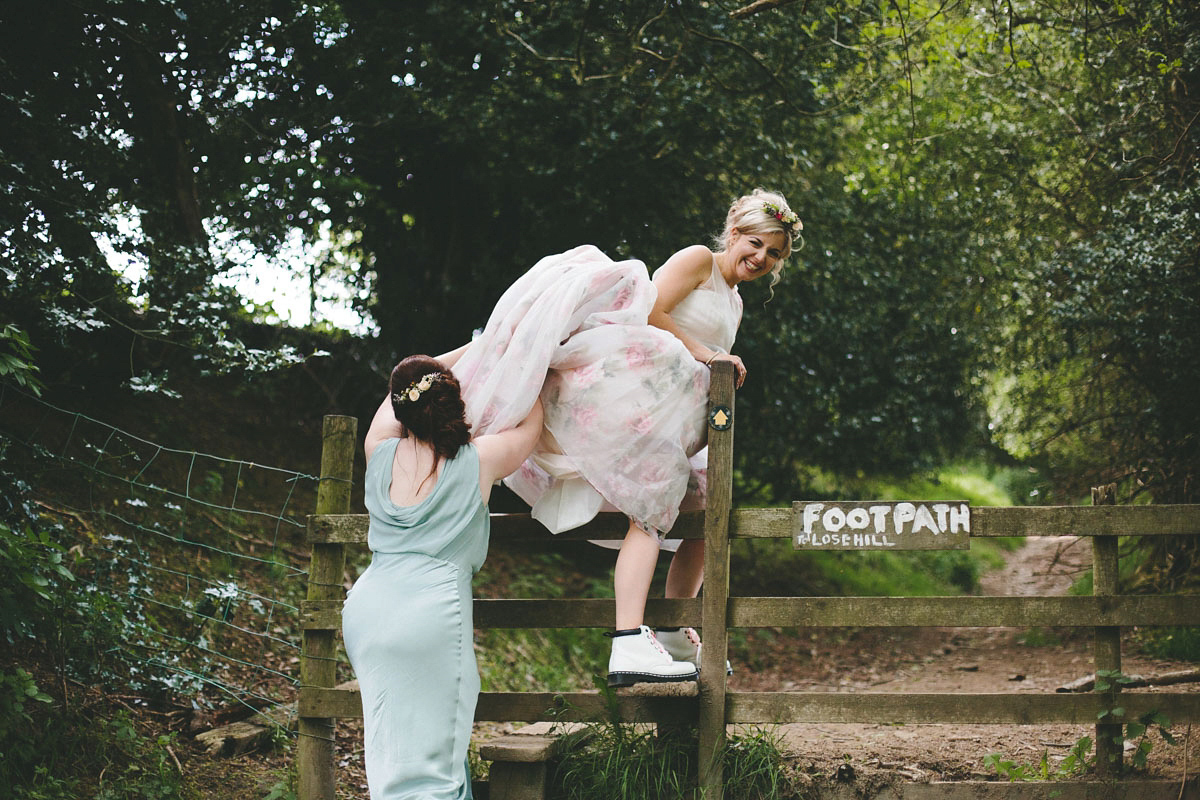 "My mum and I stumbled upon our photographer Ellie Grace and she accommodated us straight away. Ellie is the best; she is so enthusiastic, funny and generally an amazing person. She was so lovely and bubbly from the first time I met her that I knew I didn't want anyone else to do the wedding. She is the master of natural photos, which is what I love, but she is also cracking at the posed ones too. She was so patient and efficient, even when my husband dragged us halfway up Losehill for the perfect photos."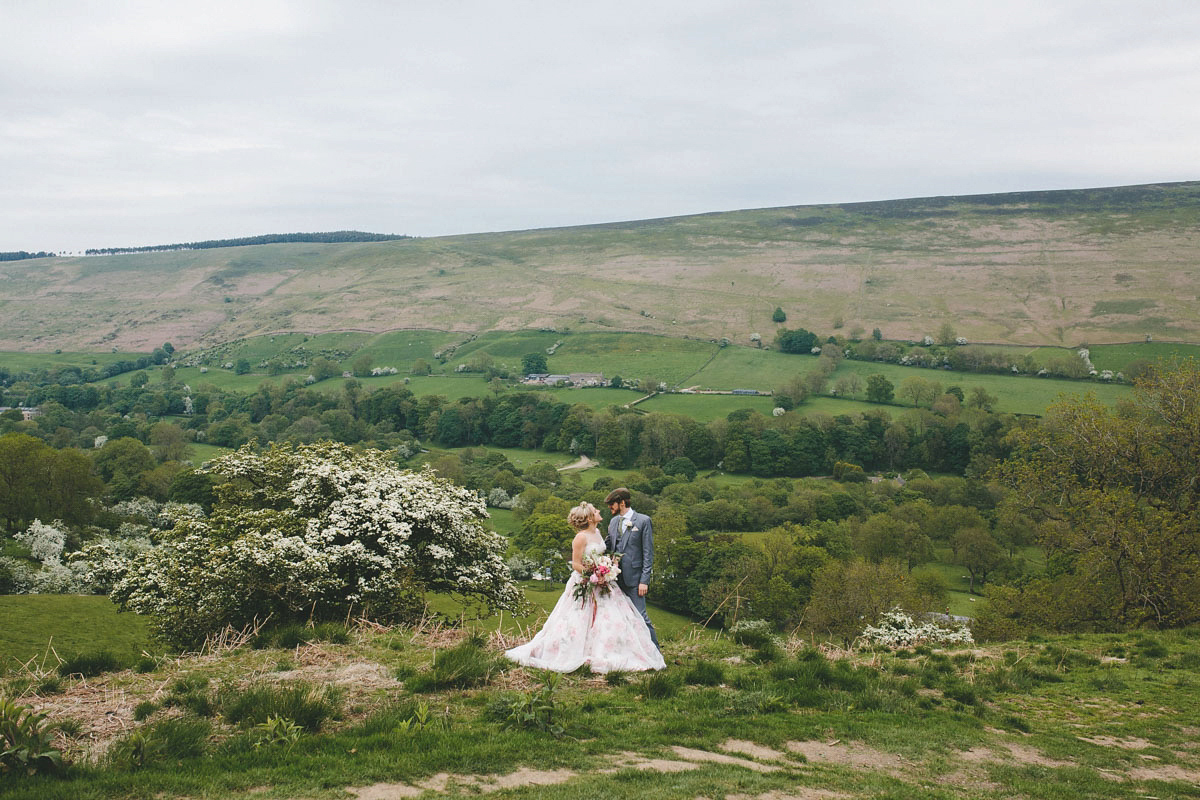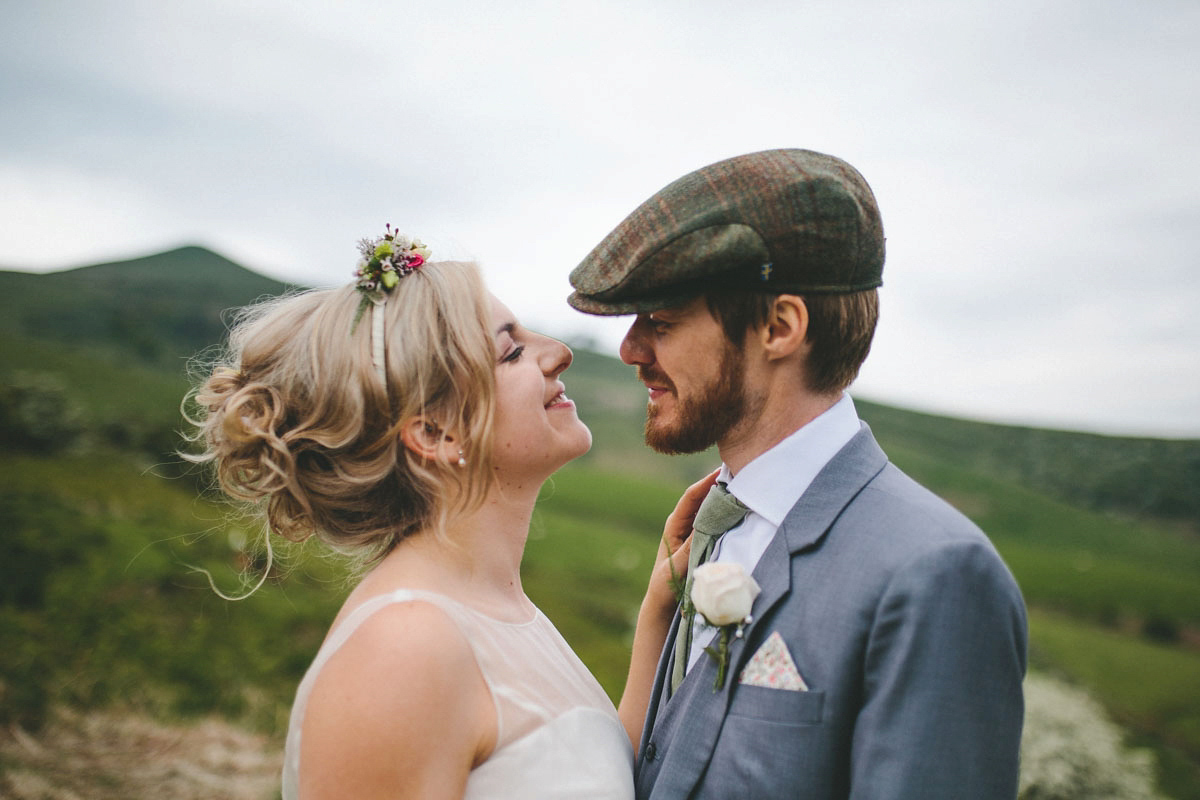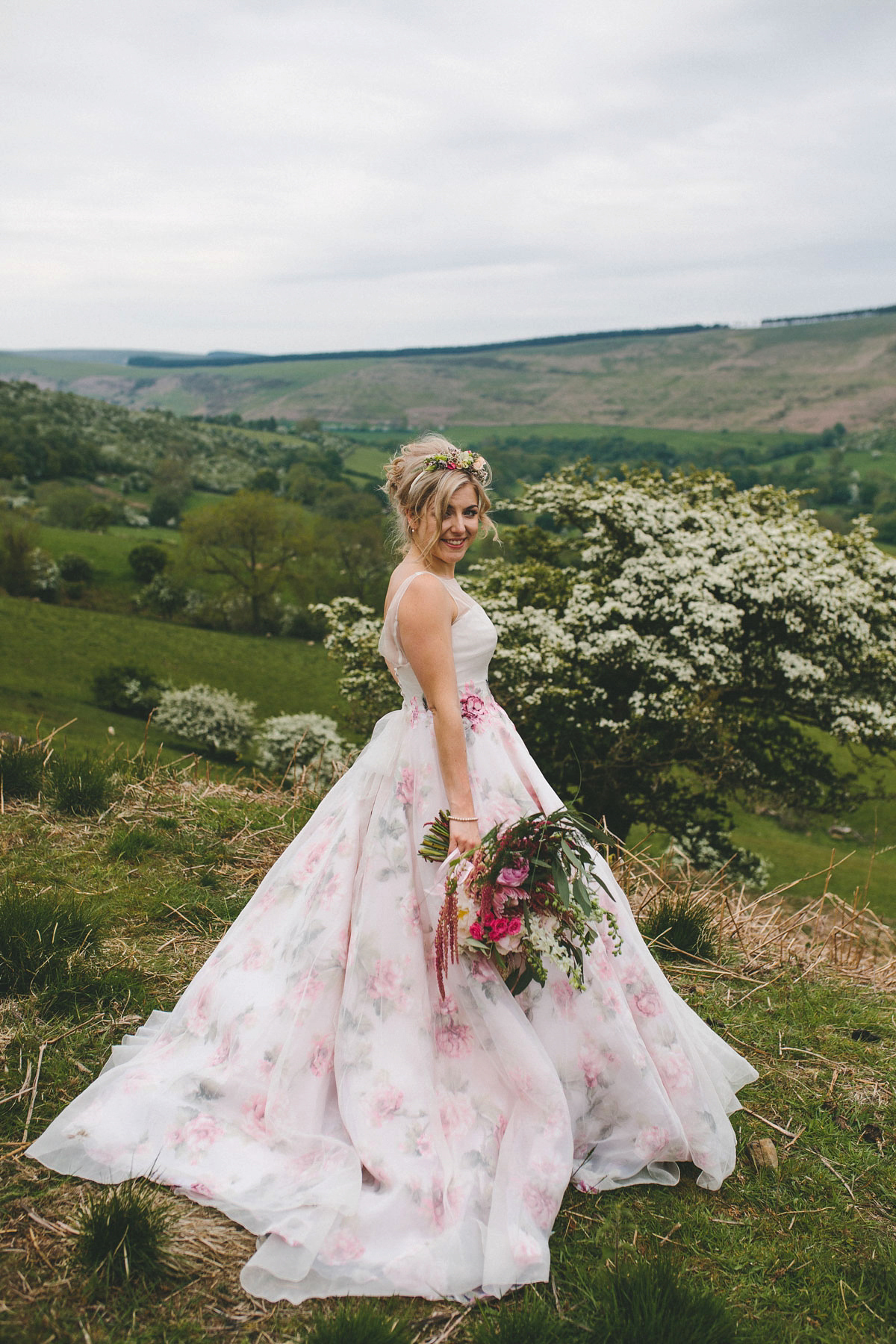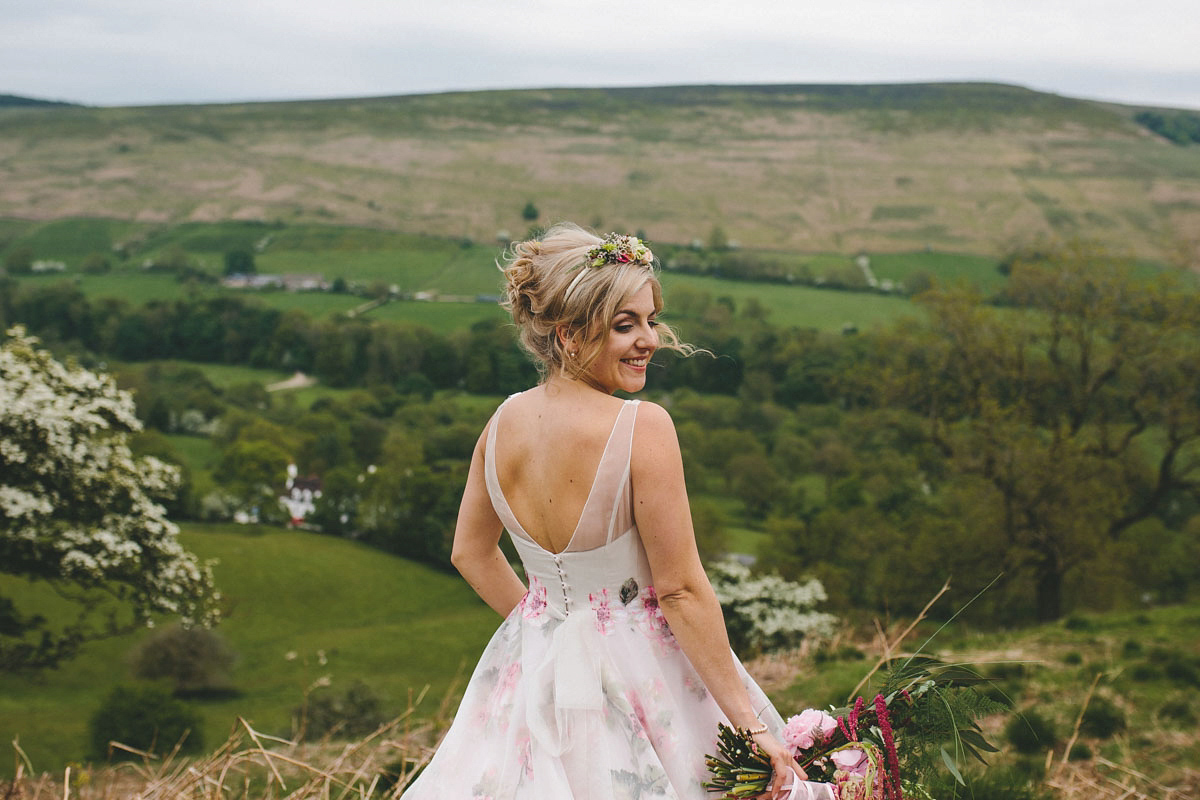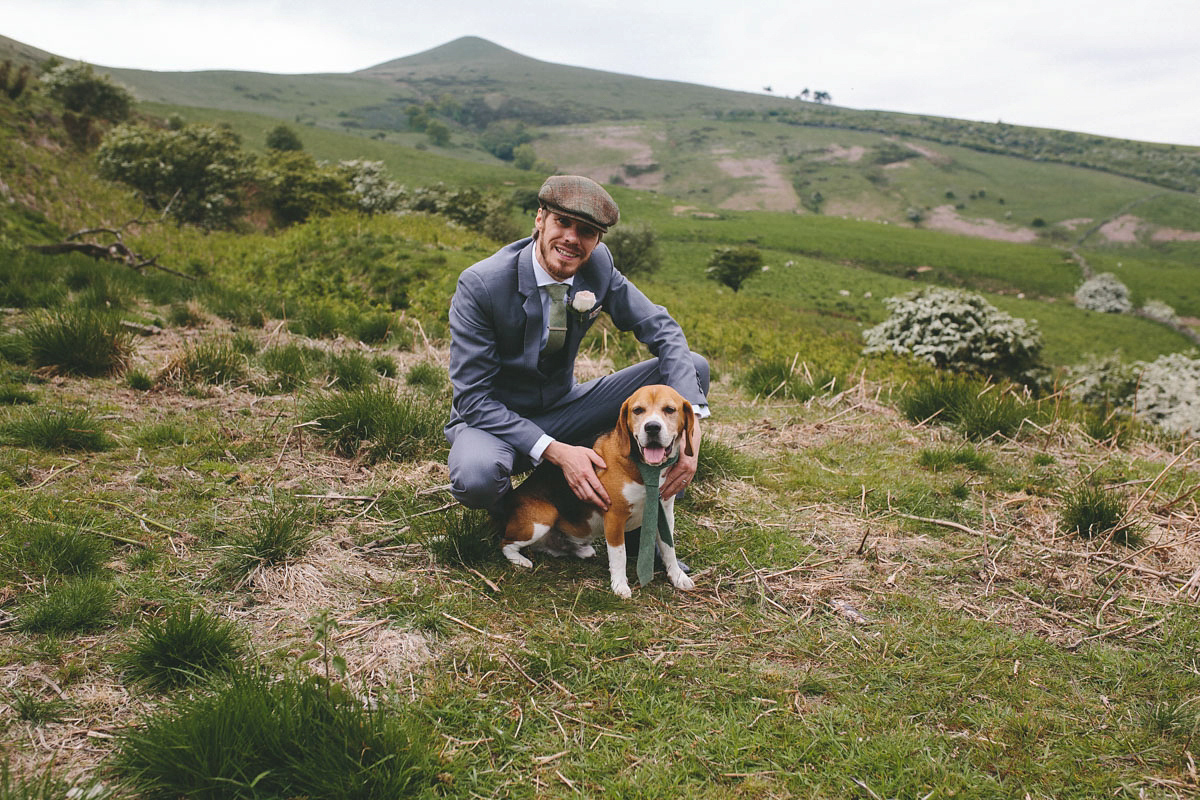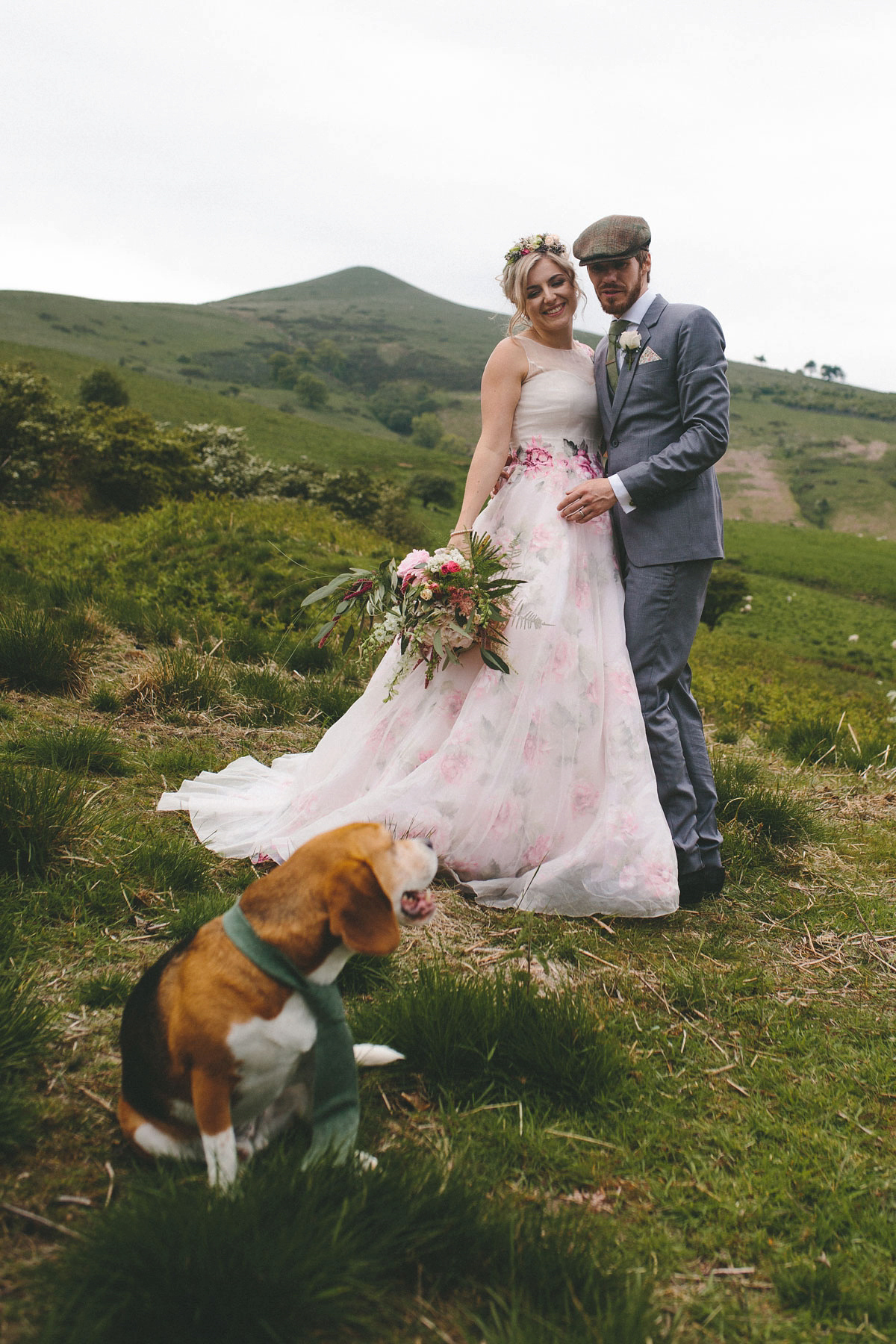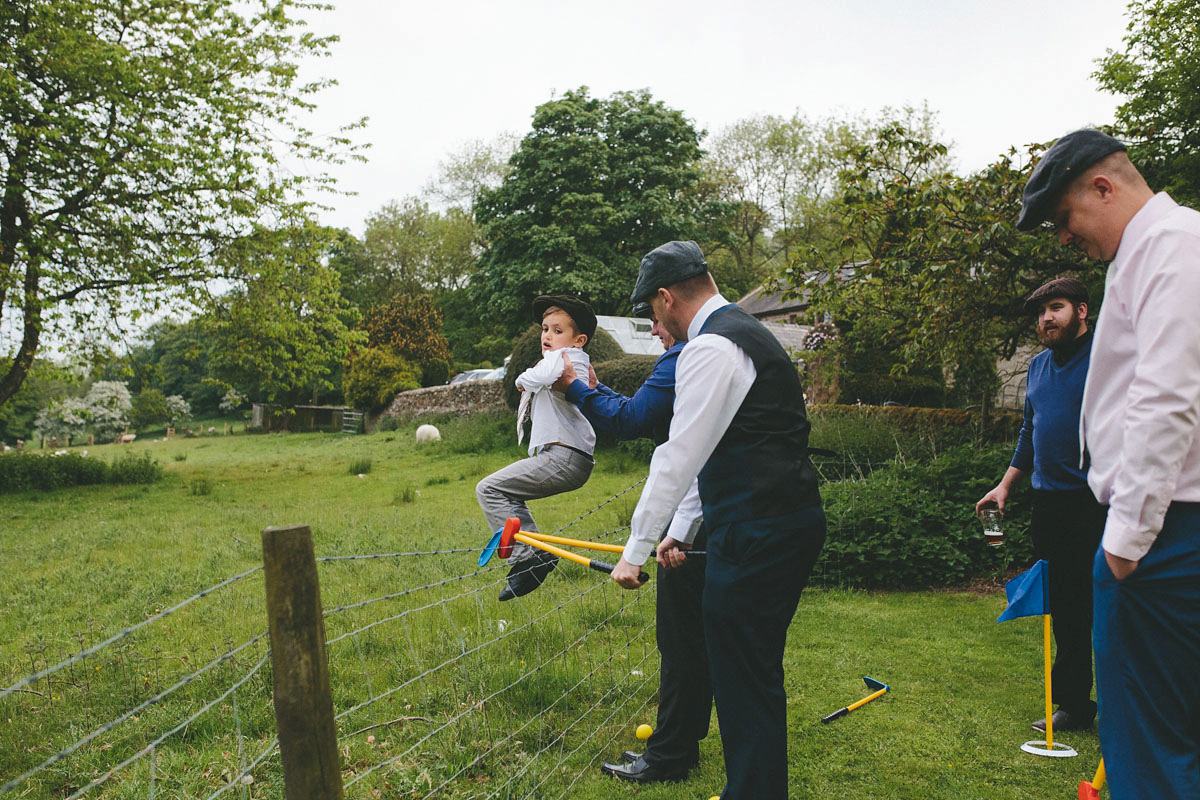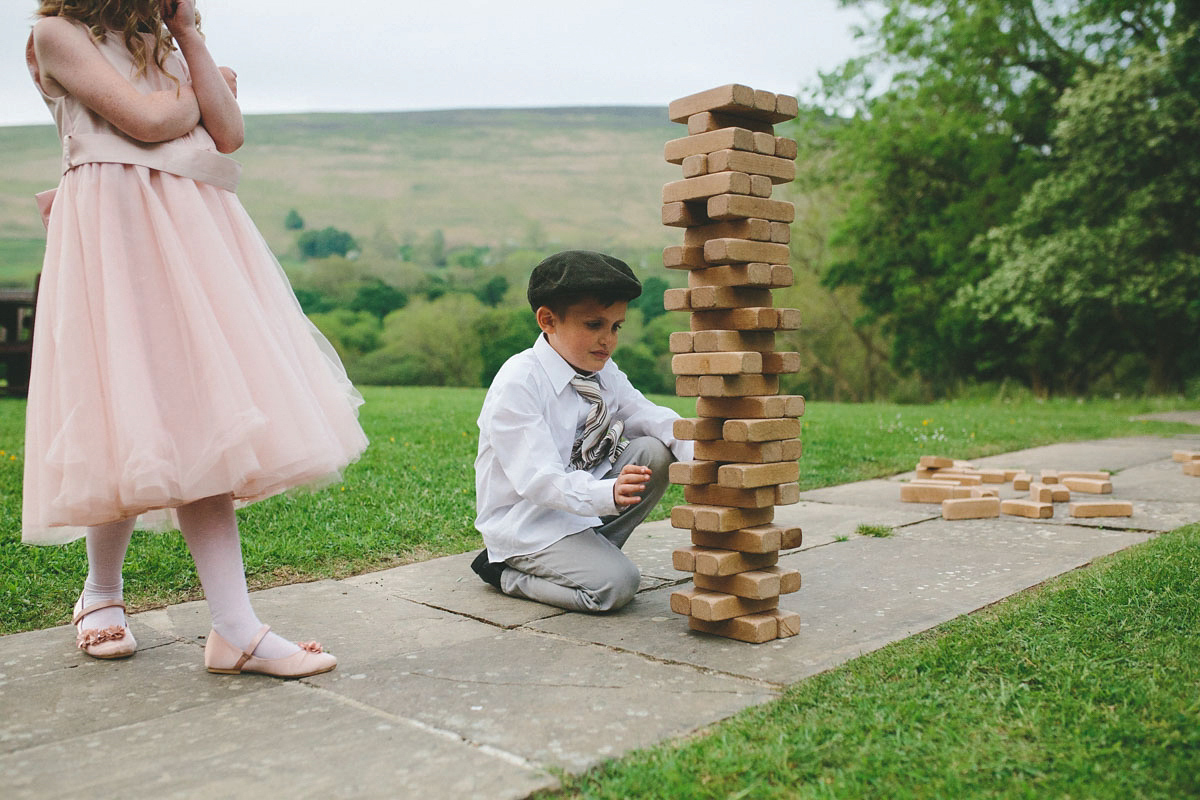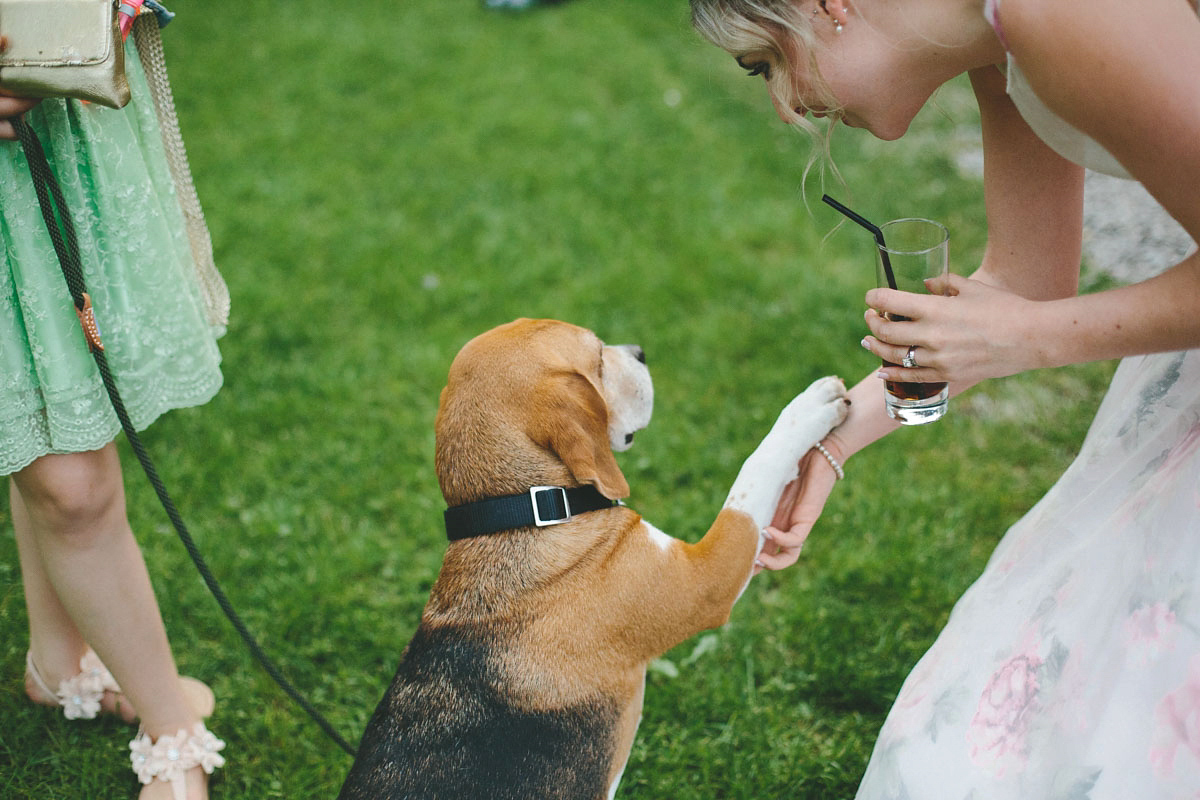 "Richard, my mum and I did all the planning, with lots of help from friends and family. I made everything with a friend from slate, decopatch, and fabric quarters and the decor included hearts, paper bunting and step ladders with lights, lettering and signs."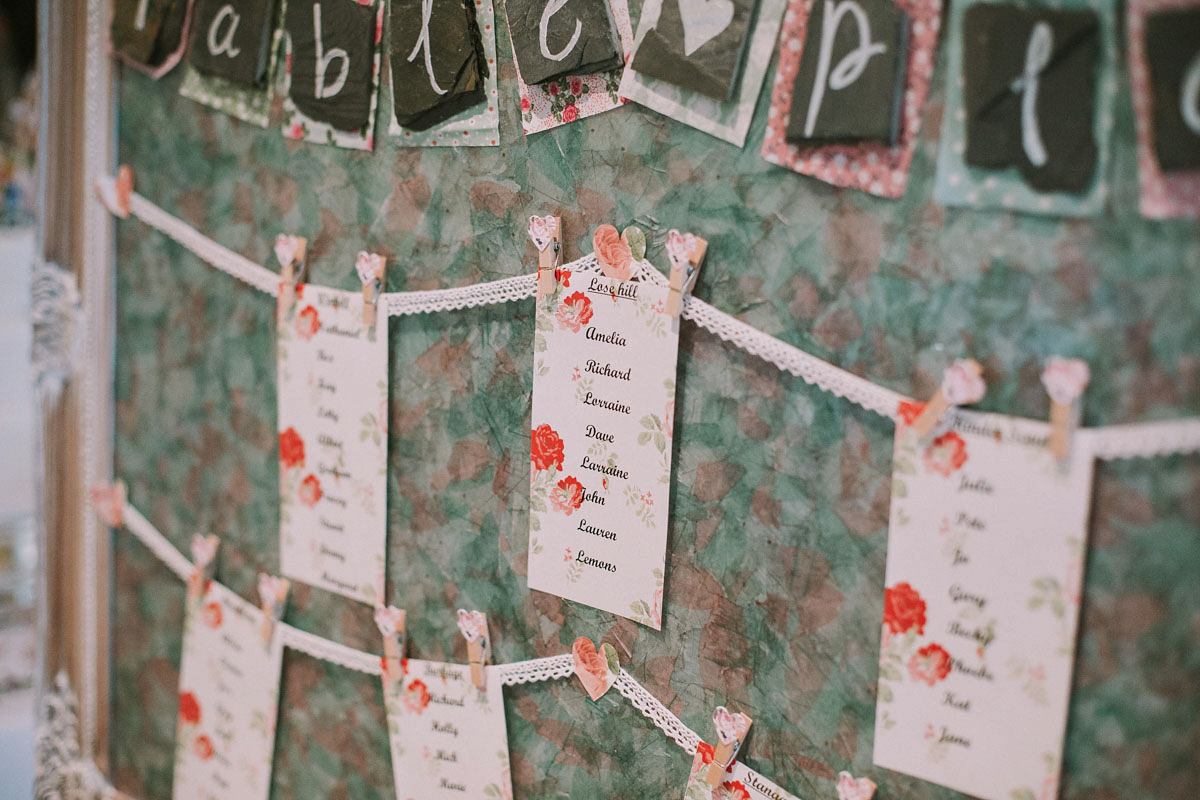 "Everyone received a keyring from Thornberry Animal Sanctuary to support the fantastic work they do Thornberry Animal Sanctuary as their wedding favour."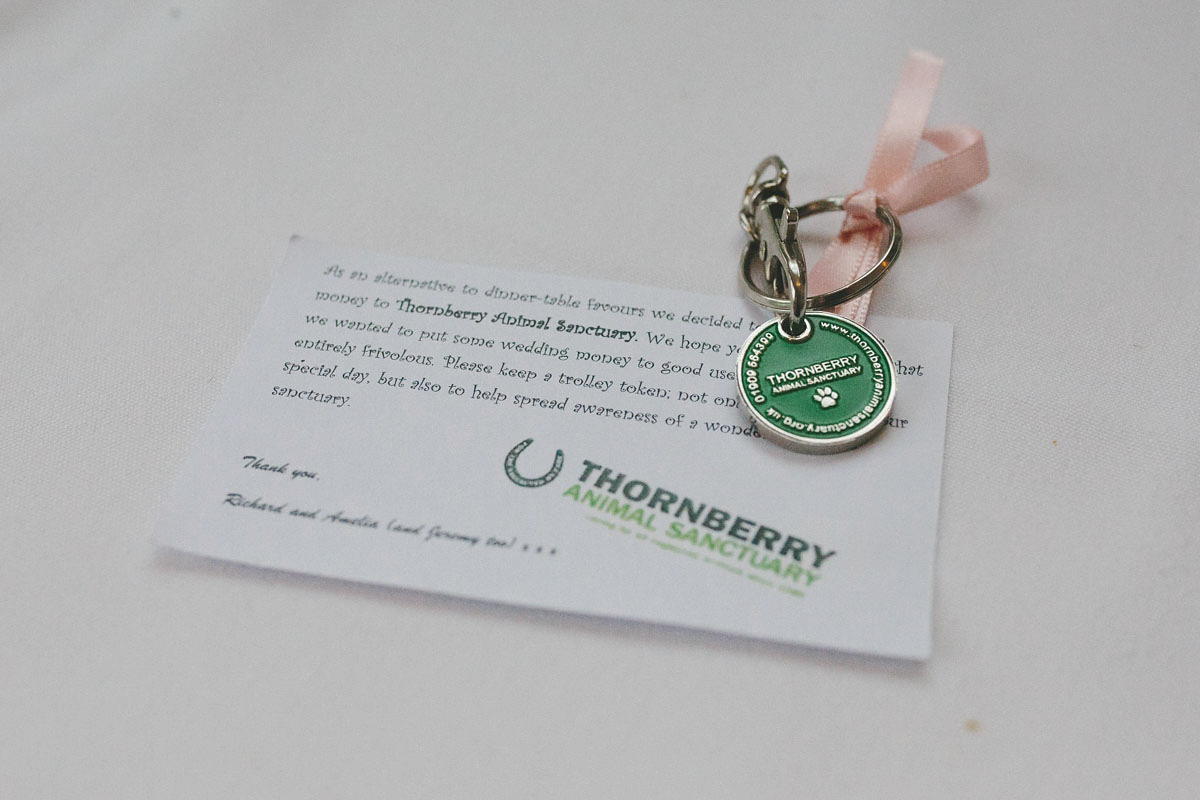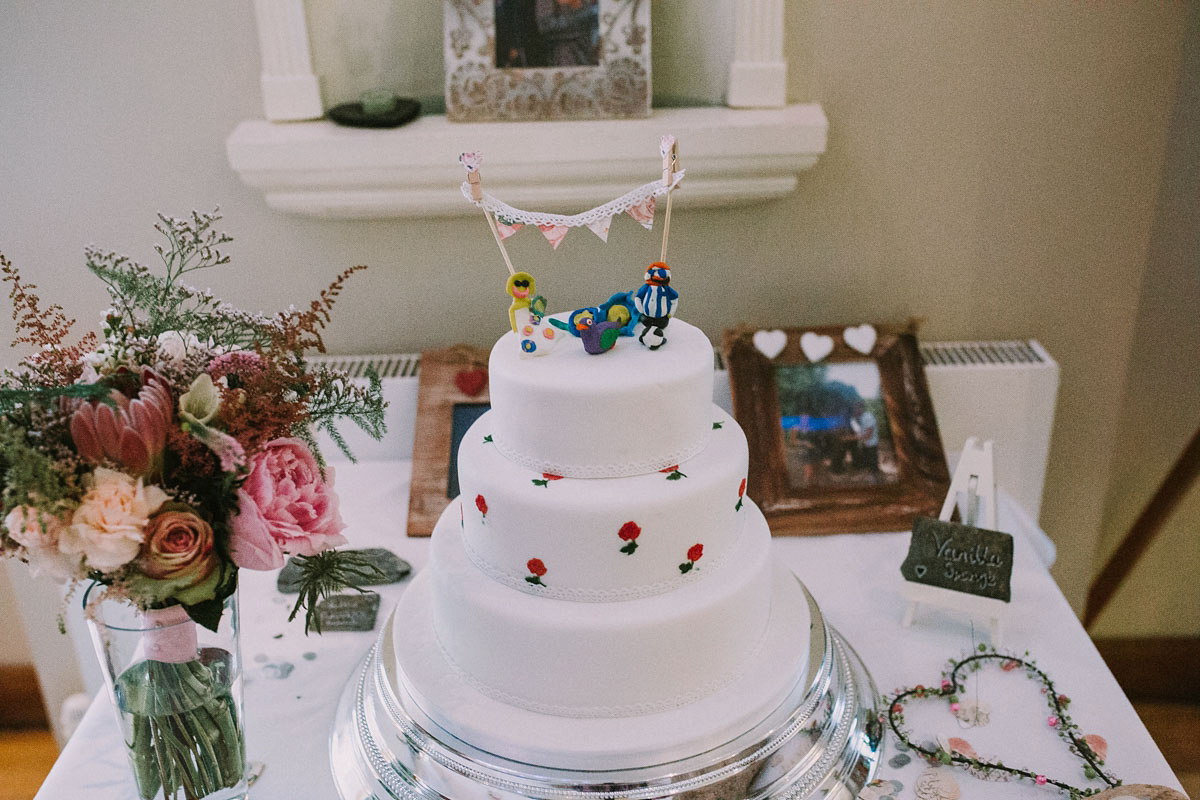 The couple had a divine-looking cake of cheese that was four tiers of pure heaven from North Yorkshire. And their sweet cake was lovingly made by the maid of honour with three layers of chocolate Guinness, vanilla sponge and chocolate orange flavours. Yum!
"The cake was white with pink flowers on the middle tier to match my dress. The topper was made by me from the table confetti, then the kids contributed plasticine models."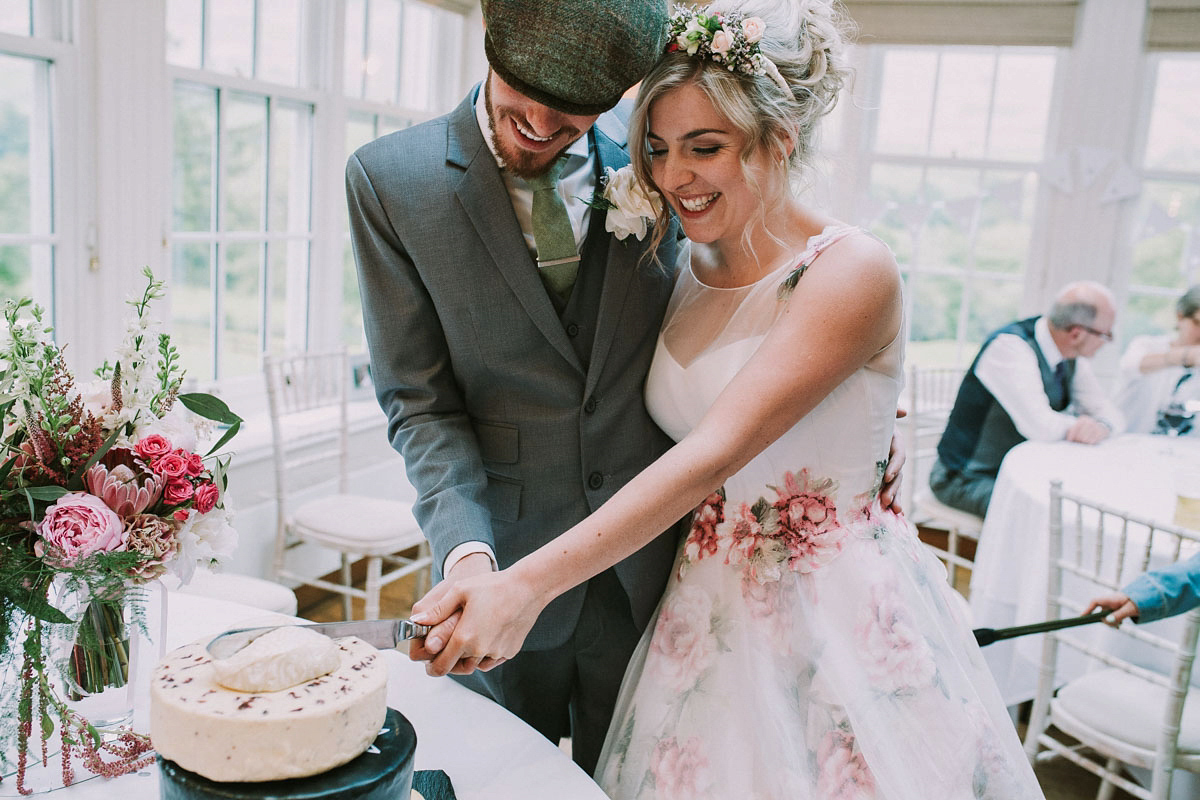 "'Toothpaste Kisses' by the Maccabees was our song for the first dance – it is such a beautiful song by a band we both love.
Richard and his friends were DJ's and the band was Johnny and the Moondogs. They were amazing! Everyone was dancing to the Beatles hits."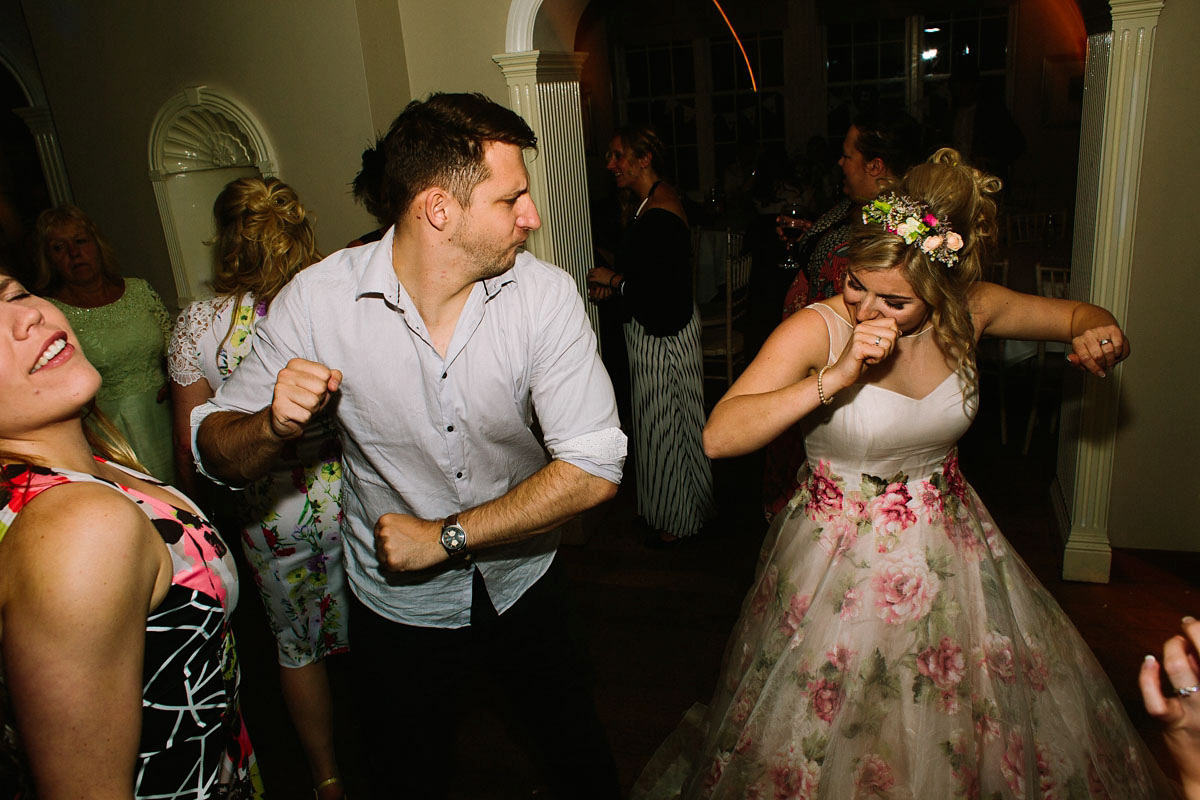 "I loved everyone about our wedding day – seeing everyone, how much our parents and guests enjoyed themselves but most of all I loved that we laughed from start (when the best man kept getting the rings wrong) to finish (when the bar shut, it was closing time, but we just kept going!). The speeches were also hilarious and sentimental!"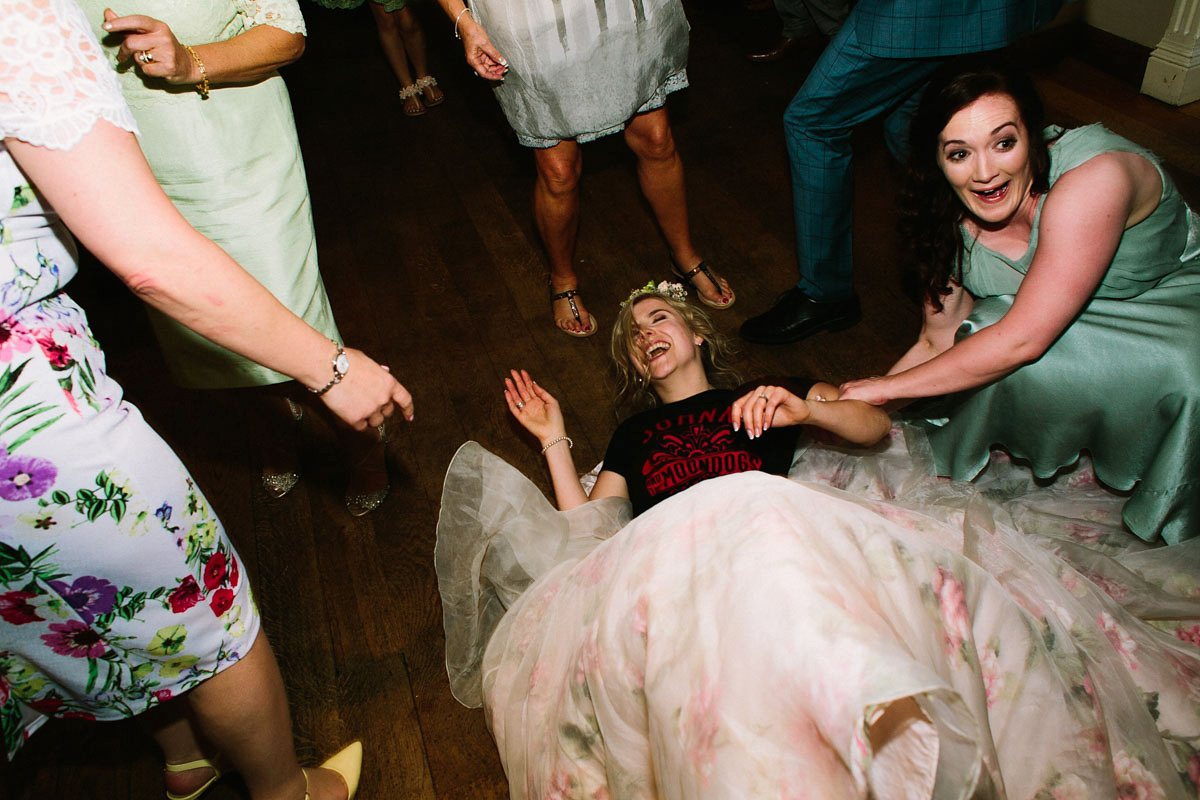 Words of Wedded Wisdom
"Think about you and your personality, plan for you, don't try to make it perfect, as there is no such thing. If things go wrong, laugh it off and if it rains get wet and don't over-plan; you'll put too much pressure on yourself. Make it something you will remember and laugh about."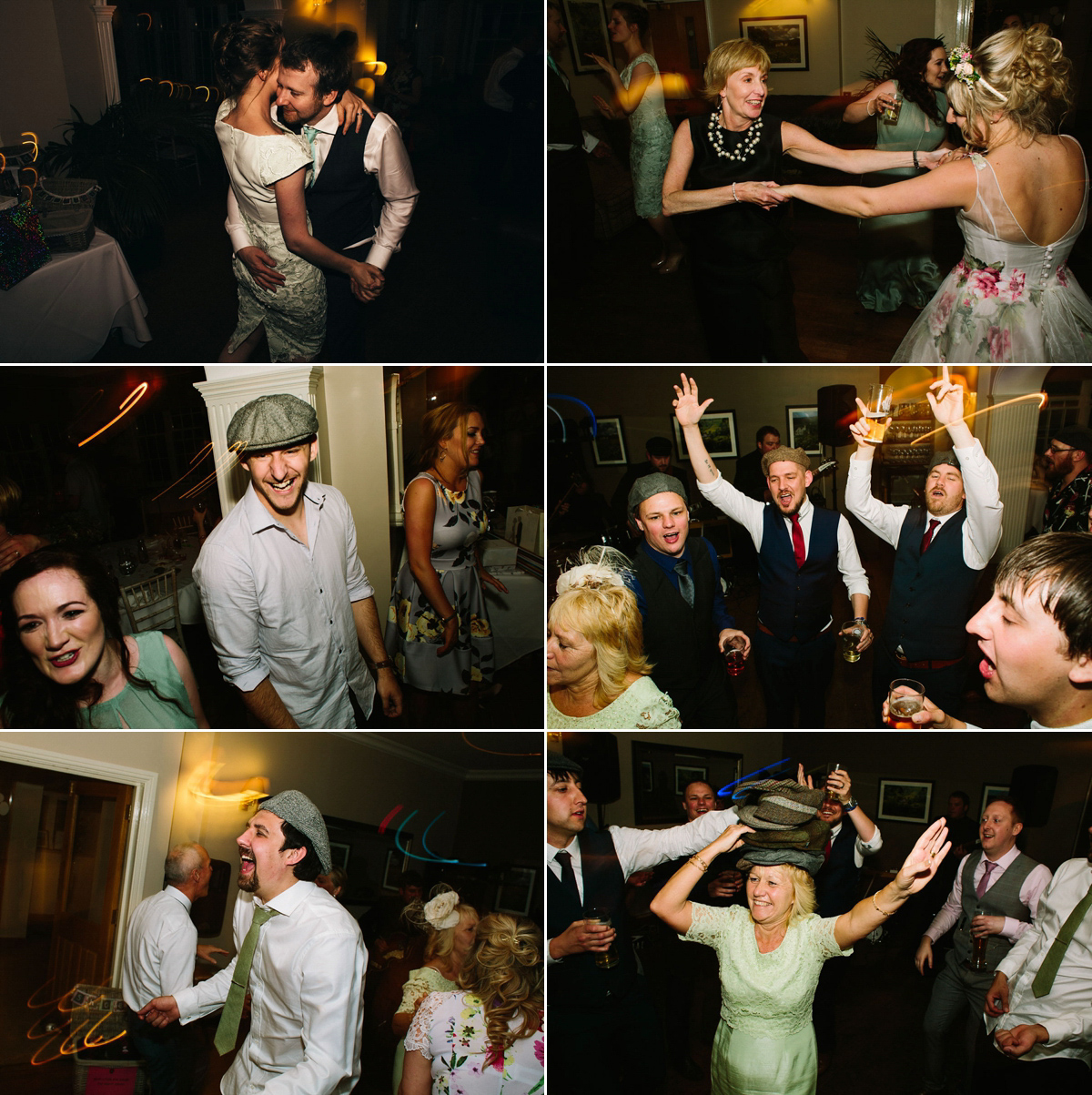 It's so true – there is no such thing as perfection. Thanks so much to Amelia and Richard for sharing all these special memories and I'm sure, lovely readers, that you're still drooling over Amelia's sensational dress. You can see more sassy Sassi Halford designs we've previously highlighted here.
Wishing you all a groovy week ahead lovelies!
Love Jo -x-