Hello gorgeous ones! Have I got the most beautiful mid-week treat in store for you *gleefully rubs hands together*. Now what do you think of when I say 'summer holidays'? I dream of white-washed walls baked in golden sunshine, the soft scent of herbs drifting lazily on the heady air, tall iced drinks and melting ice creams, of bluest seas and even bluer skies…Well not only do I now desperately need a holiday, I'm also just a little more infatuated with the summery, wonderful, incredibly elegant nuptials of Fay and Max. The beautiful couple married on 28th June 2014 on the gorgeous island of Skiathos, combining Greek and German traditions, an abundance of foliage and a whole lot of sunshine.
This intricately embellished Catherine Deane gown that Fay chose to wear combines cascading silk tulle and a statement sheer back; hand-beaded and hand-sewn with sparkling, glistening opals and crystals. It's not surprising it takes two days and over 6000 beads to create this utter beauty.
"We wanted to keep it rather simple and elegant with references to Greece; olive branches, basil pots, sea shells, white and blue were all we used. Fay is from North Greece and we definitely knew we wanted to get married on a Greek island. Skiathos is beautiful, very green and not as touristy as some of the other islands; it's more authentic and simple. It was also reasonably close and easy to reach for our Greek guests and had an airport for our international guests."
Photography by  Sarah Gawler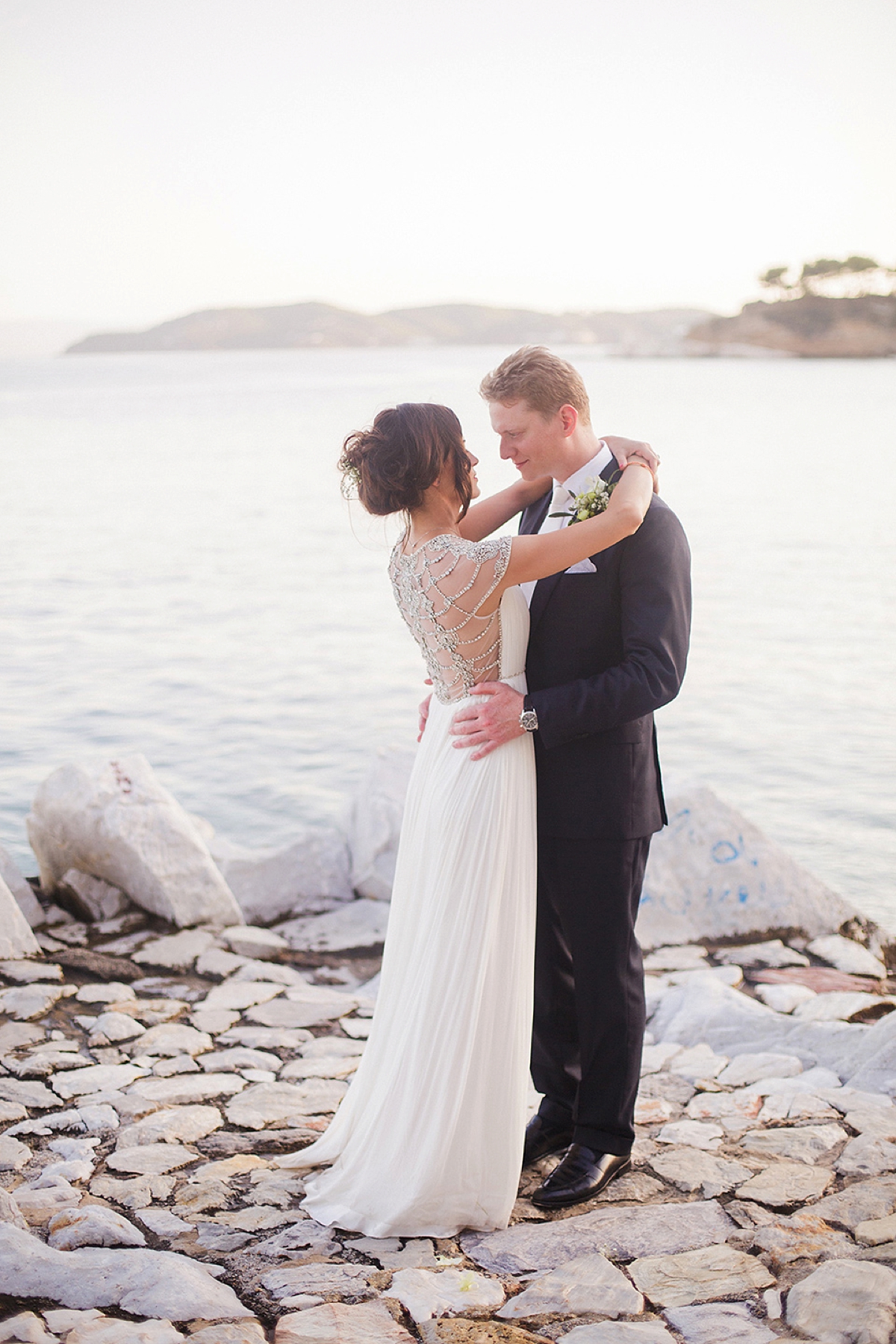 The second I opened up this gorgeous set of images, beautifully captured by Sarah Gawler, I gasped. Not only due to the stunning location of this wedding I might add, but also because the beyond beautiful Fay is wearing 'my almost wedding dress.'
Many brides who've already completed the heady task of purchasing their wedding dress (or favourite outfit ever as mine has come to be known) and you lovely newlyweds will know what I mean: the dress that almost was. I think it may have been my dad who first spotted this subtly glamorous creation, shimmering and dripping with embellishment in a boutique window, and I just knew I had to try it on.
"My dress was Tallulah from the Catherine Deane collection. Though the fashion designer is based in London, I purchased my dress via BHLDN in the United States and wore it with Prada shoes. My hair and make-up were by Nikos Platys."
"We decided to get married on the same weekend a year after our engagement, so our wedding and engagement anniversaries are the same. Also, it was a great timing to get married in Greece as the end of June isn't steaming hot."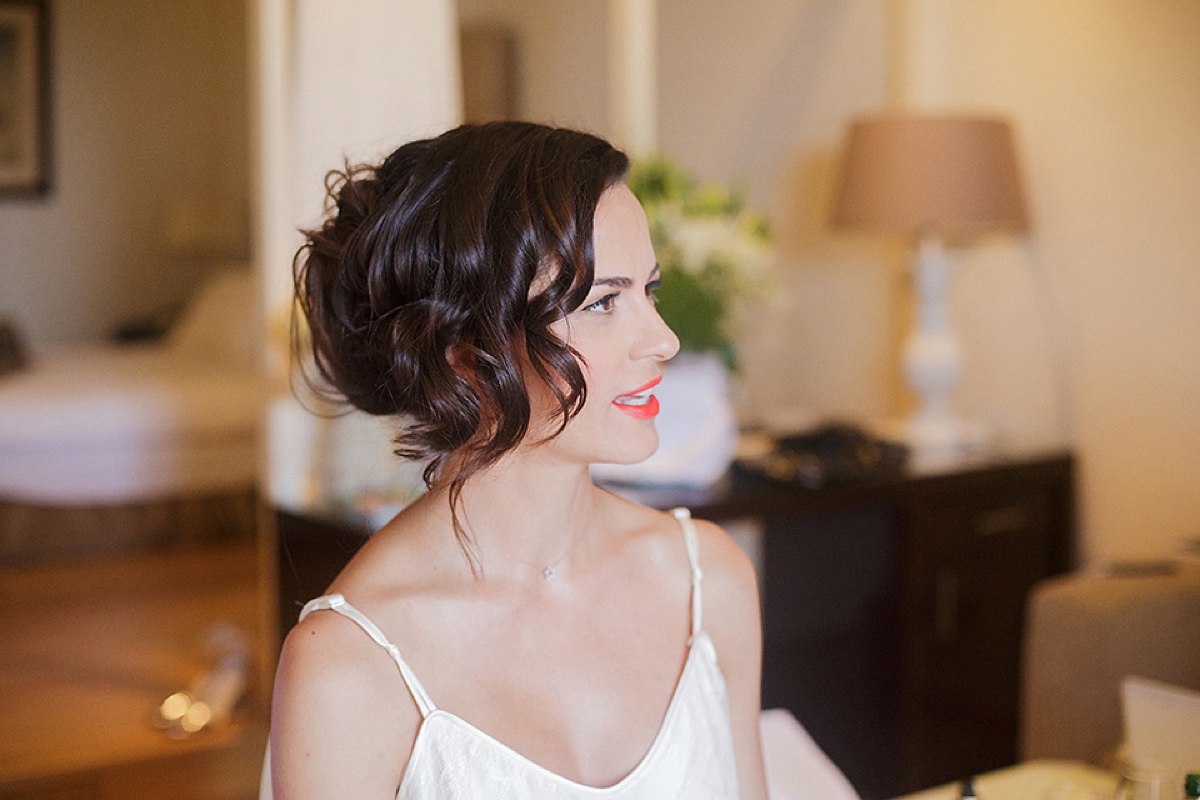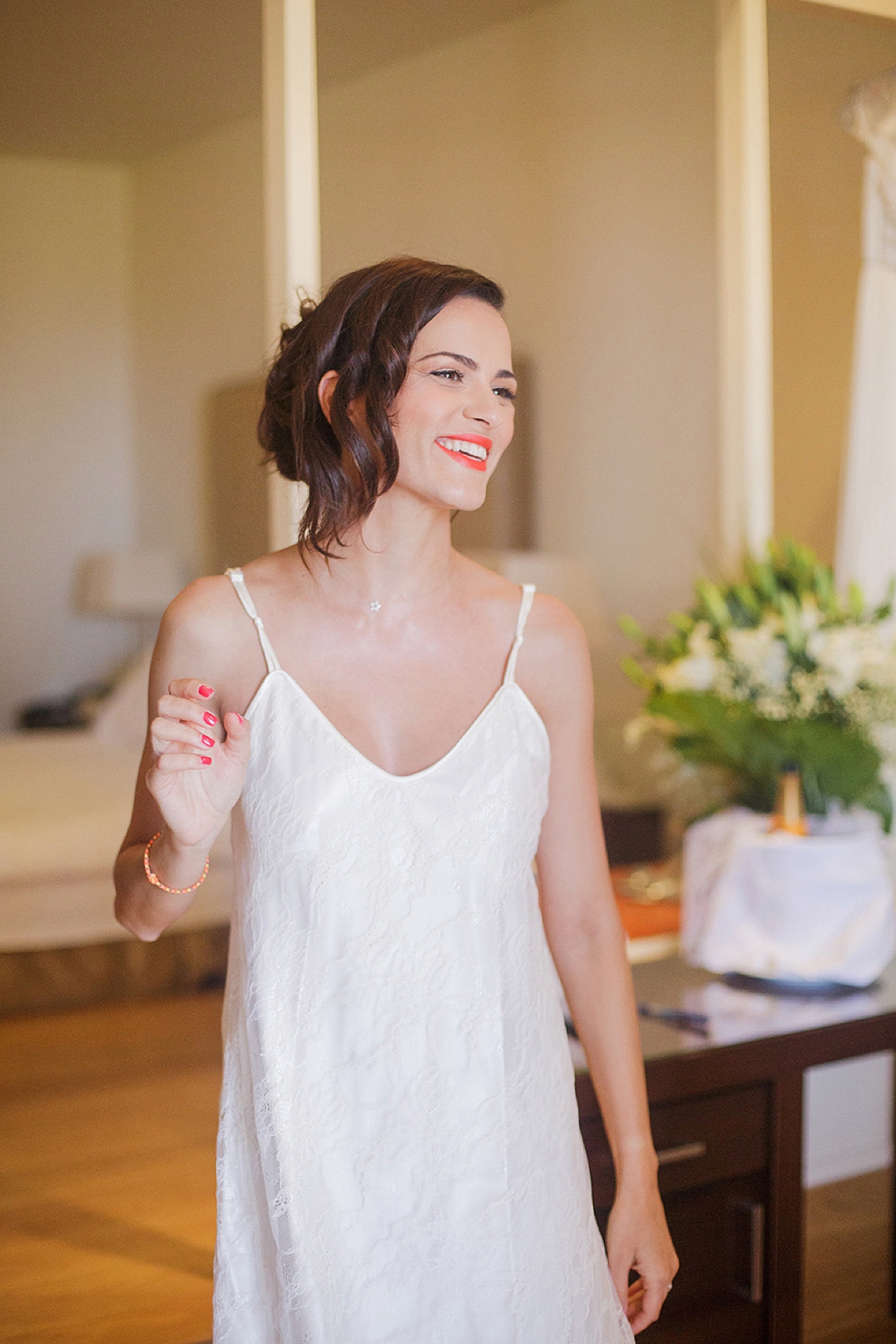 Now if there's one thing I seem to be building up a bank of wedding knowledge in, it's traditions. I adore elegant, modern weddings that effortlessly combine and incorporate these time-honoured rituals. From flower crowns with their origin in Swedish folklore, to wearing a sixpence in your shoe to bring good fortune, these little nods to the past have such interesting and often extremely meaningful back stories.
"We had both Greek and German traditions throughout our wedding. In Greece, it's customary for the bride and groom not to get dressed by themselves on their wedding day. The single girls need to help the bride get into her dress and the single men have to shave and dress the groom. But before they dress the bride, three of the single ladies have to try on her wedding dress to bring them luck."
"All the single girls write their name on the sole of the bride's shoes. The next day, the names that have been removed by all the Greek dancing, will be soon married too. As for the German traditions, we had speeches during dinner (which is not customary in Greece) and some guests wore traditional Bavarian outfits. At some point during the party, Max also changed in to his Bavarian Lederhosen."
I absolutely love the idea of writing the single girls names on your shoes; this sounds like the Greek equivalent of the 'bouquet toss'. I have to say I think I might prefer Fay's method; you get to keep your gorgeous bouquet and dance extra hard with the incentive of bringing future happiness to your favourite girls.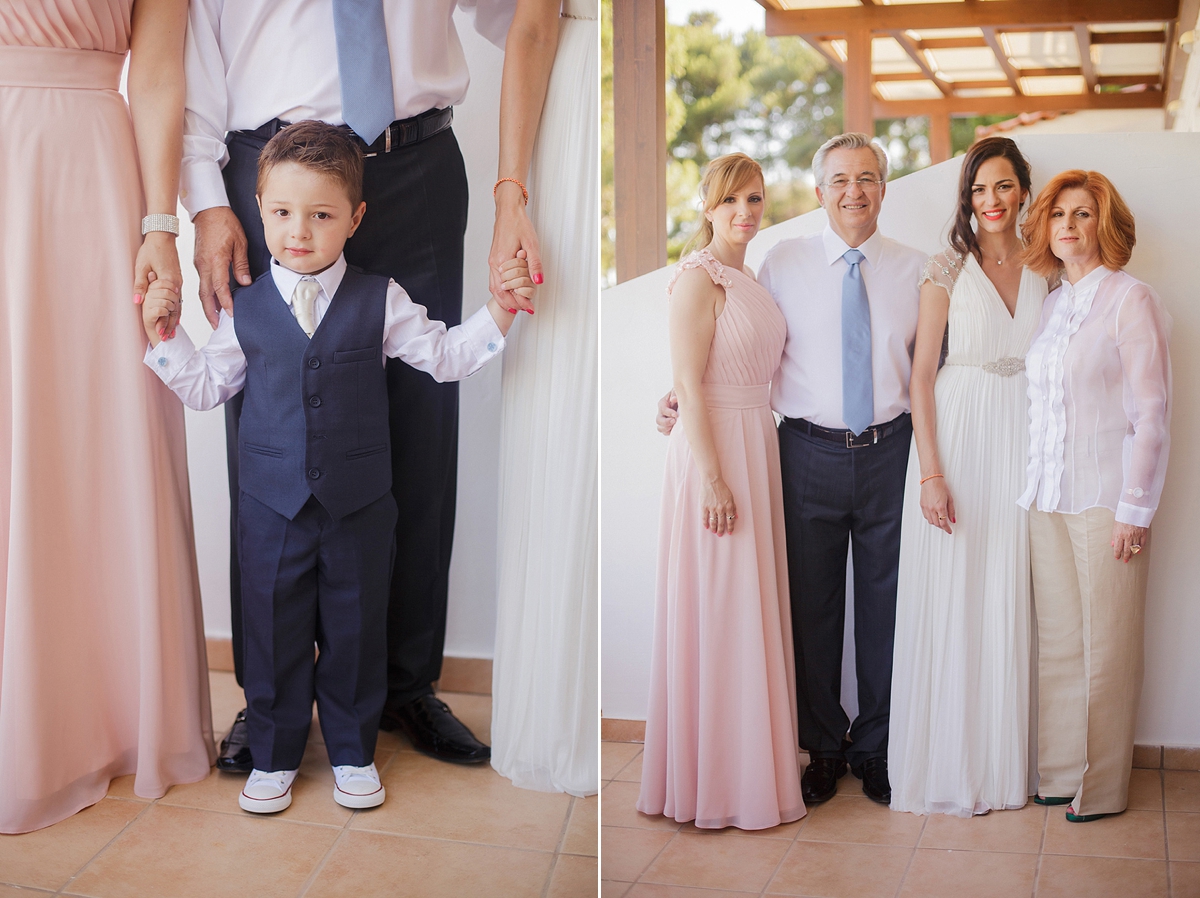 Groom Max wore a dapper suit and crisp white shirt made by Savile Row tailors Kent & Haste with a Brioni tie and John Lobb shoes while Fay's maid of honour wore a blue frock of her own choosing.
"In Greek weddings you only have a maid of honour and they are free to choose their own dress. The only guideline we had was that it had to be a blue dress."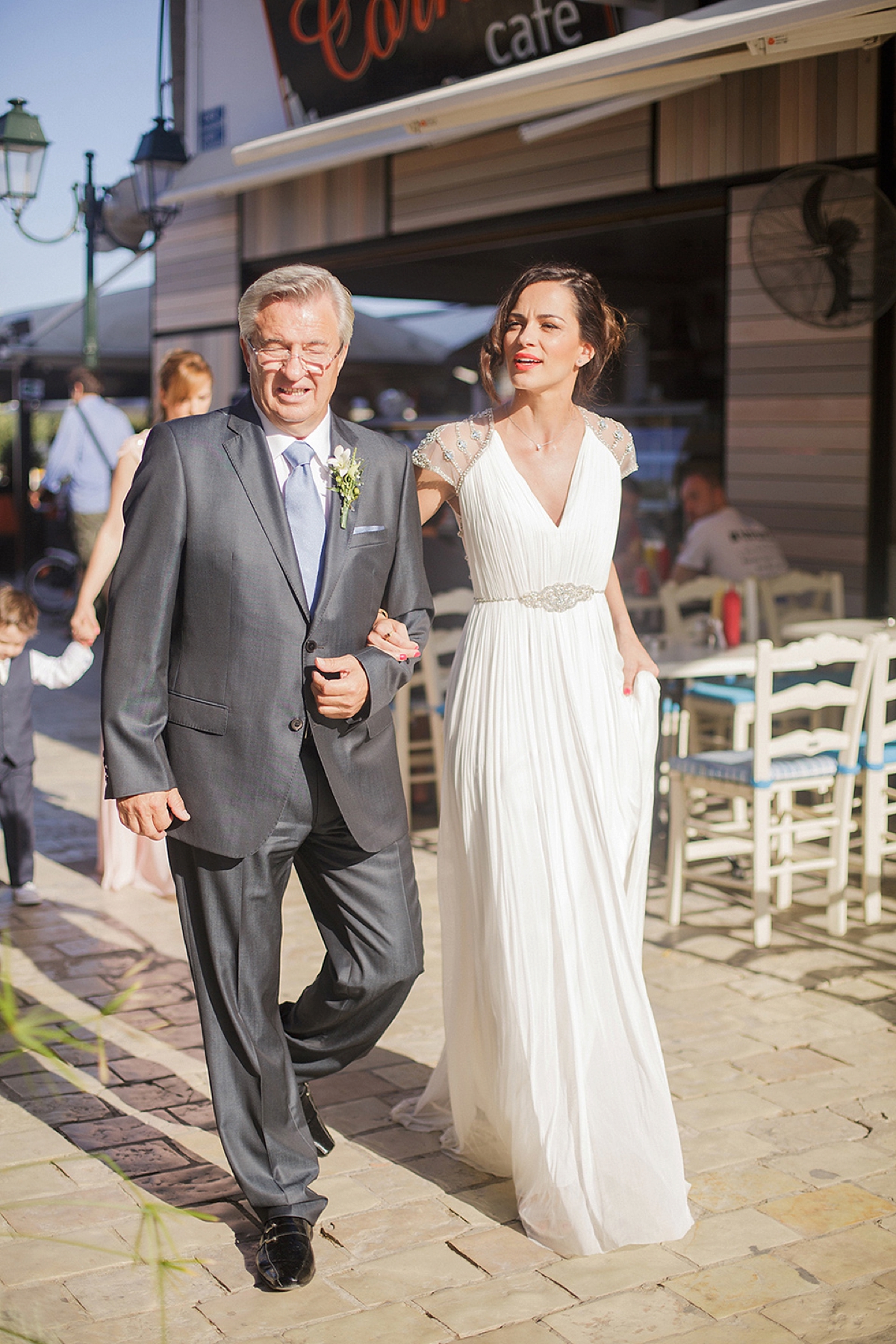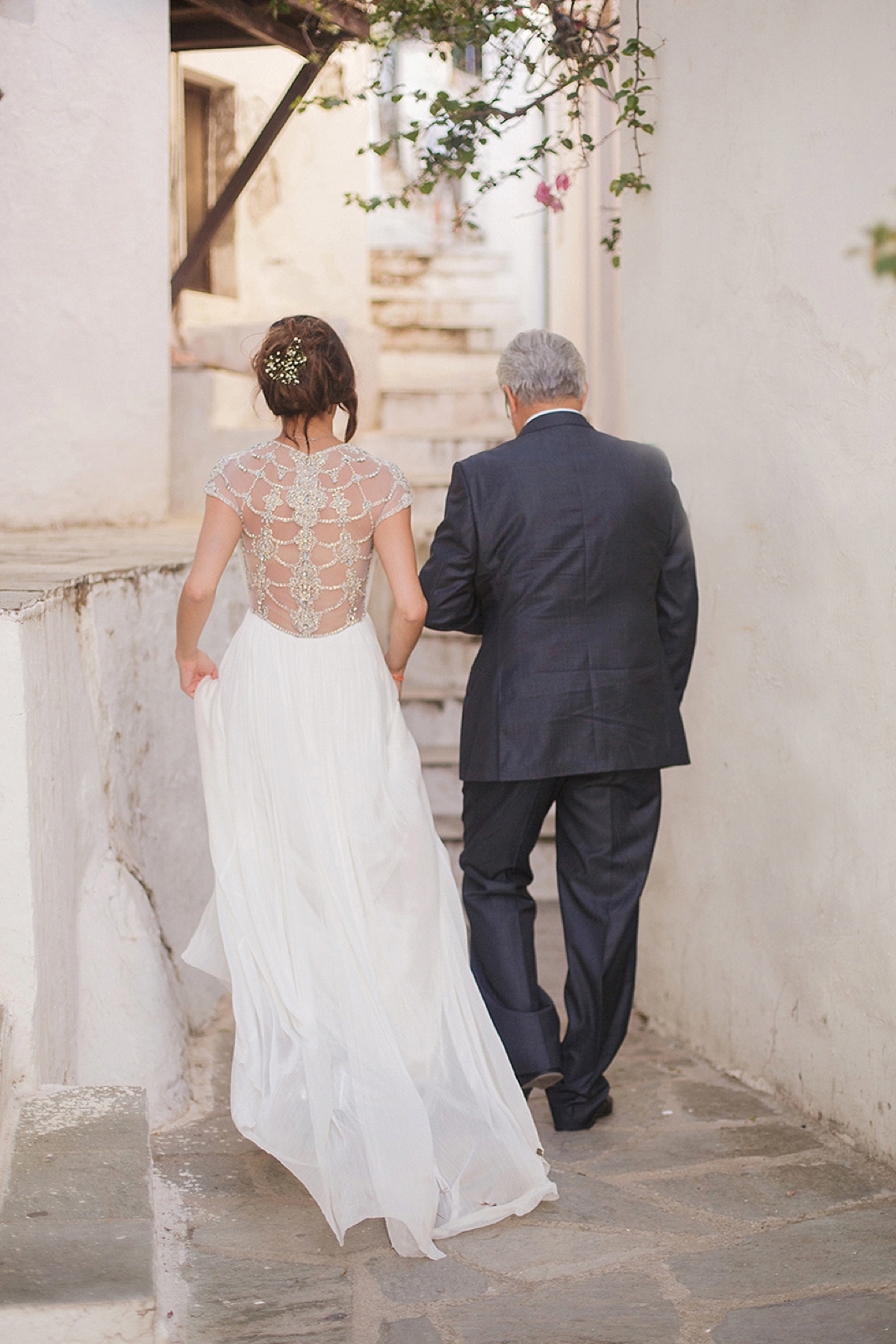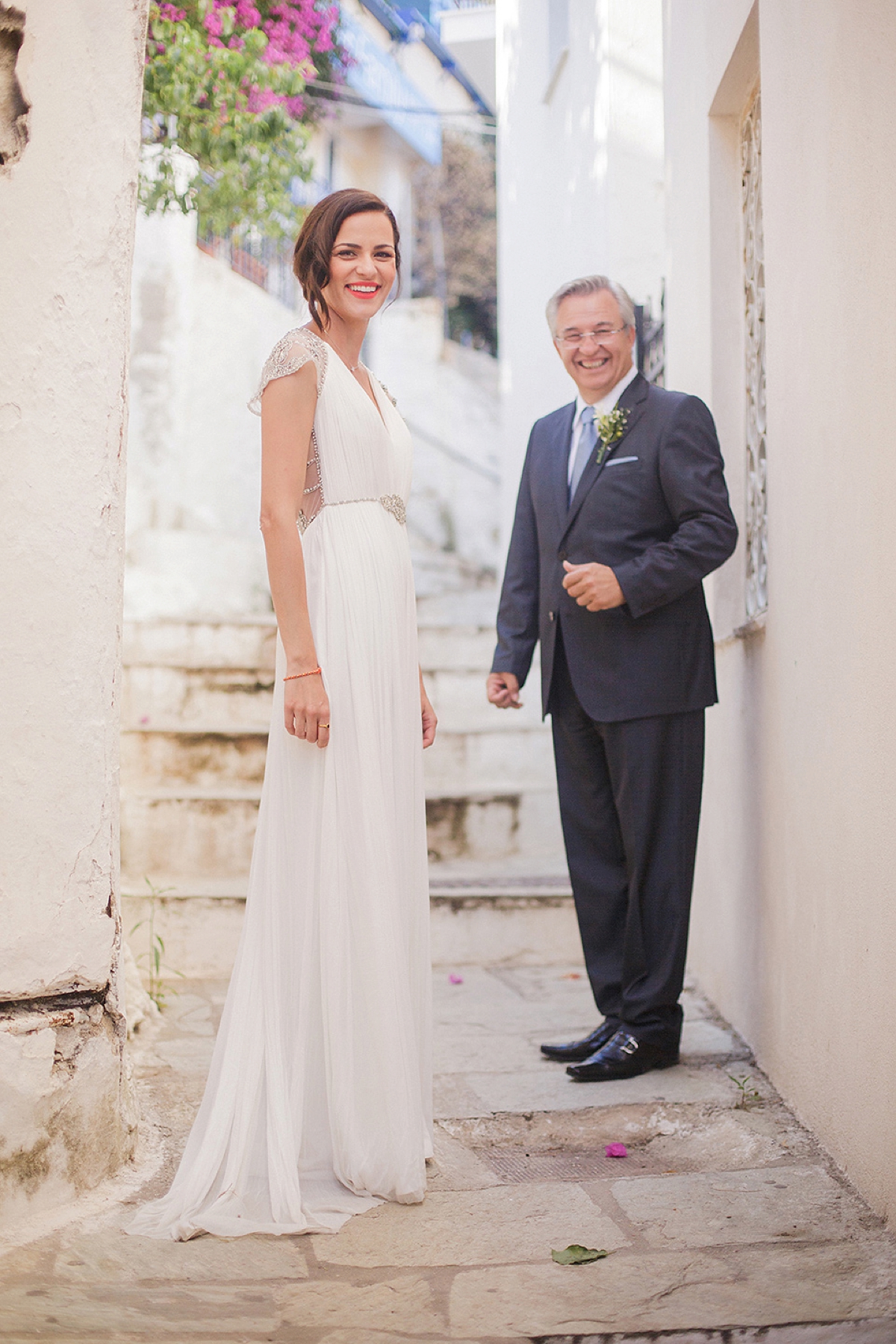 At the end of Fay's walk to the church with her very proud looking papa, Max stood waiting for her with a fresh green and white bouquet. This tradition is beyond cute. In some parts of Italy the groom delivers his bride's bouquet before the wedding as the last gift he ever gives her before she becomes his wife. I wonder if this is a tradition from Max's German heritage? I just love it and very strongly considered it for my own Italian nuptials.
"There weren't many flowers available on the small Greek island so we used mainly greenery and white flowers such as lisianthus and baby's breath. It also matched our simple white decor, laden with Greek references. The flowers were provided by The Princess Hotel."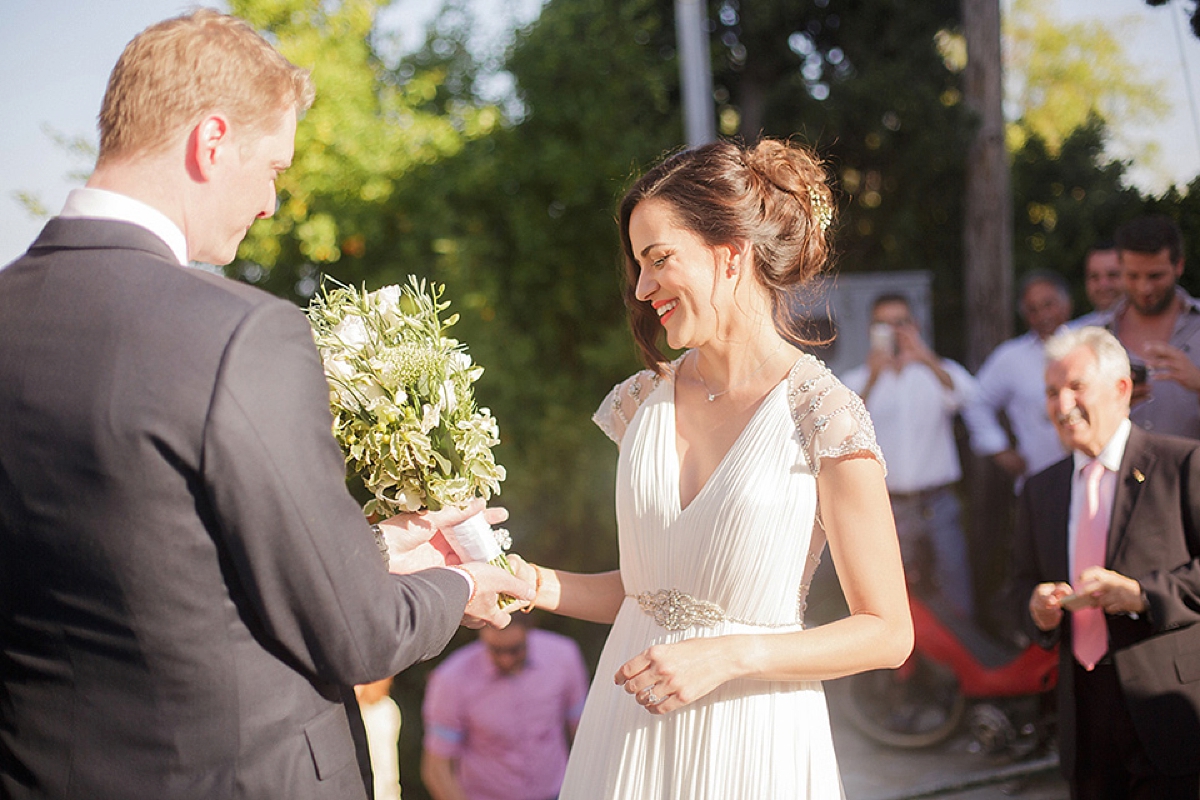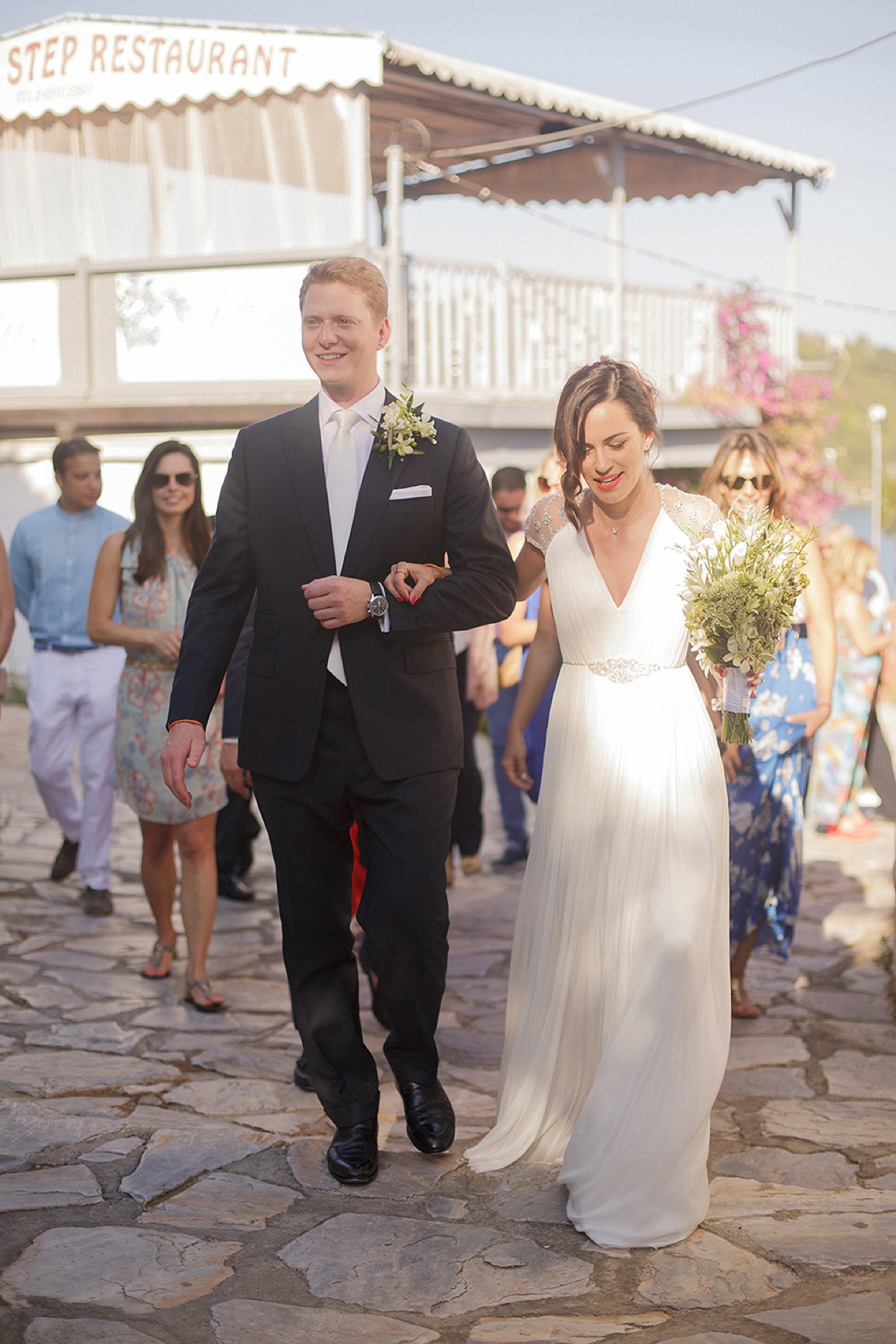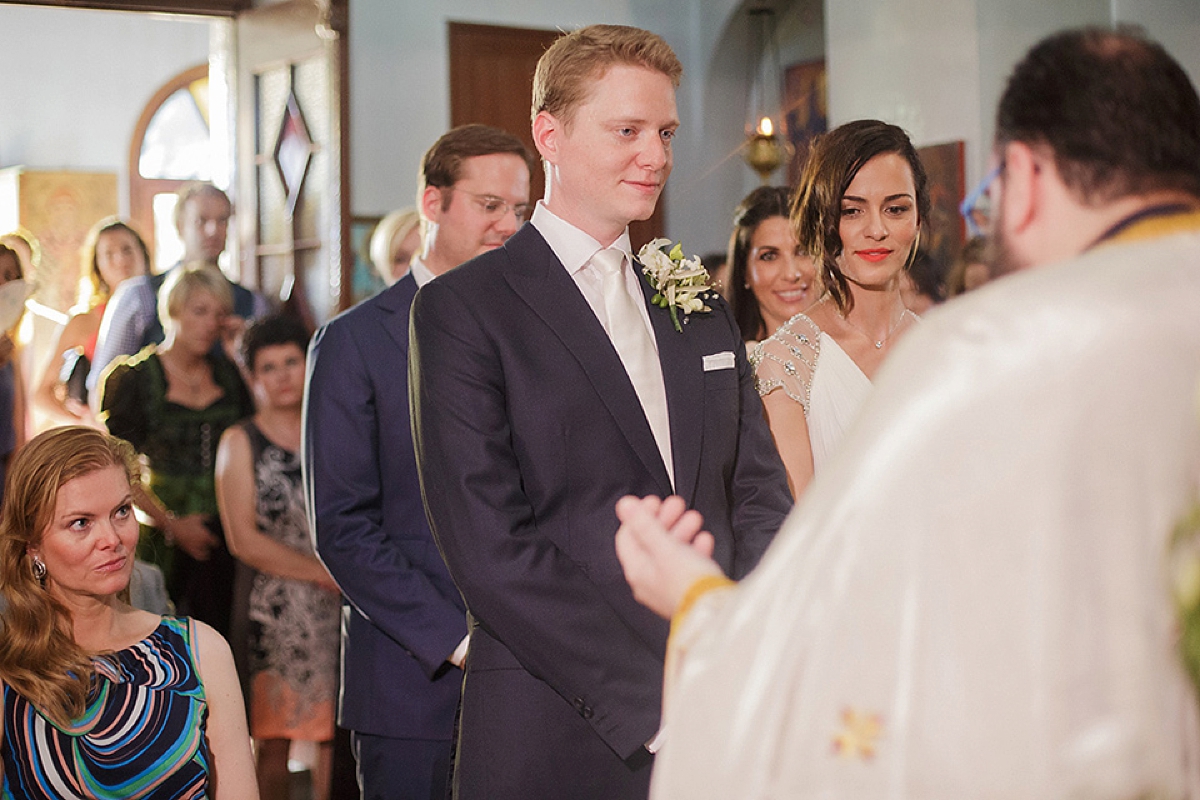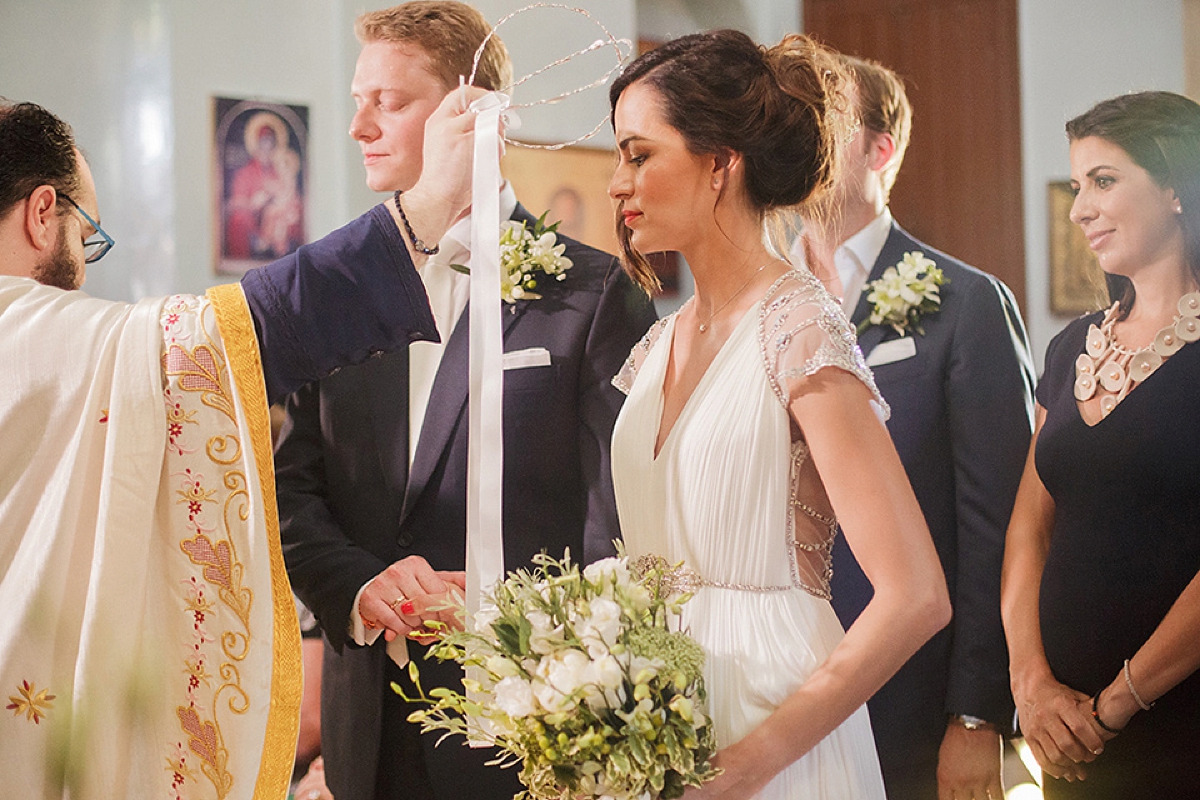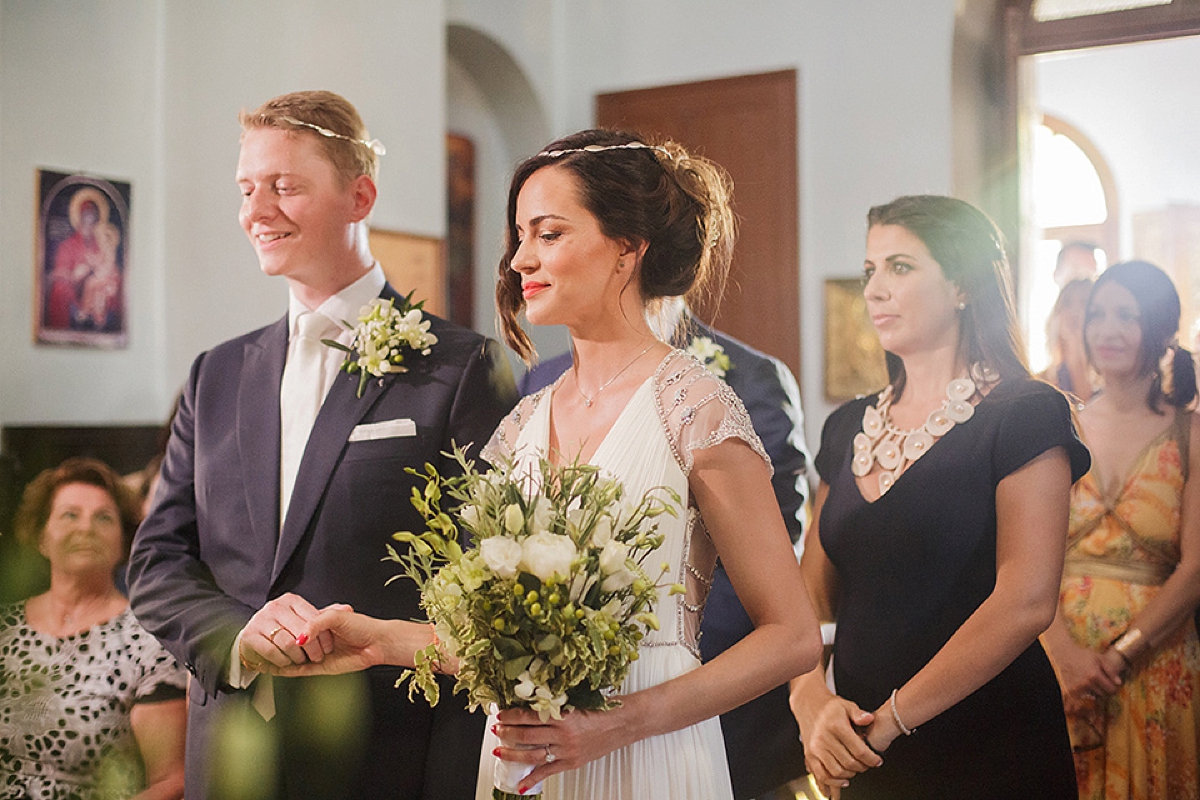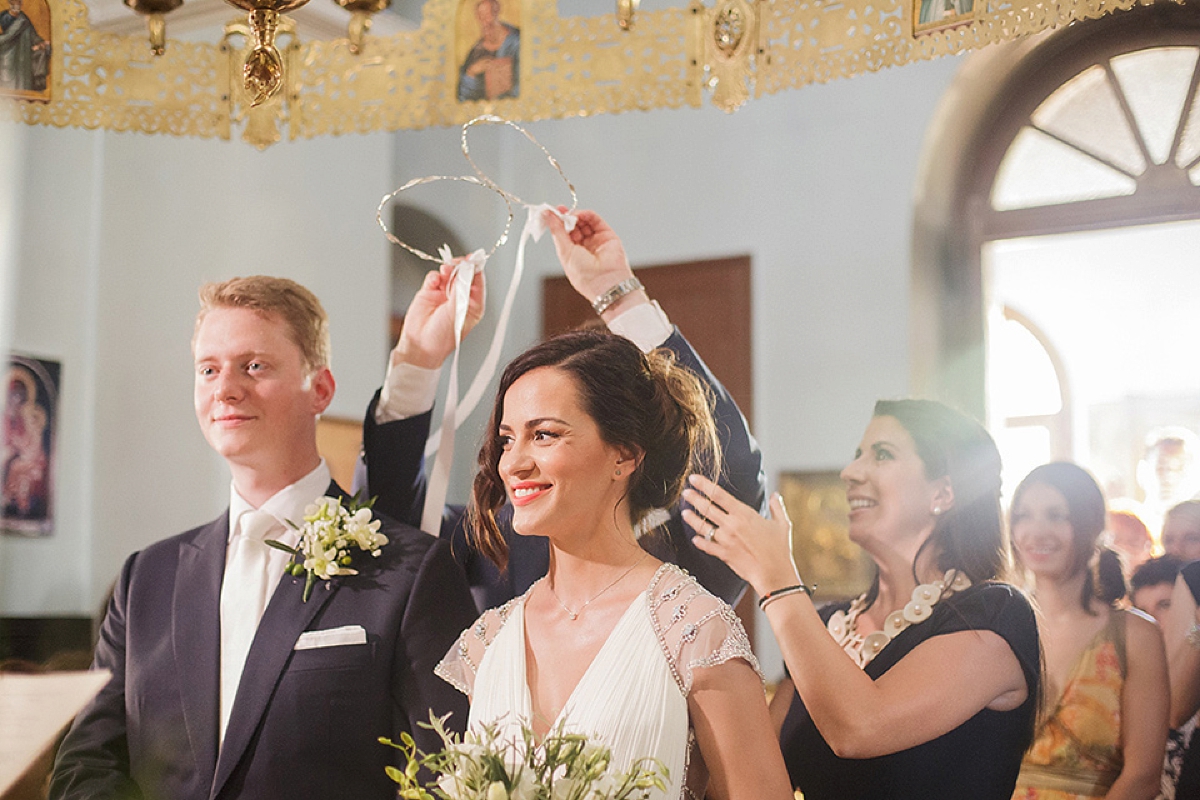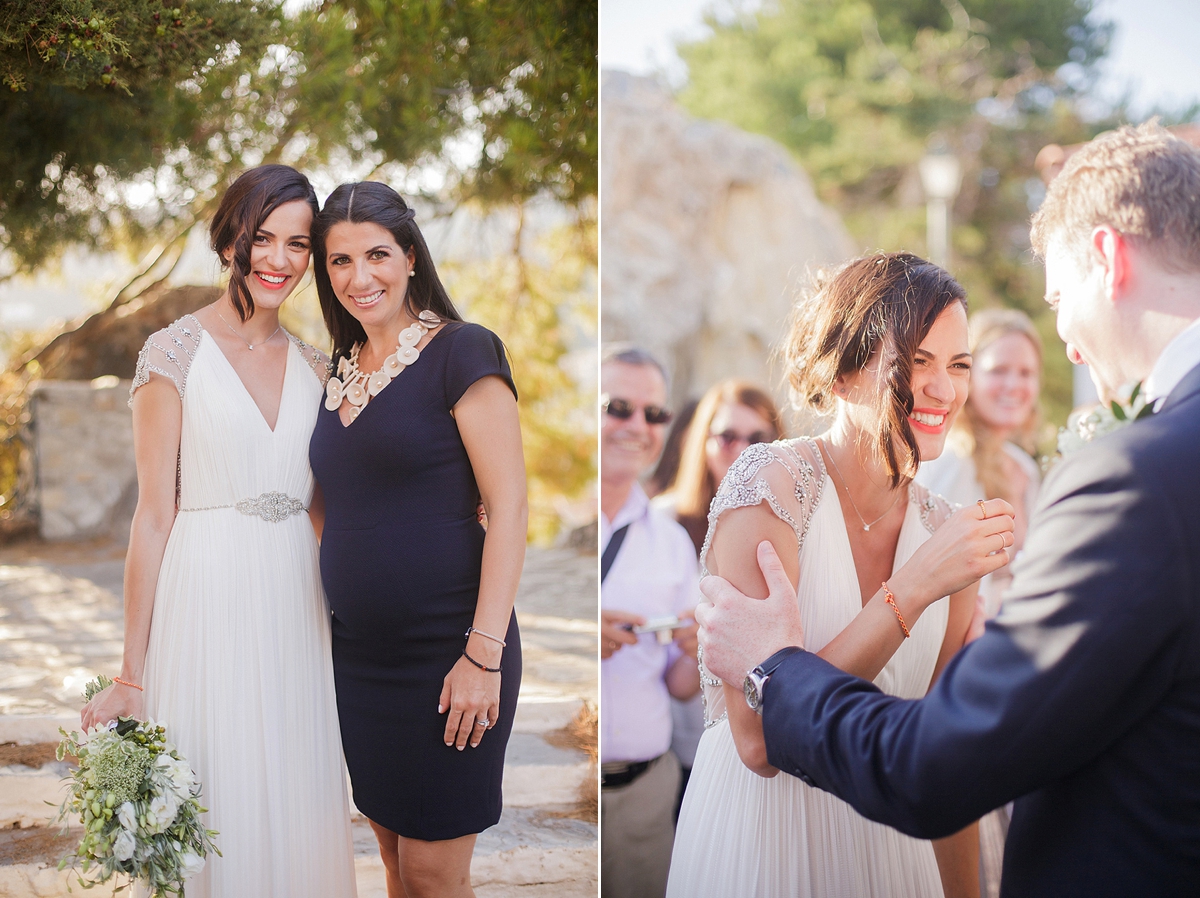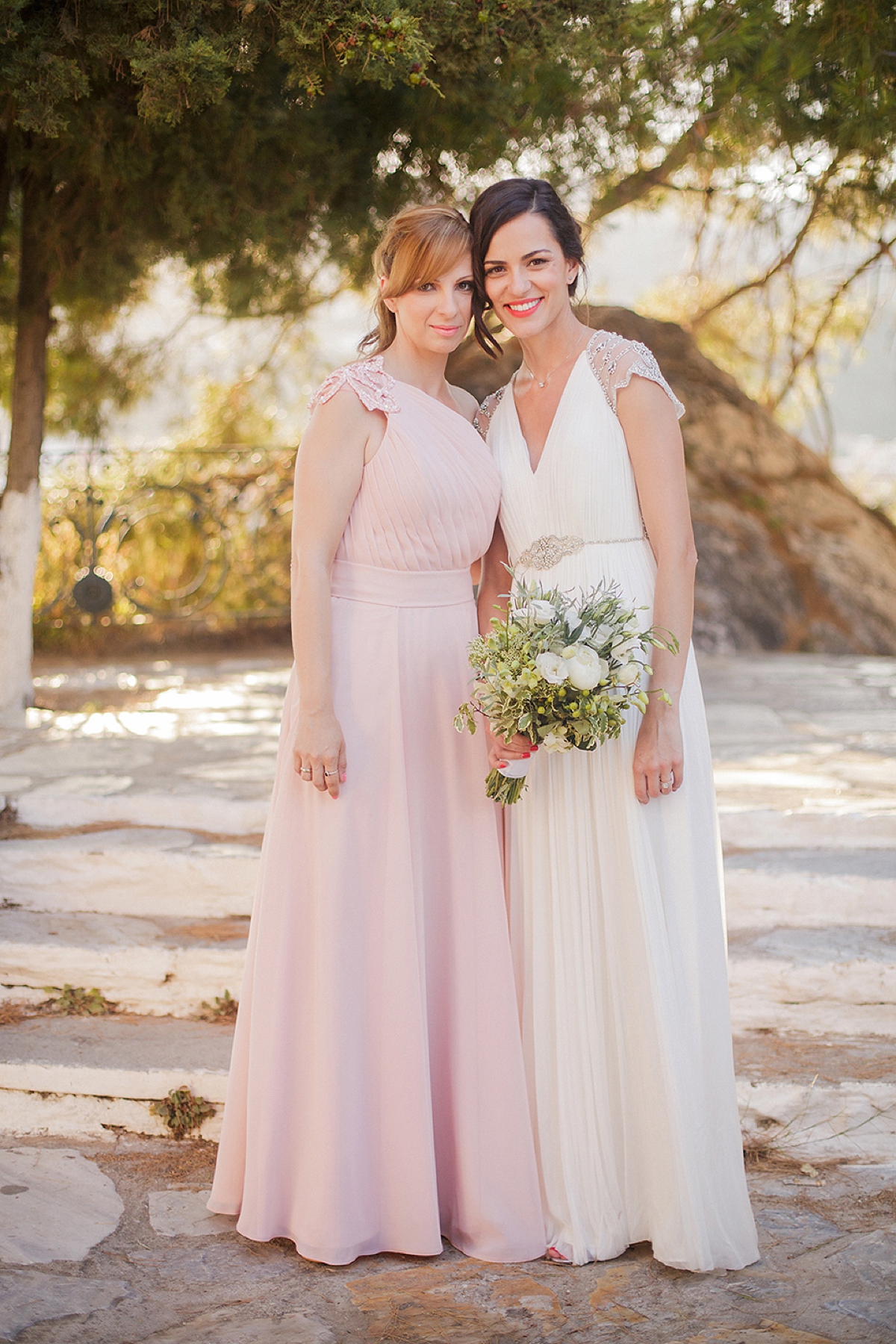 From the white-washed walls of the intimate Agios Nikolaos Church, through tree-lined streets, Fay and Max strolled hand-in-hand to the coast for some stunning couple shots with their photographer, Sarah Gawler. Sarah has captured the hazy summer heat and all round beauty of Skiathos while sensitively documenting the overwhelming love and joy positively vibrating between the newlyweds. After she documented the wedding of some of their friends, she was the obvious choice for Fay and Max to shoot their big day.
"Sarah photographed the wedding of some friends of ours and we absolutely loved her and her style."
Under the dusky pink skies of impending sunset, Fay and Max's lucky guests sat down to an al fresco dinner, catered by their venue, the Skiathos Princess Hotel. Providers of gorgeous flowers, tasty food and a fig-laden wedding cake? This hotel sounds like a dream.
"I designed and handmade all the invitations, menus and place cards. I also sourced the seashells from the island the day before the wedding and used them as seating charts. We kept the decoration very simple and white, as we wanted the natural environment to stand out. We decorated the venue with white lanterns, basil pots and olive branches."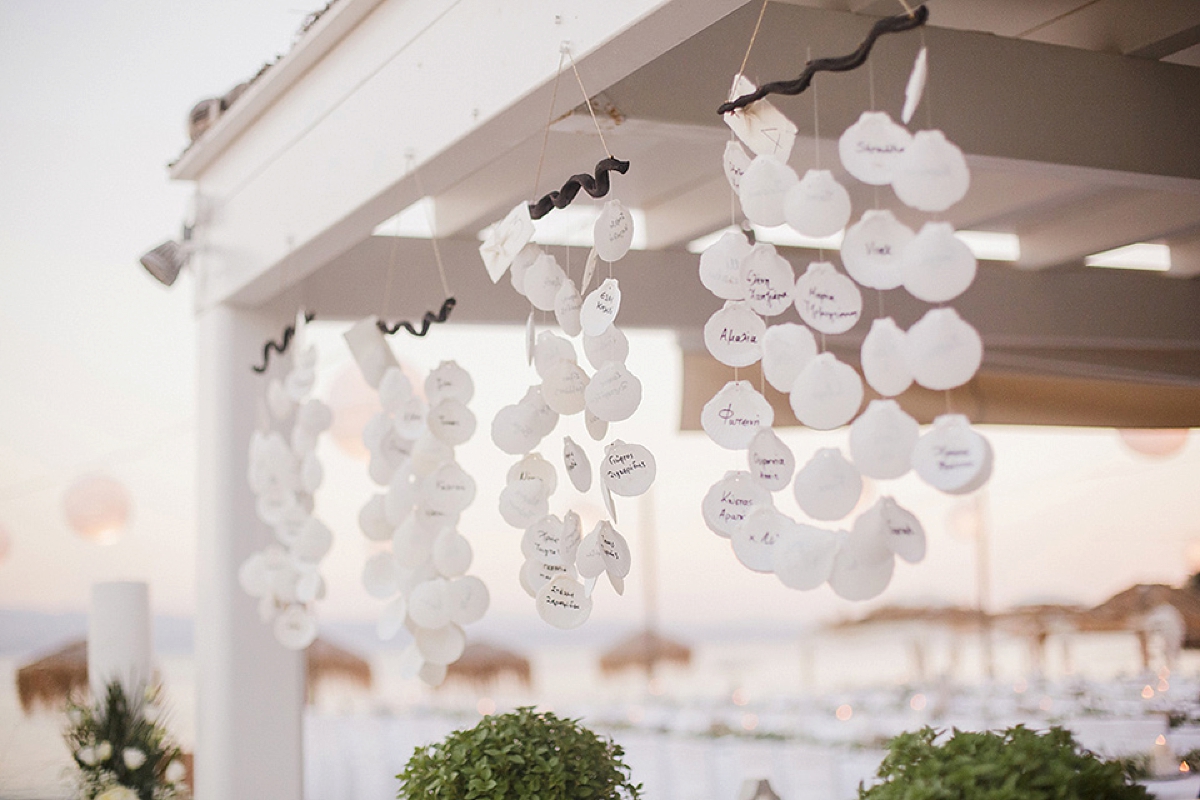 Doesn't this just sound like heaven? The soft golden glow from the many lanterns, strewn liberally across the seating area and dance floor, provided the perfect ambience for what looks like a blooming great party. Fay's dad has some serious moves! And I just adore the look of absolute glee on Fay's face as her brand new, very lovely husband made his speech. I'm sure our bride must have been very glad she chose to include this particular tradition in her special day.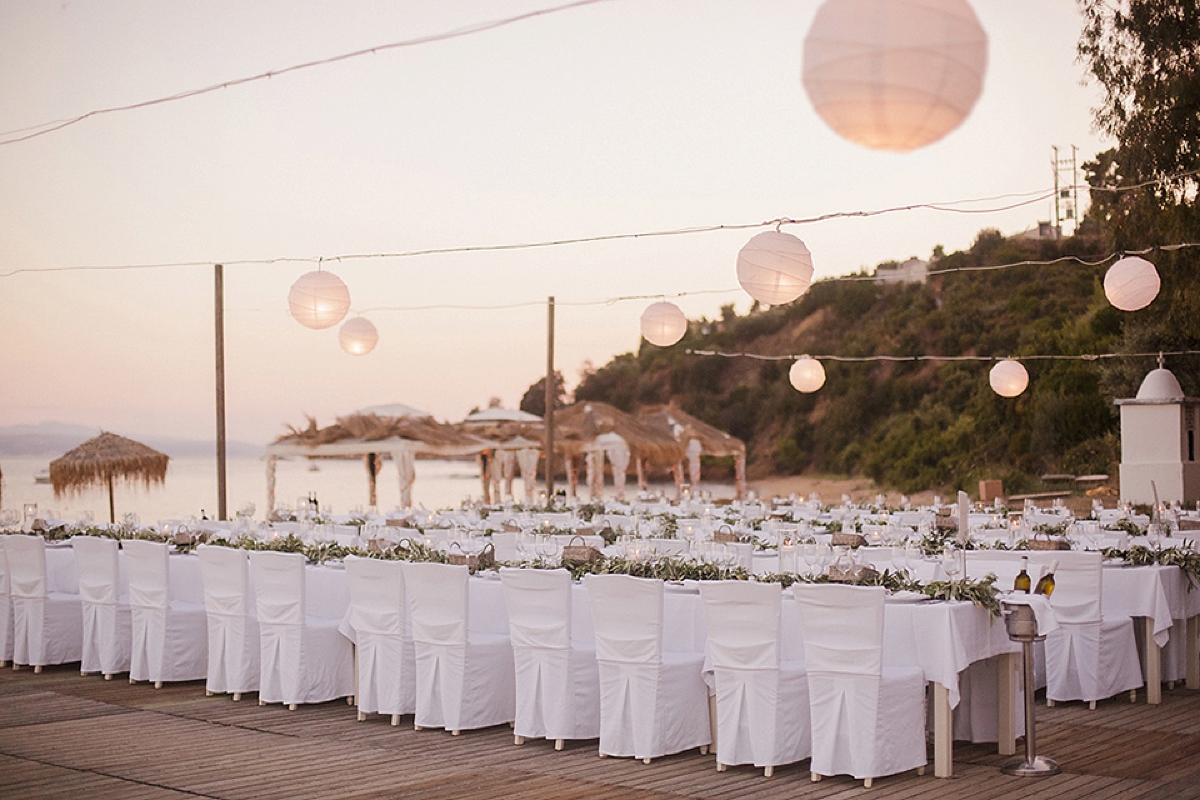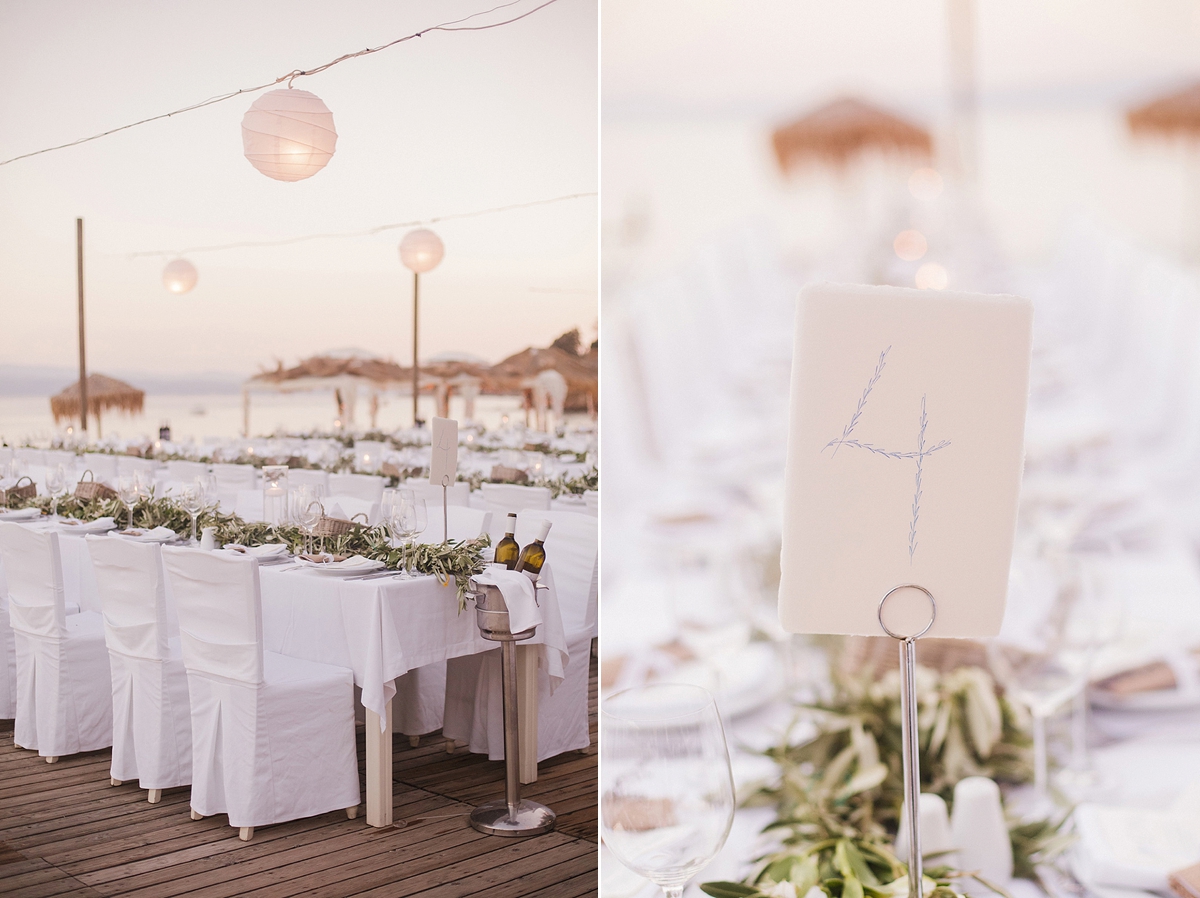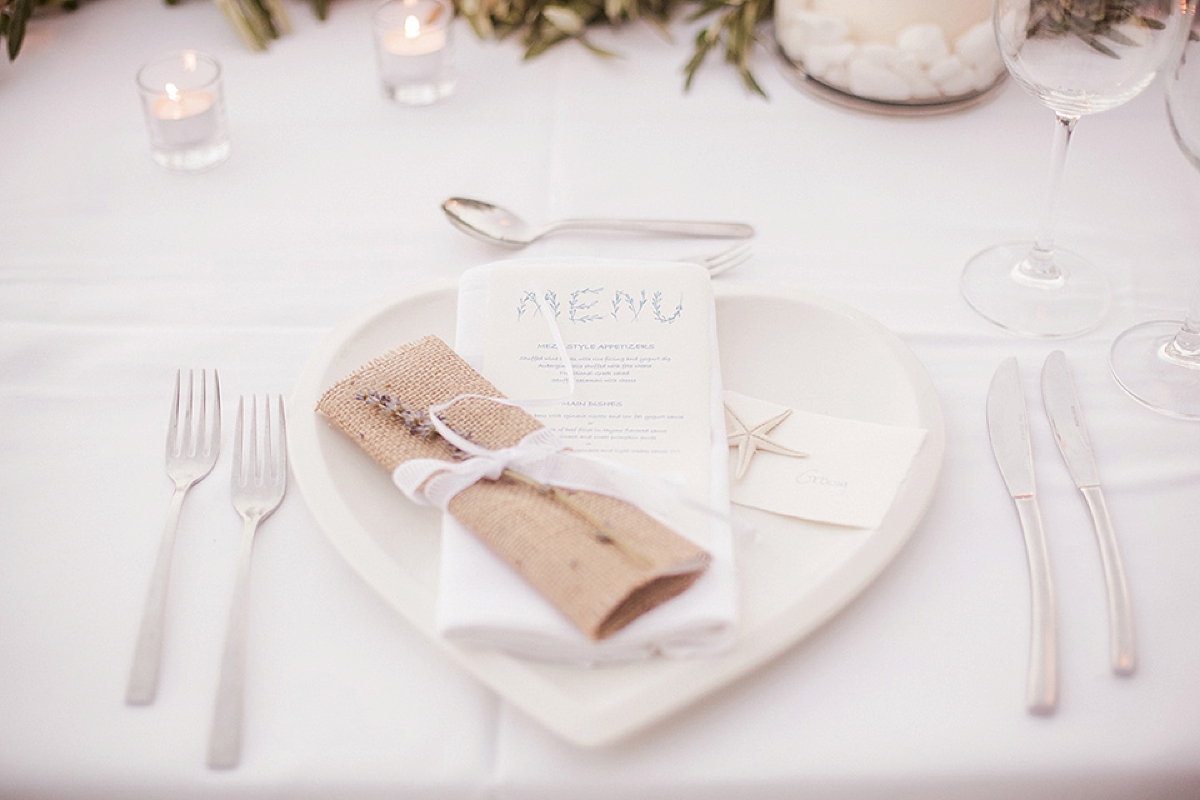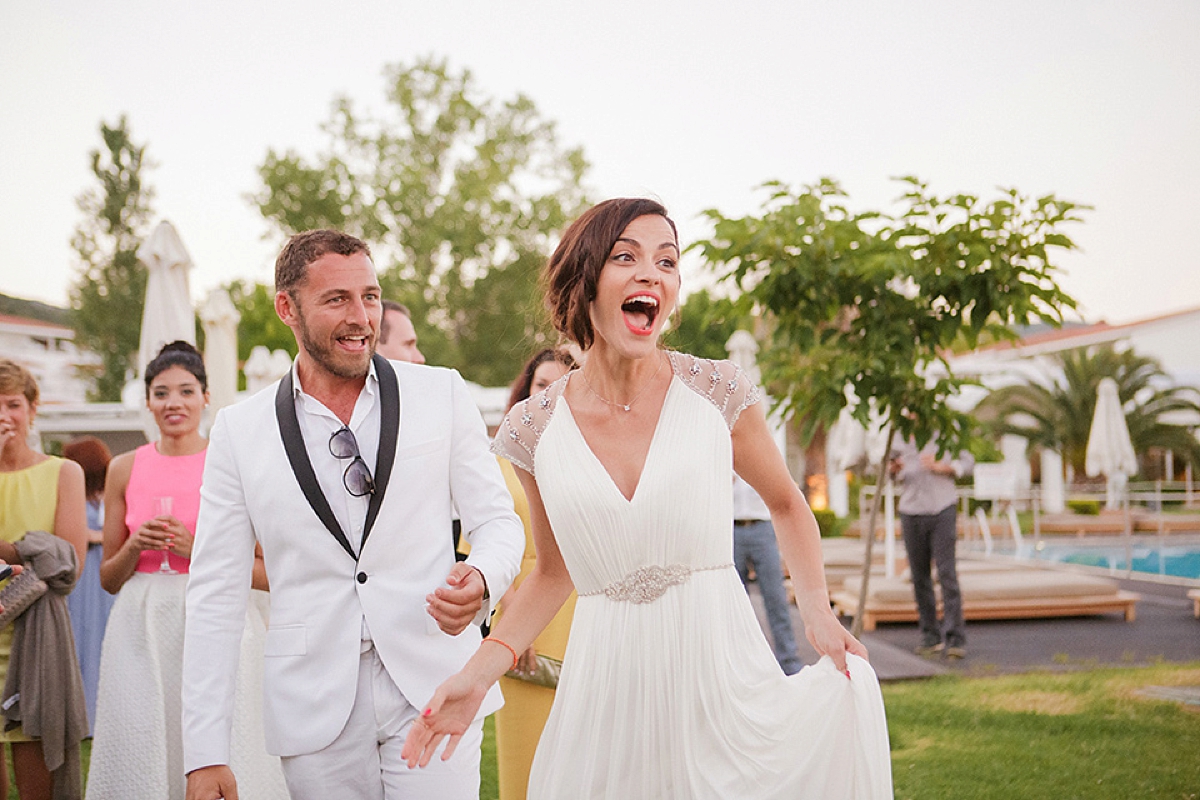 I'm not sure I've ever seen as gorgeous and blissed out a wedding party as this one. I love how the guests happily milled about in their sunglasses, kissed by the golden Green sunshine. And such a happy, vibrant array of colours and outfits too.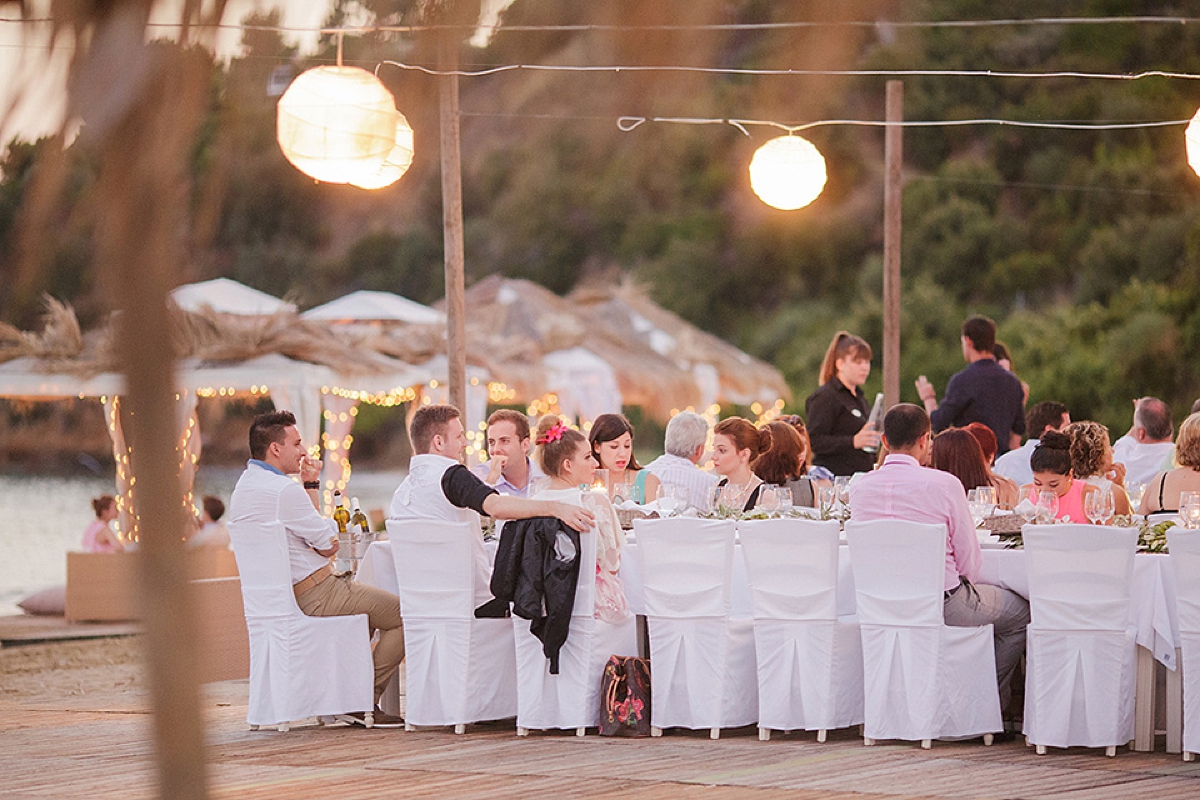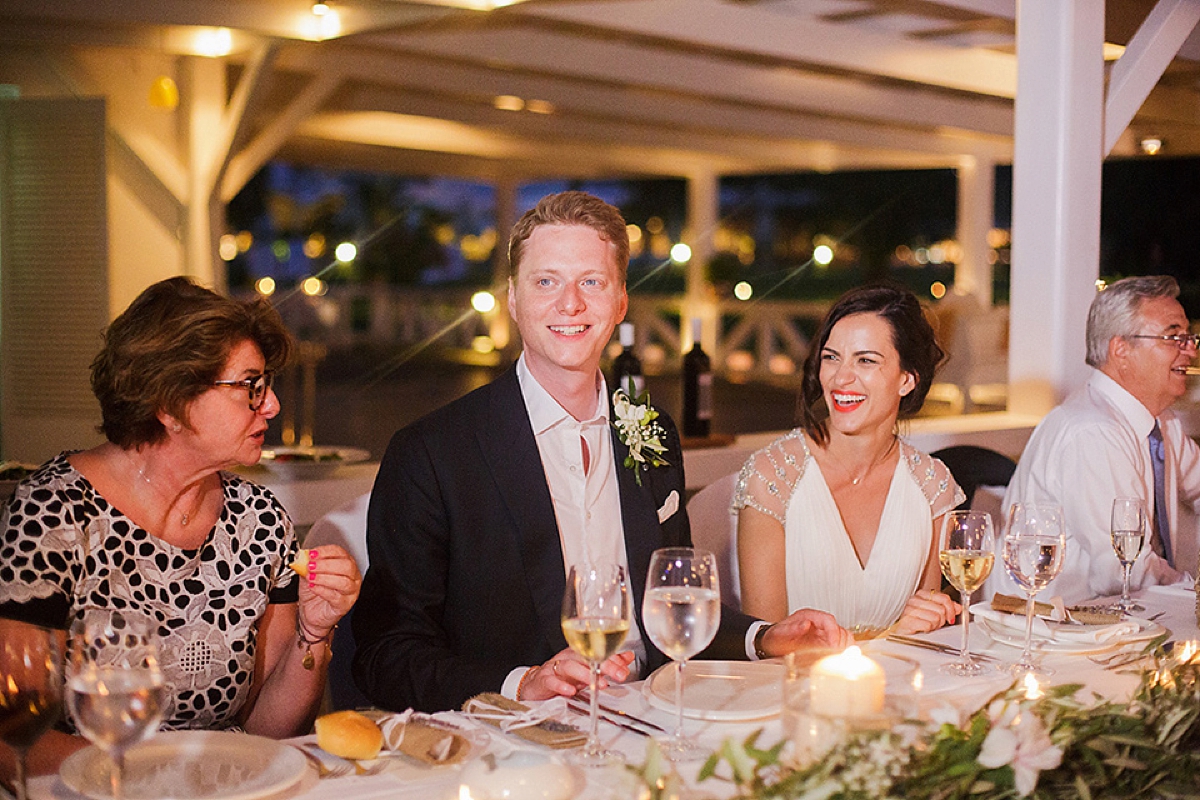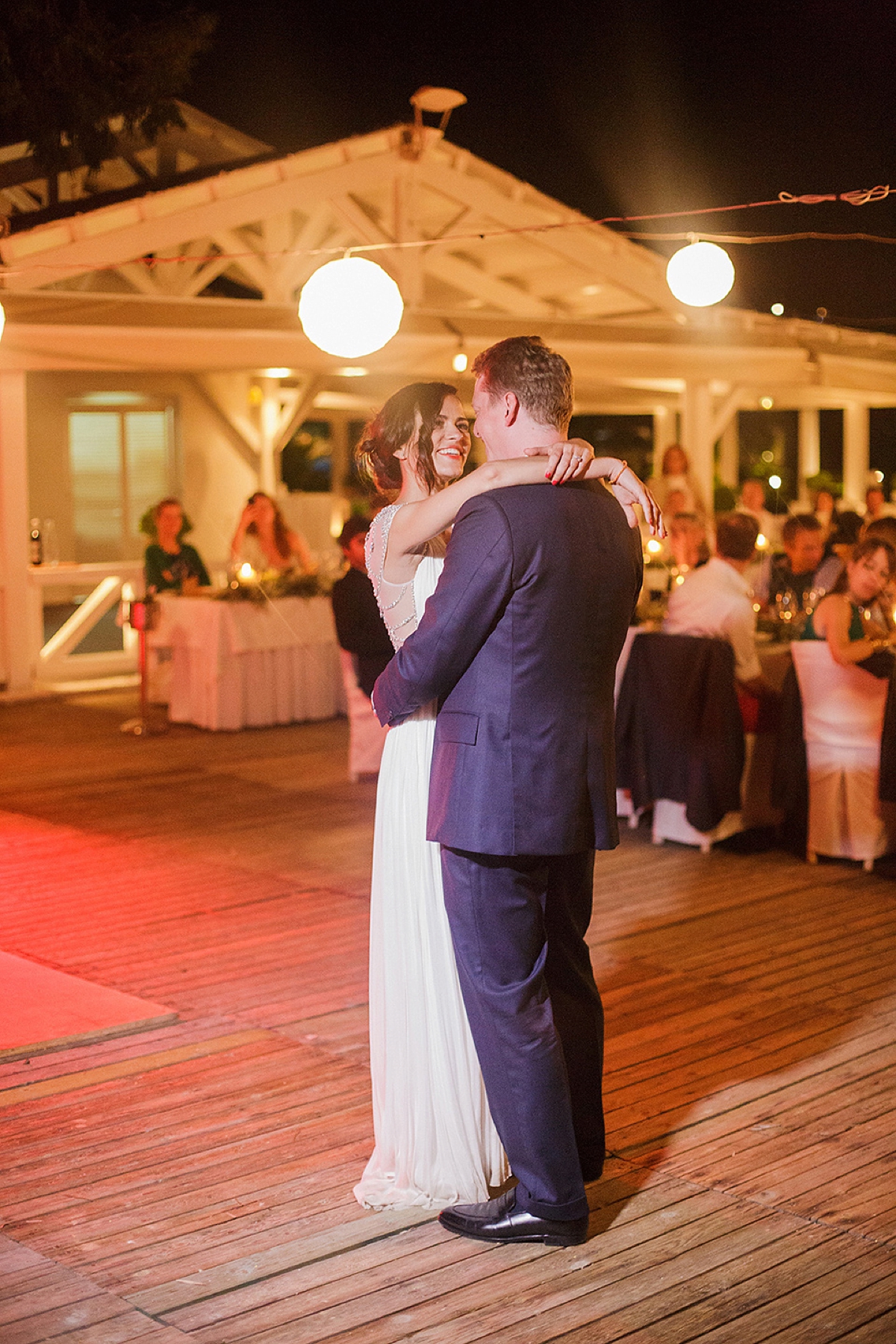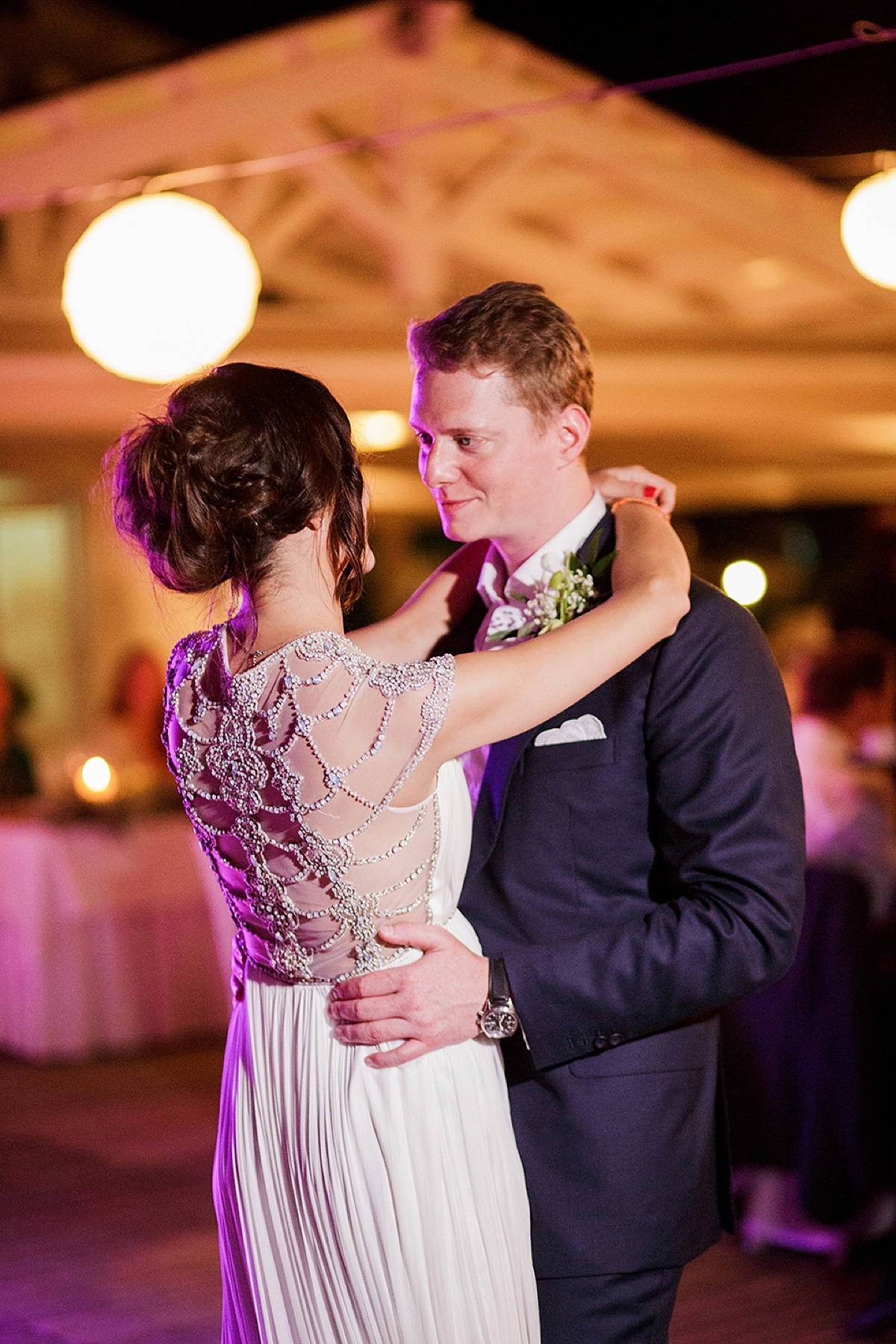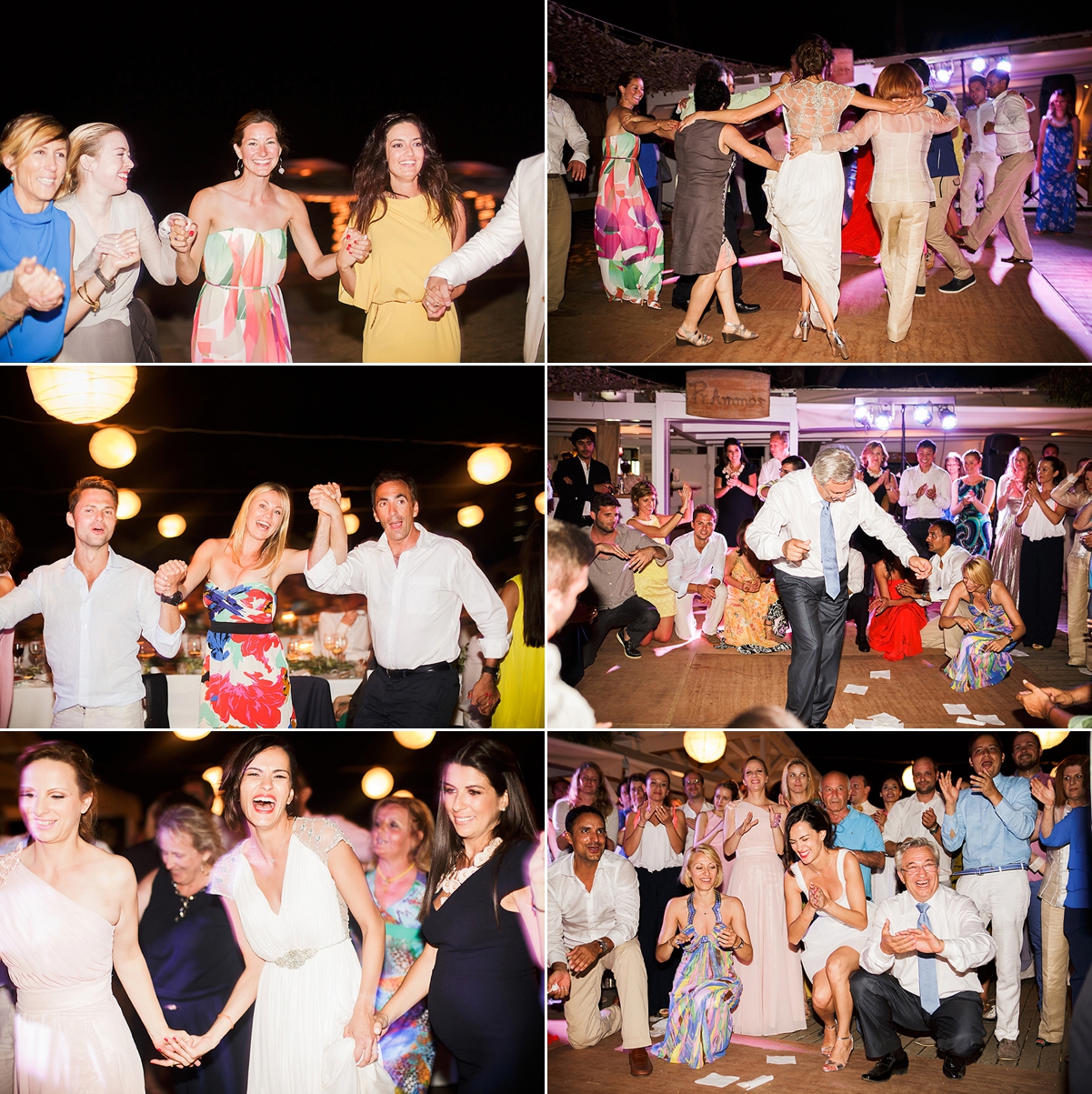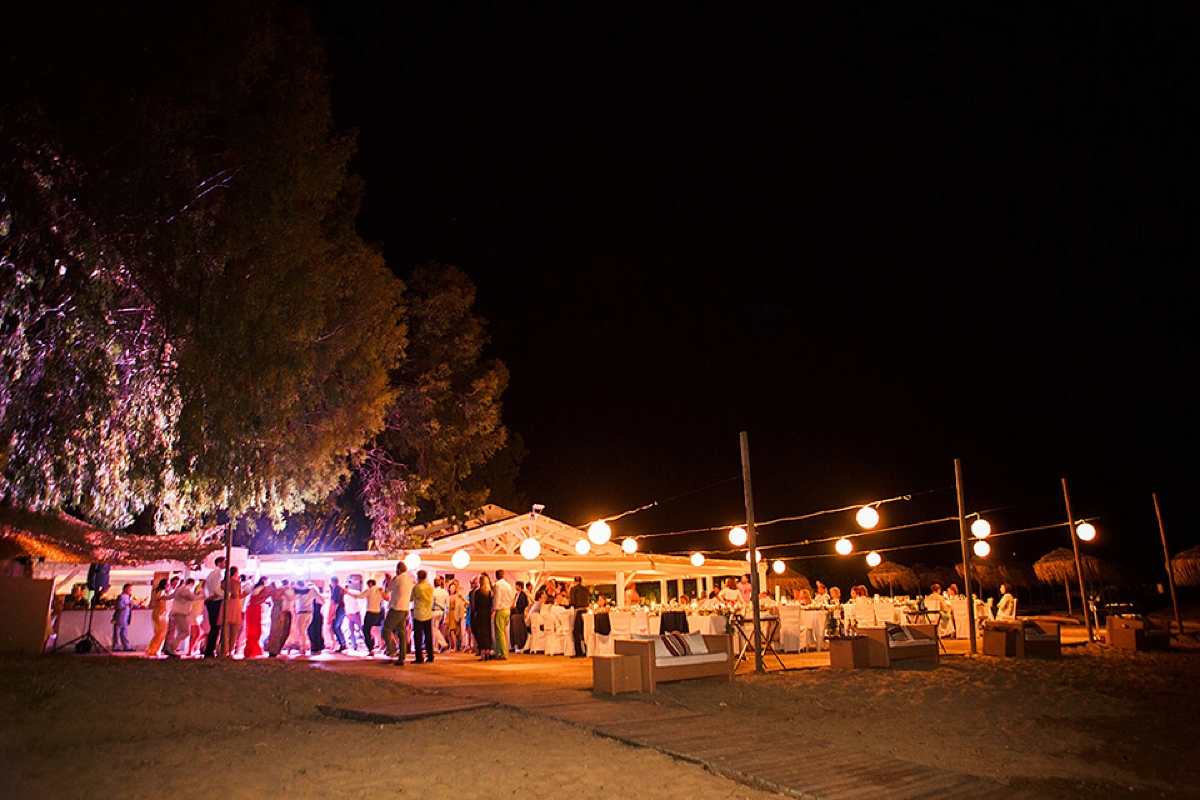 Words of Wedded Wisdom
"We decided not to have a videographer as we felt it might be a bit intrusive"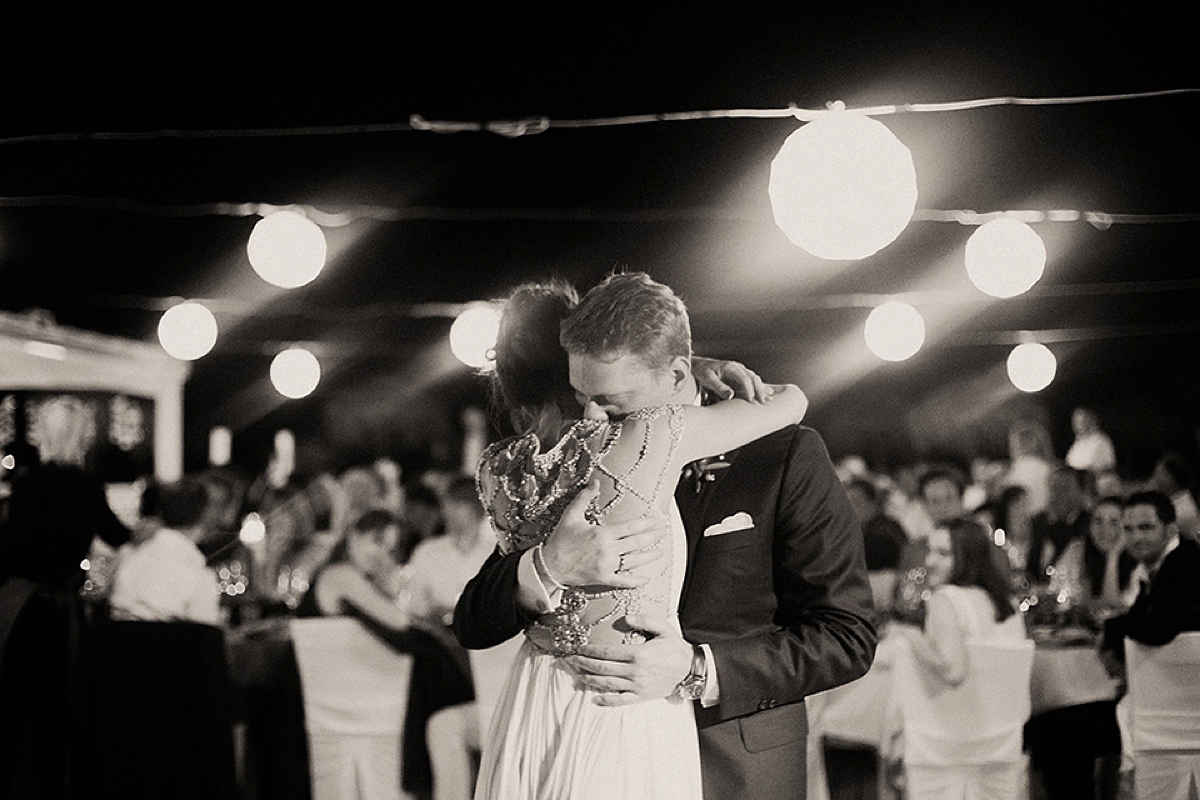 Aah Fay, if only you knew how much these words will inevitably stoke the embers of a long smouldering debate on our Love My Dress Group on Facebook! To video or not to video, that really is the question, and possibly the hottest topic for discussion amongst our brides and newlyweds. What are your thoughts? I'd be fascinated to hear in the comments box below. Either way, we have a whole category dedicated to the most wonderfully talented videographers over on our Little Book For Brides wedding directory page.
And if you haven't already joined our private Facebook group fellow brides-to-be, I advise you make it the very next thing you do, after staring at these beautiful images one more time. Oh and buying a pair of Fay's fabulous Prada shoes of course. With all that imaginary money we have.
A huge huge thank you to Fay and Max for allowing us to bask in the love and sunny memories of your divine day, and a big thank you too to the talented Sarah Gawler Photography for making my day (and I hope yours too) just that little bit brighter.
Love, Em x