Good afternoon lovely ones – how are you today? Today's weather is a little different from yesterday's, no? Yesterday was sensational! What did you get up to? I've shared some images over on my personal Instagram feed @annabelbeeforth of my day. I'd love to see yours – share your Instagram links in the comments box below.
This afternoon's feature is a celebration of some of the loveliest vintage wedding dresses I have seen. The images were commissioned by Cara, owner of Story of my Dress, a beautiful vintage wedding dress story based in West Malling, Kent. This photoshoot includes a collection of bridal fashion from the 40's through to the 70's but the hair and makeup styling takes inspiration from the 70's – a decade whose style and fashions have had an immense influence on all things bridal and weddings of late. I particularly adore the 70s tassel cape below.
"Story of My Dress is a bridal showroom for the bride who is stylish, who loves fashion and appreciates vintage. I handpick our original vintage bridal gowns for their exceptional designs and fabrics. I wanted to create dresses for the modern, fashion forward bride but that still hold their own story and history and are completely one of a kind."
Photography by Lemonade Pictures
"The dresses are lovingly restored and sometimes redesigned to create stylish pieces that stand on their own within an exciting industry that is constantly evolving and creating fashion forward wedding dresses. I want our brides to be totally unique and feel extra special on their wedding day, to bring their style into their bridal look and not compromise on the 'norm' without breaking the bank."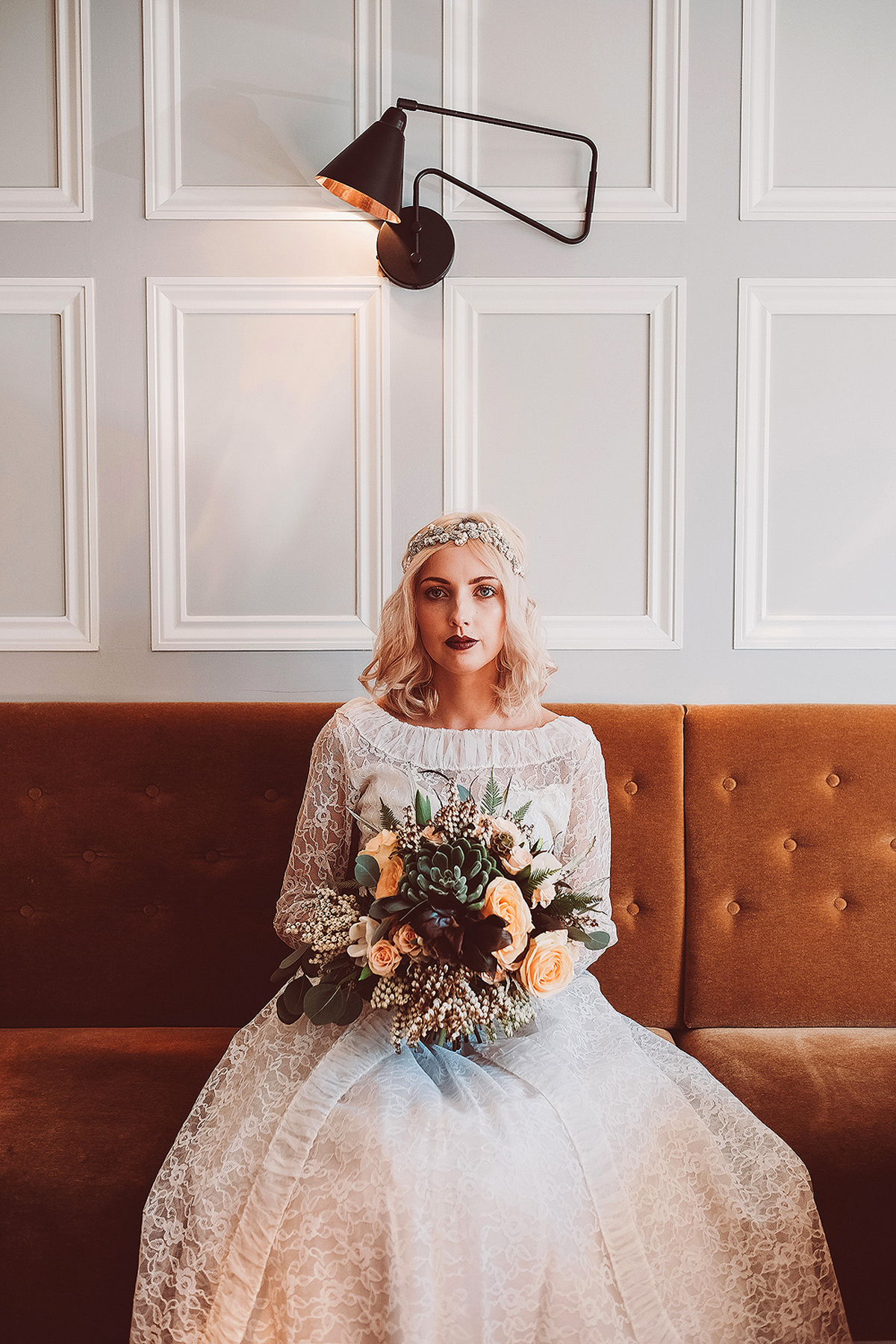 "This shoot was another chance for me to present these exquisite gowns in a contemporary and modern environment, using the very best local suppliers to help."
"Since my last shoot I have acquired more dresses and also altered some existing dresses using my own designs that I really wanted to show off."
"Our showroom is based in West Malling, a historic market town in the Tonbridge and Malling district of Kent. The location is only 40 minutes out of London Victoria with major motorway access nearby."
I adore the headpieces in this shoot – the designer is Gail of Glass Oyster Accessories, who was chosen very specifically by lovely Cara to participate in this shoot.
"I had been doing my usual perusing on Instagram whilst waiting for my children on the school run when I came across Glass Oyster accessories, the tulle headpieces were absolutely stunning and not something I had come across before, they were a perfect match for my dresses!"
Designer Gail goes into more detail about her beautiful headpieces…
"It is my passion in life to create unique bridal accessories for stylish brides. I am obsessed with details and drawn to brides who are looking for something a little more fashion forward, a piece that truly stands out and makes them feel utterly amazing when they put it on. I love discovering tatty old beaded purses, preloved pieces of lace trim, vintage millinery leaves or perhaps an unloved rope necklace and re-working these items into something new and beautiful."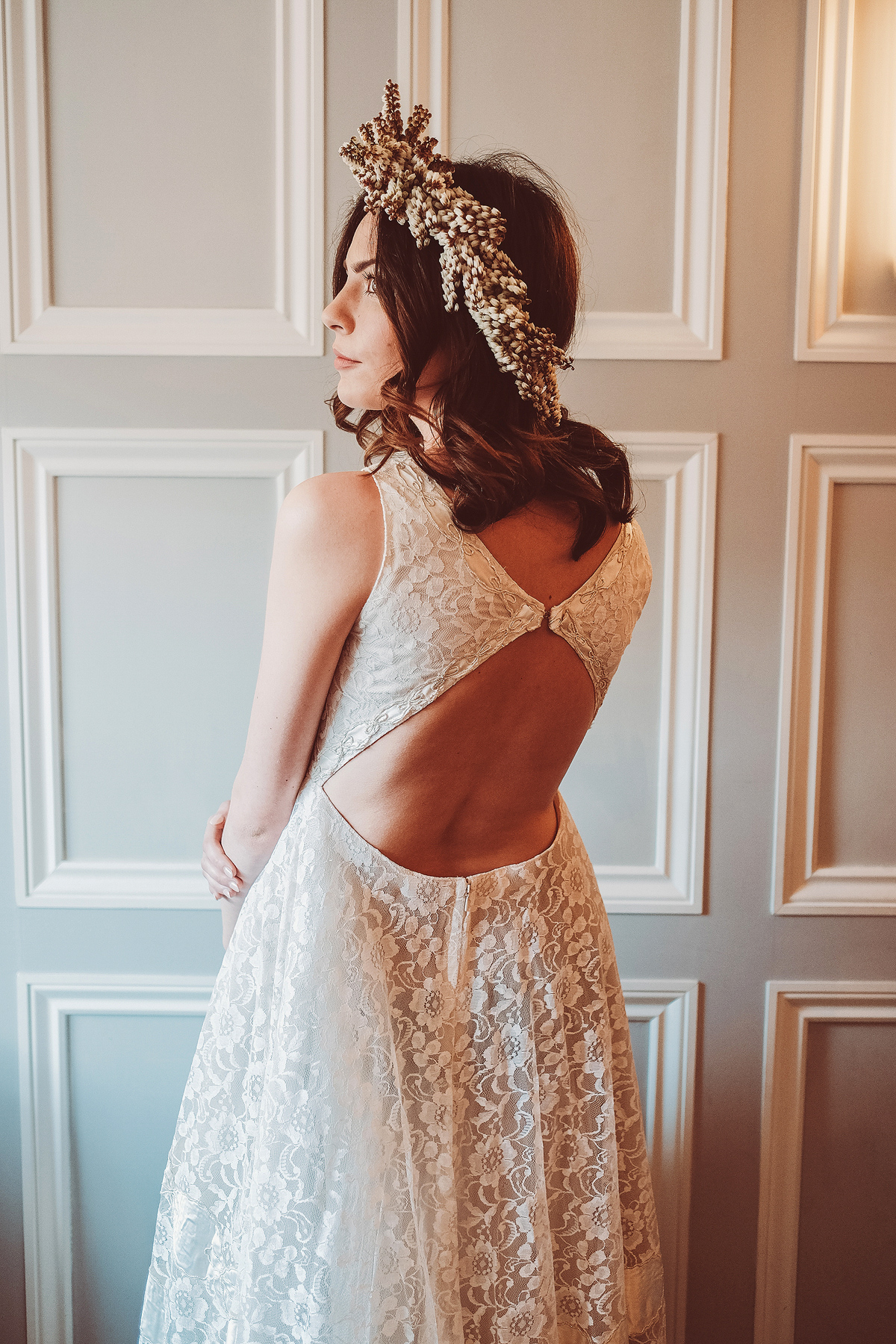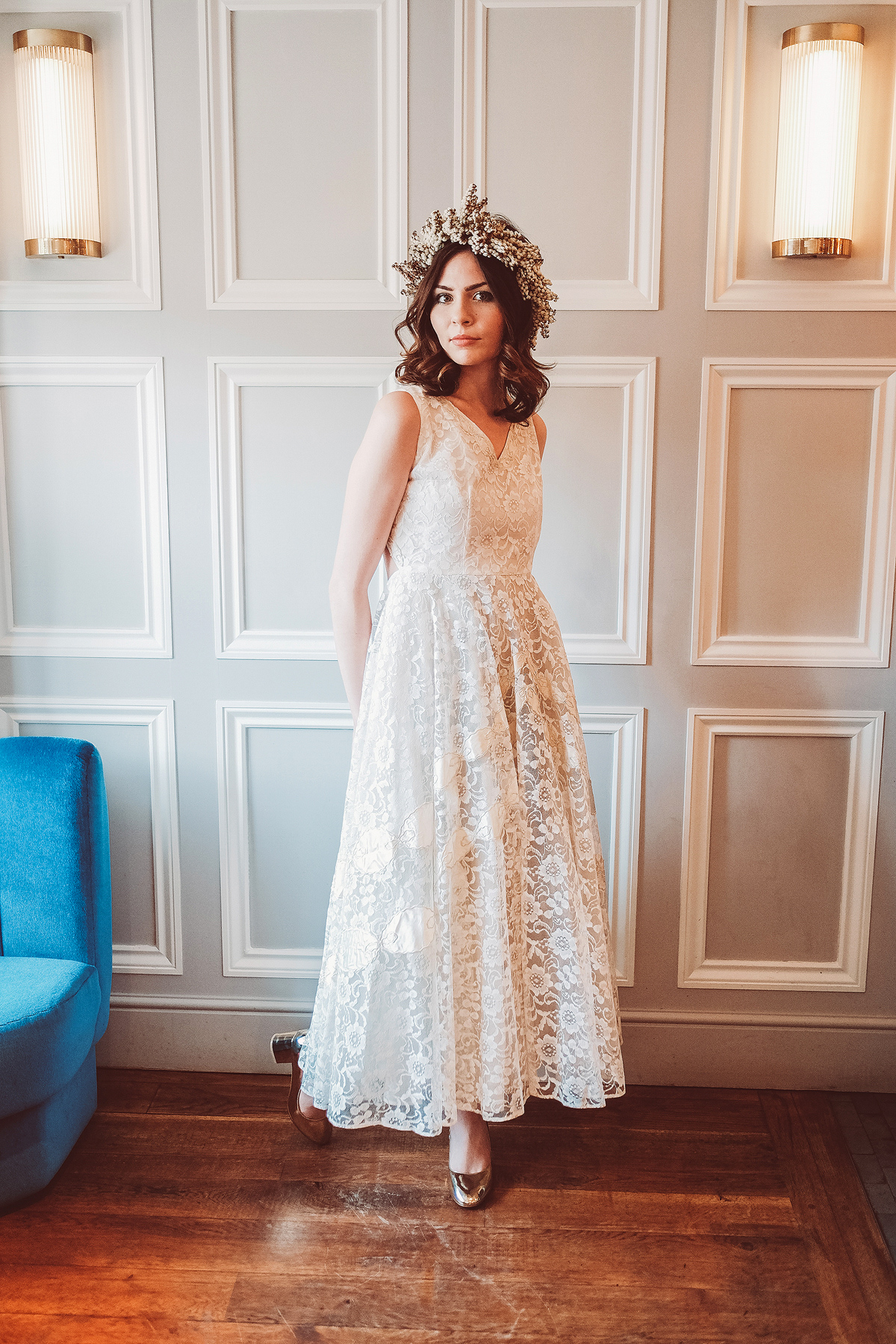 "Each piece is hand embroidered with a mixture of vintage and modern components and can sometimes take weeks to complete – I don't use ready made appliques."
"I make everything by hand in my studio situated in the South Downs National Park. Each piece is then hand finished to the highest standard for a beautiful and comfortable fit."
For further information, please visit the Story of my Dress website – you will also find Story of My Dress over on Instagram at @storyofmydressbridal.
Huge love and thanks to the full creative team listed below for sharing these images today.
Love Annabel x