Are you ready, beautiful readers, to be transported to an out of this world setting for the bride and groom's spring nuptials? Meet Heidi, a pharmacy retailer, and lawyer Brad, who married on the 5th May 2016 in a location that is literally one of the most outstanding areas of natural beauty – the Isle of Skye in Scotland. I know this, because I am lucky enough to have seen their spectacular wedding setting with my own eyes.
I spent my birthday on Skye in 2011 with family and it was one of the most memorable trips of my time in Europe, with the hairy 'coos', endless snow-capped mountain ranges around every corner, and the magically mystical Fairy Glen; un-signposted, unspoilt and utterly breathtaking.
"We always knew we wanted to get married somewhere unique and in the outdoors. Our first trip together was in Scotland, and we both fell in love with the scenery."
Photography by Capyture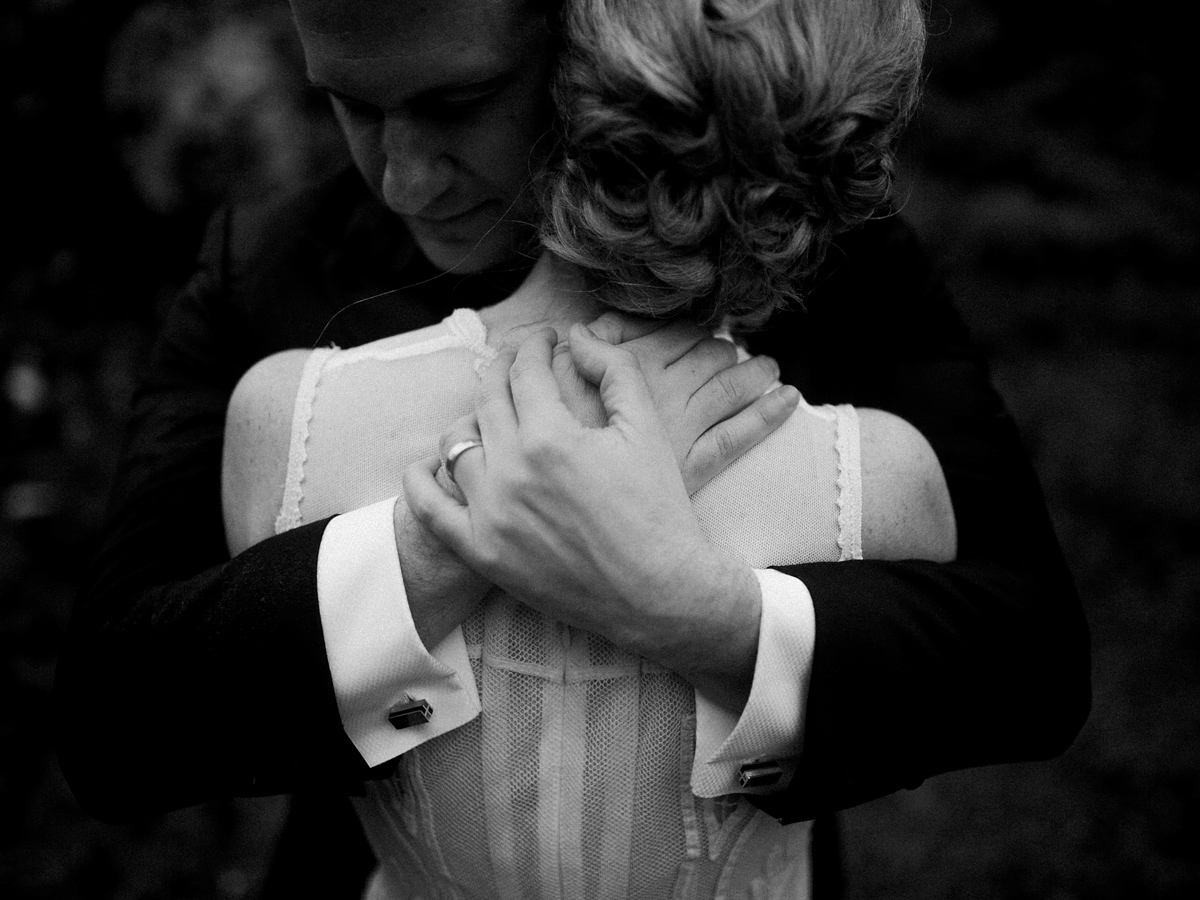 "After doing some research, we both decided Isle of Skye would be perfect for us due to all the different landscapes and natural beauty."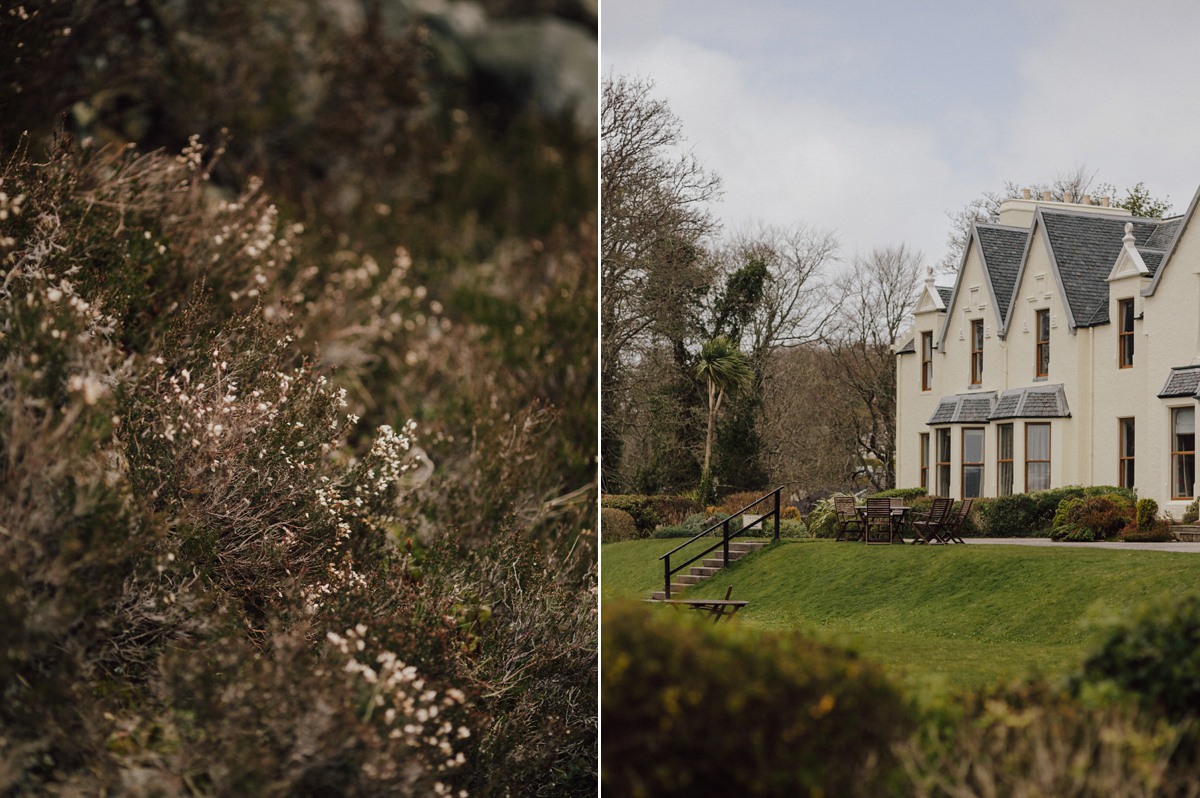 Heidi chose an Edwardian-style dress that was custom-made with vintage lace by Chicago-based designer Veronica Sheaffer; the first and only place she went dress shopping.
"I did some online research and came across Veronica's website and loved her custom gowns."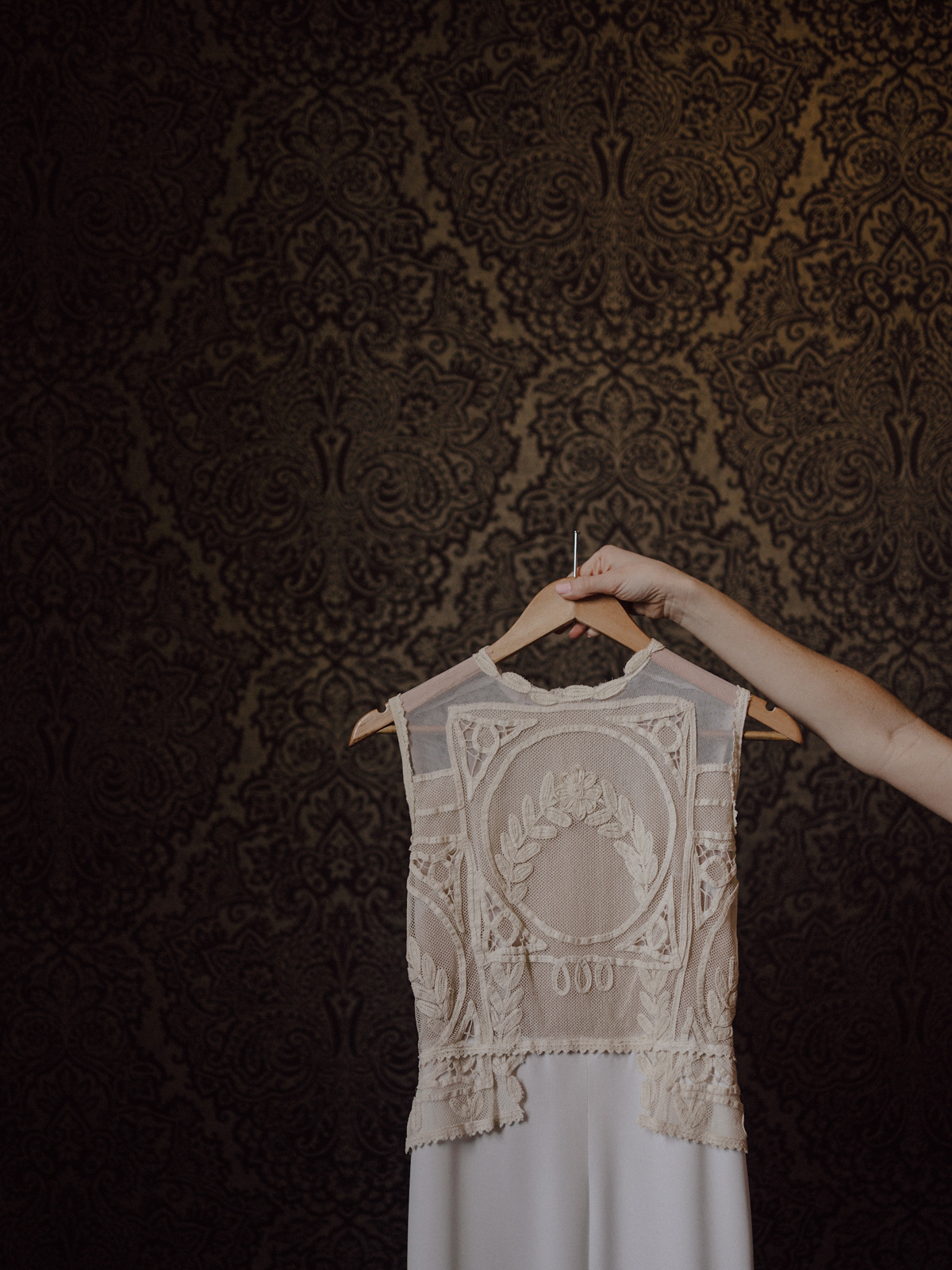 "When I arrived, I told her about our wedding plans, and she had me try on a dress she had already created. I fell in love with this dress immediately – the top was exactly what I was looking for."
"We ended up changing the skirt, as I wanted something simpler in order to showcase the top lace portion of the dress. The lace was vintage and Veronica did a wonderful job styling this unique piece."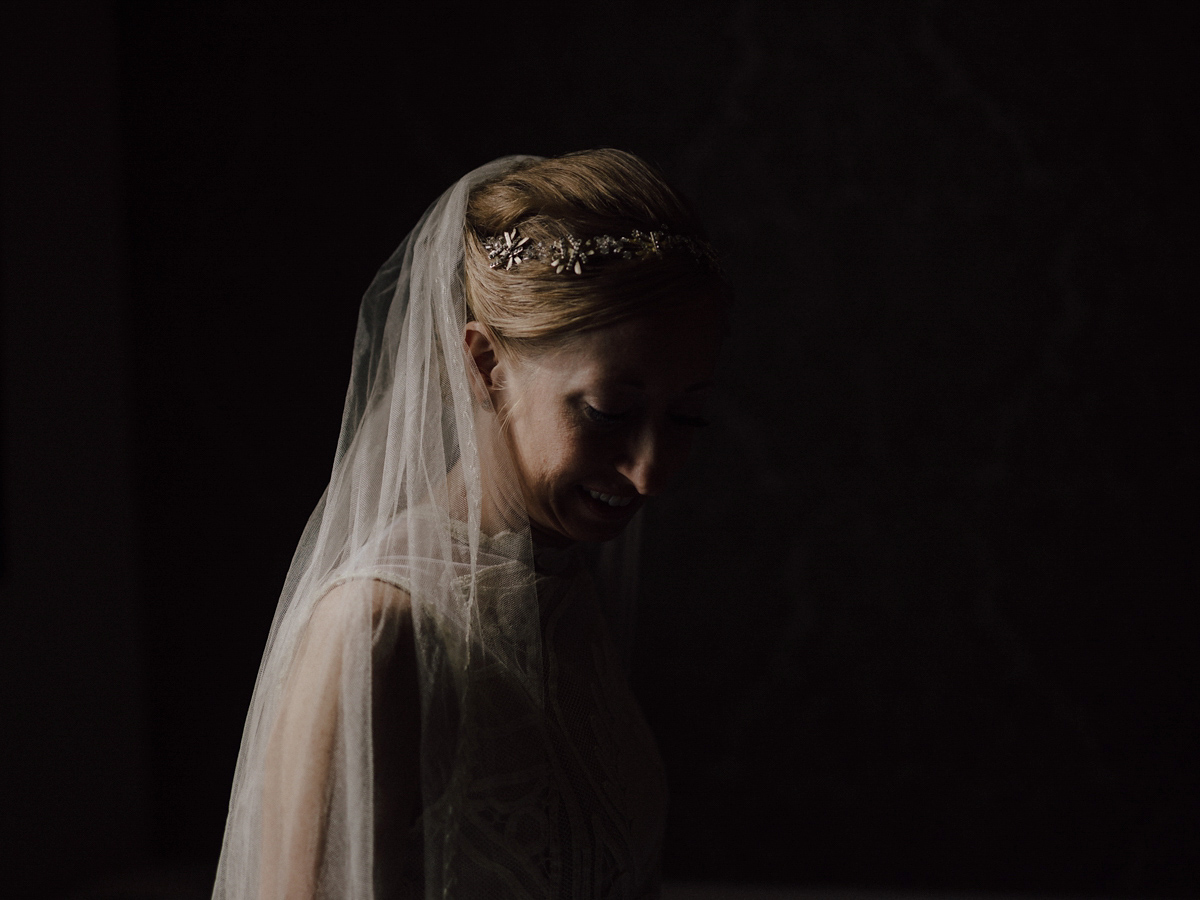 These simply beautiful images were taken by photographers Robbie and Marina from Capyture Photography, who we have previously featured for their amazing ability to capture the atmospheric mood in isolated, often treacherous terrain, which Heidi and Brad certainly experienced on their day.
"We are so happy we chose Capyture Photography to document our wedding day. Robbie and Marina were so easy to work with – and we didn't have easy conditions."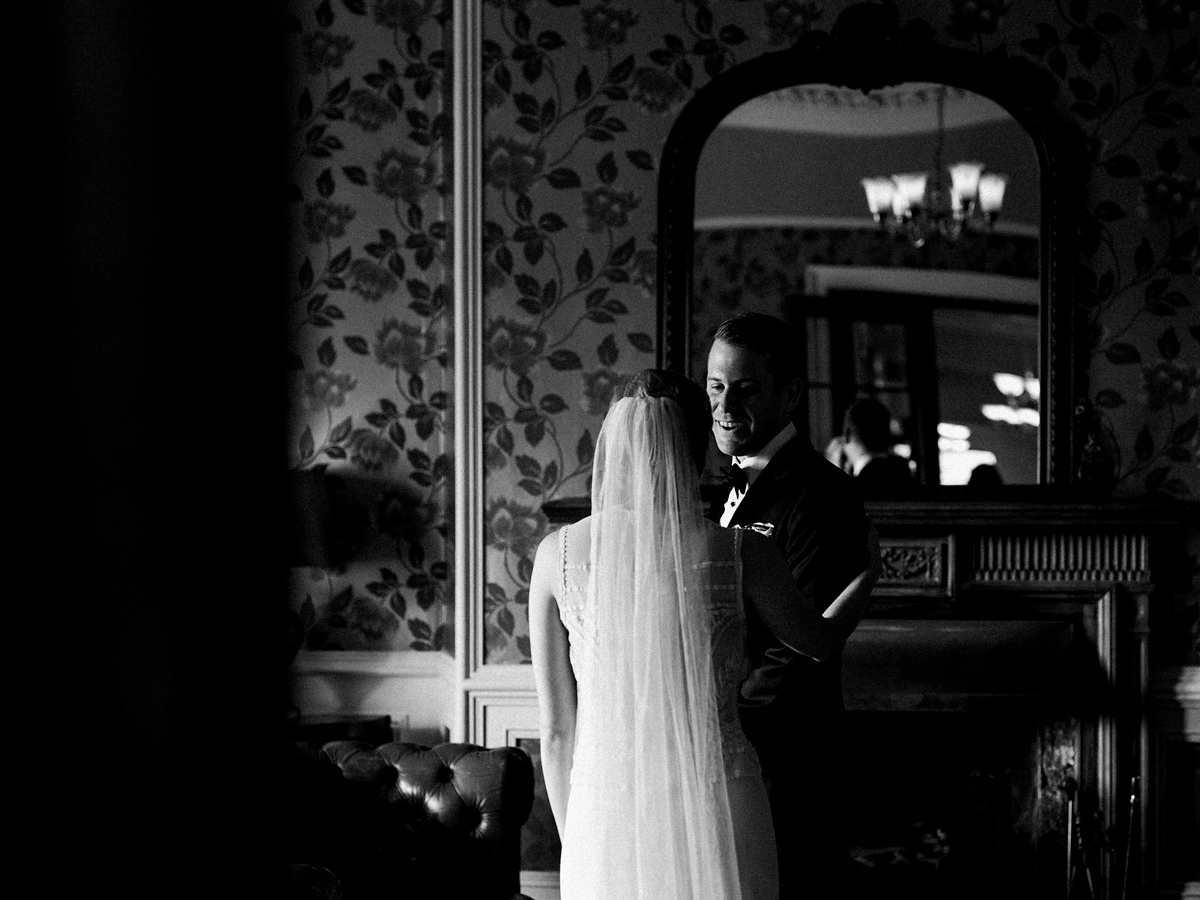 "The Isle of Skye was unseasonably cold, rainy, and really windy on our wedding day. Robbie and Marina didn't let this bother them and acted professionally the entire time."
"We were all climbing muddy hills, taking pictures in the freezing temperatures, and not once did they complain or make us stop. Some of the places we chose to stop were new to them, and they quickly knew where they wanted us to go."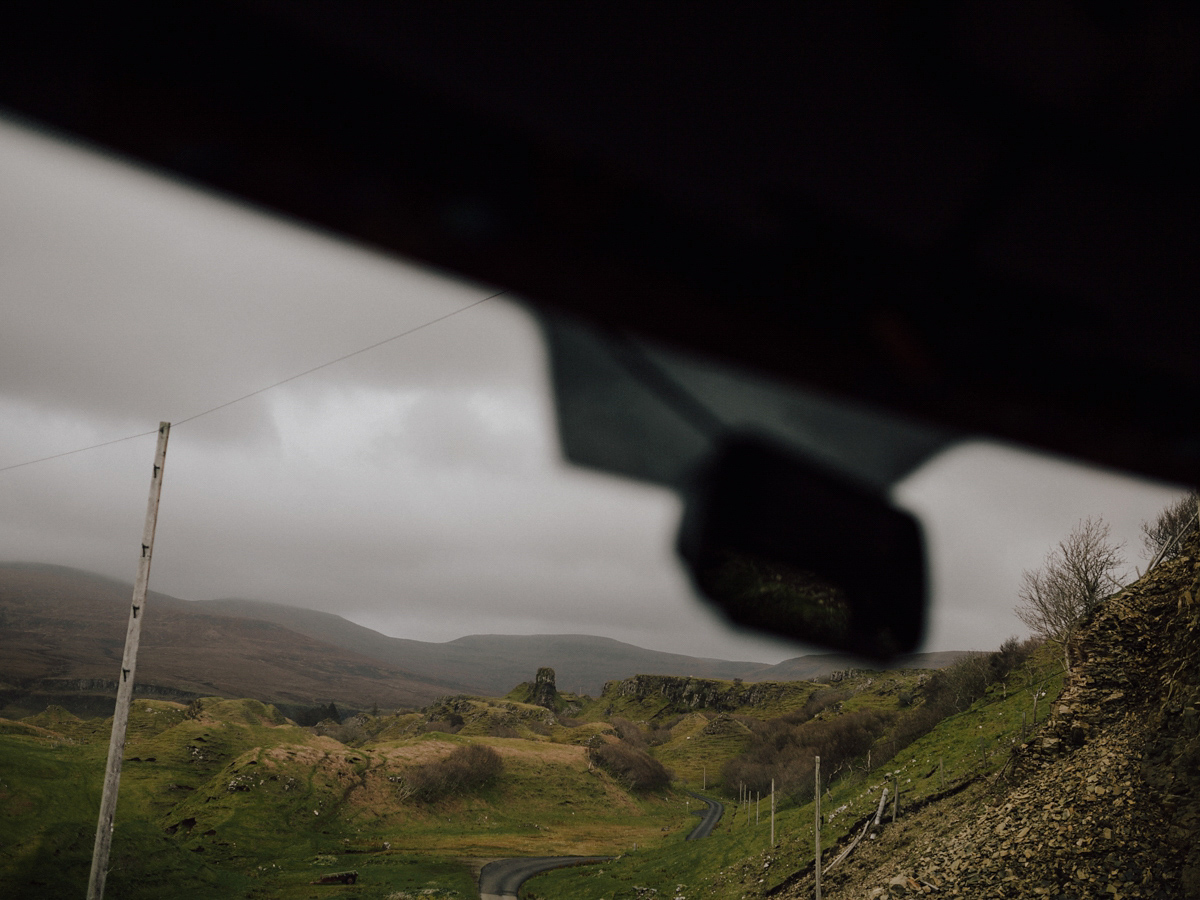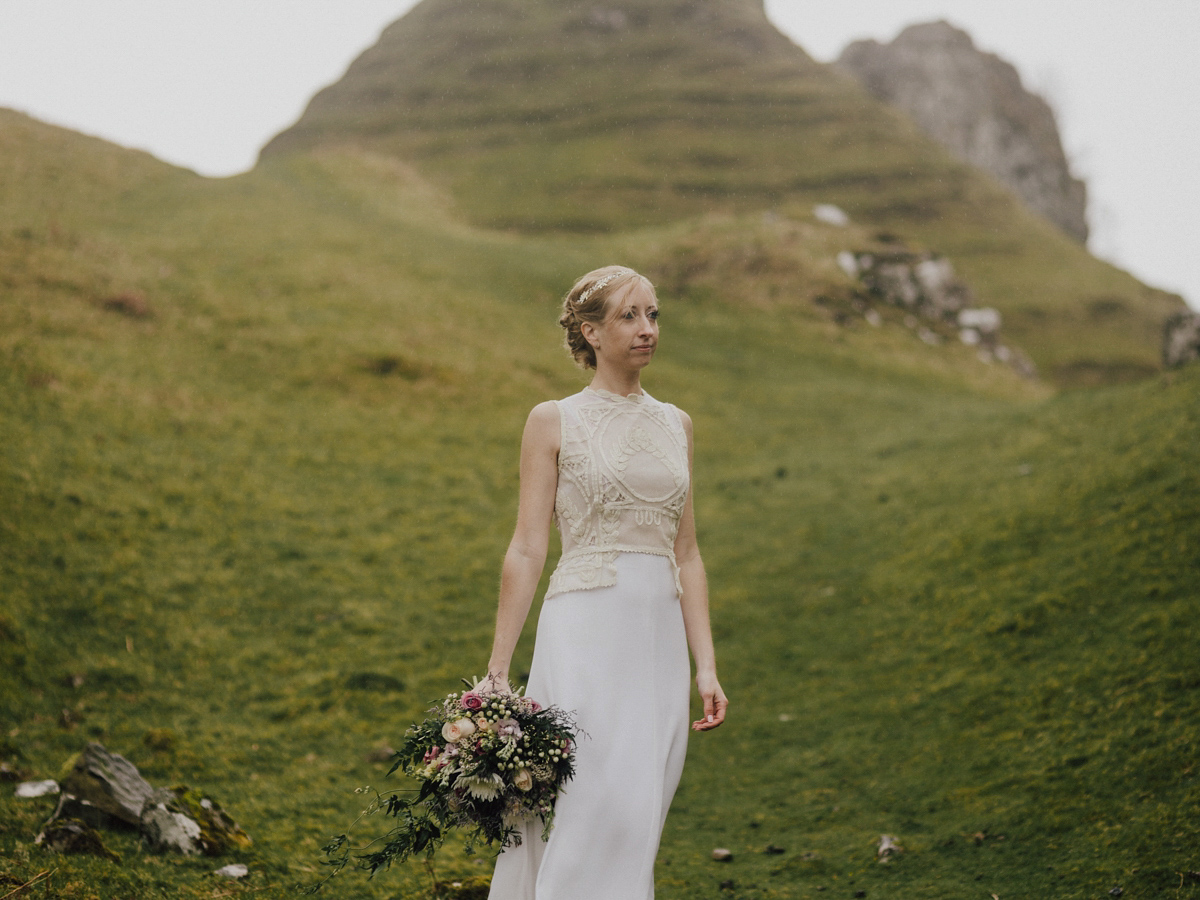 "It was important to document our day because of having such a small wedding. The pictures really tell a story of the entire day and are so artistic. We love our photos and everyone who looks at them is blown away by their work."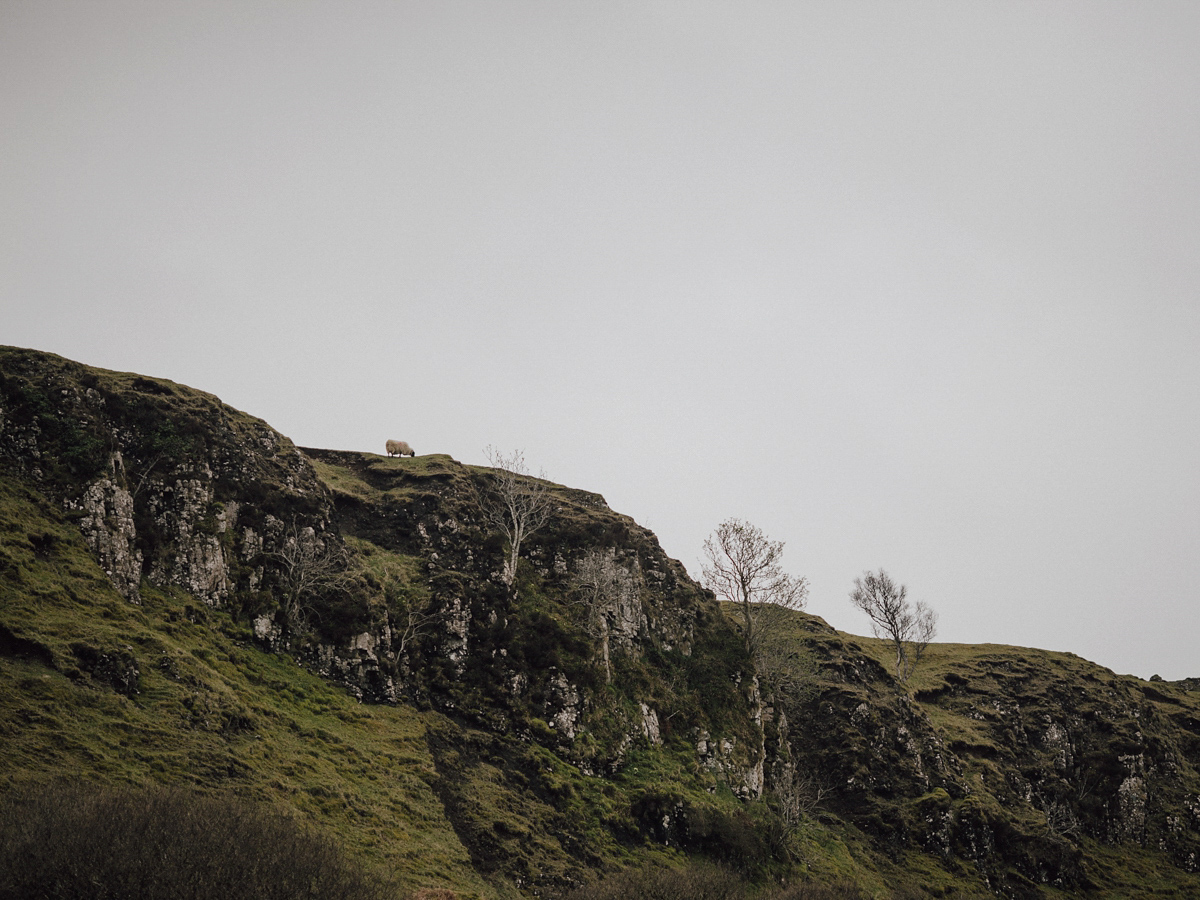 Adding a pair of Hunter original short boots, a veil, and hair accessory from The Left Bank, Heidi was a stunning bride. With the chilly weather, she also added a touch of warmth with a Scottish tartan wrap. And I love her bouquet from Caroles Florist, which perfectly complemented her striking look.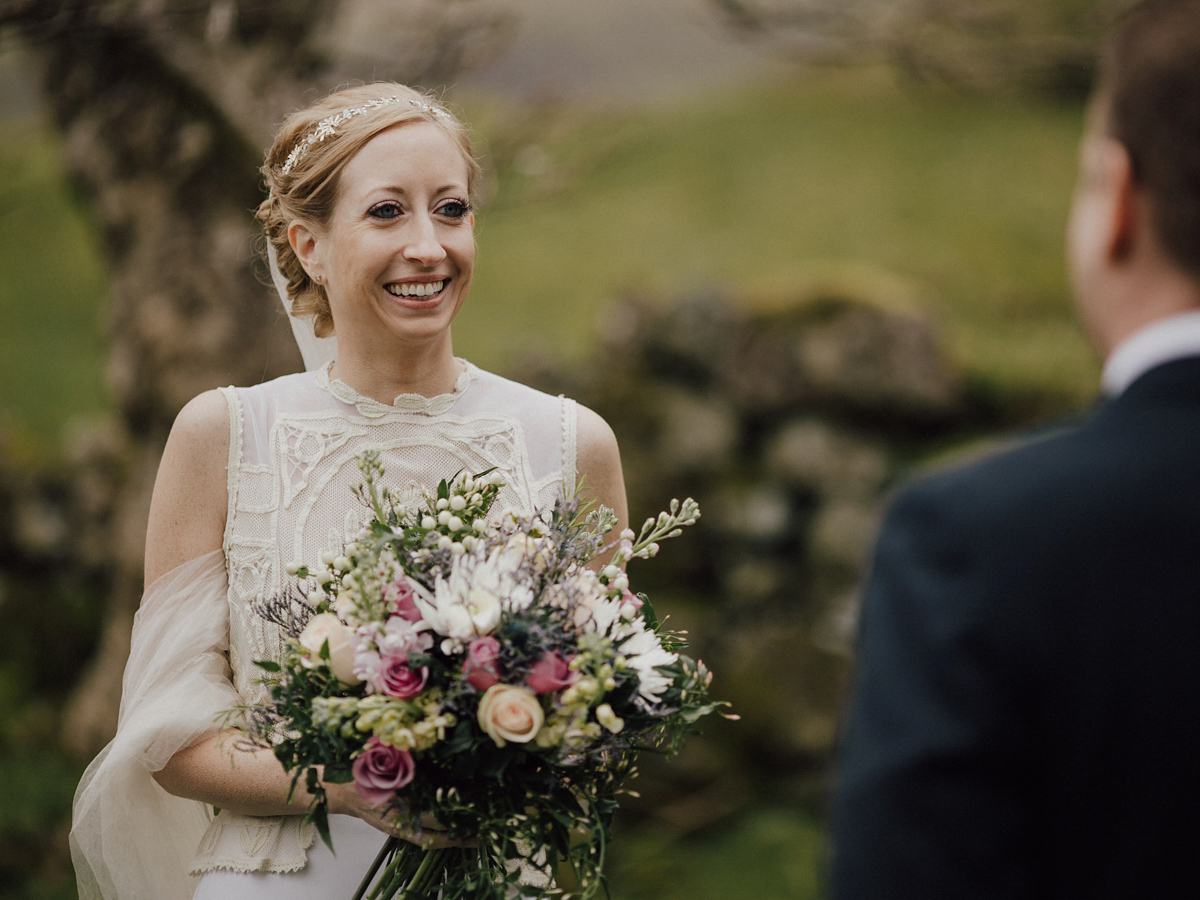 Brad's smart tuxedo was custom-made by J.Toor and his shoes were via Vegan Chic.
"Brad and I both attended Purdue University, however didn't meet until we were in London with our schools Study Abroad program in May 2005. We became friends instantly and soon became inseparable. We stayed in touch after the program ended and eventually started dating. After five years and living together in Chicago and Austin, Brad finally popped the question on New Year's Eve after moving back to Chicago from Austin. Being in no rush to marry, we waited another five years to have the wedding of our dreams."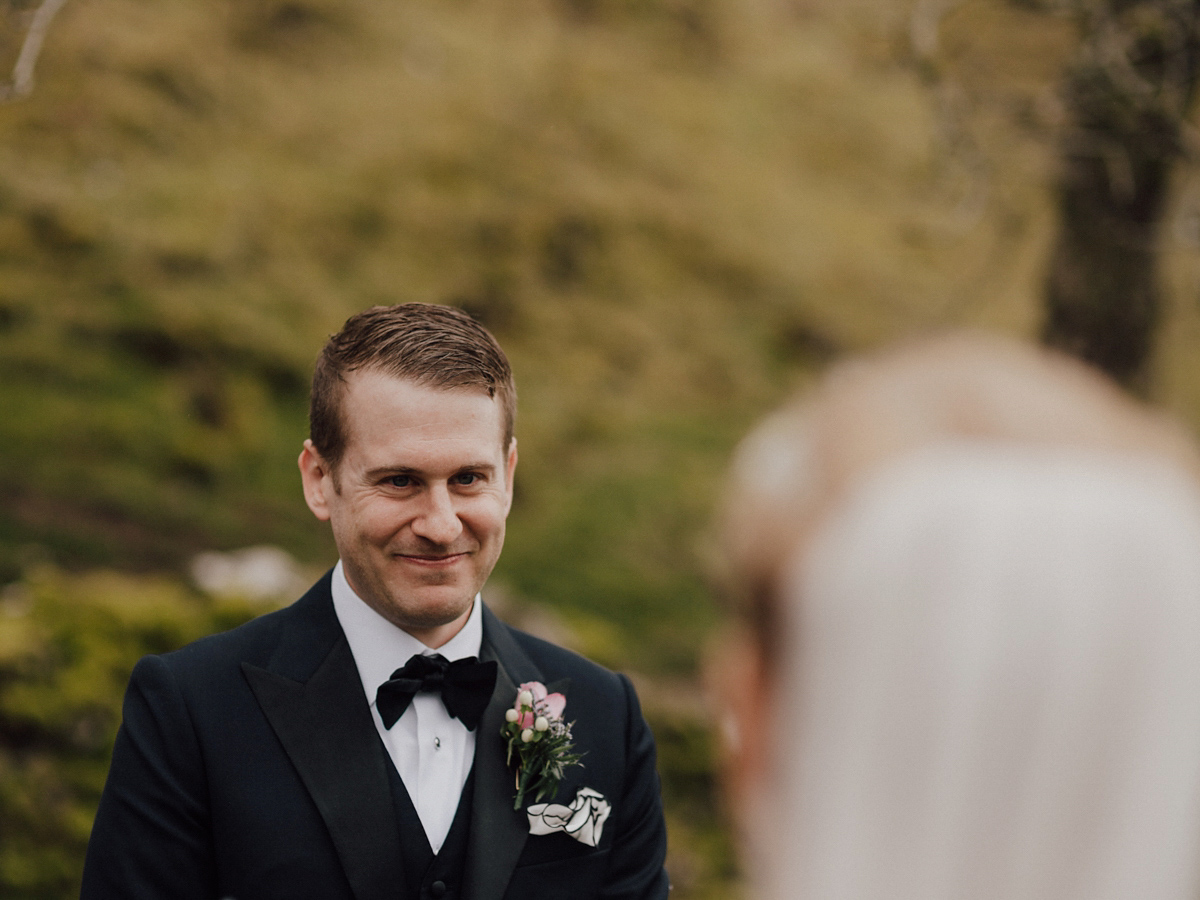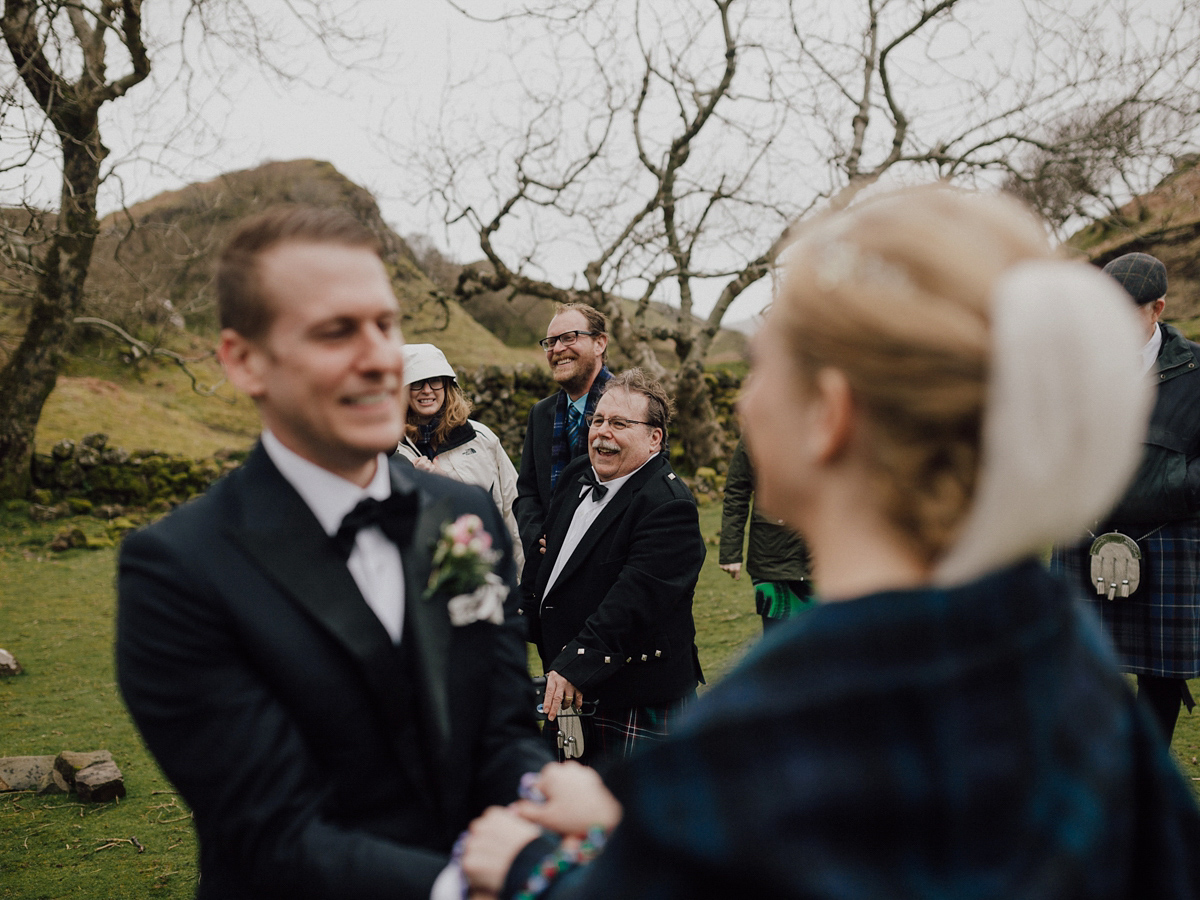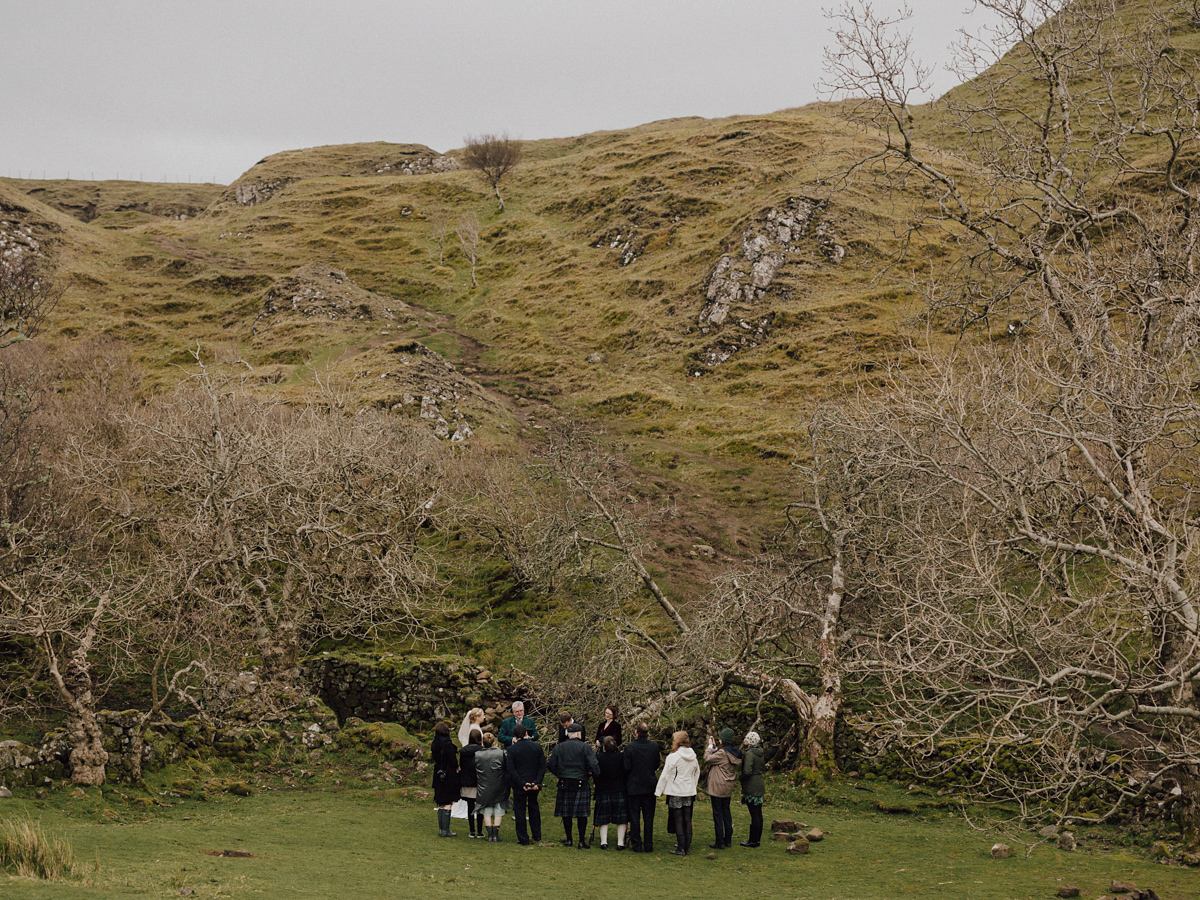 "We didn't know exactly where we would have the ceremony until we arrived. Once on the Isle of Skye, we spent an afternoon driving around to find the perfect place for our ceremony and then pictures later."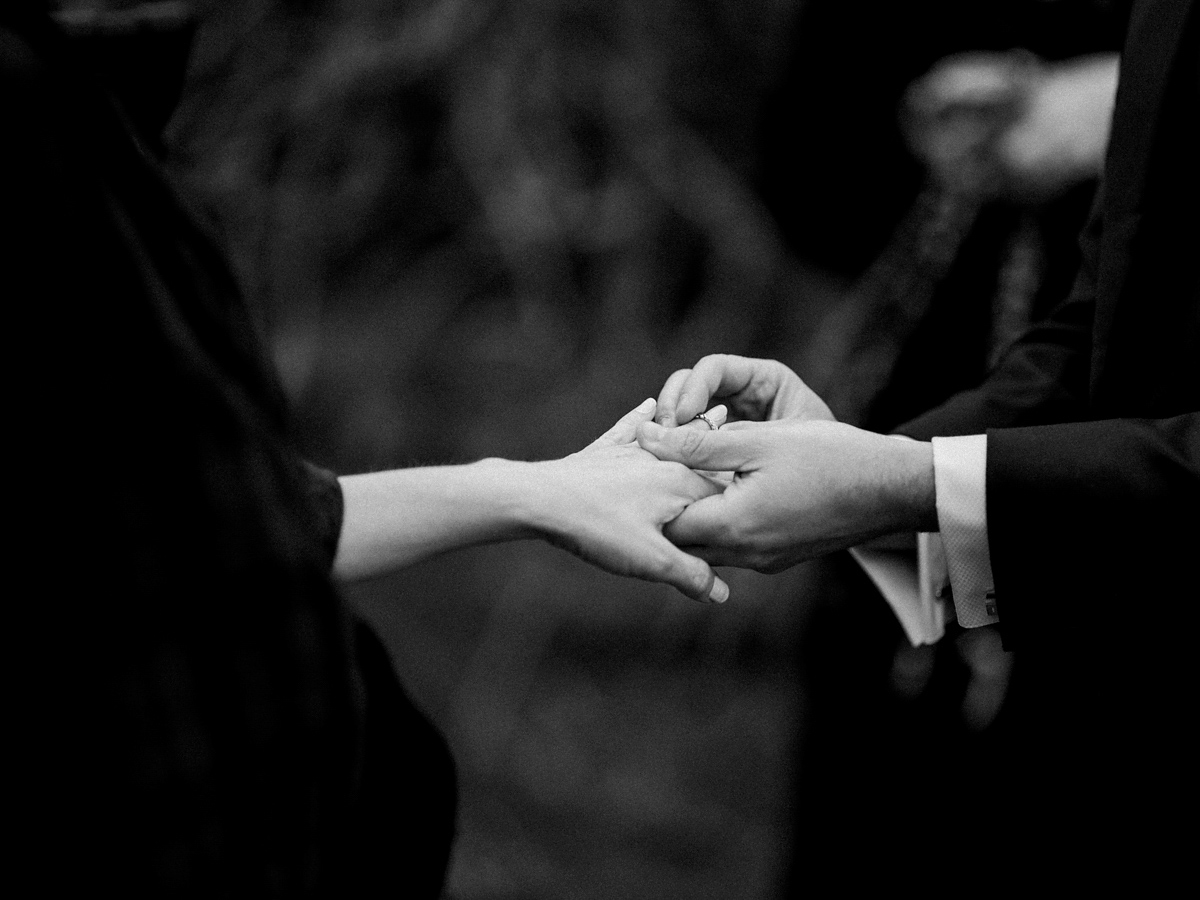 "We decided to go with a humanist ceremony, and our vows were very tailored. Our officiate sent over some examples of vows, and we took bits and pieces of them, wrote some parts ourselves, and turned them into our own special vows. We also had readings with lyrics from one of Brad's favourite songs and our rings were from Windy City Diamonds."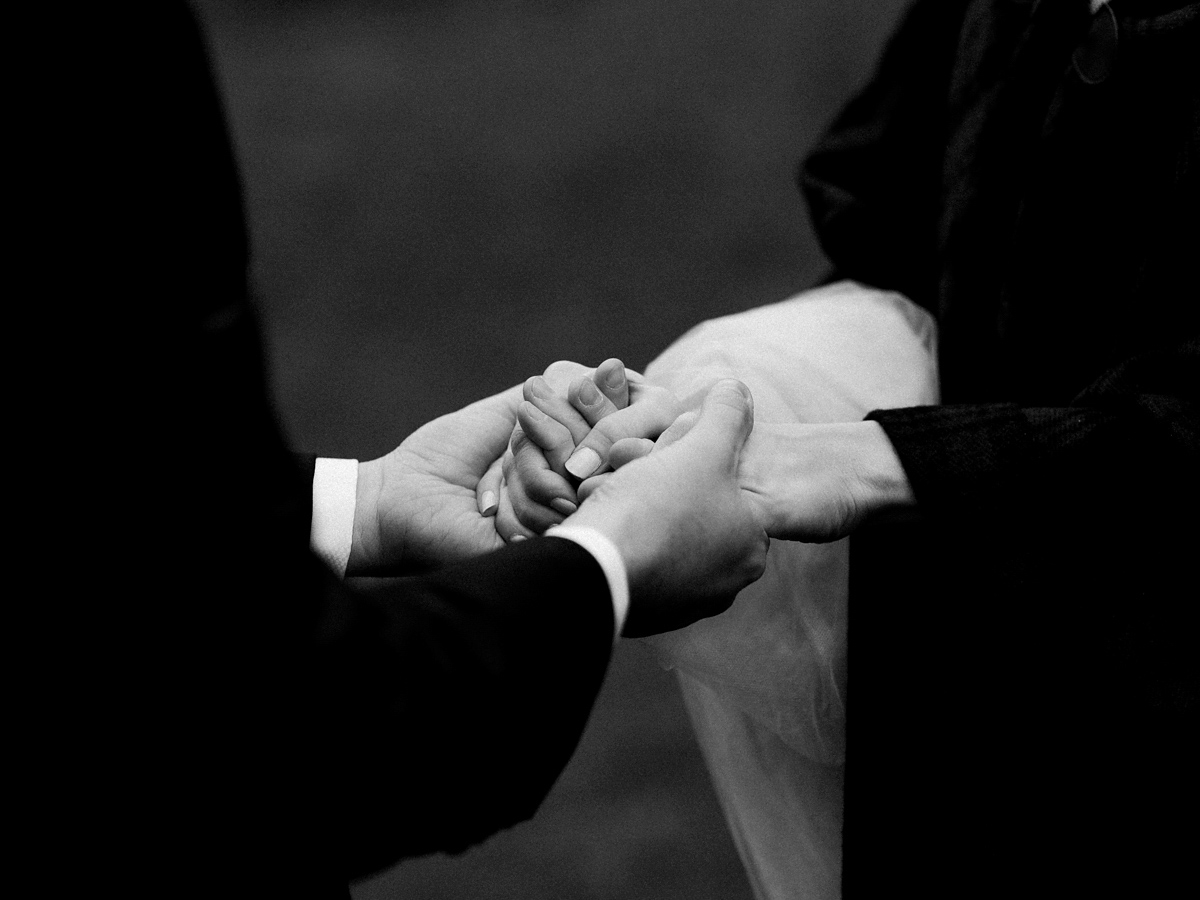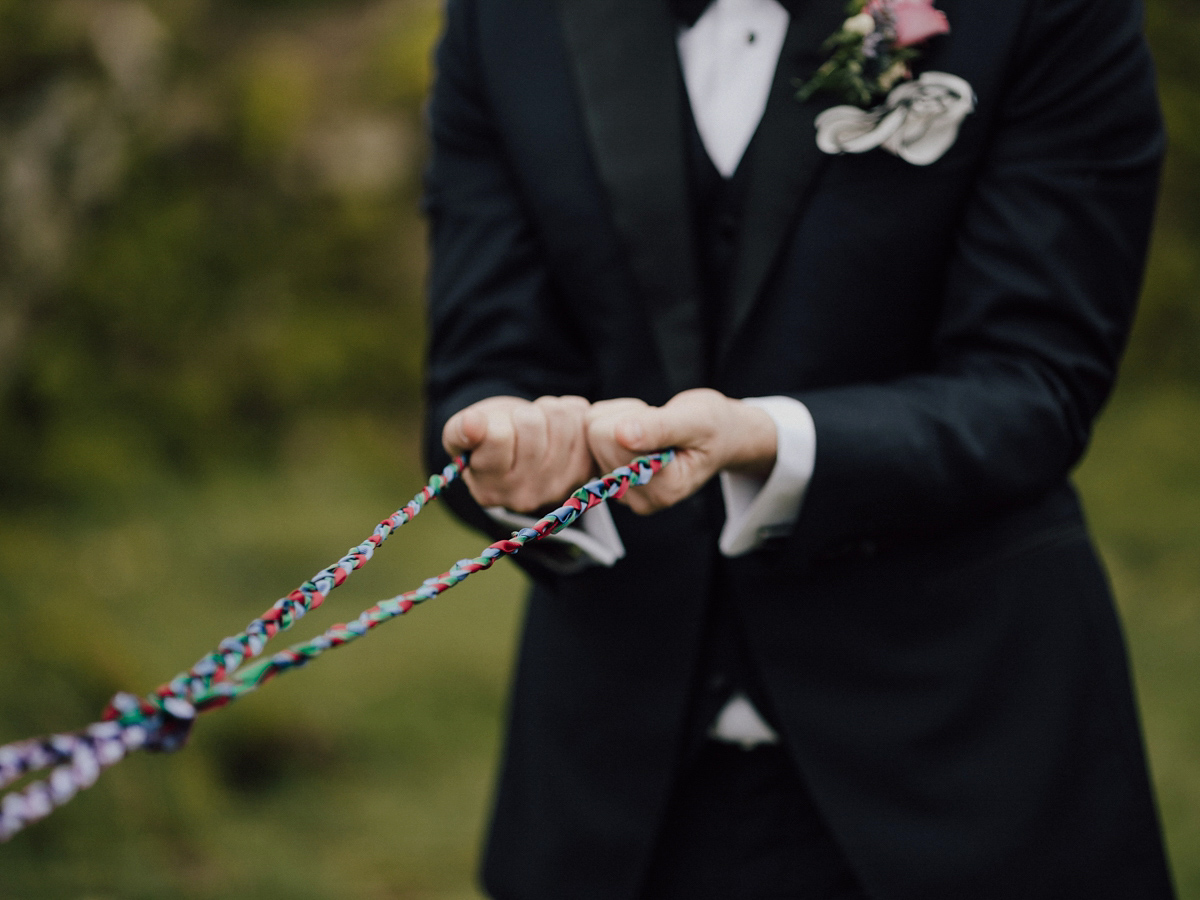 "The ceremony was our favourite part of the day. After all the planning and stress, everything came together so well at Fairy Glen. Once started, time just stood still and the ceremony was as memorable as could be. The difficult weather added to it and nothing could ruin our special time. After it was over it was a great relief, and aside from worrying about slipping on some of the wet hills, the rest of our day was quite care free."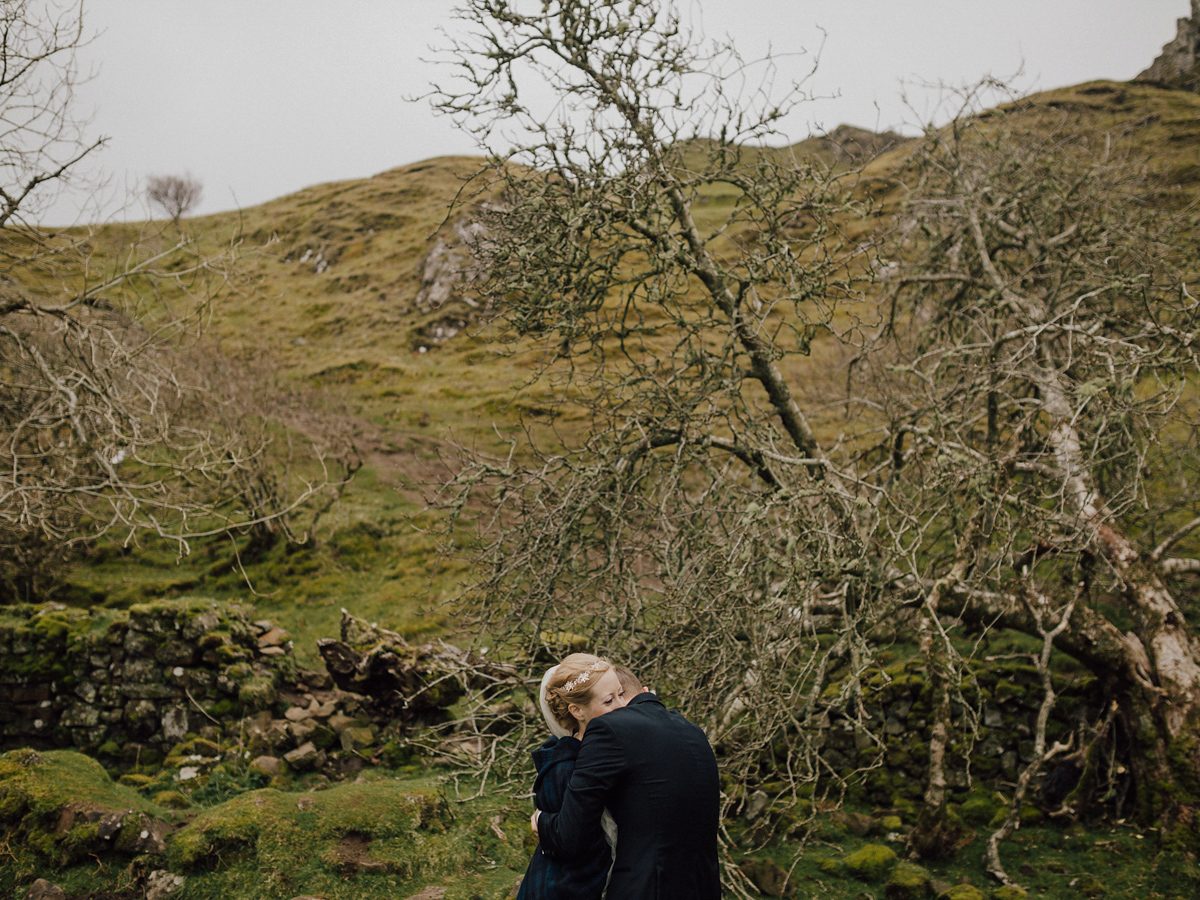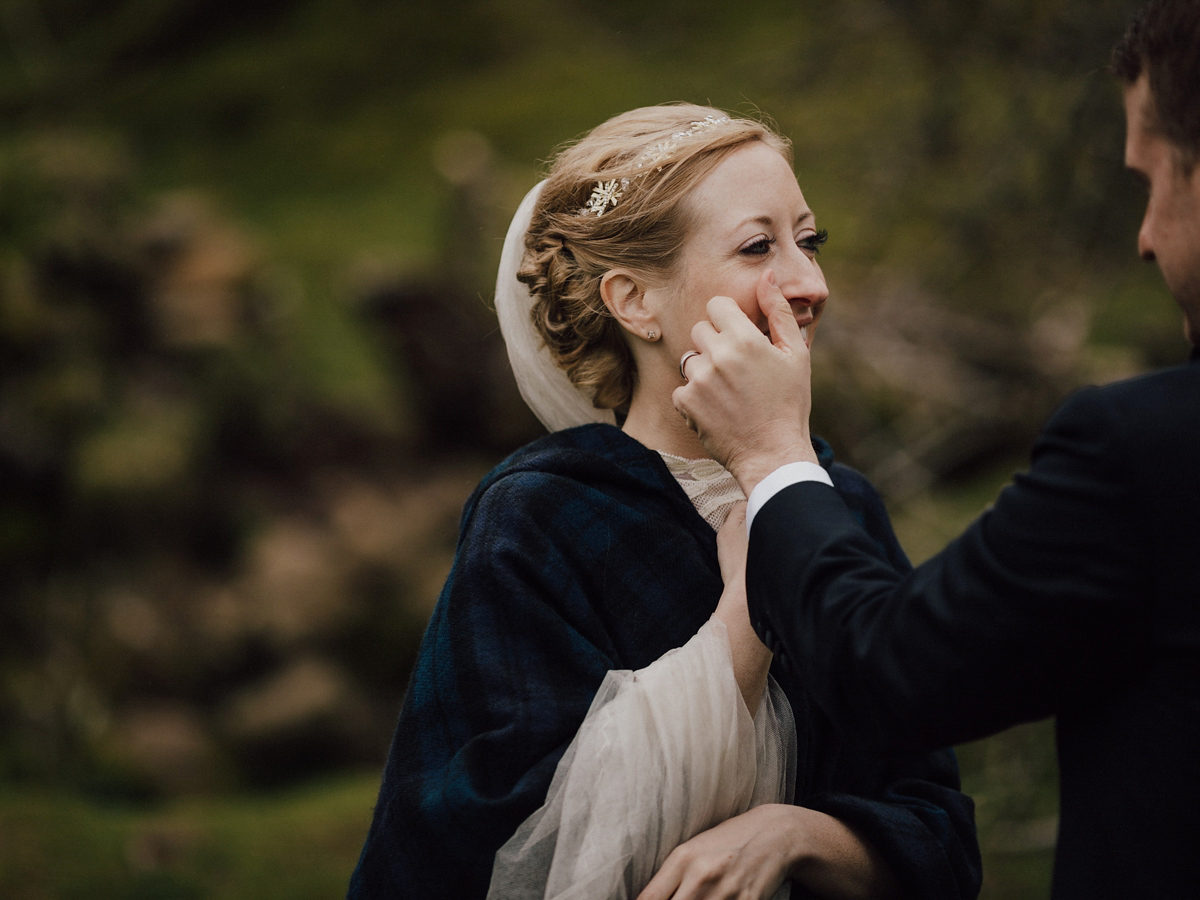 "We decided we would rent a bus with a driver so the wedding party could be together. We were very happy we went this route as many of the roads in Isle of Skye are only one lane and extremely difficult to drive on."
"Our driver and owner of Misty Isle Tours, Stuart, actually grew up on the island, so he was also a great tour guide. He even provided us with coffee and scones his wife made during the trip. We couldn't have asked for a better ride!"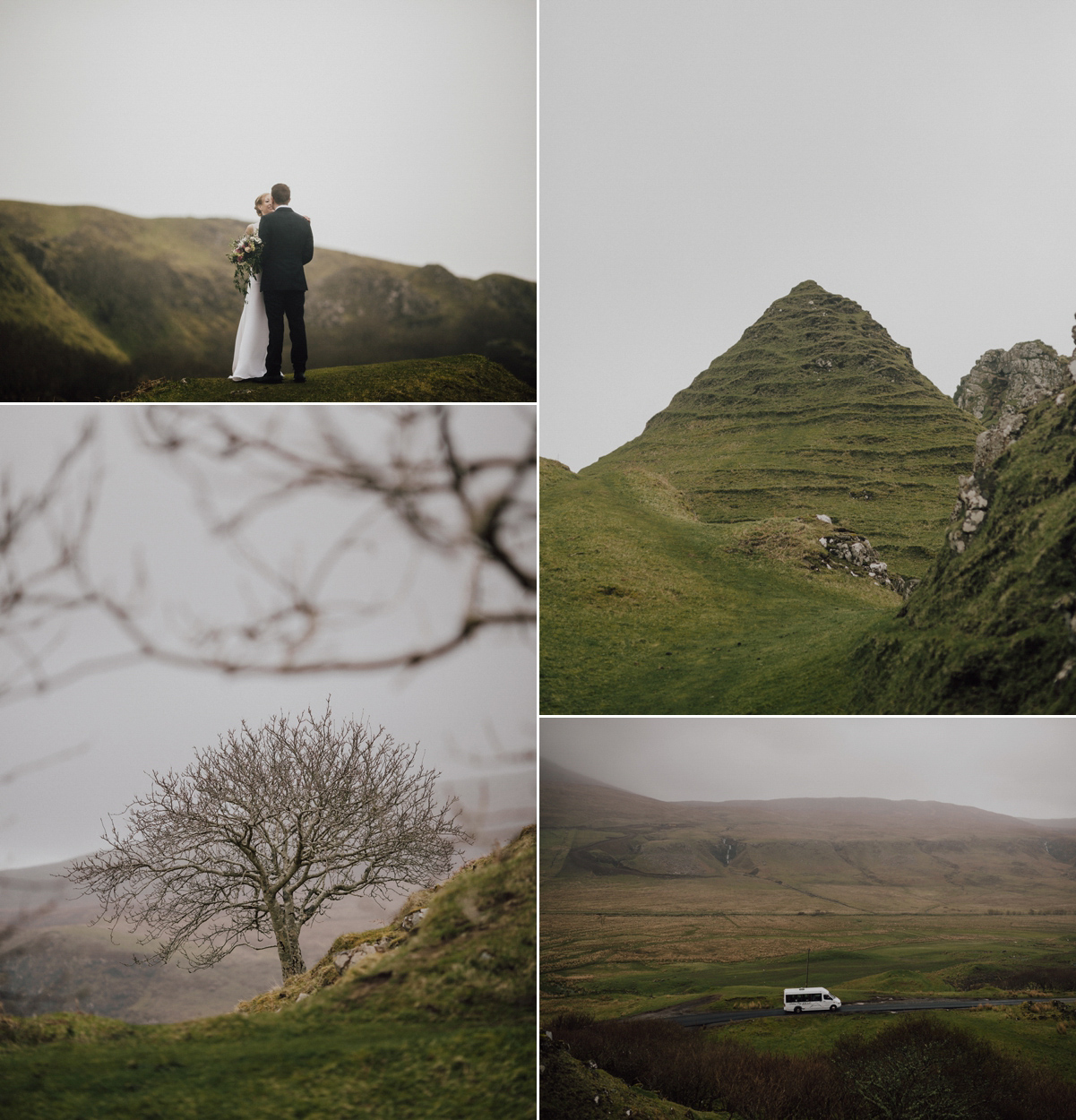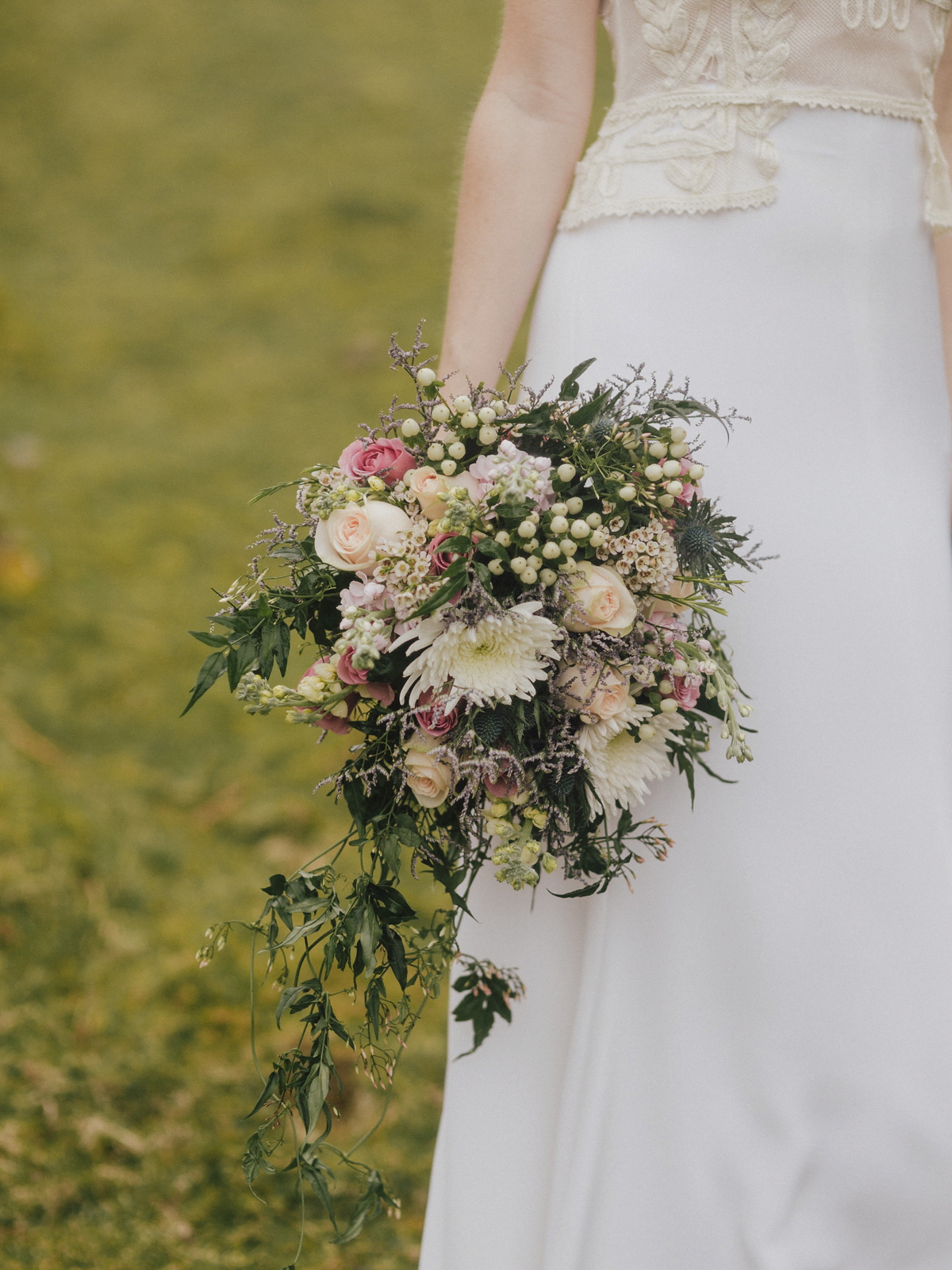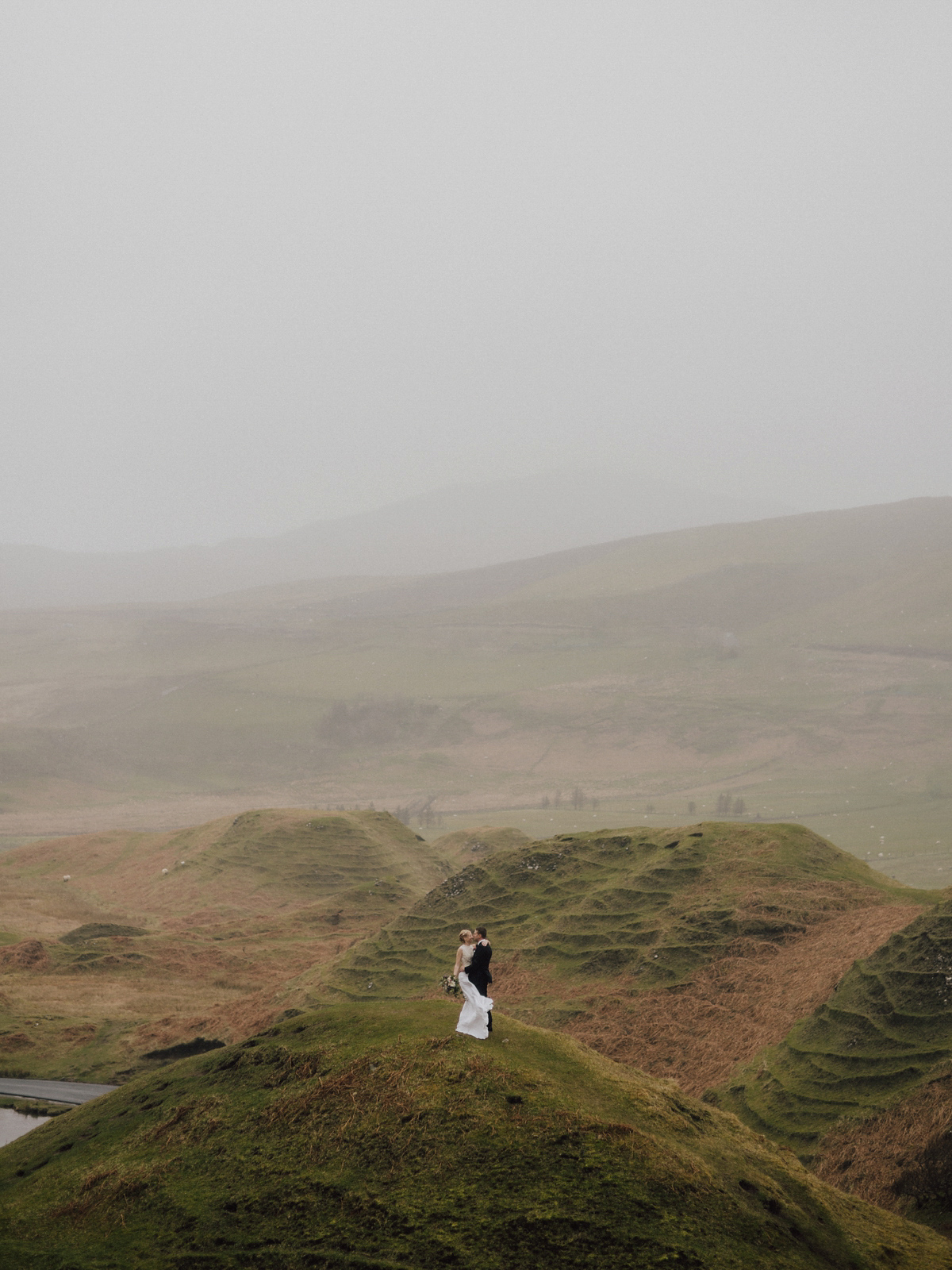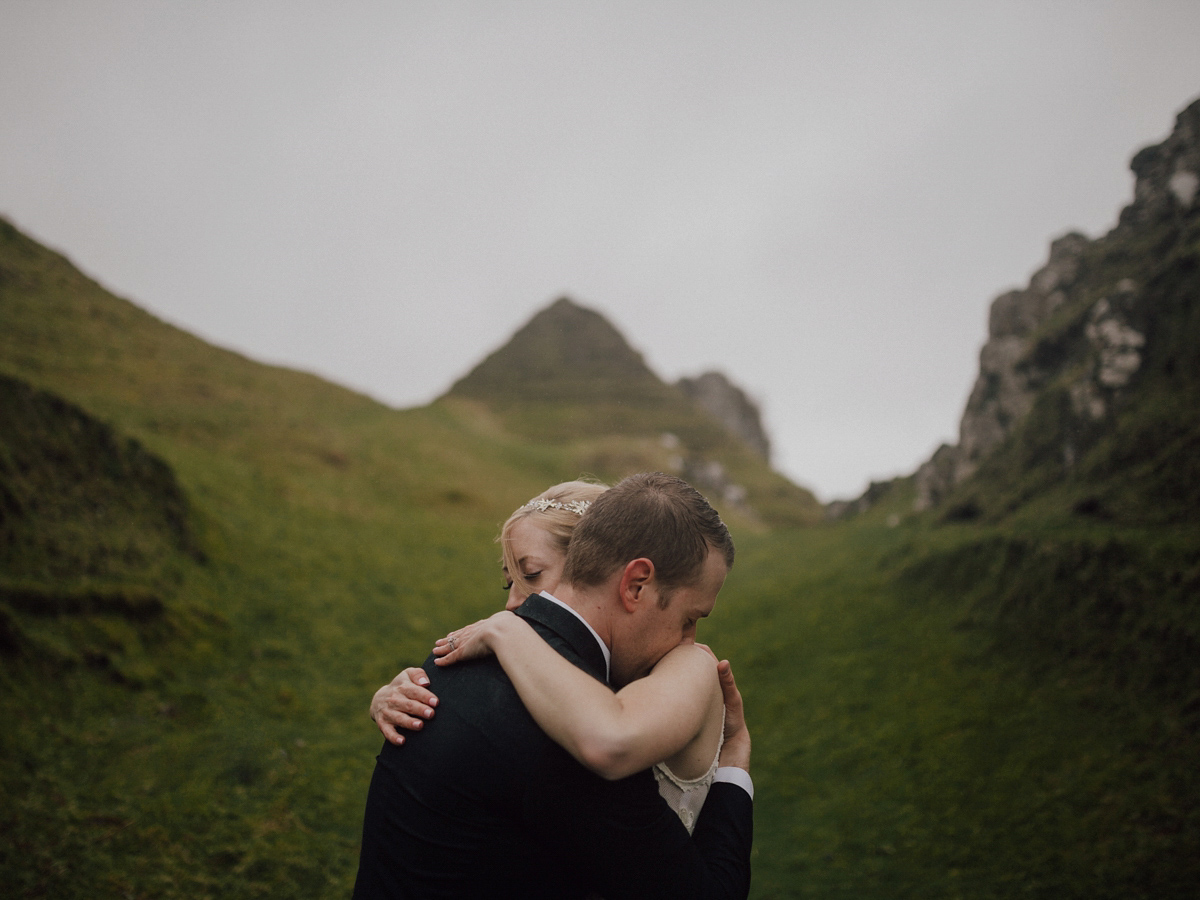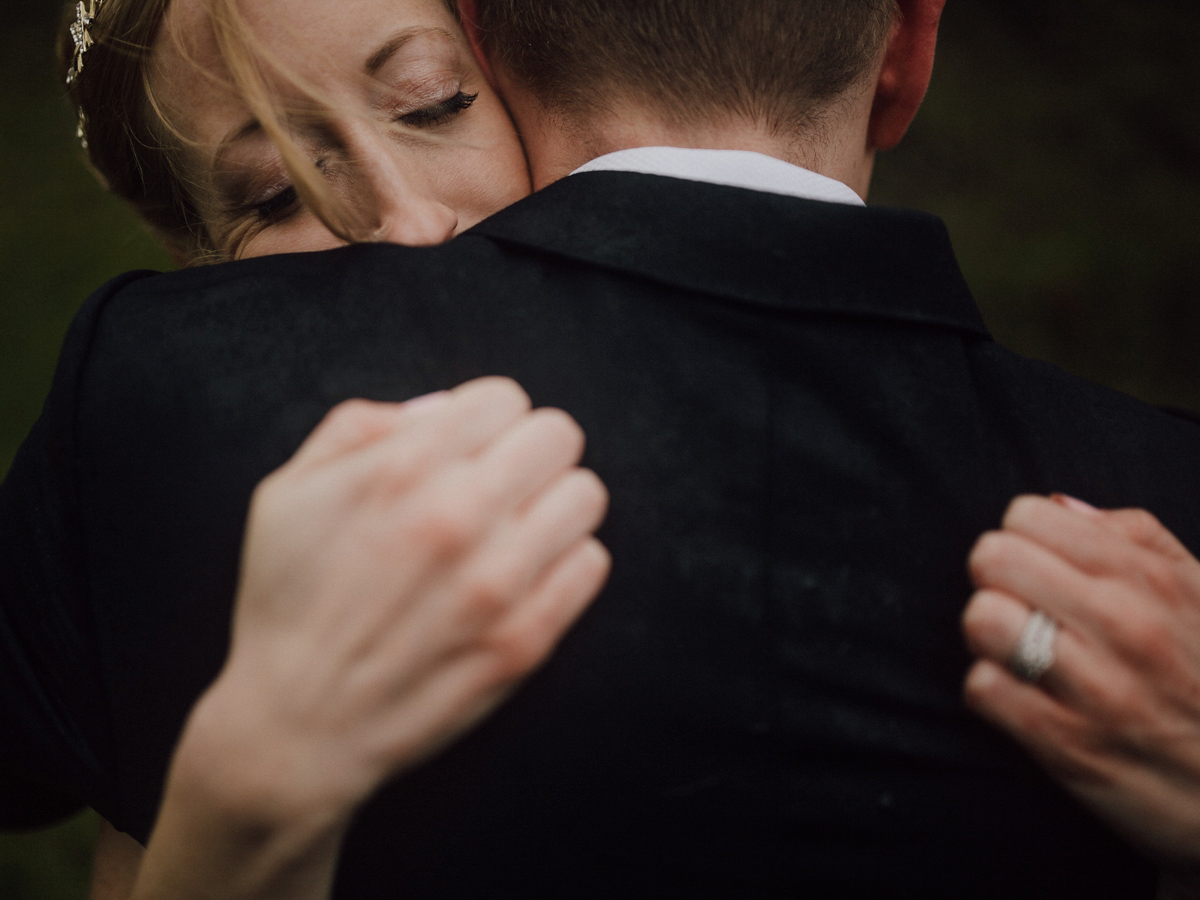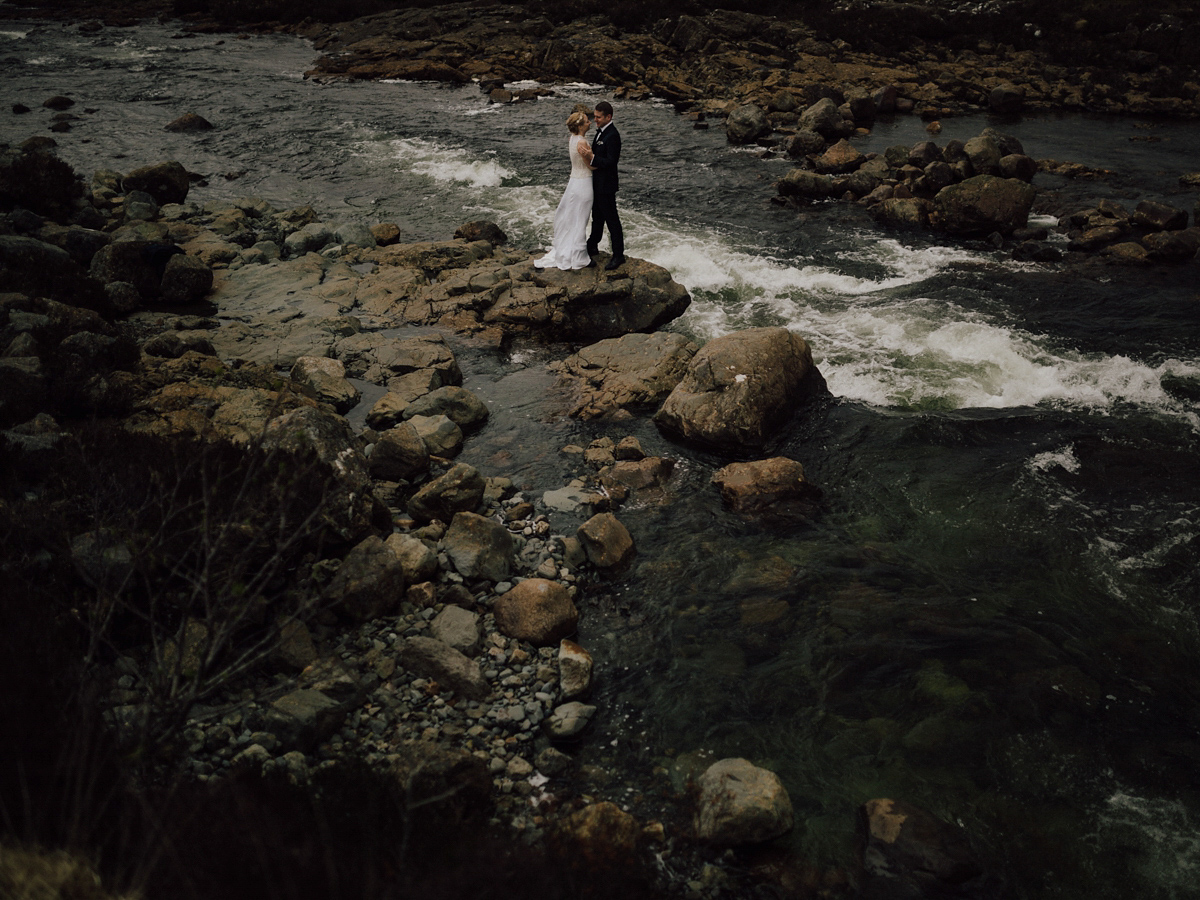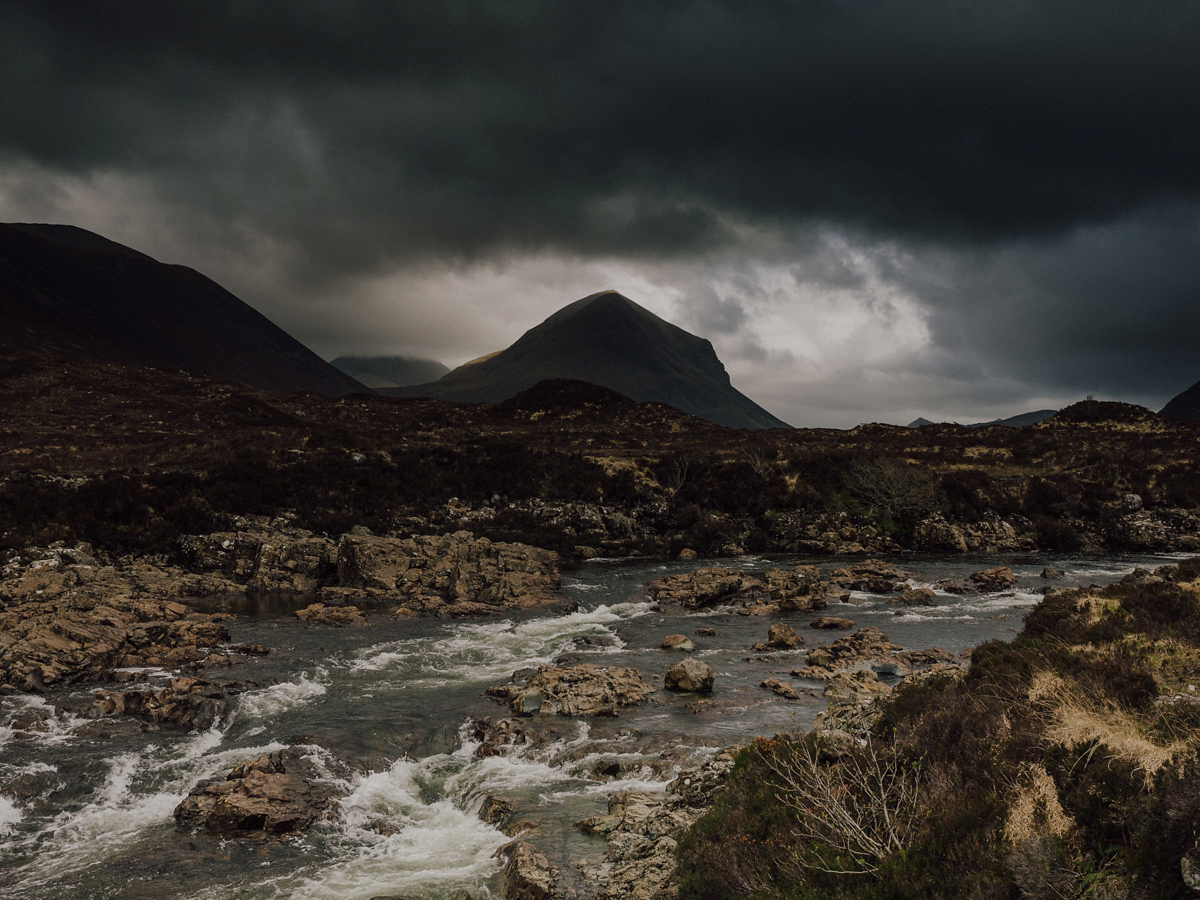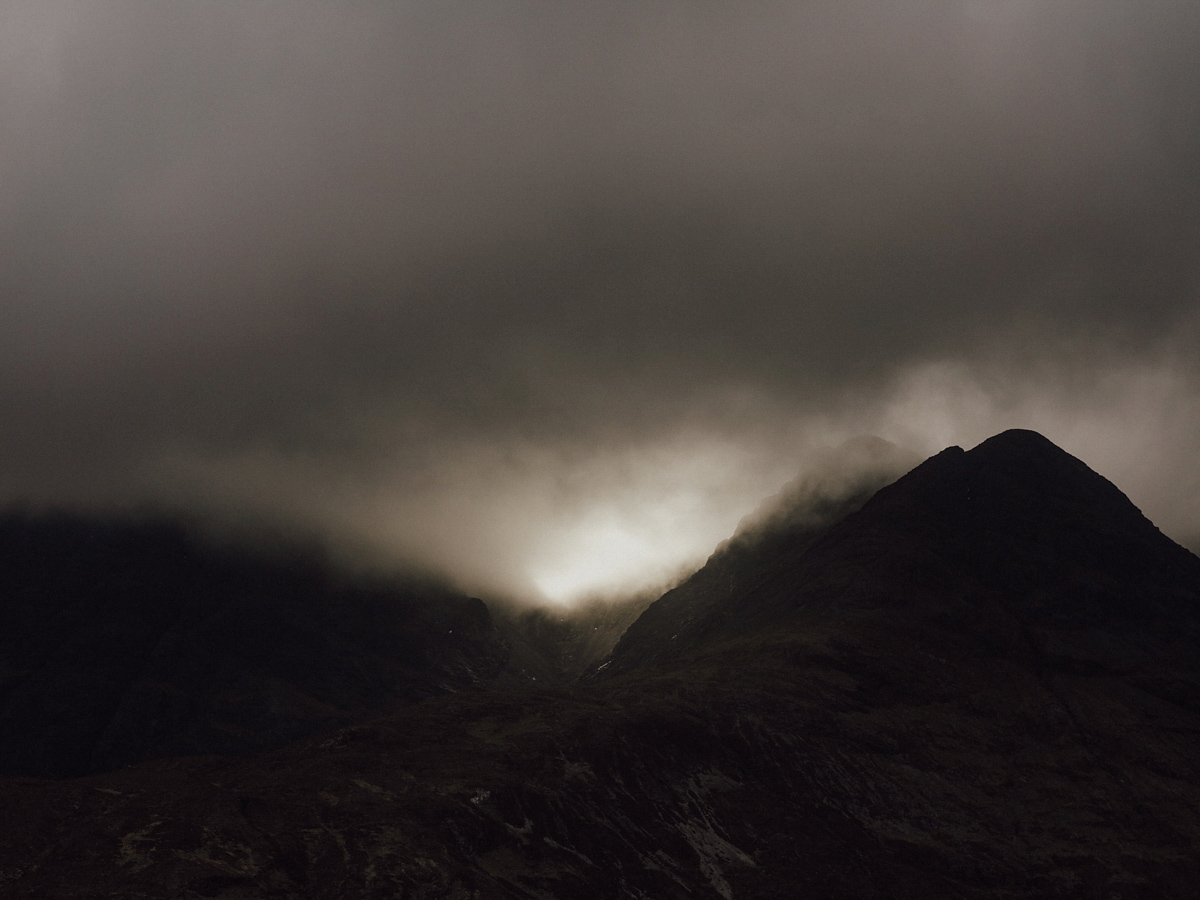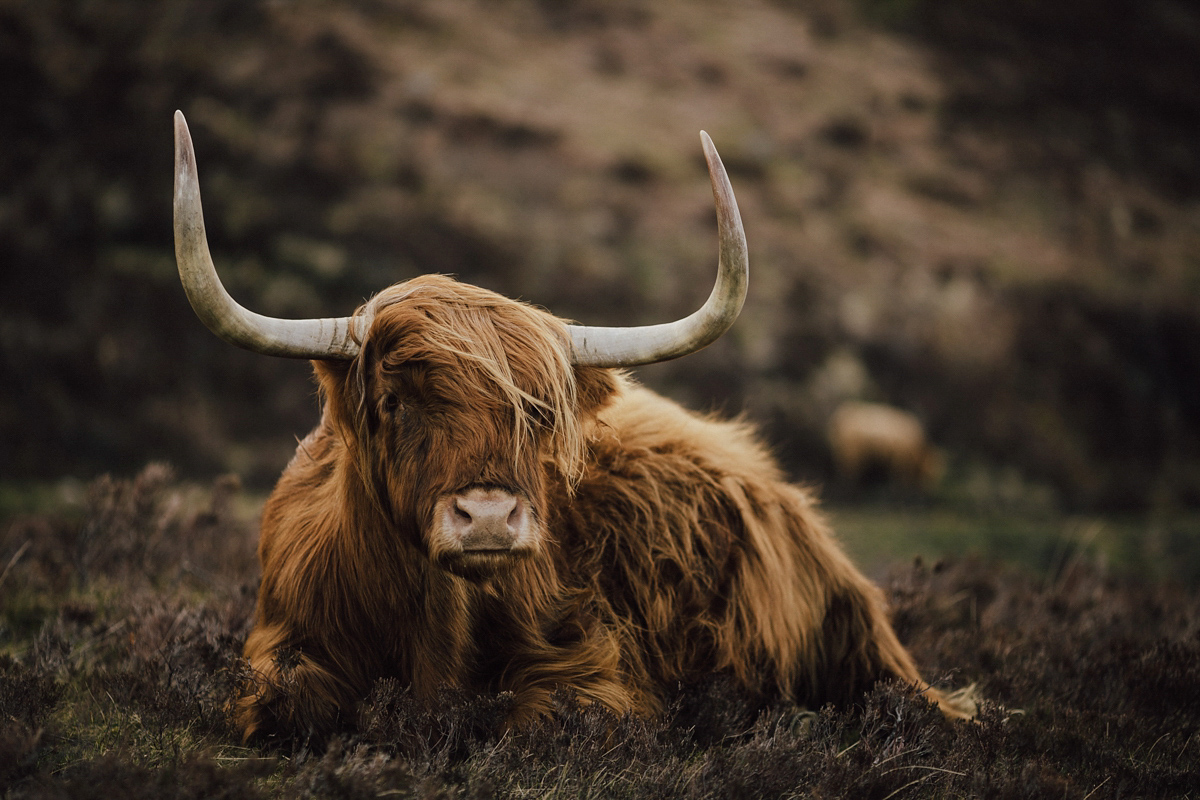 The couple's reception was held at Cuillin Hills Hotel in the village of Portree; famous for its pretty pastel-coloured row of abodes along the waterfront (I clearly remember taking a zillion photographs of this serene and colourful scene).
"To stick with the nature theme, we gave all guests wildflower seeds in little brown envelopes that read 'Let Love Grow', which we sourced from Etsy."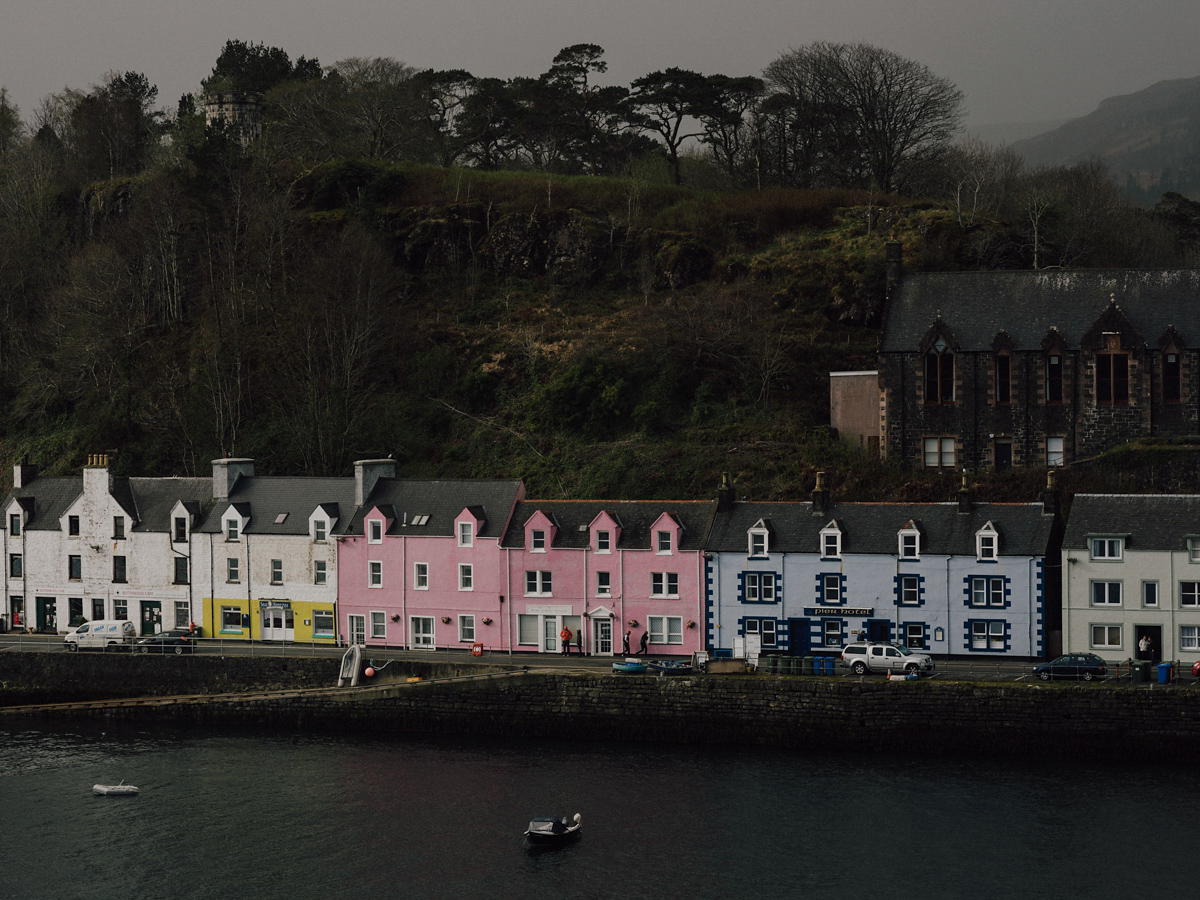 Words of Wedded Wisdom
"Do what makes you and your husband happy. It's your special day, so plan it exactly how you want it."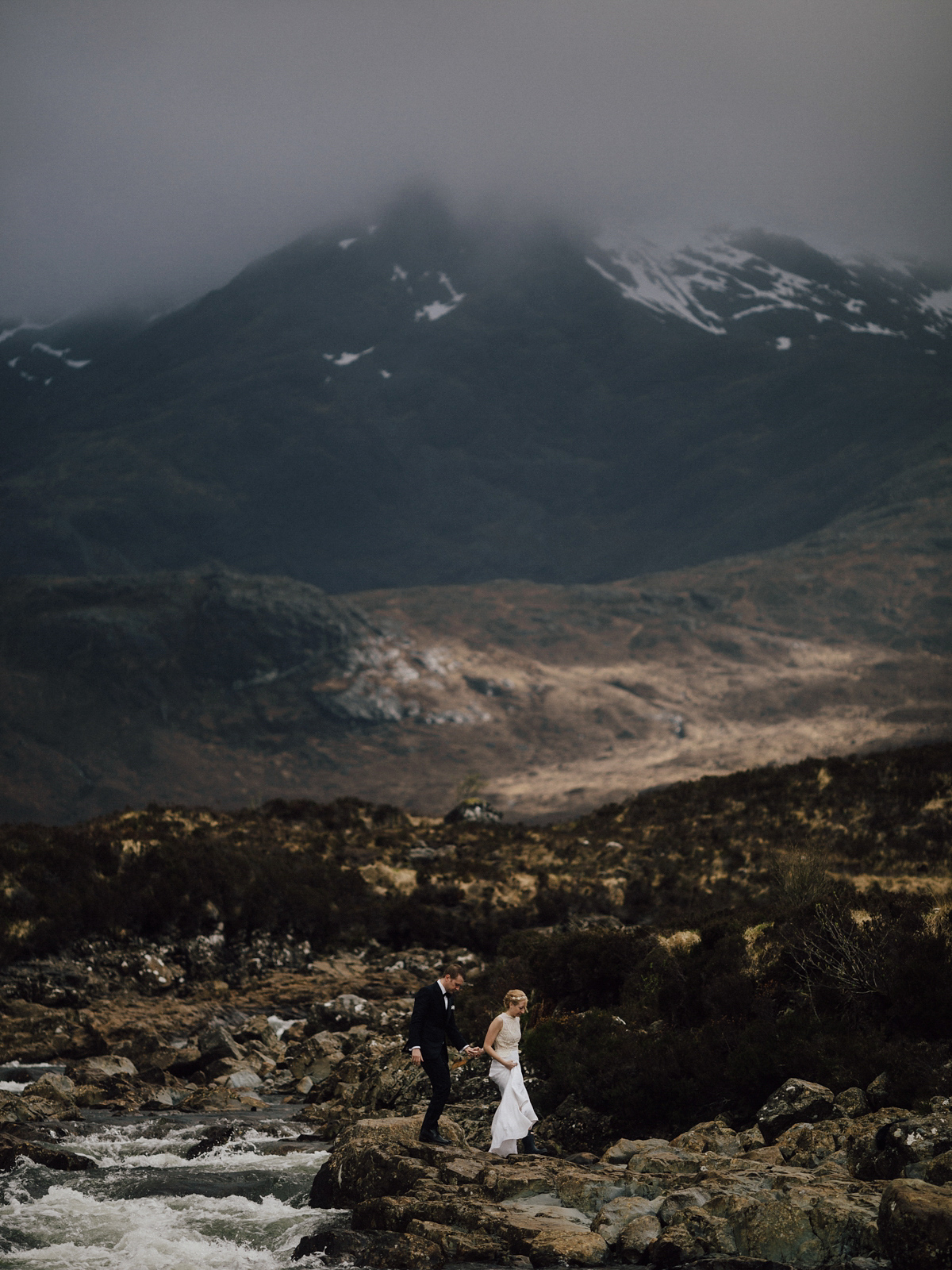 I don't know about you, but I'm feeling so relaxed and in a complete zen state after viewing Robbie and Marina's original images of the natural wonder that is the Isle of Skye. I'm also incredibly impressed at how intrepid everyone was in getting the shots! Wishing the lovely Heidi and Brad many more outdoor adventures and the gorgeous pictures from Capyture Photography will continue to bring back all of those magical memories.
What a wonderful wedding to end the week on – and I hope you have something exciting and relaxing planned for the weekend?
Love Jo -x-