Happy Friday evening everyone! Gosh we all really hope that none of you have been caught out in the torrential overnight rains and flooding we're receiving reports about – sending love warm virtual blankets to any of you affected by this sudden turn in the weather today. We're delivering some Friday afternoon inspiration as always and hope that you love this wedding. Holly, who is the Director of Entertainment and Consumer marketing agency, married James, a Marketing and PR Manager at film distributor on 5th June last year at Caroline Garden's Chapel (aka The Asylum) London SE15 for the ceremony, and then reception at The Rosendale pub in West Dulwich.
"We both love the Wes Anderson film, The Grand Budapest Hotel, and although the day wasn't directly inspired by this we wanted the whole 'look and feel' of the day to reflect this somewhat (and came out in some of the composition of the wedding photography, for example). Also, the Scandinavian tradition of 'Midsommer' definitely came through in the flower crowns myself and the bridesmaids wore, and I definitely wanted some form of my heritage to be present in this way. Pretty much the entire wedding was organised within just two weeks (I just like to get things sorted!) so were very lucky to secure the suppliers we did."
Photography by My Beautiful Bride
"I went to Blue Tit in Peckham to get my hair curled that morning, but did everything else myself."
"We both worked for the same Film Marketing and PR agency six years ago, and had been at the agency quite a few months before we actually got together (drunken work night out, obviously). After half a year of dating, and one holiday together, we realised it was probably time one of us left when our boss thought it would be a good idea to put us on the same team 'as you seem to get on so well'!"
"The engagement was stunning – we were on holiday in Iceland and James had booked the beautiful Ion Hotel as a surprise. After a day of trekking through the snow he decided to propose on the side of a mountain above the hotel. I wasn't too impressed at being asked to hike up another mountain given we'd just arrived in 5 star luxury."
"He proposed with a Georg Jensen ring, a family staple given my Scandinavian / Dutch heritage. I've inherited a number of Georg Jensen pieces from grandparents / parents and my sister and her husband just got married with Jensen rings".
"We were engaged for only seen months before we got married. We always knew we didn't want a long engagement period, and The Asylum had three (!)free dates left in 2015 when we came to book at the end of 2014. We decided to go for the only available summer date in the hope that it would be rain free – which it was."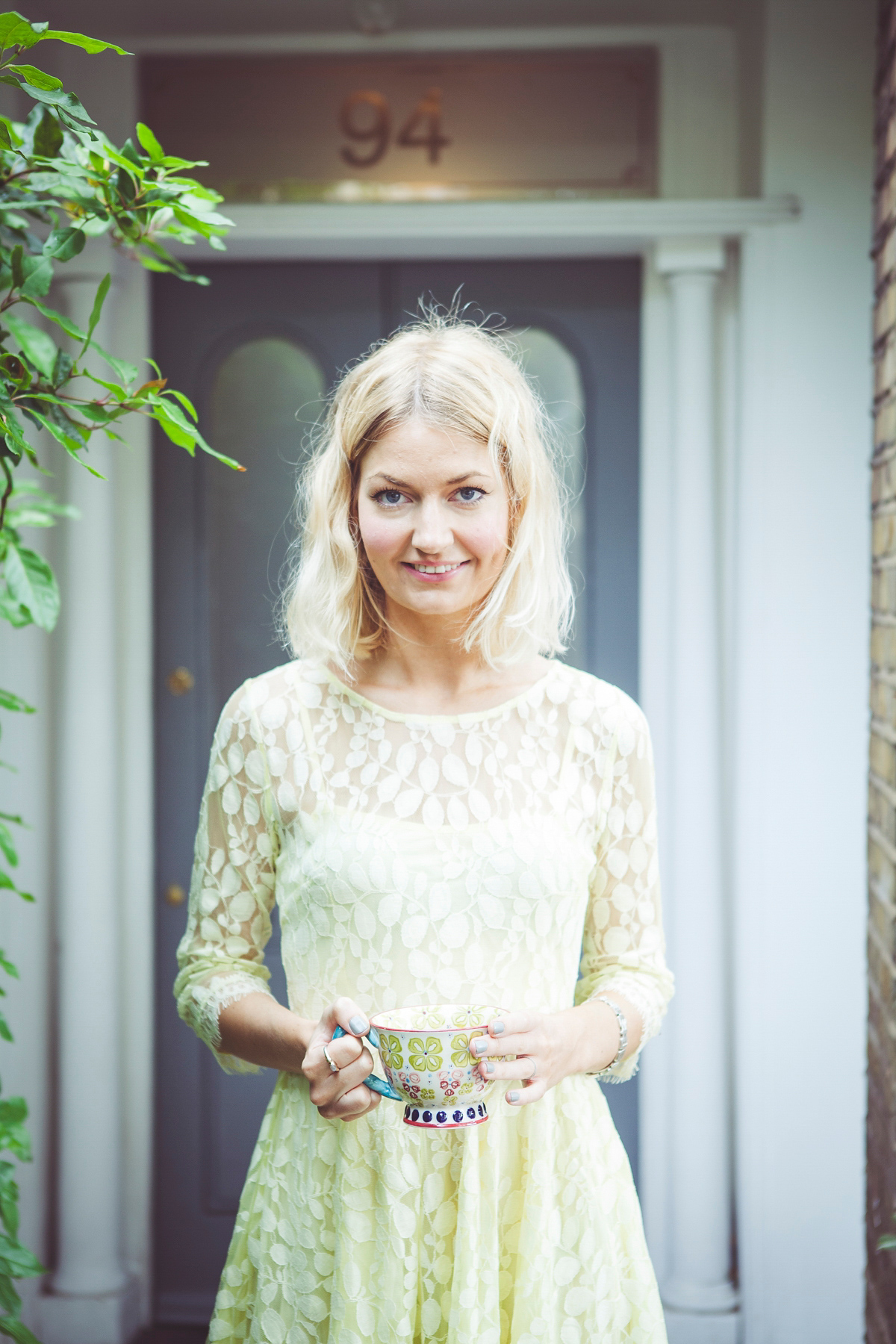 "I chose to wear Mademoiselle by Chanel. Again, this is a family thing. My grandma always wore Coco, and my mum No 5. I'll always wear Chanel. I wore a Georg Jensen'Daisy' necklace James gave me for my birthday a few years ago, with a gold chain from my great grandma, and a gold bracelet that my mum received from her mother for her 21st – and then gave to me for the same birthday. My earrings were just cheap fake diamonds from Accessorize."
"I also had a flower crown, created by my wonderful florist Jam Jar Flowers."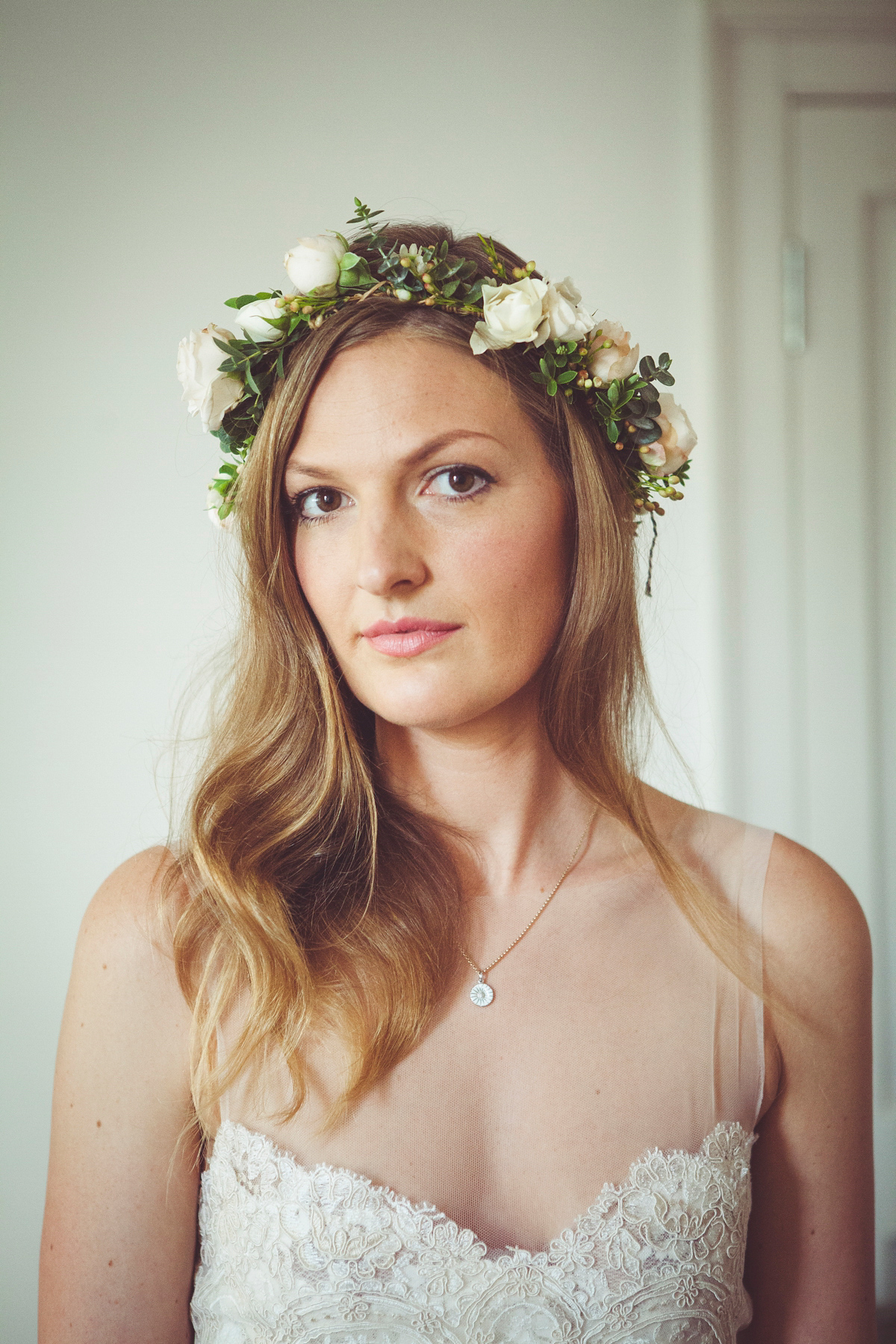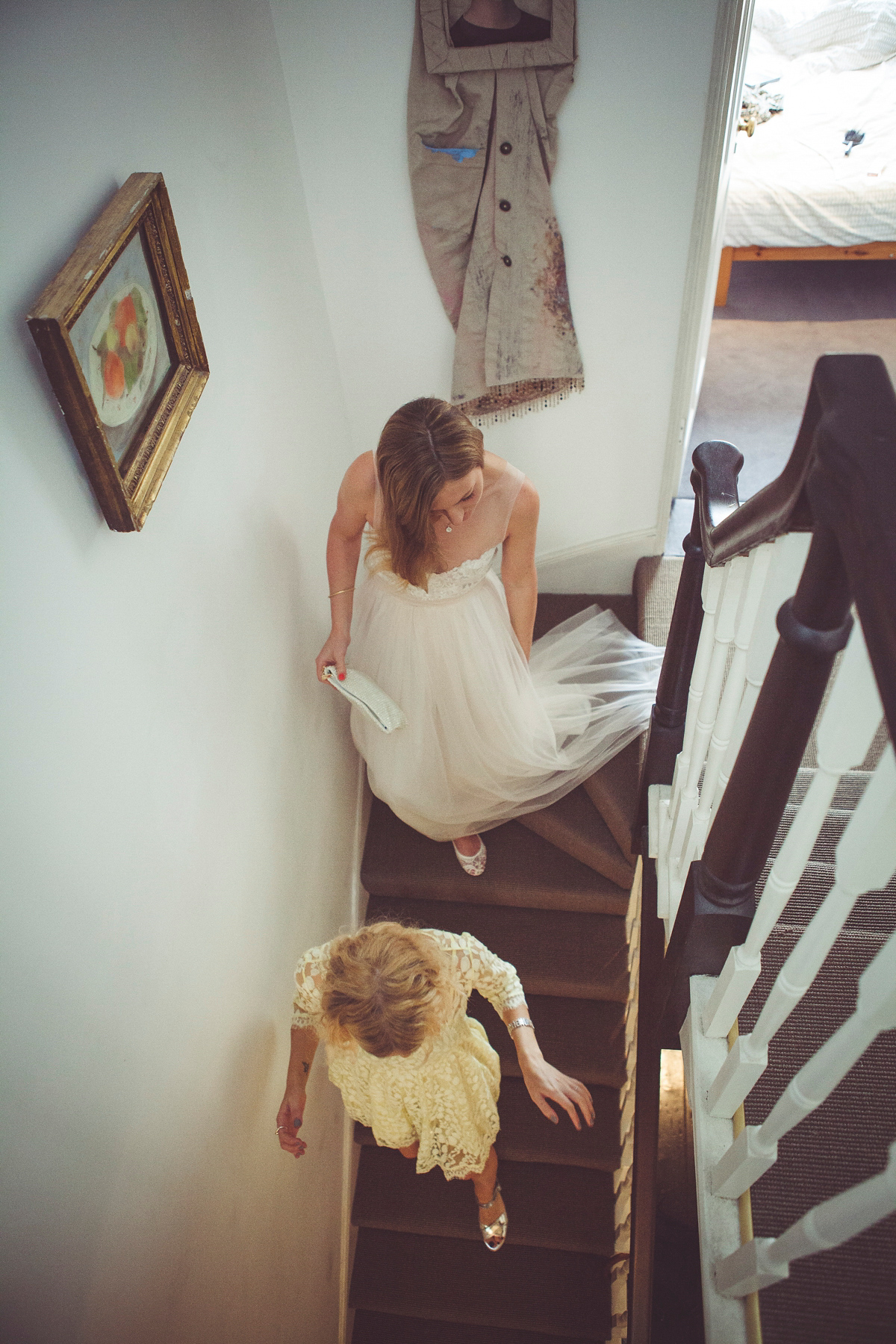 "About six months before we got engaged I came across photos on Millie Mackintosh's Instragram feed of her wearing a Grace Loves Lace wedding dress. I then started to follow the brand, and up popped my eventual dress one day."
"I screen grabbed it as I thought it was so beautiful. At the time I didn't have any idea that we'd be getting married any time soon!"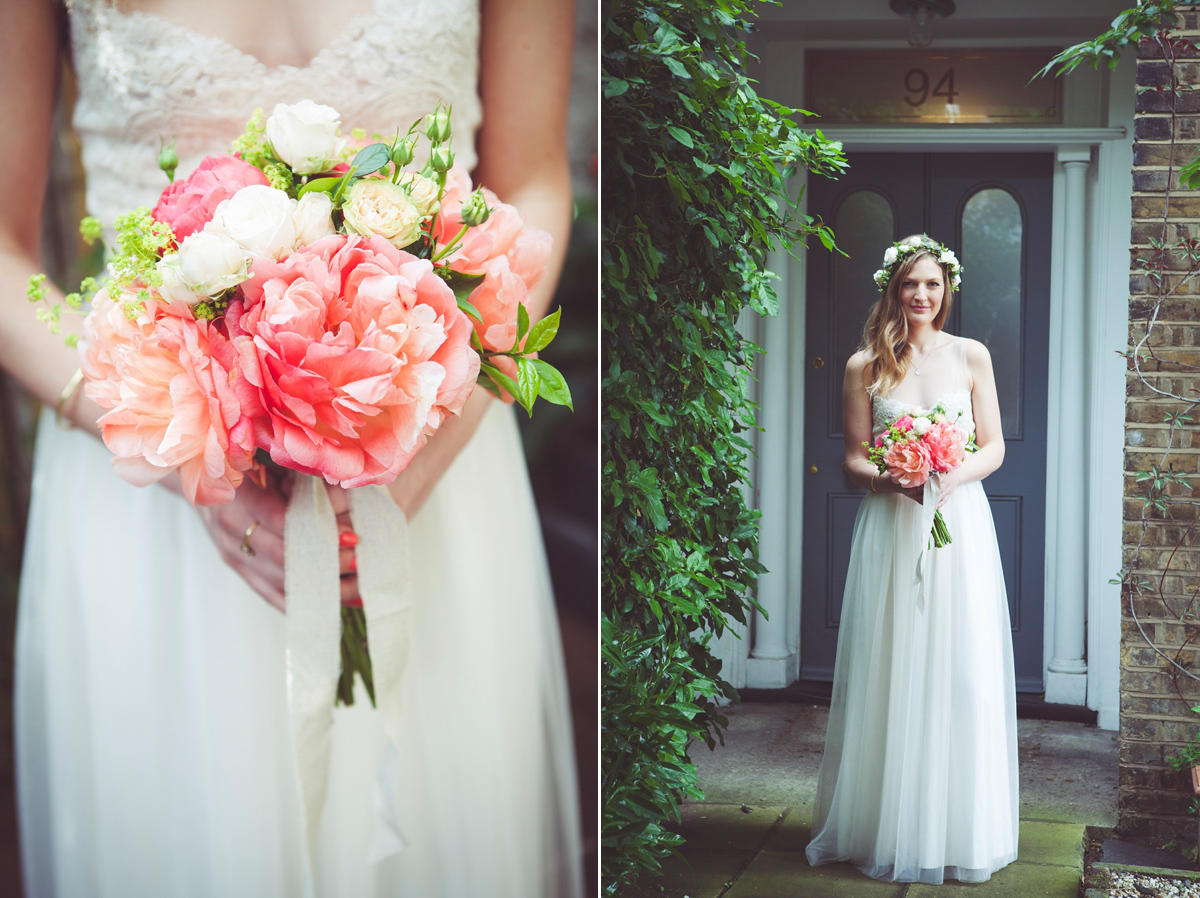 "My flower girls wore dresses fromJ Crew that just fitted in with the general look and feel of my own outfit."
"My bridesmaids dresses were from US brand Free People as I wanted them to be very informal but still 'pretty'. We chose three different colours as we didn't want everyone to look too matchy matchy. They picked their own shoes – my sister set the tone by buying some silver Prada platforms!"
"It didn't really bother me that I had to send off measurements and couldn't try it on in advance (as Grace Loves Lace is an Australian brand).  I knew the fabric was stretchy and that the design would suit me. The dress itself is off-white, lace and tulle, very pretty but still simple, and really great quality."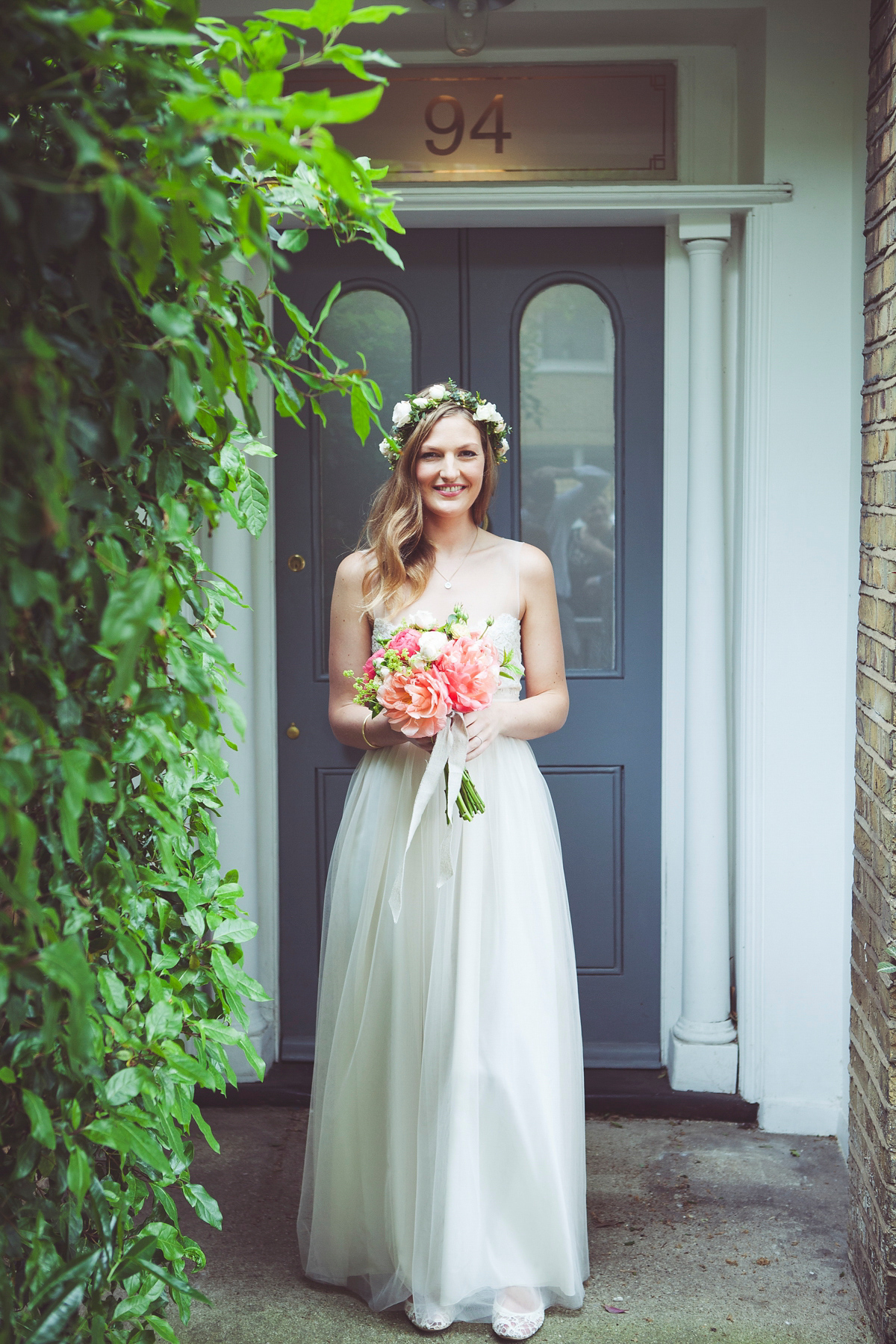 "James' suit was from Burberry on Regent's Street – it cost more than my wedding dress!  He also wore a pair of Grenson shoes and a Reiss tie and shirt. Originally James wanted a Burberry tie and shirt but when we realised it would add another £500 to the budget decided against!"
"Our florist were Jam Jar Flowers based near Elephant and Castle. I was looking for a South East London florist and absolutely loved their wild and slightly un-done approach to floristry. We went for a consultation which was fantastic – I was very open minded and just advised on colours (essentially around my preferred choice of coral coloured nail varnish!). We went with peonies, roses, and a variety of foliage."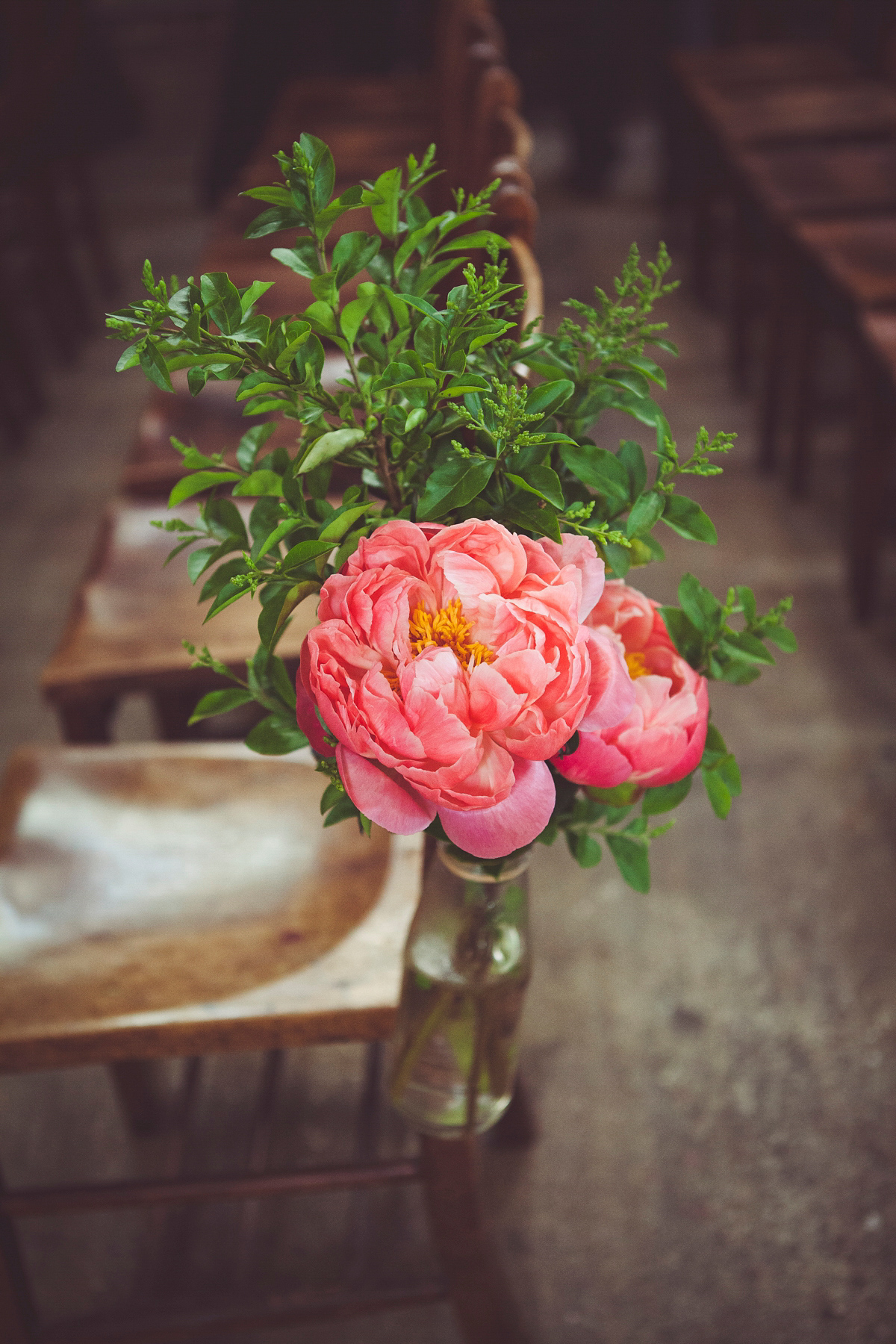 "Flowers was one area in which I doubled my budget, partially because I had an unrealistic expectation as to the cost of flowers, but also because post-consultation I realised how very important it was to me to get this right."
"The flowers really made all of our outfits and the final dressing of both the ceremony and reception venues."
"All the bridesmaids were allowed to wear their own accessories, as I wanted others to still have their own personality at my wedding."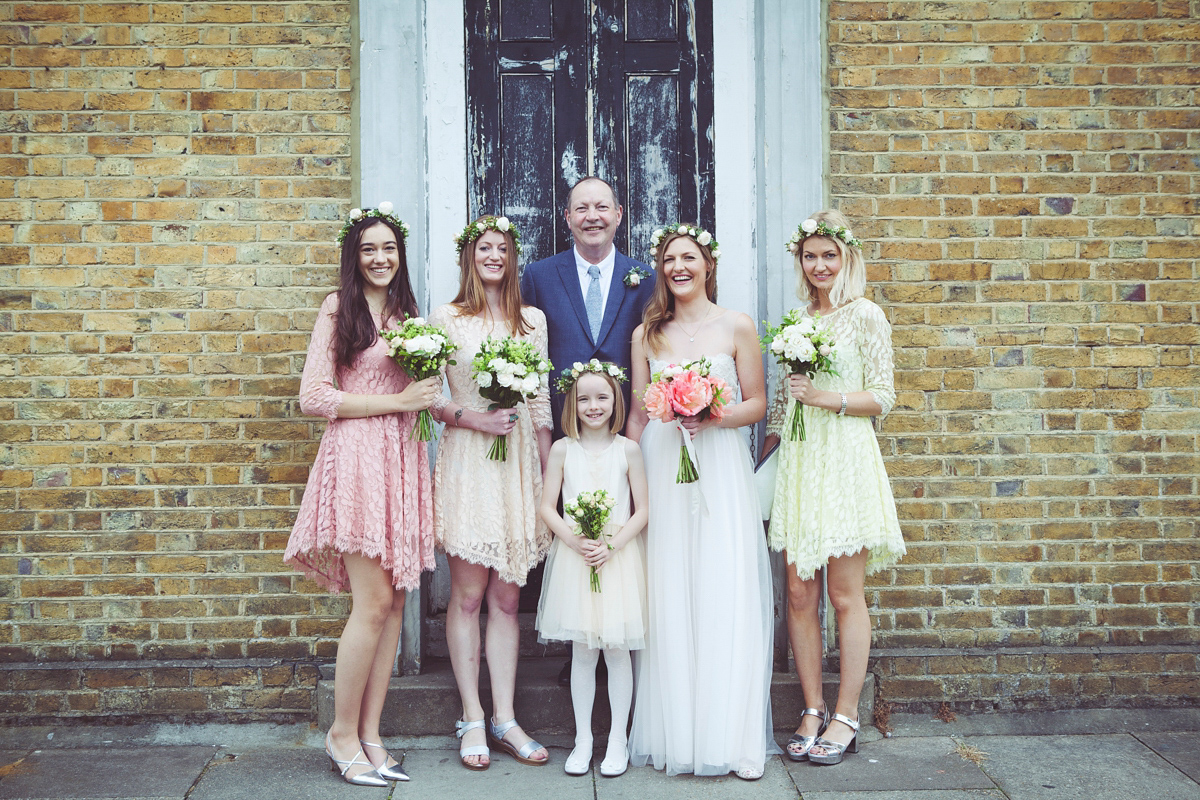 "An acquaintance got married at The Asylum a few years ago, and put all her photos on Facebook, which was the first time we saw it. It's the most beautiful venue, and as we were not having a church wedding it felt like the most atmospheric venue we could choose. The Asylum happens to be featured in The Picturehouse cinemas promotional films, and given we met working in the film industry (and are Picturehouse members) that also resonated.
Finally, the venue is about 10 minutes from both our flat and my parent's house, and we wanted a ceremony location that felt truly relevant and local to our lives."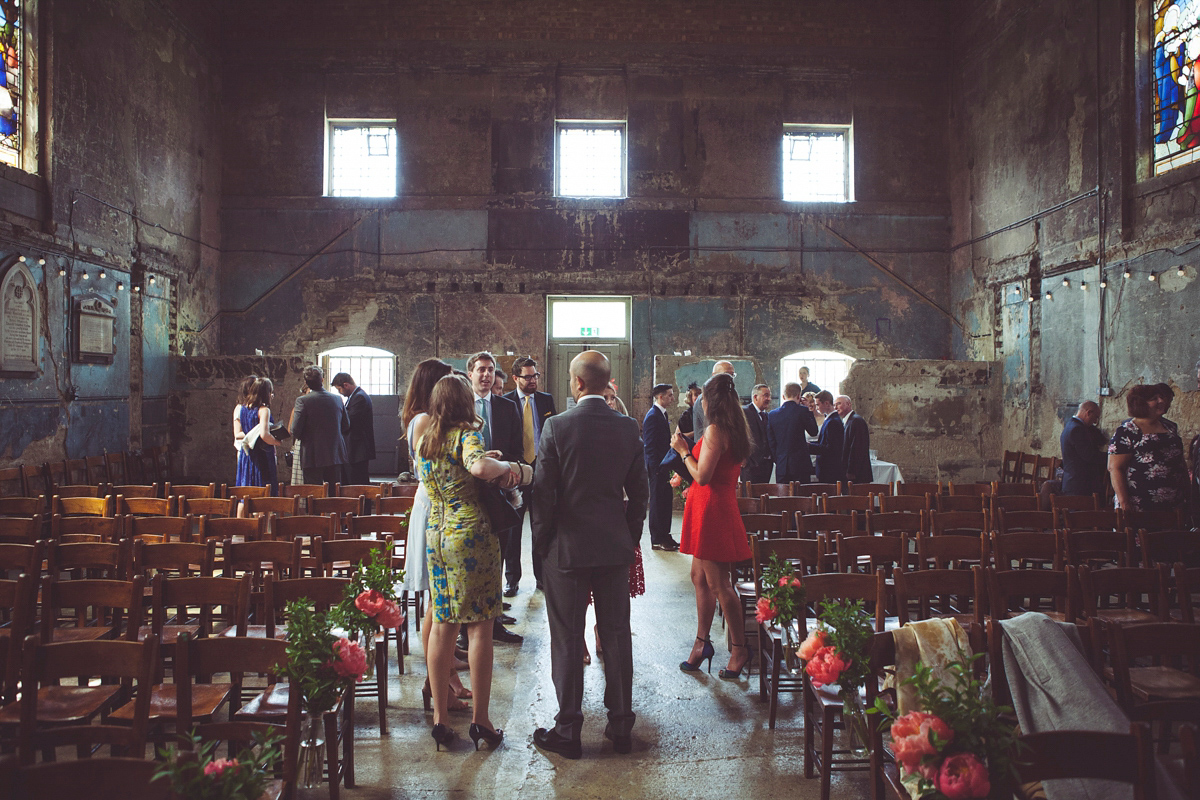 "My dad accompanied me down the aisle, walking at high speed, so I'd reached the end in a few seconds!"
"We didn't tailor our vows – I'm not very good with big public displays of emotion so as ridiculous as it sounds I knew coming from me it would just sound ridiculously corny."
"Our readings included 'Us Two' by A.A. Milne as it reminded me of my grandpa who died the previous year."
"One of my very favourite moments from the whole day was Immediately post the ceremony, which I unexpectedly found very difficult as it was so emotionally exhausting."
"We were drinking champagne on the Asylum steps, having photos, and it was just good to get going with the rest of the day.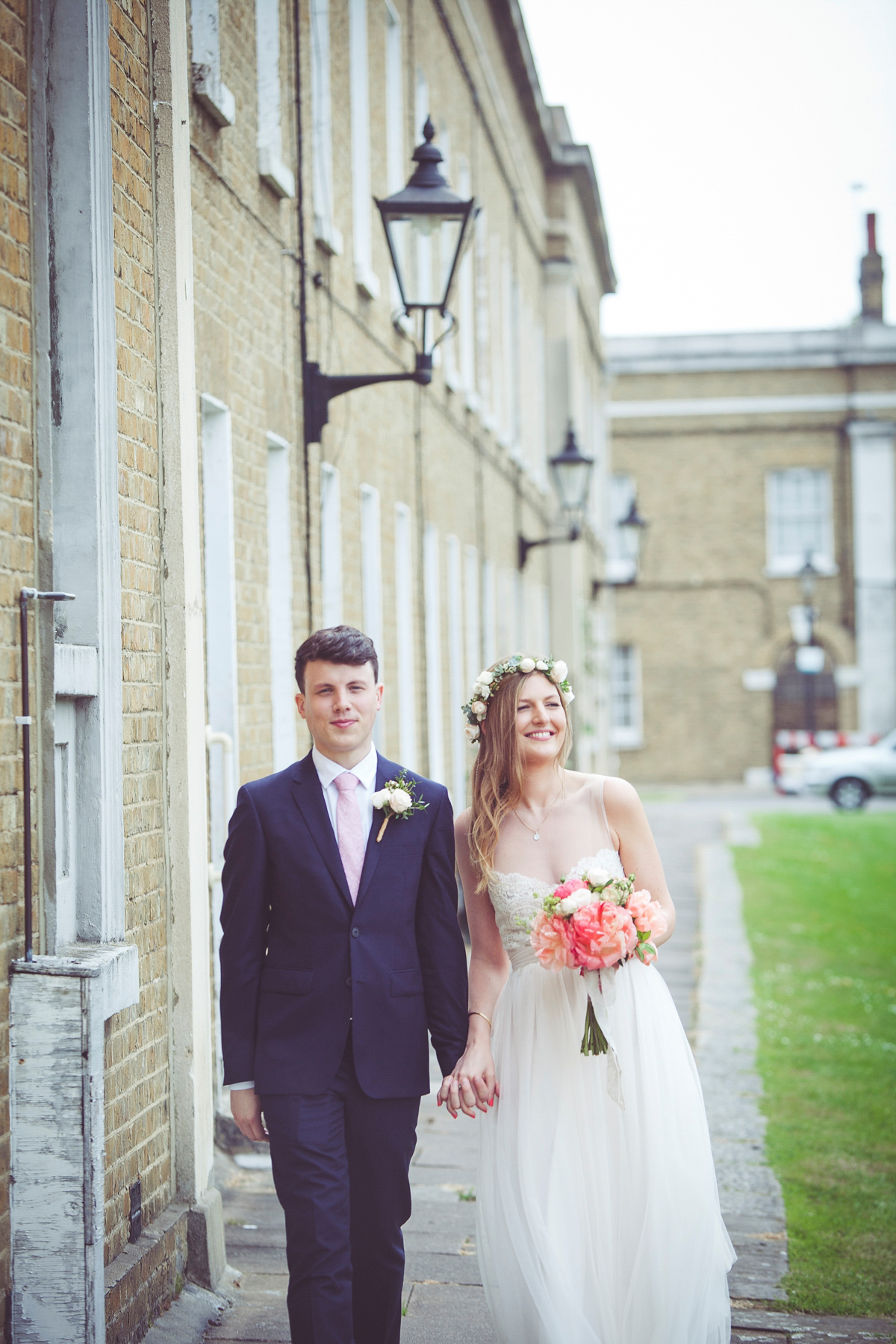 "Our photographer was Michael Clement from My Beautiful Bride. I loved his style of photography so much that I sent him an email straight away. Michael was very forthcoming and responsive, incredibly easy to work with and accompanied us on venue visit to assess the light, come up with great shots. We really let him lead in terms of what he thought might look good (even when my mum tried to get the dreaded 'group family shot') and were so impressed with the results. We couldn't have asked for a better wedding photographer!"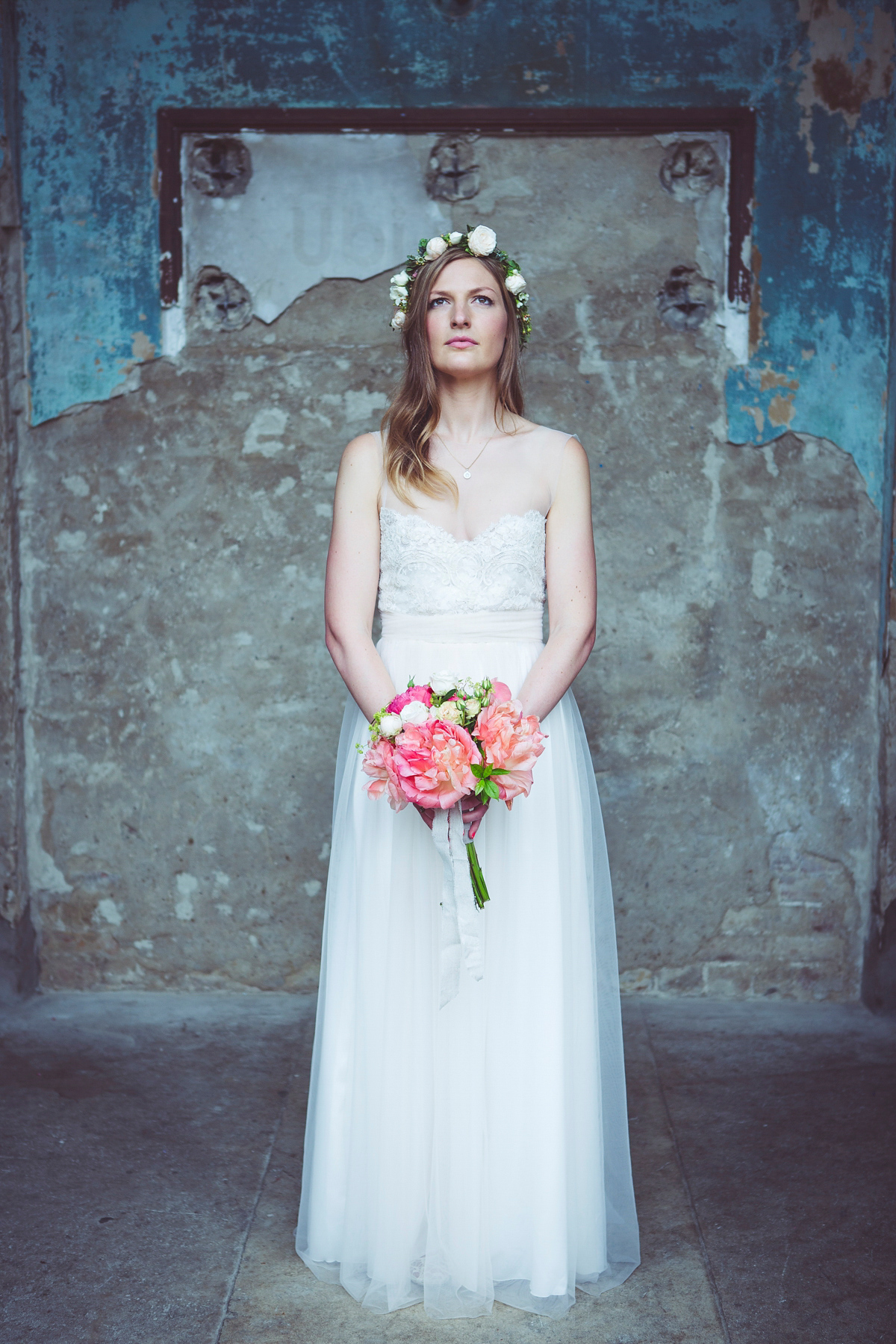 "We hired an amazing guitarist Declan Zapala – I was looking for a Gypsy Jazz specialist and stumbled across him in the search. He also played during the register signing and set the perfect tone."
"We got a London red bus from the ceremony to reception – I originally wanted 1930s green busses but it was just far too cost prohibitive for 85+ people."
"I created all the invites myself. I come from quite an artistically inclined family and have always loved drawing, so it only seemed right that I make them. We decided not to bother with an order of service as it was a civil ceremony, and although we had readings it just didn't seem worth it.
The table plan was sourced from Dreamalittlehandmade on Etsy."
"I bought cheap bunting and pom poms from Amazon – some people hate bunting but I love how kitsch it is and it really helped to brighten up the Rosendale rooms."
"My amazing brother in-law Jake made the cake, with just a little inspiration from Pinterest. He is a chef turned accountant, so we knew whatever he produced would be fantastic – we just hadn't expected it to look quite so spectacular! Jake and my sister are both vegan so we had originally requested a vegan cake, but after a trial he felt that he wanted to go with 'very organic eggs' instead.
Our friend Amber (also vegan) create wedding cupcakes for us to sit as favours on the tables. These were actually vegan and delicious!"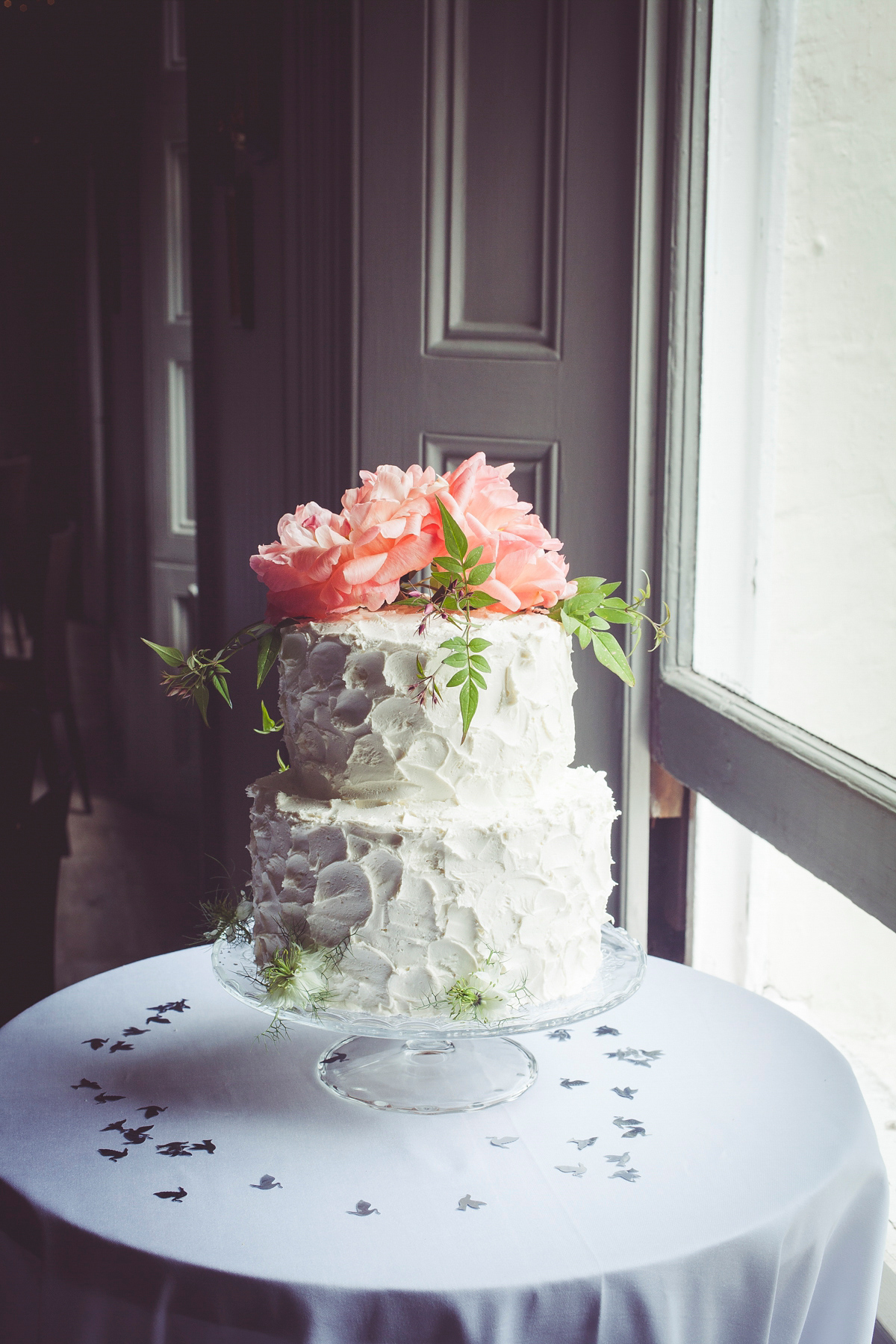 "The Rosendale in West Dulwich just seemed like the perfect reception venue – a gastro pub not far from the Asylum, in a leafy London location, not too formal, with excellent food, a great space for a sit down wedding breakfast and a beer garden that would accommodate evening guests too. It's also got an amazing rooftop where we could go and have sunset photos taken."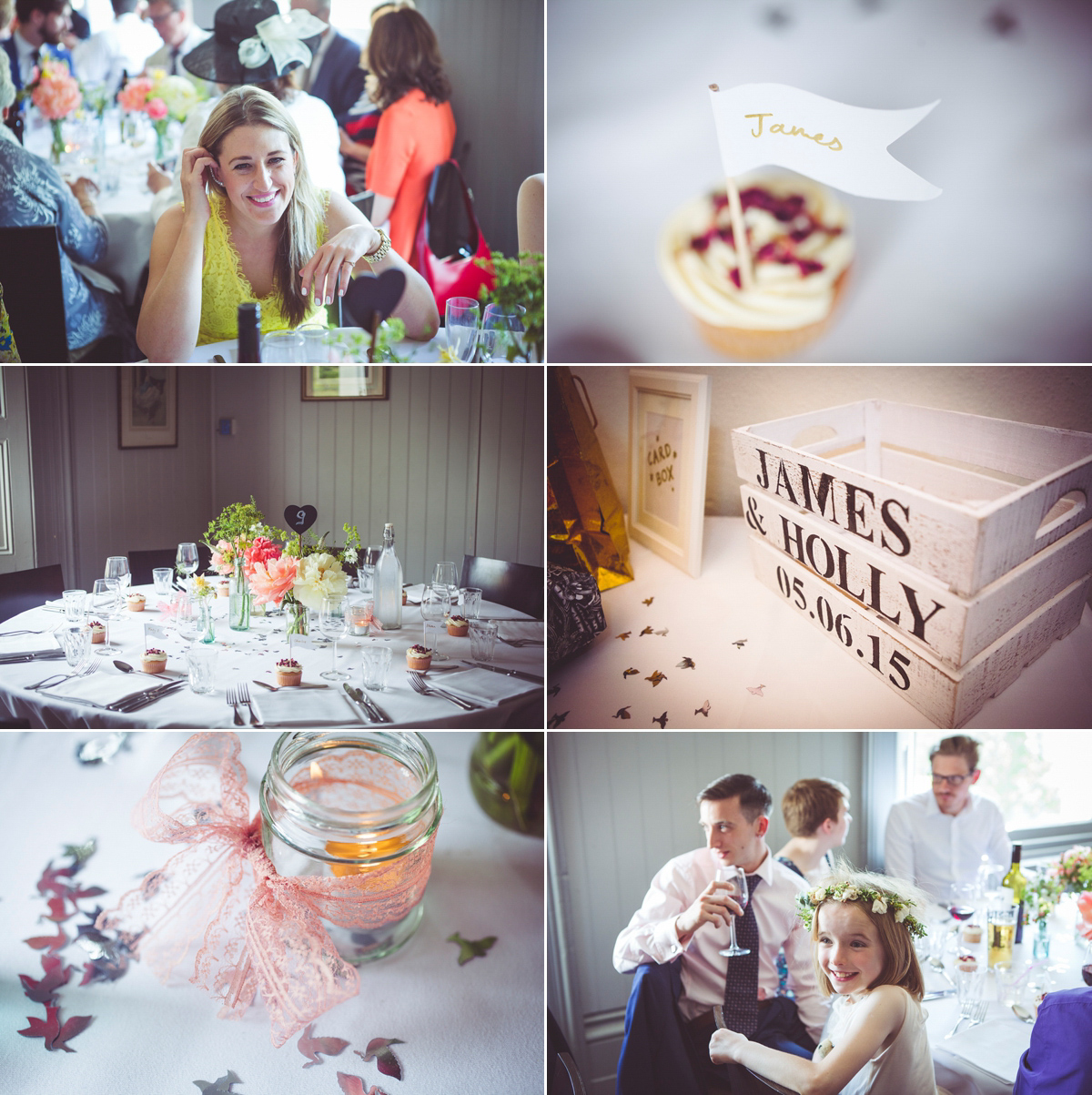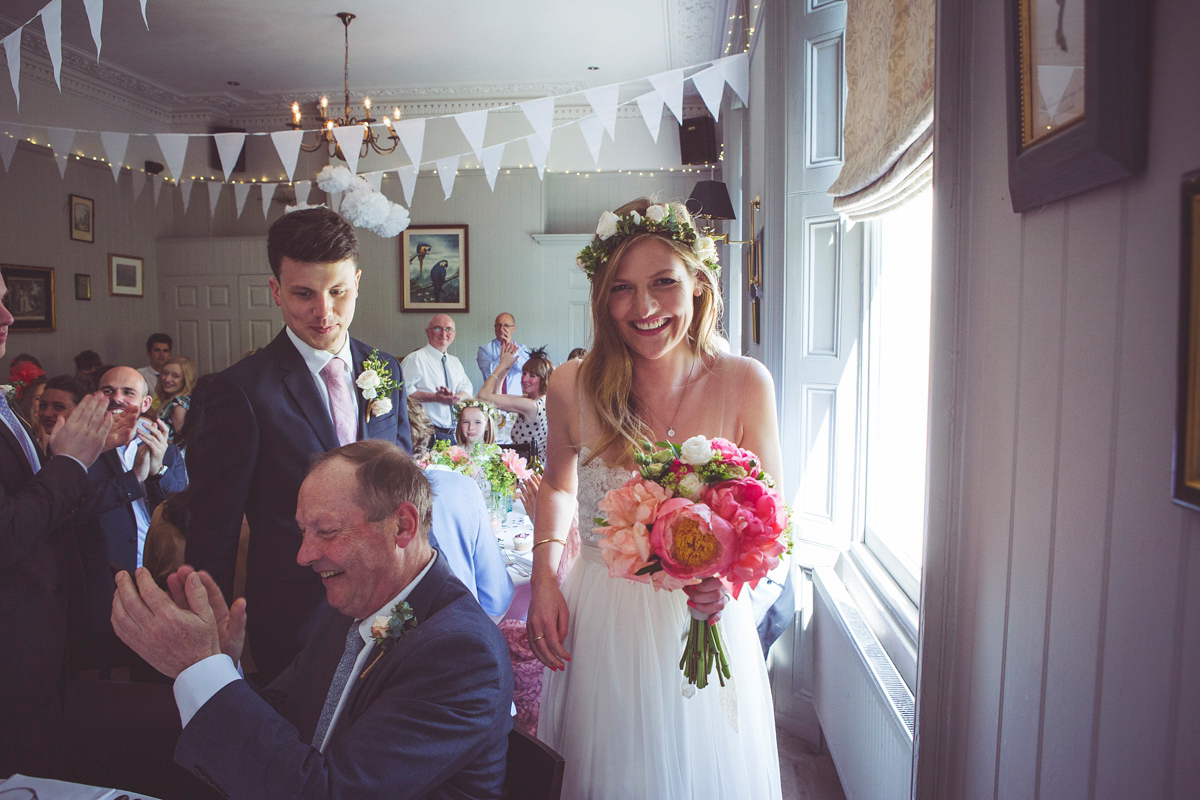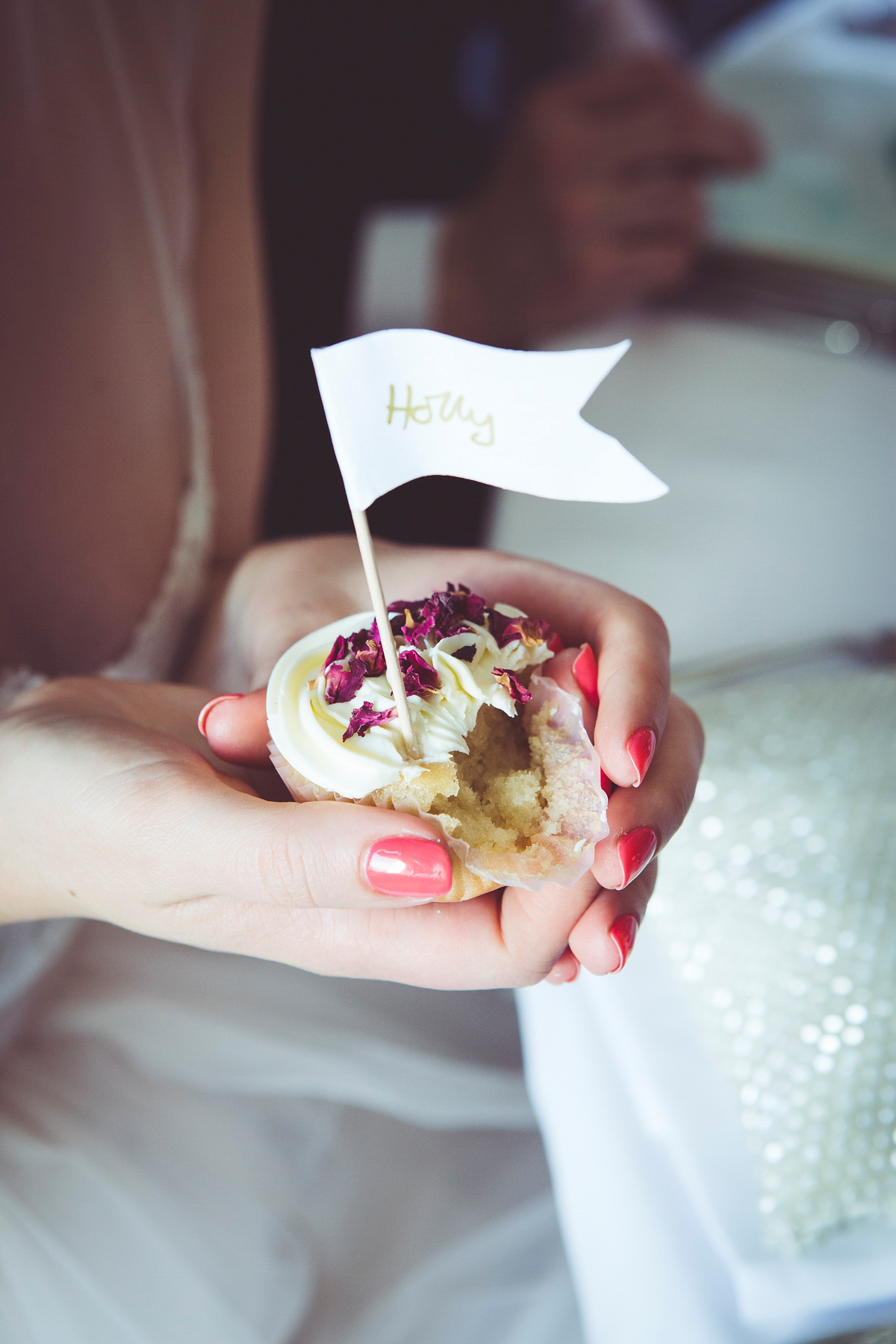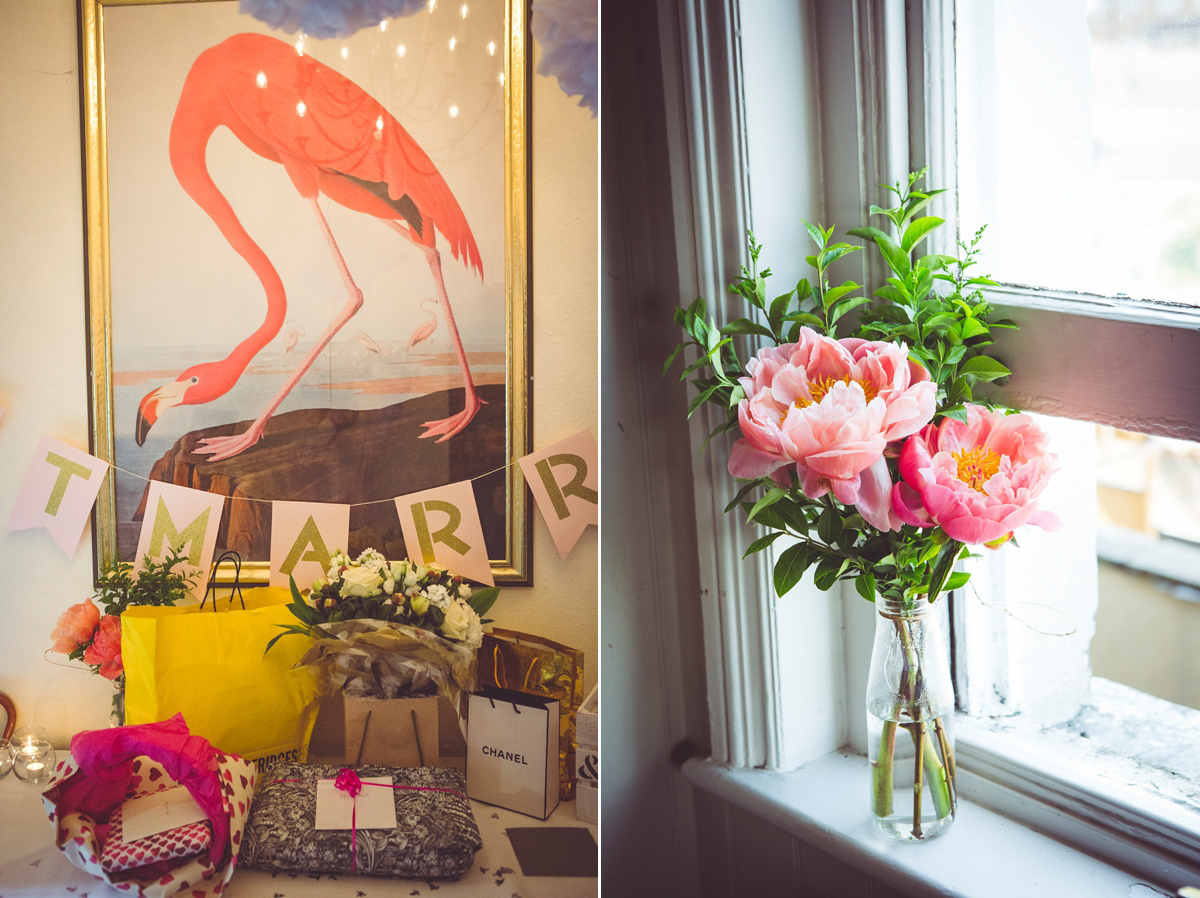 "Our friend Rob is a part time DJ and curated the most amazing play list, complete with its very own UK Garage section. 
We went with Prince's 'Raspberry Beret' for our first dance, as we've never had 'a song' – so it was just something fun that we liked."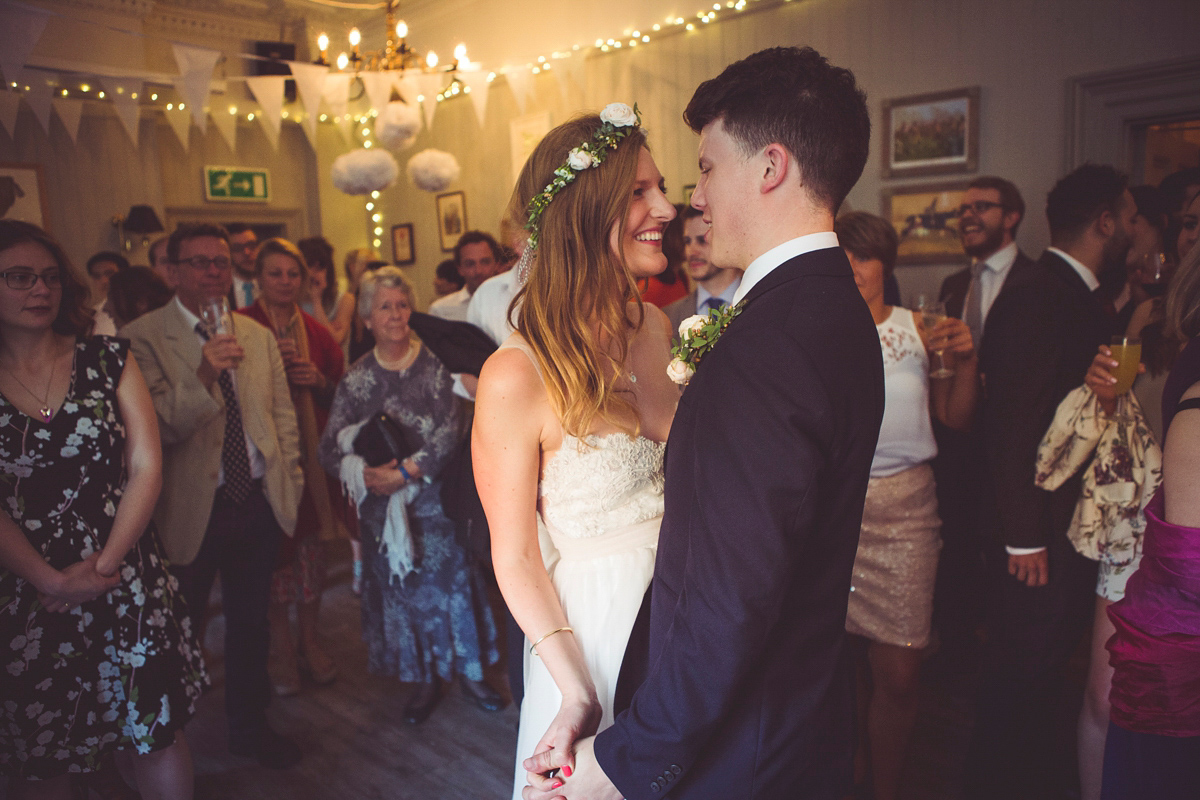 Words of Wedded Wisdom
"I was horrified that neither of our mother's names would appear on our marriage certificate! As a result we had them sign the register as both James and I like to think that our mothers officially exist.
Delegate jobs to suppliers and / or friends. Originally, my mum wanted to do the flowers, and we could have had a wedding that we were much more involved in setting up from scratch (i.e, booking separate caterers, actually making our own bunting, creating the table plan ourselves etc), but I'm so glad we didn't as it saved a lot of stress and worry.
We ended up going over budget (not too significantly) because we relied on suppliers more than I thought we would, but it makes the day itself much more relaxing if you don't have to worry about anything.
In terms of things I would have done differently – I would have actually extended the engagement! It was a good thing we did everything so fast, but in hindsight it would have been good to have a few more months as we rushed into everything and didn't really enjoy the process."
Love and gratitude to Michael of My Beautiful Bride for sharing these beautiful photographs today. If you'd like to see more of Michael's work on Love My Dress, click here.
Have a wonderfully relaxing Friday evening, or if like me, you might happen to be working, may your bottle of gin be close by teapot supply you lovingly with endless cups of tea!
Love Annabel x