Hi lovelies, how's the weekend treating you so far? I'm feeling slightly disjointed from London reality after spending the last three days in Tromsø soaking in the freshest arctic air and exploring endlessly but today marks exactly nine months to go until I get married, eek! That thought has certainly brought me happily back to the here and now.
Now I absolutely love the gorgeous range of weddings we feature on our beloved blog and today's beauty is no exception. The simply stunning Meera wed her lovely husband William on 8th August last year in a vibrant outdoor Indian celebration, followed by an elegant indoor civil ceremony. And as a proud Northerner I was delighted to see that North Yorkshire played host to this joy-filled fusion of festivities.
"Both our Indian and civil ceremonies and reception were held at Newby Hall in Ripon, North Yorkshire. We used dusky pinks, green and white – soft, vintage colours that complemented the outdoor venue."
Photography by John Hope Photography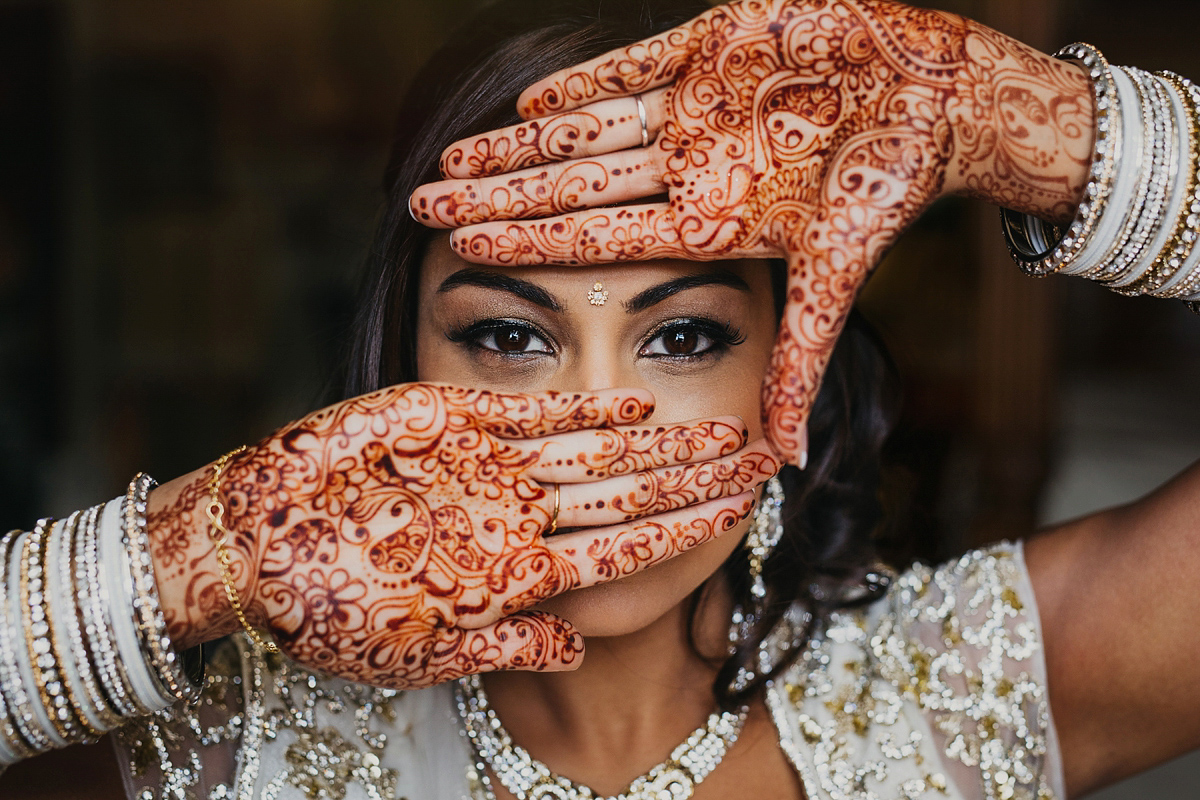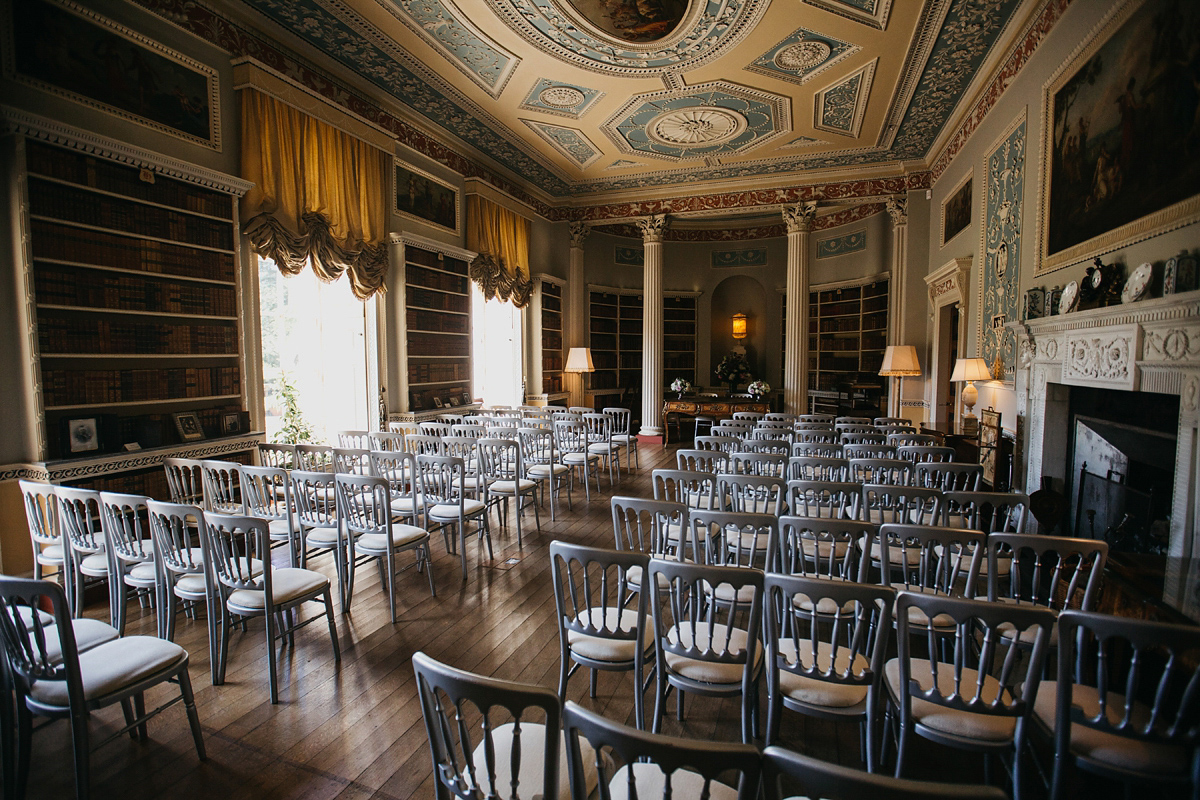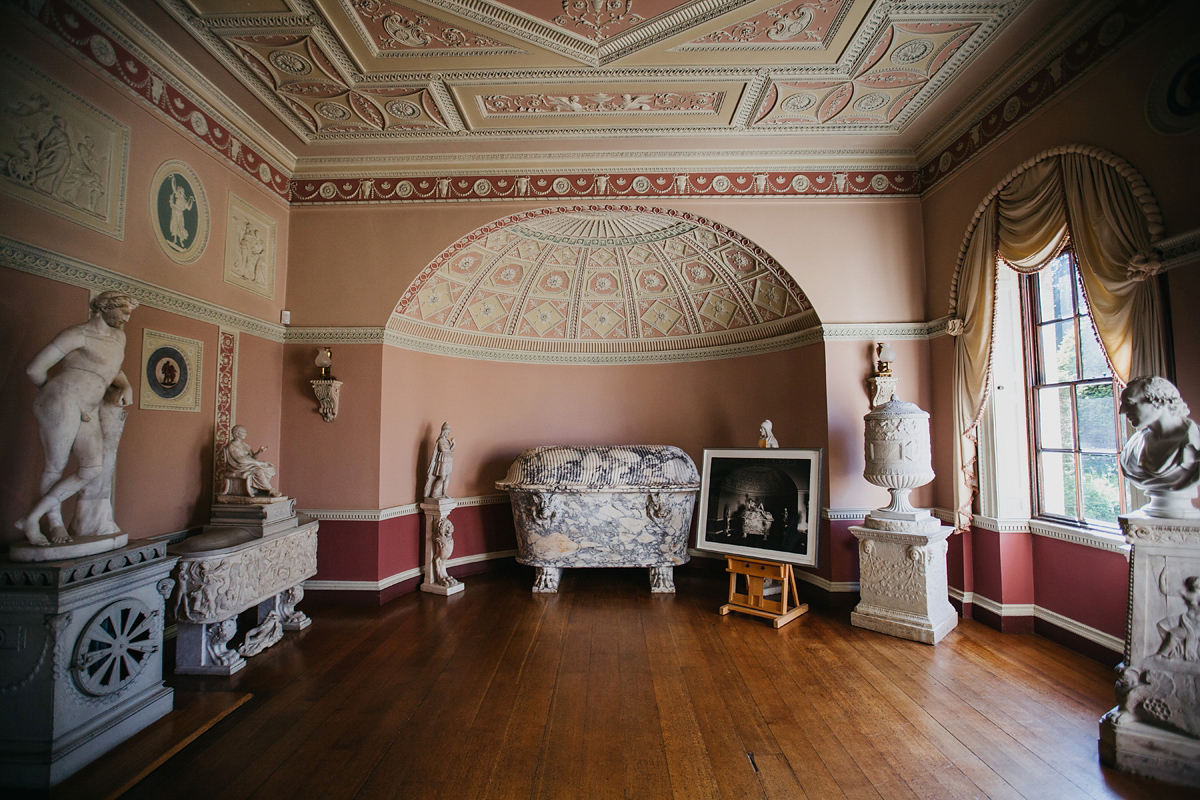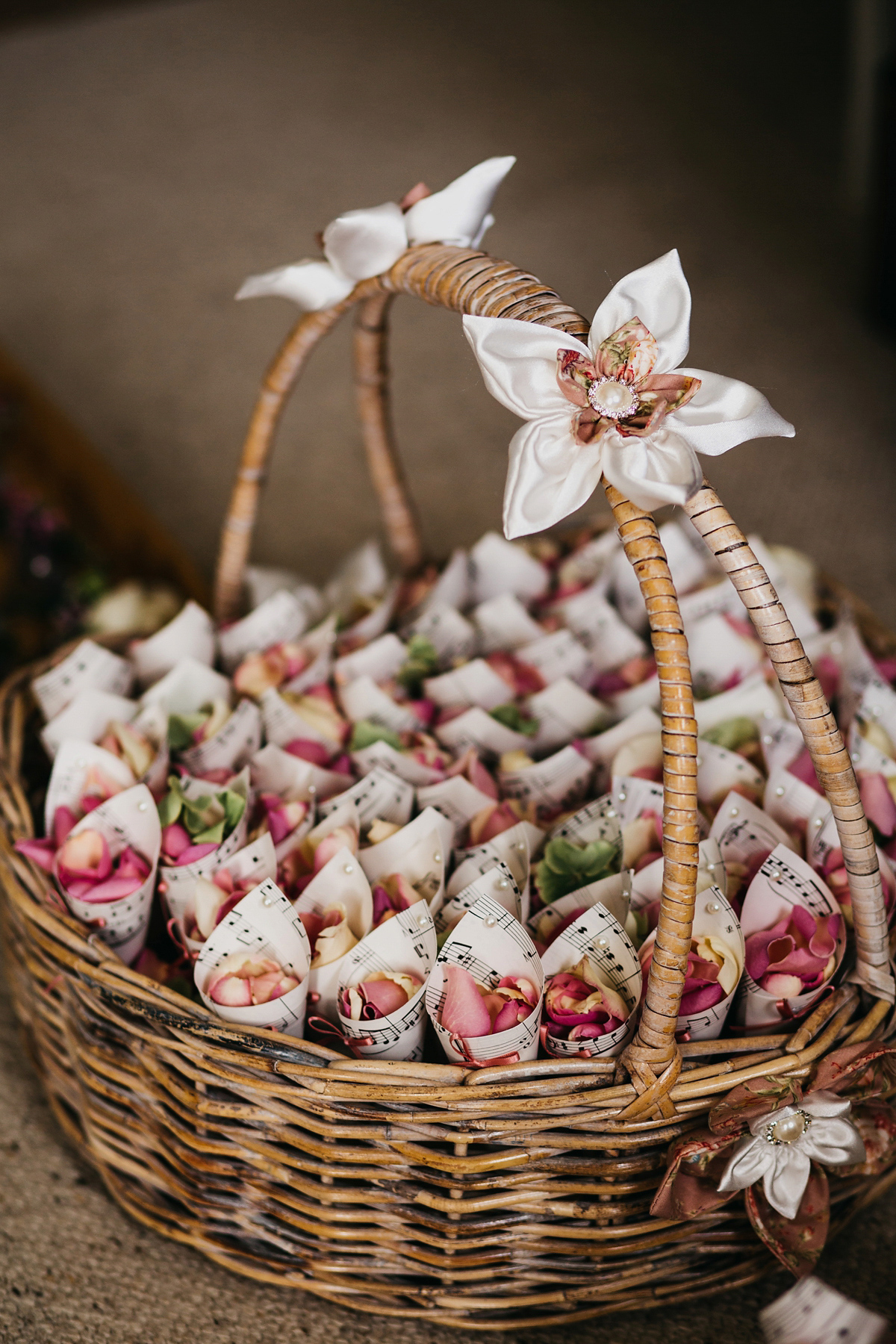 I wonder if we're all thinking the same thing…how lucky is Meera to be able to marry the love of her life twice in one day?! The couple's double celebrations also meant the new Mrs Beattie wore not one, but two gorgeous gowns as she honoured her heritage as well as her new husband's background.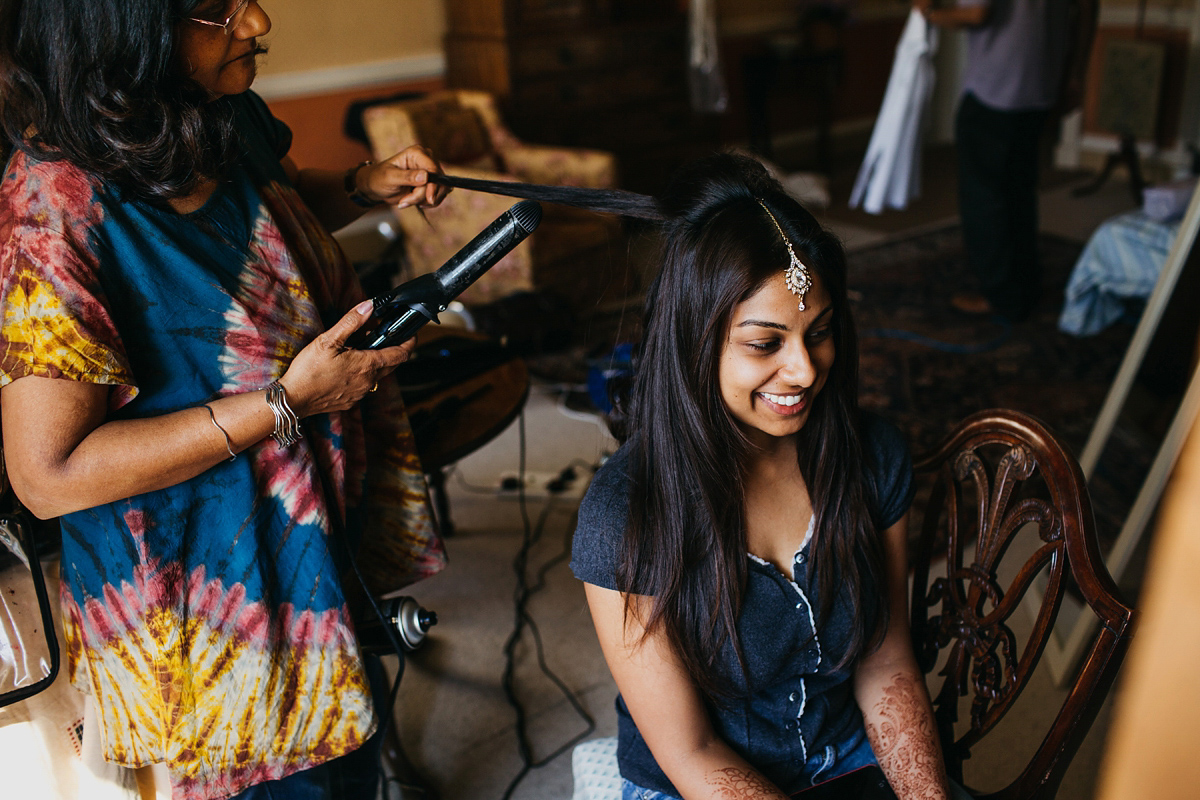 "I chose an Indian dress from Lals Couture in London and an Essense of Australia gown as my 'English dress' from Angelica Bridal in Islington. It had the most flattering cut, beautiful detailing, and was really comfortable. It wasn't the type of dress I expected to choose; a fit and flare V-neck dress with a low back. I expected to wear an A-line dress with a sweetheart neckline and a veil. I found dress shopping very stressful until I found Angelica Bridal. Indian dress shopping was less stressful!"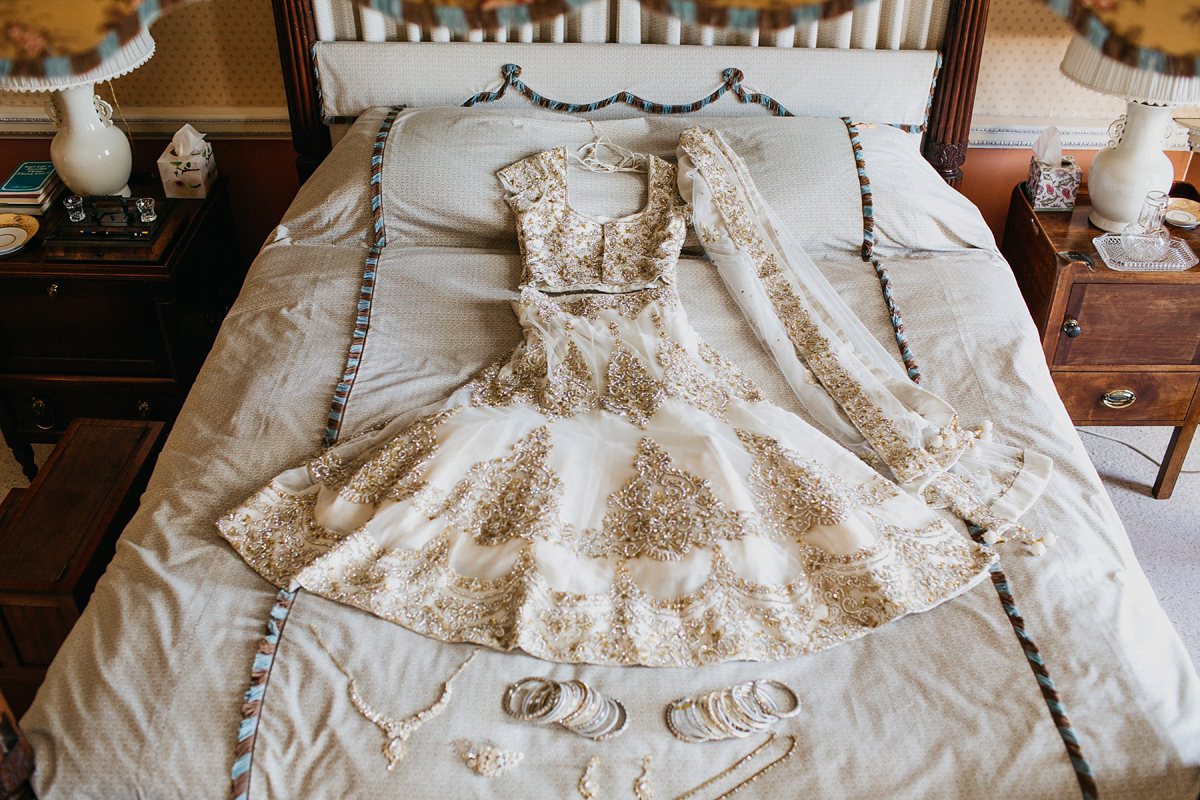 To complement her intricately embroidered Indian gown, Meera chose metallic shoes from Call it Spring and an array of jewellery and accessories from India. I just adore the way the bride's numerous bangles pop against the stunningly detailed patterns of the henna adorning her arms and hands.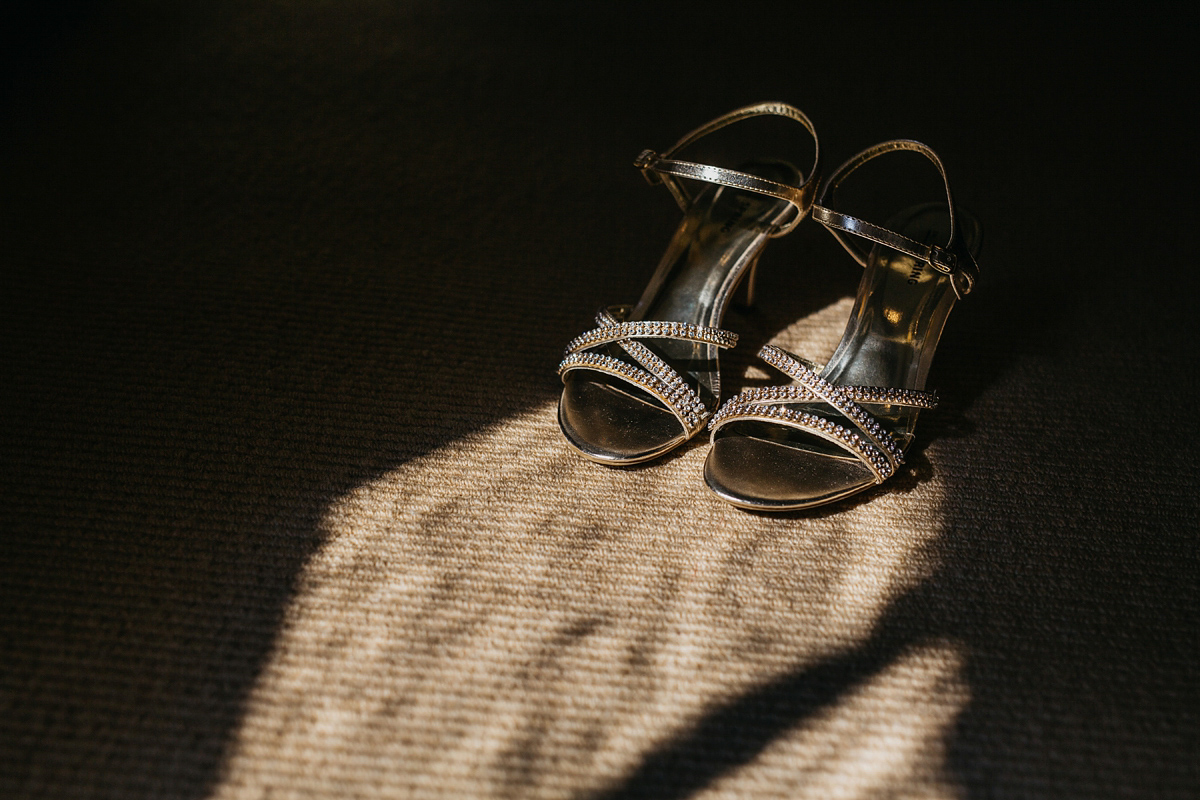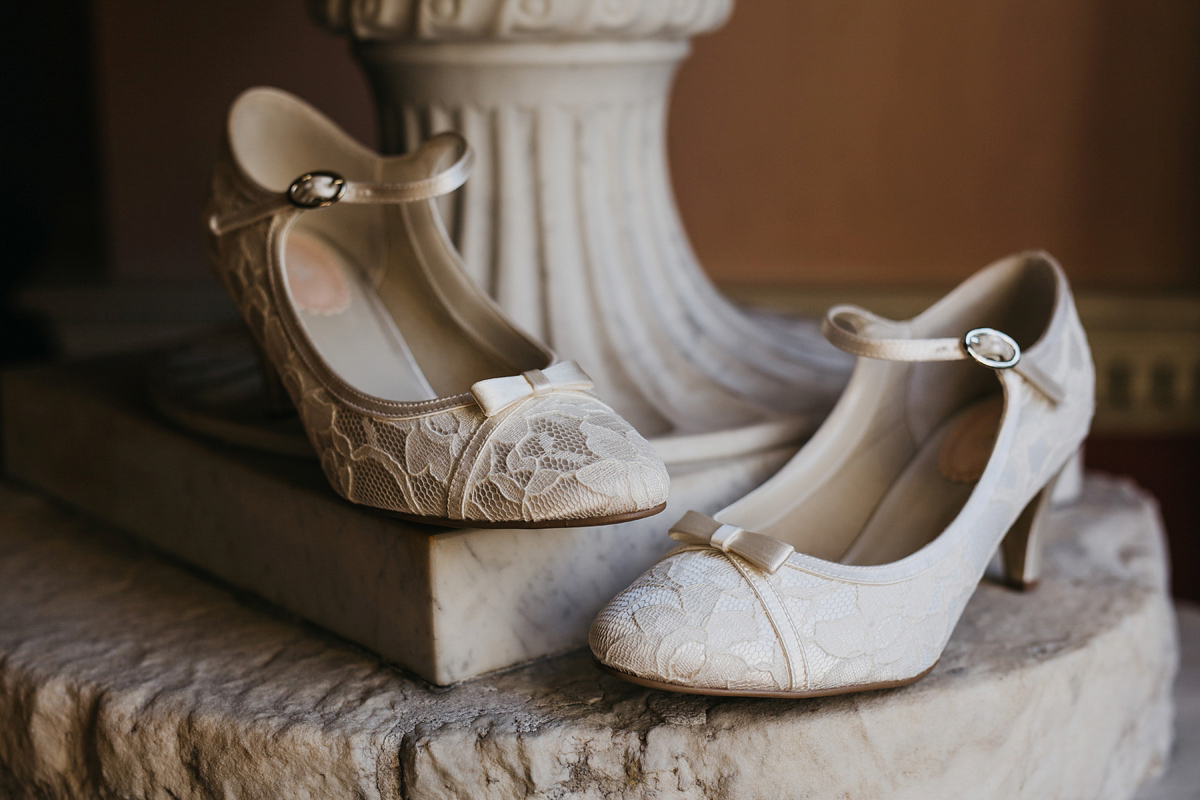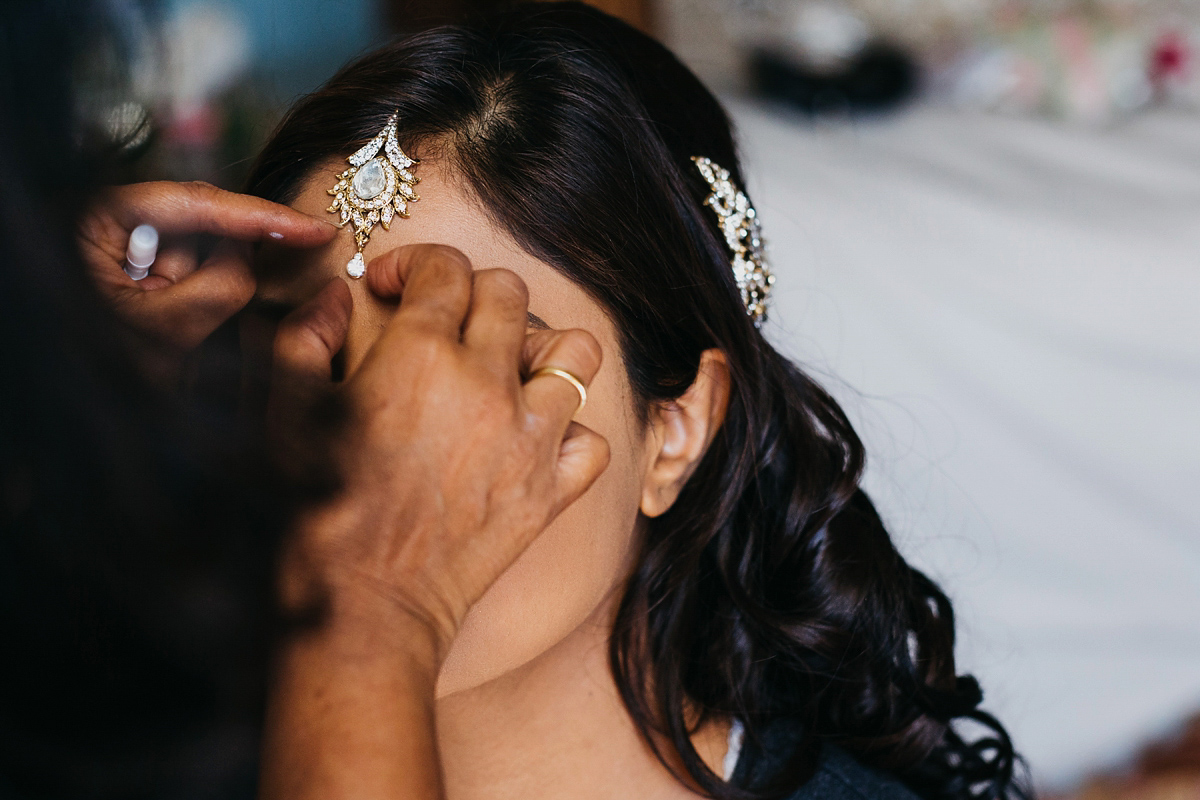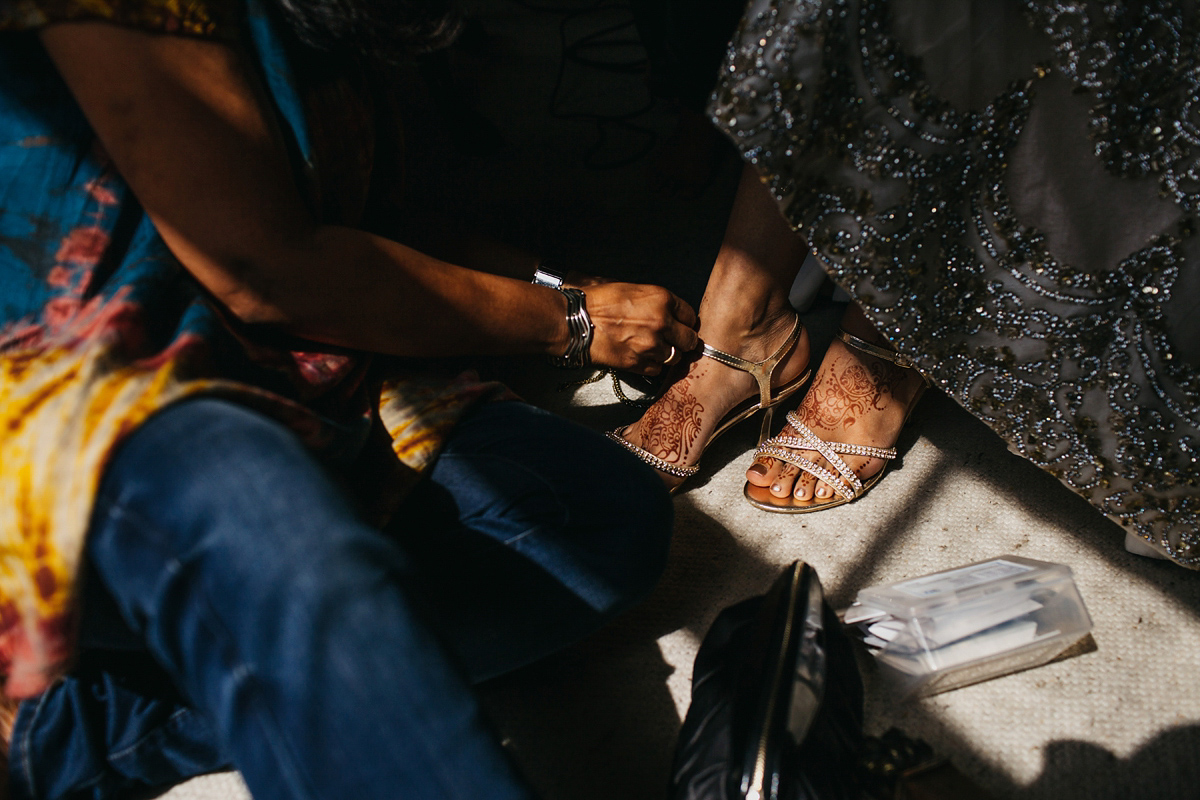 At many Hindu weddings it's tradition for the bridal party to have a Mehndi party in the days before the ceremony, in which the bride's hands, and sometimes feet, are meticulously decorated with intricate henna designs; a process which can take up to six hours *gulp.*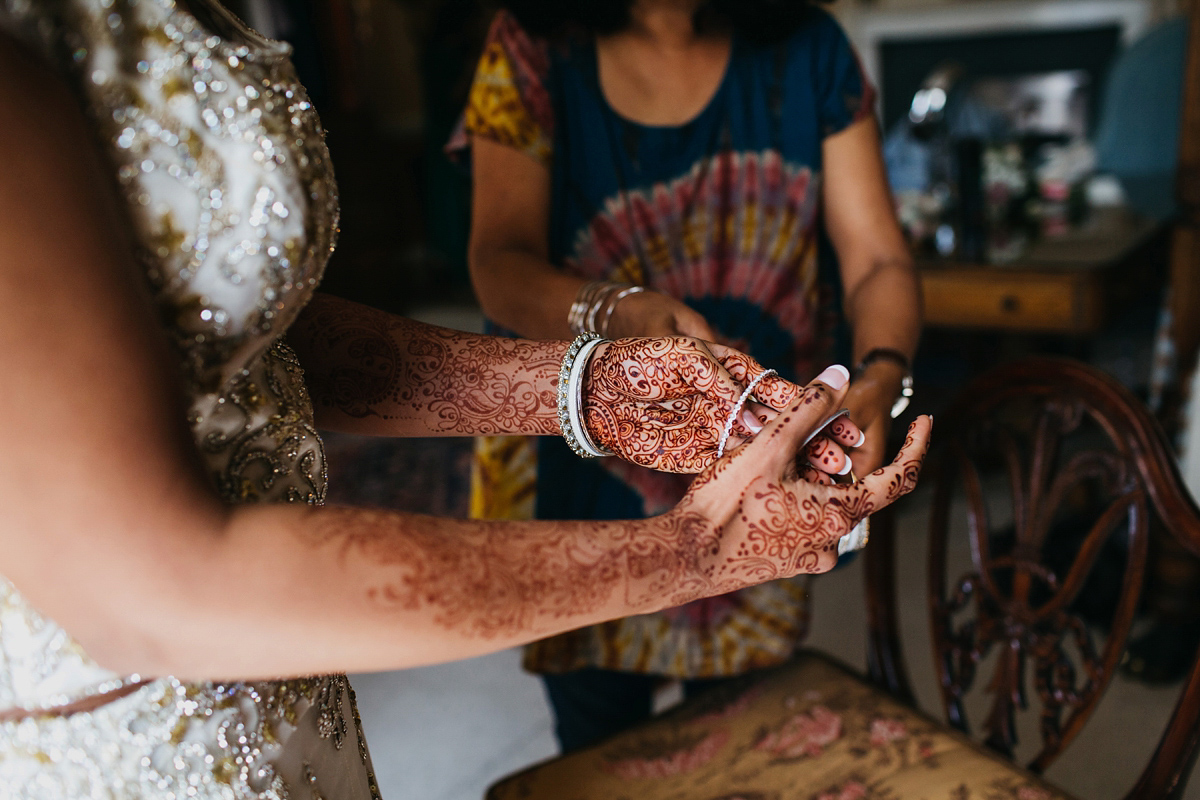 All this sitting still has it's benefits however – the bride's friends, sometimes also adorned with slightly less complex henna patterns, often bring her treats and entertain her with dancing or singing. I'm actually cracking up a little imaging my maid of honour bestie's inevitable Morrissey tribute were she in this honoured position!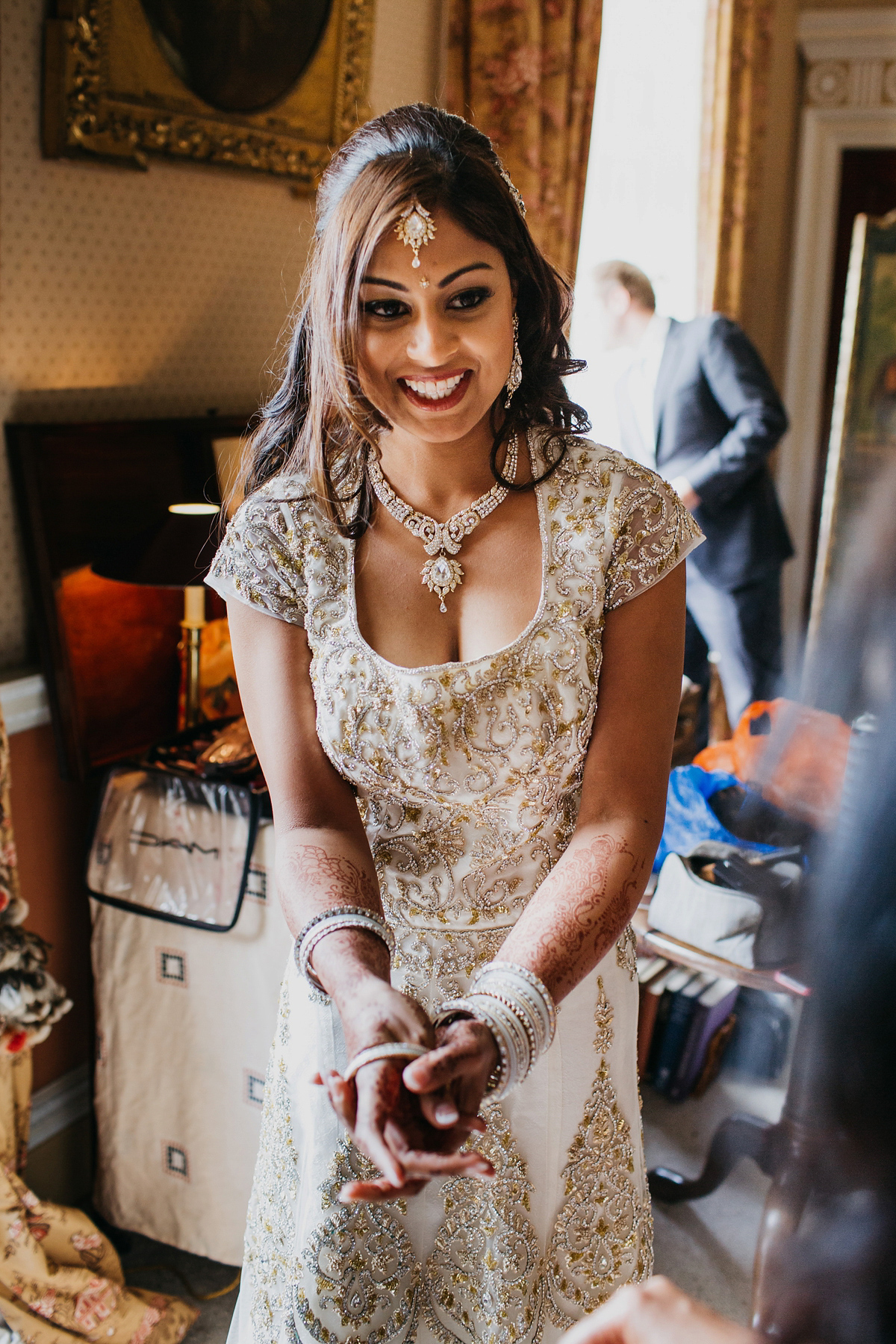 Mehndi is a tradition dating back thousands of years to ancient cultures where the bride would be entrusted with the secrets to a joy-filled marriage by all her closest female friends and family; the symbolism of this time-honoured act is incredibly poignant.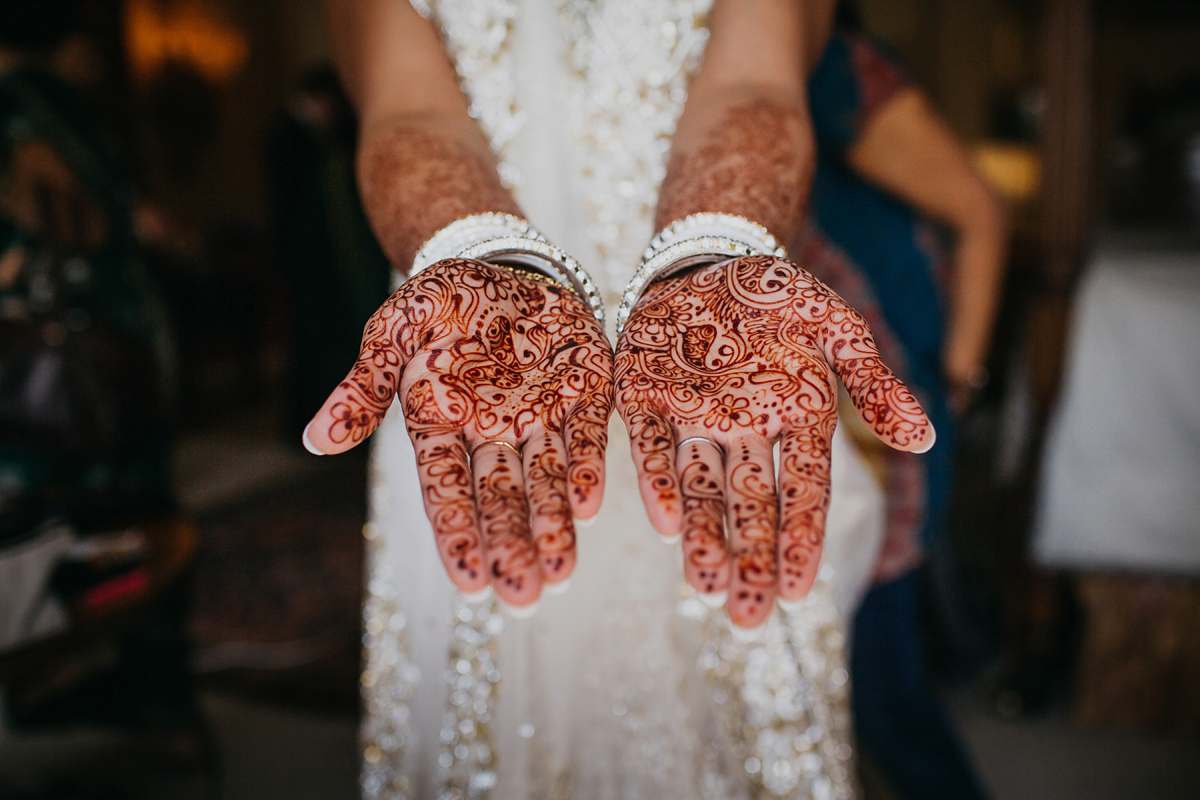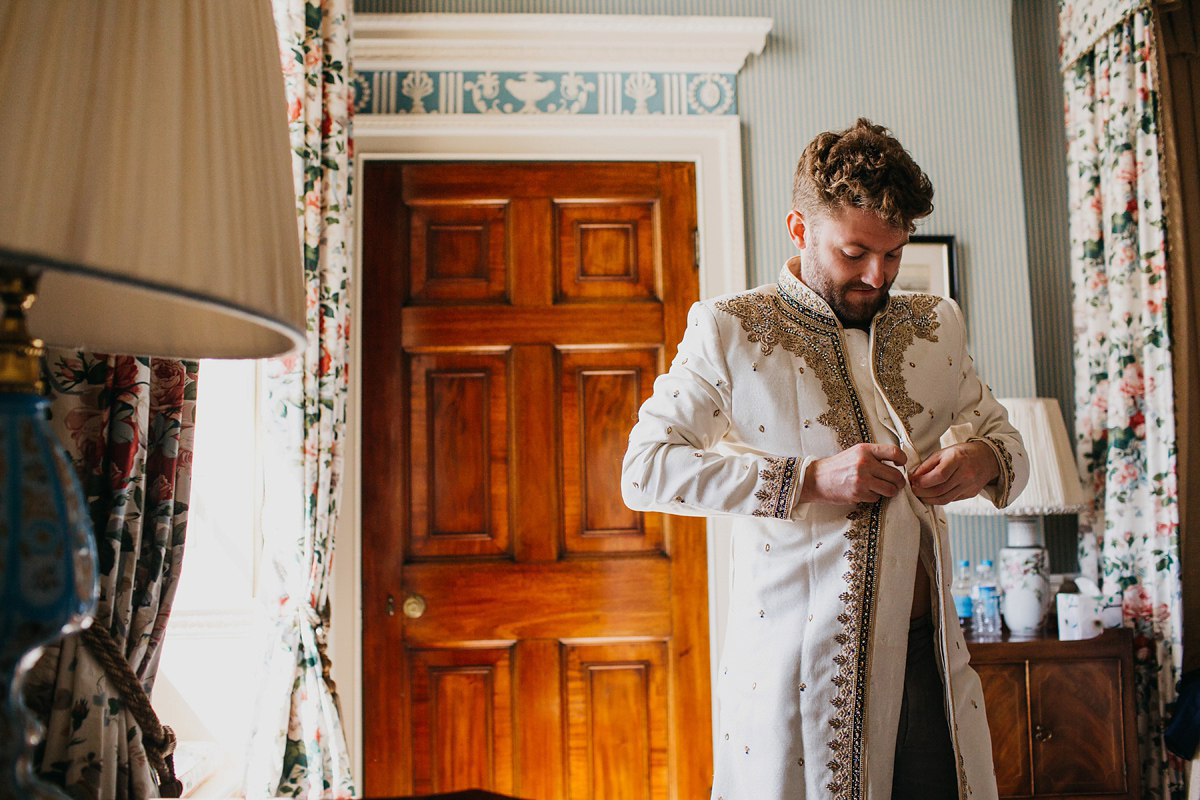 Meera and William chose to have their Indian celebrations in the beautiful gardens of Newby Hall, a gorgeous outdoor space created in the 1920's. It's such a joy to see the English guests embracing Meera's culture in a vibrant array of traditional Indian dress and William himself looks positively regal in his white and gold ensemble, sweetly mirroring his beautiful bride.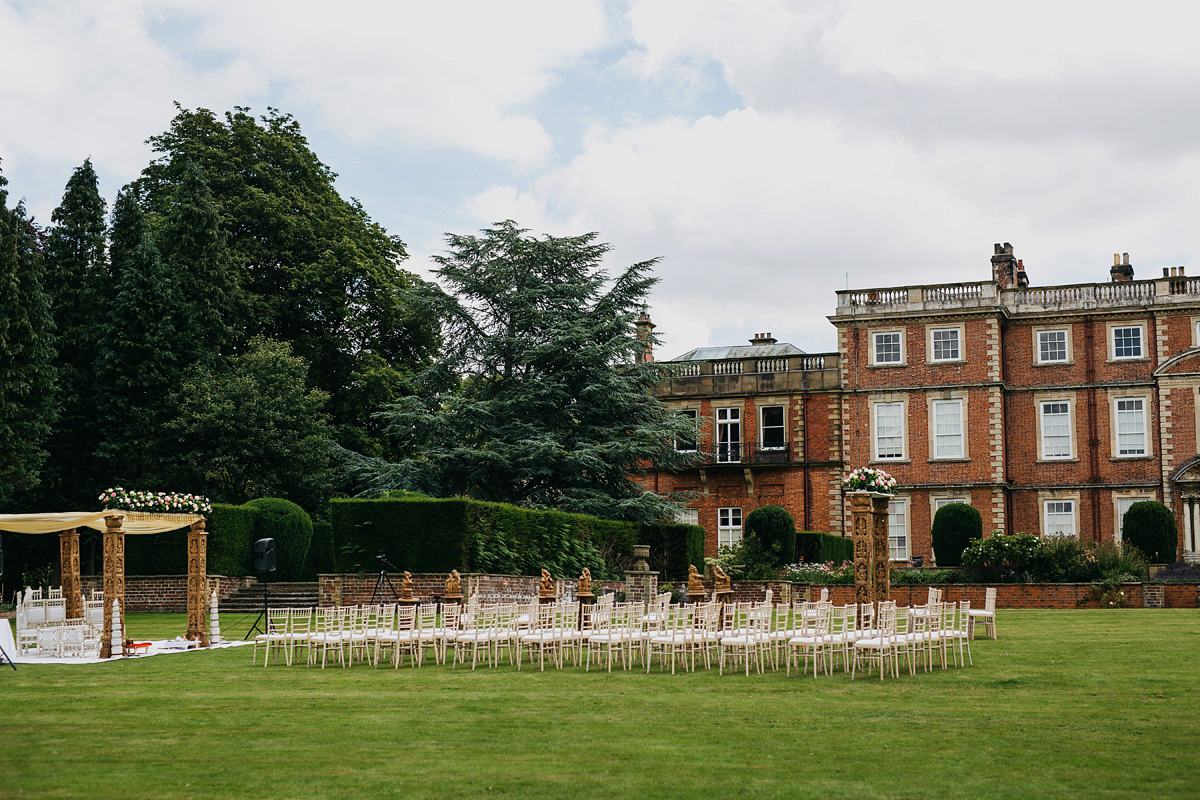 Guests danced their way down to the outdoor aisle before making way for the bride, beaming on the arm of her very proud looking father. This ceremony was Meera's favourite part of the day; the sunshine beaming down as if to bless her union with her new husband.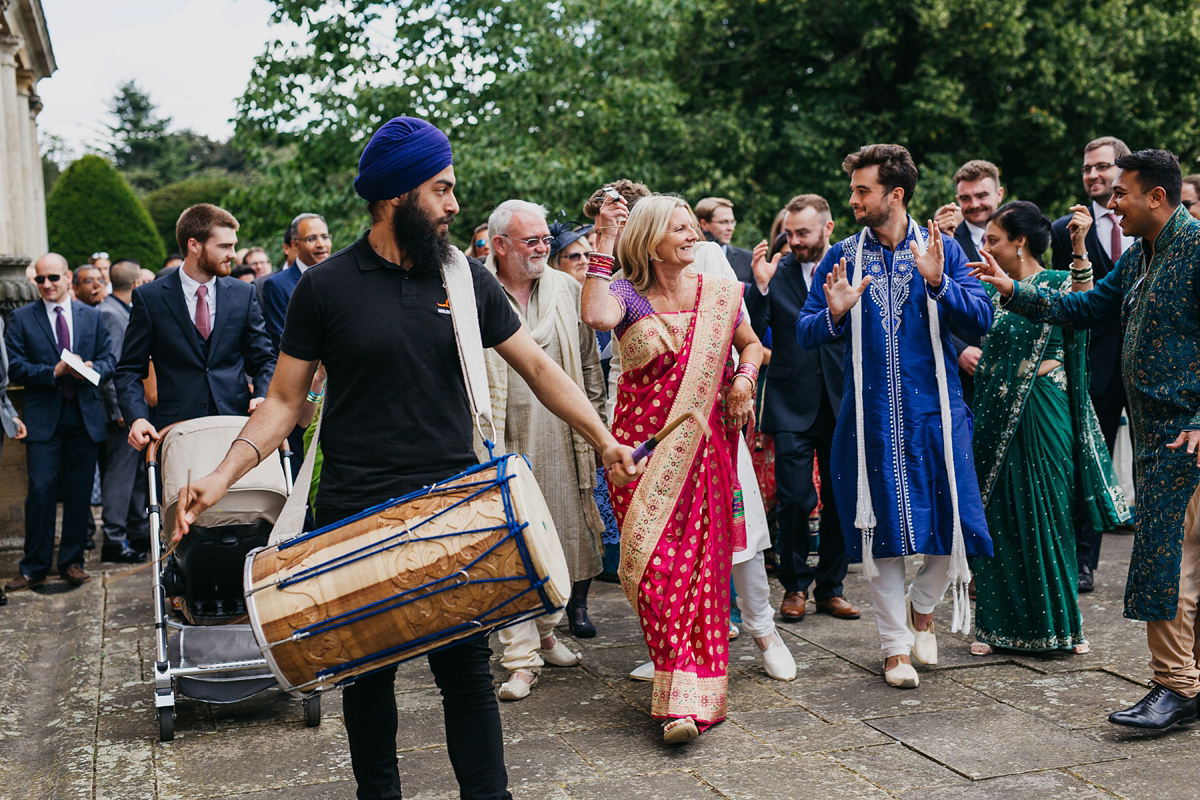 "We always wanted a summer wedding in the sunshine and our outdoor Indian ceremony on the west lawn was the part of our day I loved the best. It was very spiritual and calming on a busy day."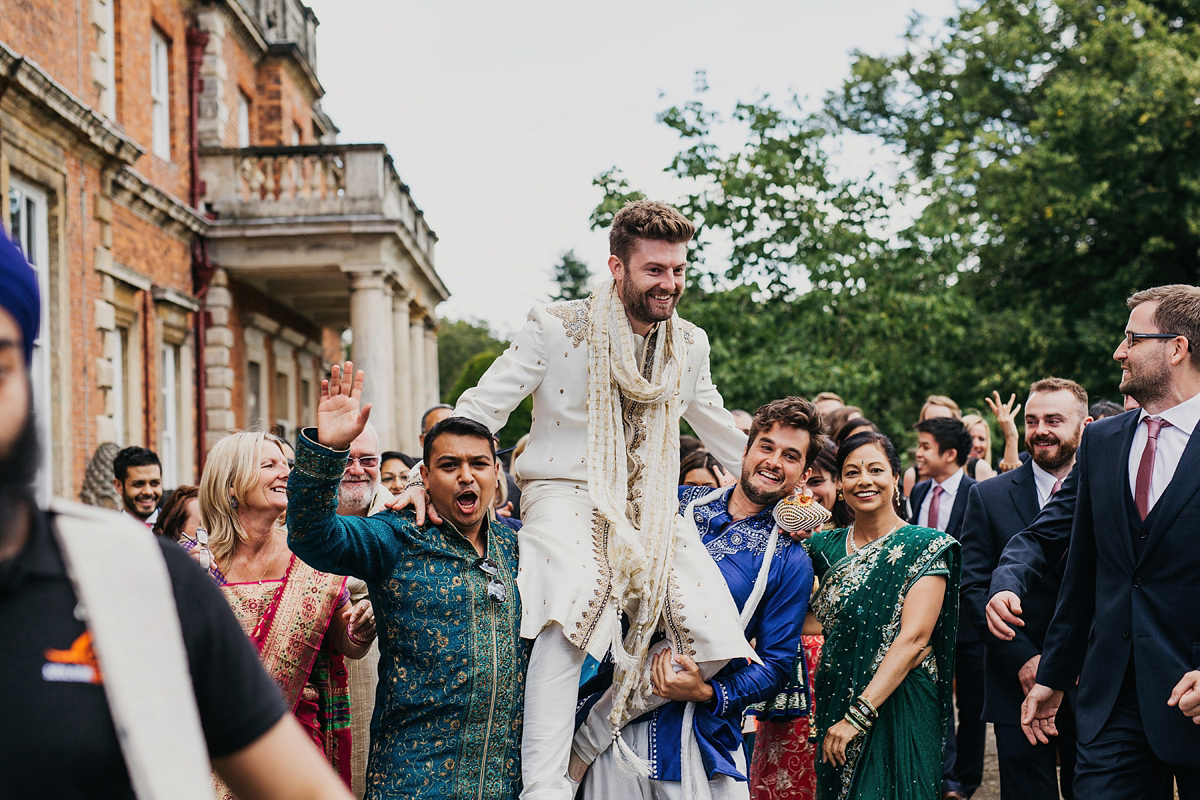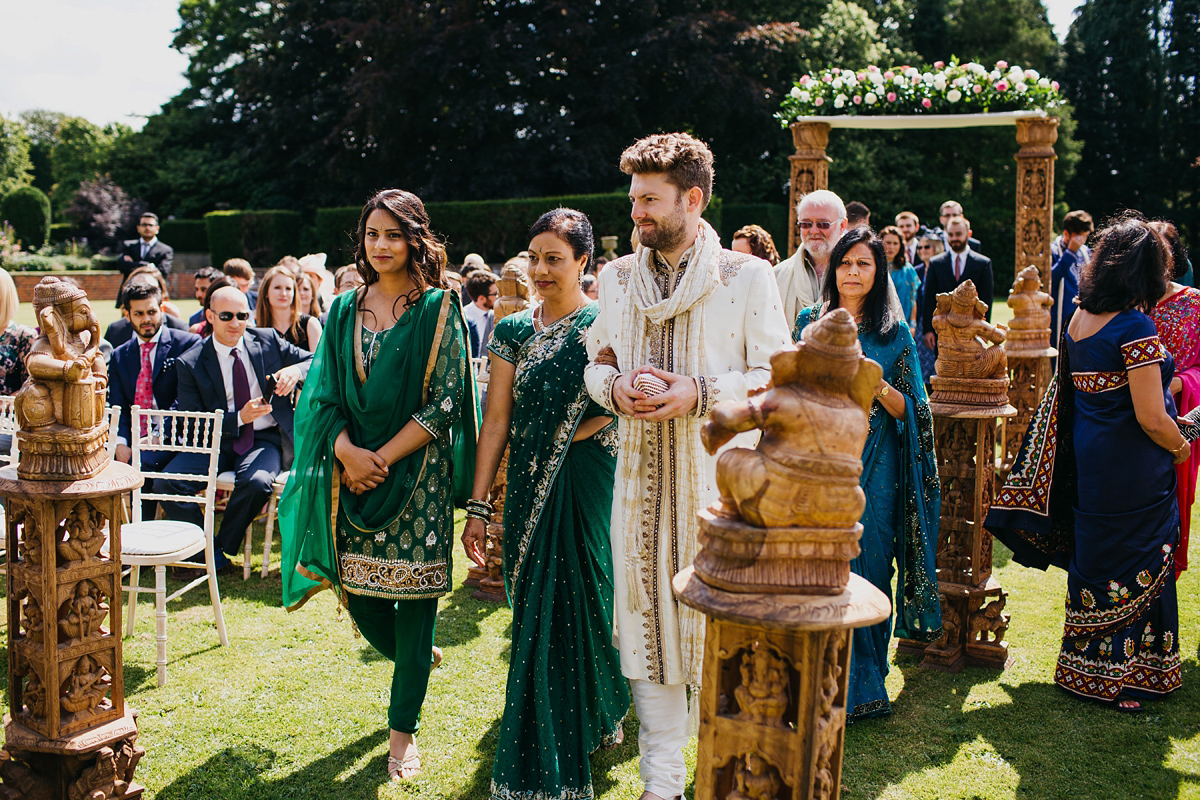 Meera and William turned to Yorkshire wedding photographer John Hope to capture every second of their joy-filled day. John aims to document the incredible defining moments in a couple's life together in a creative and unobtrusive manner and the off-guard imaged he's captured are some of my absolute favourites; William's beaming face as he's carried to the ceremony on the shoulders of his groom's party, the multitude of tender glances and intimate moments.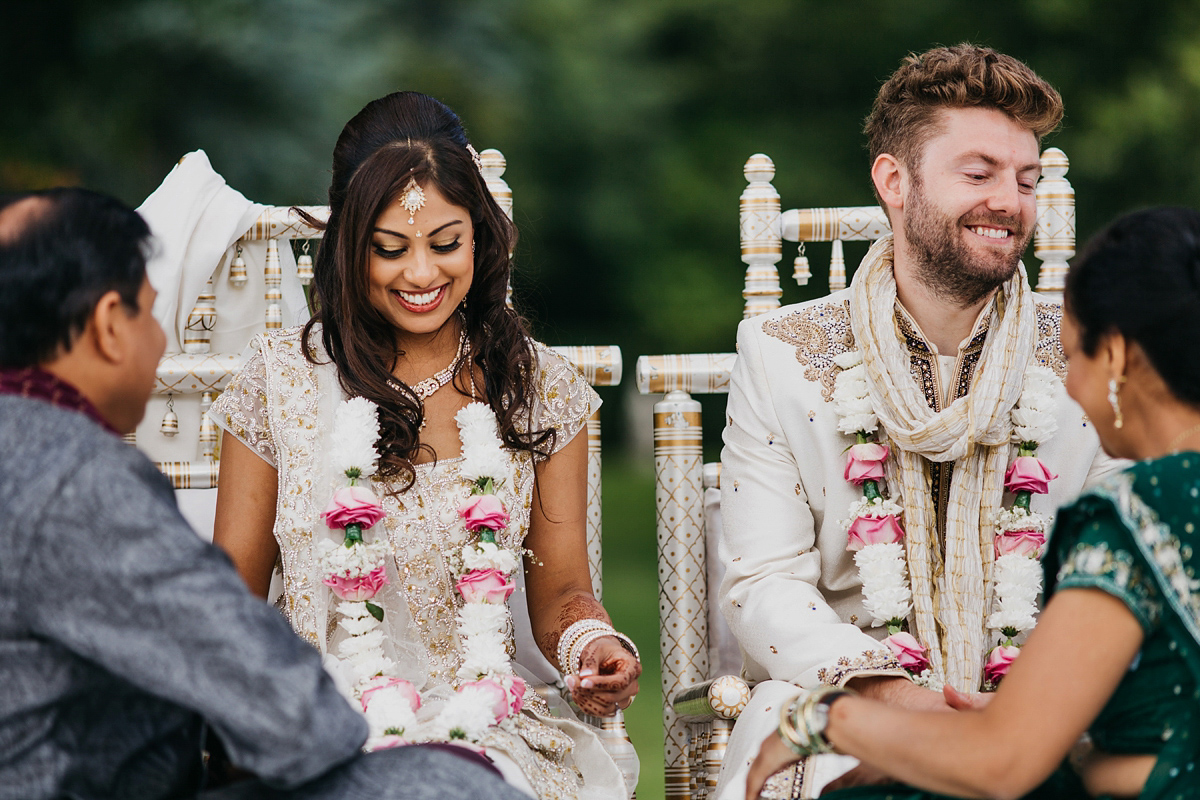 "William and I met at University and had been together eight years before our year long engagement. The proposal came on a warm summer's day at Hatfield House with an afternoon tea and champagne picnic made by my husband. He proposed by spelling out 'Will you marry me' using the letters from a word game we were playing and placing the engagement ring on the picnic blanket next to them. My mother-in-law made our engagement cake inspired by this picnic."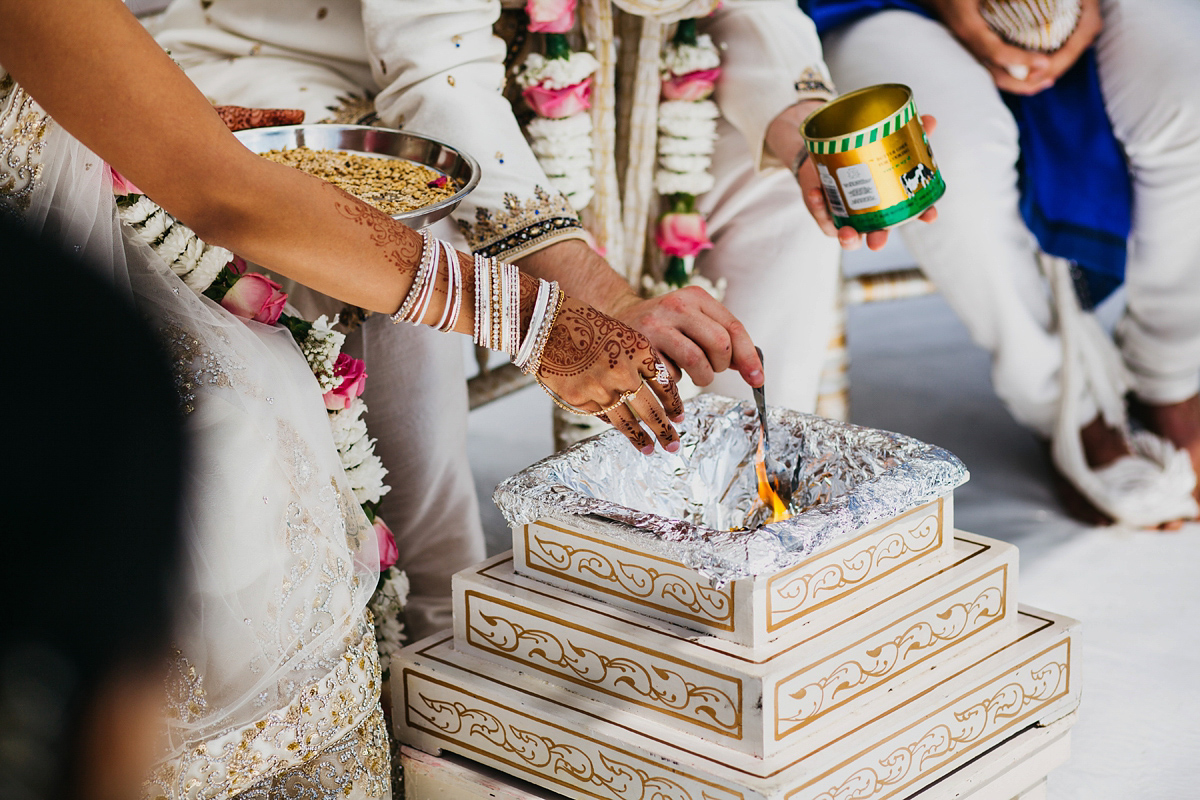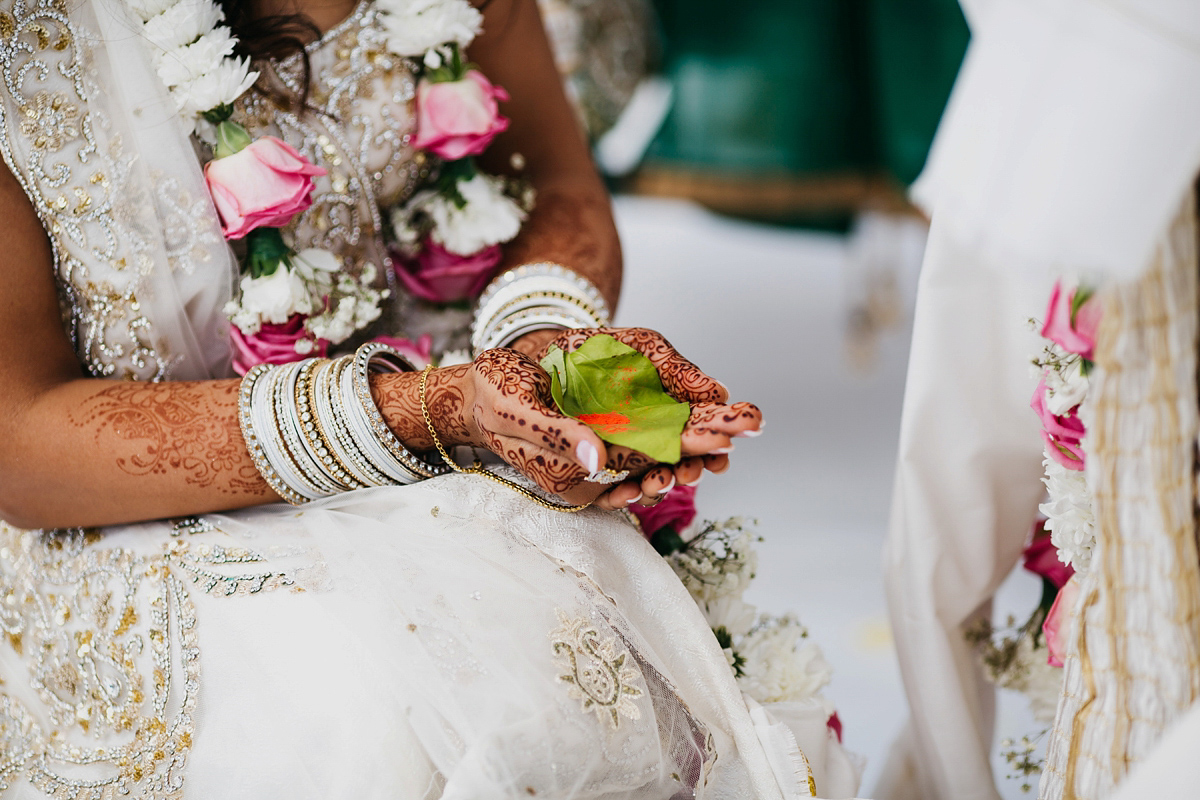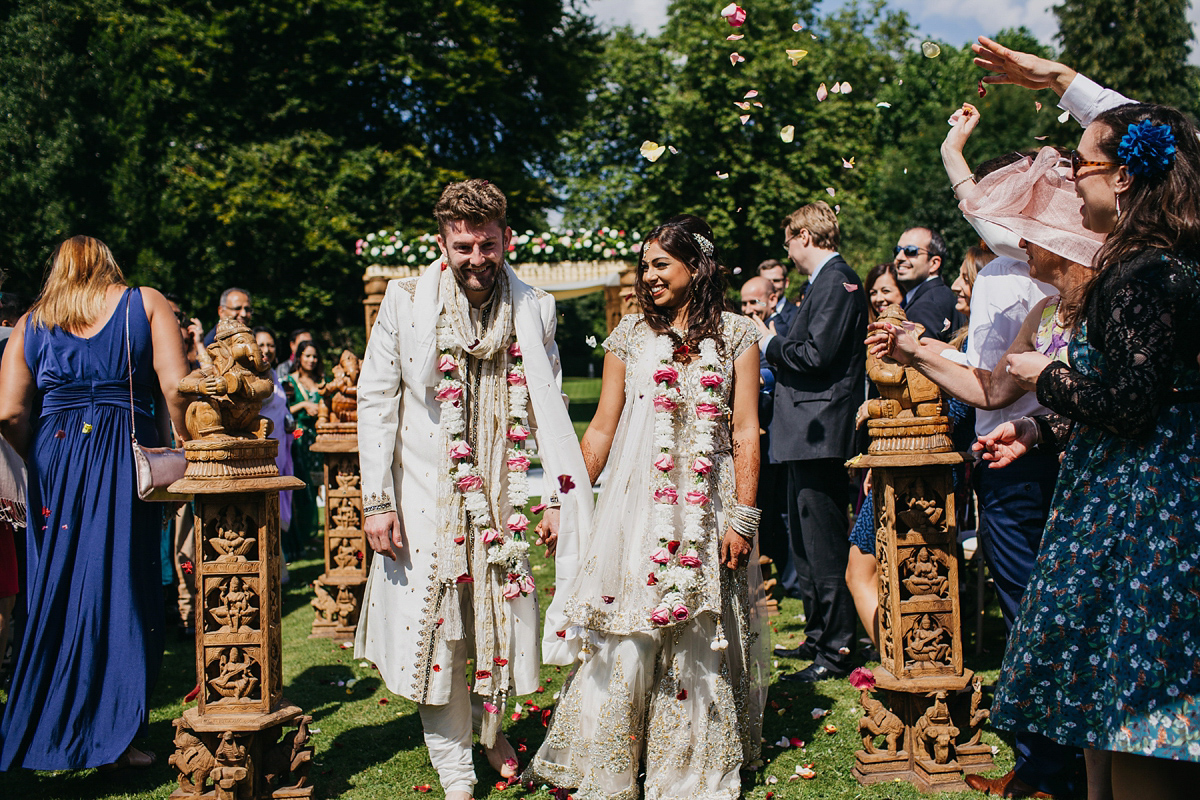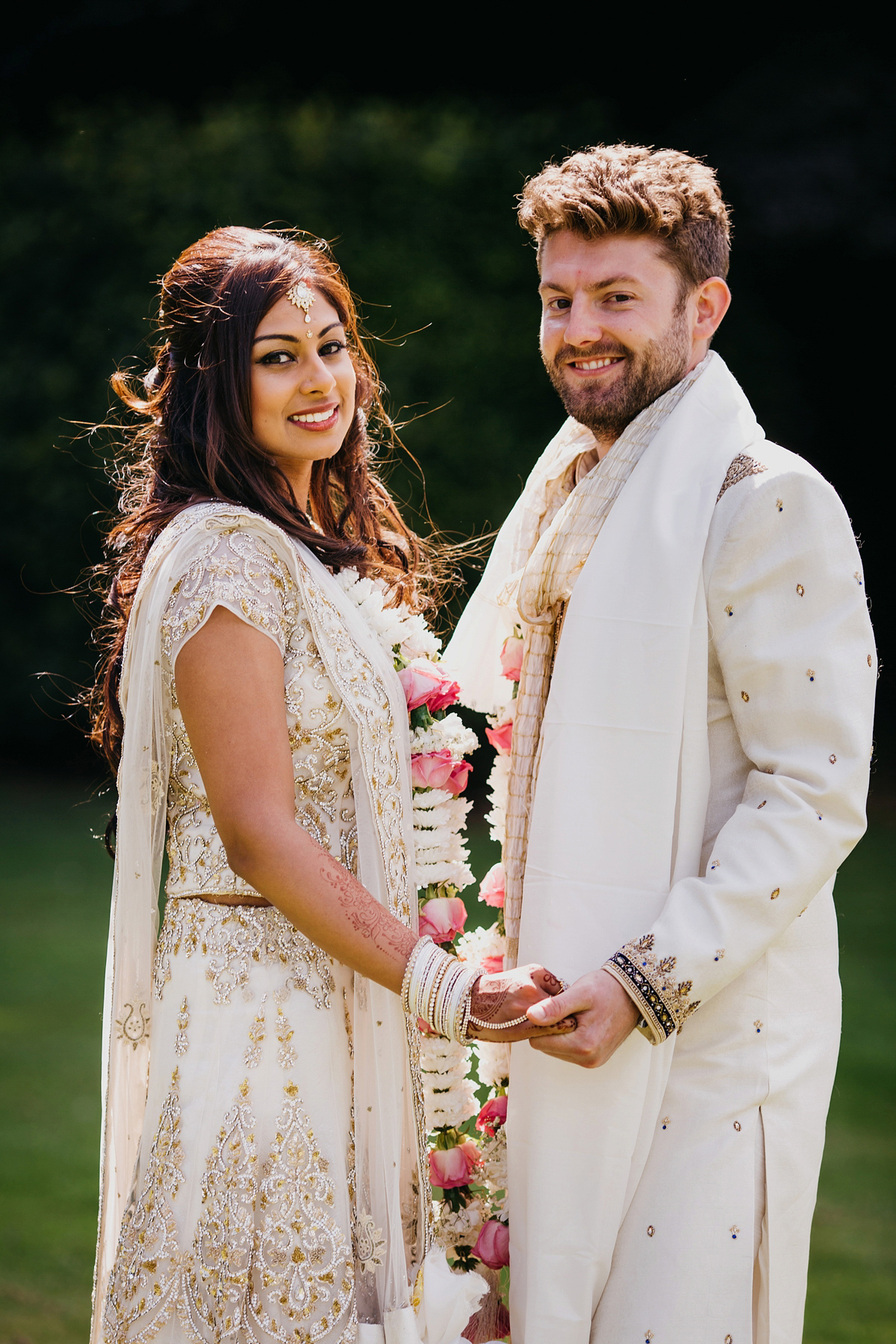 After the colourful joy of their Indian ceremony, Meera and William changed into their English ensembles in preparation for their elegant civil ceremony in the stunning house built in the 1690s by Sir Christopher Wren.
"My jewellery was borrowed from my sister who wore the same pieces at her wedding and my hair accessories were bought online from the US. My shoes were by Pink Paradox London and the wedding belt which was added to my dress by an amazing tailor at Angelica Bridal, along with my hair accessories, was my best budget buy."
The stunning lace scallop-edge train of Meera's gown with it's striking low back is offset beautifully by her romantic pastel-soft bouquet, crafted by Natasha Coustol Floral Designs. I love the freshness of the greenery alongside the full pink and lilac blooms and delicate wax flowers.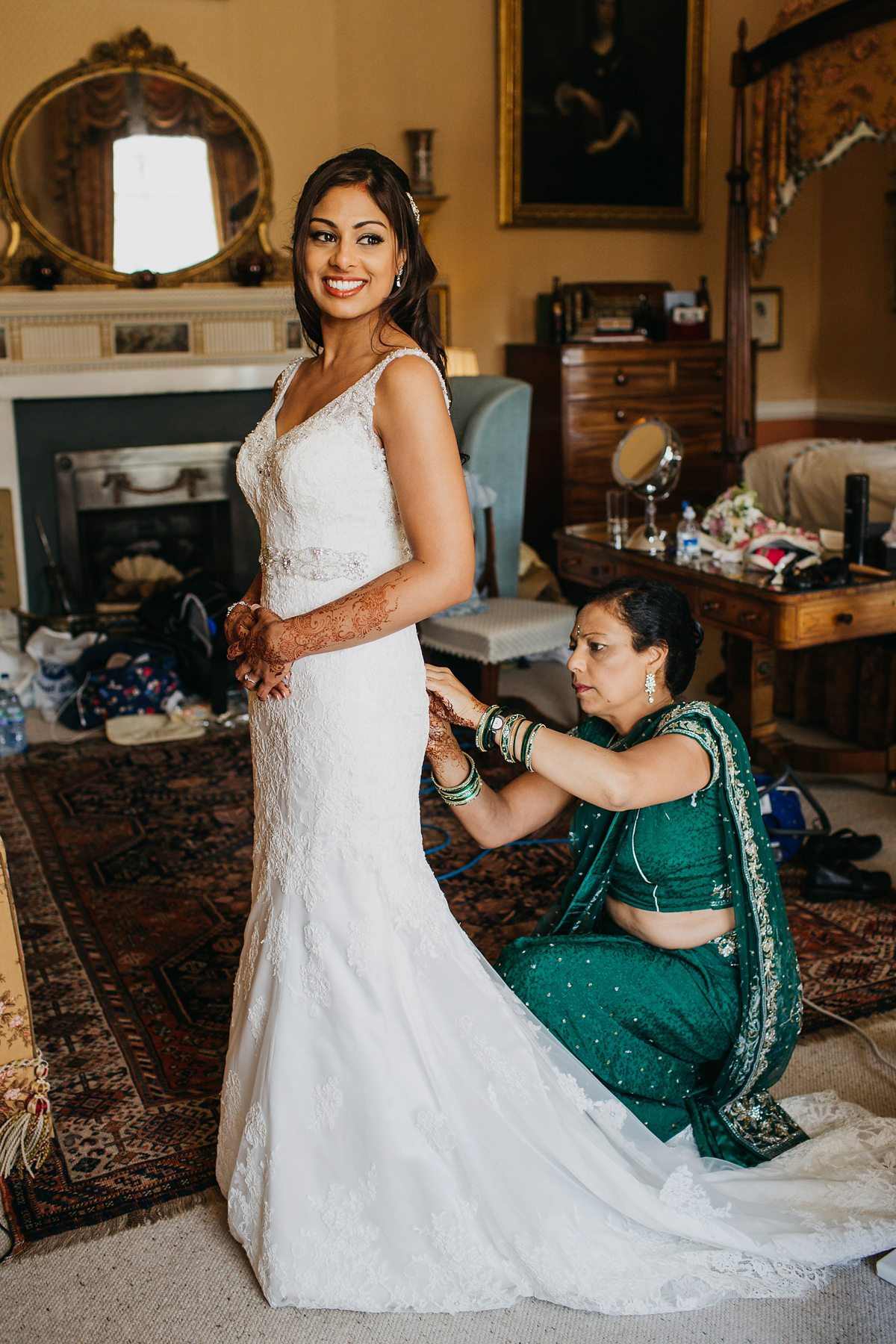 William donned a Ted Baker suit while his groomsmen wore John Lewis and Next. Meera was accompanied by her two sweet nieces as her flower girls as well as her sister as her maid of honour, all looking fabulous in their individual outfits.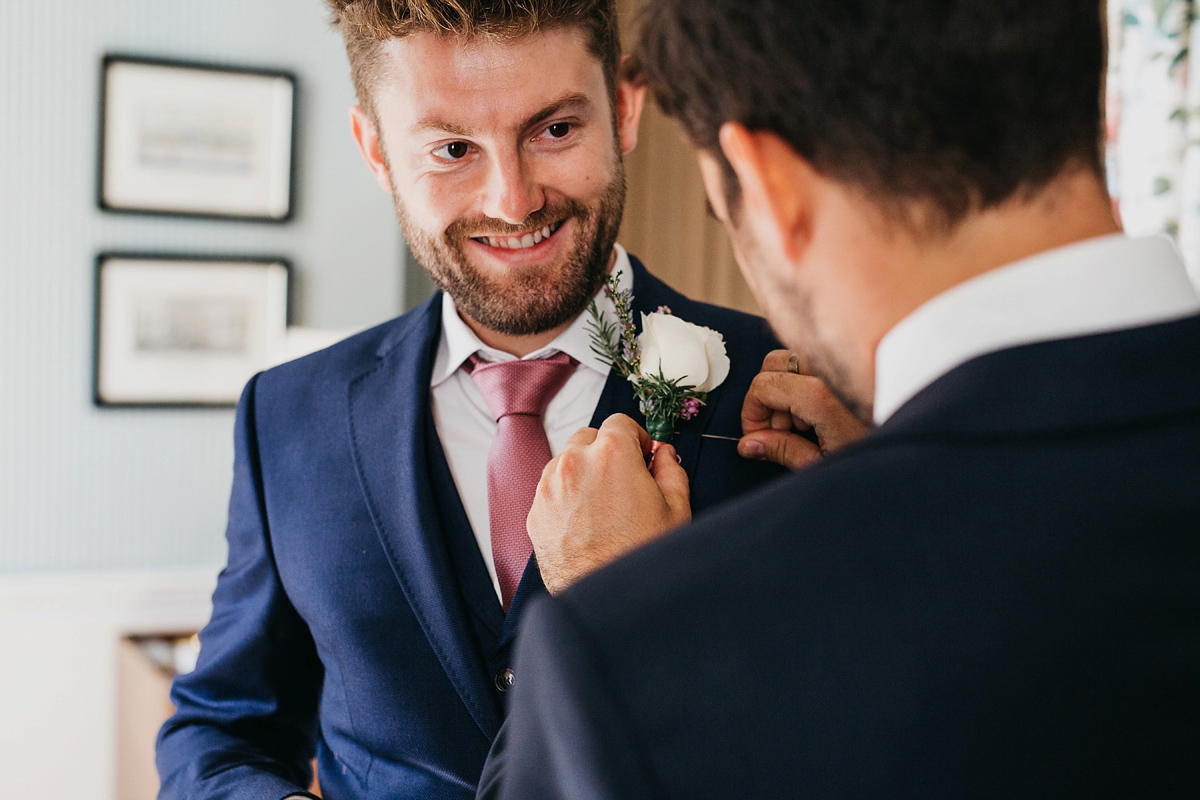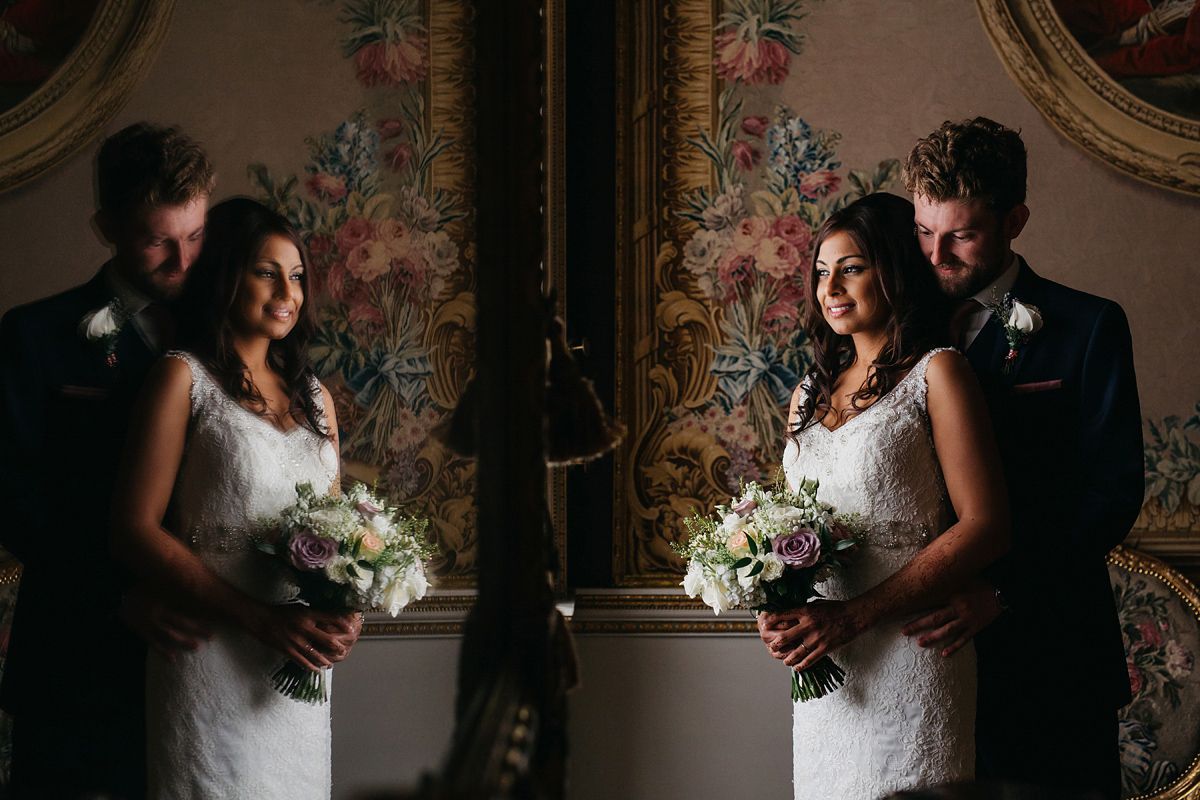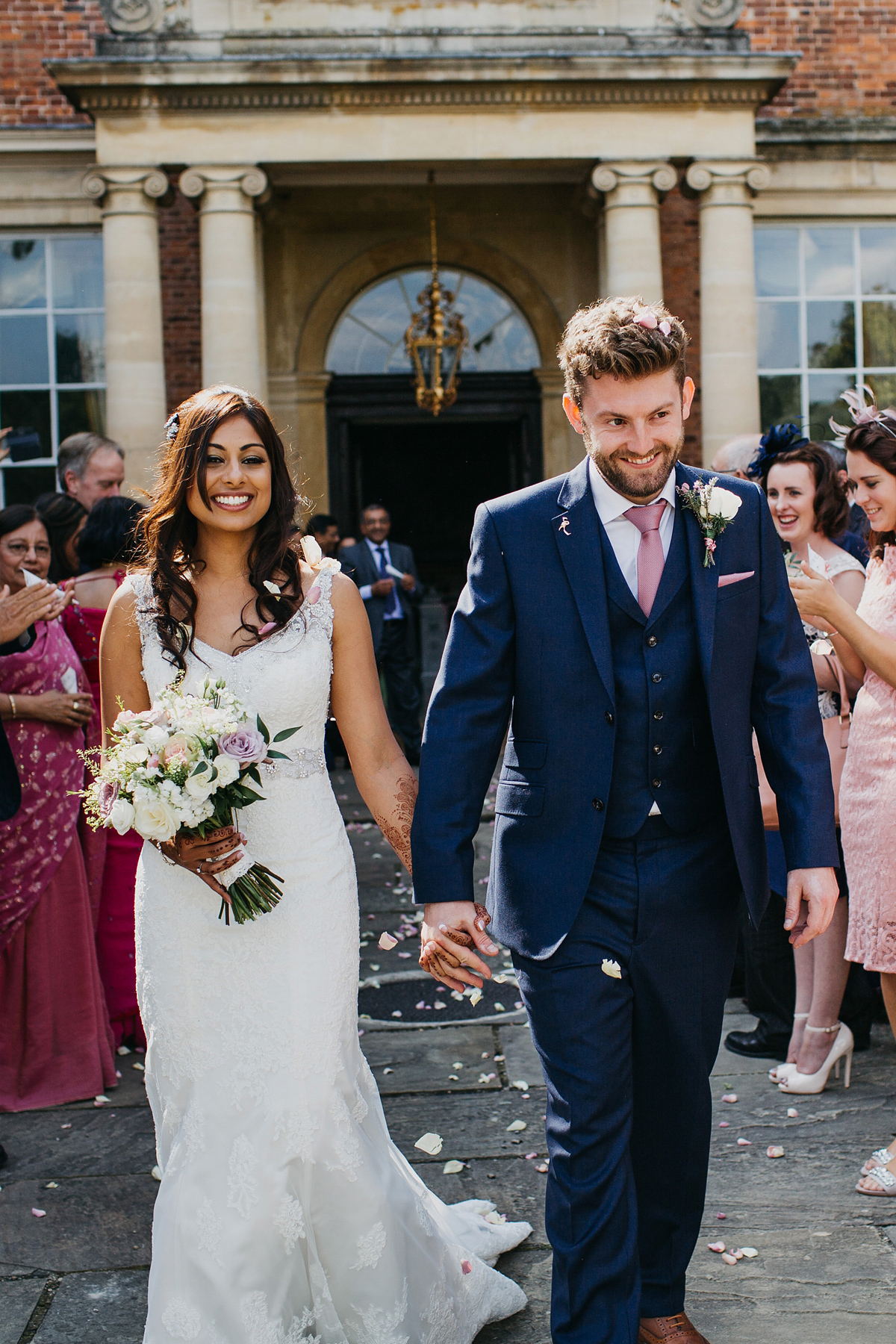 After their civil ceremony, Mr and Mrs Beattie and their guests headed back into the gardens to enjoy lawn games and the soft serenade of the Ariana String Quartet before drifting over to their elegantly decorated marquee reception. The soft candlelight and twinkling fairy lights beautifully set off some of the sweet handmade touches that the couple created together.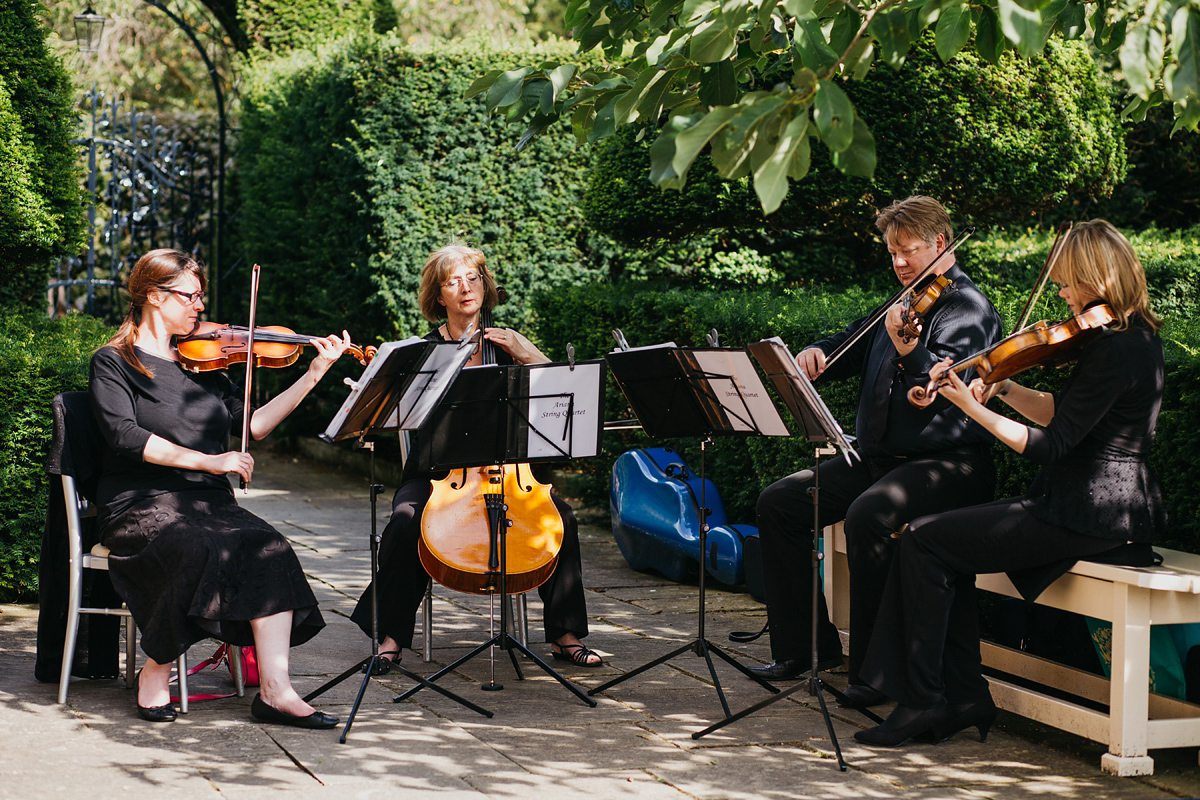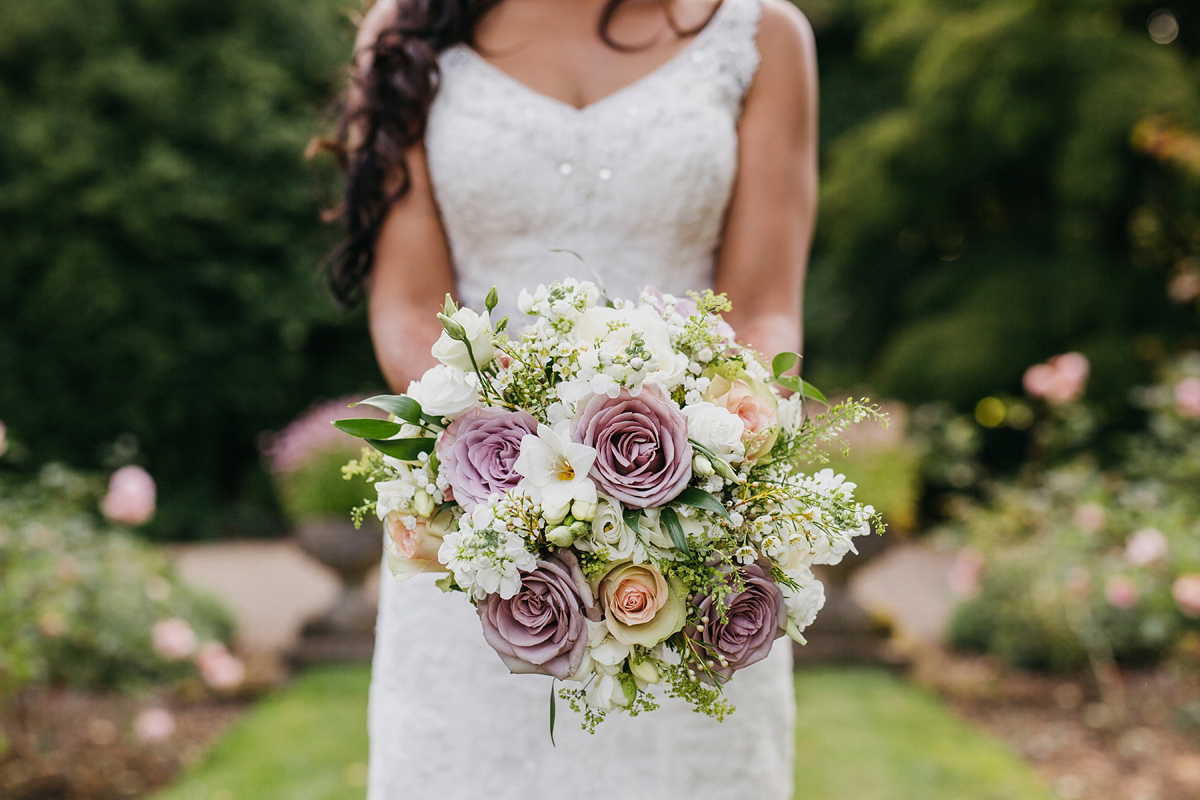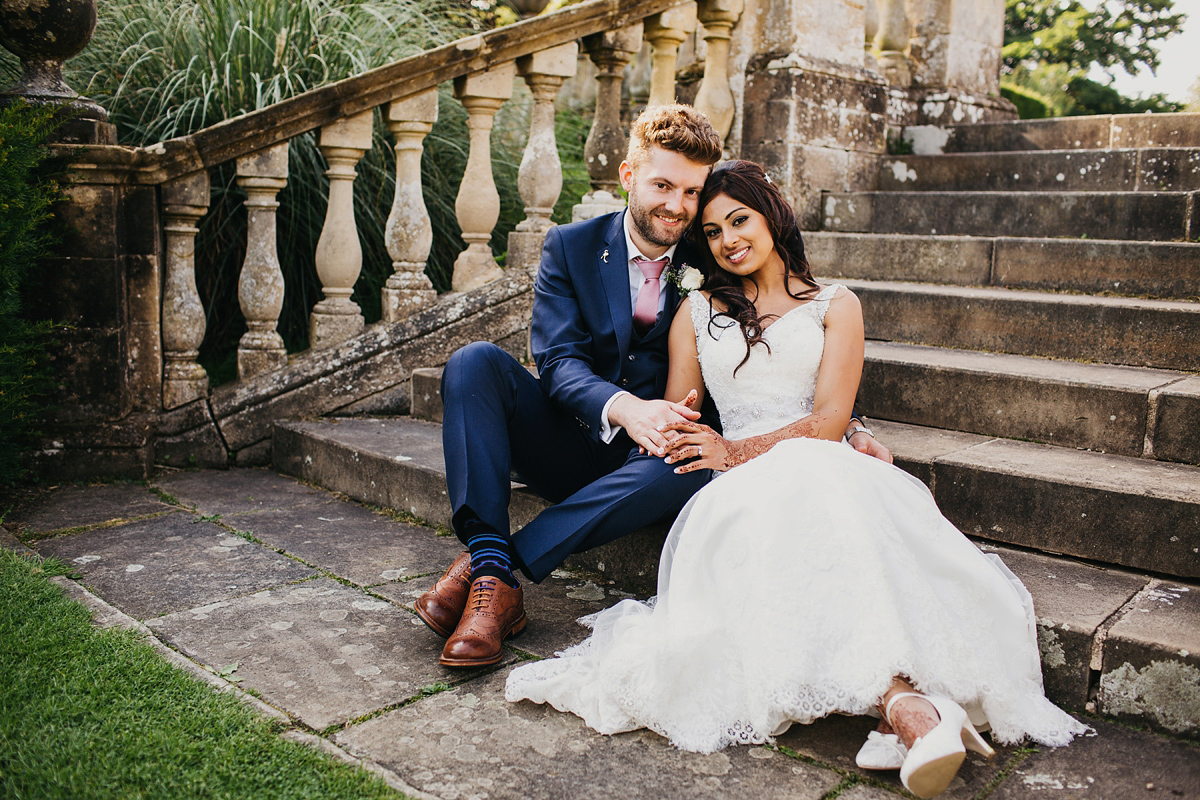 "The table decorations and favours we handmade ourselves and our table names were fantasy lands from our favourite books. Our guests left their messages on a vintage typewriter and we dried our own rose petals for the Indian ceremony confetti and made our own paper cones for the English ceremony confetti."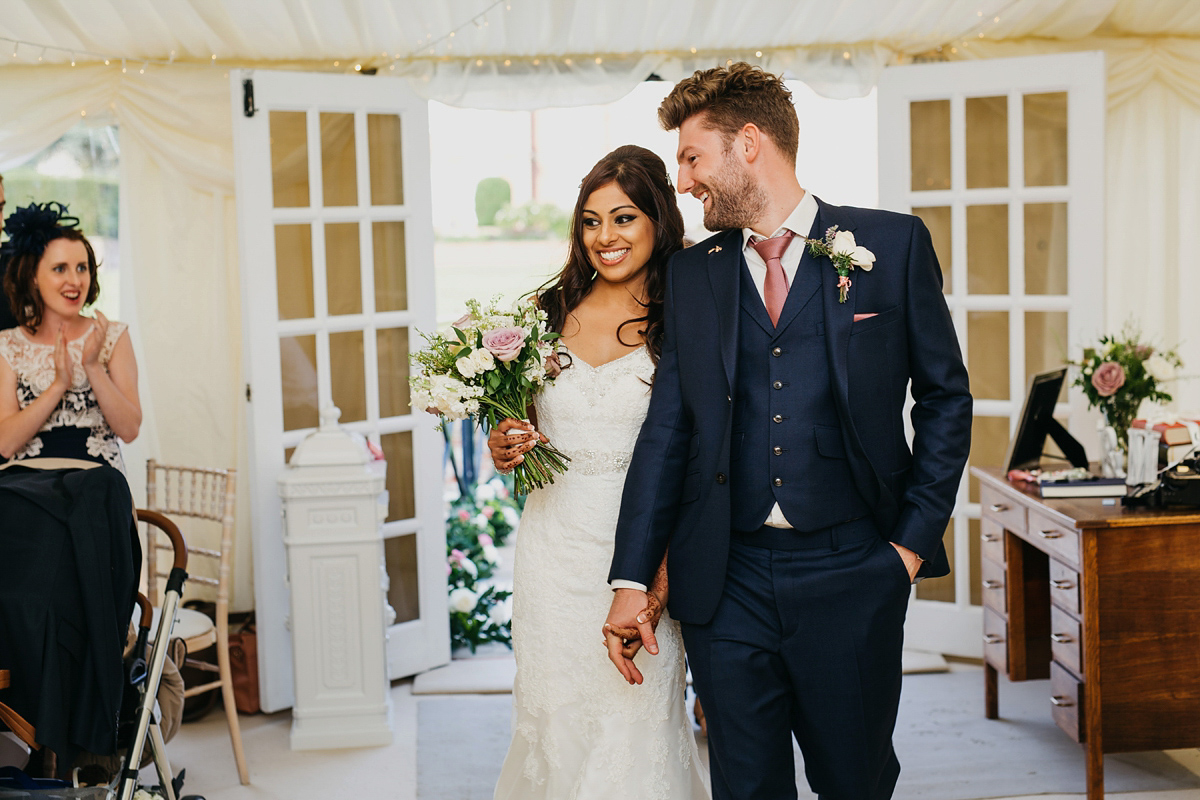 Meera and William's scrumptious looking cake was by Marks & Spencer and bedecked with pretty pastel blooms supplied by their florist. Don't these guests really look like they're getting into the party spirit? SoulAsia Roadshow certainly got everybody dancing, I just wonder if they ever stopped! The shot of Meera and William on the dance floor, beaming from ear to ear as they're showered in colourful paper confetti just about sums up the joy-filled vibe of this gorgeous fusion of styles and culture for me.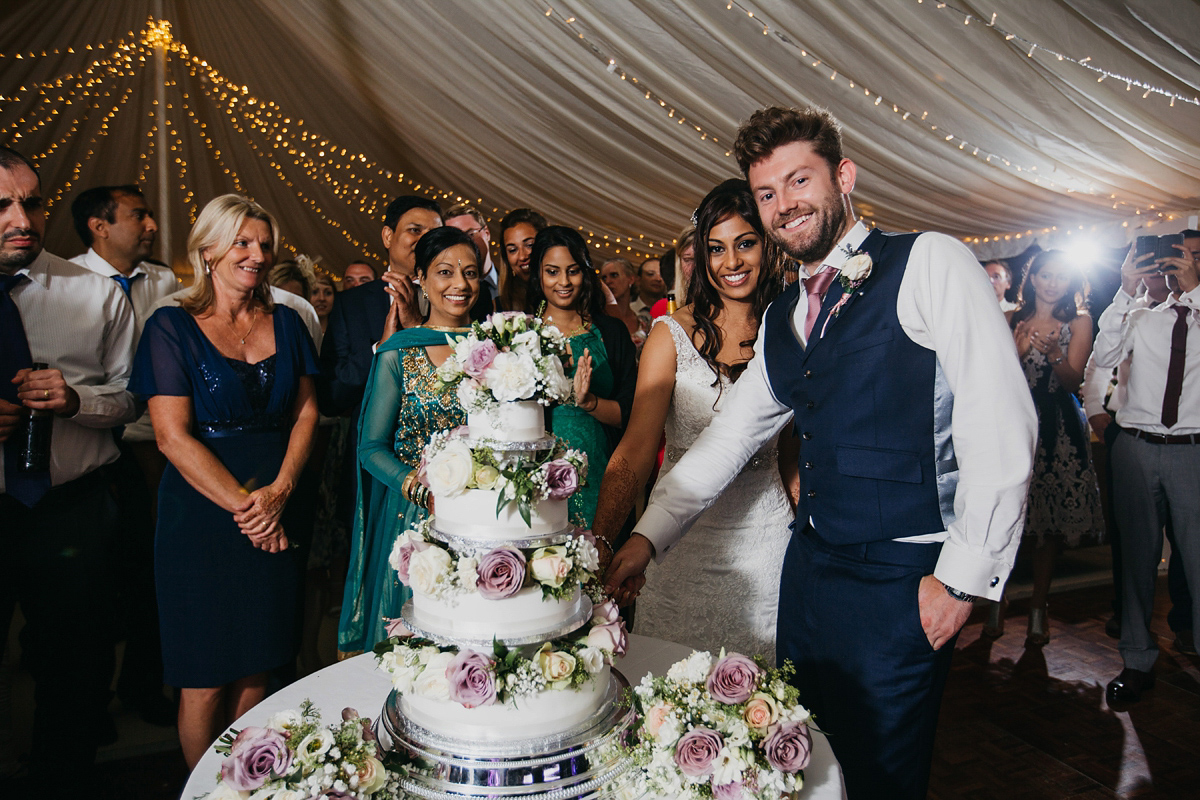 "We handpicked all of our favourite music to play during the day and all of the wedding stationery was handmade by ourselves. The experience was stressful but well worth it in the end as it meant our wedding day felt personal and unique to us."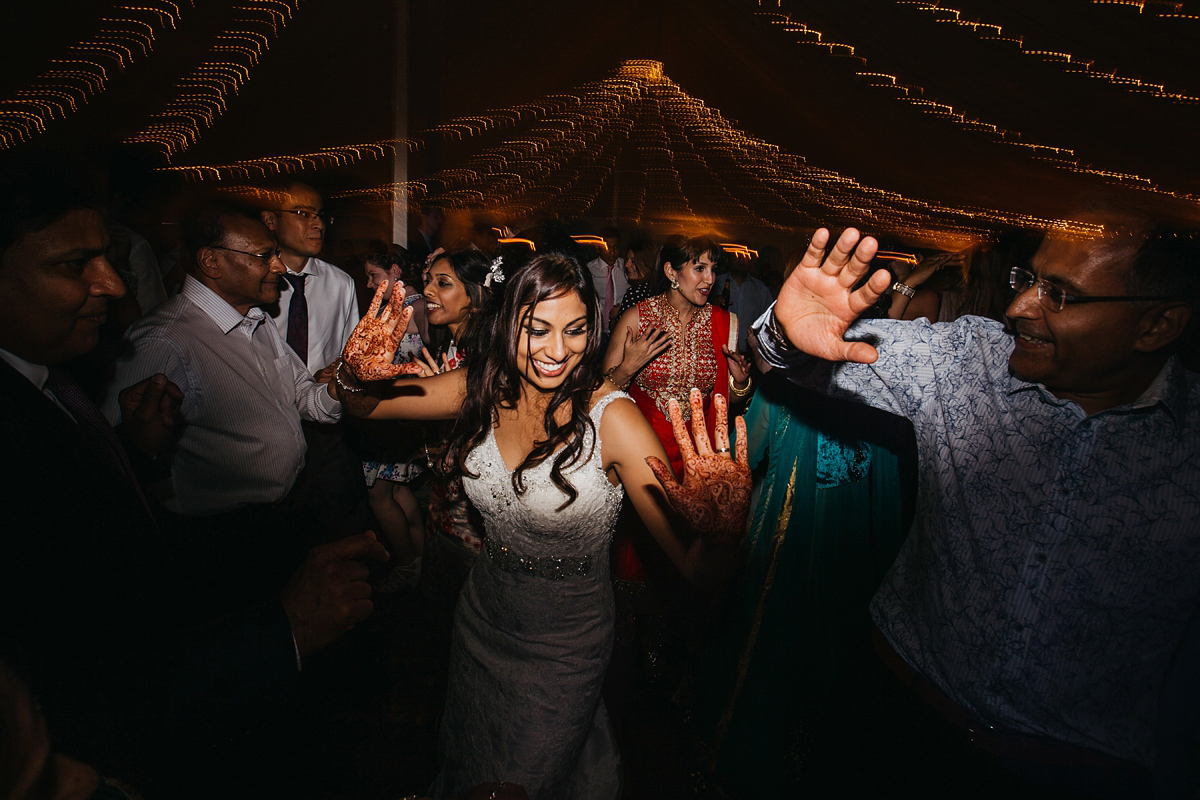 Words of Wedded Wisdom
"I would have booked our wedding suppliers sooner as we didn't anticipate that they can book up even three years ahead. Stick to your budget, choose and source your suppliers yourself and make your own stationery and wedding favours if you have time. And don't overspend on a cake.
Remember to enjoy your day as it's easy to get caught up in all the planning and forget the true meaning of your wedding.
Don't worry if your fiancé isn't keen on wedding planning from the outset; he will become more interested as the big day approaches. Give him tasks that build on his strengths rather than things he may find mundane and don't worry about any hiccups on the day; no one will notice. We had an amazing, memorable day and want to say a thank you to everyone that helped us make it special, especially our mums!"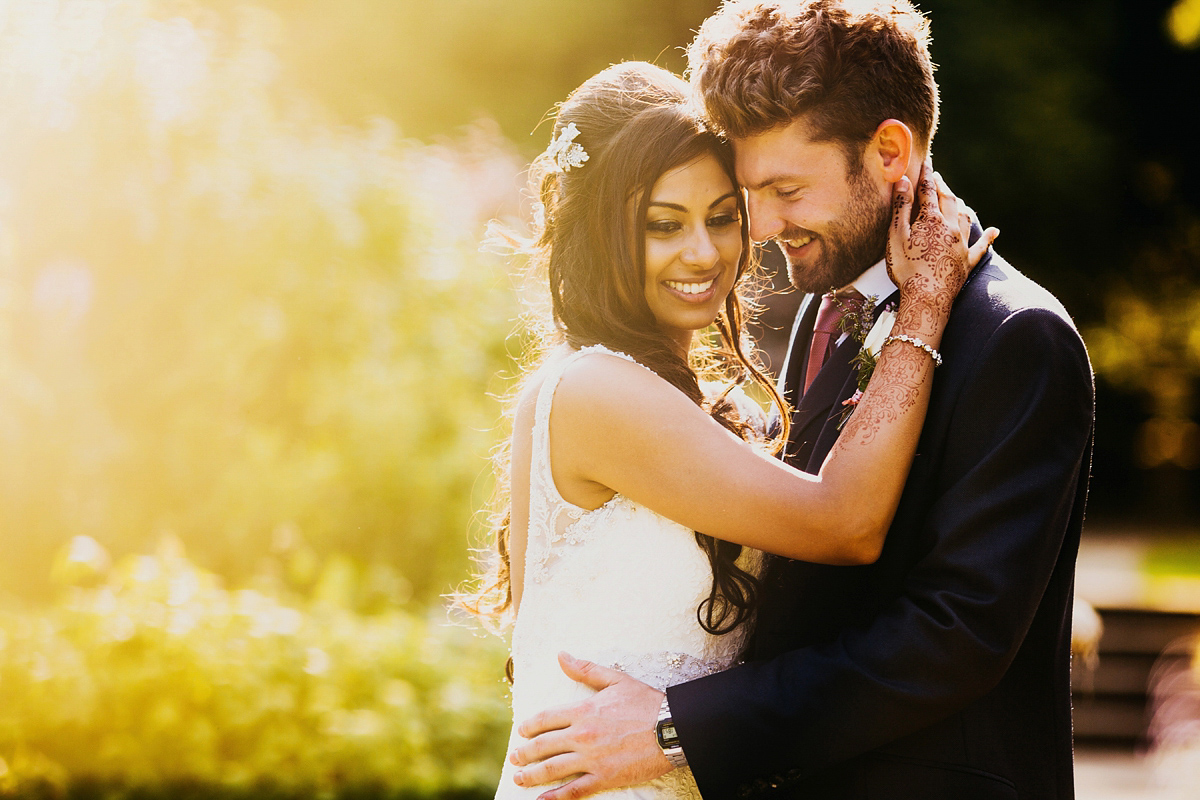 Thank you so much Meera for those wonderfully multifaceted words of advice, and a huge congratulations to you and William as you enter your second year of married life together. Of course our thanks also go to John Hope Photography for sharing these joy-filled images with us.
I'll be spending the next several hours browsing more beautiful Indian weddings in our archives and eating anything other than salmon – Norway, I love you but enough with the pickled fish already!
Love, Em x