Welcome to a new week and I hope that the next few days have all kinds of fantastic things in store for you. However, if today seems a little flat then I have the perfect antidote for you right here. All of us at Love My Dress are beyond thrilled to welcome Wild Rose, the 2017 bridal accessories collection from Debbie Carlisle, to these pages. So, without further ado, it's time to admire the beauty of Wild Rose.
Debbie Carlisle is, quite simply, fabulous and we really do love her. Not only is she an utterly wonderful person (her emails light up my inbox every single time) but she's also an incredibly talented designer. Her ethereal handmade hair accessories mix a vintage sensibility with a bohemian yet contemporary edge and I love them.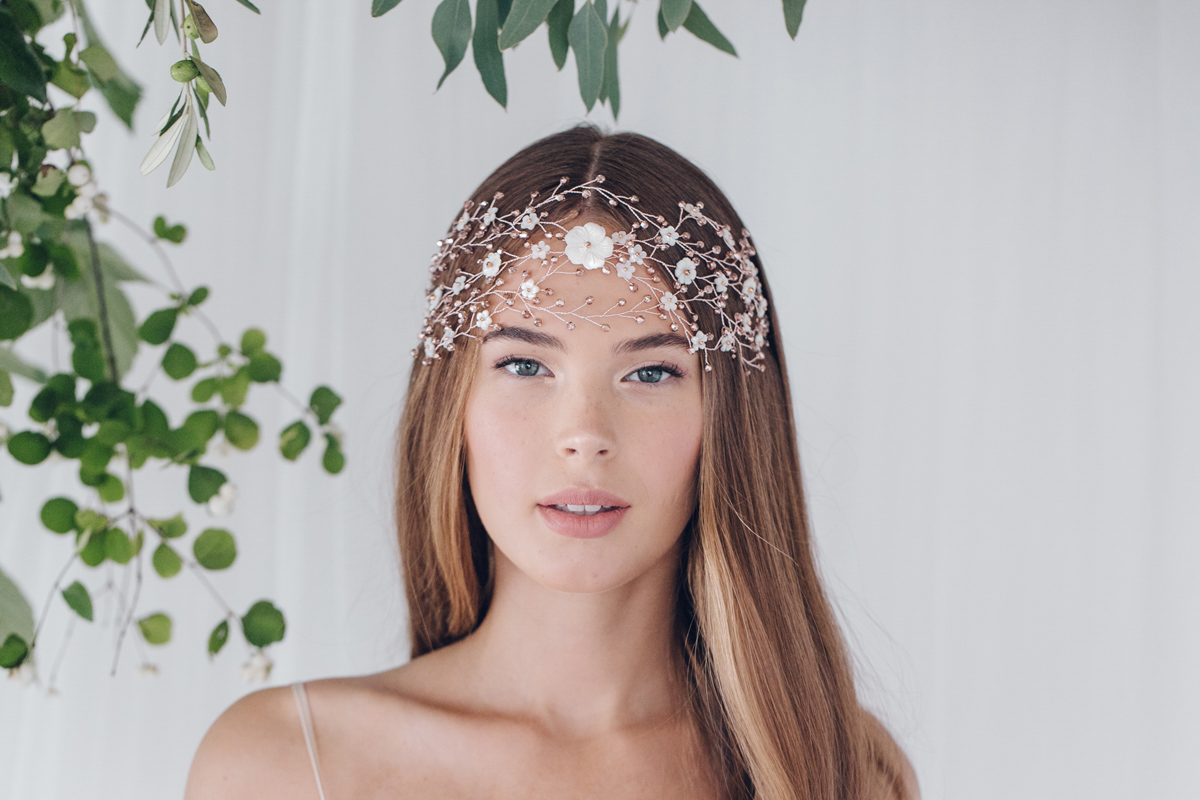 The 2017 collection, Wild Rose, is a gathering of shimmering and sparkling hair vines, combs and pins inspired by the delicate vines and flowers of the meadows and hedgerows of the English countryside.
Each piece has a delightful deconstructed, wild and natural feel and the best bit is that you can create your own look by mixing and matching accessories.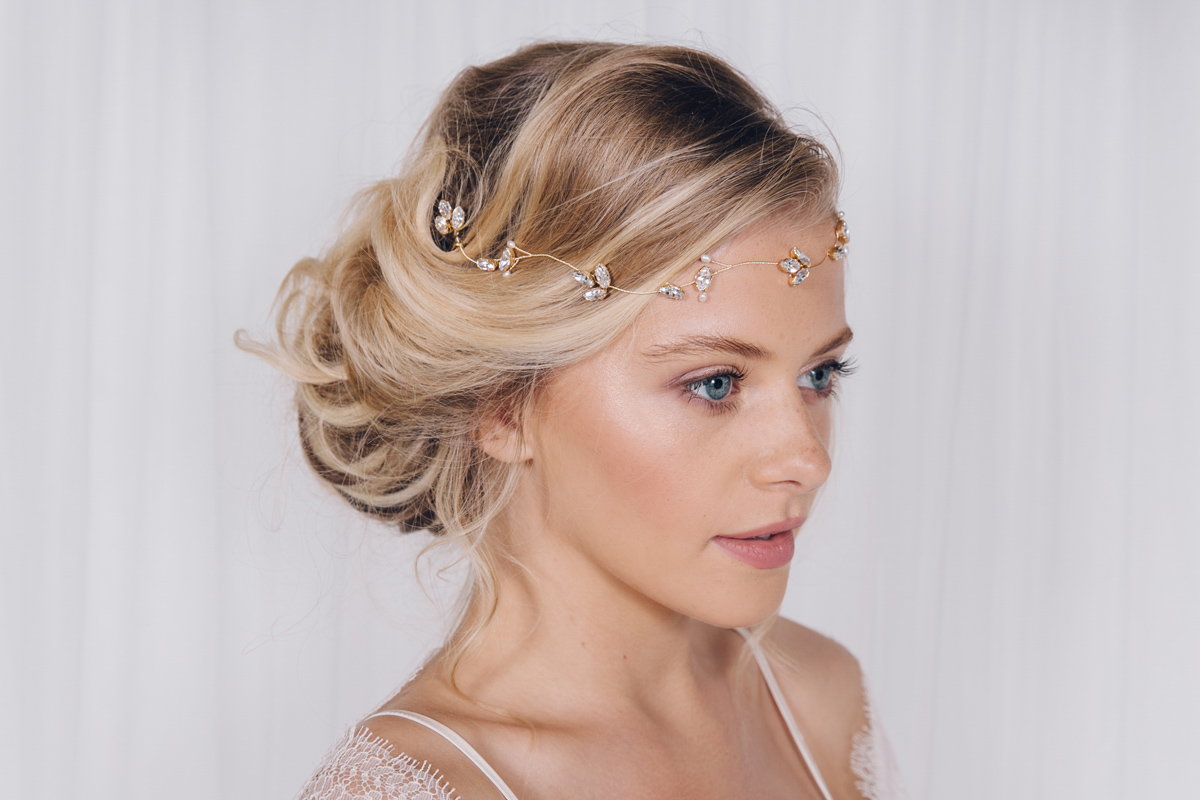 "I love mixing pieces together to create new looks and this is something that I've been doing more and more of during consultations at my studio or at bridal events so I really wanted to make this a focus of the new collection," explains Debbie. "The idea is that you can buy a single hair vine or set of hair pins which can all be worn in a variety of ways or you can mix hair vines together or add hair pins to coordinating vines to create your own unique headpiece."
The botanical-inspired designs are available in gold and silver and, my current fave, rose gold. In fact, Wild Rose was partly inspired by the fact that Debbie had found some gorgeous rose gold elements which allowed to her to create designs in this delightful colour for the first time.
You'll also find luxurious leaf-shaped Swarovski crystals, freshwater pearls and brilliant faceted crystals in Debbie's new designs, which are all wired together to create a variety of pieces that range from exquisite hair pins to statement headpieces and super sparkling hair vines and combs.
"I was really inspired by the intricate braids that I've been seeing on brides recently – and by the craft of macramé, which I have been dabbling in at home too! I used similar techniques in my hair vines to create some intricate designs that are worked into and around each other just like a living floral vine. The most obvious example of this is my Katya hair vine, which is a real labour of love and definitely my most intricate piece yet! It uses a total of 12 metres of wire, hundreds of crystals and beautifully carved mother of pearl flowers."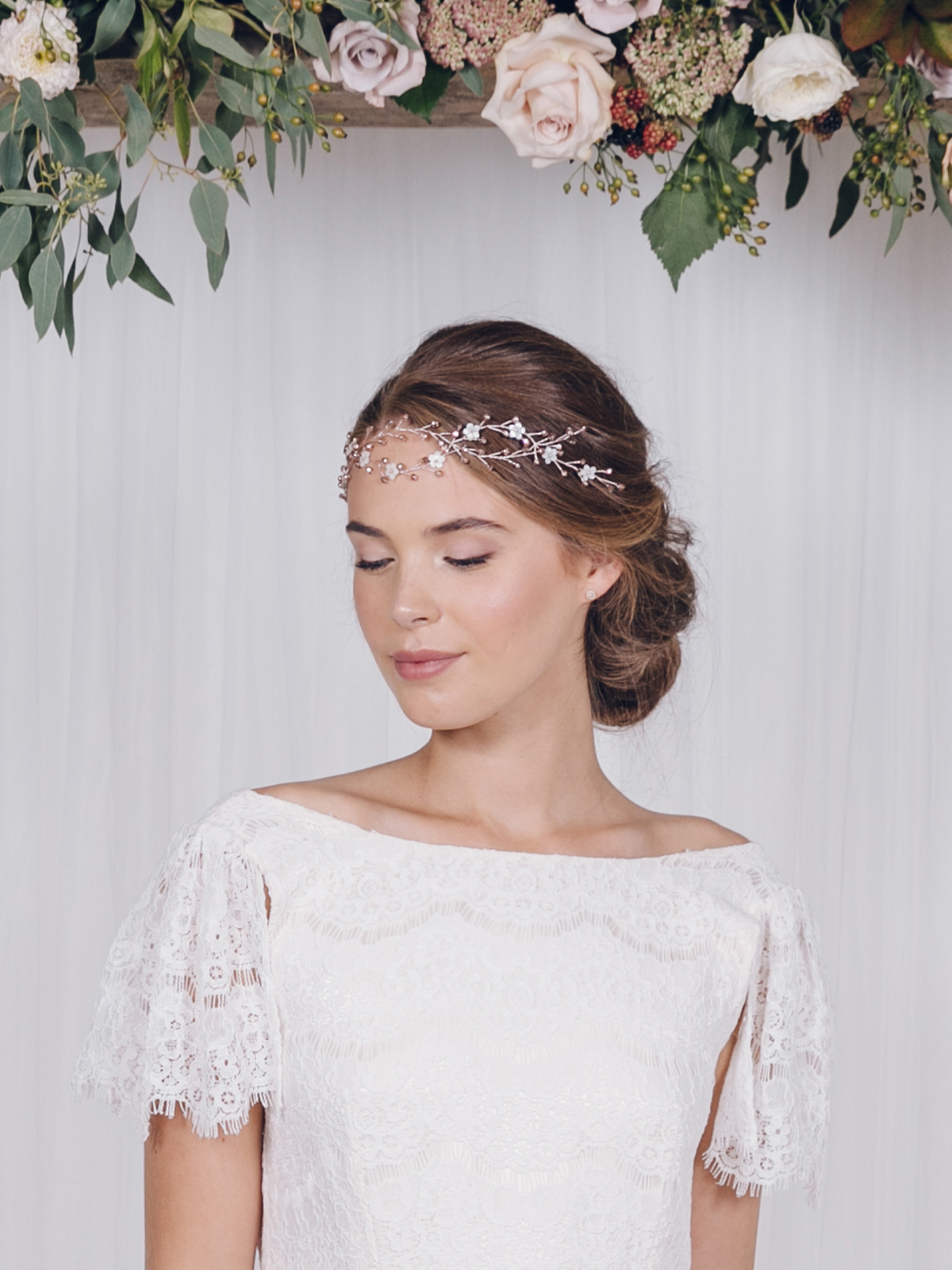 Hair pins and vines by Debbie Carlisle can also be worn with fresh flower crowns – you simply remove the crown later when it starts to wilt – or they can be woven into or around a plait, topknot or delicate updo. Debbie's latest shoot showcases just some of the ways that you can style her new designs. Special combinations of hair pins and vines were styled by hair and make-up artist Jenn Edwards and you can see the pieces draped around beautiful bridal braids and textured updos for a wildly romantic look.
"We pinned some of the hair vines so they sat upright on the top of the head as delicate bridal crowns or tiaras – such as the Rosemary and Leander vines – and also created a beautifully striking fairytale crown by pinning the Annette hair vine flat to the head and then adding Coralie hair pins so they sat proud of the vine and created a gorgeous woodland nymph look."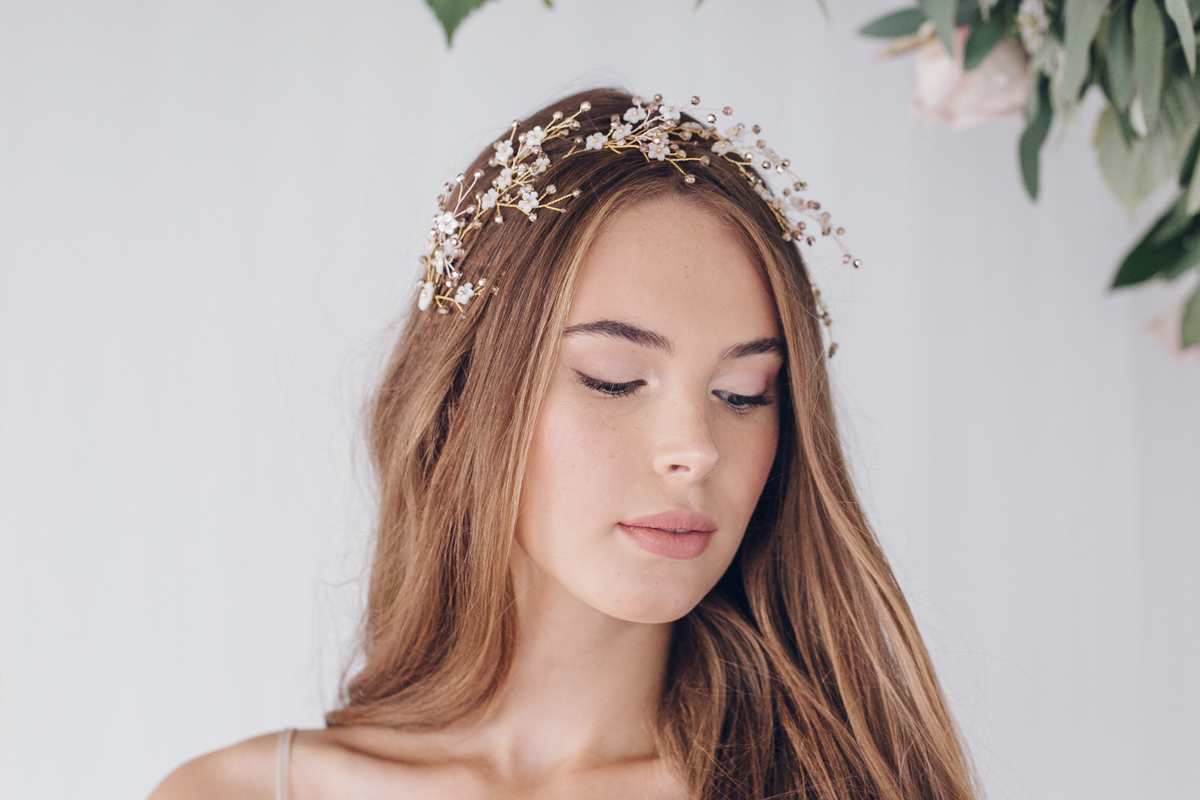 Oh Wild Rose, you've made my day! 
Wild Rose by Debbie Carlisle is now available and can be ordered online and pieces can be shipped worldwide. Prices start at £30 for a set of three hairpins, £75 for a headband or vine and £125 for a comb. Every piece in the Wild Rose collection is handmade in Debbie's Sheffield studio and private consultations are available here with Debbie by appointment – just email [email protected] to arrange yours.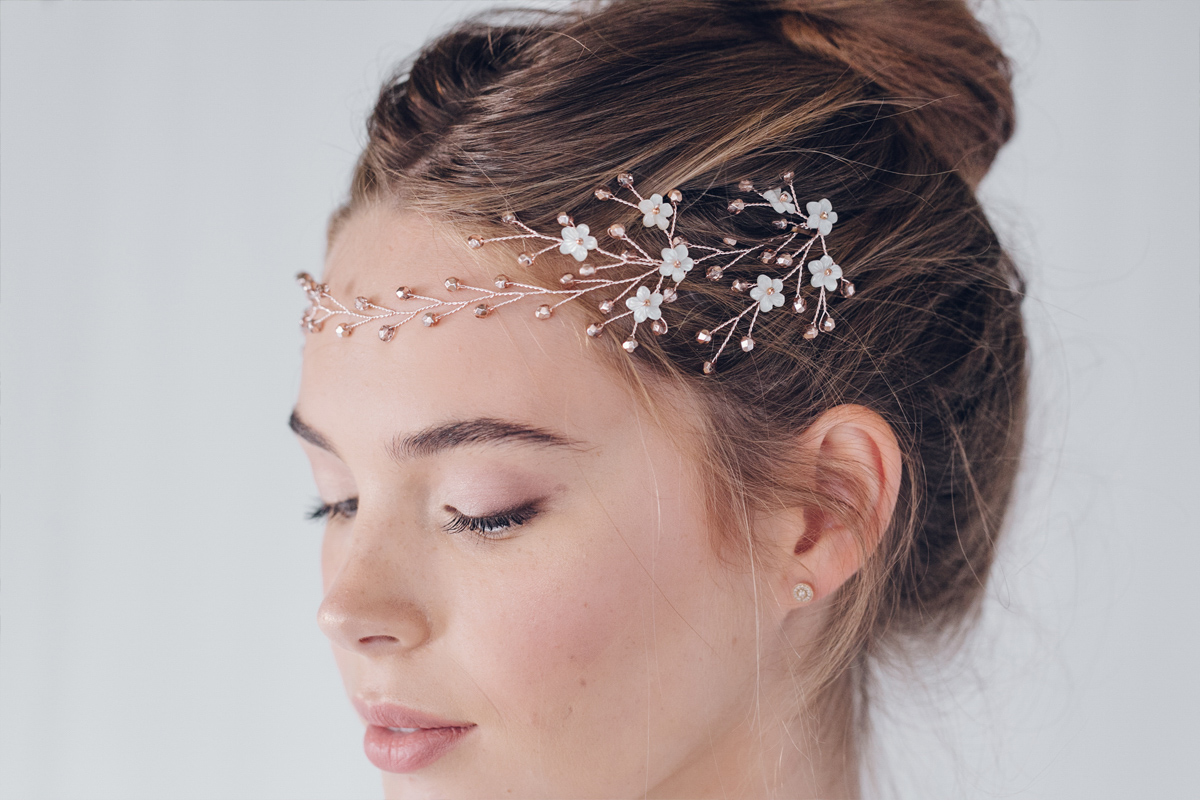 Later this week, UK brides will have the first chance to view the entire collection in person at Brides The Show in London. You'll be able to meet Debbie, view, try and buy items from the entire 2017 collection as well as key pieces from the Debbie Carlisle back catalogue. Designs will include bestsellers from the Secret Garden collection, the Enchanted collection as well as sparkling vintage-inspired favourites.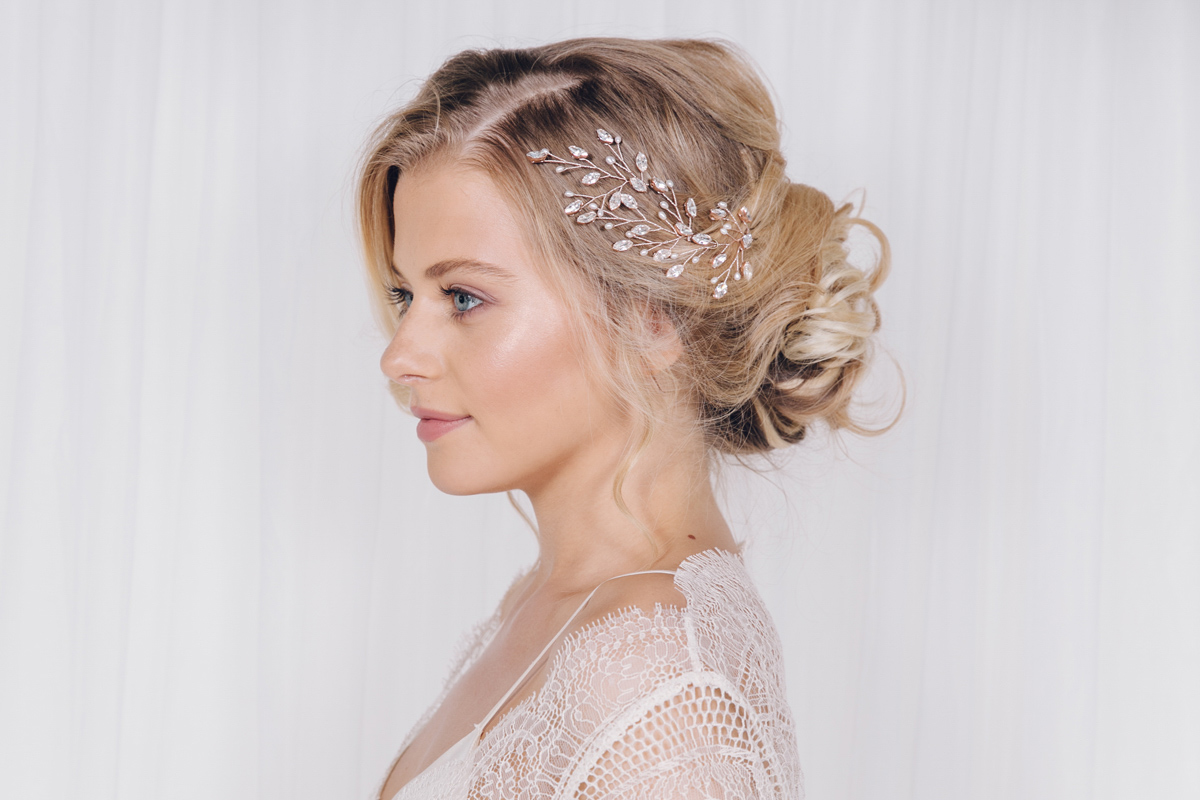 Debbie will also be taking her designs to the Chosen Wedding Fair in Islington on Sunday October 9 and the  Save The Date Wedding Event With A Difference at the Nottingham Conference Centre on Sunday October 23.
To find out more about Wild Rose and accessories by Debbie Carlisle, do take a look at her website. This includes all the details of the pieces themselves and information on Debbie's wide network of stockists, both in the UK and overseas plus a great blog. You can also find out more on Facebook, Twitter, Instagram and Pinterest and don't miss Debbie's YouTube channel which is packed with ace 'how to' tutorials.
Love Tamryn x