Morning all, and how does this misty September morning (in the North East UK, at least) find you? I'm delighted to be sharing this wedding this morning. The couple had such a fabulously cool, fuss-free and relaxed celebration – the bride wore a gown by one of my favourite ever independent designers, and the photographer is one of my all time favourite ever creatives. If you aren't yet following the Instagram account of @georgiarosehardy, do it now! Her sublime and beguiling images are like fairytales.
Joanna and Steven, who both work for the same Aggregates company, tied the knot on 23rd July this year. The groom's father's huge work shed was completely transformed for the event, both structurally and in styling terms too – more on that shortly. Let's first celebrate that wonderfully feminine and elegant dress by our Little Book For Brides wedding directory member, Kate Beaumont.
"I loved Kate Beaumont's collection – I loved the simple elegance and that you could alter her pieces and have your own bespoke design. I also loved Kate and I loved her little studio."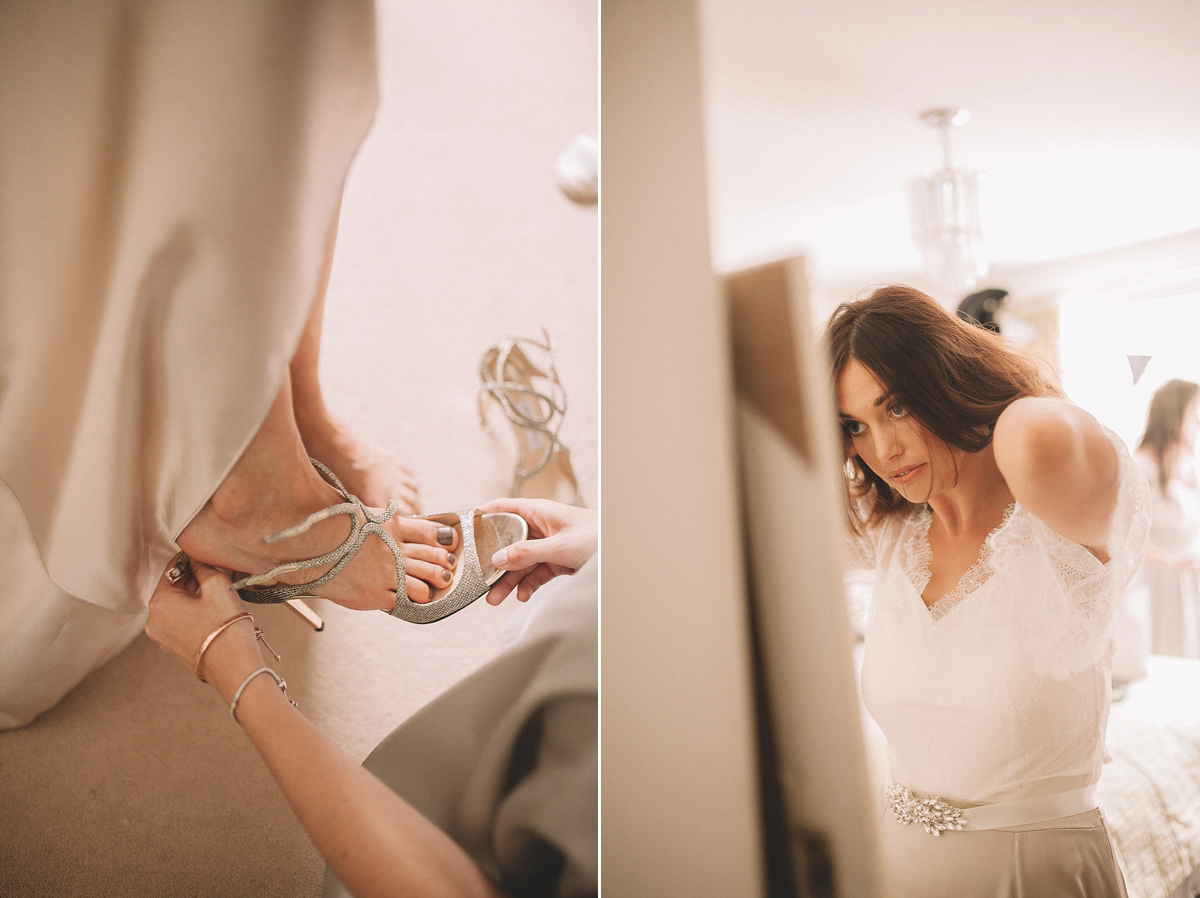 "Steven and I already knew each other by the time we started dating.  We got together at a music festival in 2008 and became engaged in Barcelona in April 2015. We started wedding planning straight away."
"I had my engagement ring from Jenny Jones in Manchester, so we went back here for the wedding rings. I had a gold wishbone ring with diamonds. Steven had a gold and silver titanium band."
"Green Pavilion, our local florist, provided our flowers. I love it there. I had all white with green foliage, white roses, white peonies and white hydrangeas."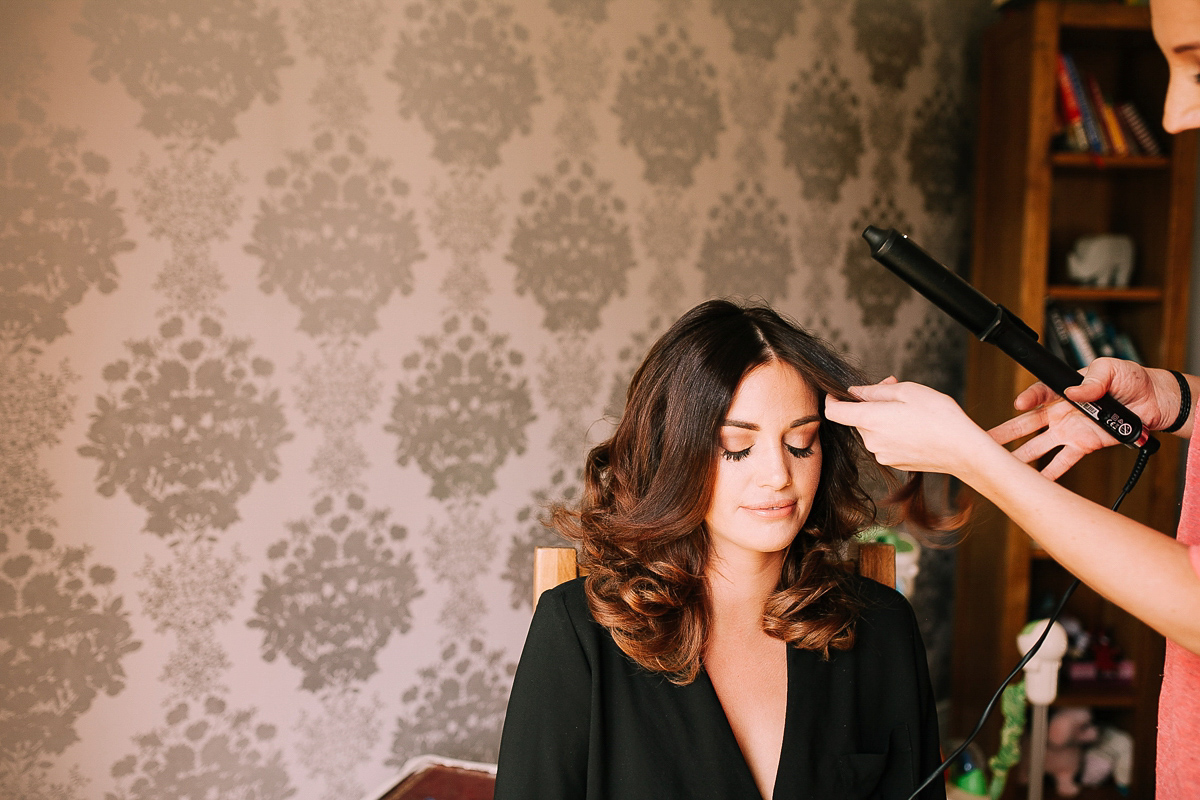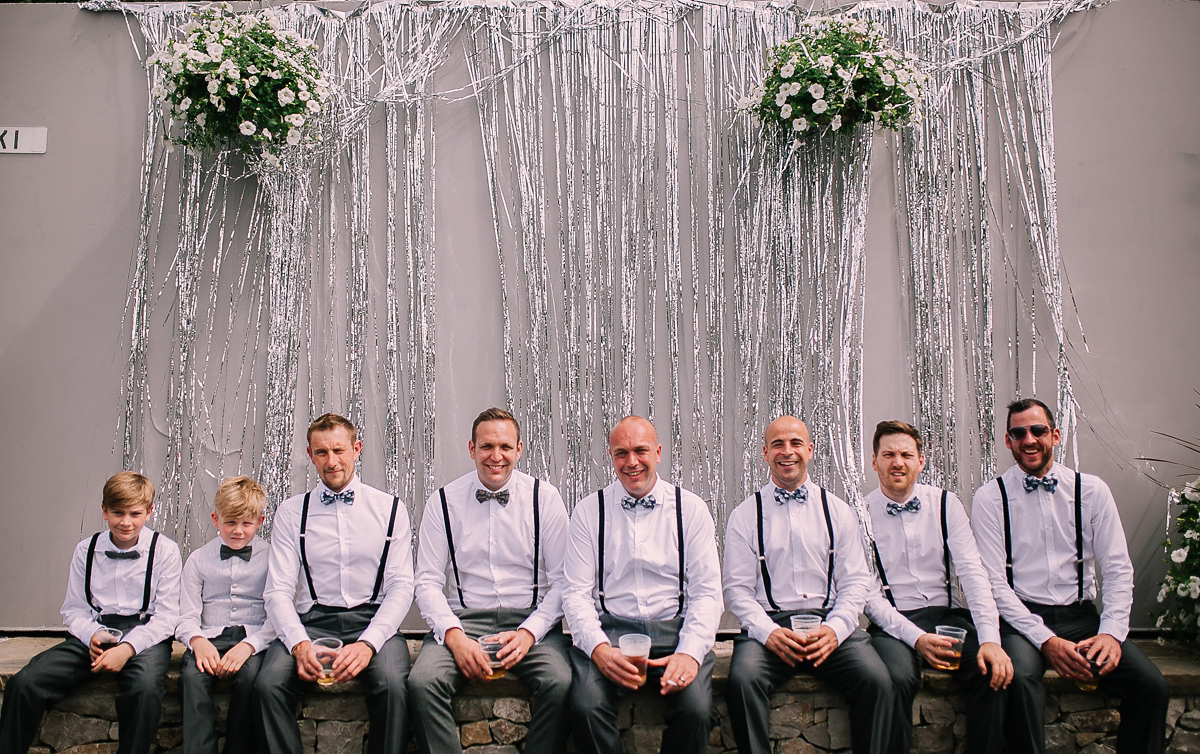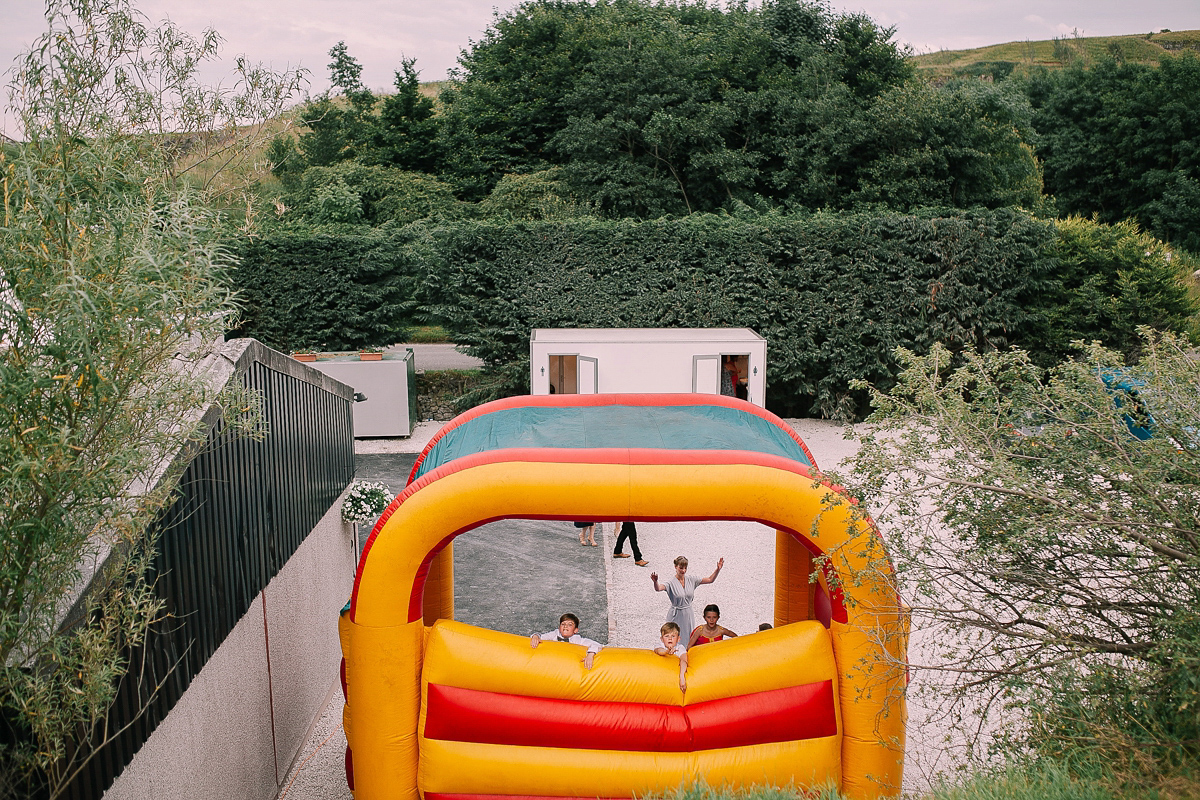 "We spent a few weeks visiting and exploring various wedding venues, but nothing was stripped back enough for me. Then we sat in the car one Sunday afternoon and I just happened to look at Steven's dad's big work shed and the idea of it playing our wedding venue popped into my head. We've had to landscape it, do structural work, tarmac the outside and do up the garden. Steven's dad John was a big part of the whole reconstruction side of things."
The couple's reception was an opportunity for them to really go to town decorating that newly reconstructed shed in a style which really accentuated the minimal, fuss free aesthetic the bride loves.
"The shed was very industrial with block bricks, concrete floors and steal railings. I covered one wall with a silver foil curtain as a back drop and made some tassel bunting out of white and grey tissue and hung it on the railing."
"We had 10 extra large balloons dotted about, 5 with glitter and 5 grey ones. I had white cloths on the tables and kept it simple with large silver candelabras – they were all different. In fact, I started gathering candelabras as soon as we got engaged!"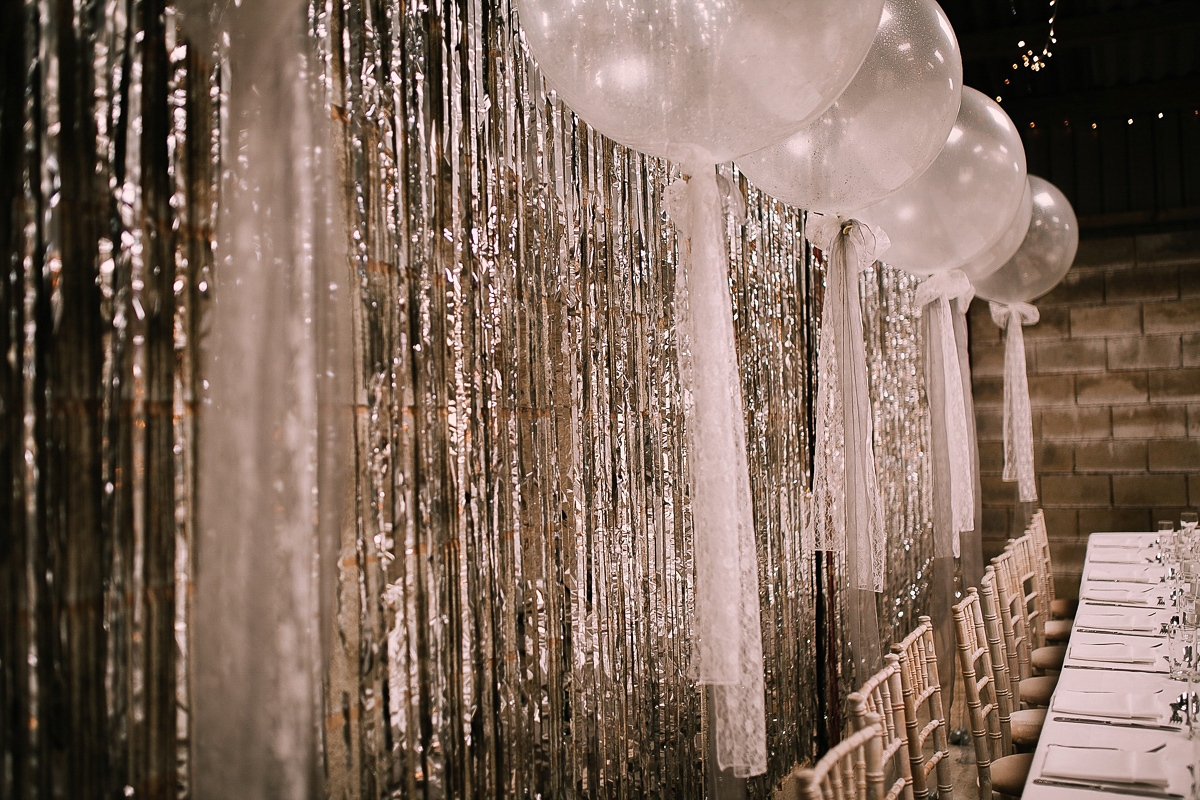 "Our Wedding invitations (by Orange Blossom Design), names places and table plan were all the same design. They were white and grey roses with rhinestones."
"Our sister in law Louise made our cake. I just asked for silver leaf and left the rest of it to Louise!"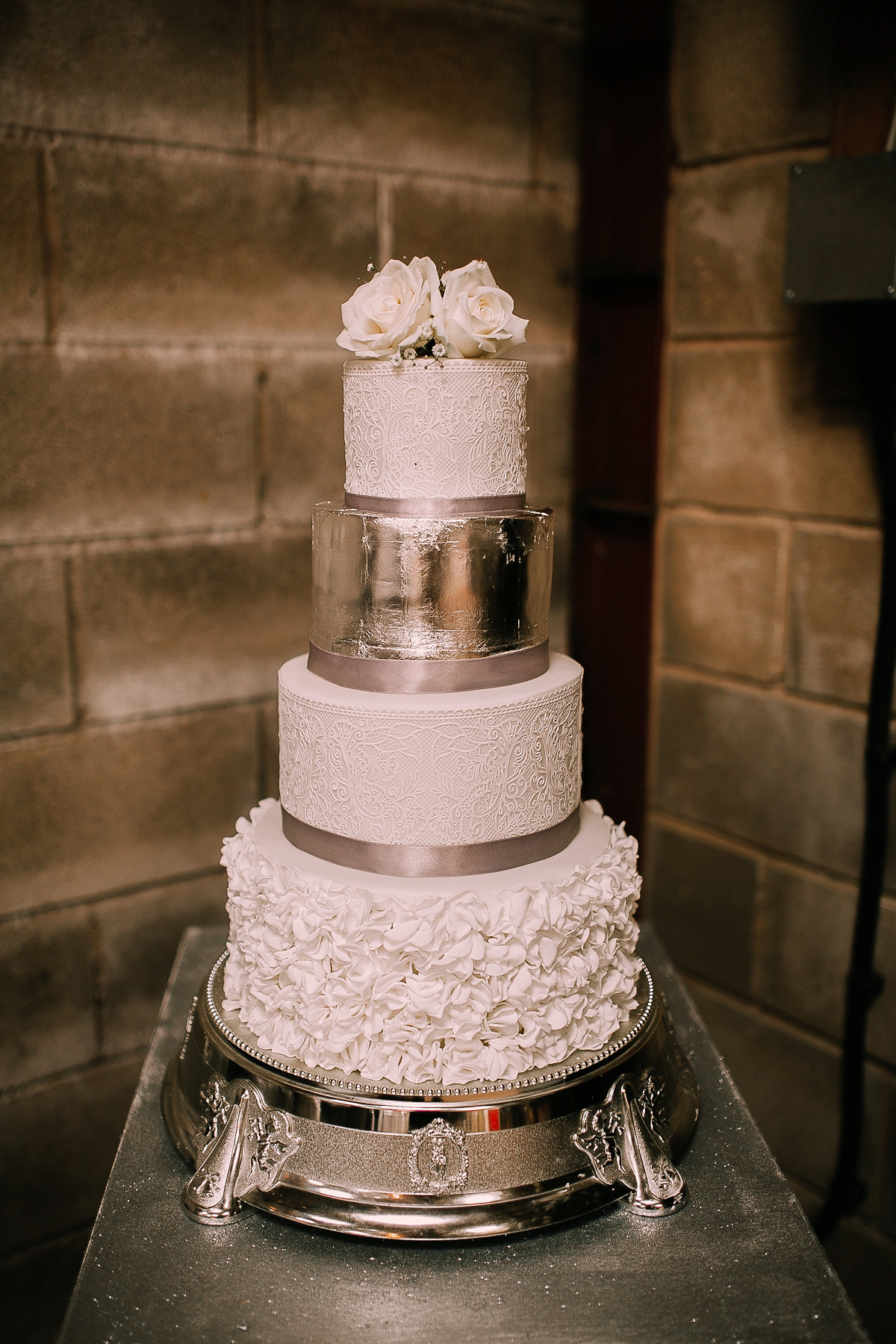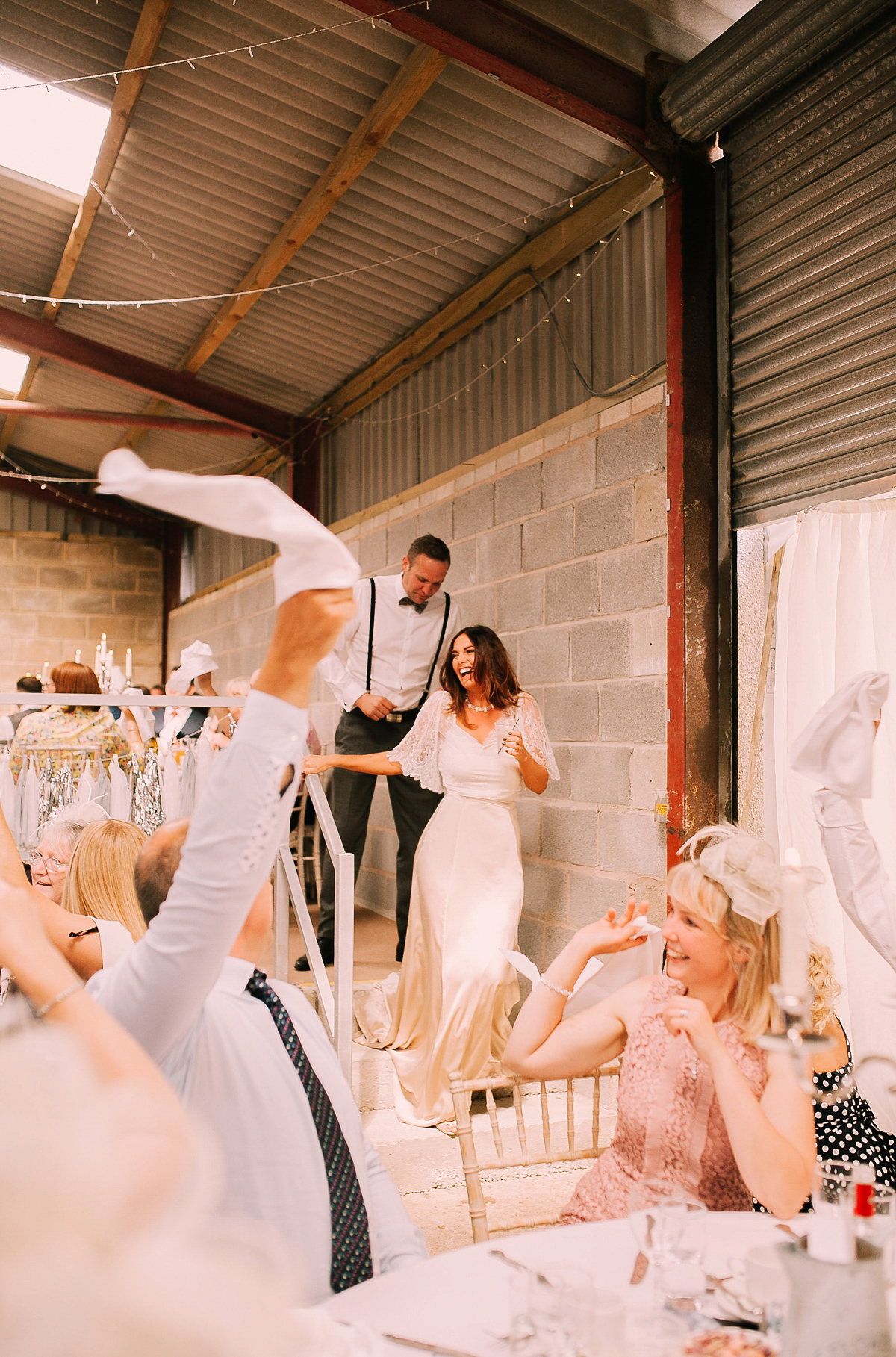 "We had a couple of old rusty filing cabinets, which I cleaned up and put a bit of glitter on the drawers. I used one cabinet for the cake stand and the other for the presents and cards. We also had some old tool drawers, decorated with rust and white roses I filled it with pick 'n mix."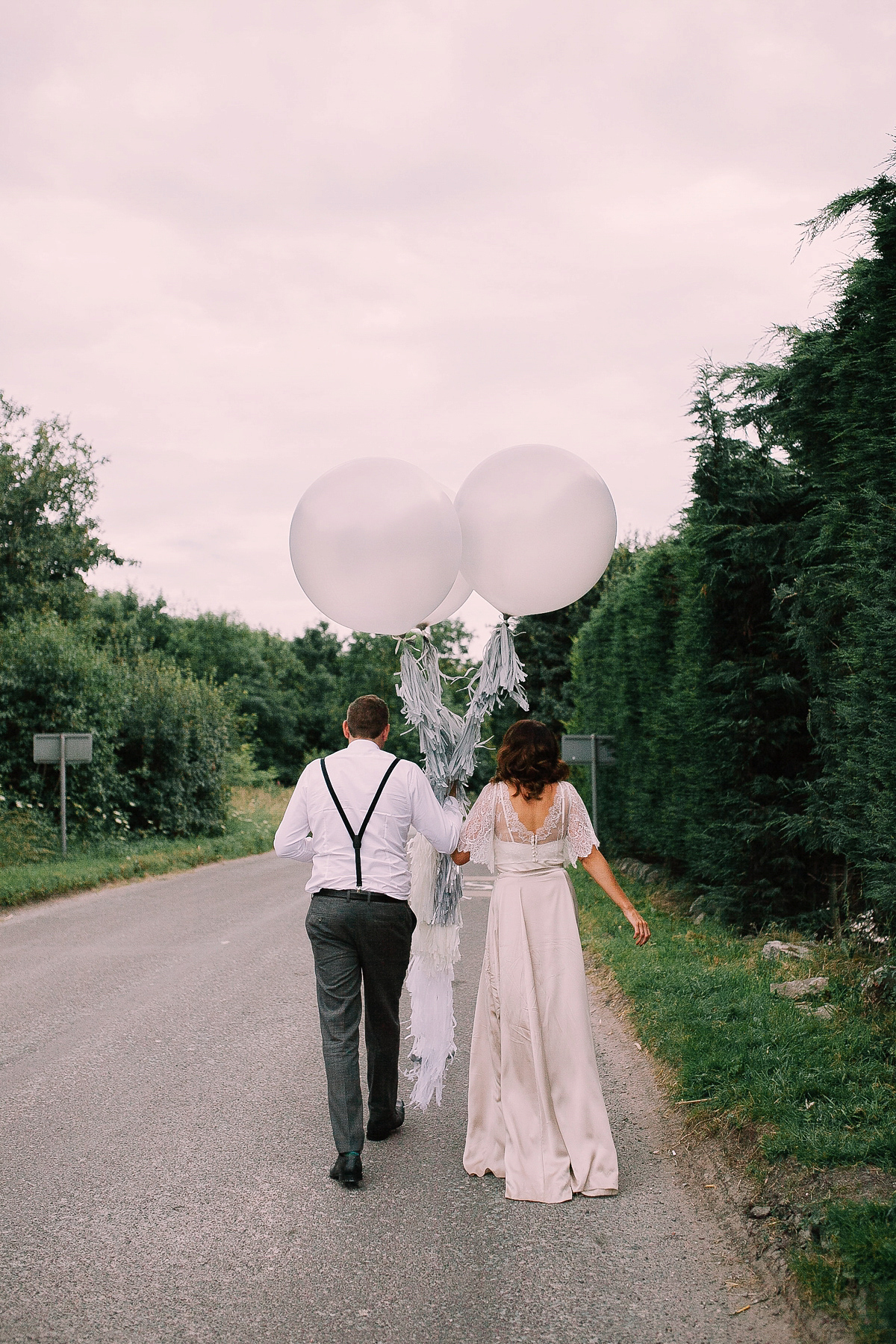 "We had a lovely day with our photographer Rosie and her assistants Morgan and Elysia. Rosie smiled all day and made all the guests feel at ease. I had no formal or organised group photos so all the photos are very natural and fun."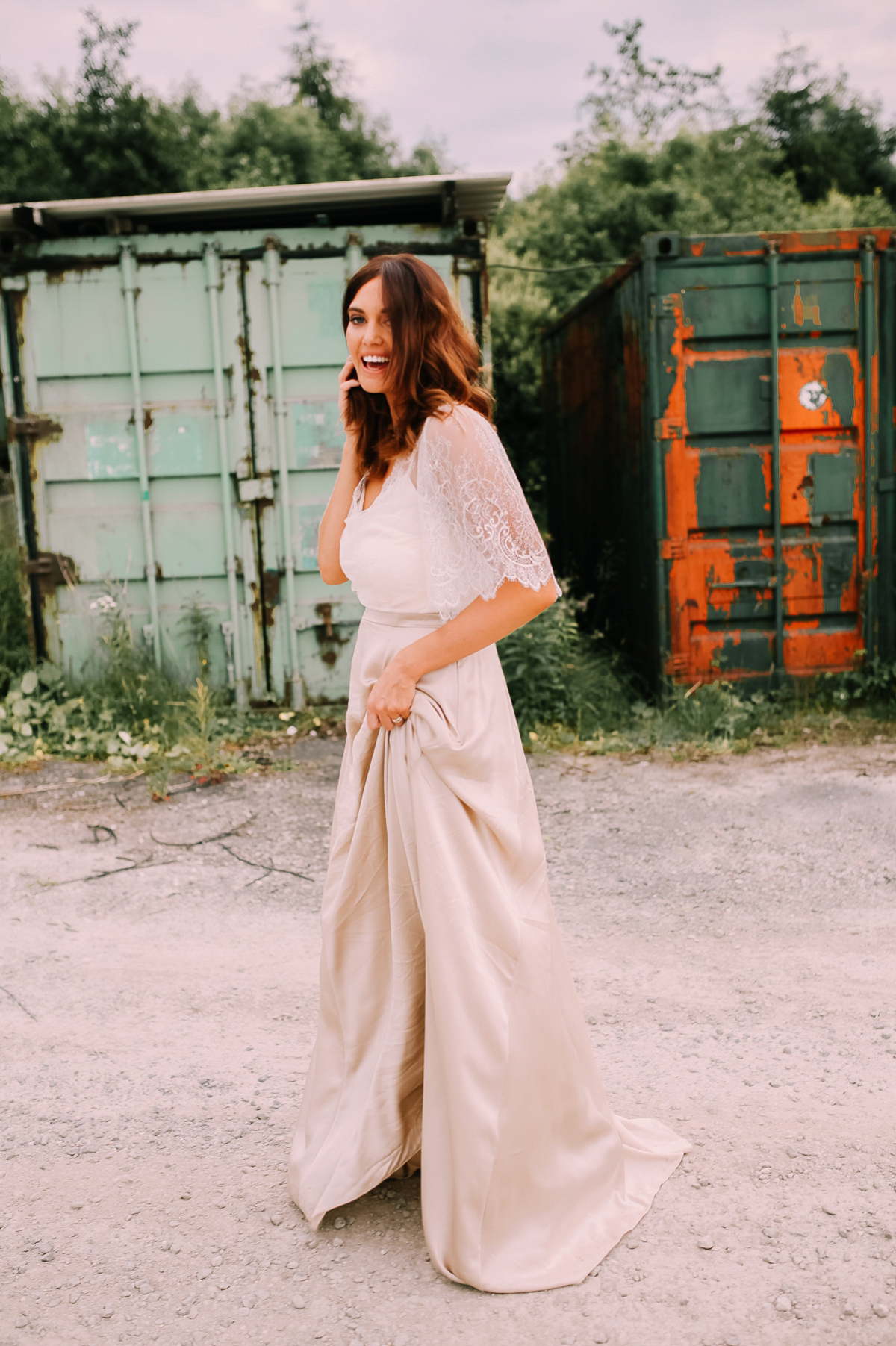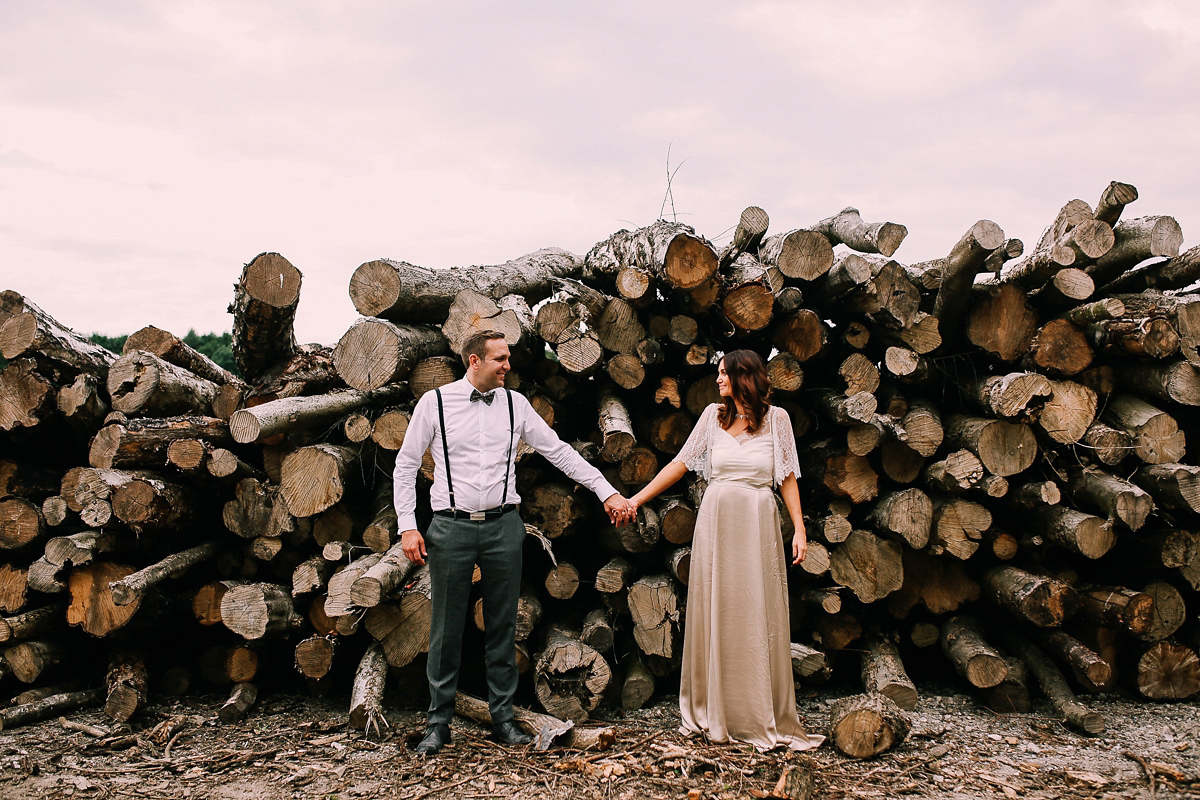 "We had a moment with Rosie over the road in the work yard and had some photos. It was dusk, it was quiet and it was so pretty."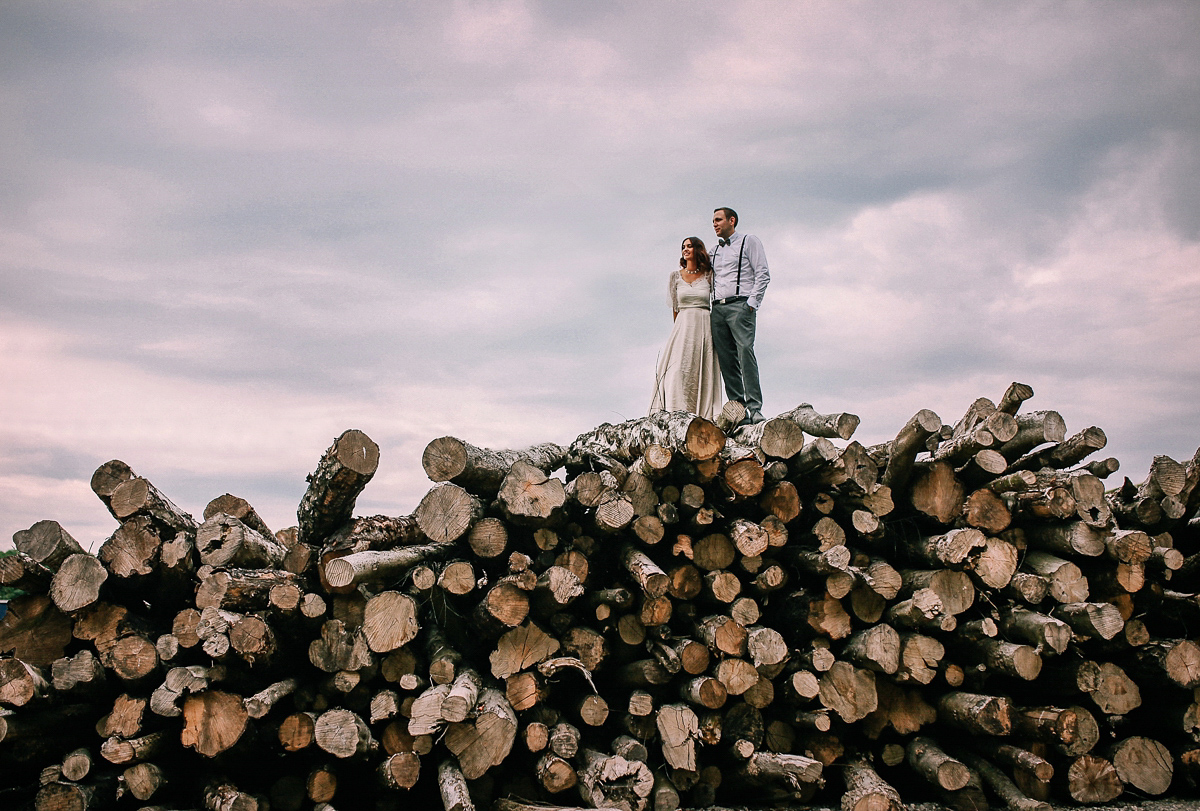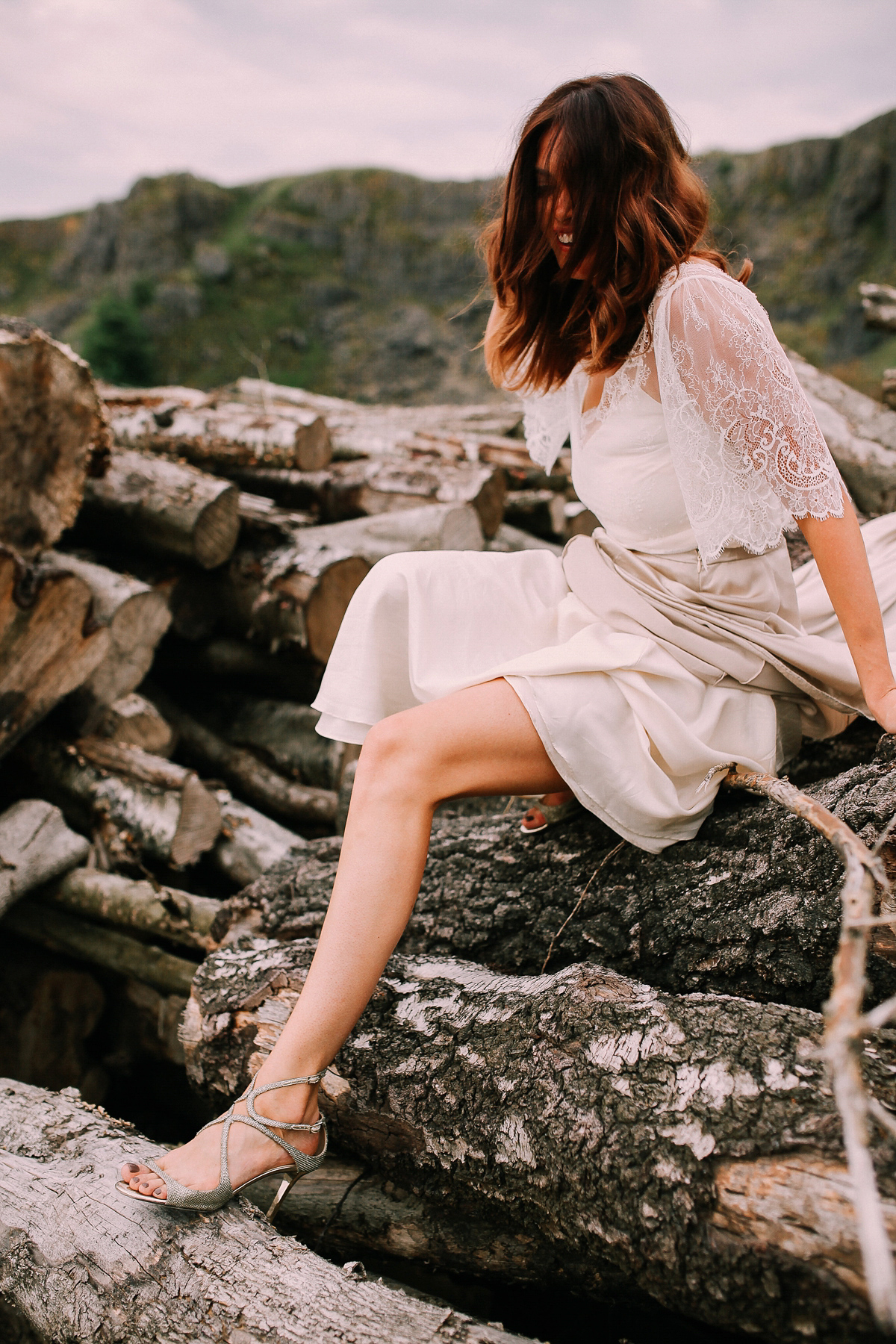 "I just had the one bridesmaid, my best friend Clody – she wore a grey tea dress with ivory lace from 'Not Another Boring Bridesmaid'!"
"Outside we had festoon lighting hanging – we also had some old rusty dolly bins, milk churns and rusty buckets. I planted white flowers in these. I covered a diesel tank with more silver foil curtain which blew in the wind."
"I decorated the ceiling with fairy lights in the bottom half, and had a big centre piece of old fashioned Edison light bulbs in the top half of the shed."
"Our first dance was to Florence And The Machine's 'You got the Love'. I'm a big fan of Florence and I chose that track from the start.
As for entertainment, during welcome drinks our wedding car played some tunes out of the VW camper. We also had a magician there during this time called Danny  Jewell. We also had Bliss DJ all day – the DJ was actually our master of ceremony. And finally we had an indie band in the evening called Delta Band."
"We did change our mind but on the day of the wedding we went back to Florence. I've always think of Steven when I hear that track – I love any cover-version of the song too".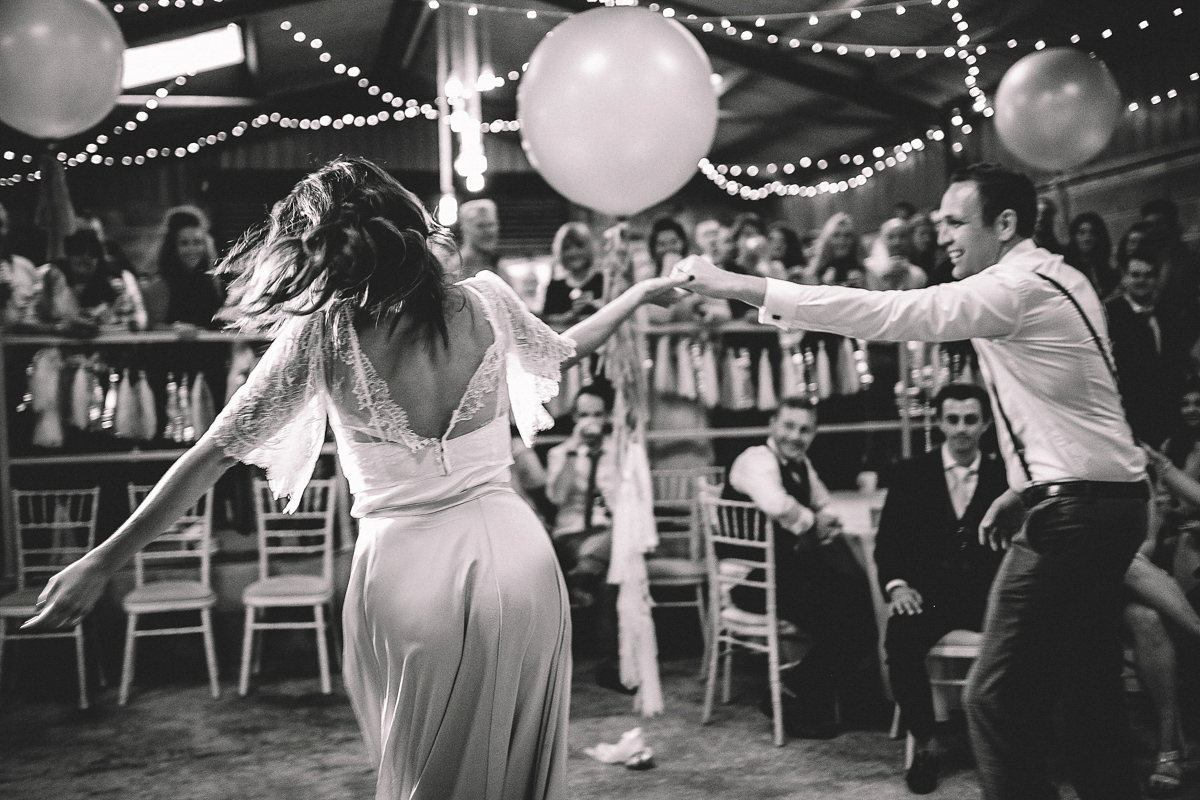 Words of Wedded Wisdom…
"Stay true to yourself! Also, the only thing I might of done differently is that I wanted to get ready on my own, But I didn't. It was ok I suppose – I just hate fuss!"
My huge love and thanks to photographer Rosie Hardy and dress designer Kate Beaumont for enabling us to share this fabulous wedding with you today. You can see more of Kate's utterly beautiful gowns on Love My Dress here – be sure to also visit Kate's Little Book For Brides page.
Much love,
Annabel x