I received an email earlier this week asking who some of my favourite wedding photographers were. One those that popped into my head immediately was the delightful Emma Case of Emma & Pete. Birmingham based Emma and her husband Pete have been photographing weddings for a number of years now, and we've been lucky enough to share several of them. I knew just what bride Emma meant in her words below when she talks about her photographer; Emma and Pete are two of the most fun, honest, down to earth and genuine human beings I know, who really, really love capturing wedding day love and joy.
So, on to our first wedding blog feature for the day; Bride Emma and her groom James tied the knot on 3rd October 2015 at the super cool MC Motors in Dalston East London. Their wedding was full to to the brim with love, laughter and style and I adore Emma's choice of bridal separates by Rime Arodaky and her beautiful polka dot veil by Luna Bea. This wedding manages to combine style with a sense of super relaxed and fun – I hope you love it as much as I do.
"We just included or tried to include everything we liked. I think you're led a lot by your venue which was full of amazing props and has a kind of Aladdin's cave feel to it. Our main aim was that everyone had fun."
Photography by Emma & Pete
"I didn't really know what I wanted in a pair of shoes (there's a theme here), apart from the fact they had to be really high! I found a pair of Jimmy Choo's I loved – gold and subtle but they had sold out everywhere. I was sure I could find them somewhere but after months of searching I gave up. A couple of weeks before the wedding I had a final search and one unworn pair (in my size!) had turned up on e-bay. Done."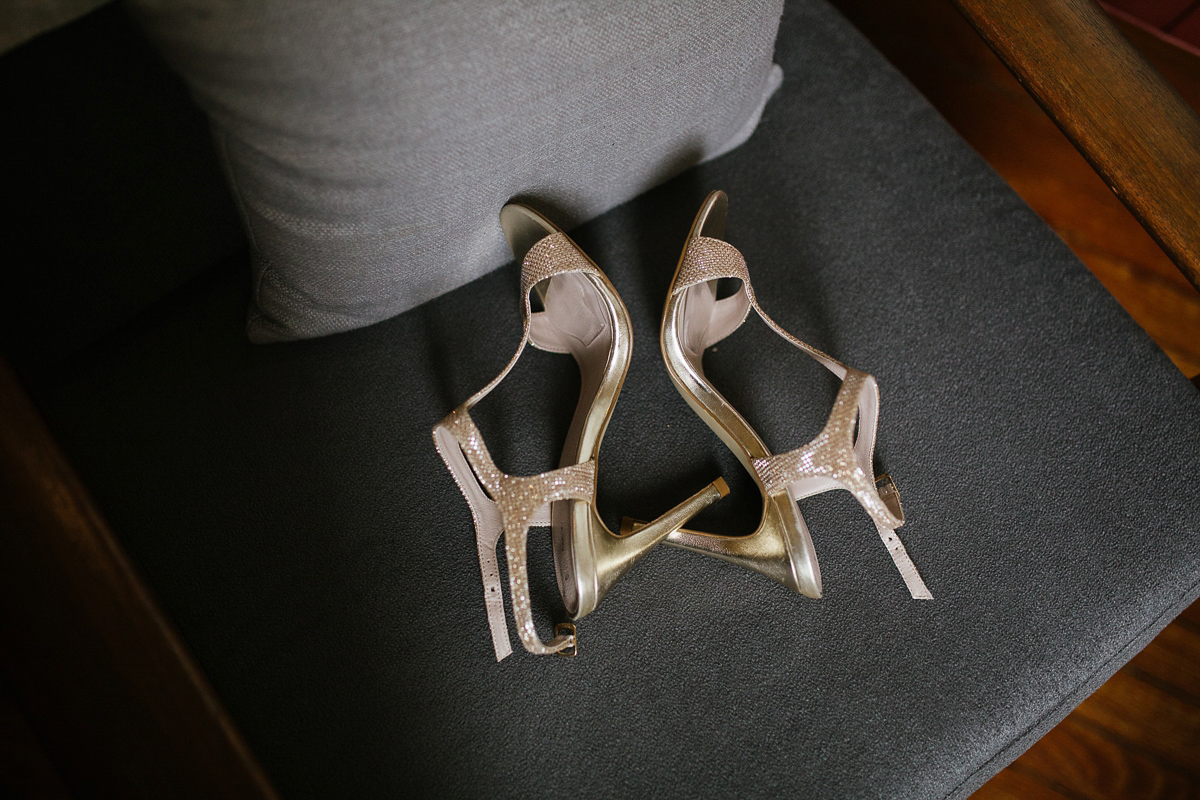 "I had a really difficult time finding a dress that was 'me'. I had never thought about a wedding day and was certainly not one of those people who had dreamed about getting married and therefore didn't have any preconceived ideas about what I wanted."
"I think if I hadn't found Rime Arodaky, I wouldn't have found anything that I truly loved."
"I tried on many beautiful dresses in my search, some I really quite liked but I loved all of Rime's dresses. I even went to her showroom in Paris so I could try all of them on! They're boho with a bit of rock and roll. I liked that I had a two piece – a crop top and a beautiful skirt. I was able to look traditional but with a bit of a twist. I also felt it was important to have a dress that matched the venue. If I had gone for a massive meringue, that would have looked completely out of place in the converted garage!"
"I love my polka dot veil. Again, I tried on many veils, many lovely veils but nothing felt quite right. With only weeks to go I found Luna Bea who creates amazing, unique bridal accessories. Lou who is the lady behind Luna Bea is just lovely and so welcoming. I went to her workshop with a veil in mind but on seeing it up close I realised it wouldn't match with the lace on my dress."
"Lou and I discussed ideas and she had some polka dot material there which we both thought would be great. A couple of days later she had created the most fun, unique veil. I was only going to wear it for the ceremony but didn't end up taking it off until dinner!"
"My veil designer Luna Bea  has also created the most stunning range of hair clips and head pieces. They are beautiful and all handmade and I unintentionally ended up with a white and gold headpiece for the evening. I couldn't decide between the headpiece and the veil so I ended up with both."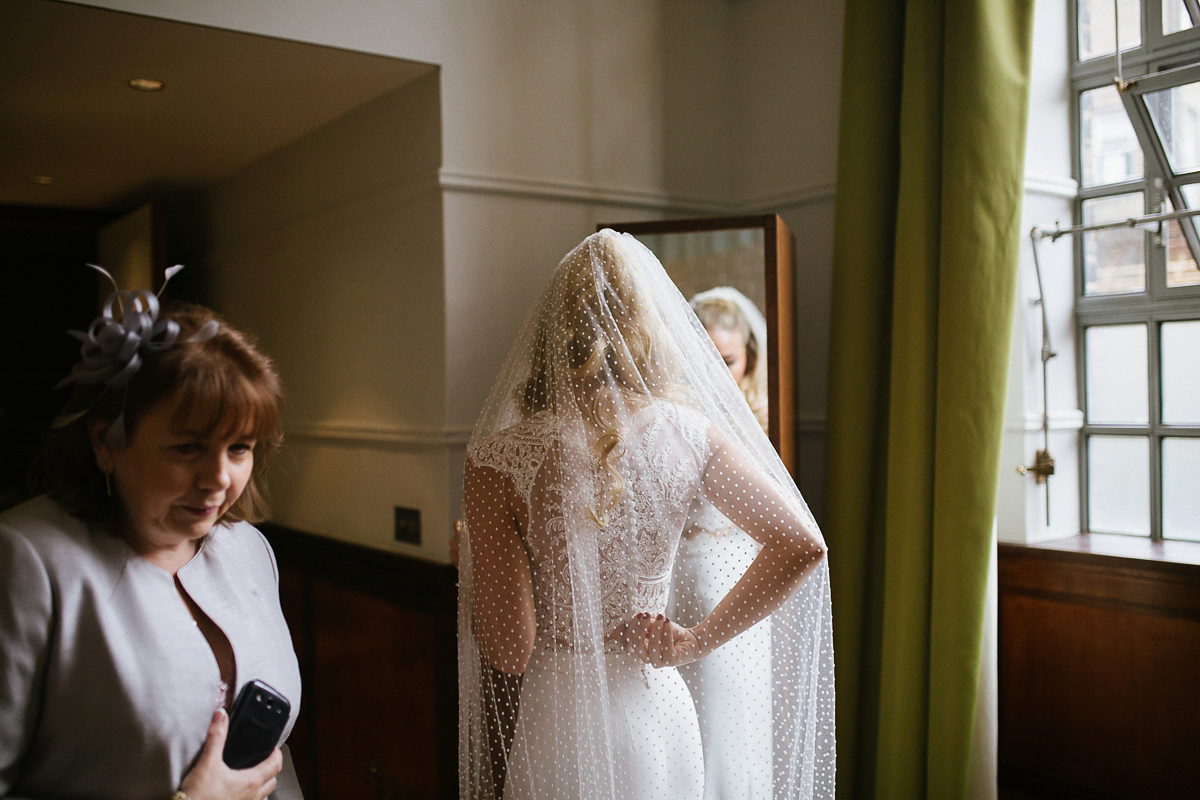 "The veil was great to make my dress more 'bridal' but the headpiece was a fun change for the evening and felt really unique, so I had a day and an evening look. I love all the pieces by Lou as I feel they are completely different from anything else out there."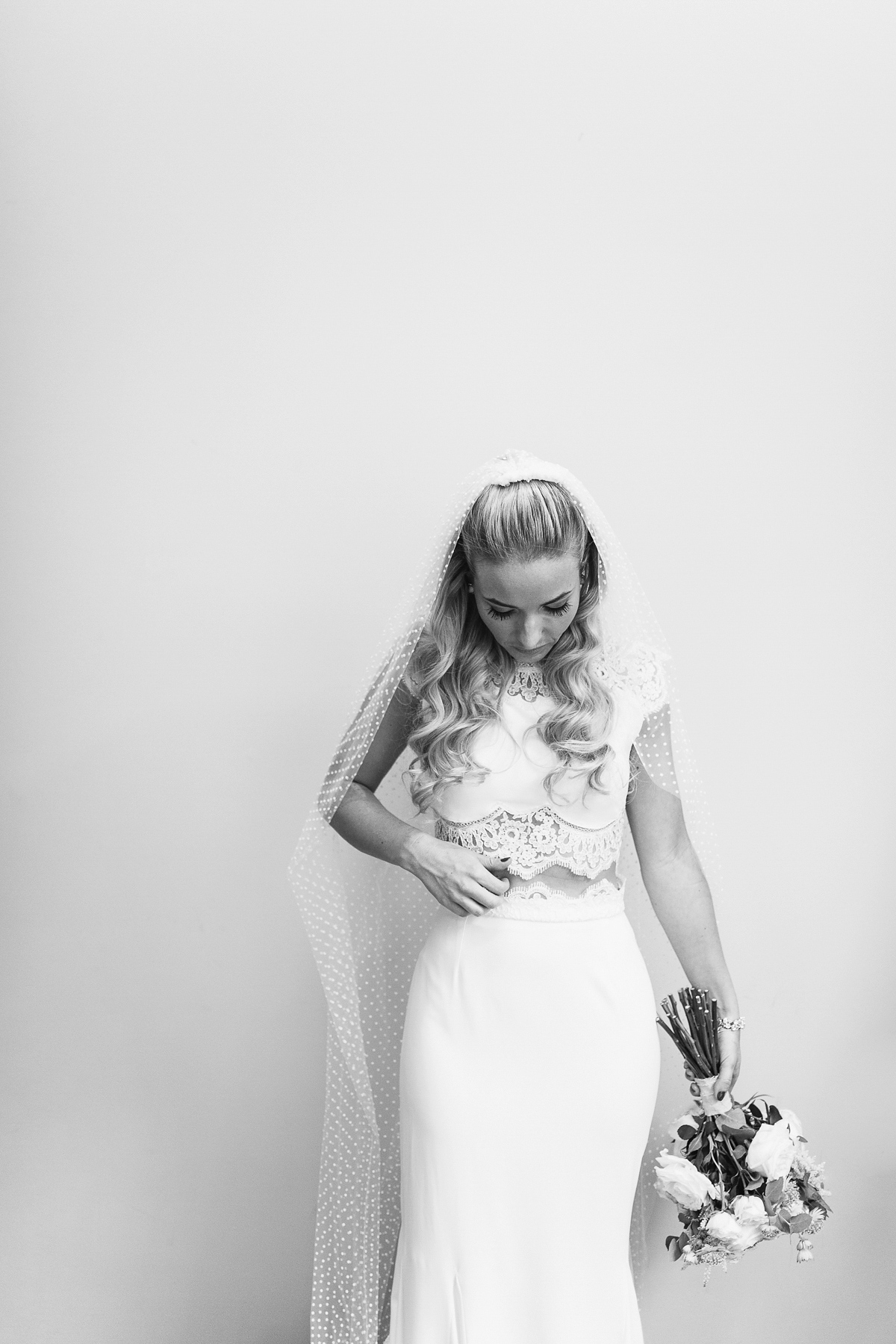 To accessorise, Emma wore a pair of Lele Sadoughi earrings (she has two pairs, one for the day and a bigger pair for the evening) and a chunky bracelet from Etsy.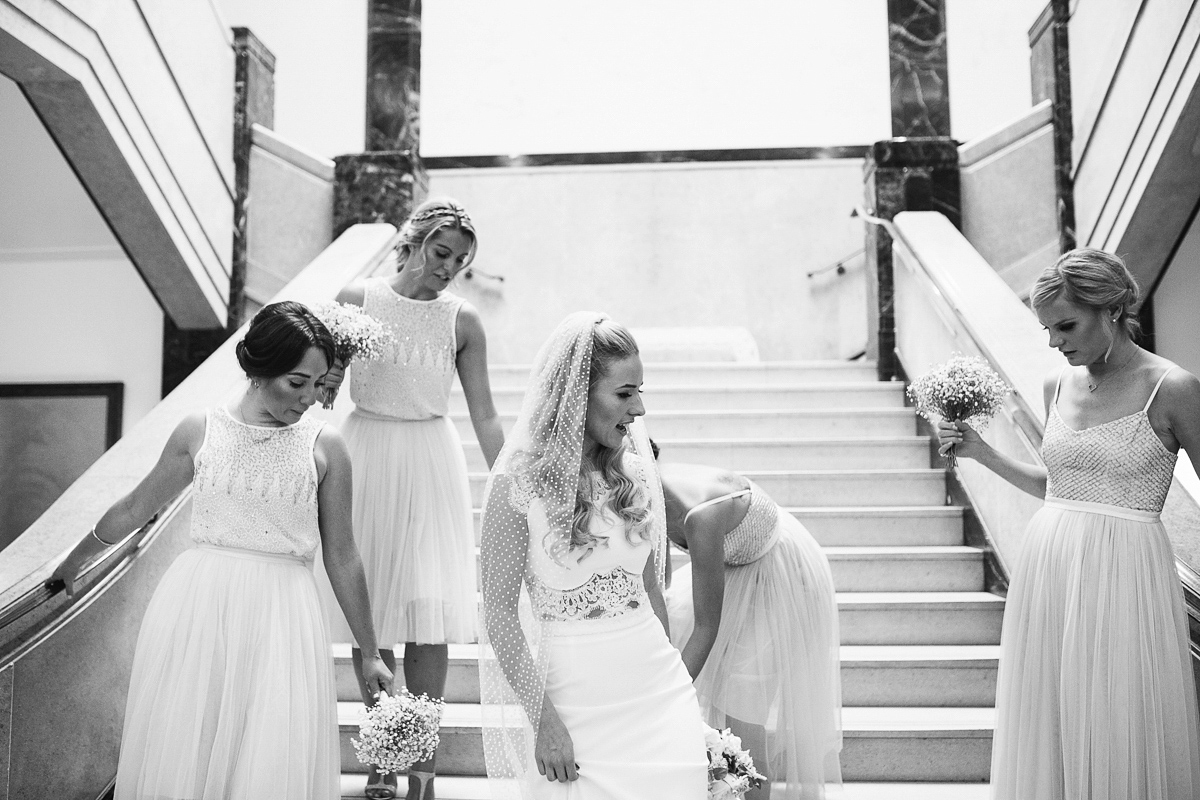 Emma says that finding the right dresses for her bridesmaids was by far the most stressful part of the wedding planning. Thankfully, she stumbled upon Needle & Thread and the girls ended up looking absolutely fantabulous. Their shoes by the way, were from New Look.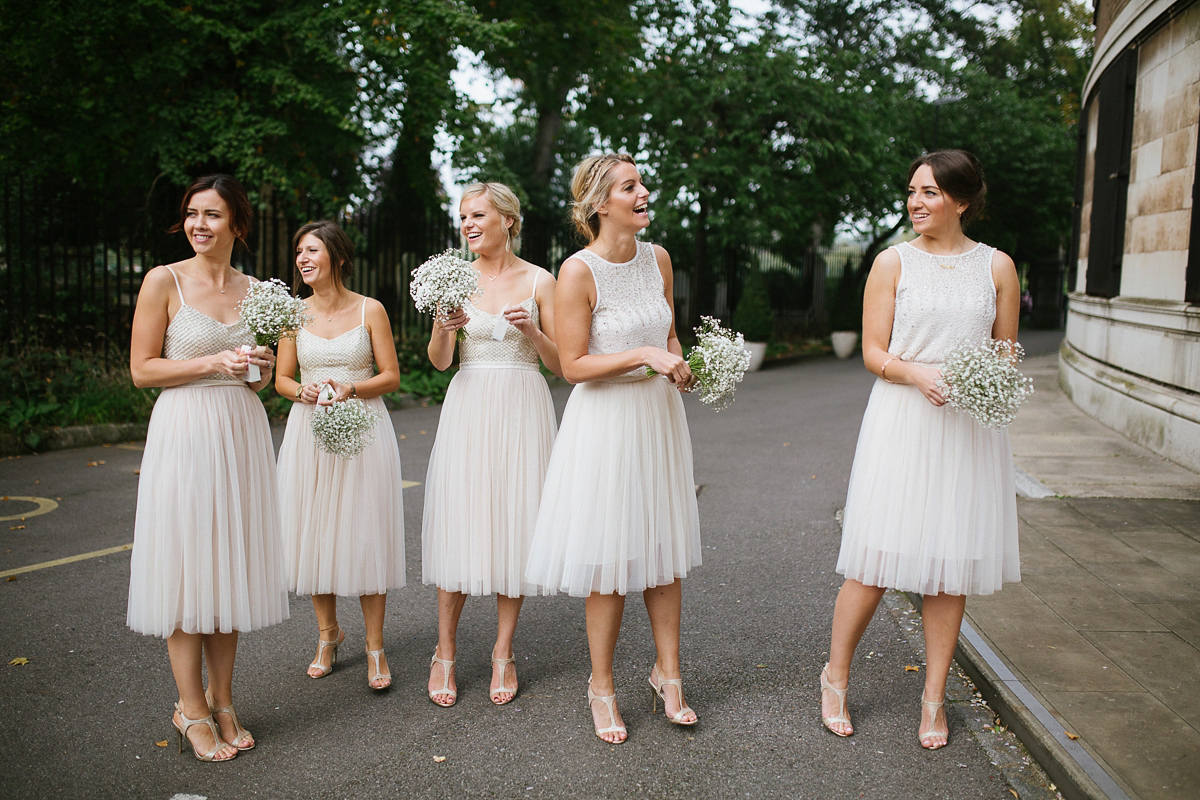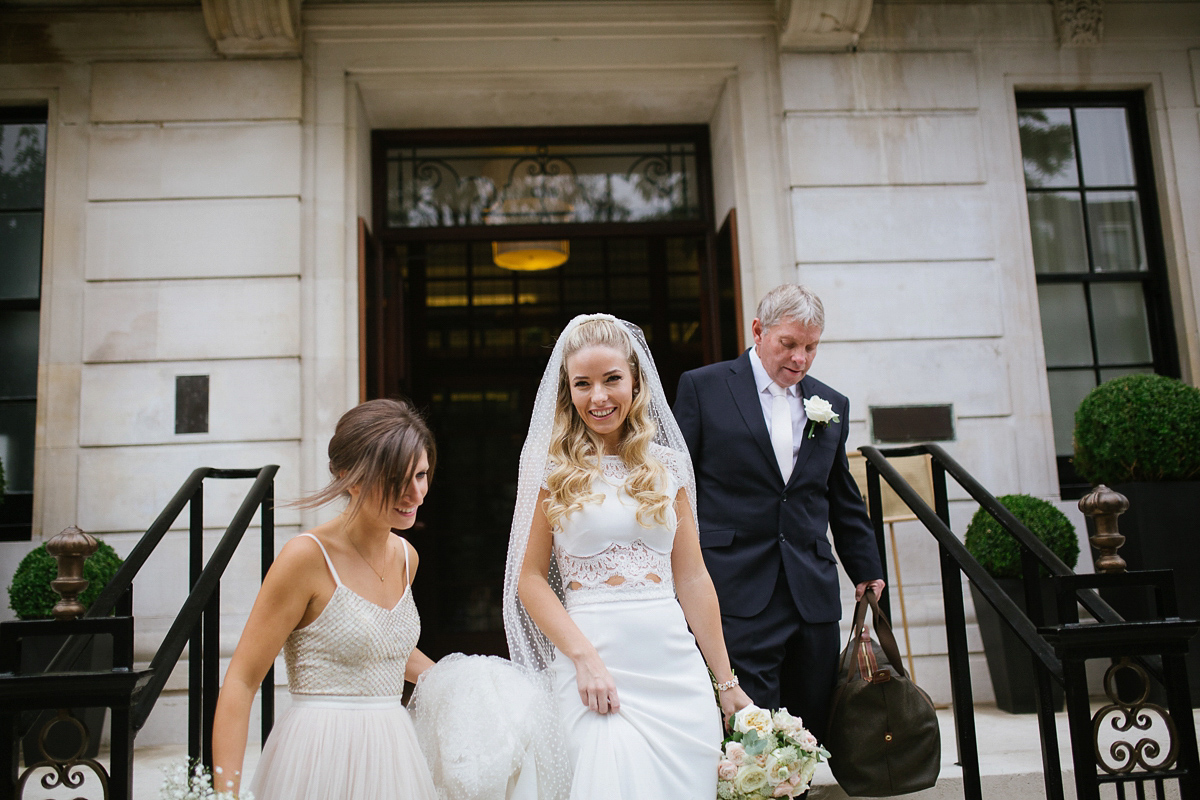 "We had known each other for about eight years, or rather of each other but never seemed to end up in the same place at the same time. Plus James was in a relationship for most of this time. Whilst I had been in a few but was happy being single. We finally 'met' at a festival in Croatia 4 years ago. It's terribly cheesy but when you know, you know."
"We both remember the moment; James put his arm round me and I didn't move away and that was that. We were glued together for the rest of the holiday. I thought it was a holiday romance and I wouldn't see him again but we haven't been apart since."
"Two years later – James picked the most beautiful spot to ask me to marry him; on a Santorini cliff top, in front of an abandoned church, with nobody around for miles, whilst watching the sunset. It was pretty cool and we both got a bit teary! "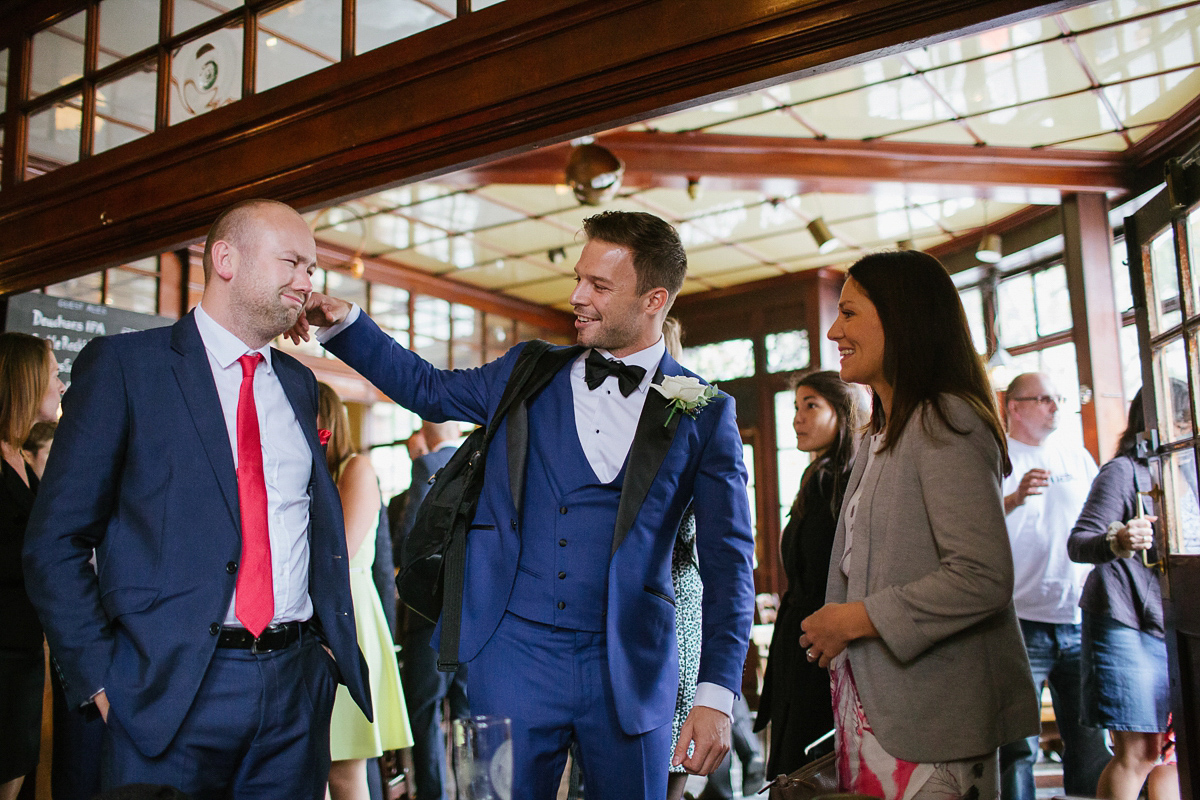 "I always knew he would do it on holiday because we both love travelling and are away as much as possible but he really nailed it with the location."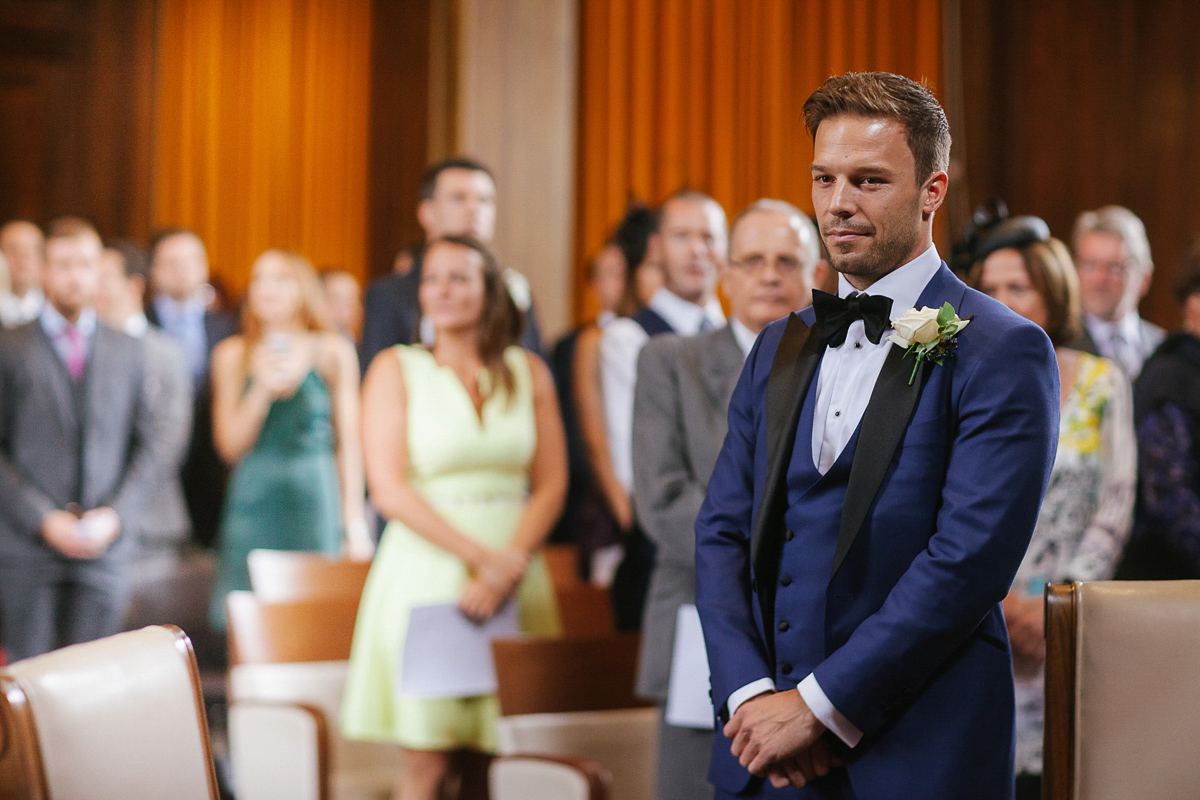 "Our ceremony was in Stoke Newington Town Hall. Firstly, because it was close and convenient. We checked out Hackney and Shoreditch too but I love the art deco feel to Stoke Newington – plus it has that village-y setting. My Dad walked me down the aisle to a Kanye West track! It was actually the break in Kanye's track 'Bound 2',  by American soul singer Charlie Wilson.
We didn't want anything too cheesy to walk down the aisle to or anything to fast (where I'd feel like I'd have to skip!). I don't know why but I really loved the break in the Kanye West song Bound 2, by American soul singer Charlie Wilson. This was so hard to track down, I couldn't find it without Kanye rapping half way through, so I needed somebody to play it live."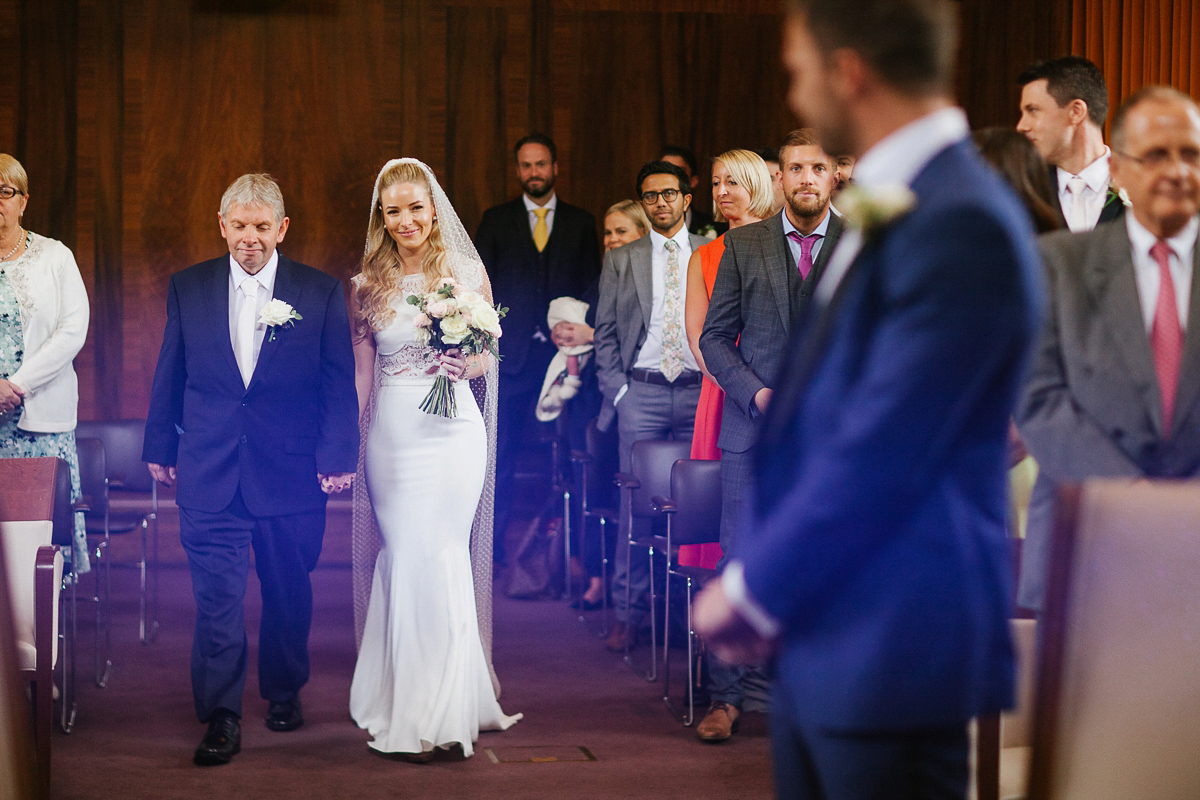 "Once again, I didn't have any preconceived ideas of what kind of ring I wanted. James proposed with an Elizabeth Duke special so that we could choose my actual ring together. If your fiancé gets it spot on you are very lucky but for me it was great to try on different rings."
"I'm so pale and a white diamond didn't look great against my skin. I ended up with a yellow diamond which I loved and warmed up my dead skin. However yellow diamonds are slightly harder to track. Of all the shops in Hatton Garden I think we found just two that had yellow diamonds in stock and Fine Diamonds were by far the best quality and price and had plenty of patience! I've since taken 3 of James' friends back there to help them choose engagement rings. I should really be getting commission."
"We kept the traditional vows that our registrar provided us with. I think we were nervous enough saying those. We had two readings, mainly because it was a good way to include more close friends. My best friend James (a different James) read 'Nomadic Love', which is about a girl who isn't traditional and never dreamt of settling down and yet here we are – we thought it was very apt."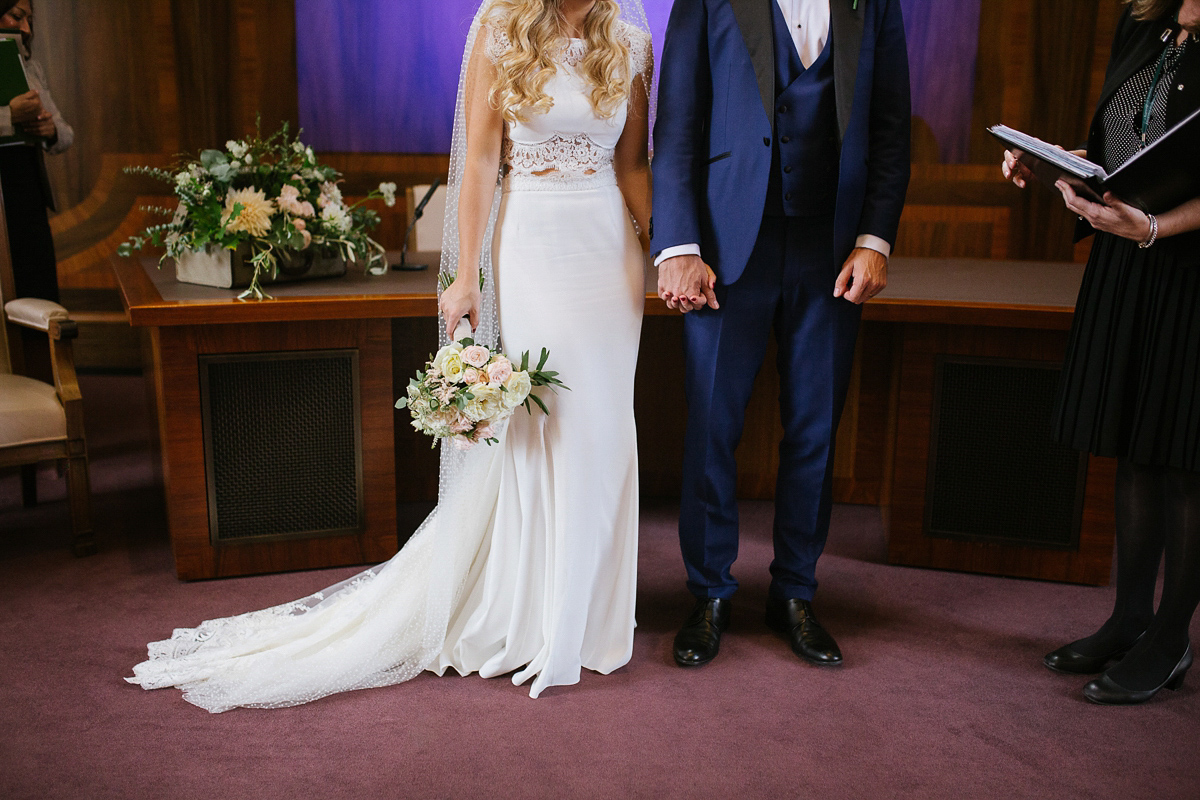 "Our friend Ross read 'He's Not Perfect', lyrics from a Bob Marley song, simply because we liked it. We picked one each.
For me it was all amazing but I really loved the ceremony. I thought I would be super nervous and I'm normally quite shy but I just felt really calm in front of all our family and friends. The ceremony just flowed really well and I loved having so many of our friends involved."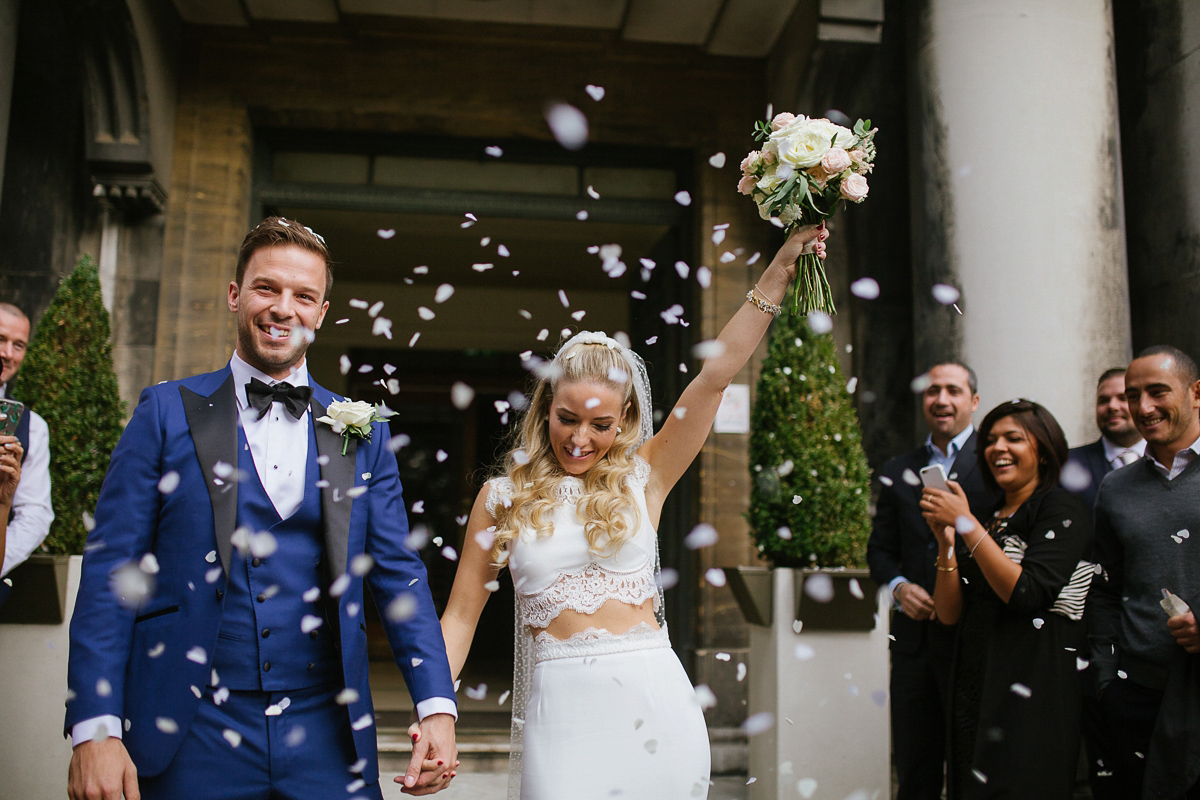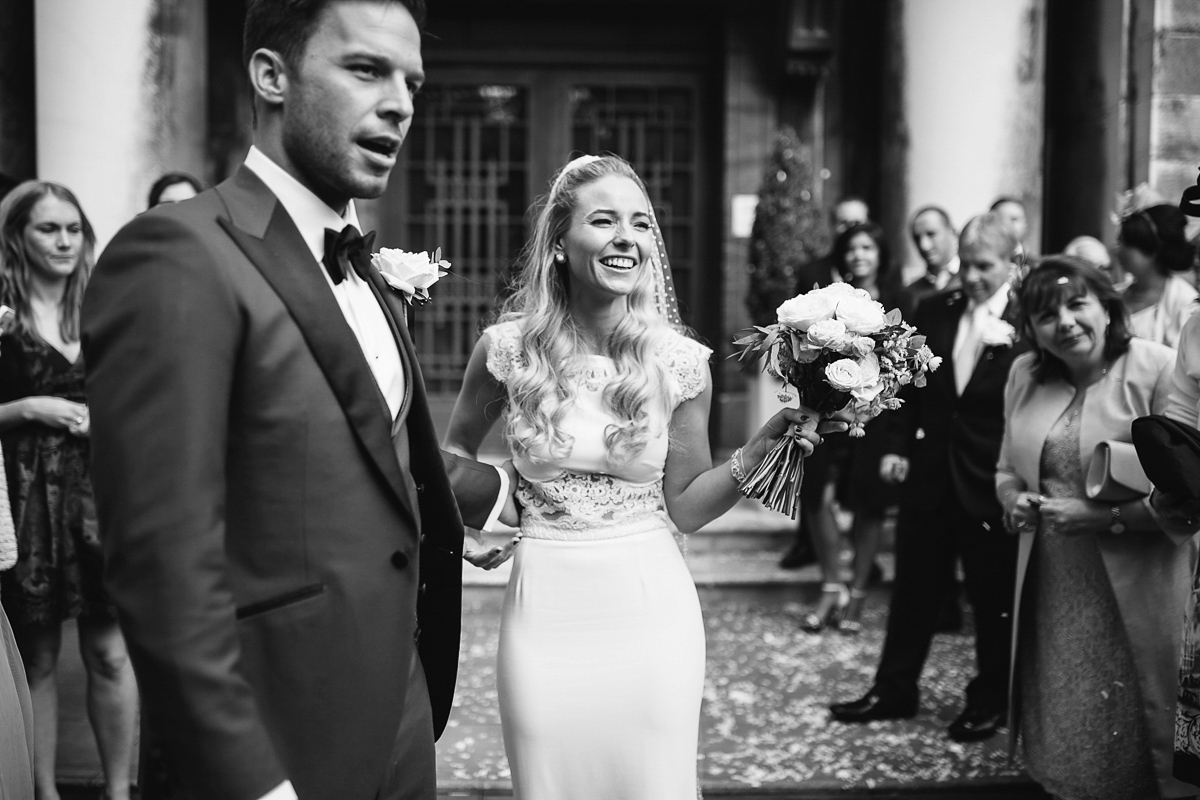 "Our florist was Violets & Velvet. We wanted our venue filled with flowers with vines going up the pillars and flowers poking out from cupboards. As I mentioned – the reception venue was a converted garage so lots of flowers were a great contrast. Everything needed to be a bit wild and I didn't want anything to 'done' including my bouquet."
"I was actually pretty relaxed about the flowers and happy to go with whatever was in season. I met a few florists that were all great and I couldn't decide. One of my bridesmaids suggested that as the venue and most other things weren't traditional it was a good idea to go with the more traditional florist as a contrast."
"What can we say about Emma and her husband Pete, apart from we love them! I had read lots of reviews saying 'Emma & Pete fit right in' and 'they were like guests at our wedding' – I'm always a bit sceptical about things like this but it turned out to be completely true. Many of our guests commented on how lovely and fun they were on the day."
"You really get to know them in the build up with Skype/face-to-face meetings and it's worth it on the day to be completely relaxed in their company. They have a unique ability of blending in with your guests which makes for some very relaxed wedding guests and some amazing, natural photos. If you're going to splurge anywhere – I recommend you do it on your photographer, your photos will eventually become your memories."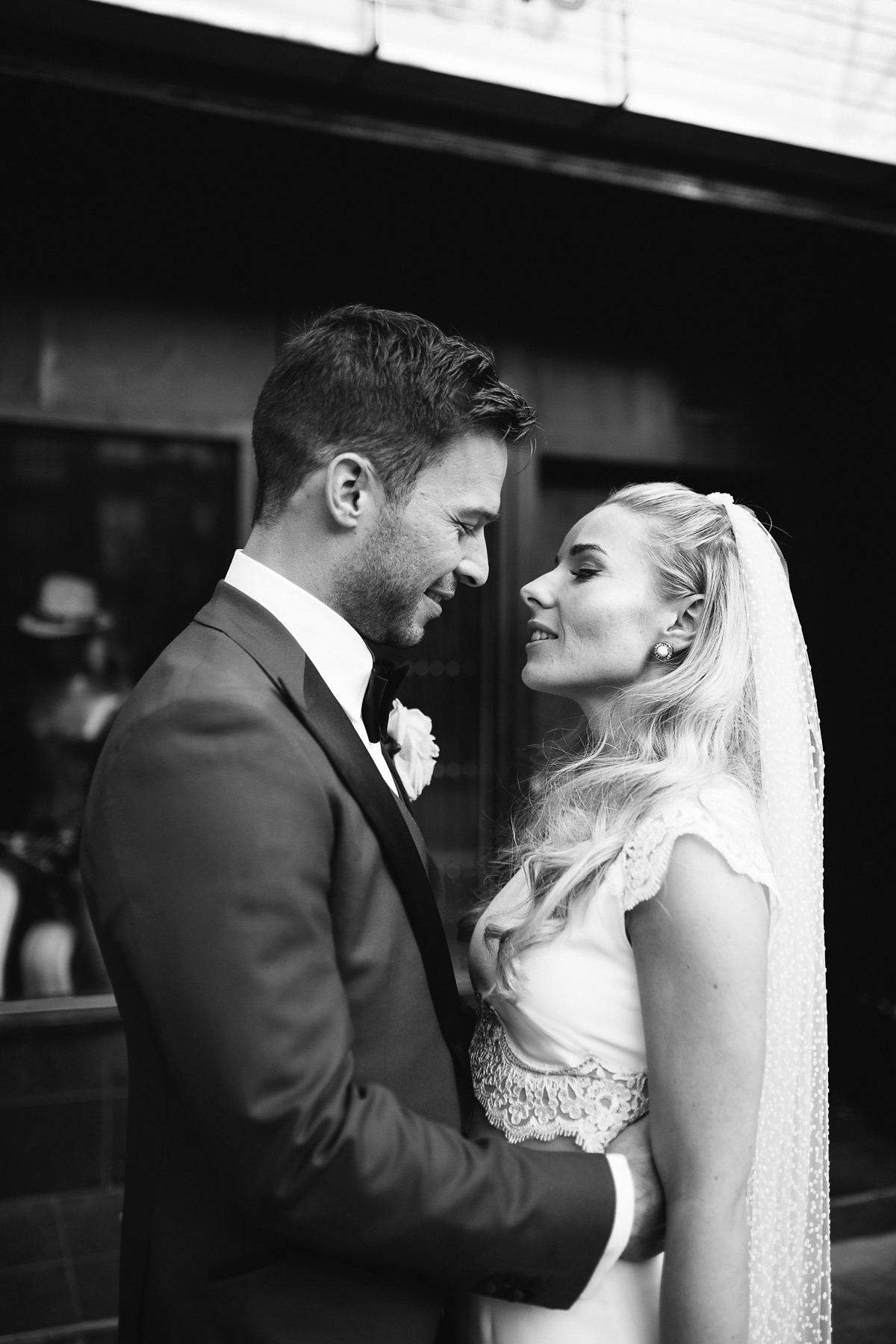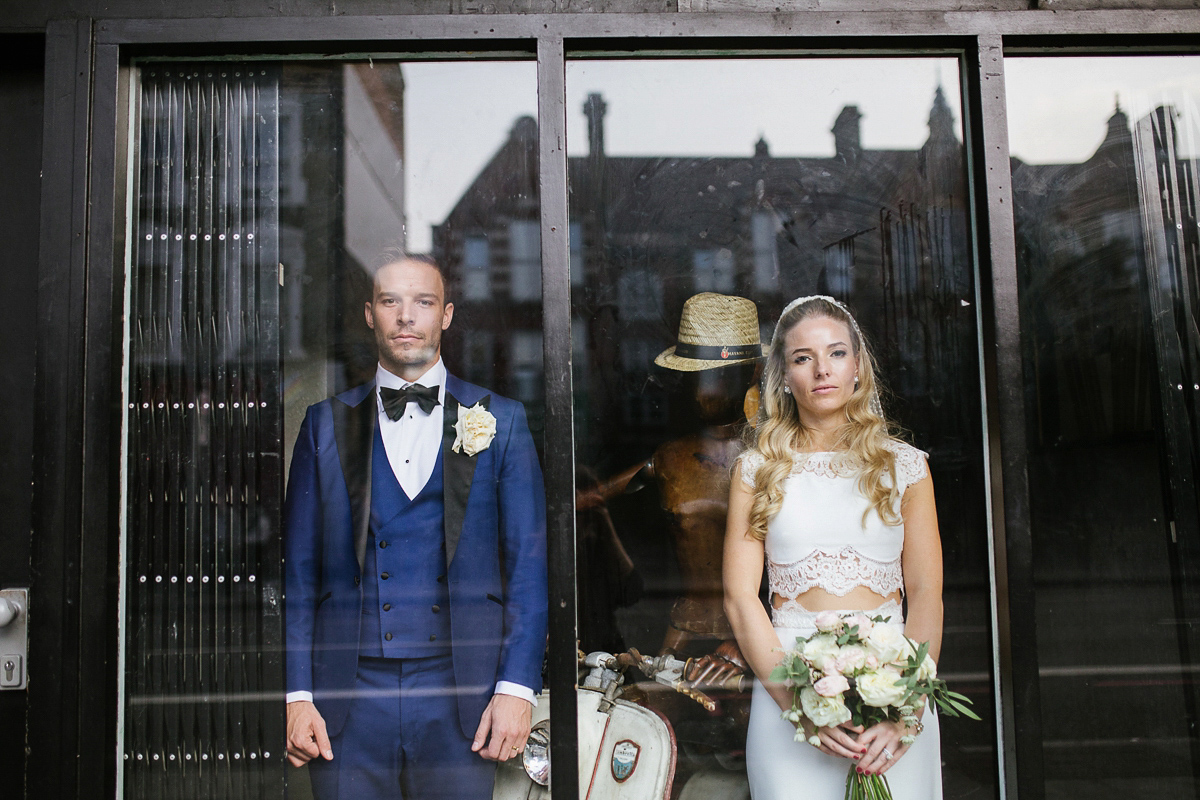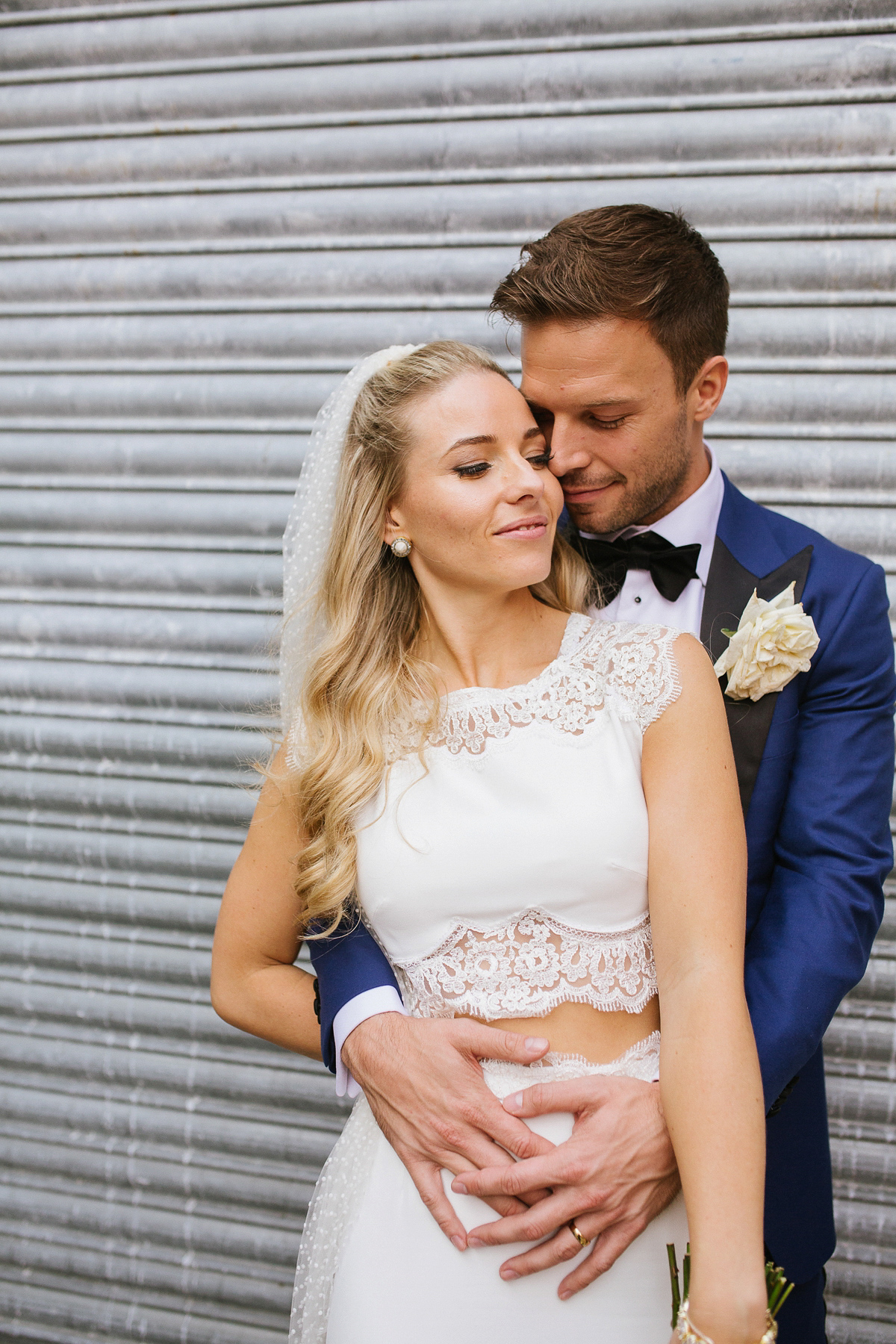 "The reception venue came first, which was MC Motors. I spotted MC Motors very early on in the search and instantly fell in love. We did try to shop around for alternative cheaper options but (for me) nothing compared. I just had to convince James and he felt the same way too once he saw it. For us it is the ultimate cool wedding venue (without actually being a wedding venue – it's a converted garage!).
The fact that they limit the amount of weddings they do a year at MC Motors made it that little bit more special."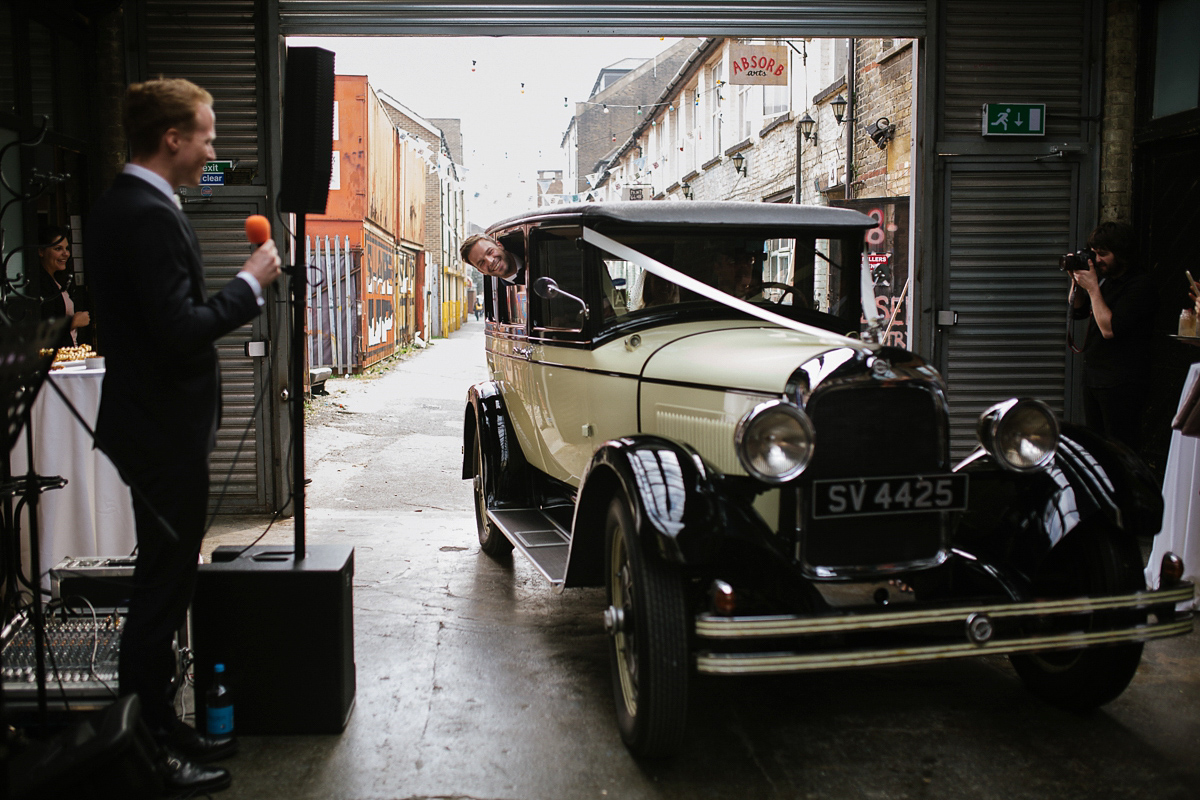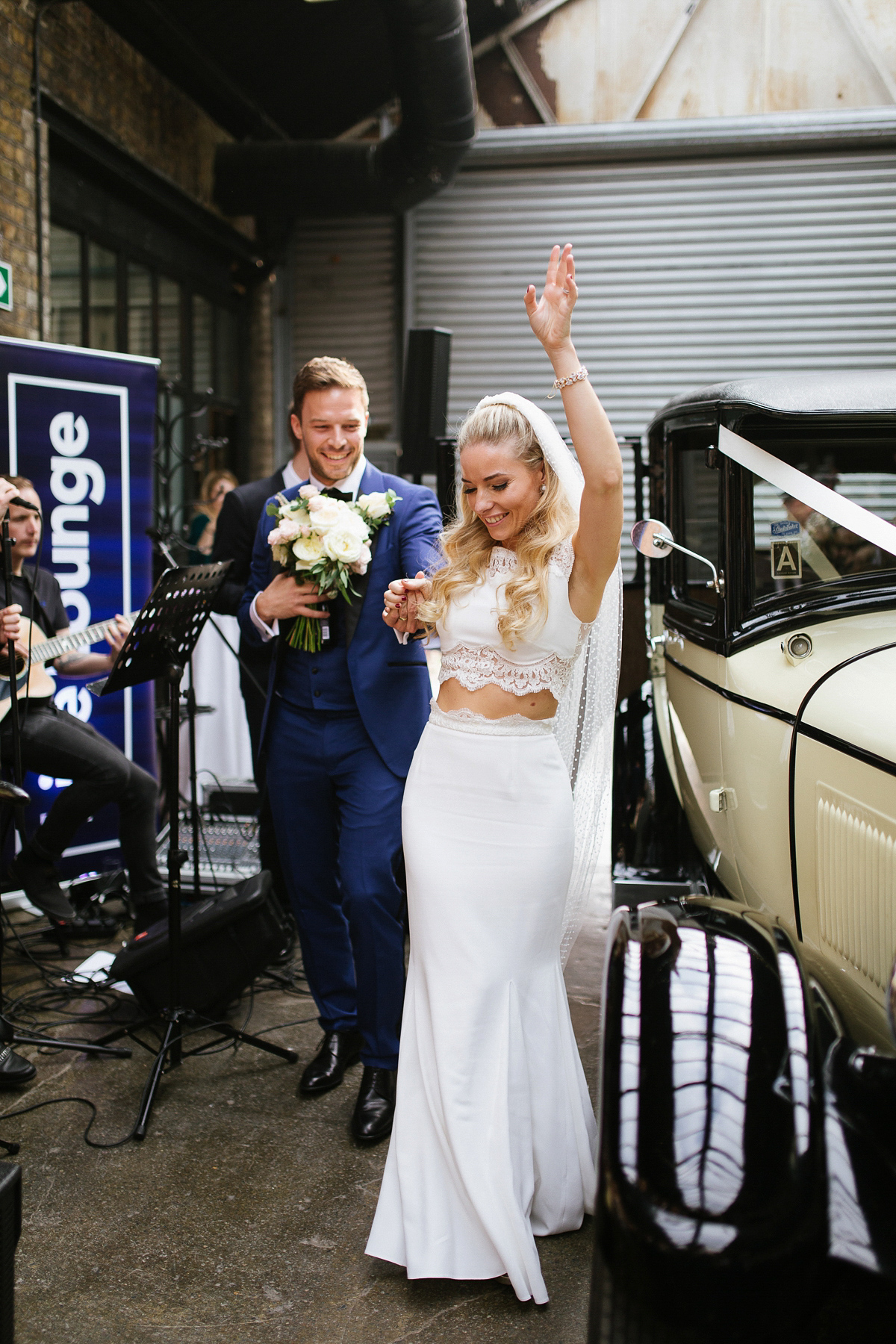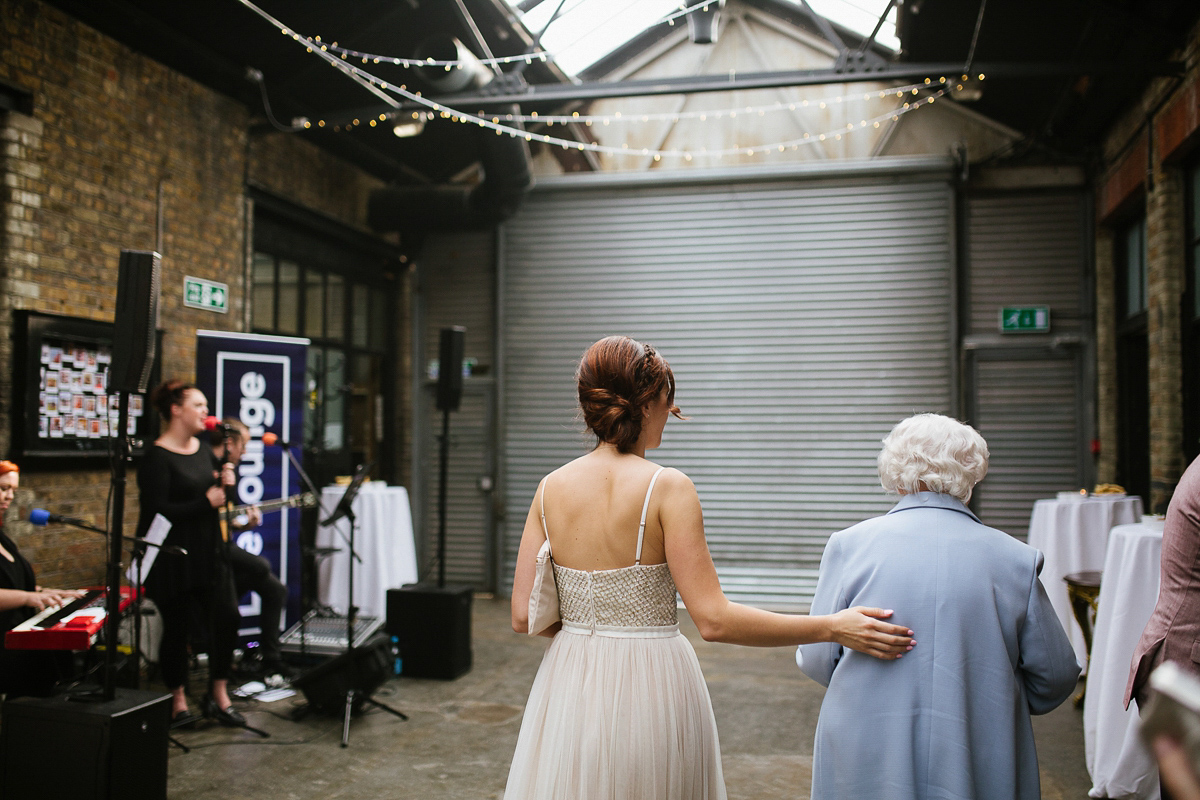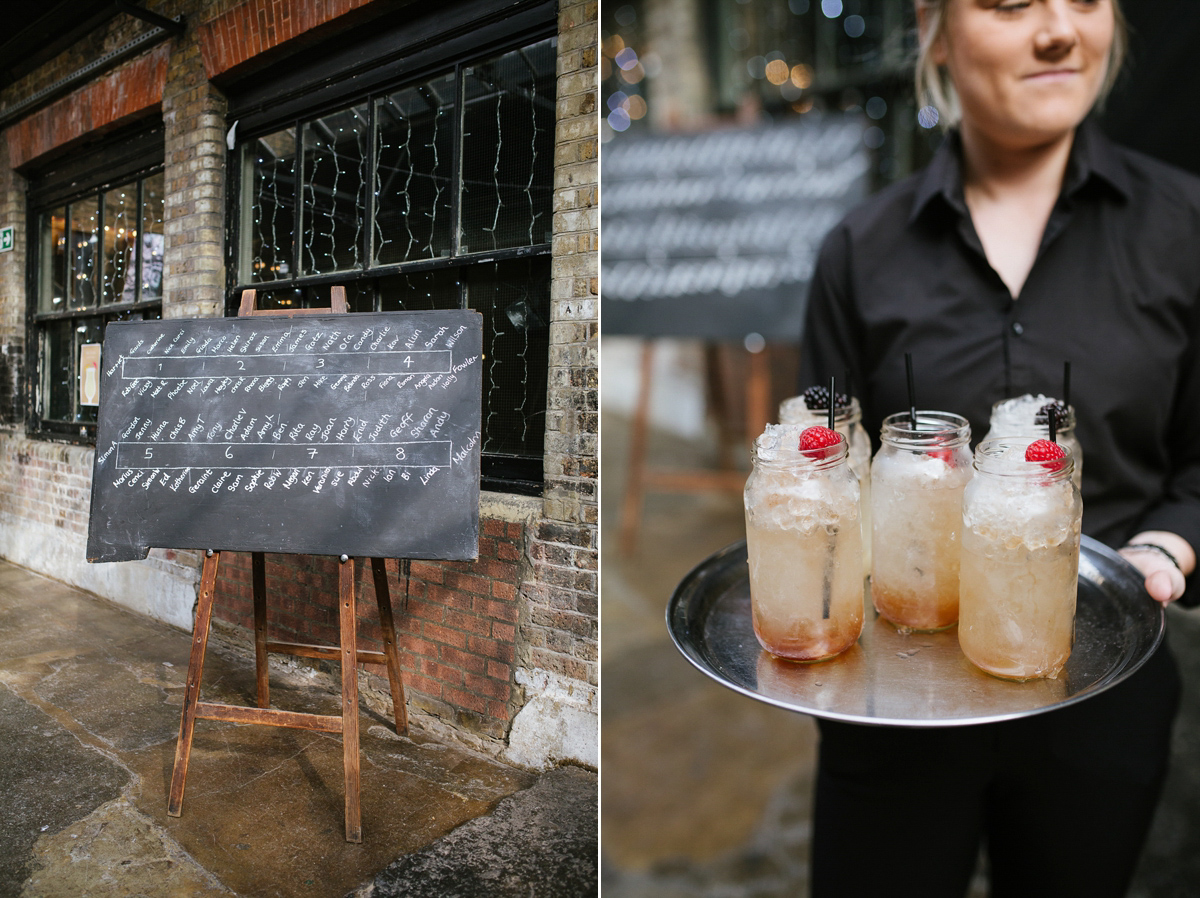 "We had Oyster Meister wandering around, shucking fresh oysters amongst our guests, opening, dressing and serving this delicacy; whilst adding a little theatre to proceedings! This was a massive hit with all our guests and was something a little bit different."
"We were going to provide mini succulents as favours. I went super early to Covent Garden market one morning to source them and I think they would have looked great but we ran out of time and had already spent so much money we decided not to in the end and I honestly don't think anyone noticed."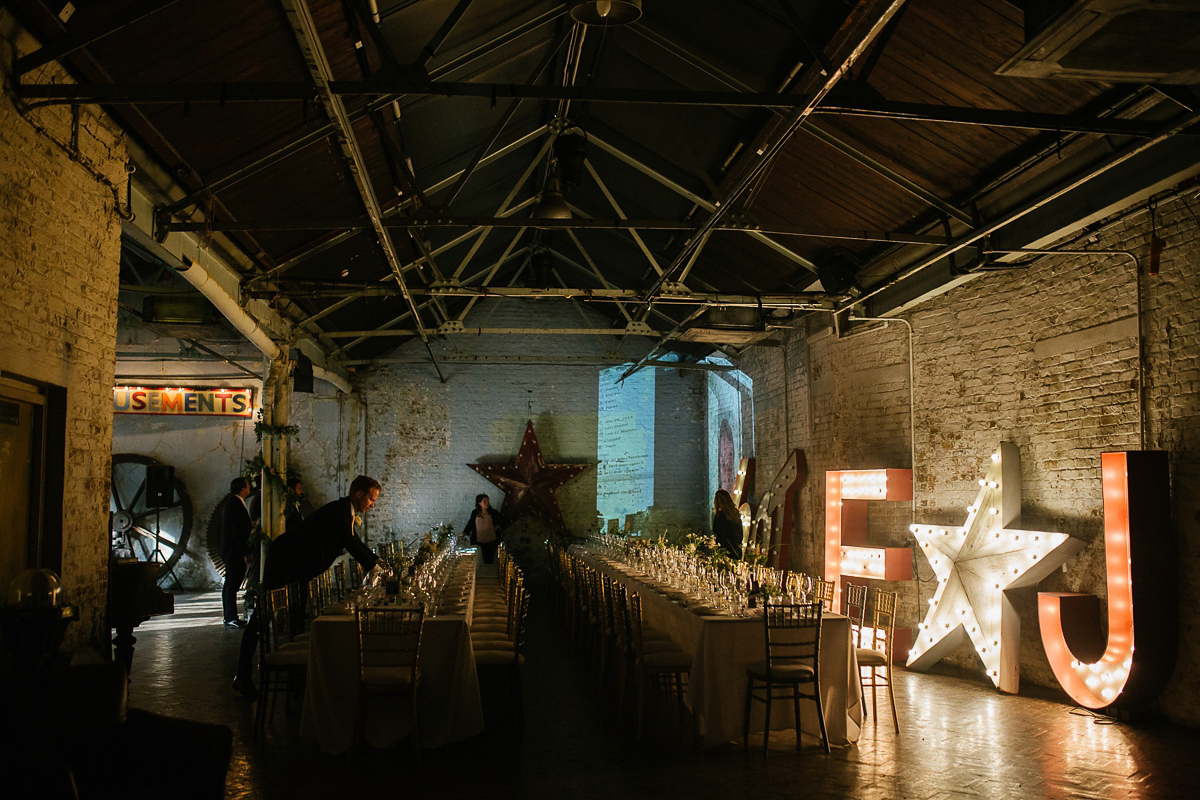 "I cannot praise the guys at Mange caterers enough – they were amazing! Our venue was an empty shell (it doesn't even have a kitchen) so the caterers needed to provided everything, tables, chairs, cutlery, crockery, bar staff, waiters and a pop up kitchen! We wanted a company that had worked in our venue before and Mange was by far our favourite. The food tasted incredible. Anthony was so relaxed and anything we asked for he would sort, even last minute changes.
"As a way to include our family, in old fashioned photo frames I dotted round pictures of James parents, my parents and our grandparents on their wedding day, plus a few childhood pictures of James and I.  The great thing about MC Motors is that as it's usually a photography studio it contains so many amazing props that are at your disposal – giant letters and illuminated stars so the venue doesn't need that much decoration. We just added the flowers, lots of mini tea lights and some lanterns in the walkway, plus some hanging fairy light curtains."
"For table cards we had trawled through old photos/Facebook looking for funny photos of our guests which we had made into polaroid's which then became their place setting. My friend created a 'fill me in' card which we left in each place setting – very short about how we met – advice for the future etc. – most of them were hilarious and a great read when the wedding is over."
"There was a spare room/cloak room in the venue with a big old fashioned mirror with light bulbs round the side and cut outs of 50's pin ups. I thought it would be great to utilise this room as a 'powder room' for the girls (and guys!). One of my bridesmaids, Laura, kindly sorted most of this out – with two baskets full of hair clips, hair spray, dry shampoo, tampons, fake eyelashes, lip gloss and mints etc and I created some mini hangover/party bags containing a Bloody Mary (a mini bottle of tomato juice, a mini bottle of vodka, bloody mary mix), plasters, paracetamol, bubbles and probably a few more things that I can't remember.
One of my other bridesmaids, Rhona, created a 'sweet area' which went on top of an old fashioned grand piano beside our wedding cake. She really did an amazing job with old fashioned sweet jars and baking trays full of marshmallows and cupcakes etc."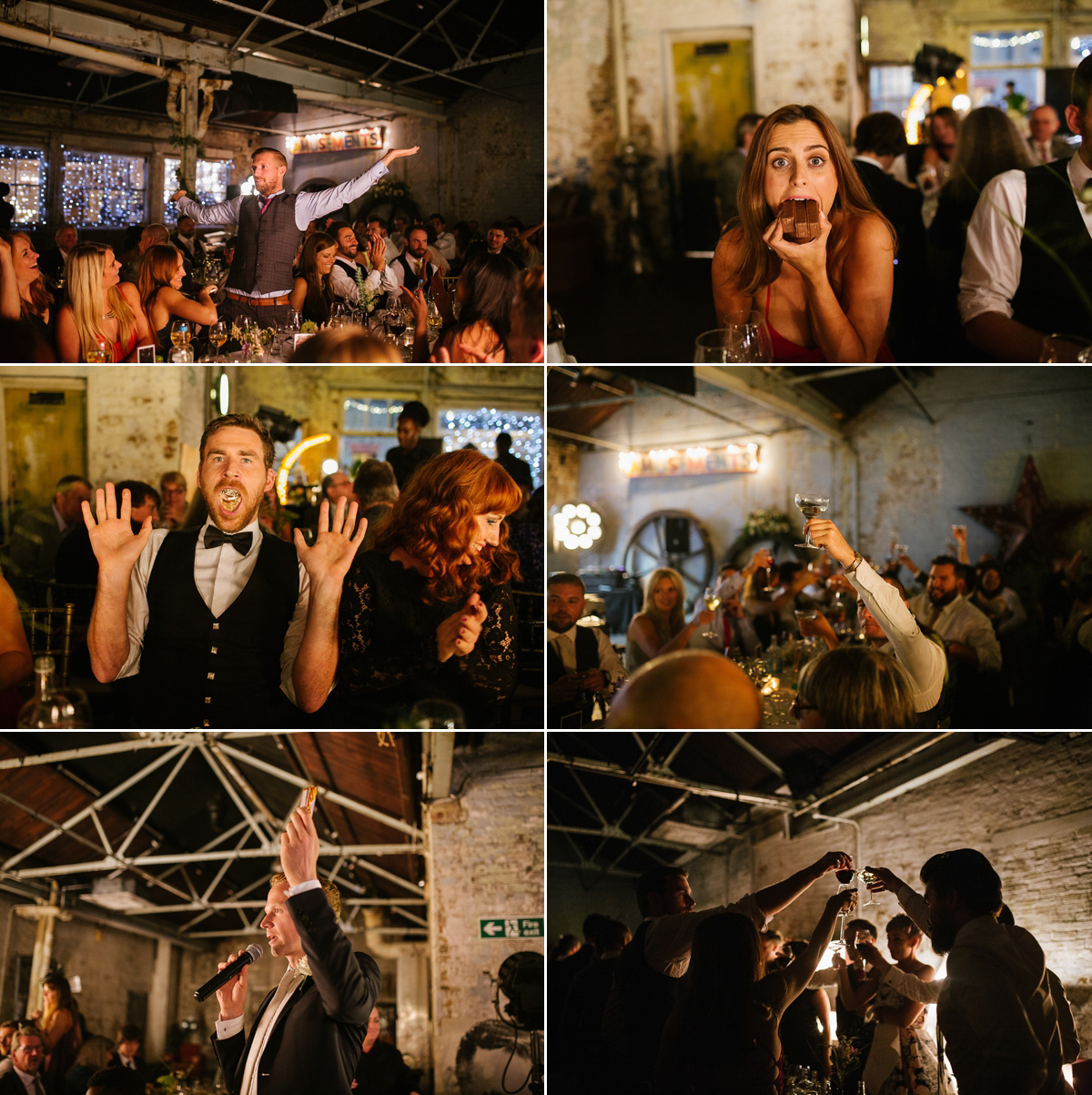 "We weren't going to have a cake – we weren't bothered about breaking a few traditions in that respect. It's your day – go with what you feel comfortable with. I think cakes are expensive and nobody usually eats them. However, my Mum was horrified that we weren't having a cake. In the end guilt got the better of me. I didn't want a traditional cake they just don't appeal to me."
"I found Lily Vanilli and ended up ordering a cake for half the people at the wedding (we had loads left over!). It was a gesture for my Mum but still nice to have. Our cake was kind of a House of Hackney tropical print which I loved and tasted amazing – I think it was chocolate with salted caramel icing and it looked great in the venue."
"Our first dance track was Rupert Holmes' the Pina Colada song. I'm quite shy so for a long time we weren't going to have a first dance but changed our mind quite close to the day. We don't have 'a song' that means anything to us and we didn't want anything cheesy or too slow and we certainly didn't want to perform a dance. Each to their own but this just isn't us! 'Do you like Pina Coladas' is actually about having an affair – so maybe not the best first dance song but it was fun and easy to dance to and we loved it!"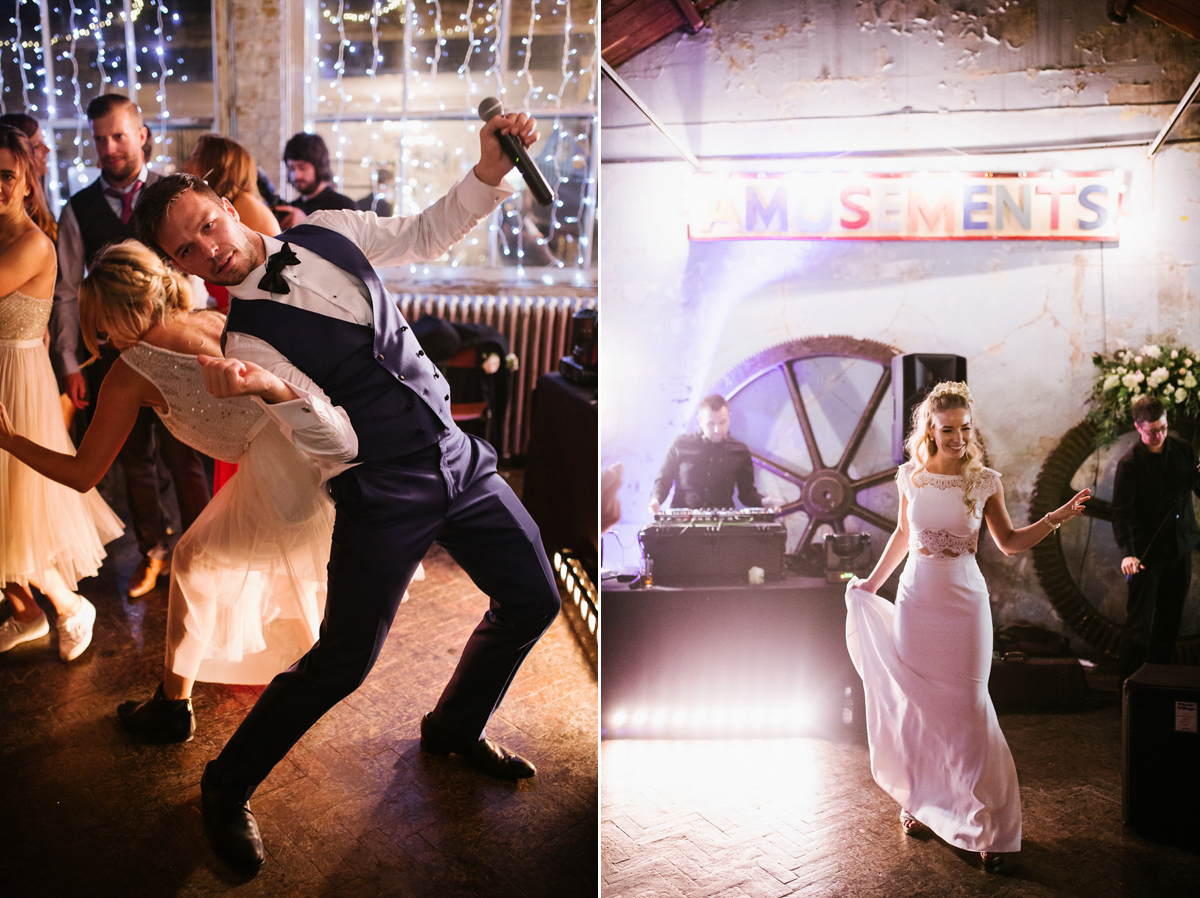 "On the side of the main bar I set up a Pina colada cocktail bar and we strategically placed pineapples and Pina colada posters round the venue – which I thought was just a bit of fun to tie everything together.
We wanted someone that had played our venue before and The Wedding Smashers name came up time and time again. They are really great. They asked for a selection of our favourite music and compiled a playlist from there. They created a really fun party and the dance floor was packed right to the last minute."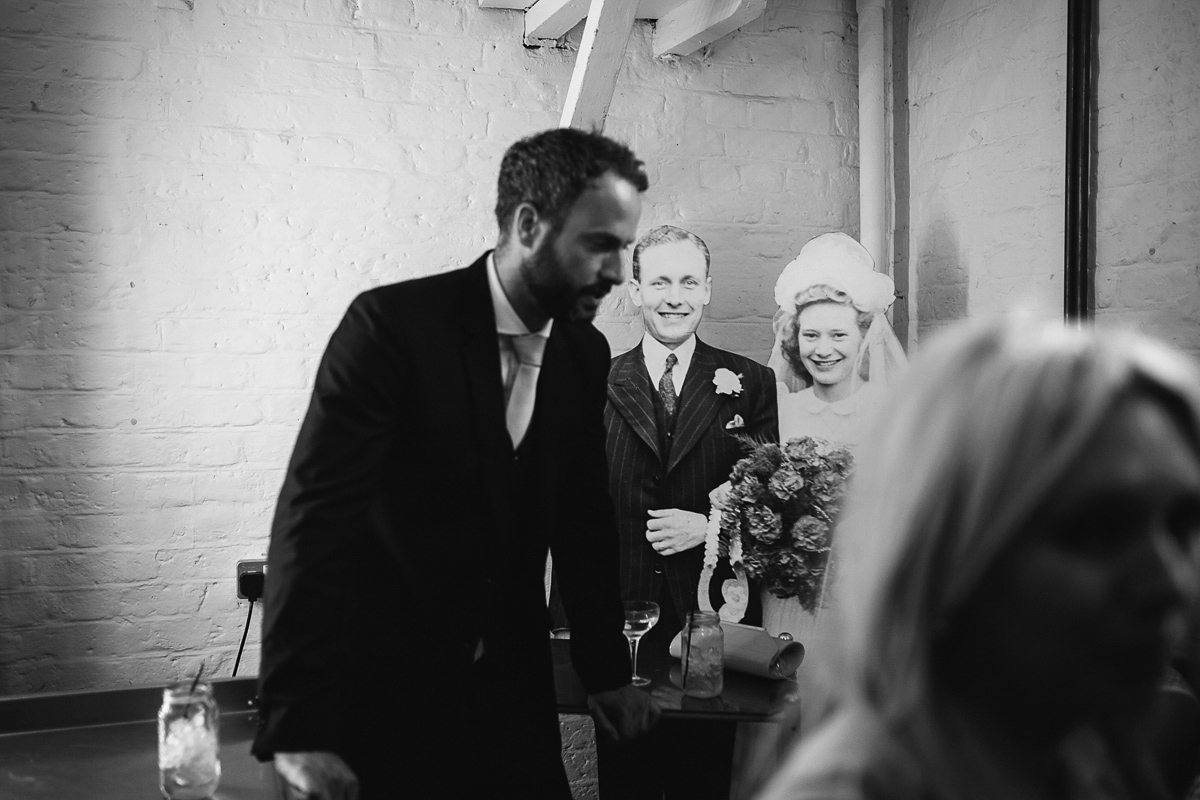 "After a lot of searching I found the band Live Lounge through the Alive Network who agreed to learn and play that piece of music. Alive Network is great but you're really taking a chance because you can't hear the bands live (ironically) before your big day. Luckily the gamble paid off and they were amazing. They also played 'I say a Little Prayer' during the ceremony, which our guests sang along to and 'You've got the Love' by Florence as we exited. They then raced back to the reception to set up and play our guests in.
They were incredible and really got the party started. We drove our wedding car into the middle of our reception drinks (as it's a converted garage – the entrance still opens up as such), and the band played Happy by Pharrell as we drove in. That was fun."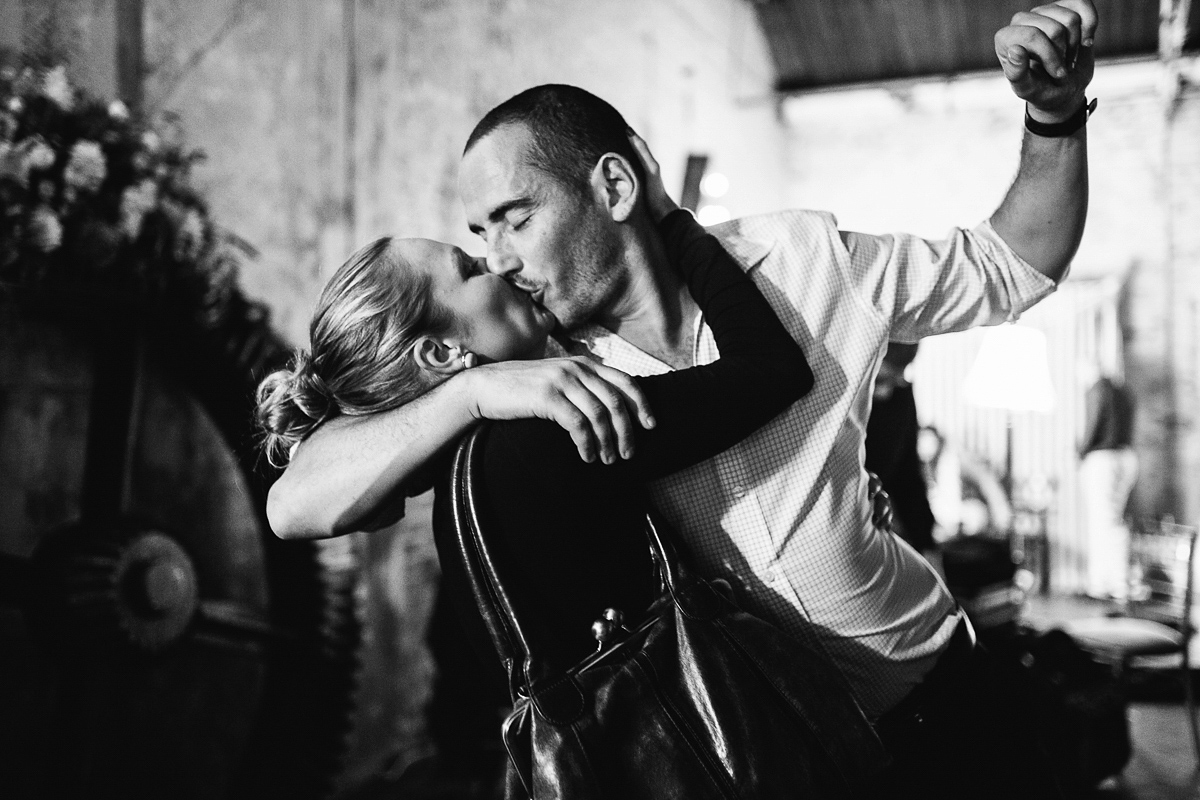 "We'd been to (Scottish) weddings before where there was a Ceilidh band and it's always been so much fun. We asked Lochnagar Ceilidh Band to come and play in-between dinner and the DJ. They were so great! It's something a bit different and it gets everyone up and dancing. It really got everyone in the party mood. We only wished they could have played for longer."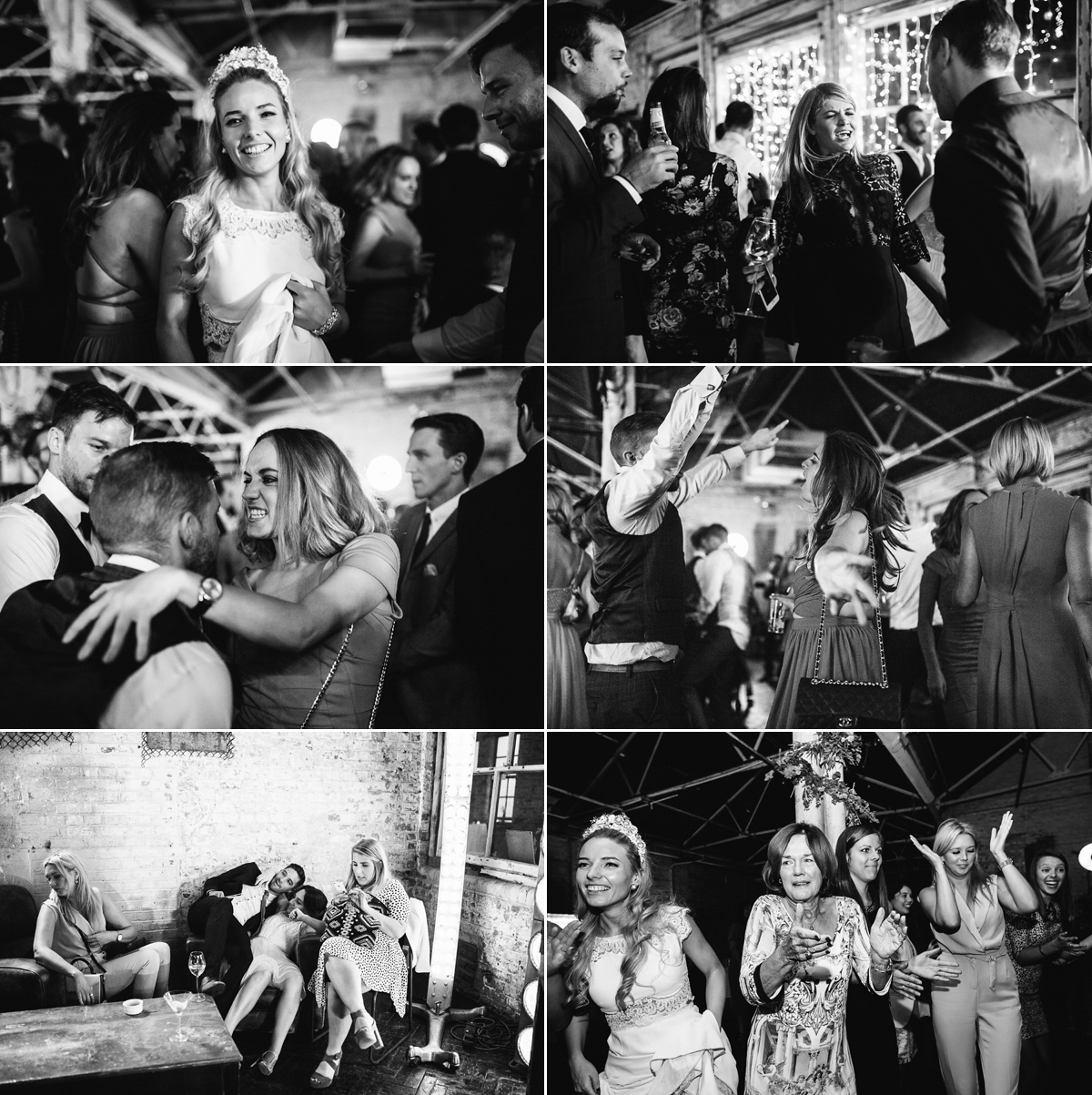 Words of Wedded Wisdom
"I would have got a videographer. Everyone says it but you don't realise how quick the day will pass! Your photos and videos become your memories and I think this is one of the most important parts of the wedding to spend your budget on. Perhaps we shouldn't have given our guests so much alcohol too!
I can honestly say the day was everything and more that we both had ever dreamed of. From the moment I started to get ready in the morning with my bridesmaids to arriving back at the hotel in the evening with my husband, it was all just perfect."
What a beautiful way to start a Thursday – my love and thanks to Emma and James for sharing their gorgeous wedding with us today, and thanks to to the darling Emma and Pete Case. You can find out more about Emma and Pete and their wedding photography services by visiting the website at emmacasephotography.com. You can also see more of Emma's weddings on Love My Dress here.
Have a lovely day everyone,
Annabel xx