Do you ever find yourself gazing at Love My Dress and wistfully imagining the beautiful array of weddings you'd have if you could get married dozens of times (to the same guy of course) in parallel universes? I'd like to introduce you to today's rural, musically-focussed autumnal celebration and one of my all-time wedding daydreams. Beautiful bride (and gorgeous mummy) Laura, a Creative Media Teacher, married Matt, an Audio Visual Engineer, on 17th October 2015 at Harlestone Village Institute in Northampton (happy almost-first anniversary guys!).
"We wanted to maintain a rustic, countryside vibe and we both also love autumn time so were really inspired by this for our photo locations and style. We chose the Harlestone Village Institute because of its beautiful countryside location and its relevance to Laura's childhood, who spent a lot of time with her father in these fields when she was growing up."
Captured by Henry Britten Photography
"We met at a mutual friend's barbeque about seven years ago and immediately made each other laugh. We later spent the evening bonding over song choices for the playlist and music has remained a strong part of our relationship over the years."
"We got engaged at the bandstand in Abington Park in Northampton about ten days after our daughter, Darcy, was born in November 2014. We were engaged for just under a year before our wedding day."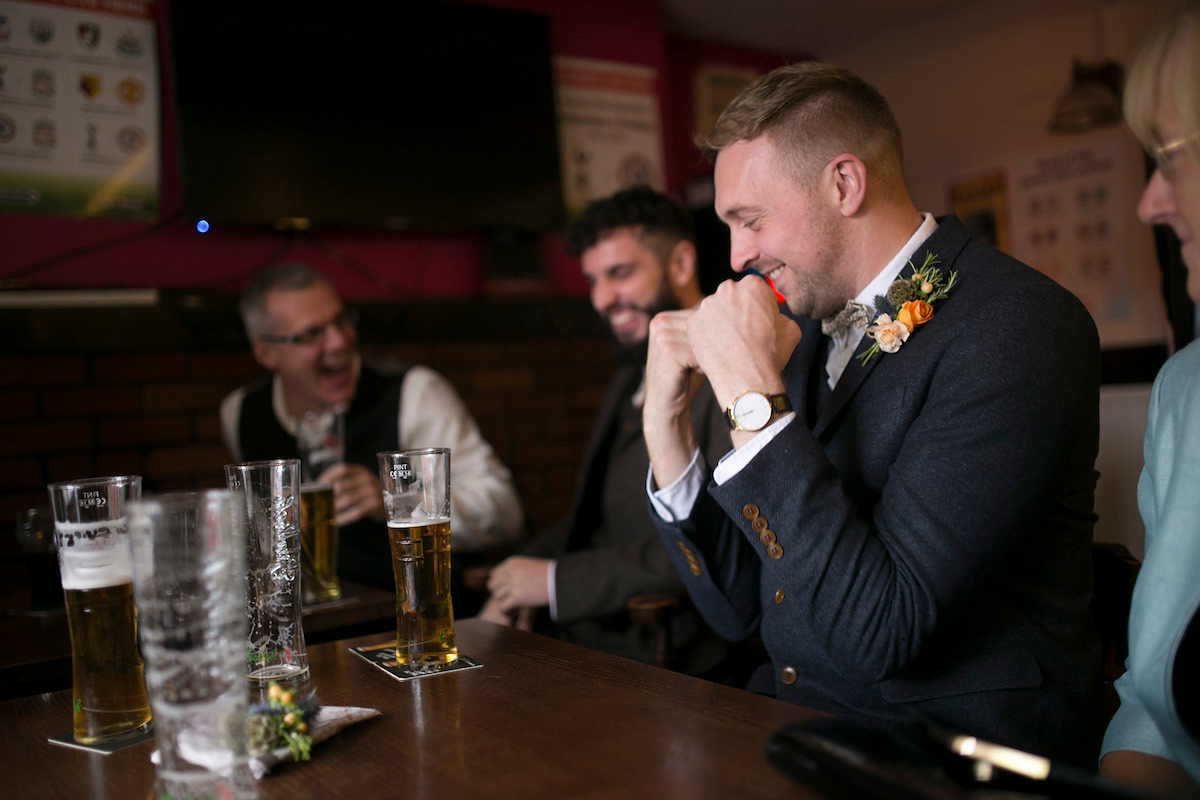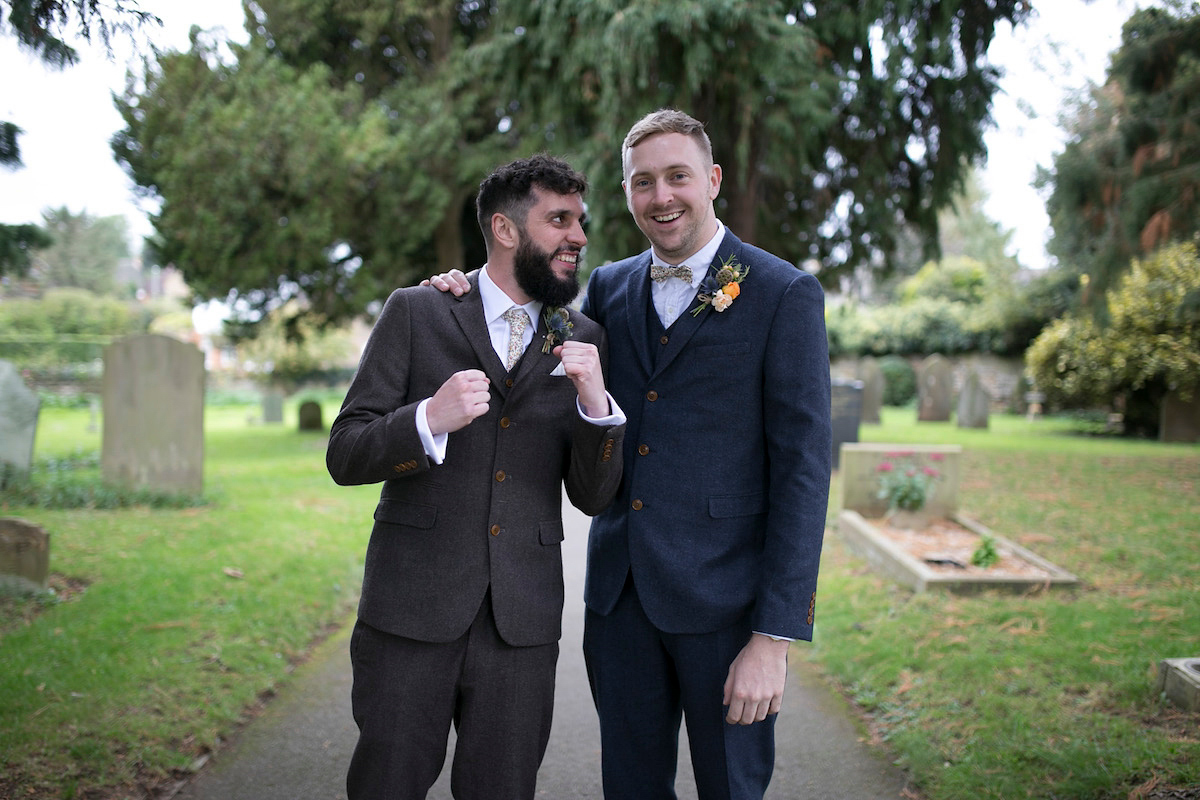 Atop her tumbling flaxen locks, Laura wore a truly beautiful flower crown crafted by The Flower Stylist and in a further floral nod wore Daisy by Marc Jacobs perfume, which Matt bought for her a few years ago and has remained her 'scent' ever since.
Her lovely groom also gifted her with a sweet 'Baby Bee' necklace on their wedding day (I just ADORE Alex Monroe's jewellery), which she paired with a pair of simple pearl earrings which Matt gave her for her 21st birthday.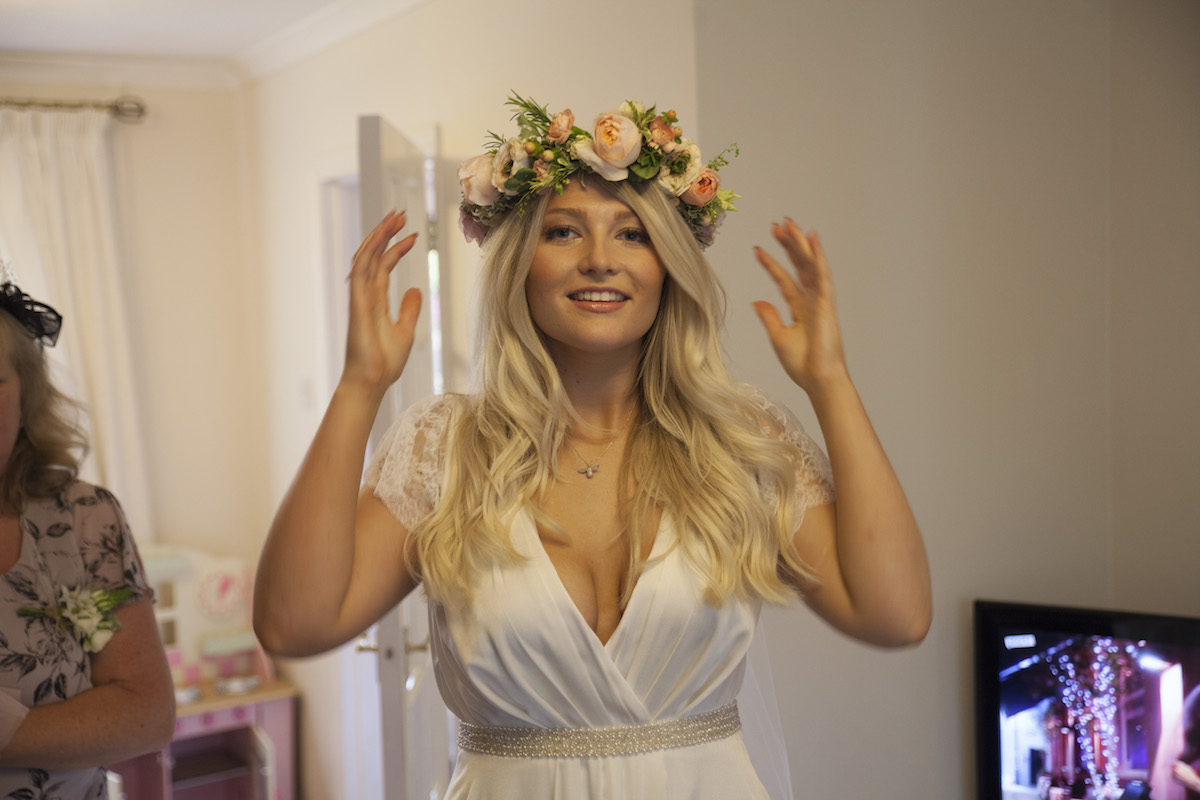 Laura's adorable daughter, Darcy, wore a cute Next dress with a pastel-toned crown of sugar-sweet blooms to match her mama. The bridesmaids looked equally lovely in ASOS and shoes from New Look, while Darcy's daddy rocked a blue herringbone three piece suit and floral bow tie from ASOS, complemented by his groomsmen in their matching floral ties and tweed and wool suits from Next.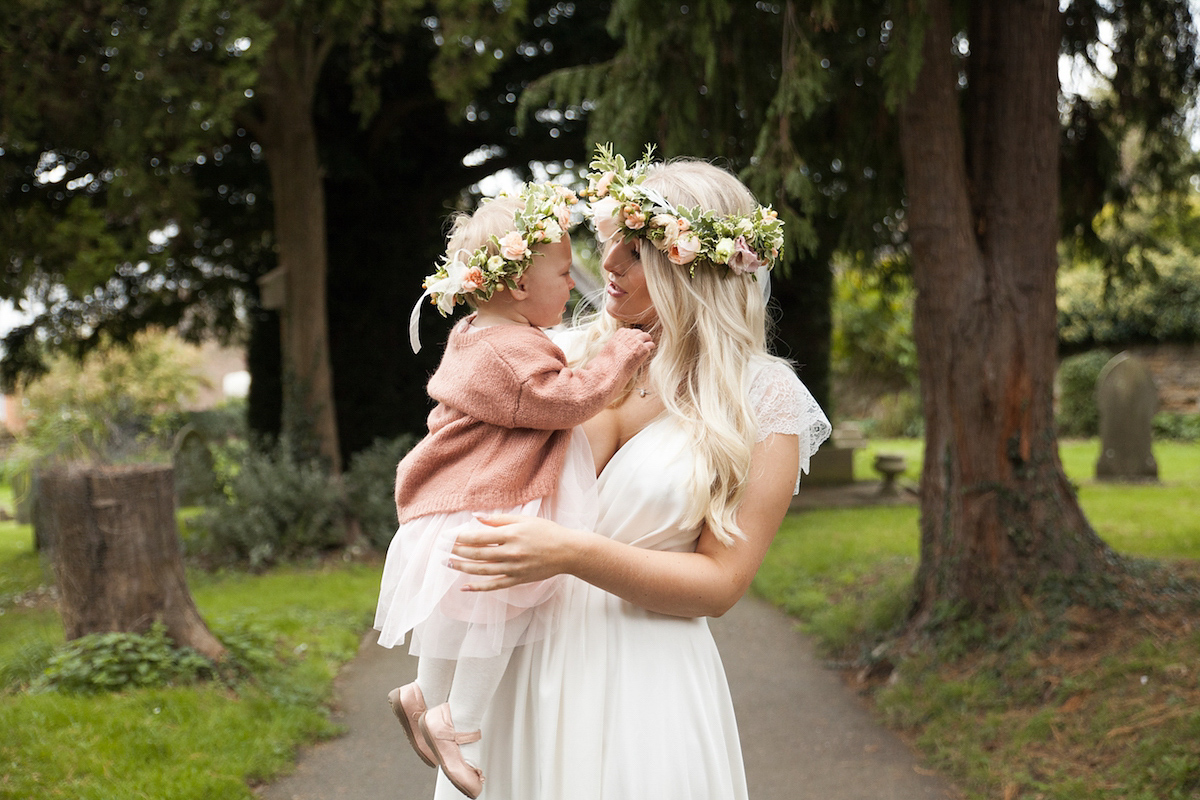 "Ann & Alysha at The Flower Stylist were both so amazing, friendly and talented. They completely understood my vision, what I wanted, and went the extra mile to accommodate my needs. I had hair extensions by Jess Westley at Minx Hair Salon and my hair was styled by Hatbox. My make-up was done by Keira Miller at Belle Beautique."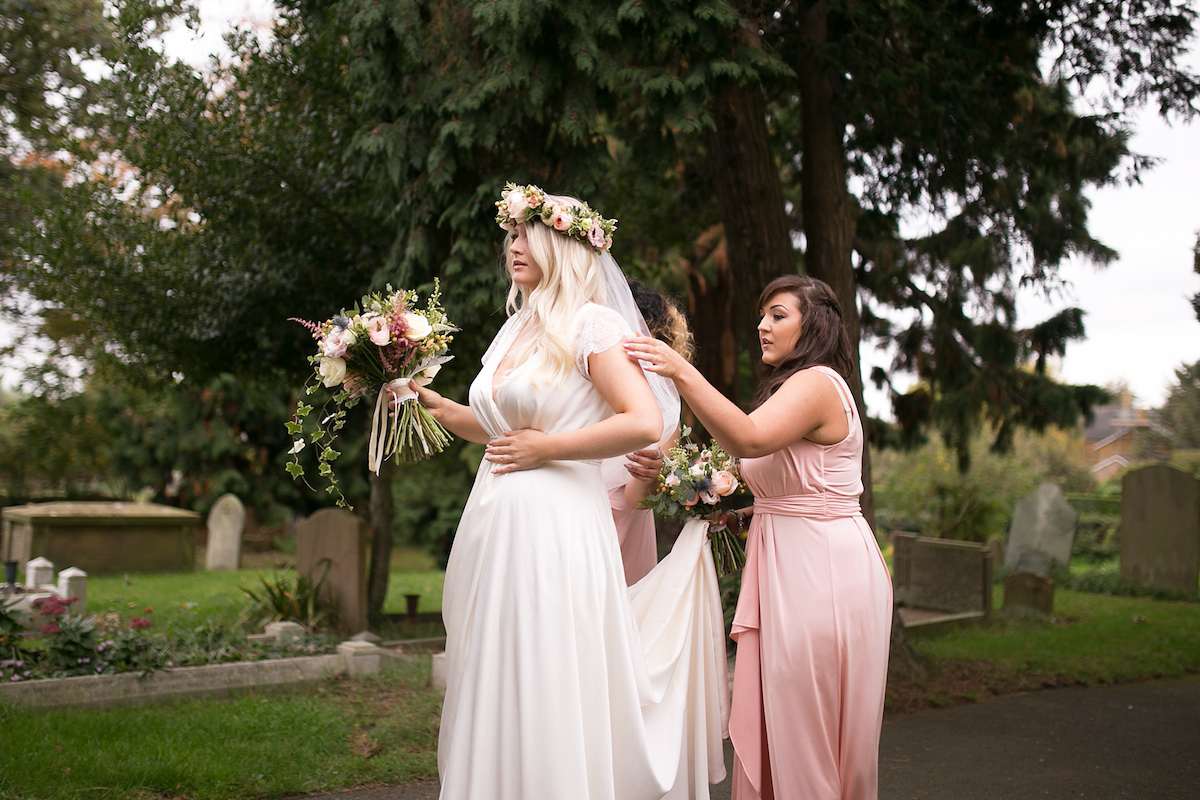 Doesn't Laura look absolutely sensational in her Charlie Brear gown? I just adore all that flowing fabric, delicate lace and the pretty pearlescent detail creating that gorgeous waistline, which so perfectly shows off the bride's figure. Laura added a simple fingertip length veil bought from this Etsy seller and beautiful and budget-savvy shoes from ASOS.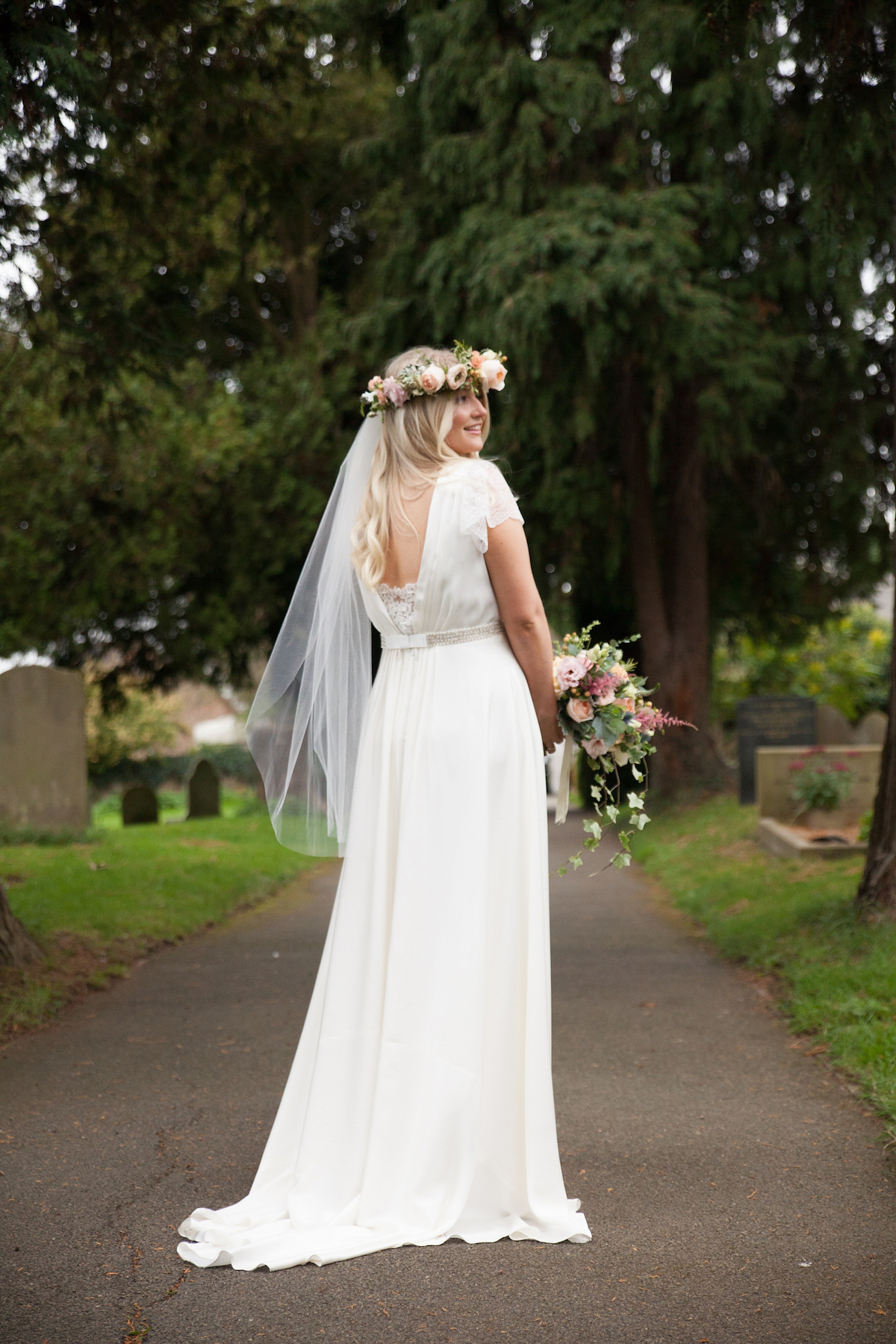 "My dress was Charlie Brear purchased from Lola Bridal in Northampton. I felt really disheartened and deflated trying on dresses so soon after having our daughter – I didn't realise how much my body had changed and so found this a really tough experience."
"I nearly didn't try this dress because I was nervous it would be too small, but I'm so thankful I did as it just felt so incredibly right. I felt like the best version of myself and saw the potential to accessorise with corresponding Charlie Brear items."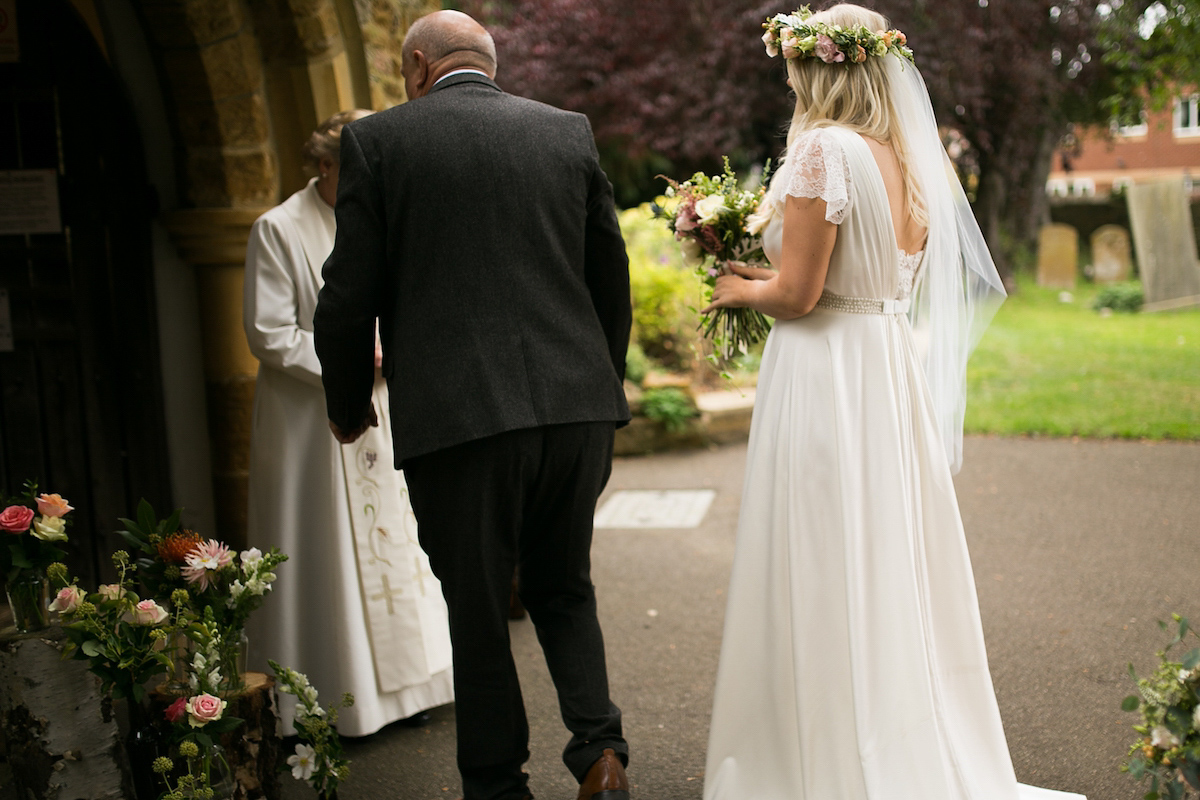 "My pianist from the band I've played with for years, Roy Civil, kindly played a bluesy instrumental version of 'At Last' by Etta James to accompany down the aisle – it was absolutely perfect. 
For a ceremony reading, we chose the poem 'Love' by Roy Croft, as we both felt this completely embodied our relationship and the family that we have become."
"During the signing of the register we had Ray Charles' 'Hallelujah, I Just Love Her So' (one of the first songs Matt heard me sing with the jazz/soul band) and 'Higher' by D'Angelo (a really spiritual song we both adore and feel connected to)."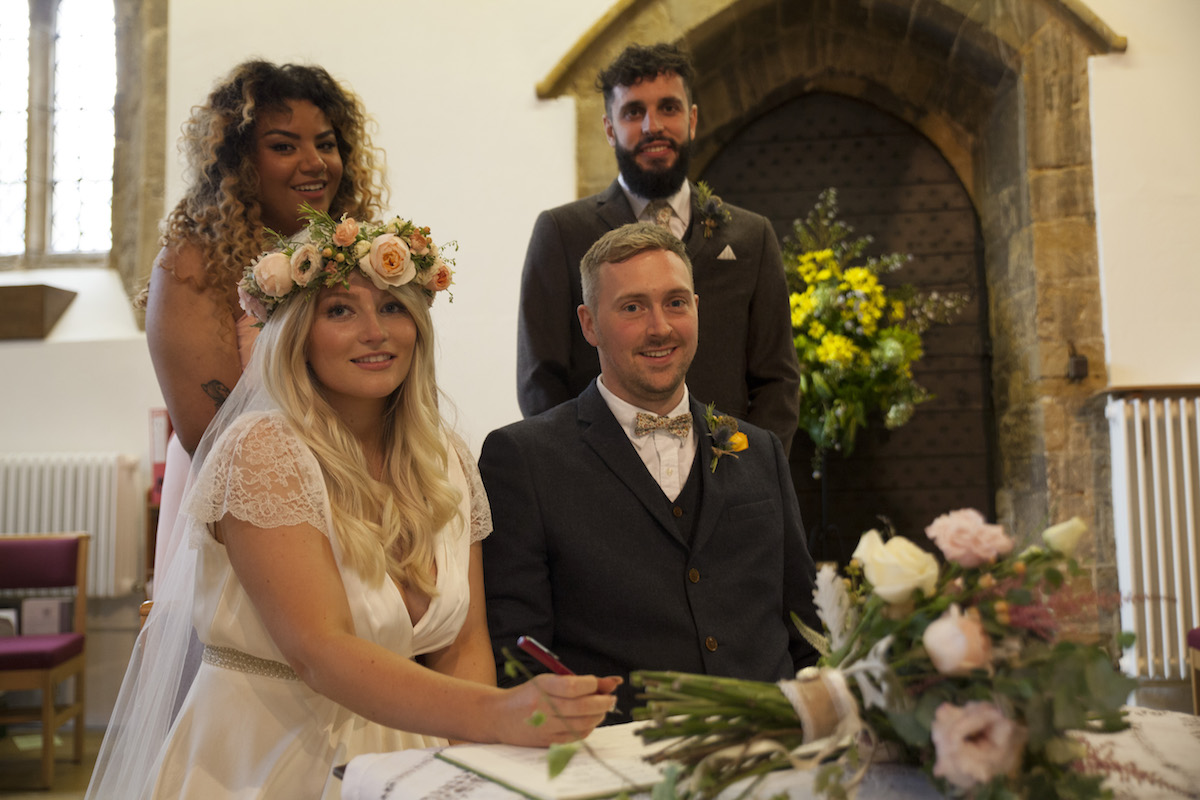 "Leaving the church we played The Dirty Dozen Brass Band's 'When the Saints Go Marching In' in a nod to our Northampton roots and Matt's love for New Orleans jazz. My favourite part of the day was the church ceremony – the music combined with the emotion was just perfect and this is exactly how I remember the day."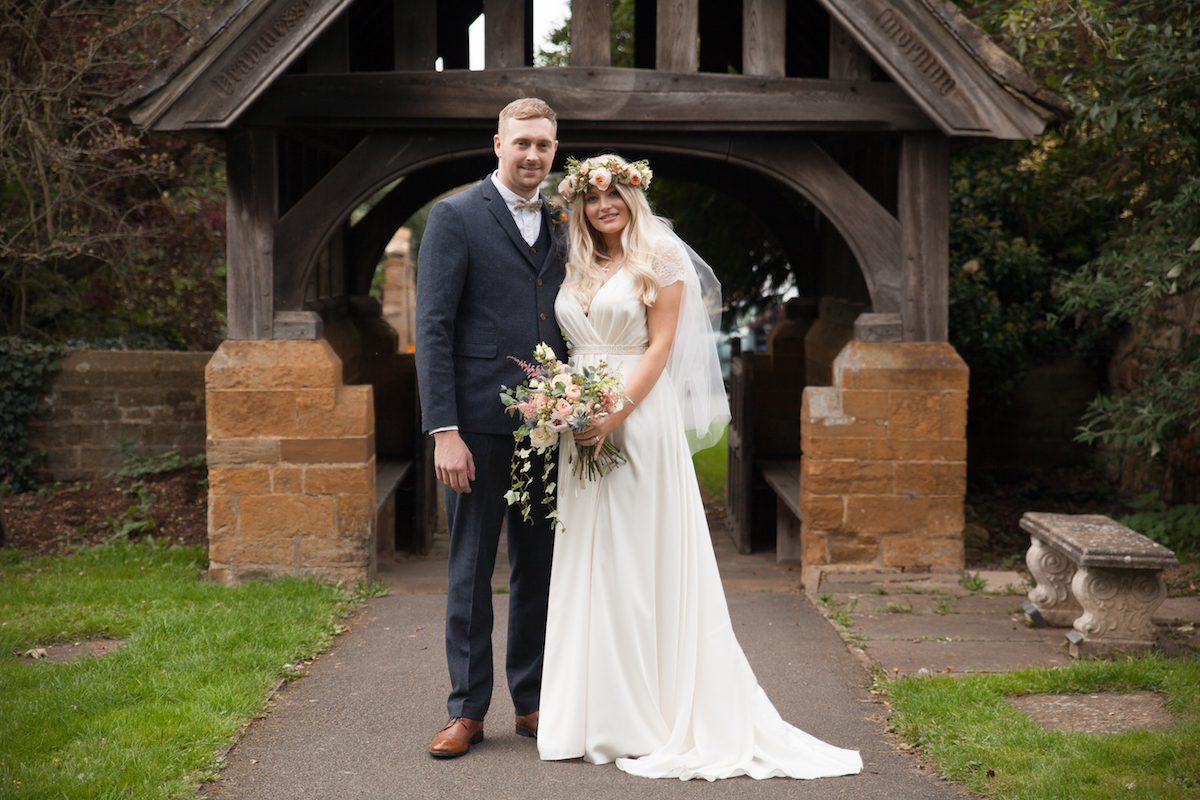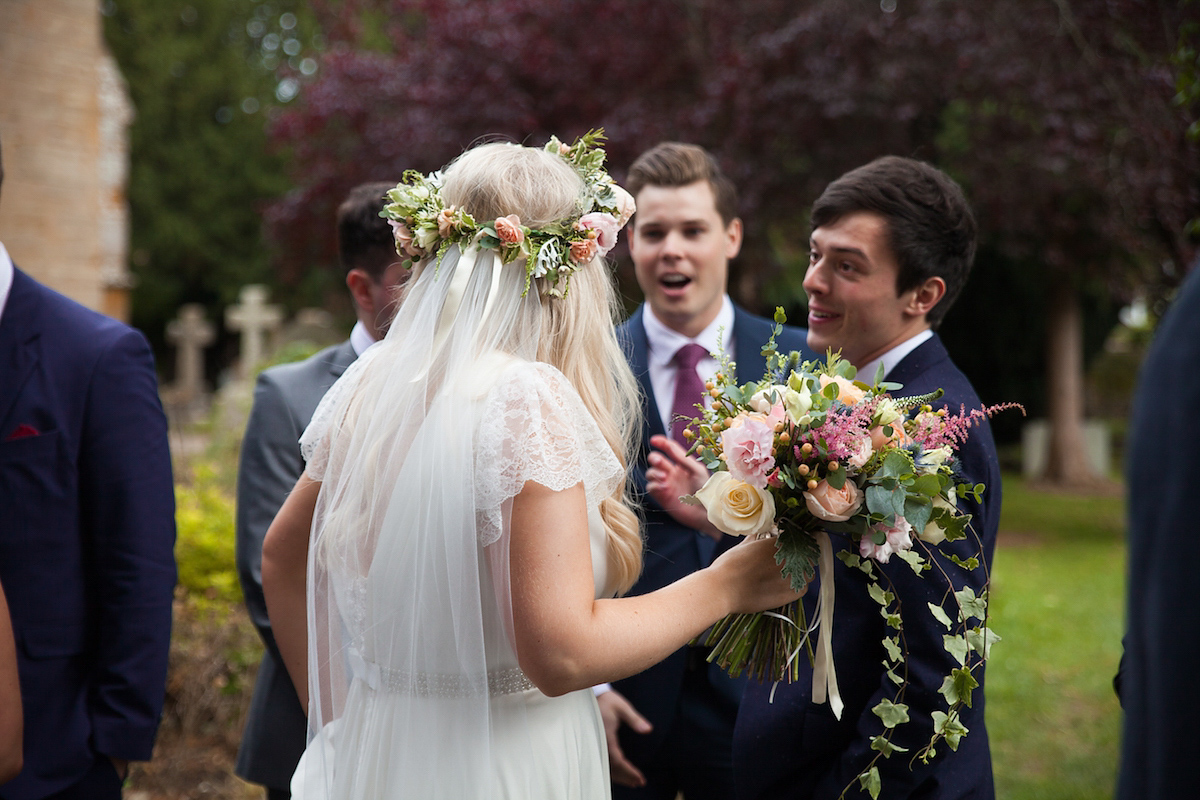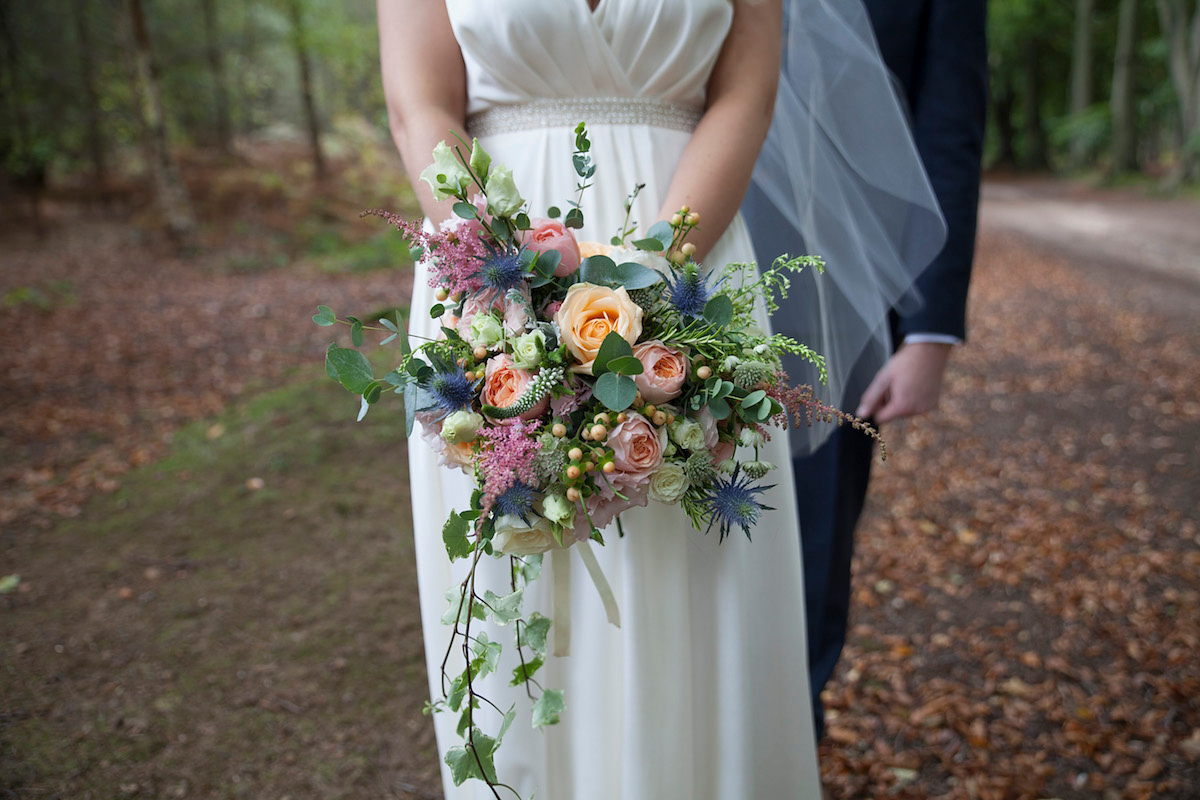 Laura and Matt chose Henry Britten Photography to document their day. Henry describes himself as an 'avid daydreamer' and there certainly is a strikingly dream-like, ethereal quality to these images. The woodland shots of Laura and Matt, framed by autumn leaves and twisting branches are simply stunning.
"I went to school with Henry so knew how fantastic he would be. I would recommend him over and over again. He totally gets your vision and works so well with rustic/landscape vibes."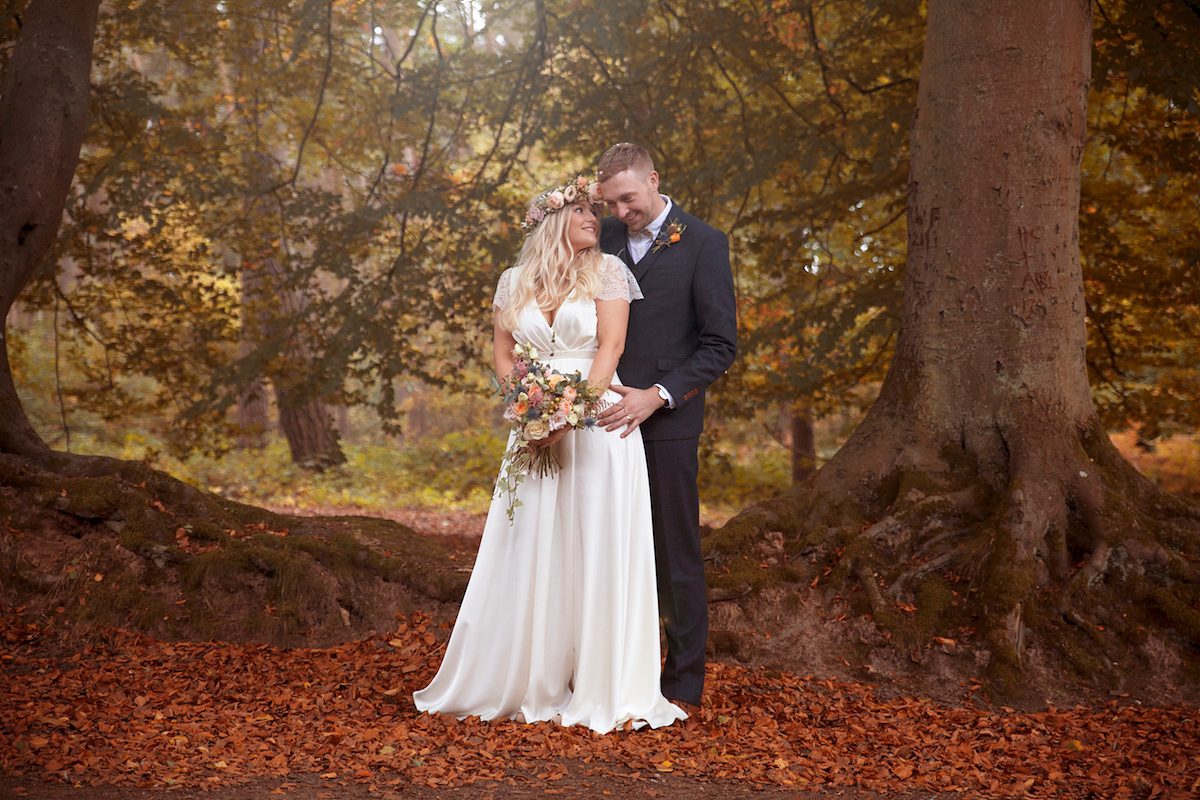 After their atmospheric woodland shoot, Laura, Matt and all their loves headed to Harlestone Village Institute for their charmingly rustic reception. Canapés and the wedding breakfast were catered by Cornwells Catering and rumbly tummies later kept at bay with a delicious treats from a sourdough pizza van from Spectacular Goat. Laura can't recommend these providers of tasty bread-based delights enough, especially as they're happy to tailor the menu to your choice.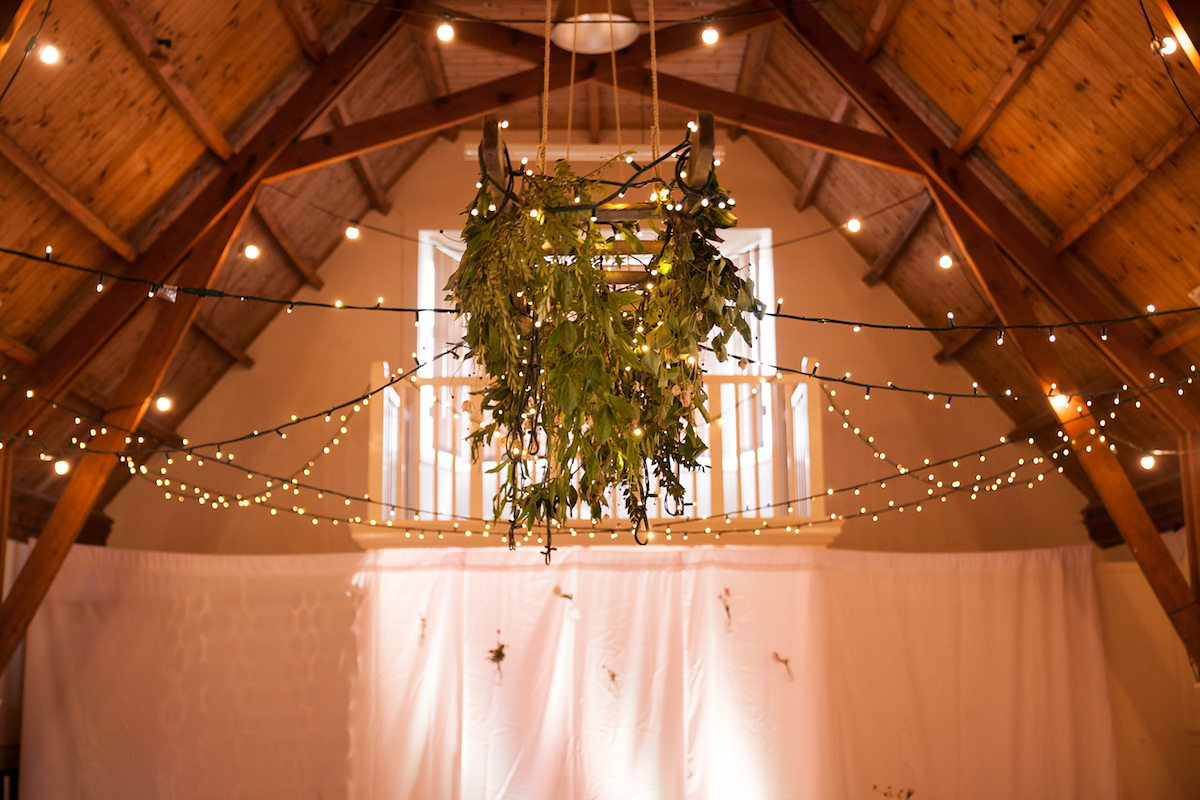 "For décor we had vintage art deco candlesticks, gold frames and handmade chalkboards with hand lettering, a DIY photobooth, small white pumpkins, wild flowers, festoon lighting, small glass vases with a flower or two suspended with fishing wire, gold sequined cushions, kraft paper rolls as table runners (budget friendly!) and wooden log slices."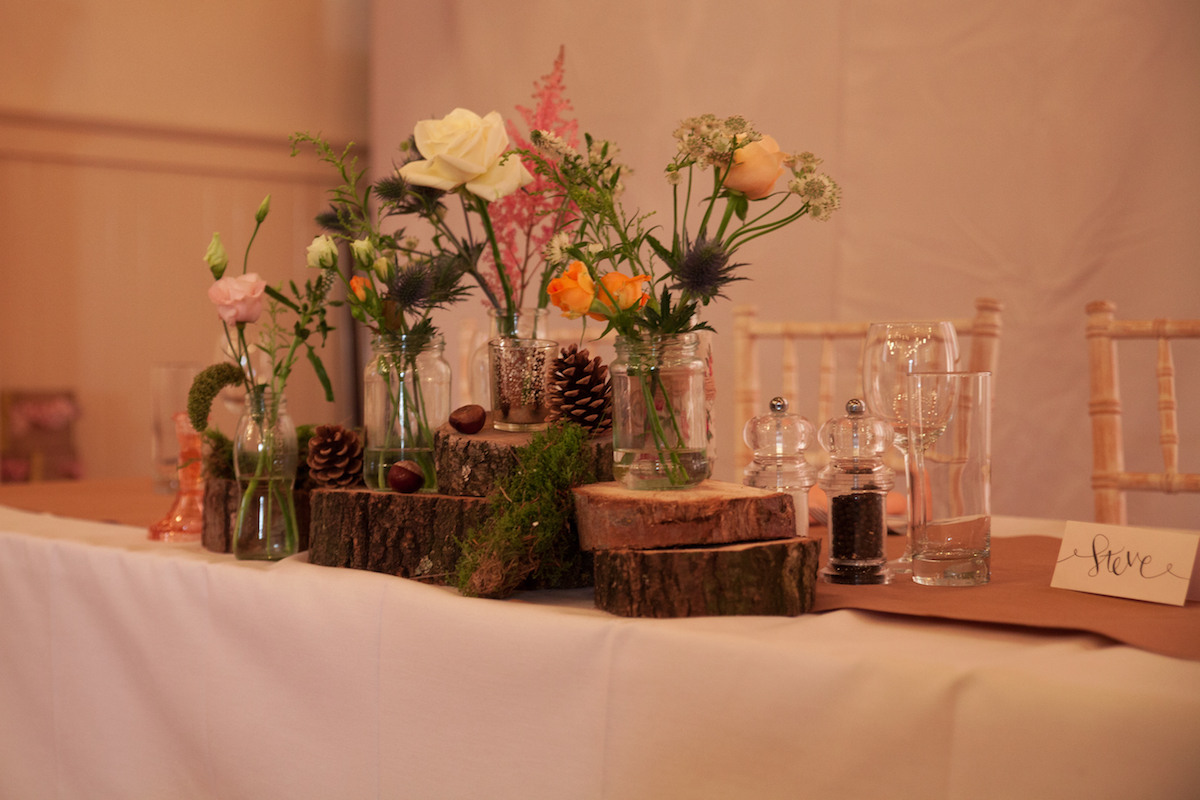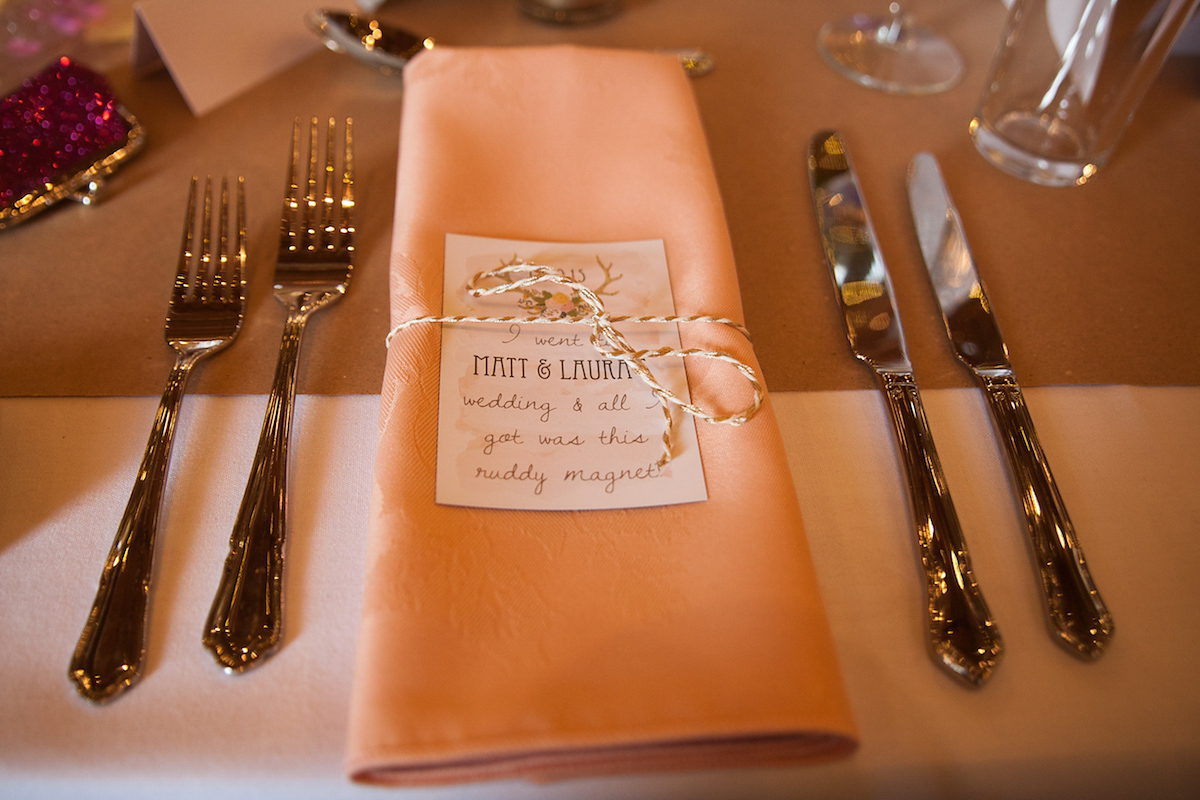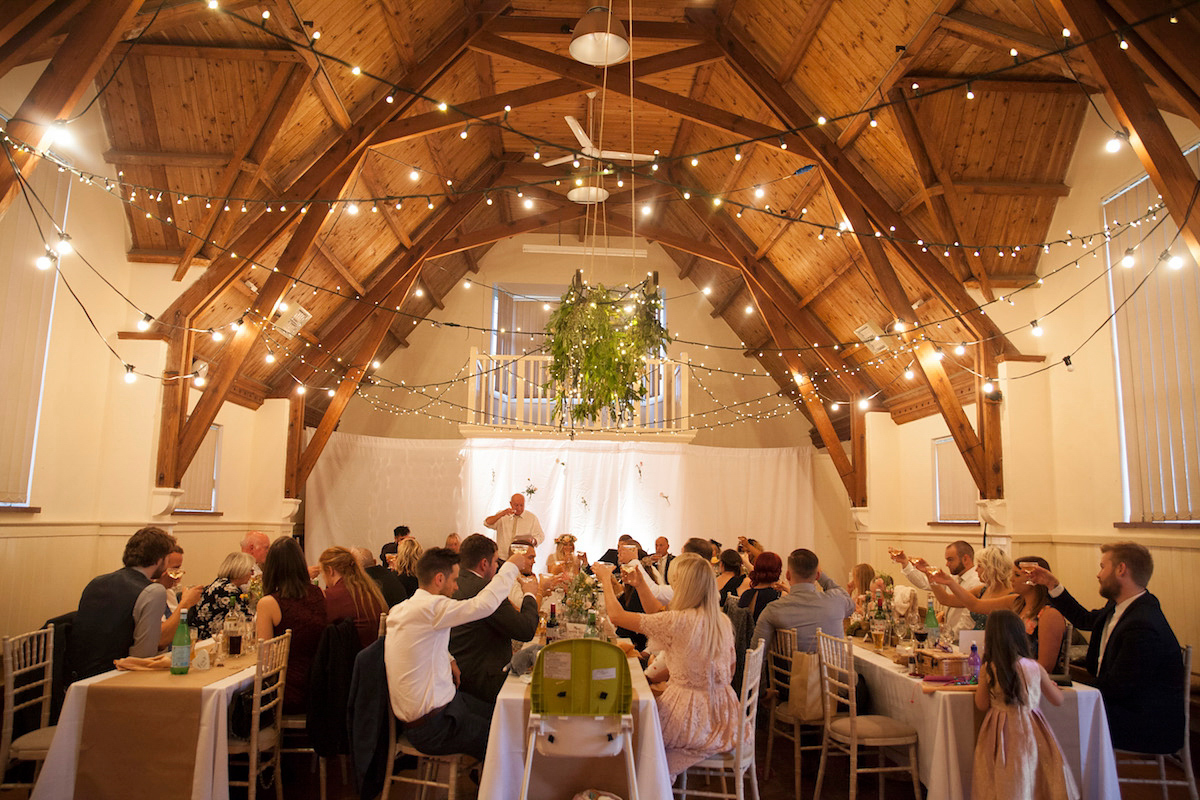 Laura and Matt had a sumptuous three-tiered naked cake decorated with berries created by The Vintage Bluebell Bakery and an array of gorgeous wedding stationery designed by White Cottage Weddings, supplemented with a few of the bride's own designs which she had produced by Printed.com.
"Our wedding favours were magnets designed by White Cottage Weddings saying 'I went to Matt & Laura's wedding and all I got was this ruddy magnet!'"
"We created a playlist of modern jazz covers for our guests on their arrival, and also enlisted the help of Laura's jazz and soul band members (Laura sings in jazz/soul band SophistiCats) to play during the wedding breakfast."
"Our first dance was to 'Real Good Hands' by Gregory Porter, which was very special to us as Matt had actually planned to propose during this song when we were at a Gregory Porter gig just before our daughter was born, but forgot the ring!"
Words of Wedded Wisdom
"Take time to enjoy your day. Try not to worry about cleaning up, or making sure that everything is going to plan – this is your one day to let go of all of that and just live in that moment. Everything else can be fixed tomorrow – enjoy today. I would perhaps have hired a Master of Ceremonies to help the day feel more structured."
Lovely bride Laura, who you can find on Instagram, was a Love My Dress reader in the run up to her nuptials (yay!) and she found the information on suppliers super helpful alongside the inspiring real weddings we feature. So glad to be of service Laura!
Thank you so much to Laura, Matt and little Darcy for sharing your special day with us and a big thanks also to Henry Britten Photography for these dreamy, atmospheric images. I'm off to swoon over more Charlie Brear beauties from our fabulous archives.
Em x