Hello loves! I hope you're all having a wonderful week and are already looking forward to a weekend filled with crisp autumn walks, steaming mugs of tea, fruit crumbles with custard and fluffy duvets. Or perhaps you're getting married this weekend? Do let us know in the comments box below, mainly so I can gratuitously dream about your gorgeously autumnal nuptials of course. Today however, I'm taking you back to a summer's day in June for the elegant country wedding of Sophie and Todd. Sophie, who works in PR, married her military husband, Todd, on 18th June this year in St Andrew's Church followed by a reception at the bride's family home in Suffolk.
Sophie and Todd chose wedding planner Claire Clarke Weddings to assist them in their wedding preparations; a decision Sophie is really happy she made, which led to a stress-free run up to their nuptials.
"I wanted an elegant wedding, even though it was in the countryside. The idea of the wedding decoration being too rural was really not what we wanted. We wanted to keep everything clean and simple using just green and white with a mix of modern and traditional touches."
Photography by Nick Tucker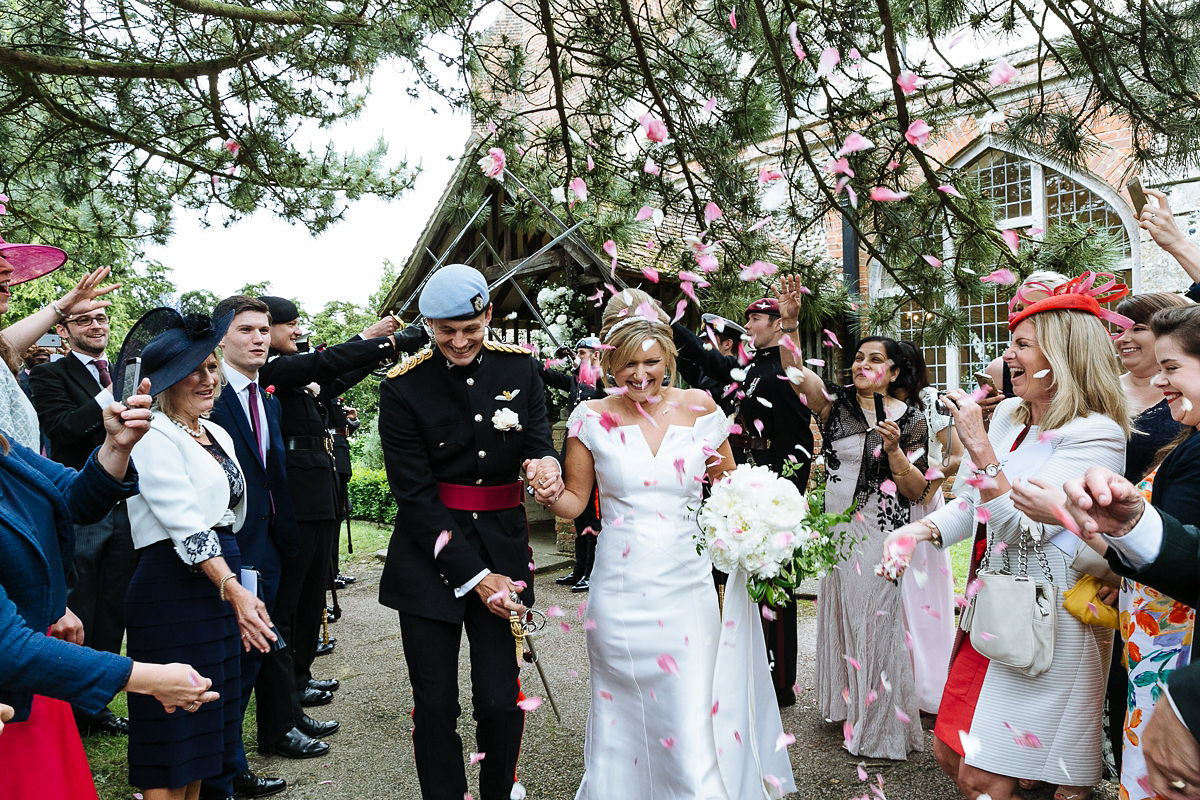 And speaking of good decisions, the couple couldn't have been happier with their choice of photographer, Nick Tucker. We have an array of wonderful weddings shot by this talented creative in our archives, including this stunning engagement shoot featuring of one of our Little Book for Brides members and absolute wonder-woman Emma Marshall, Managing Director of bridal boutique, Miss Bush Bridal."Nick was incredible, the photos are absolutely fantastic. We desperately wanted a reportage photographer who would capture the reality of the day rather than posed shots."
Flawless hair and make-up was applied by Victoria Percival (whose very own wedding we shared recently) for Sophie and her maids. Don't they look elegant in their flowing dresses from David's Bridal?
I love the multitude of necklines, all paired with varied, simple flat sandals and I so adore the shot of the girls laughing in the back of the flatbed as they arrive at the church for the ceremony.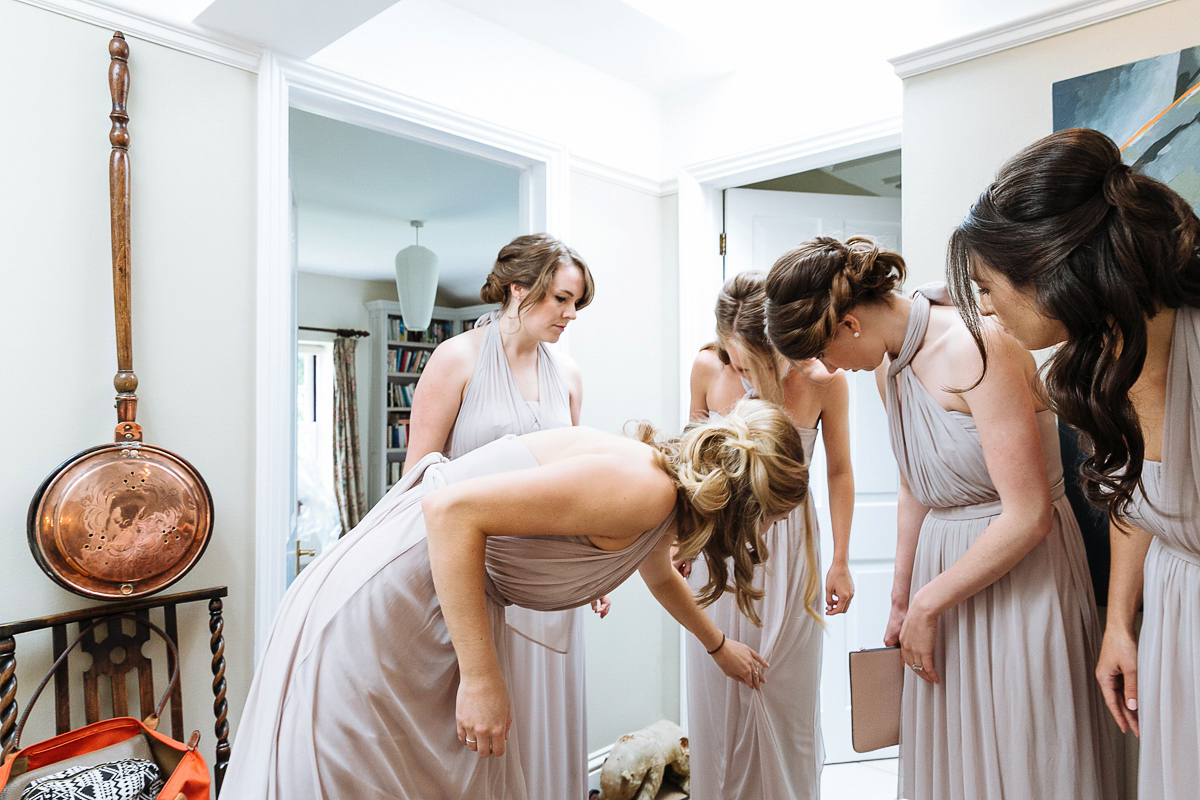 Clean and elegant are certainly two of the words I'd use to describe Sophie's beautifully structured Amanda Wakeley gown. I adore the architectural neckline and the delicate detailing on the off-the-shoulder sleeves.
"I bought my dress from Amanda Wakeley on Fulham Road. I loved that it was partly classic in the shape but it had a really modern neckline and the train was absolutely gorgeous. I also felt it was very flattering as I am quite short so it was good to have something that made me look a bit taller."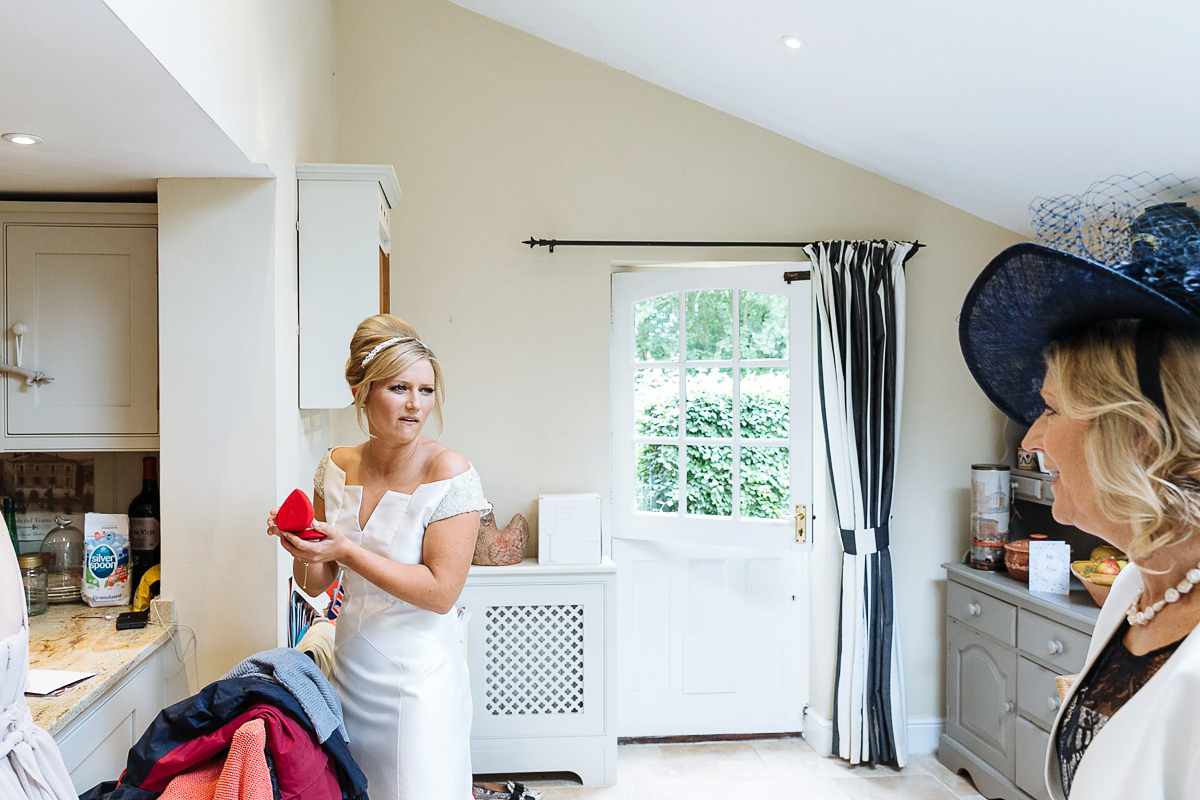 Sophie teamed her gorgeous gown with shoes from Kurt Geiger, a pretty tiara by Ivory & Co. and a spritz of Versace Eros. She kept her jewellery minimal and classic with a pair of diamond and sapphire earrings, which Todd bought for her, and her engagement ring; a five stone diamond ring from her grandmother.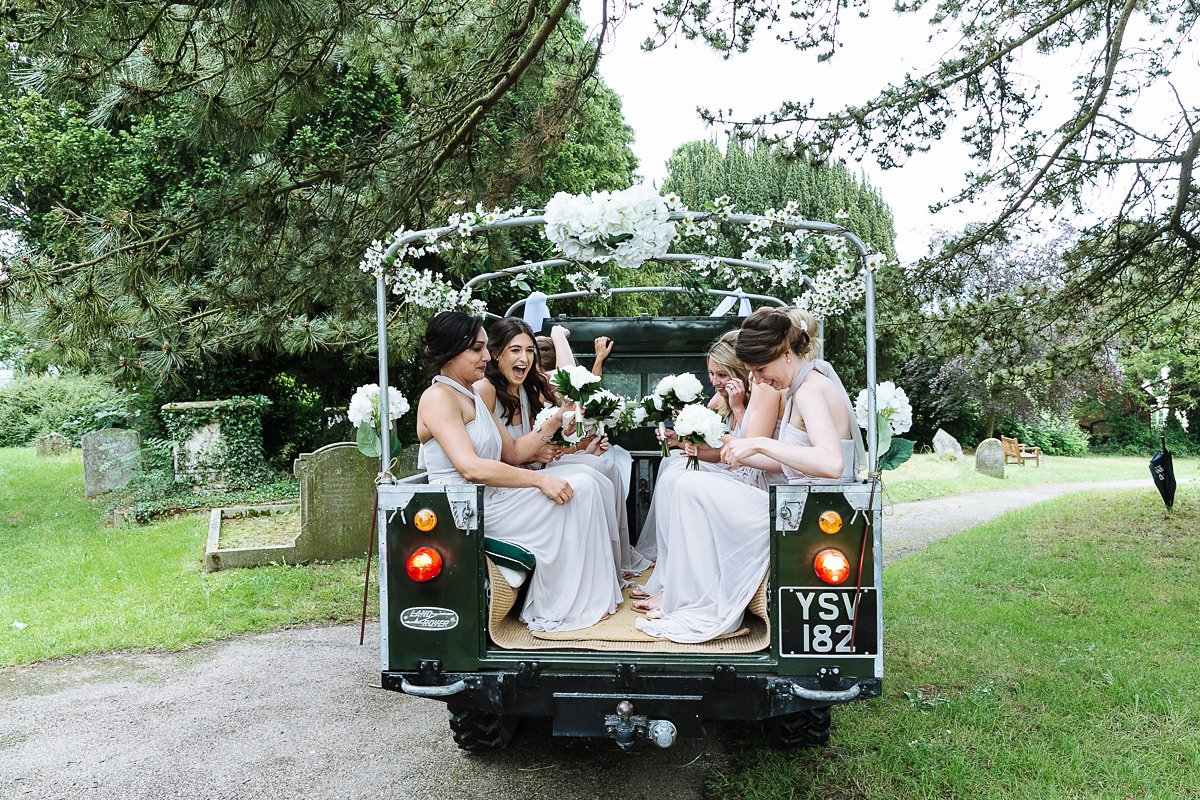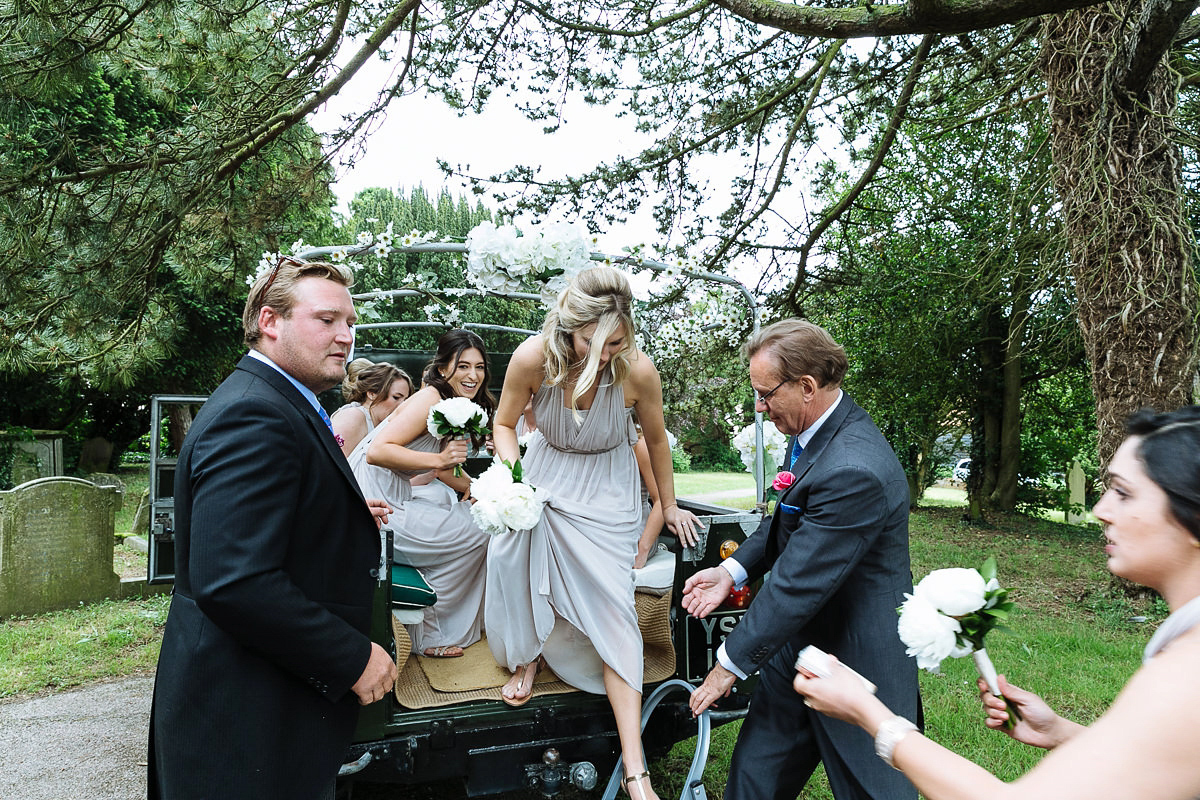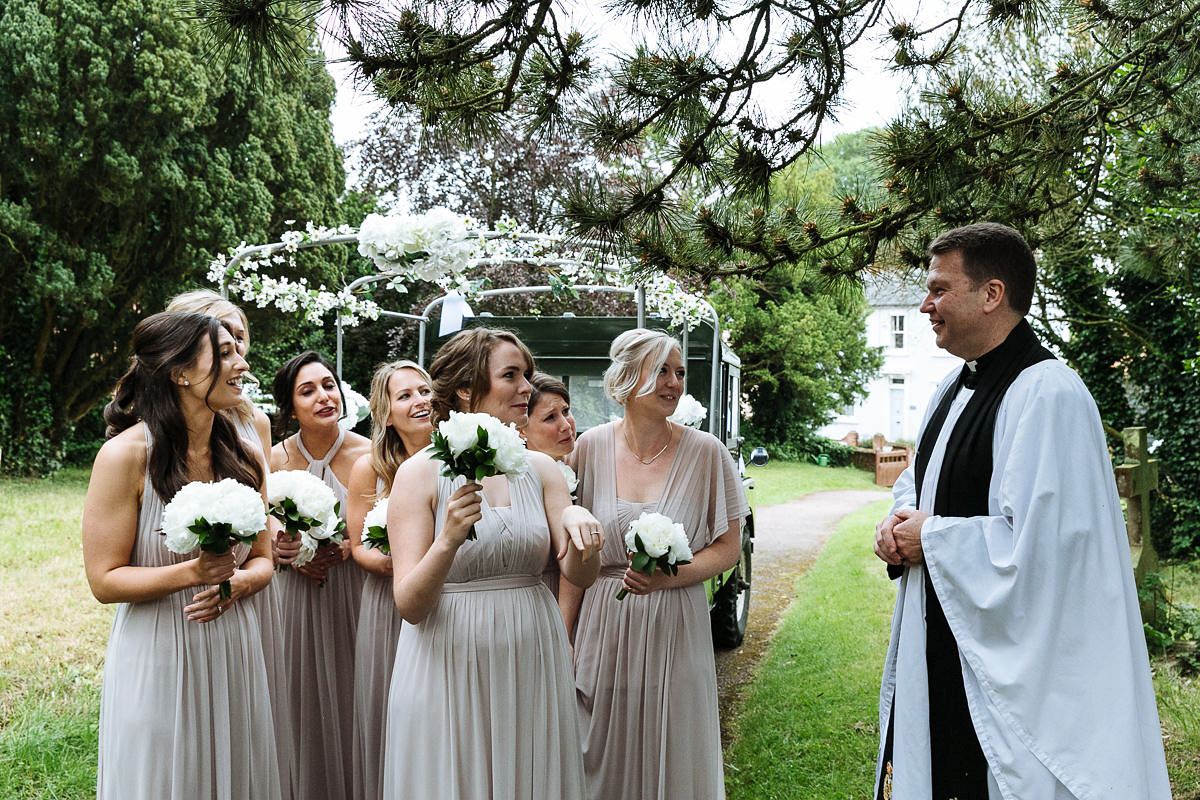 Nick Tucker wasn't always a photographer, and in fact it's his background as a writer that I believe really allows him to tell such a vivid, real story through his images. His candid, journalistic style has captured some beautiful, evocative moments, sure to summon happy memories for Sophie and Todd for years to come.
The shots of the bride walking down the aisle on the arm of her very dapper father and exiting the church through a canopy of crossed swords smiling next to her new husband are sure to be two such treasured stills.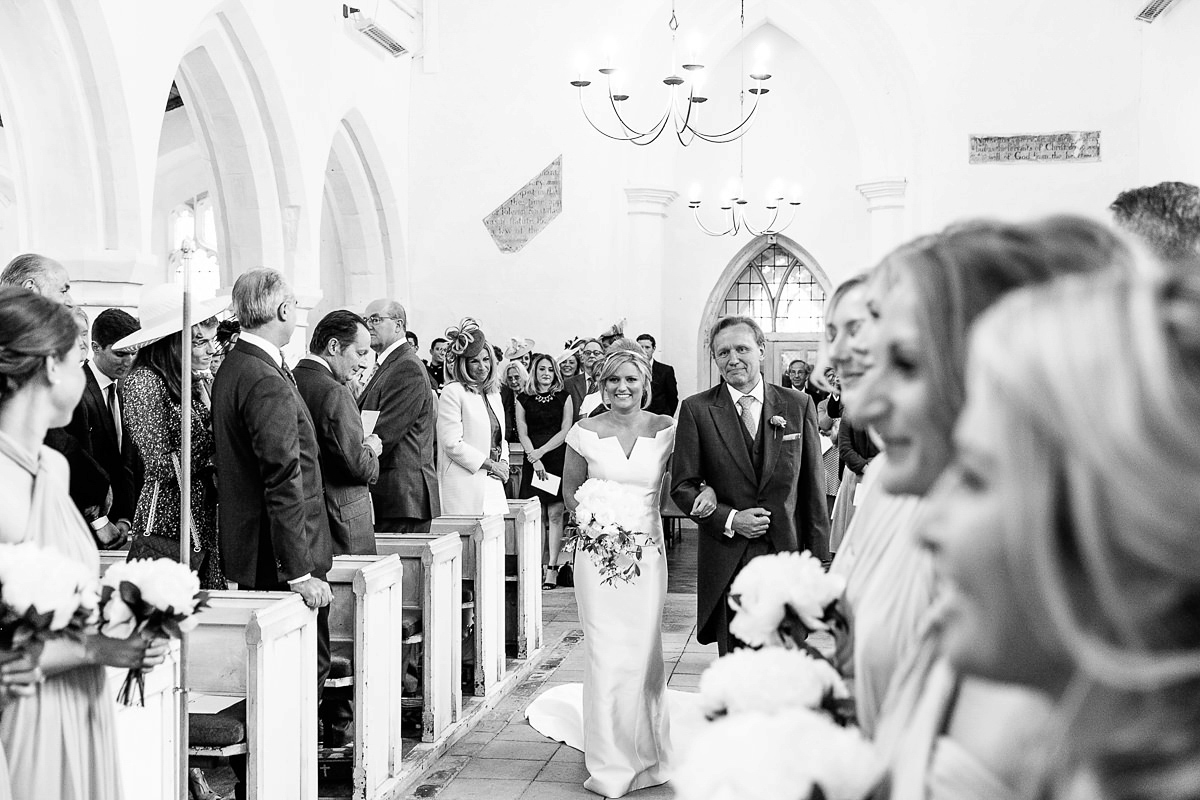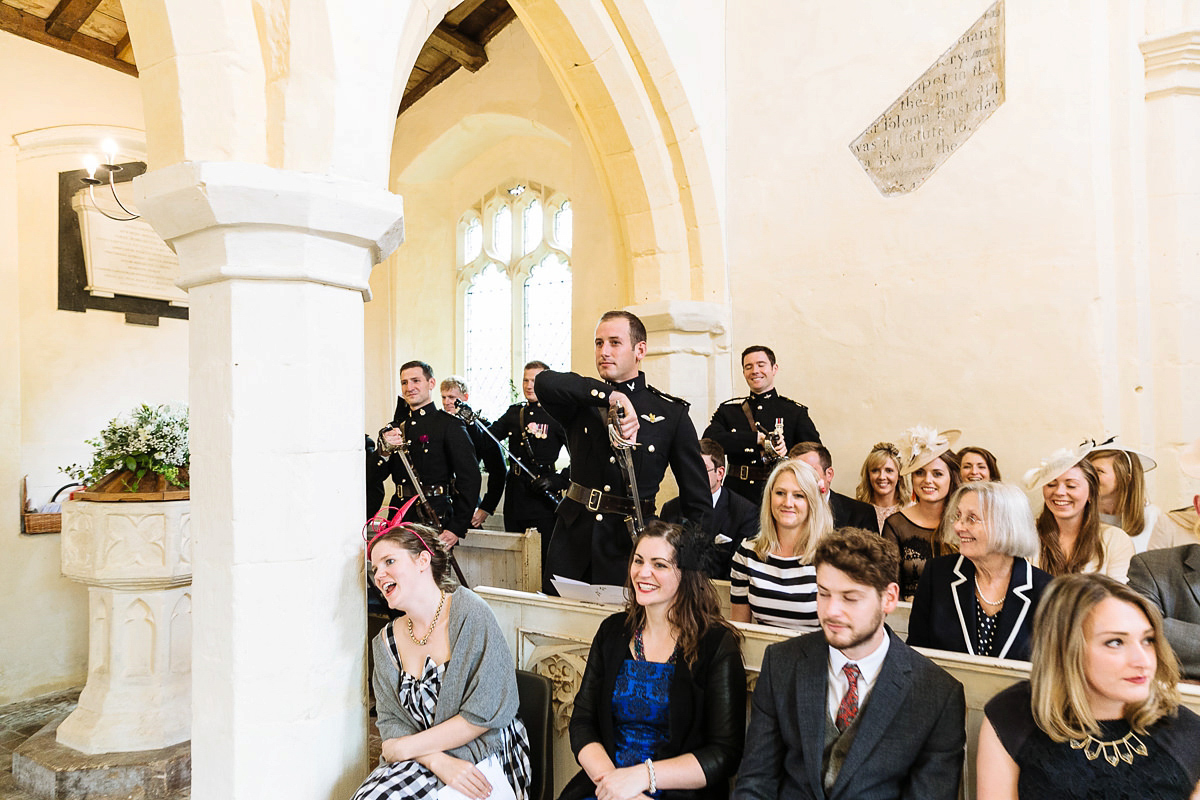 Todd wore his mess kit for the occasion, carrying his uniform with such pride. I just love how his face is transformed by his delighted smile at the first sight of his bride. His groomsmen also wore a mixture of military uniform and morning suits, and one of them accessorised with a go-pro attached to his chest to capture all the events of the day!
"We met at university, got engaged in January 2015 and we had been engaged about 18 months before the wedding."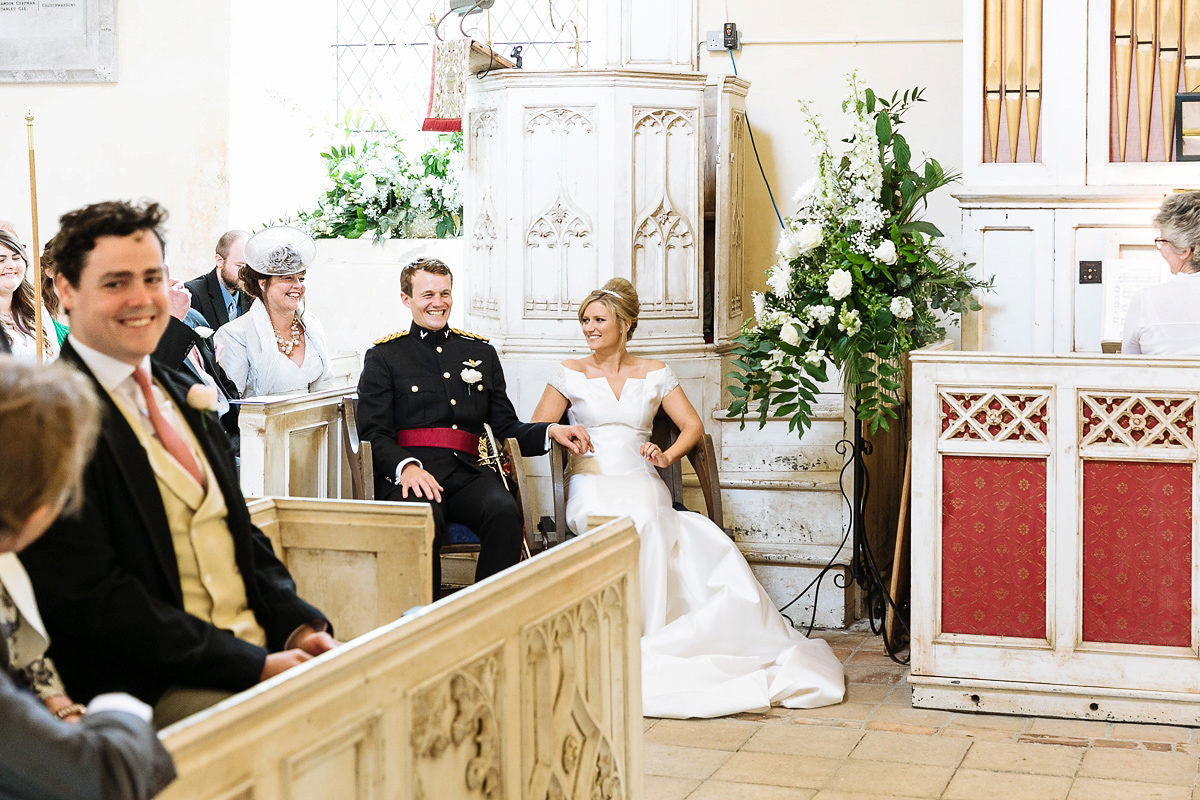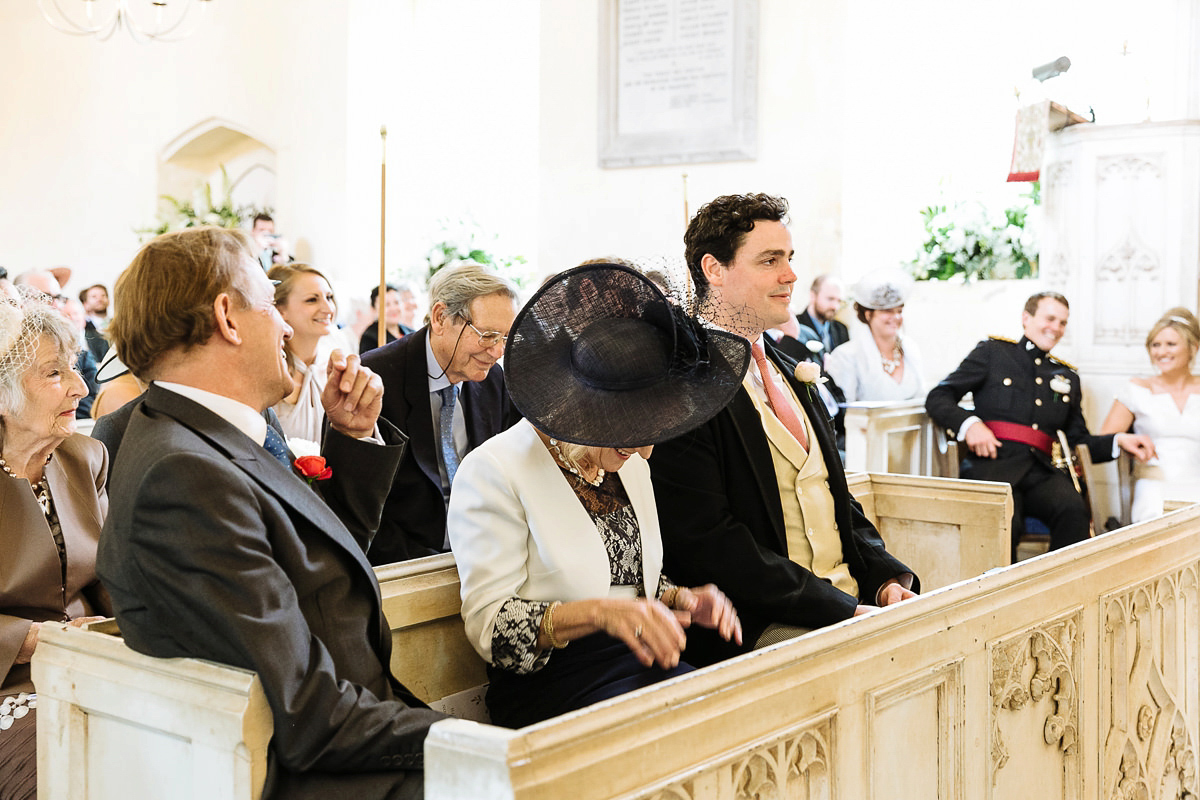 Sophie and Todd chose a Shakespeare sonnet and a passage from the Song of Solomon for their ceremony readings and their wedding rings were the result of the groom's uncle's craftsmanship. I love this personal touch. The couple exchanged rings and vows in front of their loved ones in St Andrew's Church, which looked simply resplendent decked out in gorgeous floral arrangements by Tolly's Flowers, who were also responsible for the organic blooms at the couple's marquee reception.
"I couldn't recommend Tolly's Flowers enough, they made a vast flower ball for the centre of the marquee which was absolutely stunning and contrasted really well with the tables which were just covered with a runner of green foliage."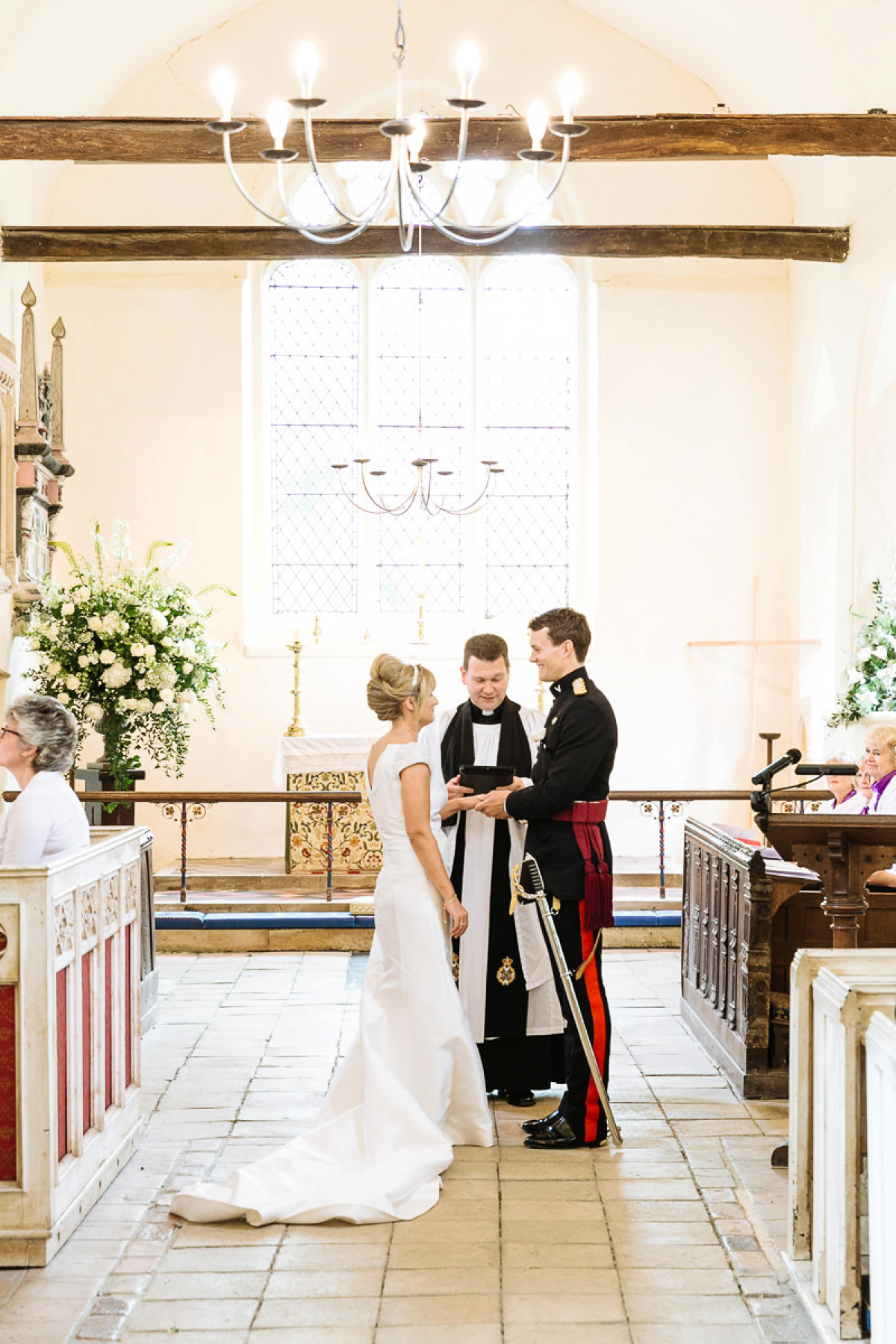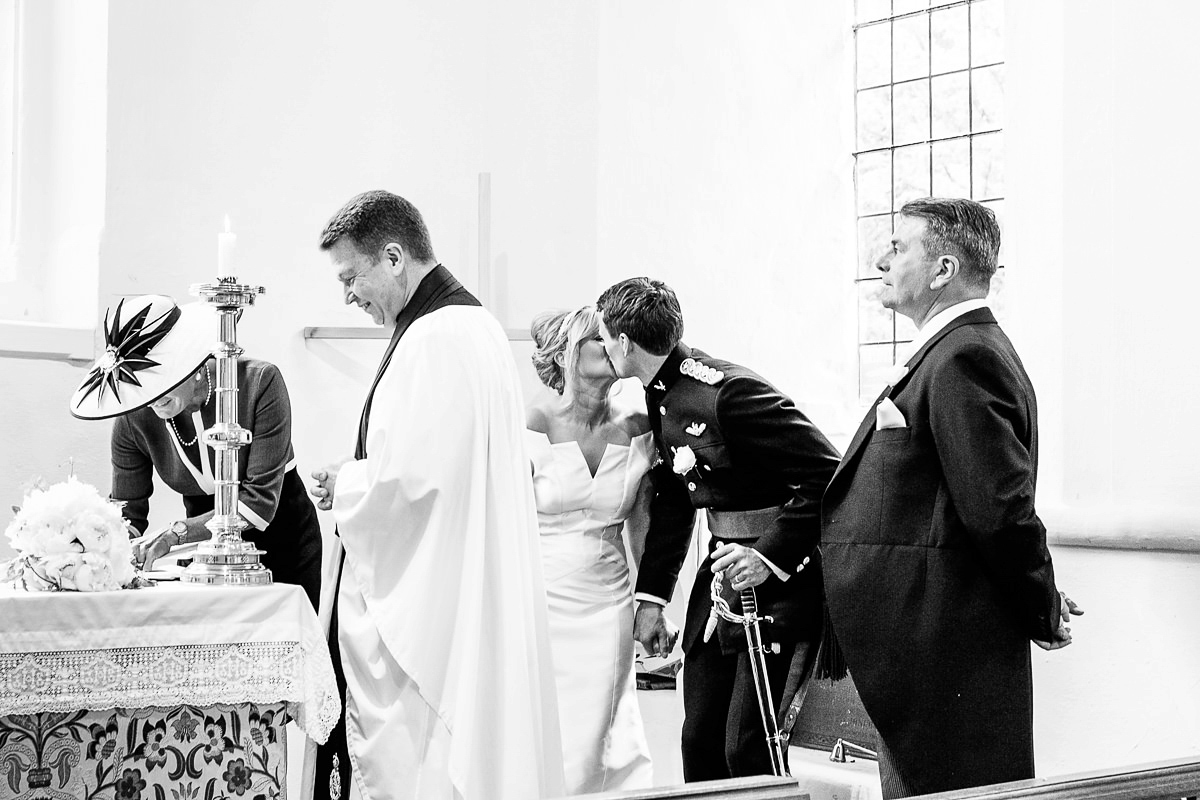 Sophie and Todd left the church in a flurry of confetti, dispensed in a most unusual fashion from little baskets attached to the back of an impossibly sweet pony named Jack! Jack also accompanied the wedding party along to Sophie's parent's home, where he swapped confetti for champagne bottles and guests posed for pictures with him in front of an elegant marquee.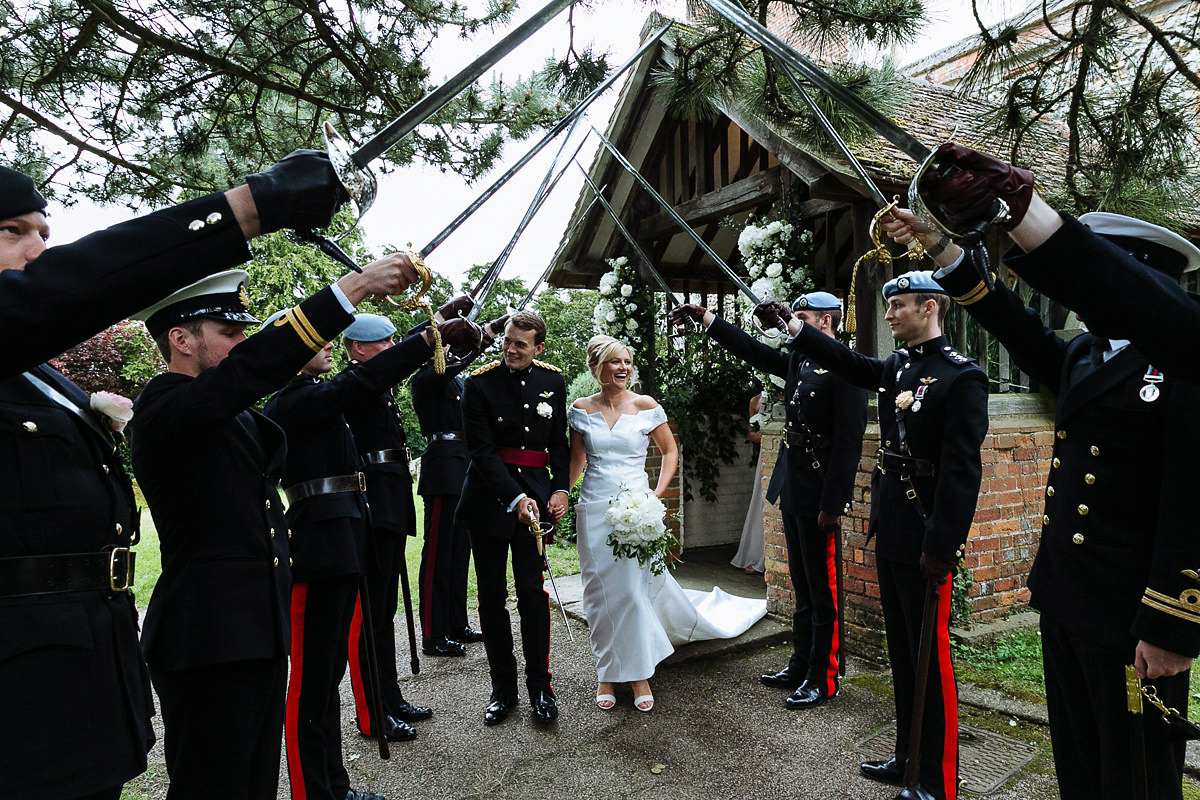 "We had a Pimms tricycle which looked incredible and a confetti pony from The Garden Box. Jack the pony really made the day and everyone loved him."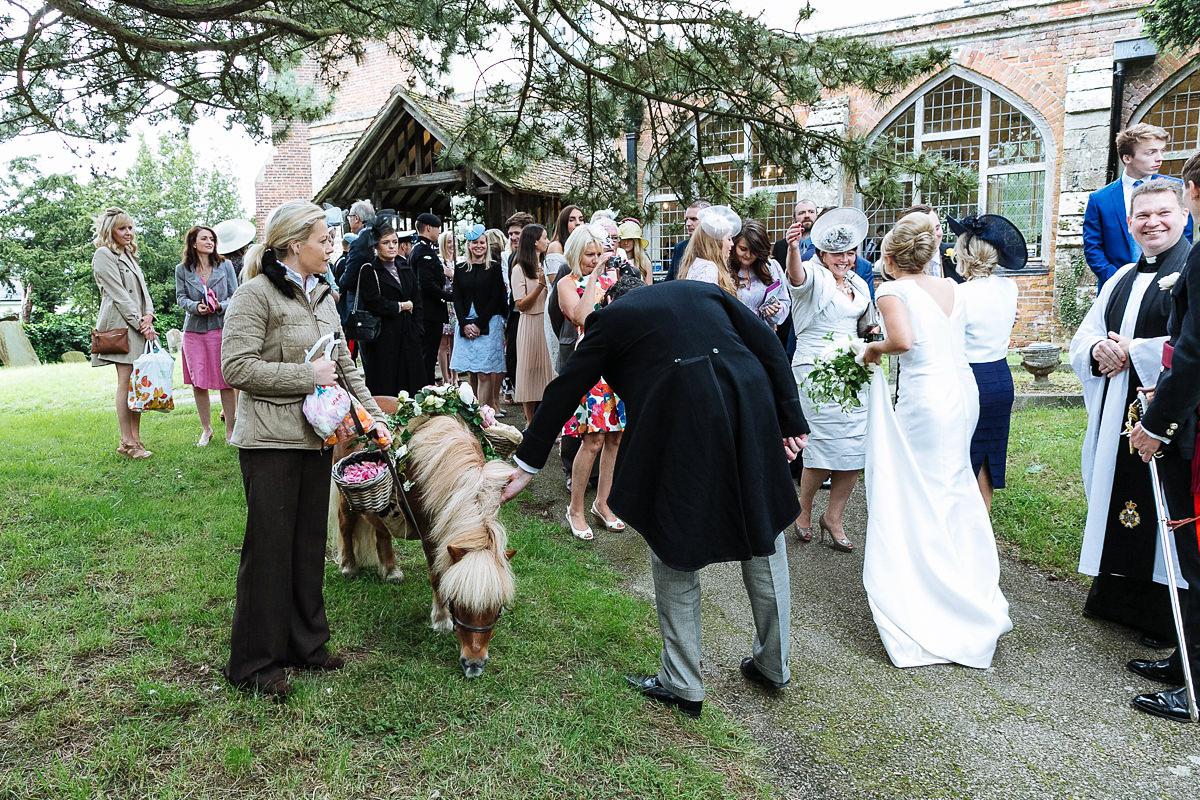 Are you thinking of having pets at your wedding? I absolutely love it when couples choose to honour their furry friends as part of their day. Take a look at these beautiful weddings where four-legged friends played a starring role. I've already lost forty minutes of my day squealing over pictures of puppies in bow ties!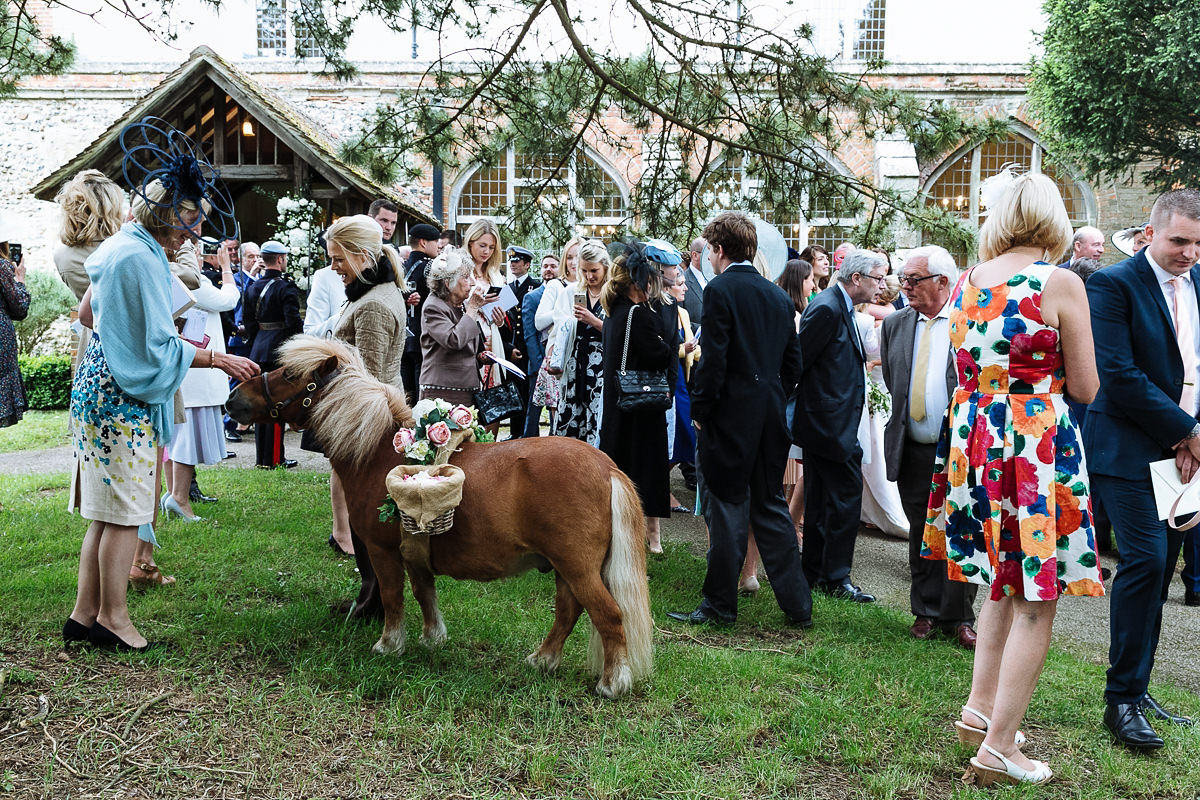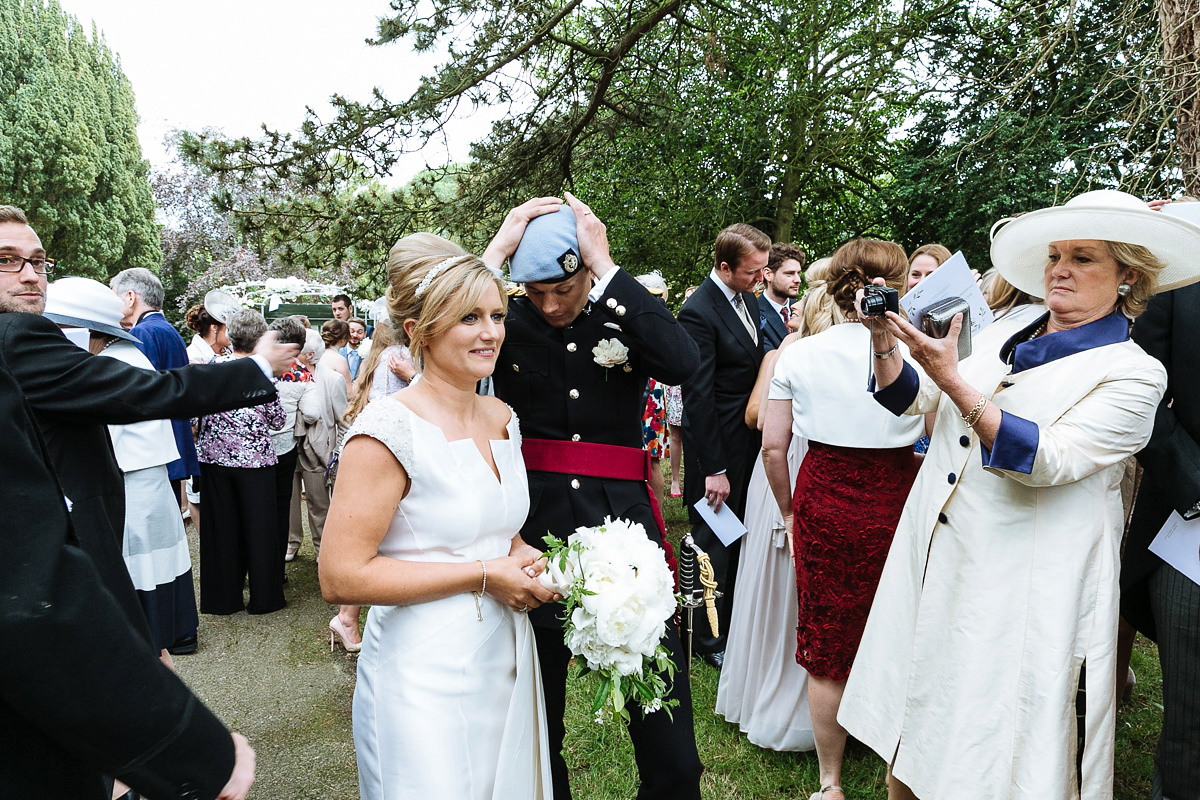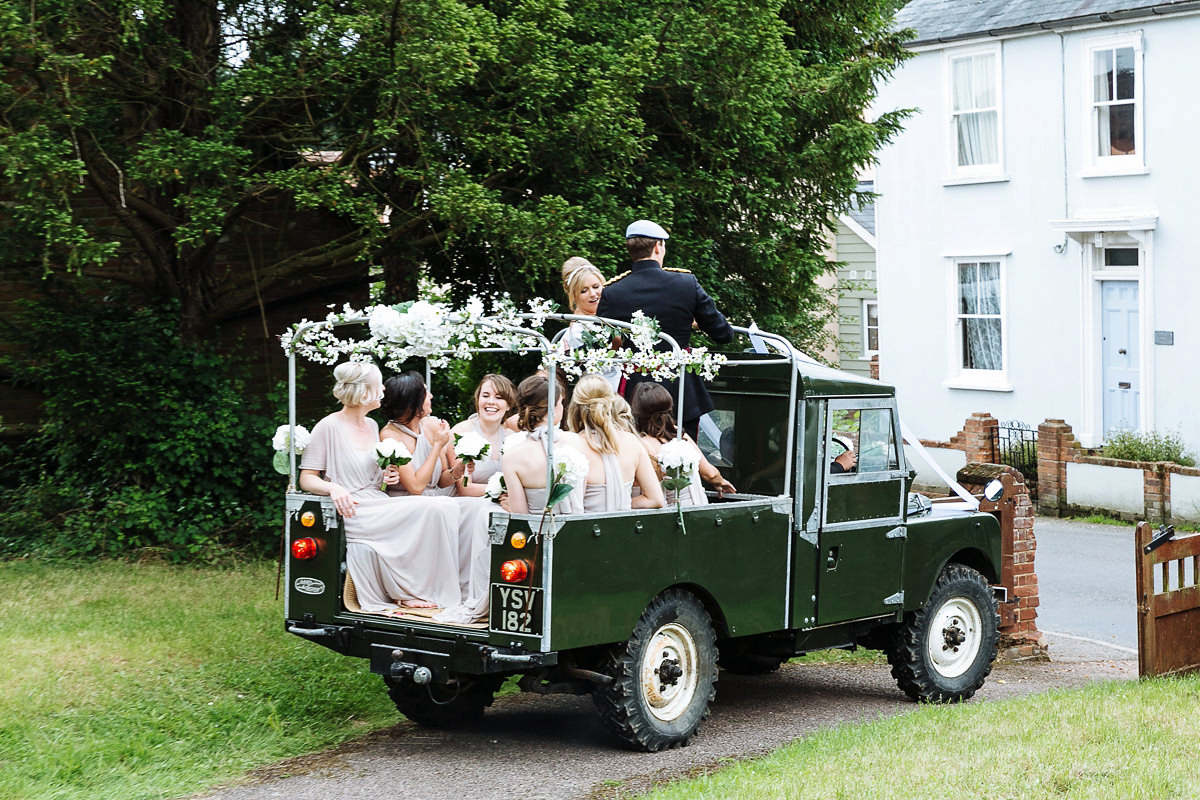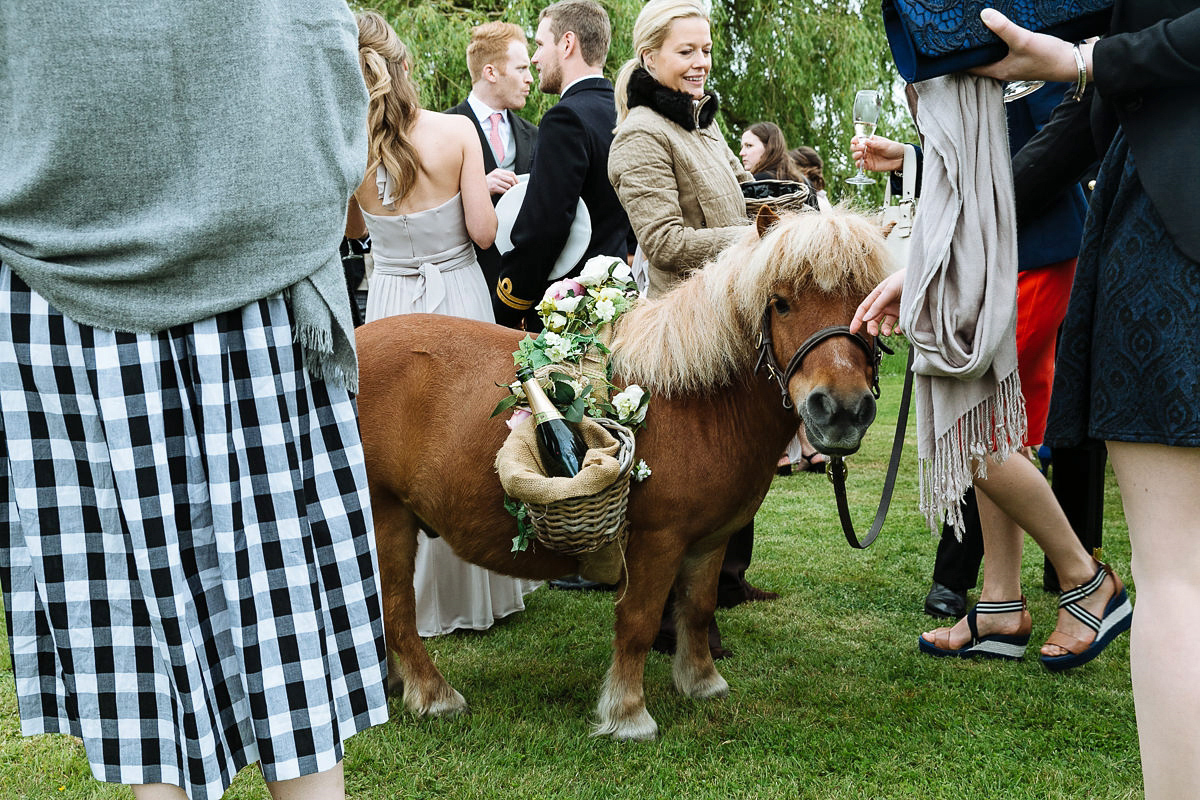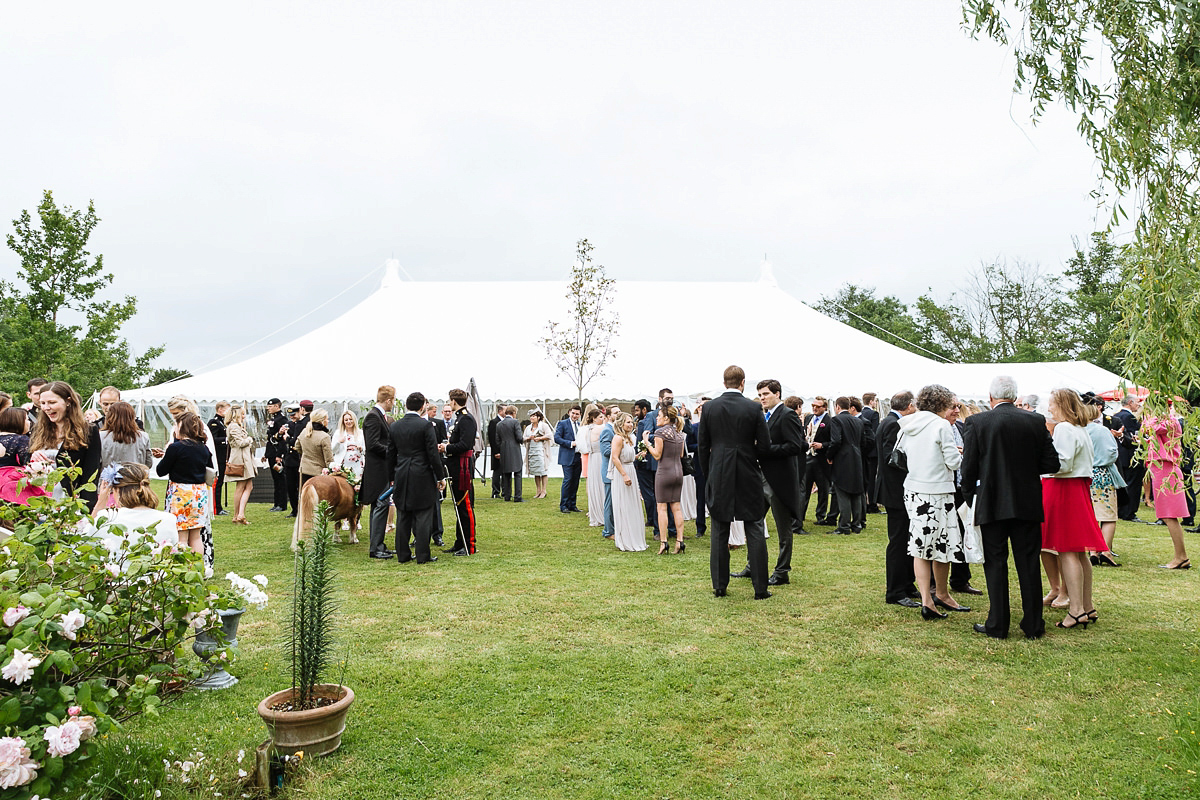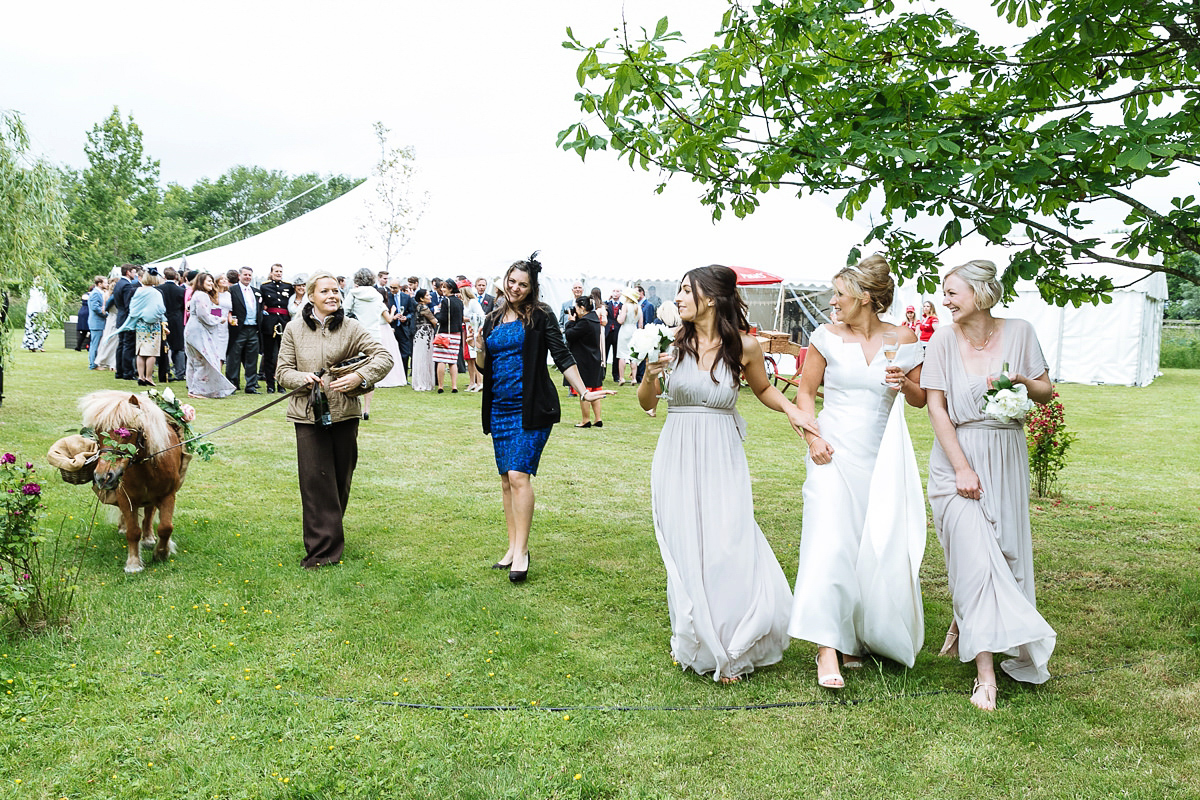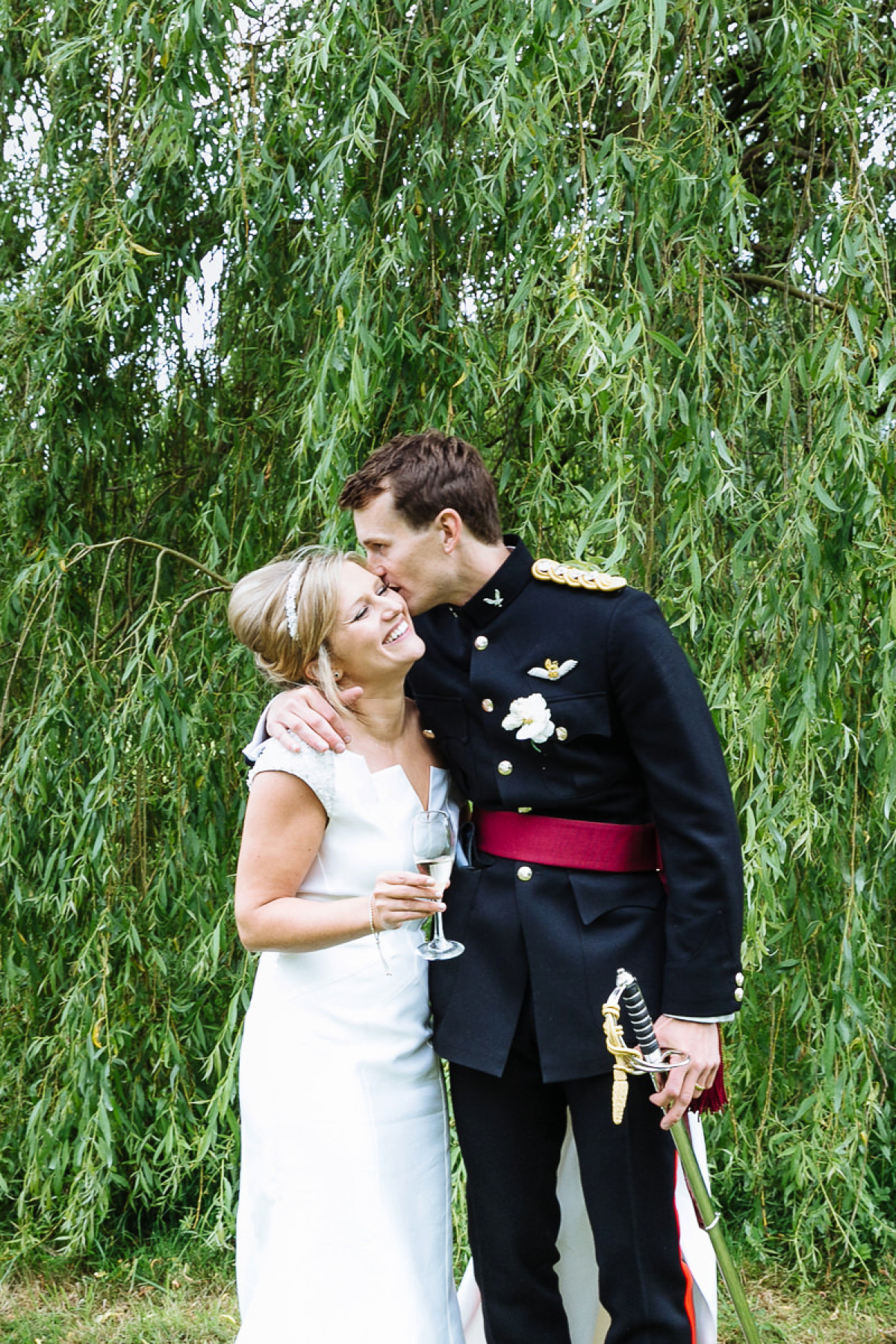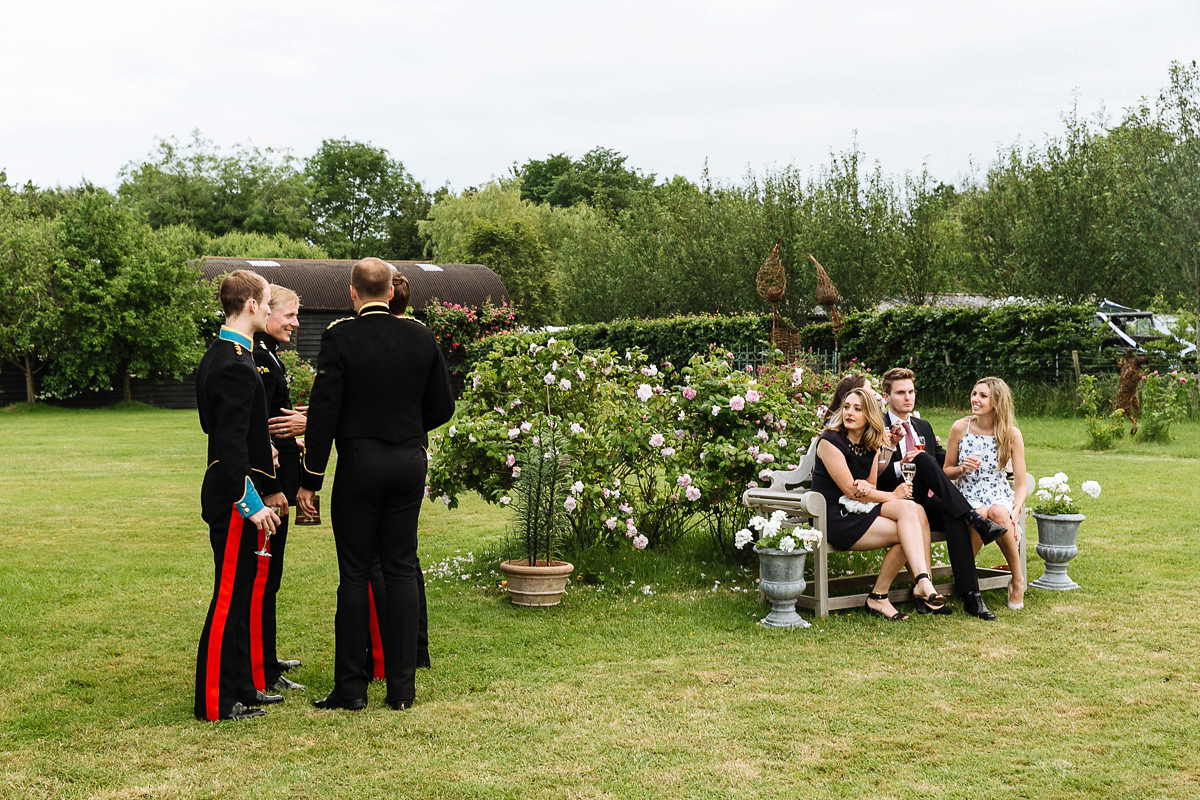 Anna Shutes Catering kept guests happily fed and watered at long tables dripping with greenery and dancing candlelight. Sophie and Todd then delighted their guests by cutting their very beautiful, foliage-draped cake with the groom's ceremonial sword.
"My friend Emily Custins made our cake, an incredible red velvet cake, and we gave glass bottles of sloe gin as favours."
Sophie and Todd booked a band and a DJ to kick off the party atmosphere after dinner – they truly have some of the best dancing action shots I've seen. These candid images are a wonderful reminder that weddings are such a glorious chance to celebrate with all of your favourites and to have more fun than you've ever had in your life. I certainly intend to do just that when I tie the knot with my love in June; just try and get me and my two left feet away from the jazz band and the dance floor!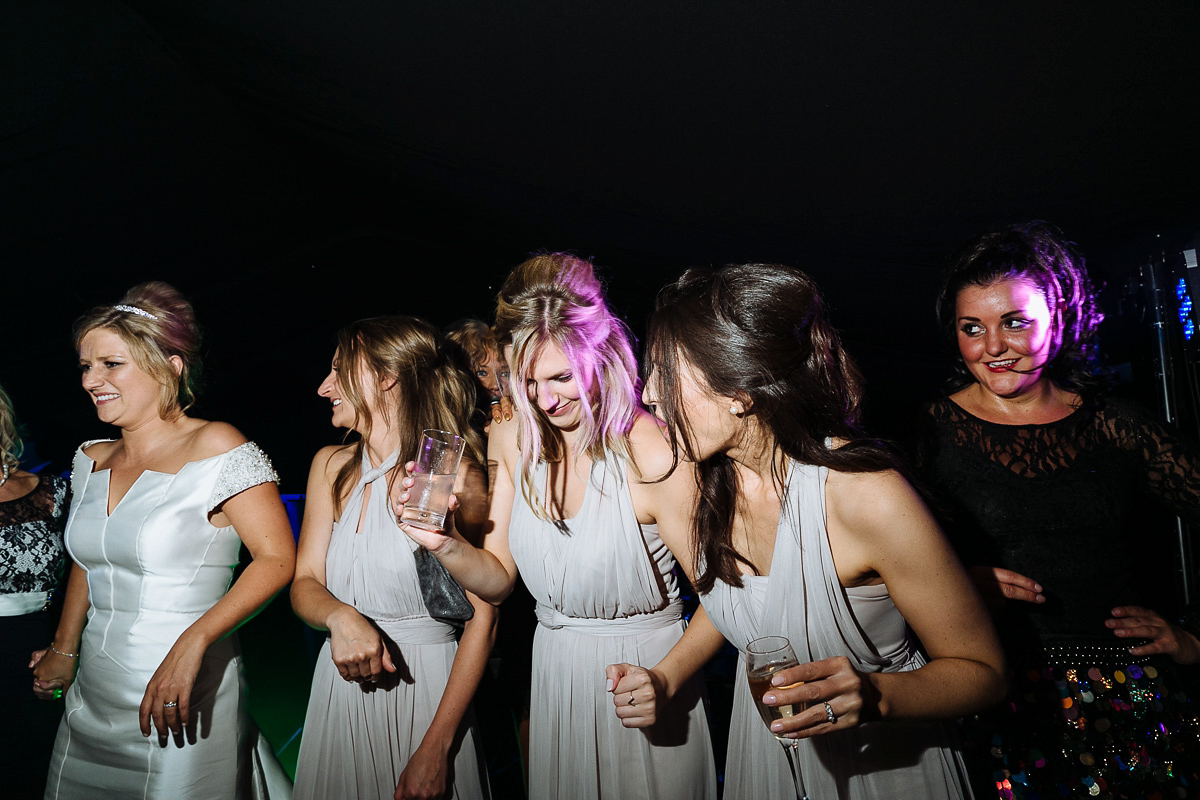 "We booked Totally Tina – the UK's number one tribute band, followed by a DJ. Our first dance to 'Addicted to Love' by the Tina Turner tribute band was our favourite part of day. I was so nervous but it was great fun and the band were so brilliant. I couldn't have wished for anything more."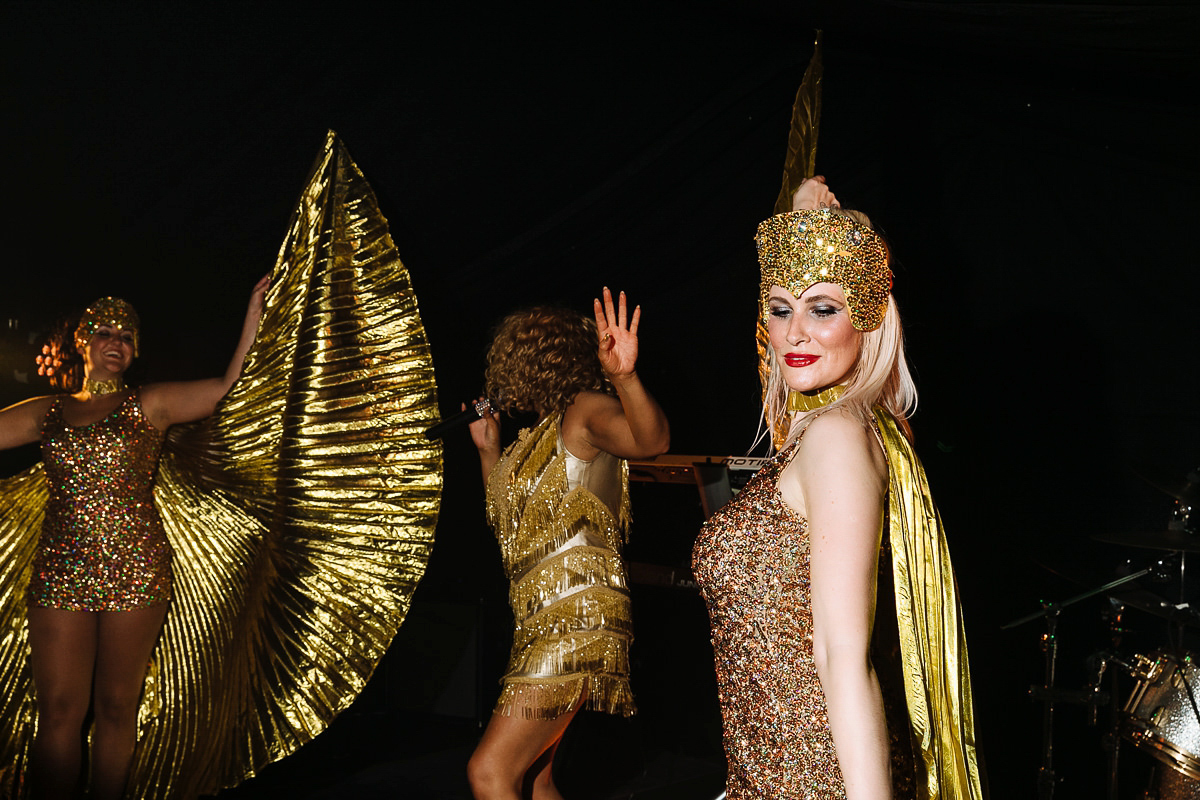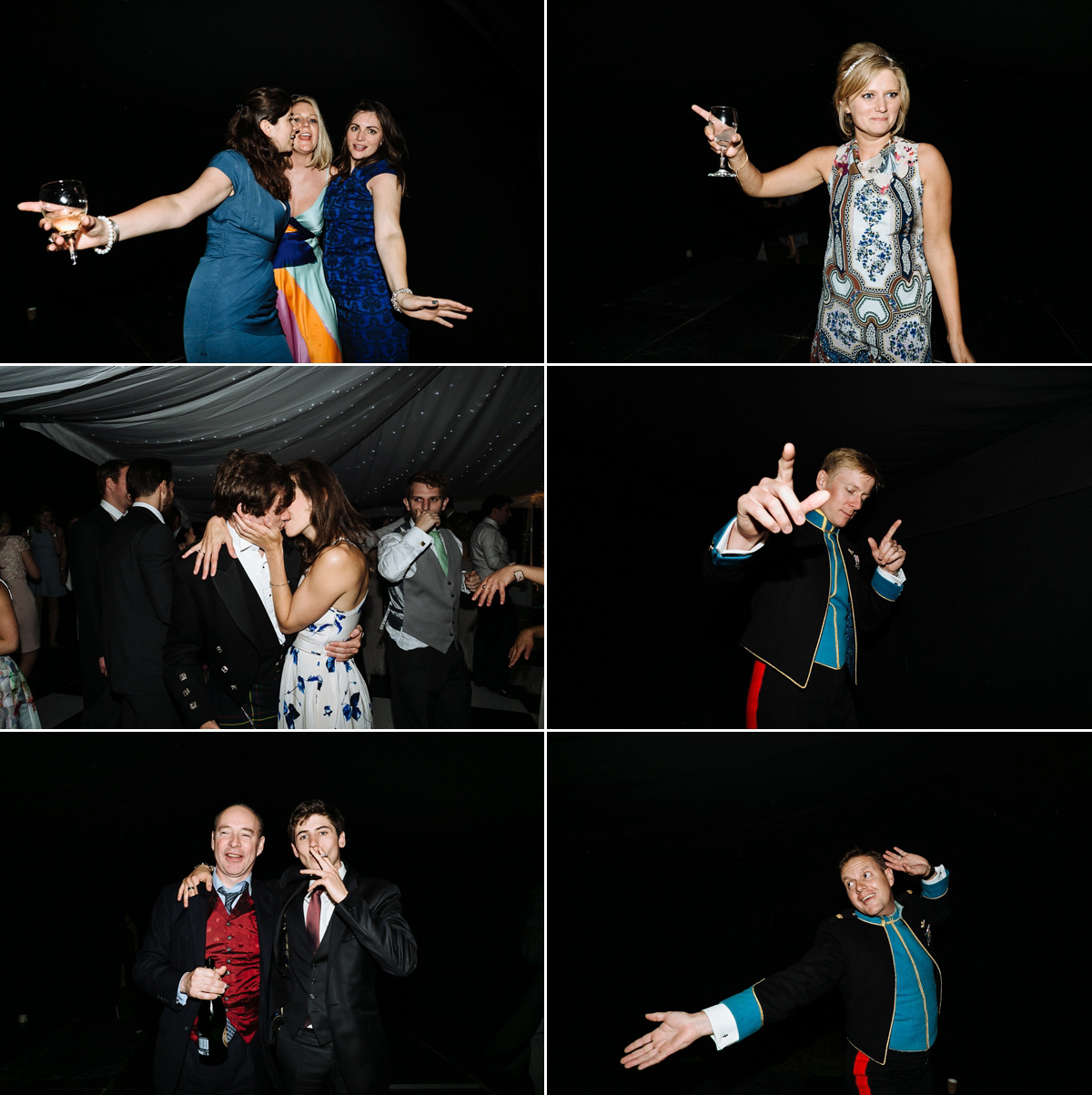 Words of Wedded Wisdom
"Don't stress too much, it all comes together on the day and you need to trust your suppliers. Also, definitely get a wedding planner; Claire made the experience really easy and stress-free."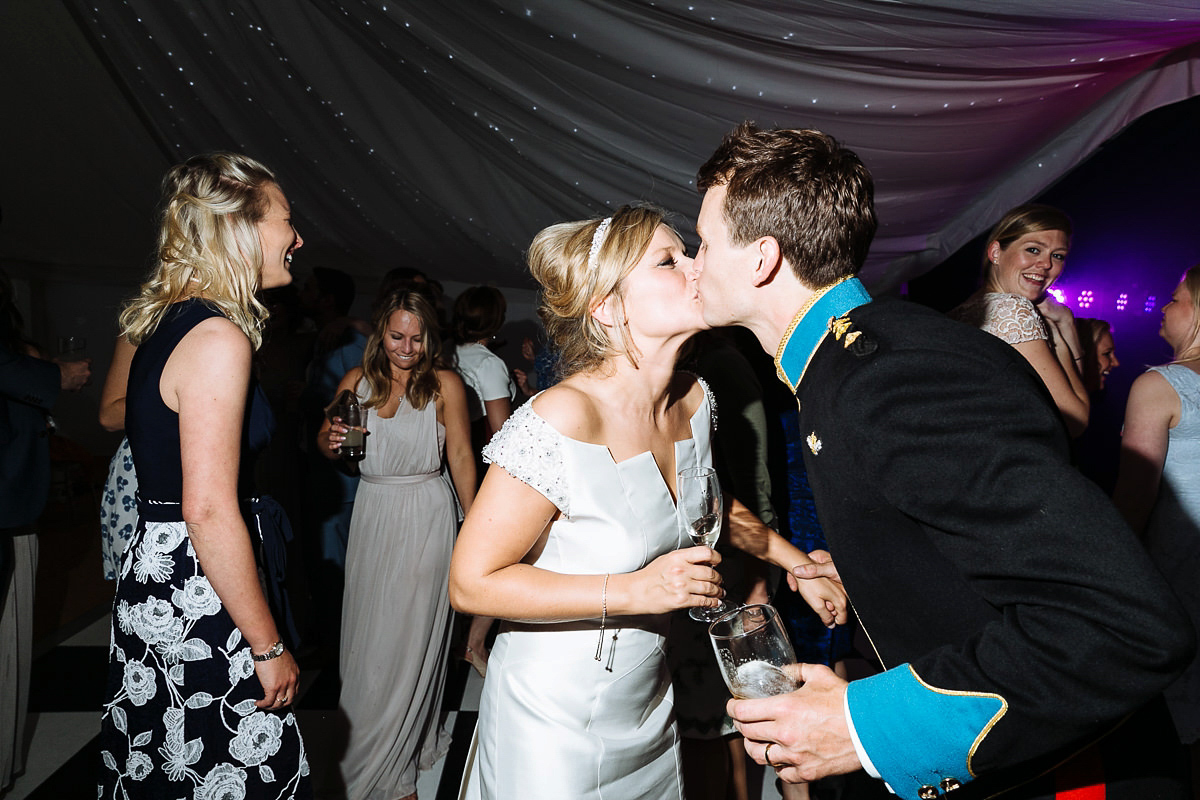 Oh Sophie you're a wise one. Trusting your suppliers is so key and if you're struggling with where to start as you embark on your wedding planning journey, be sure to take a little trip over to our sister site, Little Book for Brides, for a beautifully curated selection of some of the absolute best in the business.
It's super easy to use, you can save all of your favourites and it's filled with the most gorgeous images to really give you a sense of how to pick 'the one'. (I'm talking about florists here, not husbands!) And for even more gems of wedding planning know-how and refreshingly honest advice, request to join our private Facebook group for brides and newlyweds.
That just leaves me to say a massive thank you to the lovely Sophie and Todd for sharing their elegant country wedding with us today, and of course a big thank you too to Nick Tucker Photography for these gorgeous images. If you're itching to peruse our archives for more elegant Amanda Wakely brides, I've made it easy for you, just click here.
Love, Em x