It's not often I agree to hand over these wedding blog pages to another actual wedding blogger, but today I'm doing just that. The term 'blogger' is perhaps a misnomer these days for what many of us who are crafting a living from blogging are doing; conceiving of and curating photoshoots is just one of the many creative projects bloggers, myself included, enjoy indulging in these days. I use the term 'indulge' carefully because whilst working with a team of creative suppliers to create exceptional imagery of the quality you see on this page today is undoubtedly fun and incredibly rewarding, it's also ruddy hard work! Images like these don't dream themselves to life – it takes months of planning, negotiation, co-ordination and masses of energy and focus come shoot day, to ensure that the original vision is fulfilled.
We have the very lovely Helen of The Wedding Bazaar blog to thank for sharing these images with us today, and knowing how hard Helen and her chosen team of suppliers and collaborators will have worked to create these images, I have nothing but endless thanks and gratitude that they chose Love My Dress to share them with.  Helen talks us through the concept for her elegant and luxe inspiration shoot.
"Our soft and feminine styled shoot was inspired by the bountiful blooms in Clifton Nurseries – a hidden oasis of calm and tranquility amidst the busting streets of London. Steeped in history (it's one of London's oldest horticultural institutions) and venue to many a discerning couple's wedding, one could lose themselves for hours immersed in the wonderful fragrances and hot pink hues of the orchids in the picturesque glass house."
Photography by Georgina Harrison
"With trailing vines meandering over an ornate terrace and a rich profusion of plants, Clifton Nurseries was simply idyllic and proved to be a constant source of inspiration for The Wedding Bazaar."
"Having such a glorious floral oasis for a backdrop, we really wanted the whole shoot to ooze elegant charm. The colour palette focused on pale pinks, yellow with a hint of blue and the wonderful foliage throughout the shoot offered up various shades of green. All of these contrasted beautifully with modern metallics." 
"Unstructured floral arrangements and lashings of foliage were the order of the day when it came to the blooms and the lovely ladies from Hiding In The City Flowers and Friend of Faux really delivered."
"For the first bridal look they created a beautiful hand tied, asymmetrical bouquet featuring roses, anemones, ferns, tulips and hypercium fastened with the softest silk watercolour ribbons from Kate Cullen."
"This created a fresh, stylish bridal look when paired with a fitted Sharon Hoey gown and sheer silk kimono from  Violet & Wren, which we cinched in at the waist with an ornate, gold floral bridal belt from Freya Rose"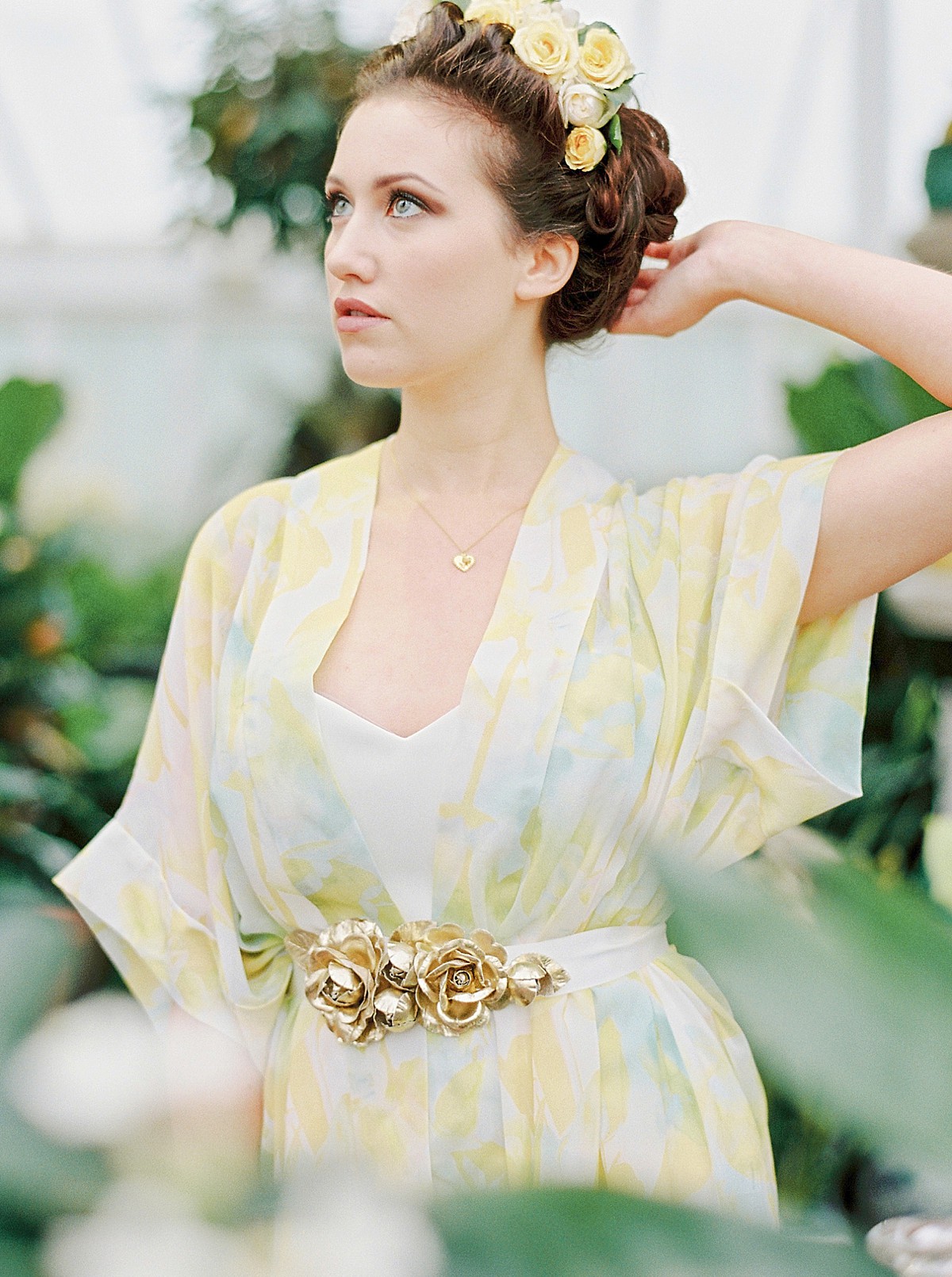 "To complete the overall bridal aesthetic, hair and makeup artist Leila kept model Lucy's makeup fresh with neutral eyes and a flushed cheek."
"Lucy has the most amazing tumbling brunette locks so Leila plaited them and created a braided up do adorned with fresh flowers. A nod to the gold opulence came in the form of delicate gold bracelets from talented jeweller, Alex Monroe."
"For the final look we wanted to create a less structured more care free statement with the bride's style so we opted for the most gorgeous pink orchid print silk camisole from Violet & Wren completed with a full tulle circle skirt from Sharon Hoey."
"We gave the bride height by adding gilded heels from Freya Rose and incorporated intricate necklaces of varying length to compliment the whimsical nature of the look. Leila created a loose braid for the second bridal look and weaved fresh blooms and foliage amongst the plait."
"The talented Laura of Yolk created the most exquisite cakes and hand painted biscuits which we lovingly styled on a rustic drinks cart with our pretty paper products."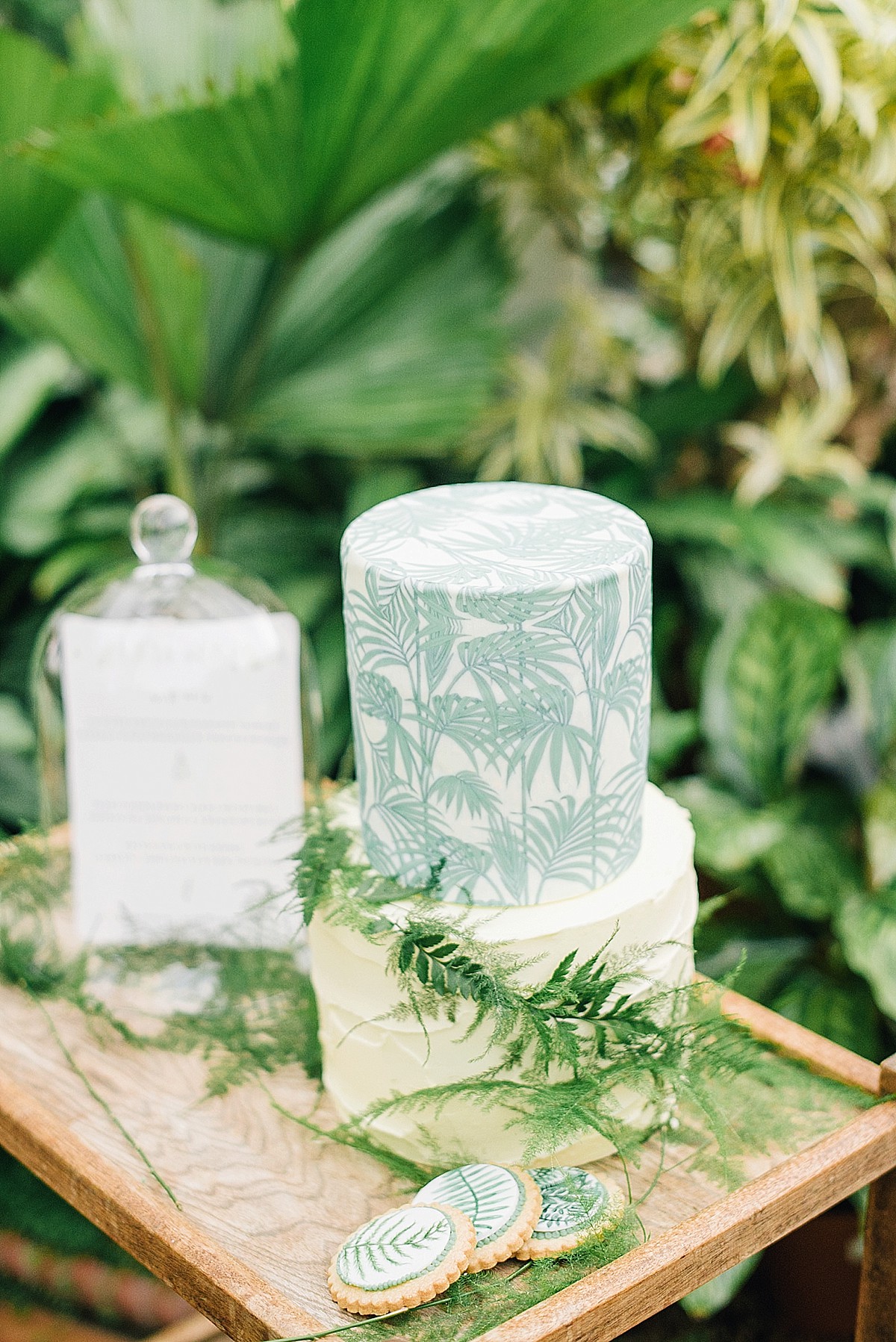 "De Winton Paper Co carried through our love for all things botanical in a fern and foliage invitation suit and it was wonderful to include some of the original botanical paintings for inspiration within the shoot. Our suite consisted of an invitation, RSVP card, menu and thank you card."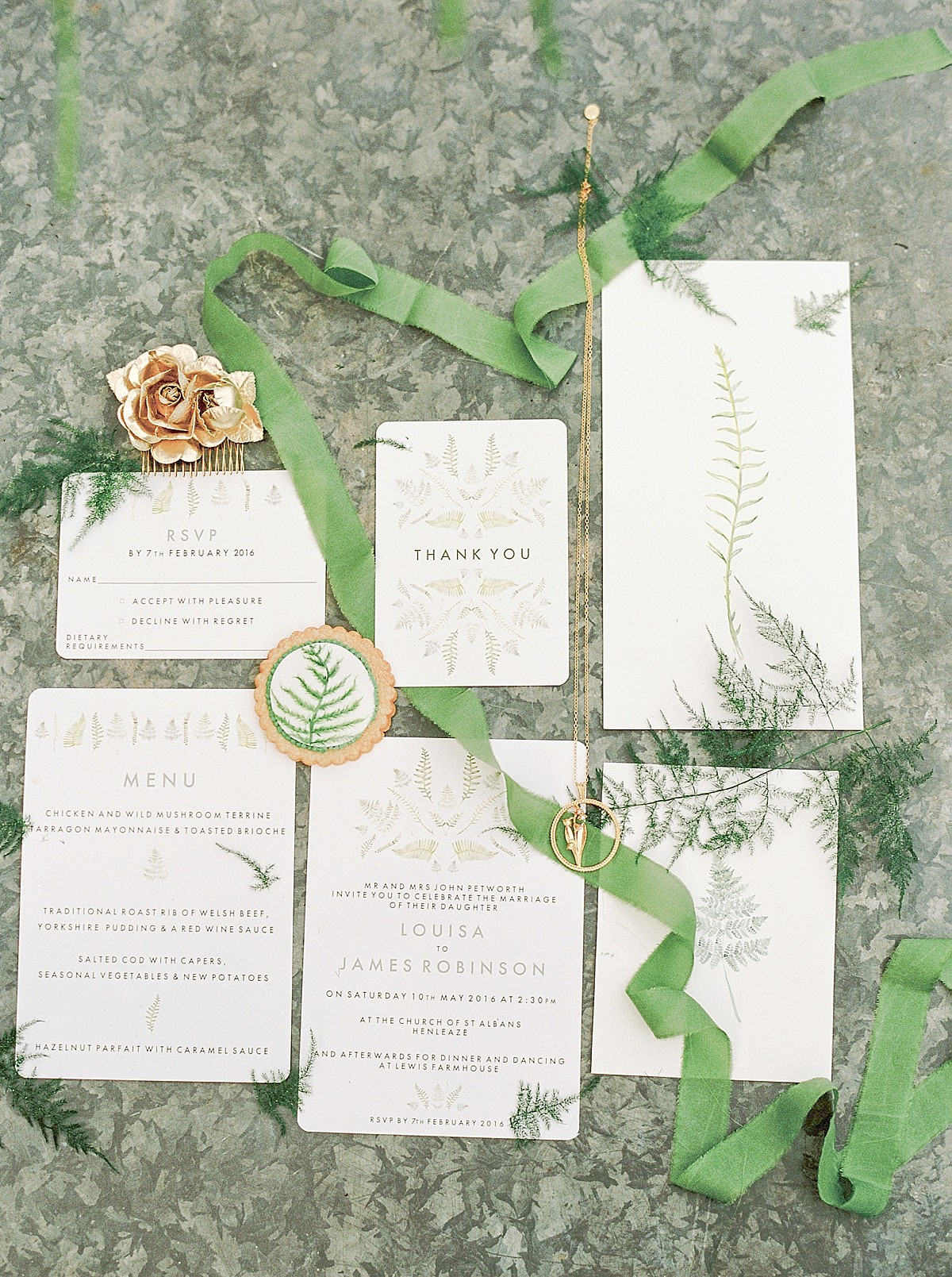 "The suite continued through to our tablescape with a name card adorning each place setting on the the intricate tableware was provided by Duchess & Butler, purveyors of the most beautiful crockery you ever did see.  We created a top table layout with their handmade ceramic floral lace design accompanied with gold cutlery and the finest crystal goblets in blush hues."
"A fern table runner adorned the centre of the table with pale pink crystal candleholders nestling in amongst them. Above the table was the most glorious floral installation created using and abundance of lush ferns and foliage.
 Copper pots hung from this, overflowing with blousy blooms in a variety of pretty pastel shades. It really was a beautiful botanical feast for the eyes!"
"Of course, we couldn't create such a botanical beauty of a shoot without having it captured on film. Georgina Harrison Photography was an absolute to dream with and these gorgeous images take my breathe away literally every time I look at them."
Now tell me this isn't leaving you feel even the tiniest little bit inspired lovely readers? My love, sincere adoration and thanks to the entire creative team listed below, but in particular, Helen of The Wedding Bazaar and our very talented Little Book For Brides member and photographer, Georgina Harrison, more from whom you can see here on Love My Dress.
Love Annabel x