As I write this, it's a long weekend holiday here over the seas and I'm just back from a catchup with friends over brunch at their local beachside cafe. I grew up by the water and adore nothing more than soaking up the sunshine, dipping my toes in the refreshingly chilly water and breathing in the fresh, salty air. It always invigorates me and so I totally appreciate why the lovely stars of today's post held their celebrations at the seaside.
Bride Joanne is a floral designer and owner of her own business, Joanne Truby Floral Design, whilst Steve works at investment bank Schroders as a fund manager's assistant. The couple tied the knot on the 18th of March 2016 at East Quay Venue in Whitstable – a place that was very special to the couple and ultimately perfect for their laid back day by the sea.
"My sister wisely said 'the dress chooses you' and I think this is very true. I went shopping with my mum and my sister to Frou Frou Bridal Boutique and was searching the rails for dresses to try on when my mum spotted the lace Stewart Parvin dress that was totally different to the other more bohemian styles I liked."
"When I stepped out of the changing room all three of us started crying and it was at that point I just knew it was the one! I decided I didn't want the dress to be strapless so had lace sleeves added."
Photography by Rebecca Douglas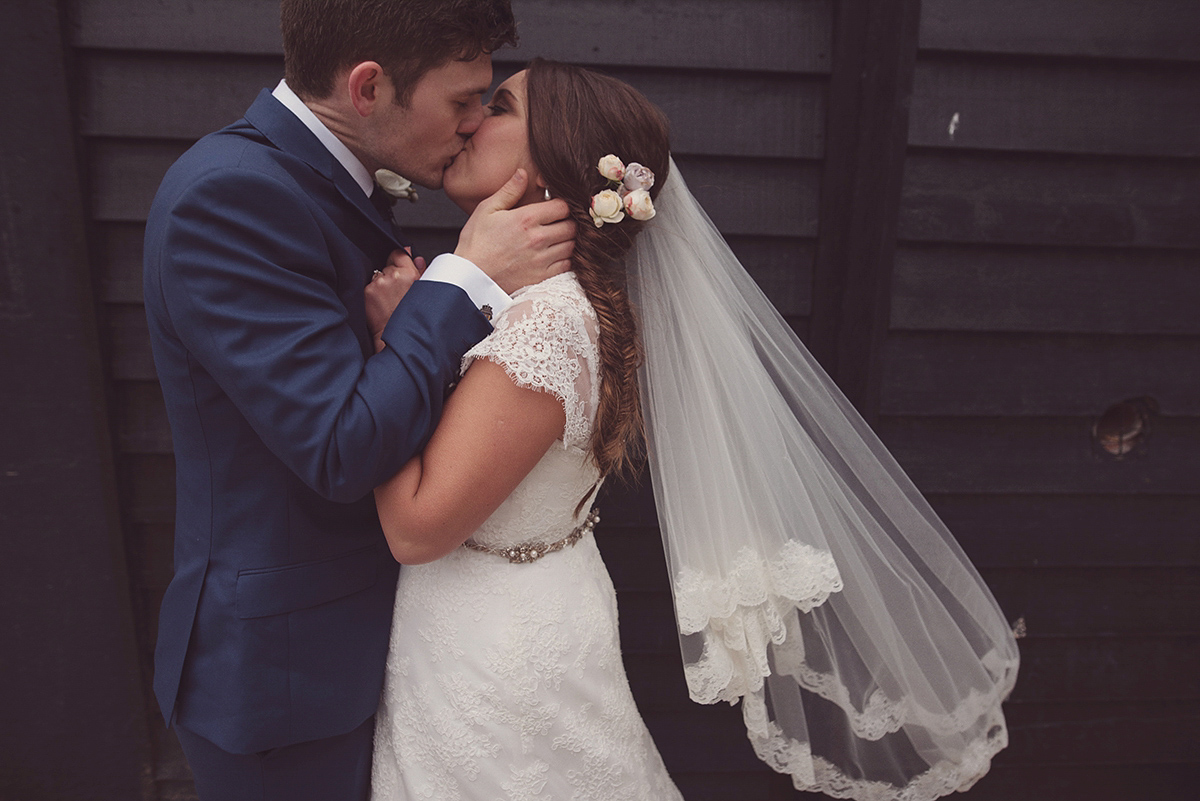 Being a floral designer, Joanne knew she wanted to incorporate a lot of flowers and the resulting displays were utterly stunning.
"The flower choices were hard, as with the job I do I love so many varieties. I knew I wanted to go with beautiful seasonal choices and I adored my bouquet which was packed full of different variety flowers and textures."
"This including stunning blush cloni ranunculus, garden roses, white anemones, lilac, dusty mille, delphinium, jasmine – and I even managed to get my hands on my favourites, sweet peas! I finished off the bouquets with gorgeous silk ribbon from Kate Cullen."
"Nicole and the team were amazing throughout the whole process, giving advice and reassuring me. The dress fitted so perfectly on the day and I didn't want to take it off."
The beautiful bride added a pretty two-tier veil with lace trim, also from Frou Frou Bridal Boutique, comfortable silver espadrille wedges from Piccolo, a few small roses for her hair, a spritz of her favourite perfume 'Coco Mademoiselle', and bespoke accessories.
"My gorgeous silver belt and matching bracelet were bespoke pieces made by the talented Charlotte at My Fayre Favourite."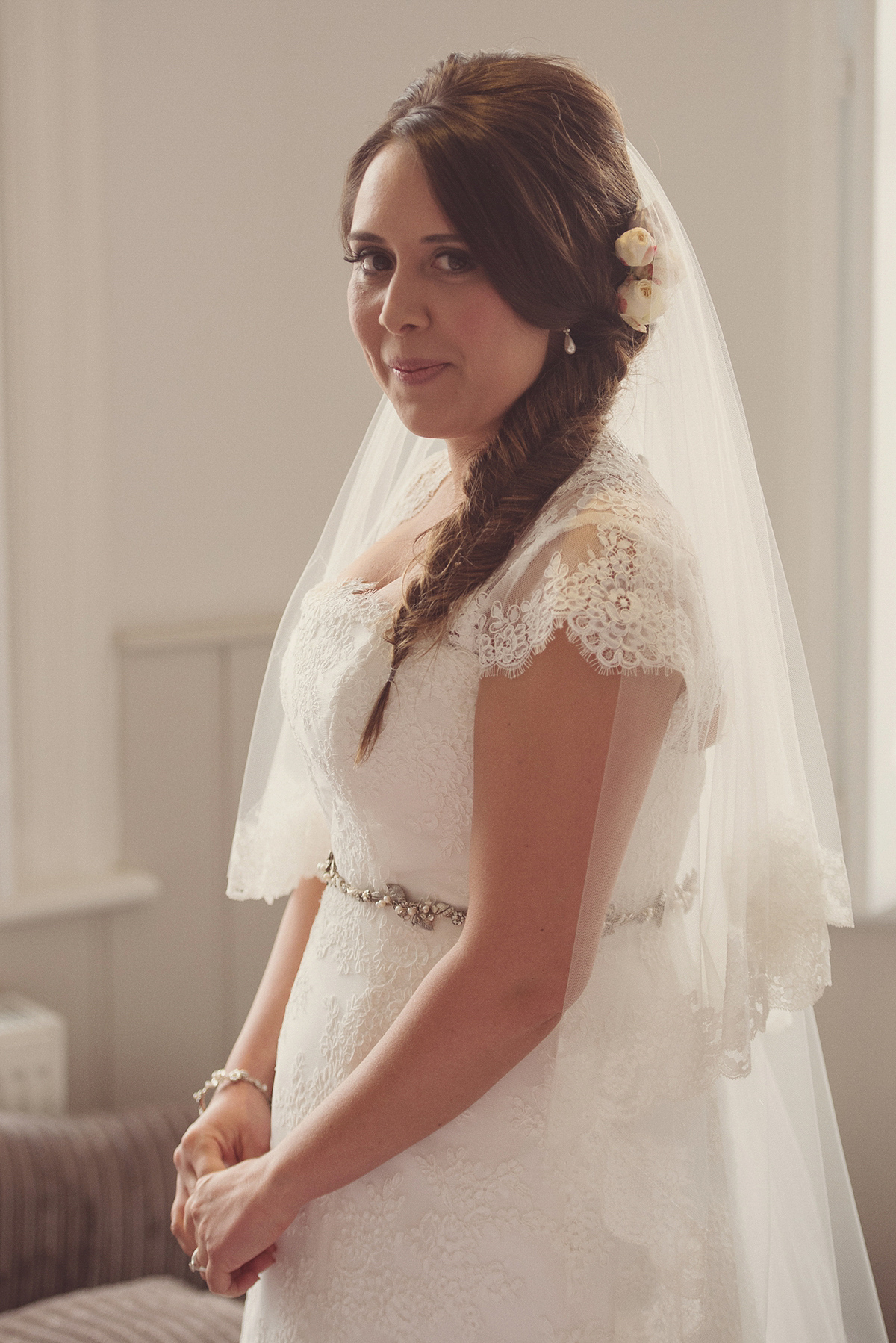 Hair and makeup for the bride and her bridesmaid was by Emma from Bridal Beauty by Emma Smisson.
"Emma is one talented lady. She did the most incredible job with our hair and makeup. For my hairstyle I had a bouffant with a fishtail plait and smoky eyes. My sister had a loose down do with wavy curls."
The bridesmaid, Joanne's sister, wore a gorgeous Ghost London gown, a fabulous pair of silver Christian Louboutin heels, pearl earrings, roses for her hair and as it was chilly she also wore a grey fur jacket when having photos taken outside (Joanne also donned a snug white cape to keep her toasty).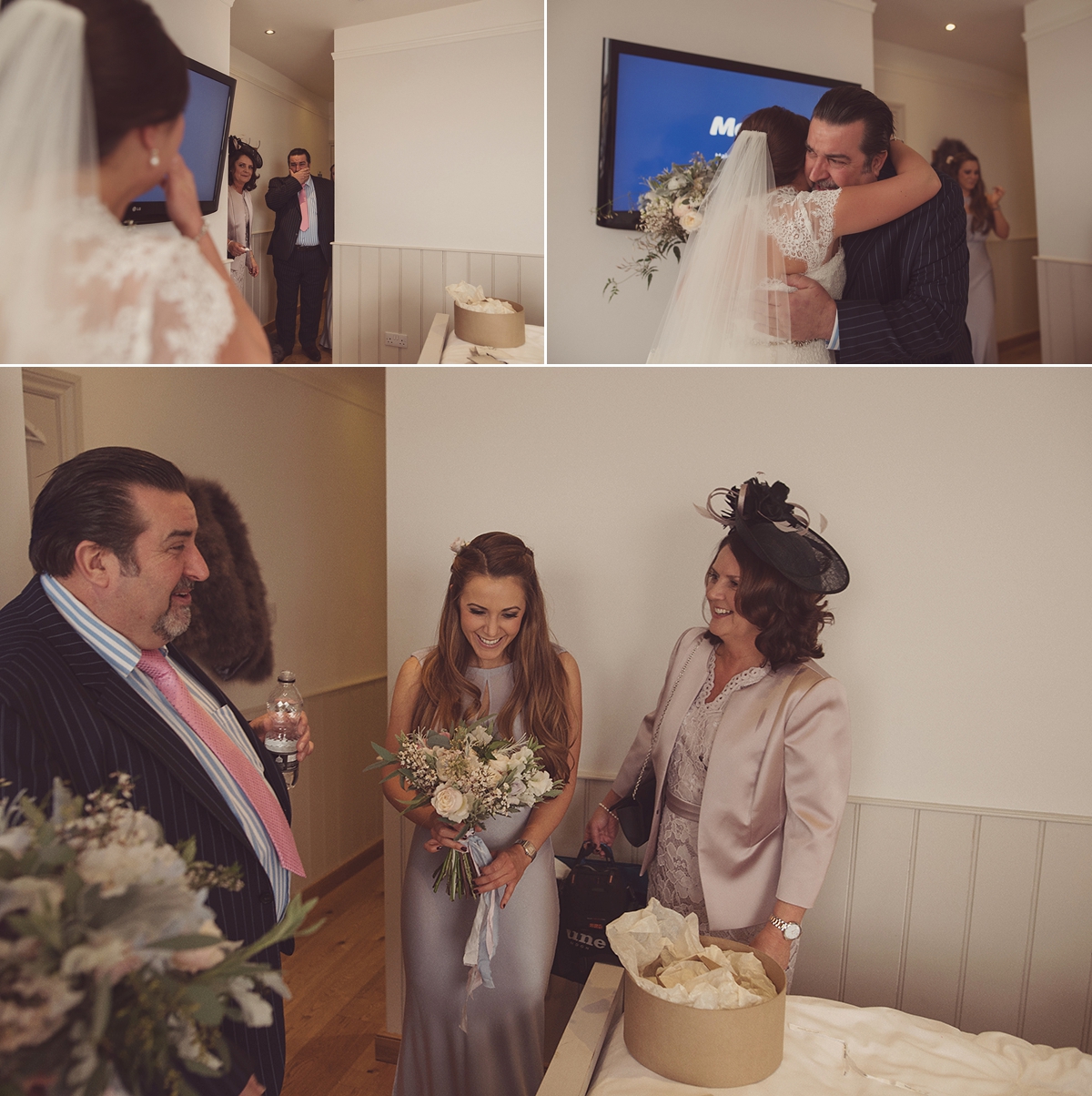 "We have always loved Whitstable and whenever we get the chance we often end up there for the day wandering along the beach front and having fish and chips for lunch. My family also had a caravan when I was little in neighbouring Herne Bay and we would often visit Whitstable as a family, so we felt we had quite a connection there."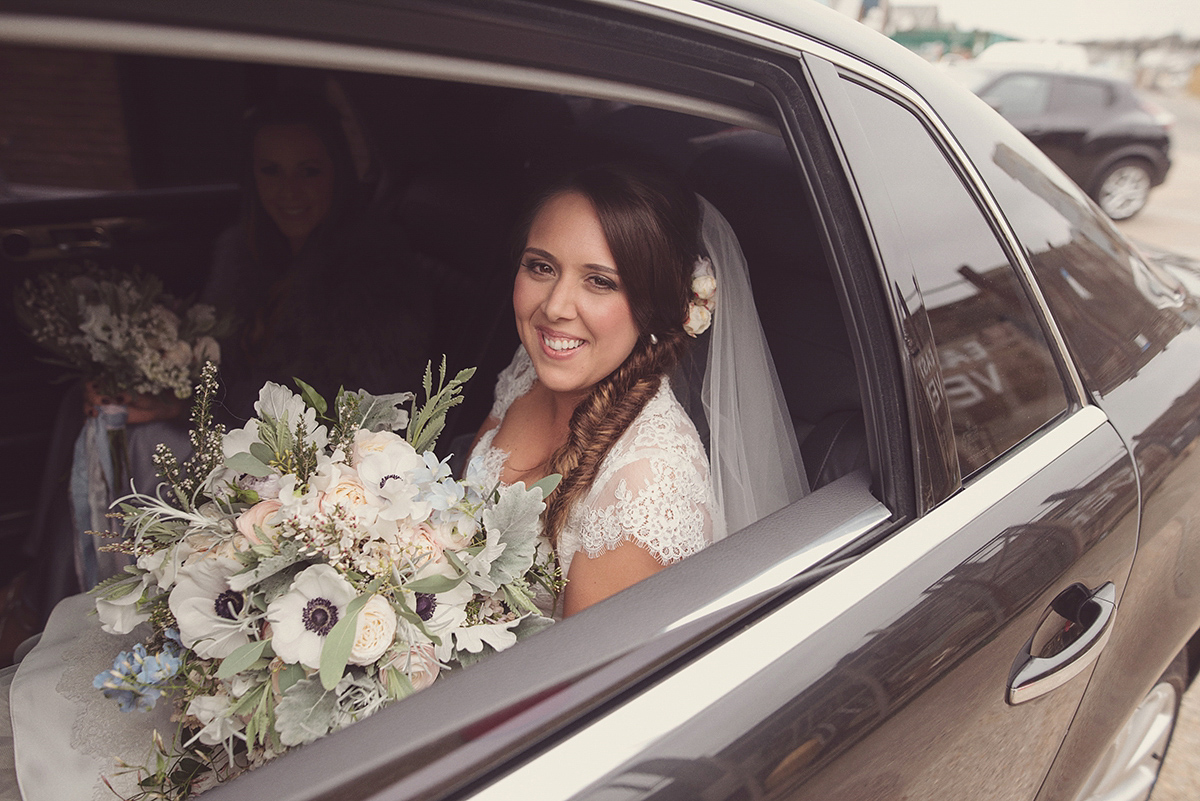 "We were very much guided and led by the venue in terms of the overall style and vision for our day – we loved that we were getting married right by the sea and wanted our day to reflect this. Our colour scheme was made up of soft and calming shades of blues, greys, whites, blush pinks and splashes of silver."
The groom looked suave in a navy suit with matching waistcoat, which was tailored to fit, plus a paisley print tie and pocket square, all via Hawes and Curtis, with the addition of cufflinks that used to belong to his grandfather. The groomsmen wore the same navy suit and tie, but without the waistcoat.
"I walked down the aisle to The Shires 'I Just Wanna Love You' – it is a beautiful song from a group whose music both Steve and I love. The words just say it all really and even if I hear it now I get a lump in my throat. My wonderful dad walked me down the aisle and he also sang 'All You Need is Love' on his guitar as we walked back up the aisle.
We had the lyrics printed on our order of the day stationery and all our guests joined in with the singing."
"We created a floral arch which was pretty special to get married in front of – and above the dance floor we had a hanging flower installation. My team of freelance girls were incredible in their help with all the flowers and everything came together so perfectly on the day."
The couple have an amusing meeting story, as they were set up on a blind date by Joanne's mum.
"Steve and my mum used to work together and one day she decided to take it upon herself to play cupid! At first I was reluctant and dismissed her matchmaking attempts, but in the end I decided I had nothing to lose, we went out on our first date for a few drinks and have never looked back since."
"Steve proposed whilst we were away on a road trip of a lifetime, driving the coast of California. He drove us up to the most breathtaking viewing point, which overlooked the whole of San Francisco, over Golden Gate Bridge and you could just see the twinkling buildings in the distance."
"We had been up there a little while taking some pictures when I started to head back to the car and Steve was hanging back a bit reluctant to leave just yet. Little did I know he had the ring in his pocket and the next thing I knew he was down on one knee asking me to marry him. I was so shocked and overwhelmed I burst into tears and of course I said yes!"
"Our photographer was the amazing Rebecca from Rebecca Douglas Photography, who I already knew from working with her on several weddings and shoots. Not only is Bex an incredible photographer she is also a lovely person."
"Right from the start she slotted into our day seamlessly and went above and beyond to capture the most stunning images for us, along with other non-photographer related issues, like helping me with my dress. I feel privileged to call her my friend and Steve and I are over the moon with our photos."
"We added in our own personal promises, which were both emotional but funny at the same time and made our guests cry and chuckle. My best friend Kate carried out a reading called 'I Promise You' and we chose this as the words really spoke to us and signified what we feel marriage is all about…"
I can't promise you that dark clouds will never hover over our lives
Or that the future will bring us many rainbows.
I can't promise you that tomorrow will be perfect
Or that life will be easy.
I can promise you my everlasting devotion, my loyalty, my respect,
And my unconditional love for a lifetime.
I can promise that I will always be here for you,
To listen and hold your hand,
And I'll always do my best to make you happy,
And make you feel loved.

I can promise that I will see you through any crisis.
Dream with you, build with you
And always cheer you on and encourage you.
I can promise that I'll willingly be your protector,
Your advisor, your counsellor,
Your friend, your family, your everything.
I promise you.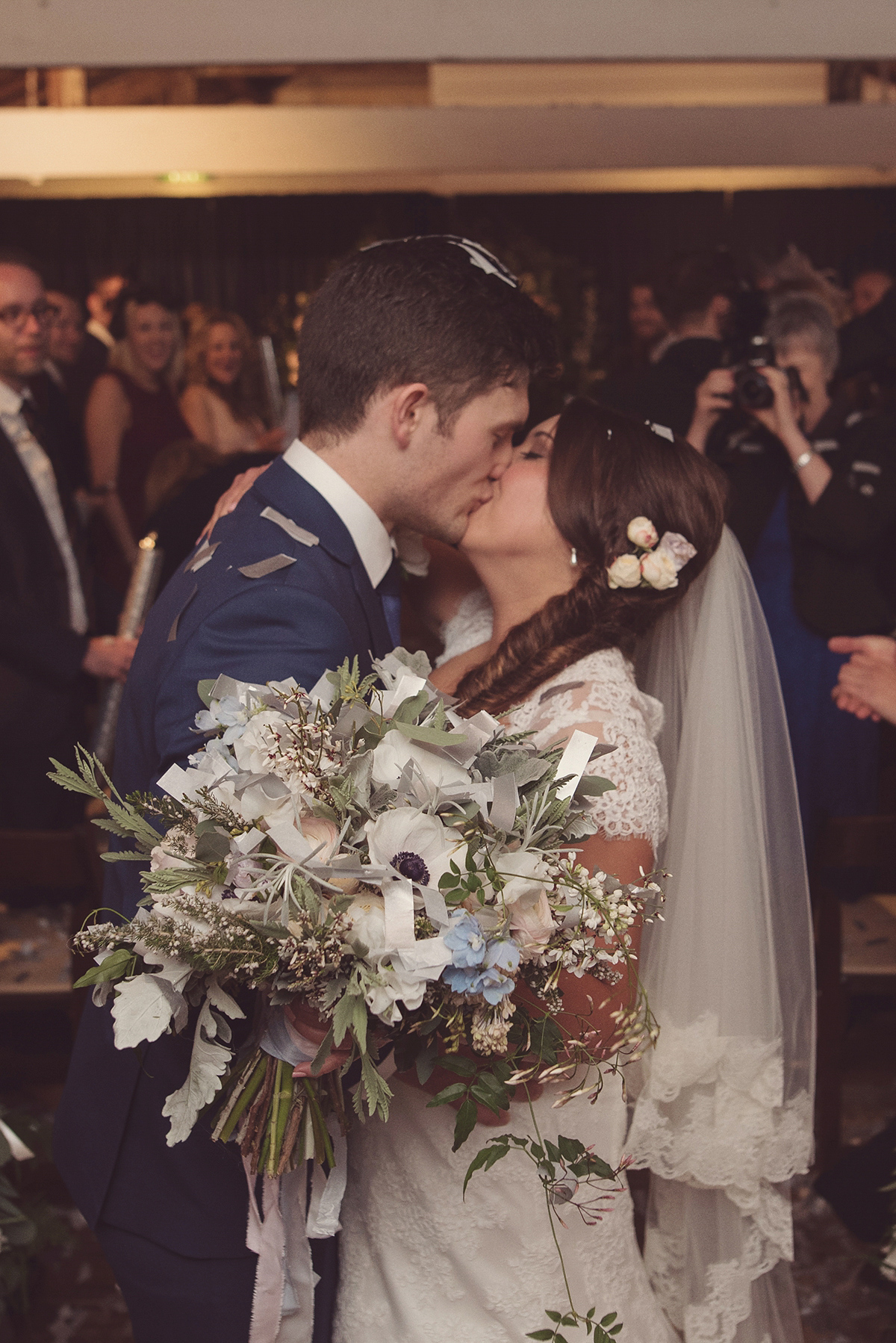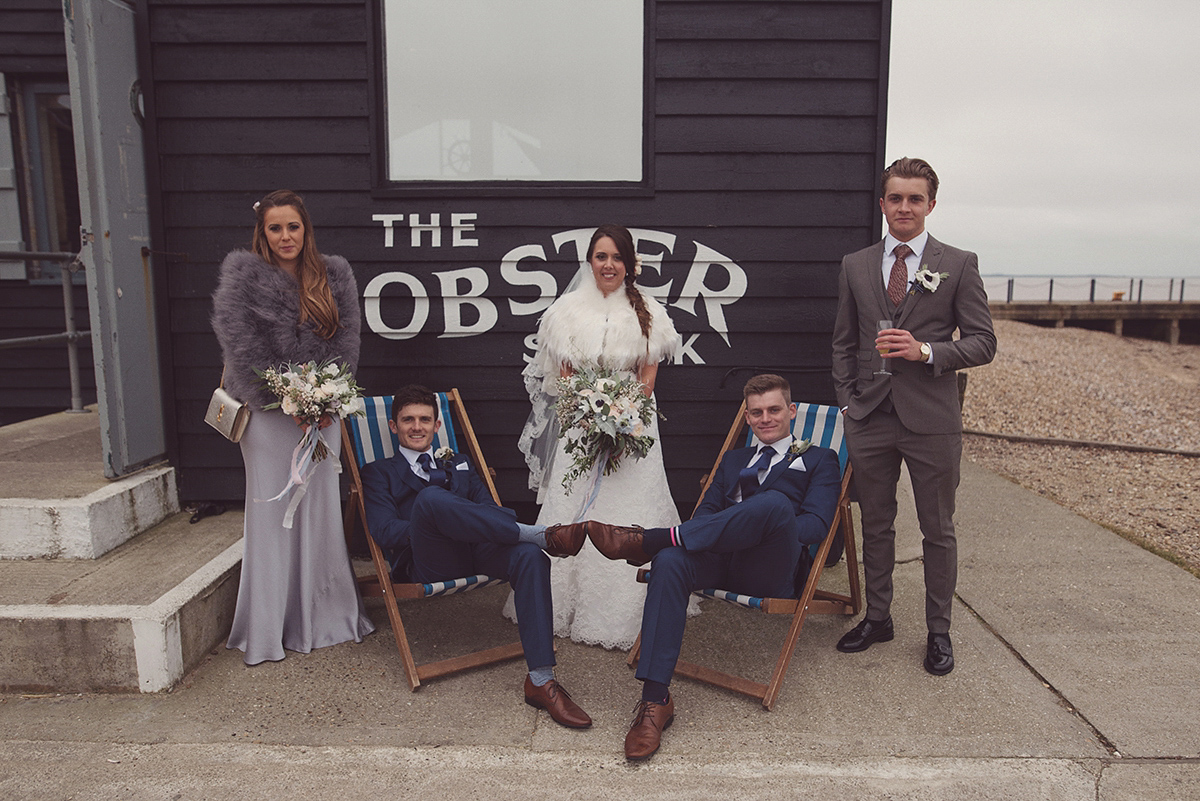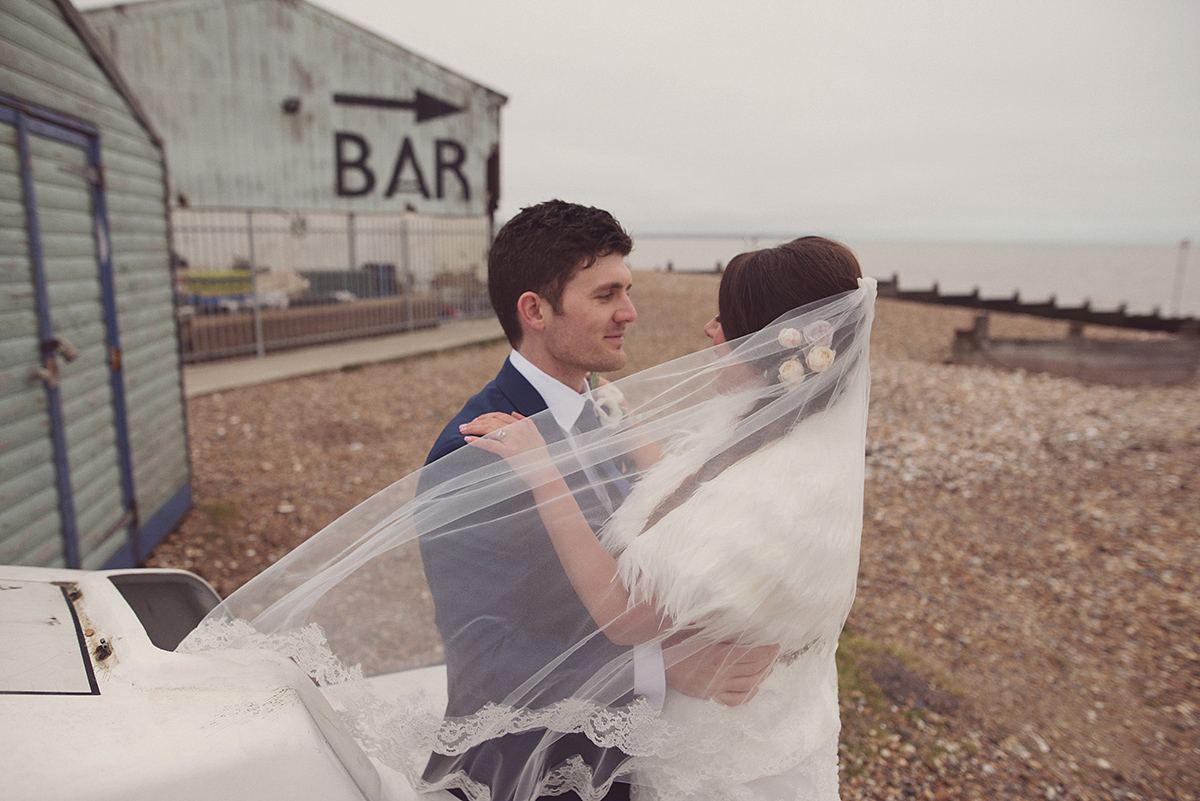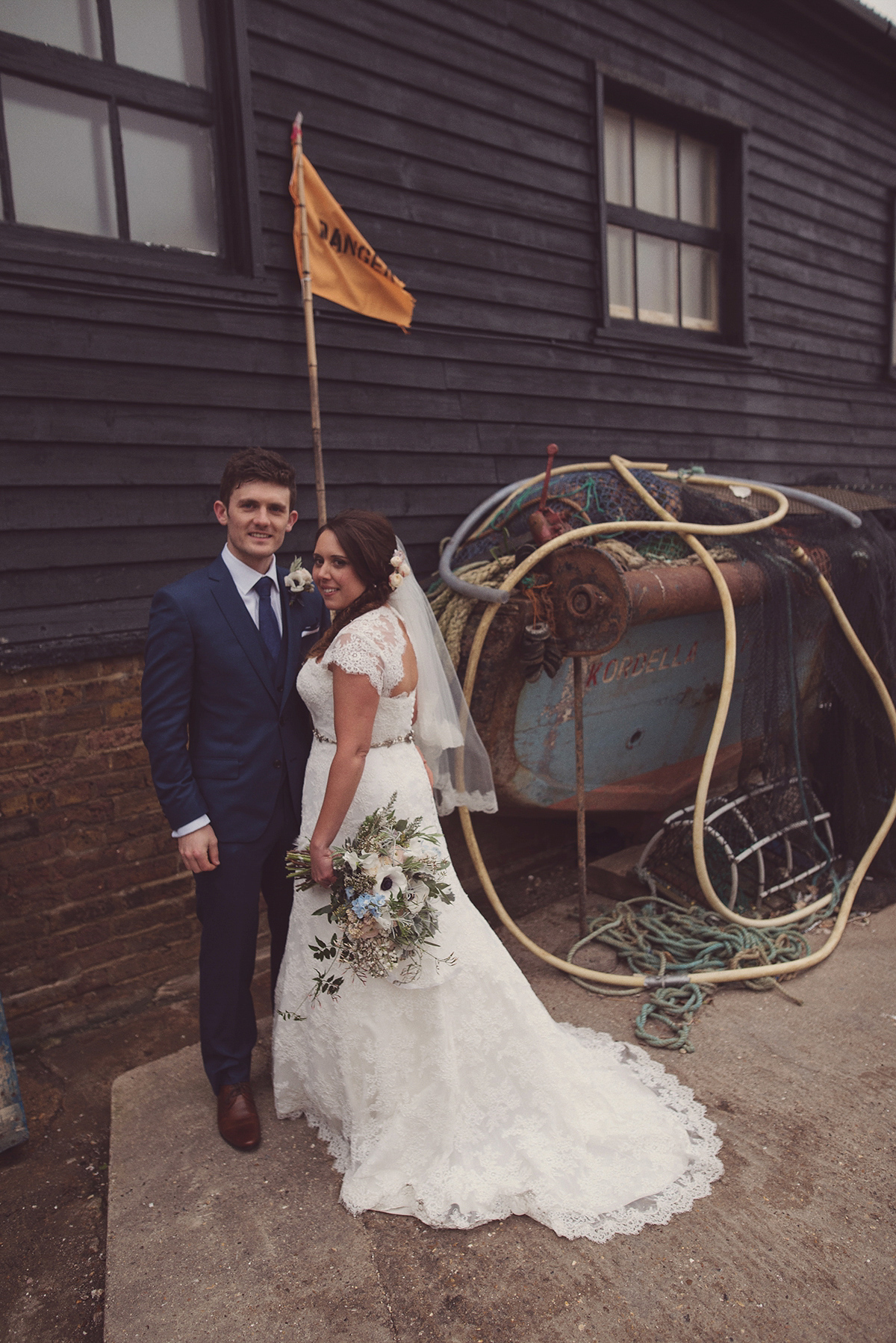 "I knew I wanted a ring with a twist in the band to compliment my engagement ring and Wedding Ring Studio in Bluewater (their online store is now closed) had the most perfect one. Steve opted for a plain silver band, which he was very happy with."
"We had an acoustic guitarist for our drinks reception, Kris the guitarist (found through Warble Entertainment), who did an amazing job, with many people commenting on how great he was. In the evening we had a live five-piece band called Fire Fly who kept the dance floor pumping all evening. They even learnt my favourite song ('Hold On' by Wilson Philips) for me and all my girls to dance to – I can't recommend them highly enough!"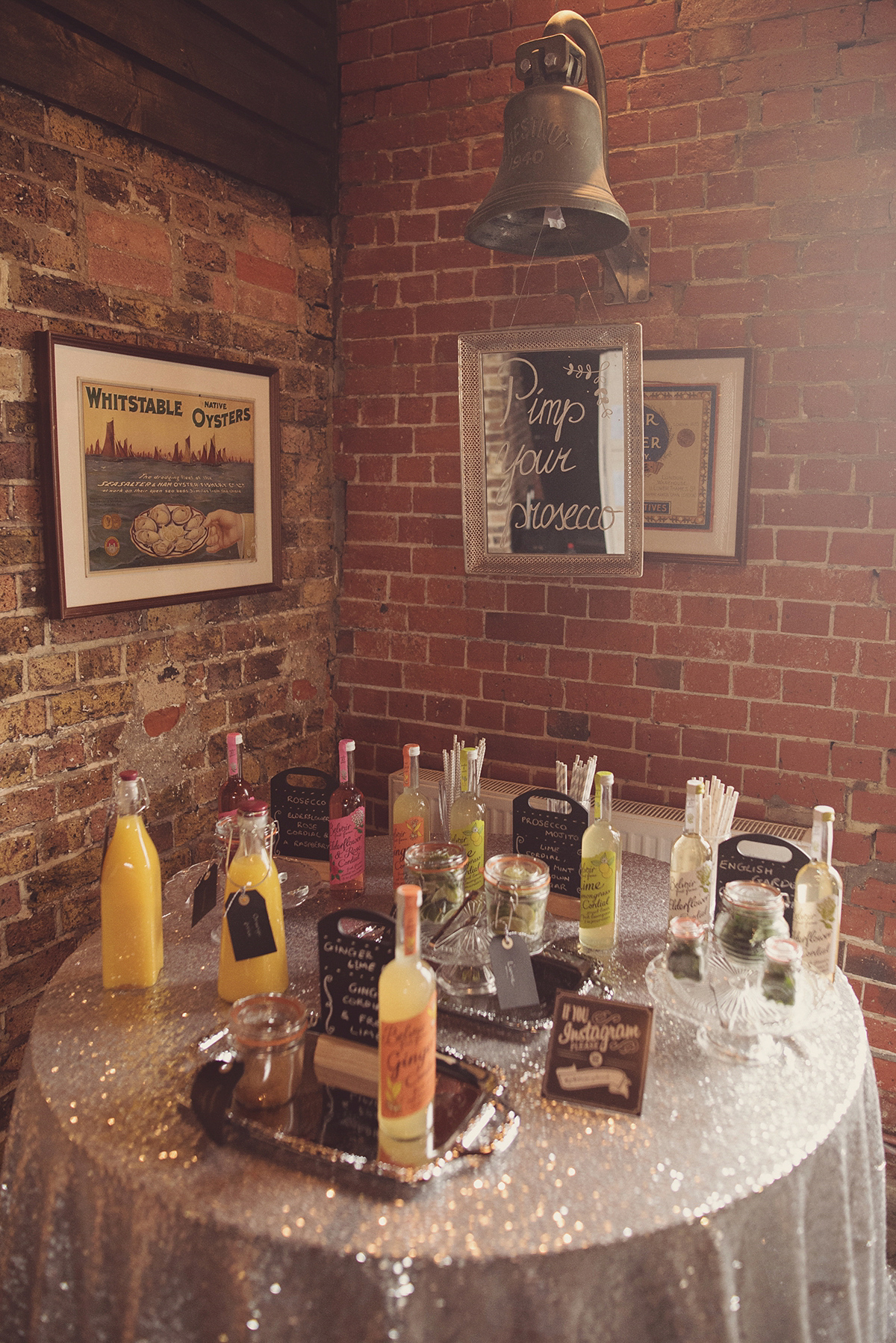 To further compliment their seaside celebrations, the couple organised a deliciously decadent dessert table – such fun!
"For our dessert table we decided to do something DIY and fun and so created a 'Make Your Own Sundae' bar. We hired an ice-cream machine then came up with four sundae 'recipes' for people to create themselves and it went down a storm!"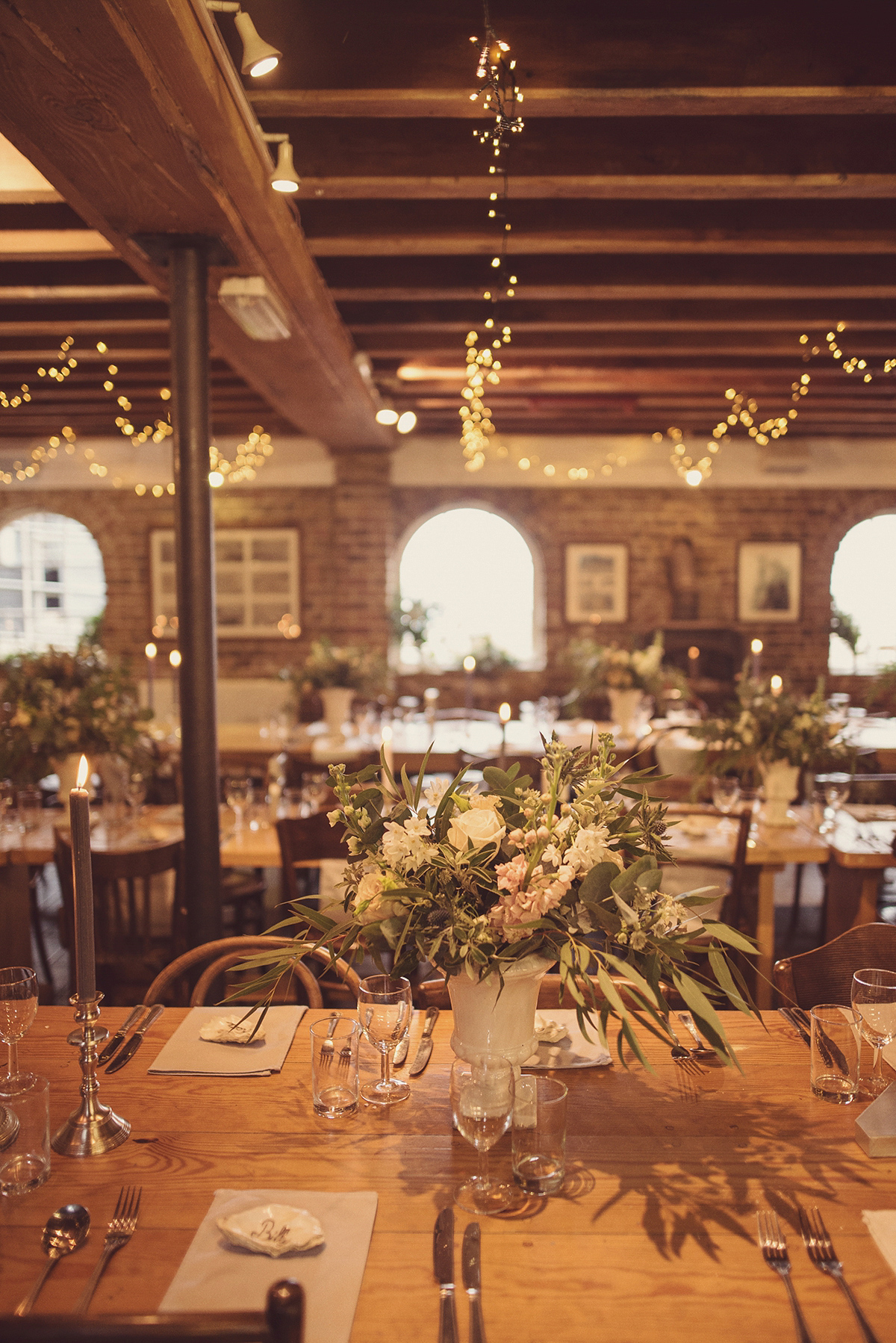 "Our cake was made by the mother of the groom and she did a fabulous job. Steve was in charge of the flavours (he has a massive sweet tooth!) and opted for carrot, chocolate and Victoria sponge and it was decorated with a meringue icing and fresh flowers.
Steve is a keen cyclist so of course we had to have a bride and groom tandem cake topper too."
I have a little bit of a 'thing' for stationery (you can never have too many writing sets, envelopes, and wasabi tape!) and hence can so understand Joanne's love for her wedding stationery; crafted beautifully by Becky Lord Design. The colours in the stationery then fed into the rest of the decor for the venue and in keeping with their seaside nuptials.
"I loved our stationery so much, as it set the tone for our day perfectly, and Becky totally understood and got my vision. It consisted of a watercolour design, and on the tables we dyed cotton napkins different shades of blues and greys to compliment the rest of the stationery."
"For the place names, we collected oyster shells each time we visited the beach and wrote each person's name inside. The table centres were made up of mini urns and silver candlesticks with coloured candles in shades of blue, grey and blush."
"We hung loads of fairy lights from the ceiling to create a 'hanging canopy' effect and we hired a gorgeous silver sequin tablecloth from Pudding Bridge which we used for our 'Pimp My Prosecco' bar."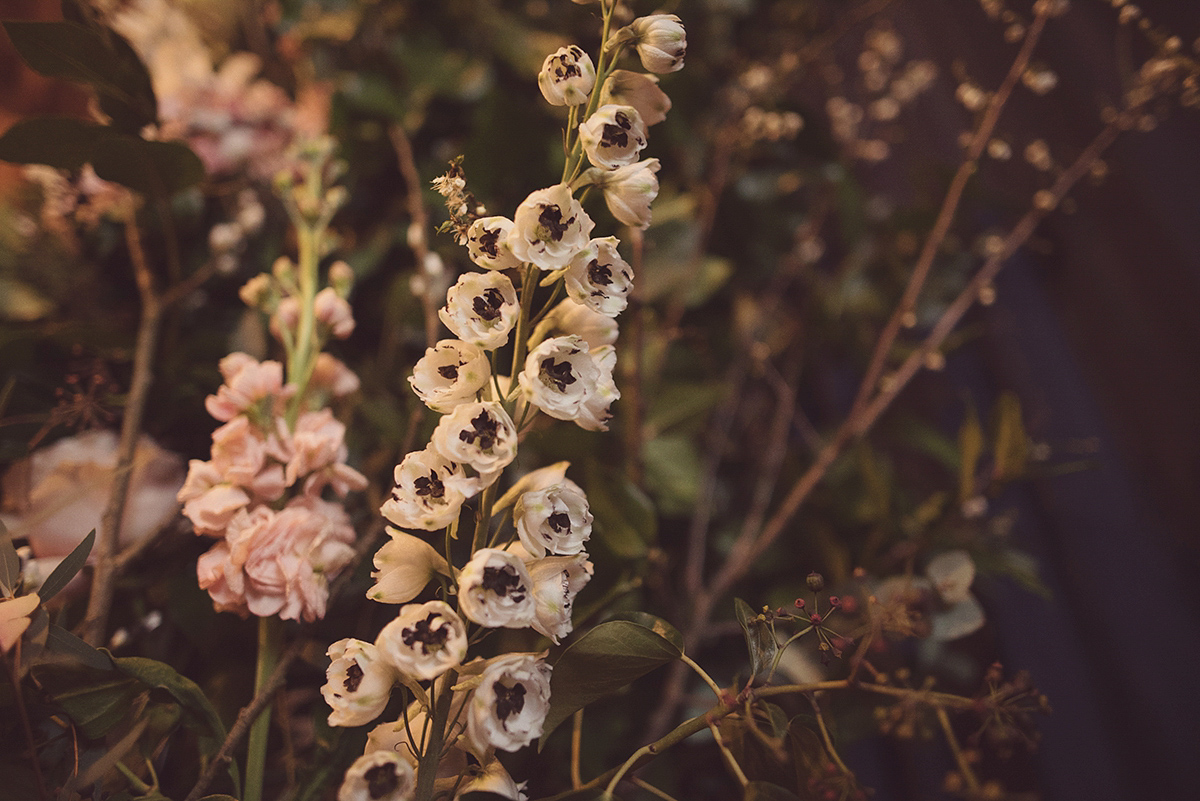 "We decided not to offer favours but instead gave the money to two charities close to our hearts – Shine and Cancer Research."
"We decided on a classic track for our first dance which was 'The Wonder of You' by Elvis Presley and the words summed us up in a nutshell."
"The two parts of the day that really stand out from the day was seeing Steve for the first time – saying our vows to each other in front of all our friends and family was the most spine-tingling magical moment which I will never forget. The other was when we were all partying on the dance floor dancing like crazy and seeing the happiness and joy on everyone's faces was so special."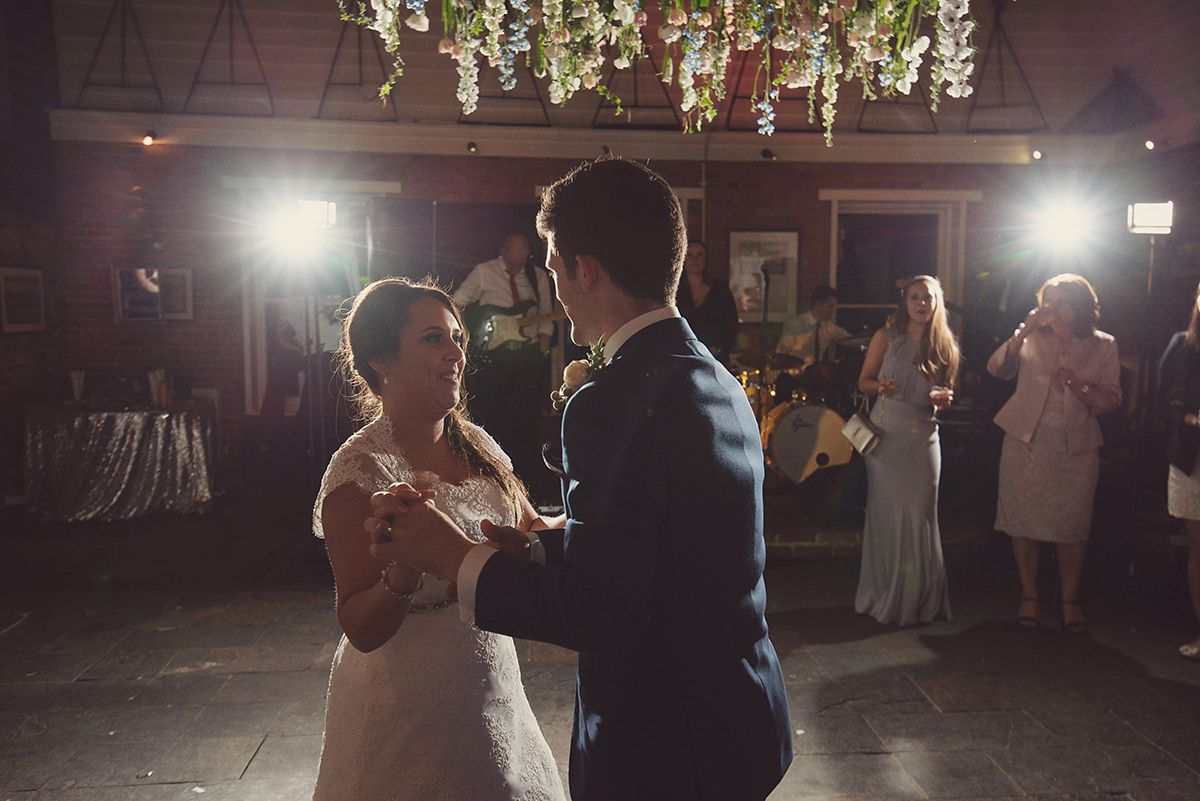 Words of Wedded Wisdom
"Don't stress! Easier said than done I know, but savour and enjoy every moment of the wedding planning, as everything always falls into place in the end. What Steve and I found really helpful too was sitting down and putting together a rough schedule of the day just so we could get an idea of timings and how the day would run, which also helped us with organising and logistics in the run up to the wedding day.
Finally, follow your heart to have a day that truly reflects you both."
I have so adored sharing Joanne and Steve's wedding today – what a wonderful venue you found to hold your nuptials by the sea. I love all the little beachy touches and that utterly gorgeous hanging floral display – wow! And a huge thank you to Rebecca for capturing all of these beautiful moments of the couple's big day.
If you're thinking of a seaside location for your upcoming celebration then be sure to check out these other delightful weddings by the sea that we've previously highlighted.
Here's to a productive rest of week little lovelies!
Love Jo -x-