Ladies, this is the one a great many of you have been waiting for. If you're a member of our private Facebook group for brides and newlyweds (request to join now, I promise you won't regret it) or a fan of our From The Heart pieces, you may recognise the beaming smile of the extraordinary bride we're featuring today. Clare, a Specialist Dietician (the subject of dieting was the basis of the very first submission Clare sent us at Love My Dress), married her beau Jonny, an Orthopaedic Surgeon, on 21st May this year at New House Farm in the Lake District and looked heavenly in her Claire Pettibone gown.
While, you know, planning a wedding, as well as in the aftermath of that special day, she wrote a string of touching, candid and illuminating pieces for our blog about her experiences as a bride.
"When we sat down to decide our wedding priorities, the first thing we did, we were both surprised to put 'styling' at the top. The whole feel of the day was extremely important to us – it had to feel like us and reflect us in every way. Our guests had to know whose wedding they were at. We were inspired by greenery, nature, natural materials, and a country feel but with some more opulent touches to reflect the occasion."
Film by Shutterbox Films
"We also had two subtle 'sub themes': literature for me and bikes for Jonny. Jonny being the keen cyclist, and me being the avid classics reader. Every year since we've lived together we've hosted a house birthday party full of hand pulled ale and a lot of games so these two elements were most certainly joining us in our celebration."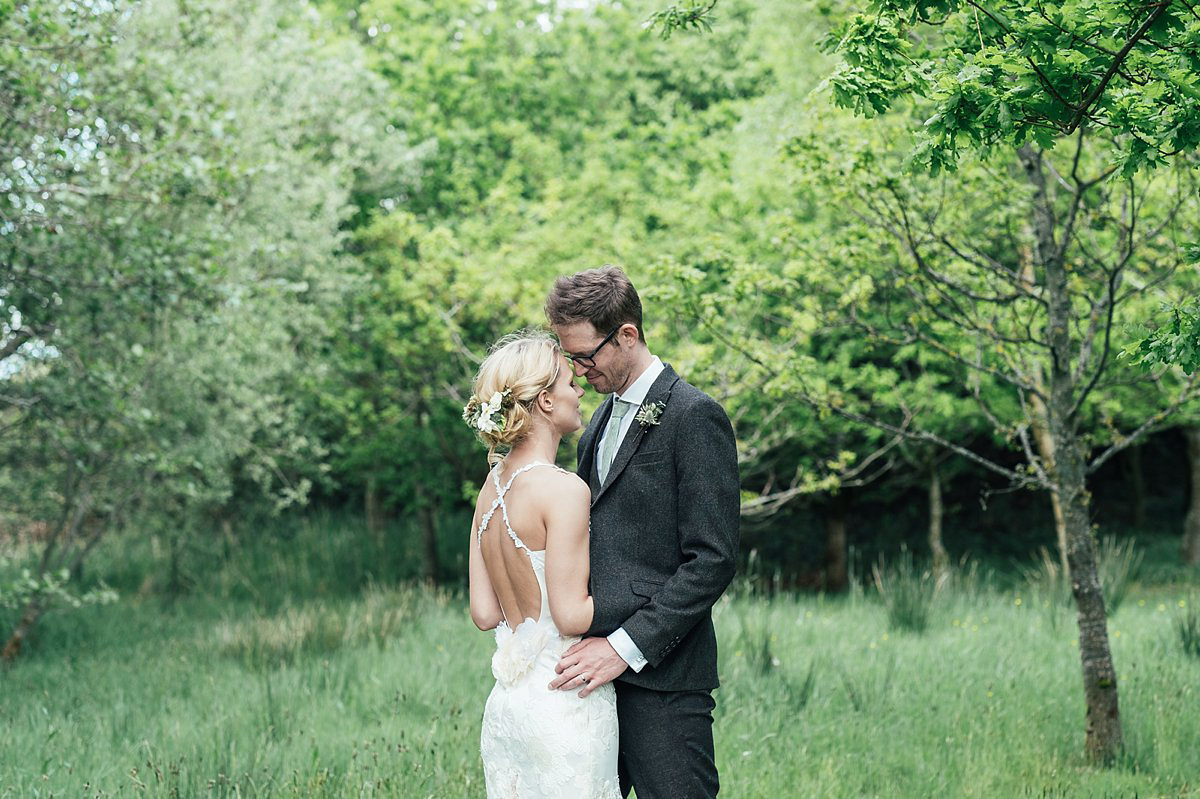 Photography by Lisa Aldersley
Clare wore the sensational Mariposa by one of our Little Book for Brides suppliers, the staggeringly talented Claire Pettibone. The beautiful marriage of vintage inspired style and luxurious detailing is simply enchanting, further accentuated by the delicate movement of the raw-edged, cathedral-length tulle veil Clare chose from Kathryn S Truman.
"I didn't have the easiest dress experience. I kept convincing myself that I wanted specific dresses having seen them on Pinterest and I almost bought the wrong one by going in with a closed mind."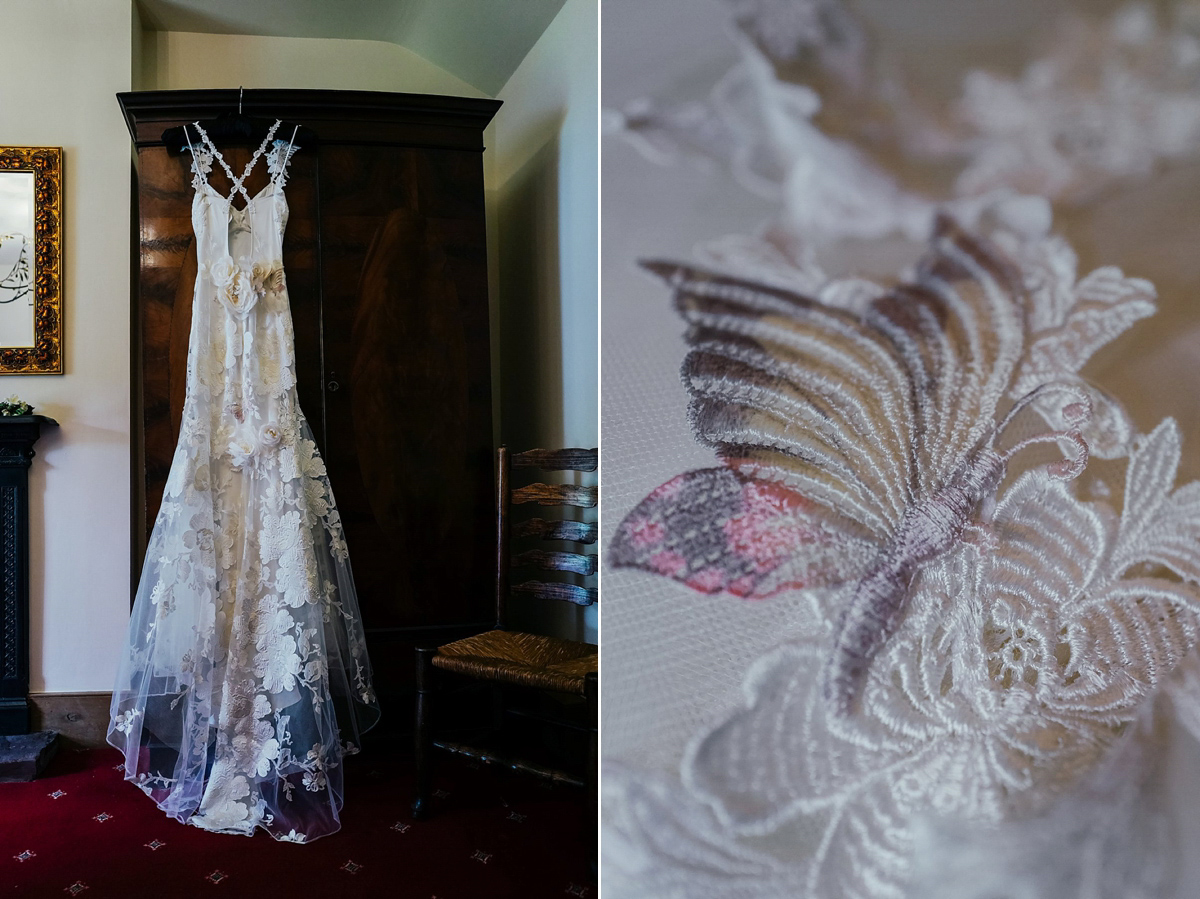 "I knew I was a Claire Pettibone bride, nothing else 'clicked', but it took an open mind and the patience of K.S.Trueman, who really let me explore in a second appointment, to find and fall in love with Mariposa."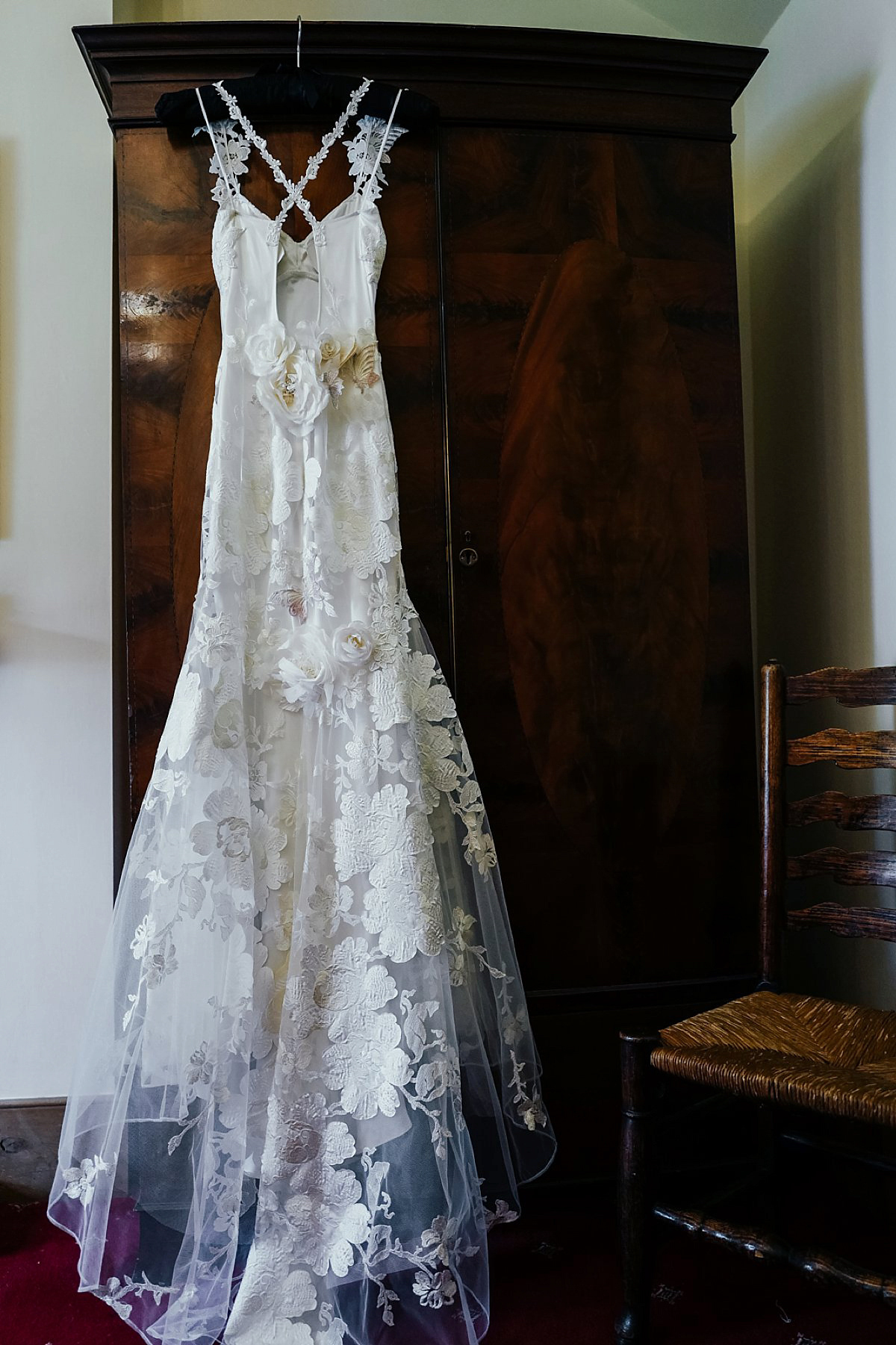 "The tulle, the open back and the shape were everything I thought I didn't want but the detail was incredible and I finally felt like I wore the dress; the dress wasn't wearing me. It felt a bit of a gamble being so full of nature inspirations and embellished with purple butterflies(!), but the compliments were amazing and I certainly felt unique."
"Though I did spend more of my day being photographed from behind than from the front; a certain pay-off from choosing a dress so beautiful from the back."
Clare wore a pair of comfortable sandals from Nine West and mirrored the botanical, natural elements of her gown in her half-crown, created with fresh blooms by Laura Tuer at Green Wheat Flowers.
"As my dress was such a statement I kept all other accessories to a minimum. I wore my mothers' vintage gold and pearl stud earrings which she helped me with on the morning of the wedding. Jonny and I both wrote each other a letter for that morning, which really got the emotions going, and he gifted me with Gucci Premiere.
I never met my maternal grandmother so I decided to wear the only item my mum has of hers; her tiny vintage gold watch, so that she was with us on the day. It didn't necessarily look 'right', and we had to find a way to make it a little larger but it was extremely important to do that."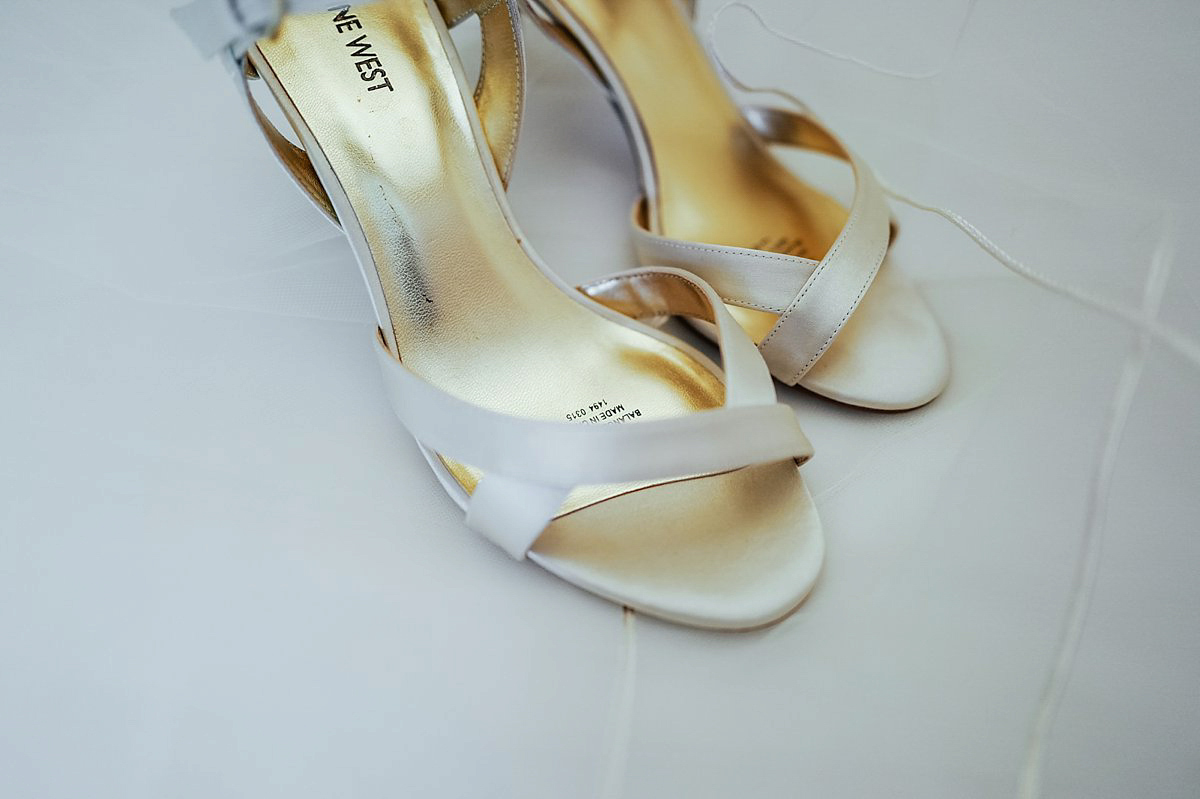 "Our florist Laura, of Green Wheat Flowers in Penrith, really understood my vision for bold, leafy, dramatic foliage and flowers. I started off my wedding journey thinking I wouldn't have a florist at all and would just do my own jam jars, not even a bouquet. In the end, our flower order was huge and so well executed.
My Gran gave me the greatest compliment when she called it 'like being a fairy garden'. The flowers were a huge part of that. We had tall foliage filled vases, bunches of ferns on the ends of the chairs to reflect the natural Lakeland wild fell bracken, and my bouquet was a wonderfully huge and messy creation. They really blew me away."
Katie Dale provided soft, relaxed hair styles for the bridal party and Clare's natural make-up was applied by her talented bridesmaid and make-up artist, April Cunningham of Godiva Salon Northallerton.
"My bridesmaids wanted to wear matching dresses and we found them from TFNC at ASOS in Green Lilly, which fitted with the over-all theme of the day and they both looked incredible."
"My bridesmaid had a discrete flower crown whilst my maid of honour had individually wired flowers threaded into her braided hair."
They kept their earrings minimal and chose not to wear necklaces. I bought each of them a beautiful Lola Rose green and gold bangle from Harvey Nichols which they both chose to wear on the day and I bought us all matching dressing gowns from Debenhams."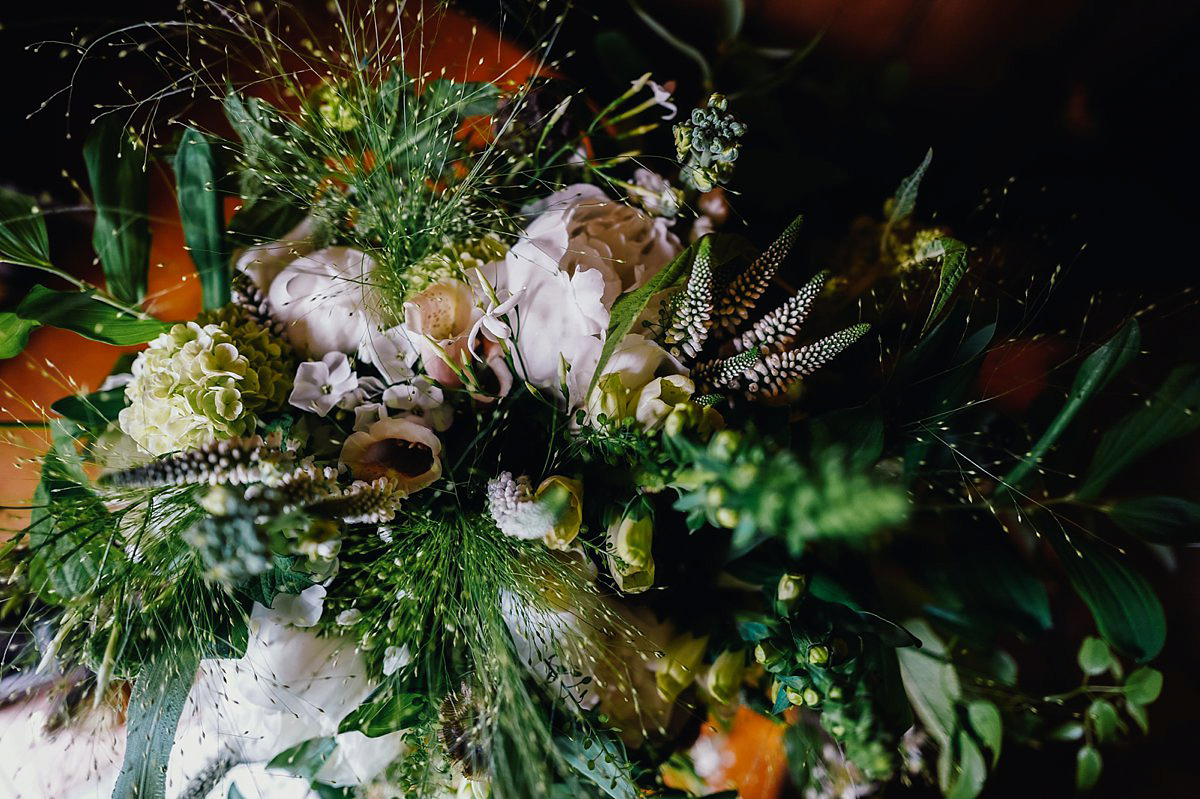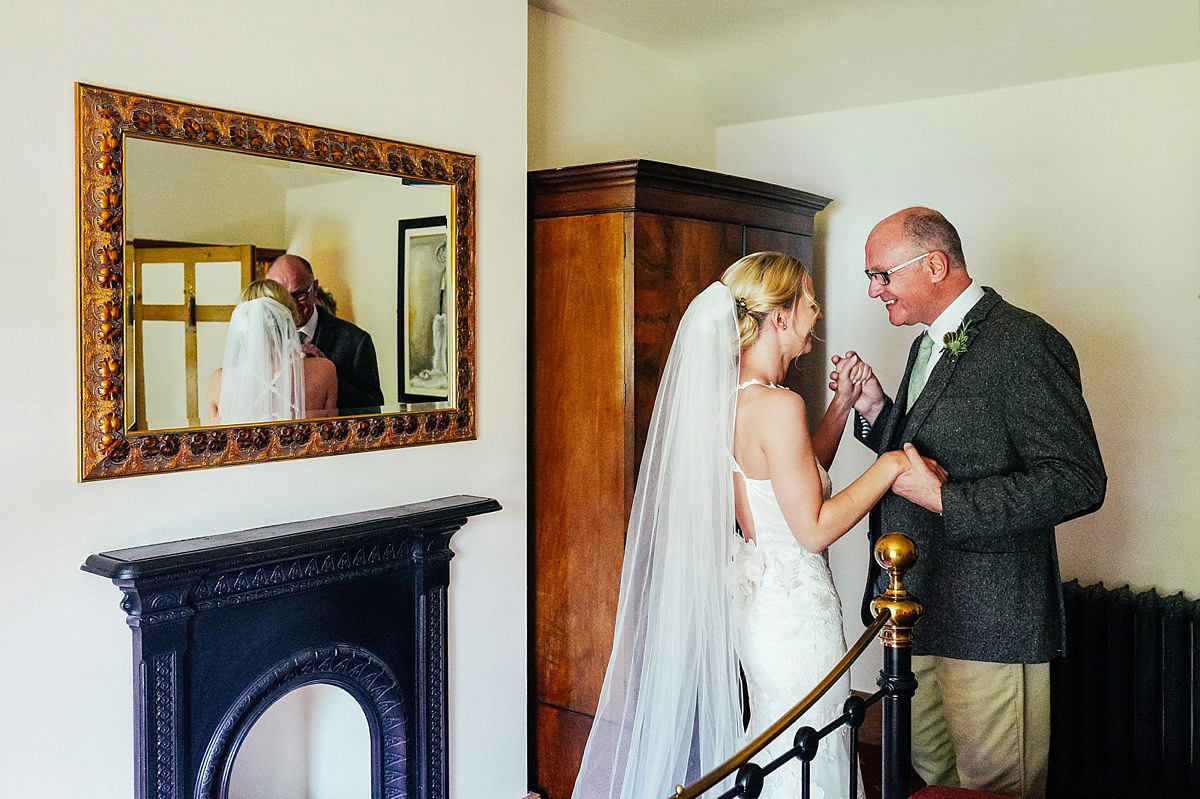 "We met in 2009 when I was a student dietitian and Jonny was a junior doctor on the ward in Durham Hospital. I was instantly enamoured by his incredible smile and I told my colleague that I would marry him, he just didn't know it yet. When we had our first date five days later I told him this and amazingly, he stuck around and here we are. It made a great speech story."
|We got engaged after five and a half years to the day. Jonny took me to Scotland to an eco-log cabin in the snowy woods; it was idyllic, simple, personal, rustic and very us. We were engaged for 17 months before we married."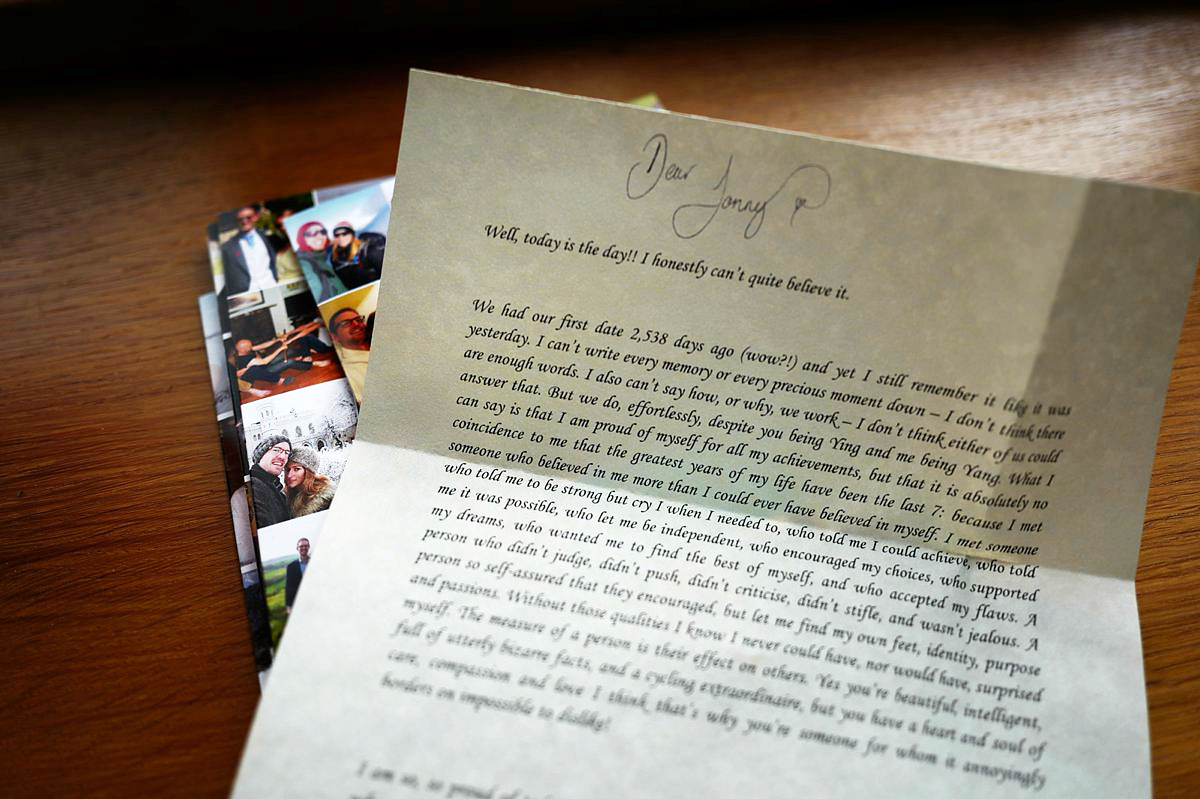 Jonny wore a three-piece, slim-fitting forest green tweed suit from Next with a Hugo Boss white shirt and shoes from Joseph Cheaney & Sons.
He added silver bike cufflinks and a Hugo Boss watch, which Clare gifted him on the morning of the wedding; those distinctive and thoughtful cufflinks also proved very useful in identifying the pint-pulling culprit from some of their later photos.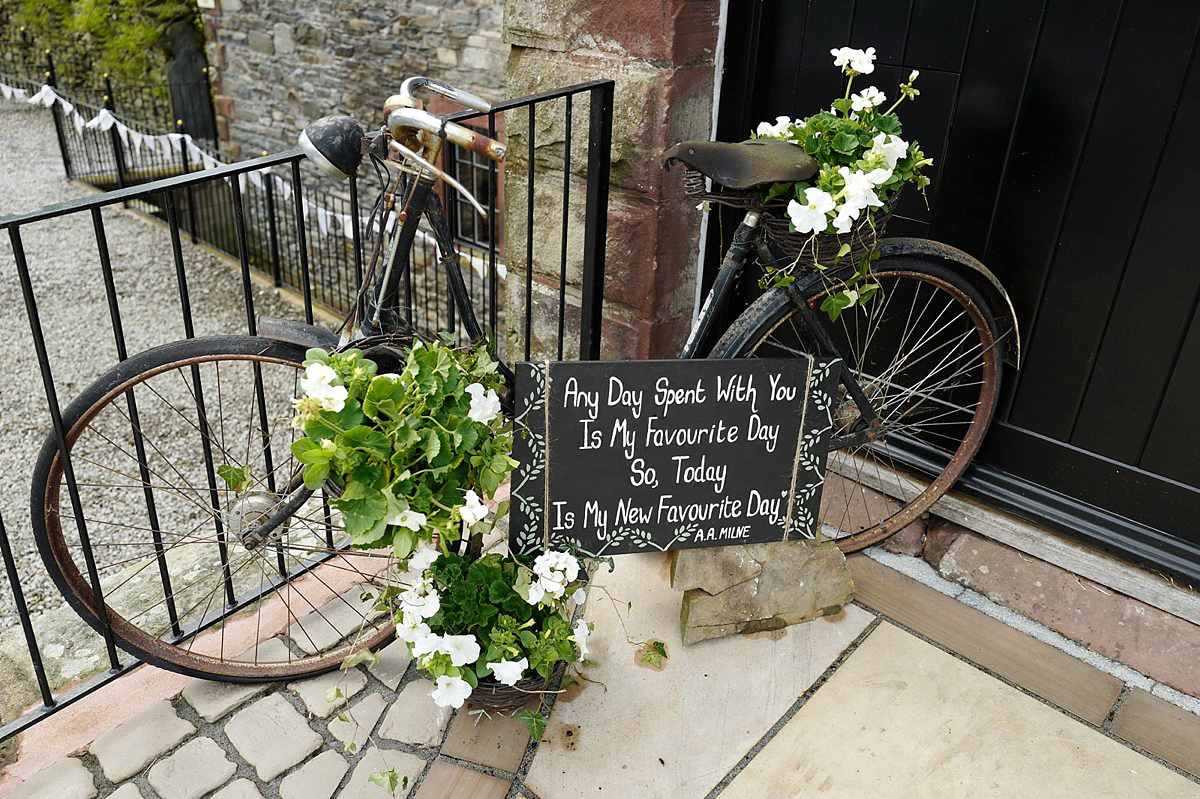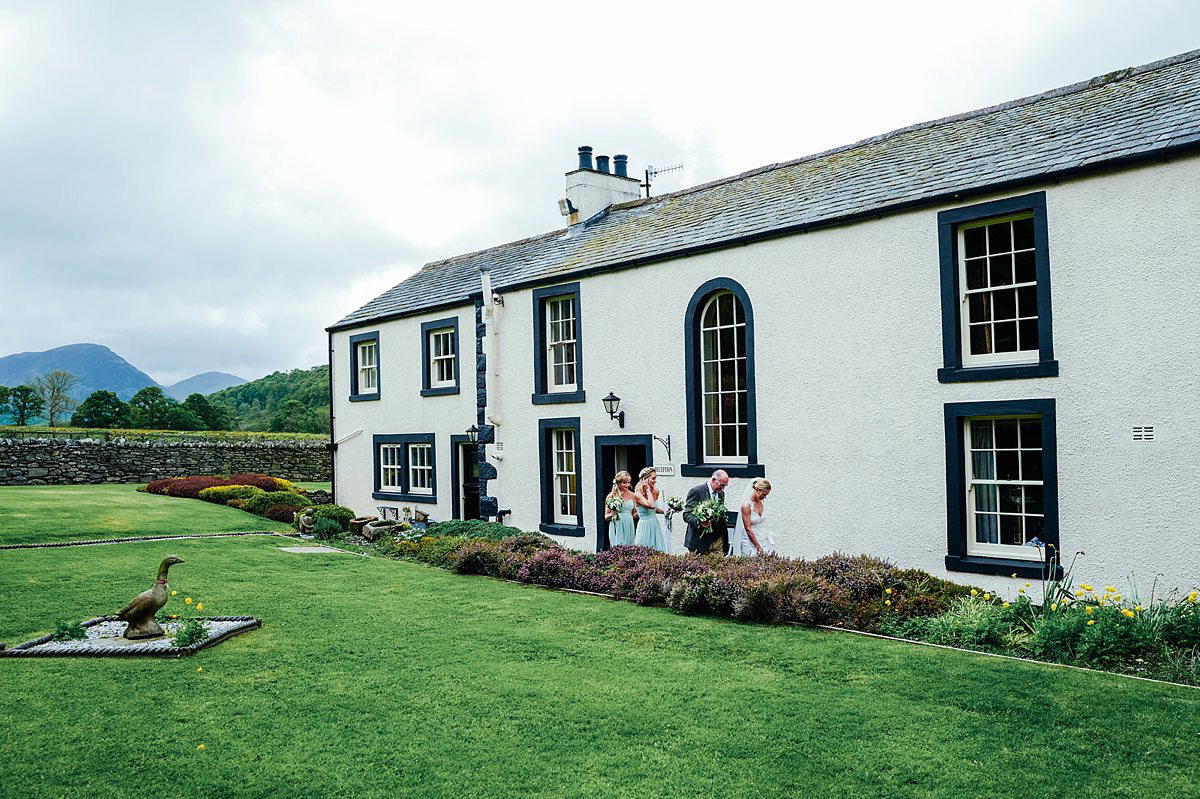 "My dad walked me down the aisle but didn't give me away. Whilst I dislike the premise of this tradition, I walked the aisle of my own free will and it was a wonderful moment for my dad and I to share as he accompanied me. We had a wonderful local acoustic Caleigh band  for our ceremony who stayed during our garden party and drinks reception, as I'd been so inspired by doing this early on from this Love My Dress wedding."
"Jointly, our most favourite part of the day was the moment we first saw each other and the vows. Each other, those words, that space, there's really nothing that quite describes it. I couldn't tell you if I noticed one other person in the room with us, it was surreal and incredible."
"The vows were my absolute favourite part and took me by total surprise. They were so hard to write and we truly meant every word. We kept these entirely secret from one another, even managing to frame them without ever glimpsing. Jonny read his first and by the time it was my turn I teared up, took one look at the words and hid for a moment behind the paper. I felt sure I wouldn't make it through without a mascara disaster."
The image of Clare hiding behind her vows tugs at your heart strings doesn't it? Such an honest, emotional portrayal of this heady, poignant moment, beautifully captured by photographer Lisa Aldersley. I just had to share Clare and Jonny's vows in all their sweet sincerity.
Jonny's vows to Clare:
Today I am marrying my best friend, my true companion, my one and I promise to make you as happy every single day we have together as I am now.
I promise to allow you to remain the wonderful independent and strong person that you are whilst giving you all the support and encouragement you need to succeed.
I promise to respect, listen and show compromise knowing that we have different strengths that when combined make us an unbeatable team.
I promise to give you a home full of life, joy and laughter; a place where our love can grow and we can nurture each other.
In all these ways I promise to show my love for you each and every day, cherish you as my equal and knowing that we do not complete, but perfectly complement each other.
Clare's vows to Jonny:
Thank you for teaching me that love is not about needing one another; but about choosing it.
I promise to give you the best of myself, to keep myself open to you, and to ask no more of you than you can give.
I promise to always respect the individual that you are; to support your dreams and ambitions, and to always regard them as highly as my own.
I promise never to be complacent of you, my best friend, and will work hard every day to ensure that home is a person and not a place.
I promise to choose you, over and over again, in spite of all the times we disappoint one another because I promise not only to grow old with you but to grow with you.
And I promise that even when these hands are old and wrinkled, they will still be reaching for yours.
Jonny's mother recited an extract from Les Miserables and Clare's mother read 'Love is a temporary madness' from Captain Corelli's Mandolin. Both of these pieces were chosen from Clare's favourite books because they so perfectly represent how she and Jonny feel about the honesty of enduring love.
The couple exchanged rings bought from Birmingham's Jewellery Quarter, which is also where Jonny chose Clare's stunning sapphire engagement ring. Clare opted for a diamond and platinum band while Jonny chose a plain platinum band, both presented at the ceremony on a moss and twine ring cushion made by the bride.
"I remember us signing the register and grinning with the widest smiles. Jonny's mother took a photo and said 'less cheesy please' to which we both replied in unison: 'no, we can't help it!'. Smiling was our definite trade mark of the day."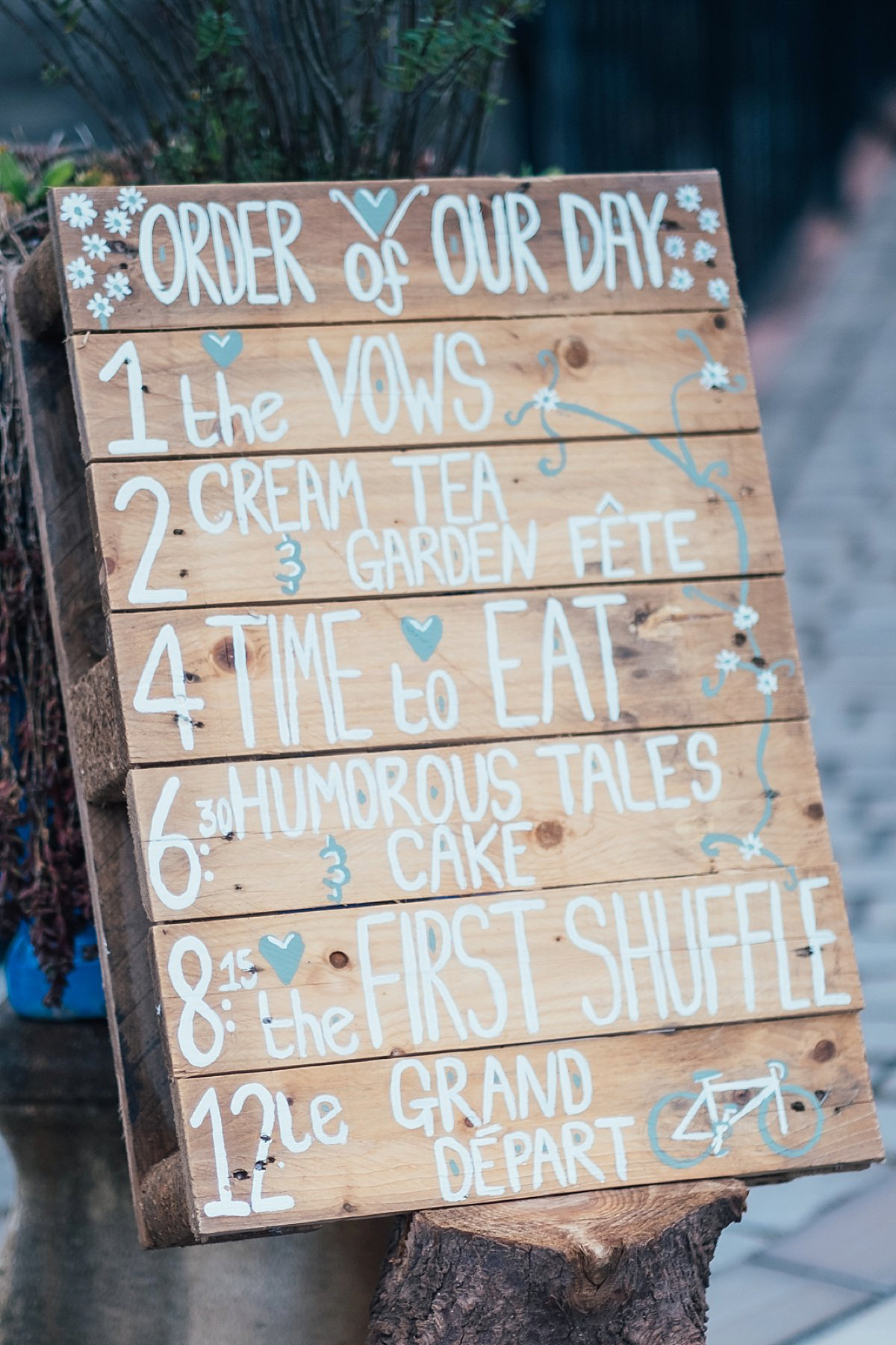 Clare and Jonny had their day documented on film by Lee of Shutterbox Films; I can't tell you how much I'm impatiently waiting to see this! They also chose Lisa Aldersley Photography to capture all of the special moments and emotions so apparent in this gorgeous set of images.
"Lee was so discrete professional, unobtrusive and such a pleasure to have with us on our day. Lisa Aldersley is such a joy to be around and she was so discrete on the day, blending in perfectly. We wanted photos that told a story from start to finish – something to evoke memories of moments in years to come, rather than a specific pose or a staged smile. 
She has an instinctive ability to capture the subtlest, natural details. It wasn't until we received the photos back that I realised I'd been sat twiddling my ring whilst I waited to get ready in the morning and those tiny details have ability to transport you right back to a moment."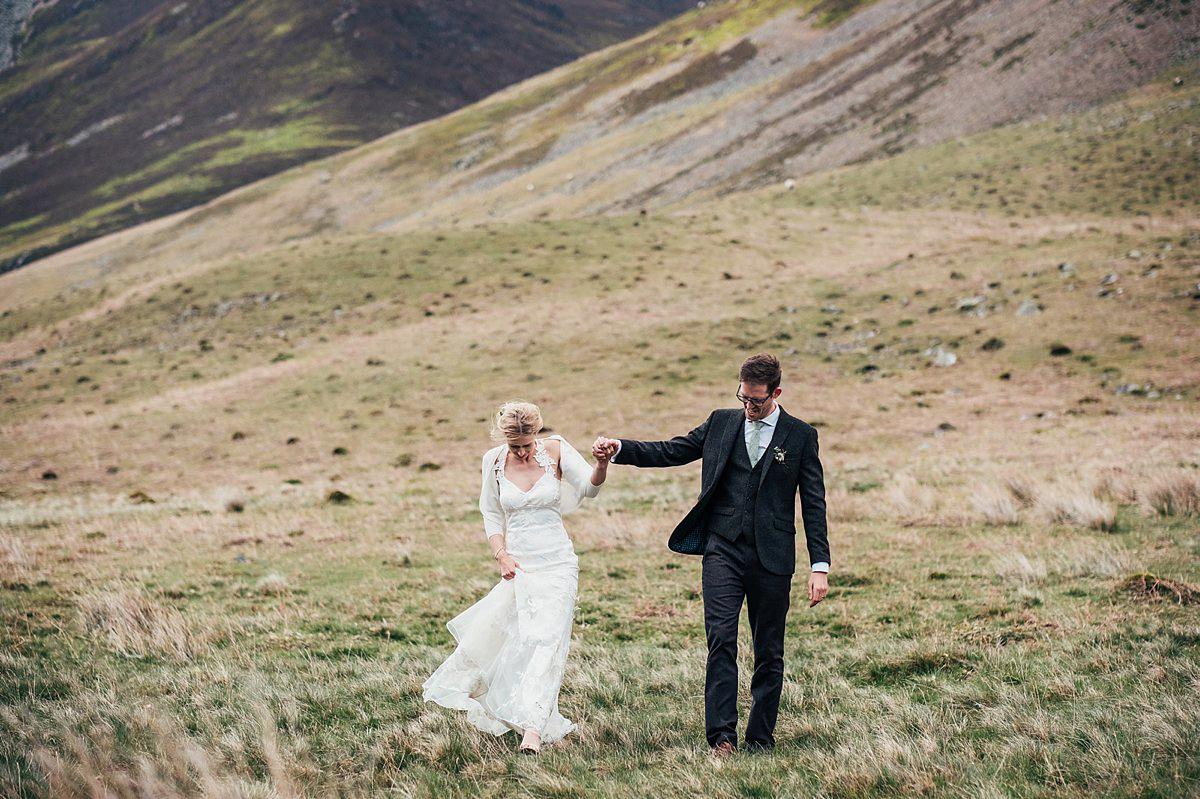 "There were two very specific moments that I loved. One, walking back through the grounds after photos with all the guests seated inside, seeing all our lovingly handmade signs face down in the mud, next to an empty forgotten champagne glass and a sea of messy garden games. And the other being sat at the top table, staring out at a sea of foliage and selfie-sticks and thinking 'yep, I wouldn't change a single thing'. You can't plan, order or buy that feeling."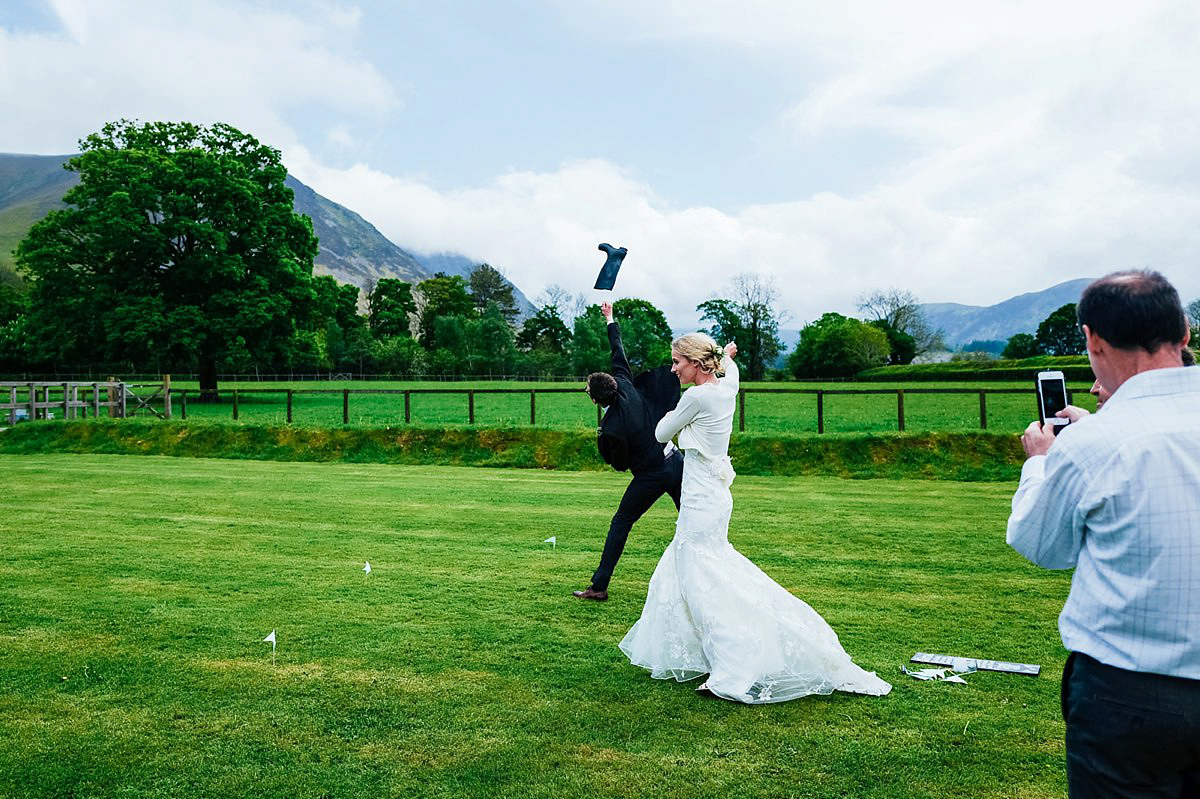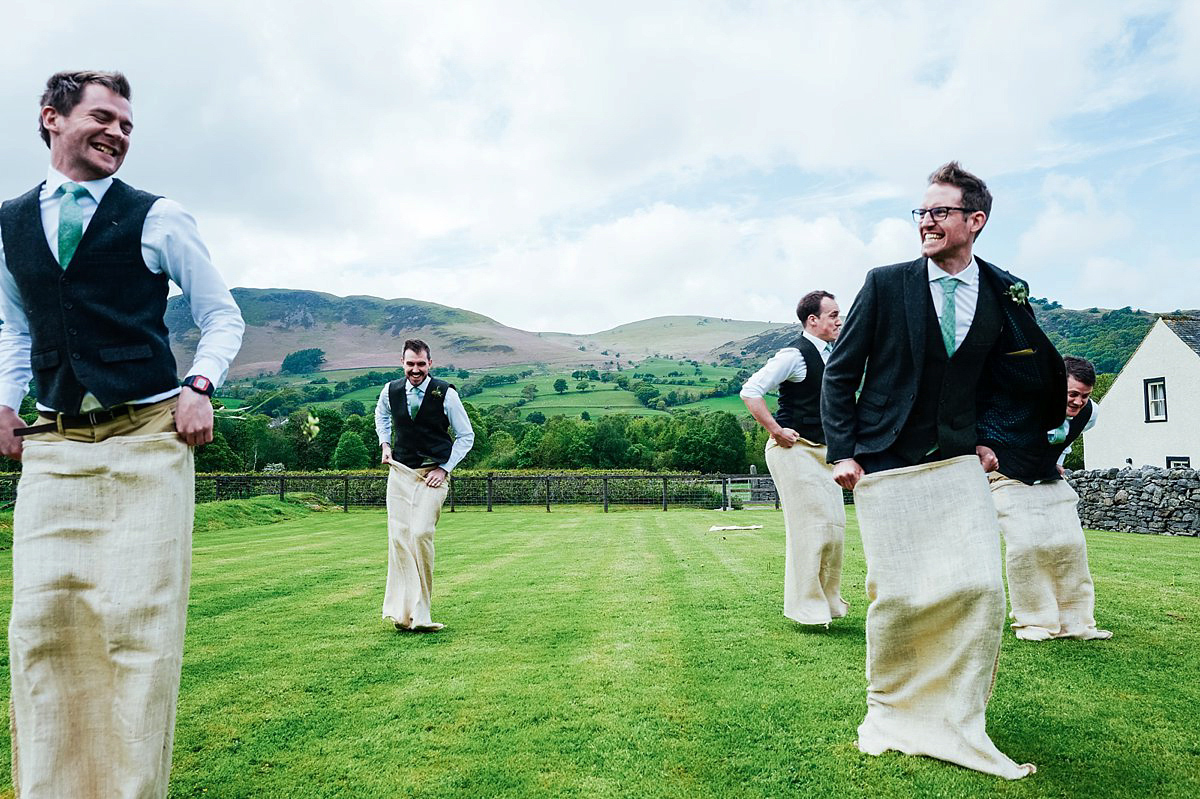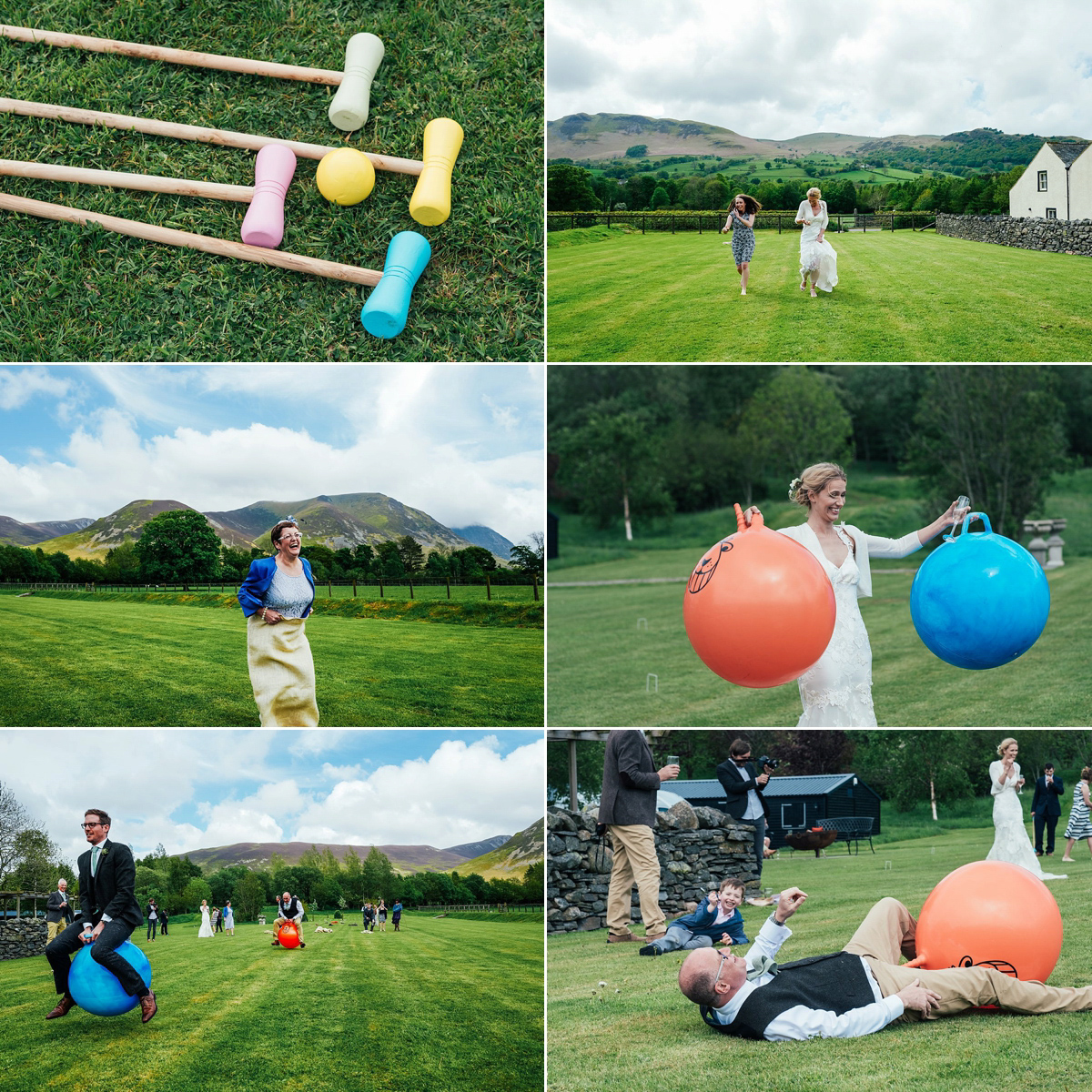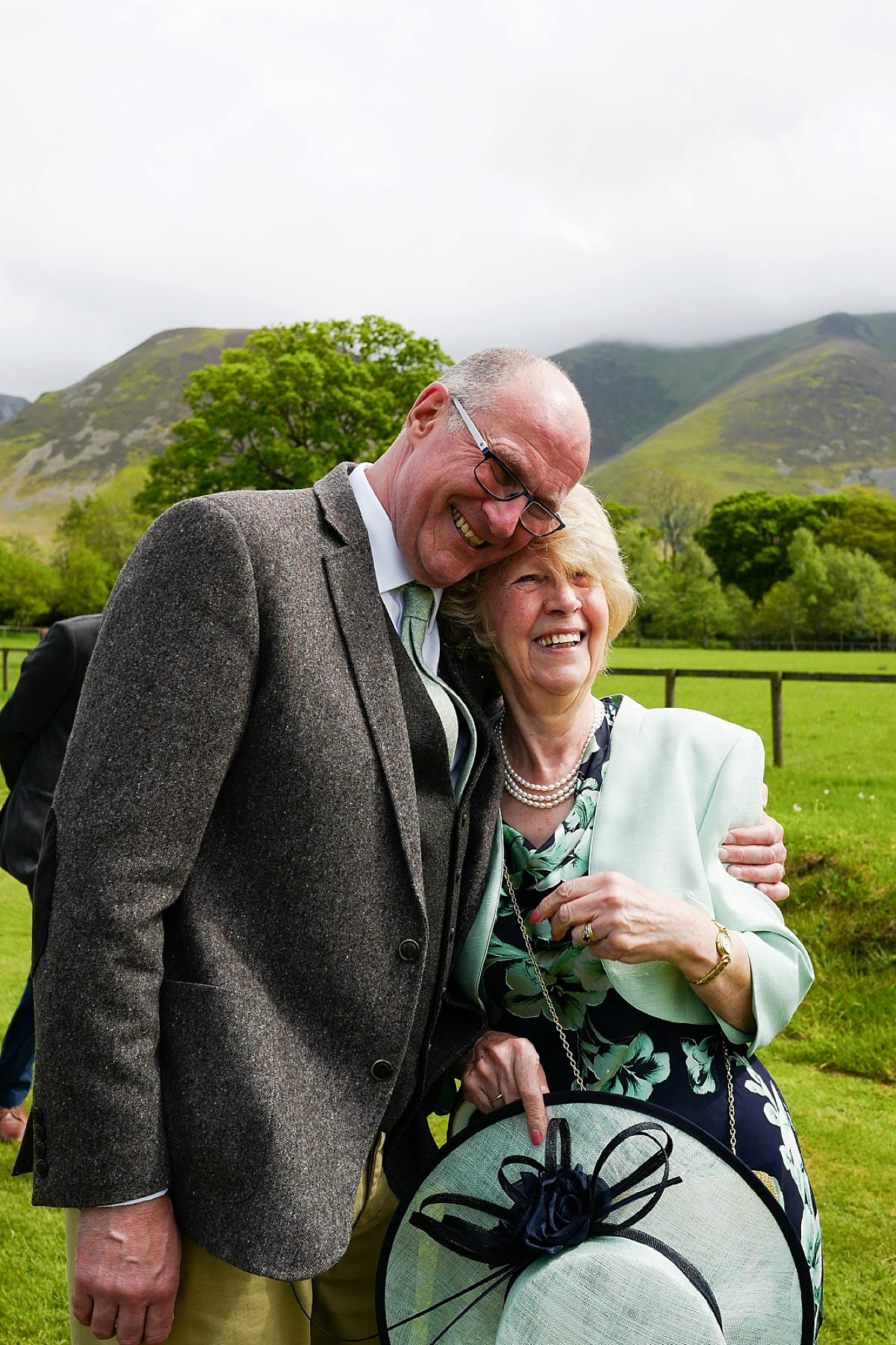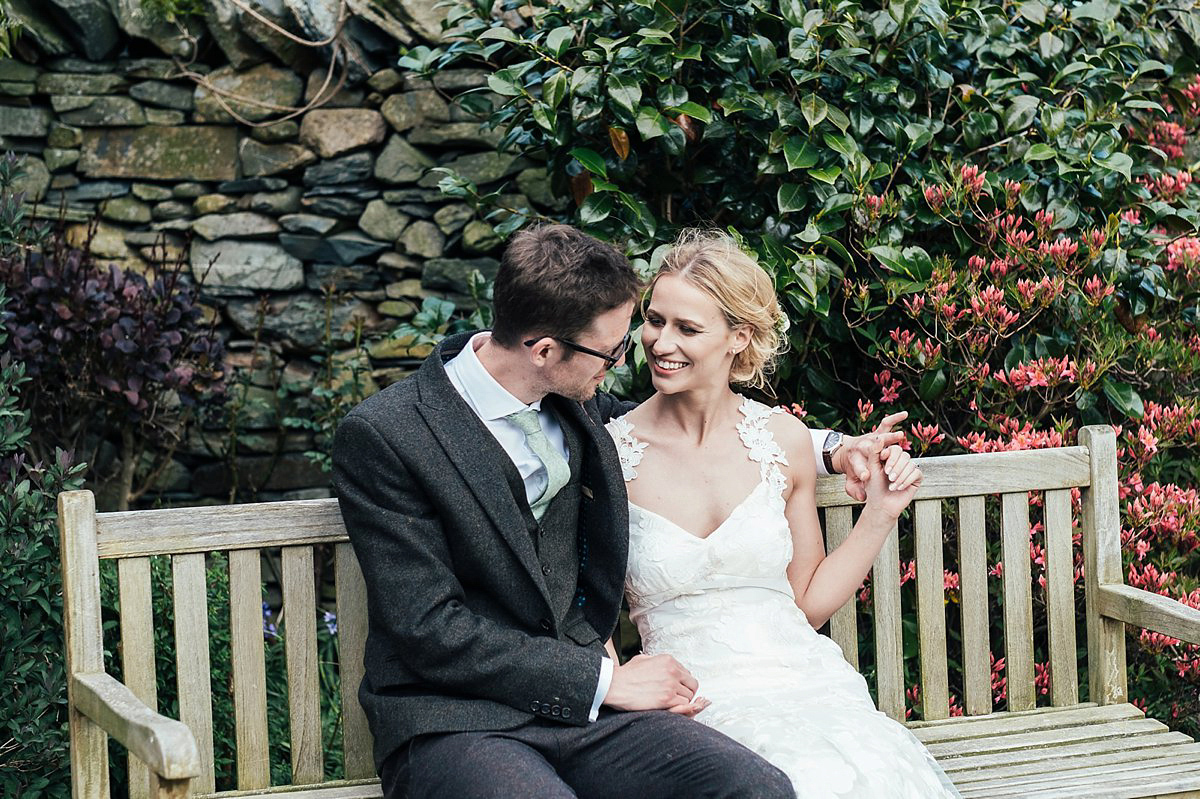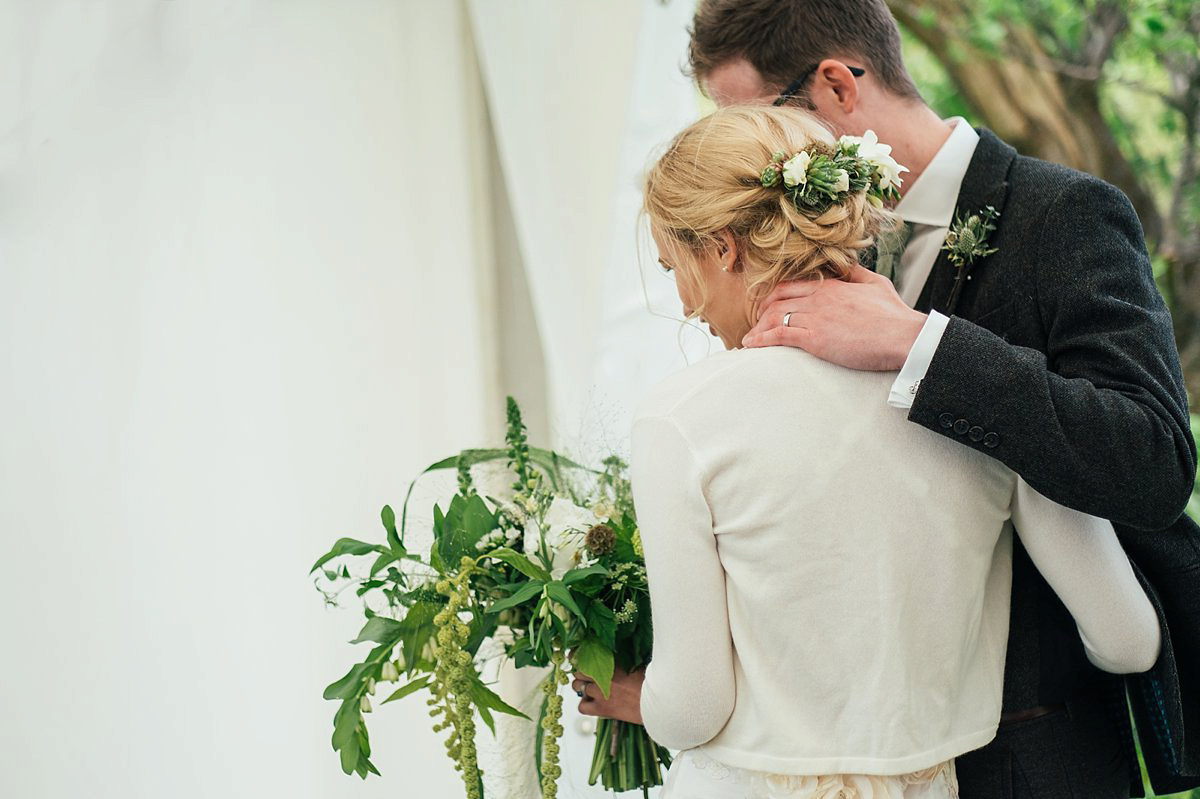 The ceremony slid seamlessly into an afternoon of garden games (partially in a last minute games marquee thanks to the wonderfully unpredictable British weather), gorgeously rustic styling, cakes and laughter. I so adore the floral arrangements and wildly organic garlands and foliage flourishes created by the couple's florist, Laura.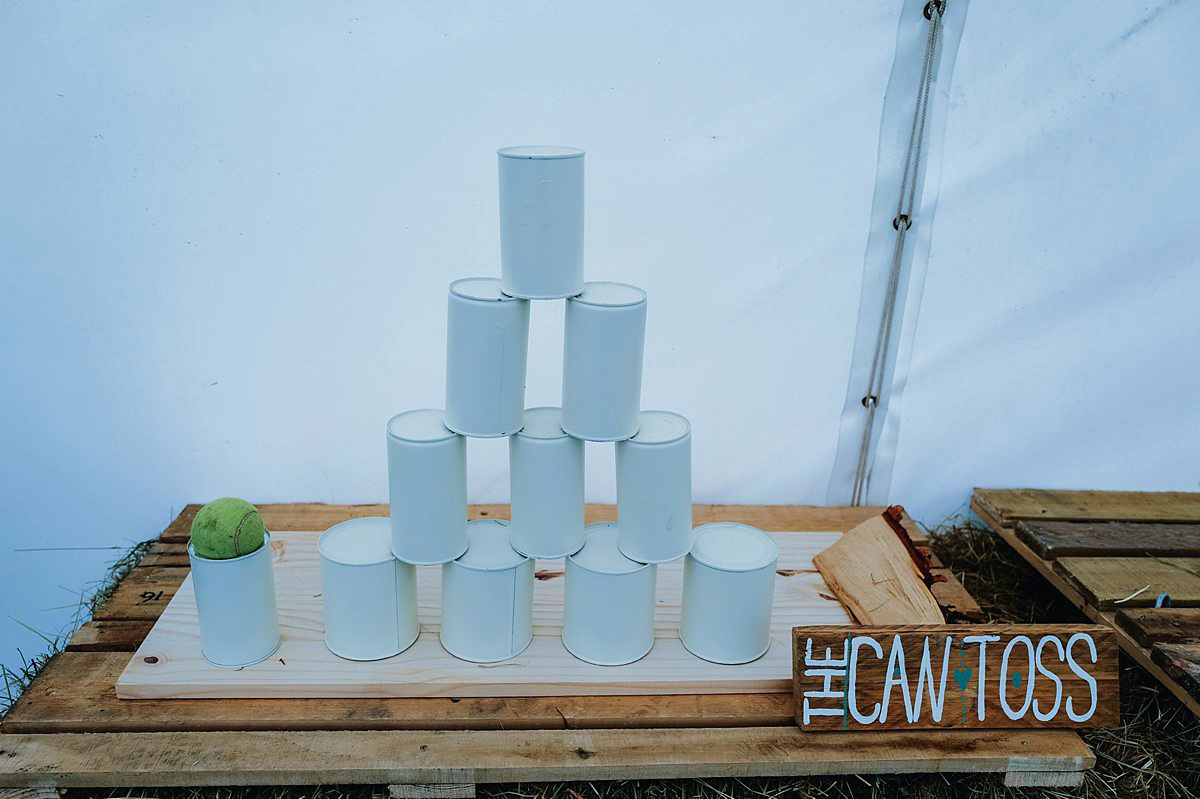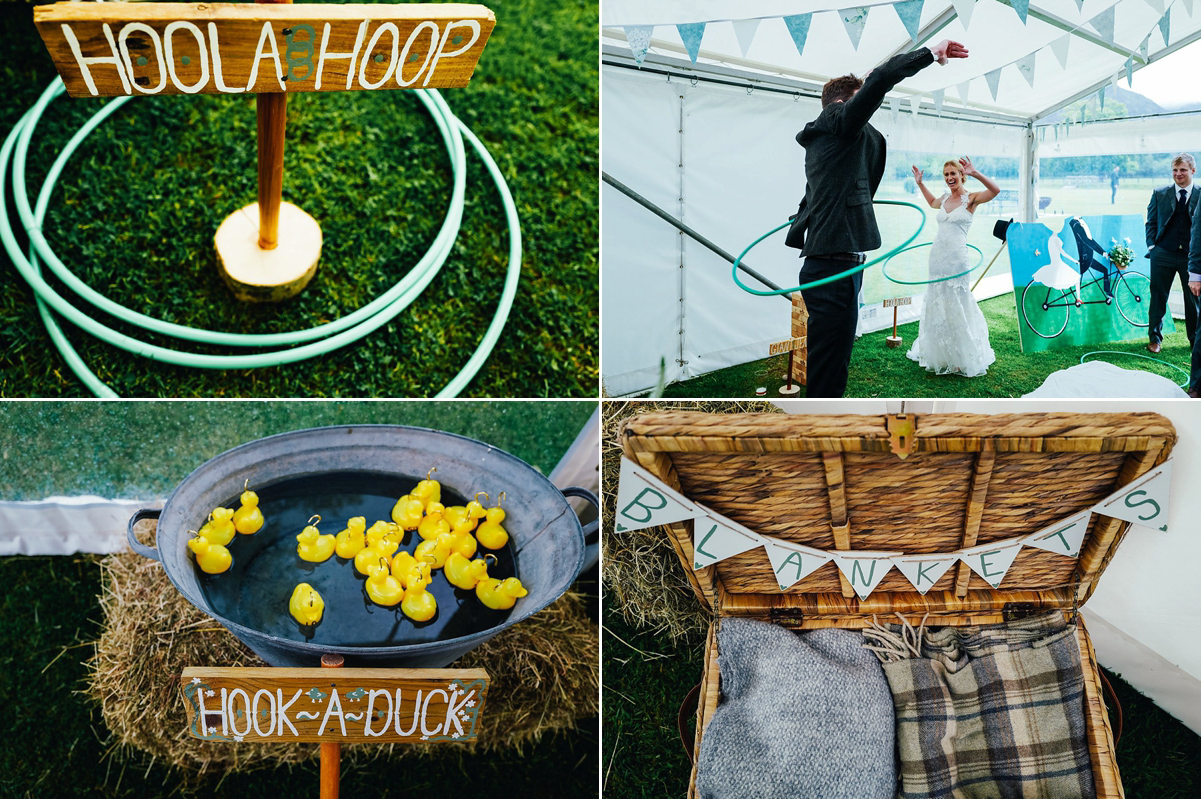 Jonny and Clare fell head over heels for their cosy, characterful venue on their first visit; a warm, inviting space which they could truly make their own.
Through an abundance of greenery and foliage, assorted vases and soft lighting in the form of tea lights, candles and an impactful fairy light canopy provided by Dale of DTL Marquee Hire, the couple transformed their ceremony space into a welcoming woodland haven which also happens to be the most perfect backdrop to Clare's stunning gown.
"We knew we wanted a venue which was characterful, represented us and which allowed us to express our personalities completely. This meant it had to be in Cumbria where we live, have the outside country scenery we spend so much time in, reflect the rustic cottage we live in and not feel stuffy at all."
"New House Farm is a dry hire, yet purpose wedding barn in the Lake District so we knew we could really make it our own without the scariness of a place not used to weddings. The attached B&B is a cosy heaven, Hazel (who runs it) is so welcoming and I was tearful after our visit there. In the words of Renee Zelweger – the venue 'had me from hello'."
"Steve at 'I Do' Wedding Catering was amazing from start to finish. He created an incredible cream tea for our reception including parmesan short bread biscuits topped with cherry tomatoes and basil, individual French strawberry tarts and so much more. We had a wonderful  three course wedding breakfast with different choices, petit fours, and evening food of lamb kofta kebabs and a decadent cheese selection.
The whole team executed every detail to perfection and I received endless compliments for the outstanding food. I really can't recommend them highly enough."
Clare and Jonny grow their own fruit so decided to make individual jams and chutneys as wedding favours, half of which their guests demolished before the meal was over. Then it was onto cake; a three tiered lemon, chocolate and cherry preserve, and traditional fruit masterpiece, created by the bride's wonderfully talented Dad.
I love the ombre icing and the sweet bicycle topper in a nod to Jonny's cycling prowess.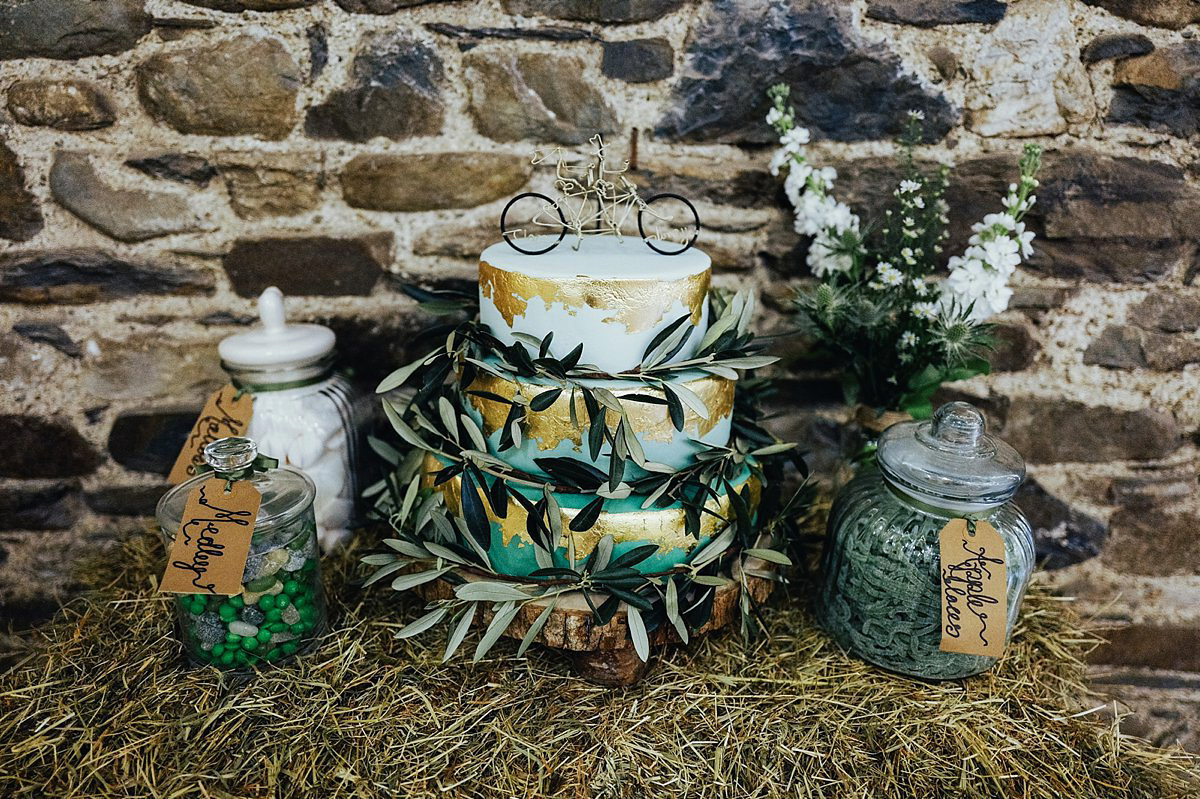 The reception was held in a 'rustic old cow-shed-come-tea-room', dripping with bunting, fresh blooms, painted signs and giant balloons. Clare created a super inventive and fun table plan for guests to find their seats and the couple set up a guestbook table displaying 'guest bottles' where the wedding party wrote notes for the newlyweds to open on their 1st, 2nd, 5th, 10th or 15th wedding anniversary. Clare and Jonny even wrote notes to their 43-year-old-selves which the bride admits was pretty challenging!
"As it was dry-hire we did all the décor ourselves. You get the barn from the Wednesday before and we, and my parents spent three long full days and several car and van trips setting everything up. Our wedding involved a lot of time, effort, creativity and stringent planning that two scientifically minded individuals never thought they were capable of. Without the incredible help of family and friends particularly on the day, the immediate lead-up and the clear-up, it simply wouldn't have been possible. We owe those people endless thanks and know we have some very special people in our lives."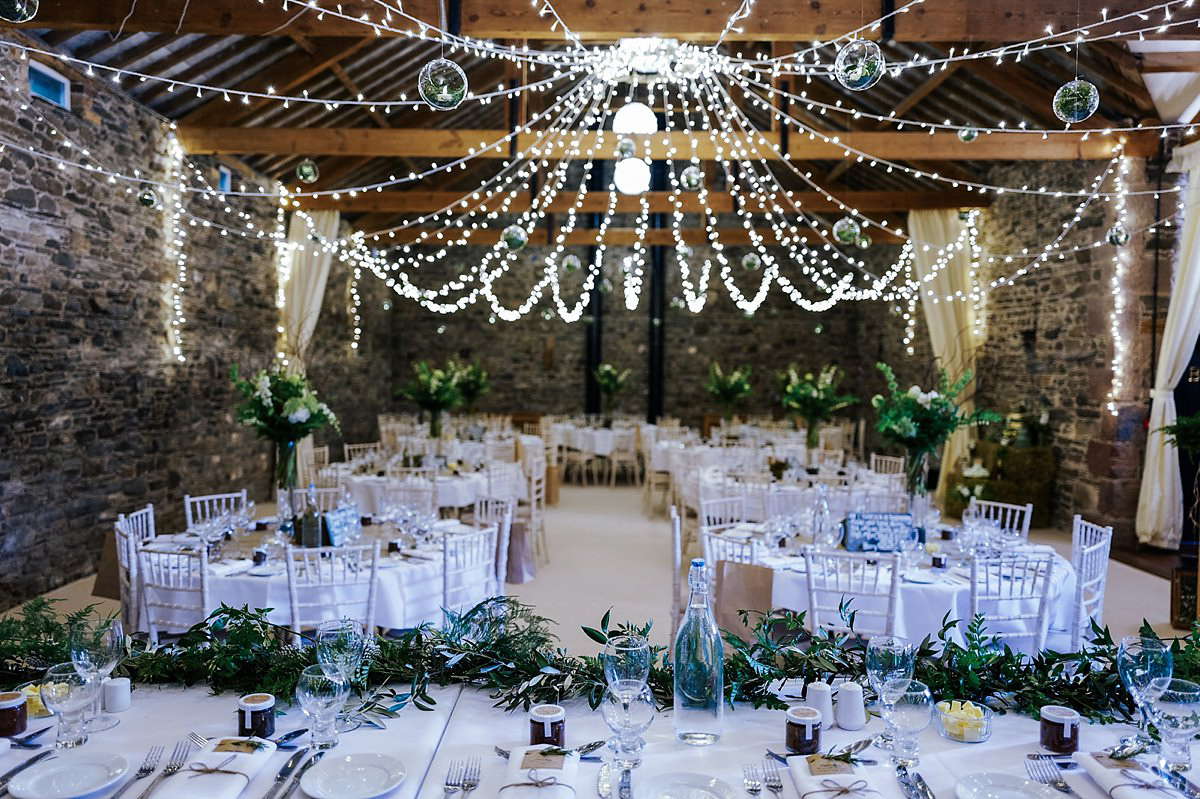 "Our place settings were self-designed brown kraft menu cards with a 'The one who/that etc' personal sentence about each guest, accessorised with rosemary and twine. Our tables were decorated with giant foliage centre-pieces, giant wood rounds, hessian squares and painted slate literature quotes."
"I added 'party bags' to each table which consisted of a brown kraft bag, selfie stick, artificial moustaches, face mats and photo props, speeches drinking game and sweep-steak game, and golden envelopes to give away the centrepieces and selfie-sticks. It was fabulous sitting at the top table and seeing a lot of fun being had with them."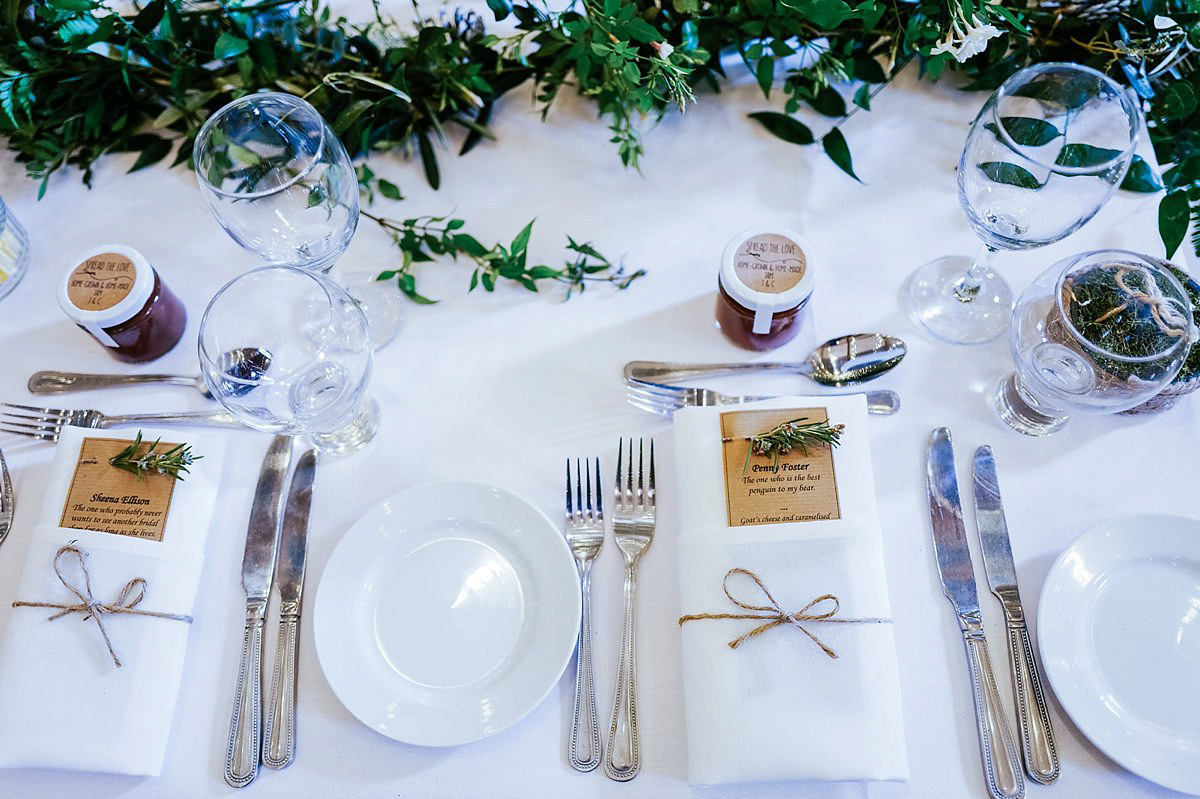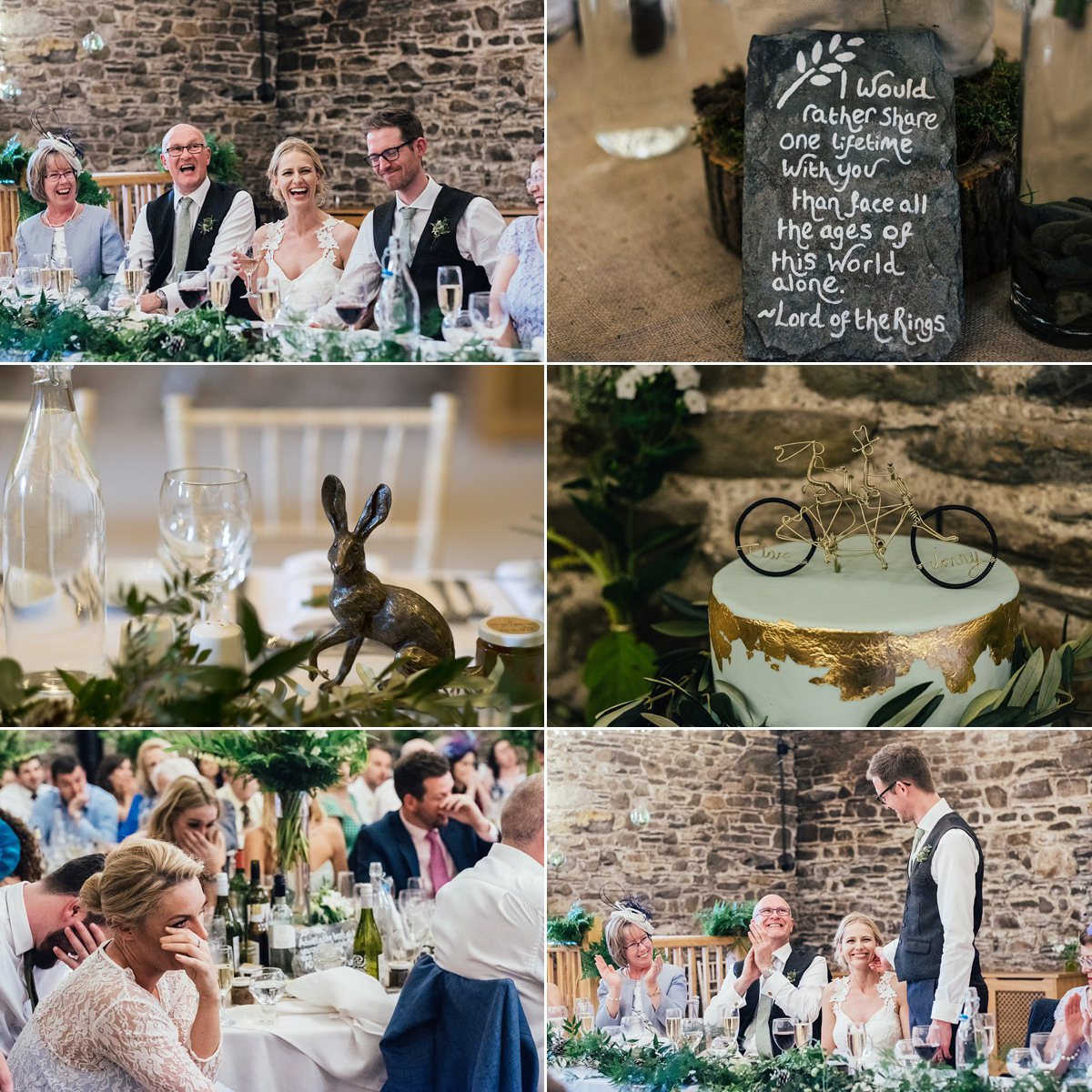 "Our evening band was a two-piece from Cheshire called Ashmore Acoustics. For anyone wanting a professional friendly set-up and a big party impact at a reasonable cost, these guys were incredible and another of our very complemented suppliers. Our first dance was to 'Lover of the Light' by Mumford and Sons. We loved that it wasn't a traditional ballad and they're a band that has always felt synonymous with us."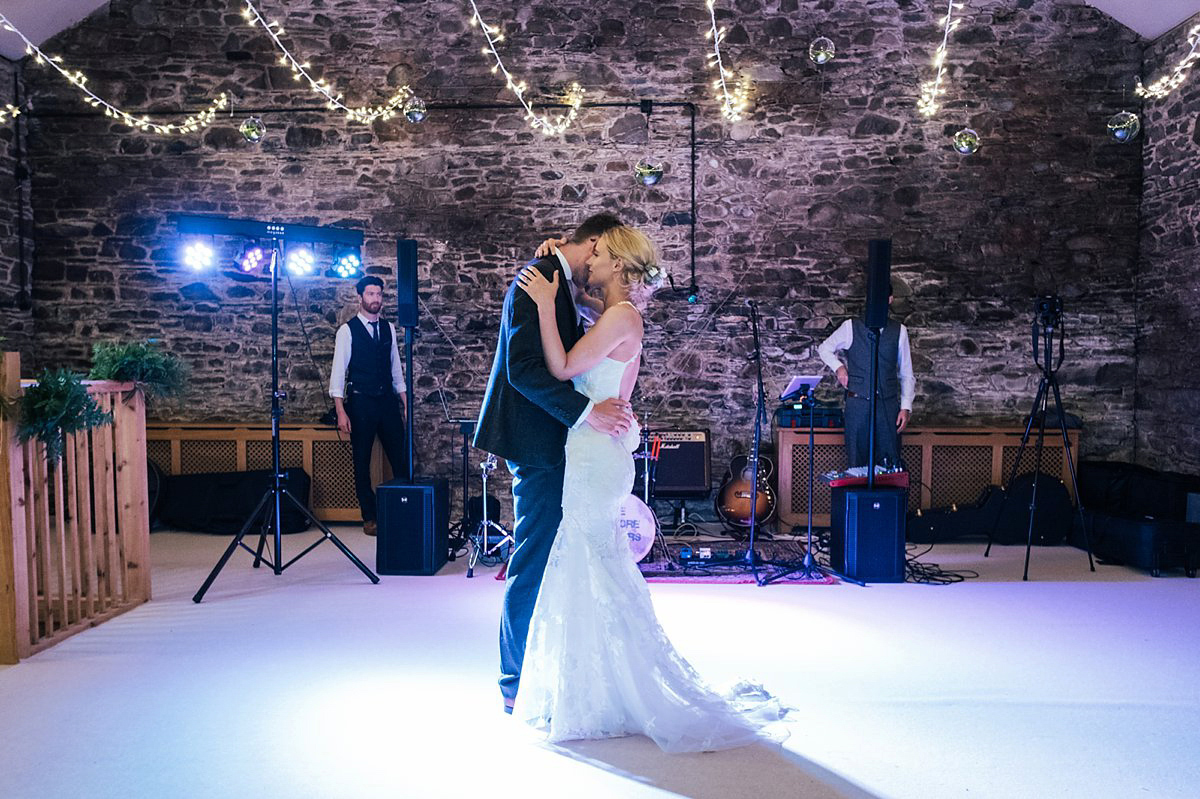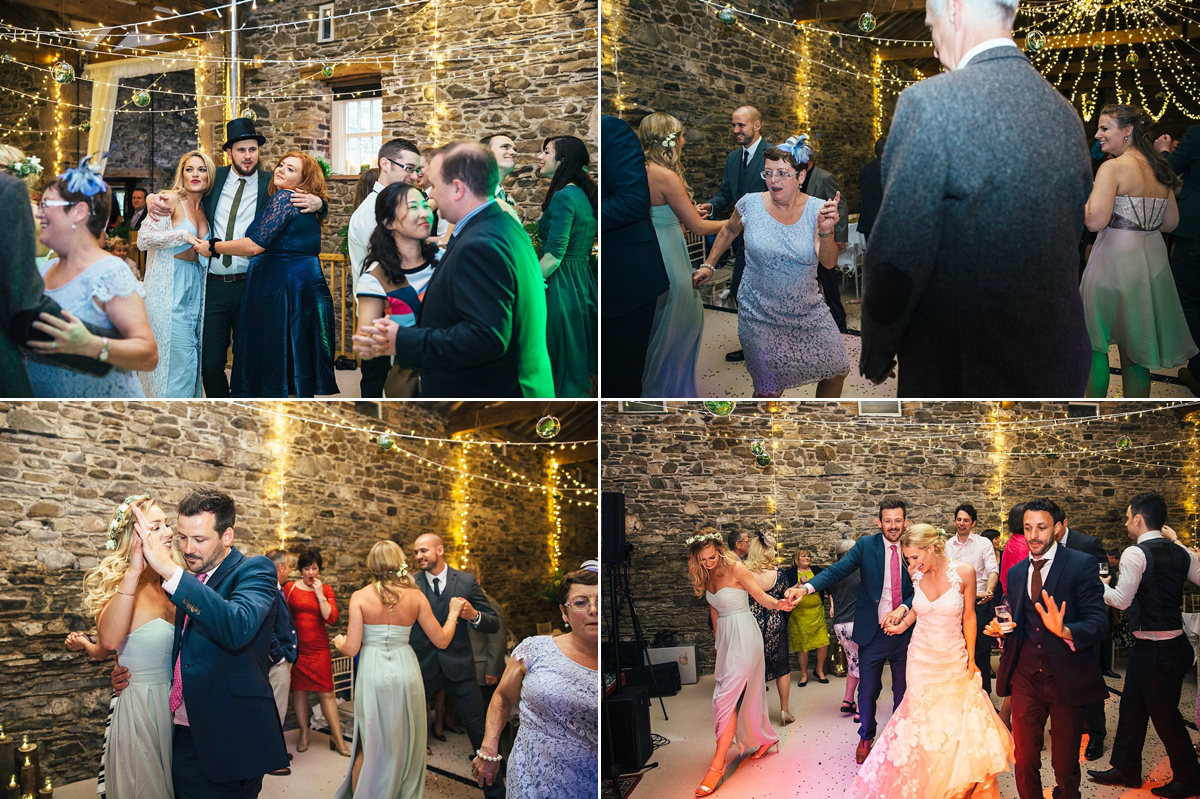 Words of Wedded Wisdom
"With hindsight, the only thing we would have done differently is to go a little slower over some decisions. If you're a DIY-er then you need all the time you can but be aware that what you think you want can evolve over 18 months and you may spend small sums needlessly. Also, research your photographer. We lost £500 booking the 'wrong' photographer and not fully understanding the style we wanted.
Write down the things that went wrong, memories and moments, add a few trinkets and store them away. An album and a dress are one thing but giggling over the specifics; the flaws, the cherished memories is quite another and it's a wonderful post-wedding process.
We built £1,000 into the budget for unexpected circumstances. In the end it covered ring resizing, overspends, van hire for transporting décor, gifts for each other, a 'last minute' marquee cost and bridal cover-up, and post wedding costs like dress cleaning and thank yous. There are so many elements to a wedding and some you're bound to miss, so having a 'buffer' if you can, is so helpful and kept the panic with these final details down.
The secret Love My Dress Facebook group is more valuable than words! It is the single greatest resource of kindness, openness, honesty, love, friendship, empathy and collaboration that I have ever witnessed from a group of women before, and the most valuable outlet you can give yourself on your wedding planning journey. Love My Dress was by far my favourite blog, not just because the blogs strongly feature the bride's voice, but because of the whole ethos, sentiment and community. Thank you for having us!"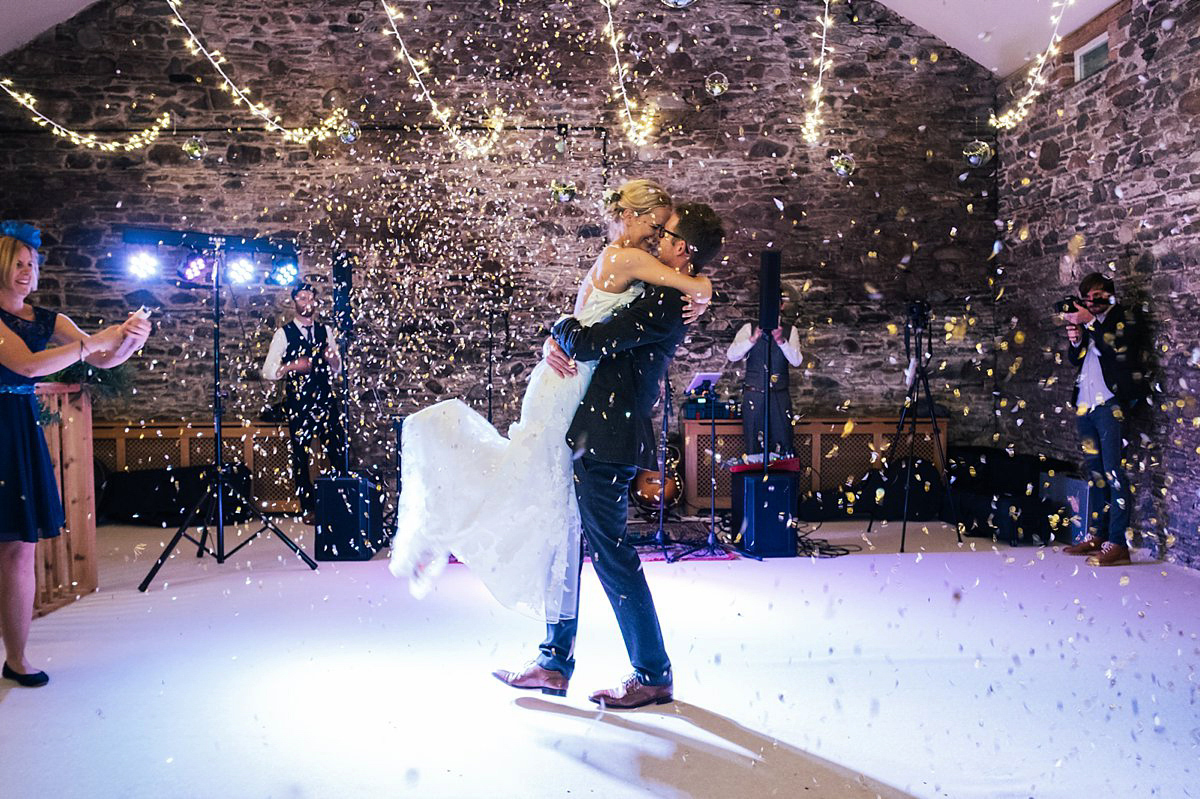 Blooming heck, what an abundance of wonderfully helpful words of advice! Thank you so SO much Clare and Jonny for allowing us a sneak peak into your beautifully rustic day and of course a very big thanks to to Lisa Aldersley Photography for these joy-filled images.
If you've been totally inspired by Clare and Jonny's nature-inspired, elegantly styled day, we have heaps more rustic inspiration for you right here. Have a fab week lovelies,
Em x