I don't know about you but I love Autumn, the crispy mornings before cold really sets in, the beautiful leaves and candle lit evenings make the shorter days bearable. I will also be enjoying it even more this year as I step back from sharing lovely weddings for a short while as I welcome a new baby at the end of the month. This gorgeous Spring wedding shot by Alexa Penberthy is a perfect one to finish up with. Jade, a nursing assistant married Daniel, an electrician on their 10 year anniversary weekend on the 13th of March 2016.
They said their vows in the same church as Daniel's parents and where they also had their son christened and held their reception nearby at Backworth Hall in Tyne and Wear. As you will see Jade has great taste and found many of her suppliers right here at Love My Dress.
"There wasn't a particular style or theme to the day. I visited and read Love my Dress religiously every day for about a year leading up to the wedding, and we just developed our own style from things we liked."
Photography by Alexa Penberthy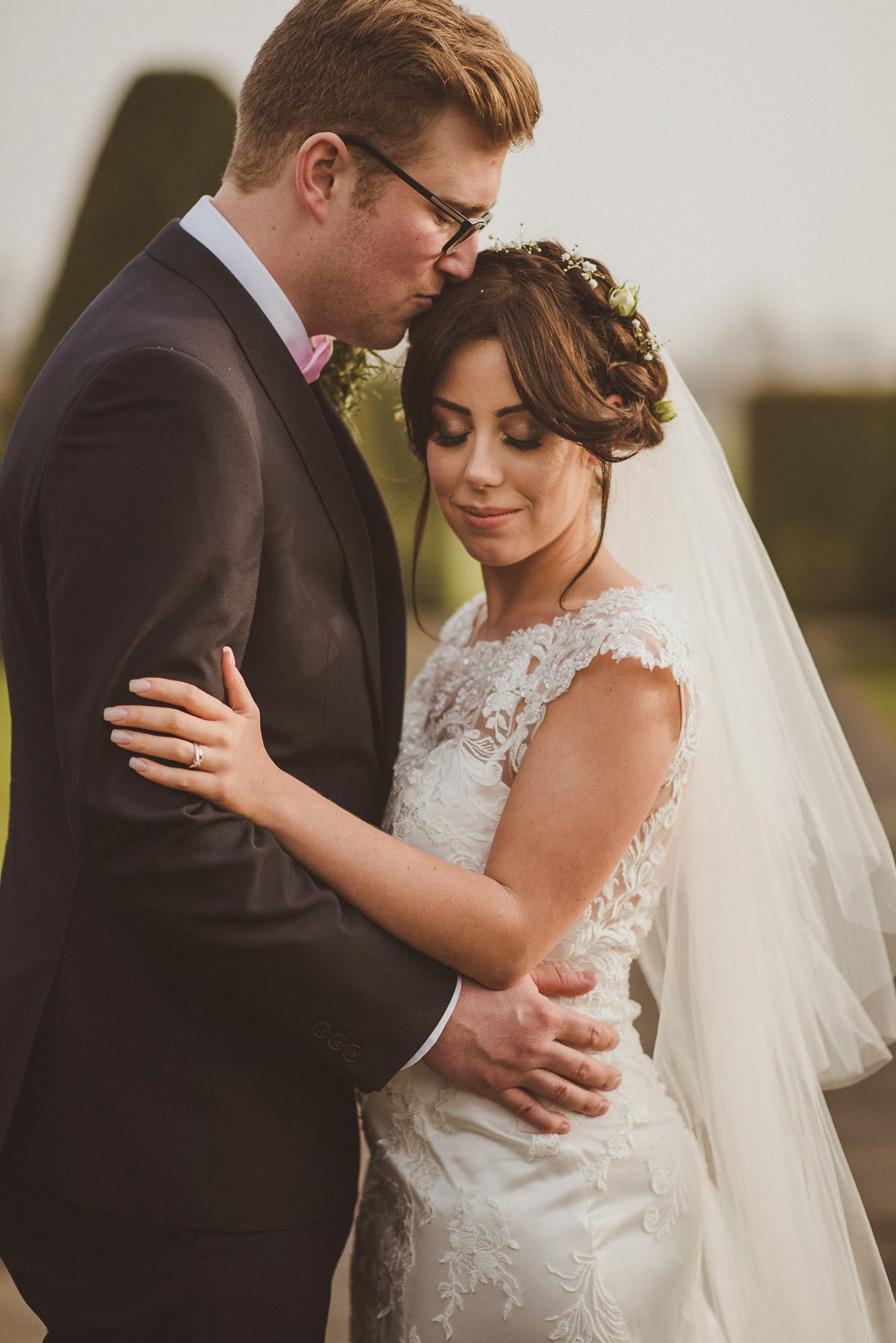 Jade discovered photographer Alexa Penberthy through this lovely real wedding feature on Love My Dress and immediately loved her style.
"I visited Alexa's website several times before eventually building up the courage to see if she was available to capture our wedding. She is one of the most lovely and professional people I have ever met.""I read online that someone had described Alexa as a silent ninja and this couldn't be more true. The quality of her work is exceptional and we couldn't be more pleased with our photographs."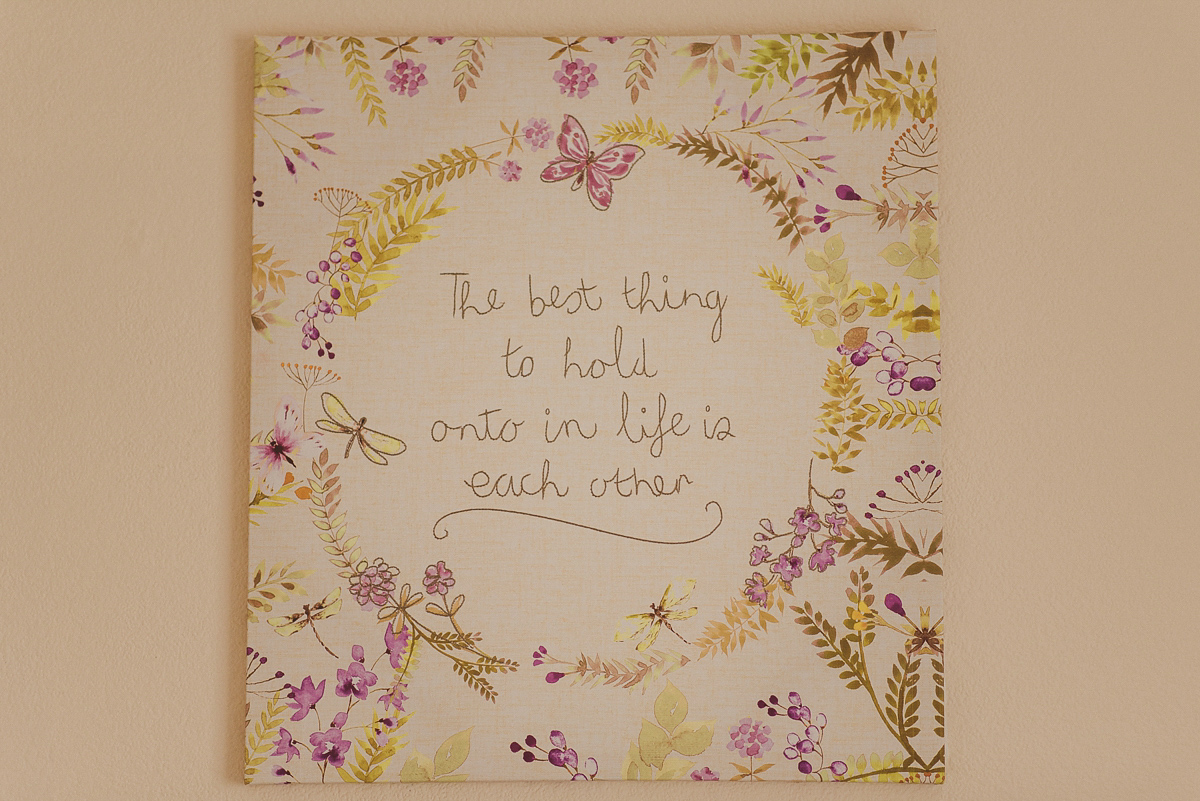 "We met in sixth form. I had recently moved to the area and Daniel was resitting some exams. He always jokes that failing his maths GCSE turned out to be a great thing. Daniel proposed on our son's first Christmas in 2013. We were engaged 27 months and got married on the weekend we had been officially together for ten years."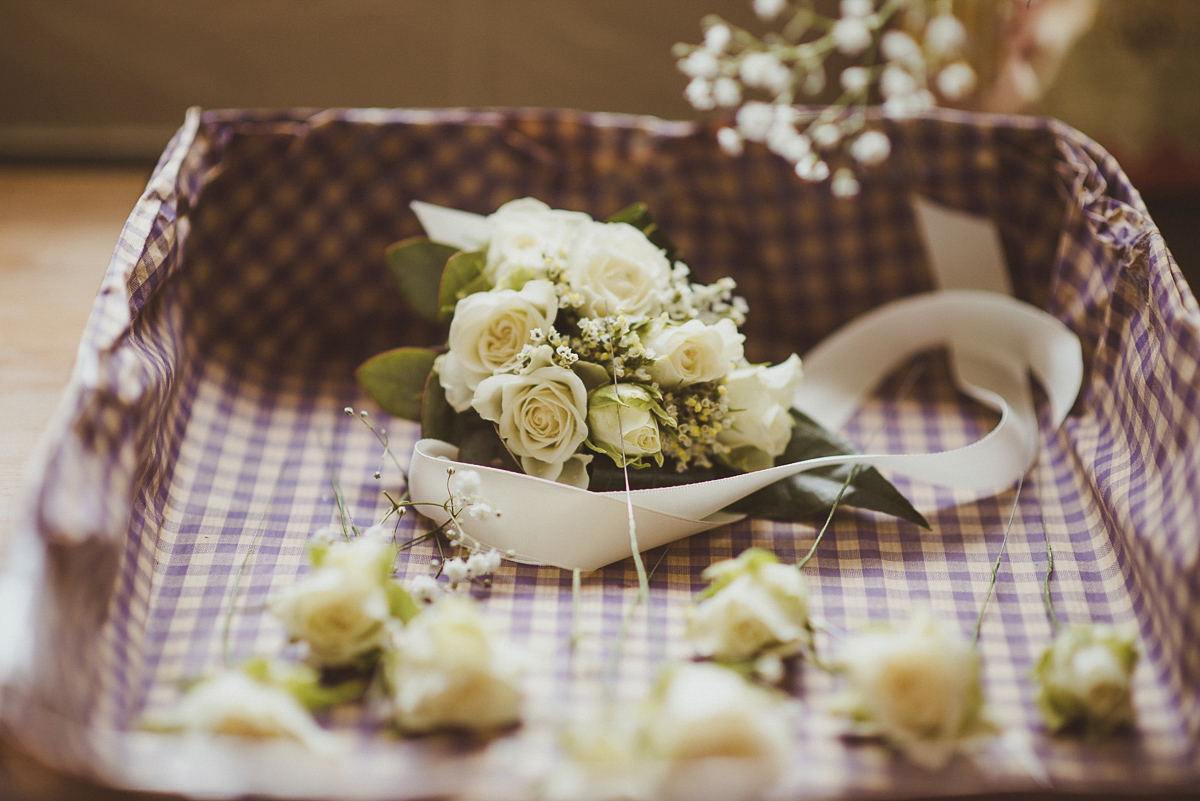 "I very luckily married into a family of many talents. Daniel's cousins Sarah and Abbey, who are both fantastic stylists did the bridal party's hair. Even better, the girls gifted their time to do so, which saved a fortune in hair costs. Makeup was by a friend of my now sister in law Rachel."
"Lynsey currently works as a makeup artist for Armani and was kind enough to take the time to do our makeup on the day."
Jade's fabulous Maggie Sottero dress was bought from Yap Bridal Boutique in Newcastle. She paired it with a pair of patent blush stilettos from Topshop and wore some delicate flowers in her hair. She also wears a beautiful wrap by Biba to keep the springtime chill at bay.
"I had tried numerous dresses and was starting to lose faith that I would find a dress before booking my appointment at YAP but just walking in I knew that was about to change."
"Sophie actually picked out my dress after a short consultation and before I had even pulled it up I knew it was the one. It was the only dress that I felt didn't overwhelm me. I liked how light it felt and loved the detail on the back. I borrowed my veil from my bridesmaid Katie who had been married the previous November."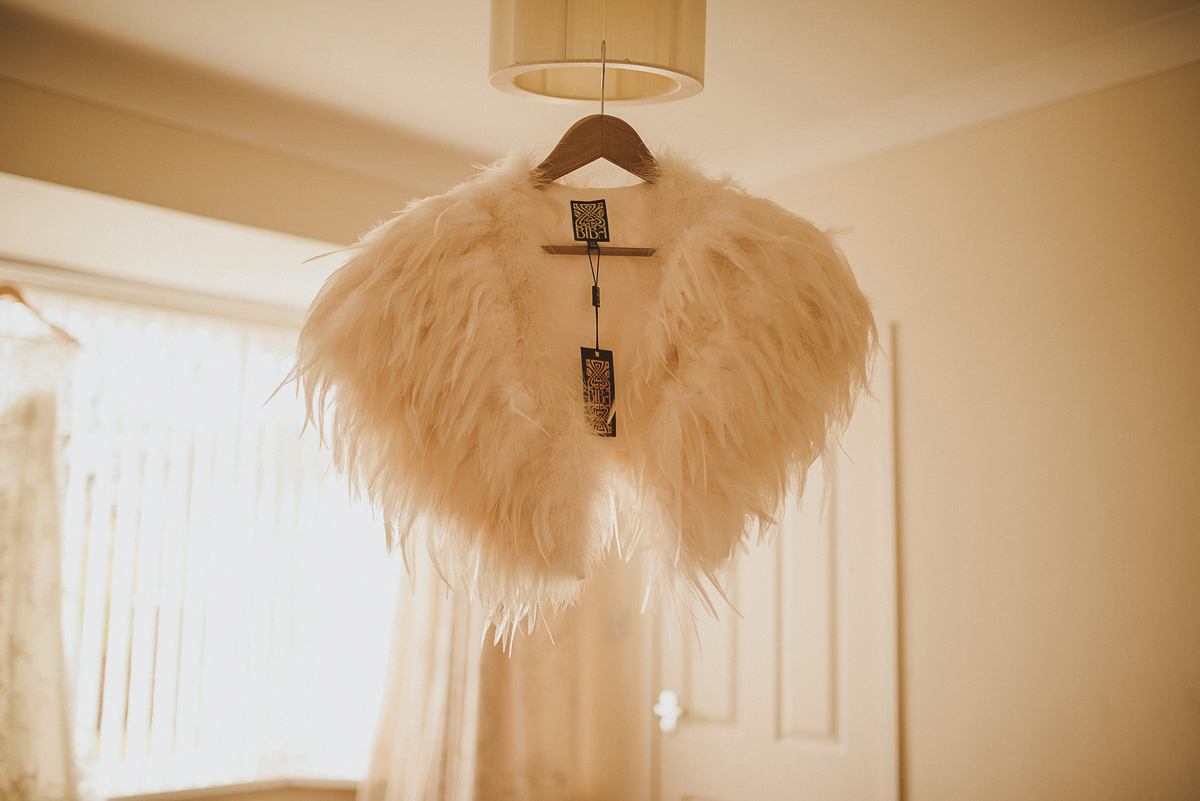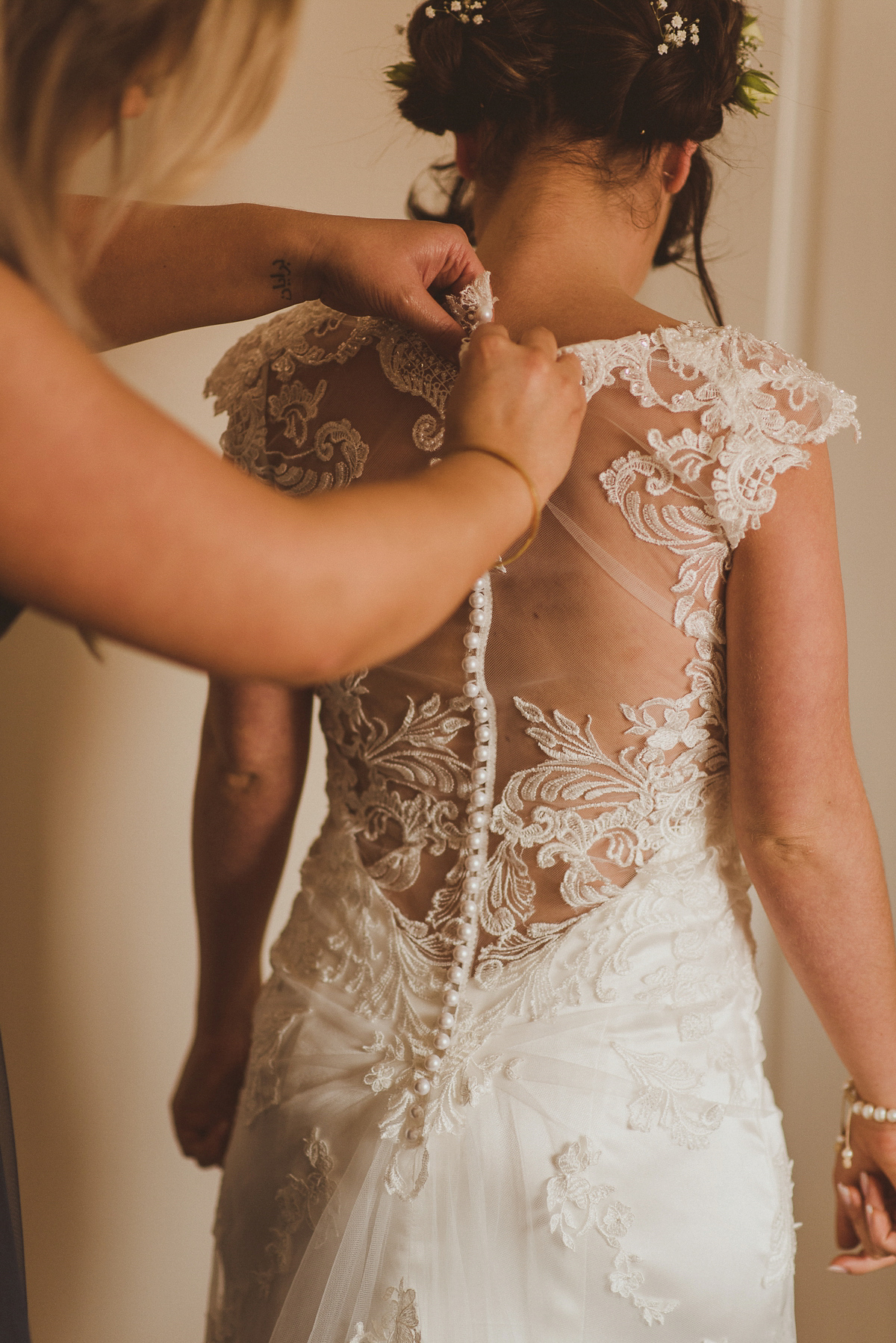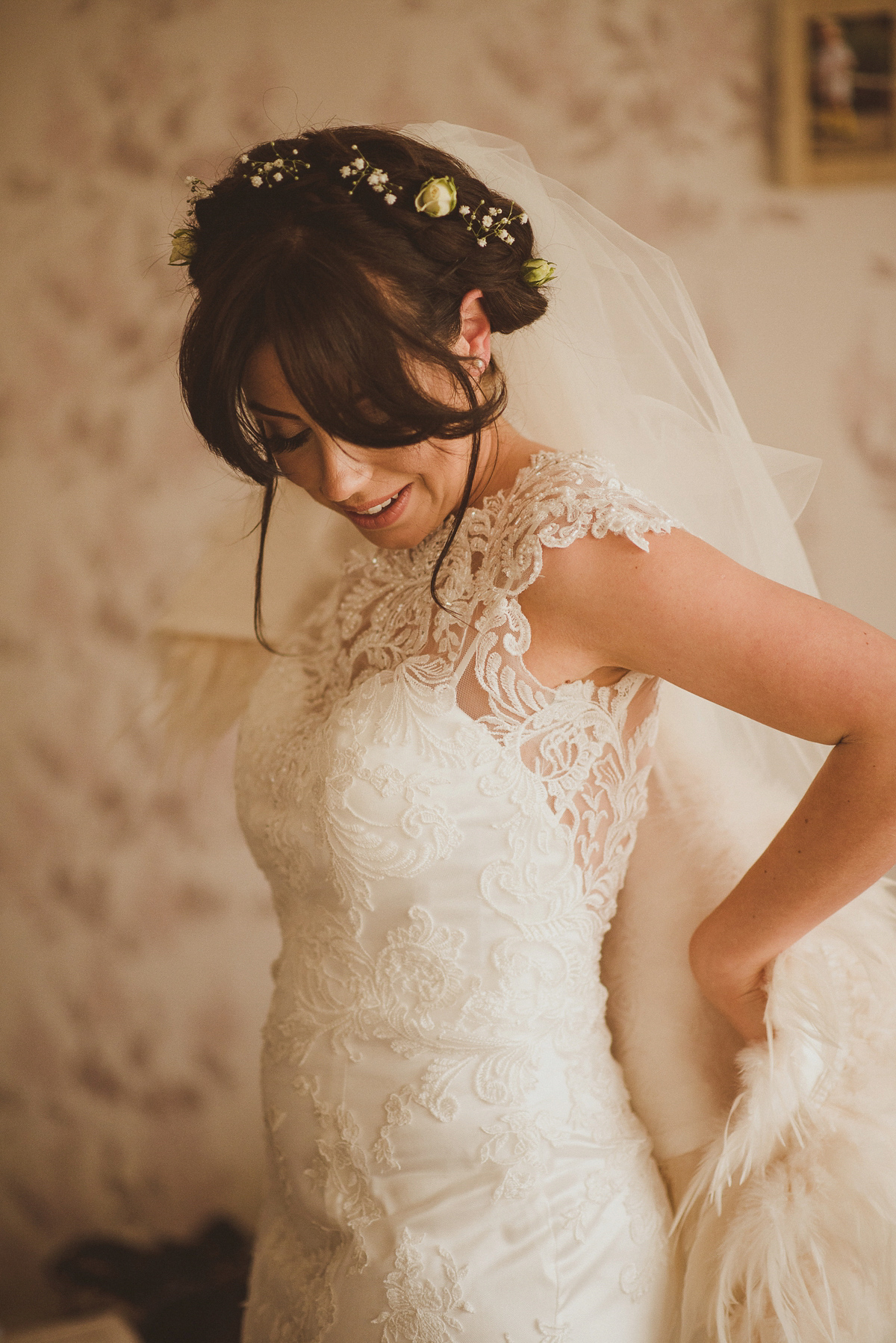 Jade wears Love, Chloé perfume day to day so decided to wear it on her special day too. Her pearl earrings were gifted to her by her mum and her Thomas Sabo bracelet was borrowed from her sister in law.
Jade's gorgeous bridesmaids wore full length navy dresses from Accent Original with flowers in their hair, a Heart of Gold Bangle from Kate Spade and a pair of gold studs to match.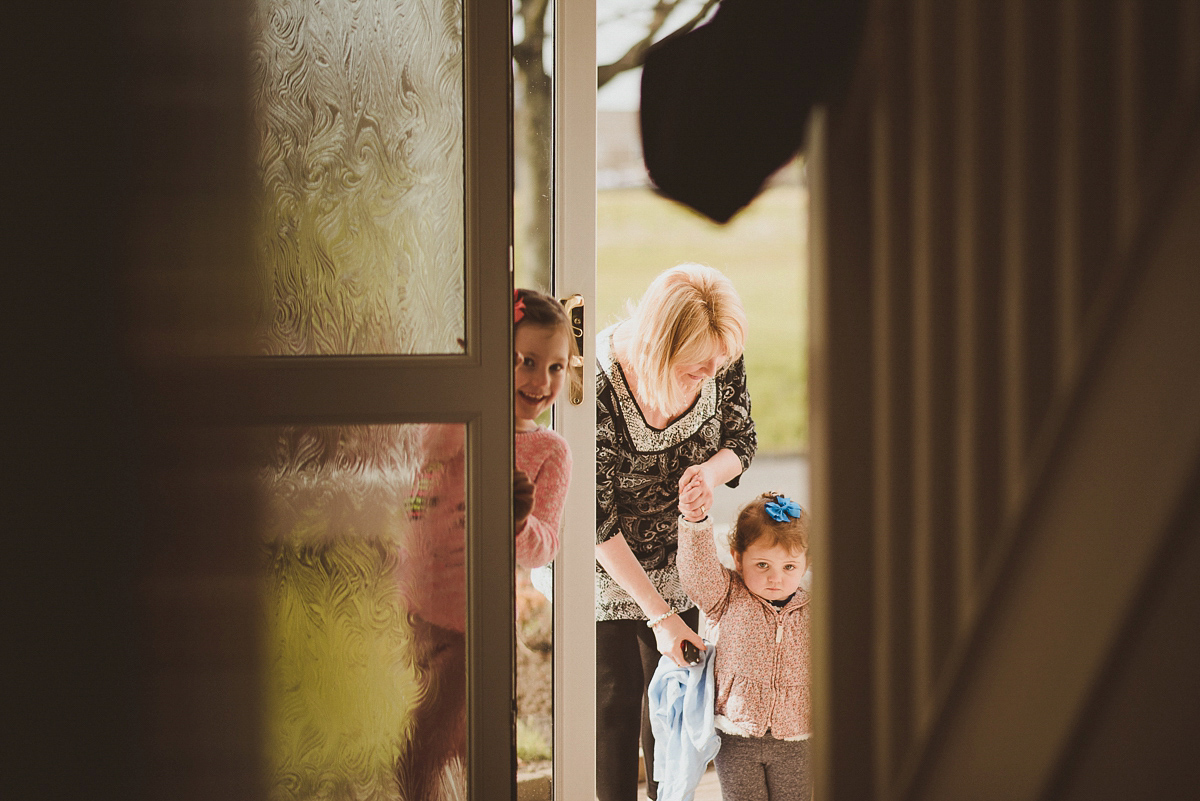 The gorgeous flower girls wore dresses from Next and Monsoon and the page boy wore Zara and BHS with a Mrs Bow Tie to match the groomsmen.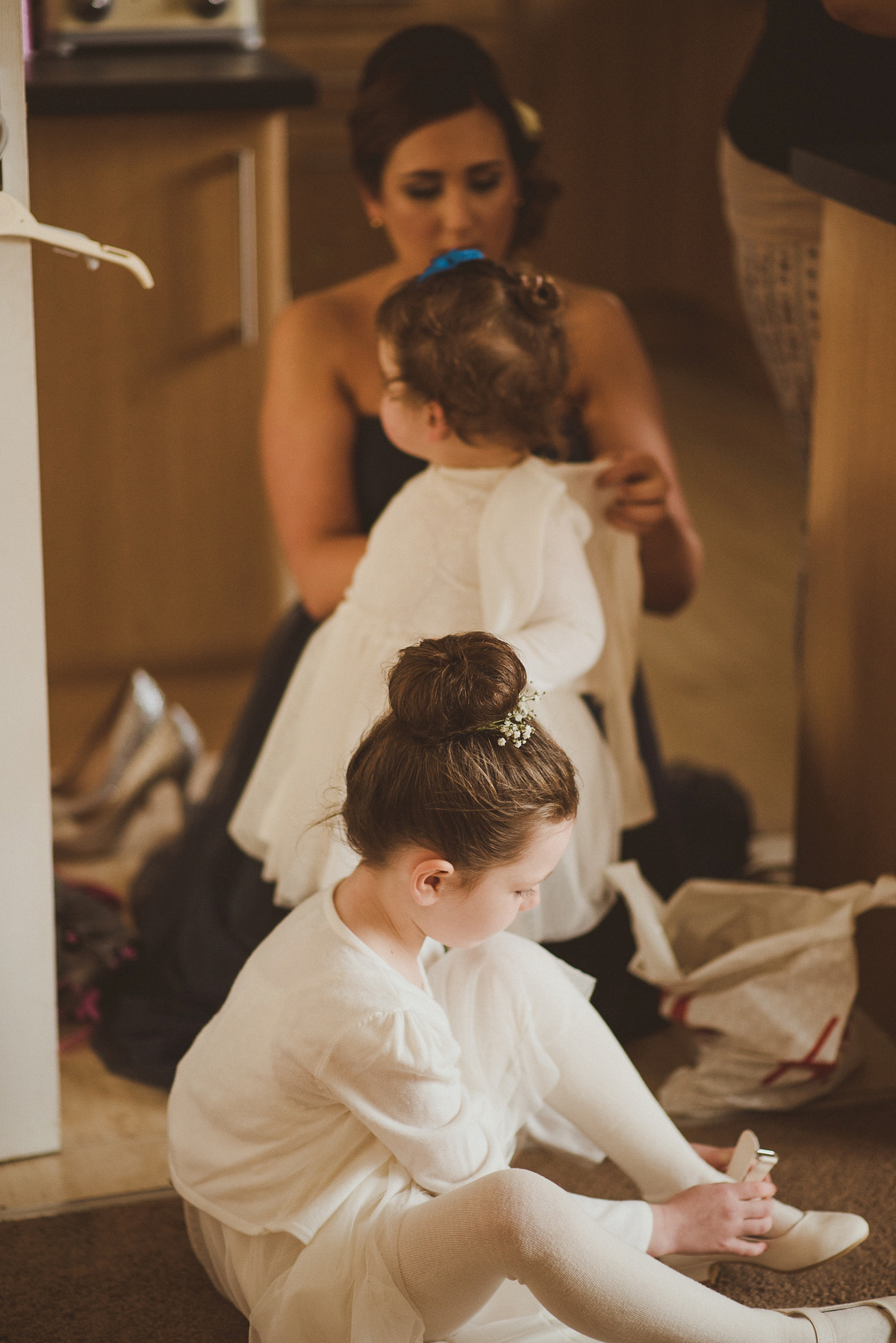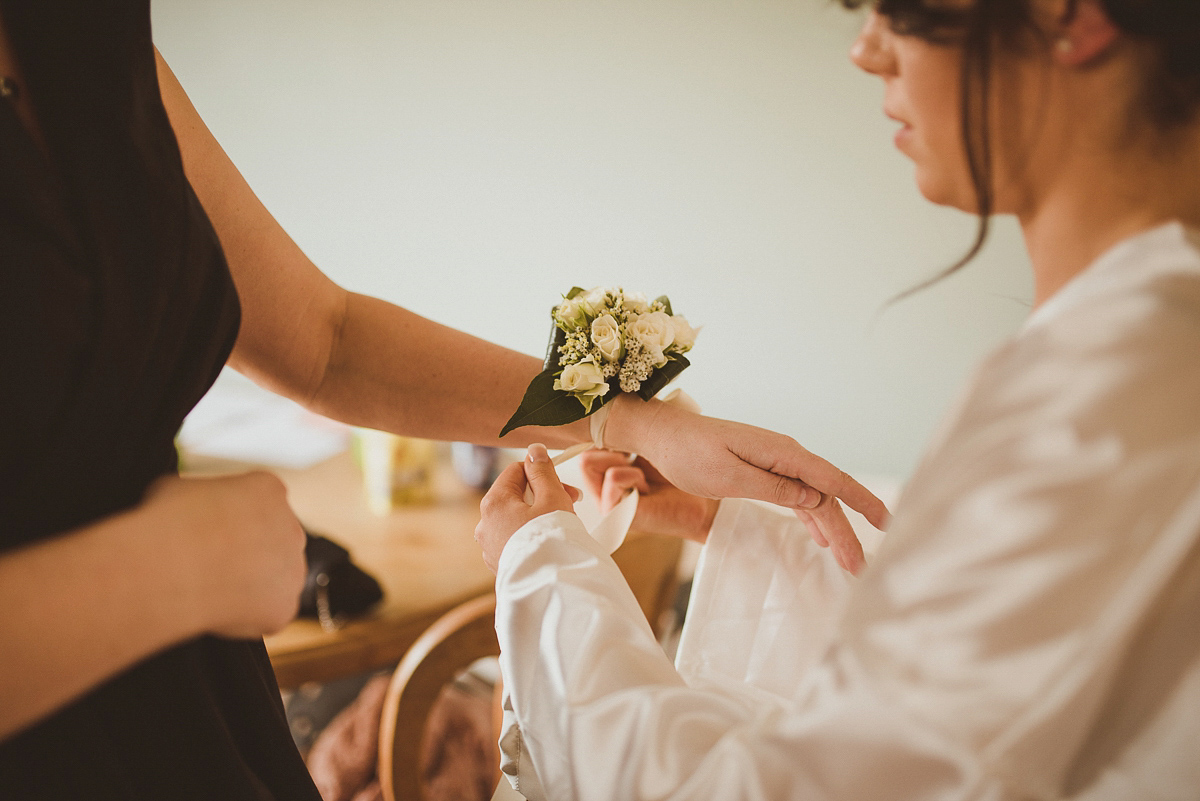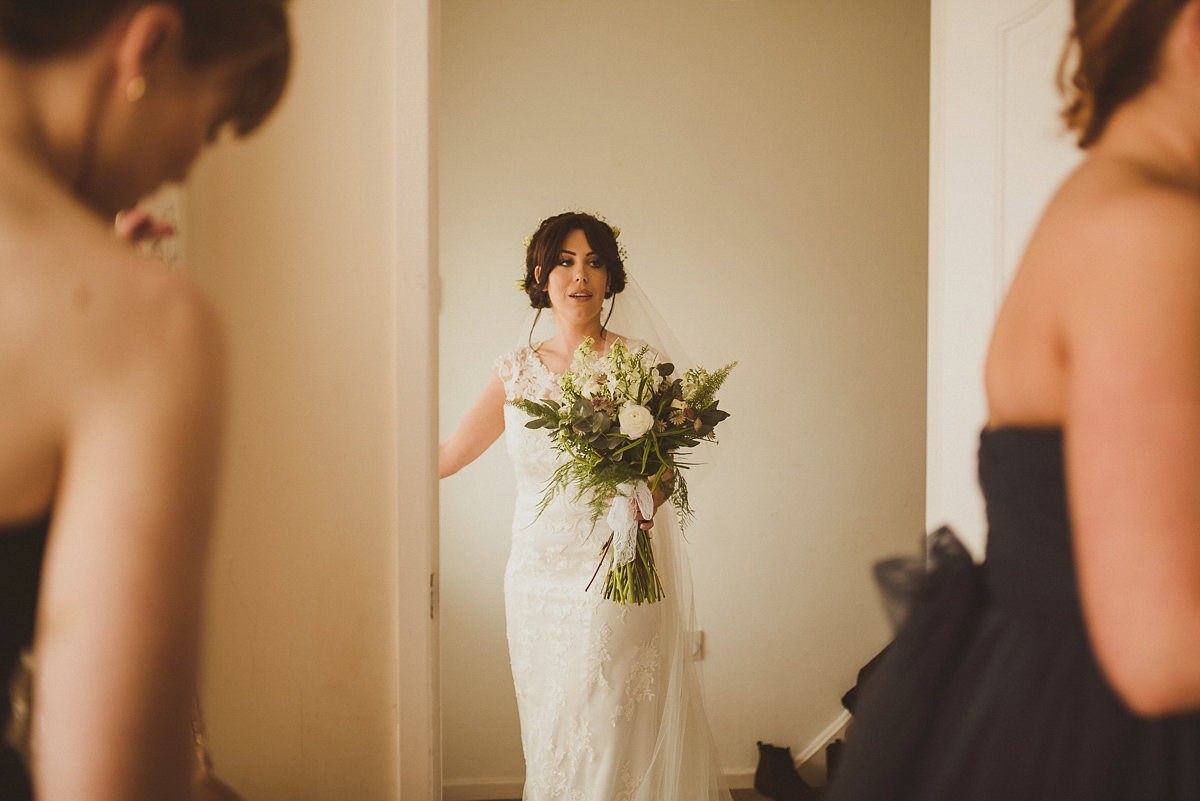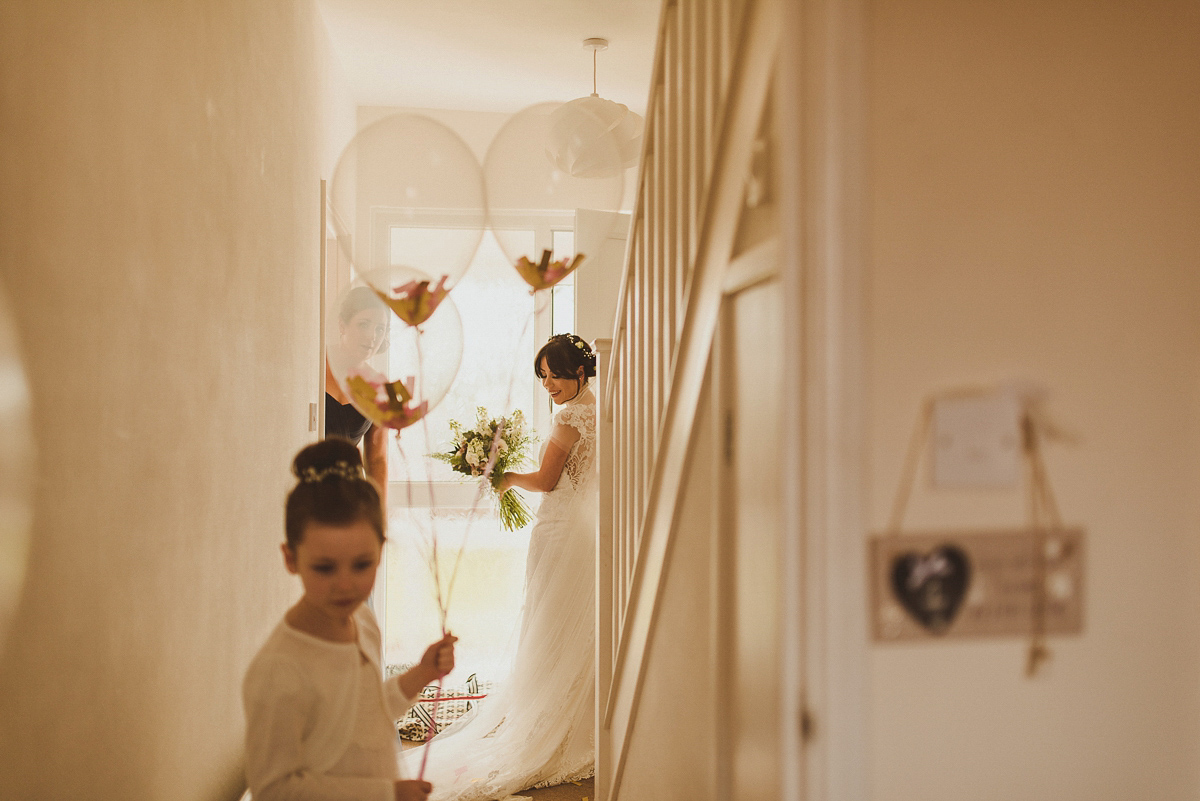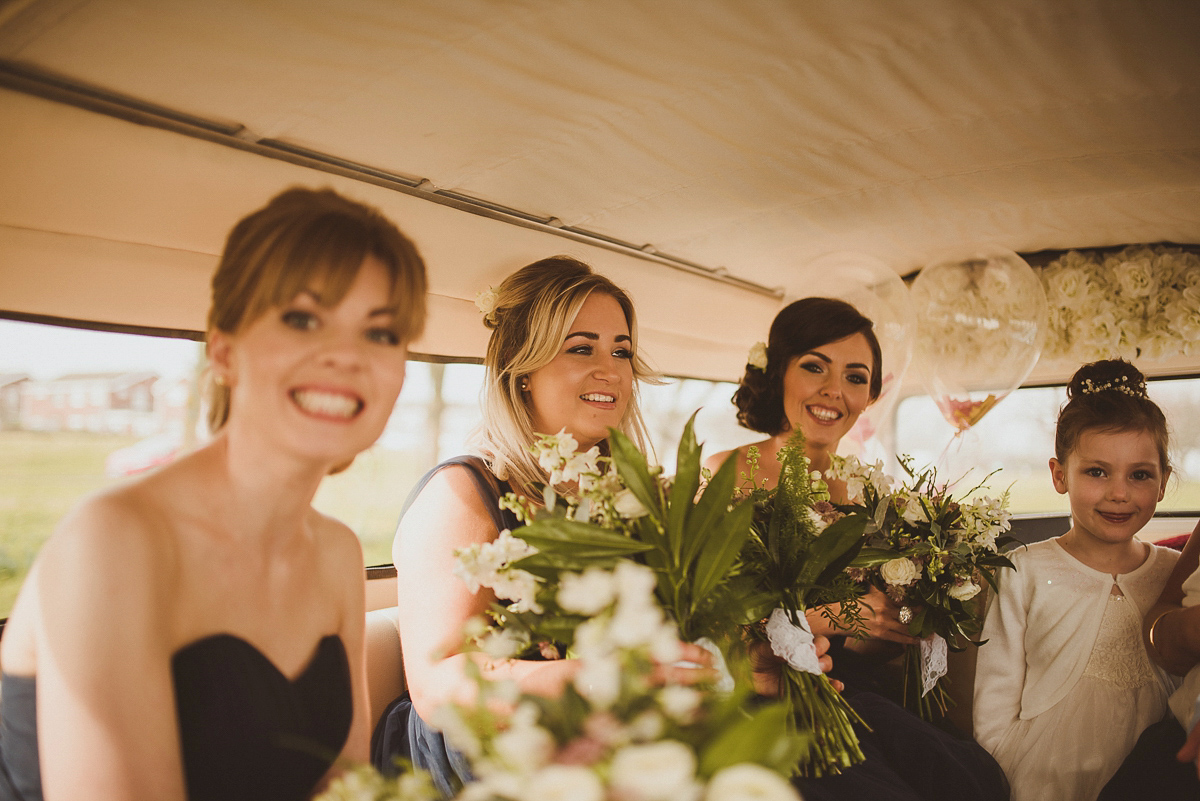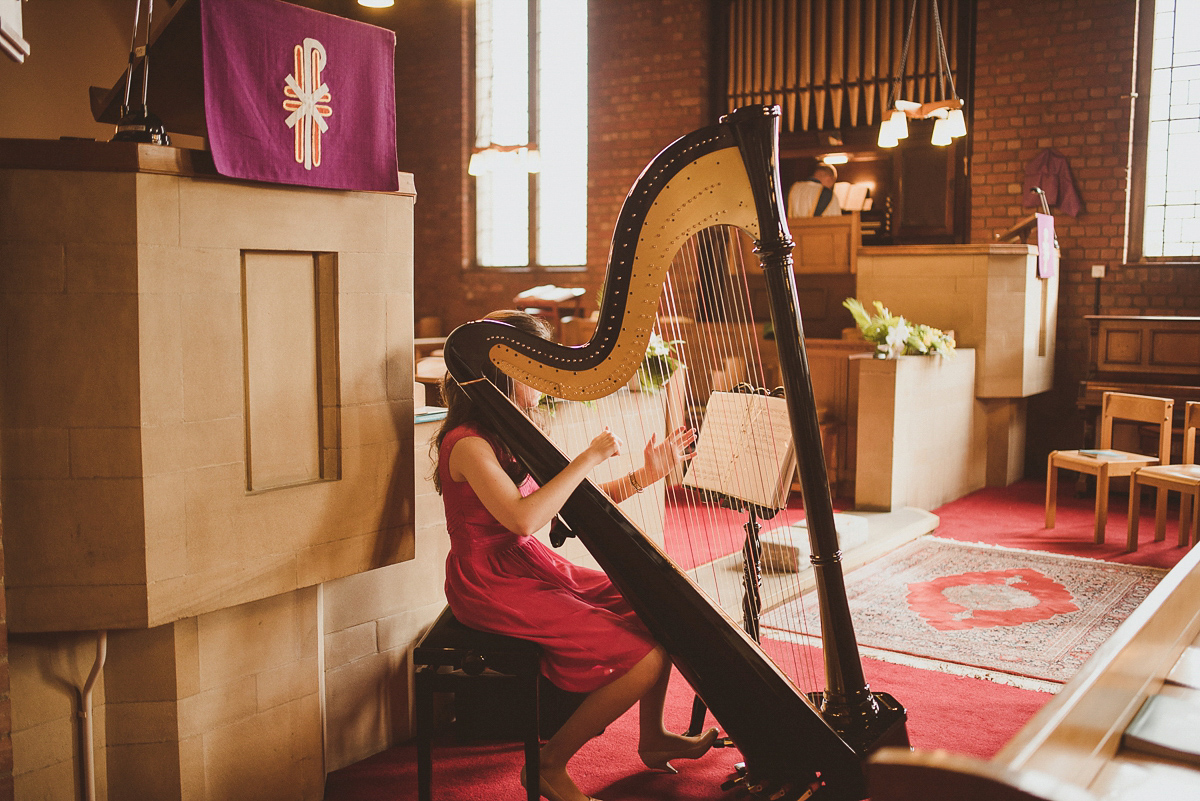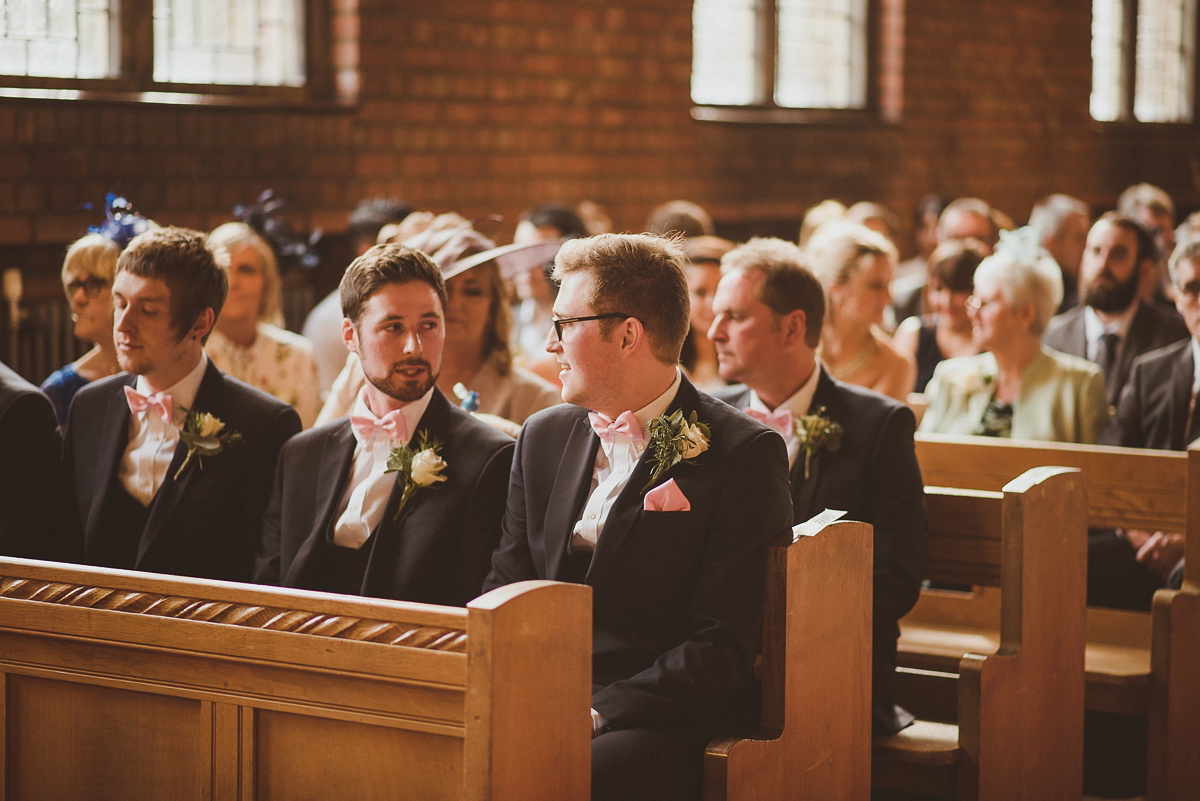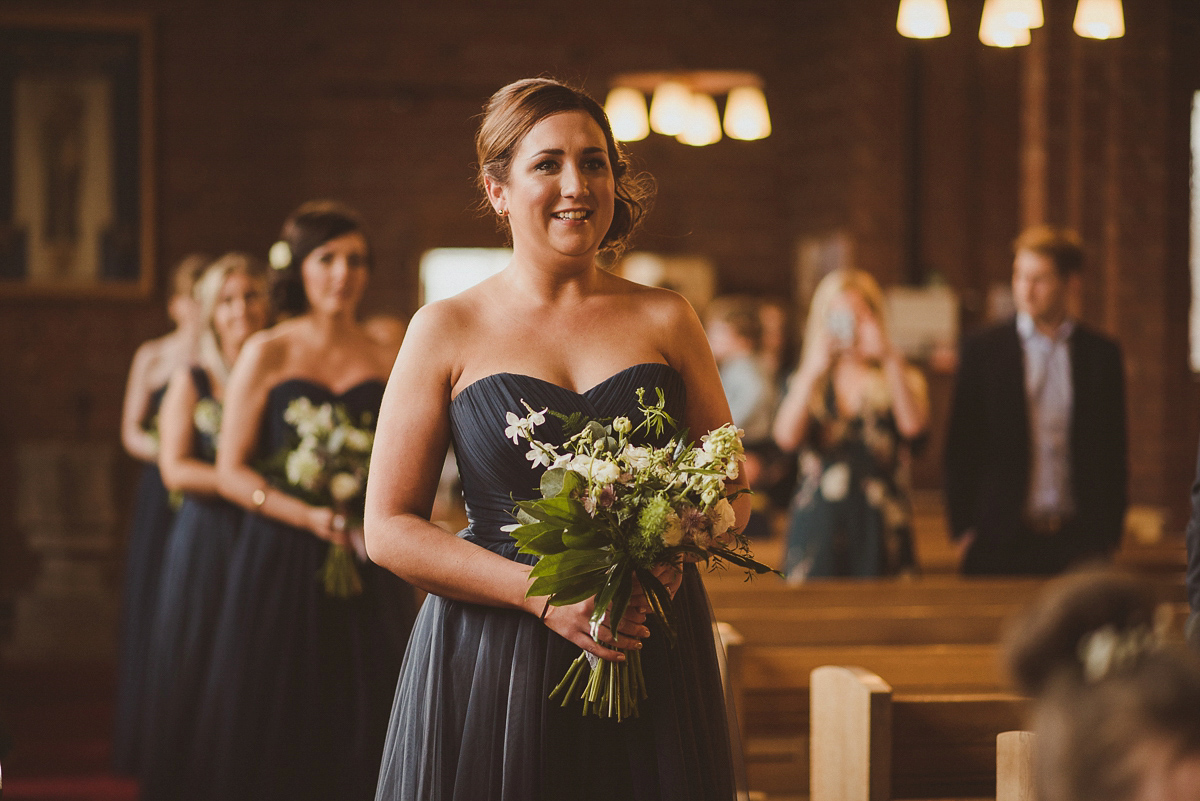 "My mam walked me down the aisle. Having brought me and my brother up on her own, I wanted to say thank you for everything she has done for us. We walked down the aisle to 'How Long Will I Love You' by Ellie Goulding played on the Harp. I loved how it sounded and having Helena play was one of my favourite extras on the day. She also learned to play 'Pompeii' by Bastille for us to walk back up the aisle to."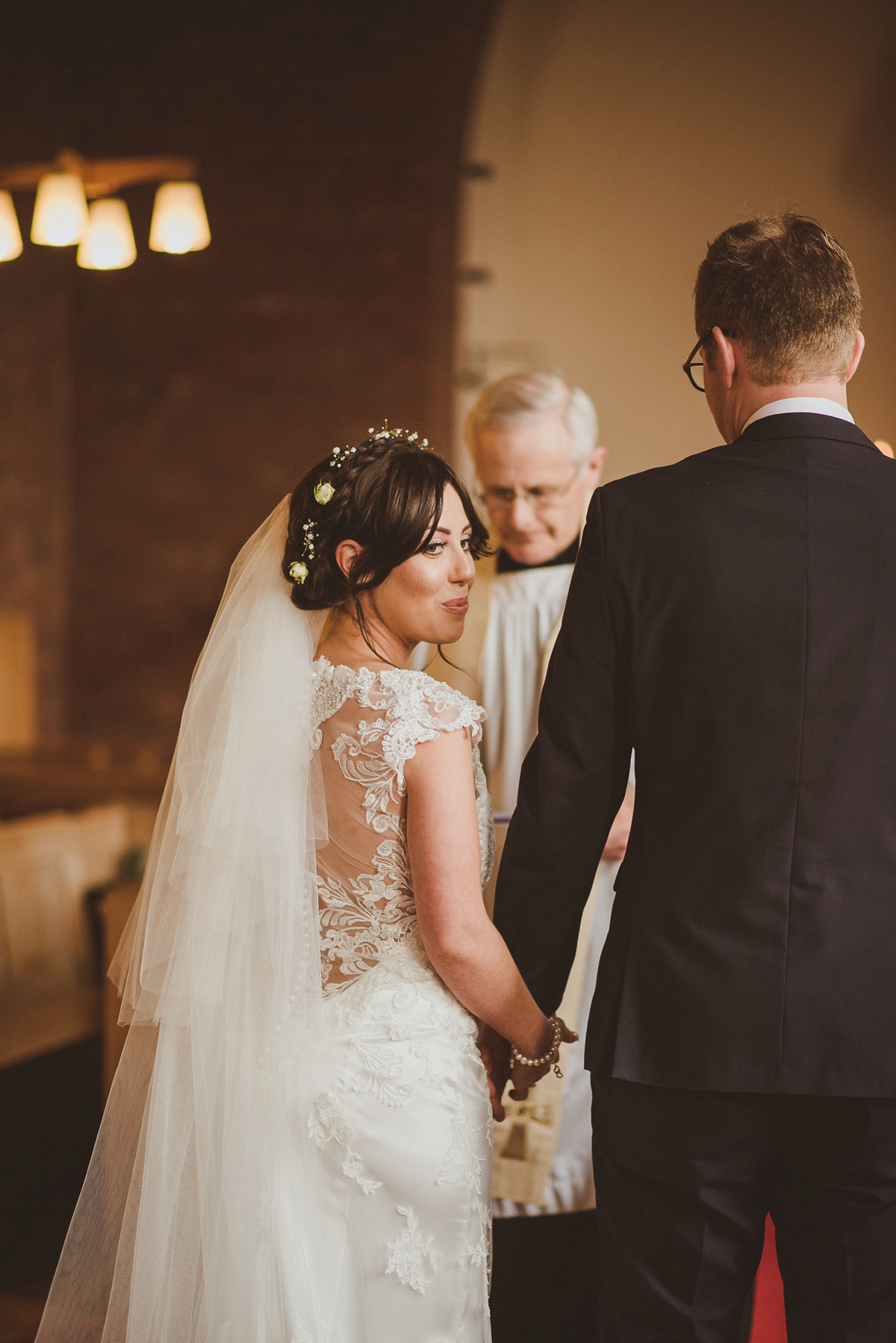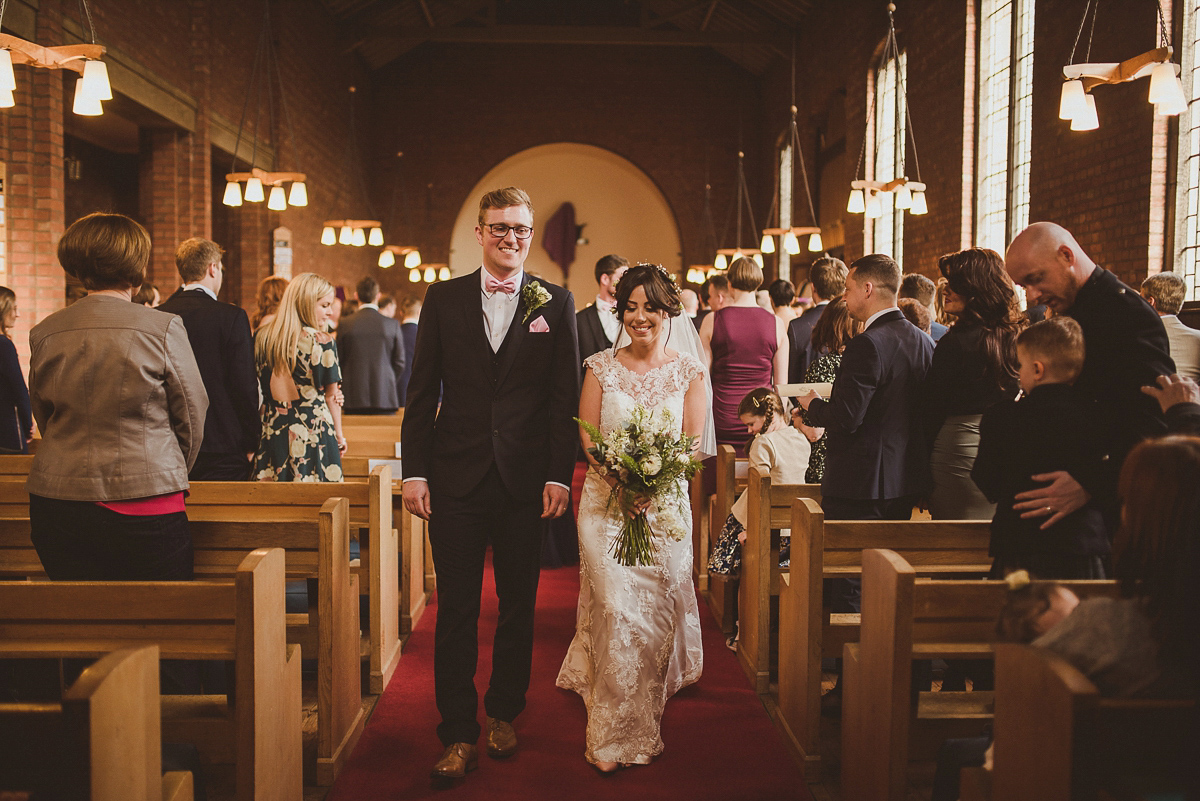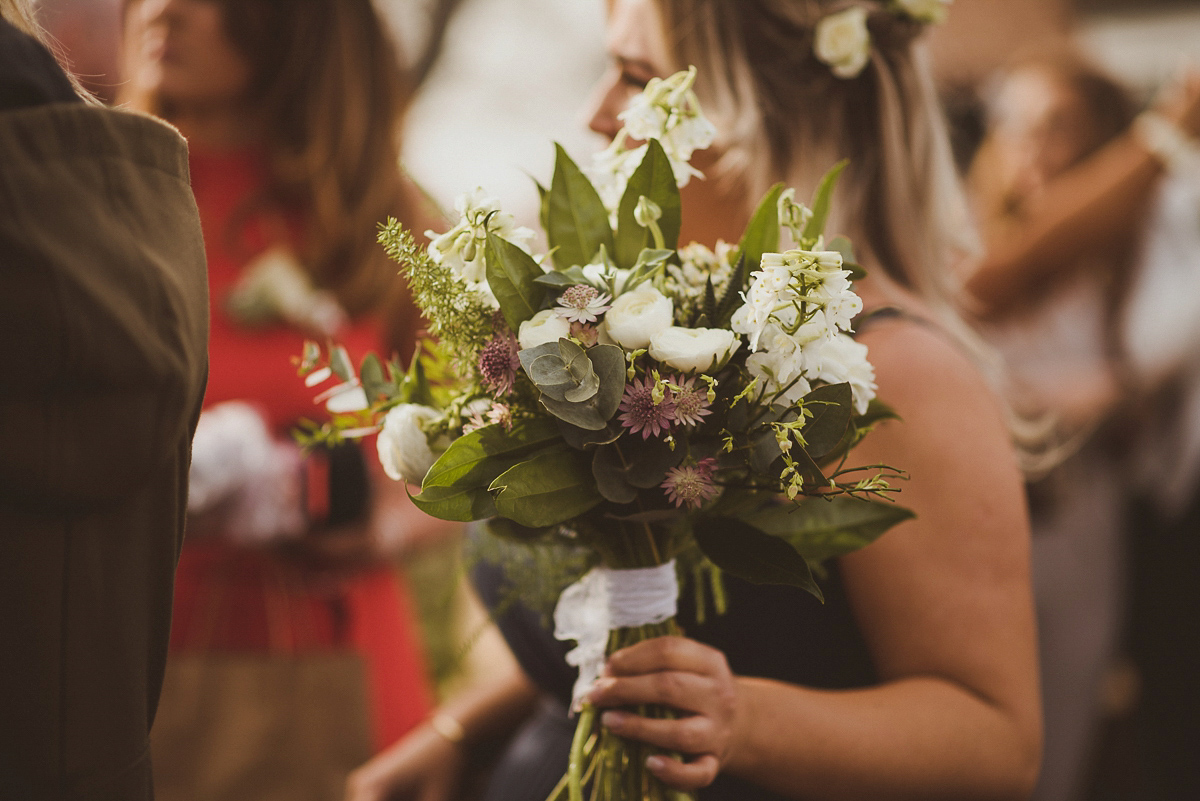 "My favourite part of the day was in the car ride from the church to the reception. It was just me, Daniel and our little boy Noah before we joined our guests to celebrate."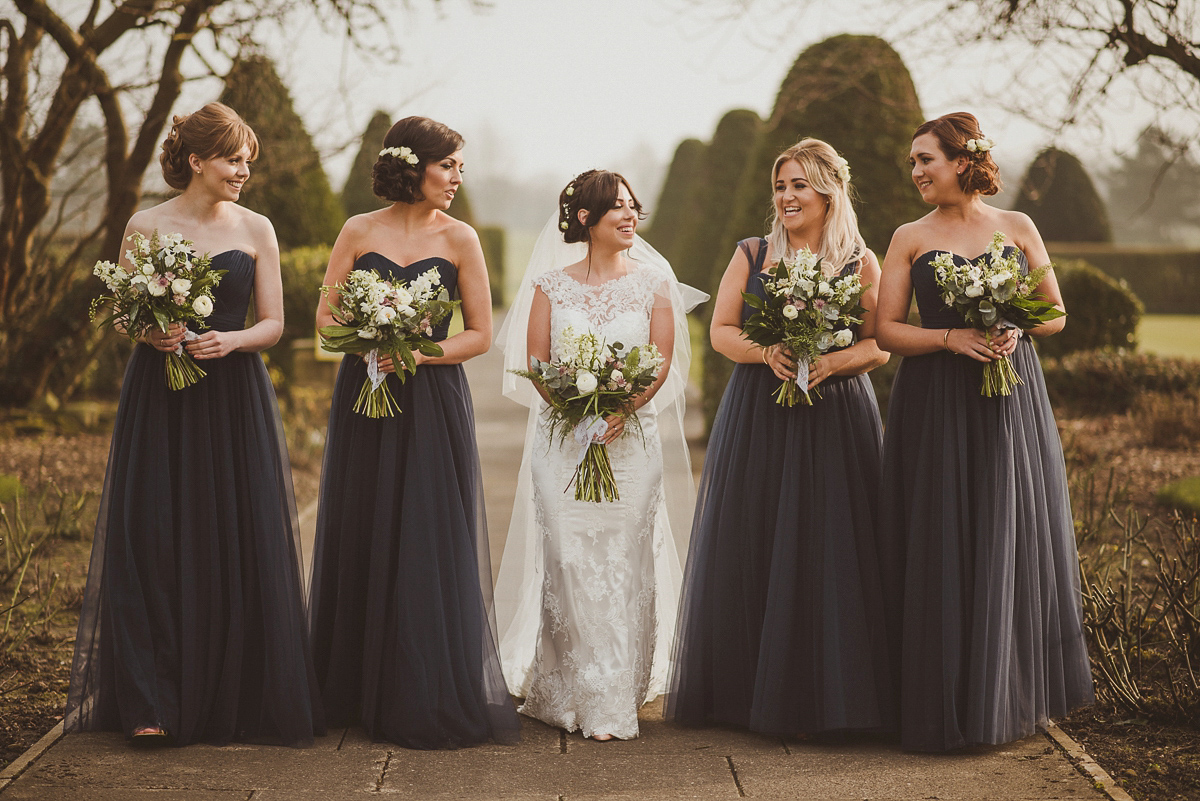 Daniel and his groomsmen were all kitted out at Next with bow ties from Mrs Bow Tie. The groom also sported some rather fetching socks so that he wouldn't get cold feet!
Another Love My Dress find, Thoughts of You provided the stunning flowers. I love the fresh, just picked style in muted colours and just beautiful against the navy of the ladies' dresses.
"The girls at Thoughts of You were extremely helpful and friendly. I pretty much gave them free reign, I just knew I wanted lots of green and white in a loose and unstructured hand tied style. Amy did a fantastic job and I couldn't have been more pleased with the end result."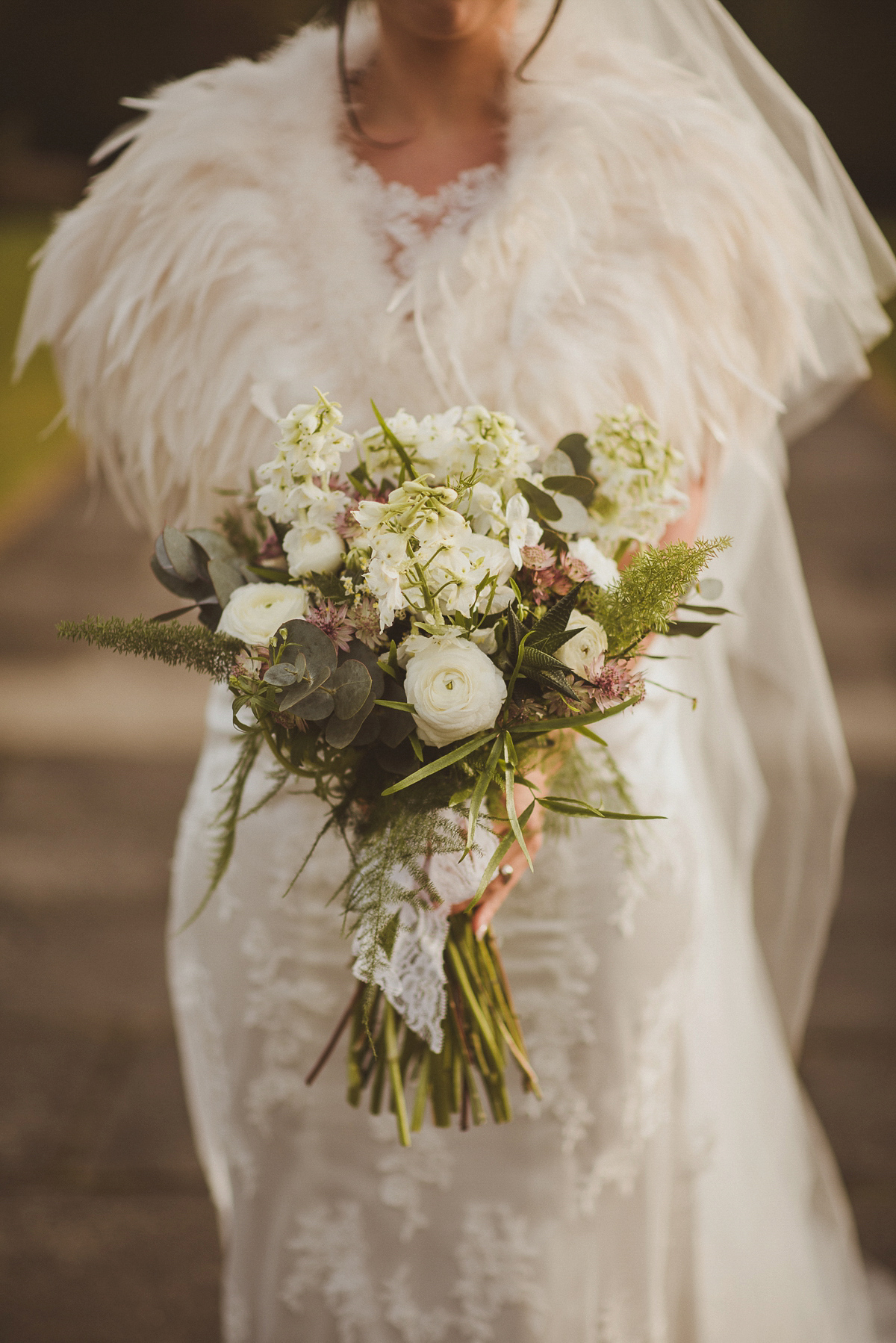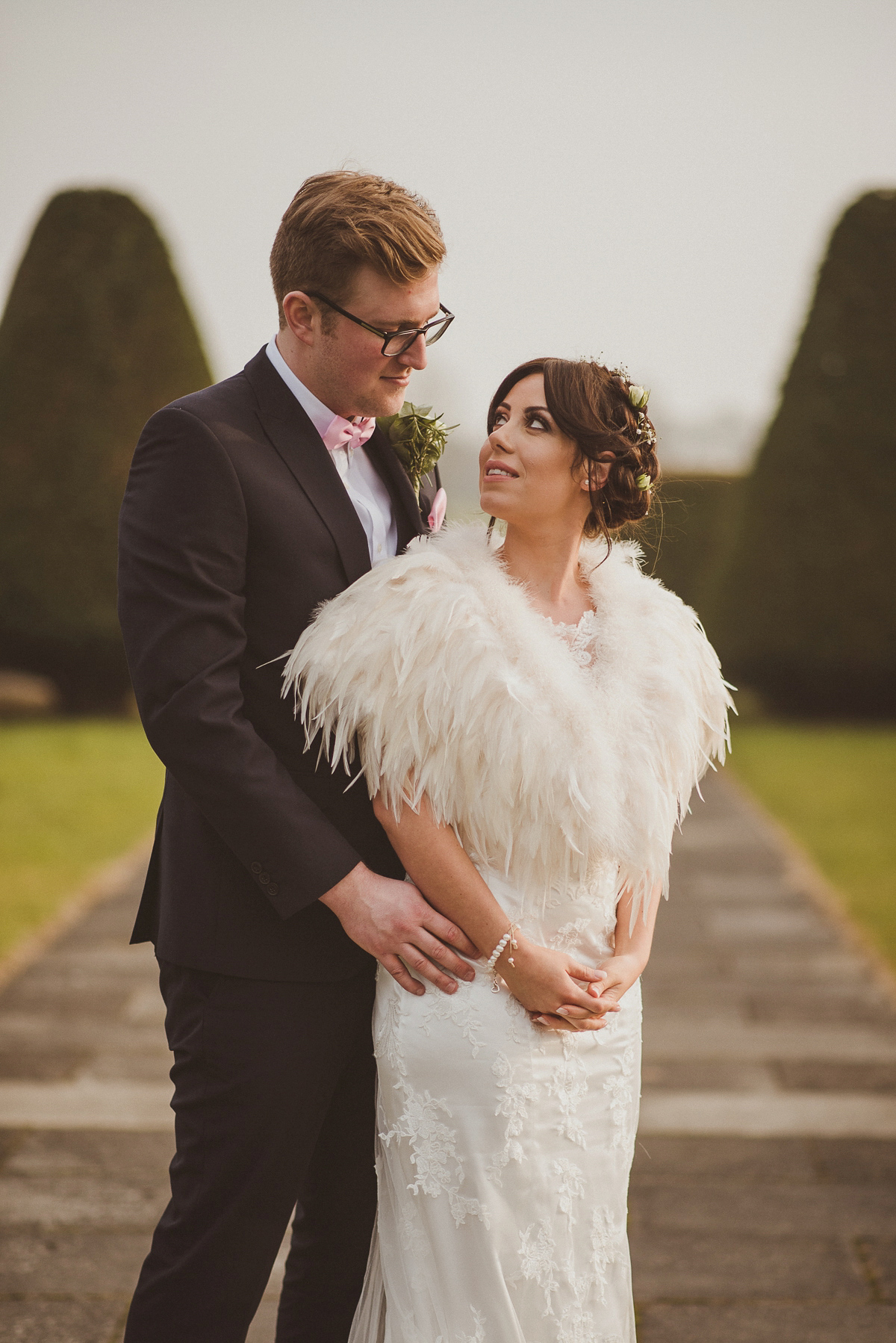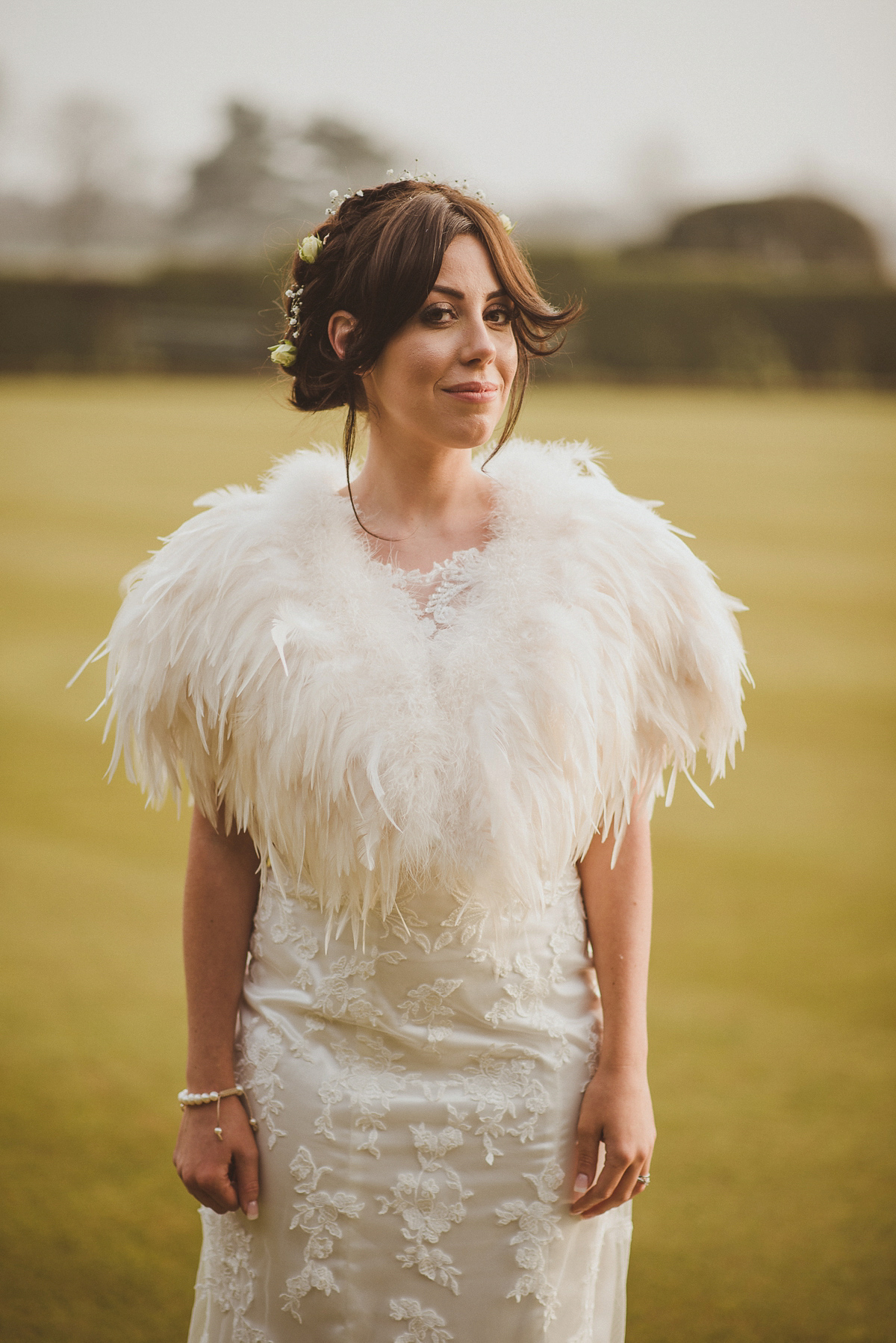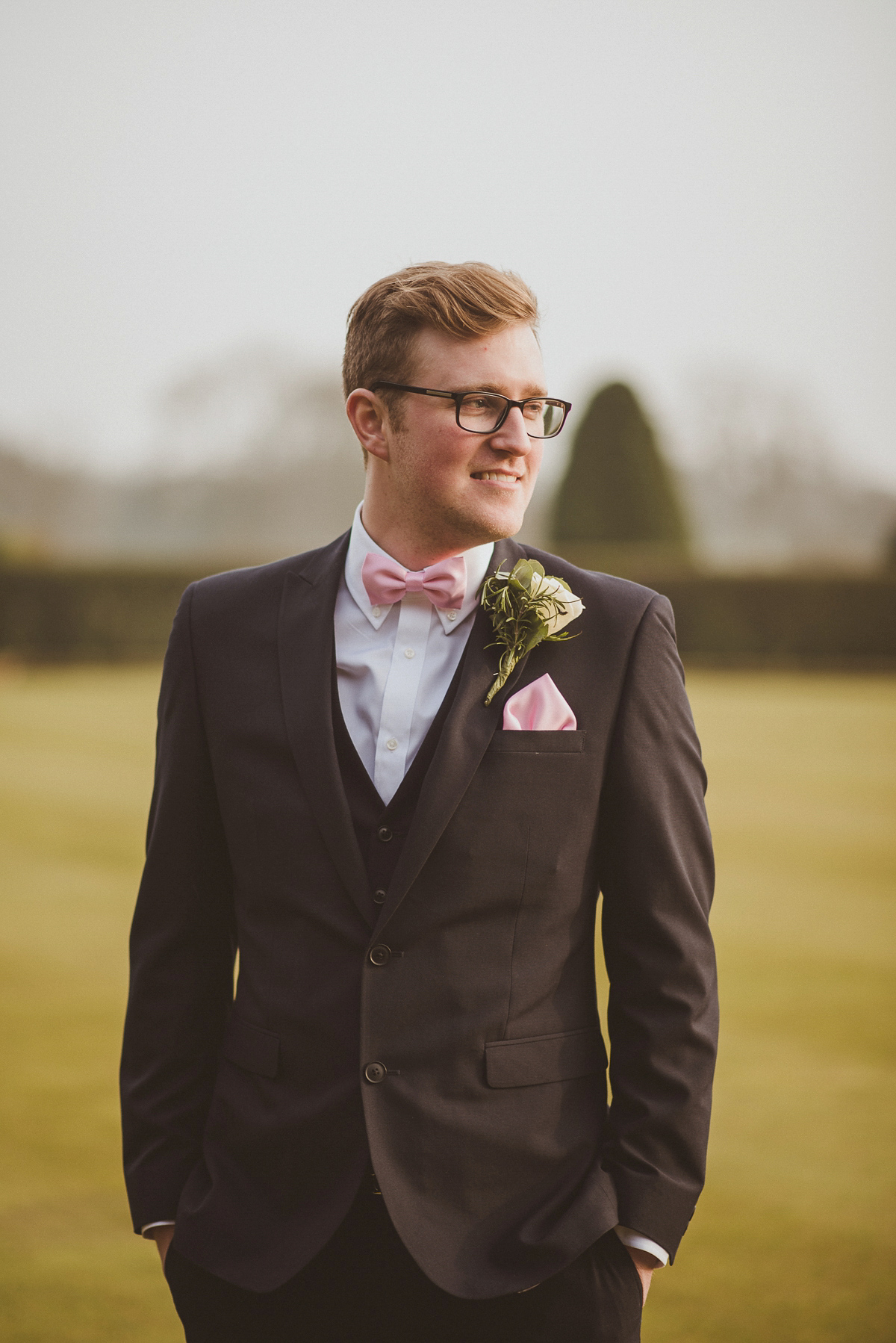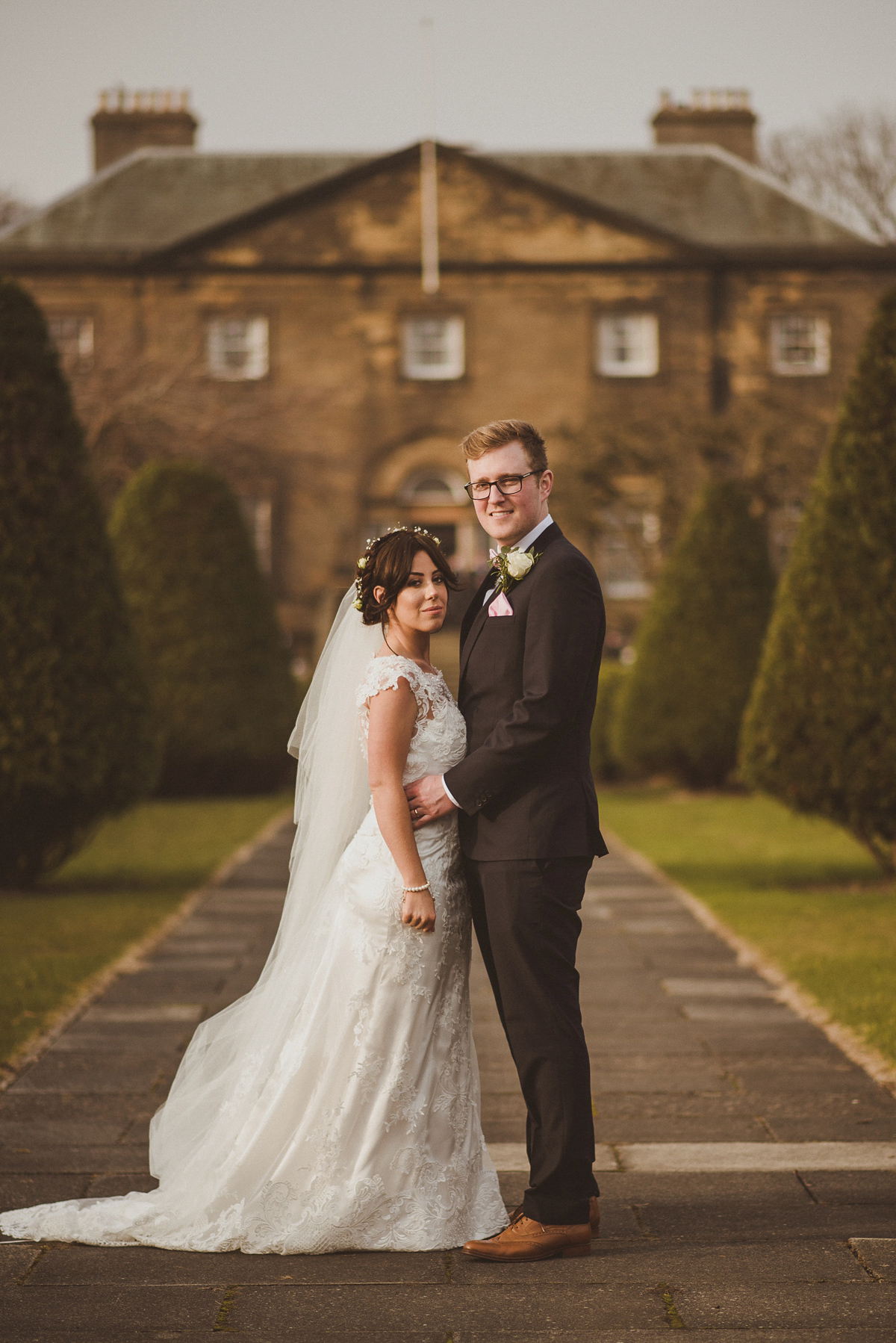 "Our day turned out better than I had wished, especially with the weather in March. The only thing I would change is how much time I spent worrying about little details in the months leading up to the wedding but a few weeks before the wedding we found out we were expecting our second child. On the day I felt a huge sense of calm, probably due to the fact that it put everything into perspective for me.
We already had 10 wonderful years together, a lovely son, and now another little life to love and cherish. Our wedding day was very special, just one to celebrate our lives together."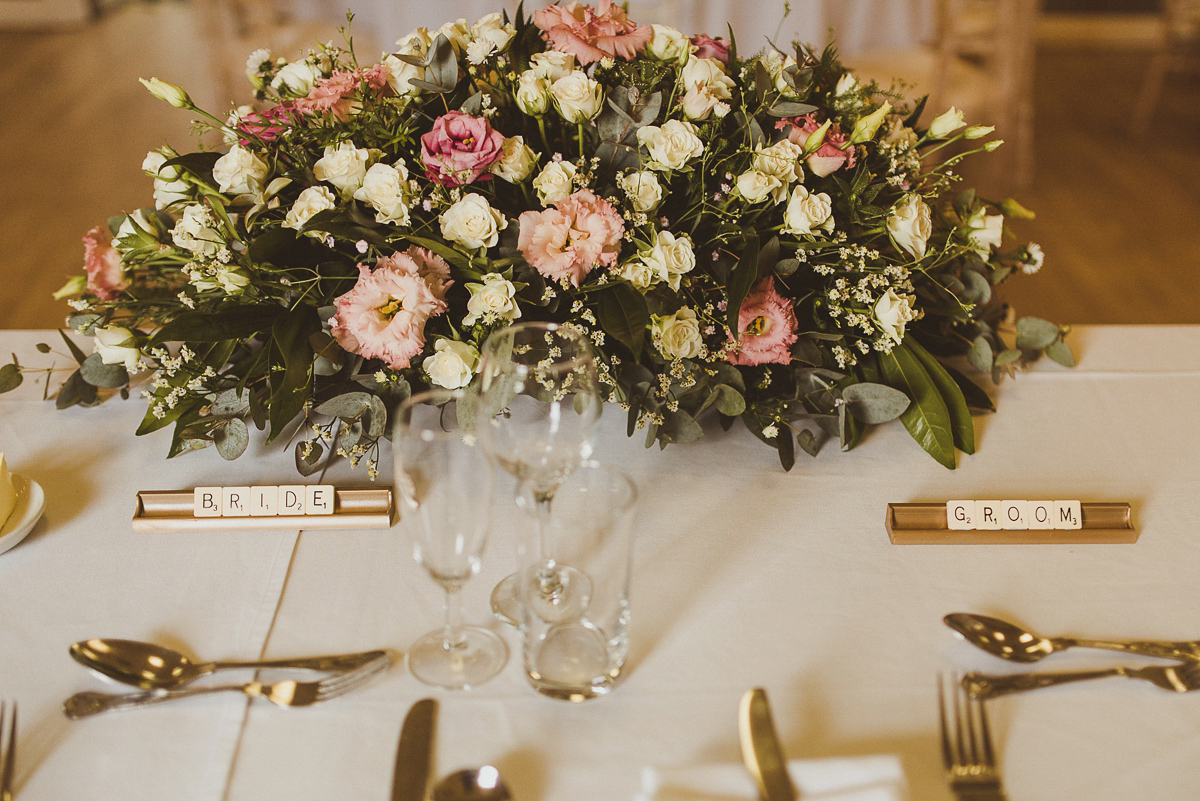 "Place names were a labour of love but it was worth it in the end. Scrabble is a family favourite and I had seen scrabble tiles used as place names so decided to get a bit creative. We collected and sprayed holders gold to match our colour scheme and spent months collecting tiles to spell out guests names. We also collected jam jars and hand made little lights using fairy lights and lace to use as decoration for the tables."
"Blue Fox Catering who provide food for Backworth Hall took care of the menu. John and his team had not long taken over weddings at the hall before our wedding, but the food and service was fantastic. John also went above and beyond in helping make sure everything was perfect for the wedding, including carrying 100+ chairs up the function room when the hire company had dumped them in the hallway."
You can never have too much cake so Jade and Daniel made sure that their guests were well taken care of in that department.
"The naked sponge cake was a gift from my very fabulous and talented bridesmaid Fiona. She very kindly offered to put her talents to good use and make it for us. Not only this, but on the morning of the wedding between hair and makeup Fiona drove up to the reception to set it up. Being cheese lovers, we also opted for a cheese tower with various yummy chutneys from Northumberland Cheese Company and a bride and groom mouse couple. Our guests thoroughly enjoyed it and we got to eat our body weights in cheese samples prior to the wedding."
"Along with some wonderful hire items including a vintage typewriter guestbook, wooden logs for the centre pieces, we got a giant chalkboard table plan from the lovely  Vanilla Teas and hired large illuminated initials from Coco Luminaire which looked great in the evening."
"With music tastes like chalk and cheese and going through lists and lists of songs, 'Better Together' by Jack Johnson was the only song we could agree on for our first dance."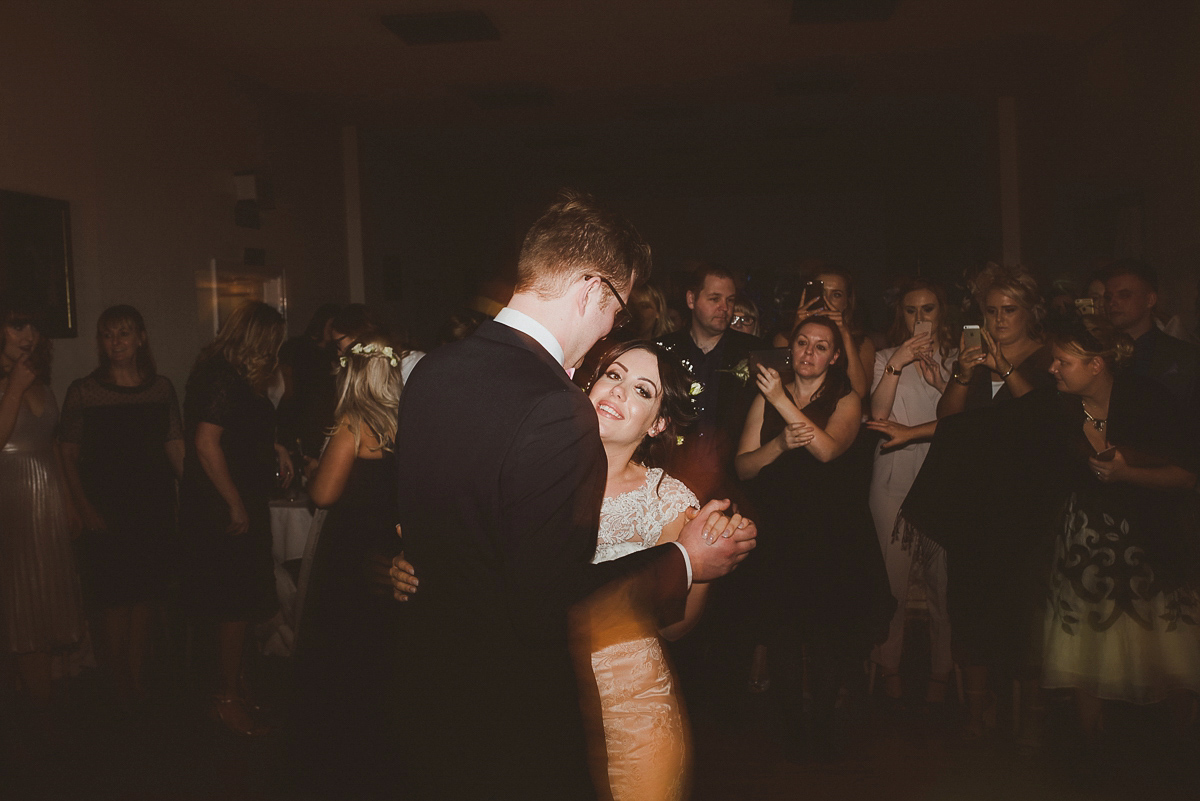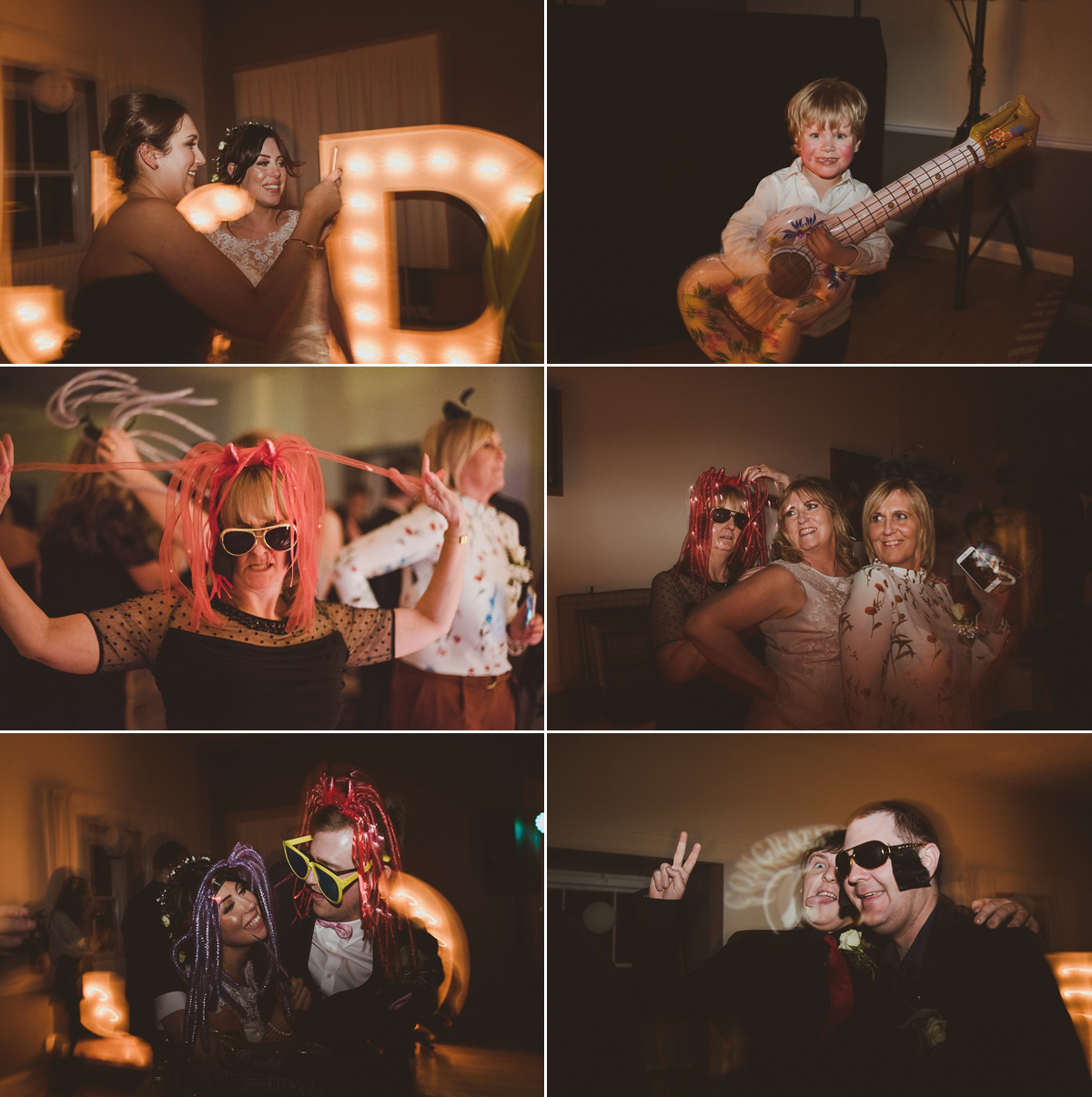 Words of Wedded Wisdom
"Try and take a moment during the day to sit back and appreciate the moment. Planning a wedding, although very enjoyable, is stressful at times, remember the reasons behind why you are getting married. I absolutely loved the little extras which contributed towards our day but looking back, it wouldn't have mattered if the scrabble tiles weren't perfectly matching (they were rearranged into various rude words anyway after a few drinks!)."
Thank you so very much to Jade and Daniel for sharing your wonderful day with our readers, and to the fabulous Alexa Penberthy for the stunning images. If you missed it, here's a link to the wedding Jade mentions, also shot by Alexa.
See you on the other side,
Love Caoimhe xx