We've made it to hump day lovely ones! I don't know about you, but the weekend is definitely in sight over the seas here in Oz. It's going to be a busy one for the Singletary's, as we are madly preparing for the arrival of the in-laws in a few weeks (cue oodles of spontaneous spring cleaning) and their visit also coincides with my big birthday. I feel like I'm in the throes of wedding planning all over again, from finding a suitable venue, deciding on guests, choosing canapés, sourcing decor and the all-important question: what on earth am I going to wear? I think I need to relax a little – and this wedding full to the brim with prettiness, and images by Chris Taylor Photography, is sure to do the trick.
Bride Emily is a dentist and groom Ceirnan is a self-employed commentator and they married on the 25th of June 2016 at the grand Glemham Hall in Woodbridge, Suffolk for their quintessentially English wedding. Let me set the scene with a snippet of their rose-filled day with their wedding video by the brilliant McGill Sister Films – who are members of our brilliant bridal resource Little Book for Brides.
"As soon as we drove down Glemham's impressive driveway and glimpsed the stunning Elizabethan stately home we knew it was the one! The grounds at Glemham and especially the rose garden (roses being my all-time favourite flower) really achieved the essence of relaxed English country house wedding, with a touch of elegance and romance, that we were after."
Photography by Chris Taylor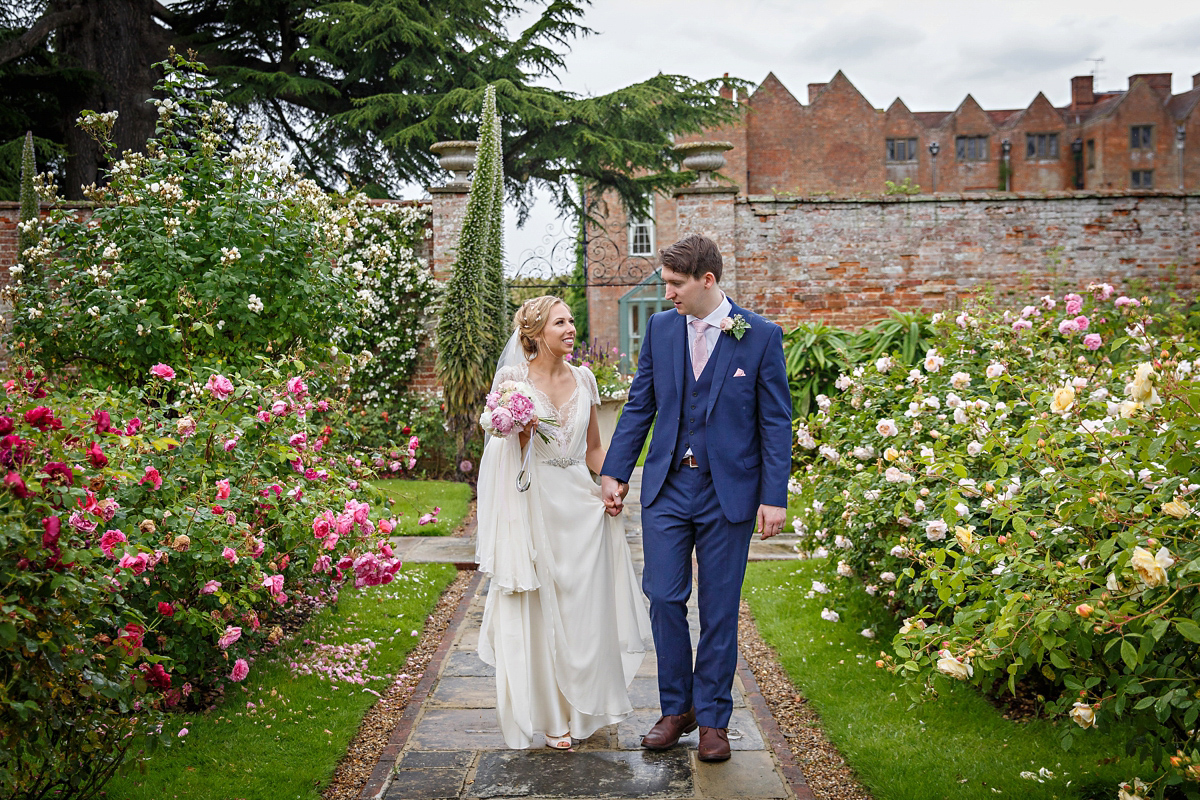 "Think strawberries and cream, Pimms, lace bridesmaid dresses, 1940s ice cream bicycle, and croquet on the lawn (unfortunately though due to the all too English weather, the garden games were abandoned due to the rain!)."
"Ceirnan and I met at Sheffield University in the student's union nightclub on a Friday night. We had both had a bit too much to drink and Ceirnan offered to teach me how to salsa dance and it turns out he really can't dance! I vividly remember sitting at a friend's wedding two months later watching her get married and knew without a doubt that one day I would be marrying Ceirnan."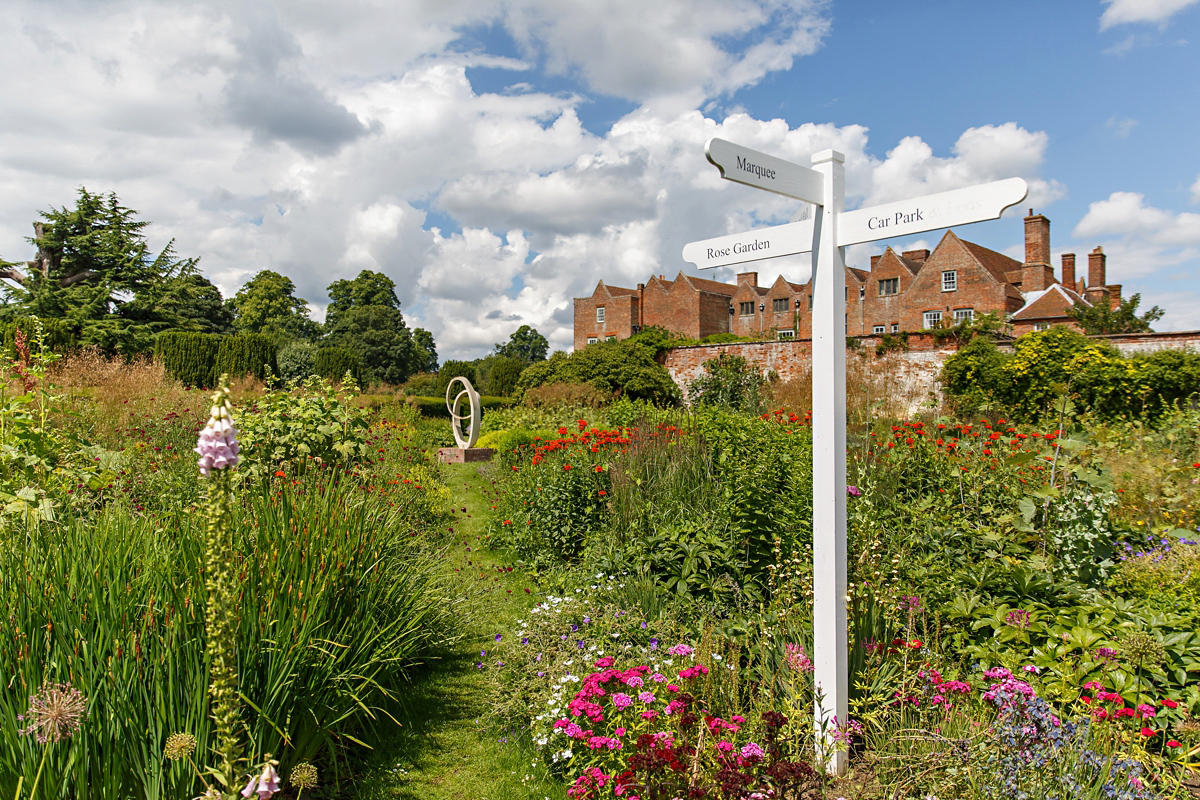 "We got engaged two and a half years later and were engaged for exactly eleven months before our wedding day. Ceirnan got down on one knee and popped the question on a local Suffolk beach where we had gone camping on our first holiday together."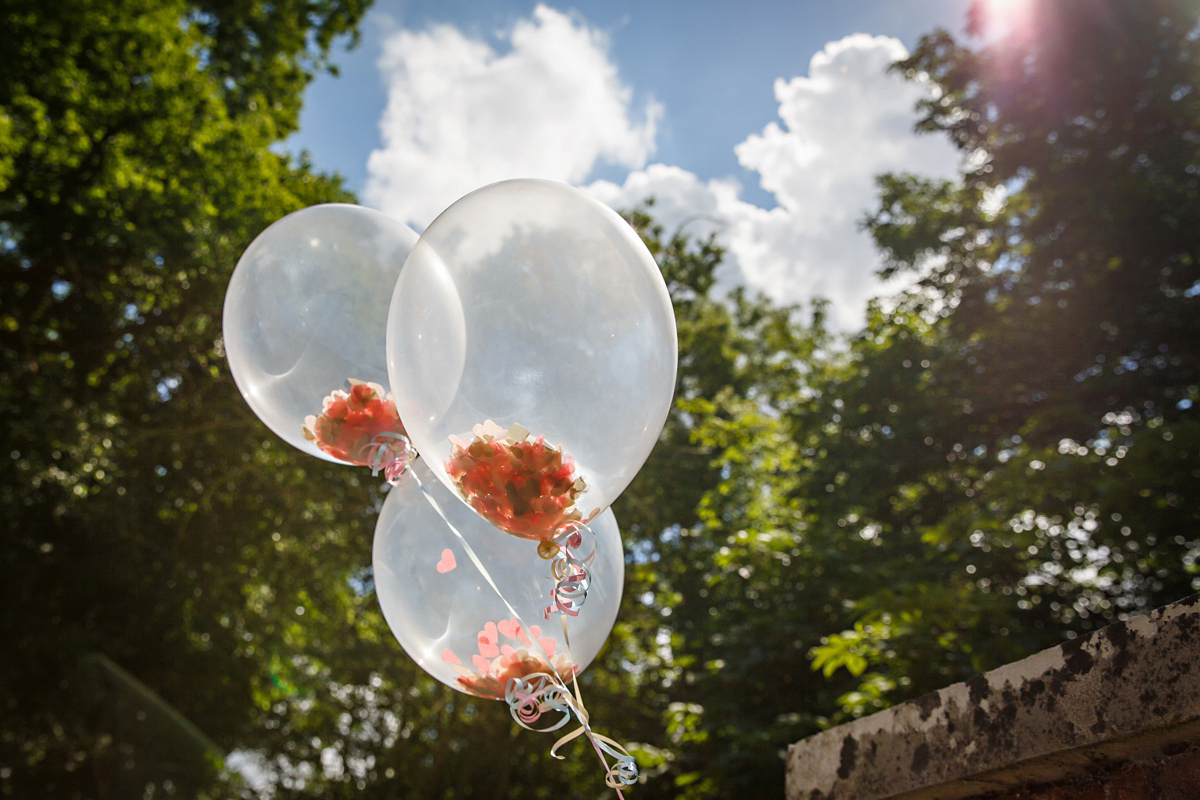 Emily's love of pretty pastel colours and roses were threaded throughout the elements of the day. The bridesmaids donned lacy pale blue Coast dresses and the maid of honour's pale pink gown was from the Jenny Packham range. The maids all wore their own shoes and accessorised with gypsophila on pins for their hair, plus silver and pearl necklaces which were presents from the bride.
The sweet little helpers wore rose and gysophila flower crowns from 'SeaSylph Bridal' on Etsy which matched their Monsoon frocks adorned with roses on the hems.
"I love pastel colours so our colour palate was baby blue, blush pink and white. The venue itself set the overall style for the day with the beautiful rose garden featuring heavily as the rose design was on our menus, order of services and roses appeared everywhere in the floral decorations and my bouquet. I did get a lot of inspiration from blogs (especially Love My Dress!) and Pinterest."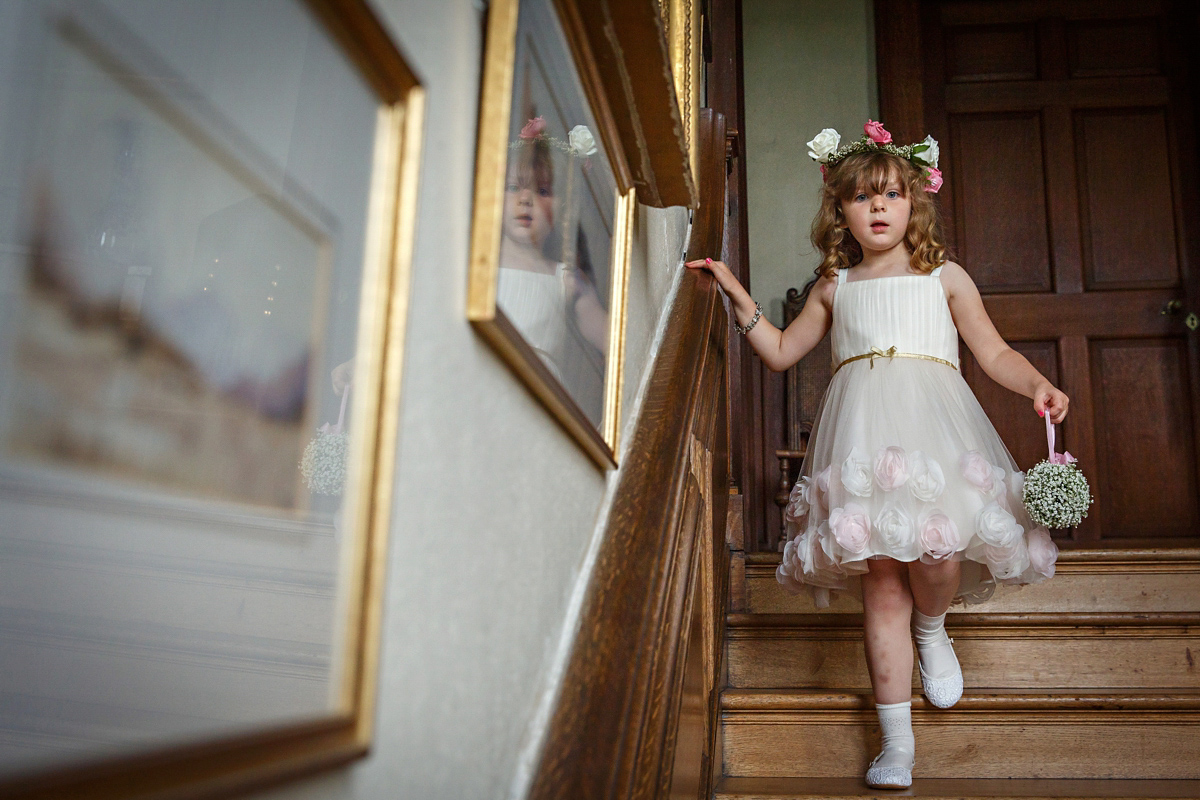 The bride looked absolutely gorgeous in her elegant Jenny Packham gown – the 'Aspen' style.
"I have always loved Jenny Packham wedding dresses; they are so elegant and classic. As soon as I put my dress on the silk felt so comfortable and light and knew it would be perfect for the ceildh dancing and fit well with the style of the venue. I loved the lacy-capped sleeves and sparkly ornamentation of the waist."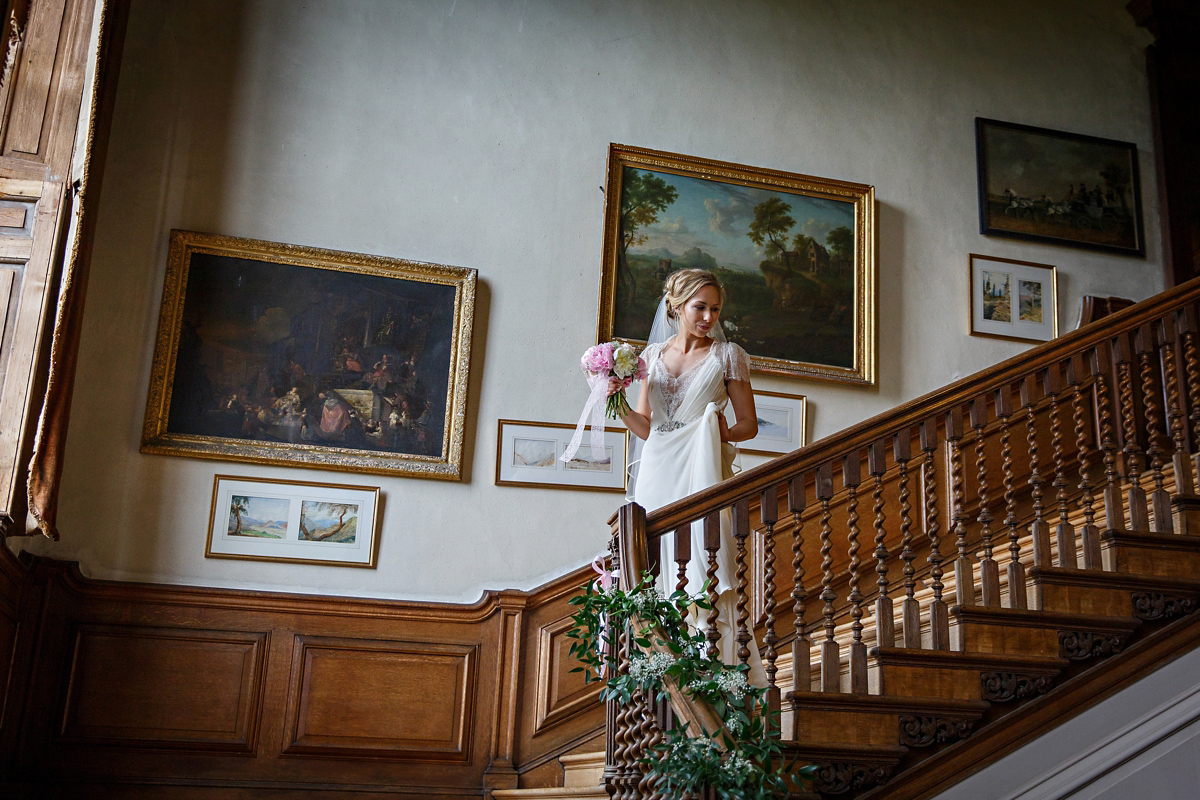 A fabulous pair of Harriet Wilde heels (who is also a Little Book for Brides member) were Emily's shoes of choice, then she added her all-time favourite fragrance 'Classique' by John Paul Gaultier, diamond and sapphire stud earrings (her something borrowed from her mother and something blue), and sprigs of gypsophila to her loose up-do hairstyle, created by Luke from John Olivers salon. Her natural make-up was by Leanna Hallam.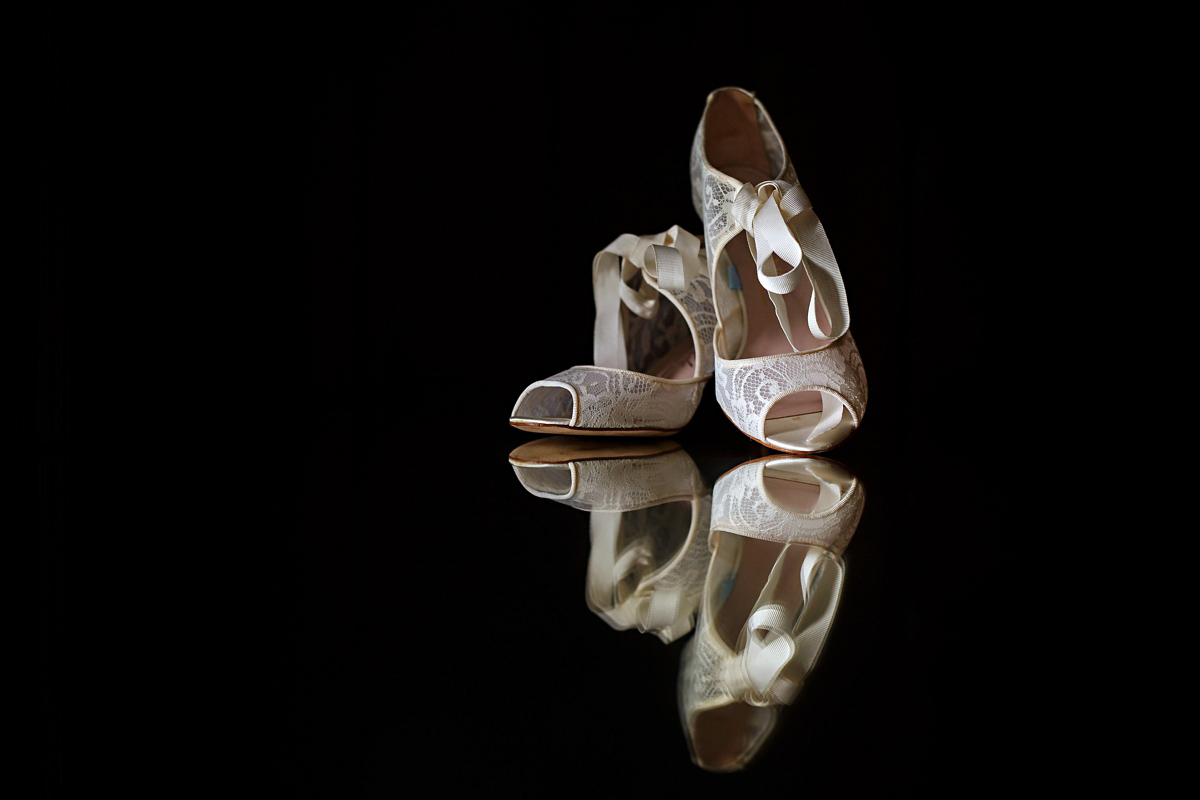 The beautiful bride was accompanied by her dad during the aisle walk to Pachelbel's 'Canon in D' – played by her sister's string quartet.
Ceirnan and Emily were keen to personalise their ceremony as much as possible, with both writing their own vows and included three readings: 'Captain Corelli's Mandolin' by Louis de Berniers, 'The One' by Anon and Ceirnan wrote and read his own heartfelt reading called 'Journey':
Life is an arduous Journey,
You fall, you twist and climb
You stumble blindly towards the misty horizon.
But once in your life you will find another,
A traveller not unlike yourself
They share with you the joys and pains
They never leave your side
They are your rock, your compass
And when you finish travelling down that long path
You find that you are exactly where you wanted to be.
"My ring was a white gold half-eternity ring (I like a bit of sparkle!) from the jeweller Andrews in Ipswich. Ceirnan ordered his palladium ring online from Wedding Rings Direct. We were a bit anxious about ordering his ring online, but it was excellent quality and we are really happy with it."
Emily discovered her veil from Bridal Reloved, after changing her mind about wearing one.
"I initially didn't plan to wear a veil as I didn't like the negative, outdated connotations of the groom 'unveiling' the bride. However, the veil looked so perfect with the dress when I tried them on together so I decided to wear one. After all, when else am I ever going to get the opportunity to wear a veil? My sister has already decided she would like to wear my veil at her wedding!"
How utterly adorable is the little helper in his stripey blue suit from Next?
Ceirnan looked incredibly dapper in a Ted Baker via Moss Bros navy suit, plus cufflinks from Etsy (a present on the wedding day from Emily). His brother and best friend, both called Alex, were the best men.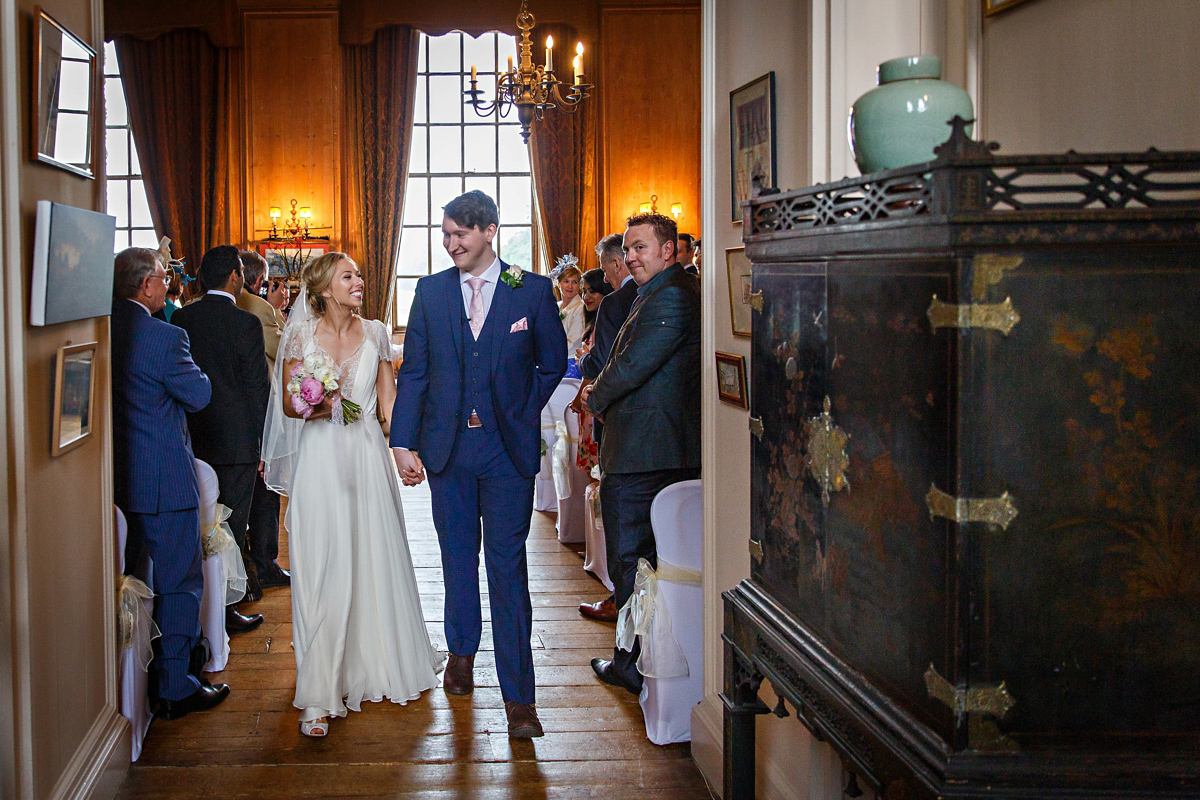 "Our photographer Chris Taylor is an absolutely wonderful wedding photographer and we couldn't love our wedding photos any more than we do. On the day he put everyone at ease and blended away into the background. Ceirnan and I were keen that we didn't want photographs to take too long and get in the way of us enjoying ourselves."
"Chris was very understanding in only doing a small number of group formal shots. He was fantastic in getting action shots and catching the love and emotion of the day. I wouldn't hesitate in recommending Chris to any brides looking for a photographer."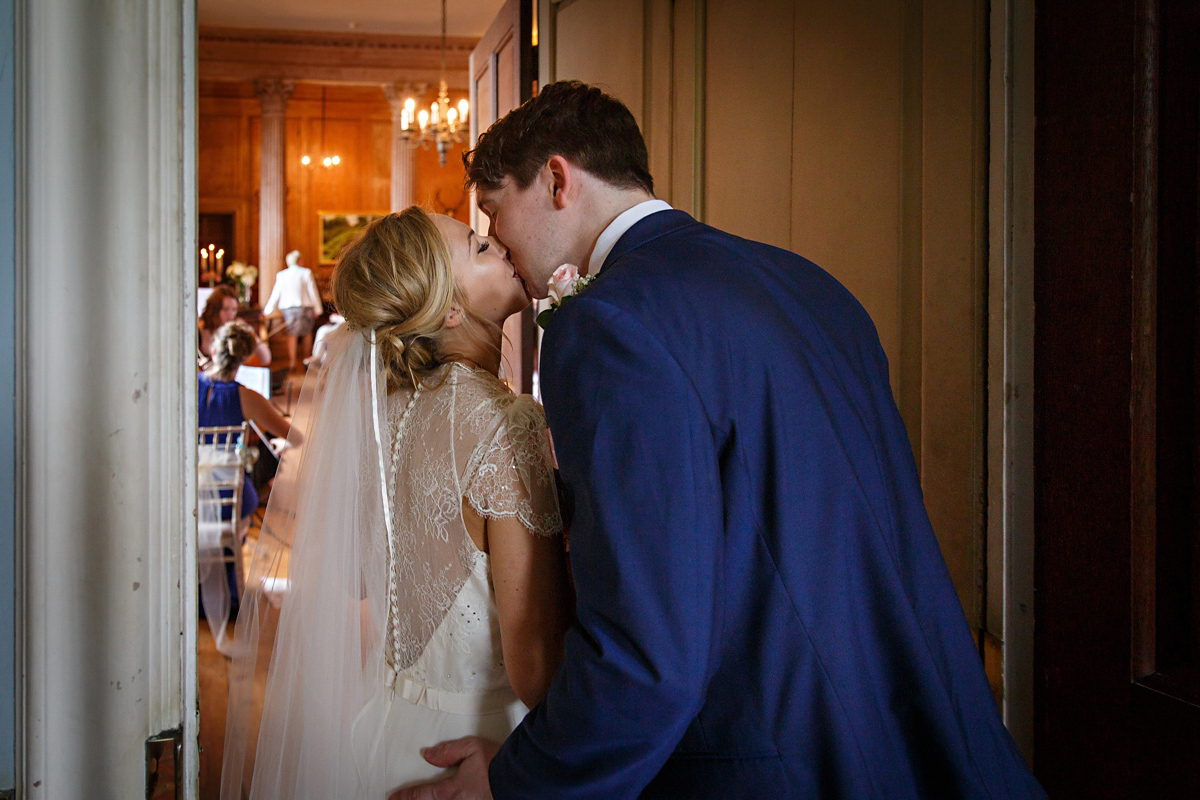 The florist, Bethany Rose, was discovered by Emily's stepmother and she created stunning displays for the bouquets and venue.
"The flowers we went with were roses, gysophila and peonies in shades of blush pink and white. My favourite arrangements were the flowers up the staircase I walked down on the way in to the hall and where I made my grand entrance!"
The couple sorted a range of suppliers to add to the feel of an English wedding, with an ice cream bicycle from Andy's Icecream, mint favours with personalised tags from 'Mint Favours and More' on Etsy and giant helium balloons with tassles from Etsy. And with help from loved ones, they added a handmade touch to the stationery and decor.
"All our booklets and menus were handmade by us and we tied hundreds of ribbons on. We made a collage of photographs of us when we were younger, as a couple and of our families that we put up in the marquee. My step mum made metres of bunting to put around the marquee that looked absolutely beautiful and paper hearts were made of music manuscript on the chairs in the ceremony hall."
"The seating plan was a map of California, with each table being a different stop on our journey. Our holiday to California was the last holiday we went on before Ceirnan proposed. Ceirnan and I love dogs and have always had dogs in our family. The name places were different breeds of plastic dogs that we bought in bulk on ebay and spray painted gold. They look fabulous and so many guests took their dogs home at the end of the night."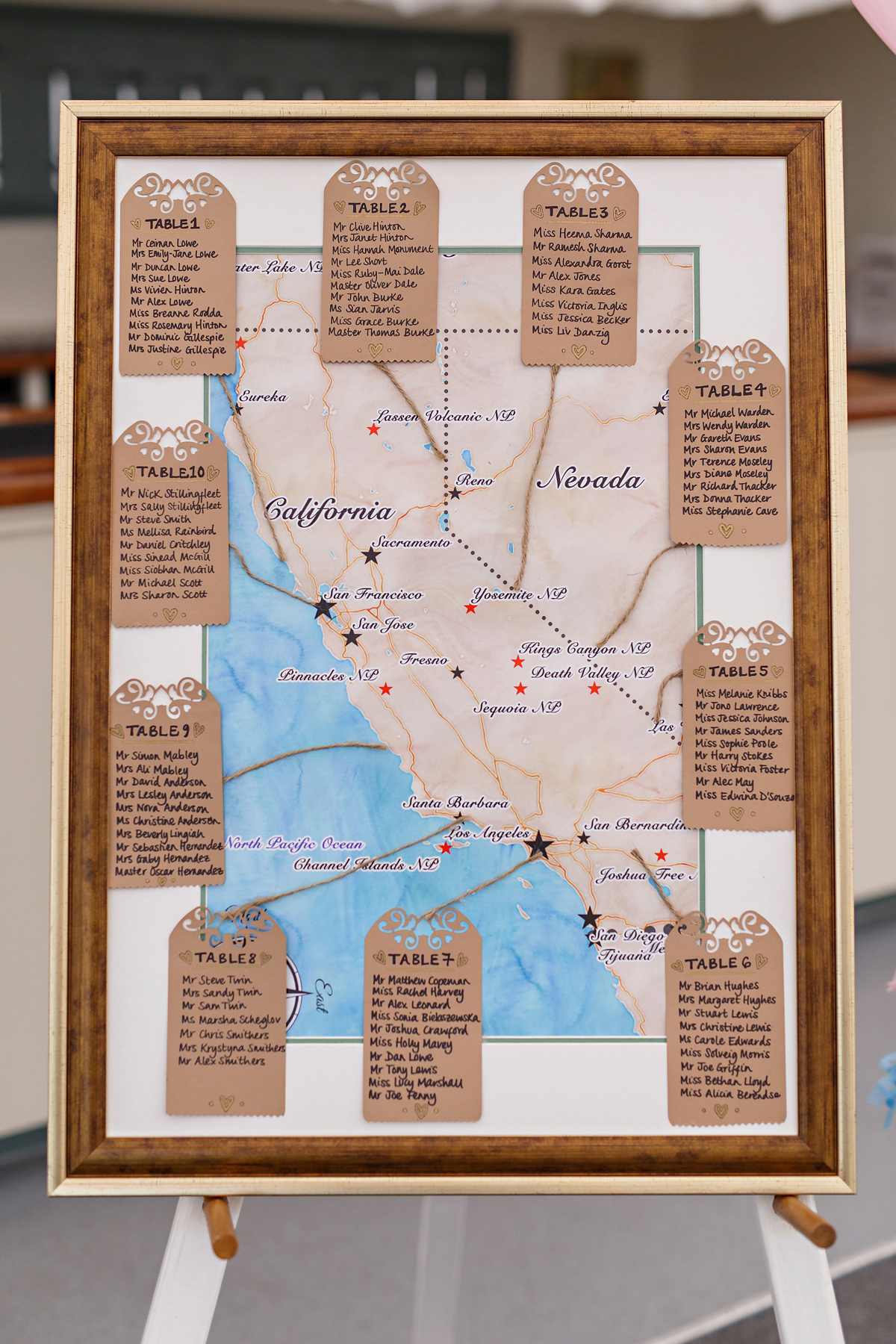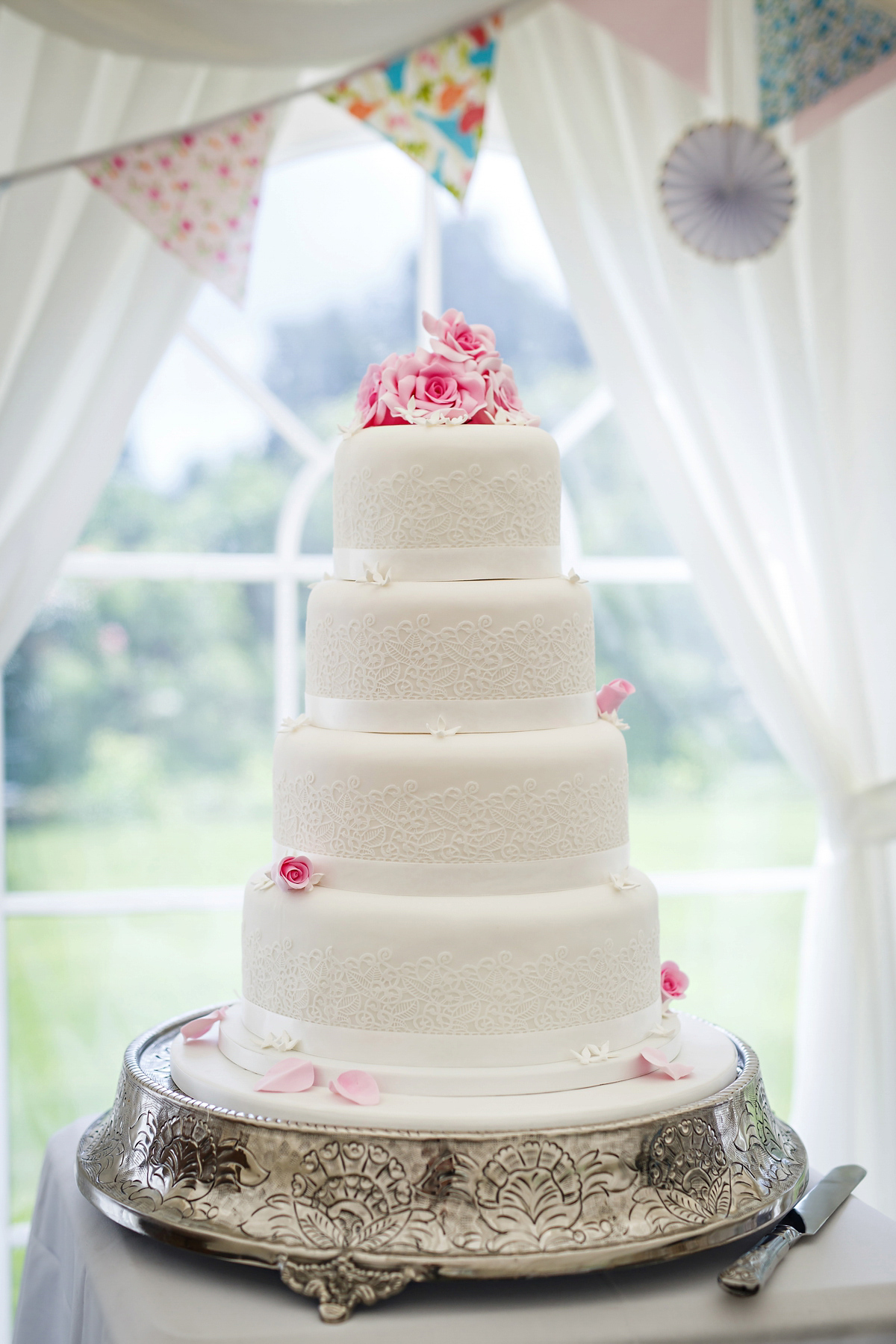 "Music is very important to us and we are lucky that we have a very musical family. Ceirnan's dad's band played at the reception and my sister, who is a professional musician, organised her string quartet to play during the ceremony and during the champagne hour. My sister also sang and played the piano during our civil ceremony. She surprised me by singing two of my favourite songs 'At Last' by Etta James and 'Somewhere Only We Know' by Keane – such an emotional, personal wedding gift that made the ceremony even more special."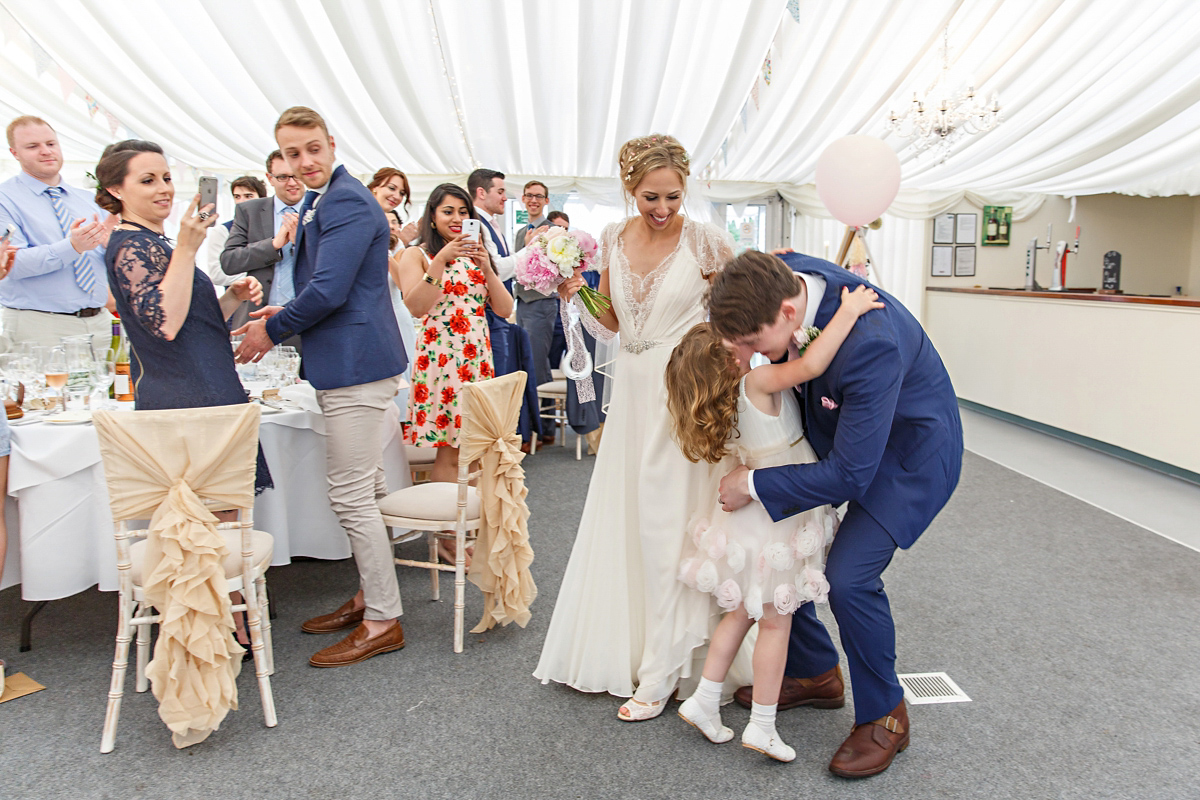 "The caterers, Heathcote and Hare Fine Catering, were fantastic. We wanted locally sourced delicious light summery food and that's exactly what we got! Many of the guests commented that it was the best food they had ever had at a wedding."
"One of my gorgeous bridesmaids, Mel, made my cake and it was such a wonderful gift. The cake was a four-tier fruitcake iced with beautiful lace and pink roses. It looked so elegant and beautiful and tasted delicious. Mel also made some equally delicious lemon cake, which we put in clear cellophane bags and tied with ribbons for guests to take home at the end of the night."
The couple organised a range of entertainment throughout the day. Lawn games were on the cards, however the rain halted this idea, but this just led to plenty of fun on the dance floor with their ceilidh band.
"We did plan for outside garden games such a bowls, croquet and giant jenga but unfortunately due to the weather these had to be called off. In hindsight it didn't matter a jot that it rained, as it kept everyone together in the marquee and also meant that nearly all the guests were up and dancing to the ceilidh band Stumpy Oak, who were fantastic and got everyone dancing across all age groups. Ceirnan and I found it difficult to agree on a first dance song, but we both love the song we chose, 'Dancing in the Moonlight' by Toploader, as it is so beautiful and the lyrics are very apt."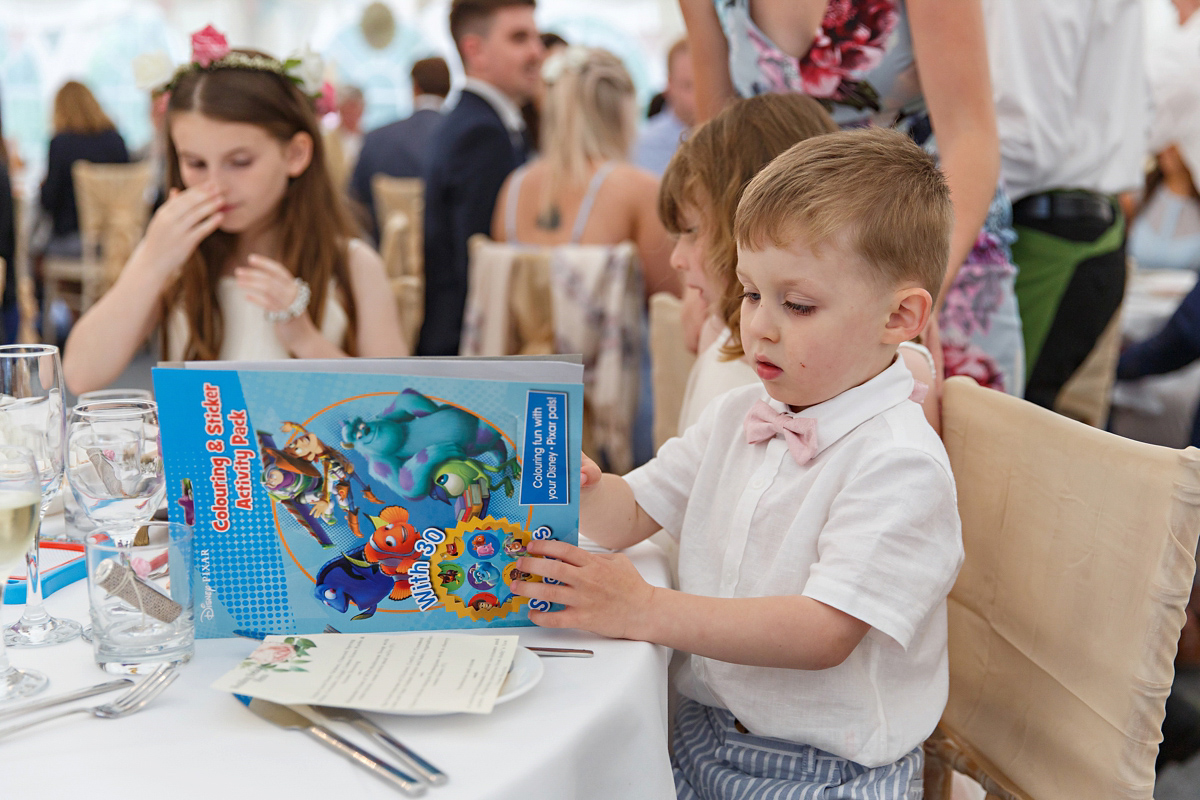 And when it comes to weddings, hiccups can often crop up at the last minute, but luckily for Emily and Ciernan the situation was rectified in the nick of time.
"Two days before the wedding I got a call from the photobooth suppliers and the giant love letters to say that drunk wedding guests had destroyed both of them the previous evening and that they were in no fit state to be used at our wedding. Luckily for us, My Big Fat Wedding Disco and Smile More Media came to the rescue at short notice."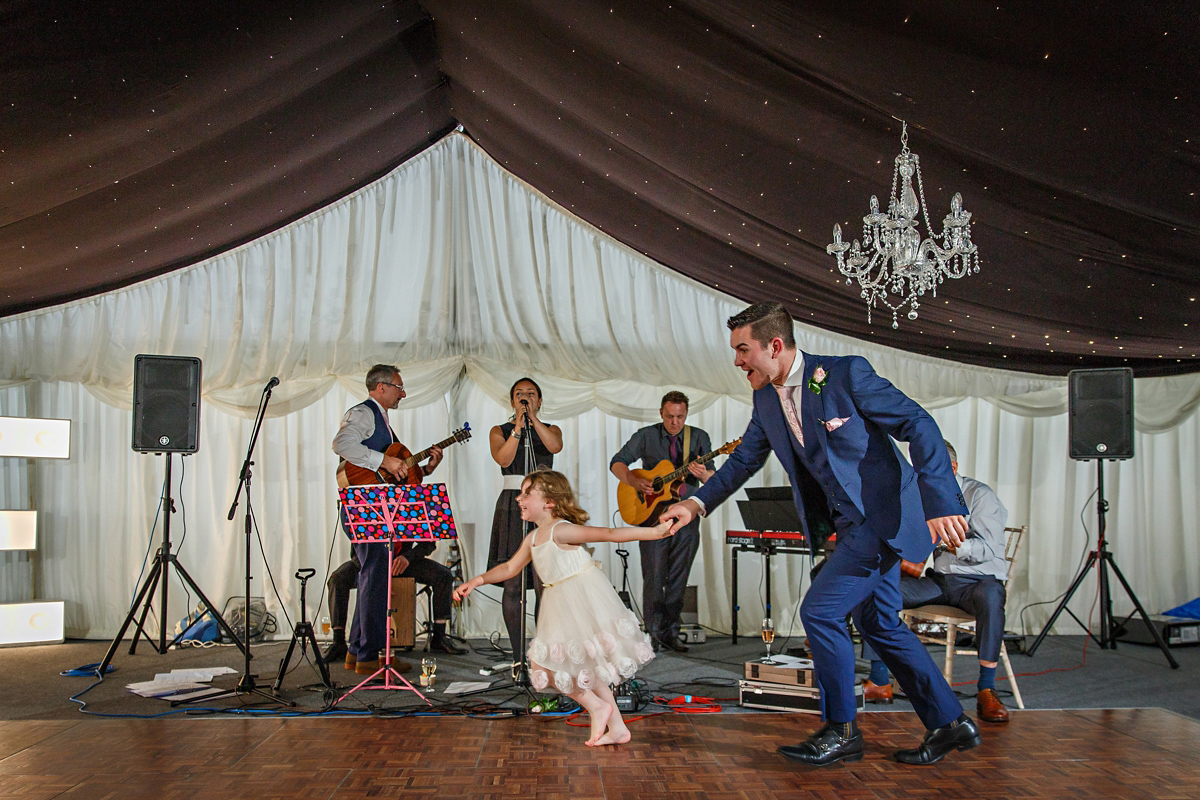 Words of Wedded Wisdom
"I am so happy that we went ahead and got a videographer. I love our photographs, but still images do not bring back the emotions of the day as vividly as watching a moving video. It was mainly due to speaking to other brides on the private Love My Dress Facebook group that we went ahead and booked one. I am very thankful to all members of the group for their fantastic advice. The videographer was definitely a part of the wedding budget well spent!
Please try not to get too stressed and really enjoy the run up to the day and look after your wellbeing. I felt very tired in the week before my wedding and wish I hadn't worried so much as in hindsight everything worked out perfectly on the day.
Be aware that you may feel a bit deflated after the day. The day goes so quickly, so enjoy every second. It is a good idea to have lots of nice things to look forward to after the wedding with your husband/ friends/ family and you may even want to start a new hobby with all the spare time you will have after you've finished wedding planning!
Being married is absolutely wonderful and it really does feel very different from being engaged. Getting married is only the beginning of a couple's journey – there is a lot to look forward to in life and I have honestly never felt so happy."
Such wise words lovely Emily! I've just adored sharing your delightful wedding and am certain you've inspired brides-to-be with your gown choice, pastel colours and romantic rose touches. I wish you and Ciernan a beautiful future ahead. A special thank you also to Chris for capturing such happy snaps of the couple's big day and all the very wonderful moments.
And if you've taken a fancy to Emily's divine dress, be sure to bookmark this link for more stylish Jenny Packham inspo.
Love Jo -x-