Hello lovelies, so, as longer term readers will know, we recruited a team of real blogging brides to document their wedding journeys for Love My Dress – a gang of lovely girls we affectionately labelled 'the Lovettes'. It's been a little while since we shared any of our Lovettes features, and several of them are married now, but today gives me pleasure to share the last of our bride to be Clare Casey's wedding planning thoughts. I say 'bride to be' – Clare is now actually married and this feature was written back in late July, so we'll be sharing her actual wedding very soon! We'll also be putting a call out soon for a new group of 5 new Lovettes to share their wedding planning adventures with us. For the time being, let's find out what Clare learned in the 18 months she spent planning her own wedding day. Love Annabel x
_________________________________
Every day's a school day: What I've learnt about weddings and myself over the past 18 months
So here I am, my last Love My Dress update for you before becoming Mrs H (note to self: decide on a new autograph!). And with just under two weeks to go till W-day, I am surprised to discover that I'm feeling much calmer than I expected to be.
Knowing that I am somewhat partial to succumbing to bouts of anxiety, my stress levels have been a bit of a concern for me from the word go. My mum has reminded me throughout wedding planning to not spend the majority of what should be a fun and exciting time bogged down with unnecessary self-induced worry. Jonny refers to me as a bit of a spiralizer (and not just because I'm constantly feeding him courgetti as part of our health kick!) – one little piece of bad news and I'm away, thinking up every possibly knock on negative impact that could potentially make the situation that bit worse.
I wouldn't say we have had the most stress-free of wedding planning experiences. Over the course of the last 18 months, we have moved house and gone through all the property chain delightfulness that comes with it, skin outbreaks from Satan, damaged knees and hospital trips, and of course: the mother of all wedding stresses: our wedding venue disaster extravaganza (you can read all about that chestnut here). And yet here I am, still smiling with my 'as-close-to-zen-like-state-you-can-expect-whilst-being-a-control-freak' state, which may be as a result of some of the discoveries I have made about wedding planning over the last 19 months.
So, what have I discovered about weddings, and myself, along the way?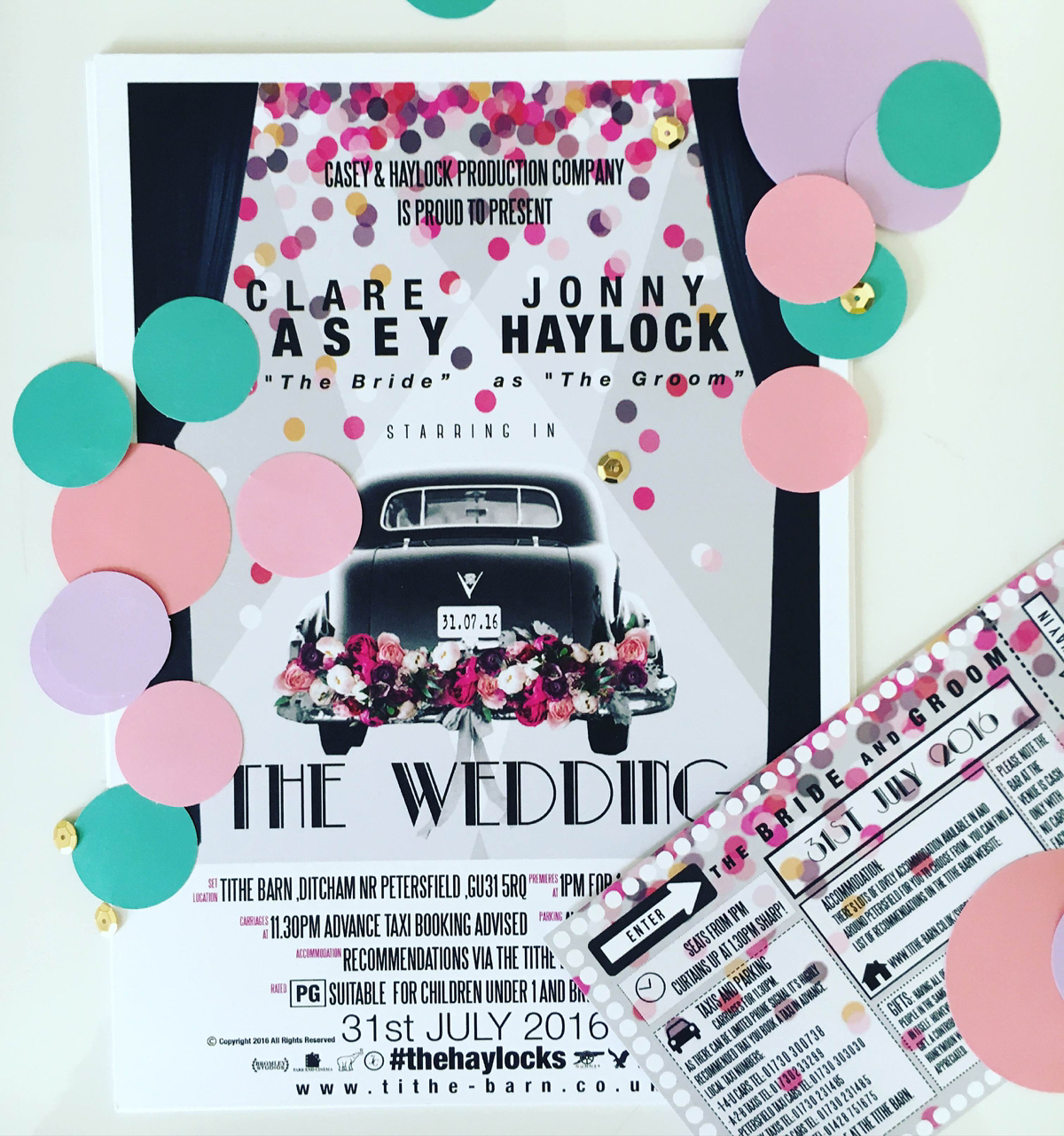 1. You don't have to do anything you don't want to
No order of service handouts? So what?! Outside of all the legal marriage requirements, if you don't feel it's benefiting your day, then it doesn't deserve the headache. You already have enough to think about. Spend that time thinking about the important or fun things that when you picture it on the day, make you smile.
One of my best friend's Tahmina is testament to how this mentality totally wins. Back in May I was very honoured to be one of her bridesmaids at her wonderful seaside wedding in Whitstable, where she and her new hubby lobbed tradition out the window, and stuck to the things that are most important to them: skulls, heavy metal, tattoos, and Jagermeister. And holy moly it was an absolute ball. (I've included some of her photos for you to see for yourself!).
One of the most commonly given pieces of advice I have been given by married couples is you can't please everyone, so don't try to. Focus on what makes you happy, and your loved ones will be happy.
2. The priorities for your wedding may change
Losing our original wedding venue fiasco was a massive reality check for us. I've found the experience left me far less fazed about a number of the little things, and as a result have spent far less time sweating the small stuff.
It's been really refreshing to get things ticked off the list and make decisions with my gut, rather than deliberating every single little decision for weeks beforehand.
Having the indecisive burden lifted has really helped me to enjoy the last few months and focus on the important bit – that whole marriage malarkey.
3. Worried about badly behaved skin on your big day? Go and see a specialist well in advance to your wedding
I am unfortunately oh-too-familiar with hormonal breakouts. It can be sore, unpredictable, and difficult to manage particularly during times of stress (and stress being the cruel bit*h that she is just fuels it!).
Turns out, I am definitely not alone. Skin specialists are finding cases of adult acne and skin complaints are increasing in women of all ages, linked as a result of today's stressful lifestyle.
The longer you can give yourself to get on top of this one, the better. Whether it be seeing your GP and trying out a course of mild antibiotics, or booking yourself in for a spell of regular specialist facials, then go for it. Six months of a bit of both have worked a treat for my mug. It's lovely for the first time in years not to have to worry about masking my face, and is a bit of a surprising confidence boost.
4. Learn to let go of the wedding reigns at times – and enjoy it!
Turns out I am marrying the absolute wedding task don, who rather than allow himself to get stressed by all the stuff that us mere mortals generally get bogged down by, he actually THRIVES on this kind of shizzle. He deemed table planning to be – and I quote – 'a fun and easy task'.
Left to me, I would have been in a foetal position sobbing 15 minutes in due to the pressure of keeping 113 people happy. Spreadsheets *genuinely* float his boat (slightly concerning, yes), and coordinating masses of printing for the day is nothing more than a fun, lightweight challenge. I bow down to you and your OCD-driven Wedmin skills you loveable, weird man.
5. Book in some none-wedding related days for you and your partner for the months leading up to the wedding.
Date nights, a trip to the zoo, a walk – anything. When you start to feel a bit of W-Day overkill and burnout looms, make sure you keep connected to the real world. The handcrafted favours can wait, dammit – get yourself down the pub for a bit!
So that's it from me, folks. If anyone with a spare minute on their hands could do me a little sun dance, that would greatly appreciated (although brollies are stocked and raring to go!).
It has been so lovely been part of the Lovettes community – thank you so much to Annabel and her wonderful team. I am officially a fully-fledged wedding addict so will most certainly continue to look forward to regular updates of wedding gorgeousness on the blog.
Miss Casey Out! *Drops mike*
x
_____________
Clare and Jonny actually tied the knot on Friday 29th July 2016. The wonderful McKinley Rodgers, who are members of our Little Book For Brides, took their photographs.  We'll be inviting Clare to share one further 'wedding day reflections' post with you and also look forward to sharing her wedding with you in the near future too. In the meantime, you can read Clare's previous posts for Love My Dress here.