Good morning my loves, how are you today? As we find ourselves at the halfway through the week point, I'm looking forward to the weekend already and an opportunity to curl up on the sofa with a book and blanket. The weather out there today looks grim and the radio just announced it's only going to get wetter and colder – time to cosy up in those Autumn knits and thick socks. And suddenly, Christmas doesn't feel like such a preposterous idea. It might be time to start that shopping!
This lovely wedding I'm sharing on our wedding blog this morning features bride Omie, a part-time charity worker and bridal makeup artist and her love Michael, who tied the knot on 10th September this year at the Ironbridge Gorge Museum. Their wedding was a laid back and relaxed celebration infused with a sense 1960's chic style, thanks to Omie's love of the fashions of that era. Huge thanks to photographer Charlotte of Indie Love for sharing these images. I'm also thrilled to see that Omie found her dress from our Little Book For Brides member, and original vintage wedding dress supplier, Heavenly Vintage Brides.
"I have always been in love with the 1960's, from the fashion, the hairstyles to the music and films. I have always loved Mia Farrow's pixie crop and loved the wedding dress she wore when she married Frank Sinatra. I knew that I wanted a short dress with clean lines and a shift shape. We both wanted the wedding to be quite relaxed and I think this was reflected in us choosing suppliers we could rely on to do a great job, giving them autonomy to draw upon their own creative flare and ideas."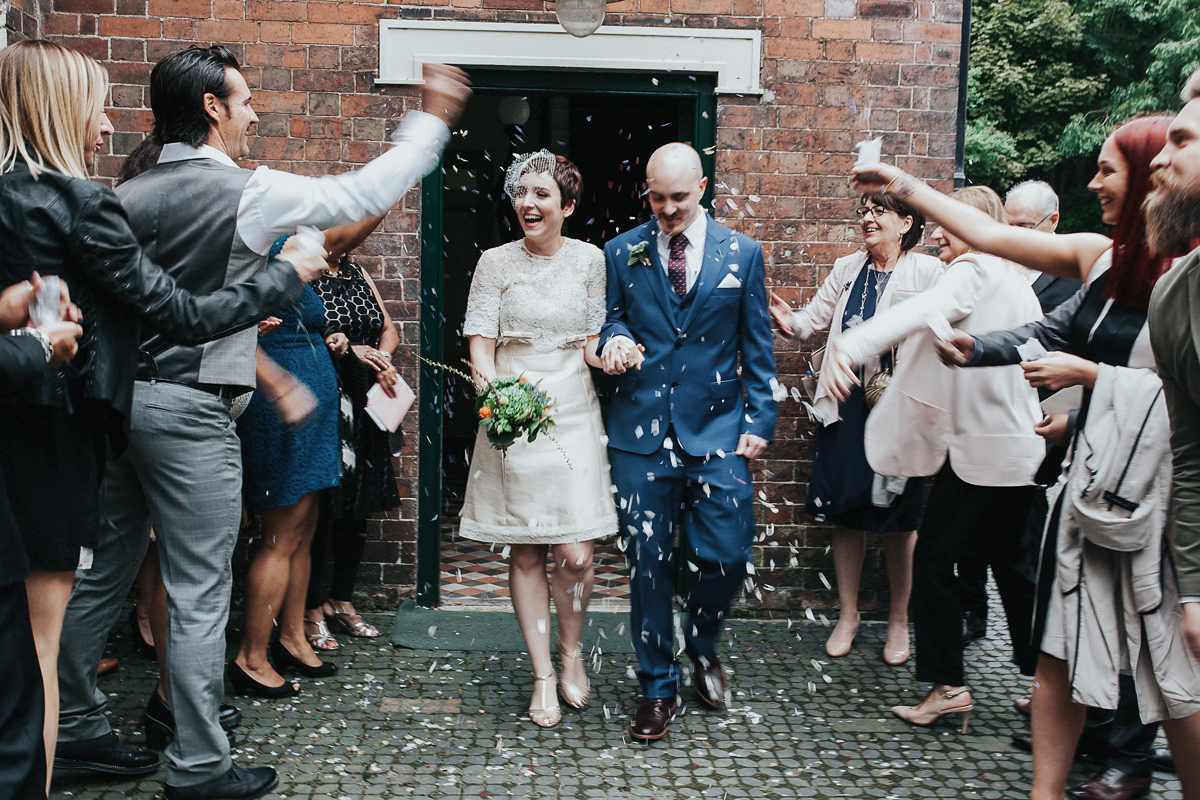 "Helena, the owner of Heavenly Vintage Brides, did a wonderful job helping me choose the right dress. I must have tried on several dresses from various decades and travelled down to London a few times to meet with Helena to discuss ideas before finally finding my little dress. Helena made me feel so welcome and at ease and took time to understand what I liked and didn't like. She is also one very stylish lady!"
"I loved everything about my dress, the beautiful colour which Helena described as champagne. I loved the cut and the shape and the simplicity of the actual dress which is made special by the lace jacket. I liked that it was stylish and classic and most of all that it really reflected my personal style and everything I love about the 1960's. From when I purchased the dress I had gained weight so my dress had to be altered a couple of times."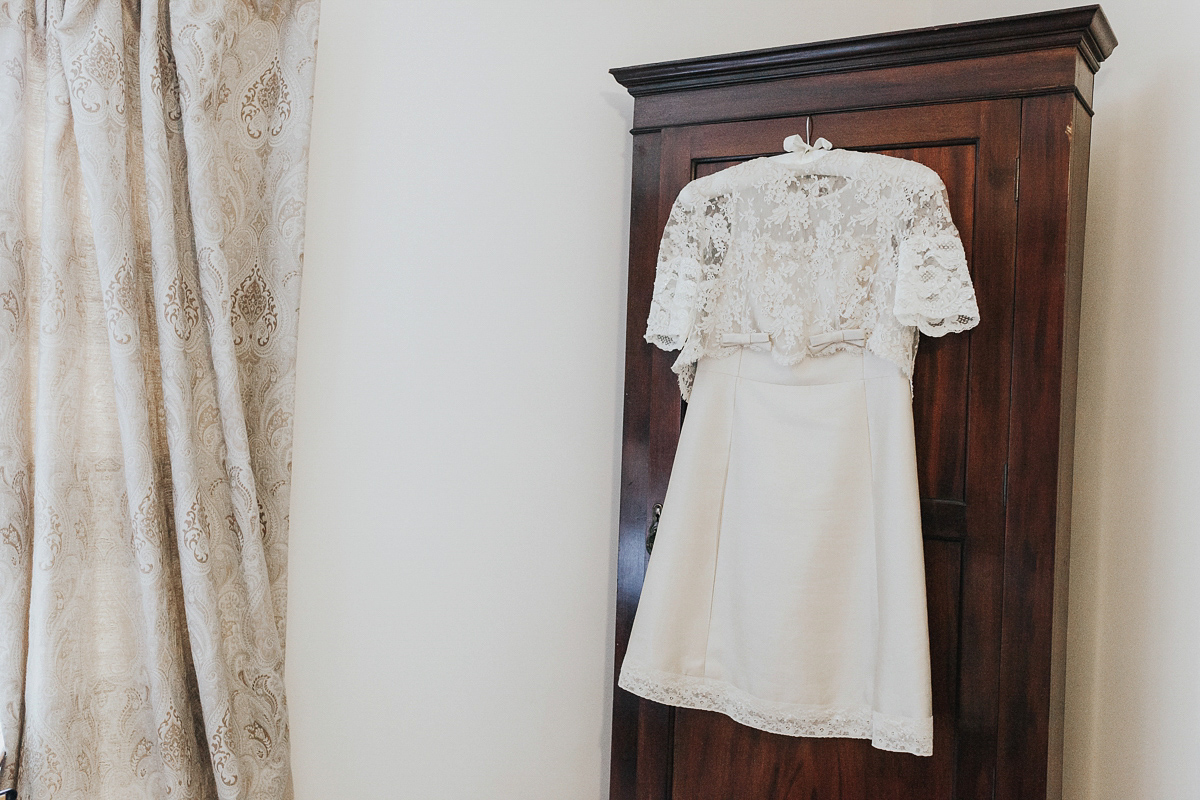 'Helena works with a very talented seamstress, Grace Lamming, who not only altered the dress but also added details to the dress such as making the sleeves on the jacket longer, adding beading to the hem and also adding beautiful glass shell buttons to the back of the jacket where there had been an old zip.
I loved how simple the dress was but close up it was full of detail and depth. I loved the idea that the dress had a history and it belonged to someone else before it reached me. That in itself is romantic."
"I did my own make-up; I work as a bridal make-up artist under my own name, so it made sense for me to do my own make-up on the wedding day. I wanted my make-up to be natural and polished and accentuate my eyes so I opted for a soft smoky eye.
As my hair is so short I had it trimmed and coloured a couple of weeks before the wedding and styled it myself on the day of the wedding. I love Vidal Sassoon and the famous scene in Rosemary's Baby where Mia Farrow shows off her new cropped hair."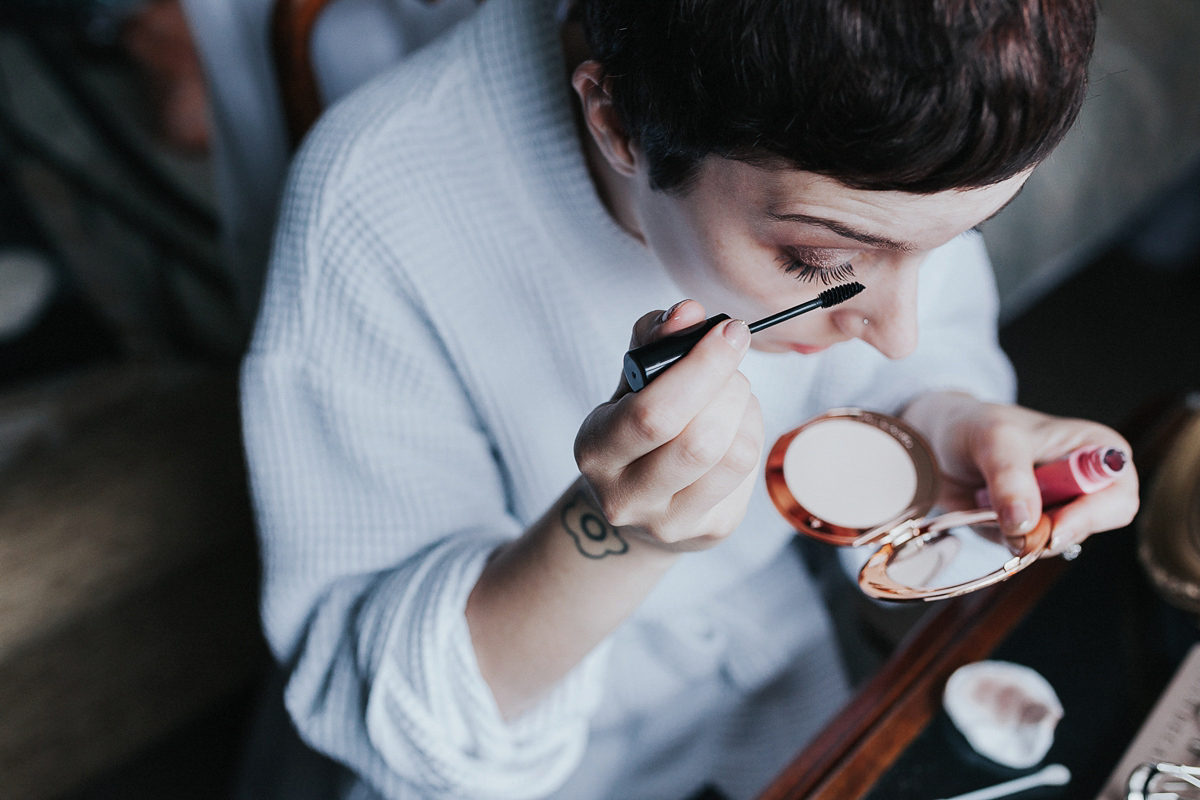 "I didn't wear any jewellery on the day apart from my engagement ring. I borrowed a beautiful beaded vintage bag from Charlotte, our photographer which was such a lovely touch. The seamstress, Grace, had also sewn a small blue ribbon on the inside of my dress as my something blue. My something old was the dress itself."
"My day to day perfume is Boudoir by Vivienne Westwood but before the wedding Michael treated me to this beautiful new perfume from Jo Malone (Peony and blush suede). The scent is so feminine and beautiful; it will always remind me of our wedding day."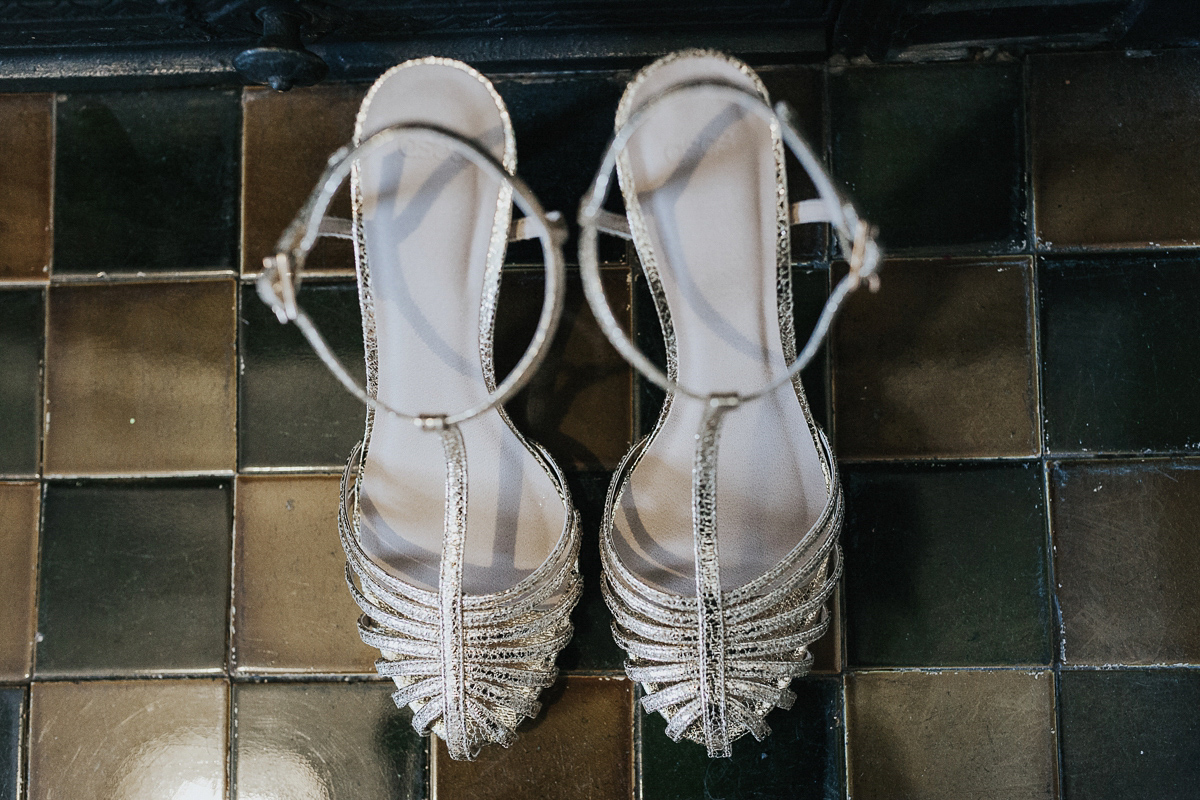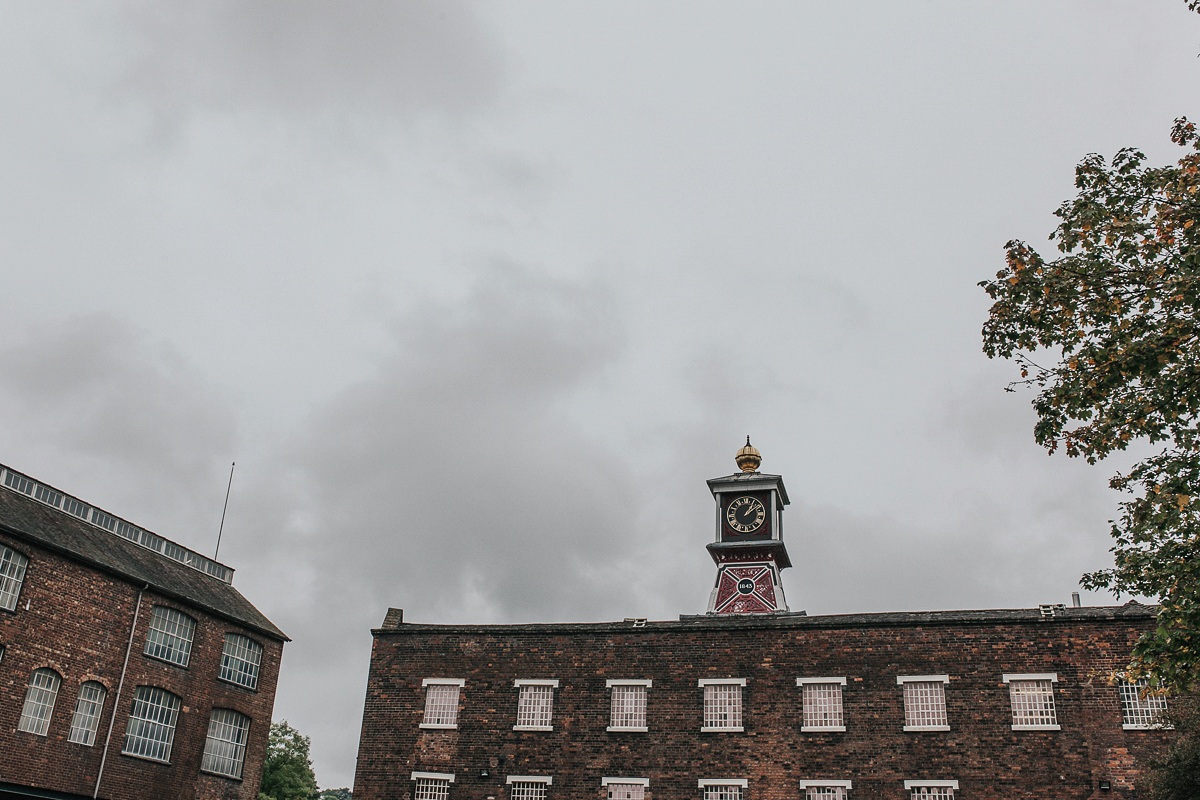 "Michael's suit was from Paul Costelloe, he was drawn to the colour and cut of the suit. His shoes were from Aldo."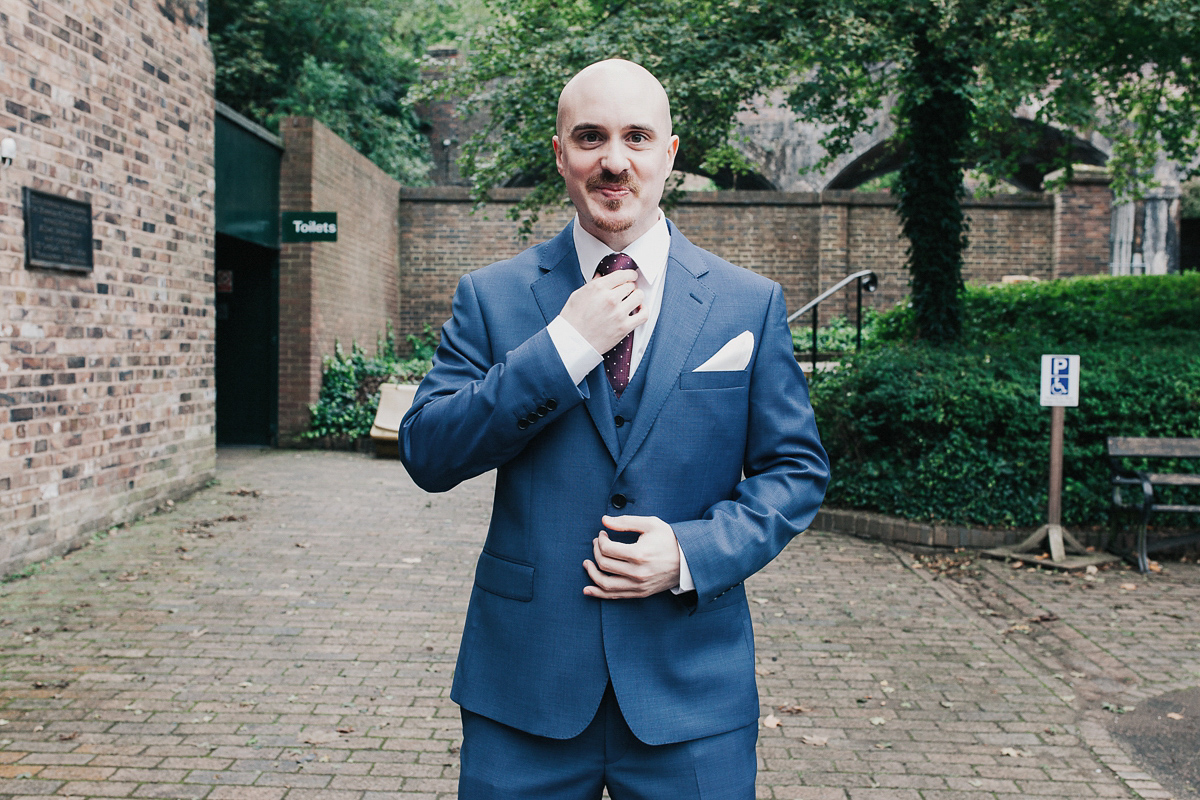 "I met Michael on a night out in my hometown. I wasn't looking for a relationship and meeting him came right out of the blue. We got on well right away, he made me laugh and I liked that we were and are completely different personalities yet we complement each other and get on so well. Michael proposed on Christmas day 4 years ago in 2012 and again, it came right out of the blue."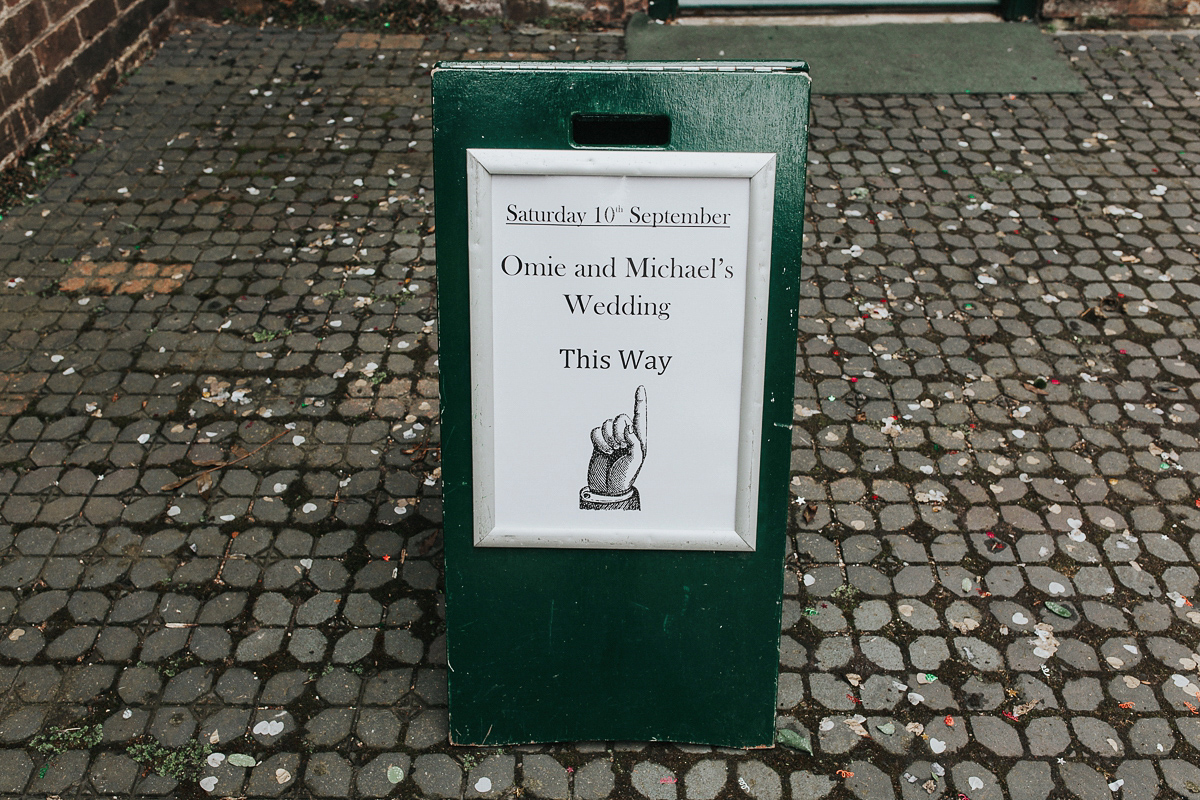 "I wasn't expecting it and was very shocked. I found out after he had asked my dad for his permission and gave me the most beautiful 1930's engagement ring. I was honestly so shocked and happy. We took our time planning our wedding because we had been doing things in our house, we changed our minds on the date twice but eventually arranged it for September 2016."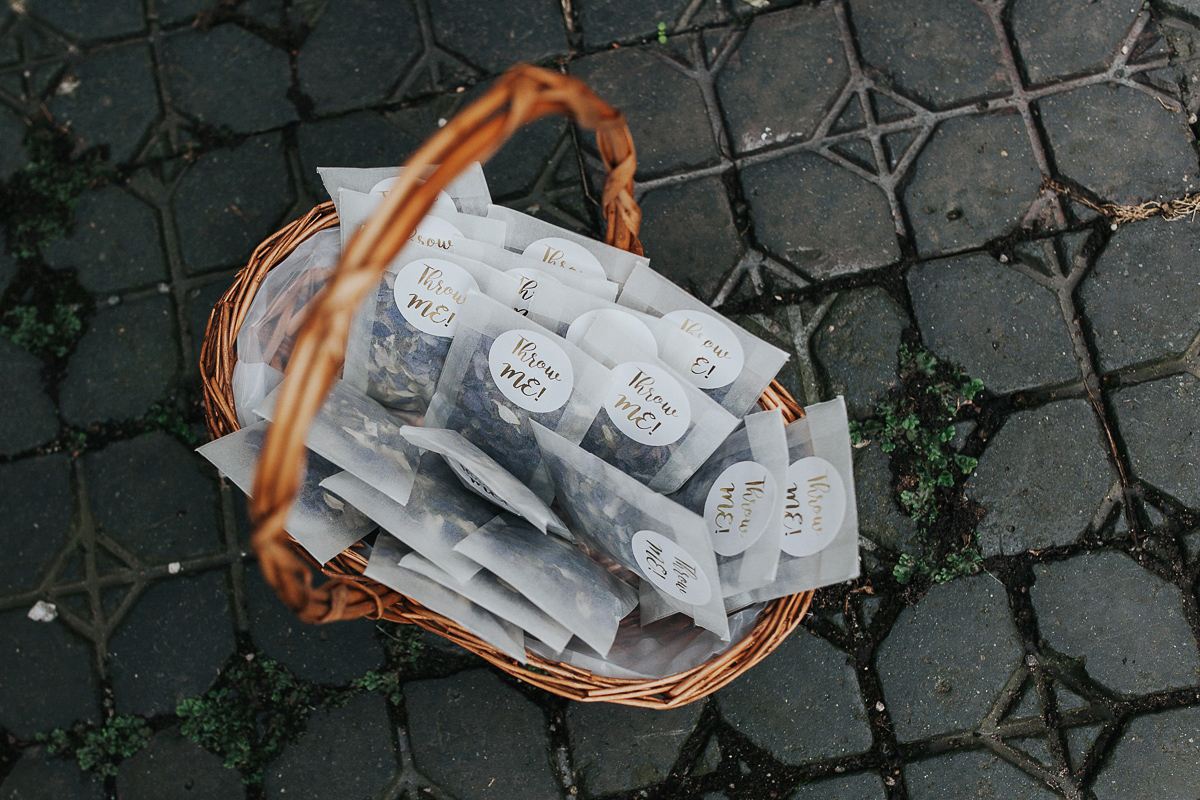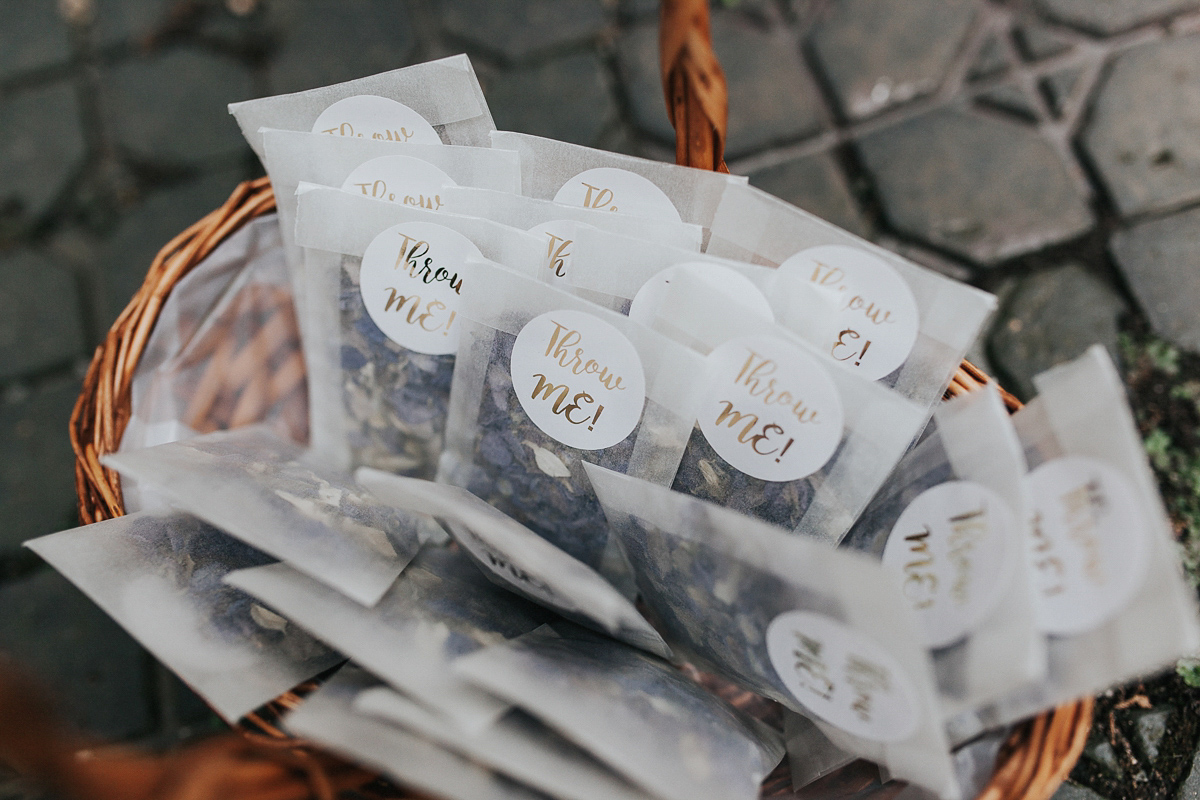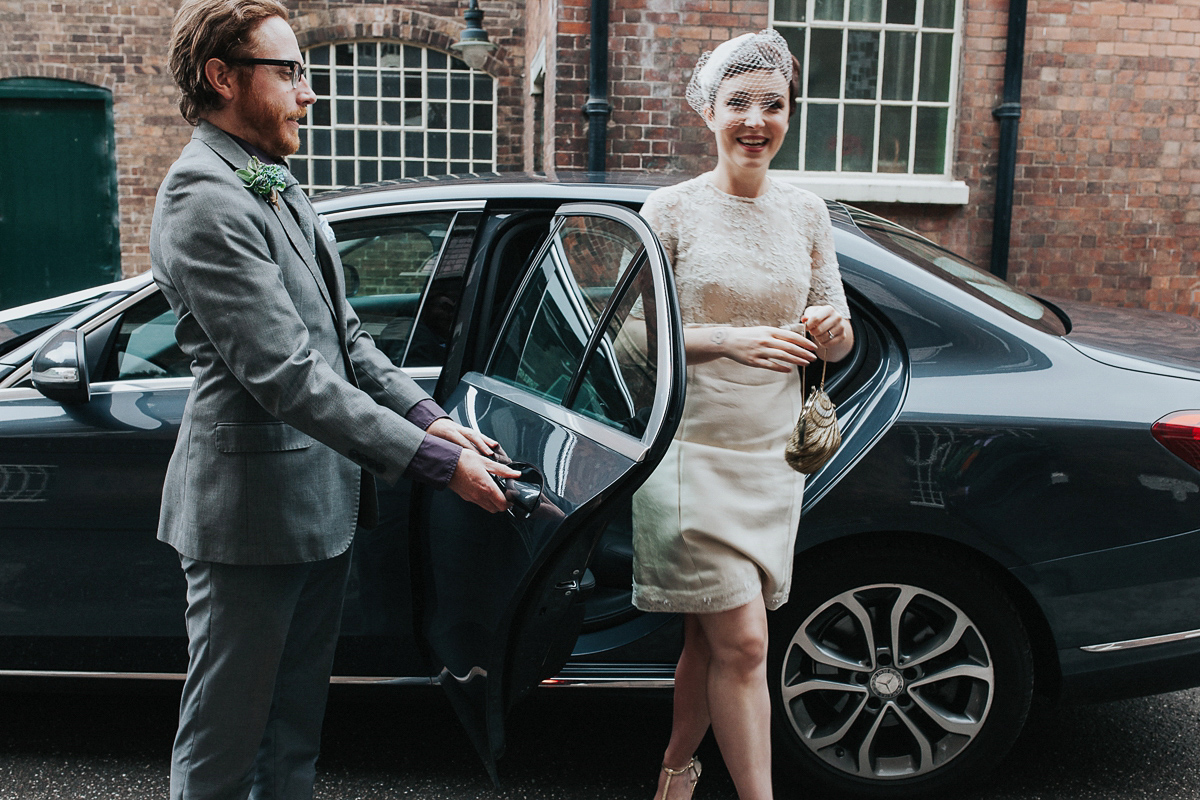 "I wasn't sure if I wanted to wear a veil at first because the dress was so simple and delicate but I am also glad I did!"
"Grace, my seamstress, designed and made me a beautiful tear drop head piece with a detachable bird cage veil. It complemented the dress and whole look perfectly."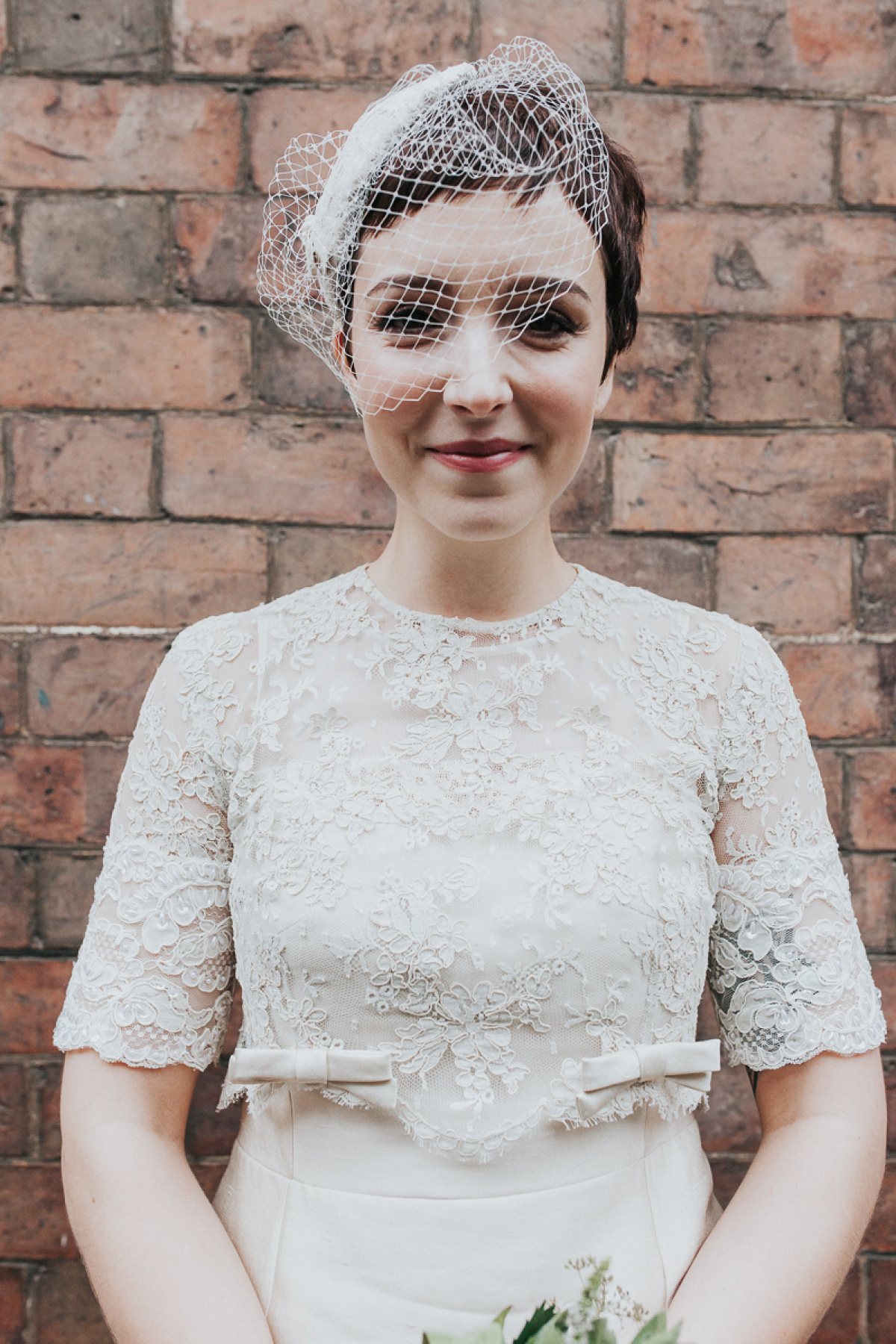 "Ruth from Festoon who did our venue décor also supplied all of the flowers. We met with Ruth before the big day and shared our ideas but told Ruth to do what she wanted. I trusted Ruth and knew she would do a brilliant job. Ruth took time to understand what we liked and I felt comfortable letting her do what she does best which is creating beautiful décor and flowers. My bouquet was beautiful and contained mint and herbs which smelt lovely. I love essential oils and natural scents so this was a perfect touch in the flowers."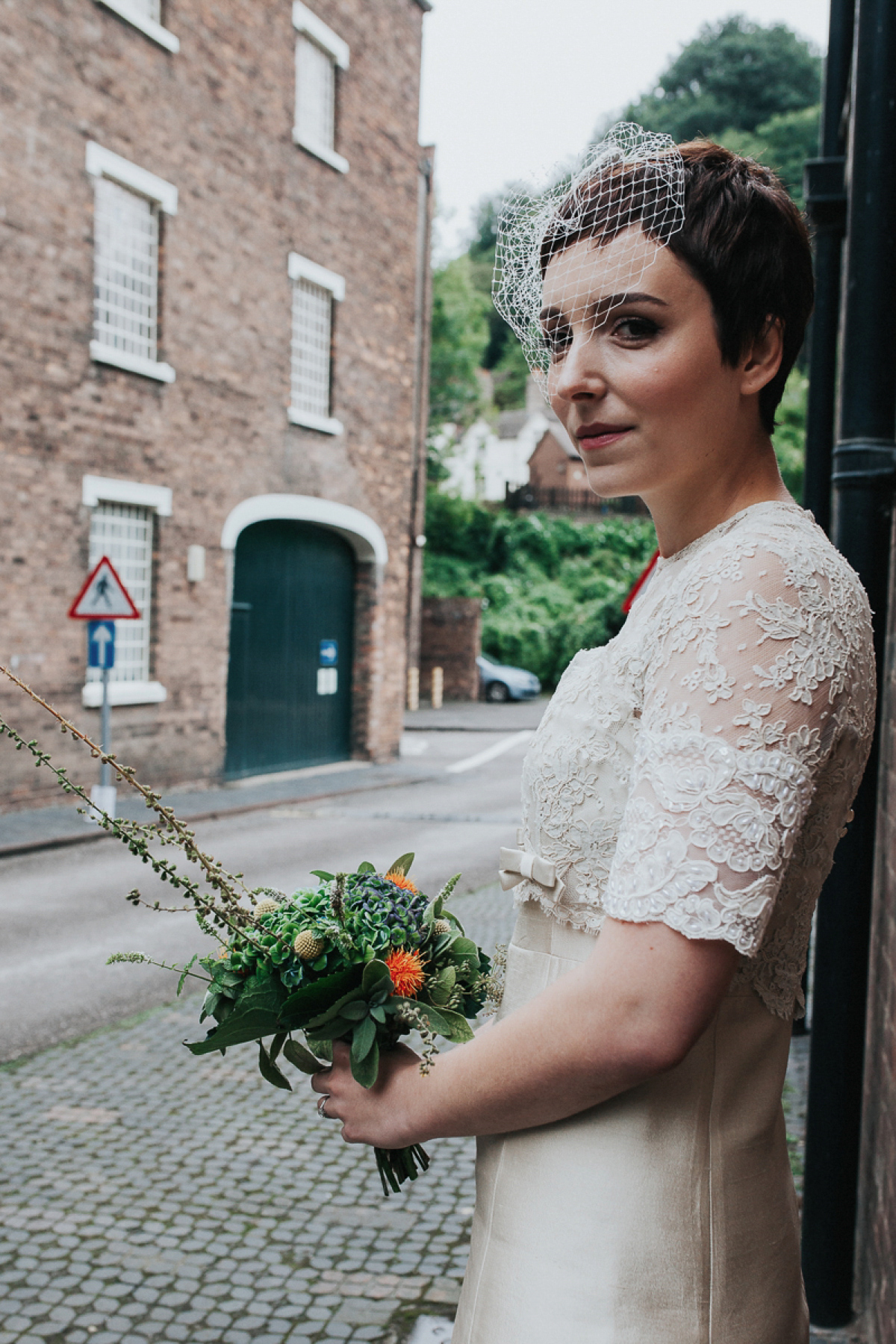 "My dad, Rod, and my brother, Jesse, walked me down the aisle. I had only planned to have my dad walk me down the aisle but I asked the registrar on the day if my brother could also accompany me and I'm so glad he was able to. I'm very proud of my brother. We were accompanied to the sound of 'Breathless' by Nick Cave and the Bad Seeds. Not long after we met, Michael made me a CD with various tracks on and this was one of them. I chose it to walk down the aisle because it reminds me of him and makes me smile when I hear it."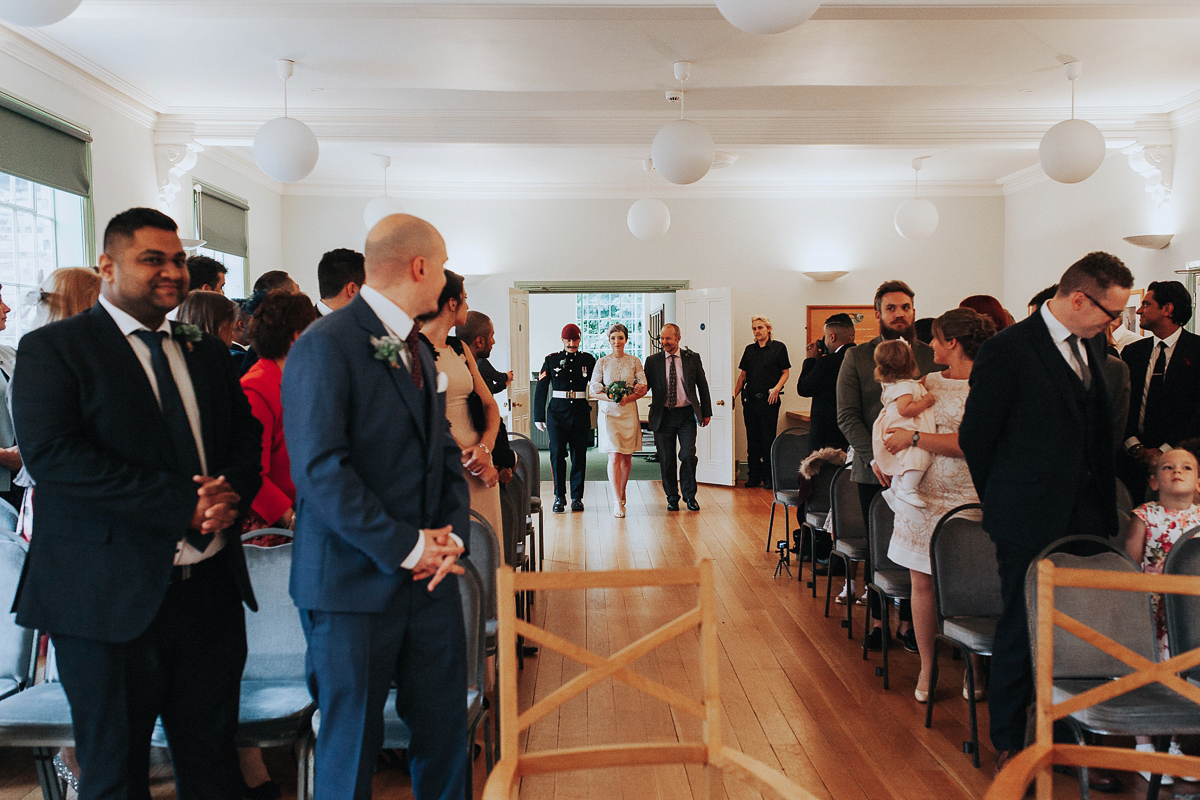 "My favourite part of the day was seeing Michael as I walked up the aisle. I felt so happy inside walking up to him with my dad and my brother at my side. Michaels favourite part of the day was seeing me during the wedding and also when we walked into the room where we were having the wedding breakfast. All of guests got up and were clapping and cheering. It was a lovely atmosphere, we both just felt so lucky and loved by each other and by all of our guests."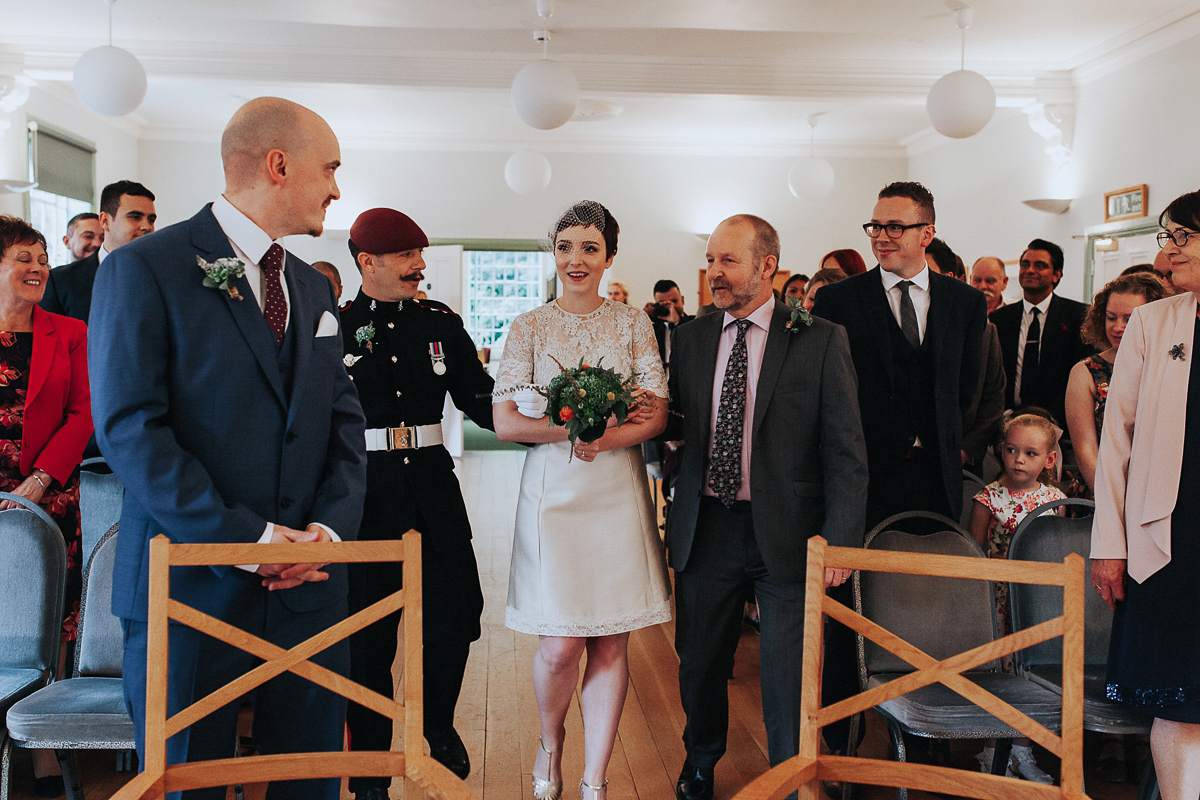 "We opted for the basic vow readings but requested the 'hand ceremony' which was offered by our registrar. We both liked that we held each other's hands while saying the words, it just felt really intimate and special. Our guests commented on how lovely it was, I think everyone felt the love in the room."
These are the hands of your best friend, full of love for you. They are the hands that will work alongside yours, as together you build your future. They will passionately love and cherish you through the years, for a lifetime of happiness. With the slightest touch these hands will comfort you like no other. They will wipe away the tears from your eyes, tears of sorrow and tears of joy. They will hold you when fear or grief fills your mind, giving you strength when you need it. Supporting and encouraging you to fulfil your dreams together.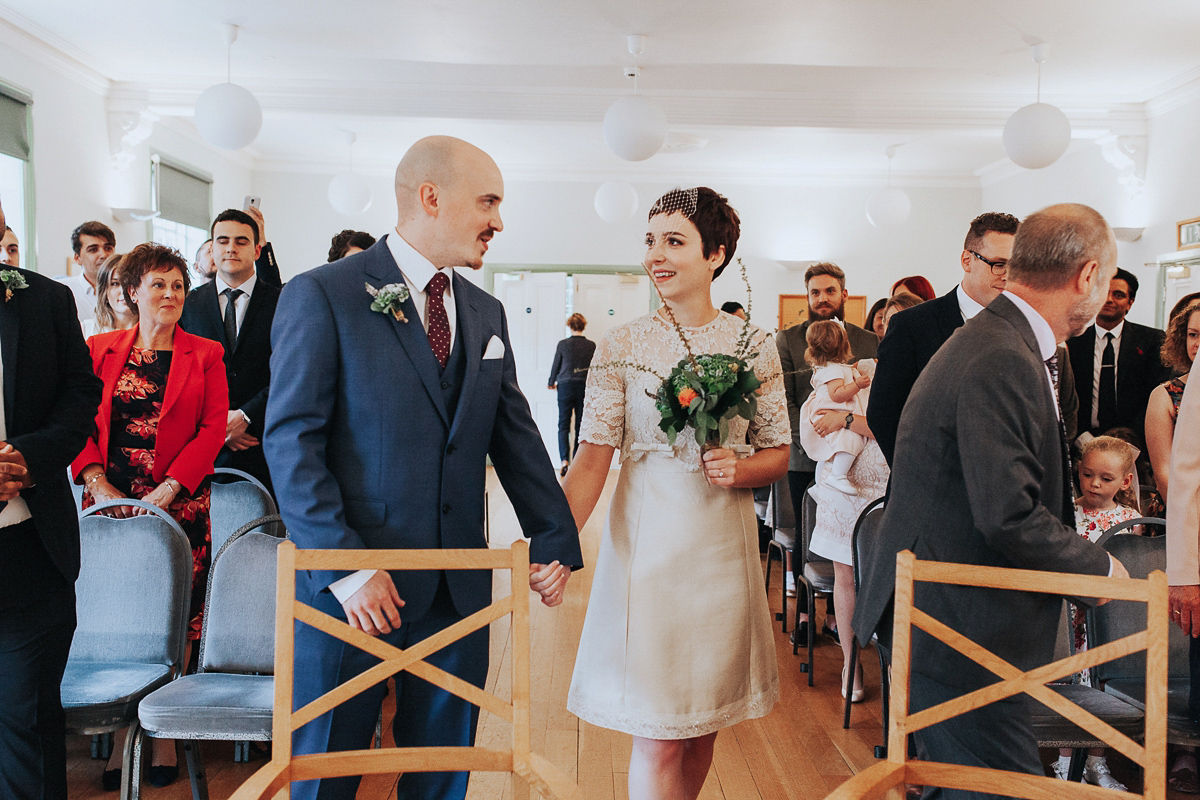 "We purchased our rings from Hockley's Jewellers in the jewellery quarter in Birmingham. We both wanted simple bands and both opted for platinum. Michael had his brushed which gave a more matte effect. The jewellers kindly engraved the inside of both rings with the date of our wedding as a special gift."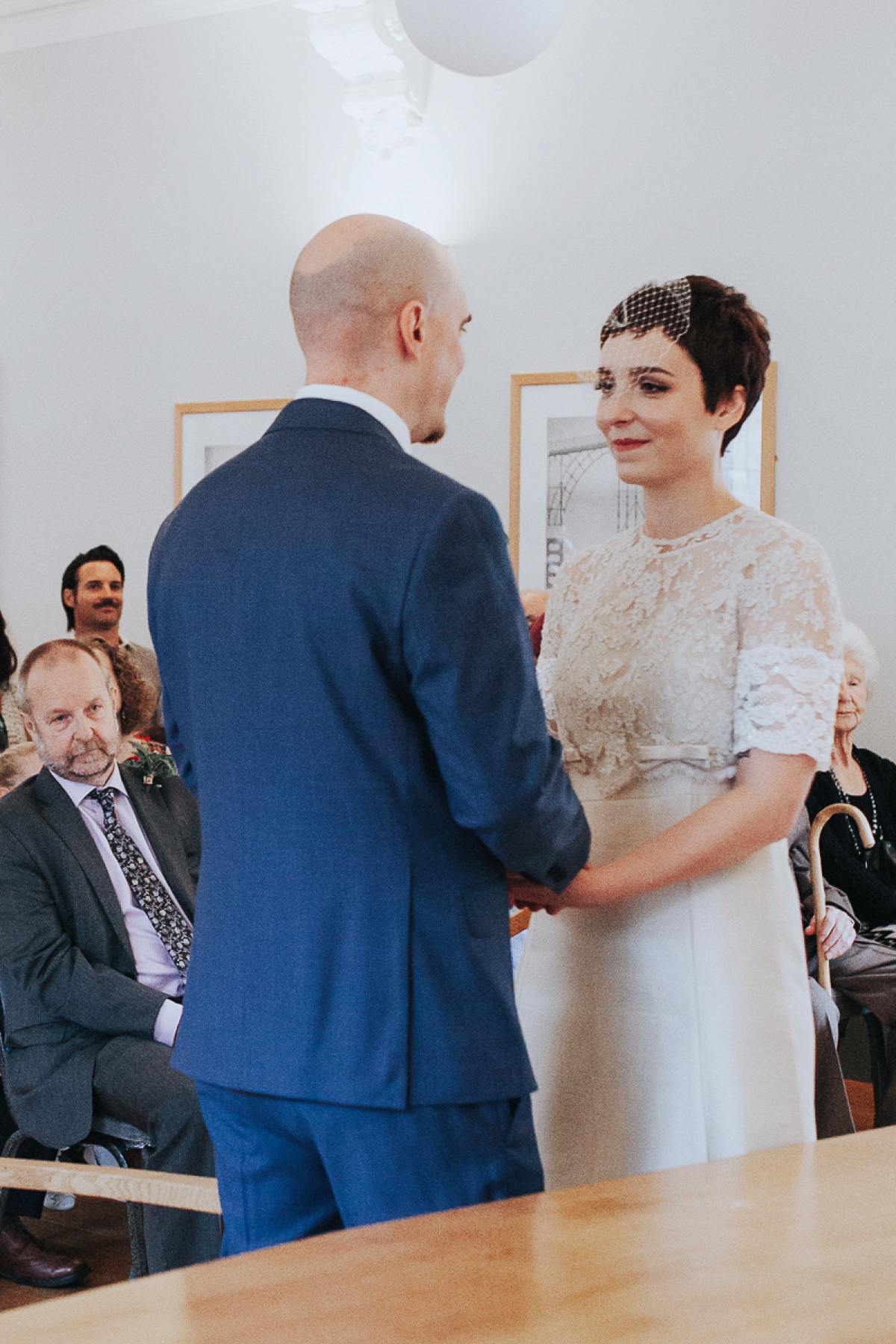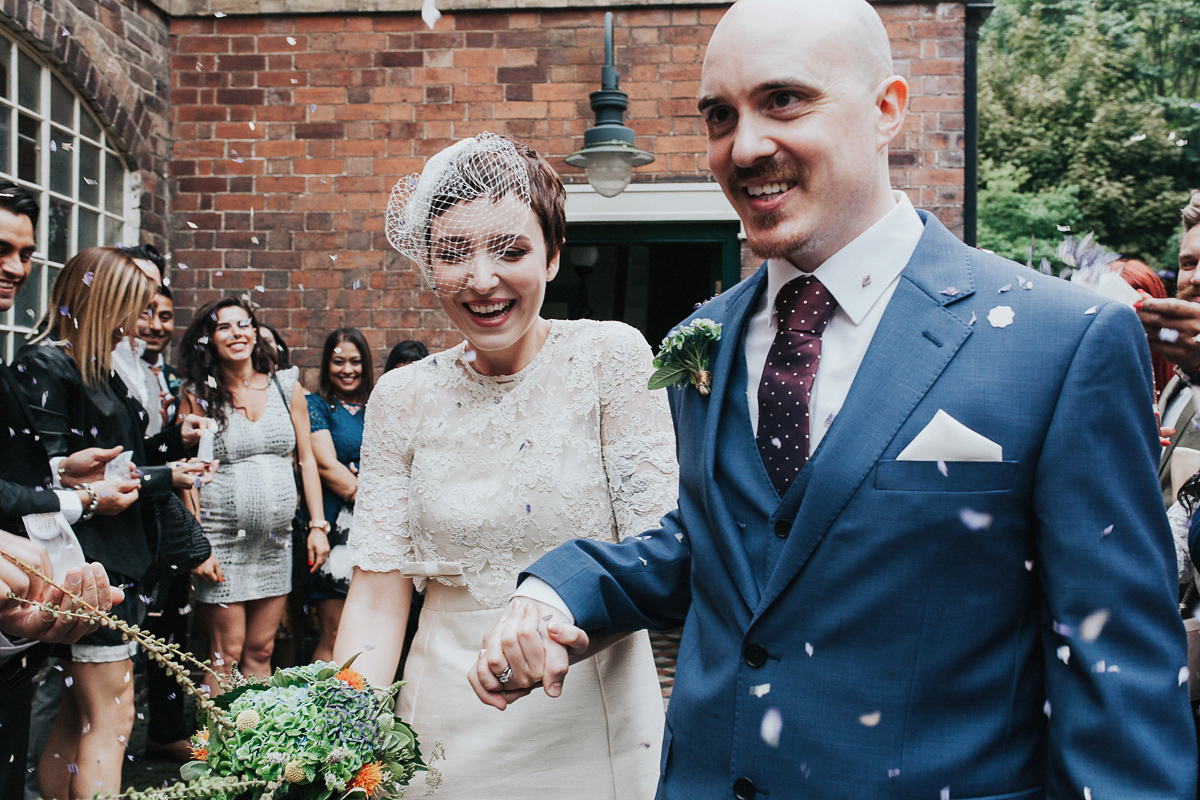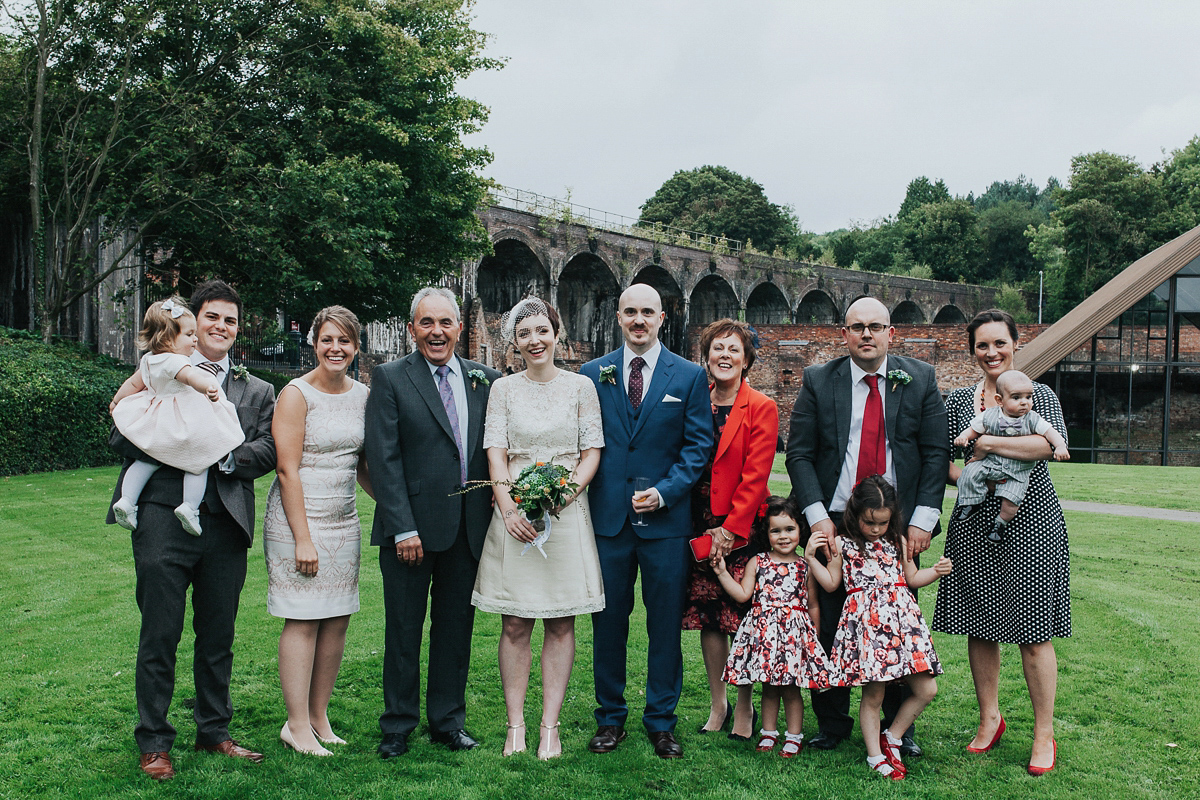 "Our photographer was Charlotte from Indie Love. I had met Charlotte previously at a wedding fair where she was exhibiting with her other company That Photo Booth Company."
"I was so happy when I found out Charlotte had branched out into wedding photography and Indie Love was born."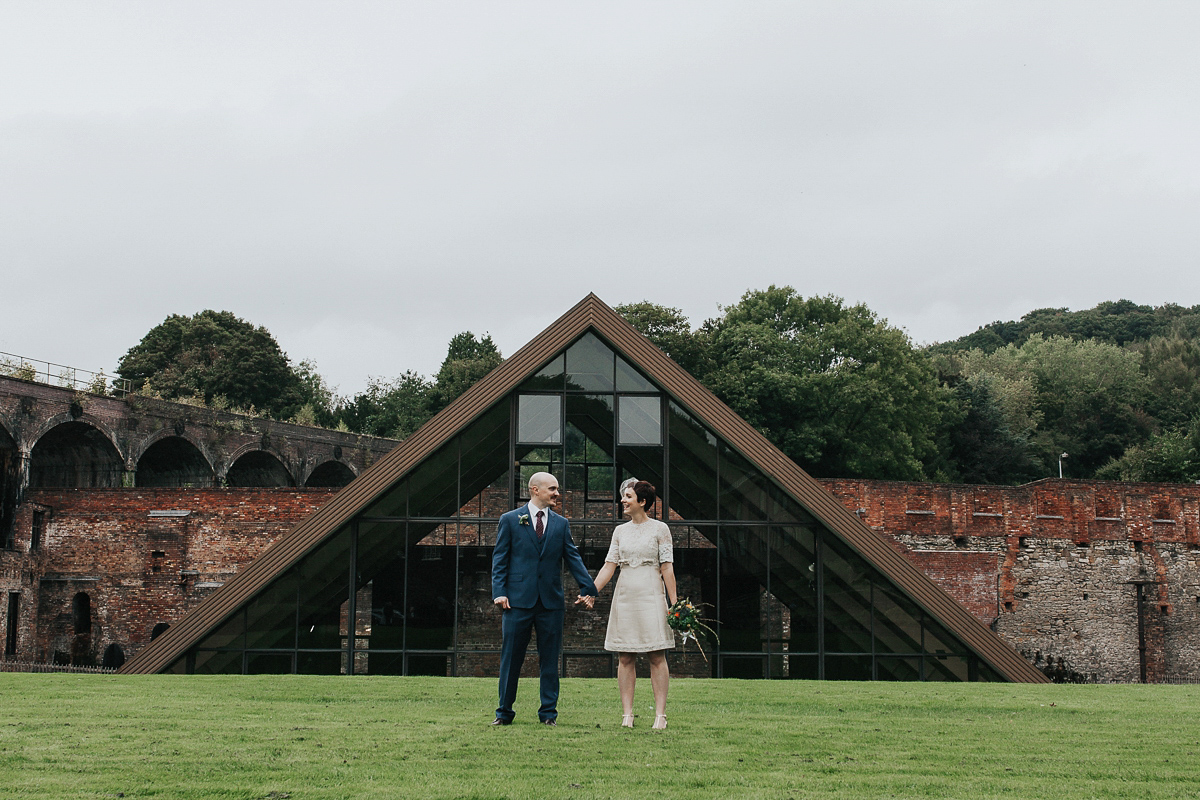 "I instantly loved her work, it has a relaxed, intimate feel and I think Charlotte captures aspects of couple's relationships really well. We also had a pre wedding photoshoot where Charlotte captured us laughing and I loved that because laughter is a big part of our relationship, we laugh a lot! On the day Charlotte was brilliant from start to finish, we are so happy we had her there with us to share and capture our special day."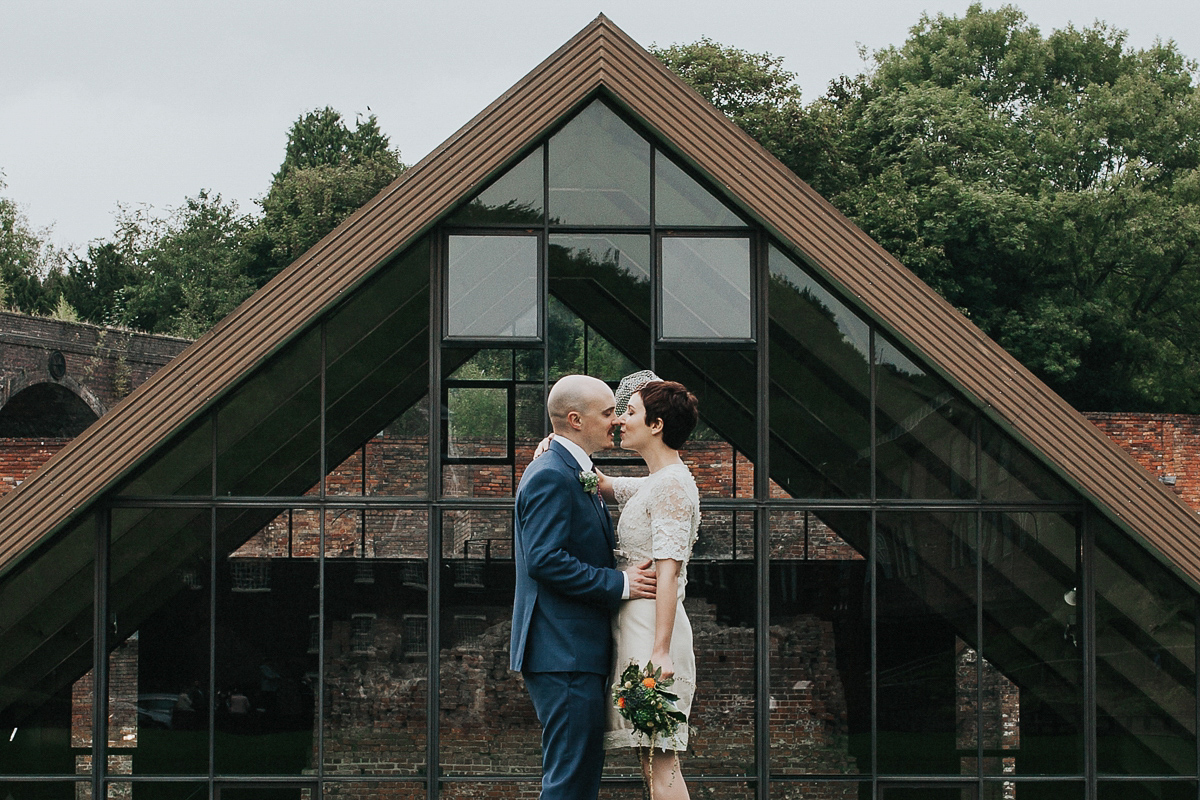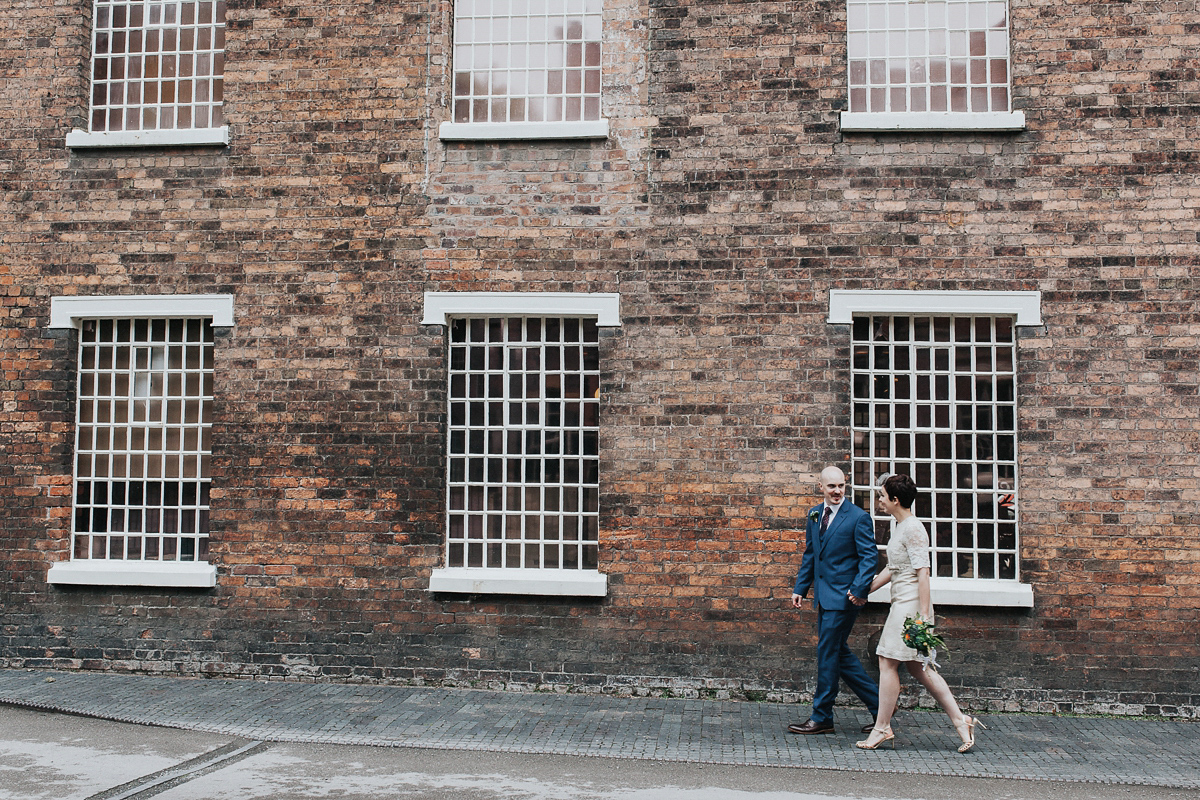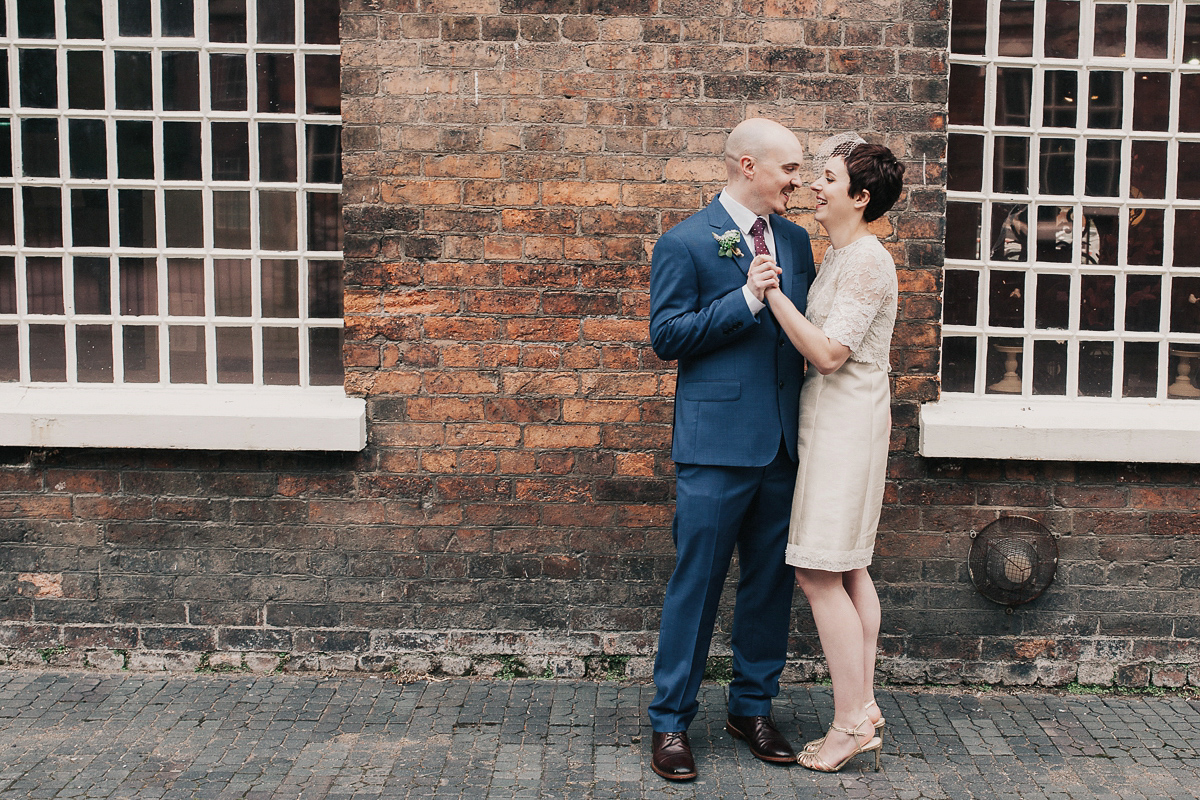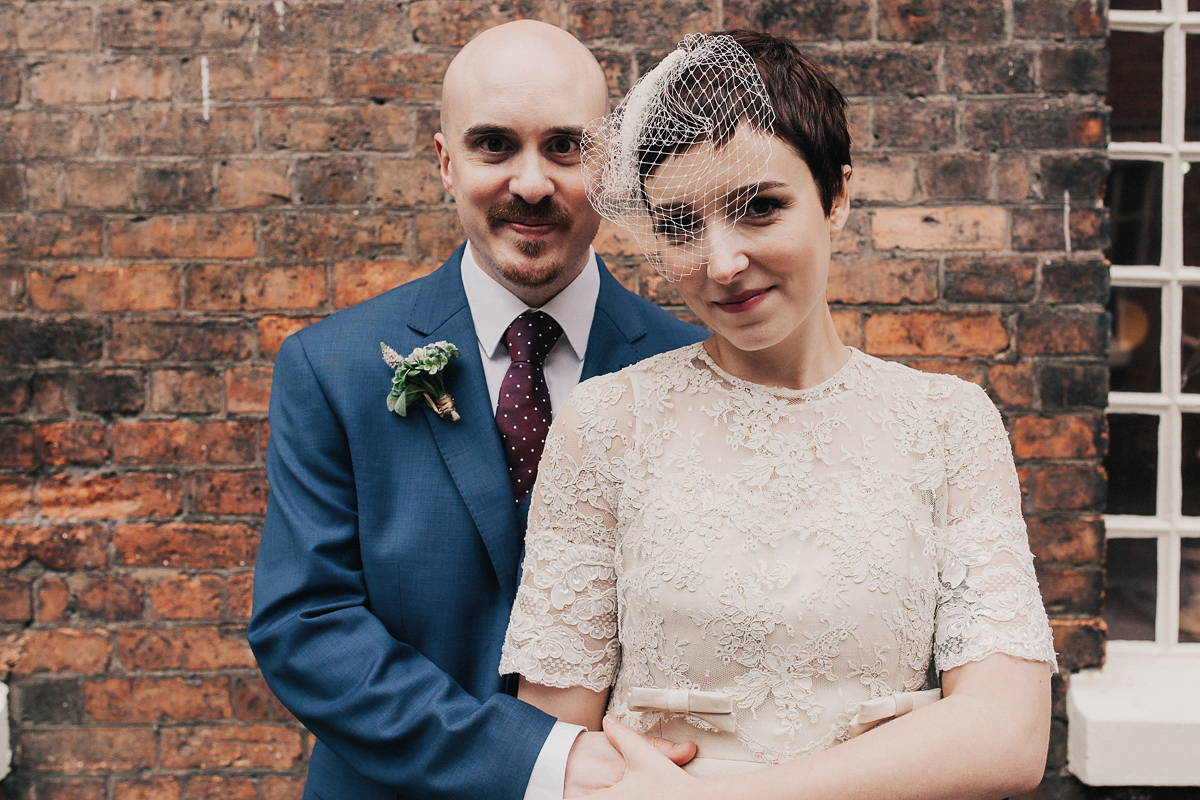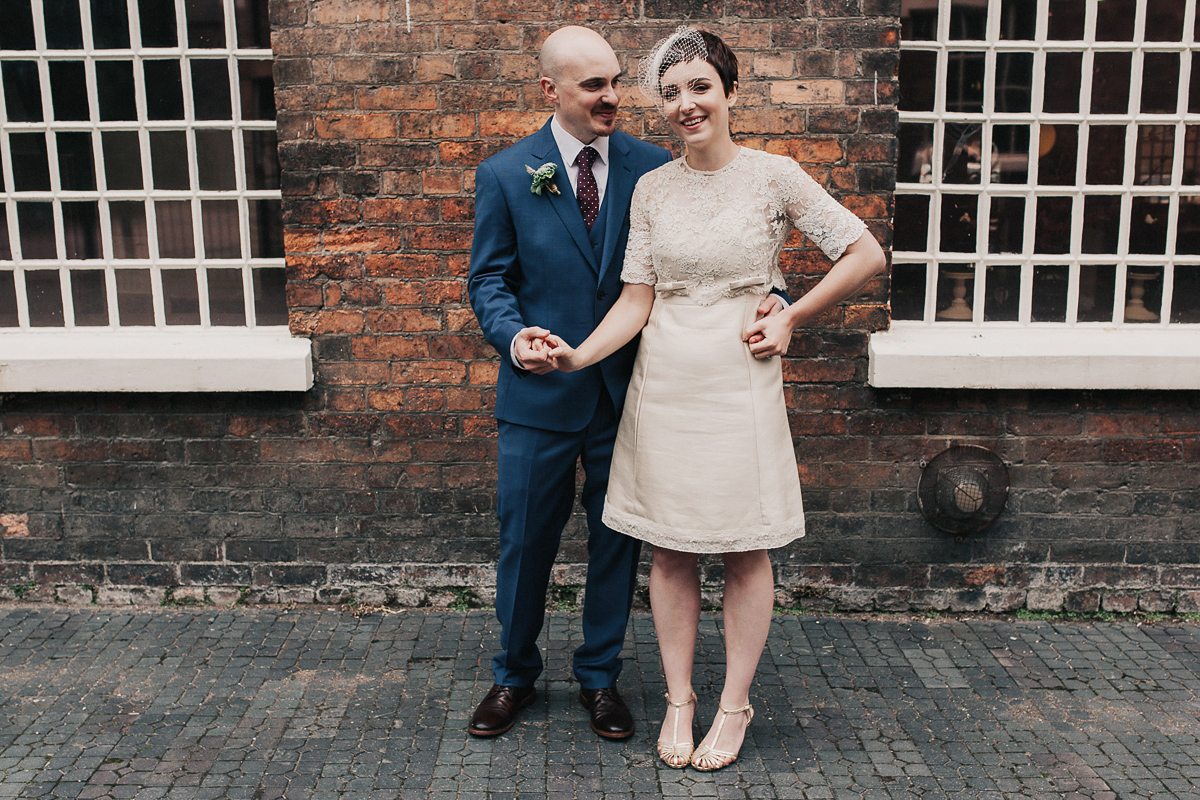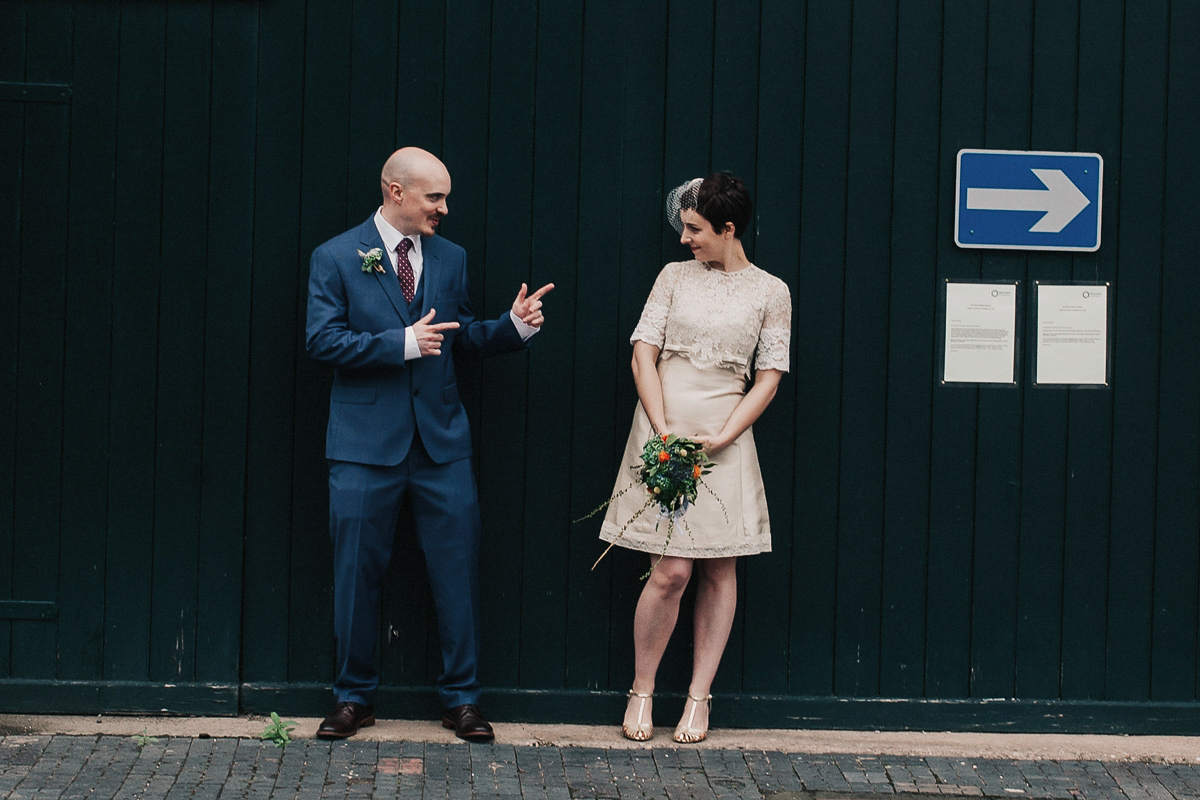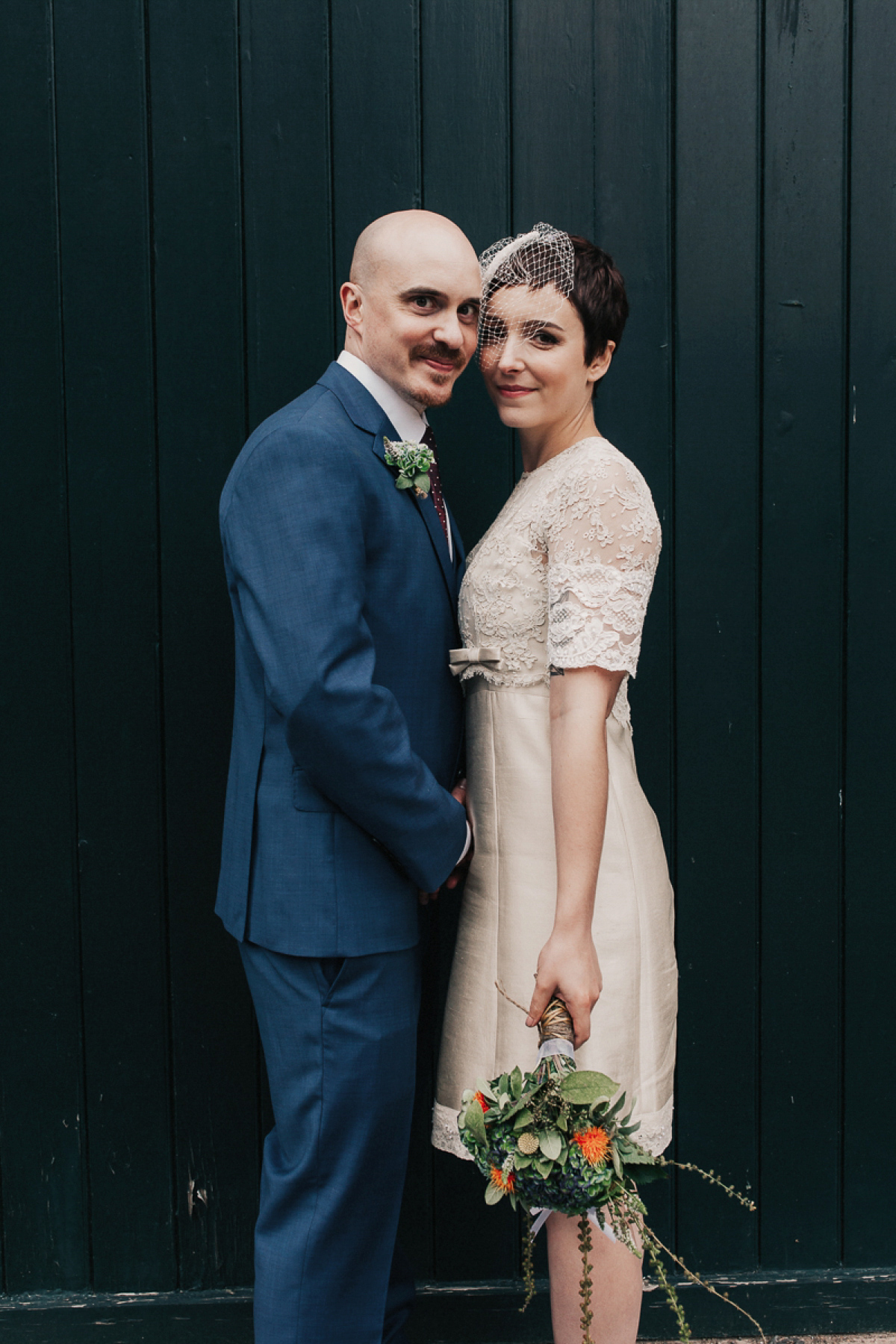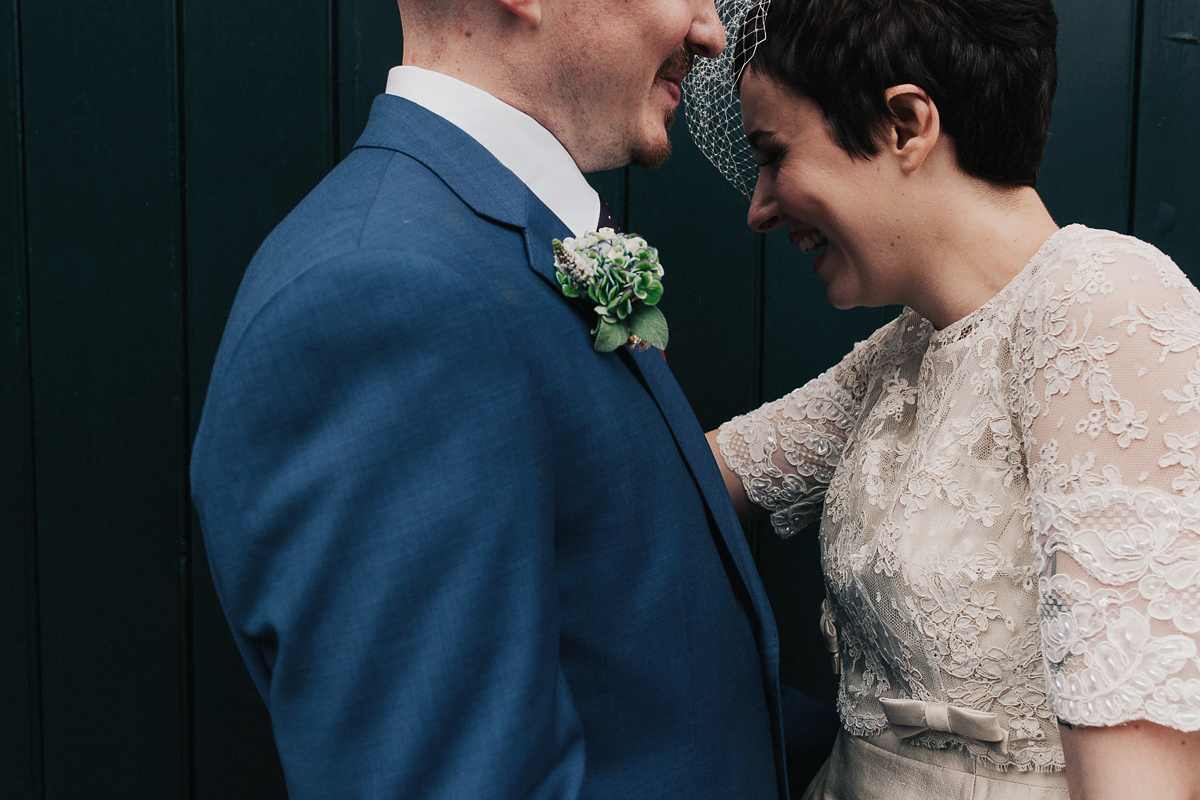 "We hung pom poms and paper lanterns from the ceiling and collected coffee jars which we used to put tea light candles in. The table décor was provided by our wonderful florist Ruth and we opted for glass bottles, pumpkins, fresh herbs and church candles to decorate the tables."
"We had been recommended a lighting company EDWARDOtme to help illuminate the evening room, Enginuity. Will and his team did a fantastic job and their lighting really highlighted the beautiful features in the room."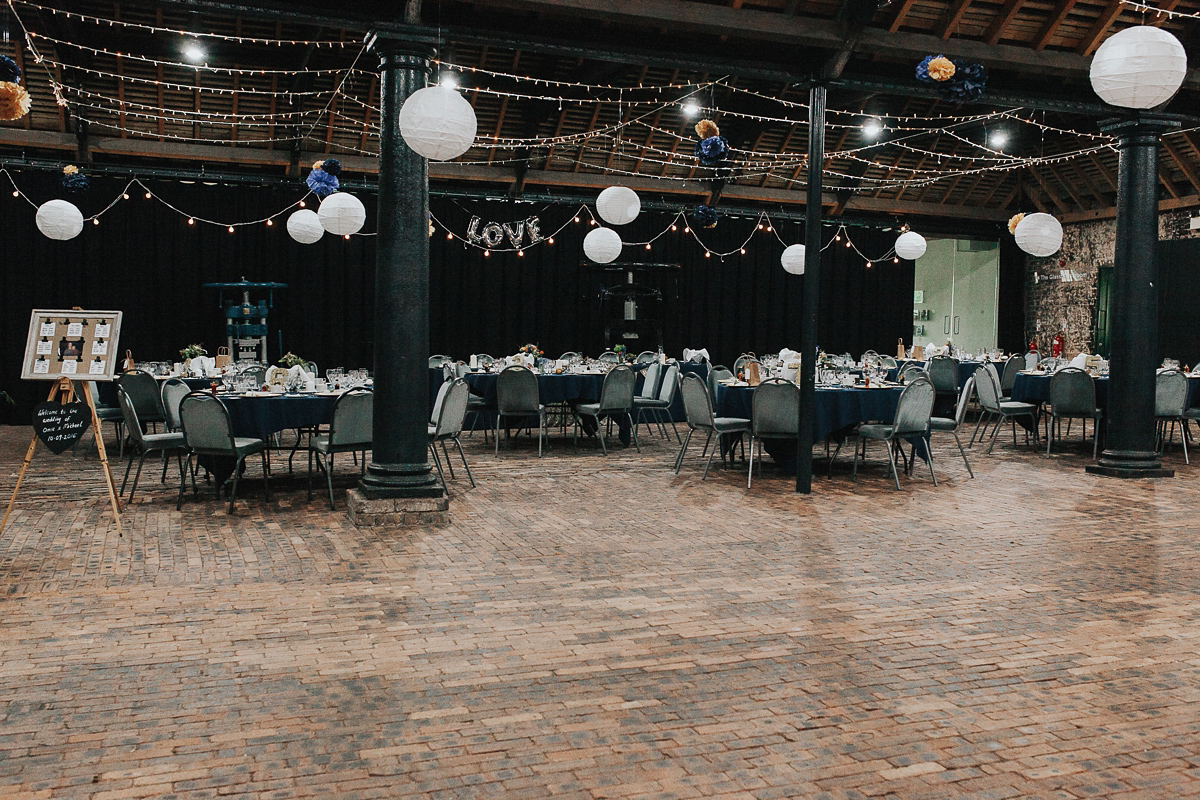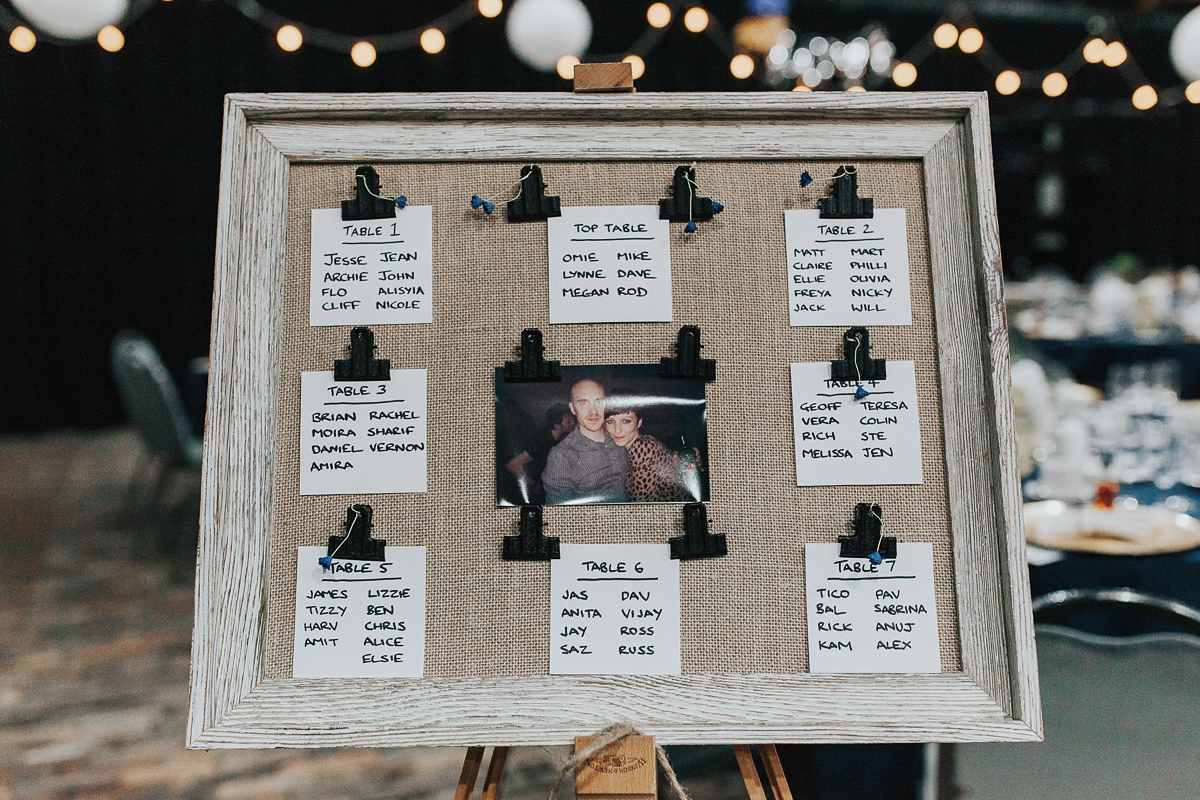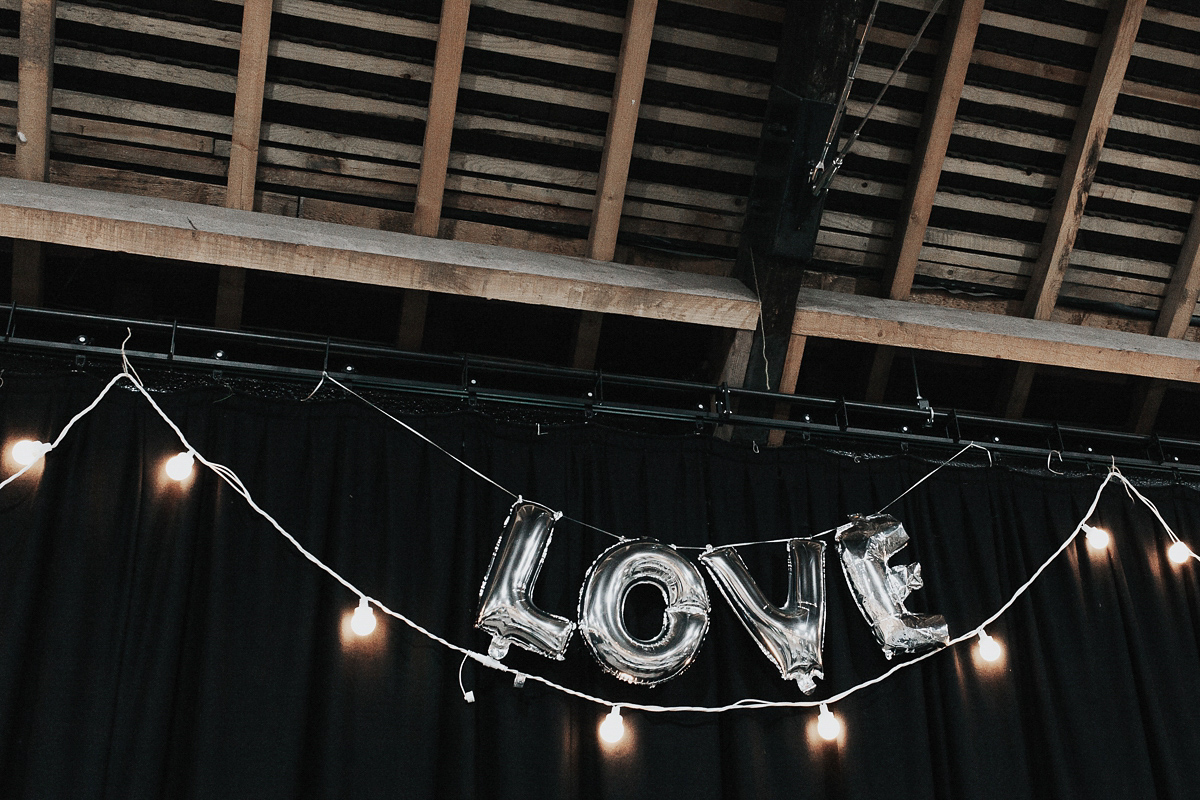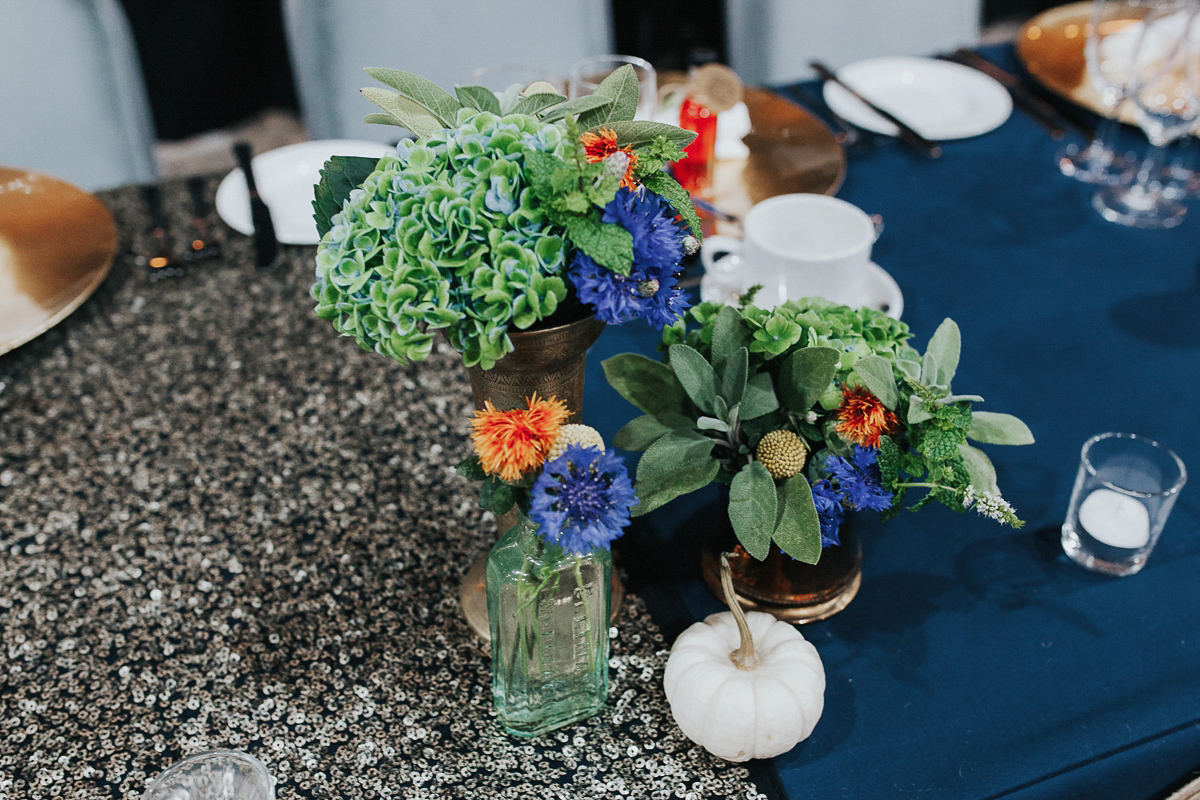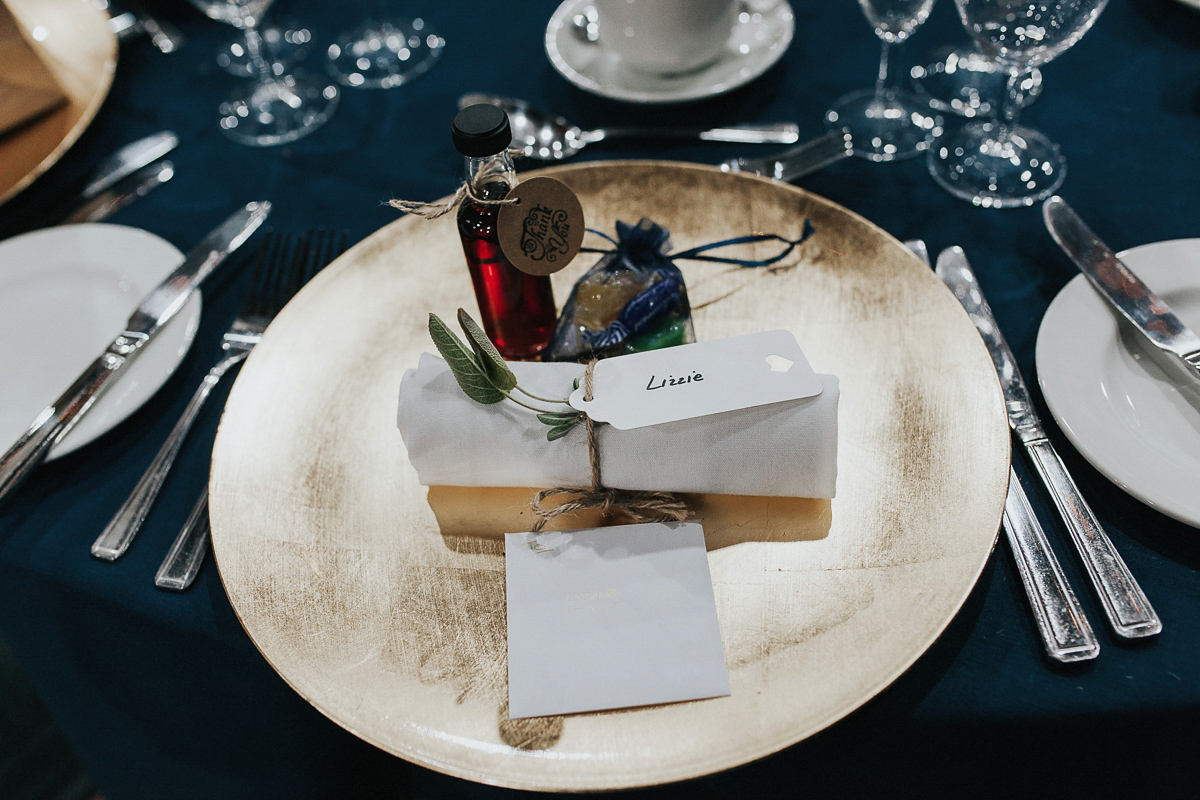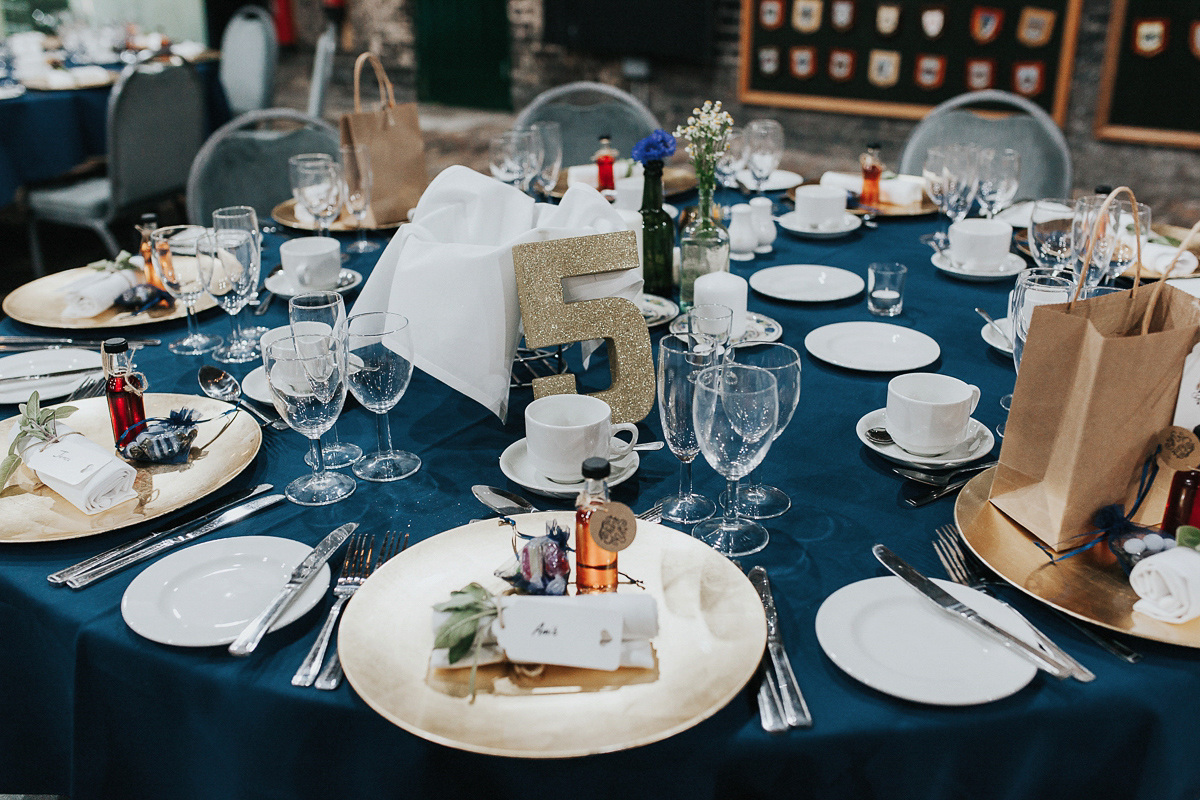 "I made all of the stationery myself. I purchased luggage tags to make the guests name cards and tied them around the napkins with garden twine. We also made the table plan ourselves using a frame purchased from Dunelm."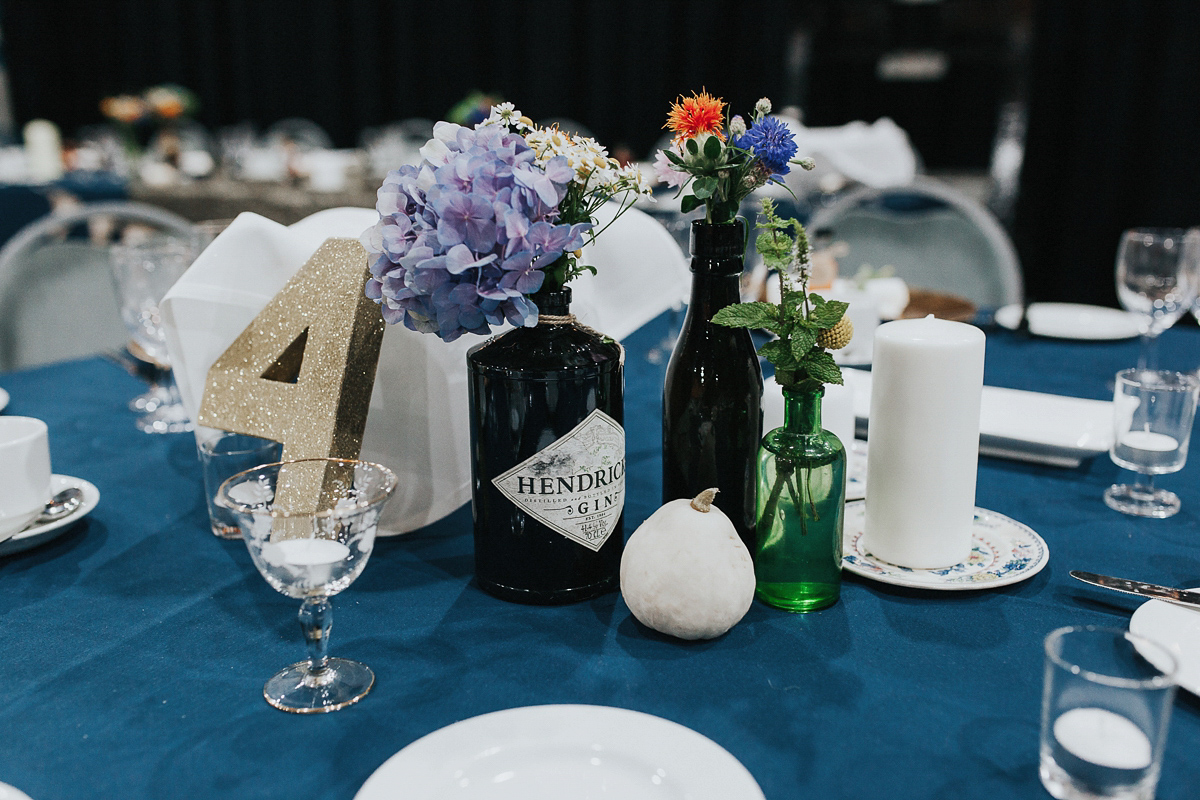 "Michael made homemade flavoured gin (black forest, strawberry and lavender and blackberry and apple) which we decanted in little bottles for the favours. I made the tags which I stamped and tied to the bottles with twine. We also gave bags of old fashioned sweets. For the children on the day, I put together a goody bag for each of them which contained a colouring book, pencils, stickers and some sweets. As we didn't buy expensive favours and saved money making them ourselves I also made a donation to an animal charity I support."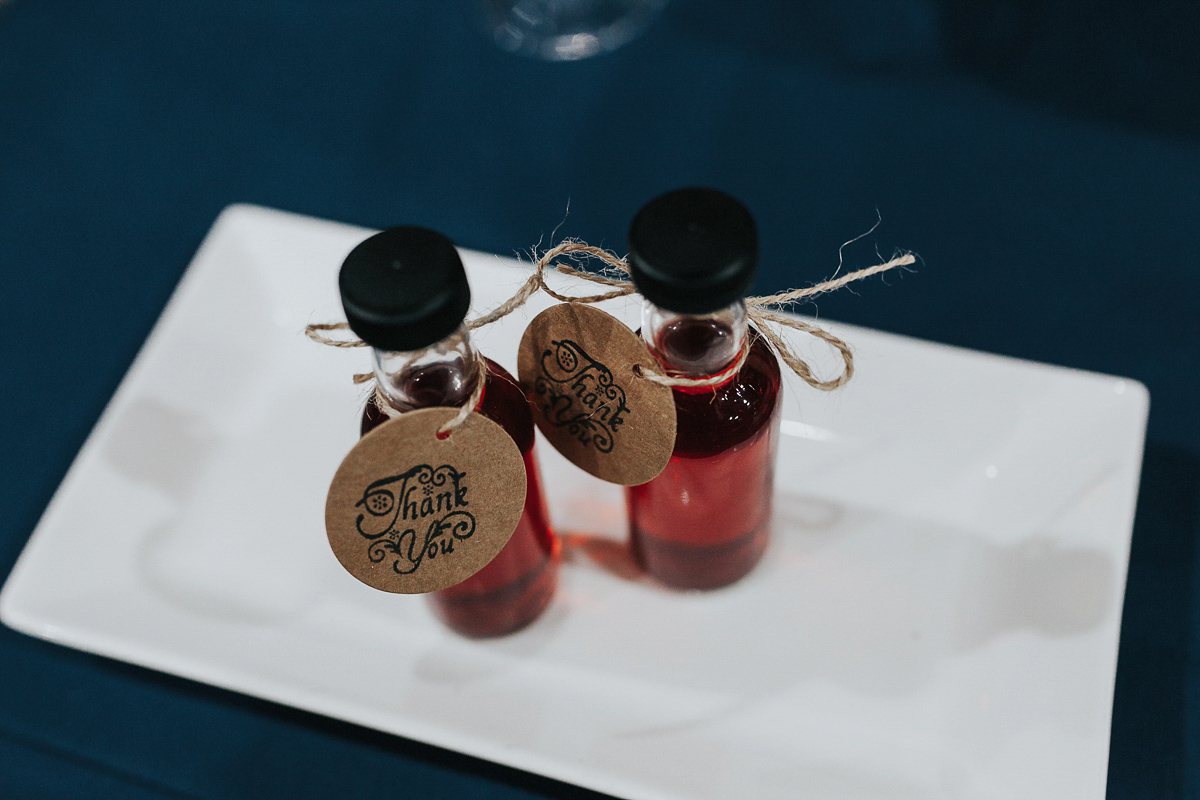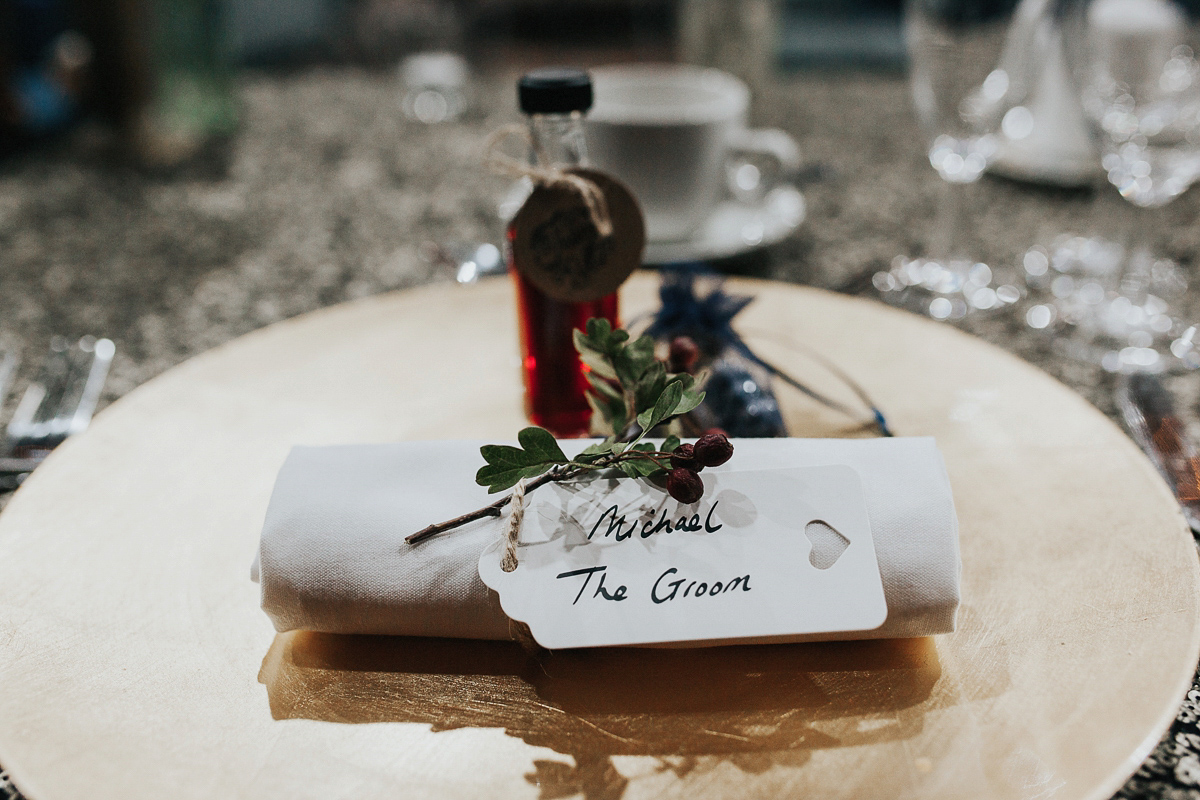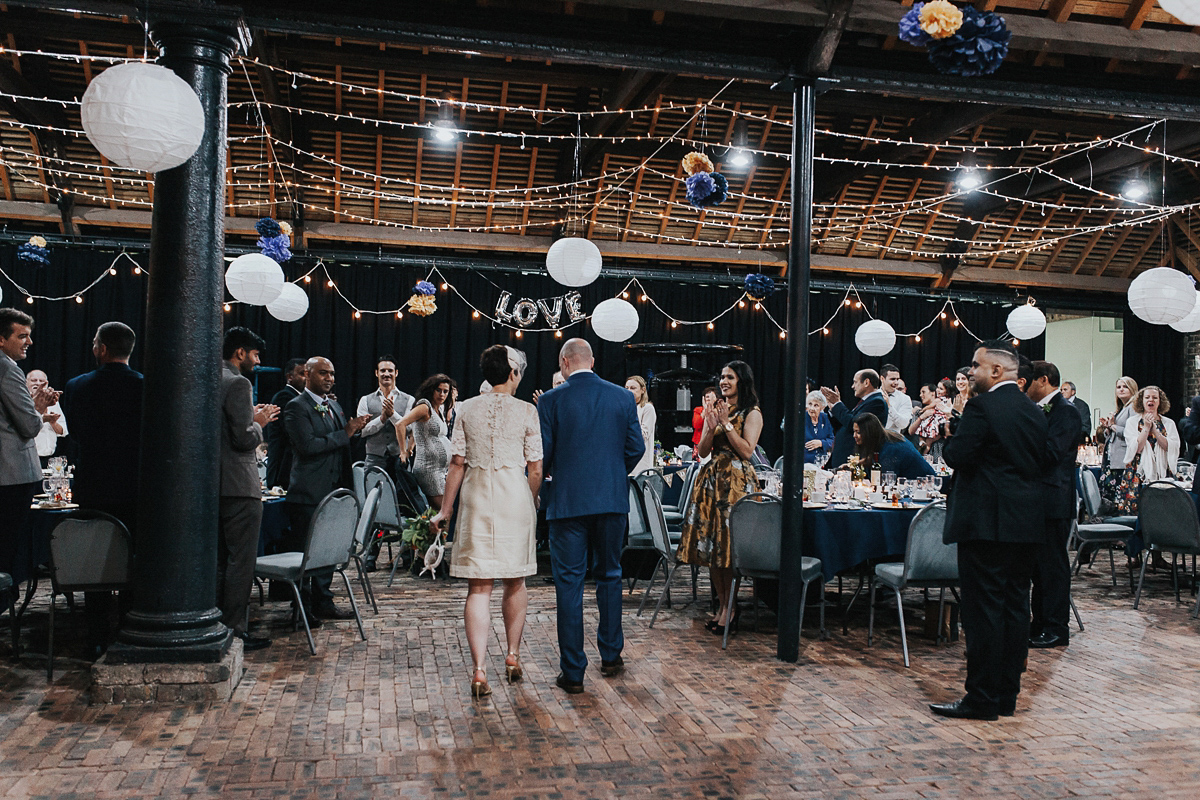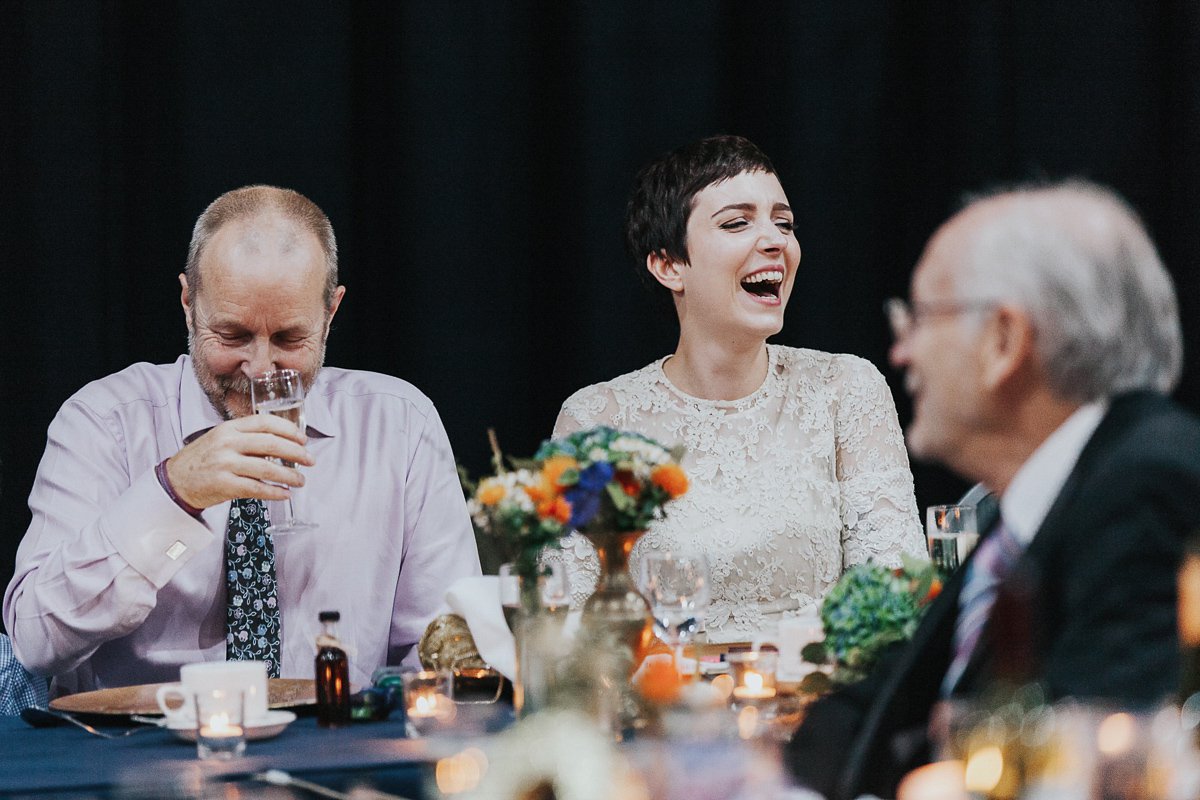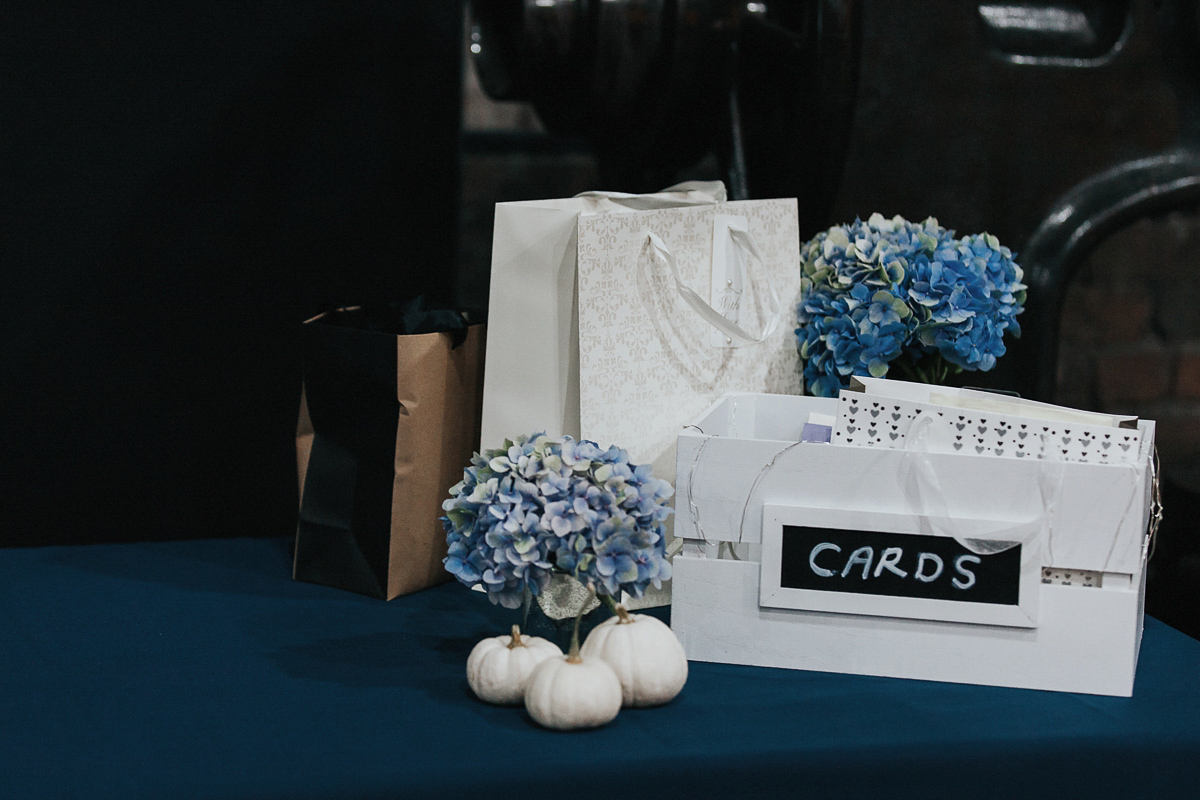 "We opted for a selection of delicious, homemade cakes all made by Pennie from Pears of Peas. I had met Pennie, the owner, at a wedding fair and had sampled some of her cakes there so I knew how delicious they were. Pennie delivered all our cakes on the evening and set up the table beautifully. All of our guests commented on how delicious the cakes were, they tasted and looked amazing."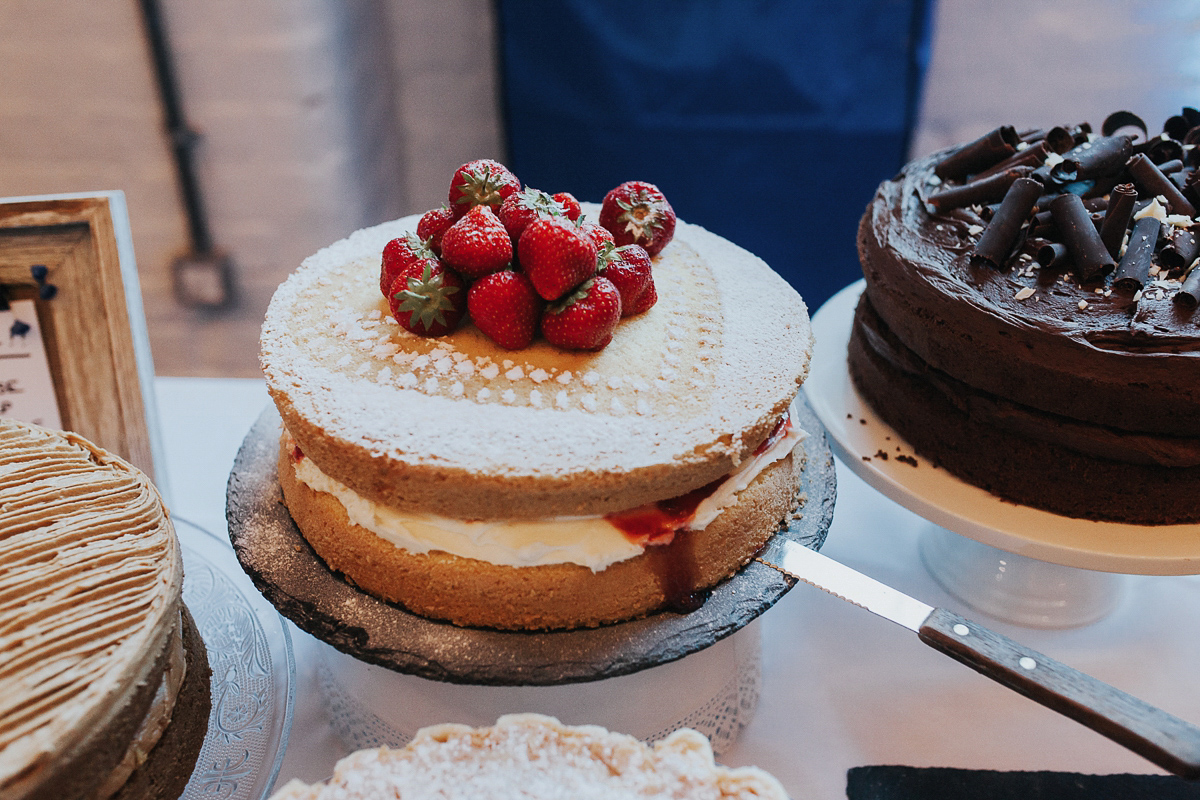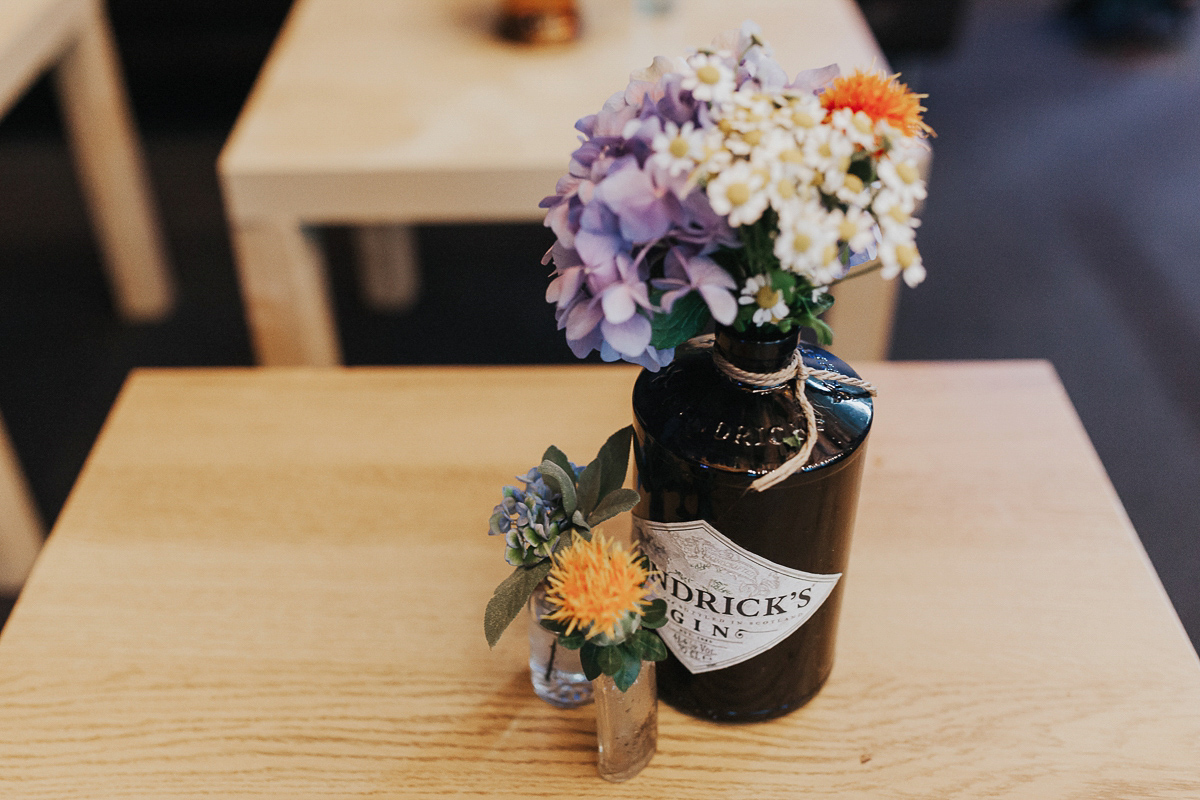 "Our first dance track was All the Way by Frank Sinatra. We both love the song and it reminds me of when we first met. I love the words in the song and always think of Michael when I hear it."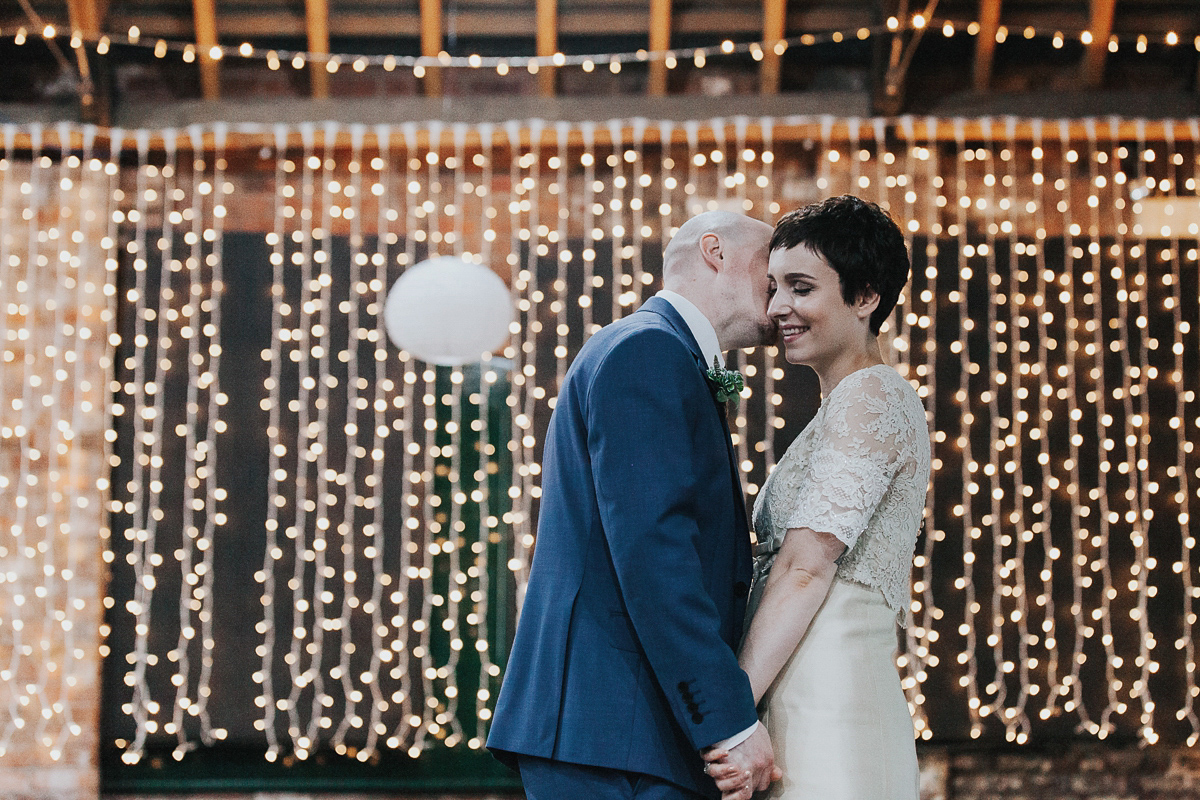 Words of Wedded Wisdom
"My advice to any brides to be would be to try and not get stressed and to remember why you are getting married and what the day is about. For Michael and I it was about celebrating our love for one another with our friends and family. It is so easy to get stressed leading up to the big day, but honestly when the day arrives that all fades away. Take a moment on the day to look around and take everything in, take some time to be together and reflect on the amazing journey you have both just taken and the even more amazing one you are embarking on. The whole day goes so quickly it felt like a dream. Smile, laugh and enjoy it all, that is my advice.
Apart from inevitable things like not getting as stressed the week before I don't think I would do anything differently, not be so hard on myself perhaps and not put so much pressure on myself. I look back and feel proud of all my hard work leading up to the wedding, it definitely can test your sanity at times and organisational skills but the day arrives and you forget all of the stress."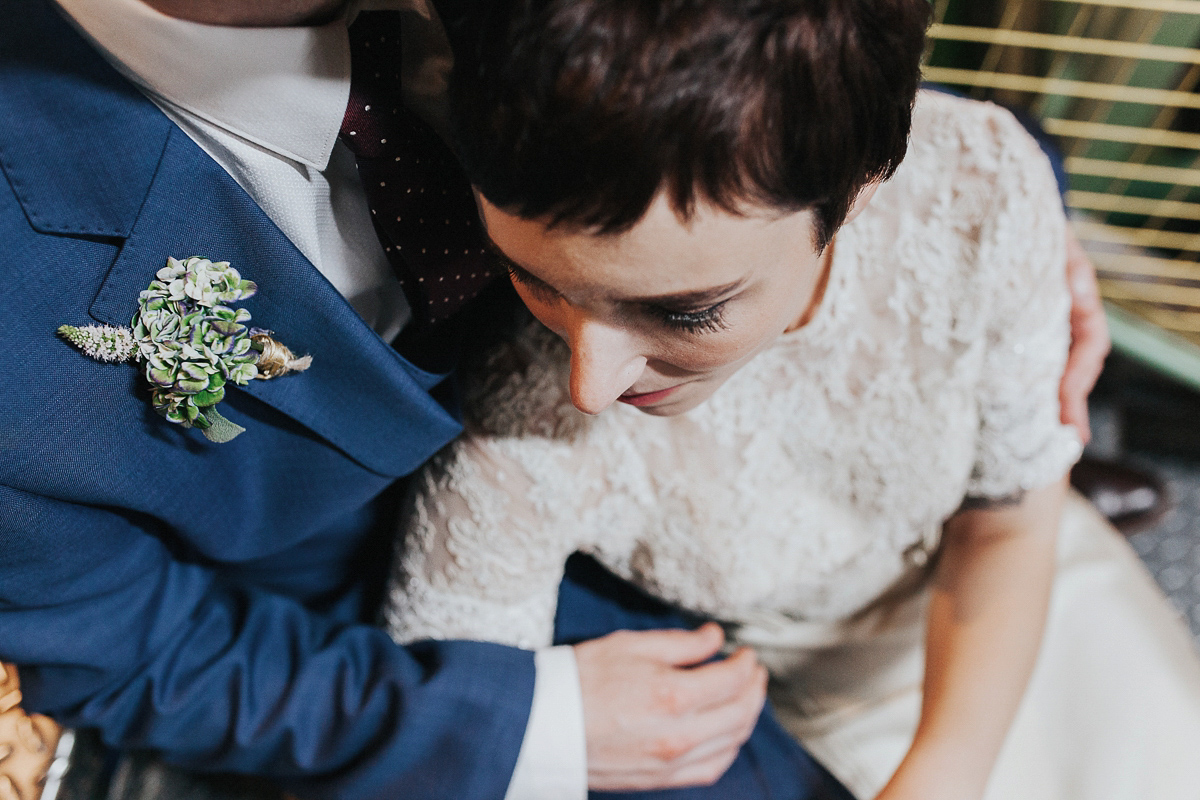 "Also, I have followed Love My Dress since getting engaged. I love the features on Love My Dress and the way in which the featured weddings are categorised. I have to mention the Love My Dress private Facebook group as well because not only is it an excellent source of inspiration it is also such a supportive community of brides to be and brides.
I posted on the group wall a few times and had so many helpful and supportive comments from other brides to be and brides. It really is a saviour especially in those stressful planning stages or if you need a bit of reassurance that you are not alone in what you are experiencing and feeling in planning a wedding. It's also lovely to see brides share their photos from their wedding days, engagement photoshoots and dress fittings."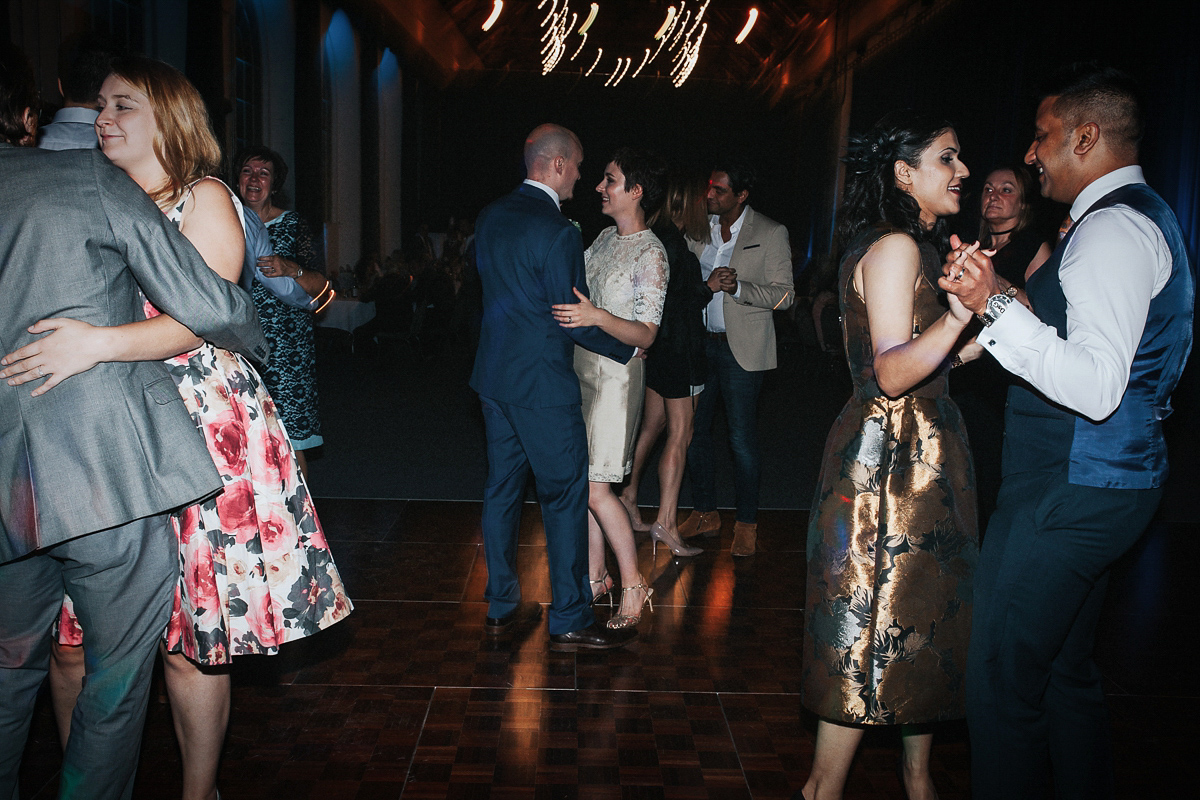 Ahhhh, Omie! I'm so thrilled you found our group! Readers, if you are planning your own wedding and haven't yet applied to be a member of our private group on Facebook group which is for brides to be and newlyweds alone (no suppliers, no adverts, nothing else!) then we would love you to join us. From it's inception around 6-7 months ago, it has quickly developed into the most wonderfully supportive tribe of women who are kind and non judgemental and will do their best to support you with any wedding worries or woes, or simply share your joy and excitement if you wish to post images from your wedding dress shopping trips 🙂
Oh lovely Omie, my huge love and thanks to you for sharing your beautiful day.
Love Annabel x