I have the loveliest wedding to share with you all on this happy Friday with rather a wow factor involved! Prepare yourselves for golden glamour, a seaside setting and fabulous photos by Sarah Burton Photography. Bride Amelia is a primary school teacher and groom Chris works as a graphic designer. The couple married in New Zealand on the 19th of December 2015 at the Island Bay Surf Club in Wellington for their relaxed summer wedding by the sea, with oodles of handmade touches.
"I had always wanted an outdoor wedding, but the beginning of summer can be so unpredictable with weather, so we chose a location that was inside with lots of natural light, a view of the water, and a good size. We wanted the day to look and feel like our wedding and I think we achieved it with our choice of decor, food and music."
Photography by Sarah Burton Photography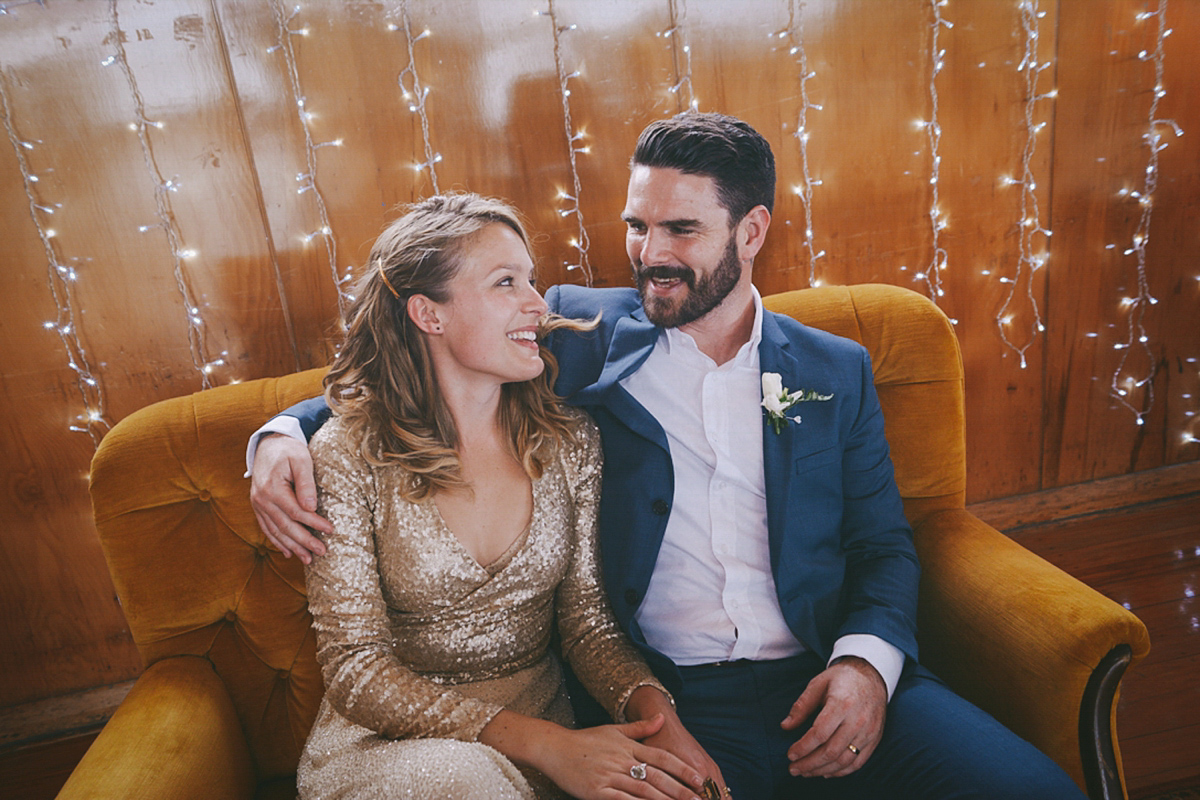 Amelia's absolutely gorgeous gold gown was made by her best friend Tessa Bradley and the two overcame a number of logistical challenges along the dress-making journey, but they were well worth it for the simply divine result.
"I wanted Tessa to make my wedding dress well before I was even engaged, and because she made it, the dress has so much more sentimental value. Tessa lives in London and works as a production manager for a fashion designer, whilst I live in New Zealand, so the logistics of it all were quite ridiculous.""There were many packages sent back and forth with fabric samples and dress sketches, and Tessa in fabric shops on Skype holding fabric up to the phone, whilst I looked on bleary-eyed and indecisive in the early hours of the morning. Tessa was still pinning and sewing things up a few hours before the ceremony. I don't think we expected it to be so stressful, but it was all quite fun and at the end of it we had to laugh."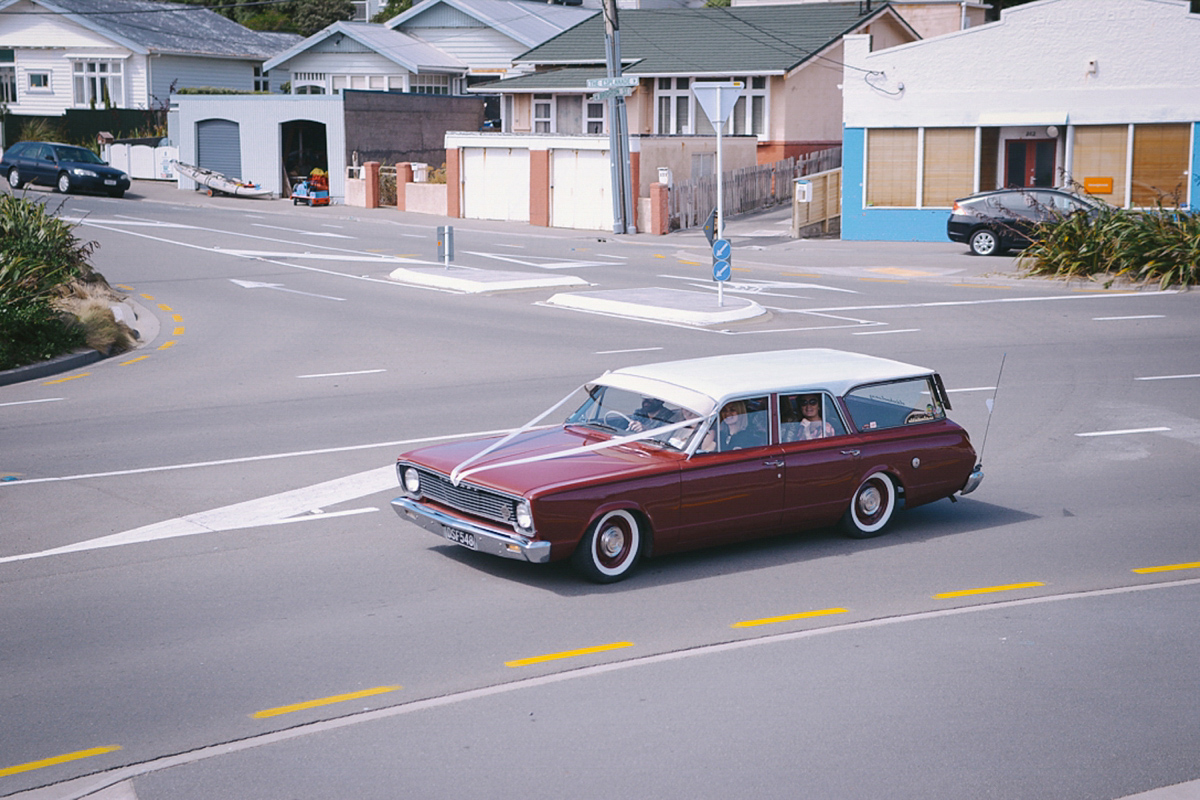 "The proposal from Chris was a complete surprise. We had been together for eleven years and marriage wasn't really on the cards in the near future. Chris had never expressed much interest in getting married, but all my not so subtle hints must have been picked up!"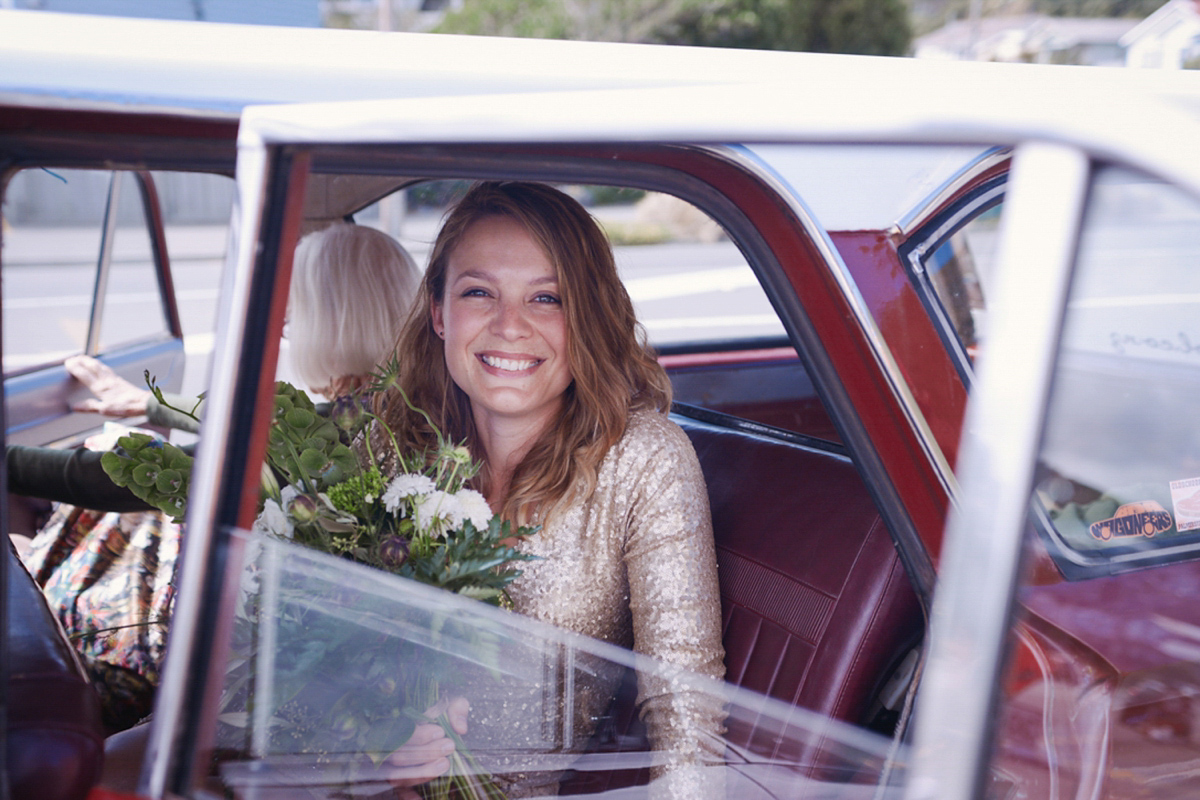 "We went out for dinner to celebrate our last day at work to start the holidays with our son and talking about what we wanted to do the following year. Chris said he wanted to get married and pulled a ring out of his pocket."
"It was very sweet and casual and I was totally shocked. Our son was very emotional about it and more excited than anyone. We were engaged for exactly a year and booked in our wedding day on the exact date of our engagement without realising – a cute coincidence."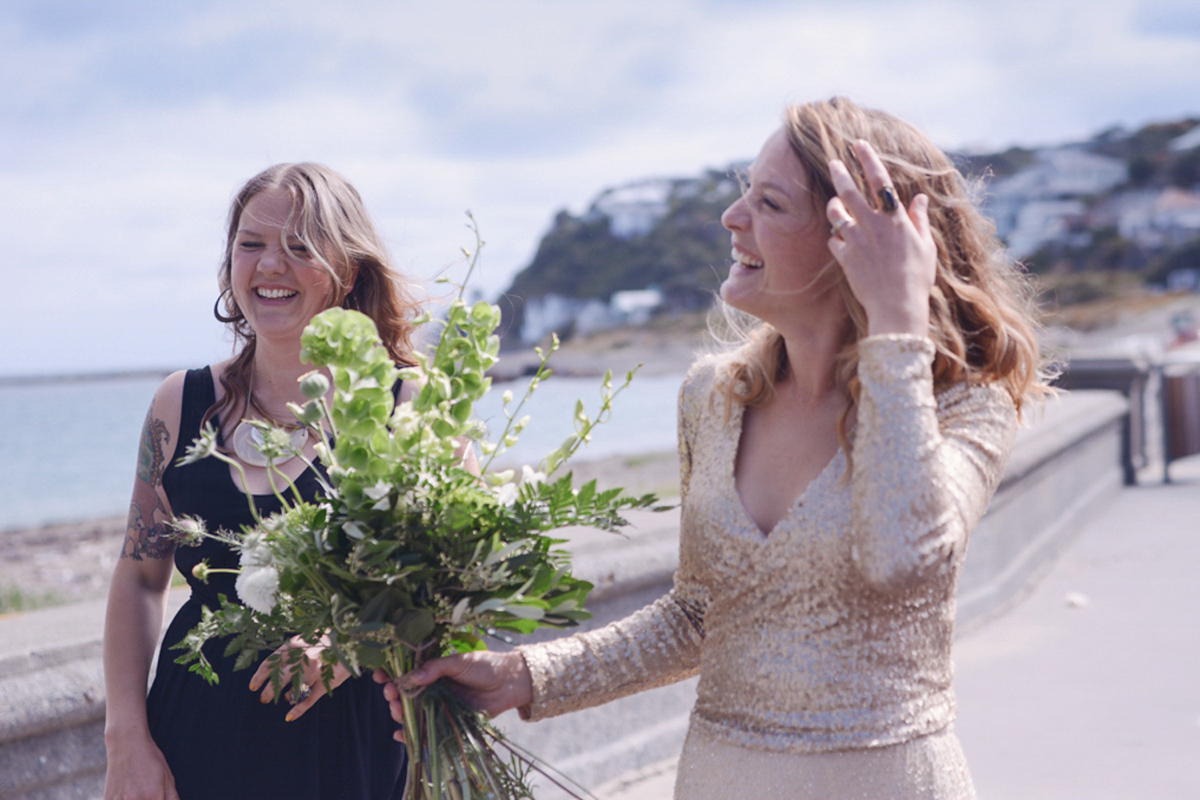 Amelia's maids wore black dresses with funky shoes (I'm very much in awe of these gold ones on the right!) and pretty wrist corsages. These relaxed images by Sarah Burton of Amelia and her maids on the lounges are just so lovely and perfectly capture this very happy moment.
"The photography was by a lovely friend, Sarah Burton. Sarah is a fantastic photographer and aware of our style, so she represented us well!"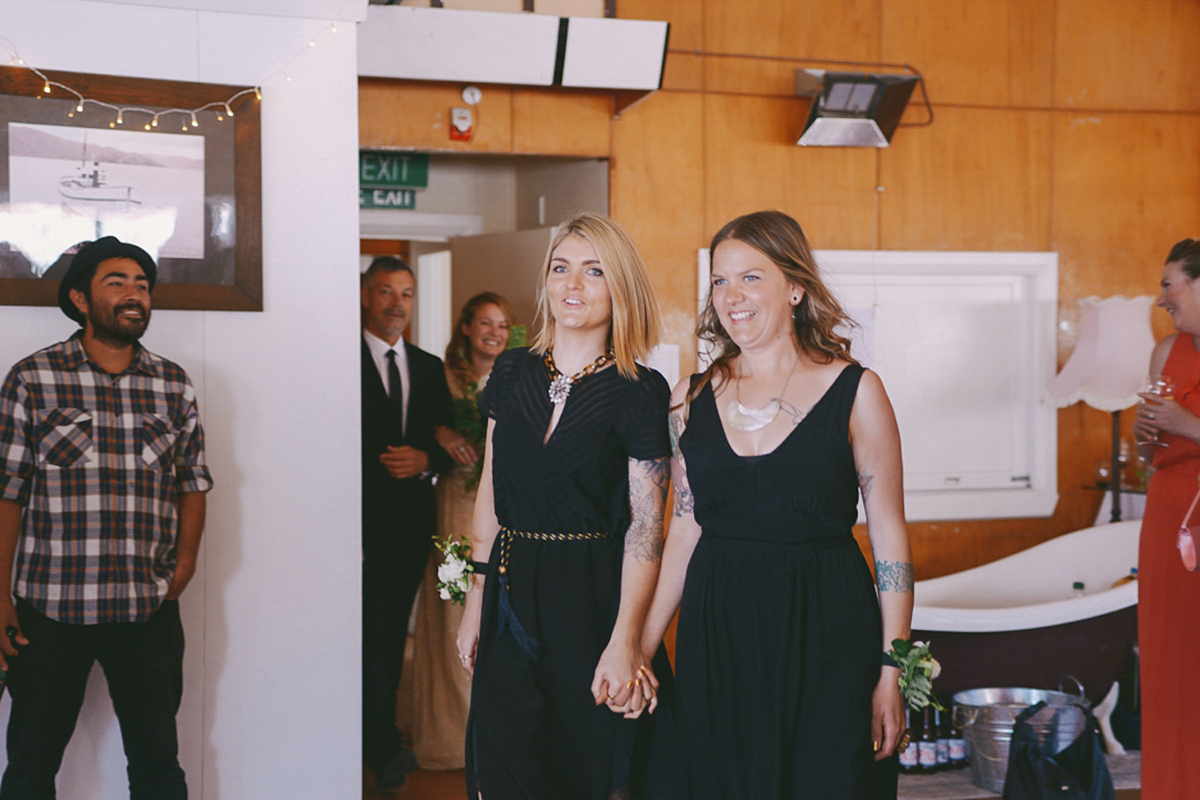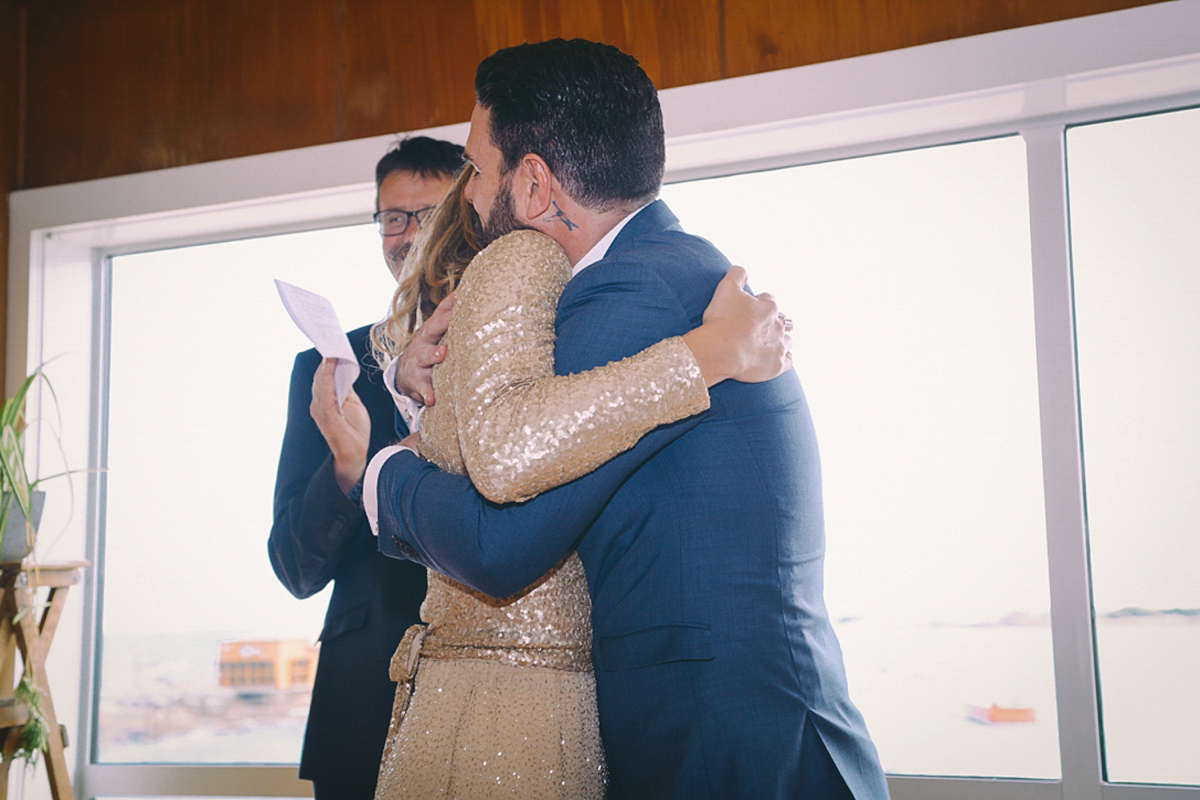 Amelia's aunty created the beautiful blooms, with lots of greenery in the bouquet and I adore the green leafy displays hanging from the windows. The couple wed at the surf club and decked out the venue with a homely feel, with wooden planters and carpet for the ceremony and the stunning backdrop of the sea behind them. I'll hand over to Amelia as she recalls her favourite memories of her wedding day.
"I have quite a few favourite moments of the day. My first one was driving to the wedding with my two best friends, my mum and my nana. They all walked down the aisle before my Dad and I. As I walked and saw my husband and darling boy standing together, surrounded by our favourite people, is an image I will never forget."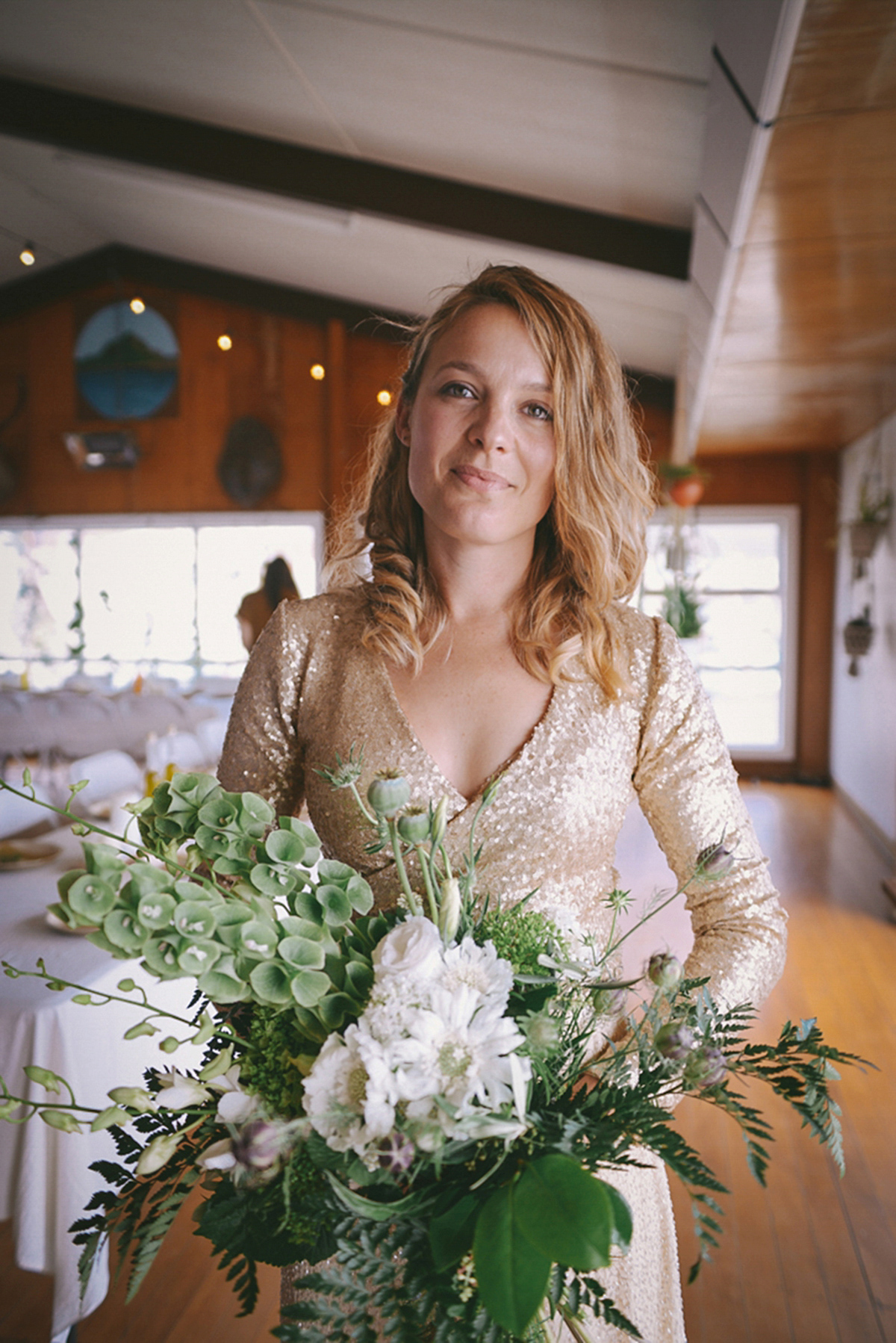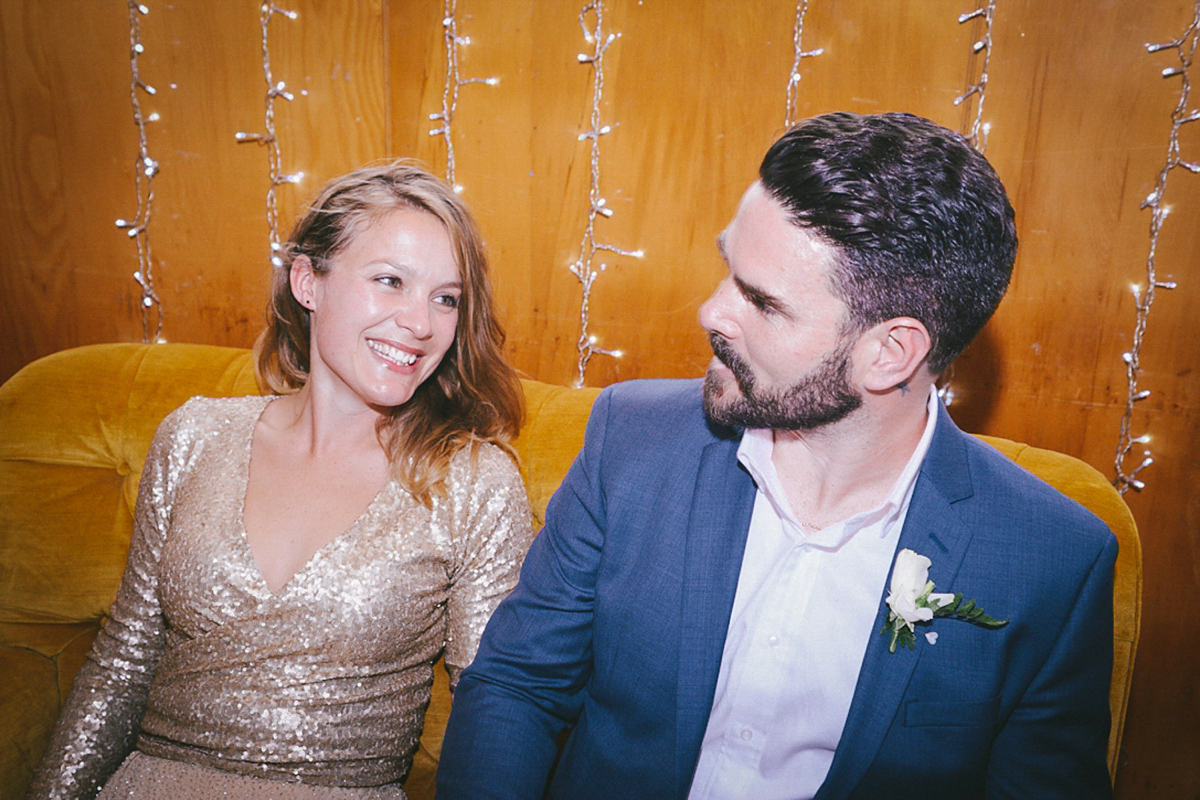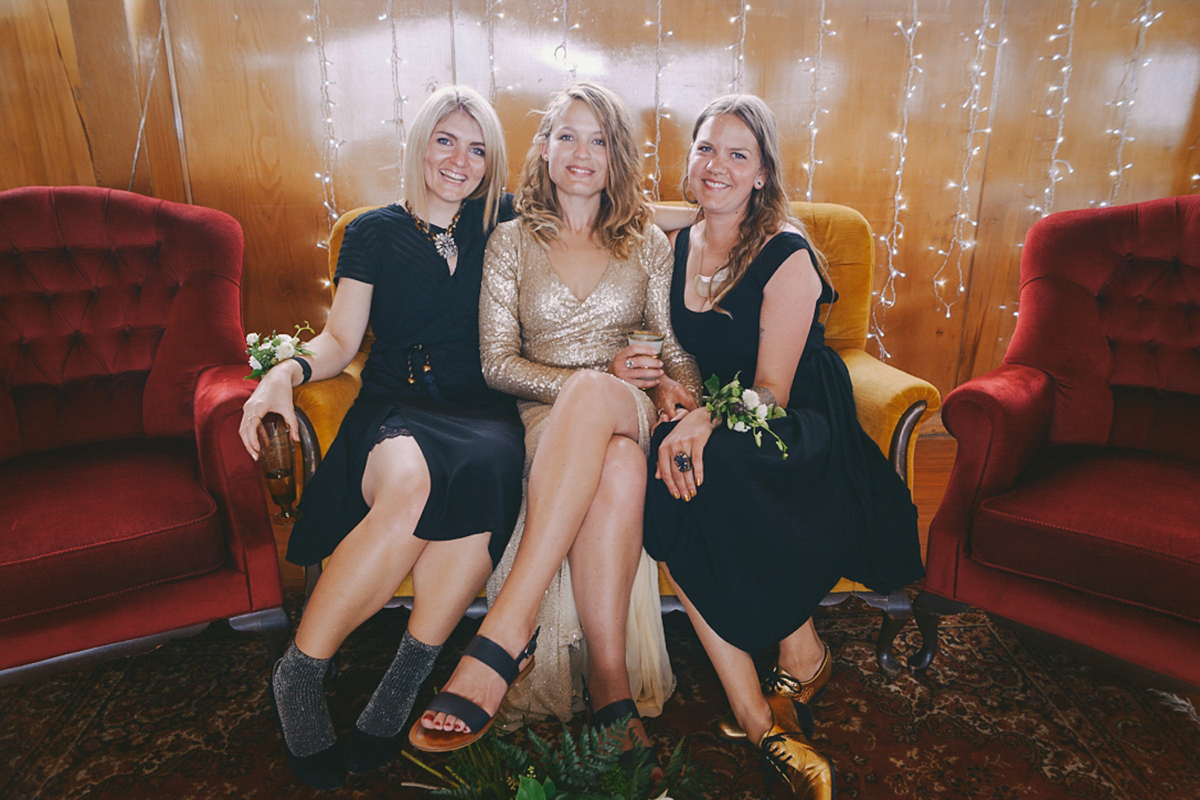 "Almost everything for our decor was bought through second-hand shops and garage sales, or were collected through my family, such as the eclectic mix of coloured vintage glasses, as we all love vintage and retro homewares and furnishings."
"The items made by our loved ones were my favourites. Chris's mum made her amazing ice-cream; my mum crafted the macrame hangers, oils, and meringues; my aunty did the flowers, and of course Tessa's amazing efforts with the dress. They all made it really special."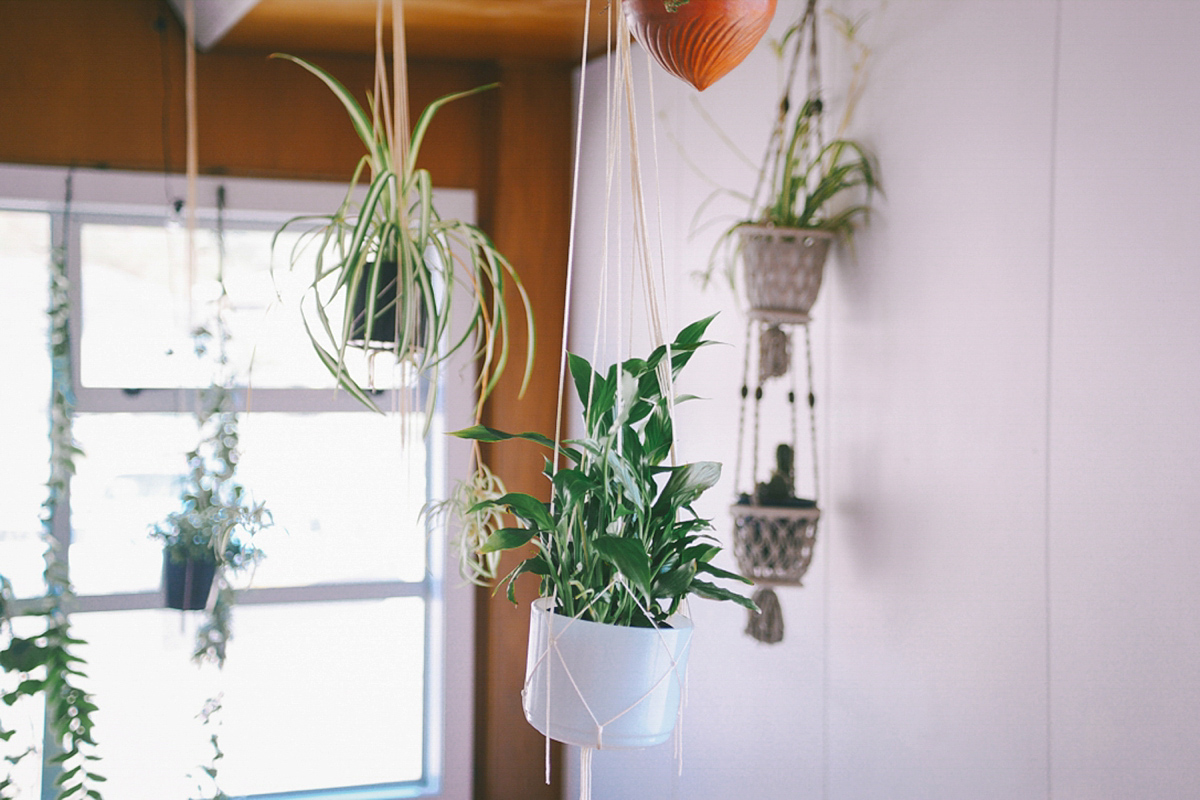 The catering was provided by Stoked Pizza food truck, with salads by Maranui Cafe, and I love this little story about the oils prepared by Amelia and her mum.
"My mum and I also made the flavoured oils that were on the tables to put on the pizza, which was simple but time consuming. The plus side is we had chilli, garlic and rosemary oil to add to our meals for a couple of months afterwards!"
"Chris made quite a lot of home brew for the wedding, and as a graphic designer, he then made his own personalised labels."
"We didn't have a wedding cake, but my mother-in-law made beautiful homemade ice-cream and we added gold waffle cones and a range of tasty toppings."
As the guests partied on into the night, the beautiful bride swept up her hair and added a pretty floral headband, as the brass band began to play their awesome tunes.
"We had a Balkan gypsy brass extravaganza with the band Niko ne zna and they created the exact atmosphere we wanted with their music. I saw the band years ago at a friend's party and thought at the time they would make a fun wedding band and I'm so glad we went with them!"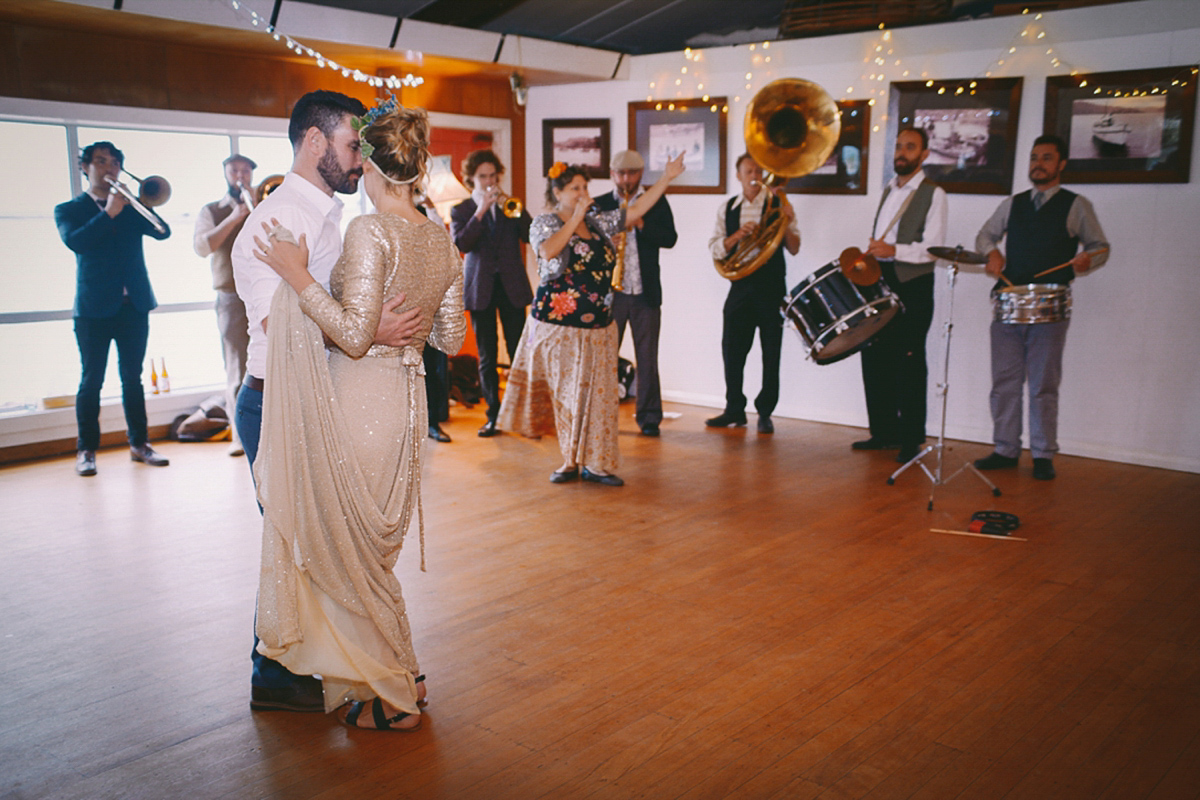 "Many of our friends who came I hadn't seen in a long time. Most of our guests flew in from around the country and there were guests from Australia, UK, USA and Germany there too, and it was so lovely to have them all in the same room."
"Dancing to the band was also really fun – we had our first dance to their first song, then they pulled out the more upbeat music and everyone joined in. I remember waking the next morning thinking I really had smiled and laughed all day."
Words of Wedded Wisdom
"Try not to let other people's wants and needs get to you. And if there is something you are finding stressful, delegate it!"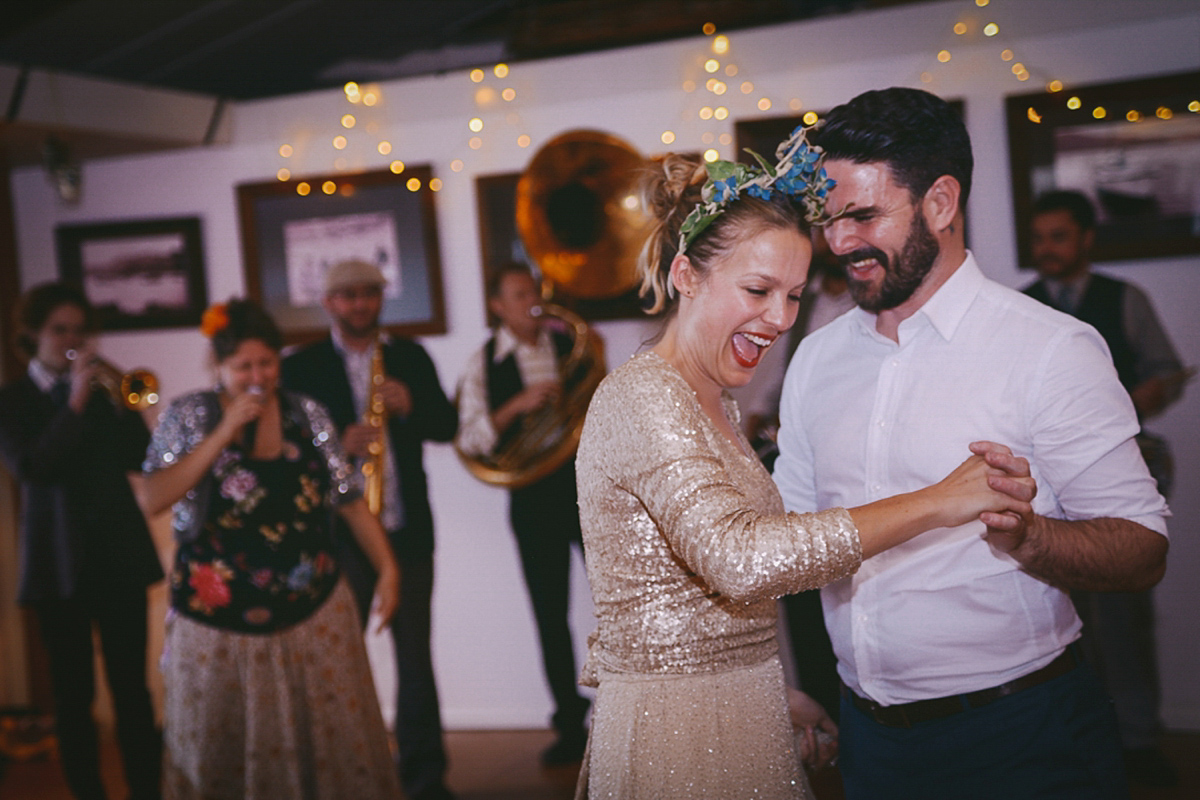 What a way to finish off the working week lovelies! I hope you've been inspired by Amelia's gold gown and if you're thinking of a coloured wedding dress for your upcoming nuptials, be sure to see here for even more inspo.
Thank you so much to Sarah for sharing these simply stunning images – and to Amelia and Chris for letting us a sneak peek into your utterly delightful day.
Have a relaxing weekend everyone!
Love Jo -x-