Rise and shine Love My Dress lovers. It's no longer Monday and we're celebrating with a riot of autumnal-toned Scottish goodness and pretty, traditional touches. David, a structural engineer, and Laura, and environmental consultant became husband and wife on the 17th October 2015 at Howwood Parish Church, Renfrewshire. The party then moved to Lochgreen House Hotel in Troon, Ayrshire for coastal air, crafted décor and some serious dance moves.
In keeping with the overall elegant simplicity of the day, Laura purchased a beautifully bridal and perfectly lacey  Charlotte Balbier creation from Vintage Bridal Couture in Kilmacolm. The gorgeous fabric and intricate detailing drew our bride to this gown and a fingertip veil nestled into an effortlessly stylish chignon, complete with fresh, snowy white blooms was the icing on the cake.
Charlotte Balbier is a designer that we cherish here at Love My Dress, so of course she is much loved listing on our Little Book for Brides site. I highly recommend taking a browse through our impressive archive of Charlotte Balbier clad brides by clicking here.
"We like natural, simple, craft-inspired style, so there were a lot of handmade elements to our wedding day and the colours were inspired by the time of year."
Photography by The Gibsons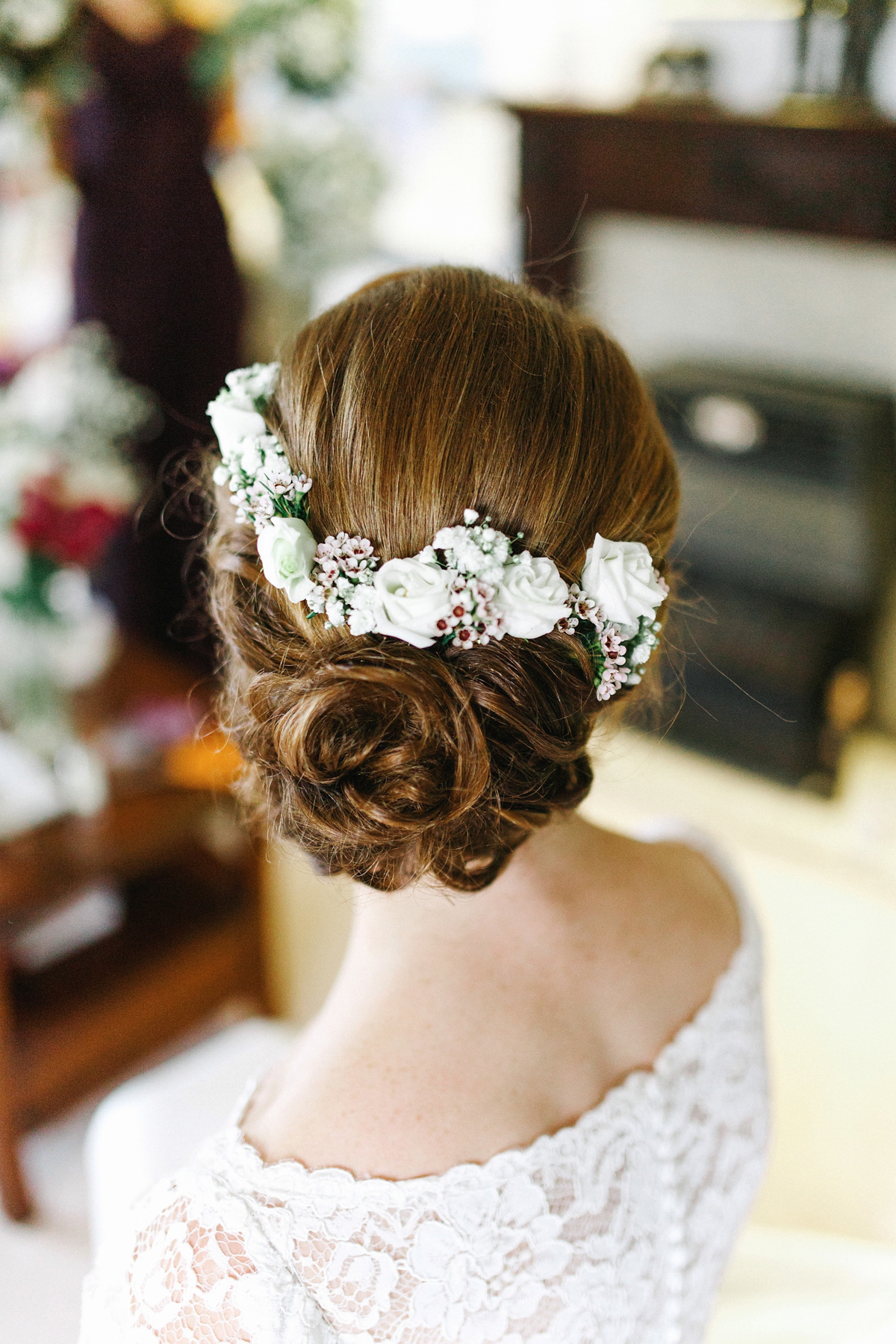 I have developed a bit of a soft spot for bride Laura's completely perfect hair colour (can you tell I have a hair appointment next week – obsessed much?) and can see from the amazing bridal glow emanating from her that all of her bridal look elements came together exactly how she had pictured them in her head."We met through David's brother and sister in law as I used to live with them. David was living in Australia at the time and his sister in law told him she knew the 'perfect girl' for him! She proved to be completely right and we started long distance dating before I decided to move to Australia to be closer to David."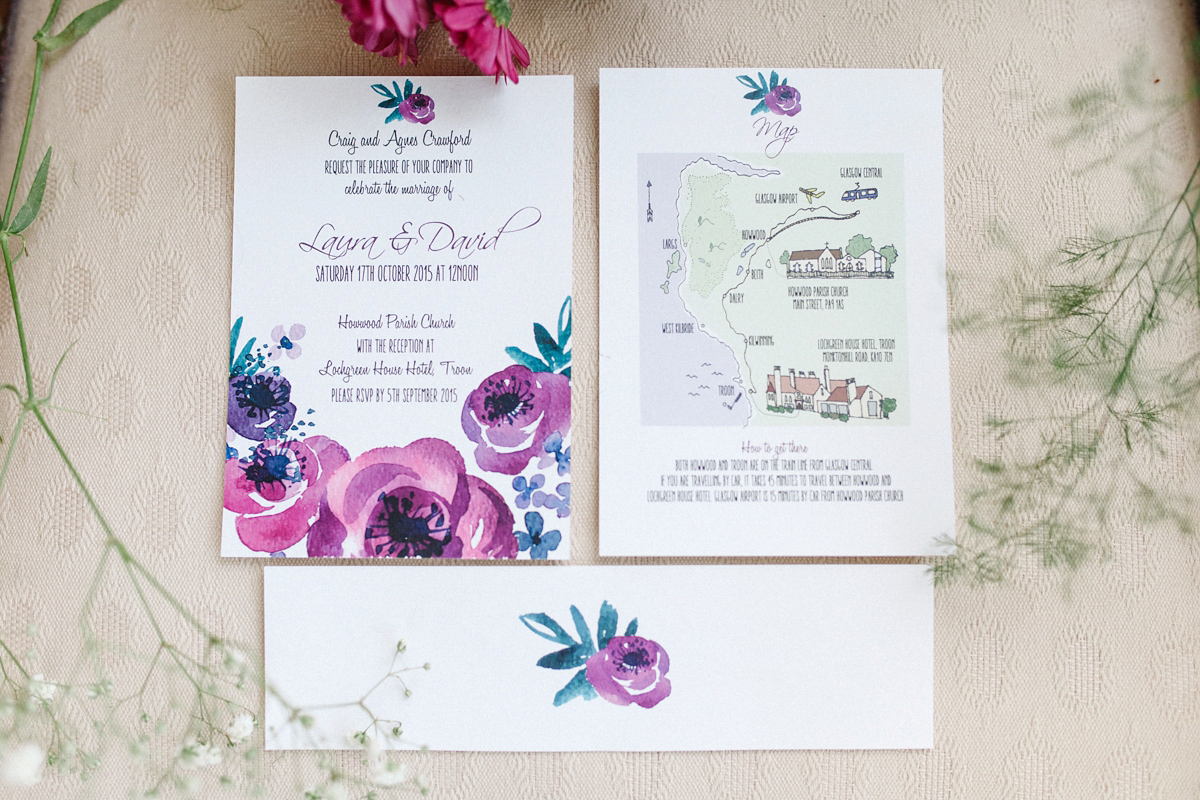 "We got engaged in New Zealand on the weekend of my 30th birthday on a peninsula with no phone reception (this was deliberate on David's part). We were engaged for 18 months which included organising a wedding from the other side of the world and moving back to the UK from Australia."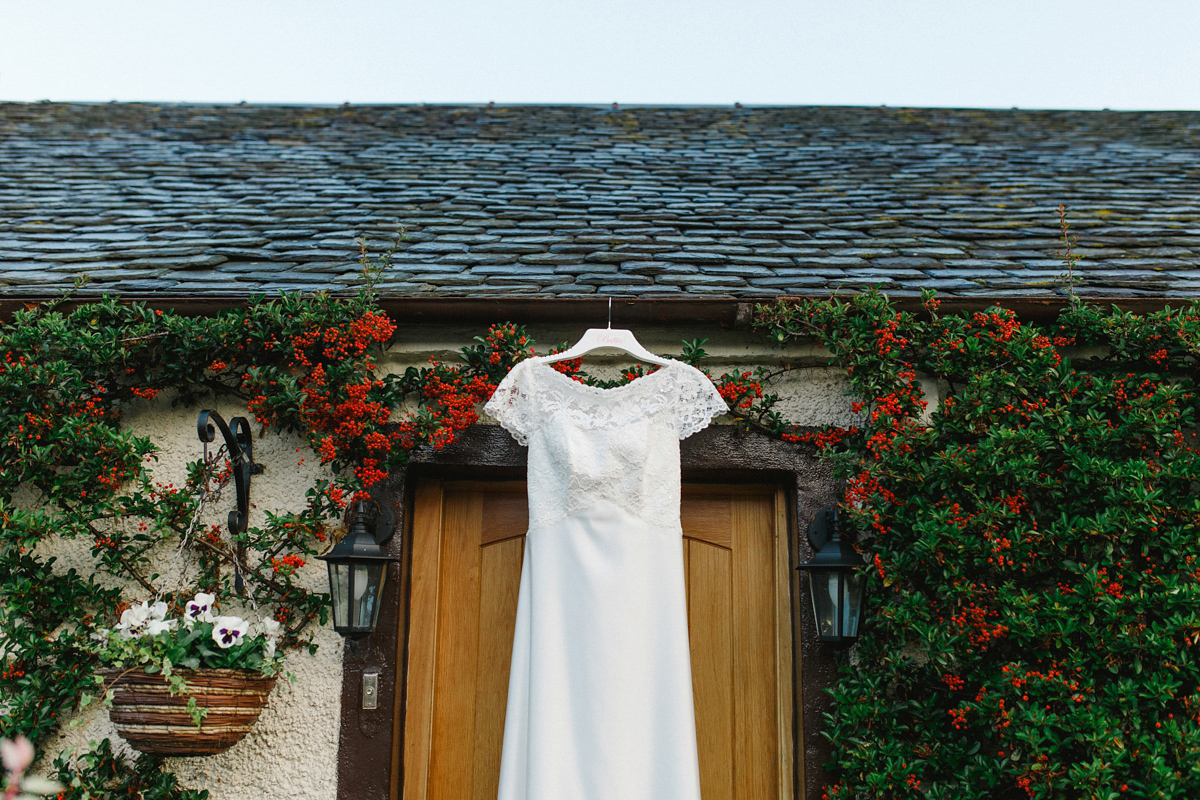 Floral adornments from Kirstie's Flowers channelled elegance in Autumn and contained a host of textures and foliage interspersed with plum and white blooms.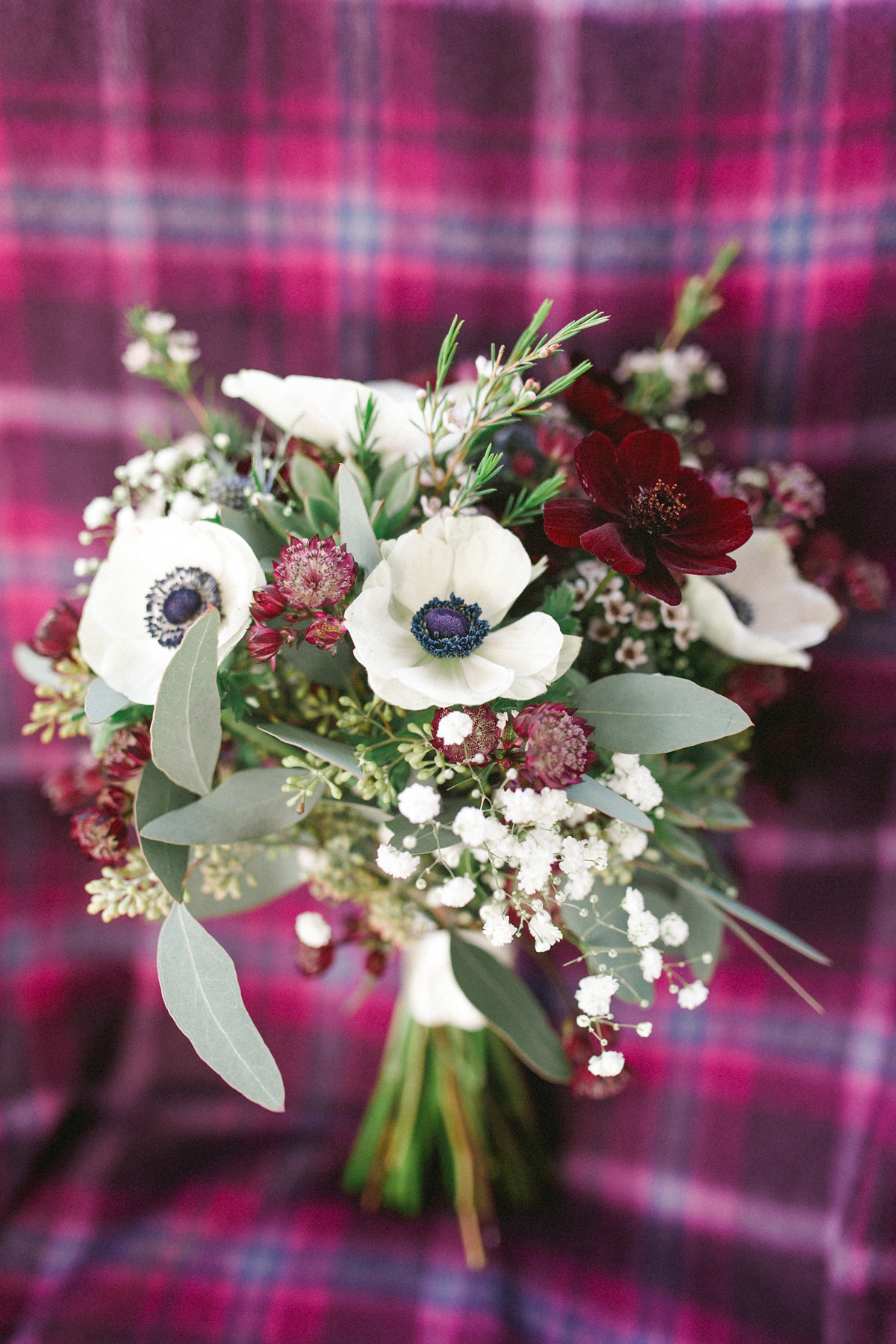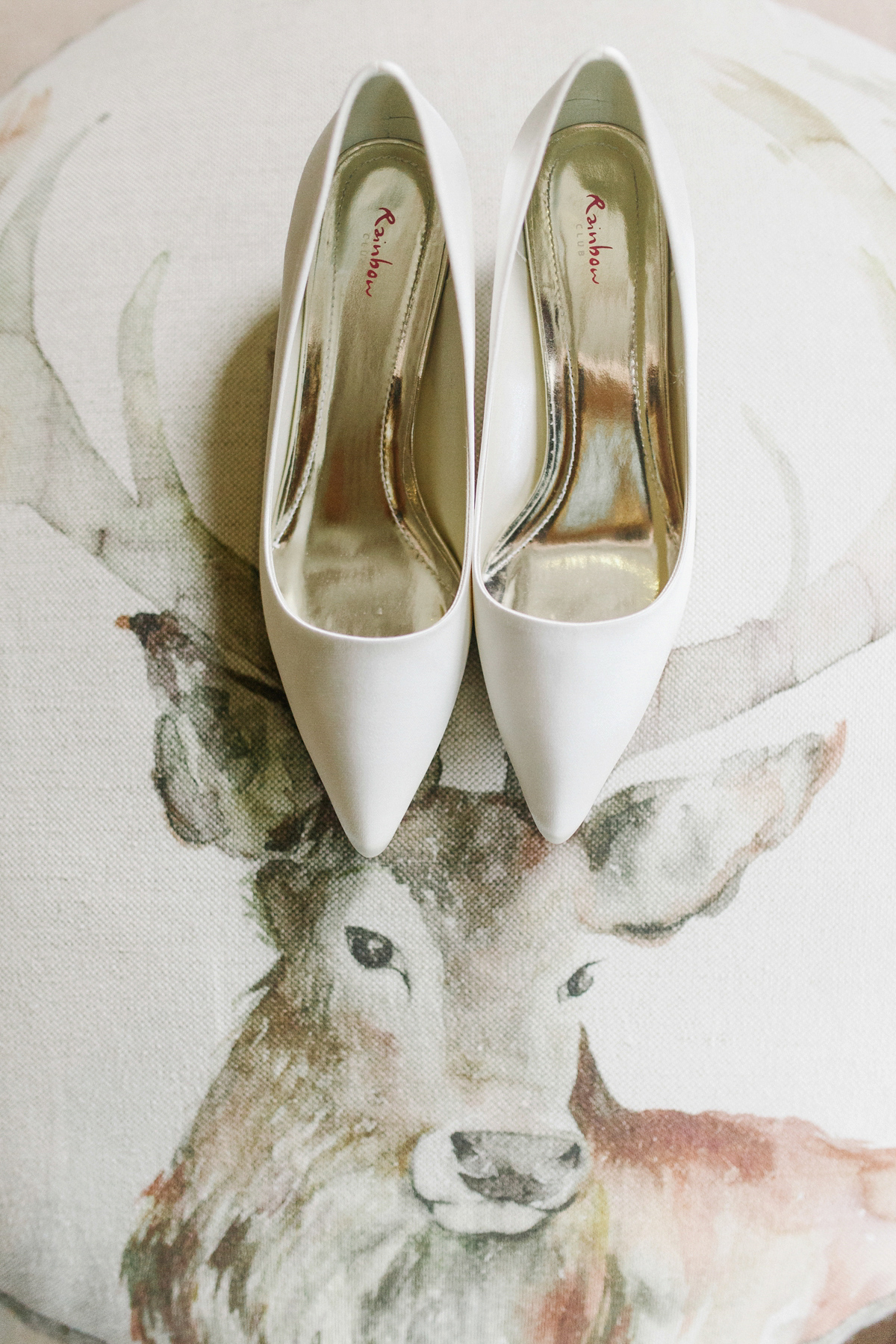 Make up was kept soft but picked up on the autumnal tones found throughout this October celebration, I adore the bronzed cheeks and plum hue of the just-smokey-enough eye make up.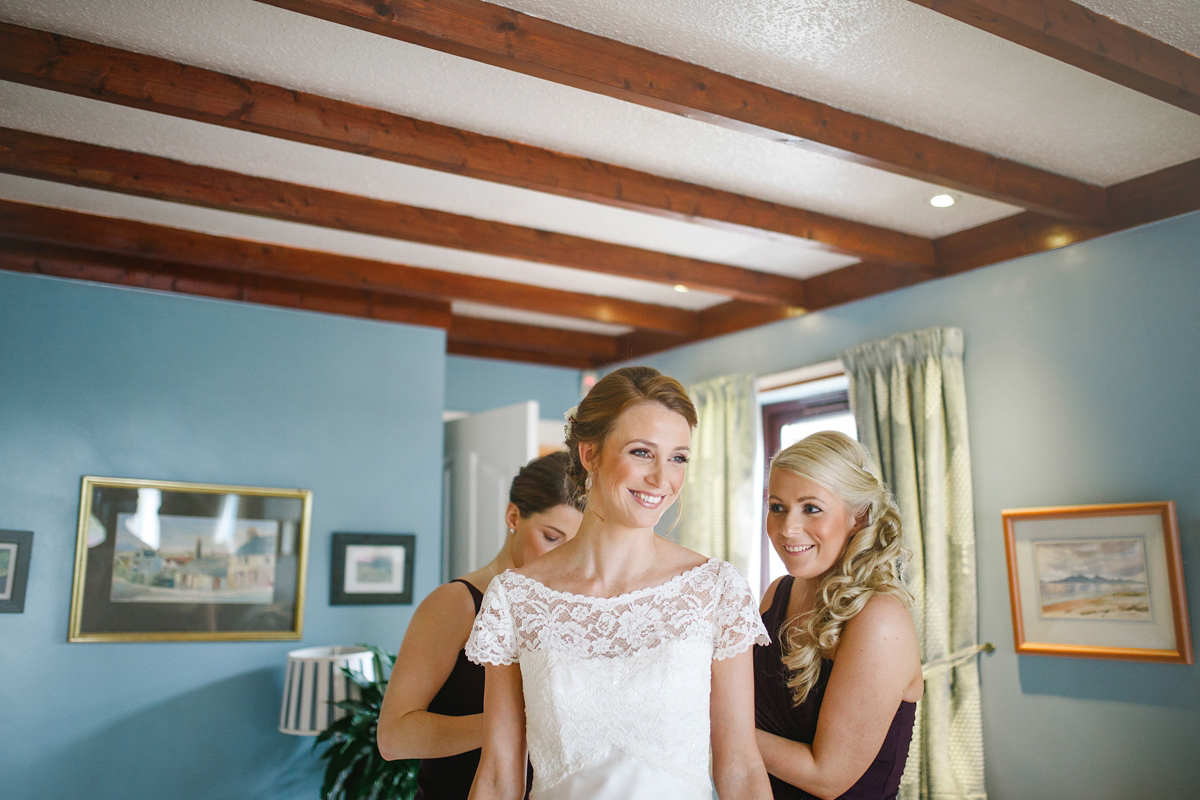 The high street provided shiny finishing touches for Laura's favourite girls, with bracelets from M&S, hair clasps from Debenhams and shoes from Dorothy Perkins.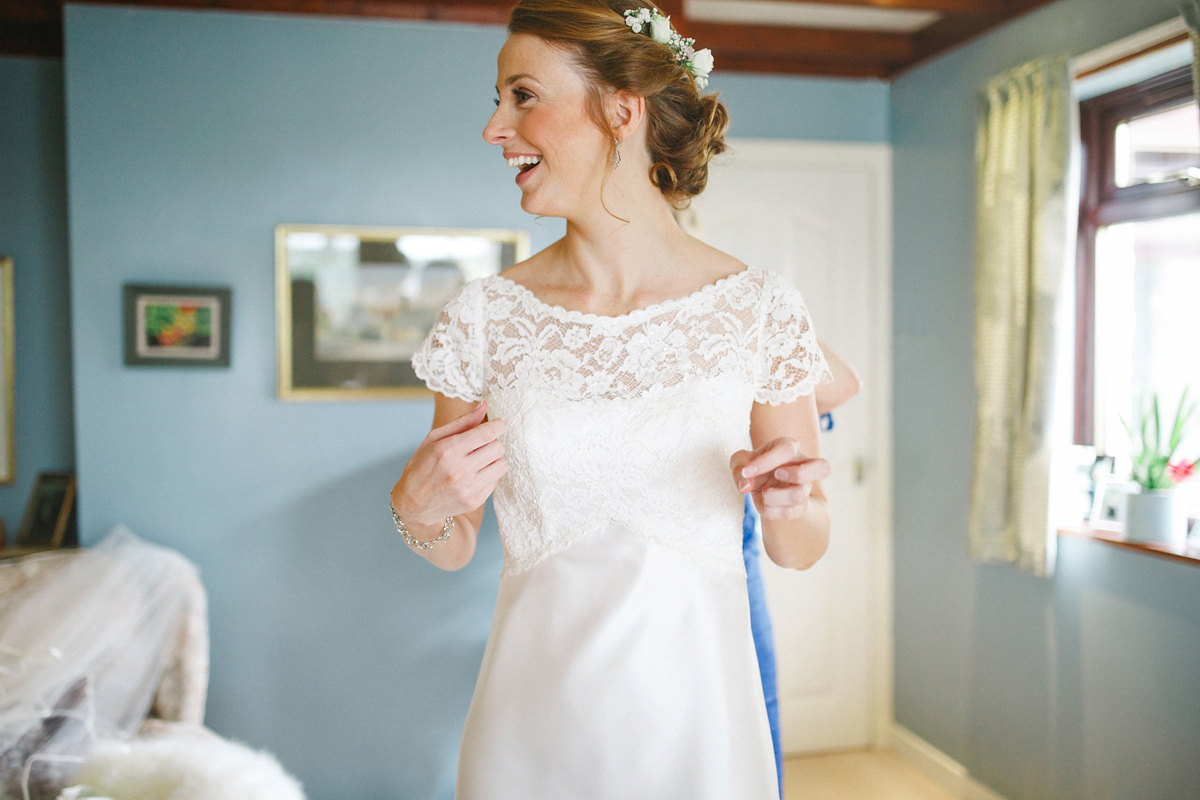 Bridesmaids wore rich, plum Sorella Vita dresses that worked wonderfully with the flawless white of Laura's Charlotte Balbier gown.
Keeping snug in the fresh, October breeze they wore tartan shawls from Edinburgh Woollen Mill.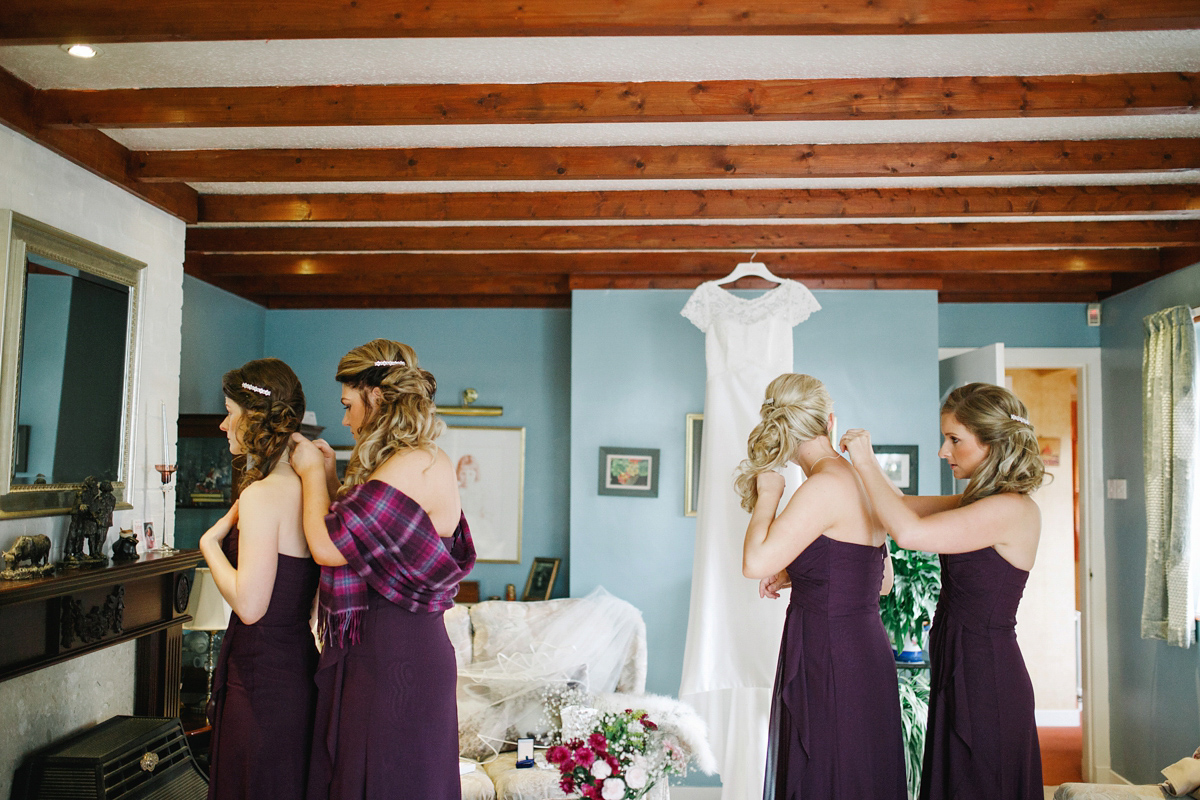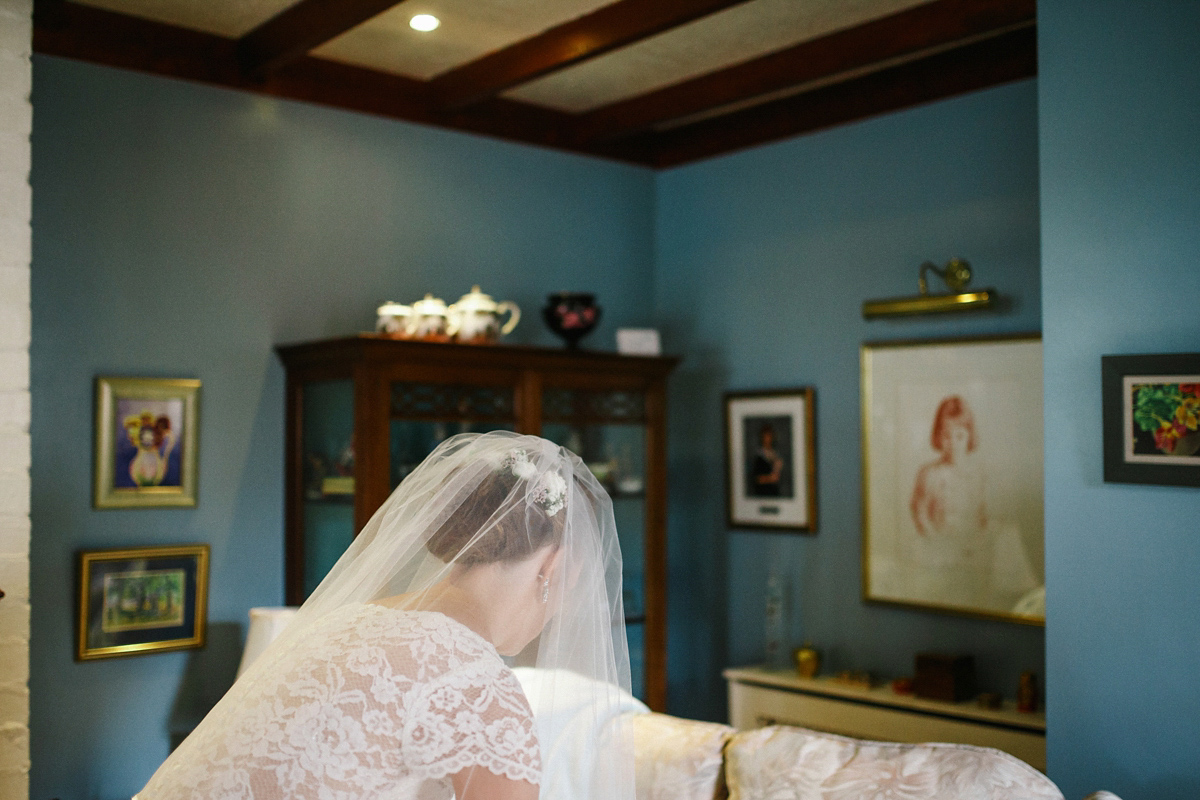 Laura added a diamond bracelet, earrings from Debenhams, shoes from Rainbow Club and a spritz of Jo Malone perfume before excitedly making her way to her ride to the church *squeal*.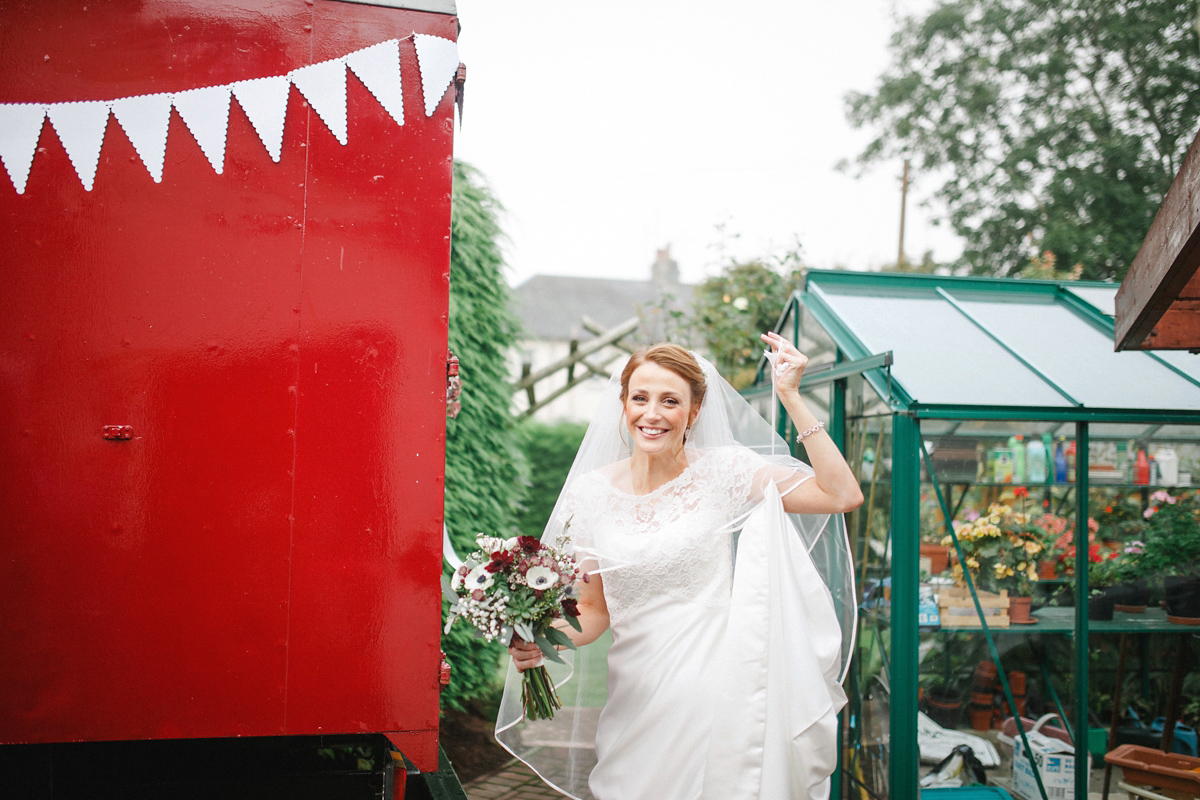 Can we take a moment to appreciate this incredible wedding day transportation? Laura was driven to the church in her dad's lovingly restored milk float, called (wait for it) Betty!
Betty had been adorned with her very own bunting and 'bridal express' sign ready for her starring role and it made for a highly personal and super stylish entrance!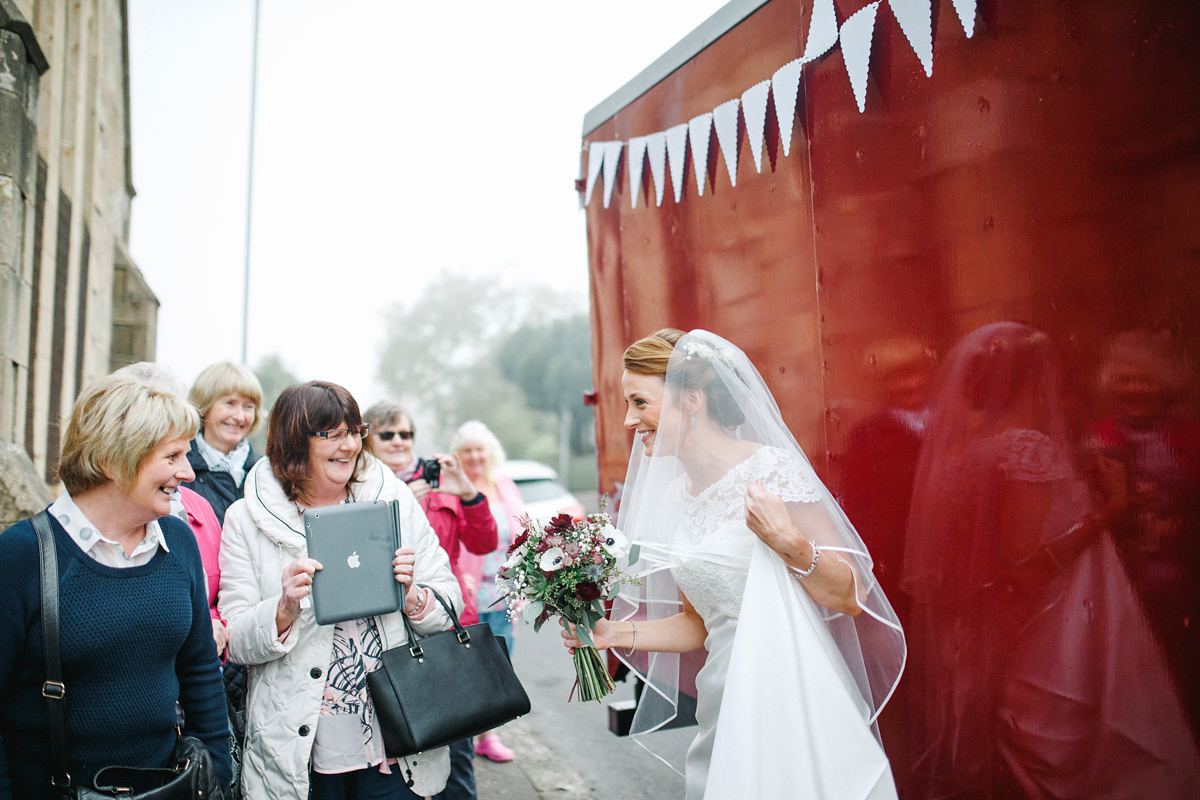 A traditional church calls for homemade decoration and an excited sense of impending love declaration. Howwood Parish Church was Laura's local church growing up and her parents are still very active members of the congregation.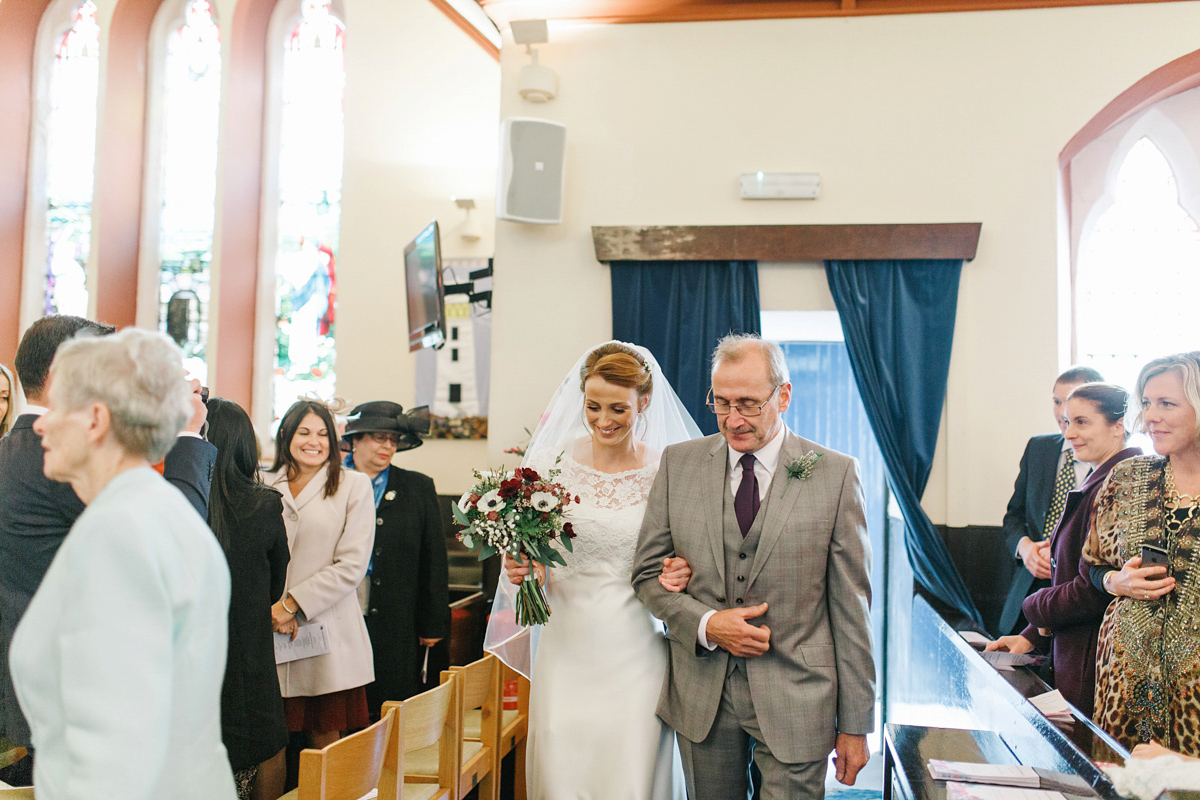 Seeing the light flood through those beautiful stained glass windows evoked many fond childhood memories for Laura, making it all the more emotional to be accompanied down the aisle by her dad, Craig.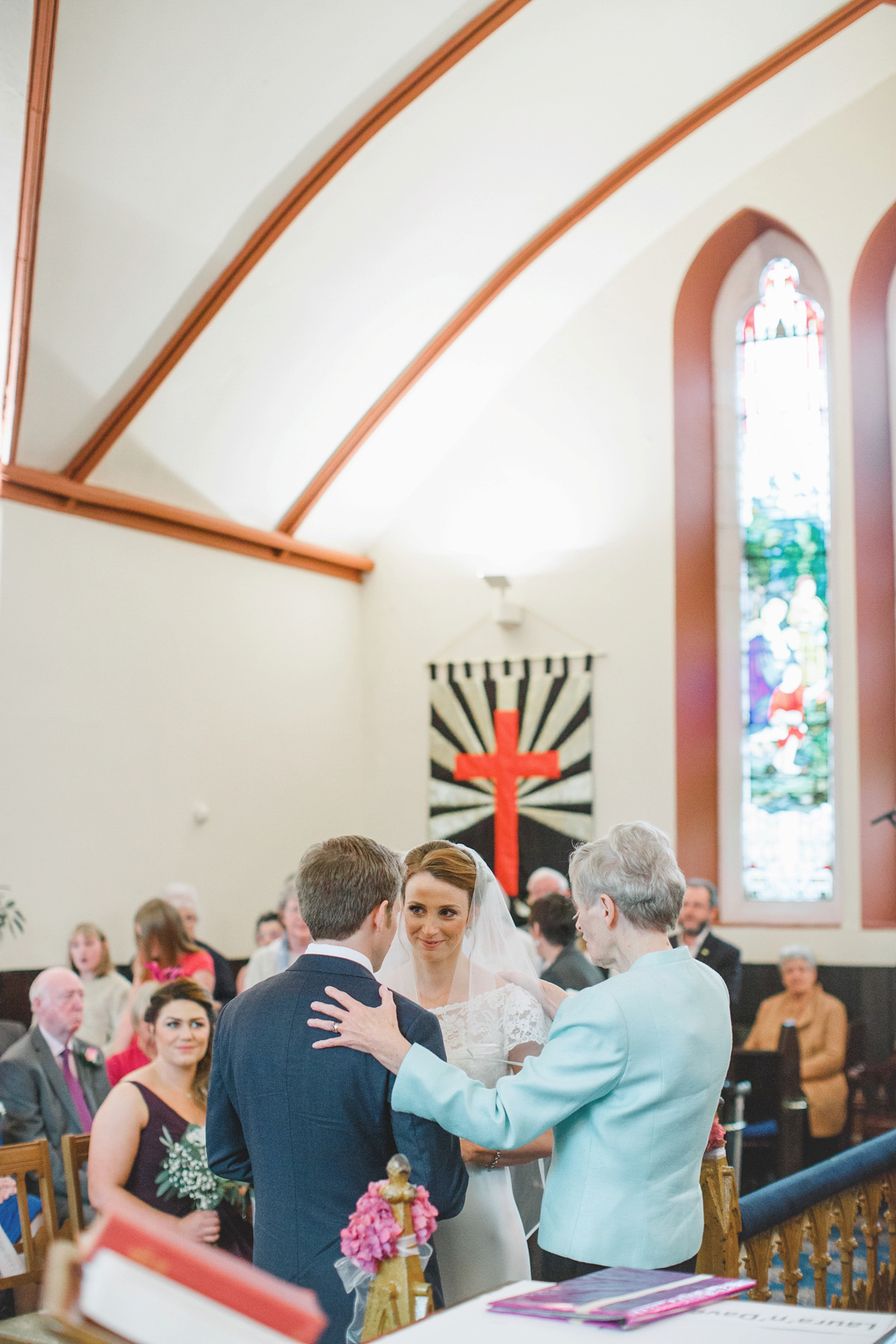 The sounds of 'Bridal Chorus from Lohengrin' by Richard Wagner filled the church as they made their way to a very dapper David, clad  in an MJ Bale suit. Laura remembers this as her favourite moment of the day – heart eyed emoji moment.
Vows were kept traditional with two readings personalising the ceremony, Corinthians Chapter 13 was read by nearly-sister-in-law Naomi and A Red, Red Rose by Robert Burns was read by family friend Robert.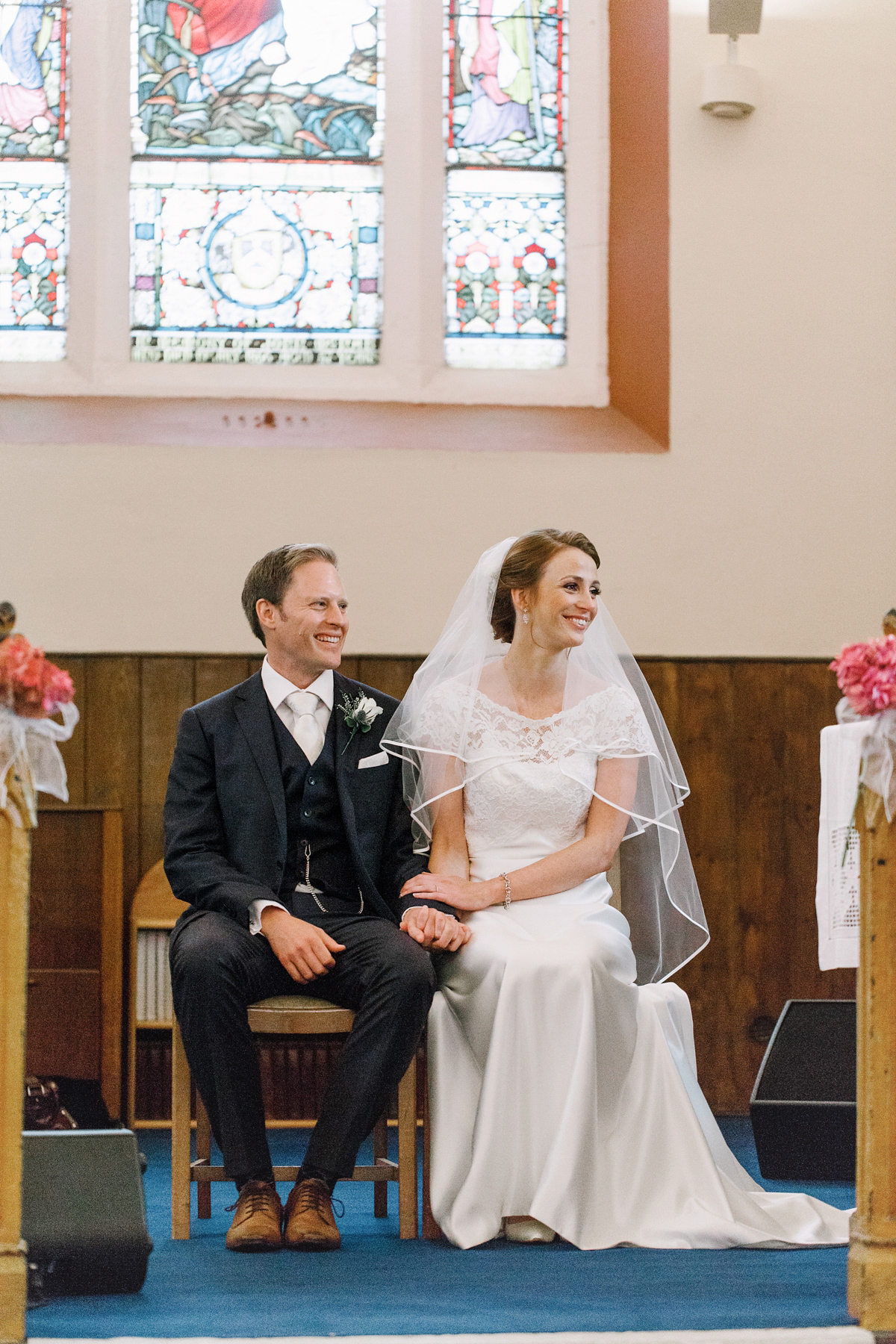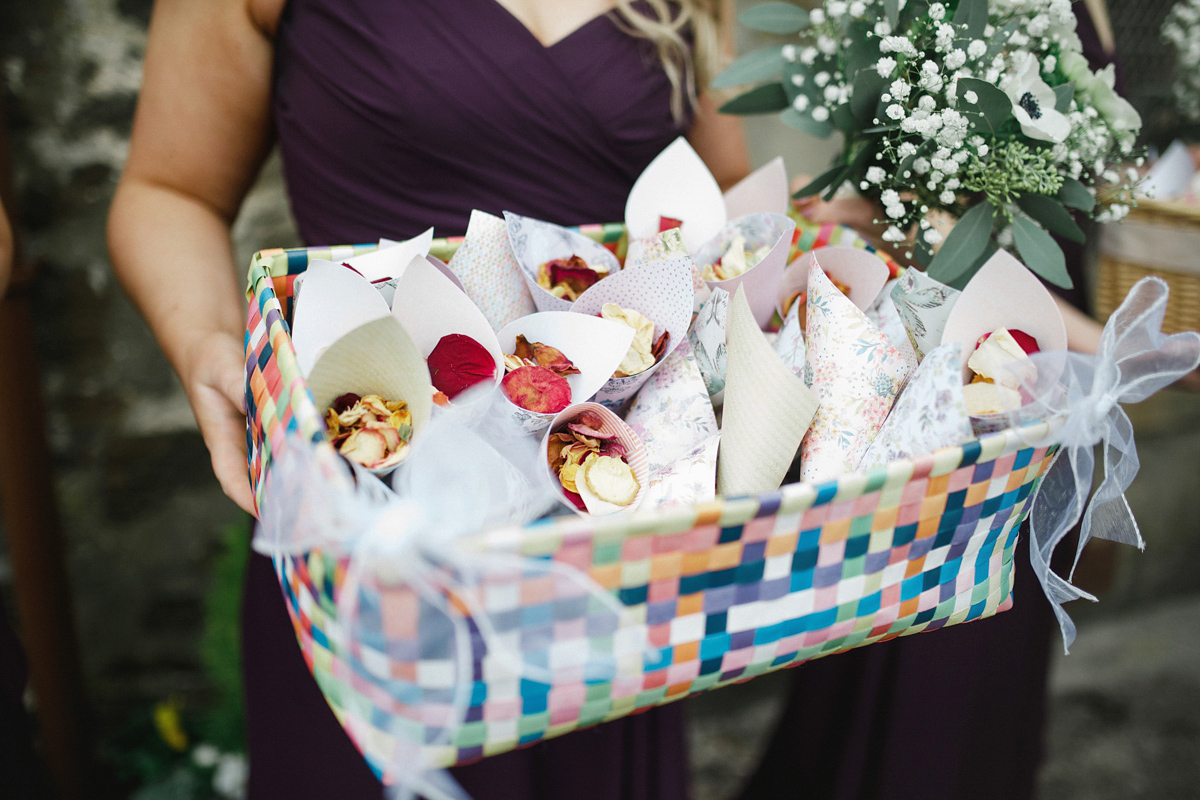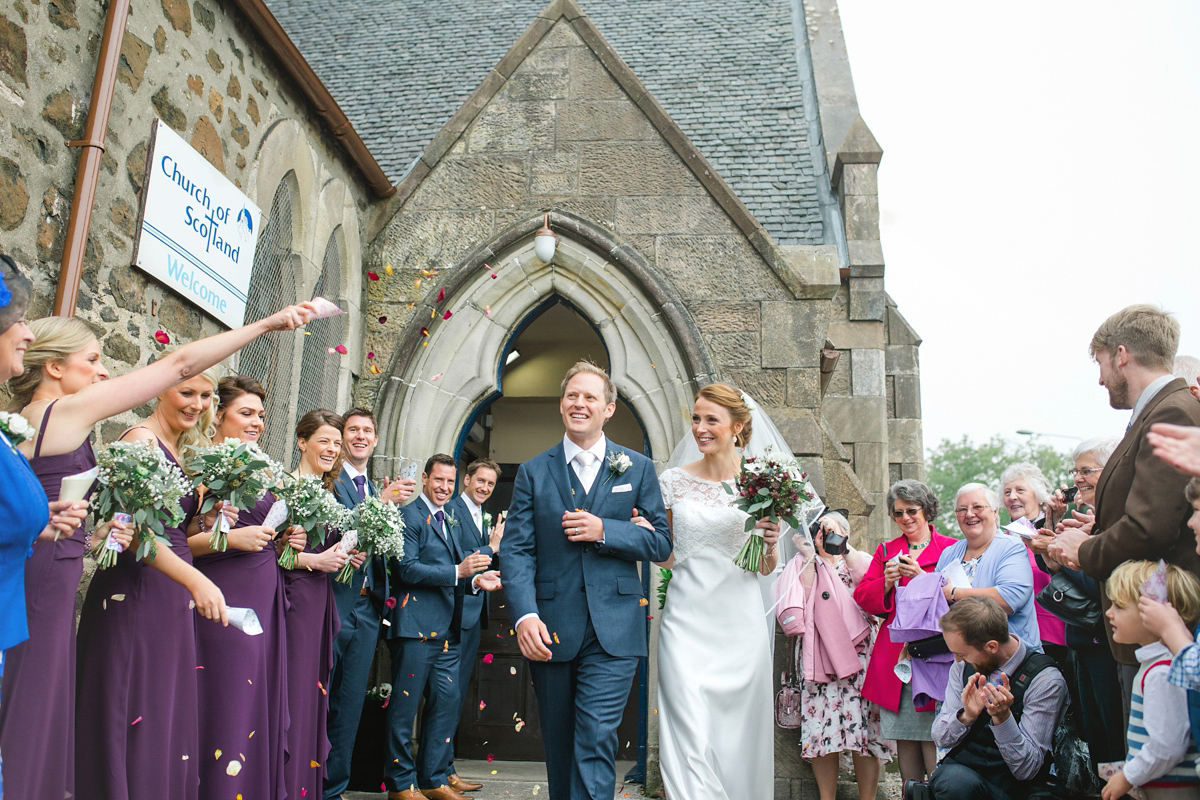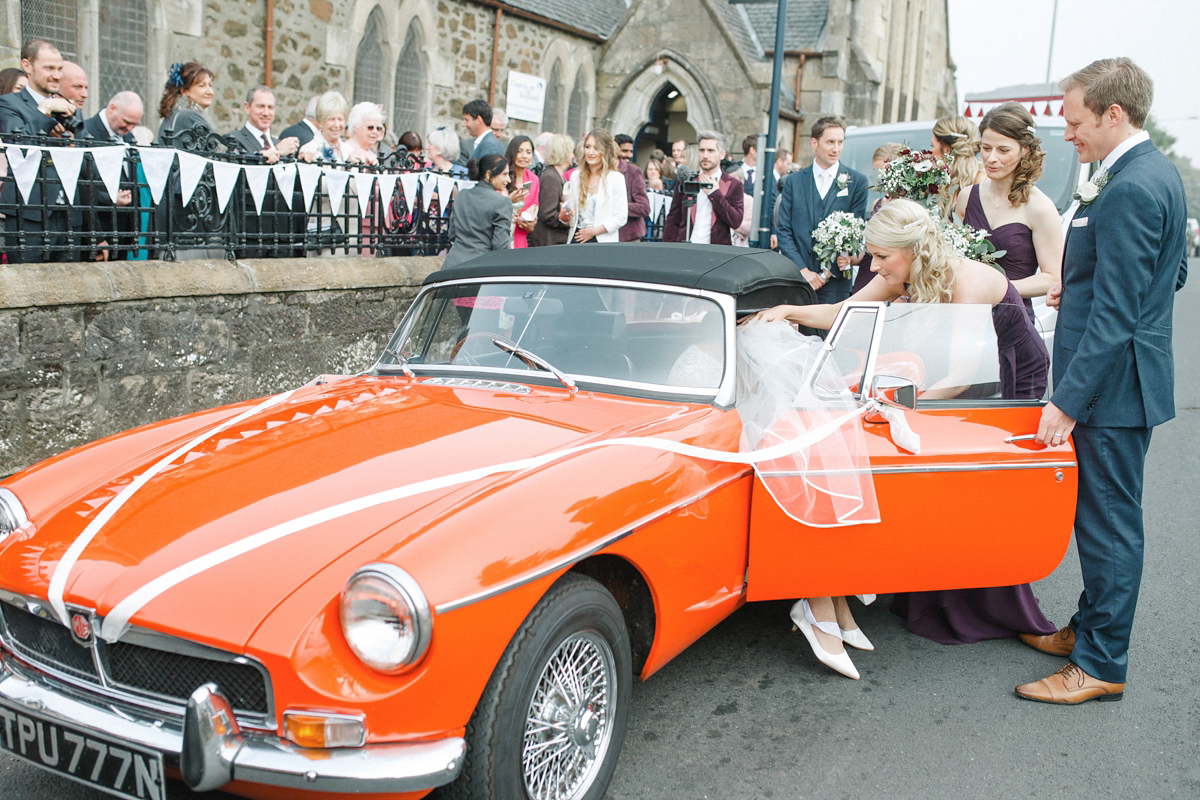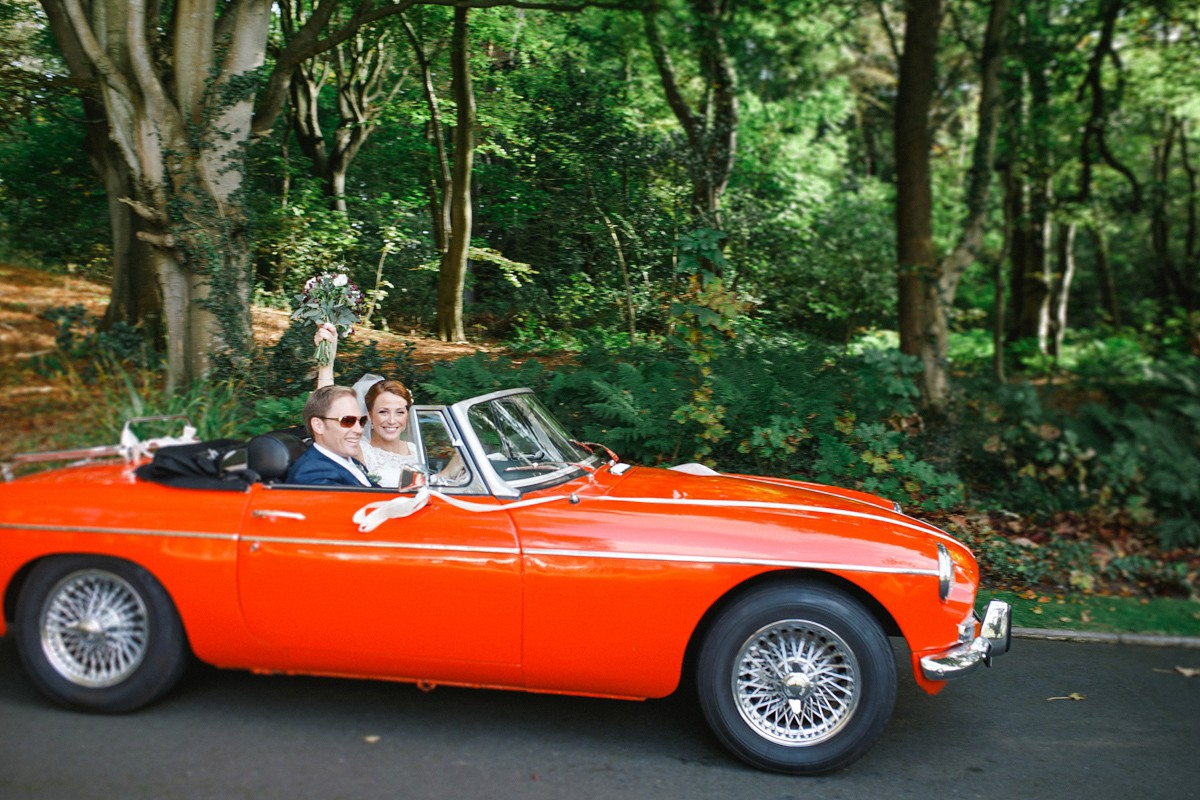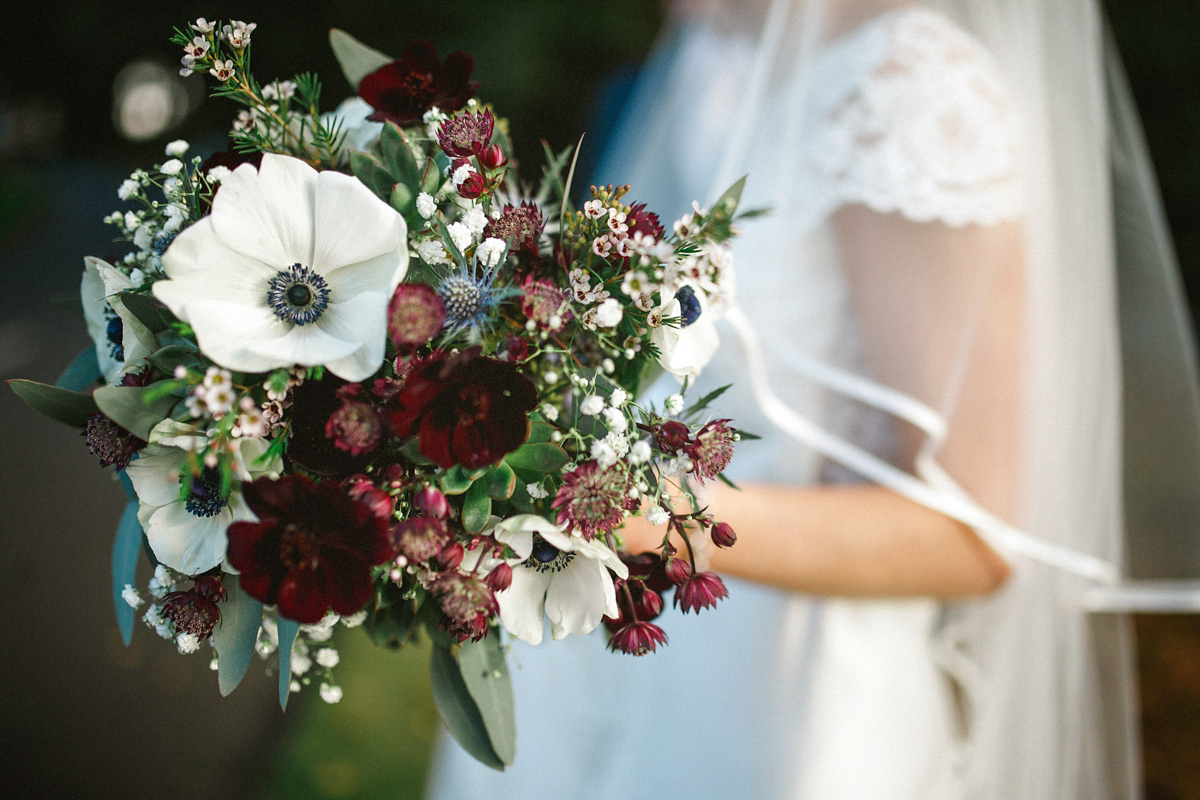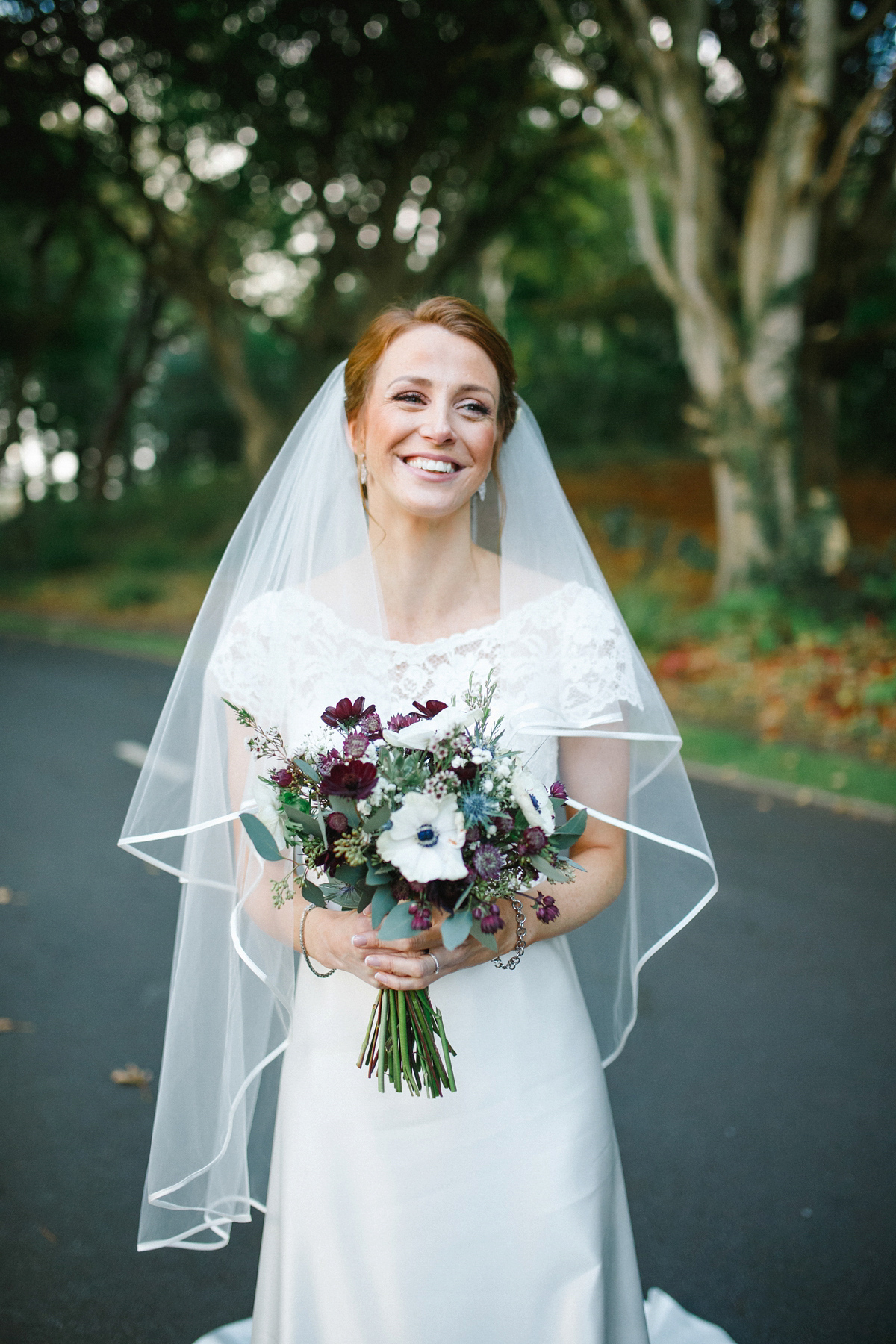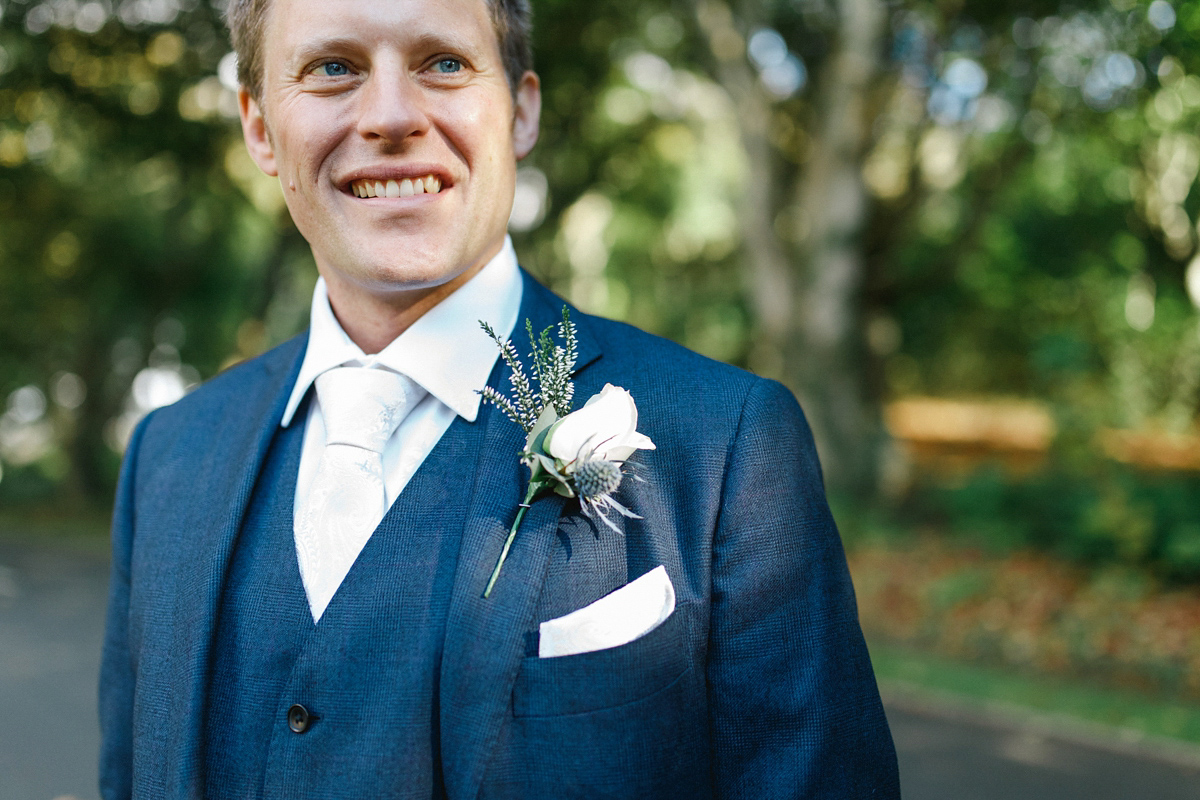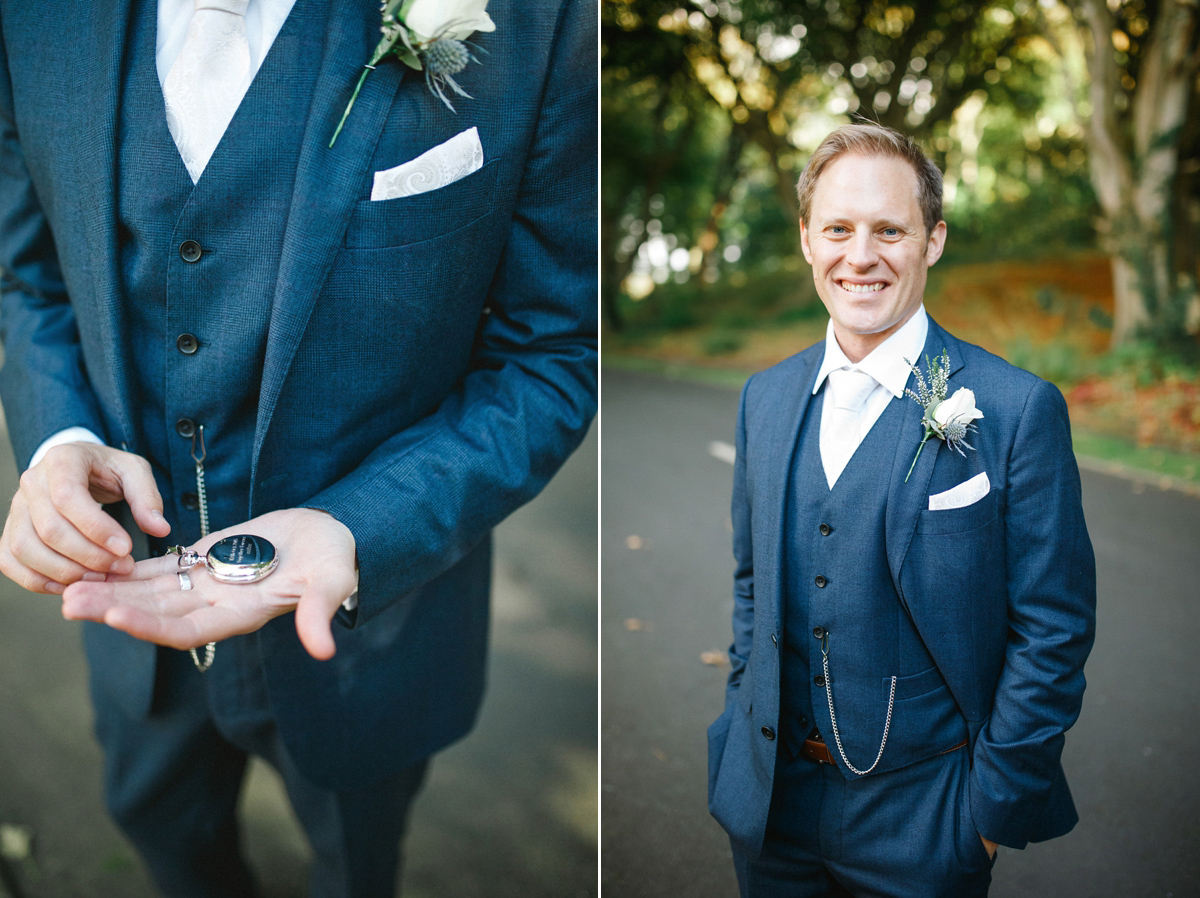 Capturing all of this happiness and new Mr & Mrs Mayne elation was Chantal Lachance-Gibson, aka The Gibsons Photography.
Fresh from the ceremony, the newlyweds went for a spin in a classic orange MGB before enjoying a quiet moment surrounded by turning leaves and dappled light.
The Gibsons Photography  ensured the meaningful moments and complete beauty of the occasion were committed to film in a luminous and stylish way.
"We picked Chantal after seeing her name featured on a wedding awards website. We liked her natural style and the fact that she worked with her husband Scott gave us the benefits of photos of us both getting ready. On the day of the engagement shoot the two of them were so friendly and relaxed that we knew we'd made the right choice and they didn't disappoint on the big day. "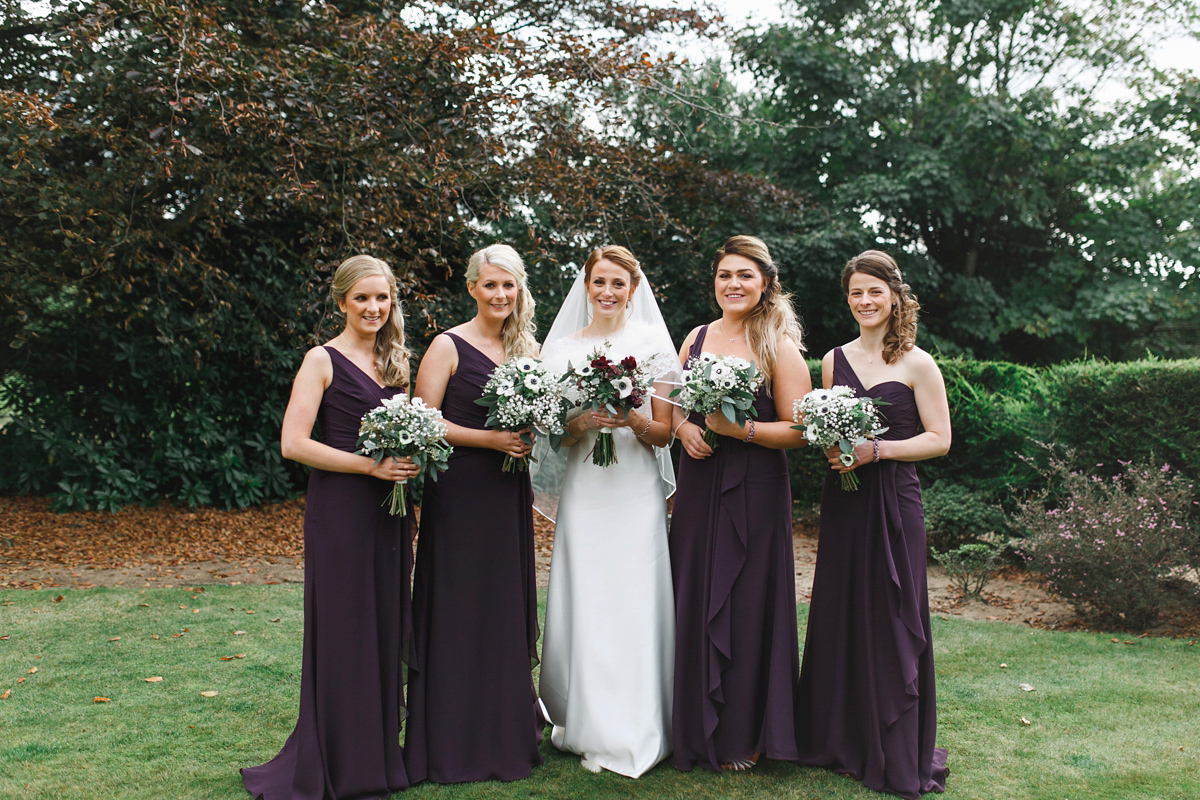 "They knew when to blend into the background and when to put their foot down to make sure we managed to get all the photographs we wanted, whilst having time to enjoy the day with our guests. We love the photos and would recommend The Gibsons to anyone.
Lochgreen House Hotel is close to the Scottish coastline and had room to accommodate all of the guests for dinner and allow all of the travelling guests and family to stay on-site.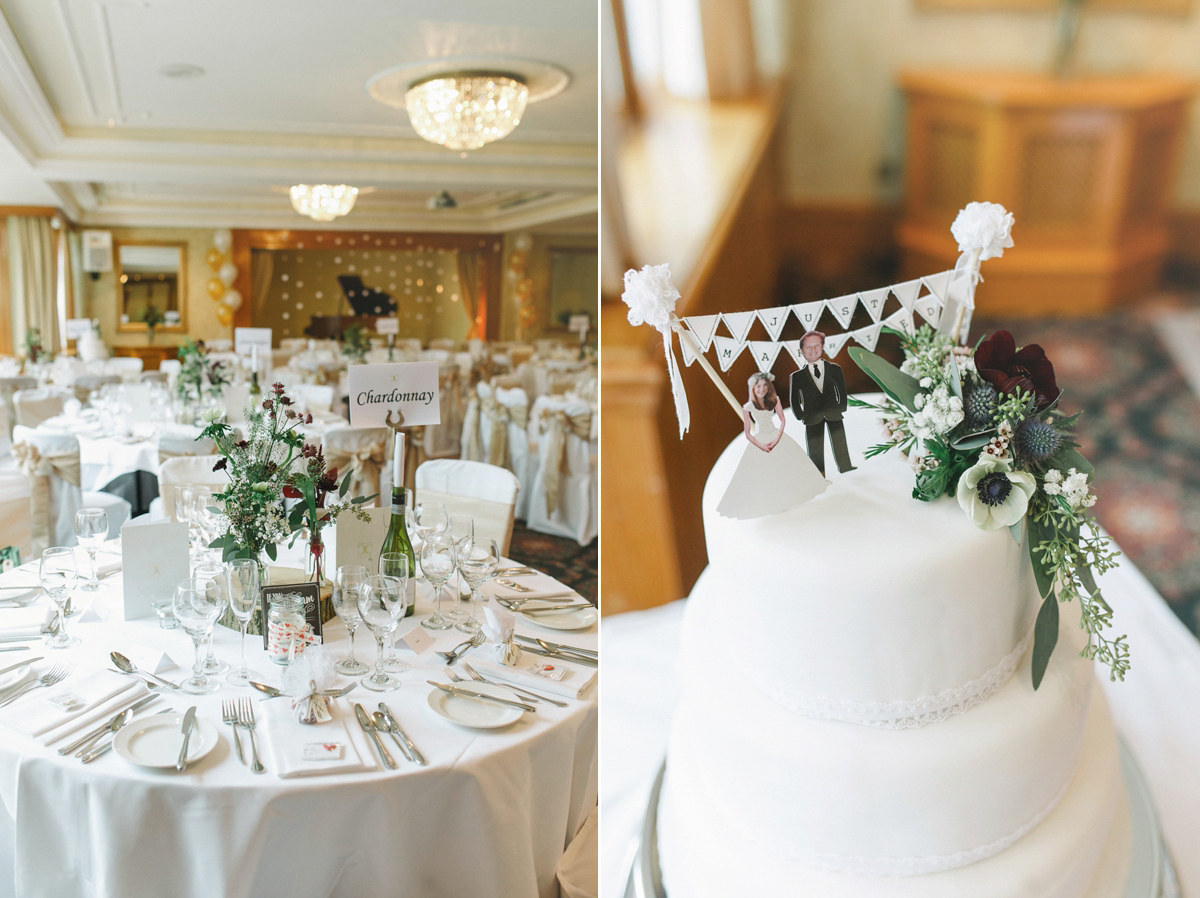 Décor making was a collaborative effort, with Laura's mum drying hydrangeas from her garden and making bunting and Laura's Auntie Gina making a wonderful iced fruit cake with three tiers. The hotel provided the catering, menus, place cards and table plan whilst the couples friend Olivia designed the order of the day cards (as well as the invitations and RSVP cards).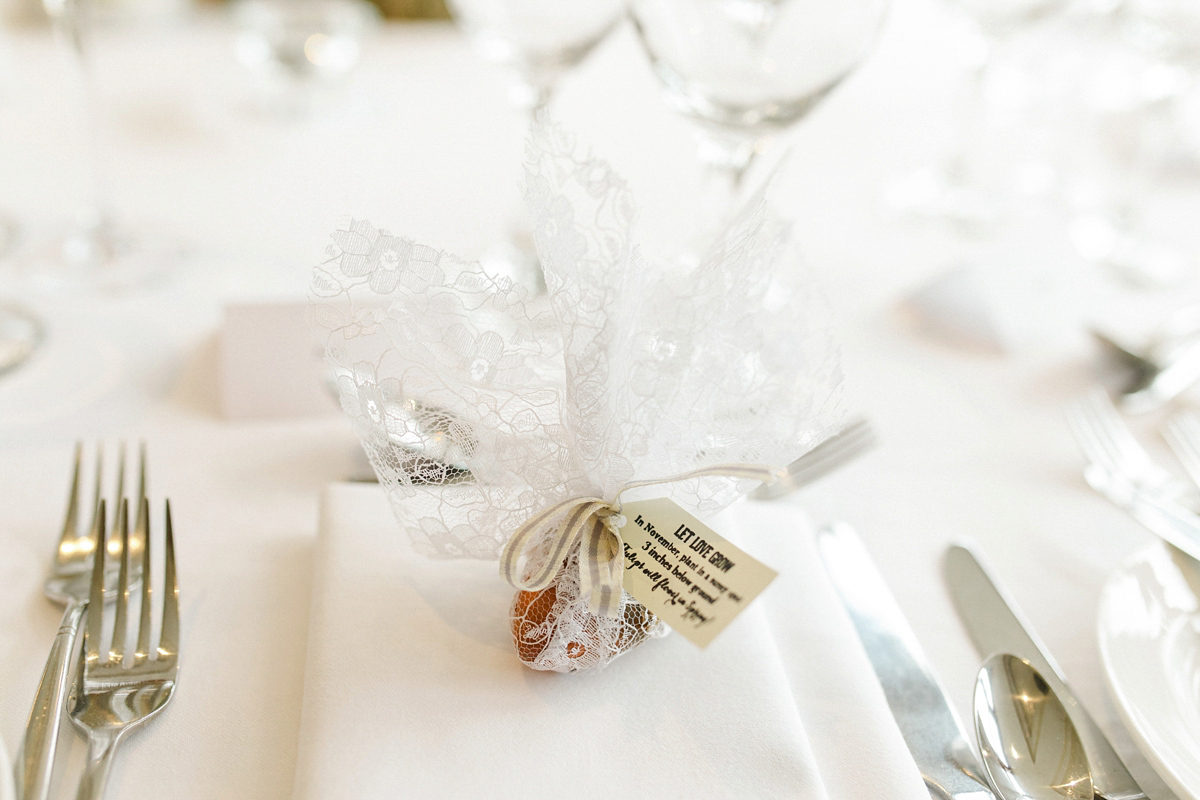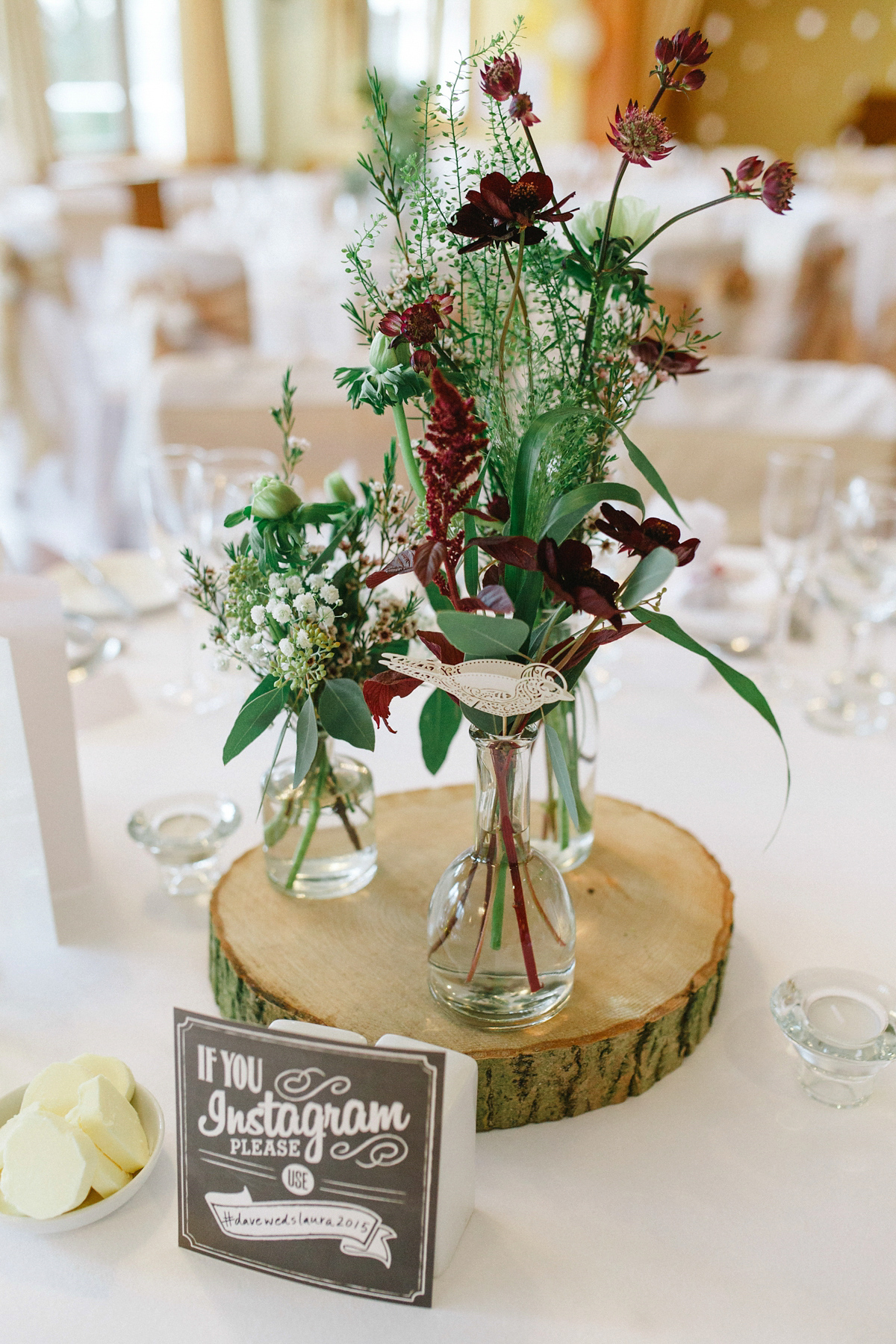 In a stroke of brilliance, the first dance was '500 Miles' by The Proclaimers played by the band Northern Star.
"The band started the song off as a slow version which we danced to together. They then shifted gear into the well known original chorus and everyone joined us, by the end of the song we had a packed dance floor. It stayed full for the rest of the night."
Words of Wedded Wisdom
"Try to find 15 minutes during the day when it's just the two of you to let the day sink in!"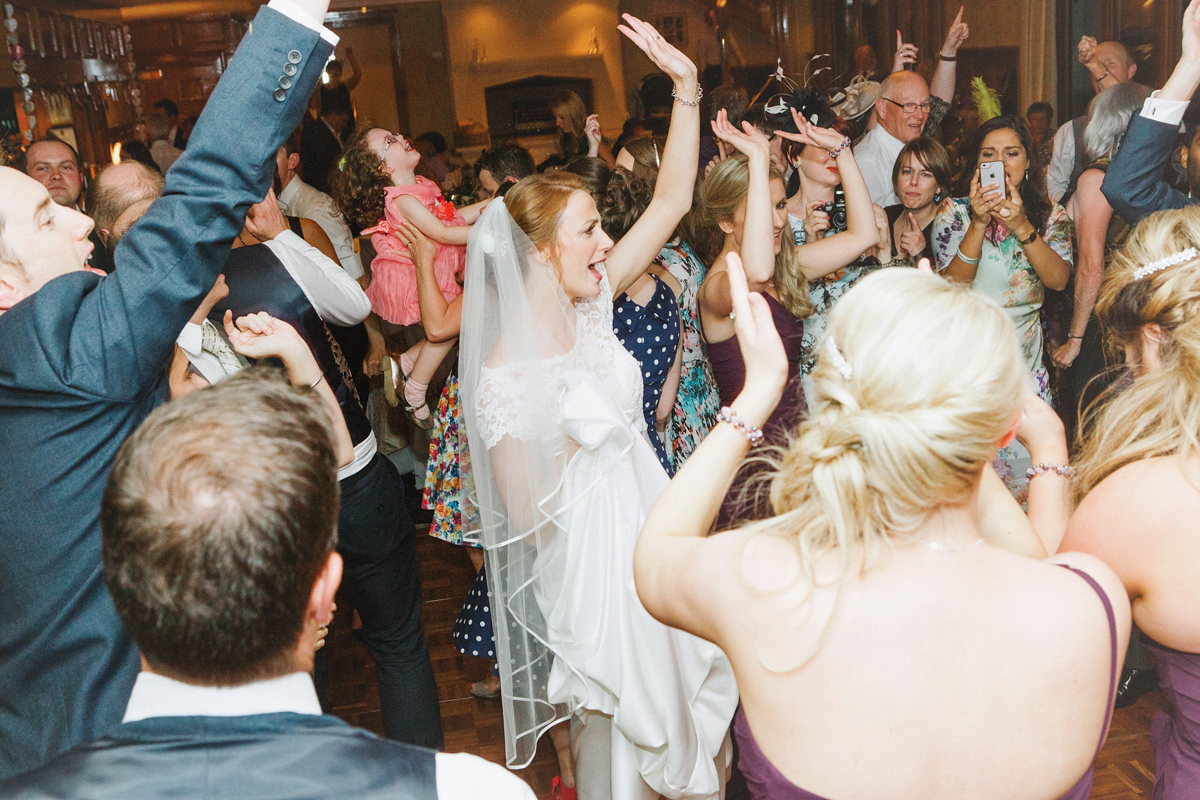 Short, sweet and totally necessary words of wisdom from Laura, and even if you have every intention of doing this, it can be all too easy to get caught up in the gloriousness of the day and forget! Squeeze that precious time in and don't feel guilty for doing so, it gives you chance to catch your breath and share a moment that you will remember for the rest of your lives. Huge thanks to Laura, David and The Gibsons Photography for allowing us all to improve our Tuesday by sharing in such a happy occasion, it has been a treat.
Now, make sure you have all read our newest 'from the heart' post, our little community strengthens and helps all of us deal with this wedding journey (and life in general through rants, shoe recommendations and shared high fives) and these posts inspire empathy and compassion, something the world needs more of.
I'm preparing for a London trip this weekend and cannot wait to spend some quality time in galleries and stuffing my face with some interesting food (any recommendations welcome!).
Lots of love,
Emily C xxx