Ohhh little lovelies, I have such a delightfully pretty summer wedding to share with you today, all beautifully captured by Jessica Reeve Photography. Groom David is an energy trader whilst bride Kirsty is a social worker and the happy couple tied the knot on the 18th of June 2016 in a place famous for its outstanding natural beauty – the Lake District. Their service was held at St Andrews Church, followed by the reception in tipis by the lake at Bank Ground Farm. Kirsty donned an utterly exquisite Stewart Parvin gown she found via Love Bridal Boutique.
We're incredibly proud that Royal couturier Stewart Parvin is a member of our helpful wedding resource, Little Book for Brides.
"My dress was the complete opposite of what I thought I wanted. I had tried several floaty A-line dresses, but this one made me feel a bit more grown up, sophisticated and sexy. And I loved the fact that I could get two looks out of the dress – one with the sleeves for the church and then I could take these off in the evening for the party."
Photography by Jessica Reeve Photography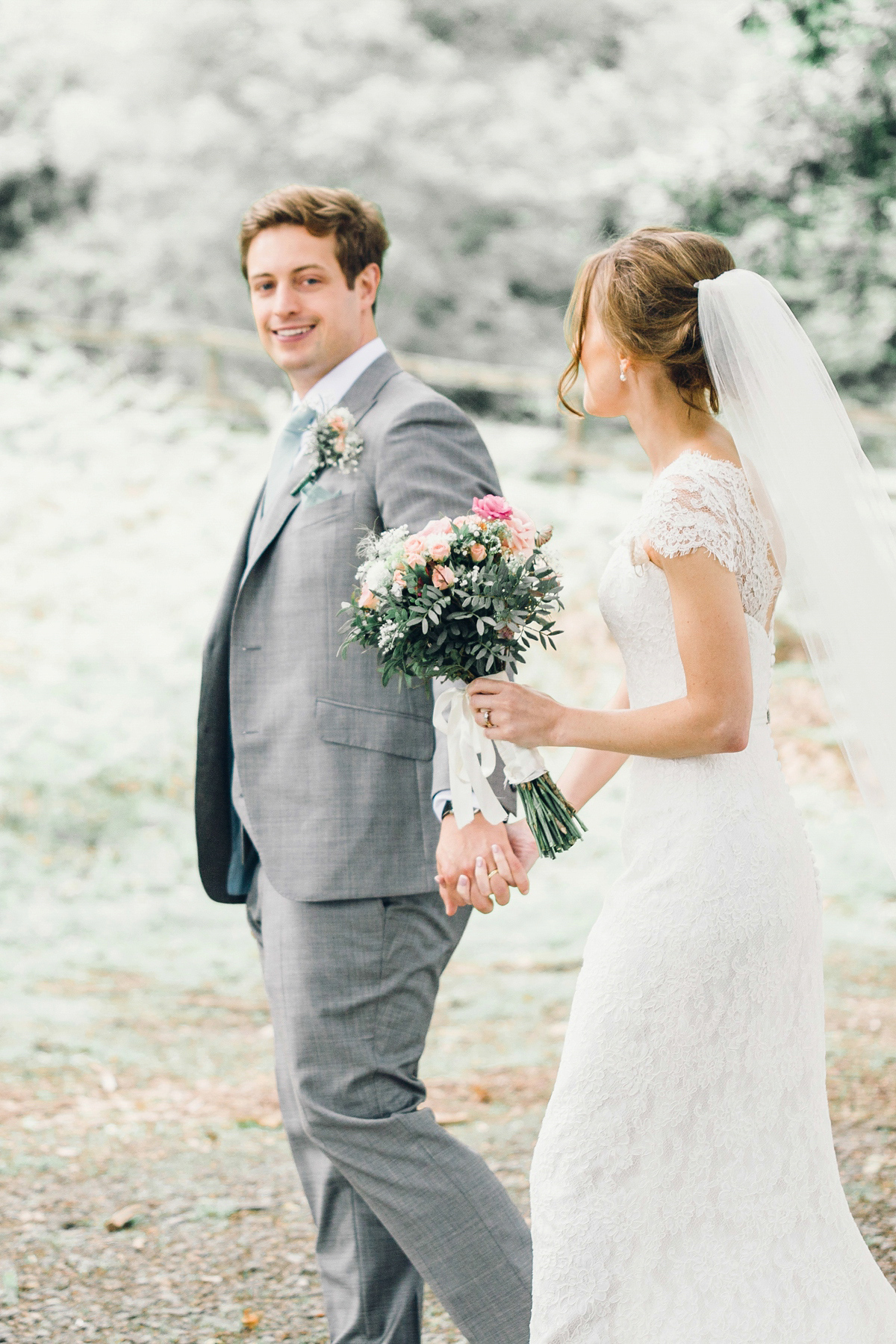 "We both enjoy socialising with family and friends and therefore did not want anything too formal. As we loved the idea of tipis and the beautiful location on a farm by the lake, we decided to have a wildflower, fete and rustic theme using lots of bunting and hessian.
With a pretty Stewart Parvin veil and Benjamin Adams heels, Kirsty added Hermione Harbutt gypsophila hair clips, earrings that were a gift from David from Mikimoto and delicious Jo Malone scents of Peony & Suede Blush and Tuberose Angelica.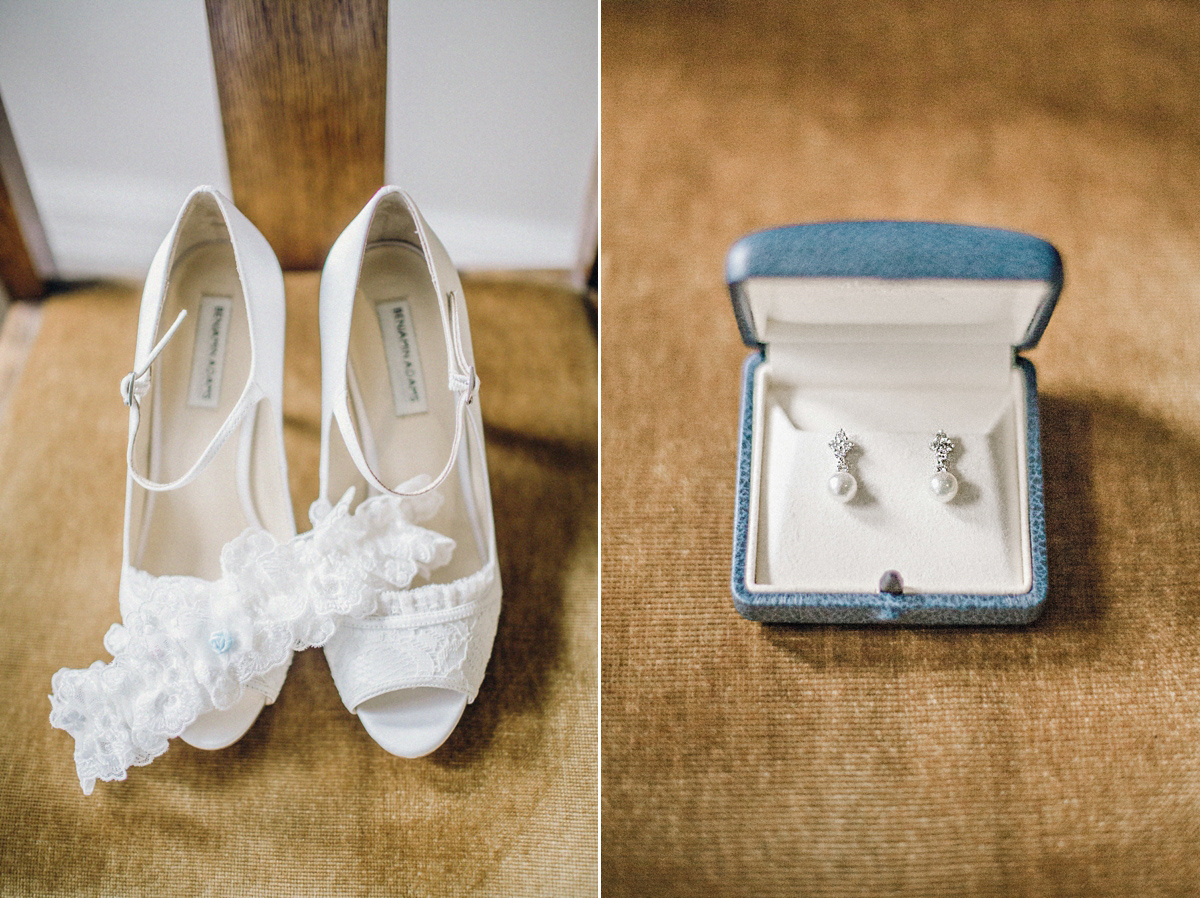 "David's mum treated me to a Jo Malone wedding session where we chose a 'wedding scent' – it was great fun."
The pretty maids looked beautiful in their Debenhams pastel green dresses, and added their own shoes and pearl wedding hair pins from 'lovelyprettythings' on Etsy.
Their wellies were found via Amazon and dressing gowns from Very.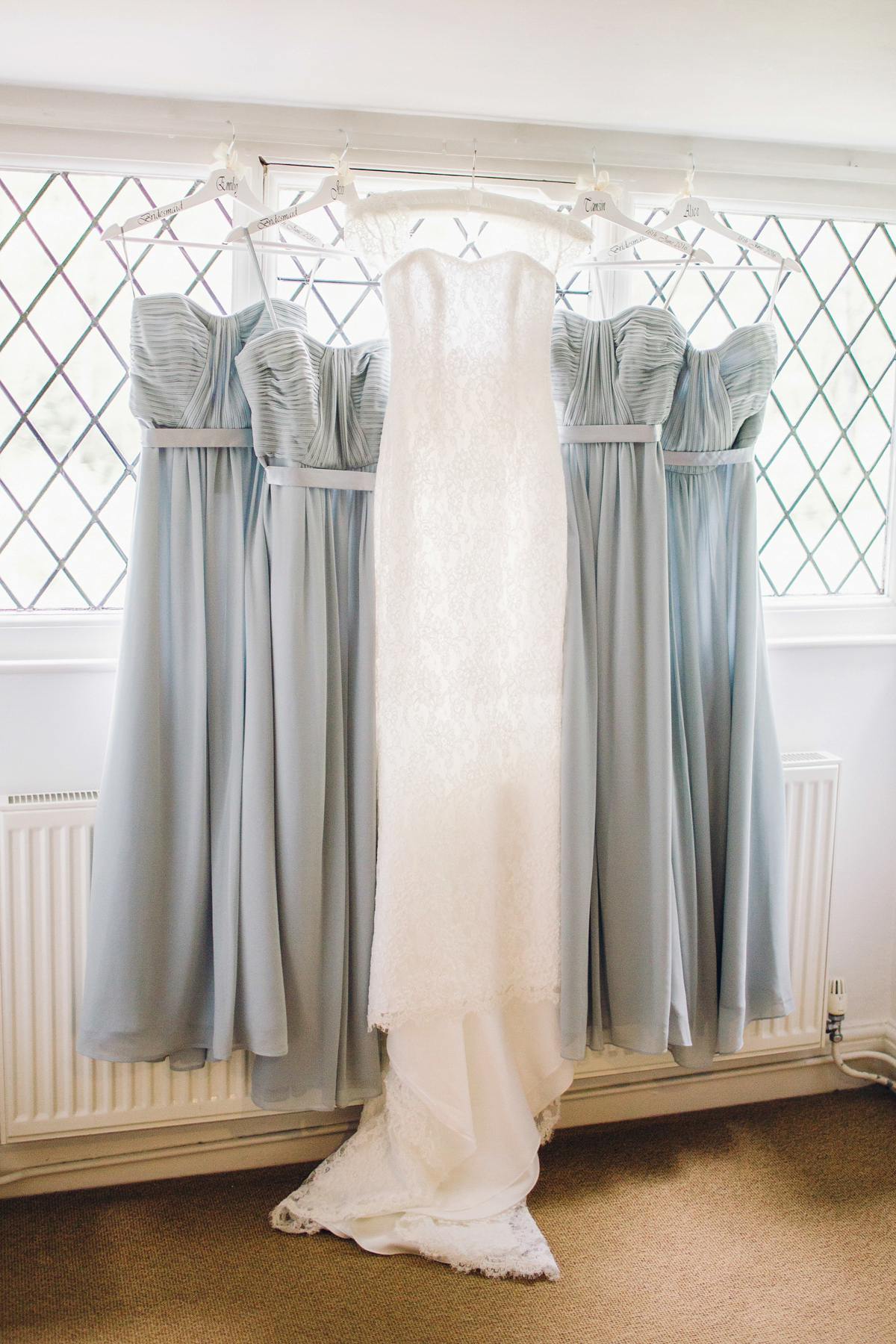 "Olwyn Jackson is a family friend who used to teach piano to me and had previously done her daughter's flowers for her wedding. She is not a florist but did a wonderful job with the flowers for the day."
"We wanted a wild theme in terms of flowers, so had a huge mixture of wildflowers which were put in small jars, milk churns and a few displays at the church."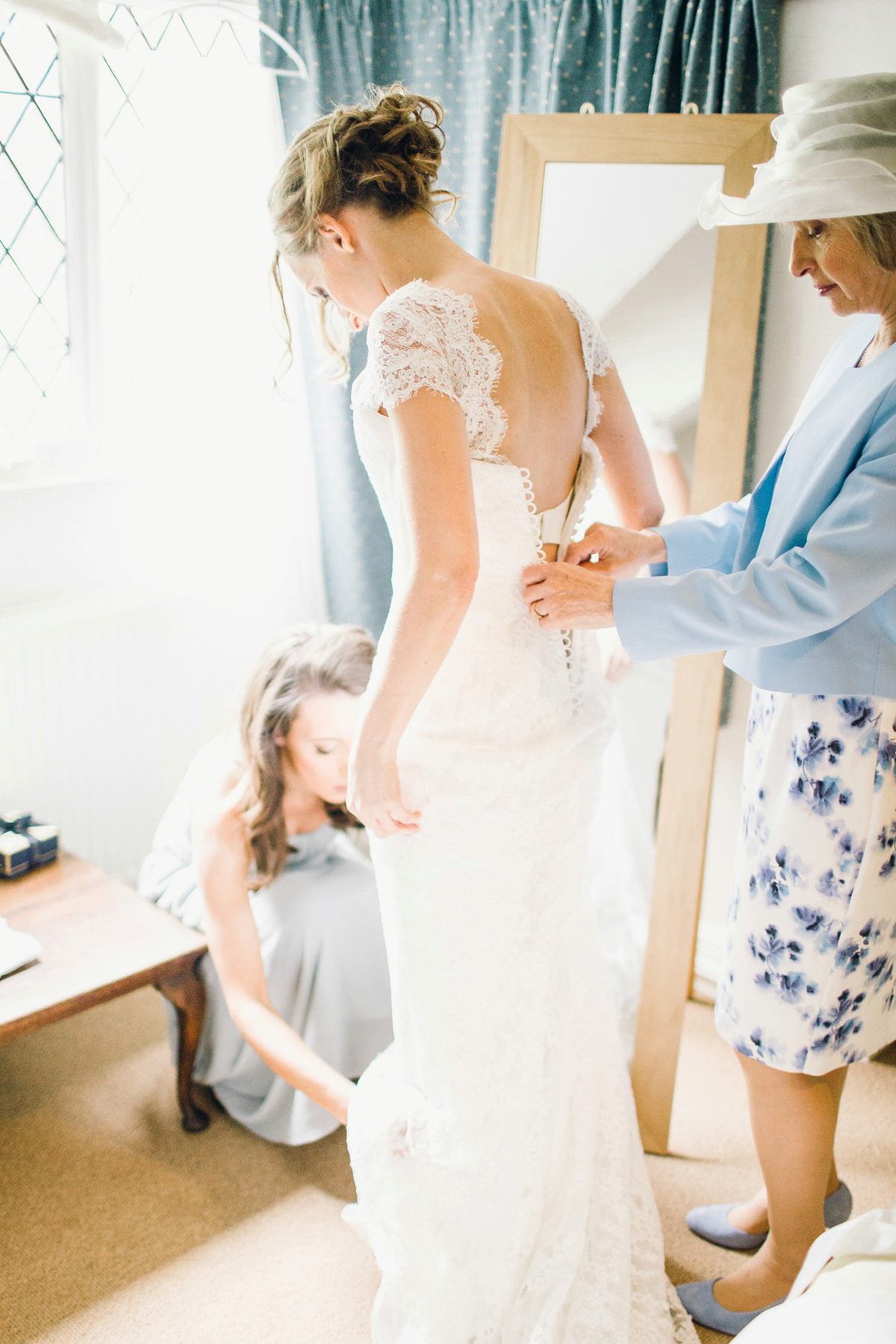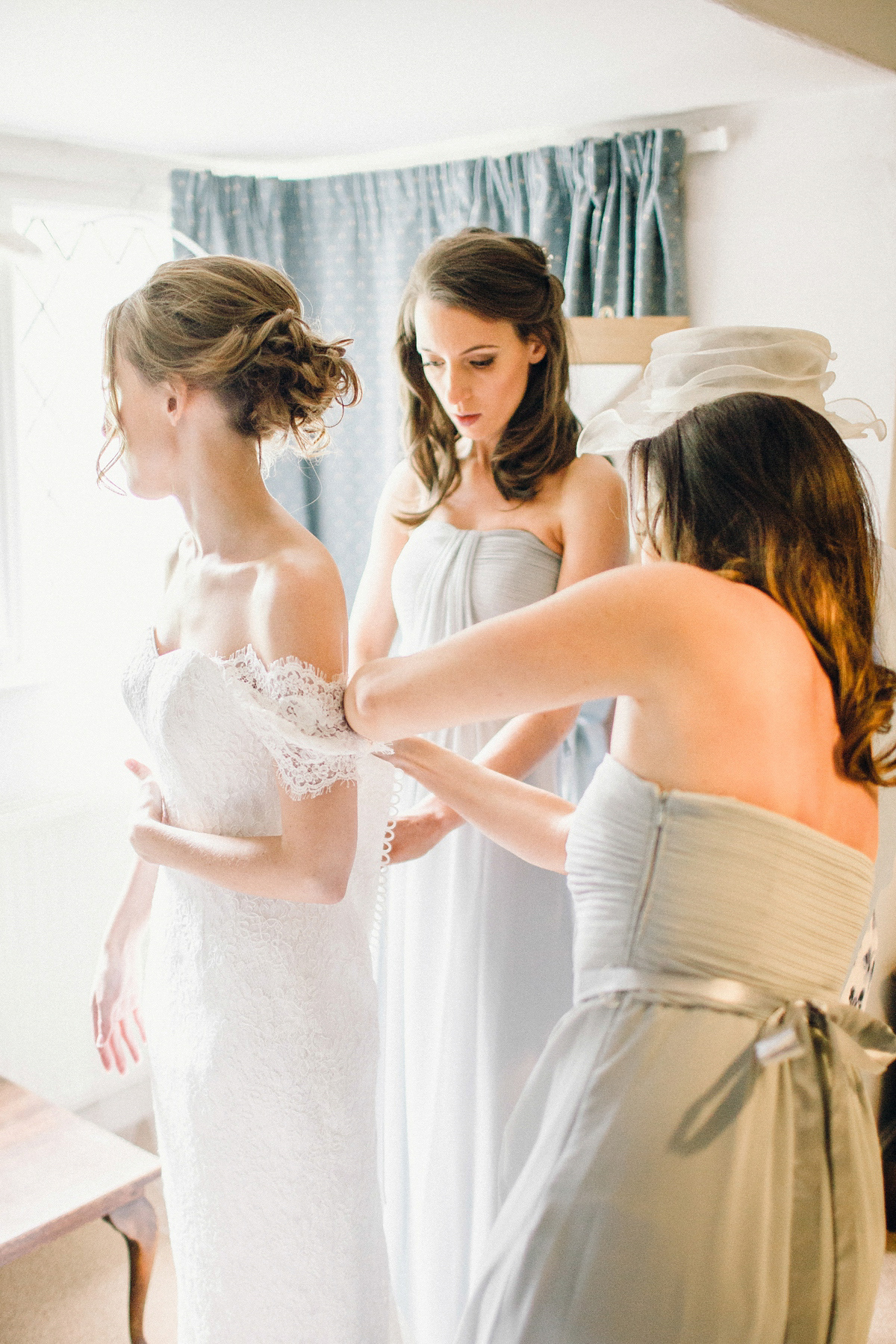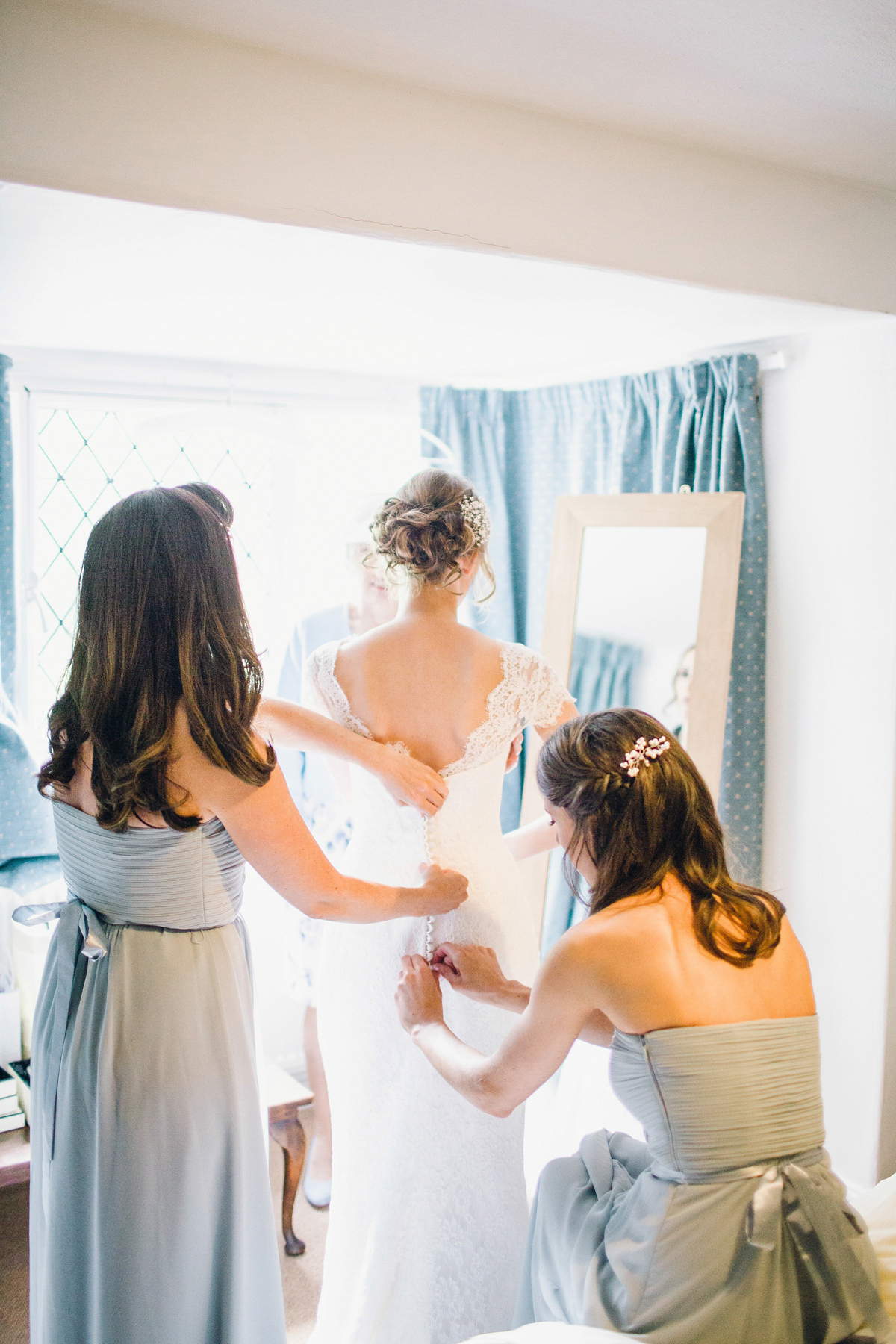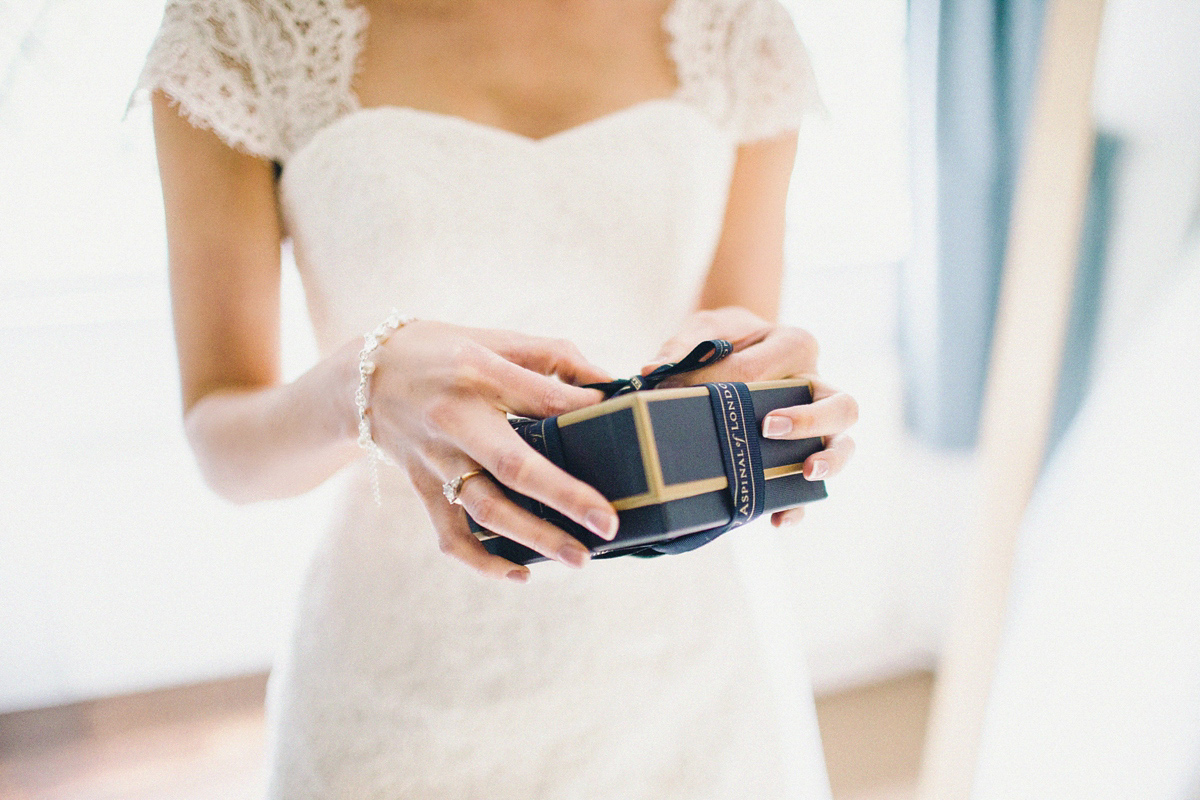 David wore a smart grey suit from Edit Suits Co., with cufflinks from Aspinal of London, Paul Smith shoes and a Longines watch.
The groomsmen and best man wore their own grey suits.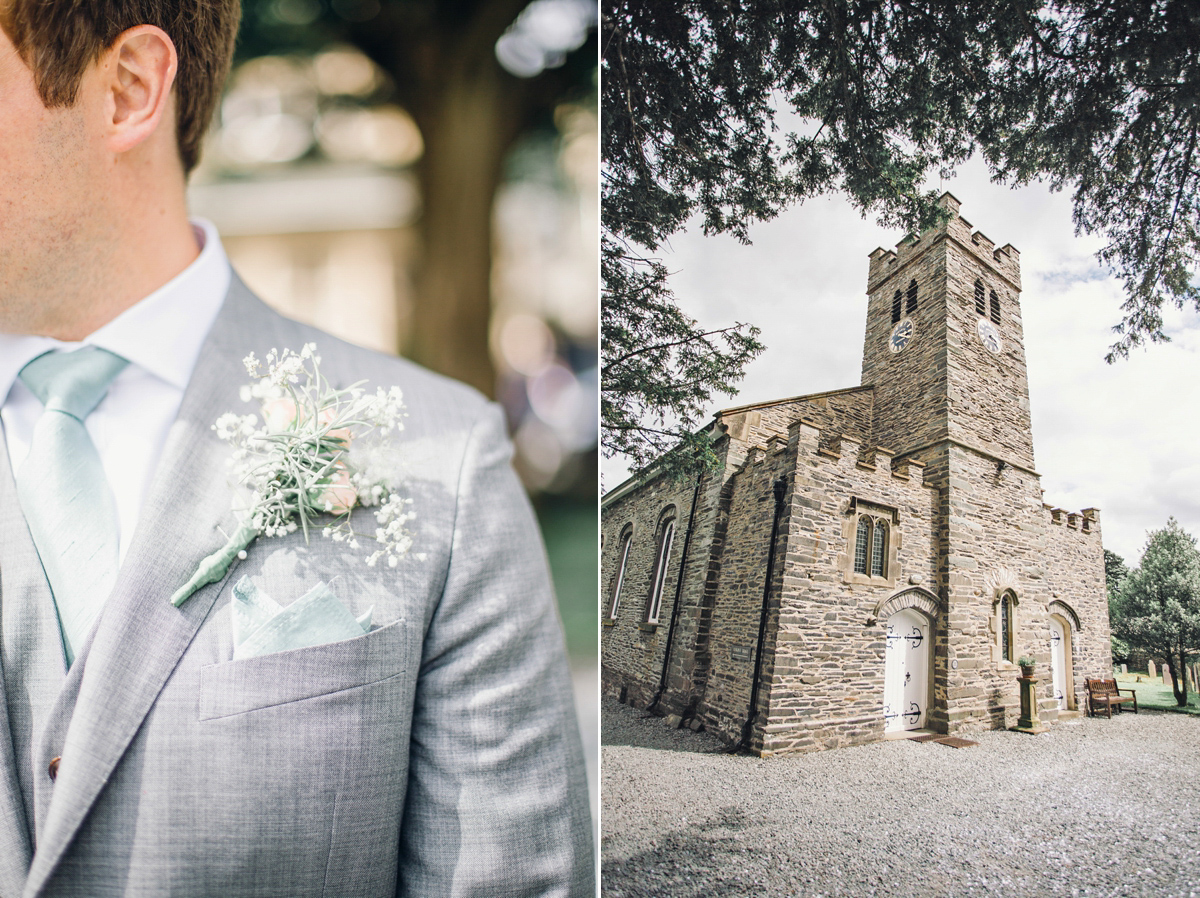 "We met in the summer holidays before we started college through mutual friends and have been together ever since, from the age of 16.
David proposed on his family beech of Lake Coniston on the 6th of December 2014. His parents have a holiday home, which we visit several times a year and it has become a very special place for us both. We usually take a stroll down to the beach in the evening yet this time it was very dark, cold and pouring with rain. Despite family and friends becoming keen for us to get married David managed to make it a complete surprise for us all. David has been designing the engagement ring with my friend Hannah Shaw since June 2014. We decided to give ourselves time with planning the wedding and therefore arranged to get married in June 2016."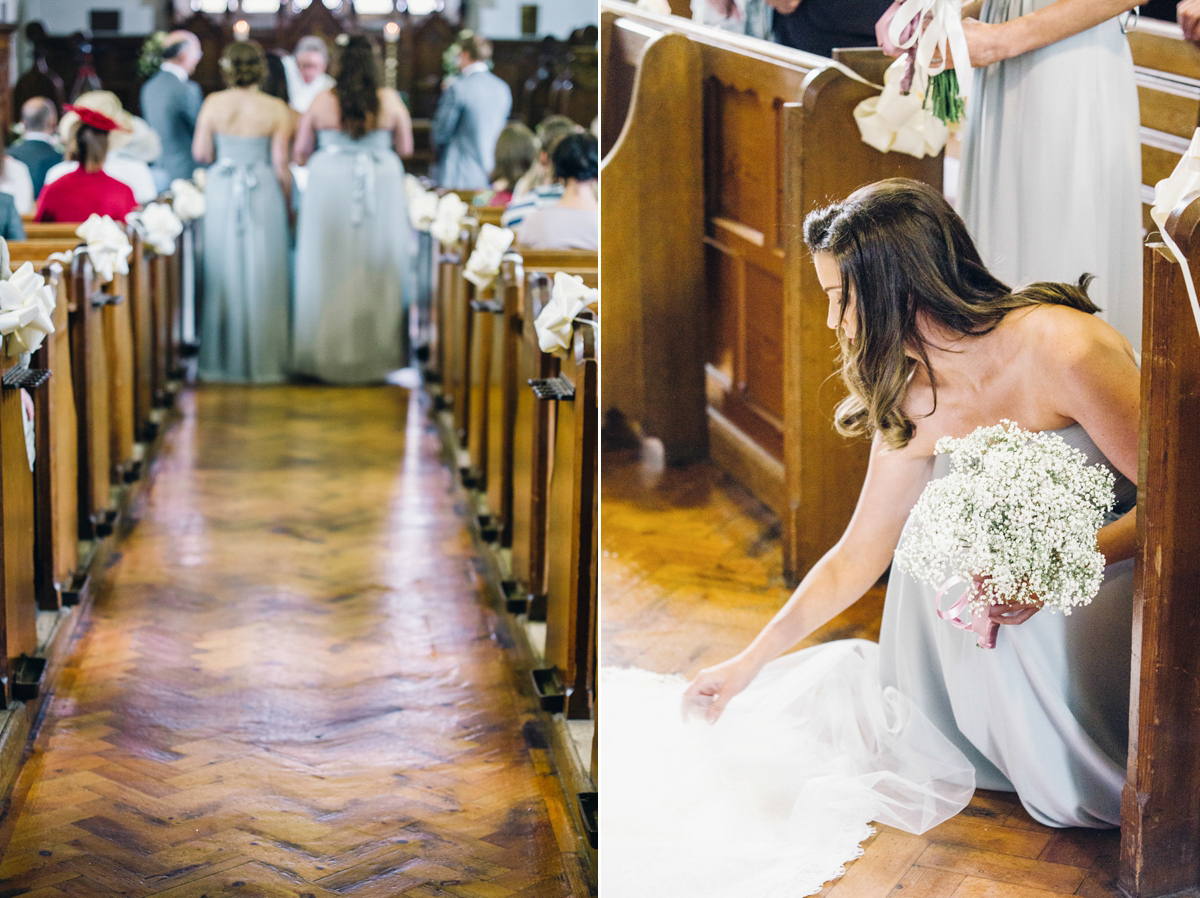 Kirsty's brother Toby provided the transport for the wedding, whilst her dad accompanied Kirsty down the isle to 'Trumpet Voluntary' by Jeremiah Clarke.
"We had very traditional wedding vows as stipulated by the vicar."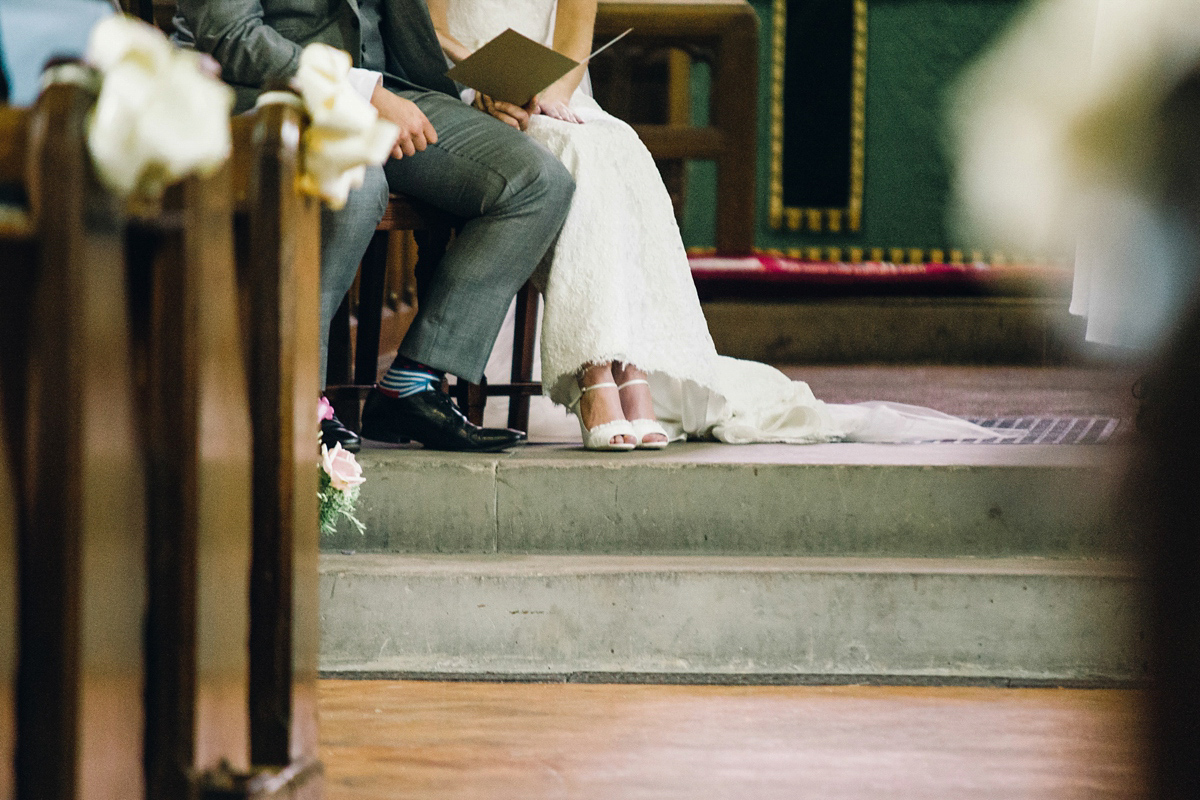 "We had two readings – one was a religious reading of Ruth 1 v16-17 and the other was 'I Will Be Here' which was a song that David chose to have as a reading as he really liked the words."
"My favourite part of the day was saying our vows and watching all our friends and family come together and get on so well. The following day we got to hear all the stories (including about our friends going skinny dipping in the lake at 3am!). It was so nice to see everyone having so much fun as we had wanted it to be a weekend of love, laughter and fun."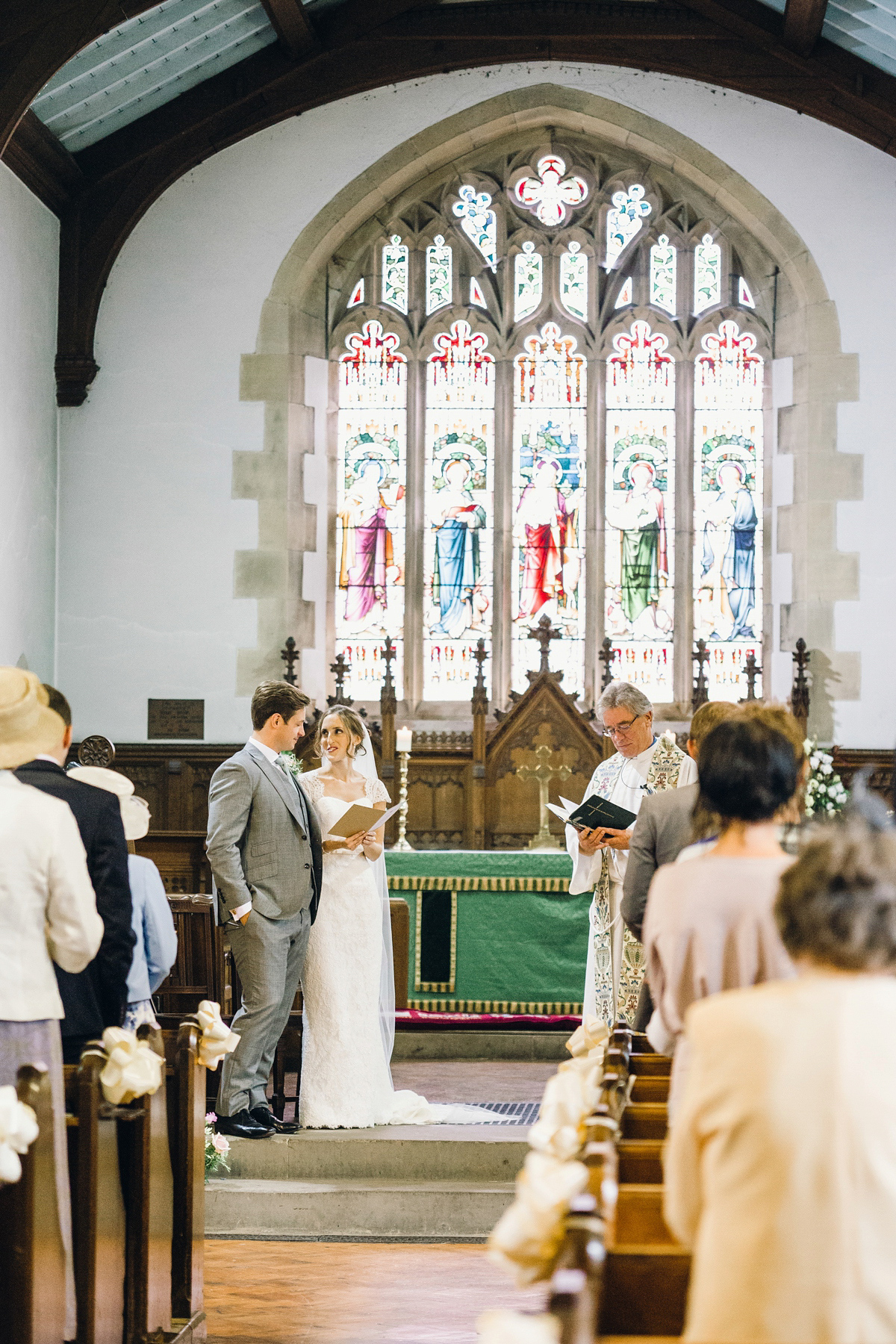 "Hannah Shaw is a friend of ours who works at Mikimoto and is incredibly talented at making her own jewellery. David spent months designing the engagement ring which is absolutely stunning. Then Hannah made both the bands and fitted mine to my engagement ring, due to the shape of the diamonds."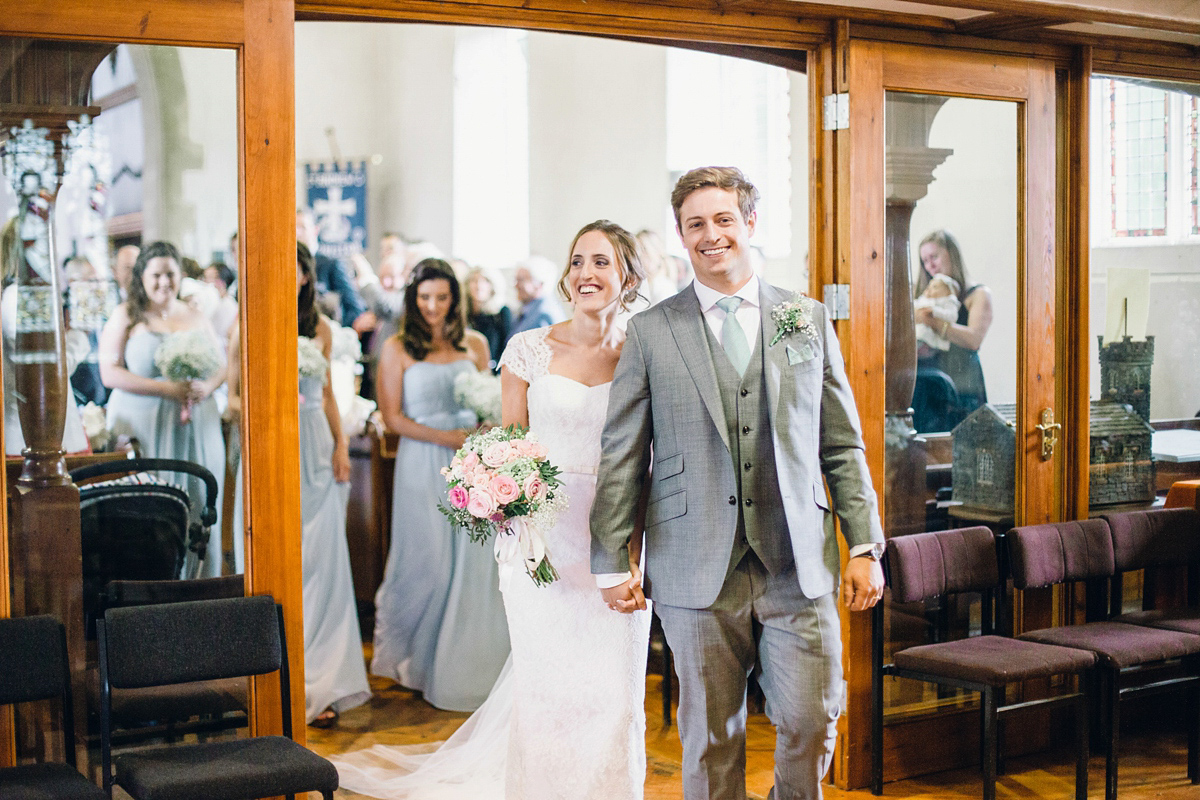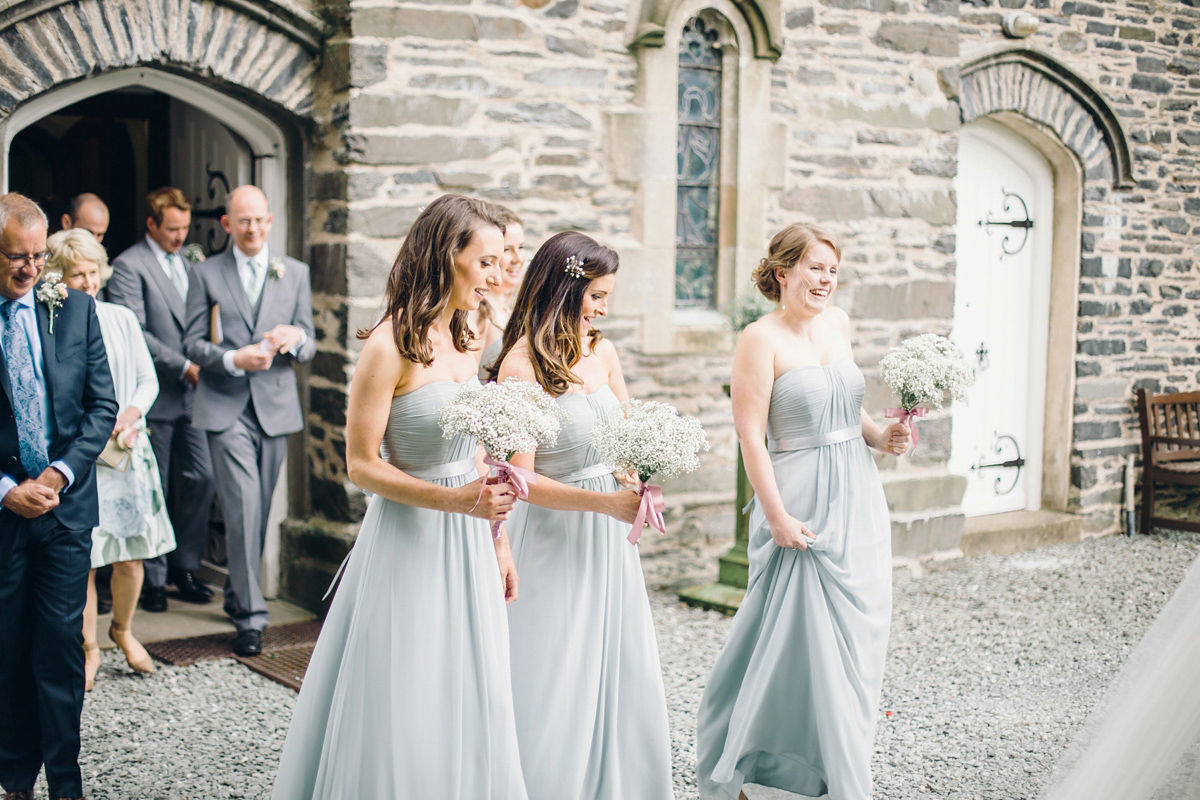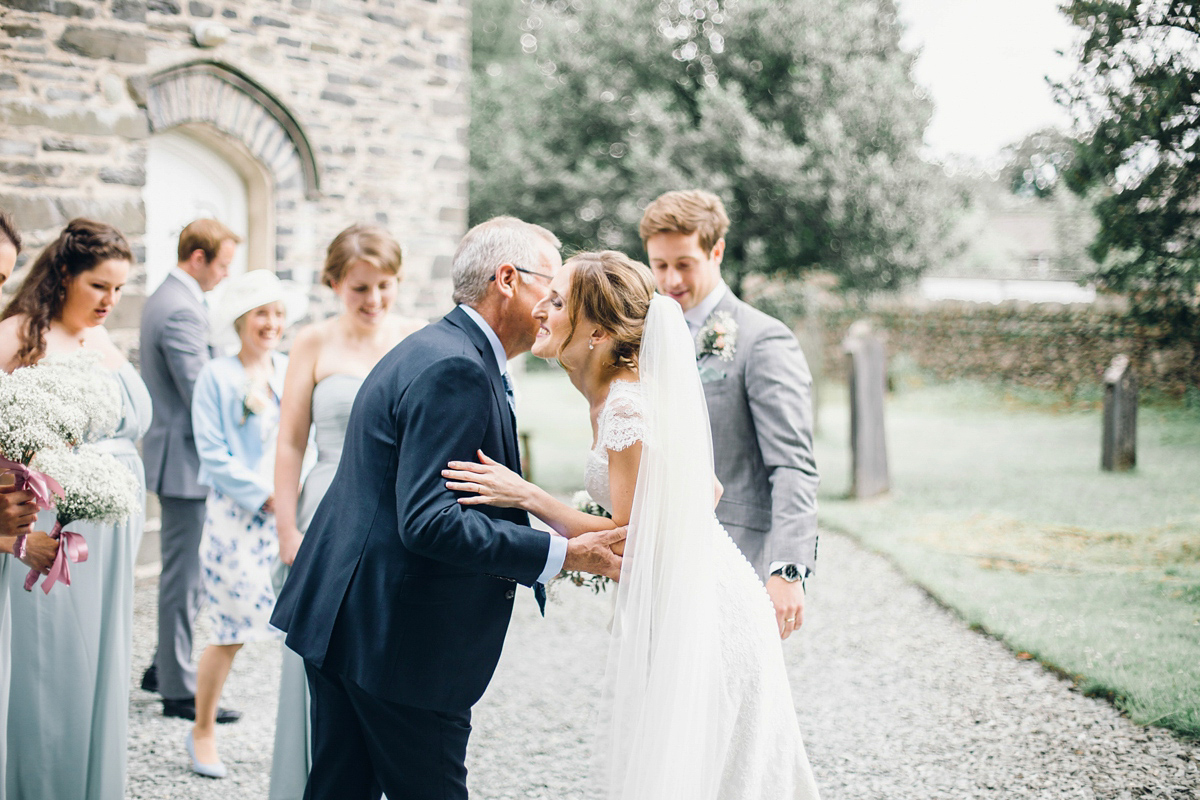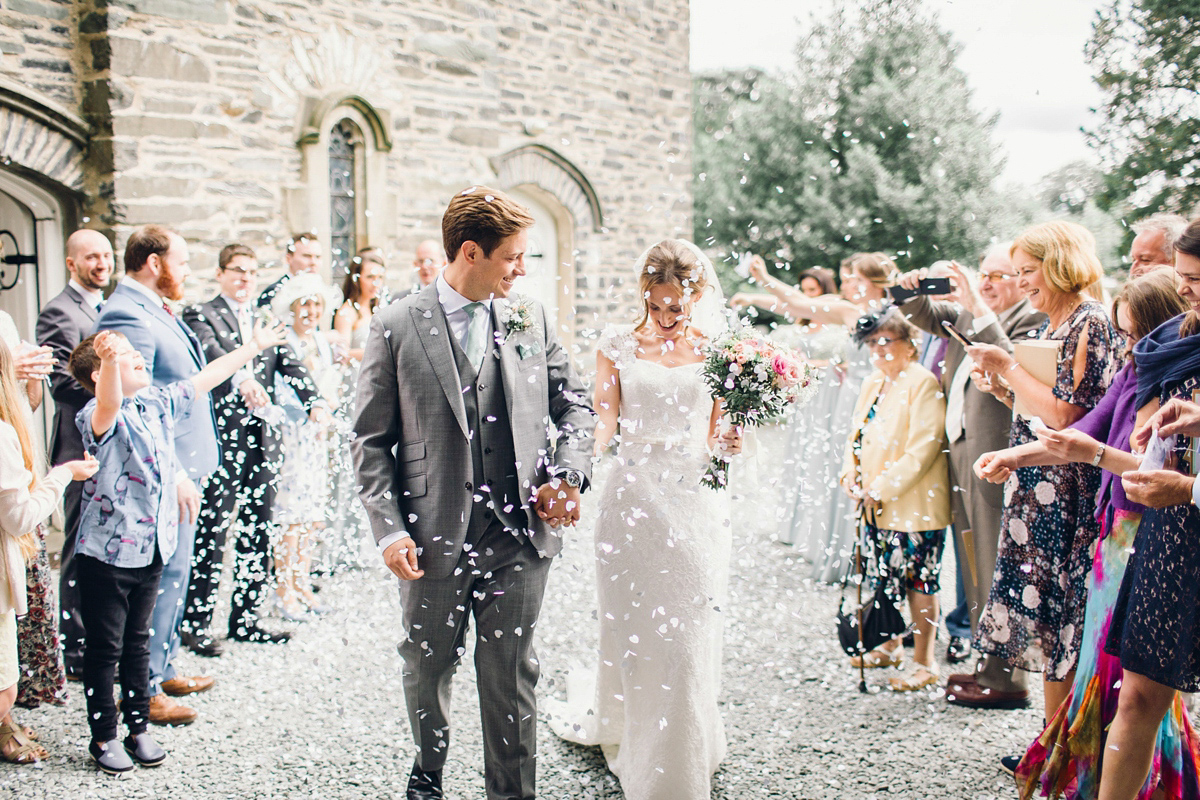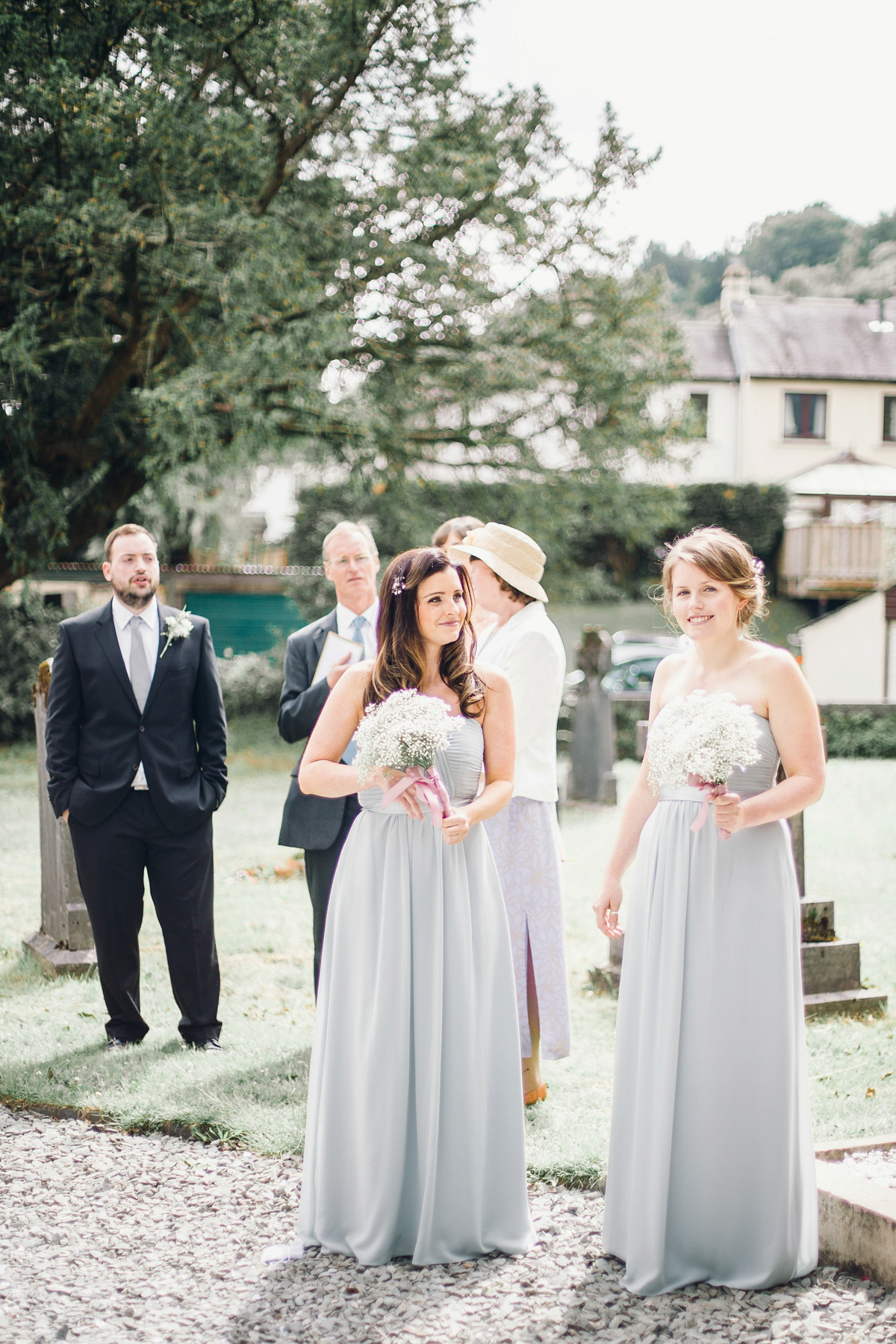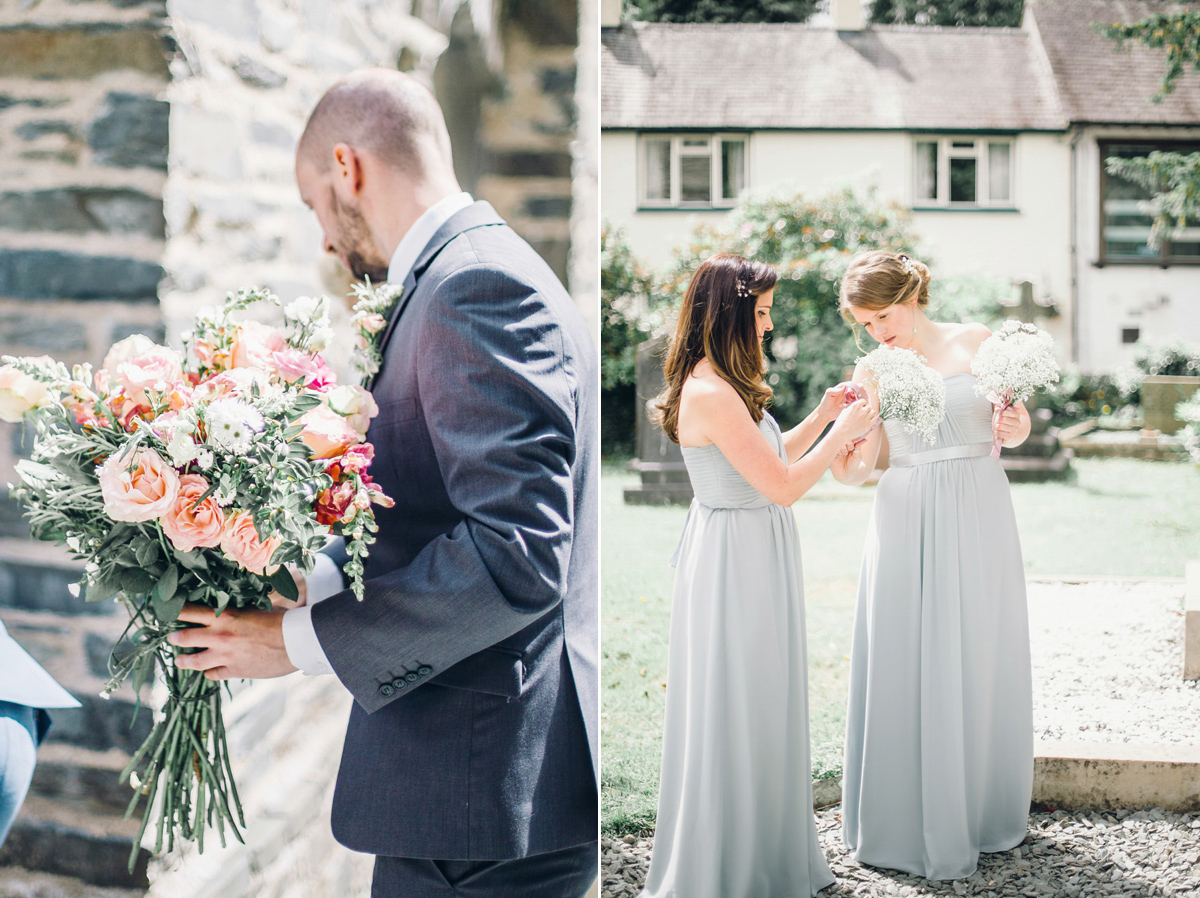 "Jess from Jessica Reeve Photography was an absolute delight to work with. She was so friendly and made us feel at ease all the way through the day."
"She disappeared in the background when necessary and then provided clear instructions when needed."
"We liked the fact that she was ambitious and would go to great lengths to get some amazing pictures – even pushing us out on a boat before the sun went behind the mountain. Jess is very professional and responded to any queries we had in a timely manner. We absolutely love our photographs and cannot thank her enough."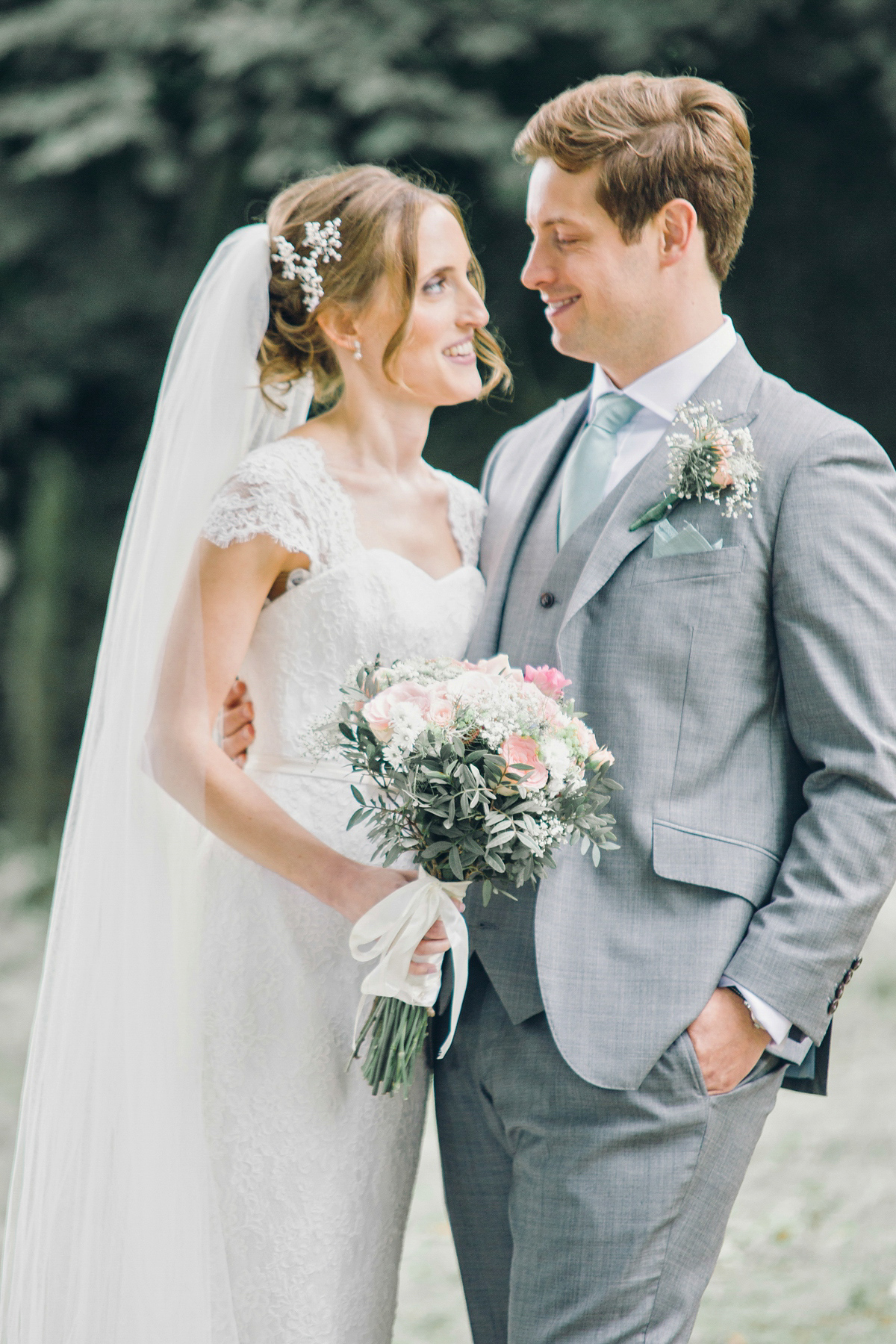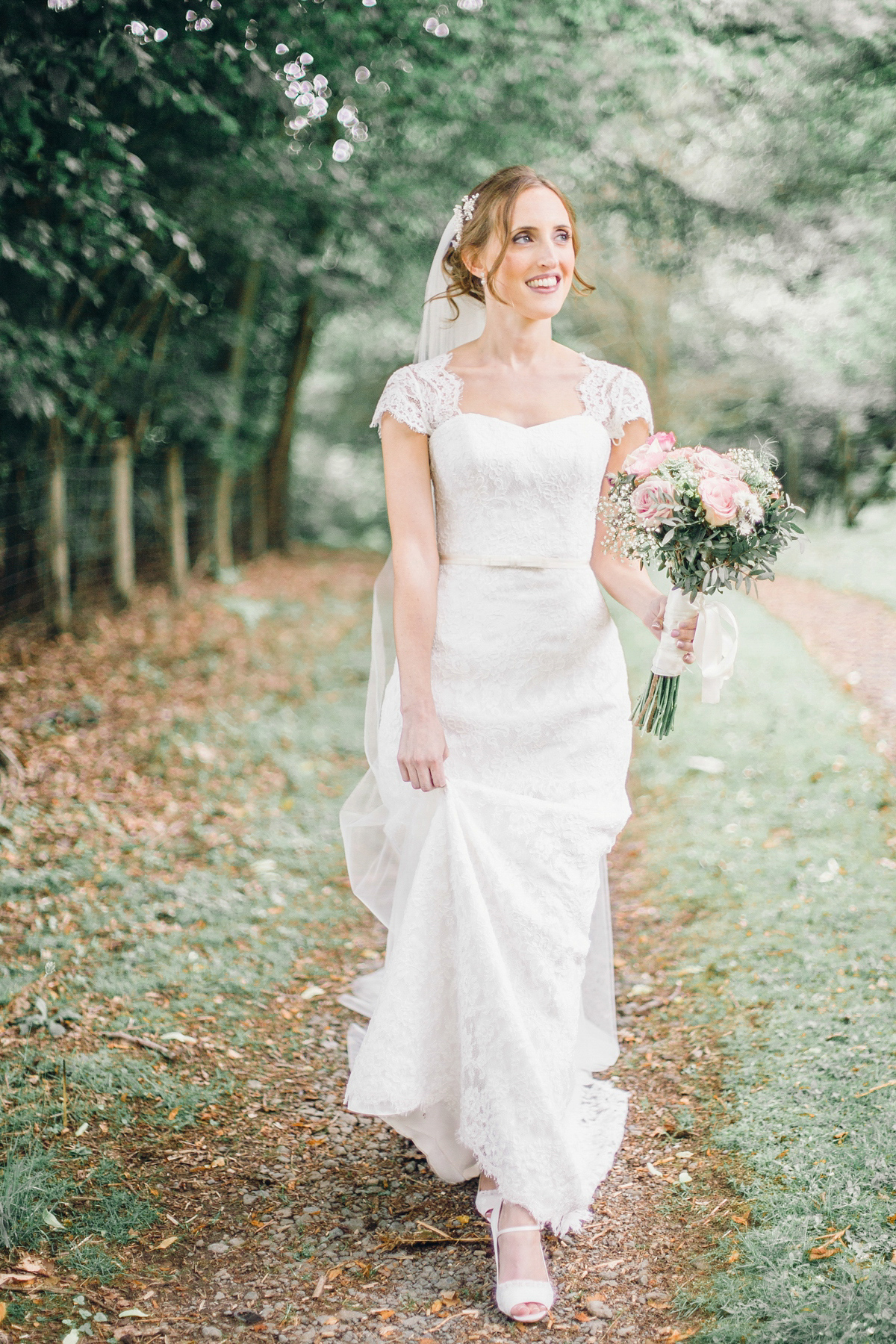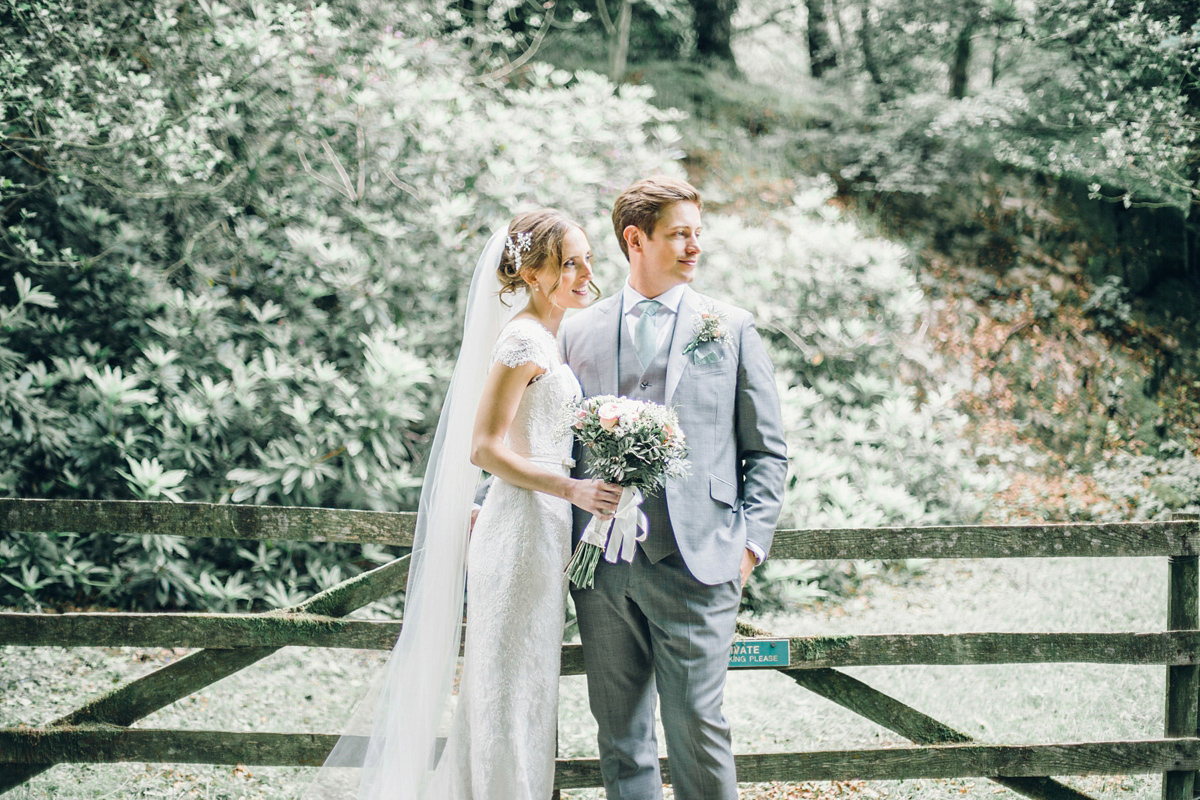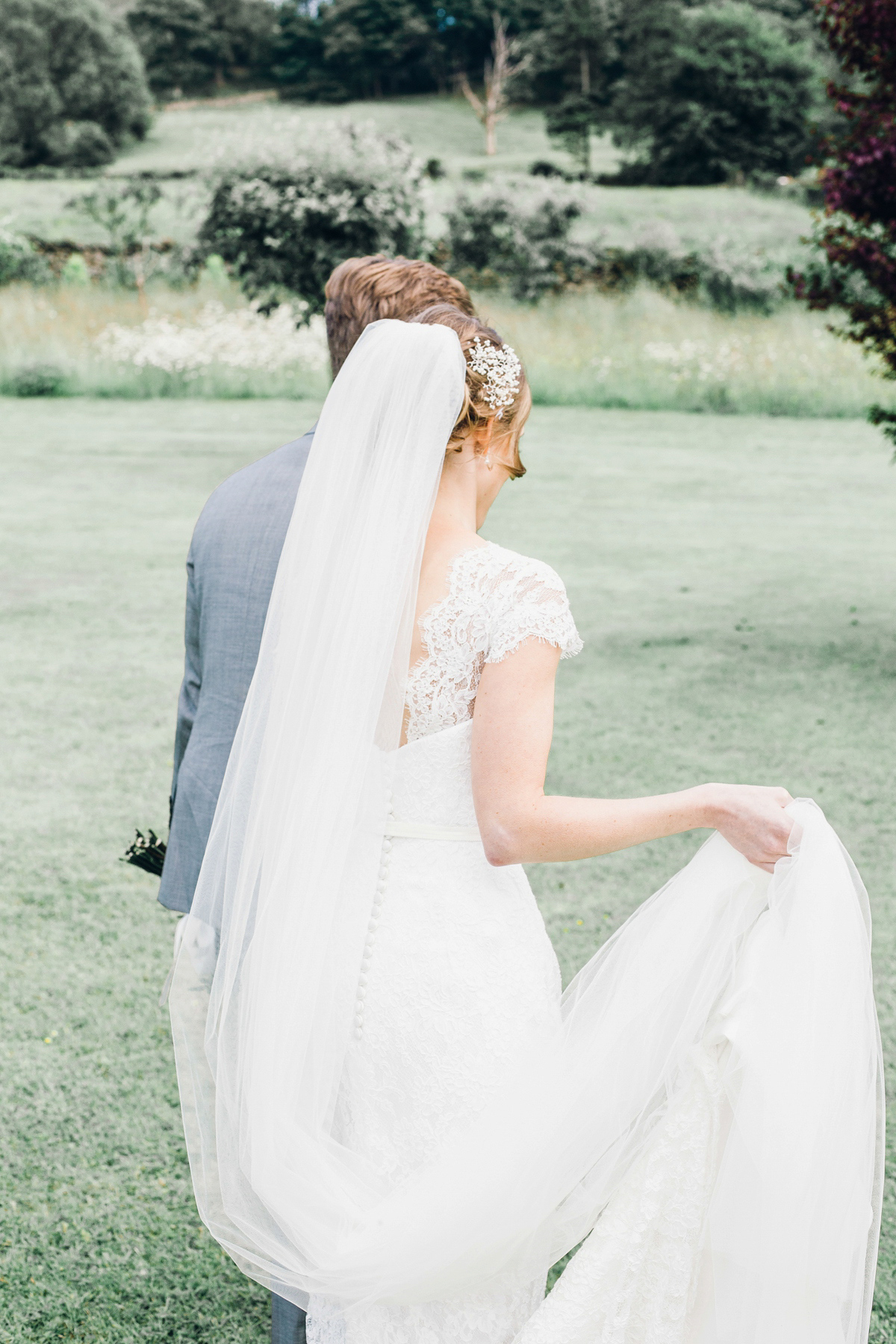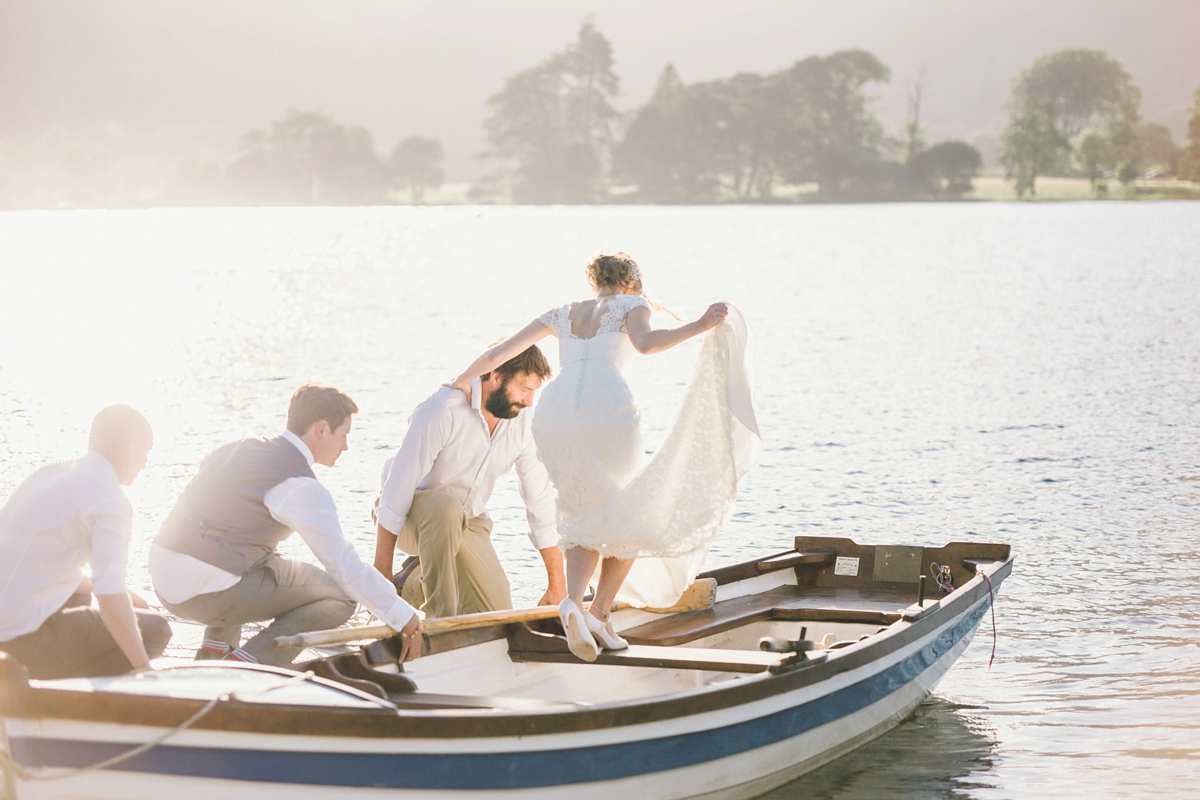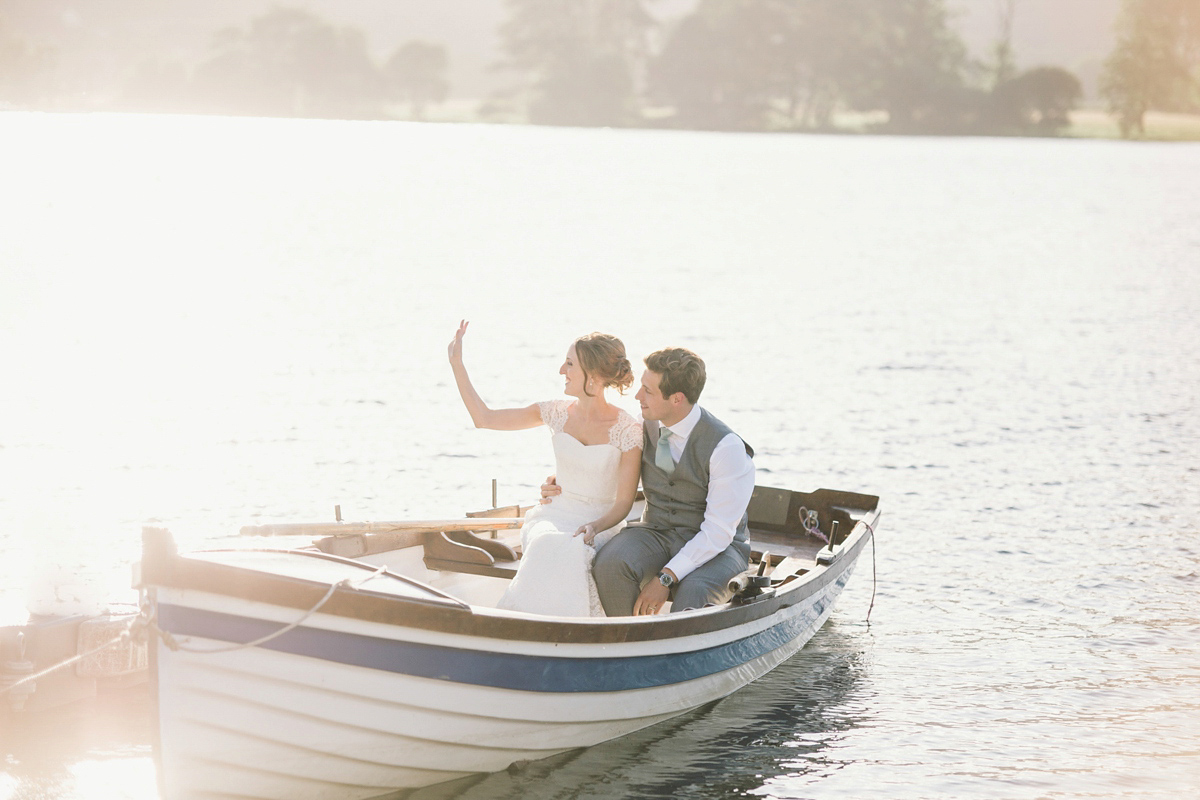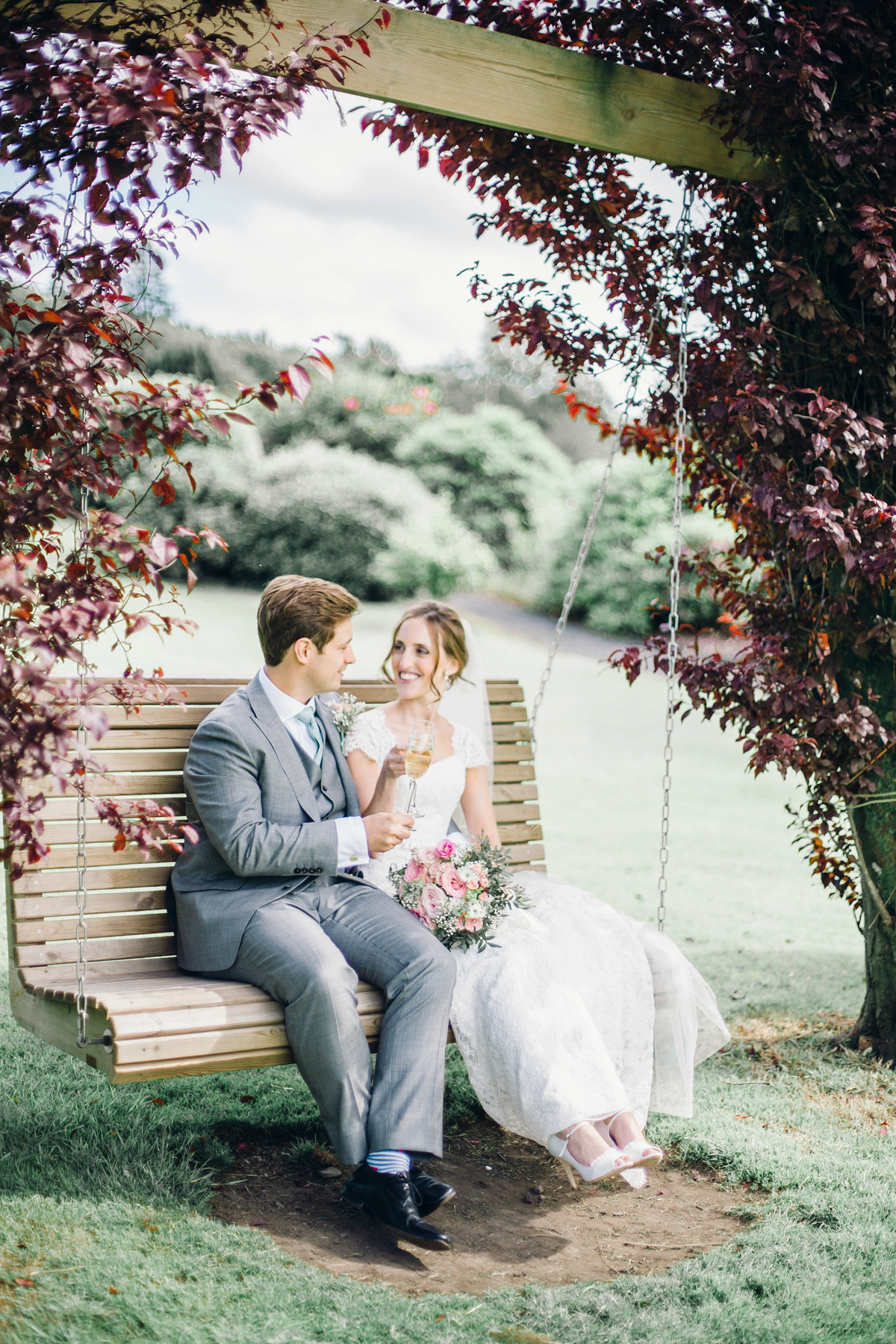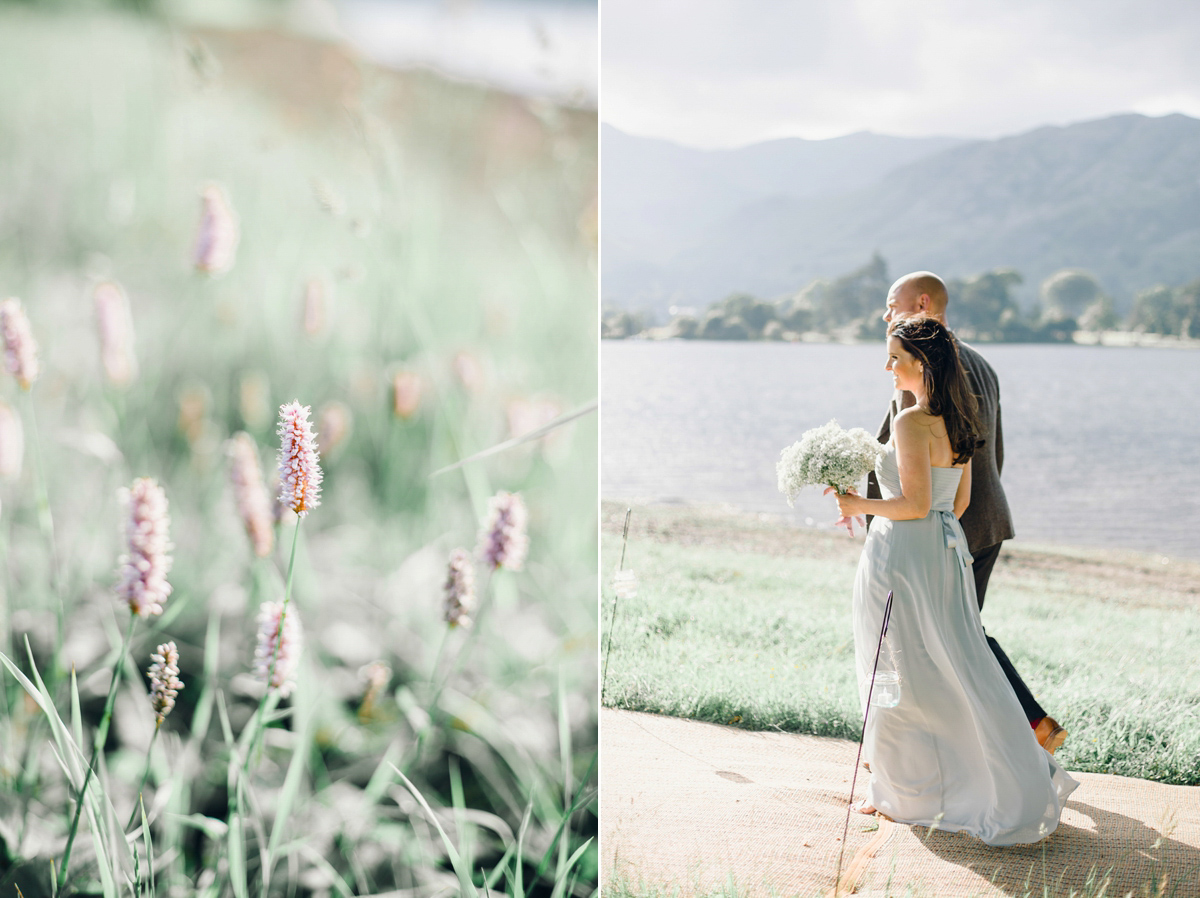 The couple got creatively involved, making the wedding stationery, with design input from Toby and they provided Lion wine gums (David's favourite treat!) in little hessian bags as favours. And they enlisted a team to help out with the lovely decor for and additions to the tipis.
"David's Aunt Mary made a huge amount of bunting which was really pretty in the tipi. The farm also provided hay bales and we had marshmallows to toast on the fire pit, wooden slabs provided by Drew Coulson (friend and tree-surgeon) for the centre pieces, and Kirsty and her sister Tamsin decorated a huge amount of jam jars containing a mixture of flowers and tea lights."
"The food was absolutely amazing! We had canapés, lamb with all the trimmings and cheesecake for the wedding breakfast."
"Then we had a picnic on the Sunday afternoon and a cumberland sausage casserole and sticky toffee pudding for guests on the Friday evening."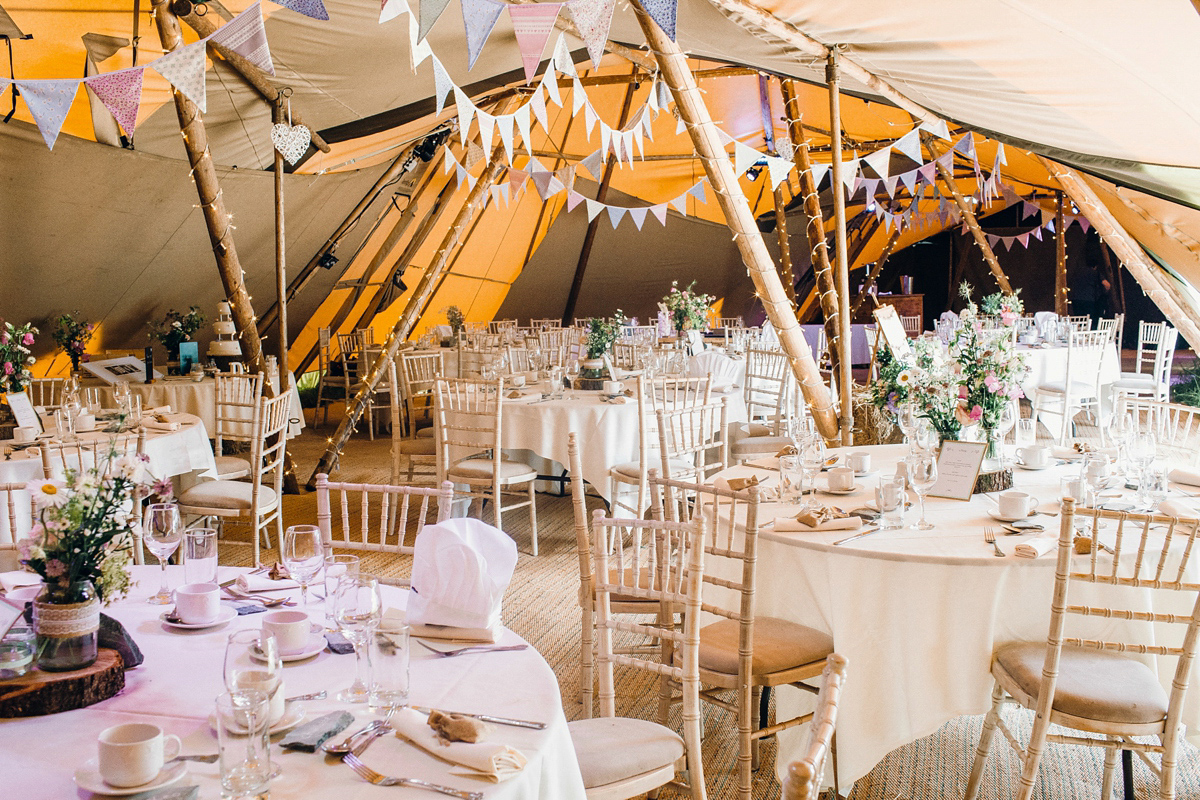 "We wanted a simple cake, as this was not something we were too focussed on. We therefore had a simple sponge cake ordered from Marks & Spencer and Olwyn decorated it with flowers."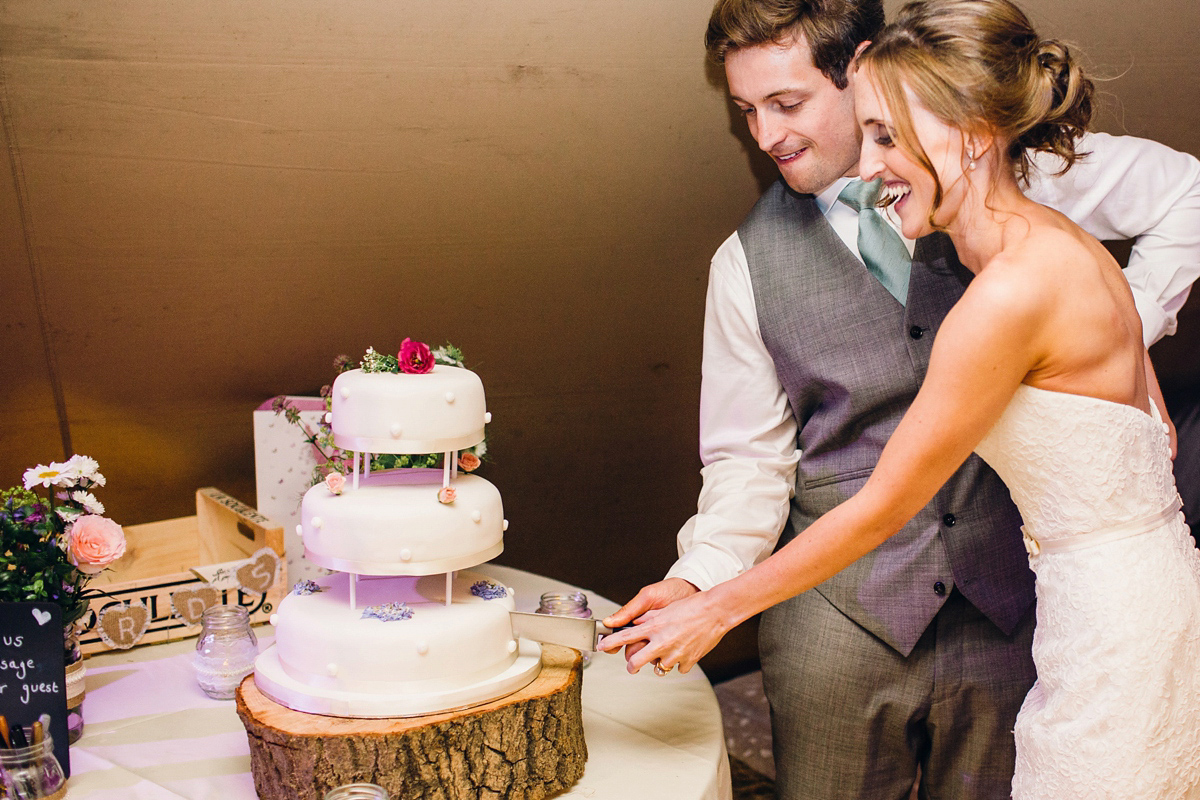 "Our band Blind Tiger were brilliant. They are very talented and put their own spin on classic songs. The first dance was Paolo Nutini's 'Loving You'. We heard this on a trip to France and felt it was fairly relaxed, fun and not too hard to dance to."
Words of Wedded Wisdom
"I had previously read some of the blogs on Love My Dress and loved the fact that they were real life stories. It's nice to hear from other brides what their experiences have been and why they chose to do what they did. I found it inspiring and reassuring.
If you put enough time and effort into your wedding you can make anything work, so don't be put off creating your own special day. We never wanted a hotel wedding package and although a wedding like ours meant us doing a lot of it ourselves, we enjoyed being creative and ultimately got the atmosphere that we wanted on the day. We had a lot of help from friends and family, which was great. I think one of the main things to remember is that no one will notice the things you haven't managed to do so don't worry about the little things. Remember what the meaning and purpose of the day is. No matter what happens, you are marrying the one you love and that is the most important thing."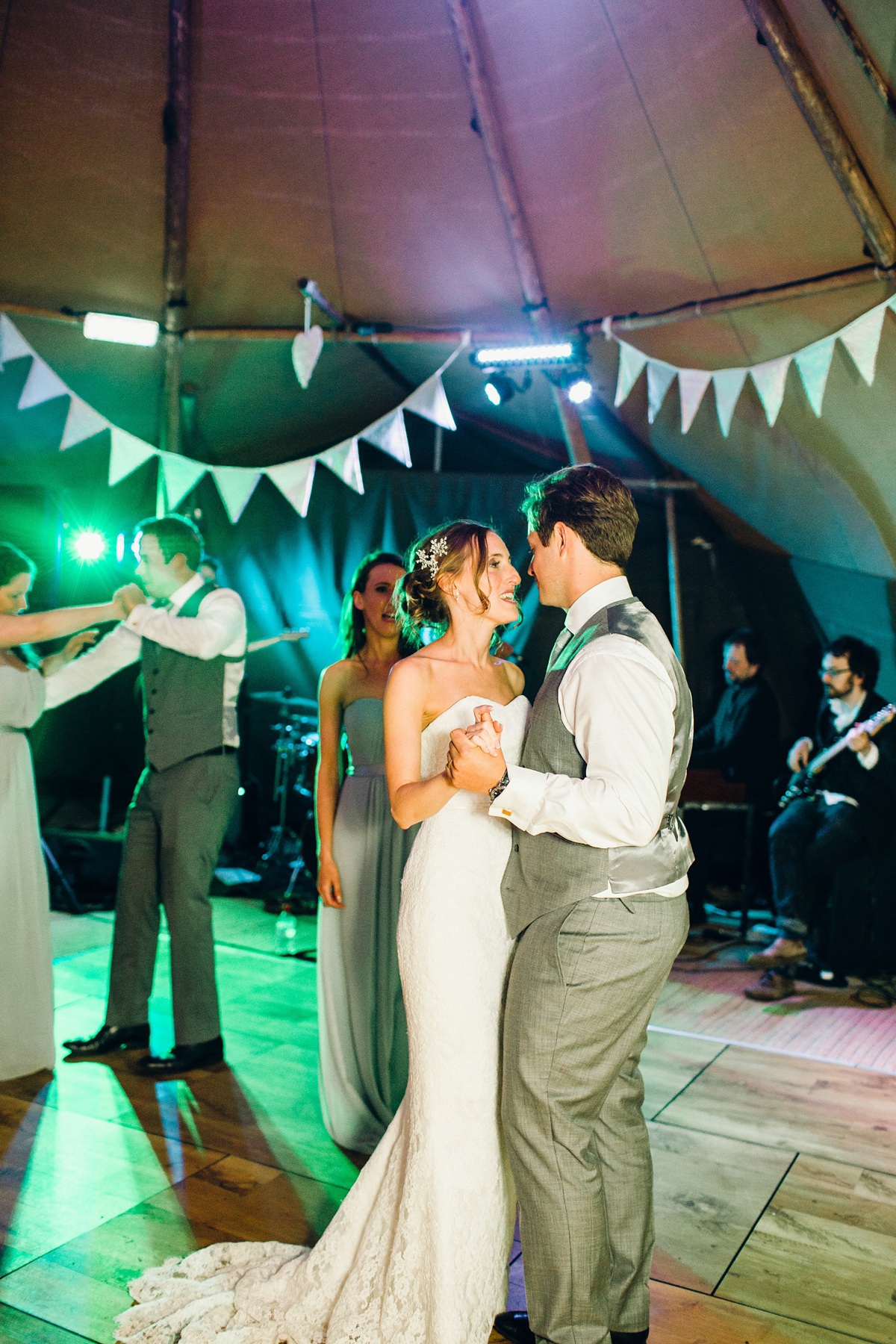 Thank you Kirsty and David for sharing such wise pearls of wisdom. Recently married brides and grooms really are equipped to give the best tidbits of helpful advice! I've just adored seeing your stunning photos – the images taken in the boat on the lake are breathtaking – and I can see what a huge talent Jess is.
I'll leave you with even more Stewart Parvin wedding gown inspo – enjoy!
Love Jo -x-