A little while ago, I was lucky enough to be invited to a very special film premiere in London. Wedding dress designer Caroline Arthur had created the fabulous 'Barley Sprites' film (see below) and frankly, it made me quite emotional. This beautiful short film tells the story of a bride to be literally designing her own dress with the help of the 'sprites' who guide and assist her until she has the wedding gown of her dreams. Now, this might sound like something that can only happen in a film but with Caroline Arthur, you really can create your own wedding dress.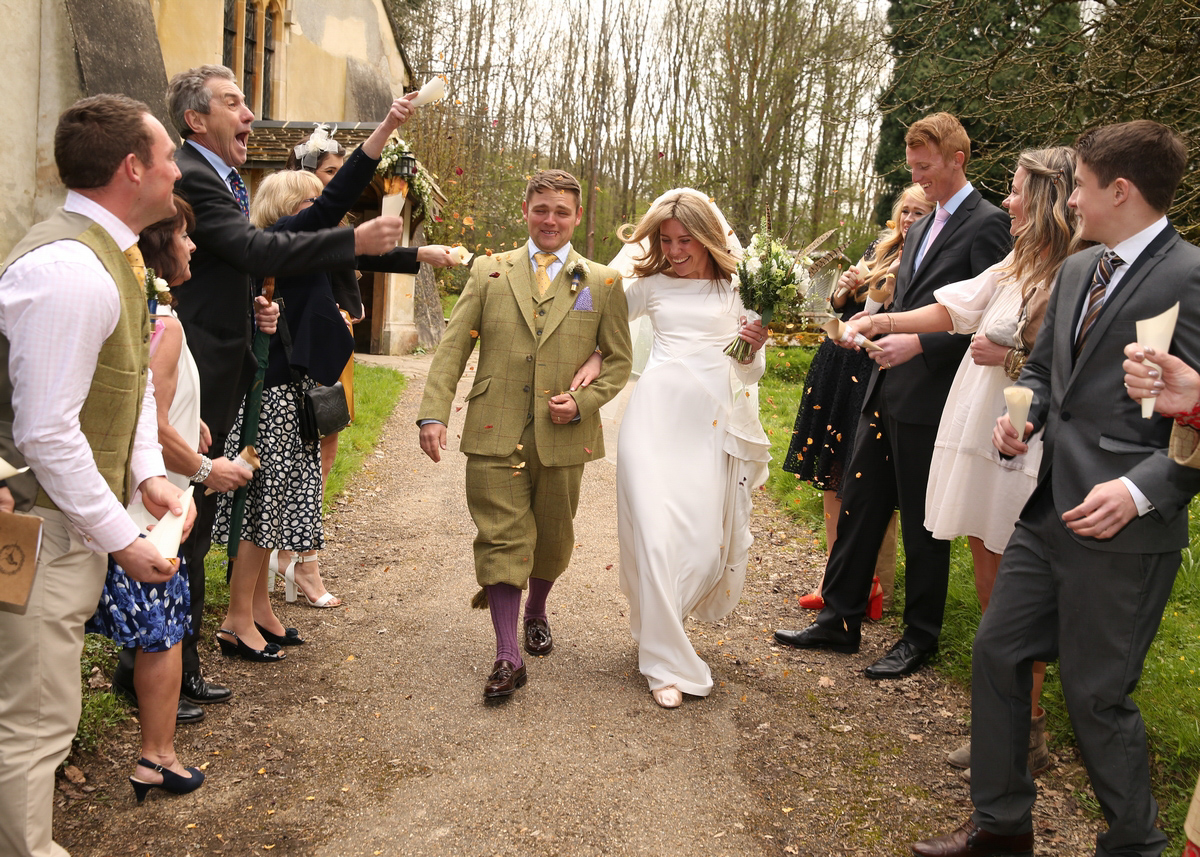 I'm going to say right at the start of this feature that I love Caroline Arthur. Meeting her and hearing her talk about her passion for wedding dress design and her commitment to helping brides create and wear a gown that's truly theirs was an absolute joy.
For infectious enthusiasm, professional dedication and all-round brilliance, Caroline is top of the class. She's also incredibly talented and has to be exactly the kind of person you'd like by your side when you're designing your own dress.
So, what exactly do I mean when I say that with Caroline, you can design your own dress? Well, you're already so much closer to doing that than you think because if you click this link that takes you to Caroline's wedding dress design app, CoutureKit, you can play designer!
Once you've chosen your bodice, skirt, straps and accessories, you can send your CoutureKit Collection design to Caroline and her team and they'll provide you with a quote for your very own wedding dress. Your CoutureKit gown can be made to measure, as separates or a dress, with or without lace or organza over layer for which prices can also be requested. It's a genuinely brilliant idea – great to use and perfect if you'd like to play a real role in designing your own wedding dress or if you've got specific ideas for your look. I have to admit that I've designed quite a few gowns of my own of late!
For London brides, Caroline has a stunning boutique at Ham House in Richmond! Yes, THE Ham House. In fact, Caroline's space in this exquisite 17th Century property (described as a 'treasure trove') is the first ever bridal designer collaboration by the National Trust.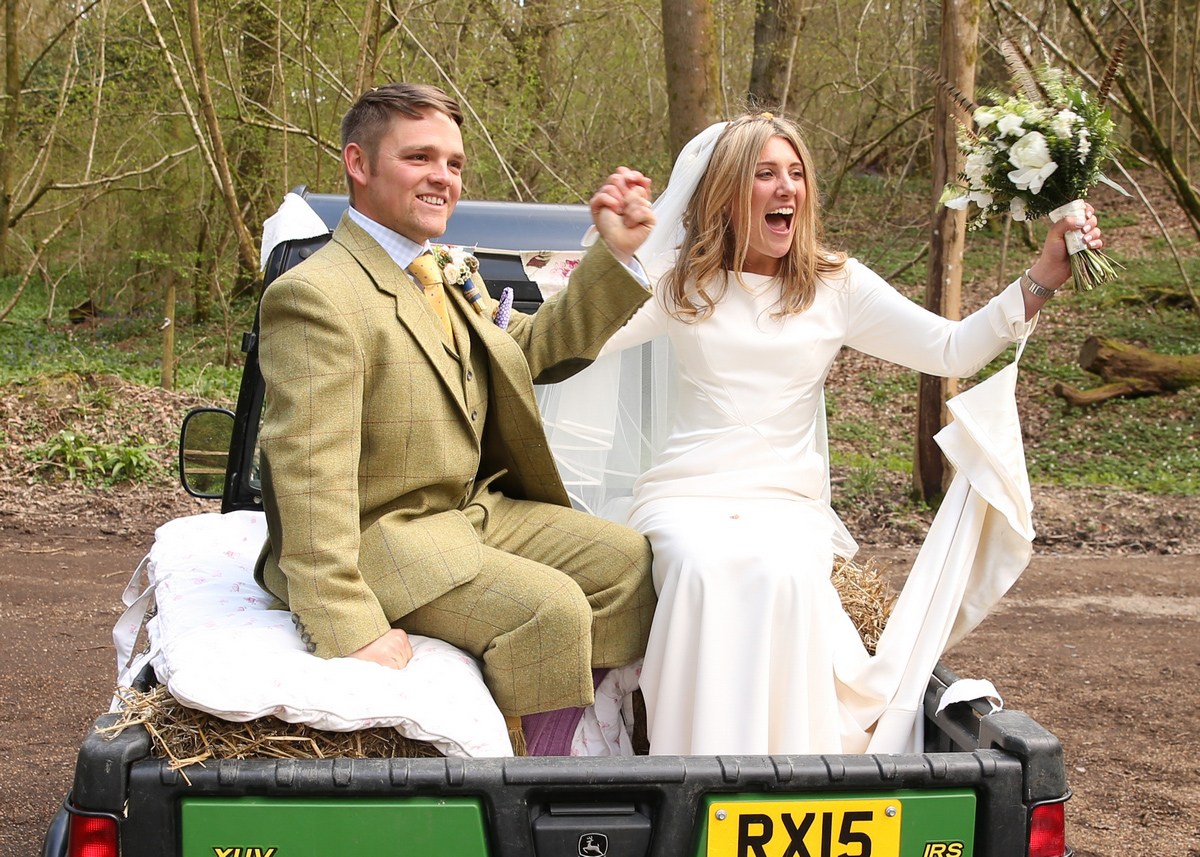 So, when you visit Caroline, why not make day of it? Or, for Surrey brides, you can come for your private, quiet appointment at her beautiful boutique at Gate Street Barn near Guildford.
Of course, from this point onwards, Caroline's legendary service takes over and you'll be invited to fittings and appointments where your made to measure CoutureKit Collection dress will take shape until it's beyond perfect. Your gown will have a silk lining, an internal corset, a carefully selected and personalised interlining and construction process – all true 'couture' elements.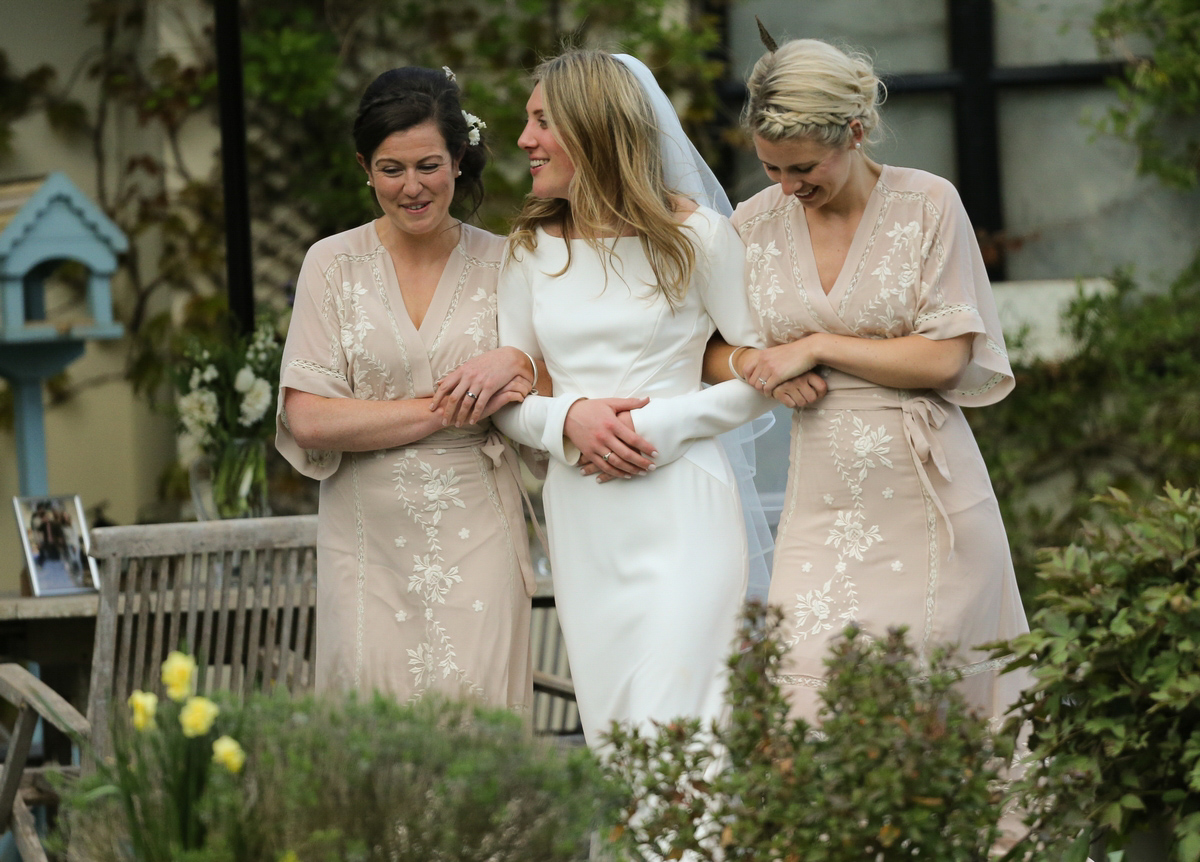 It's certainly an indulgent experience but Caroline Arthur has developed a bespoke pattern system that forms the basis of the CoutureKit Collection, that allows her to offer this superb service for an affordable price. You'll be wearing a bespoke, made to measure wedding dress without having to completely re-write your wedding budget.
The beautiful images that accompany this feature of a bride, Selina Taylor-Waite, who wore an amazing couture one-off from Caroline Arthur at her own beautiful wedding.
"I came to Caroline with a strong vision, and was impressed and surprised that she so quickly turned my description into a sketch that perfectly reflected that vision. I felt I had been really listened to, and understood," says Selina.
"One of the best things about having my wedding dress made was how the initial decisions that were detailed in the sketch, were allowed to change and evolve during the dressmaking process – for example the original design included lace panels and buttons down the back, but during the early fitting stage, it became clear that I really wanted more clean lines, and for some of the seam lines to change, so opted to lose the lace, and the buttons altogether. The dress ended up being a very contemporary style, but which fitted perfectly with the country inspired setting of the day."
Selina admits that she really loved wearing a unique dress that was totally in keeping with the style of wedding she planned. The luxury of the whole service – choosing all the fabrics and details was a joy, even down to selecting the length of sleeves! In fact, Selina sums the whole process up perfectly when she says…
"Your informal design studio certainly made me relax and made the whole process an unforgettable one that not only I, but also my nearest and dearest, were able to be part of."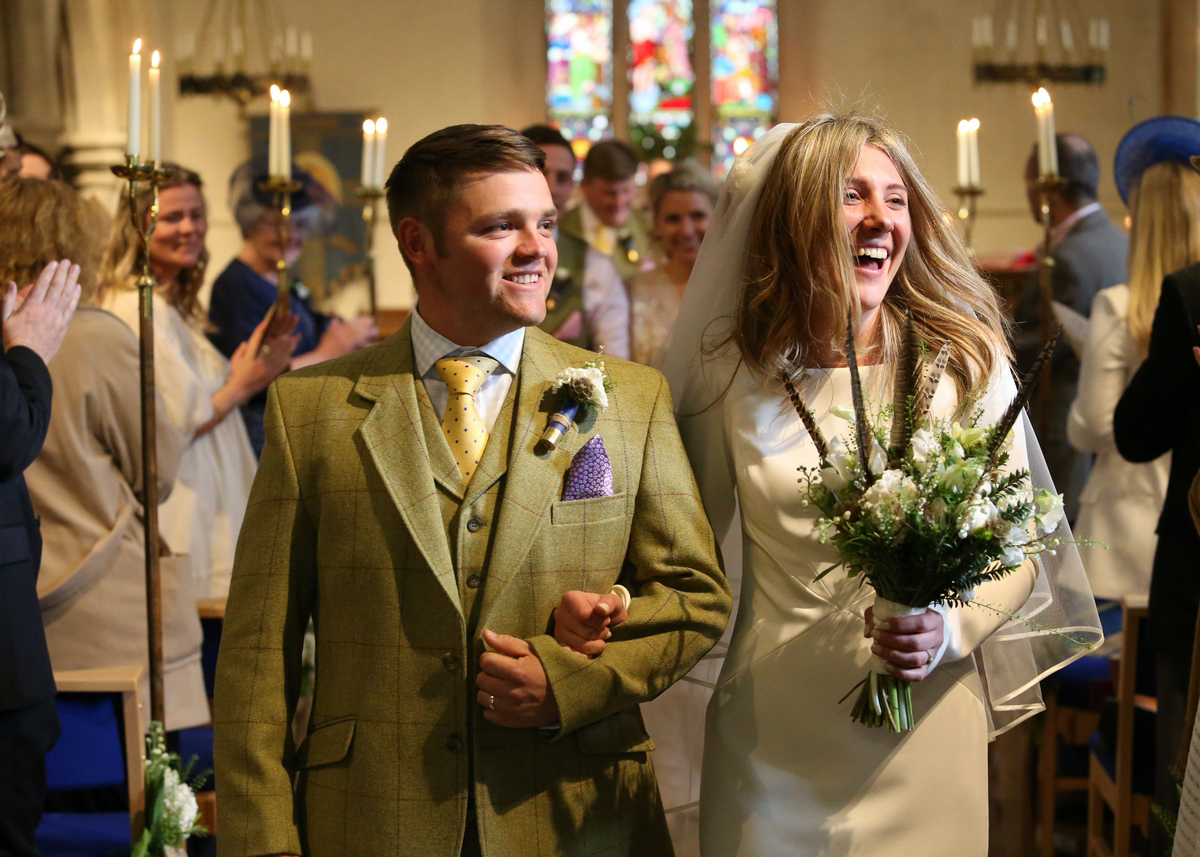 "I first met Selina at my design studio in Surrey," explains Caroline. "Initially, we sketched up a simple column gown with a view to the dress being made in a crepe with long lace sleeves."
"She tried on some samples of the simple mix and match separates we offer, to help hone her perfect silhouette, all of which come from our CoutureKit collection. This chic collection enables the bride to design her own wedding dress using our app, and as often happens, whilst we were able to find the right silhouette, there were elements Selina wanted to customise, in order to make the gown perfect for her."
Caroline continues:
"The beauty of having a gown made is the flexibility, and so we made a toile for Selina to explore the various options of seam position around the waistline. Usually this kind of style would be a princess line (vertical seams over the bust and continuing down), but we developed a different pattern which incorporated Selina's ideas and created a very flattering shape around the waistline."
"We considered a silk crepe for the gown, but decided on a polyester quality, which has a beautiful drape, tends not to crease, and offers a more forgiving effect. As a dressmaker, we always provide plenty of advice regarding fabrics, as there are properties that might not always be obvious – for example the silk crepe alternative would have been equally stunning, but has a tendency to be more static, and to mark more easily…seeing as this was to be a very country wedding, we arrived at the synthetic option being more versatile and suited to the day Selina had in mind.
In the end, we abandoned the original plan for 'Tiffany' Chantilly lace sleeves and godet panel, and opted for a sleek crepe with silk satin accents, and covered satin buttons at the back."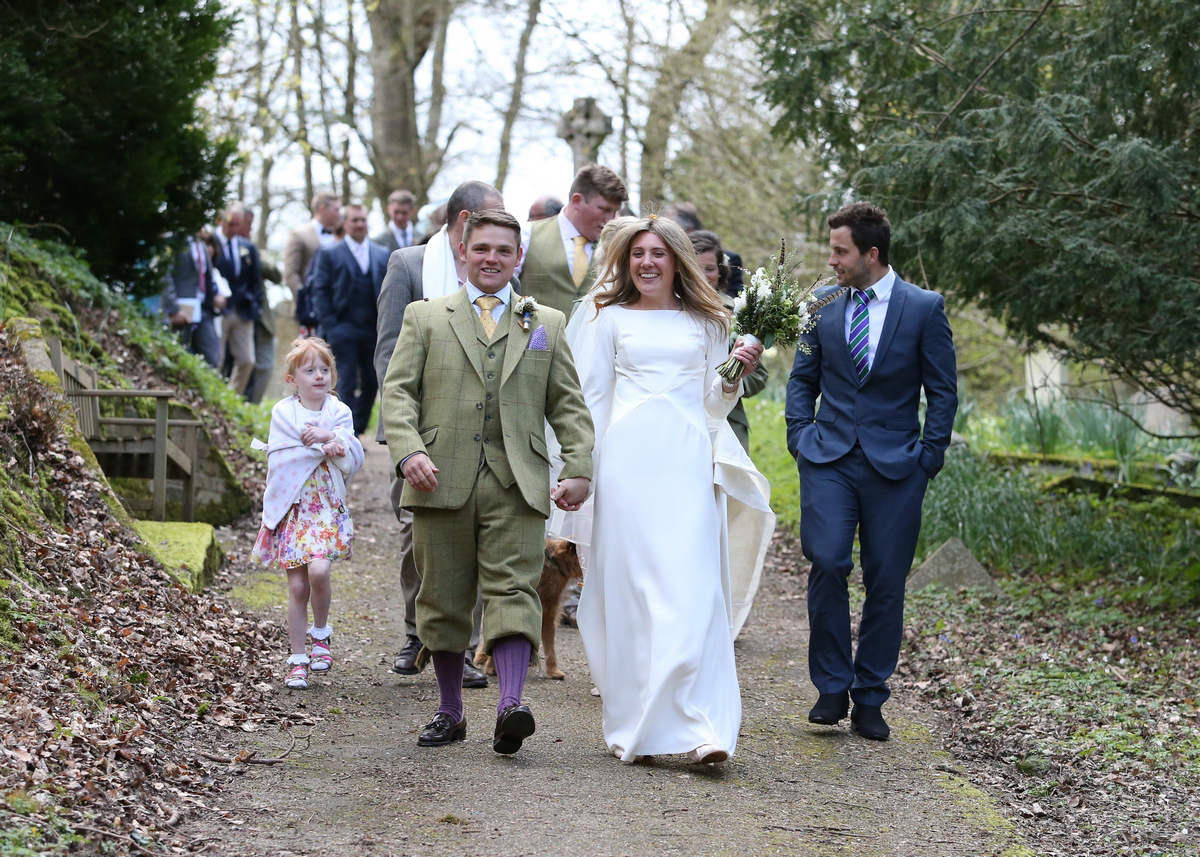 Selina's gown was the last of Caroline's fully couture gowns, all of which have come together in fabulous the new CoutureKit Collection. Caroline has carefully merged all of the old couture service and now, because her CoutureKit Collection has developed so much, it's most certainly couture at a very accessible cost without any compromise on attention to detail and experience.
If you've ever dreamed of being a wedding dress designer, wearing a truly bespoke gown or luxuriating in the most delightful dress shopping experience, then you need to say hello to Caroline Arthur as soon as possible.
There are no photos with those IDs or post 681520 does not have any attached images!
For more information on Caroline Arthur and her CoutureKit Collection, do take a look at the website and play designer to your hearts content before sending your favourite look through to the team for a quote.
The Caroline Arthur website oozes with inspiration but, if you've got any questions or queries at all, do get in touch with Caroline via [email protected]. You can also connect via Twitter, Facebook, Pinterest and Instagram and don't forget to search for her #InspiringIndividuality campaign online too.
Love Tamryn x
This is a sponsored post