November is here and time *still* shows no signs of slowing down. I'd just got into my crunchy autumn groove and can now feel the Quality Street scented chill of winter festivities sneaking up on us. Has anyone else squealed at those super early Christmas decorations yet? I'm going with the excuse that I no longer have a wedding to plan, so Christmas shall feel my glitter wrath extra strongly this year. Being bundled up in sometimes excessive layers, the sight of glow in the dark skeleton paraphernalia and the looming after-work darkness reminds me of falling in love with my now husband 4 years ago, and it feels extra special this year as we choose images for our thank you cards and get slightly giddy using the words husband and wife. Love is the best isn't it?
Now, as much as I've been giving serous consideration to my Christmas wrapping theme already (does anyone else do this?!), there's always time for hazy summer memories and the thought of sunglasses weather. Today, we get to spend some time with Lauren, a Press Designer and Rick, an UX Designer. This loved up pair threw the coolest wedding shindig on 2nd July 2016 in their hometown of Whitby. Choosing the knockout St Mary's Church in our founder Annabel's beloved hometown of Whitby for their ceremony and then heading to the spellbinding sun dappled trees at Falling Foss for their reception, this pair of venues set the tone for a big old feast of happiness and dancing for their nearest and dearest. This one is pretty special.
Photography by Mr & Mrs Photography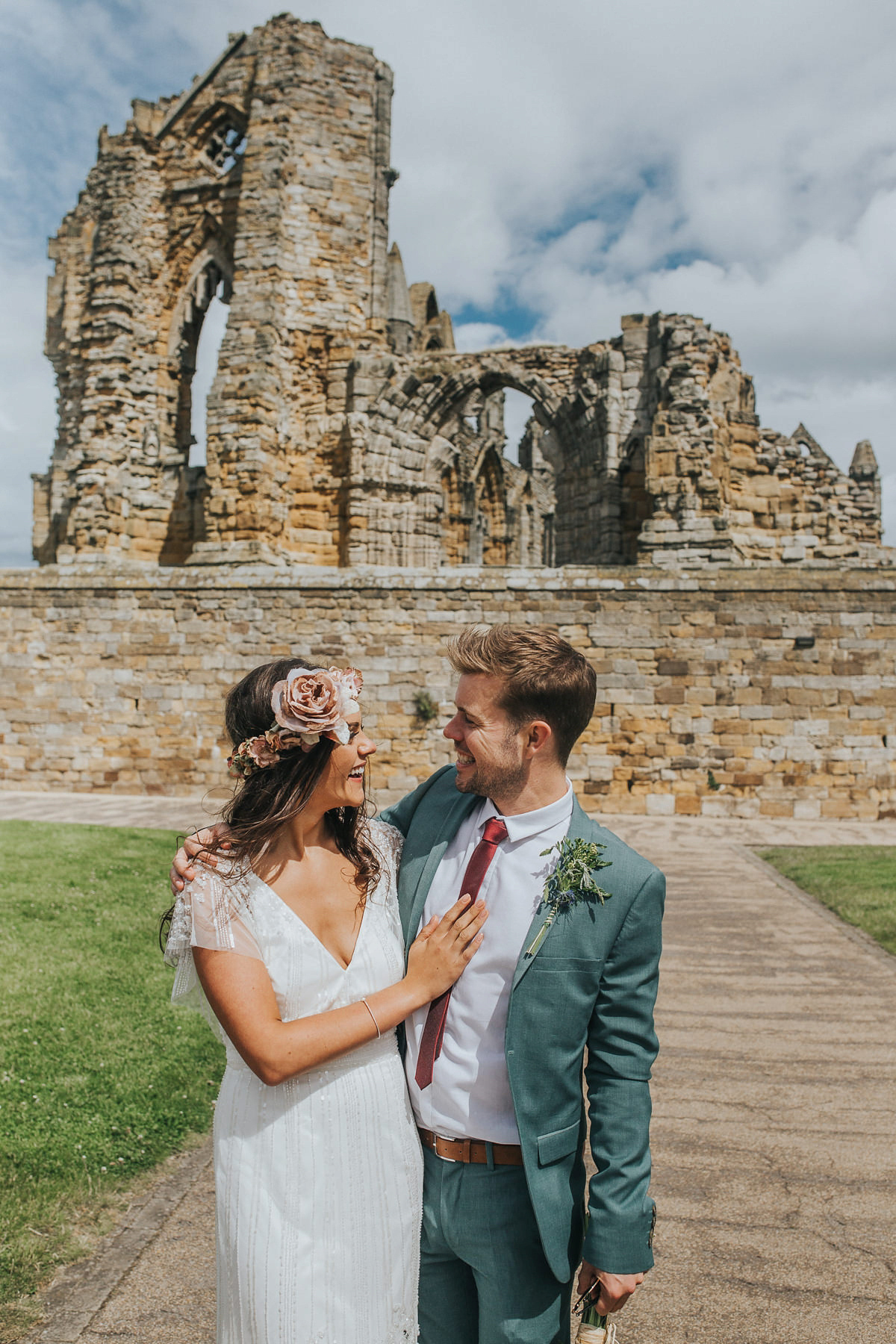 Headpiece by The Shepherds Purse
If you're not ready to let summer's warmth go just yet, this amazing video from Mr & Mrs Photography may be tough watch. The most atmospheric postcard of a radiant July day in one of Englands most loved seaside towns, captures love, laughter and some serous moves to soundtrack of music that is just amazeballs (you'll have to watch to see what I mean!). The mix of 8mm film and digital footage lends a vintage vibe that is thoroughly befitting of the day and Lauren and Rick; its safe to say this is one of my favourite wedding video's ever. Watch it now!
"We didn't want to do anything particularly themed, as its not really us. Instead, we took loads of little aspects of our lives and tried to integrate as many as we could into the day and really took into account how the venues we'd chosen would fit around this."
Lauren has put together such a infinitely cool bridal look, and that statement floral crown is the stuff of dreams. This beautifully detailed gown retains an air of bohemian elegance and was purchased from Flecks Bridal Boutique in Whitby. The fluttering, embellished back and sleeves are a perfectly pretty nod to seventies chic and it's relaxed fit was made for throwing shapes in between trees.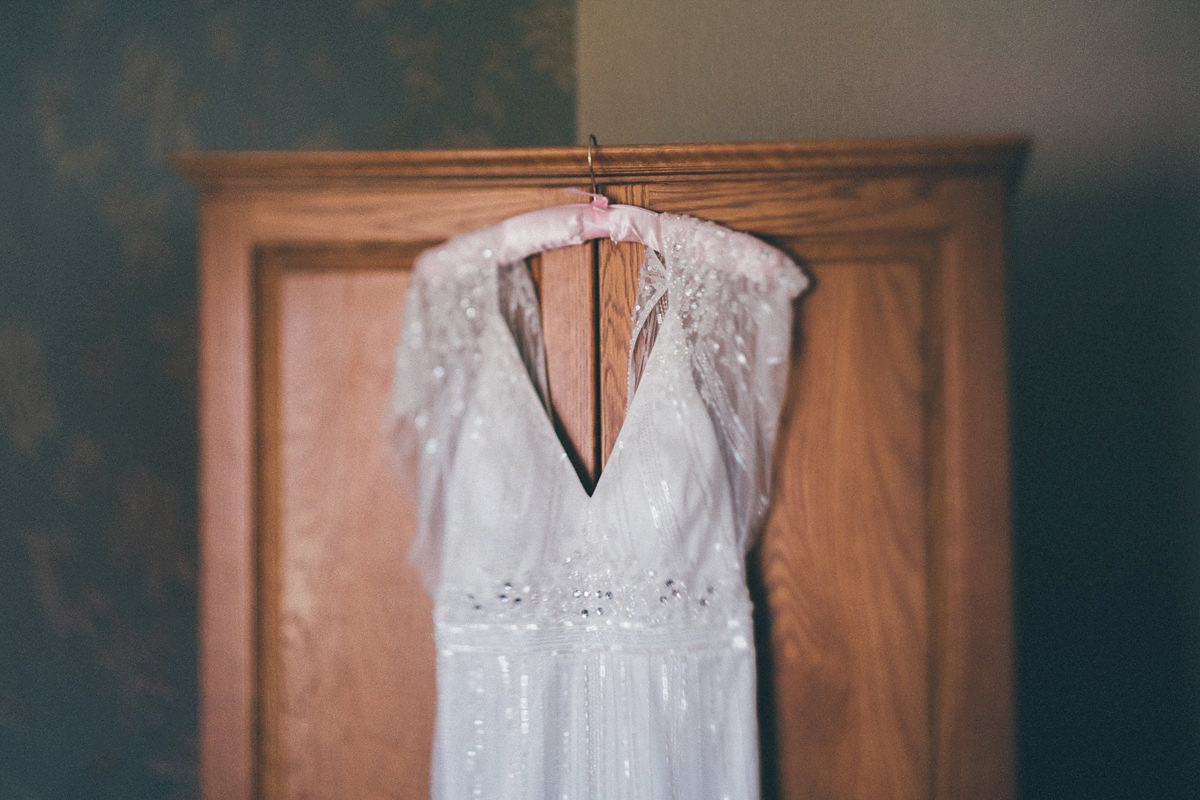 "If I'd have seen this dress on Pinterest, it would have never caught my eye. But in person, there was no question I had to try it on. Once I did, I knew I didn't need to look any further – it was perfect. I didn't want anything too big or with too long a train, as it wouldn't have been suitable for the reception venue. The train was the perfect length, the fishtail-esque fit wasn't too tight and the beautiful bead details were incredible. My family kept saying I looked like I'd stepped out of Downton Abbey!"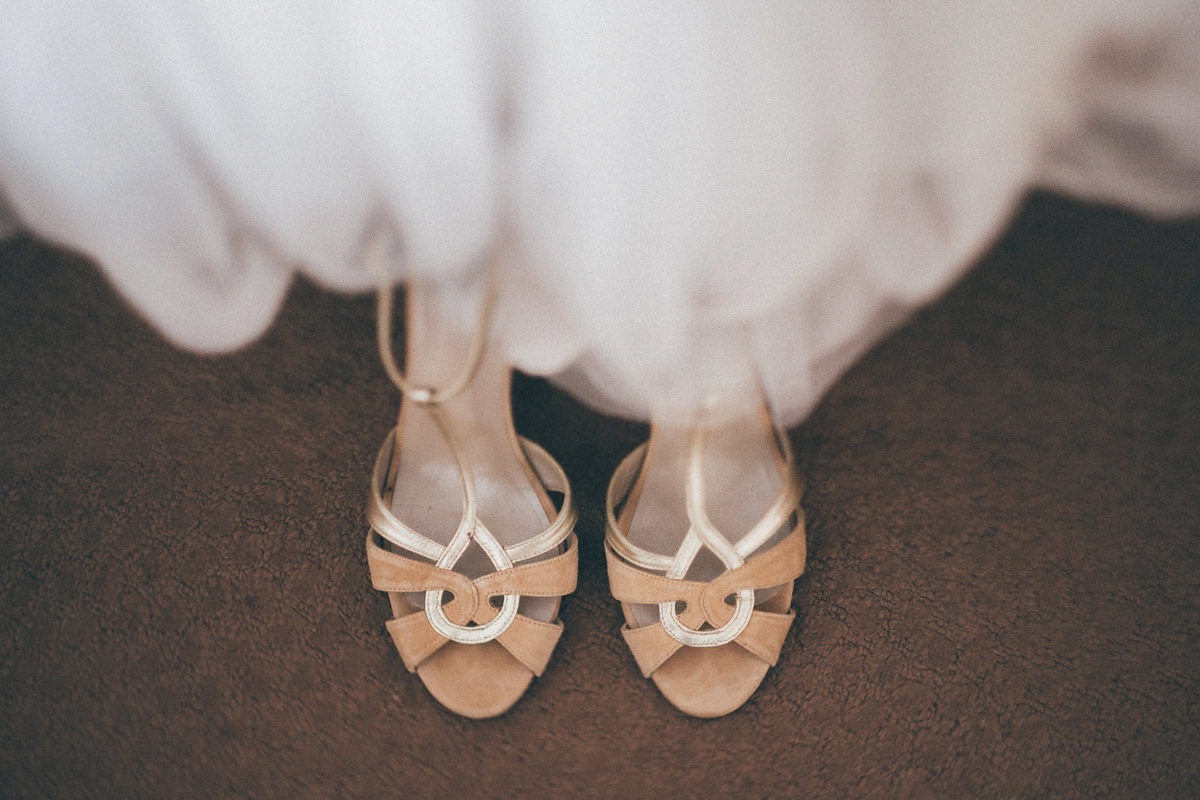 An extremely long Mantilla veil was also purchased from Flecks Bridal Boutique and was worn behind the headpiece of dreams from The Shepherds Purse (a wonderful family run business that we've featured previously on Love My Dress here). Lucky Lauren's pal 'Tink' is the talent behind this glorious bridal service and as well as creating flower crowns with serious wow-factor, she provides wedding make up too! Obviously, Little Book for Brides knew all about The Shepherds Purse long ago, so head on over to the site for some exclusive discounts.
The high street provided Lauren's delicate finishing touches: strappy Monsoon sandals, a Next pearl and silver bangle and small silver earrings from Boots of all places!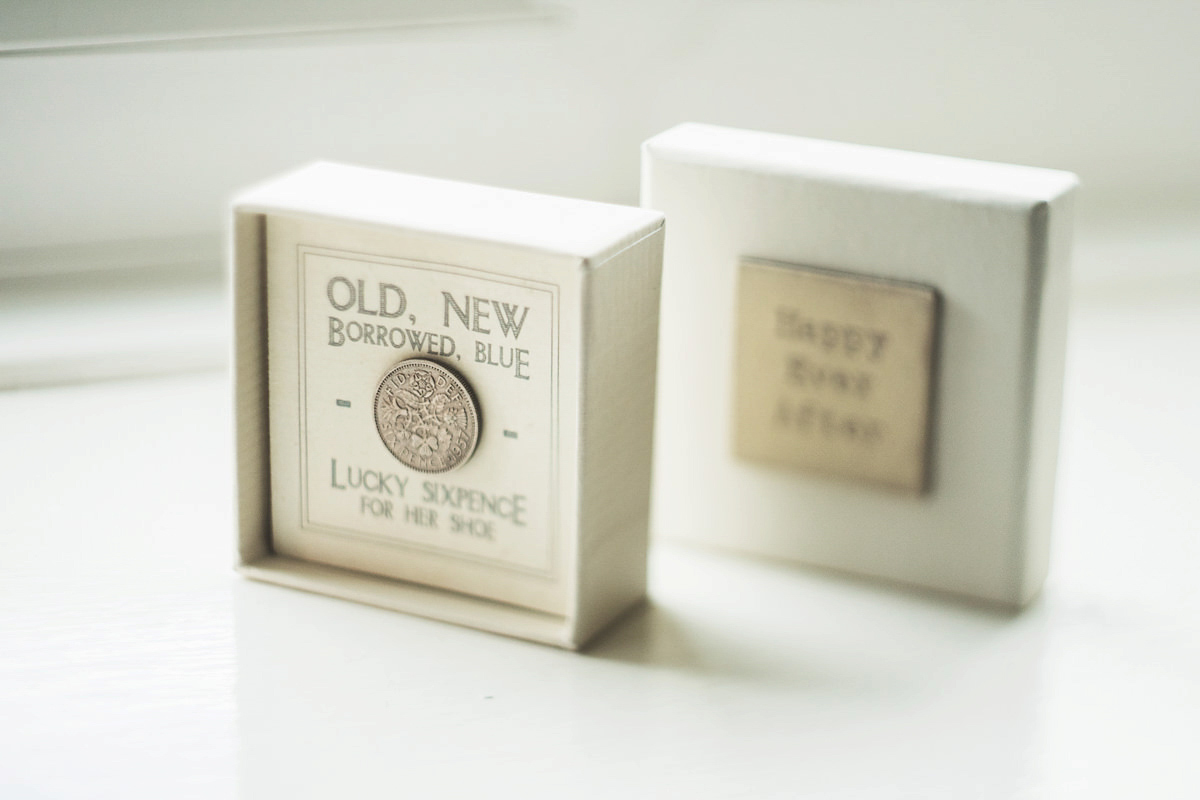 "I wore the Eau de Parfum version of Chanel Chance. I usually wear the variations of this perfume (Eau Tendre, Eau Fraiche) but wanted something a little more special. Now every time I wear it, it will always remind me of my wedding day."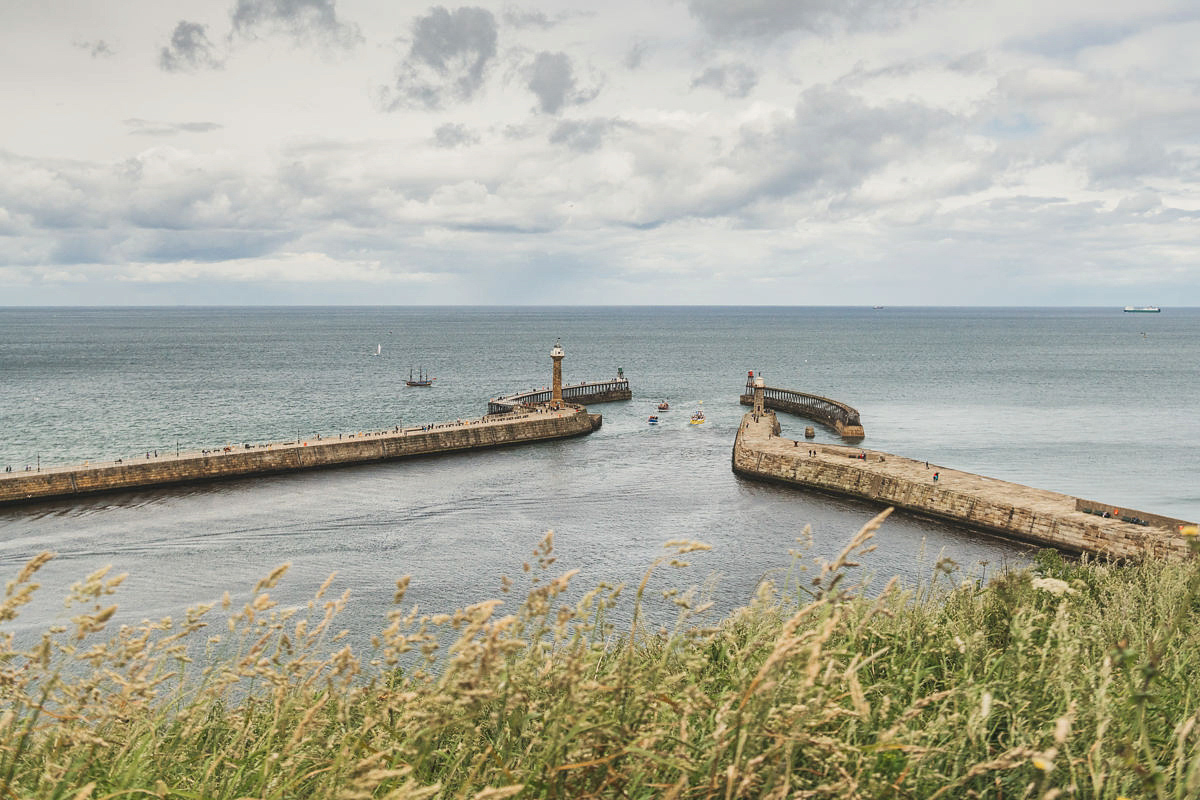 A 1978 convertible Volkswagen Beetle transported Lauren and her dad to St Mary's Church, the perfect retro nod. They then walked down the aisle to 'Coles Corner' by Richard Hawley, with a quick stop to say hello to the couples dog, Frank, head page boy before reaching Rick.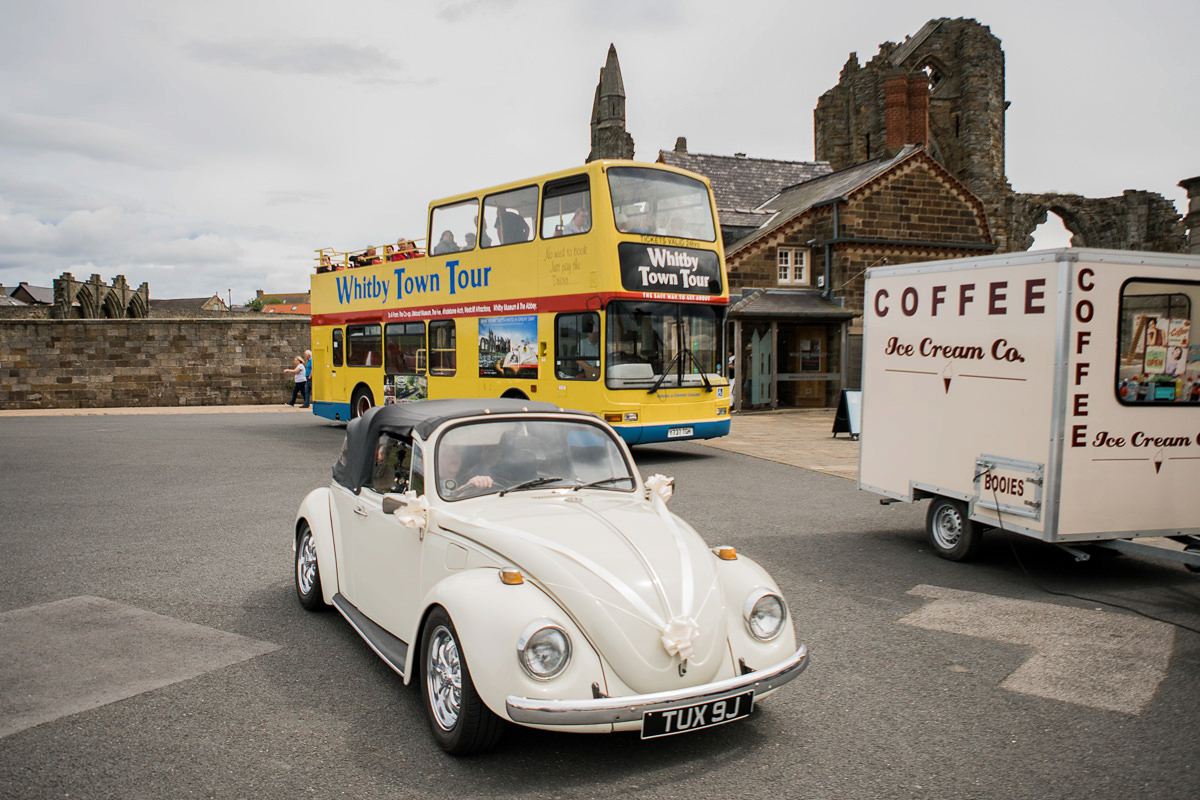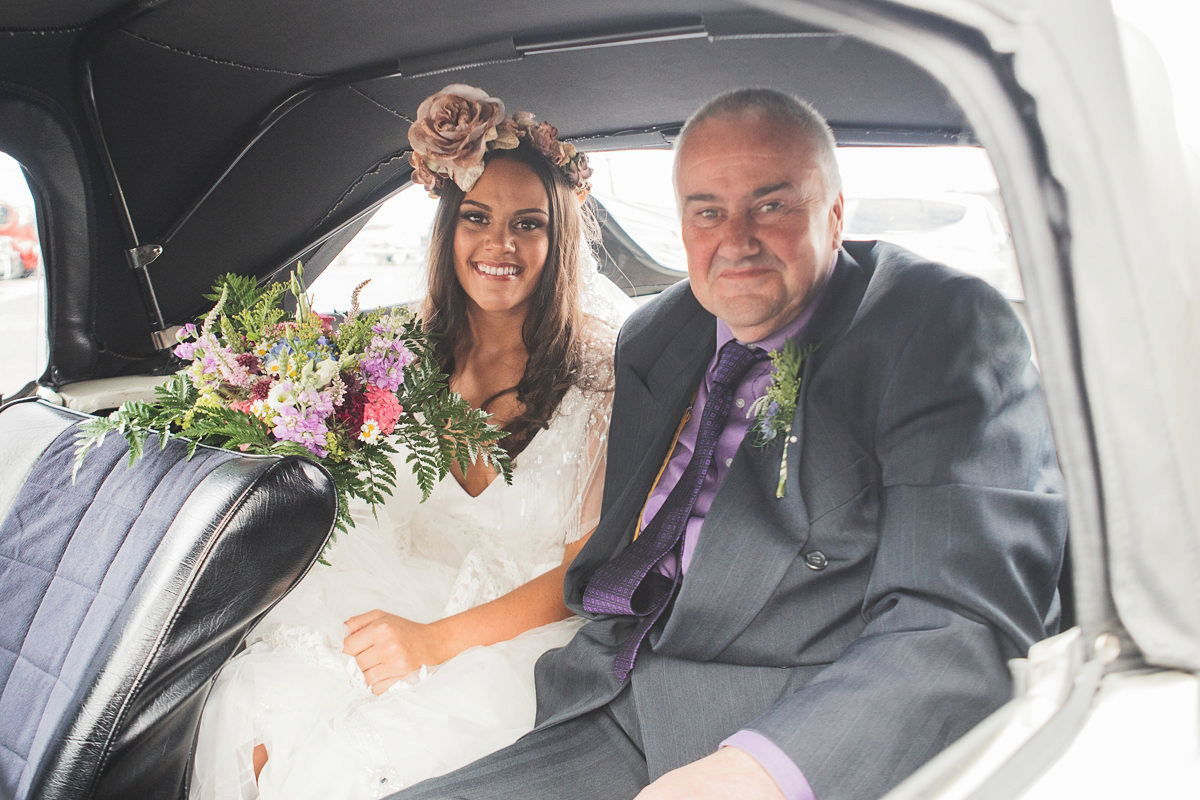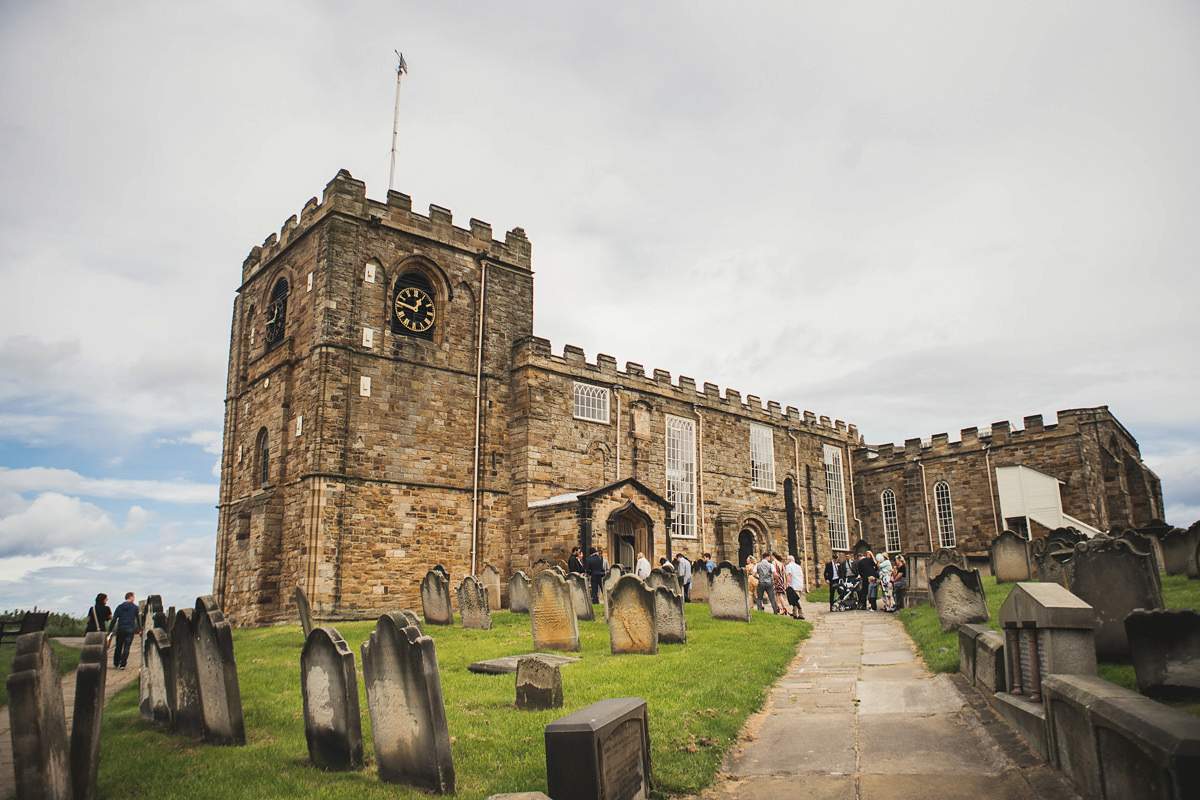 Choosing suppliers you trust is so blimin' important (see Little Book for Brides, we've got your back). Lauren and Rick wanted wild, unstructured, seasonal blooms that didn't conform to a colour scheme.
Upon finding Blooming Yorkshire, they were happy to leave the decisions up to the professionals and the results are effortlessly stylish and informally beautiful. My favourite floral aspect has to be Frank the Dog's pageboy collar though. Dogs are such  huge part of the family and I love seeing them involved in celebrations!
"We chose Jane at Blooming Yorkshire after searching for a florist that used wild flowers and was fairly local. We met her and explained that we didn't really have a colour scheme, but wanted things that were in season and looked beautiful together. She knew exactly what we wanted after chatting to her about funk, soul and of course, flowers, and we felt totally safe leaving it in her hands."
"When people asked what flowers we were going for and I told them I'd left it up to the florist, most of them were horrified! But we knew that Jane knew best and she really did deliver the most stunning bouquets and buttonholes. We purchased a bucket of DIY flowers that we arranged into jars for the tables ourselves the day before the wedding. She also designed two big floral arrangements which we put in vintage jugs from the car boot and but them on the fonts in the church"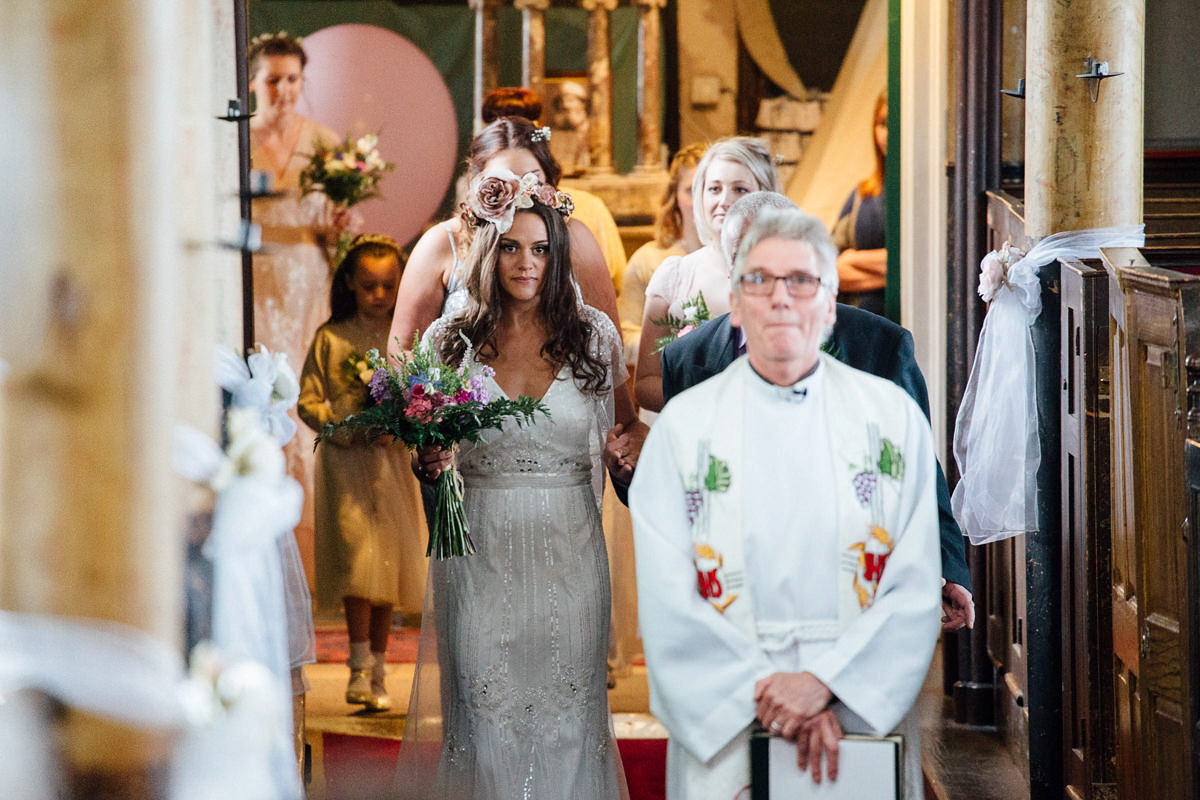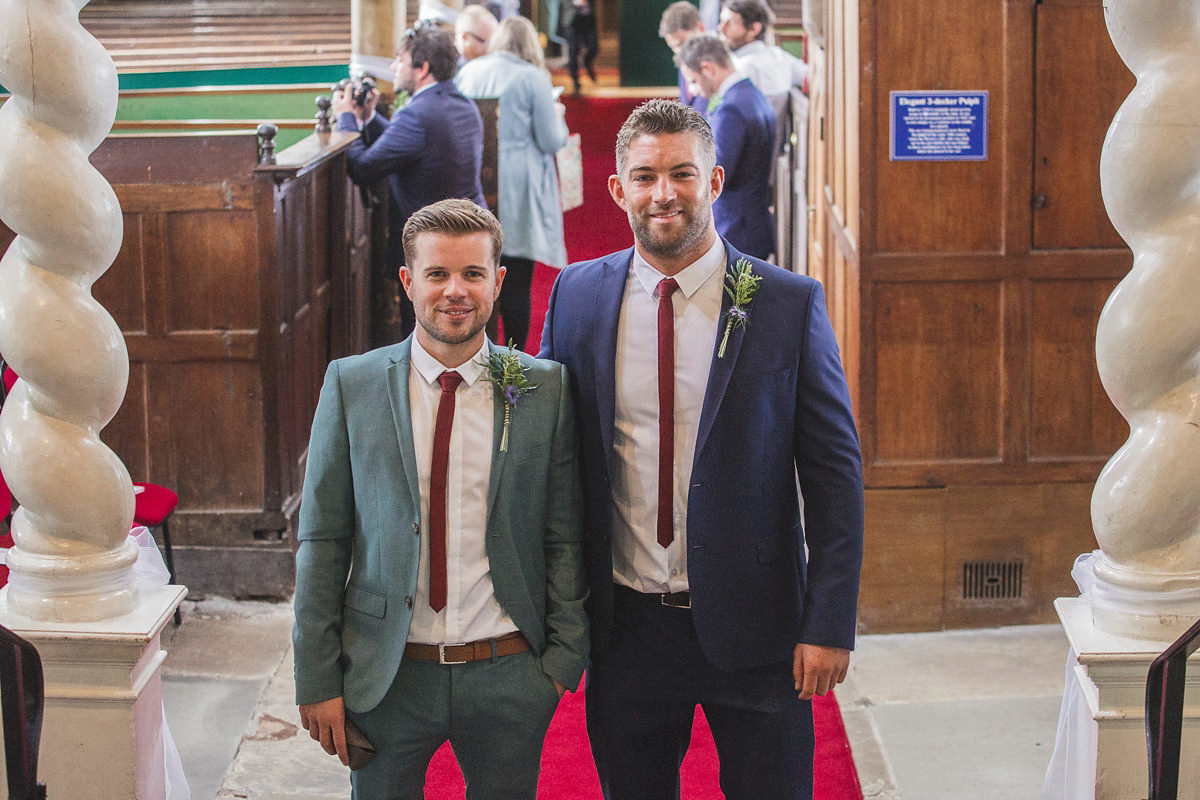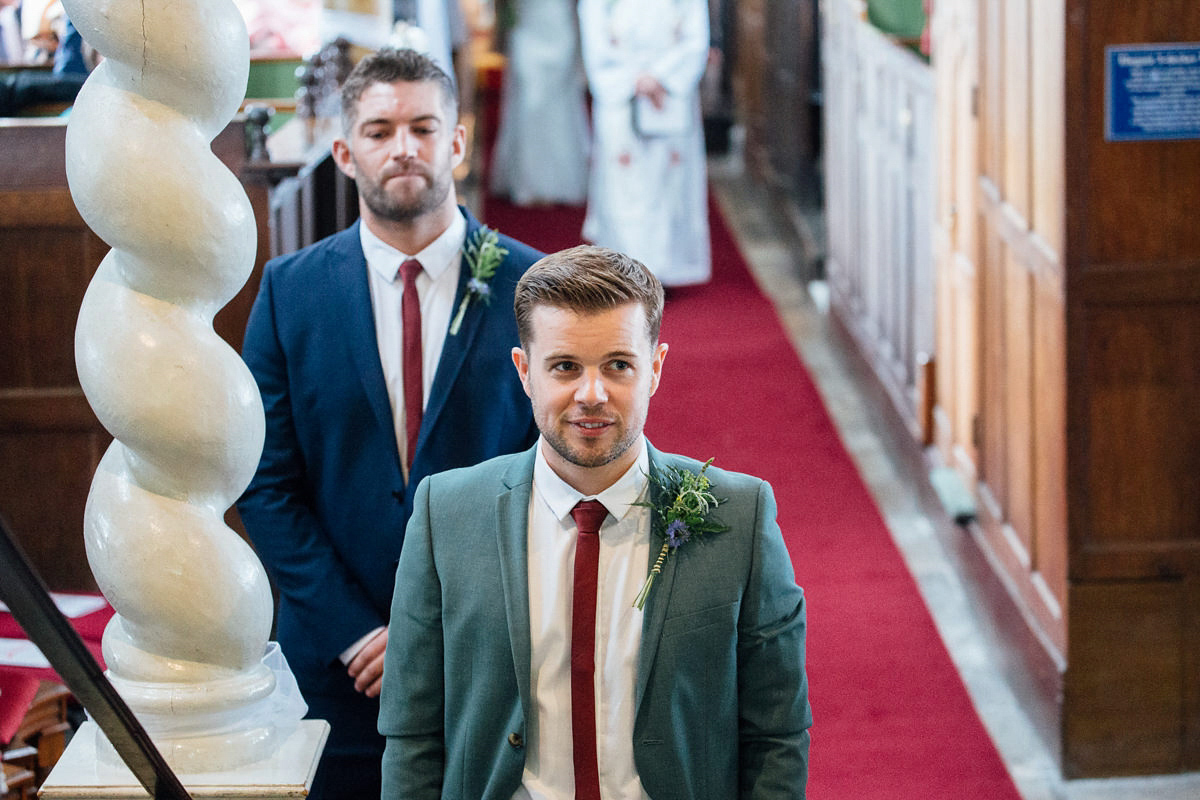 "My oldest friend Tiff read 1 Corinthians 13– she's a French teacher so we knew she could project her voice. Although its a bit cliché, and read at most weddings, the message behind it is lovely. Hearing a friend read it was soo special and when we caught each others eye whilst she was reading she had a bit of a wobble."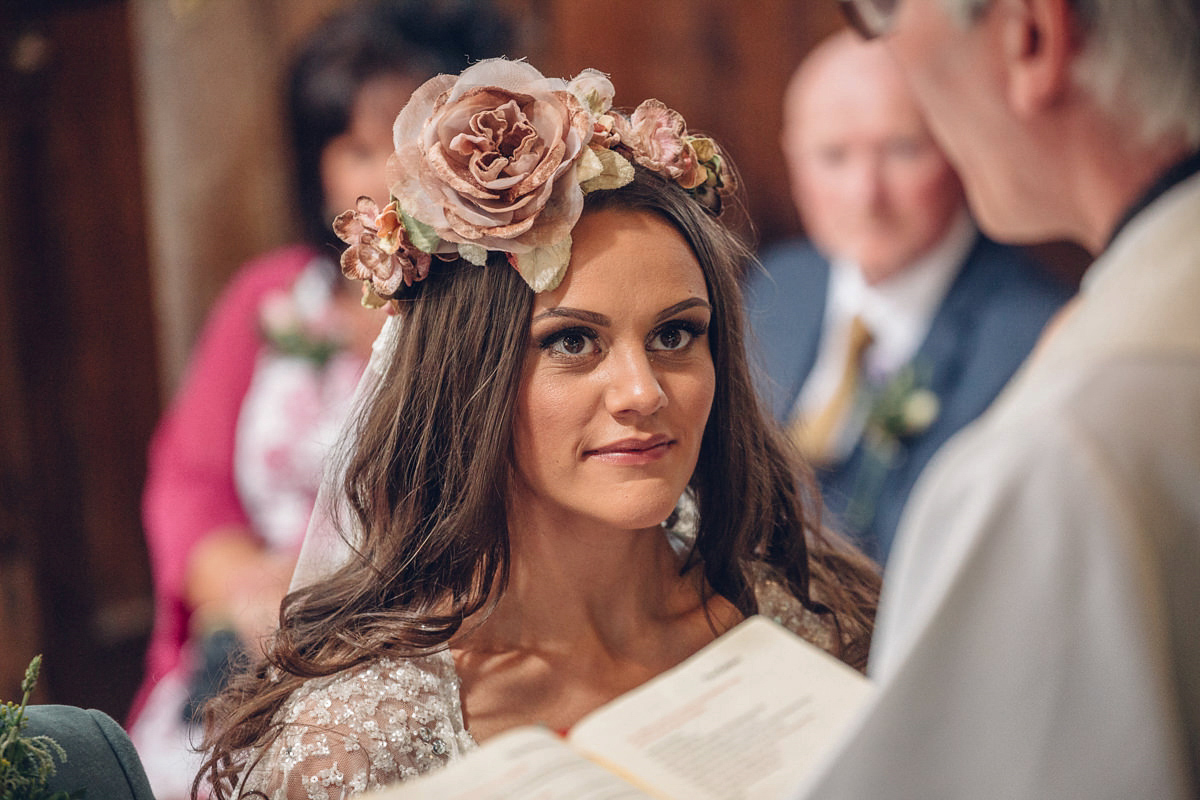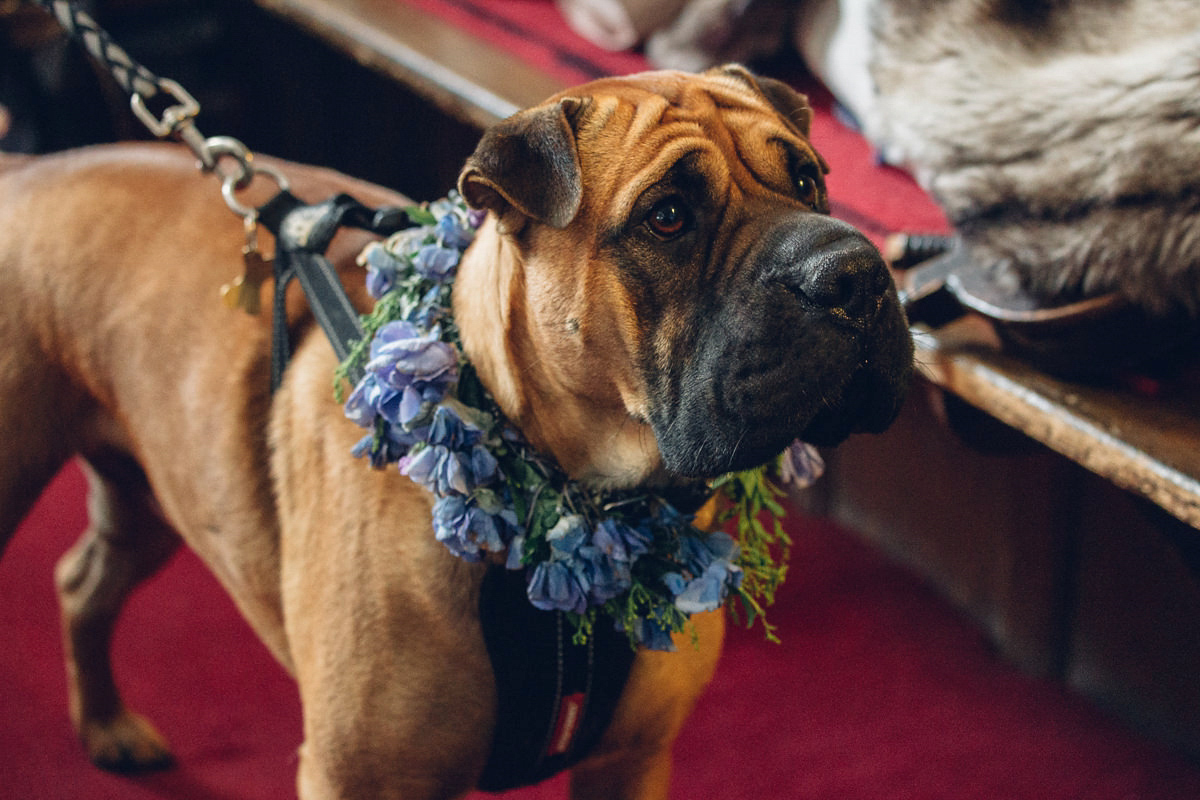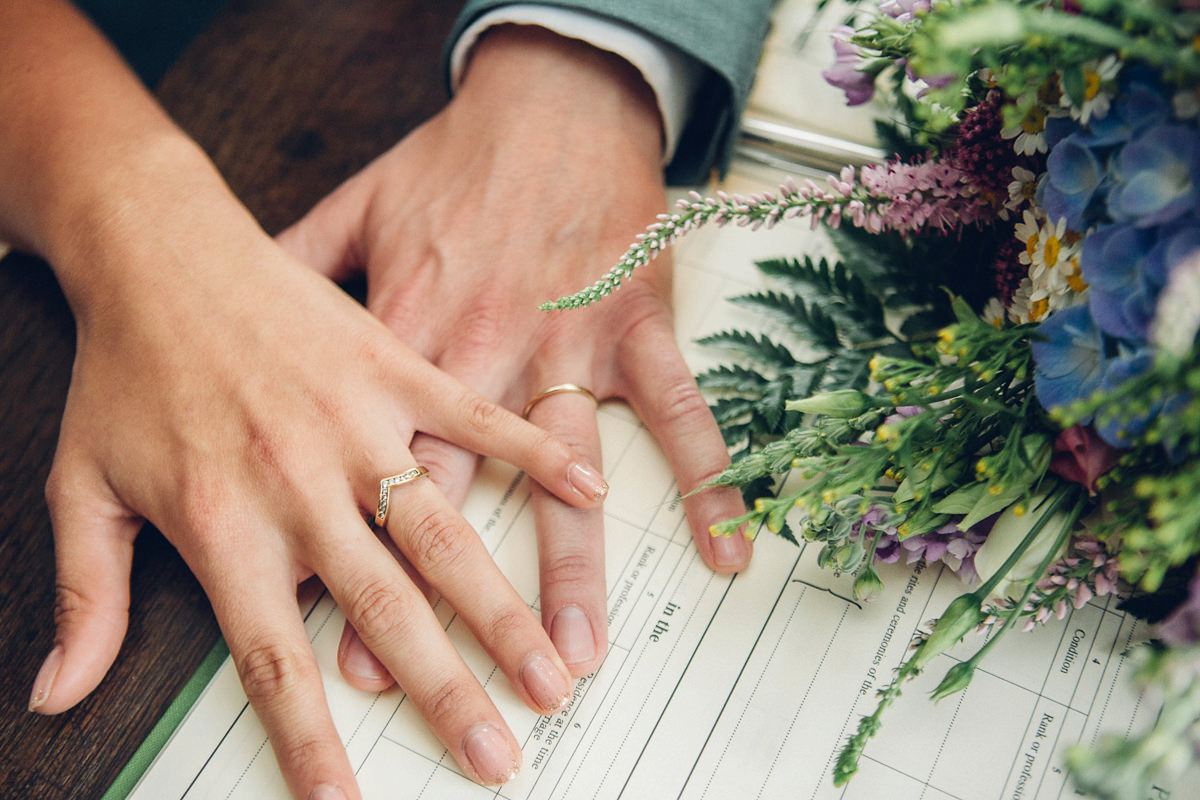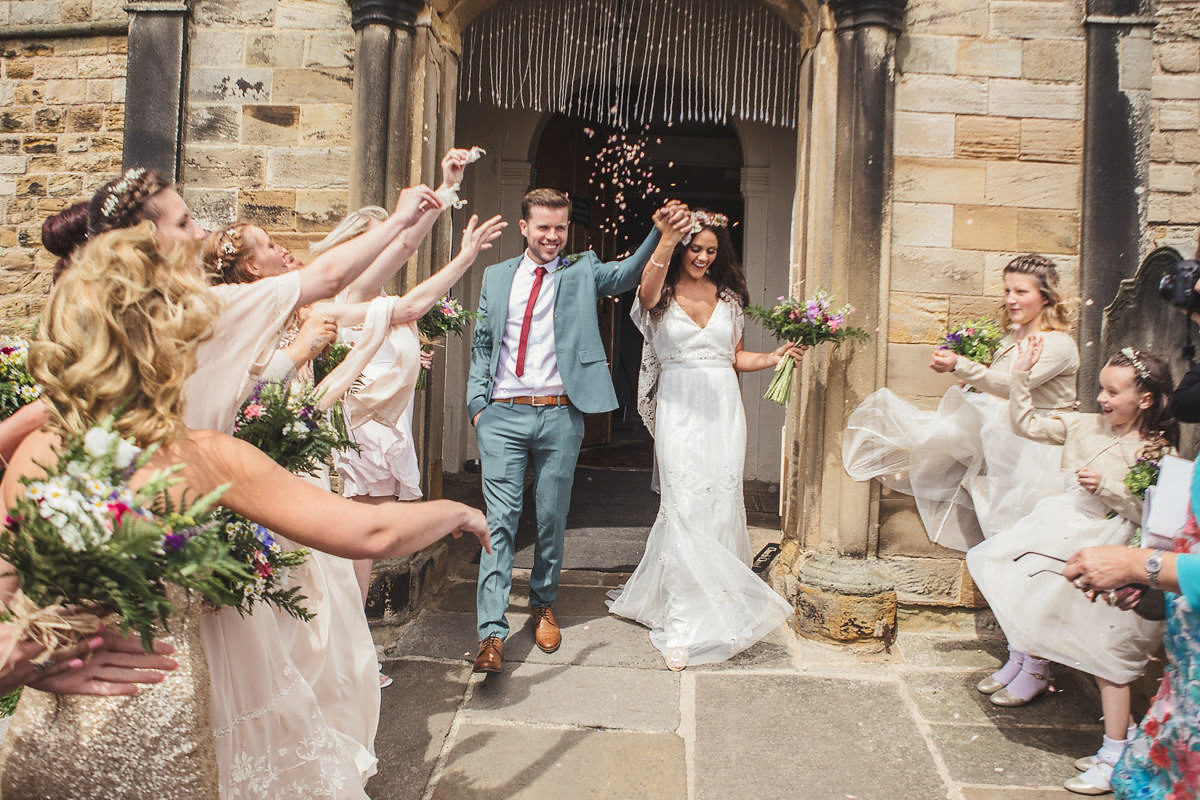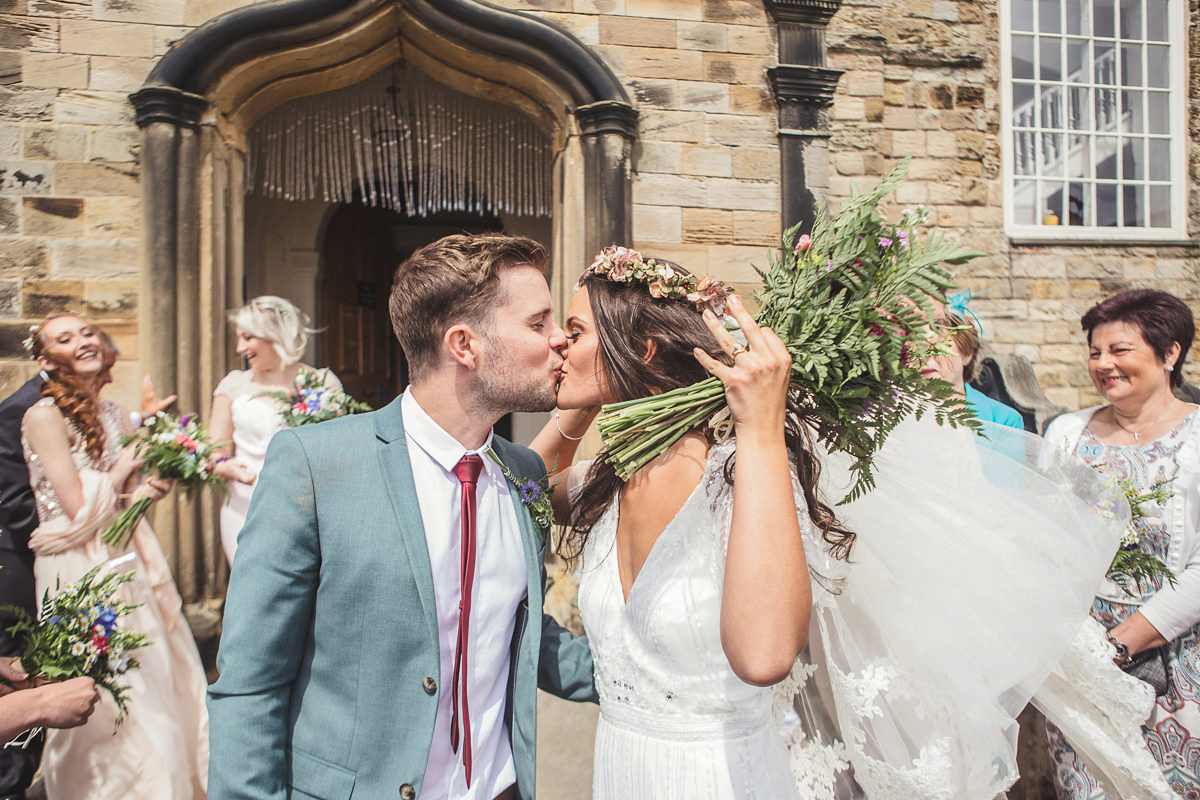 Heading out into the sea breeze, overlooking such a picturesque harbour, the couple posed for some elated pictures with the wedding party before heading to Falling Foss.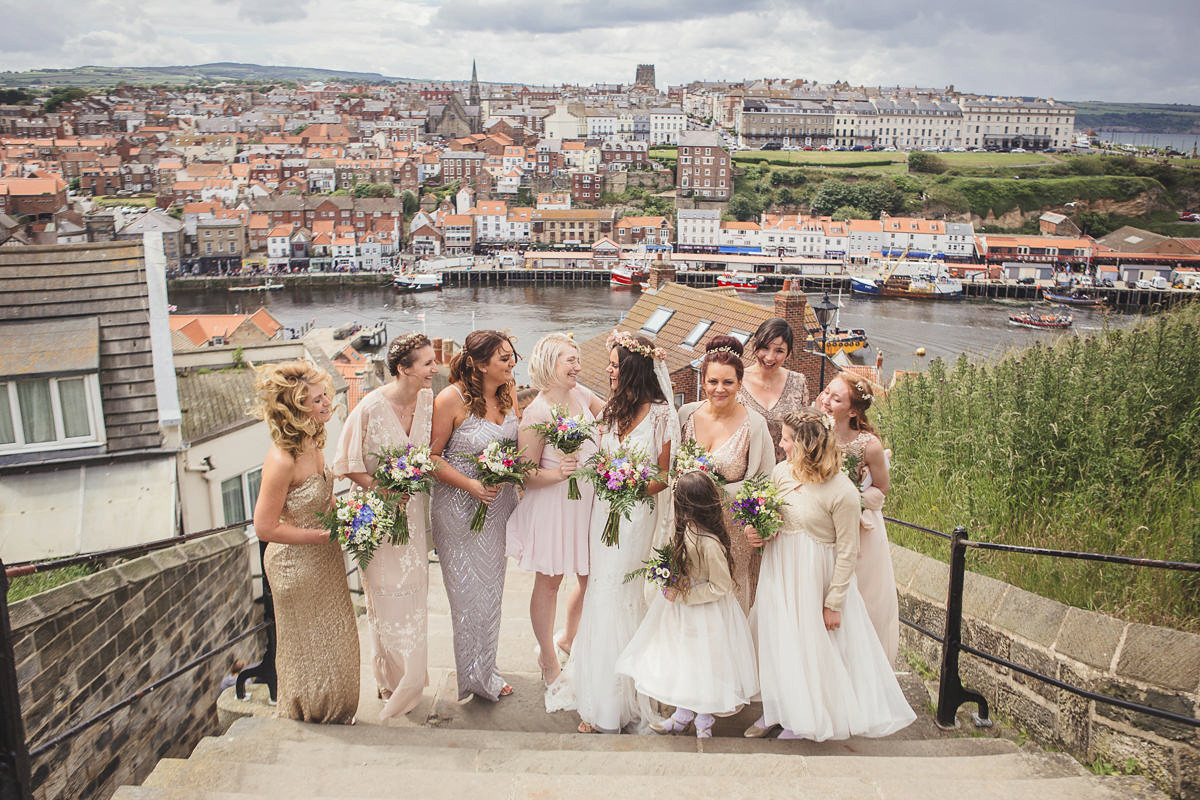 With eight bridesmaids and a bride to excitedly beautify in the morning, make up and hair duties were shared across professionals and family friends (find full listings below in the supplier information). Classic wisps of gypsophilia were added to the bridesmaids hair and all were free to choose their own dresses and shoes, which were purchased from a variety of high street gems.
"Rick and I are both from Whitby, however had never crossed paths until one night in local nightclub Raw in March 2011. We spent the rest of the evening together, and that was it really! We got engaged on Good Friday 2014 outside Rick's father's hairdressers, Rick felt it was apt after years in the family it has been sold."
"We were engaged for around 27 months before we got married; we always said we would enjoy a long engagement, planning the wedding at our leisure."
Revelling in this smorgasbord of beautiful backdrops (not to mention gorgeous couple) was Craig Goode from Mr & Mrs Photography. Meaningful moments between this deliriously happy pair have been captured within the summer glow of a town that means so much to them and the joyous party atmosphere seeps out from the images and can't help but draw a smile.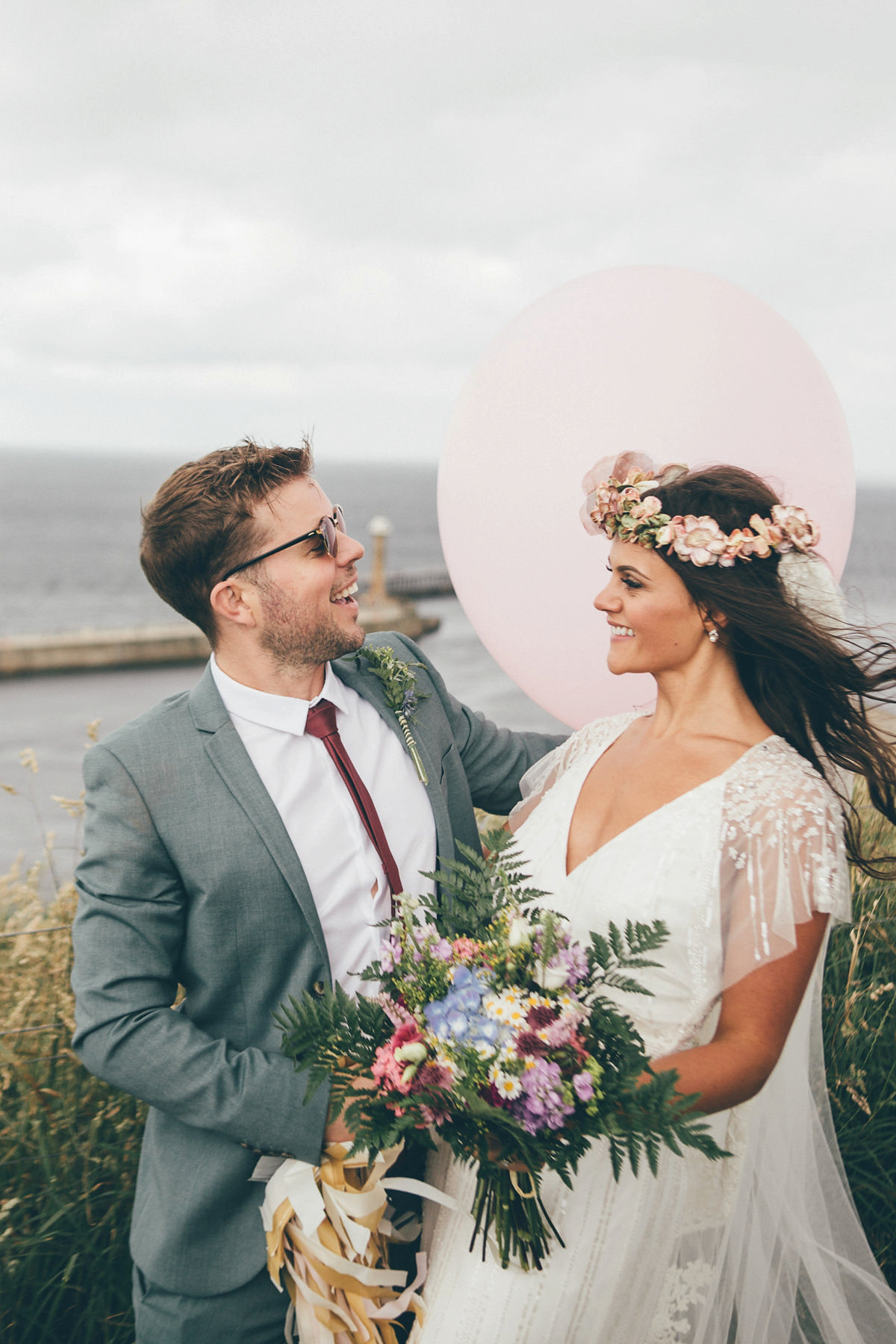 "Craig was absolutely fantastic and we immediately fell in love with his relaxed, sun-kissed style of photography. We knew he would do our day justice."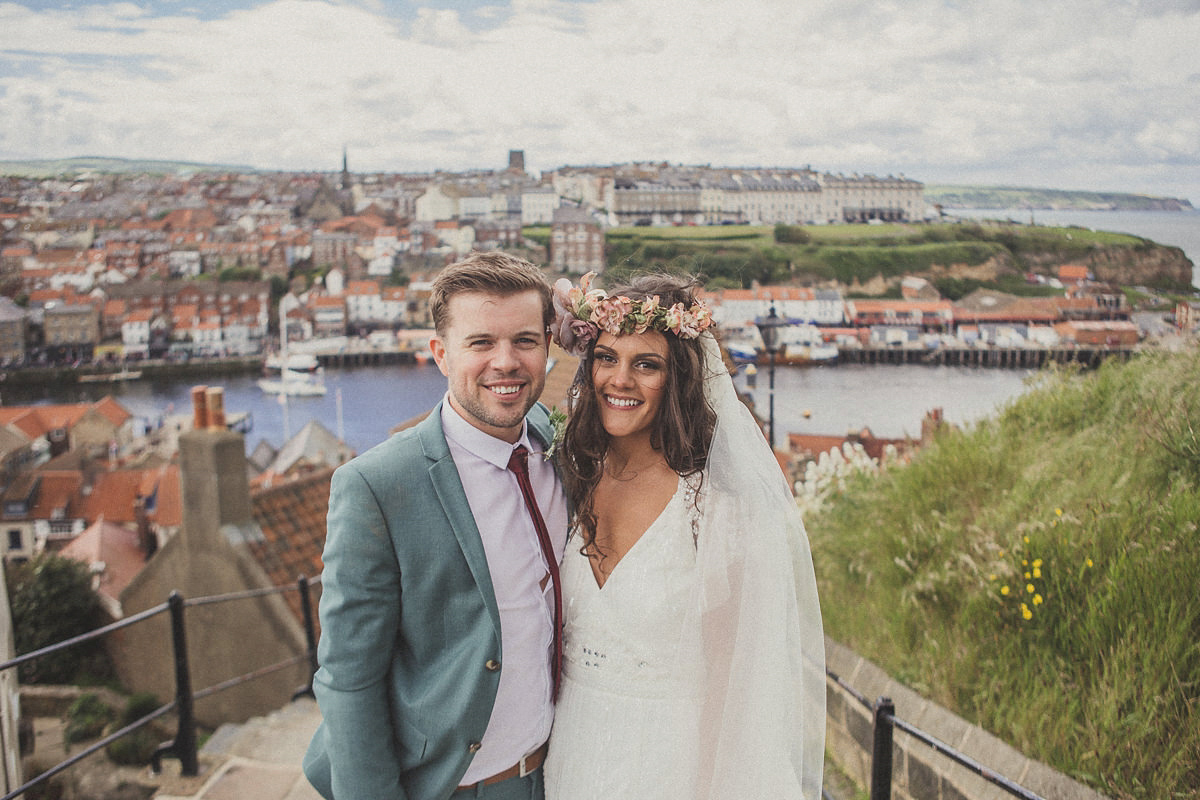 "His team, videographer Andy and his fiancé Alice, another photographer were equally as talented and lovely, they captured every shot we wanted without us really knowing what we wanted! They were friendly but efficient, and went way above the call of duty, staying well into the night."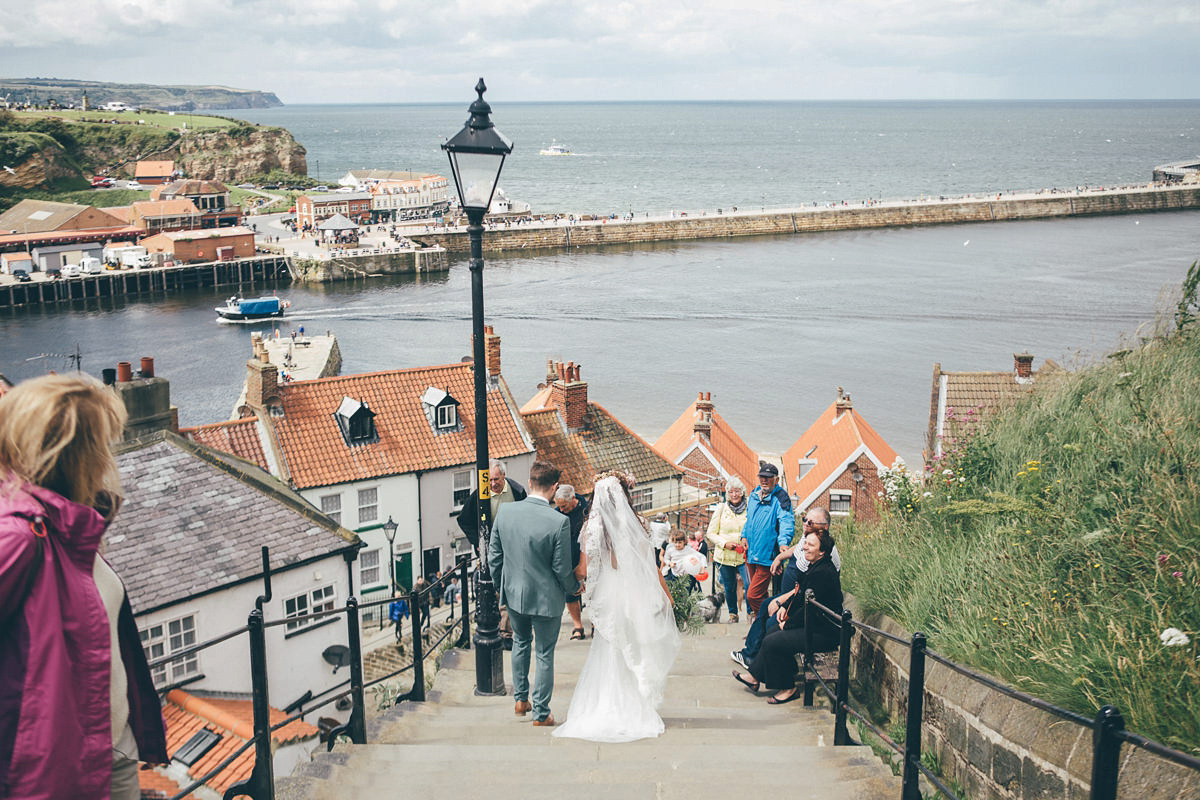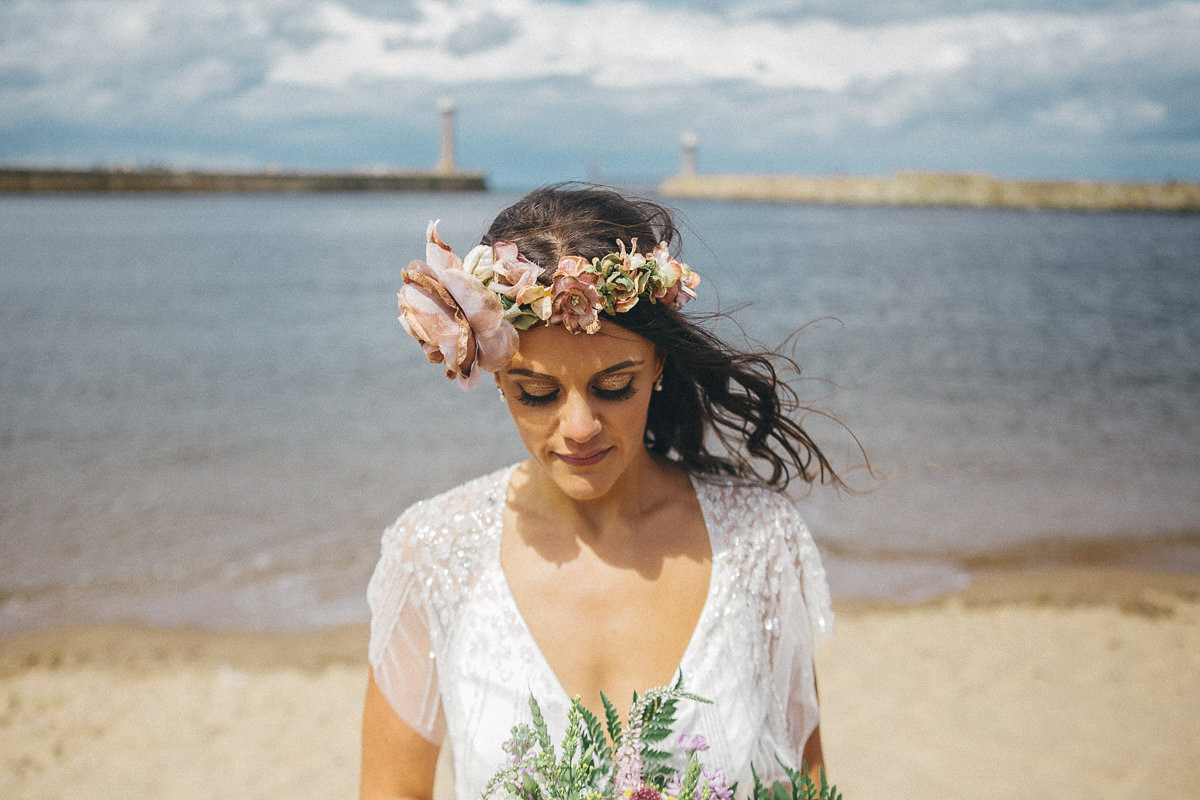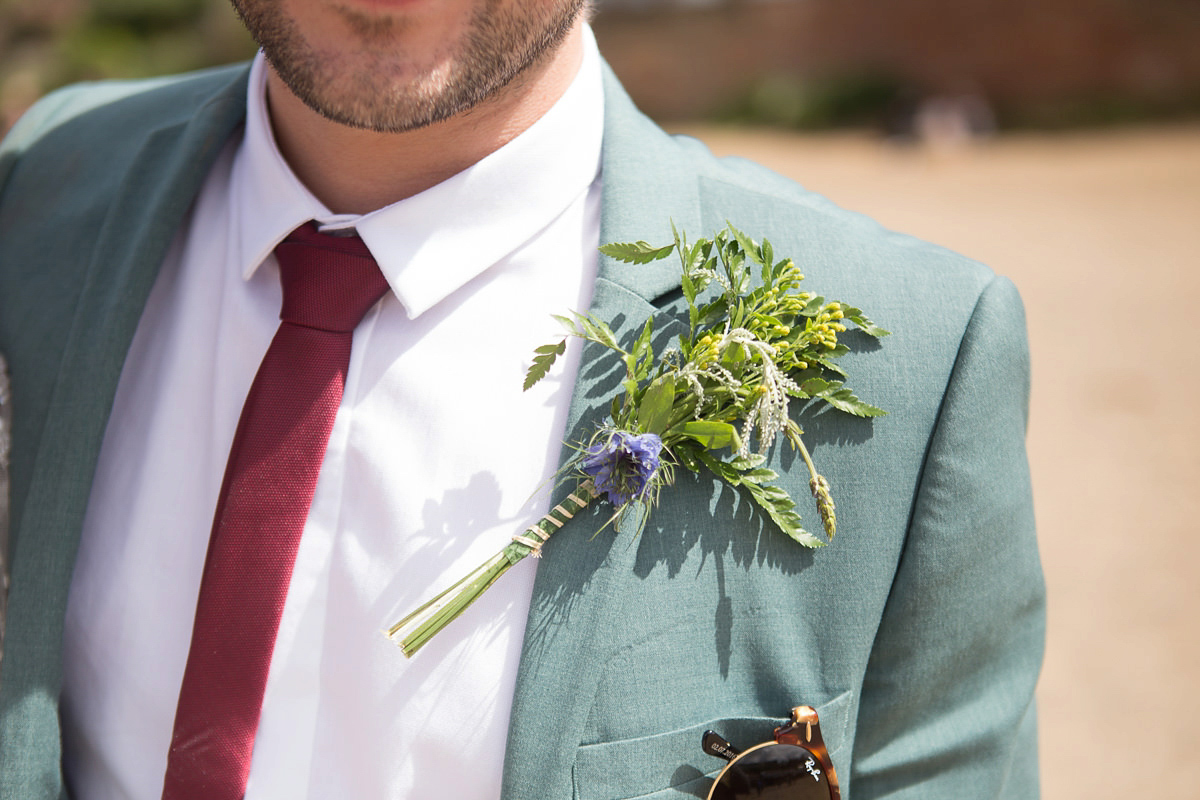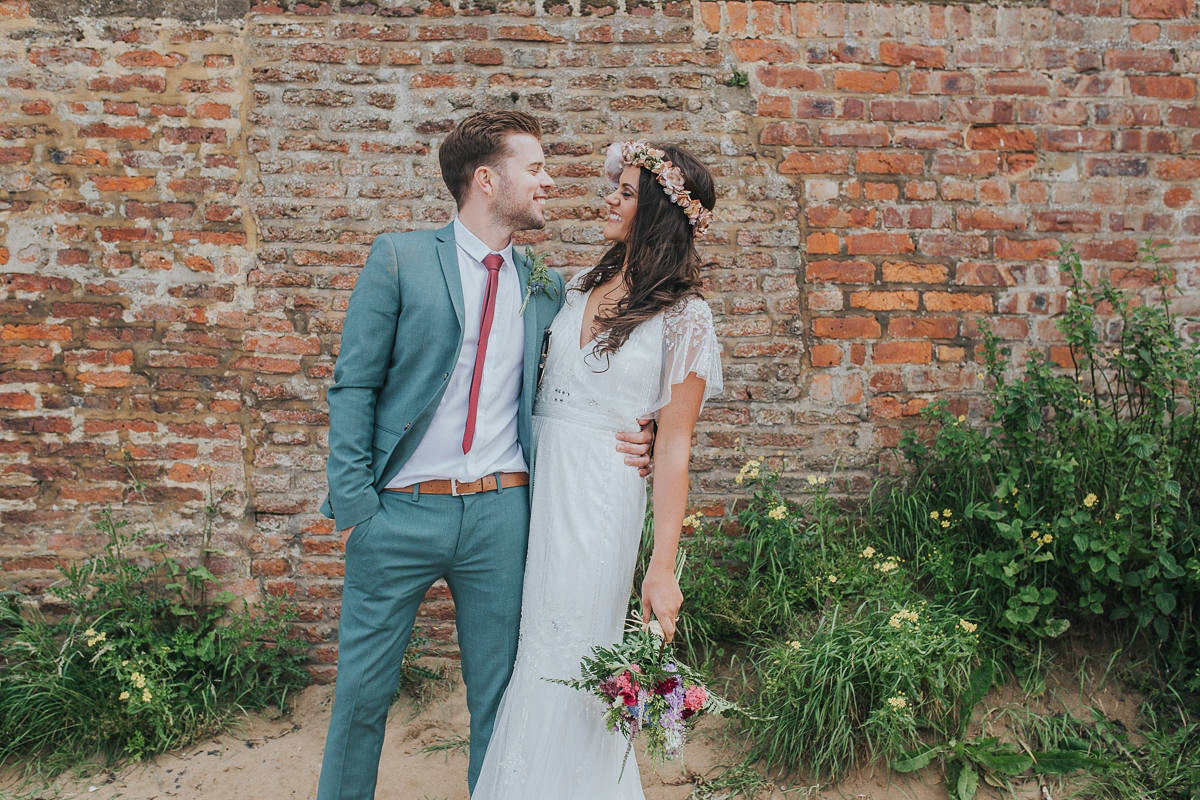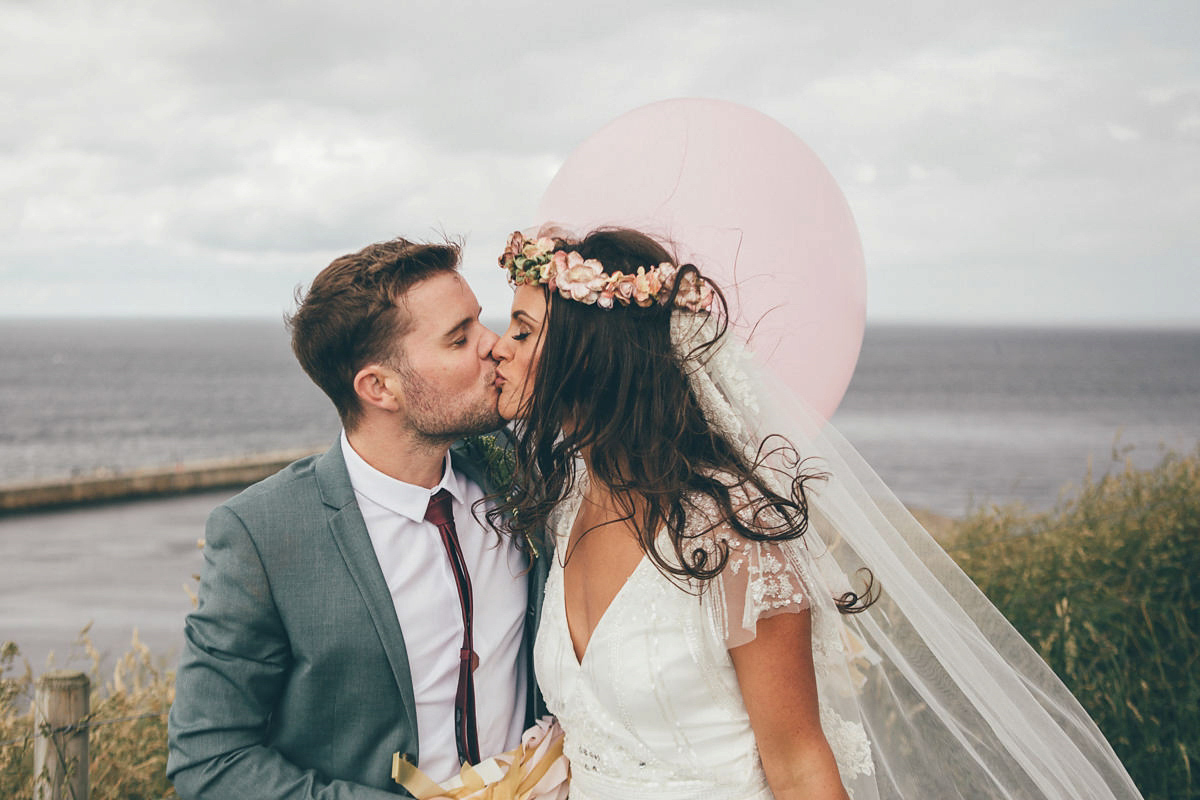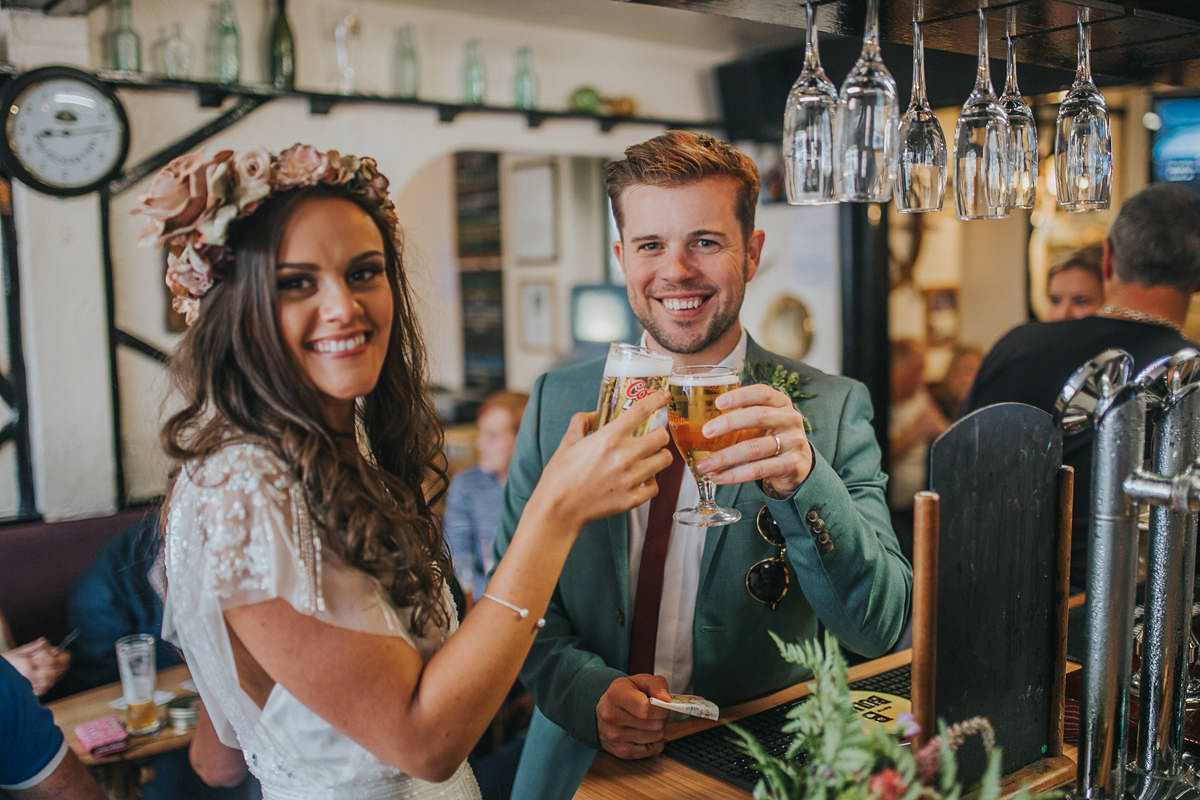 Lauren cites the car journey with her new husband as one of her favourite parts of the day, with people waving and cheering upon seeing the bride and groom with the top down on that amazing little car. Grabbing surreal pockets of alone time feels giddily magical and provides super special memories.
The natural beauty of the setting only needed a sprinkling of simple, fun extras and both Falling Foss and Lauren's mum were on hand to adorn the woodland with some additional magic (there's nothing better than some decorated trees). Why not enjoy more woodland wonderment in our wedding archive here.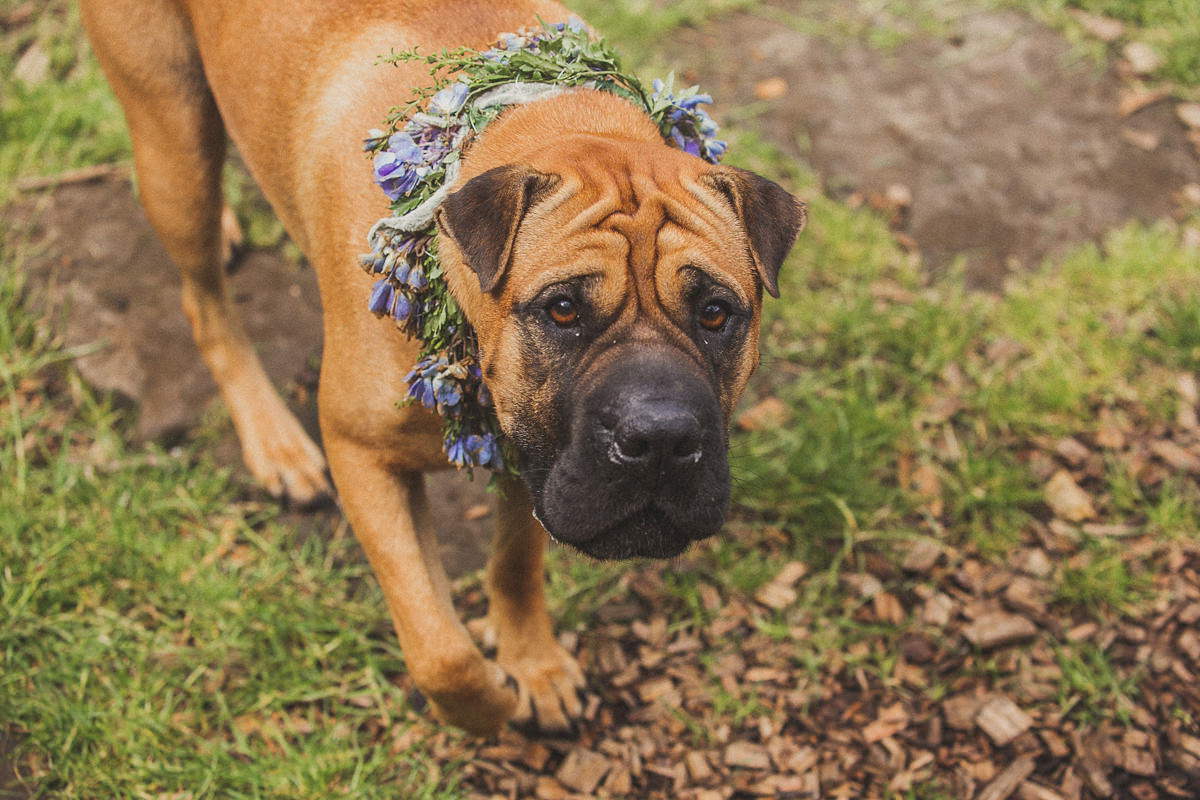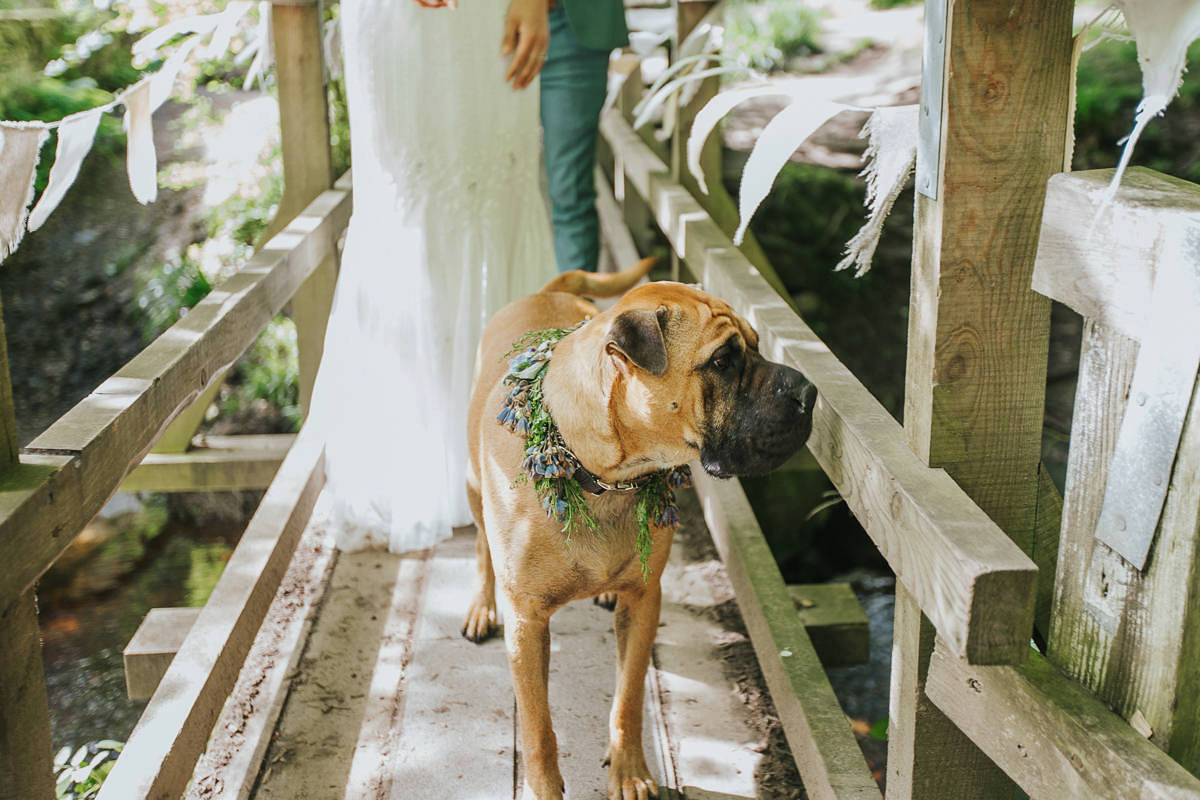 "My Mum decorated lots of jars with beautiful lace, silk flowers and beads. She also painted lots of chalkboards, whilst my step-dad made an arrow sign. We bought paper pom-poms from eBay and made tassels for giant balloons. Most of the décor for Falling Foss was the venue's own and they styled it beautifully with bunting, flowers in bottles hanging from trees and lanterns. As the evening went on, they lit fire pits to keep the midges at bay."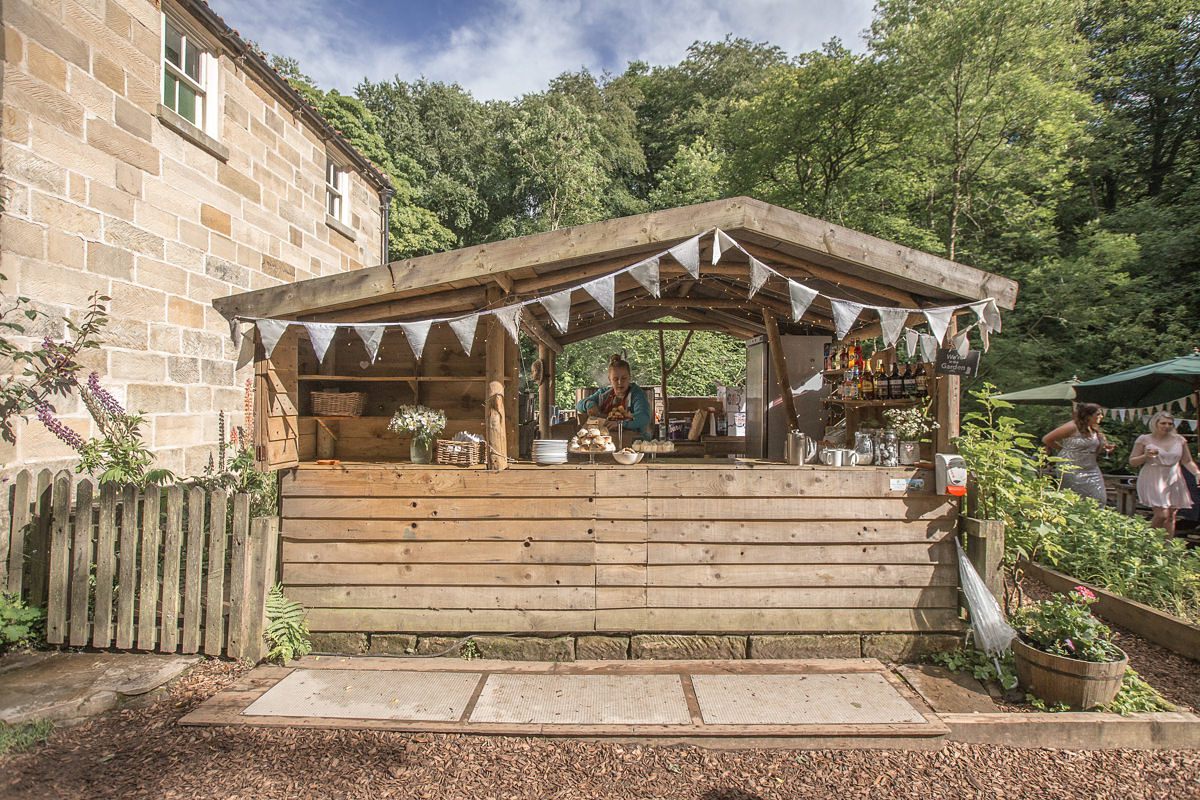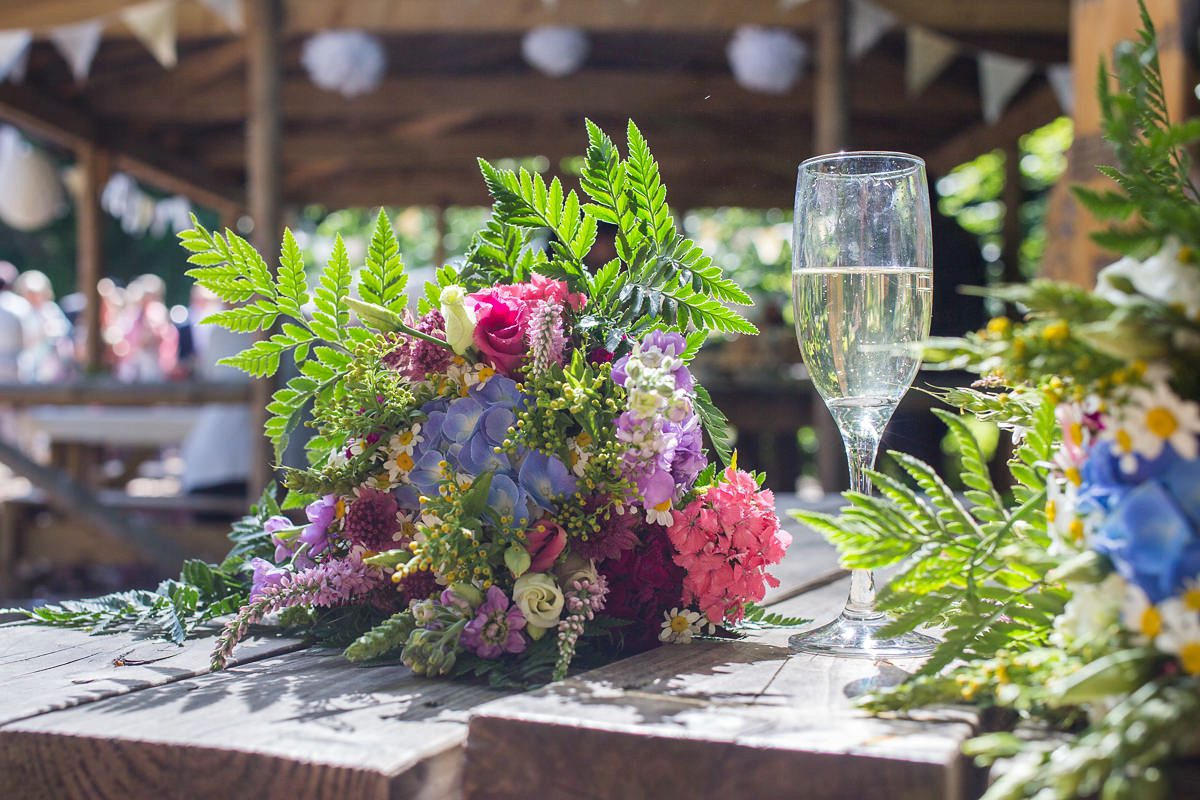 Falling Foss also provide yummy in-house catering. Lauren and Rick went for a Moroccan themed afternoon tea, complete with spanakopita, hummus, olives and oodles of baklava. Later on in the evening, after working up an appetite in the mosh pit, guests devoured a hog roast, wedding cake and a cheese tower.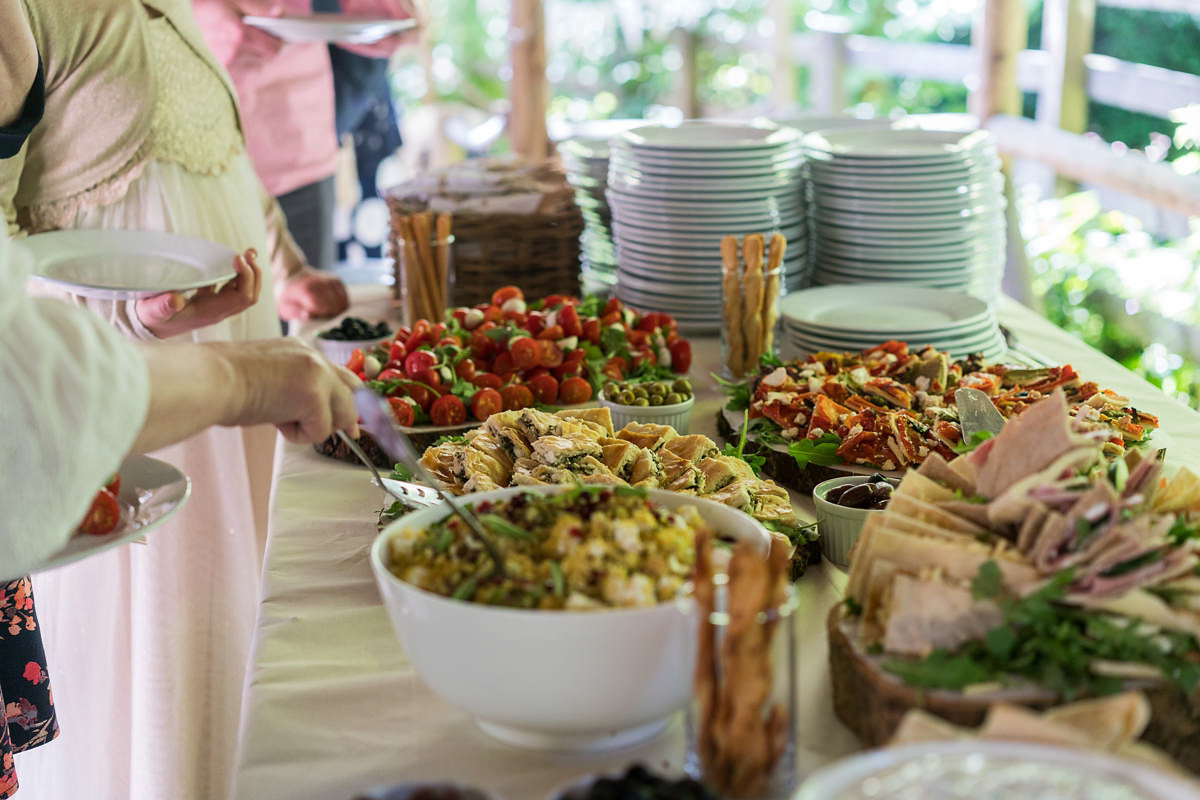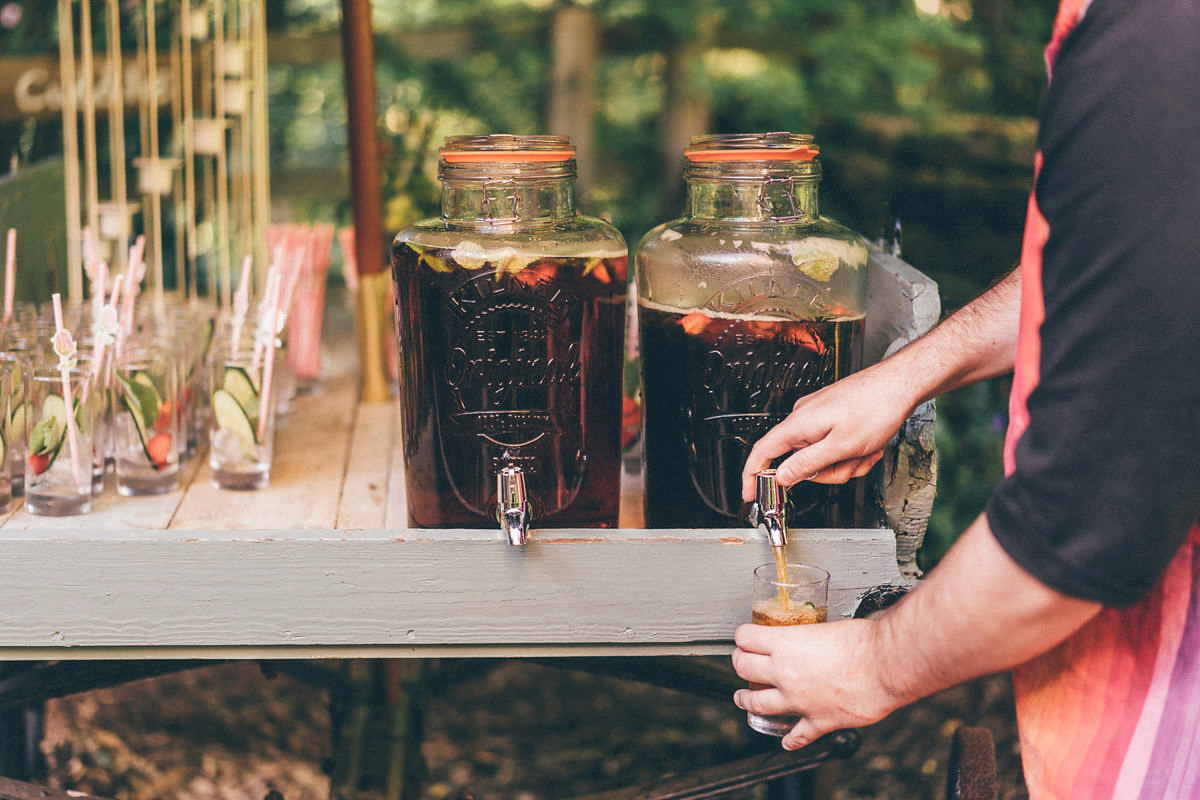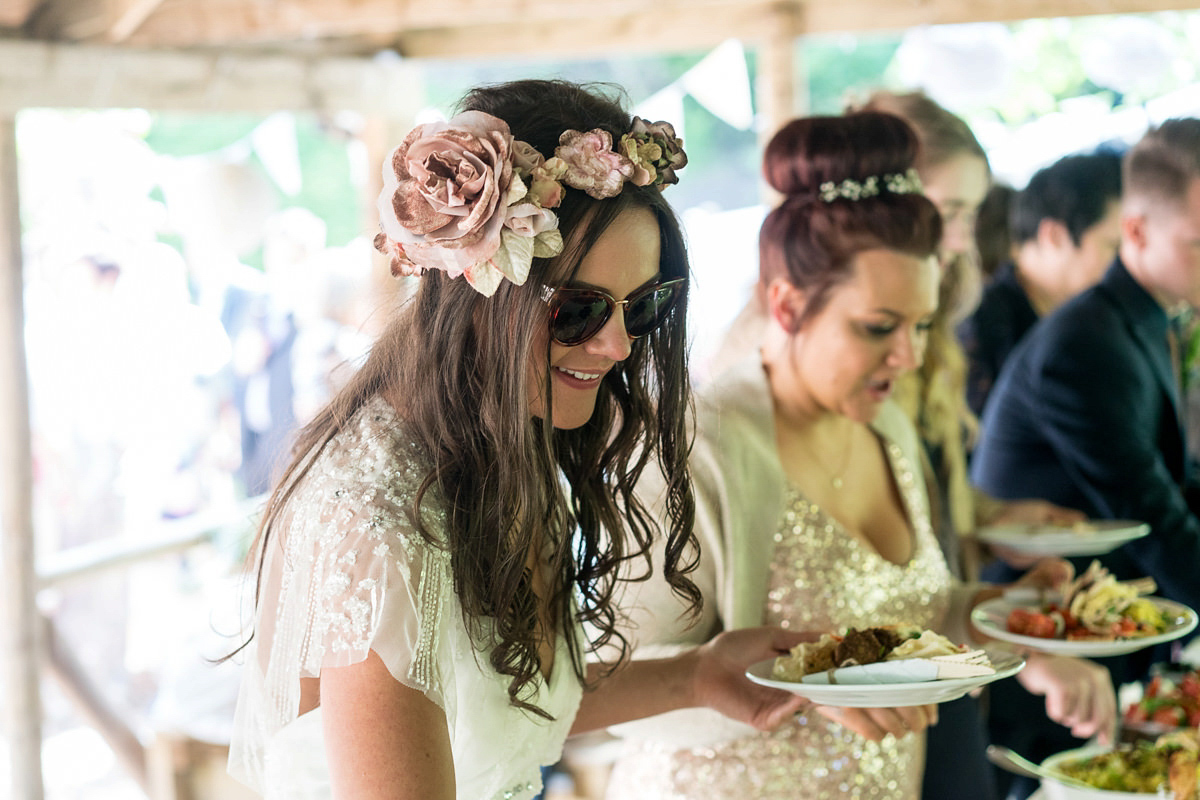 "An old school friend, Victoria Harrison, made our cake. I already had her in mind so got in touch and it turned our my sister had already arranged for her to bake a cake for my hen do! I'd also tasted her bakes before so that really swung it."
"We wanted a simple cake with neutral icing, but lots of fresh flowers for decoration."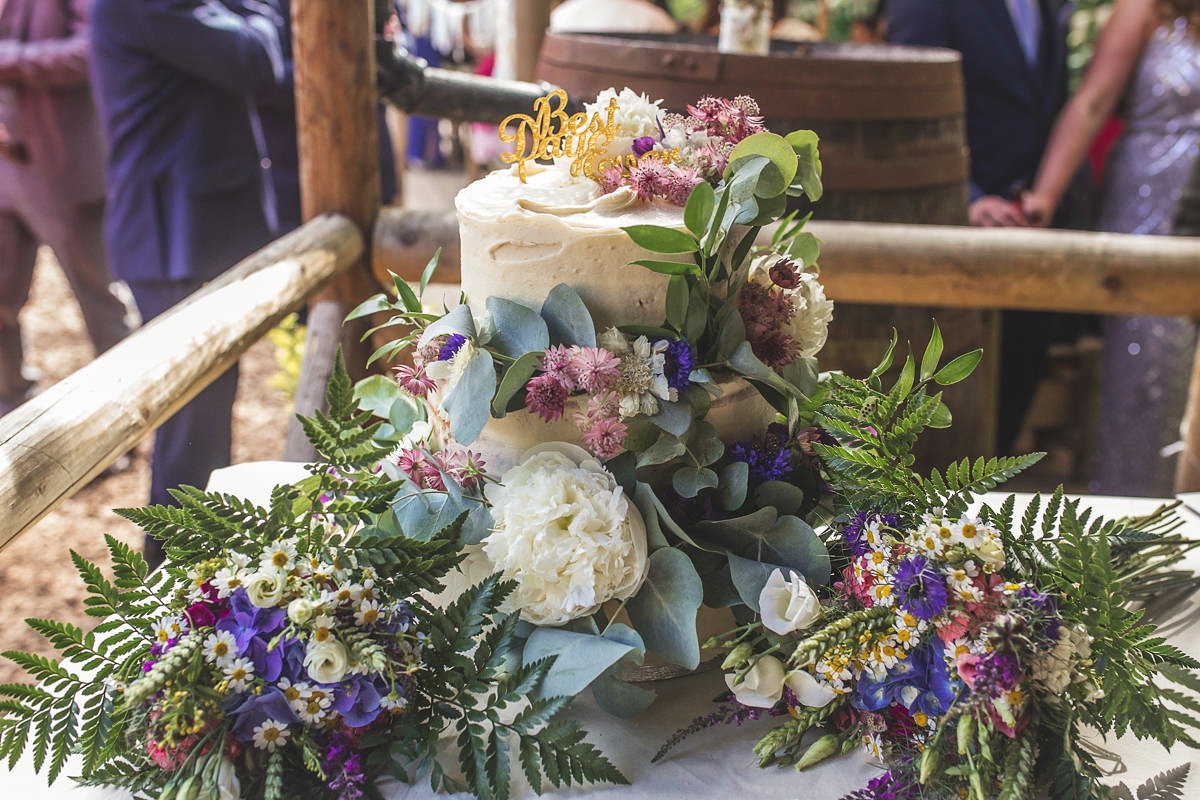 "We chose an elderflower sponge with salted caramel in the middle and iced with a simple buttercream. Victoria added lots of fresh flowers and eucalyptus and we topped it off with the 'Best Day Ever' cake topper from Paperchase."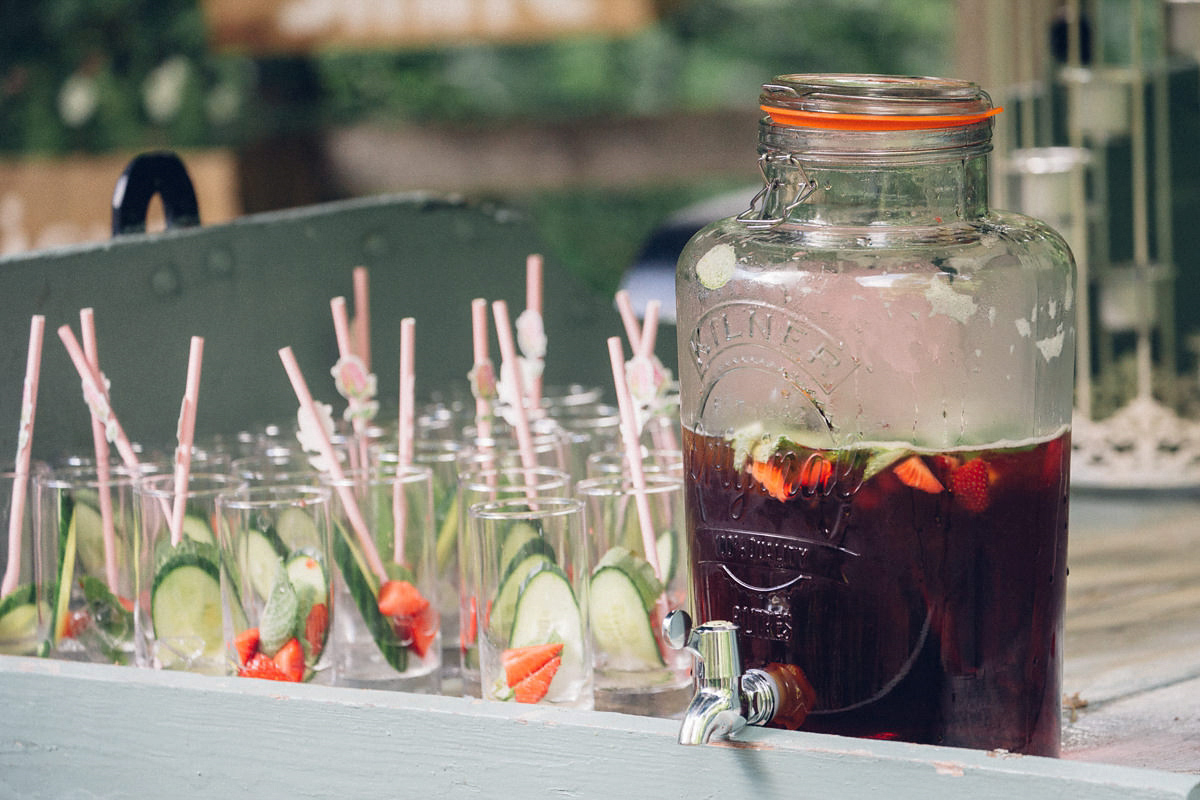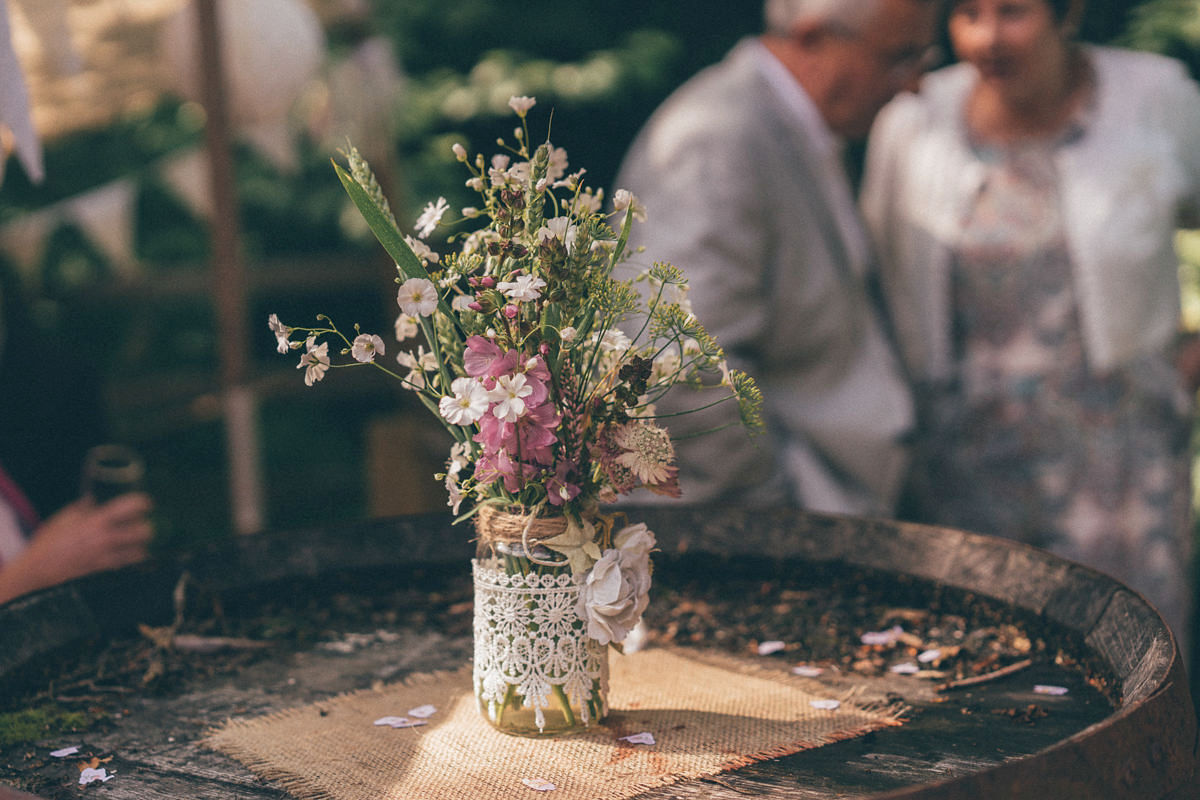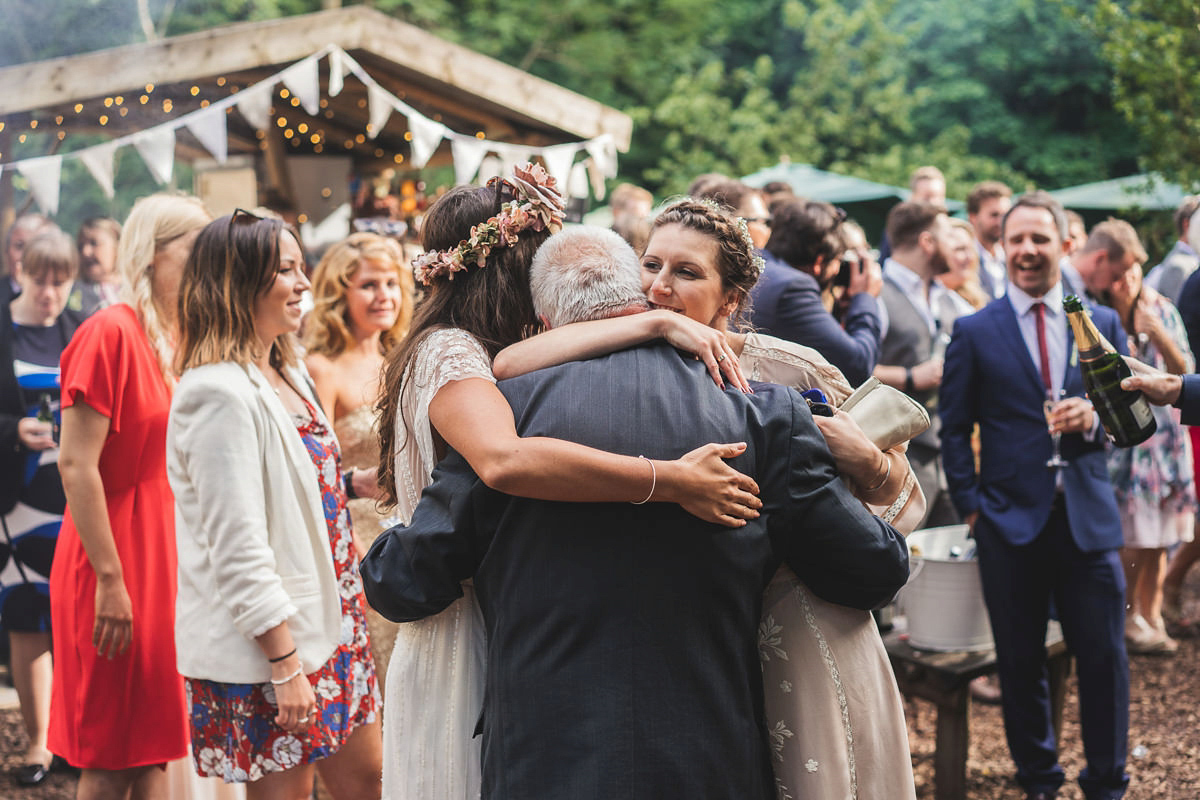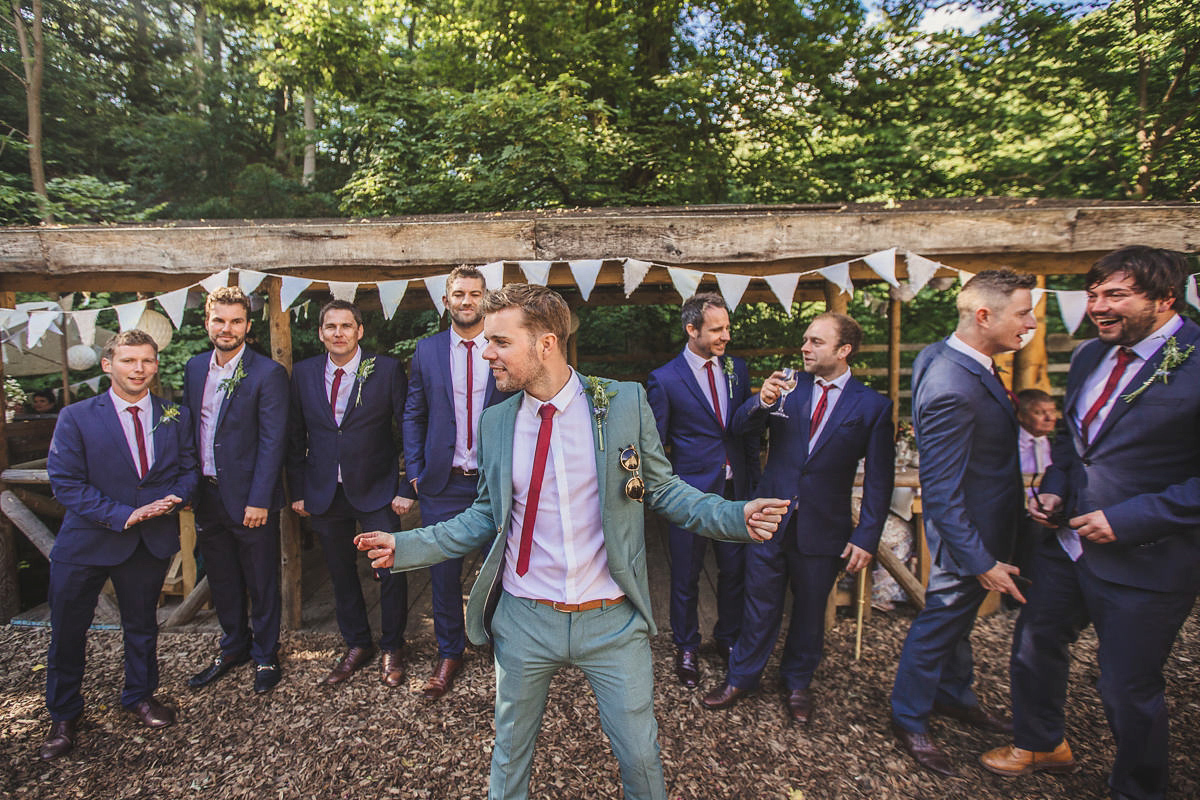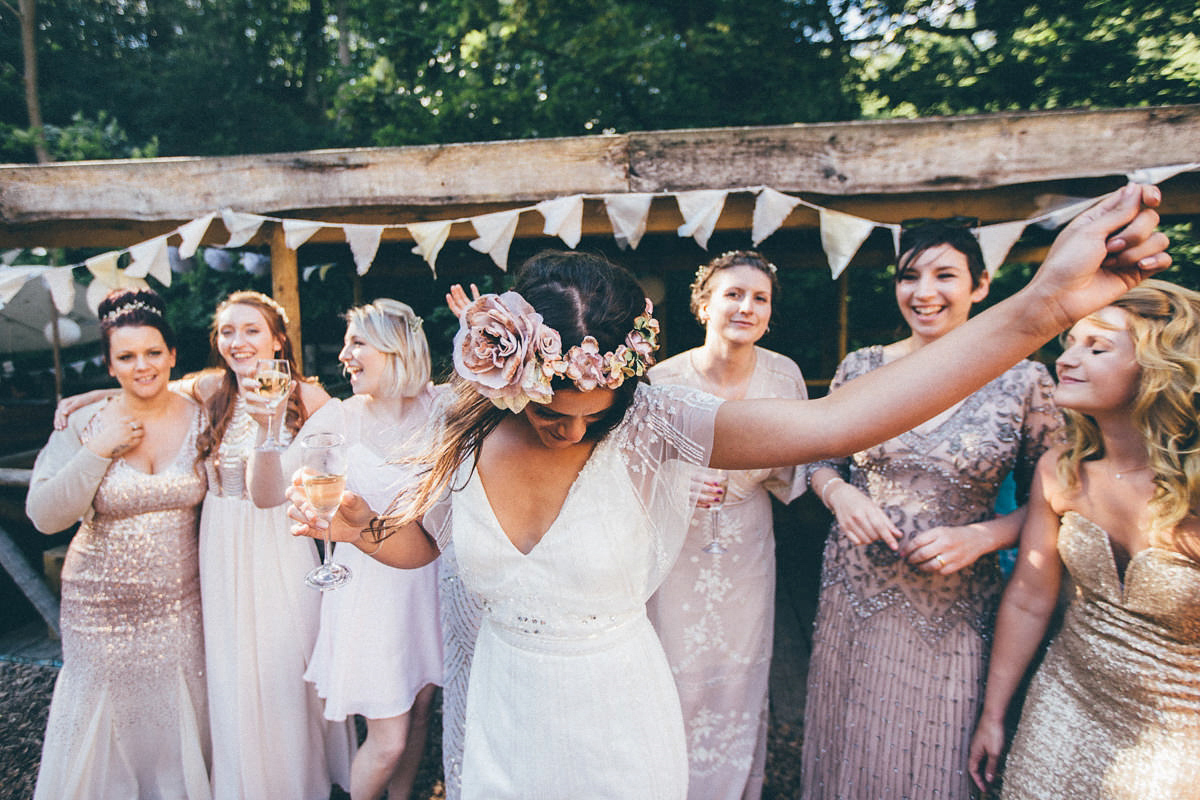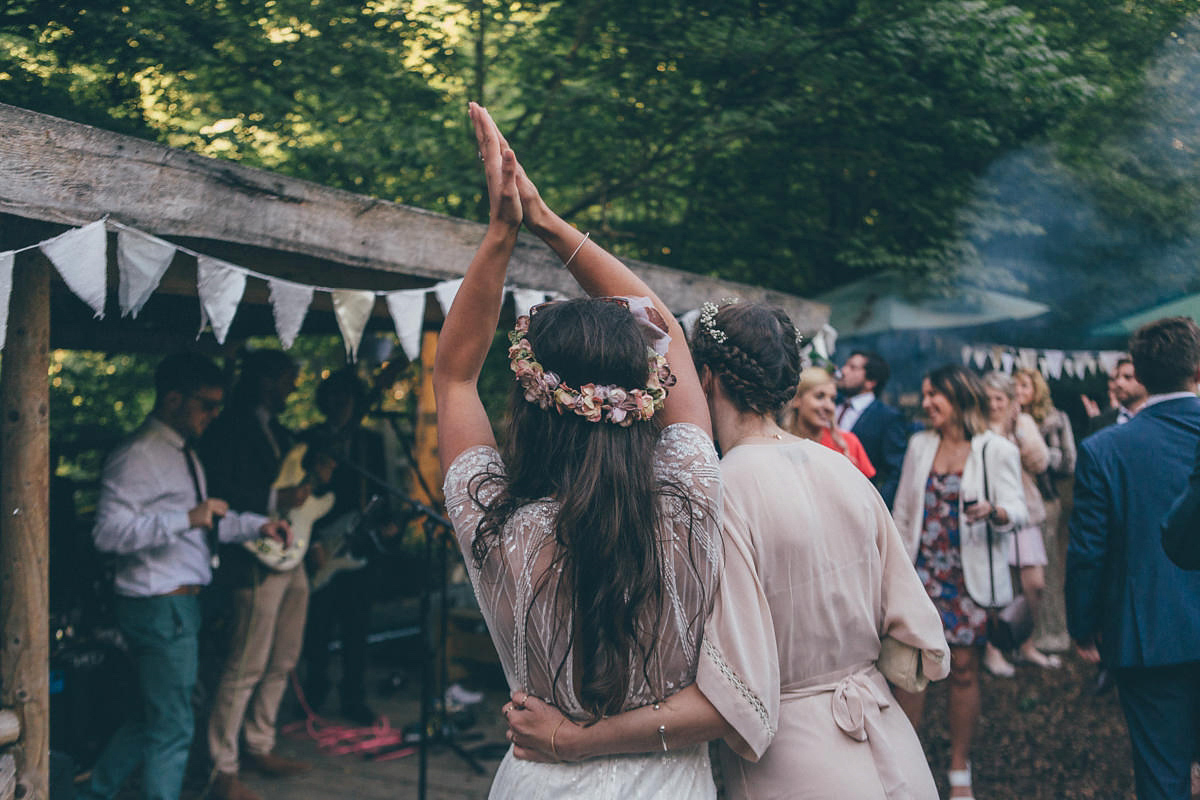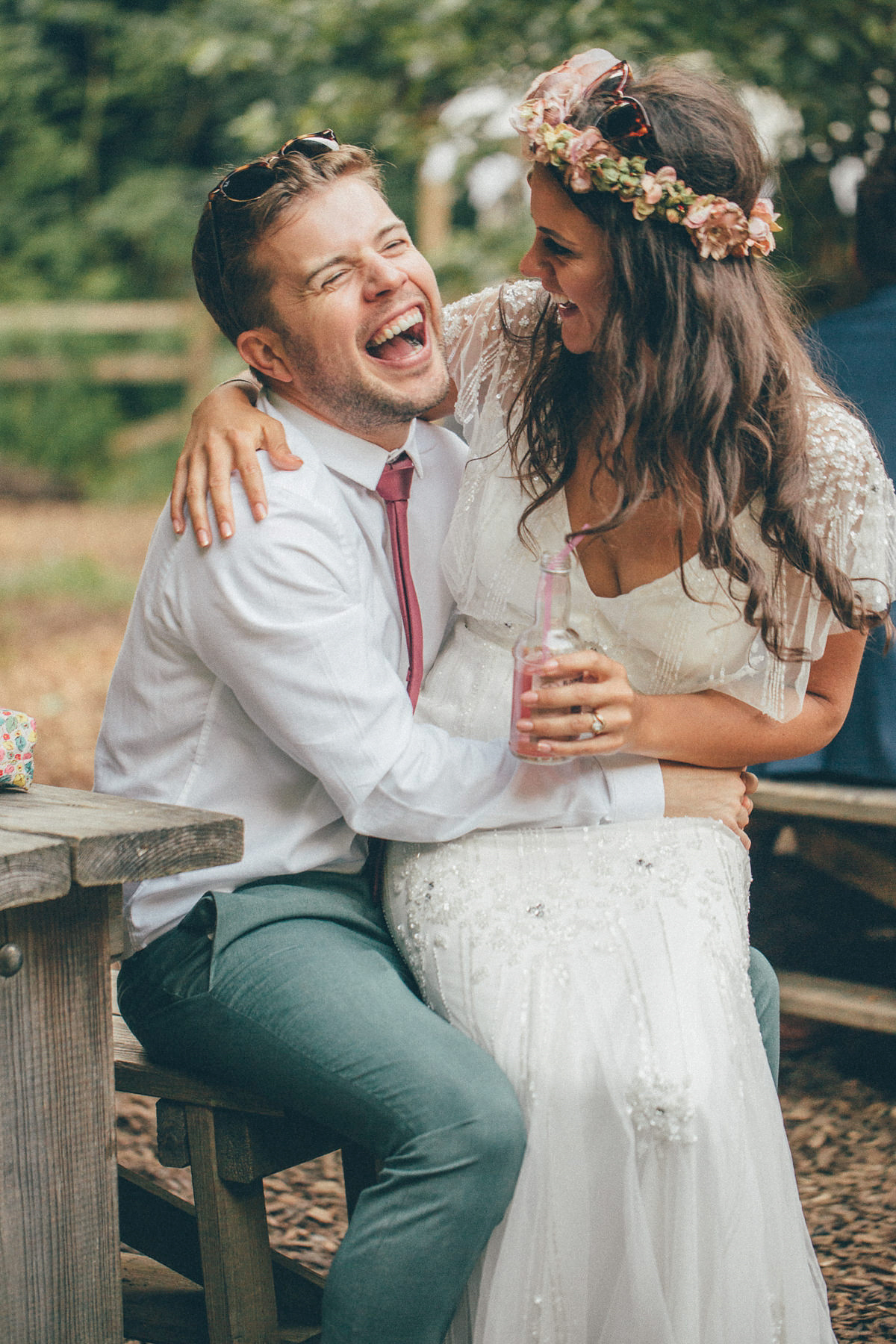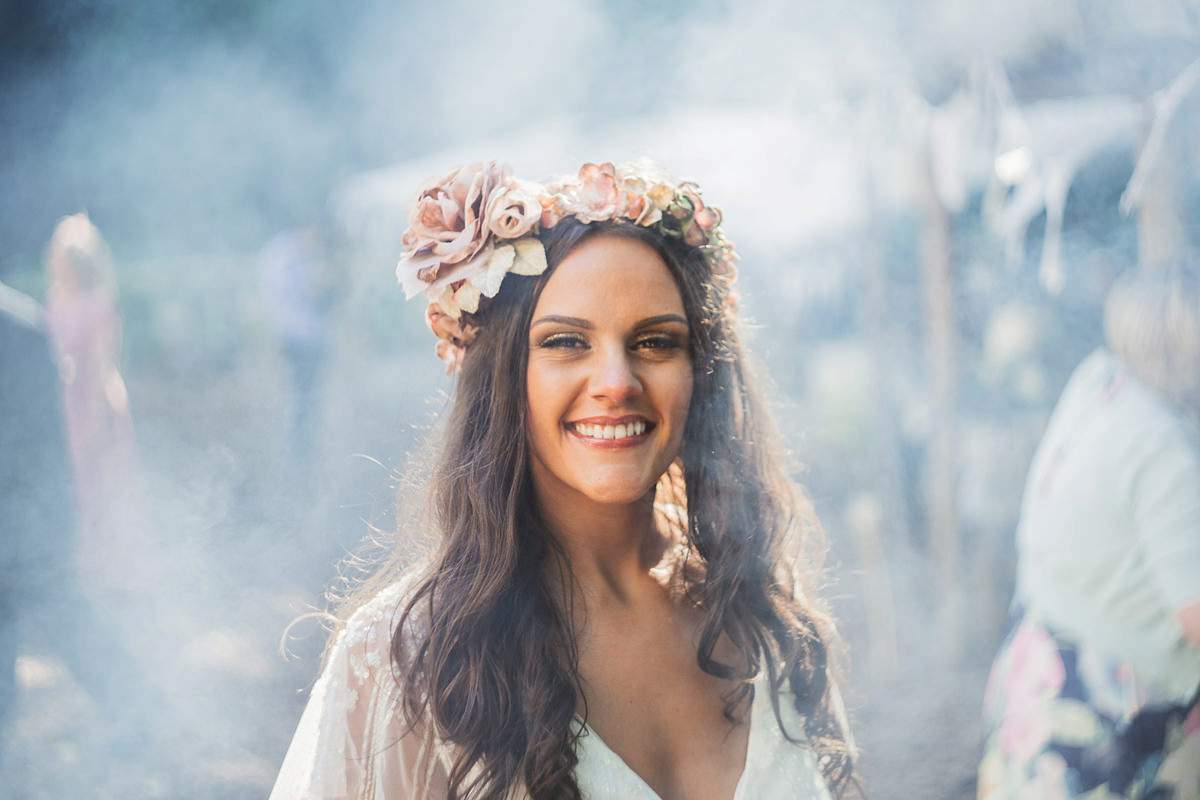 Thankfully, Lauren has shared a few snippets of her playlists for us, and if the pictures are anything to go by, this is a masterclass in throwing a party.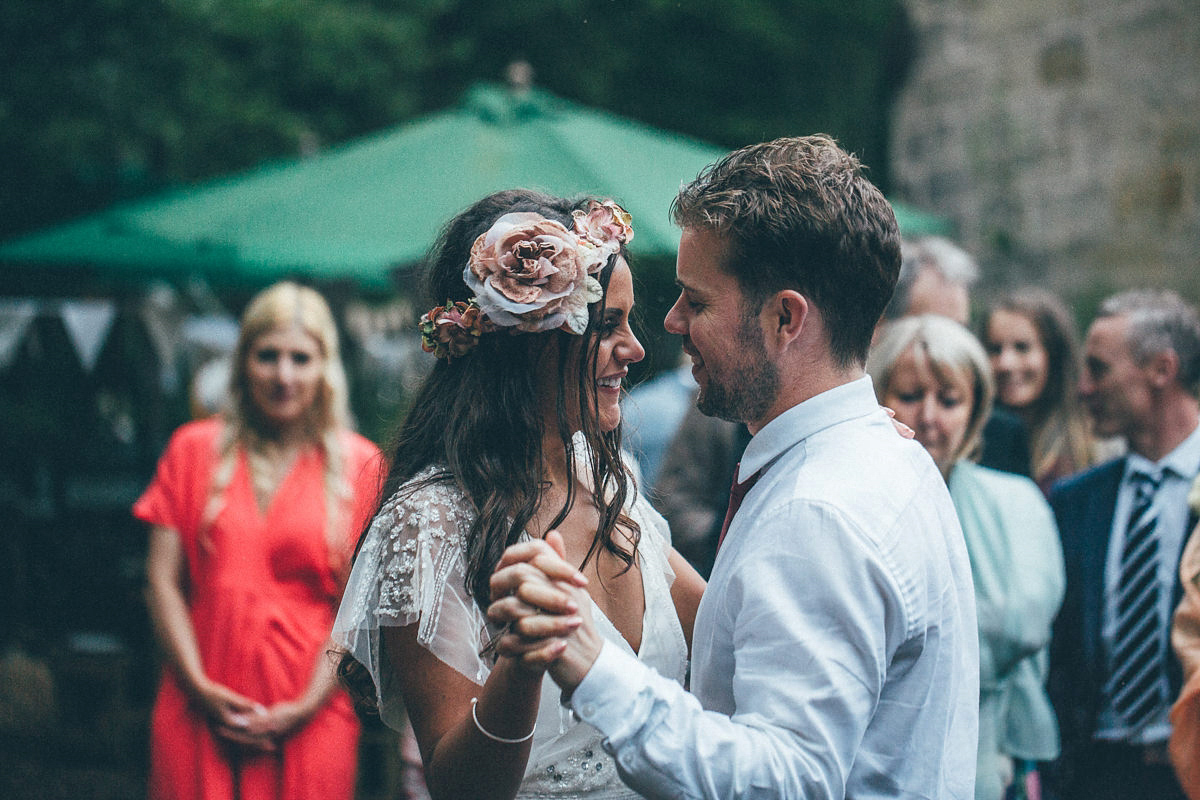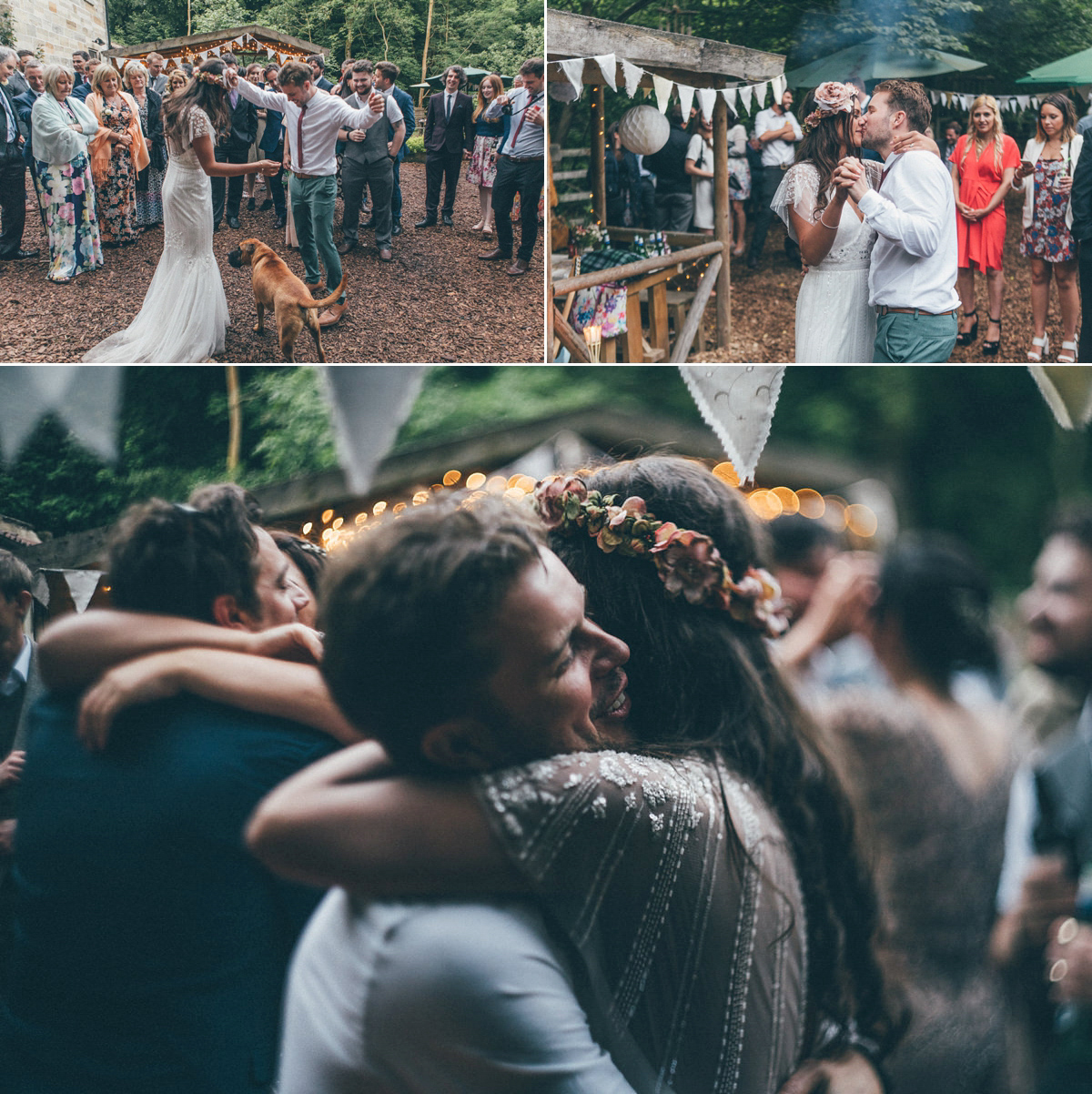 Music has the power to supercharge an atmosphere and can be so very emotive, I love how much thought has gone into the tunage here, as we can all see it's more than paid off. Groom Rick rocks his Topman suit as he struts his stuff, stealing kisses from his adoring wife as he belts out their favourite songs.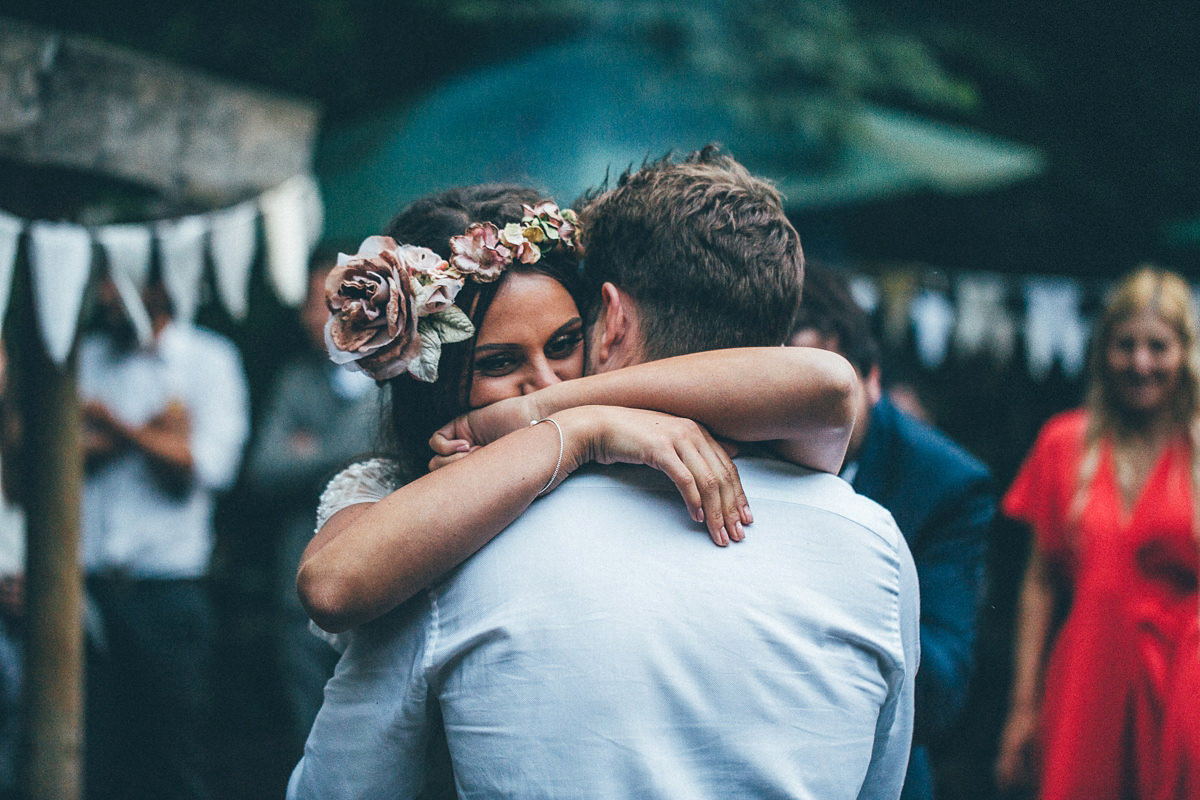 "We never wanted a wedding band or DJ as it just seemed too impersonal. Instead, Rick decided to put a band  together and play a set tailor made to us. His band Moonwreck were the basis of the wedding band, but it featured appearances from so many of our friends, hence the band name 'Band of Merry Men'."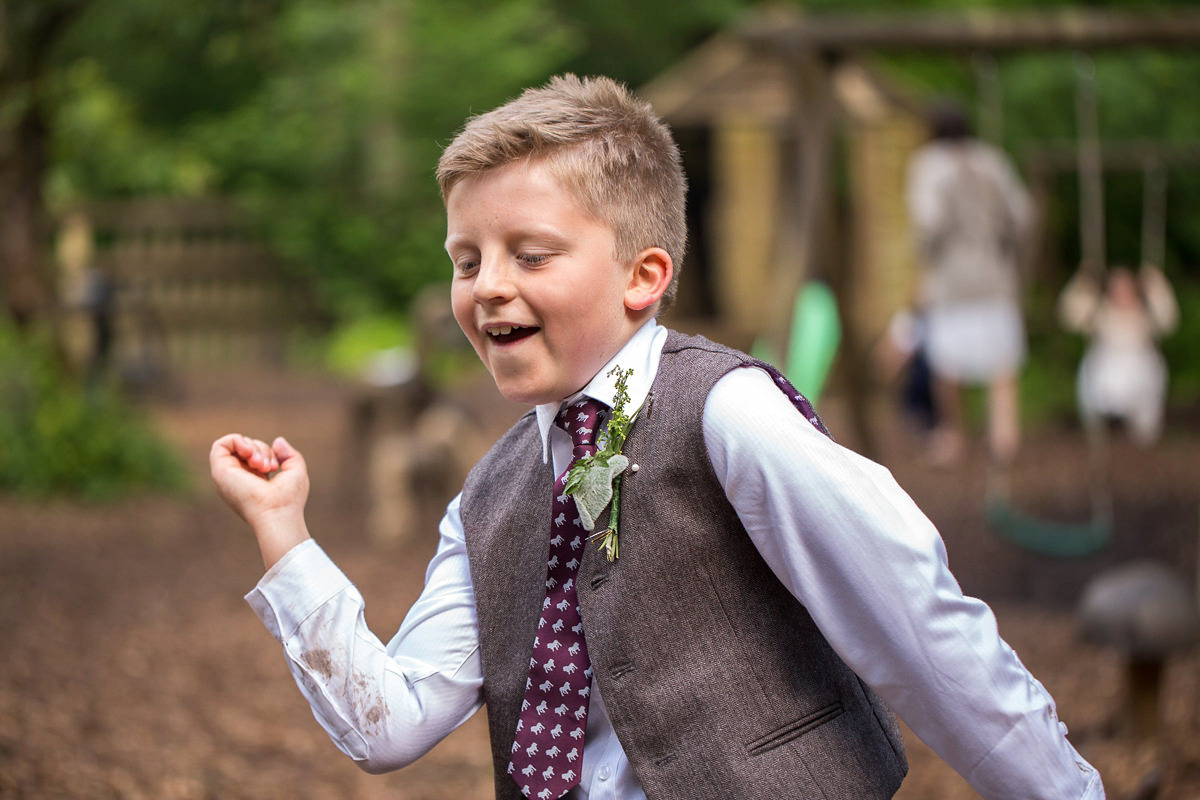 "There was even a mosh pit at one point, beer and champagne everywhere!"
"Their set included 'I Wanna Be Adored' by The Stone Roses, a song we listened to together on the night we met, 'Fever' by Elvis Presley for Rick's dad, 'Transmission' by Joy Division for my dad and 'Creep' by Radiohead for the boys."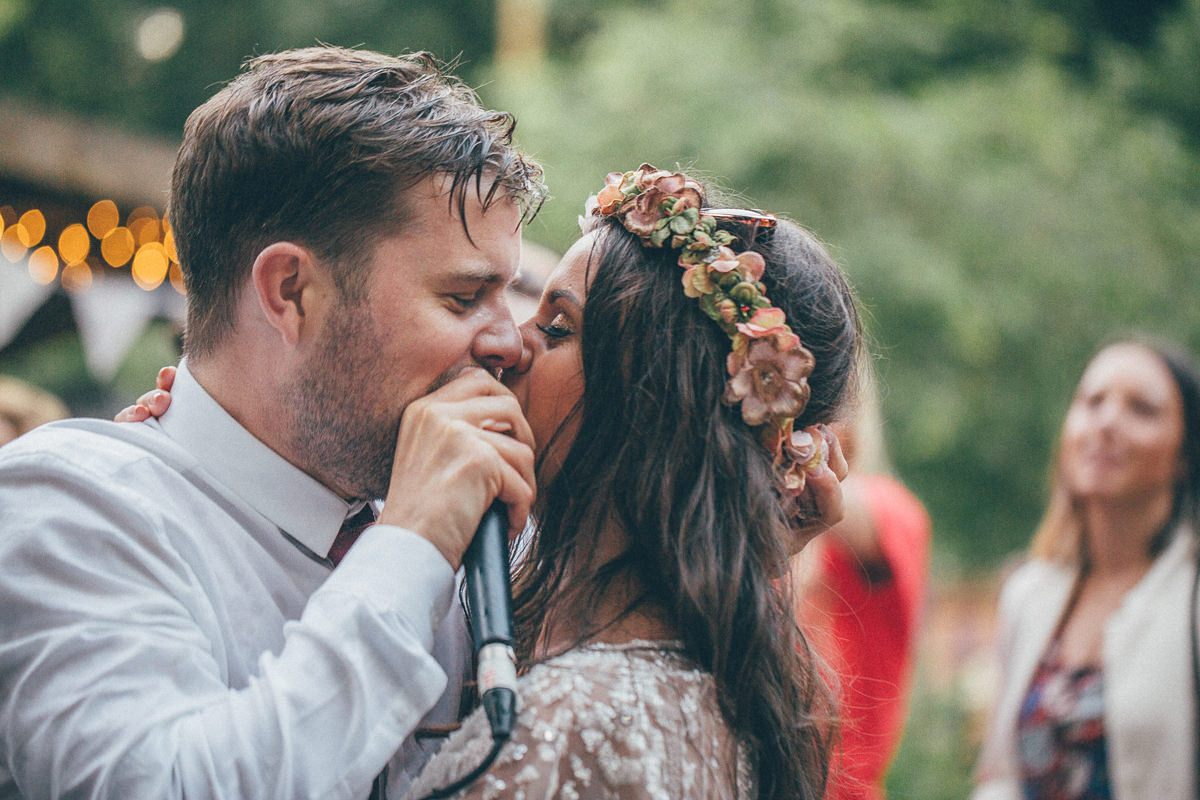 "For the rest of the time, Rick and I spent an evening putting together three playlists- an afternoon, an evening and a night. Classic's included 'All Night Long' by Lionel Ritchie and 'At Last' by Etta James were mixed with sleazy gems by Hall & Oates and Toto, as well as hip-hop beats from Dr Dre and Ice Cube. Everything we loved made it onto those playlists, making all of the music tailor-made."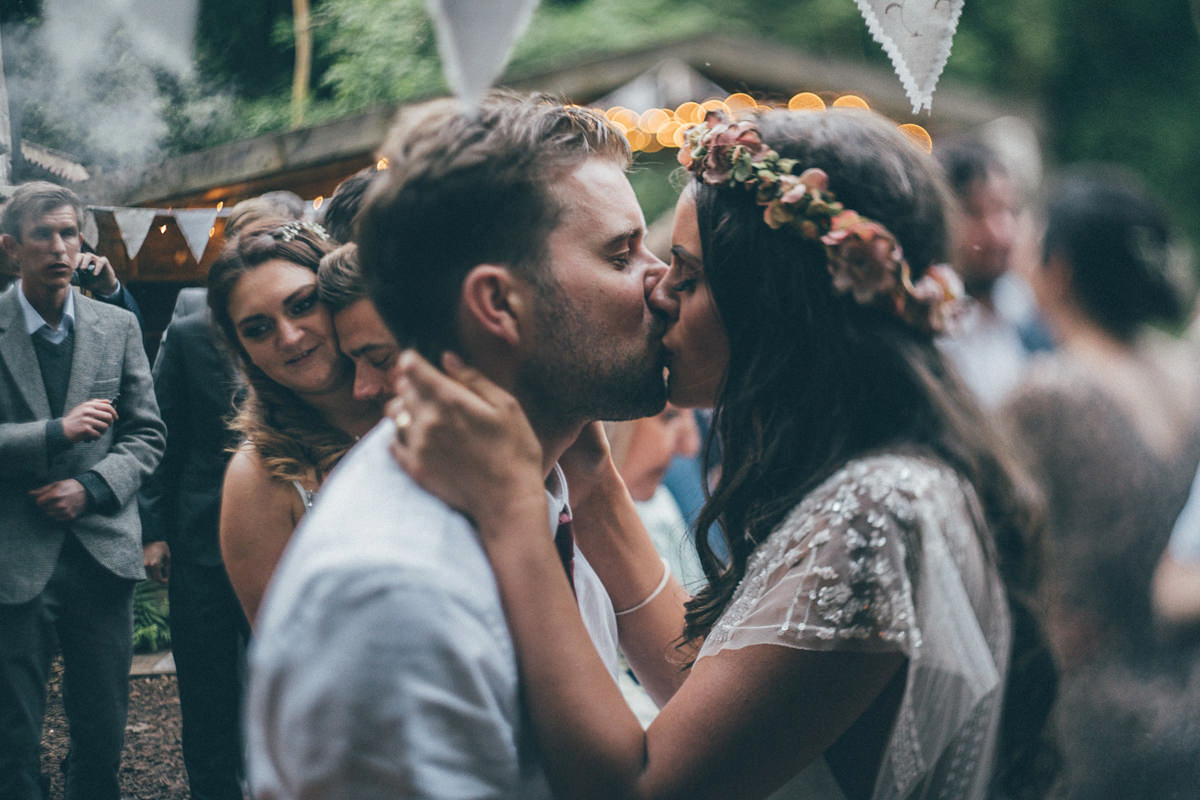 Words of Wedded Wisdom
"Enjoy the experience! Don't get hung up on tiny details, they wont matter in the grand scheme of things. If you're too stressed, everything will pass you by and you'll regret not making the most of the engagement and planning process; its a magical and exciting time! Although it was stressful at times, we didn't give in to the 'way things should have been done', we just did it exactly how we wanted. That made the experience much more enjoyable and I really can't think of anything I would have done differently.
Rather than having day guests and evening guests, we invited everyone to everything. We didn't like the idea of choosing who should come to the evening do but not the church, so as the church had such big capacity we just asked everyone along! I much preferred this way, so that the guests weren't arriving when the party is already in full flow – everyone was in it for the long haul!
Always take the help you're offered – people who offer genuinely want to help, not just because they feel they should! The week before the wedding I took up most peoples offers of help, after feeling too guilty to do so before. It made the whole experience better and meant that I didn't burn out trying to do too much."
I second these wonderfully wise words, and feel if you follow the lead of Lauren and Rick, you really can't go wrong. Get discussing those playlists and enjoy every second of this really special time of your life. Massive thanks to Lauren and Rick for giving us all a new entry on our favourite Love My Dress wedding list, and to Mr & Mrs Photography for making our eyes so happy today.
Inspired by our constant stream of spectacular Scottish love-fests, I'm off to Edinburgh for a long weekend with one of my favourite friends on Friday ladies, would love to hear any top tips from any of you who've been or are lucky enough to live north of the border.
For now, lets start November of with  bang!
Love,
Emily C xxx