Good afternoon my loves, have you taken time to explore our new Style Files yet? Our Style Files have been created especially to enable you, our readers, to be able to browse through all the latest collections from our very favourite designers whilst visiting your favourite wedding blog (that would be Love My Dress, of course!). We really wanted a space on our blog that meant you could really get up close and personal with a beautiful bridal gown, bridesmaids dress, pair of shoes, hand crafted accessory or jewellery design, and have the convenience of making a single click to view more details of each and any of these items directly from the designer/supplier's own website.
I'm immensely proud to be supporting my all time favourite designers in our new Style Files resource, and this of course includes the darling Halfpenny London.
Designer Kate Halfpenny is one of the most inspirational people I know, and on so many levels; entrepreneurial, creative, as a friend and mother too. I'm always so energised by Kate's incredible drive and passion for her business – she really has poured her heart and soul in creating her beloved Halfpenny London brand, and draws an immense amount of passion in working directly with brides. That passion and authenticity is what will always set designers like Kate apart.
It's one of the reasons I adore Kate so much  – so often, once a designer has achieved success, they become aloof and detached from the main customer – it's so refreshing to see a designer so connected to the woman that inspire and make her business what it is – that's you lovely brides!
I introduced you to the new 'Wild Love' collection by Halfpenny London back in August, so some of you will already be familiar with these quite frankly breathtaking designs. These elegant editorial images offer a look at these drop-dead gorgeous new dresses in a cool, modern, refreshing new light.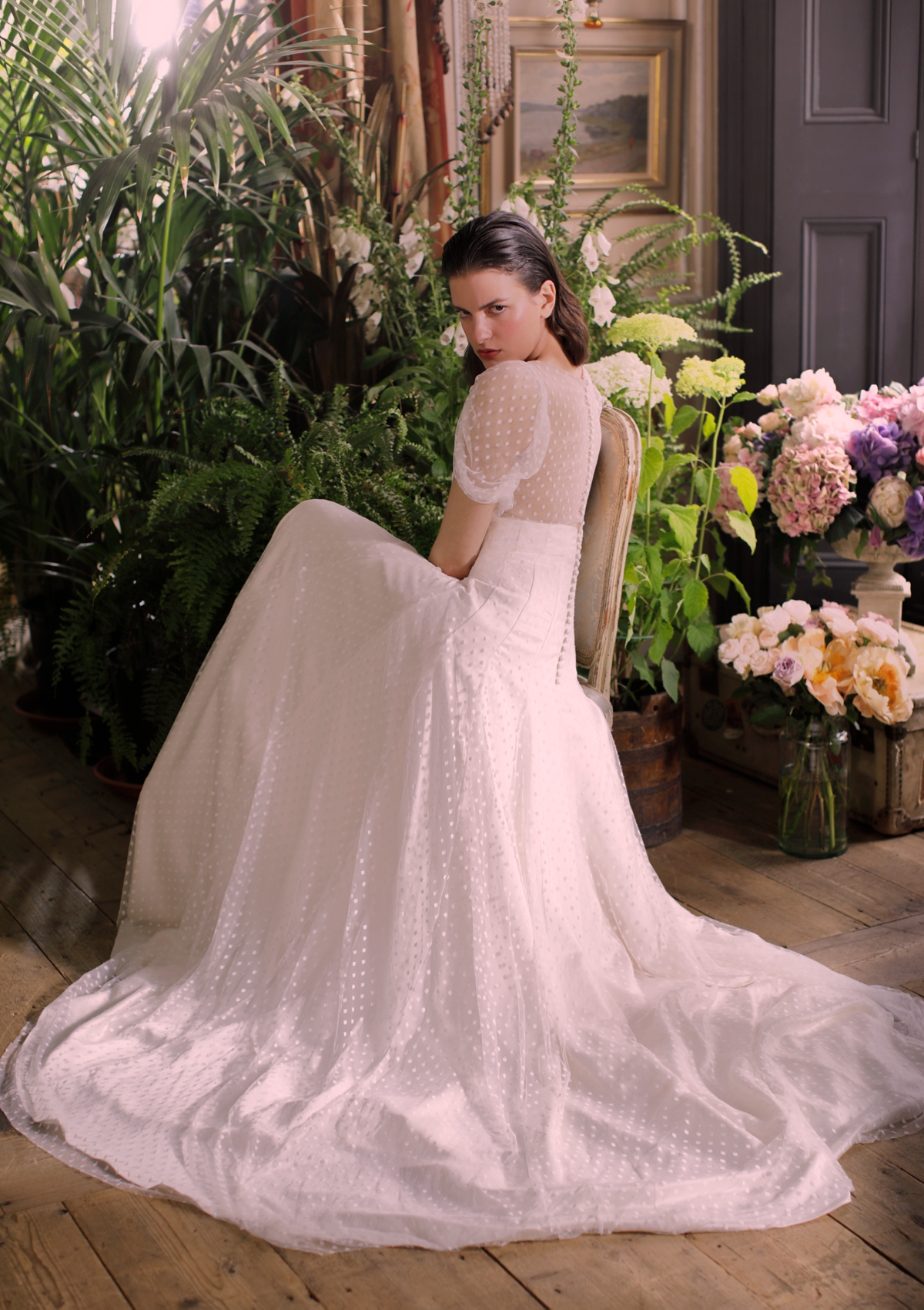 Over the past few years, Kate has developed a really strong signature – I could recognise one of her gowns in a room with hundreds of others and without a second's hesitation.  There's always such a modern, contemporary and cool design edge to Kate's gowns that she seems to blend so effortlessly well with influences from the past that make their way into the form, shape and structure of her gowns. Take the gorgeous polka dot gown above – originally created for Kate Moss (who wore a red verion to Mario Testino's birthdya party) but gently adapted to make a bride look breathtaking and feel a million dollars on her wedding day.
Or the gorgeous sequin skirt and top two-piece pictured above. As for the shoes above ladies, they're Emmy London of course. This very pair to be precise.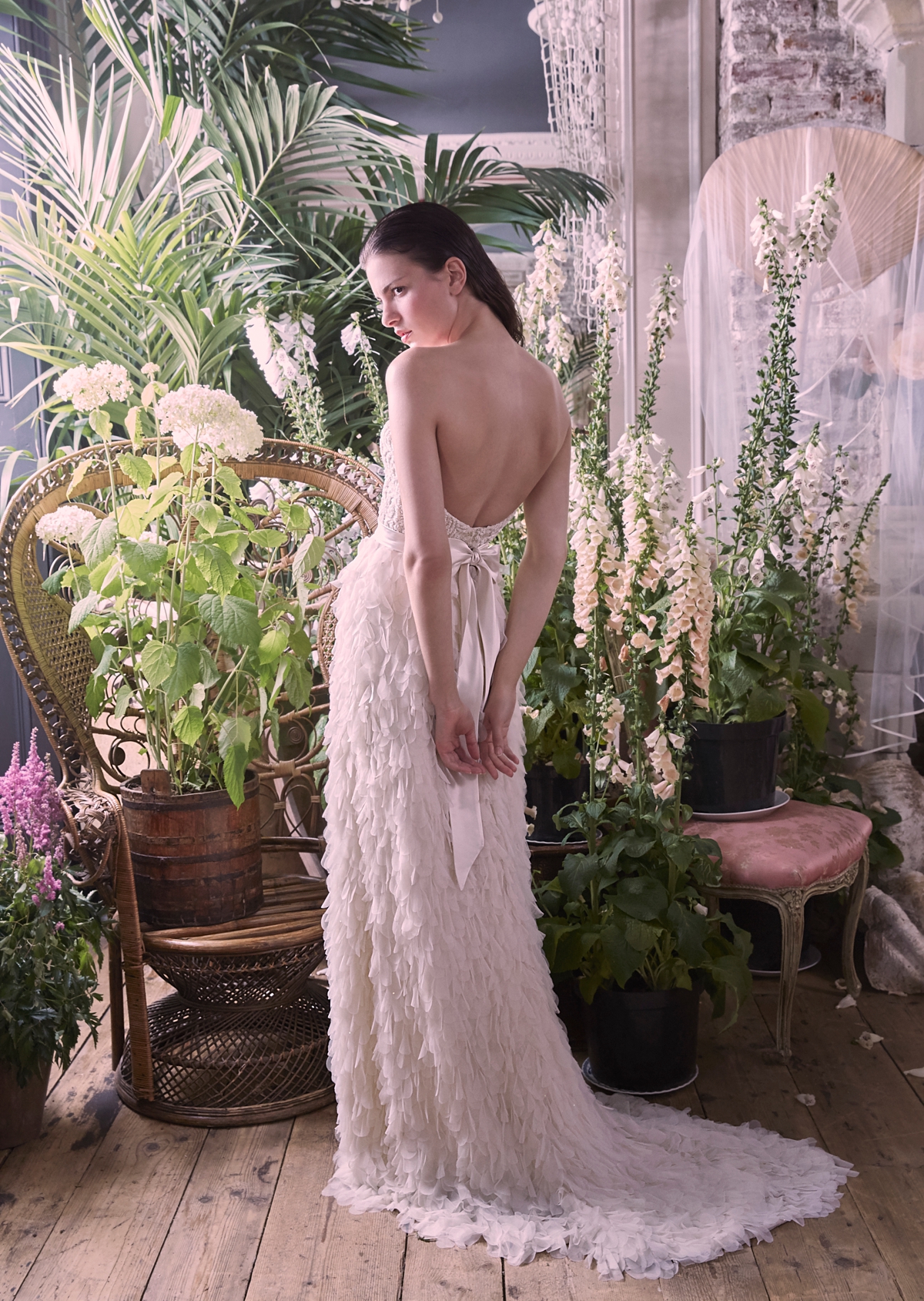 Halfpenny London has a very special place in my heart – it feels like part of the fabric of this blog, like Kate and her team of been with us on this crazy wonderful blogging adventure and undoubtedly are a part of it's success. I am proud to recommend these exquisite gowns to our readers and not just because I wholeheartedly adore all things Halfpenny, but because each and every one of these gowns is made in Britain.
I'd really love to know if you have your eyes set on trying one of these glorious gowns on. Explore the Halfpenny London site to view more from the Wild Love collection in greater detail.
There are no photos with those IDs or post 681529 does not have any attached images!
The new Wild Love gowns are available in the Halfpenny London flagship store (which is rather conveniently just a 2-3 minute walk from Kings Cross station in London) and Halfpenny London stockists throughout the UK. You'll find all the details you need to enquire about one of these gowns on the Halfpenny London website.
Much love,
Annabel x