There really is something extra special about a winter wedding; the romance, the glamour, and all the little Christmassy touches in this beautiful wedding are guaranteed to make you smile from ear to ear (and possibly make you get a craving for a mince pie!). Will and Katy, who are both teachers, held their nuptials in the romantic city of Bath on 18th December 2015 at two spectacular locations – St. John the Evangelist RC Church for the ceremony, followed by the reception at The Assembly Rooms. The couple have lived in Bath since moving to the city at the age of eighteen and believe there isn't a more beautiful and romantic setting for a wedding at Christmas time.
"We were unsure of our favourite wedding style, until we walked into The Assembly Rooms. I chose my dress based on the Georgian style of the venue and also the Christmas season and everything else fell into place from there. I matched everything to my dress. We wanted elegance and romance with a sprinkling of the festive season."
Photography by Lydia Stamp Photography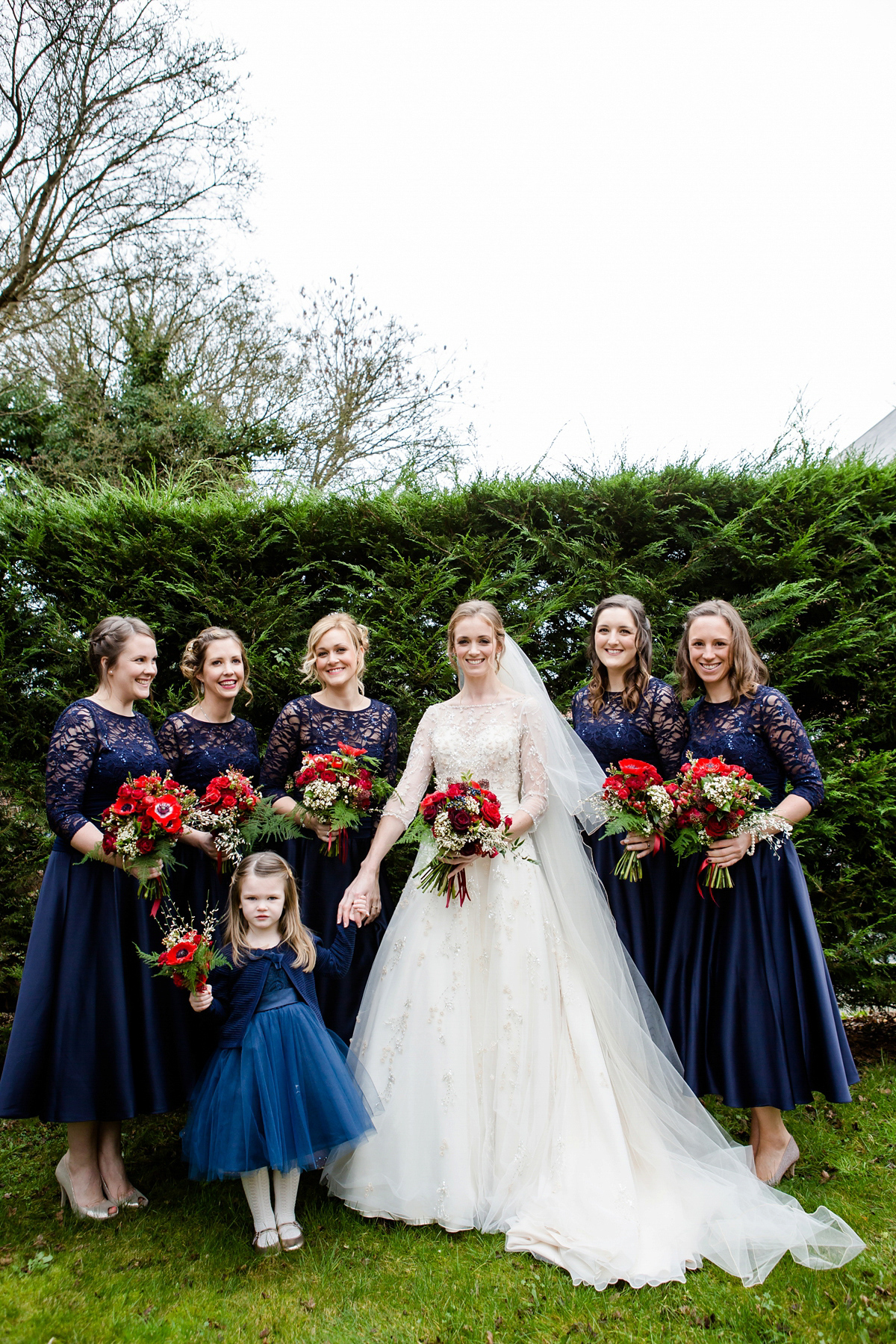 Bridesmaids dresses Eliza J via House of Fraser
Take a look at these gloriously rich reds and greens of the floral displays. Anenomes are now my new favourite flower!
"Our florist was Elisabeth Anderson. She works alone running her company Amamini Flowers from her beautiful Victorian home in Westwood, Wiltshire. Elisabeth is passionate about what she does and this comes across in her work – her attention to detail is immaculate. I really enjoyed meeting her to discuss ideas and even walked away with a beautiful summery bouquet that she hand picked from her garden during one of our summer meetings."
Katy's divine dress was the 'Bailey' style by Ronald Joyce from Krystle Brides in Bath. It is absolutely exquisite and suits her to a tee. The light gold colour and intricate beading adds just the right amount of sparkle and, as Katy says, was spot on for the time of year.
"It was the first dress I tried on and immediately fell in love with it. It was sparkly but elegant and perfect for the Christmas season with the full skirt and sleeves. The soft gold colour of the fabric suited my skin tone and hair colour, which was ideal as I didn't want to fake tan in the middle of winter. I only tried on six more dresses after that, but knew I had already found the one so bought it that day (fifteen months before the big day!)."
Makeup was by Aldona Francis, with hair by Jo Perry from Nick Brain Hairdressing.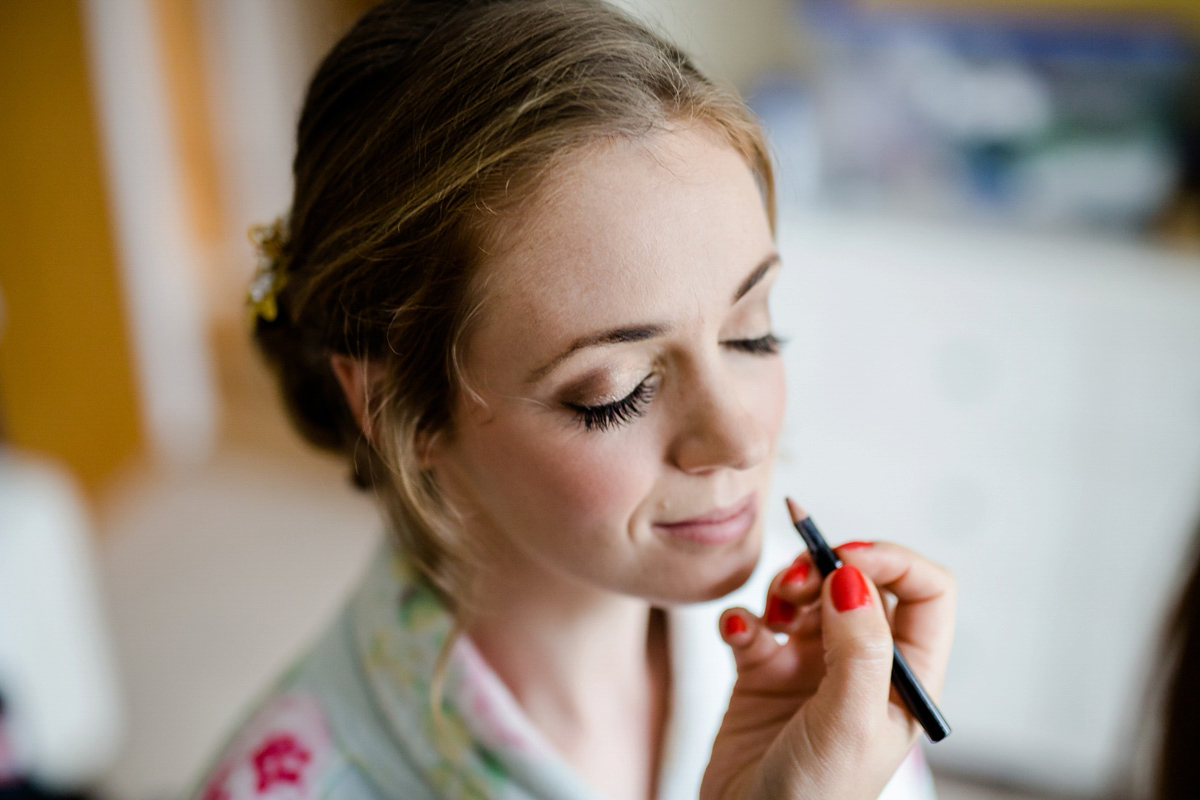 The beautiful bride wore her favourite perfume – 'Touch' by Burberry – and added little hints of gold with her simple, full-length veil that matched the colour of her dress, gold strappy sandals from Head Over Heels by Dune via Debenhams, golden hairpins from 'Not Cartier's' in the Guildhall Market in Bath and a very heartfelt item of jewellery.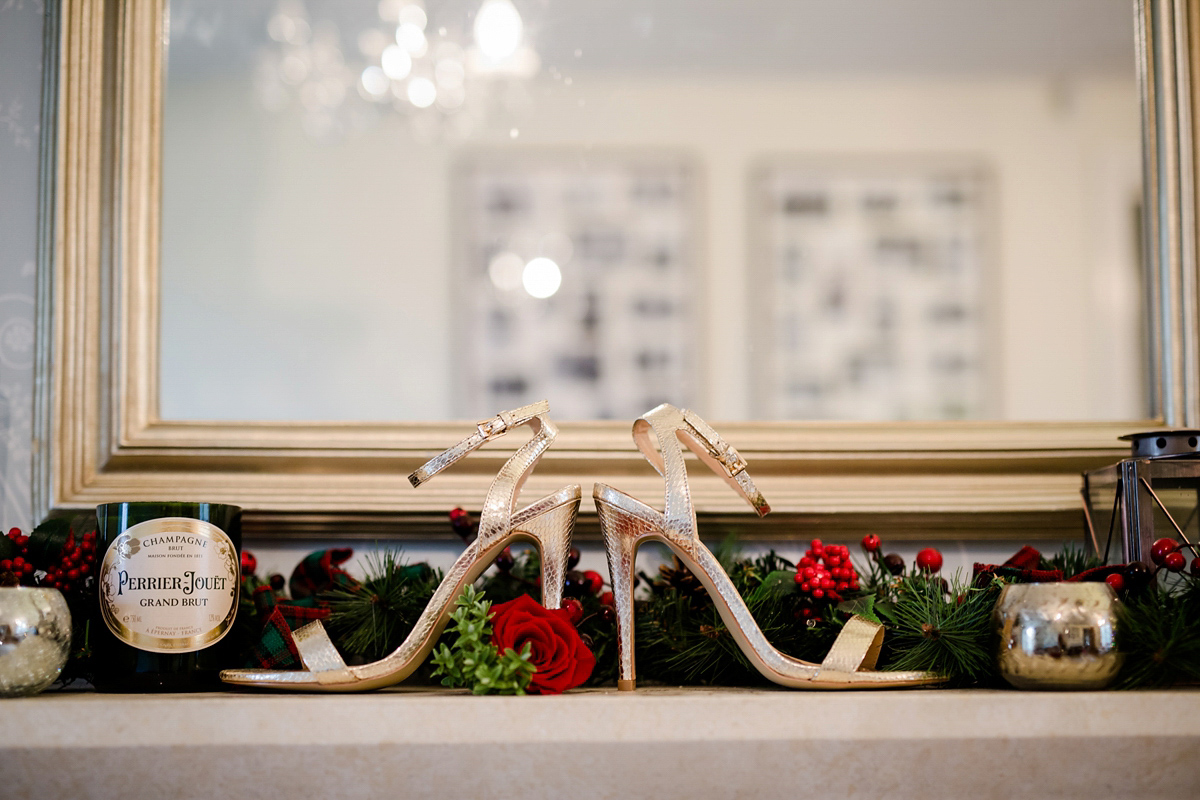 "I wore a gold necklace with an amethyst stone pendant under my dress. This had belonged to my mum who passed away four years ago."
"I hung my engagement ring on the chain so that I could add it to my wedding ring after the ceremony. I also wore diamond studs in my ears that were given to me as a wedding present from Will just that morning."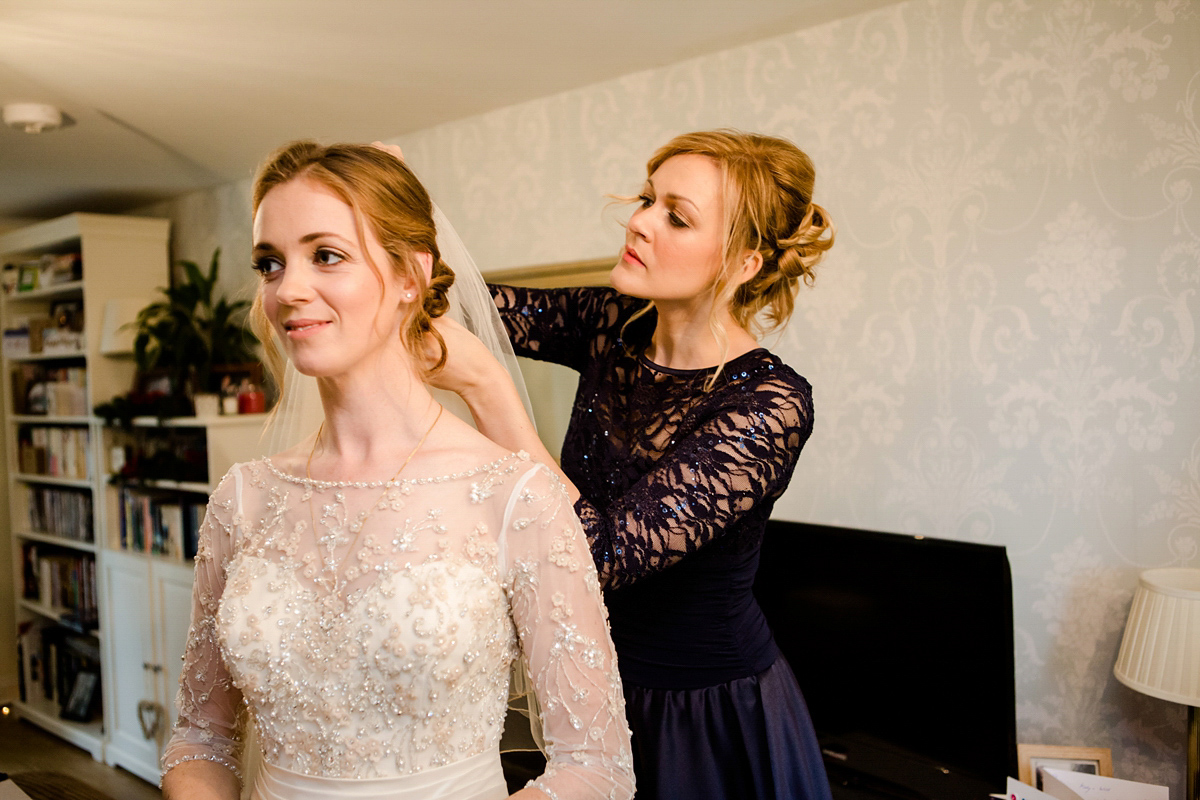 The five maids wore navy blue dresses by Eliza J via House of Fraser, their own shoes and jewellery and the same gold pins in their hair as Katy.
"The dresses were comfortable, flattering for all shapes and mirrored my dress sweetly with a little sparkle weaved into the lace. The navy colour worked well for the time of the year."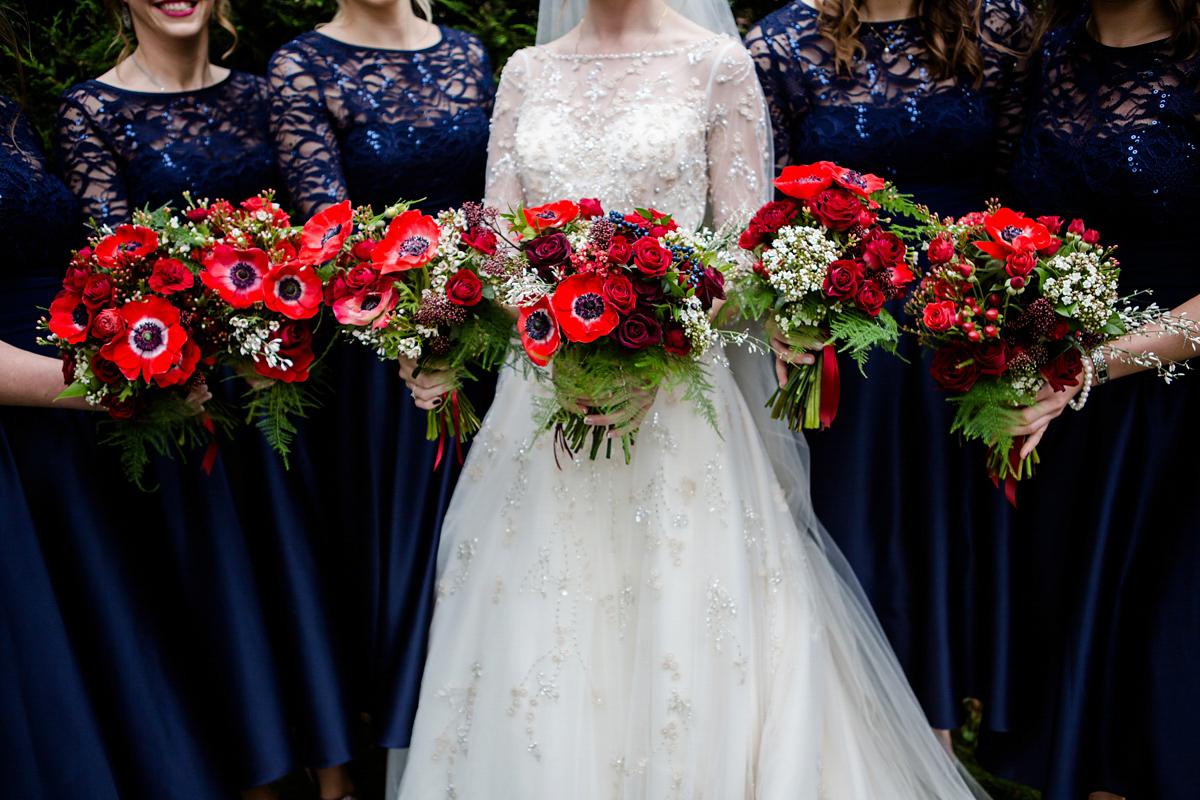 "For our wedding, we wanted the flowers to be dark in colour, mainly reds and deep purples, combined with rich greens. We wanted the decorations to have a Christmassy feel without the typical use of holly and ivy, and asked for soft petals that would flutter and provide movement. I absolutely loved the anenomes in particular and thought that they looked beautiful in the photographs."
"We didn't want the flowers to go to waste, so all of the table decorations were cleverly made so that our guests could take them away at the end of the night to be enjoyed in their homes over the festive season. Elisabeth also made the sweetest tiny posy for my three-year-old niece who was thrilled, and a delicate pretty floral topper for my cake."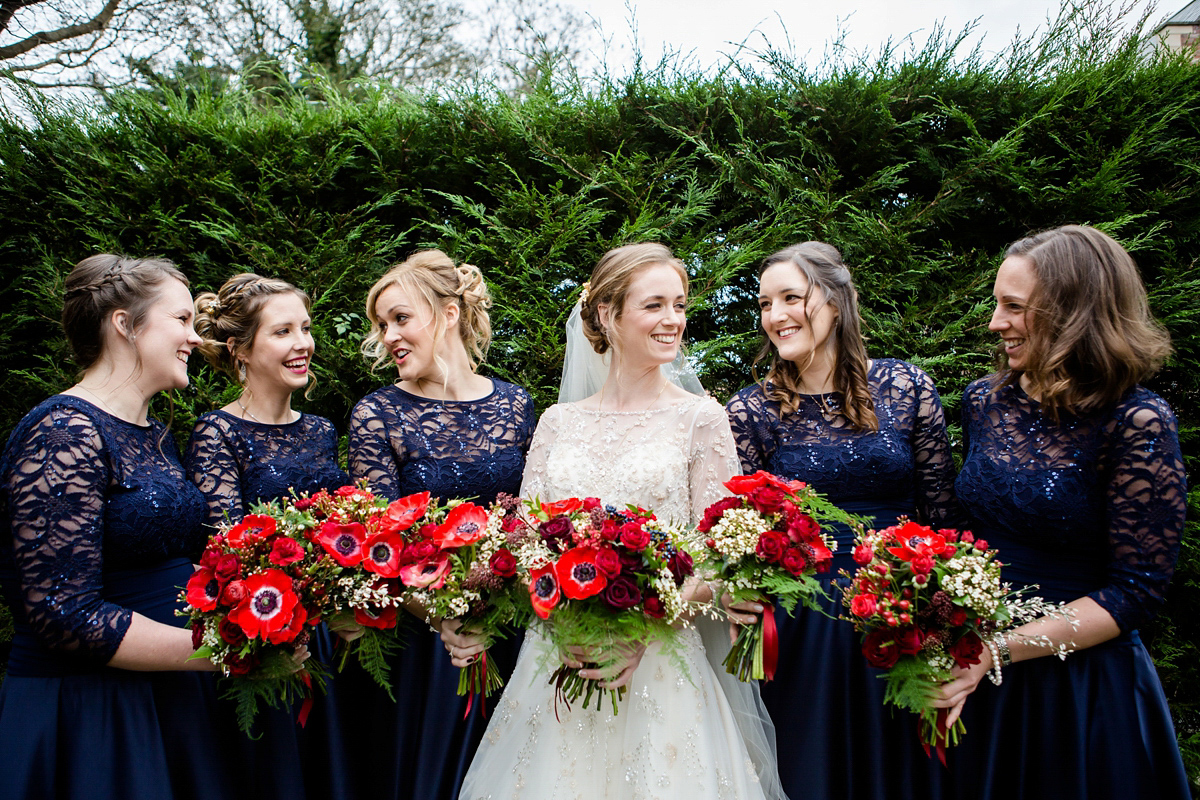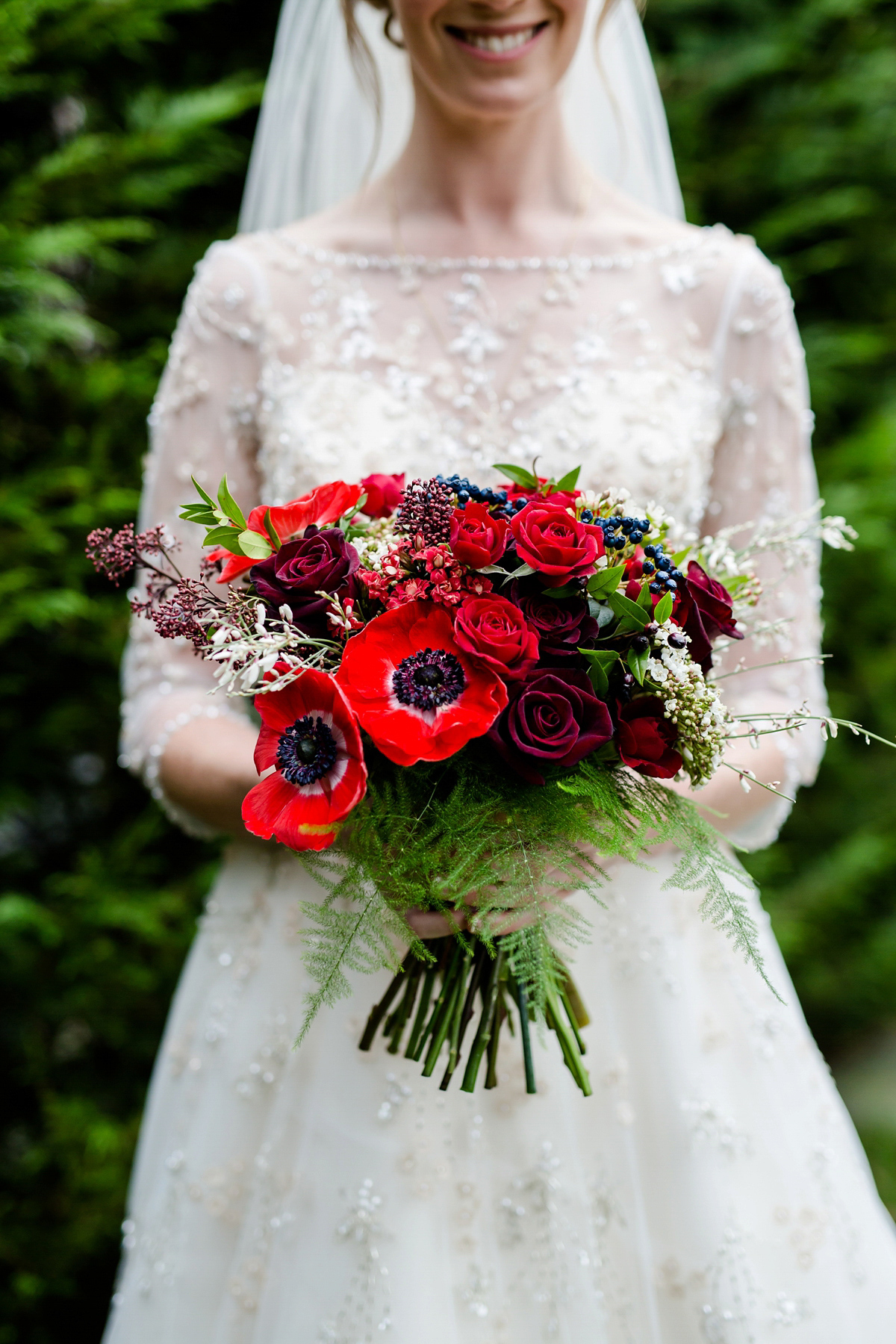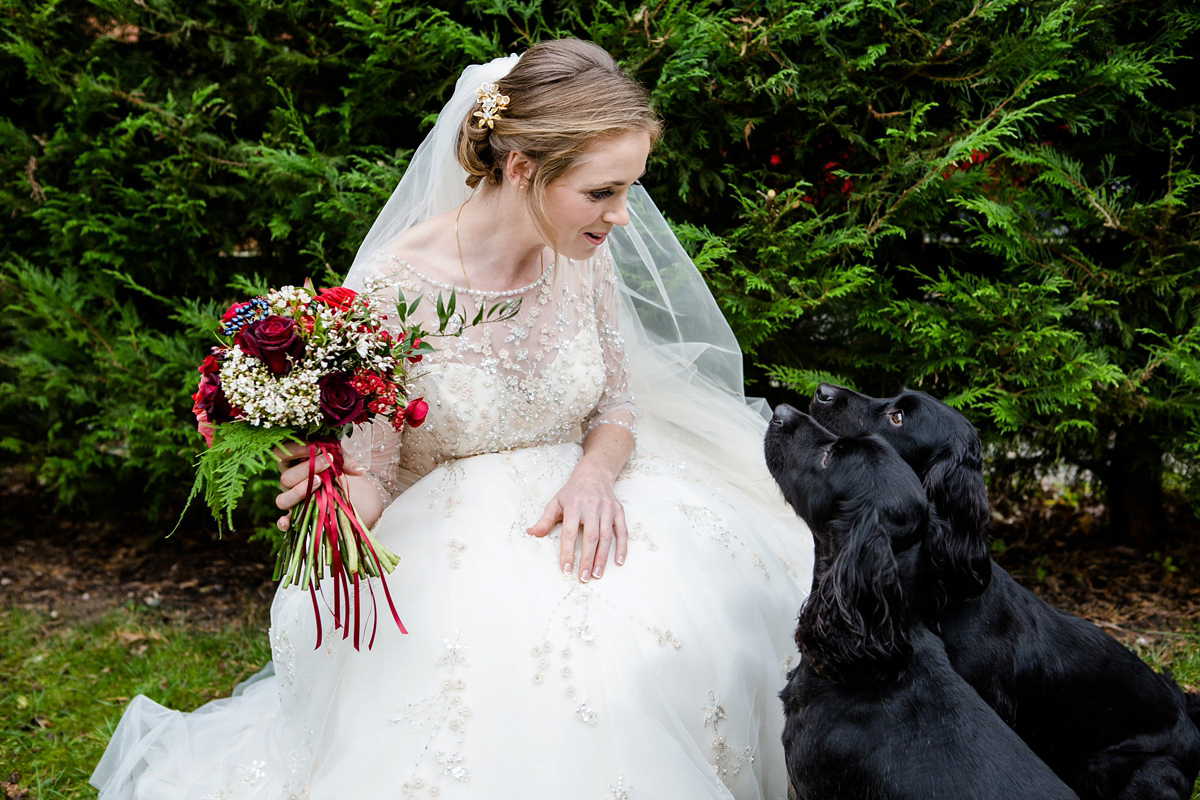 Also in navy, Will and his groomsmen wore stylish Brook Taverner suits with white shirts, black shoes adding a splash of colour red ties from TM Lewin.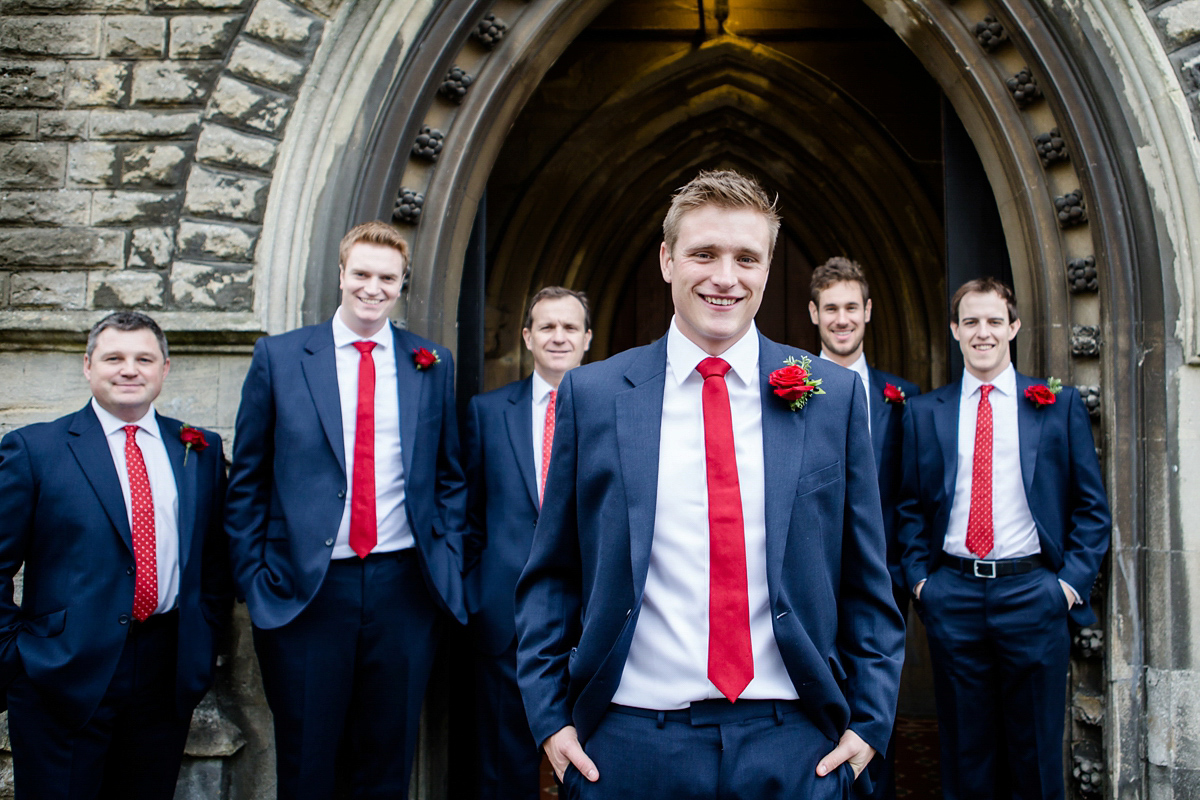 Stationery was from 'WeddingSundaeShop' on Etsy and the couple's clever wedding favours doubled up as place cards. They bought three varieties of gold baubles from Marks and Spencer and attached a nametag for each guest with gold ribbon. The reception venue needed little decoration, with huge fireplaces, chandeliers and a large Christmas tree, so simple but effective decor was added to bring a romantic ambience into the room.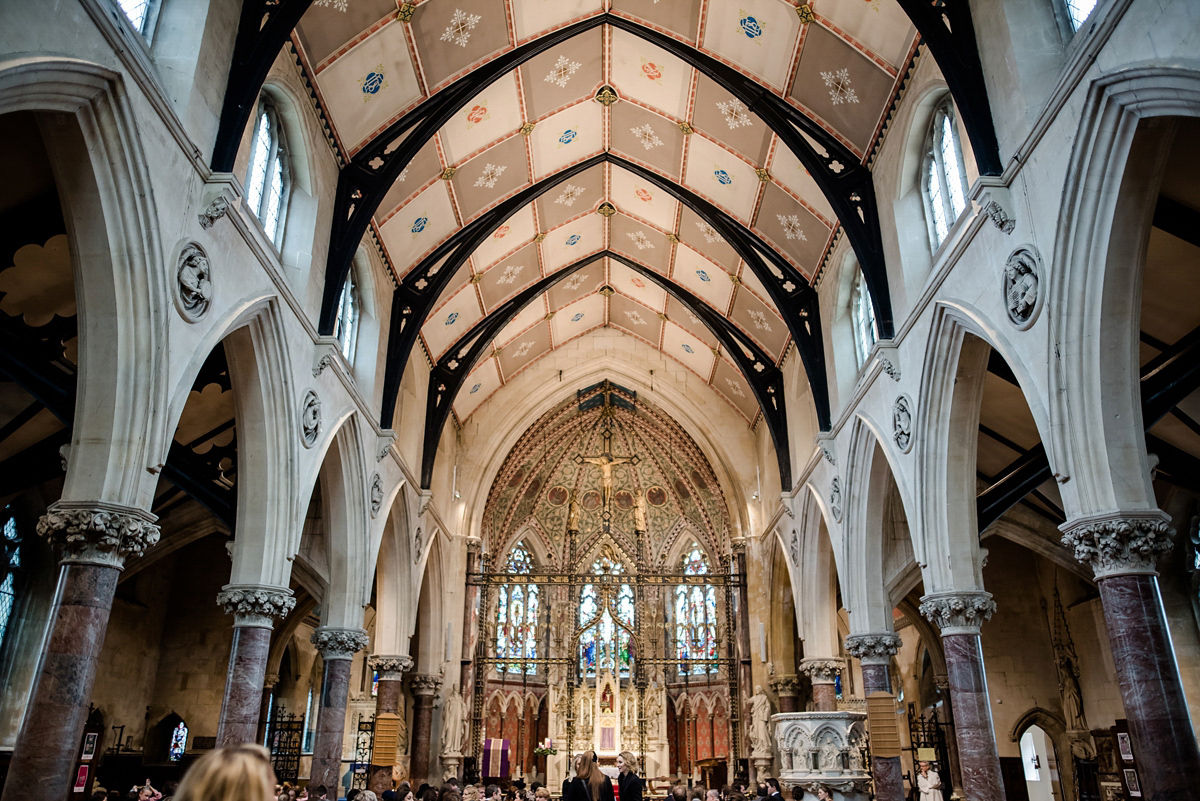 "We had a beautiful maroon 1967 Daimler V8 250 with a cream leather interior and full leather sunroof from Simply Memorable Wedding Car Hire. We chose not to have ribbons or flowers as we thought the car was stunning without."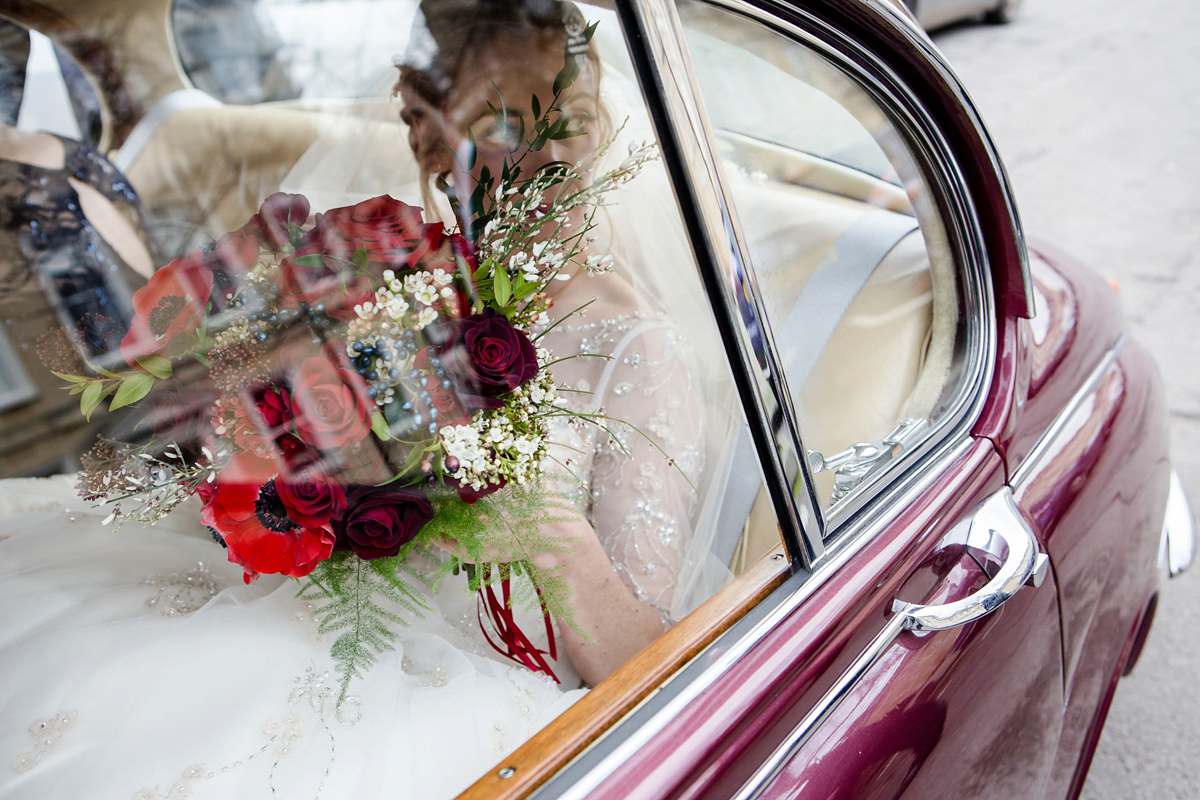 "The flower girl dresses were found online via Etsy and matched my bridesmaid dresses incredibly well, considering they were made by a different designer in a different country, and were a bargain too!"
My father, Tony, walked me down the aisle at the church to the traditional 'Canon in D' by Pachabel played on an organ and we exited to the 'Wedding March' by Mendelssohn. Our vows were traditional Catholic vows."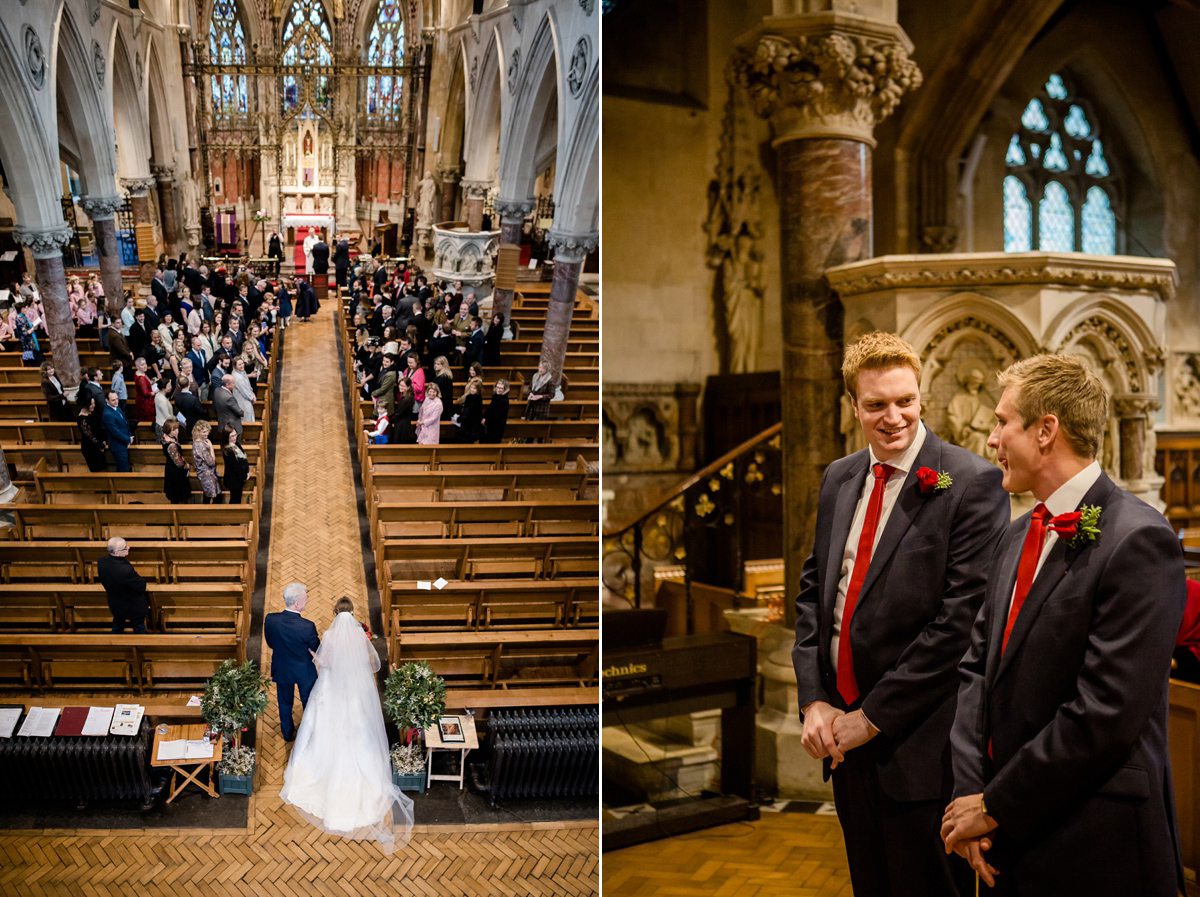 "During our wedding service my school choir sang two songs while we signed the register. The first was a hymn in memory of my mum called 'I Watch the Sunrise' by John Glynn."
"The music teacher, Rosy wrote a harmony part for the chorus and it was incredible. The second song was a Christmas carol called 'Love Shone Down'. The acoustics in the church were fantastic and my family and friends were blown away by their performance."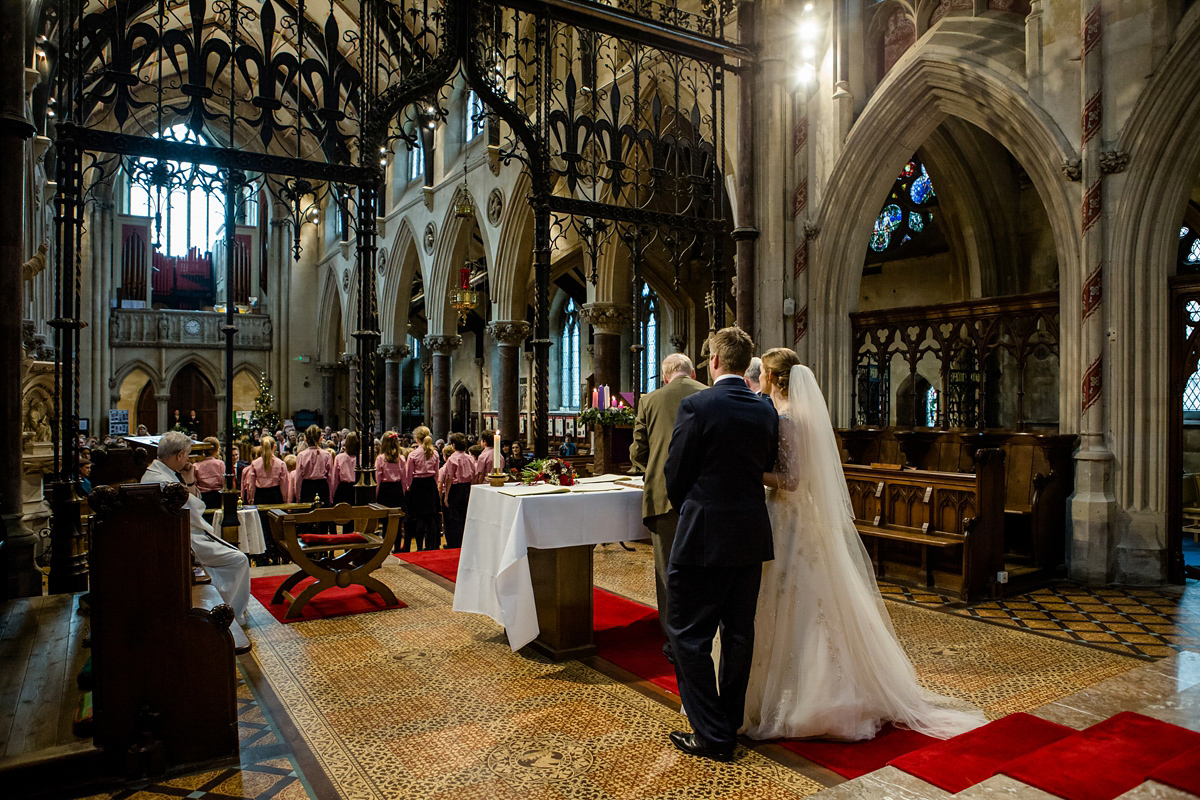 "We had met through mutual friends on a couple of occasions but didn't have a first date until we met and exchanged numbers after a night out in November 2008. After six years together, Will proposed in August of 2014. He had been away for three weeks on a school trip to Australia and the day after his return, we decided to walk our dogs (two cocker spaniels called Alfie and Harvey) around one of our favourite routes, starting and finishing in Freshford, Somerset."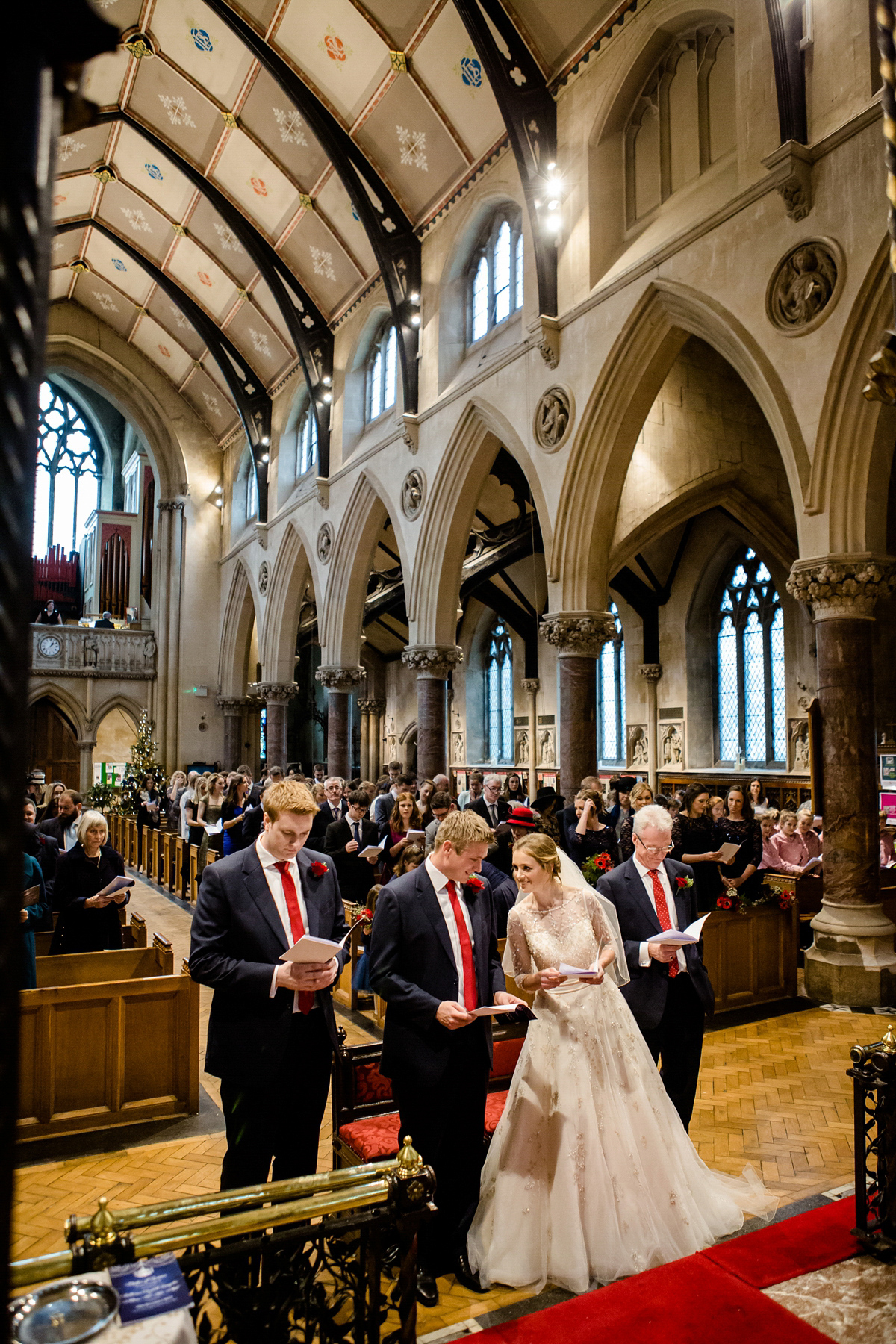 "When we reached Iford Manor, Wiltshire, Will asked me to sit on the ancient bridge with the dogs so that he could take my photo. He got down on one knee pretending to take a photo and popped the ring out in front of the camera. I can't believe he had carried the ring with him for four miles without me noticing and he even took a picture of my reaction on seeing the ring. We then walked the last mile back to The Inn at Freshford and had Prosecco in the pub garden before returning home."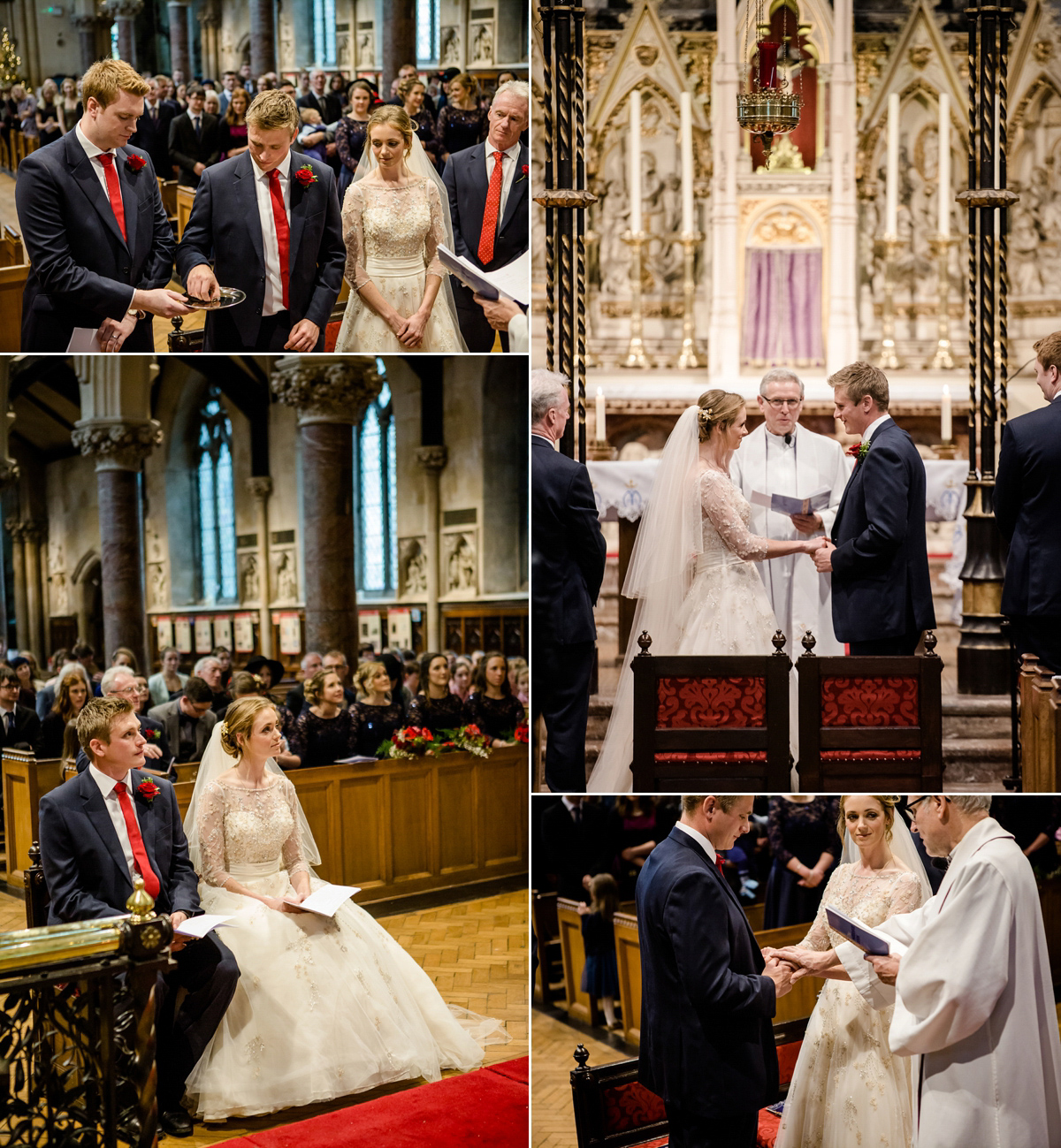 "Lydia from Lydia Stamp Photography was a wonderful and professional photographer who I would recommend to anyone. She wins the award for loudest shriek when seeing my dress for the first time! She has a warm and enthusiastic personality and really made us feel like every detail of our wedding was special and beautiful."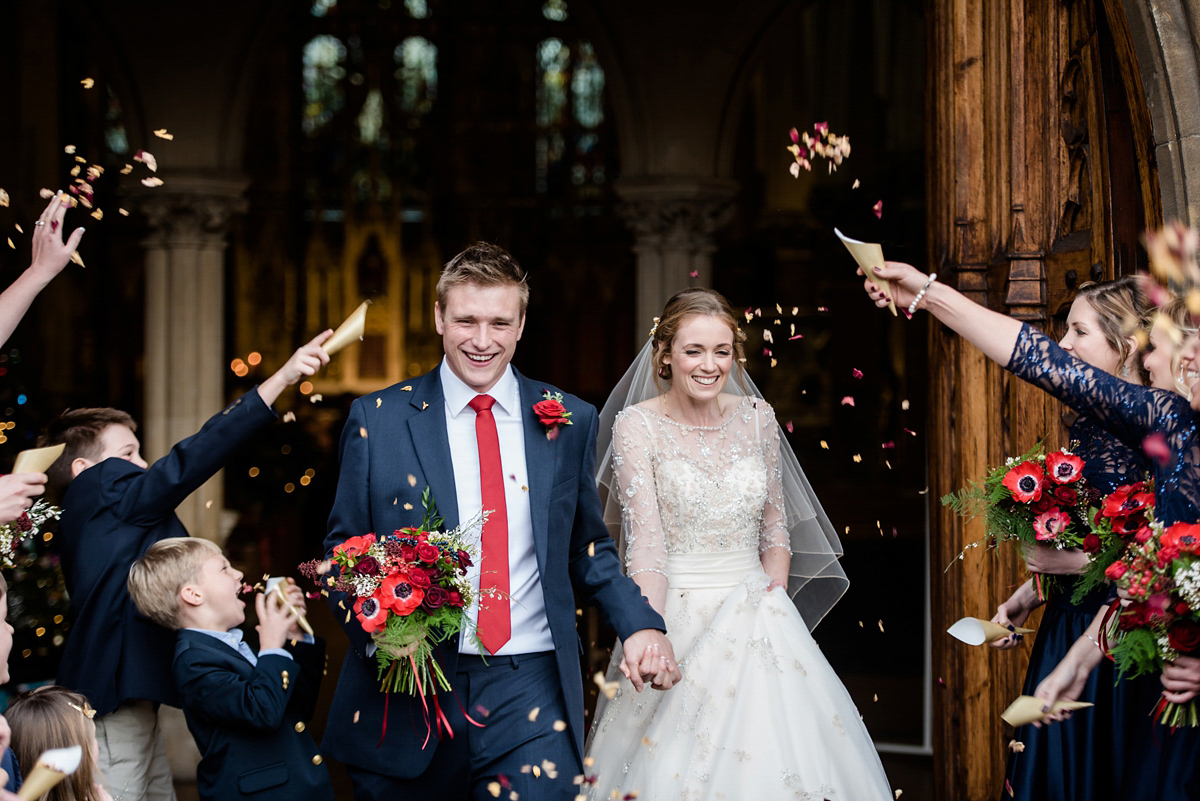 "As she was eight months pregnant, Lydia brought along a friend photographer so we got two for the price of one. The result was loads of fantastic photos from many different angles and some really creative work with the flash which produced some beautiful evening shots."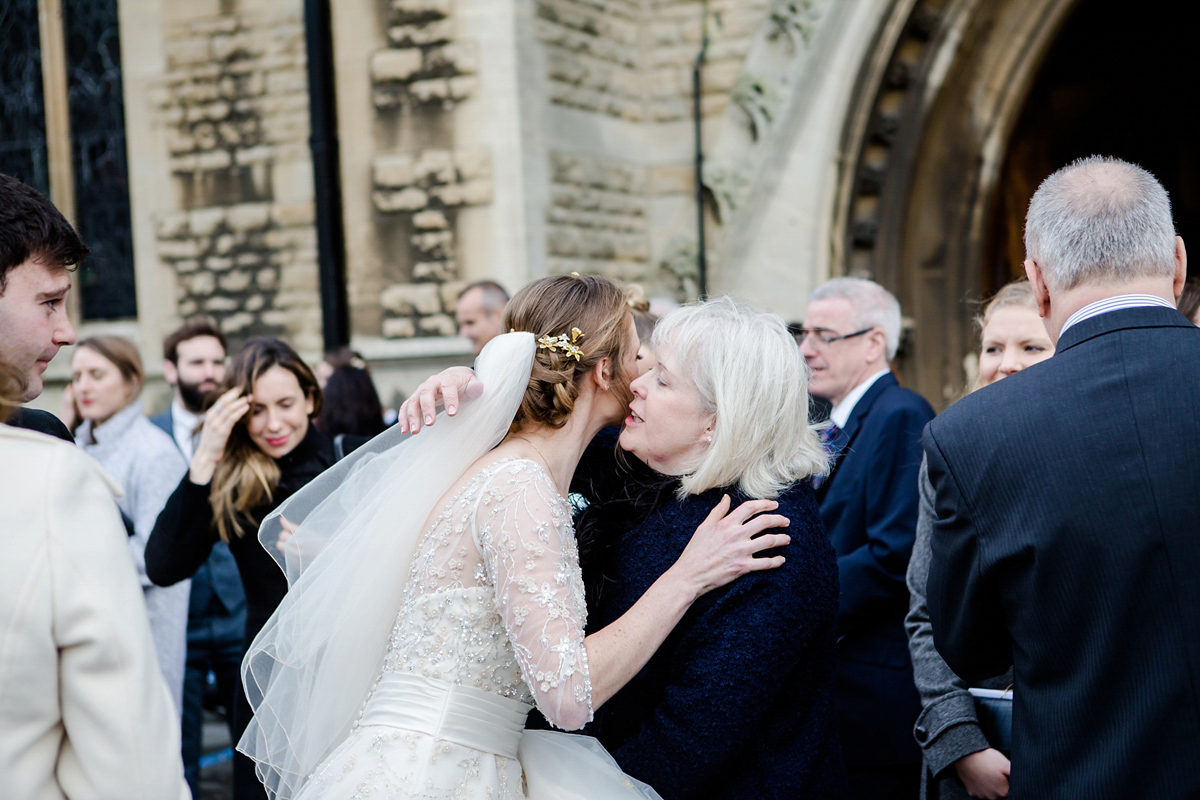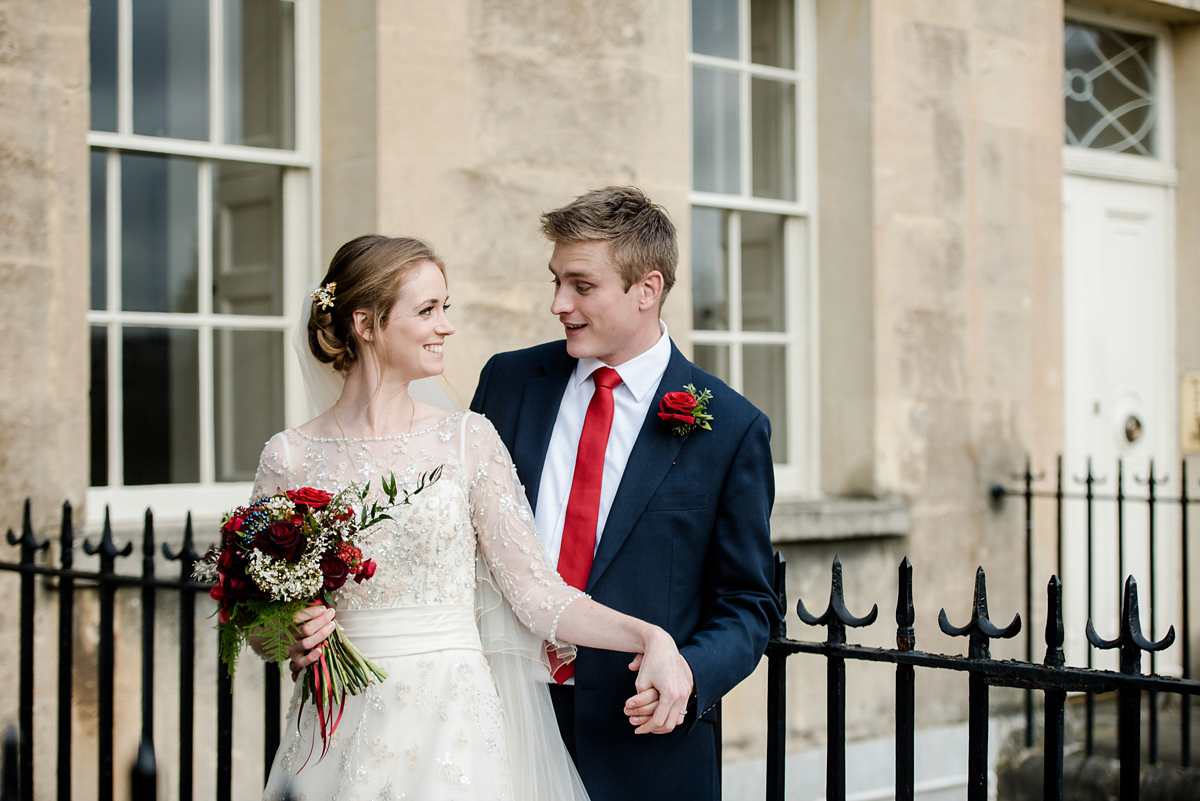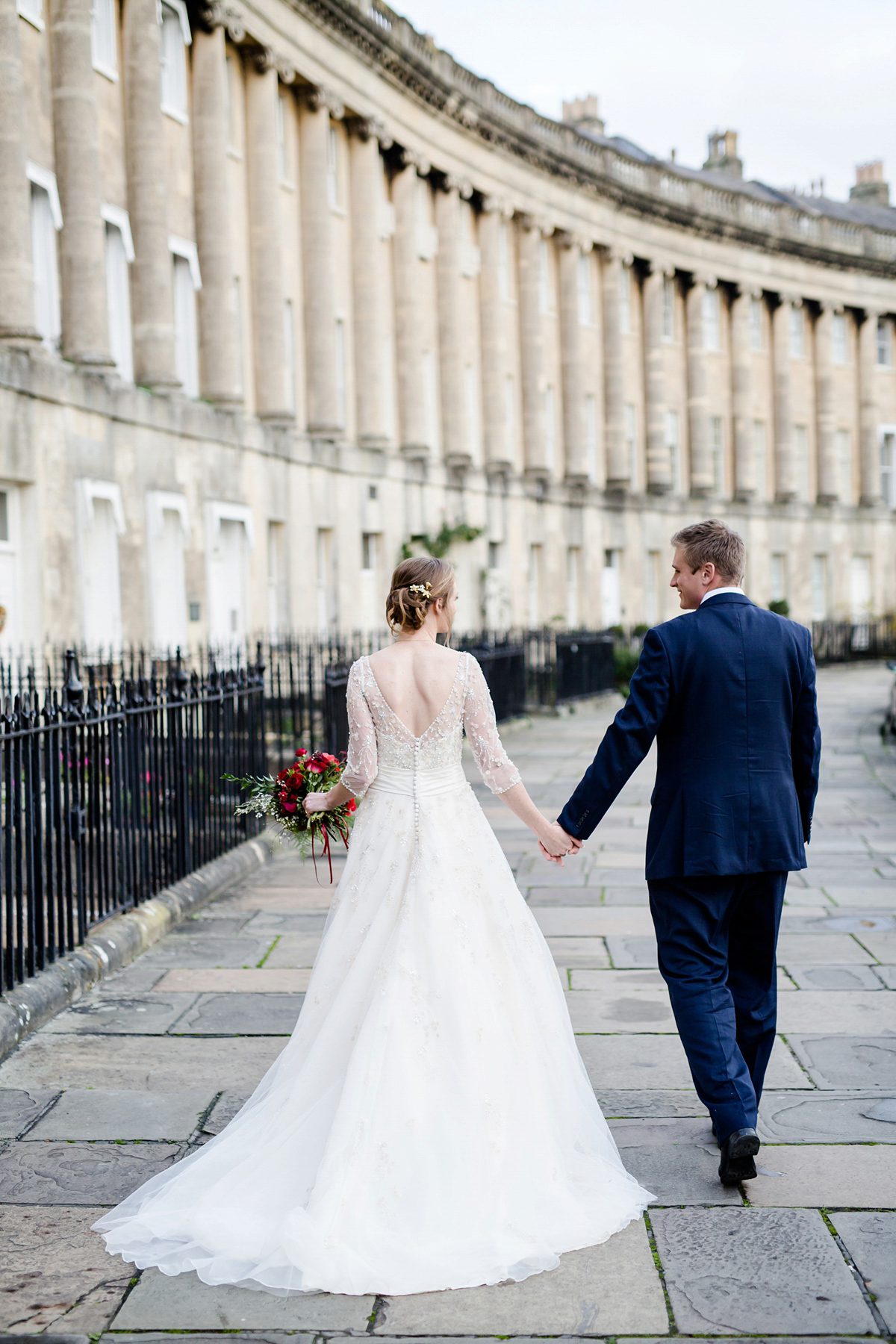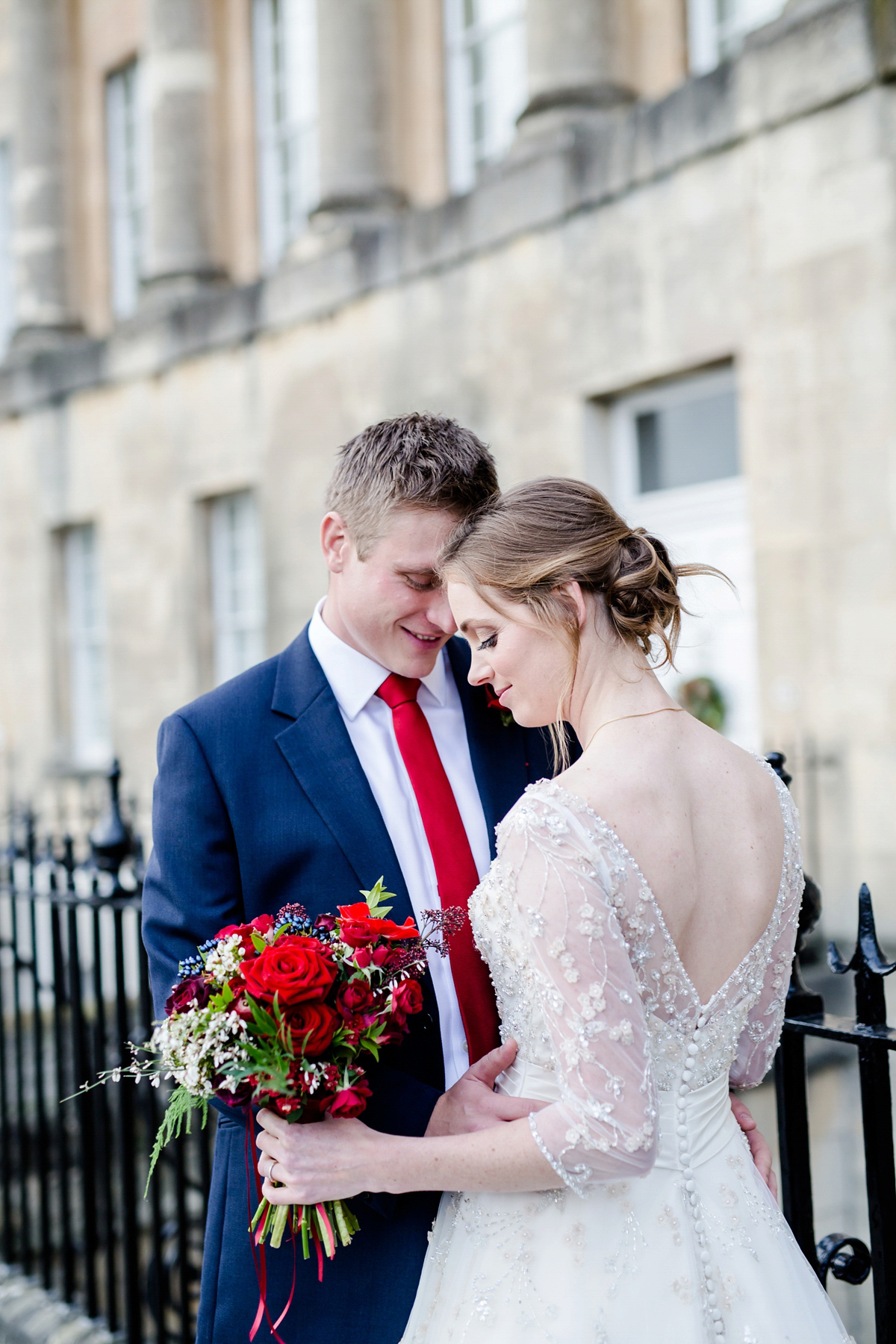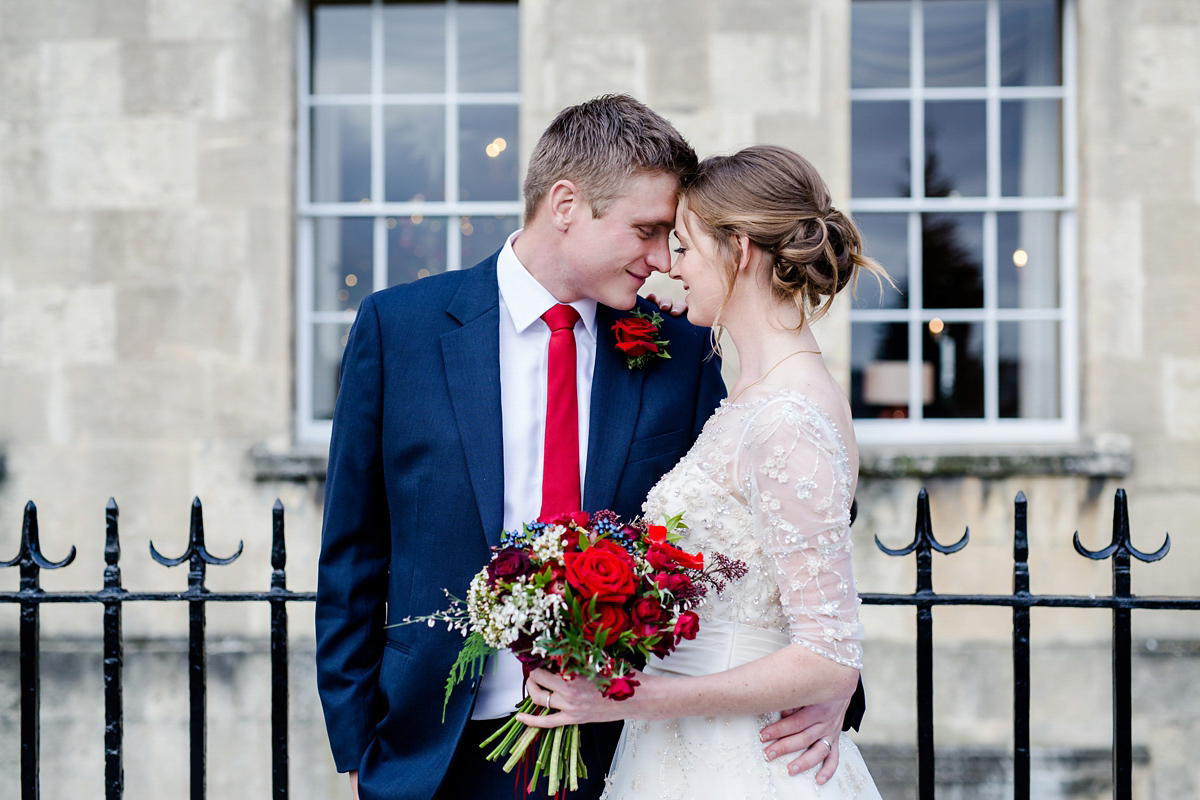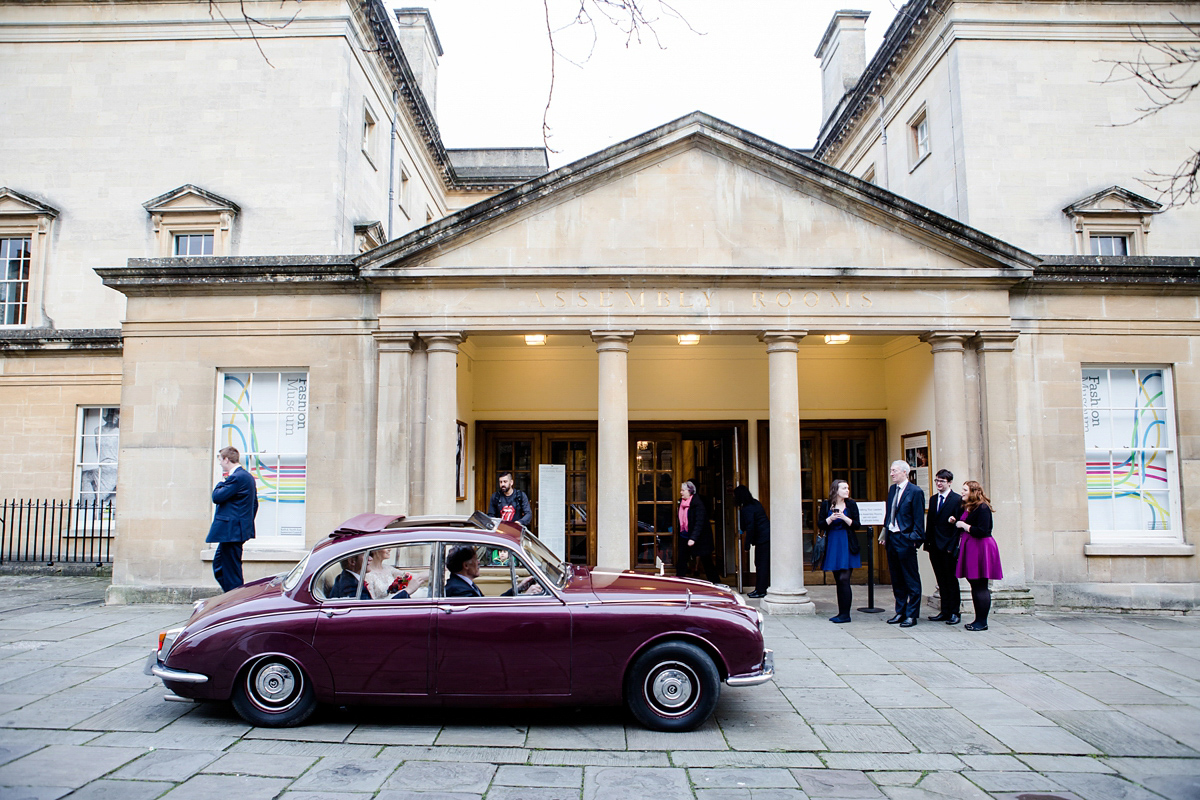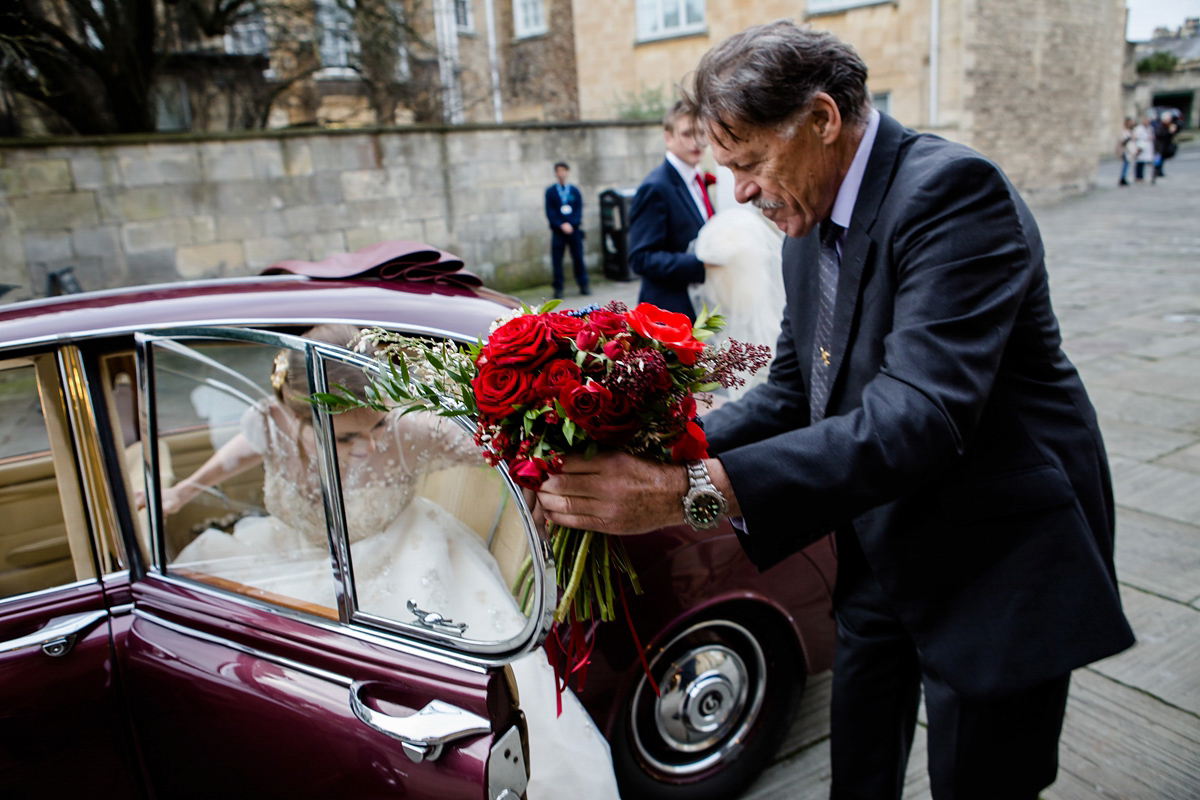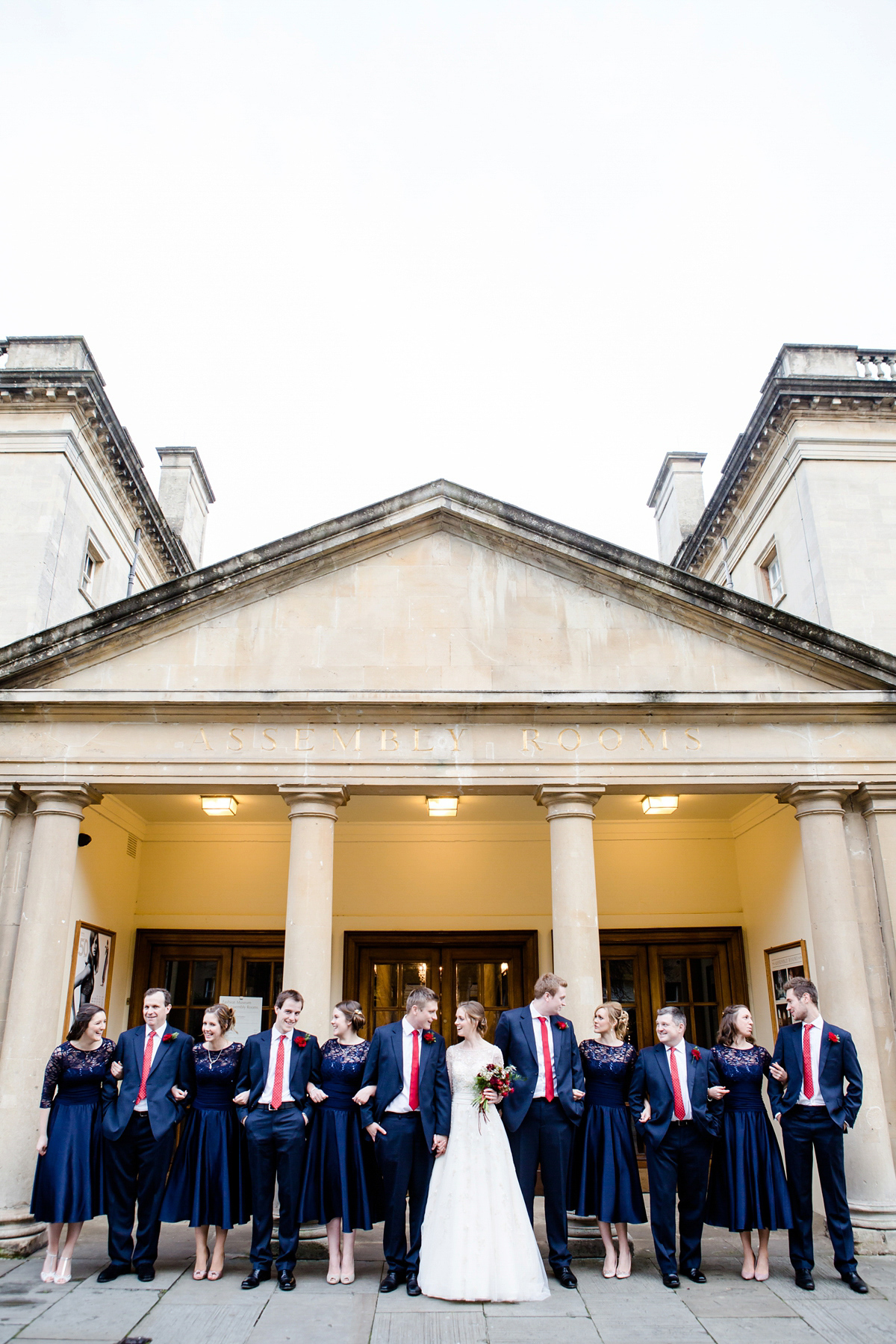 "We decorated the mantelpieces in the Tea Room with large flower displays and pillar candles in hurricane vases. On the tables, we had two designs. One was a hurricane vase with a wreath of flowers, and the other was a trio of different sized posies with three tall glass candlesticks."
"Tealights in glass holders were spread around the tables too. We wanted a warm, romantic vibe to the room rather than corporate and I think that's what we managed to achieve."
"Our cake was made by a friend and guest, Kate Allenby. It was a rocky road cake with simple royal icing decorated with gold and red ribbons that matched the wedding stationery topped with a small floral decoration designed and made by our florist."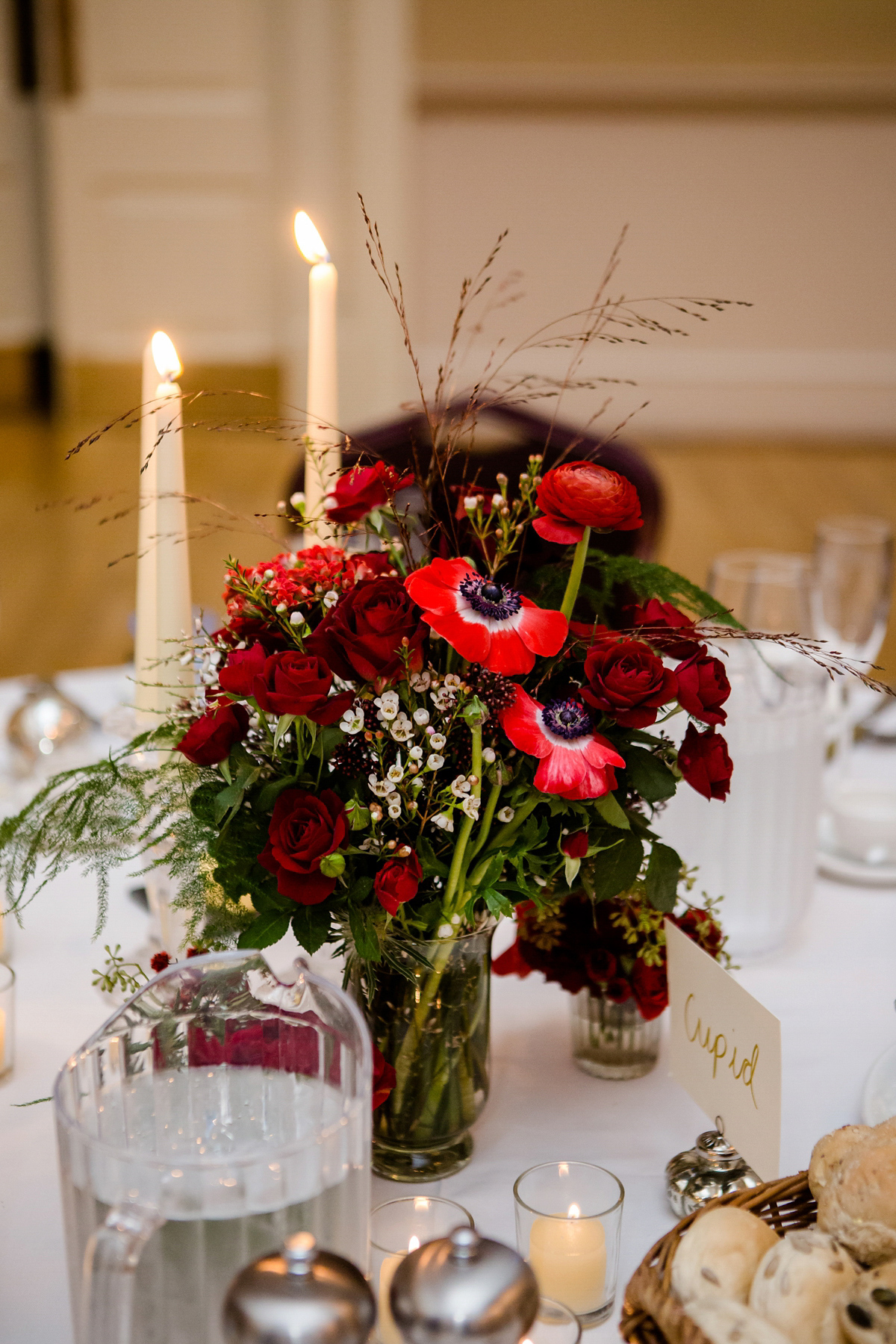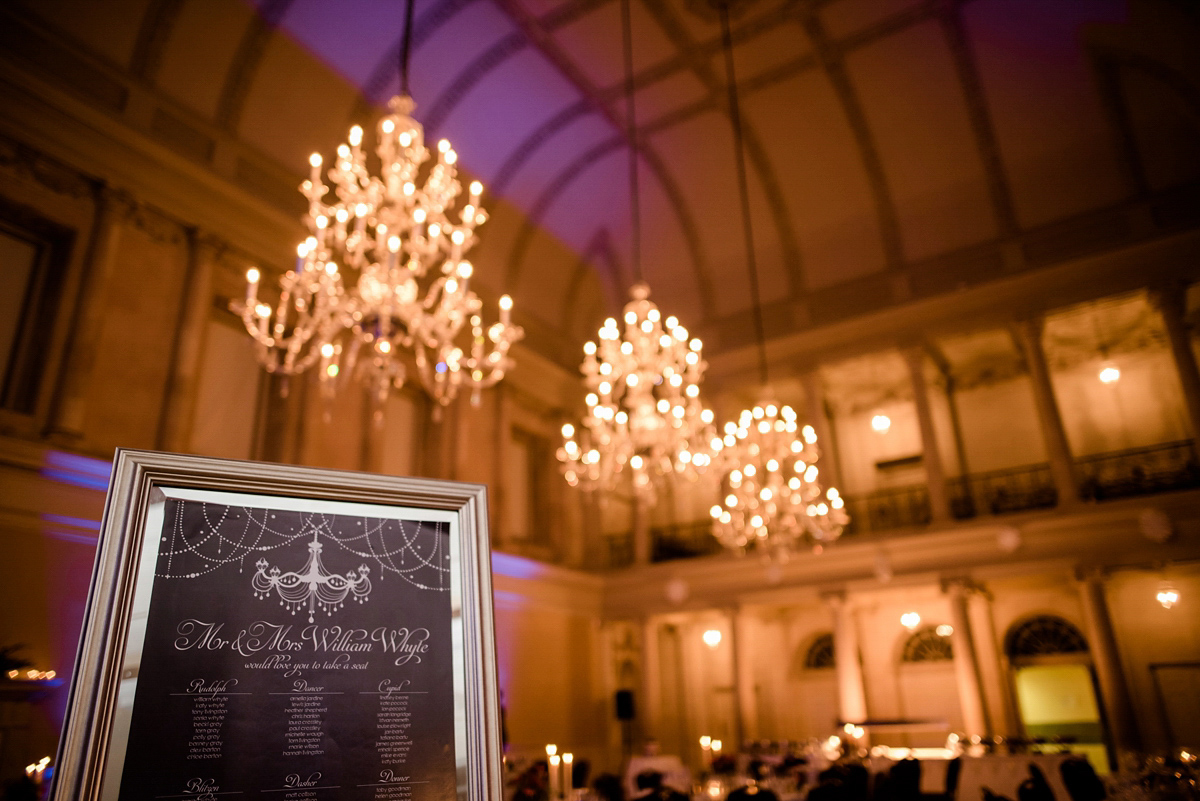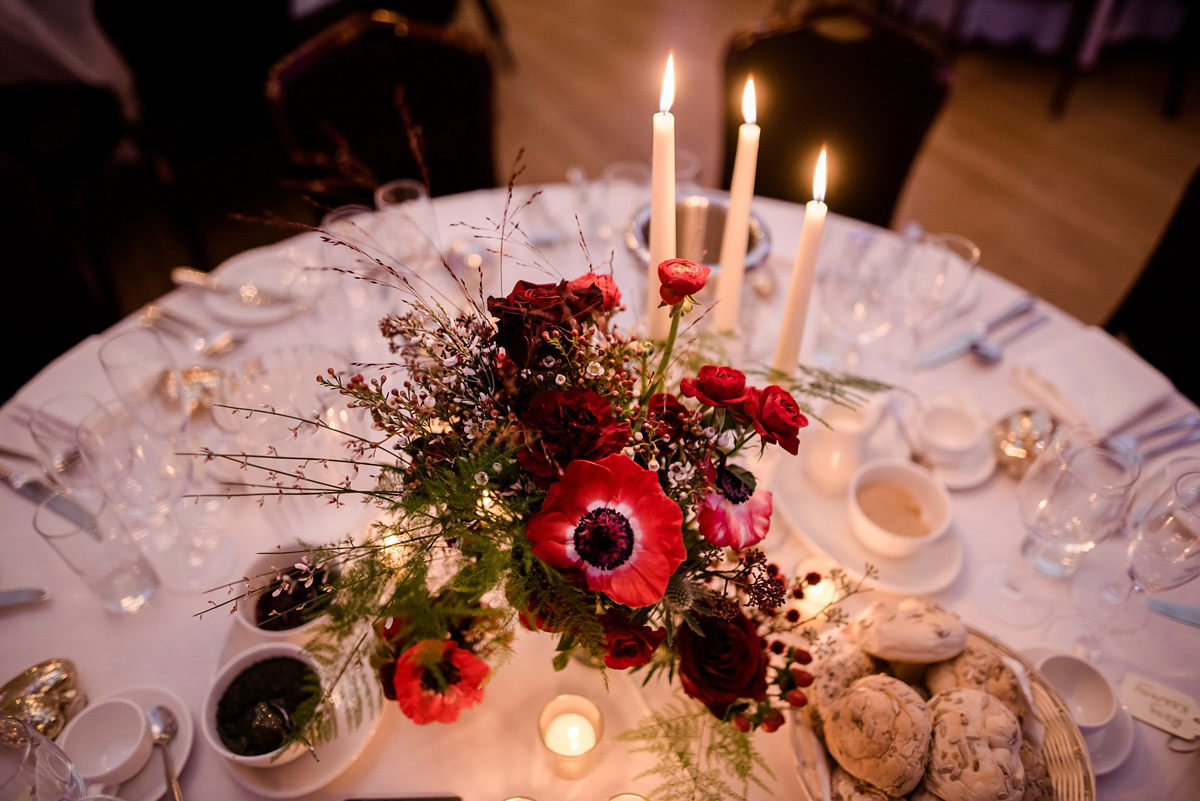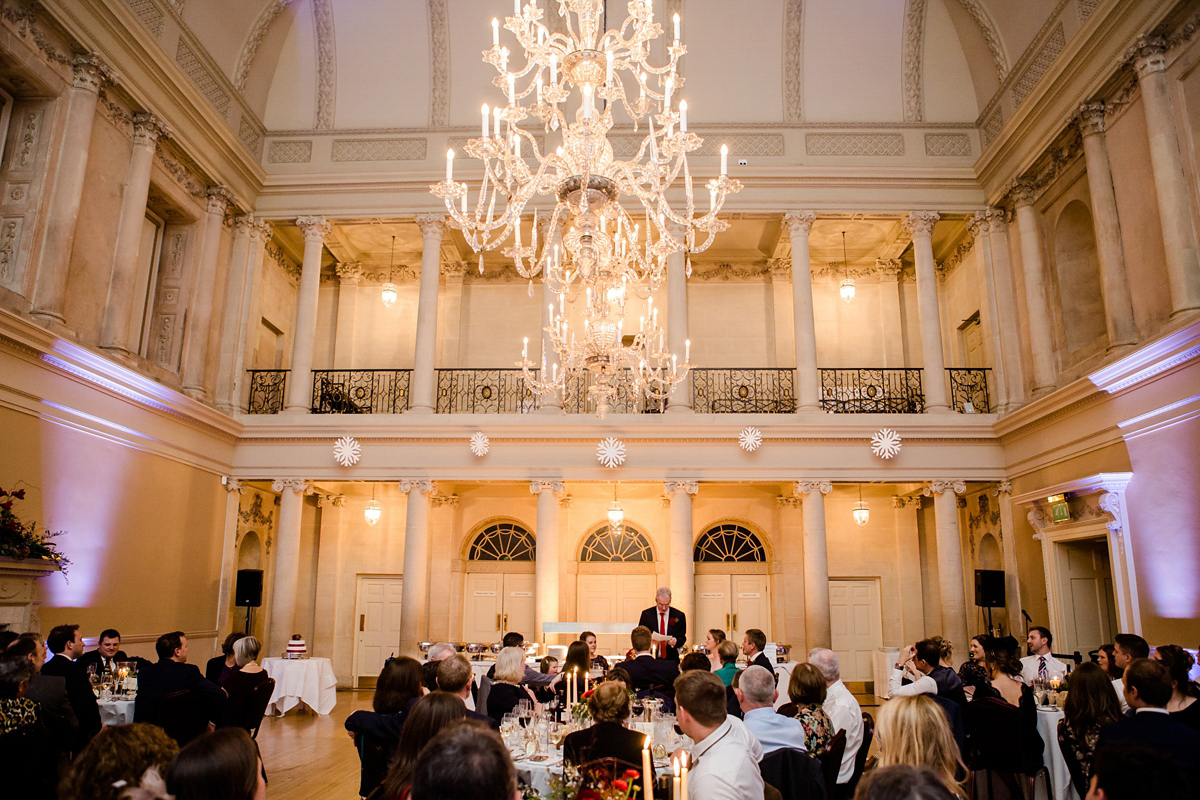 "It is so difficult to pick just one moment from the whole day. It was an entirely perfect occasion. Standing on the altar listening to my school choir sing will always be a favourite memory. And I remember having a quiet moment with Will in the evening – we sat outside the Tea Room together eating roast pork baps."
"I also loved our exit from the Assembly Rooms. Our guests made a tunnel with their arms and we ran through clutching hot chocolates (we had a hot chocolate bar). We then walked round The Circus together down to the Royal Crescent Hotel where we were guests for the night and people in the street were waving at us as we walked past.
The only addition I wish we'd made would probably be more candles! And I wish I had remembered to take my bouquet home with me."
"Our first dance song was to Michael Buble's 'Have Yourself a Merry Little Christmas'. We hope that this romantic Christmas song will bring back amazing memories every time we hear it at Christmas time."
Words of Wedded Wisdom
"It is never too early to make important decisions. If a job can be done, don't wait. We had a very stress-free build up to our wedding because we started buying accessories and decorations months before the big day. We bought our wedding favours a year in advance, my bridesmaid dresses fourteen months in advance; even my bridesmaid gifts were bought over a year before the big day, plus many more. It helps you budget if you can tick items off your list as early as possible and spreads the cost.
We also tried to pay off as many things in full, instead of just paying a deposit. For example, even though our car hire only asked for a deposit, we asked if we could pay the full amount immediately. One less thing to worry about when the big bills (food) start rolling in!"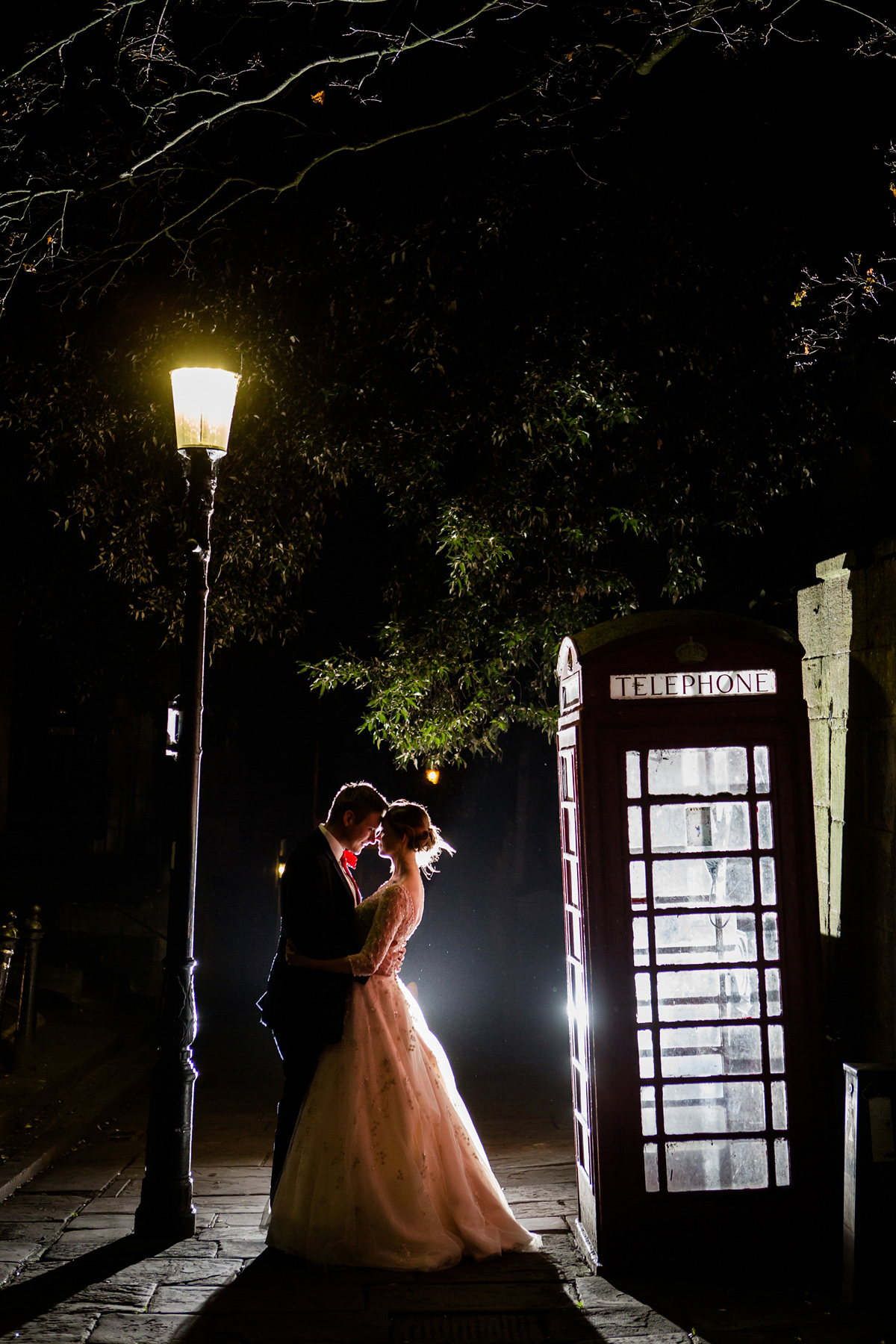 Thank you Katy and Will for allowing us to share your utterly beautiful day with our readers. I'm heading to a 'Christmas in July' event in a few weeks, so will be thinking of the pretty baubles and the rich red flowers when I'm there. And sending big thanks to Lydia for these gorgeous, heartfelt pictures.
Click here for an eclectic range of wintery weddings we've previously shared – and wishing you all a wonderful rest of week.
Love Jo -x-