Thursday is upon us and the finish line (and its accompanying wine) is tantalisingly close. If you're anything like me, intermittent browsing of pretty things eases your day along steadily, and makes the less-pretty parts of daily life bearable. Since you've already found the best way to while away many sigh-saturated hours that *technically* still count as productivity (Love My Dress  wedding blog research is the backbone of big day inspiration!), let's coast on a wedding wave all the way to the weekend.
On Tuesday, we all gazed adoringly at this hazy, retro-inspired triumph in Annabel's hometown of Whitby, and today we're almost in my neck of the woods, just across the border in delightful Devon. Rosie, a PR Manager wed Hugh, a Teacher on 18th July 2015 at St Petrox Church, Dartmouth before jumping on a boat (as you do) and heading to Shilstone House to celebrate in style. For me, the day embodies so much of the joys to be found near shimmering bays, wonky buildings and patchwork fields meandering inland. Devon itself became an integral part of the planning, and the couple became regulars at St Petrox Church, also choosing to reflect the wild beauty of the countryside within floral, stationery and décor choices. Our Little Book For Brides wedding directory member, Joseph Hall, was asked to document this beautiful day in images.
"The Devonshire setting dictated the tone – flowers were wild and natural, just like the Devon hedgerows, there were bursts of colour from the Liberty fabric table runners in the marquee, and the hanging stars from the ceiling were fun and a bit different from the commonly used bunting. The 'star' theme unintentionally ran through the day, from our beautifully hand designed invitations, to the last song of the night (Coldplay, 'A Sky Full Of Stars')."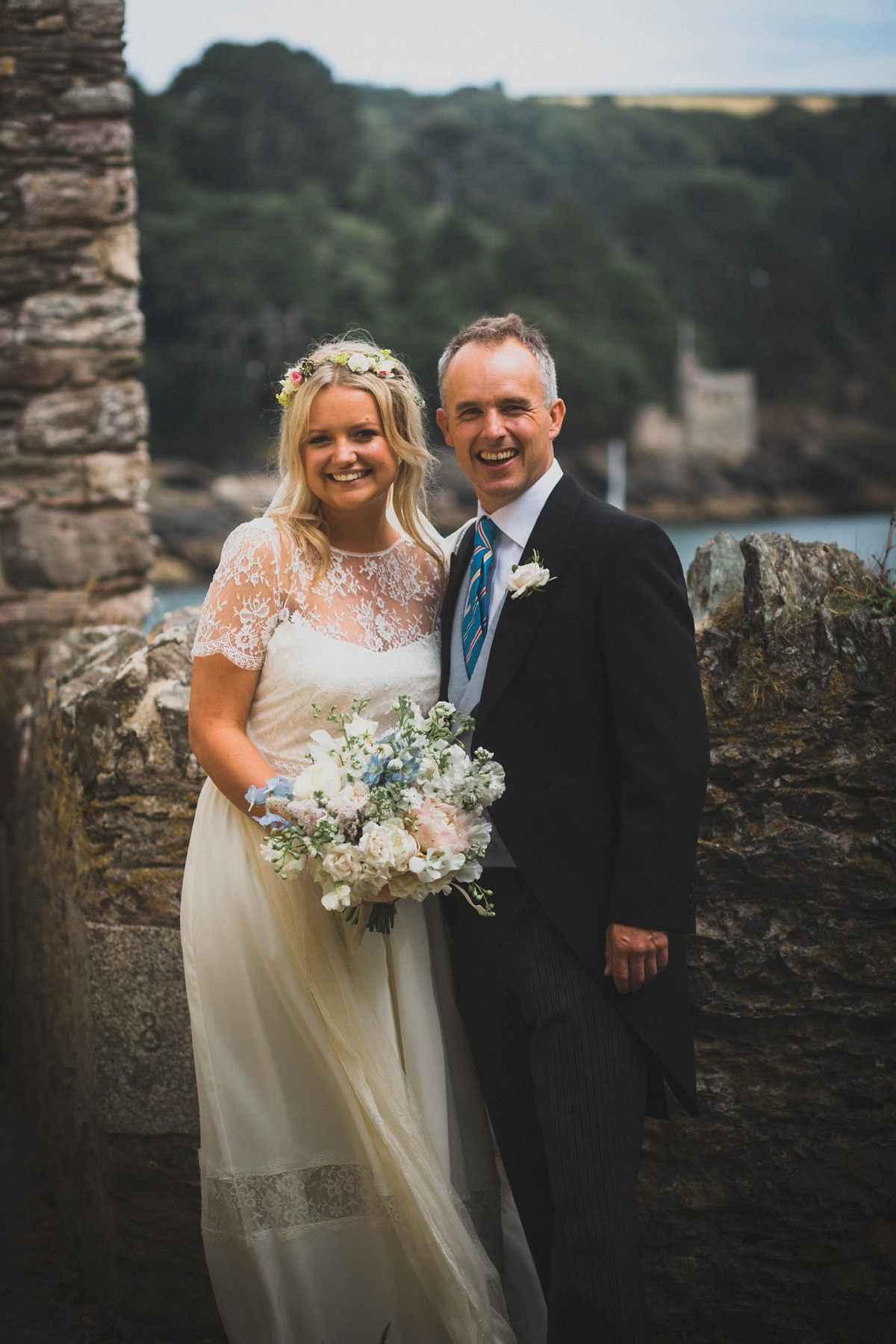 "We found our photographerJoseph Hall via Love My Dress and also noticed he'd done weddings at Shilstone before. He was, in no uncertain terms, an absolute legend. We loved having him with us on the day – he blended in, made us relax and howl with laughter and just felt like another guest."
"Hugh and I met in Devon, and both of us have been visiting the South Hams area with our families for most of our lives. The day before he proposed, Hugh had taken me to The Seahorse in Dartmouth for lunch."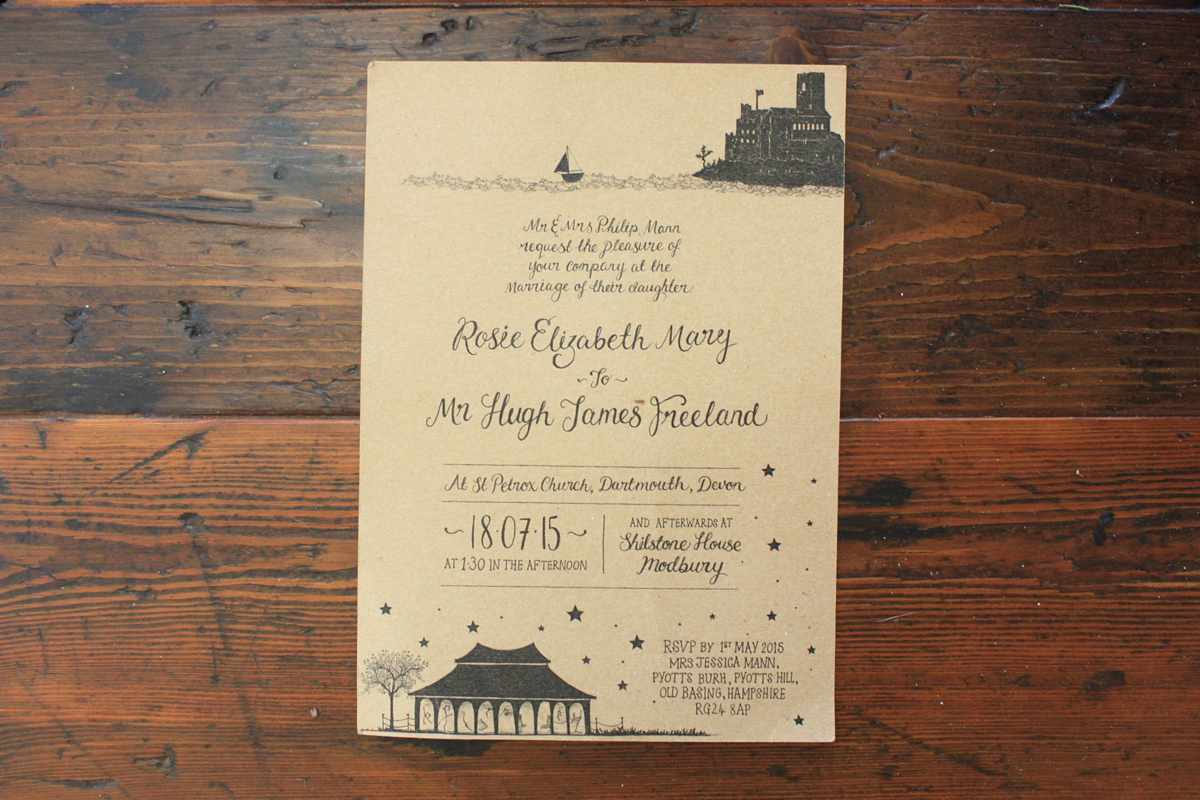 "It was a beautiful day and we took the coastal road out of the town back to my parents' house in Salcombe, which meant we drove past Dartmouth castle. I noticed the church and (totally unaware of the impending proposal) 'banked it' in my mind because it is just so beautiful."
"I always wanted to get married by the sea, and St Petrox is such a unique and beautiful location – I've never seen a church like it before or since. After I'd accepted Hugh's proposal, I immediately asked how he'd feel if we got married in Devon and mentioned the Dartmouth church. Luckily he was equally blown away by it."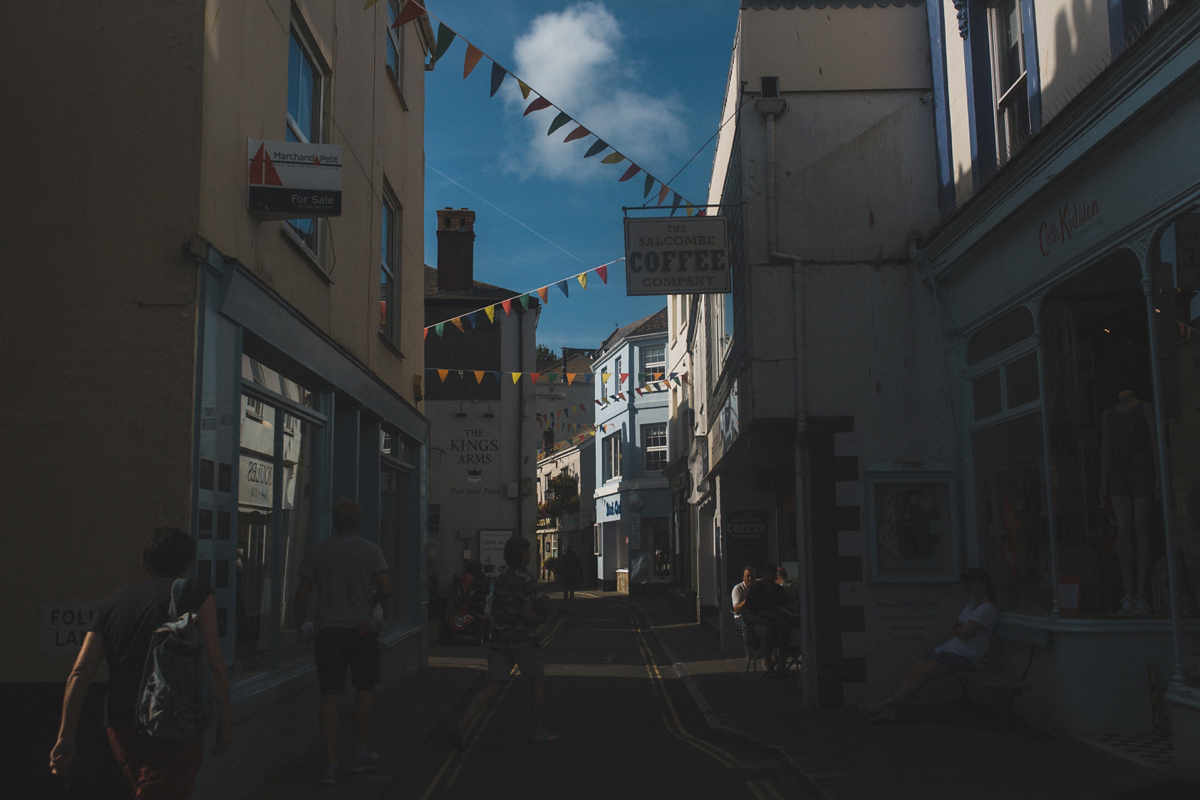 "Once we'd met with the two vicars, our decision was made. They were so welcoming and supportive and very good fun (any vicar who turns up to your wedding in an open top vintage red Alfa Romeo was a winner in Hugh's eyes!)."
"We knew we would love for them to marry us, and we really enjoyed the six-month process of visiting the parish of Dartmouth and becoming a part of the congregation."
"Our families have been friends for years. Hugh is the youngest of six children. One wet and foggy day in Salcombe, my parents met Hugh's eldest sister Mandy and her husband and children over a pint in a local pub, forging a friendship that would last for years.There is a 13-year age gap between us."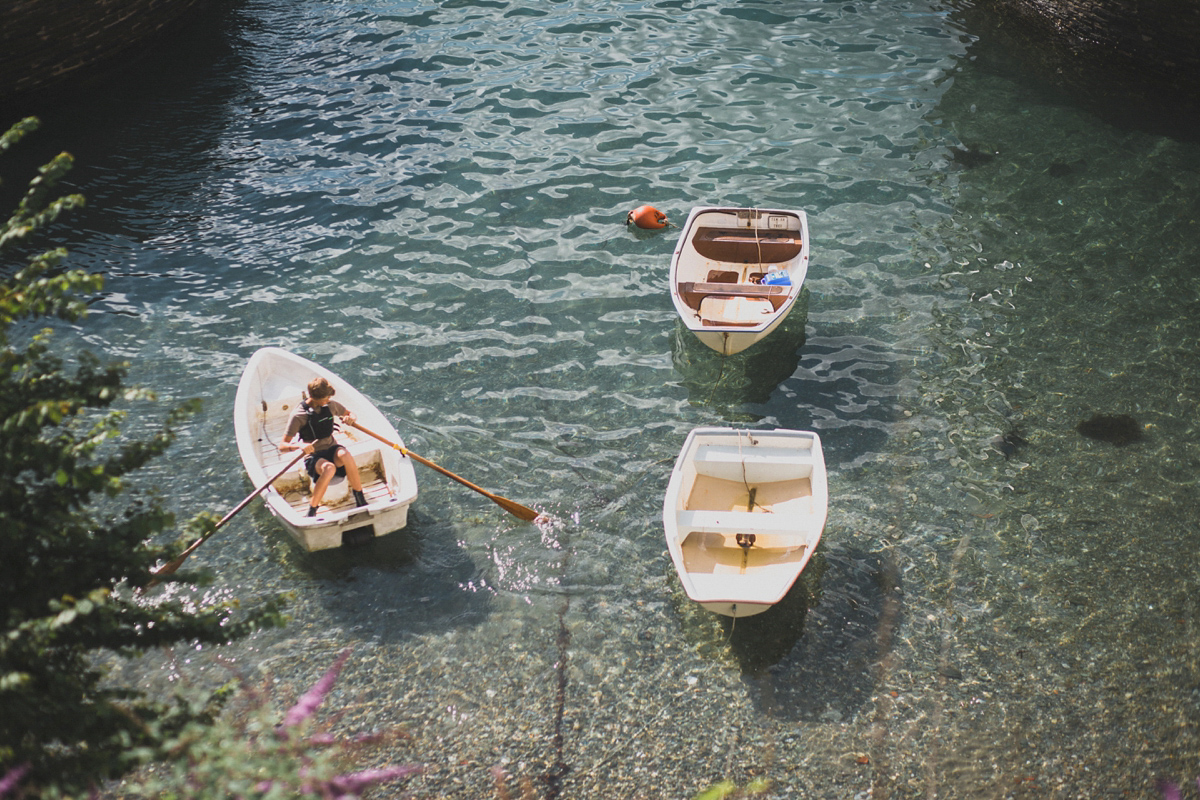 "I had a crush on him from afar, and it wasn't until ten years later when I had moved to London and discovered that Hugh lived down the road from me, that one casual drink in a Fulham pub blossomed into romance."
"Emma Vowles of  in Totnes was our florist. Once we'd spotted her website and visited her beautiful shop, she was the only option. She was AWESOME. Incredibly fun to work with, and what she created was beyond our wildest dreams. The flowers were a breathtaking mix of wild blooms and pops of colours in vintage vases and jars, as well as two beautiful displays outside the marquee."
Bridesmaids wore sky blue maxi dresses from Ted Baker, the colour matching the light, coastal whimsy that was prevalent throughout the sunny summer occasion. Gloriously comfy gold wedges from Kurt Geiger kept the bridesmaids in tip-top duty and dancing shape all day long.
"I also had a male 'bridesmaid'. He is my best and oldest boy friend and, in the absence of a brother represented in the enormous usher party, I wanted him with me throughout the process. He was a superhero on the day we set up the marquee and on the wedding morning, keeping us all calm (my mother especially) and telling us how beautiful we looked. He wore a traditional morning suit with a pastel waistcoat and, after a brief panic that he'd not brought a tie, my father managed to find him the perfect match for his waistcoat. He looked incredibly dapper. I would wear a full morning suit in return as an usher for him if he asked."
"Hugh and I are the same height, and I am hopeless in heels. If I'd had my way I'd have gone barefoot, but I knew this wouldn't impress so I started to hunt for something flat, ideally in blue. I stumbled upon the Christian Louboutin Athena sandals, which ticked all my boxes and they had the coveted red soles! They were comfortable all day and into the night and I felt quite glam wearing a pair of Loubs."
When it came to choosing a gown, Rosie threw herself into the experience with gusto, before realising that the pretty, relaxed but still altogether show stopping dress wasn't as easy to find as she had hoped. Cue some good old-fashioned bridal research, a close-by boutique and those mum tears that are worth their weight in gold and this Laure de Sagazan 'Mallarme' gown was snapped up from The Mews of Notting Hill. Fitting the brief completely, I adore the subtle detailing and bohemian vibe.
"I took a week off work and went to hundreds of wedding dress shops – I fast became allergic to tulle, thick satin and taffeta. I wanted something informal but pretty, that I could wear without having to be laced in, and I definitely didn't want a skirt that puffed out like a princess dress. I wanted to look like me – something I would actually wear, not playing dress up just because I am a bride."
"It was incredibly difficult to find, but after some research I fell in love with Laure de Sagazan's designs. Luckily The Mews is a ten-minute walk from my office, and I took my Mother with me for my second visit. When I stepped out in the Mallarme she burst into tears – the first time she had reacted like this after what seemed like hours of trying on in hundreds of shops. I knew then that I'd found the dress – and the girls at The Mews were just wonderful throughout the process."
Further accessories were just as sentimental, with an antique ring inherited from her grandmother, an Evil Eye bracelet as a gift from Hugh, a pair of antique art-deco diamond earrings, a turquoise Astley Clarke engagement ring and an antique diamond and sapphire halo engagement ring.
Hugh wore a traditional morning suit, tie from Thomas Pink and waistcoat from Oliver Brown.
A matching VW camper van from VW Camper Wedding Hire was on hand to transport the bridal party to St   whilst Rosie and her Dad decided on a vintage Jaguar from Devon Classic Days to make their grand entrance.
Rosie reflects on that surreally special moment when you walk down the aisle, such an outpouring of emotion and well wishing grins. A string quartet played an instrumental version of 'To Build A Home' by The Cinematic Orchestra she walked towards Hugh with her beloved father.
"It was a very, very special moment – we giggled together nervously outside the church entrance. No one prepares you for the moment you walk into the church with all these little faces peering at you. To be surrounded by all of your closest friends and family beaming at you and welling up with joy is incredible."
"I could see Hugh welling up as we turned the corner onto the aisle and I remember thinking "well, one of us has to hold it together" – so I beamed at him and practically skipped down the aisle."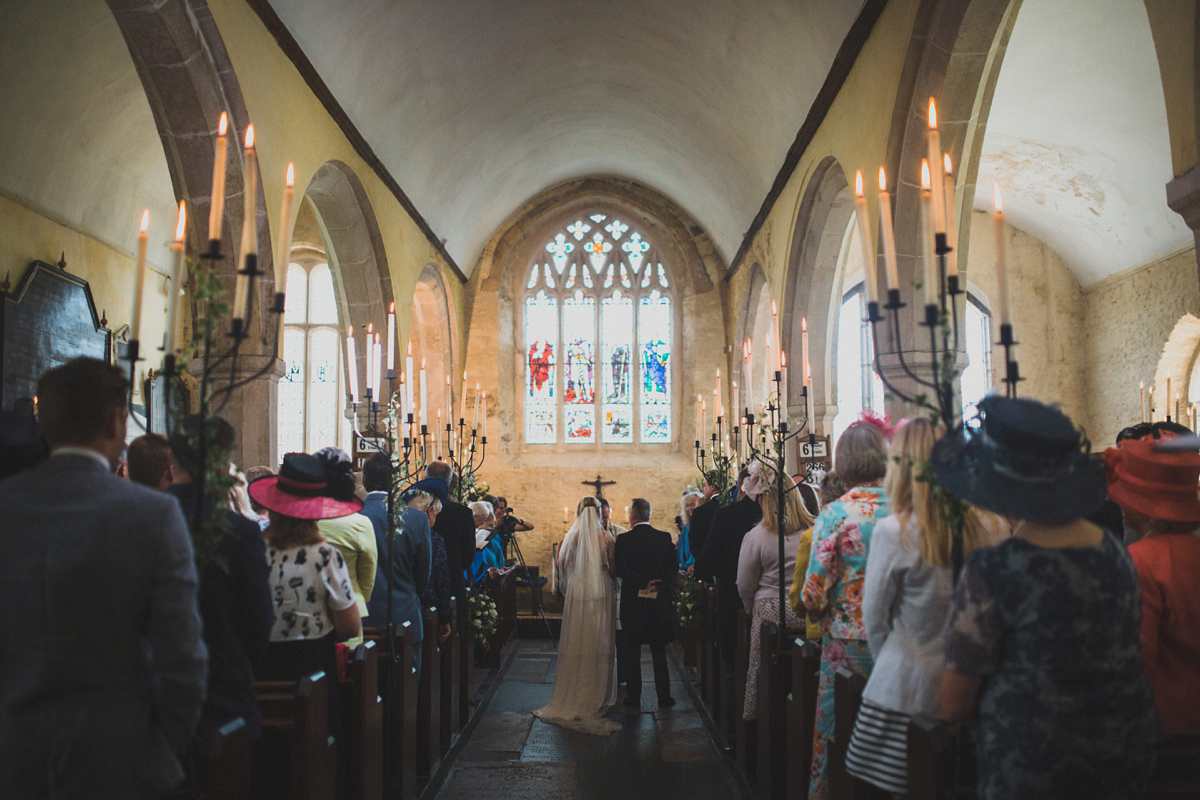 "Rosie's Godmother read 'Love is a temporary madness' from Captain Corelli's Mandolin and Hugh's brother read from the Song of Soloman. One of Rosie's friends also read an excerpt from The Odyssey, when Penelope and Odysseus are reunited after ten years apart. The extract talks about the moment they embrace for the first time, comparing it to the joy that shipwrecked sailors feel when they finally reach dry land. It felt fitting, as Hugh and I had finally got together after knowing each other for ten years."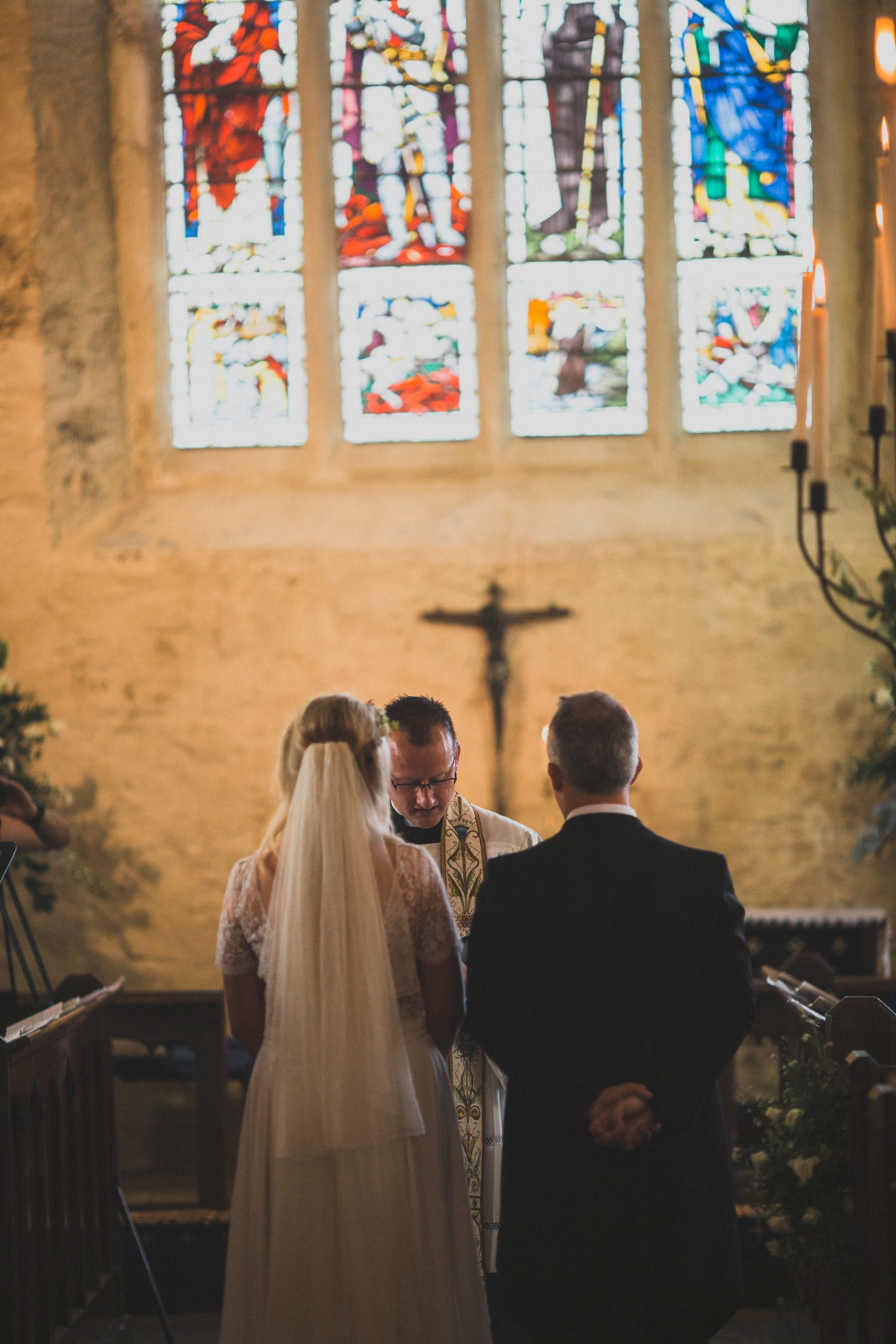 "Hugh's amazing mother did all of the church flowers, which were simply stunning. It was important for us that she did this, because she's incredibly talented and walking into the church and seeing her creations was a really special moment."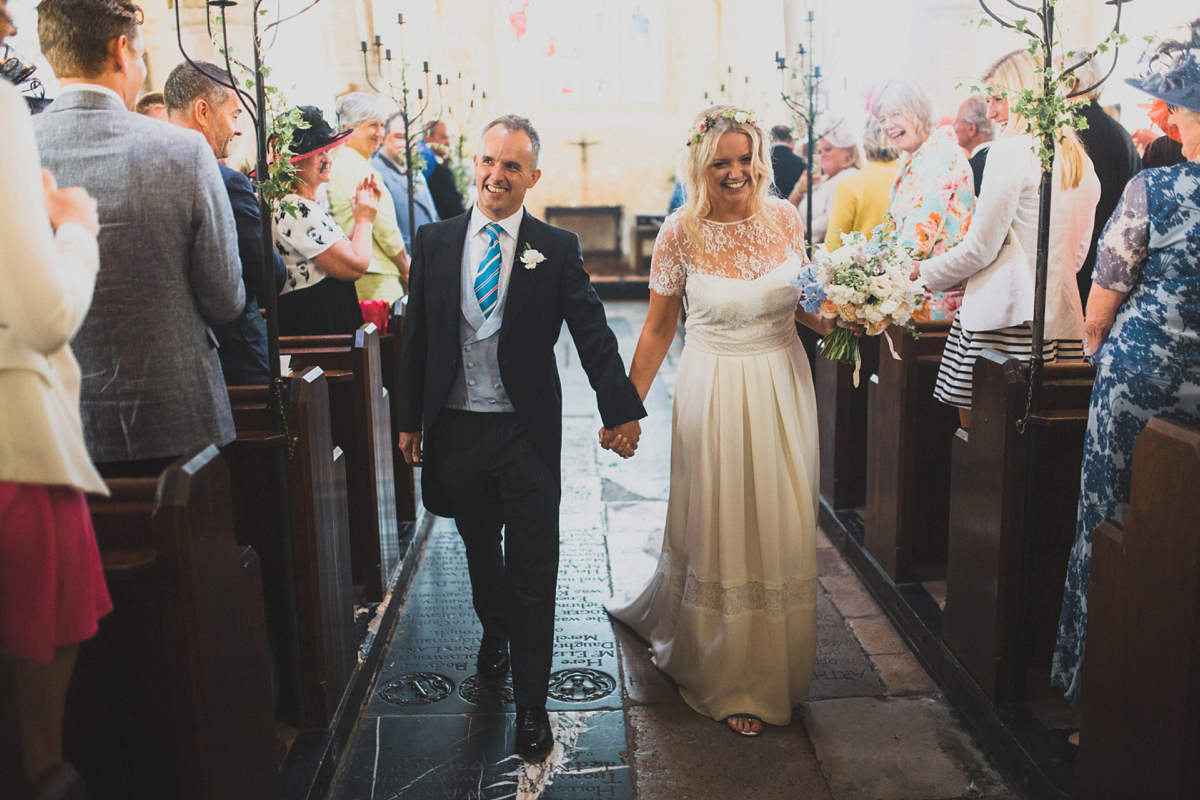 Having met and gotten engaged at Salcombe beach, both Rosie and Hugh got ready for their union in the seaside town. Rosie had the assistance of Rachael Gaunt for her glowing, sun-kissed look and fresh flowers were the crowing glory on beach-ready waves by Rebekah from The Pop Up Salon.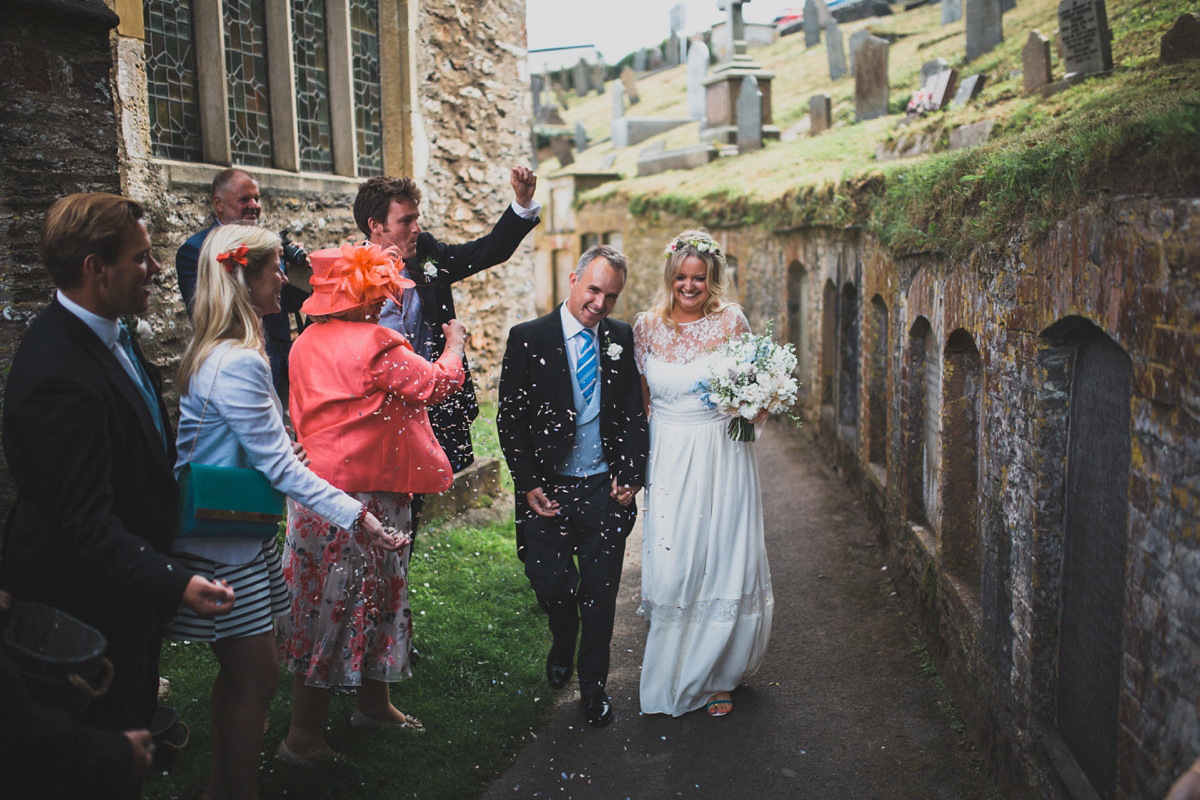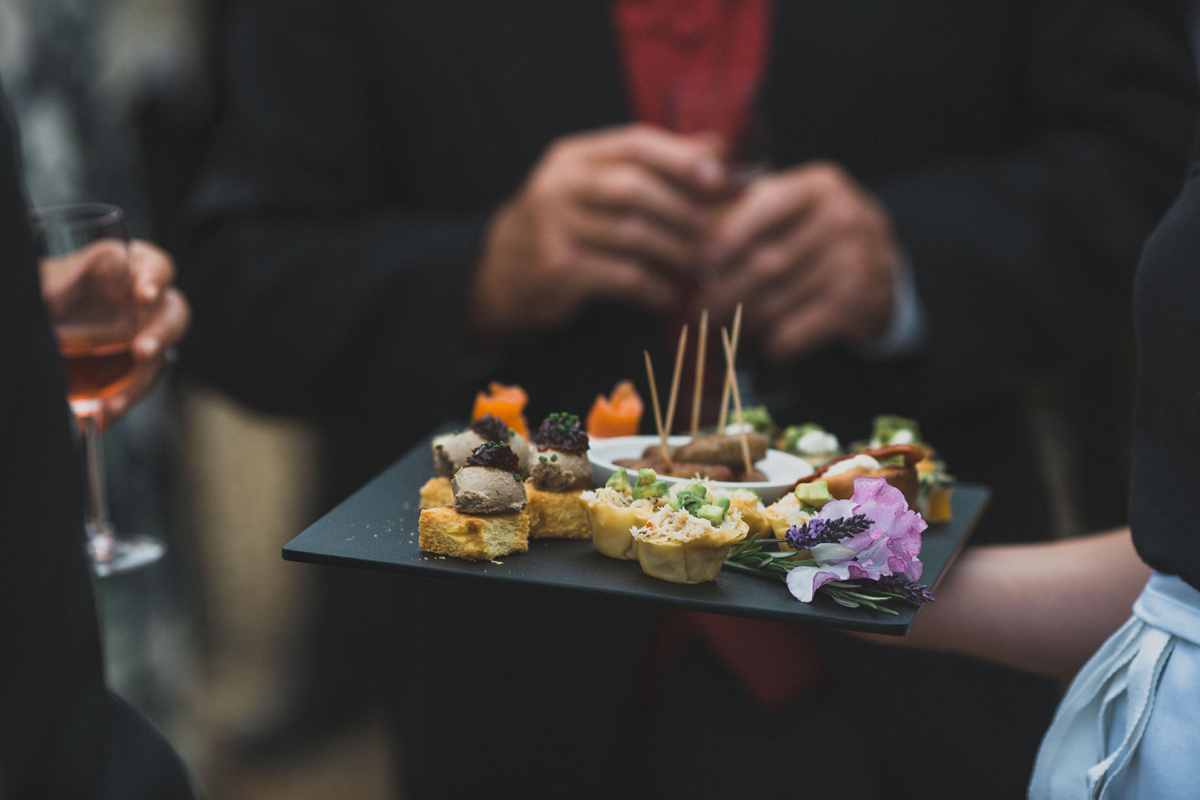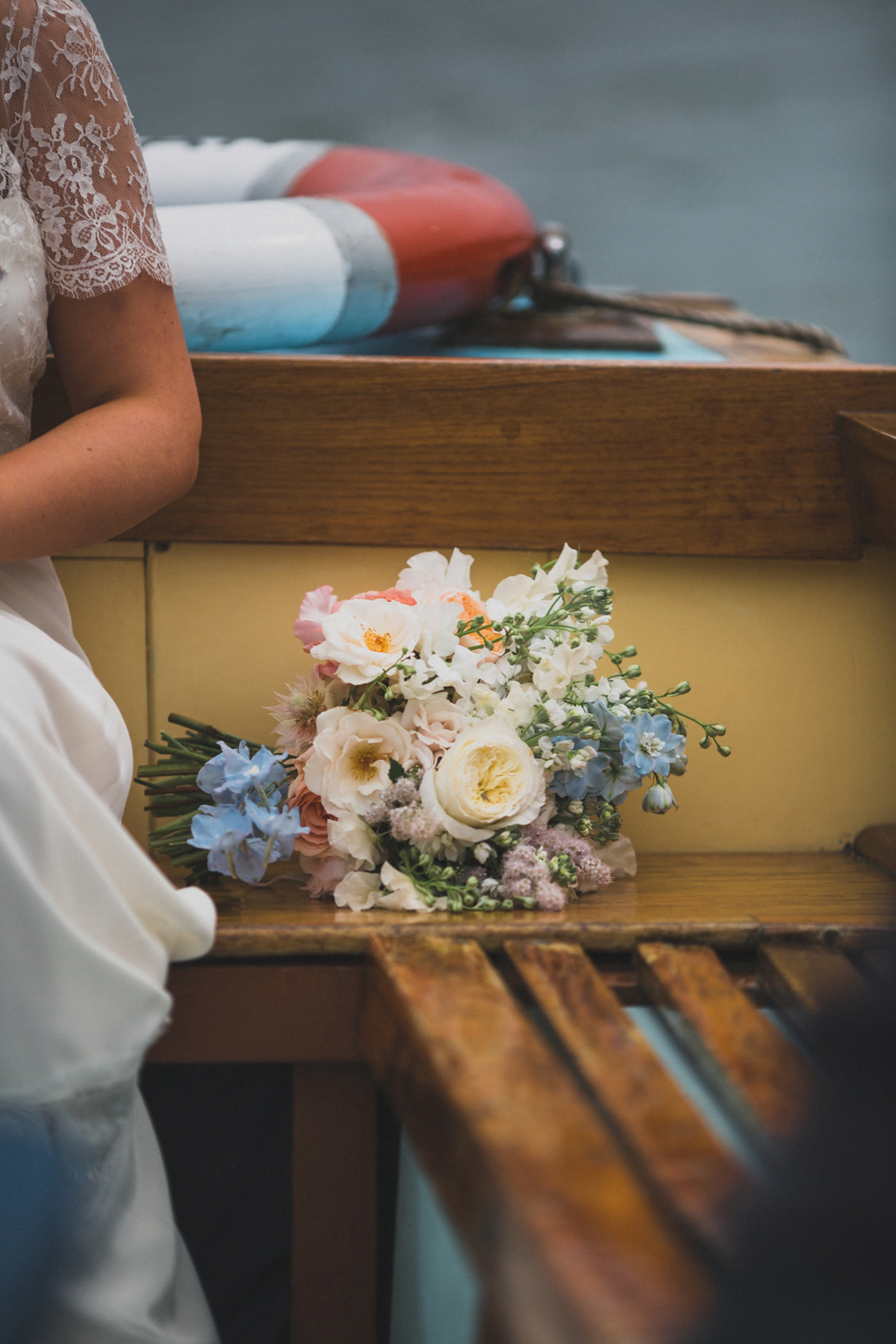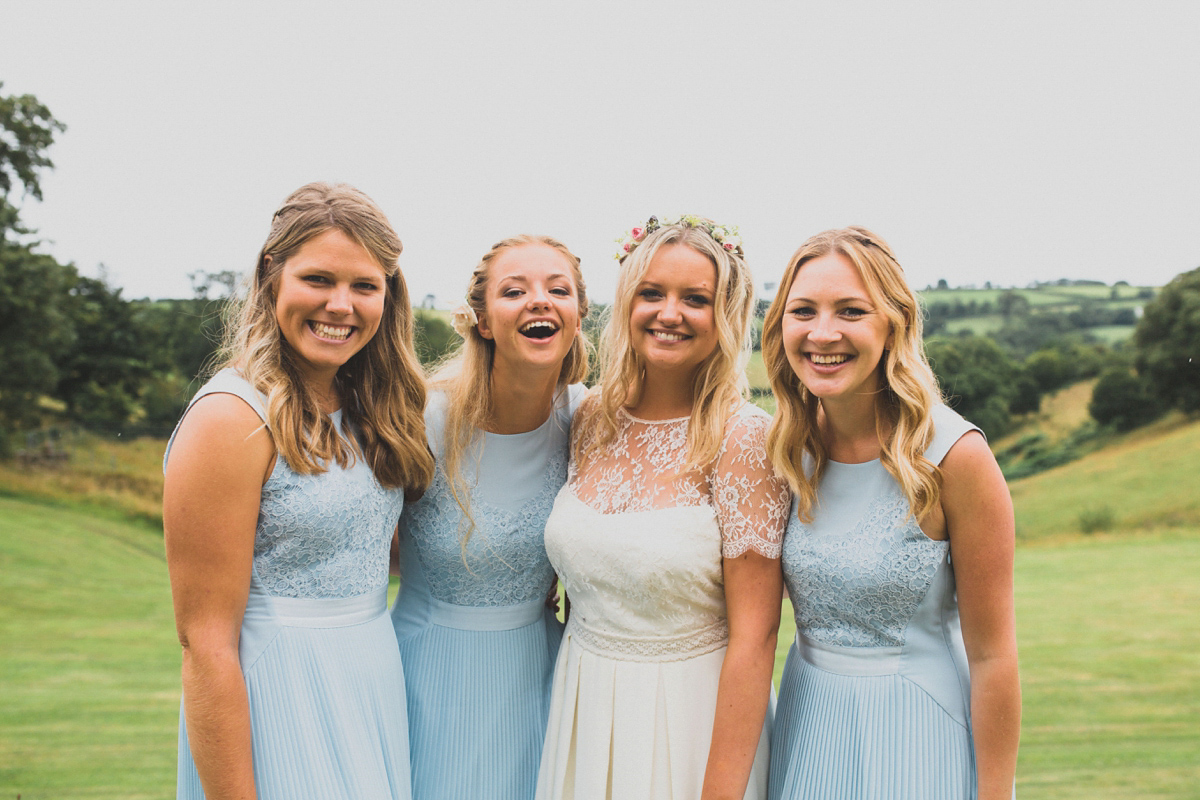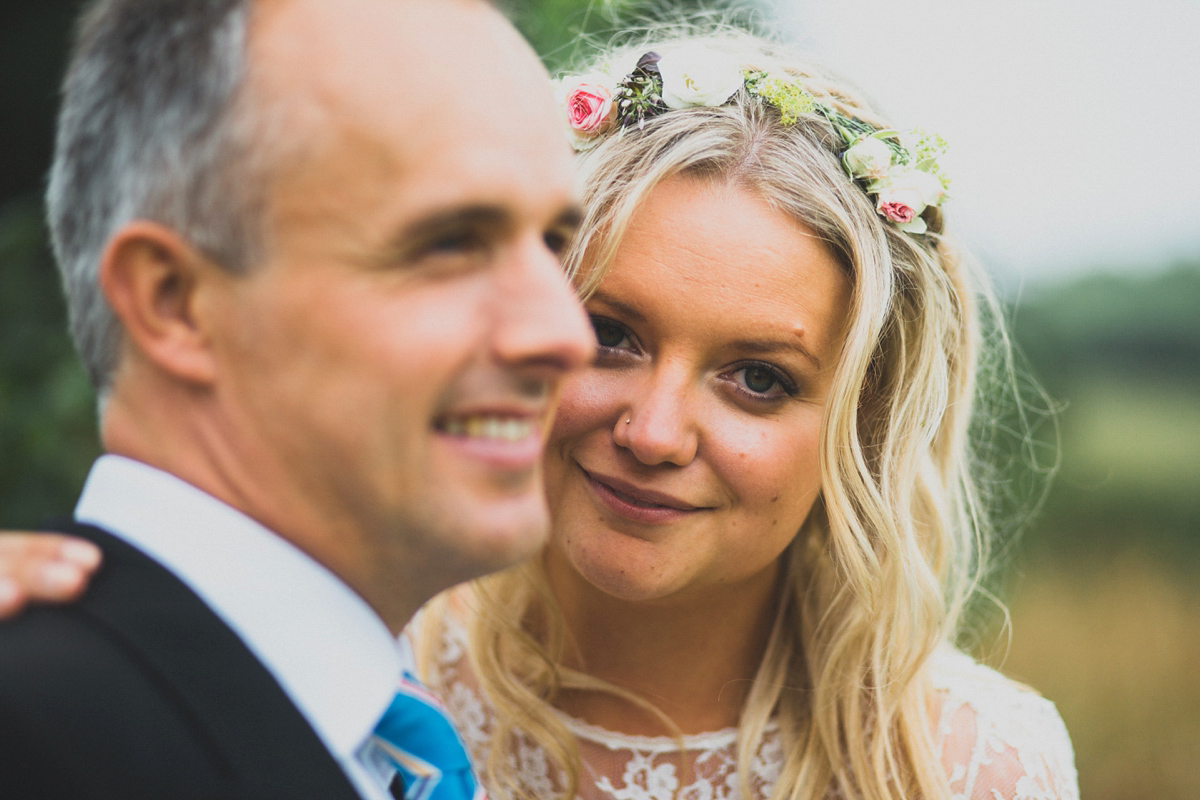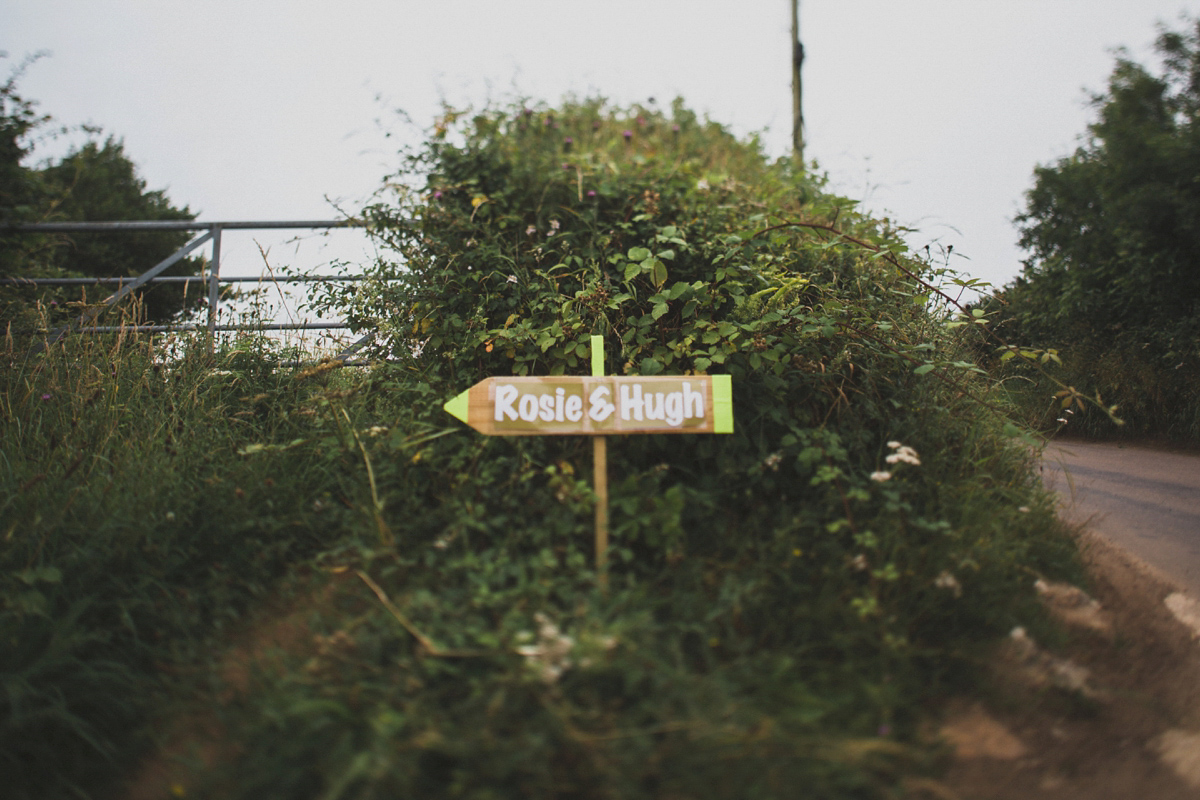 Shilstone House is an impressive Georgian venue with light, airy spaces and even a walled garden.  Catering was provided in house. Love My Dress has featured this stunning venue previously, take a look here.
"I come from a very organised family of planners. As soon as we mentioned we were thinking of getting married in Devon, my Father sent me a long list of venue options for the reception. Shilstone House stood out to us, and also happened to be on our drive back home to London."
"We dropped in on the way back – it was a gloriously sunny day, and we fell head over heels. Luckily they had a free weekend in July (with Hugh as a teacher and my sister taking her a-levels, we were restricted to July), so within a week of getting engaged the date and venue were set and we could sit back, relax and enjoy being engaged! It was the perfect combination of seaside through the church, and beautiful rolling Devon hills surrounding Shilstone."
Opting for stars to add colour and fun to their marquee setting…
"We sourced hundreds of different sized paper stars to hang from the ceiling of the marquee. We wanted to avoid bunting, but the marquee is such a blank canvas and we were keen to inject some personality into it. The stars were a bit of a sticky point (it became known as Star Wars in our family), because we knew it was going to be a lot of work to spray paint and hang them all, but they looked fantastic on the day."
"We now have them scattered all over our home! To add a splash of colour to the marquee, we bought a variety of Liberty fabric strips to act as table runners. Each table had a different pattern, and they worked perfectly against the flowers."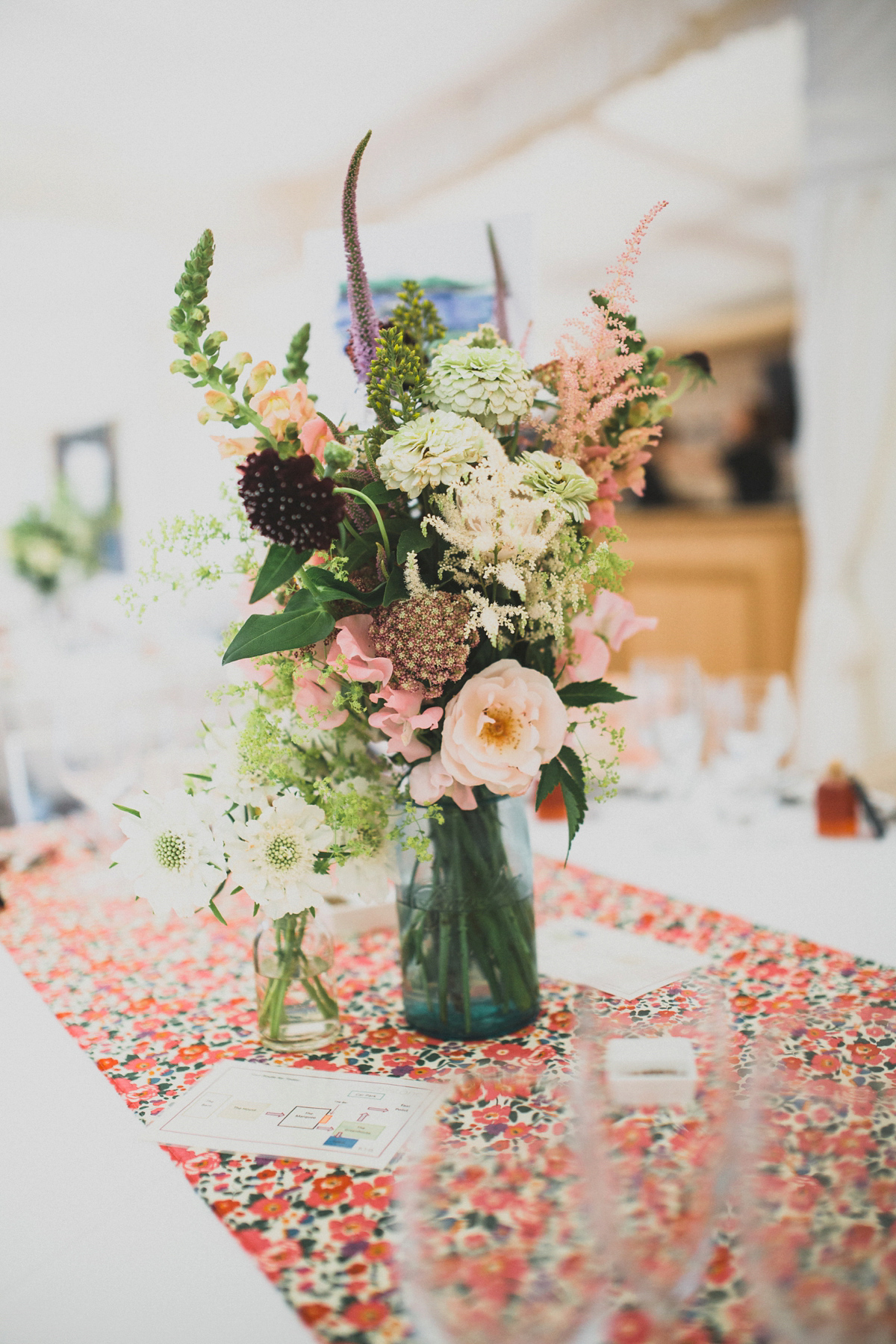 "Our tables were named after places around Devon. My mother is an incredibly talented artist, and she painted little watercolour pictures of each location for the table centrepieces. She also spent hours tirelessly writing the little gift tag labels for each of the sloe gin bottles from Addingham Fruit Liqueur to indicate place names."
"The table plan was a map of the South Hams in Devon, personalised with our names and the date of the day."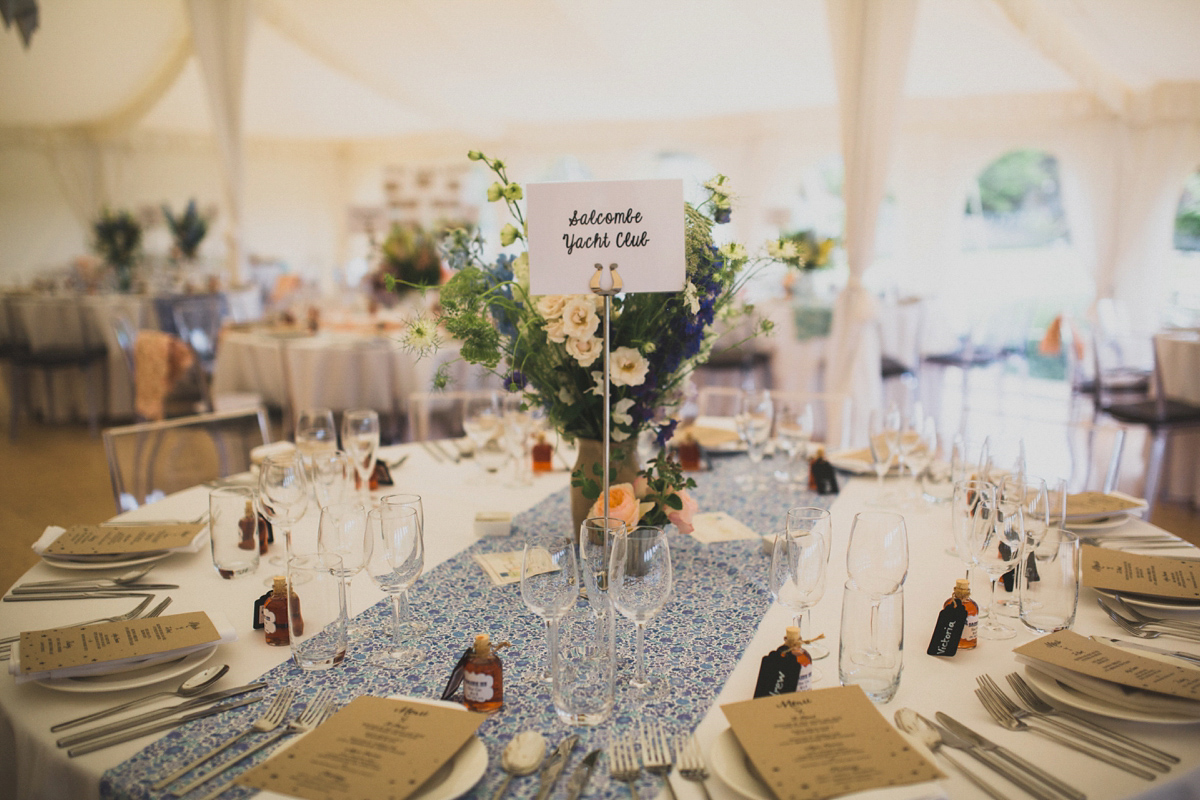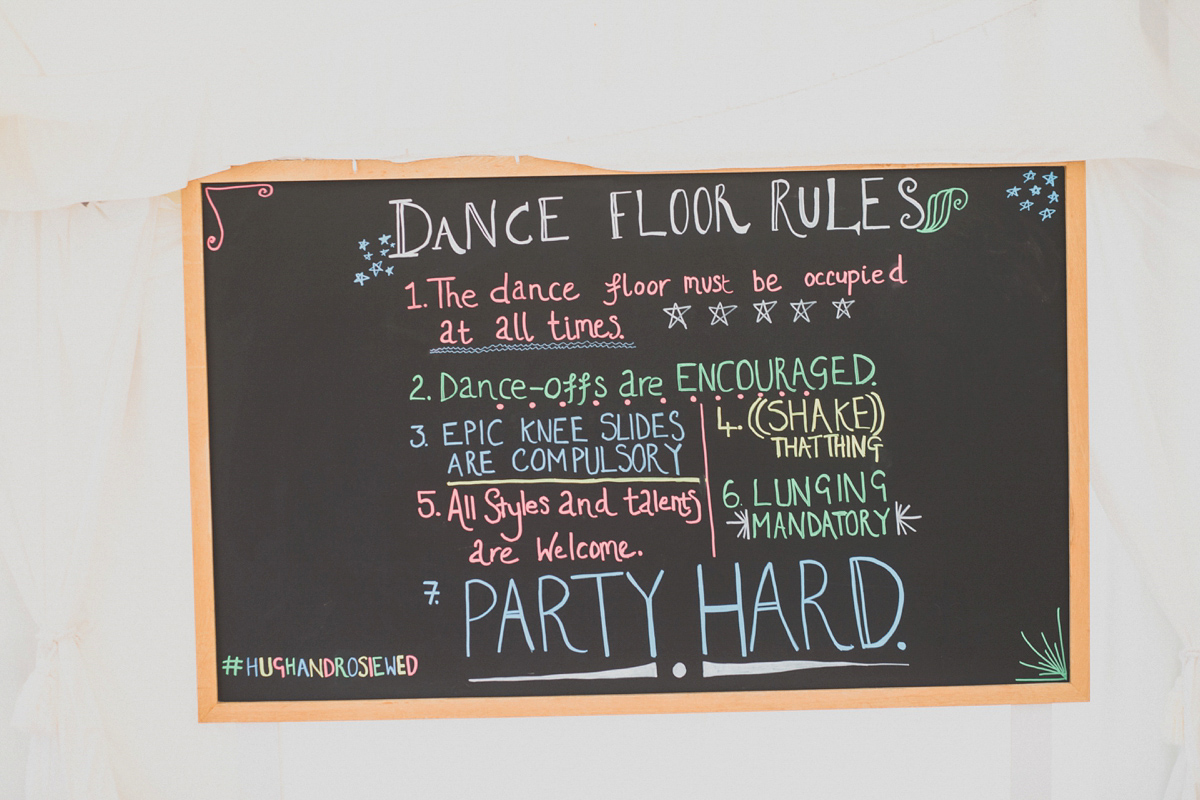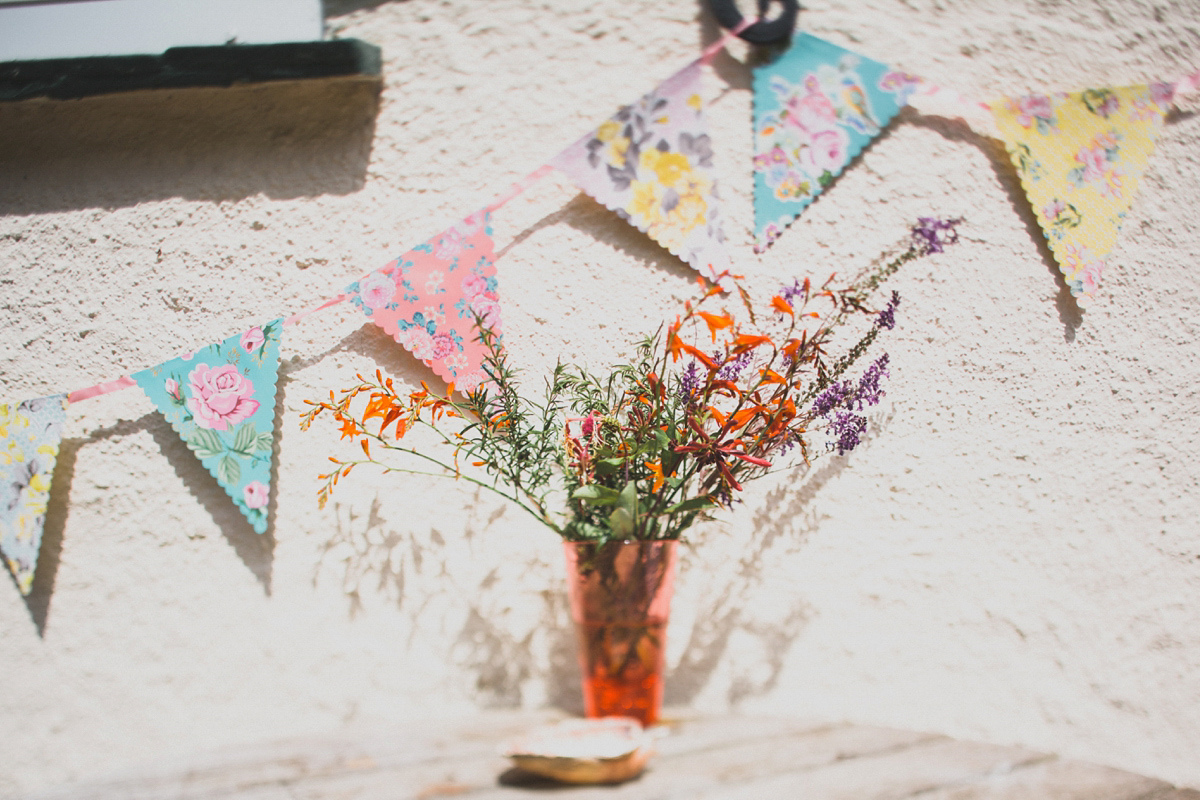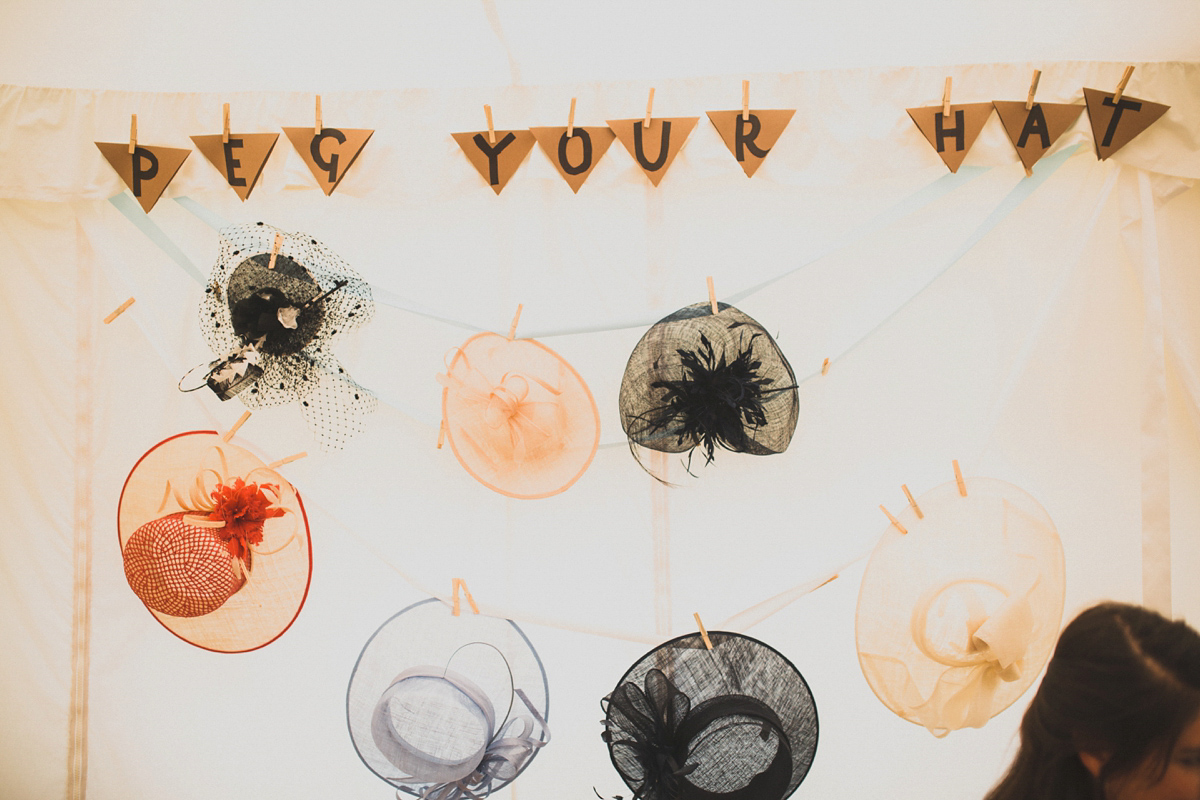 Kate Burt was the creator of the couple's gorgeous looking cake…
"Kate created a delicious naked cake filled with elderflower buttercream and wild strawberry jam and covered in fresh fruit and flowers.We both love cheese, so we also had a cake of cheese, which we found at a wedding fair. It was supplied by Godminster."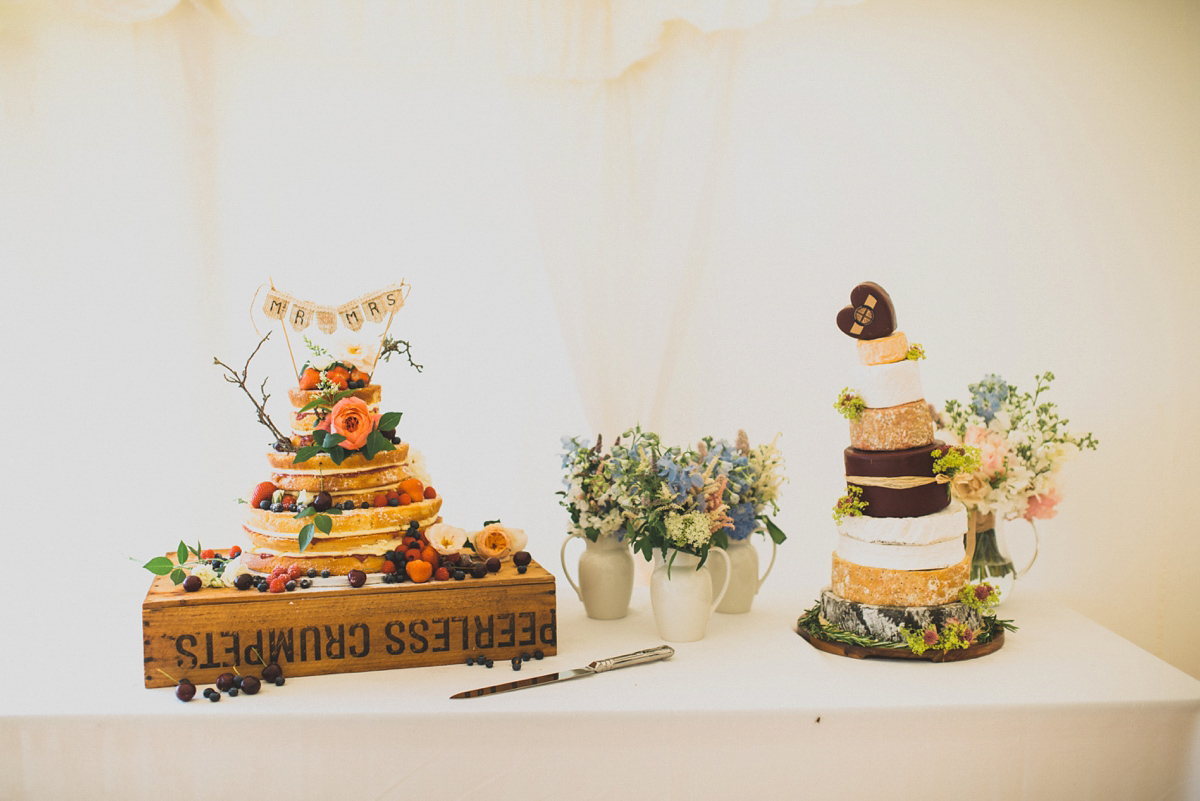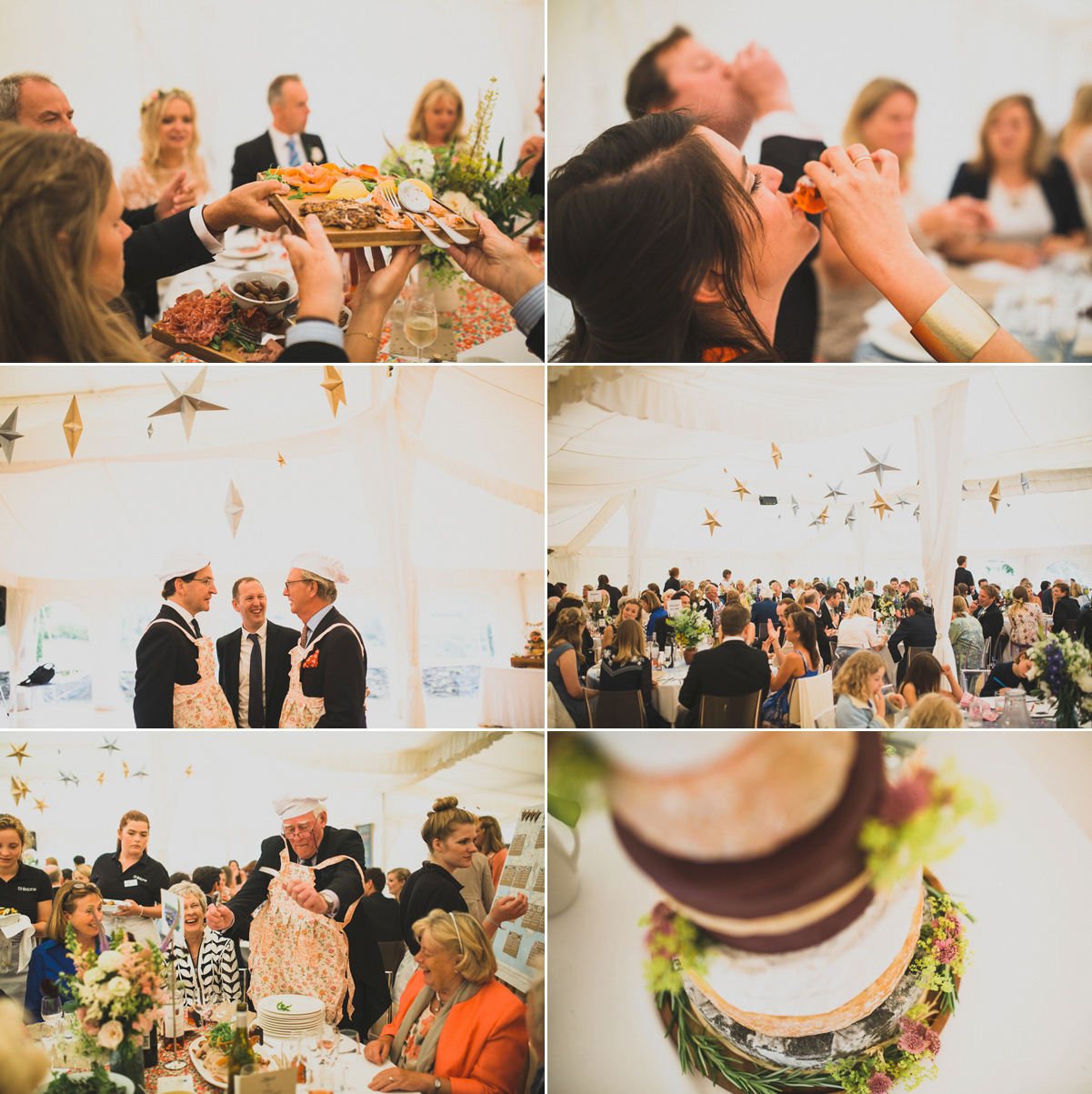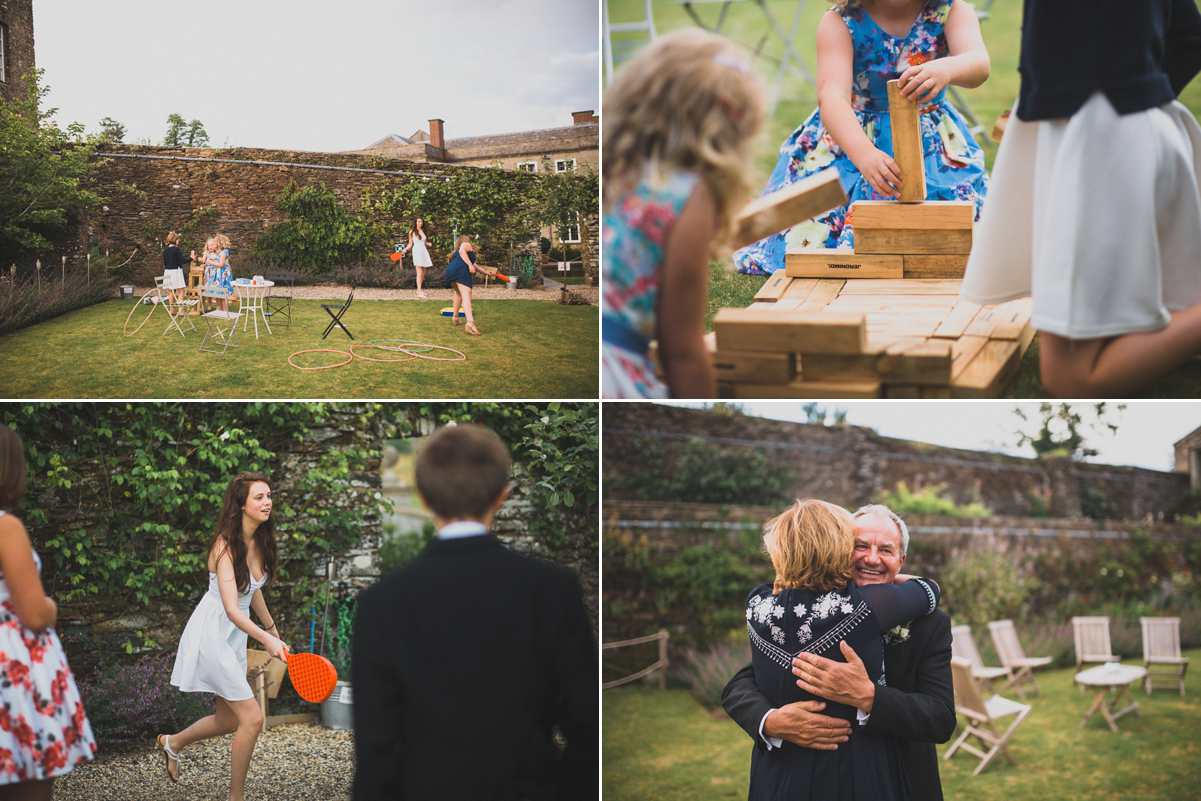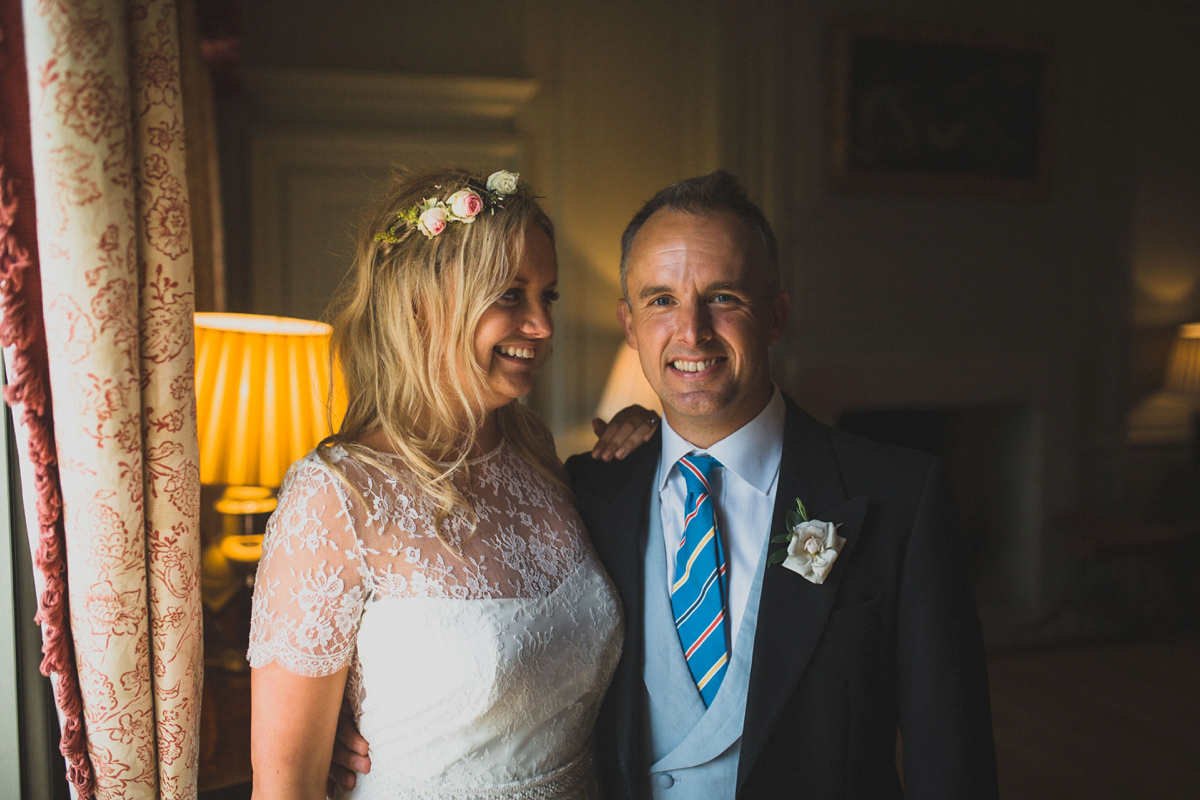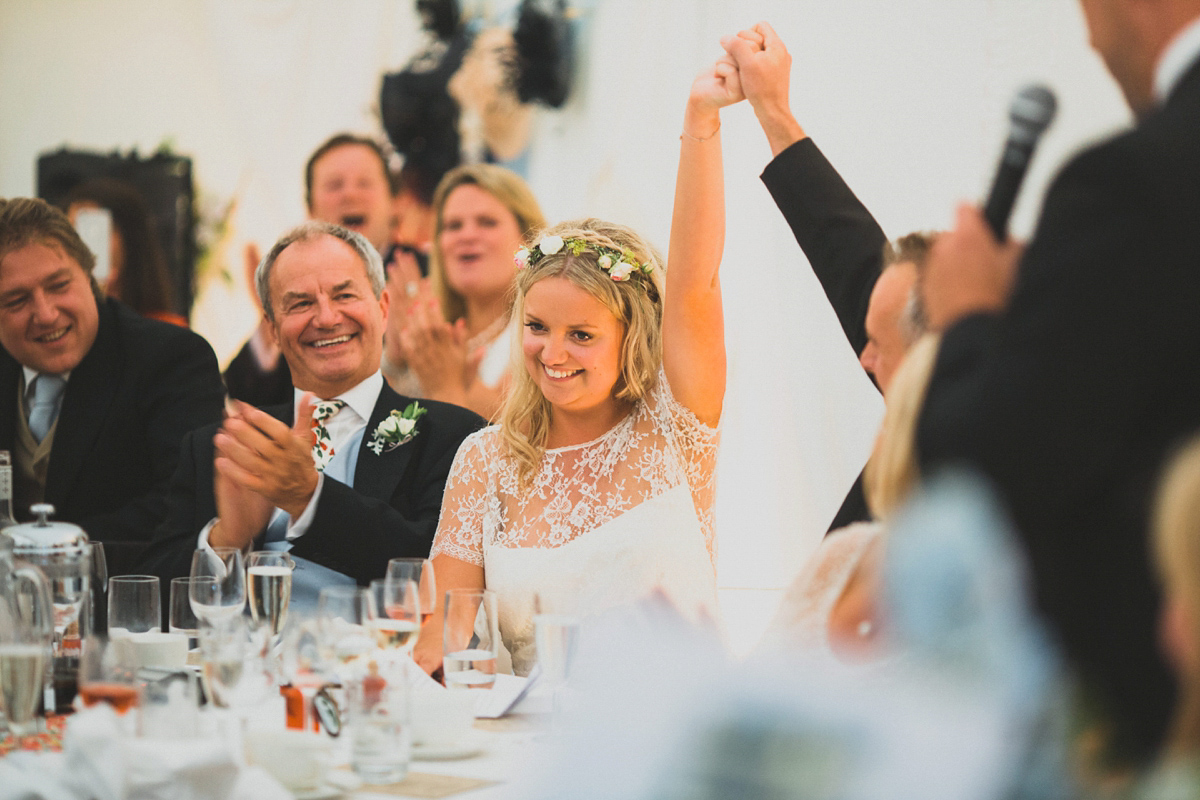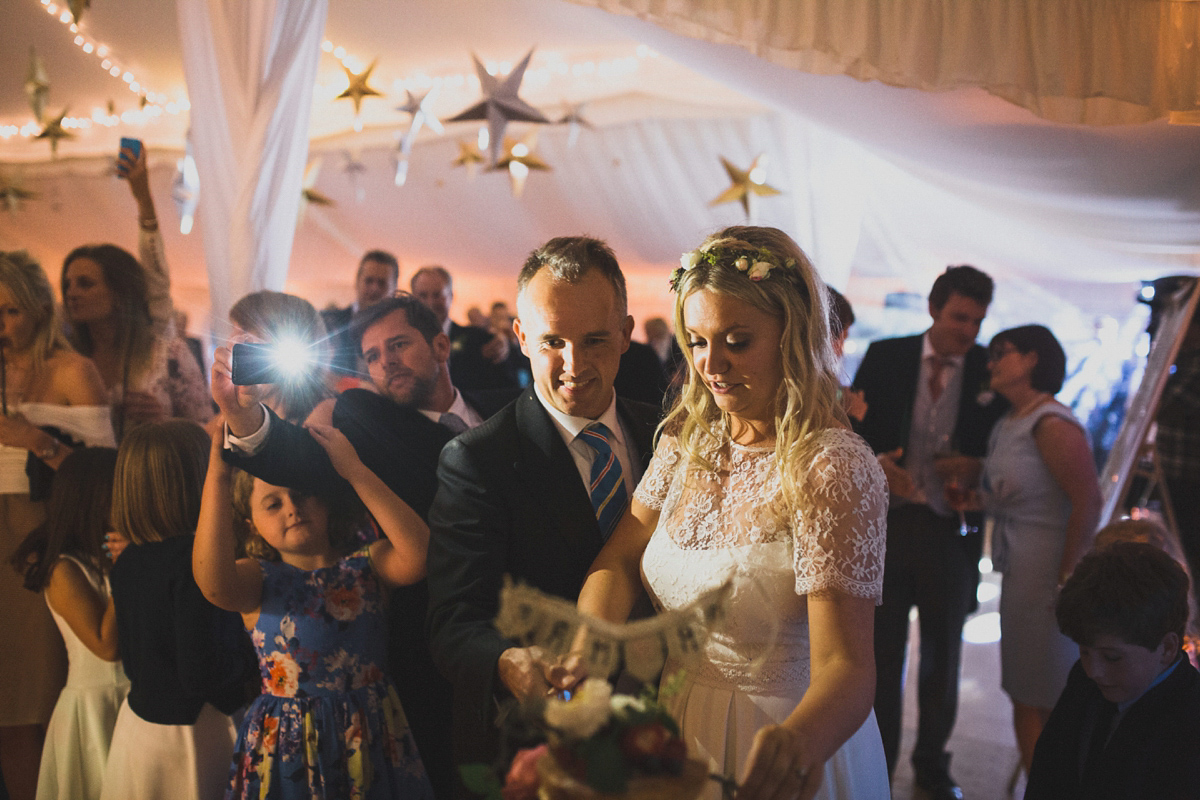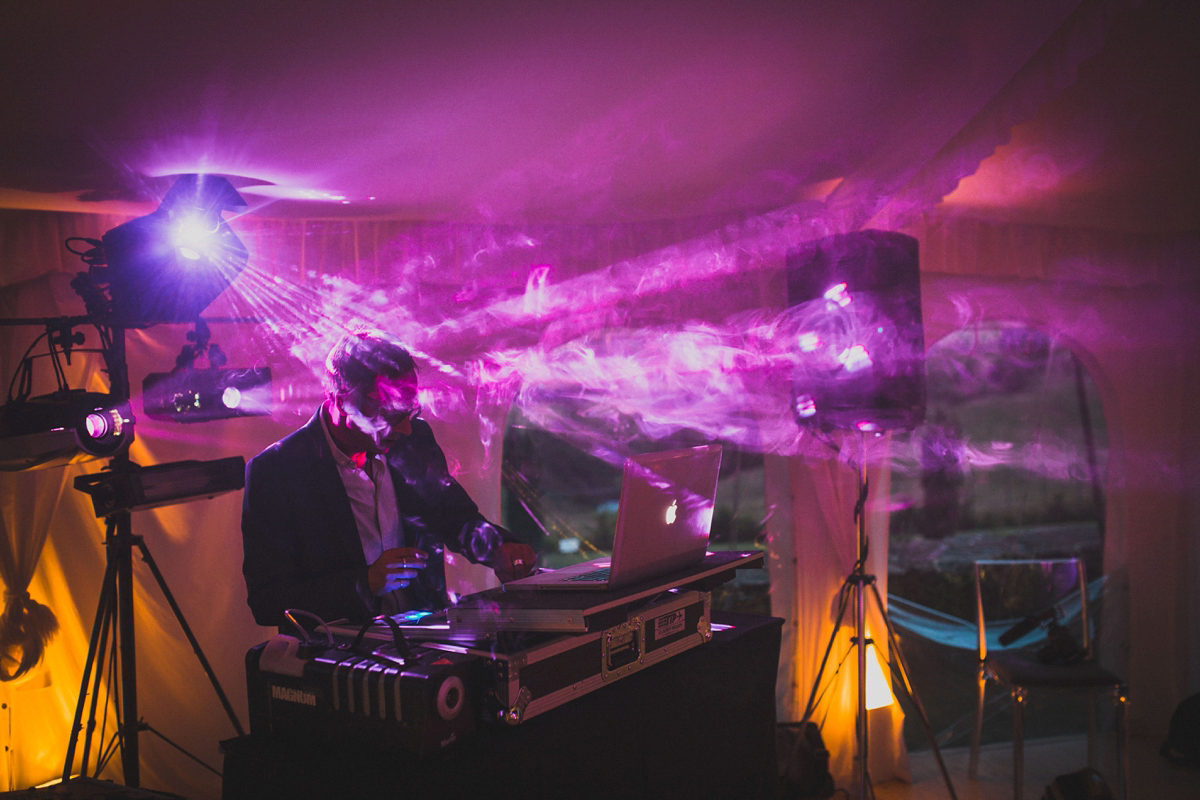 I actually squealed when I saw what this amazing couples first dance was, one of my all time favourite songs and guaranteed floor filler, what a perfect way to start the party!
"Picking a first dance was really tough, as we are both really into our music. We knew we wanted something upbeat, not a slow song. Everyone expected us to choose Mumford & Sons, who we love, or a Motown track. But we ended up choosing Love Shack by the B52s, because it is such a funny song and no one could have predicted it. We had visited a teacher and choreographed the first section. It was a fantastic first dance to get everyone to join us on the floor – and no one was expecting it."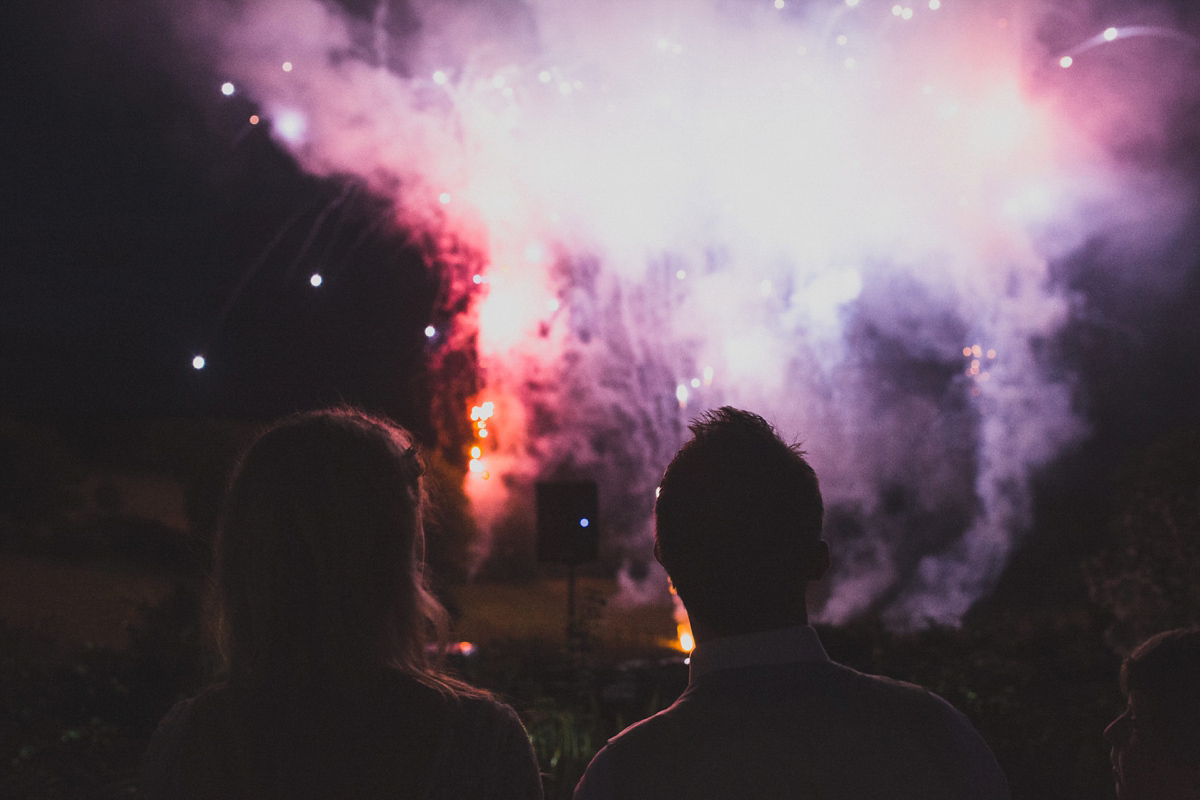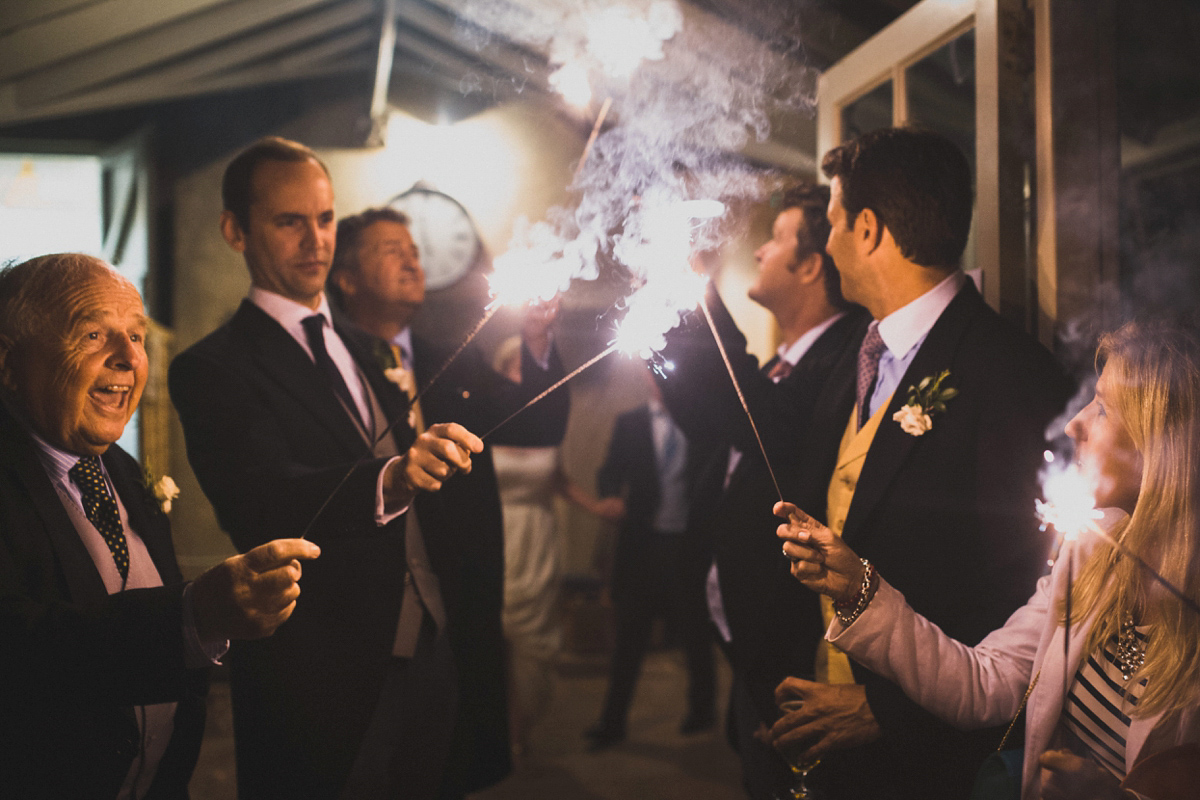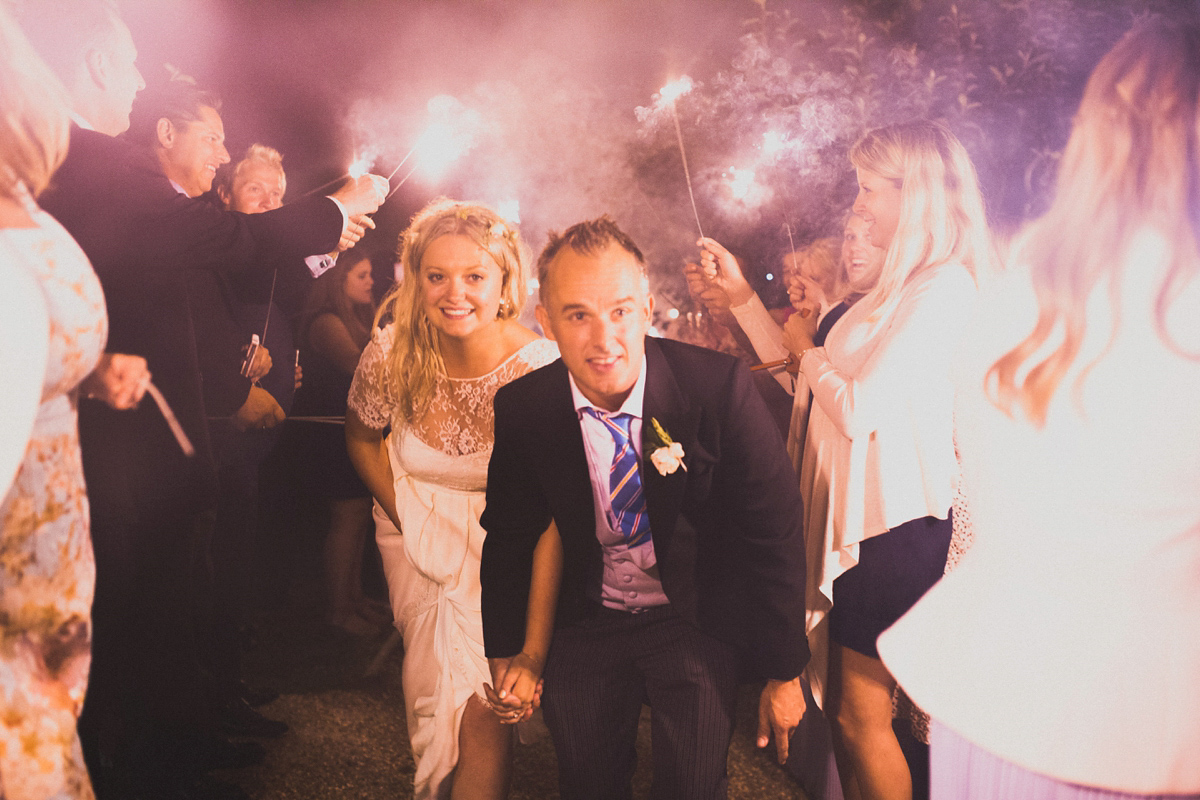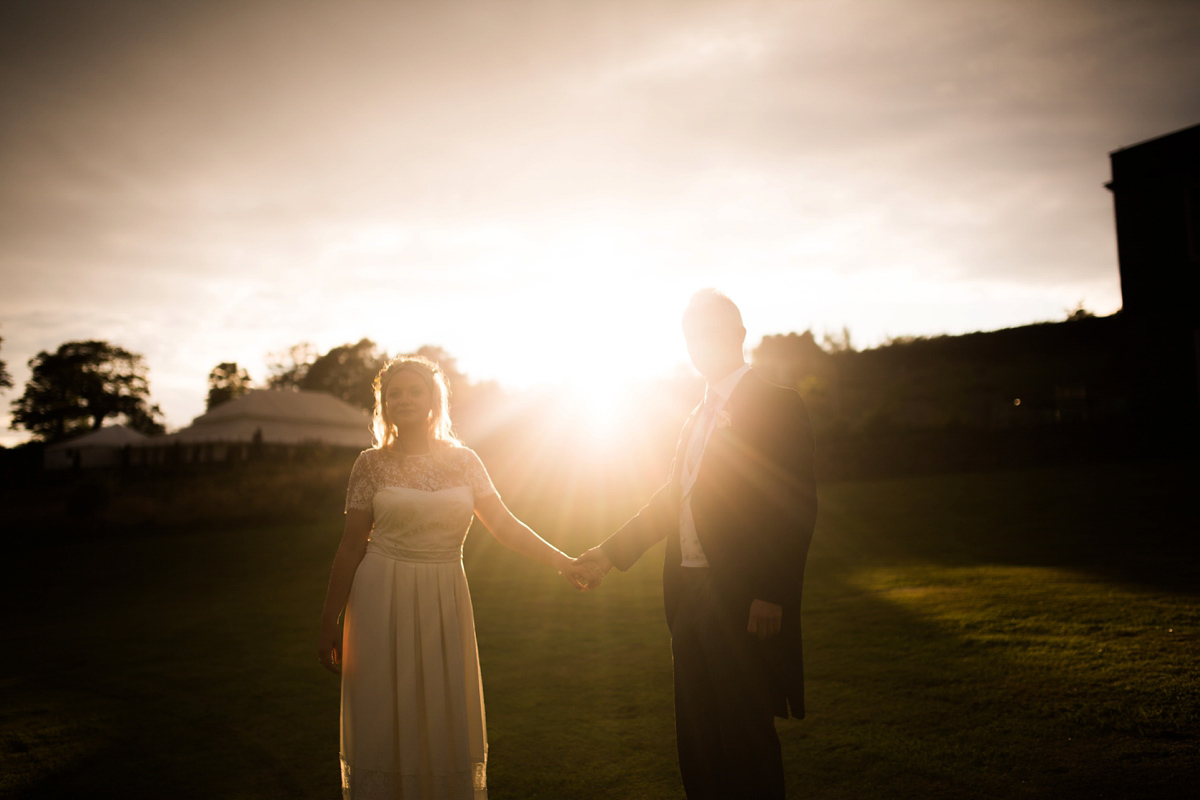 Words of Wedded Wisdom
"Pick your battles – don't get too bogged down in the detail. There's so much pressure to have the perfect day. Remember that really it is all about marrying the person you want to spend the rest of your life with – not what colour confetti or ribbon you're hanging hats from. Think about what people will actually notice on the day. I think if you have too long to plan you can get so obsessed with the finer details, and if your friends and family are telling you that you are being silly, listen to them.
I picked my battles – and I'm glad that I pushed on the stars because they looked fantastic in the end, but there were plenty of other details I thought would stop the day from being perfect, when in reality I couldn't even tell you what those were now."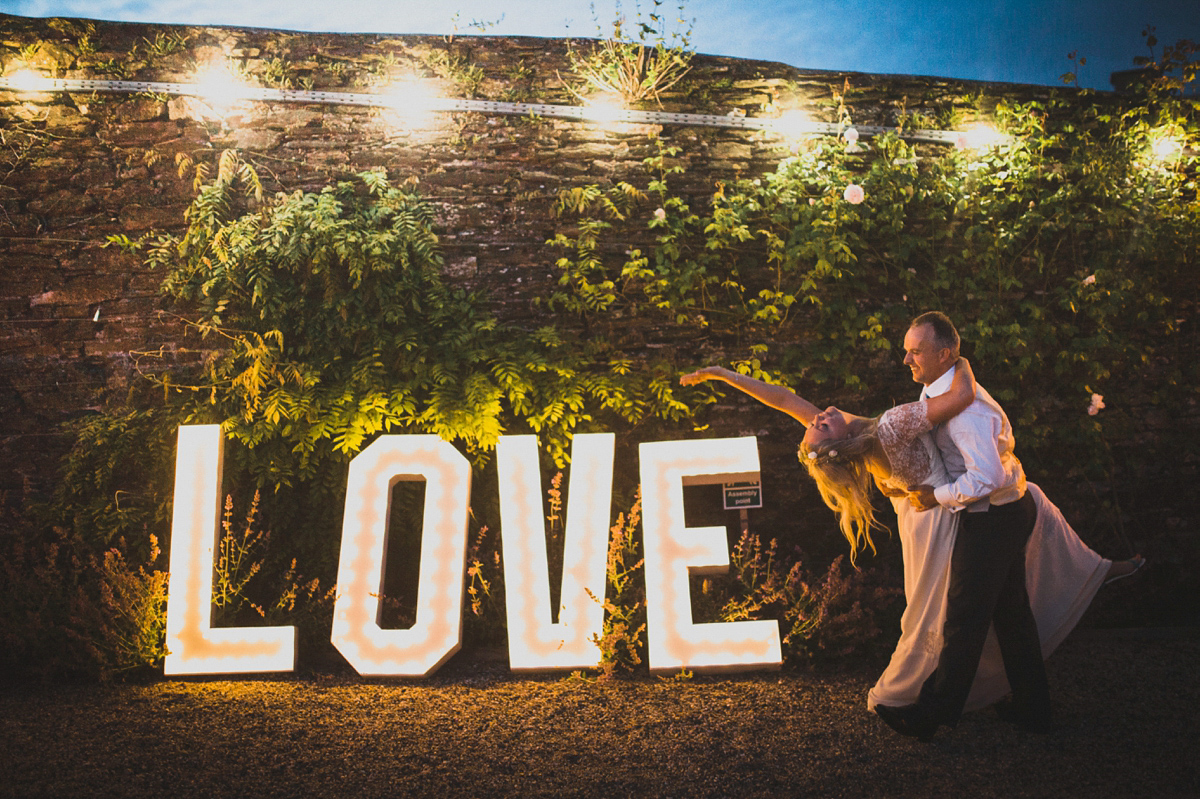 To pick your battles is a sage piece of advice, and one that will ensure you keep your sanity throughout the planning process. Decide what is super-duper important and make it happen, enjoy the rest but don't loose sleep over insignificant things, this is meant to be an enjoyable process after all!
What a lovely seaside break we have all had today, huge thanks to the fantastic Joseph Hall Photography for bringing this day to life for our enjoyment! Massive congratulations to our happy couple Rosie and Hugh, we wish you many more years of holidays in the Devon countryside as husband and wife. If all of that   has got you pining for some seagulls, have a look at some more coastal celebrations right here.
Right, bags packed, I'm off to Edinburgh. Have a wonderful weekend my lovelies.
Emily C xxxx