One of the things I loved most about my time in the UK was discovering a new village or county. My mum grew up in England and lived in many different areas, as the child of a navy seaman, so the urge to explore was in my genes. I'd take a train from London Waterloo to a random location, watching the passing scenery, and marvel at the incredible beauty of the English countryside. One little village I stumbled upon one day, with a bubbling brook and a quaint dog-friendly pub set amongst the rolling green hills, was also filled with quintessential English gardens of roses and wildflowers everywhere. I can still smell that fresh scent of the spring flowers and hear the trickling water. So I completely understand the inspiration behind this lovely couple's setting for their nuptials on the 2nd of July earlier this summer.
Sophie, a marketing manager, and Tom, a lawyer, married at Shortflatt Tower in Belsay, Northumberland and their stunning light-filled photos were captured by Amy from Amy Fanton Photography. Two wonderful suppliers from our most helpful wedding resource Little Book for Brides featured during Sophie and Tom's day – Bels Flowers (see here) provided the very beautiful blooms and Sophie's gorgeous bespoke gown and veil were by Sassi Holford (view their listing here).
"I had such a great experience when I visited Sassi Holford – they were amazing and helped me piece together the design based on a combination of a few different dresses in their collection."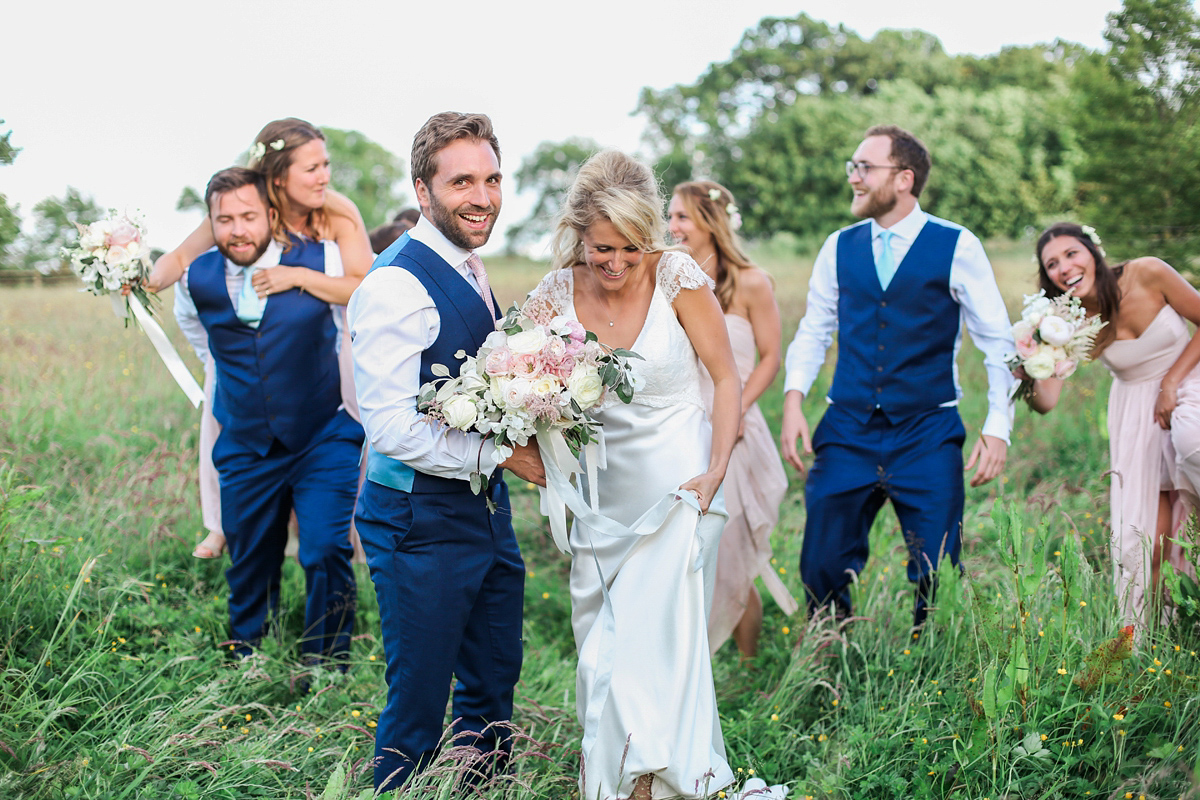 "I was looking for something quite timeless without lots of fuss or sparkle and it had to be easy to wear – I wasn't keen on anything too big or structured. I think in the end the style of my dress was elegant but soft and romantic in a simple way – the delicate lace and flowing silk felt wonderfully luxurious and bridal. The quality of the fabrics and detail of the finish and fit were really important to me, and Sassi and her team did an amazing job delivering on that."
"We used Wix to create our wedding website and Suzy from Paperfudge created a lovely illustration showing the story of our relationship so far, which we used on our website and also on some little quizzes that we put on the tables for people to have fun with during the meal."
"We took inspiration from our wedding venue setting itself in a beautiful English country garden, which was well manicured, but with a wild meadow out the back, and the gardens and flowers inspired the colour palette of rose, blush, peach and green. We were especially inspired by a beautiful old oak tree in the gardens, which was a focal point in the marquee as it sat just outside the glass end and was the backdrop to the top table."
The pretty maids wore Dessy dresses from Mia Sposa Bridal in various shades of rose, blush, and peach, then added heels from Dorothy Perkins, fresh flowers for their hair, and bracelets from John Lewis.
"The Dogeared pearls of love friendship happiness bracelets were a gift that I gave them when I asked them to be bridesmaids."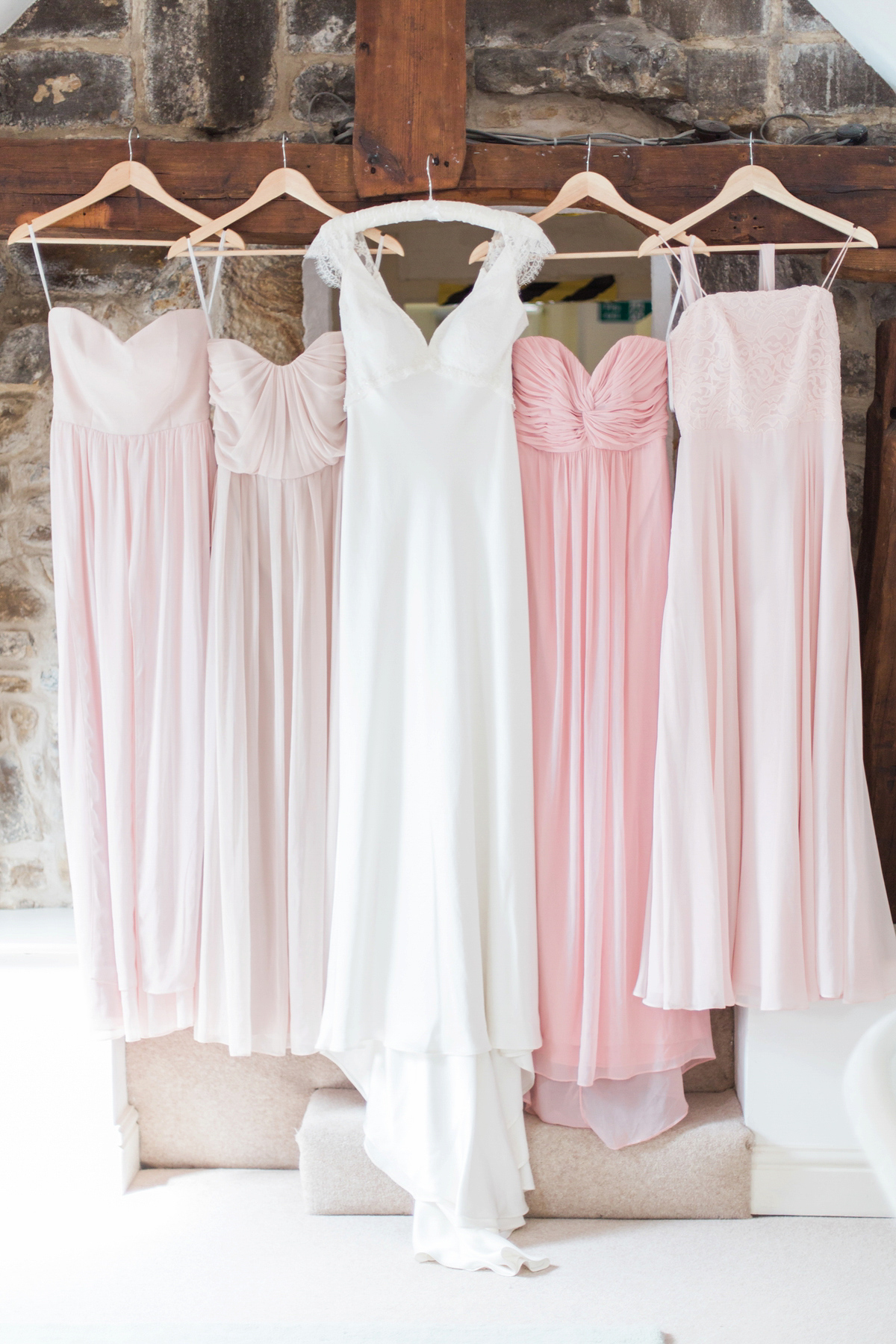 Sophie was gifted with a simple diamond pendant from Tom and she borrowed her earrings from her mum. Her beautiful pearl hair comb was from 'Jewellery Made by Me' on notonthehighstreet.com, hair was by Jonathan at Hooker and Young and make-up was by Amy Philipson from Rose and Bird.
"Amy did a wonderful job of everyone's make up and was great company during the getting ready proceedings the morning of the wedding – I highly recommend her."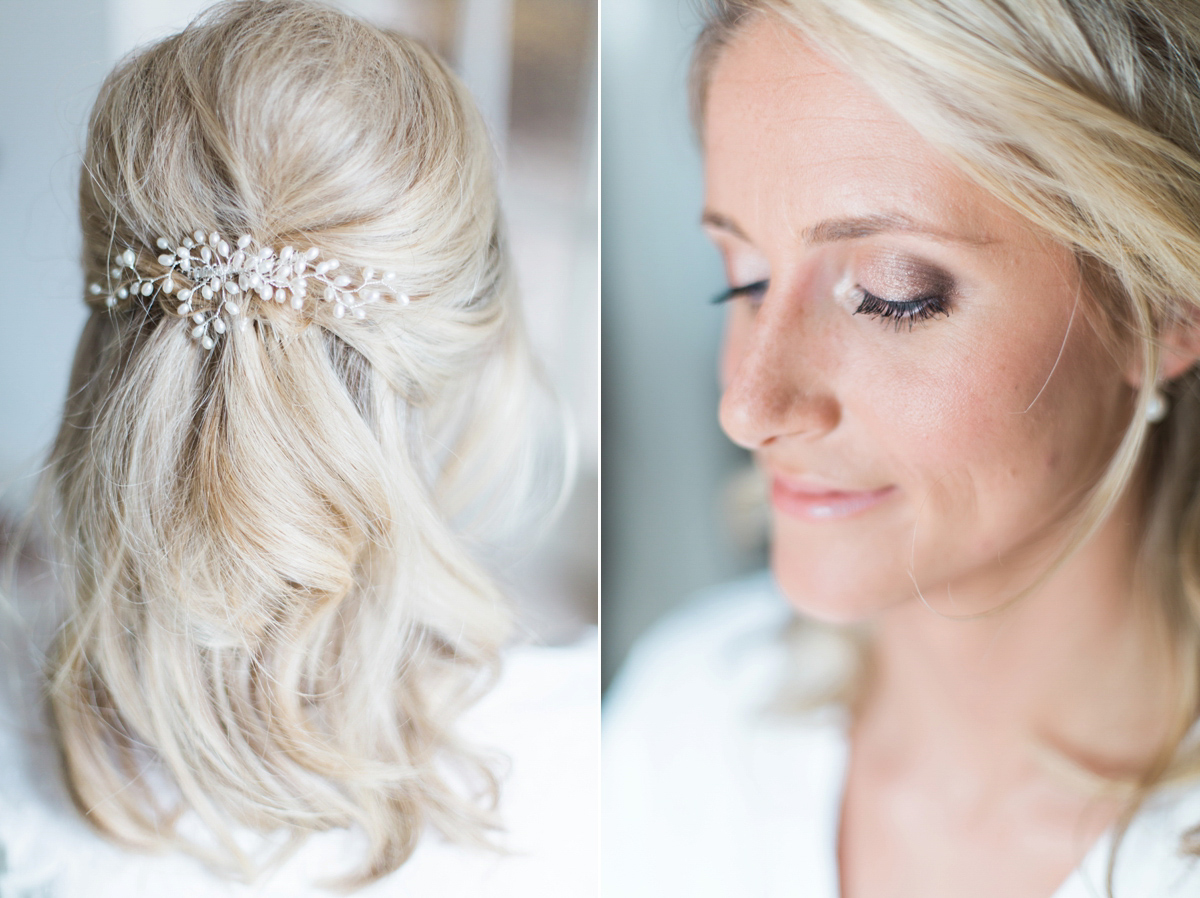 "I went to Jo Malone's fabulous bridal fragrance consultation which I would thoroughly recommend – they help you pick out the perfect fragrance and give a complimentary hand and arm massage. I chose Peony and Blush Suede as it was a beautiful fit with the style the wedding and matched the English country flowers I had everywhere. In the evening I also used their Tuberose Angelica Cologne Intense, which is gorgeous!"
x
x
x
"The fabulous Helen Mawson from Bels Flowers, who was super creative and helpful all through the process, produced the most amazing flowers which all the guests commented on! Flowers were a key part of the styling, as I wanted to enhance and celebrate the setting of the English garden we were in and bring the outside inside into the marquee."
"I chose lots of seasonal British summer flowers in a palette of blush, rose, peach and lots of greens and textures of foliage to add vibrancy and create interesting shapes. It was important that the arrangements stood out against the white of the marquee. Flowers included roses, peonies, hydrangeas, sweet peas, cow parsley, eucalyptus, jasmine, gypsophila and more."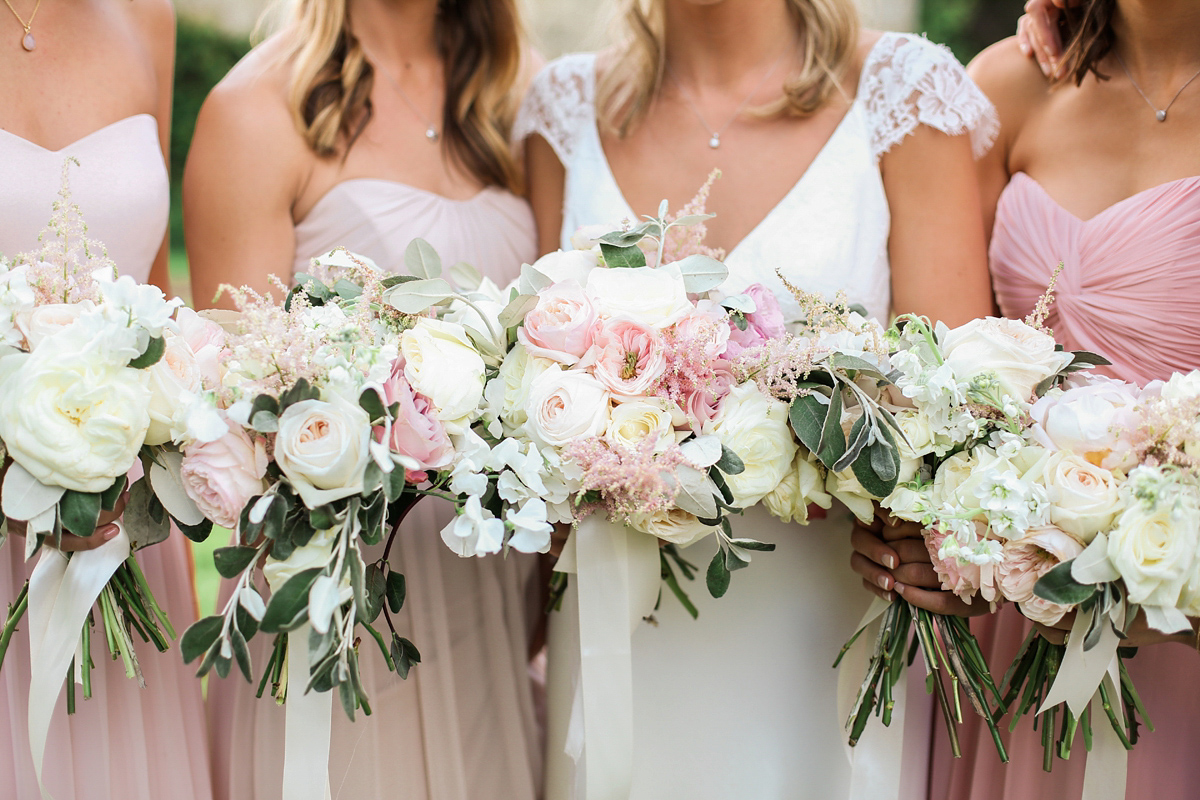 "We were in the same group of friends at school and have known each other since we were 14. We got together just before we finished school and stayed together, despite several years spent apart through a gap year travelling the world, going off to different universities and Tom being seconded to Singapore for a while before settling down in London and buying our first flat 3 years ago in Notting Hill. Tom proposed on the 20th of August last year, with breakfast in bed bright and early that Thursday morning. He had plotted with my boss to secretly book a long weekend off work so after I said yes, we enjoyed some champagne, called our families and close friends, then he whisked me off to Istanbul for 4 days where we had a magical time celebrating. It was perfect!"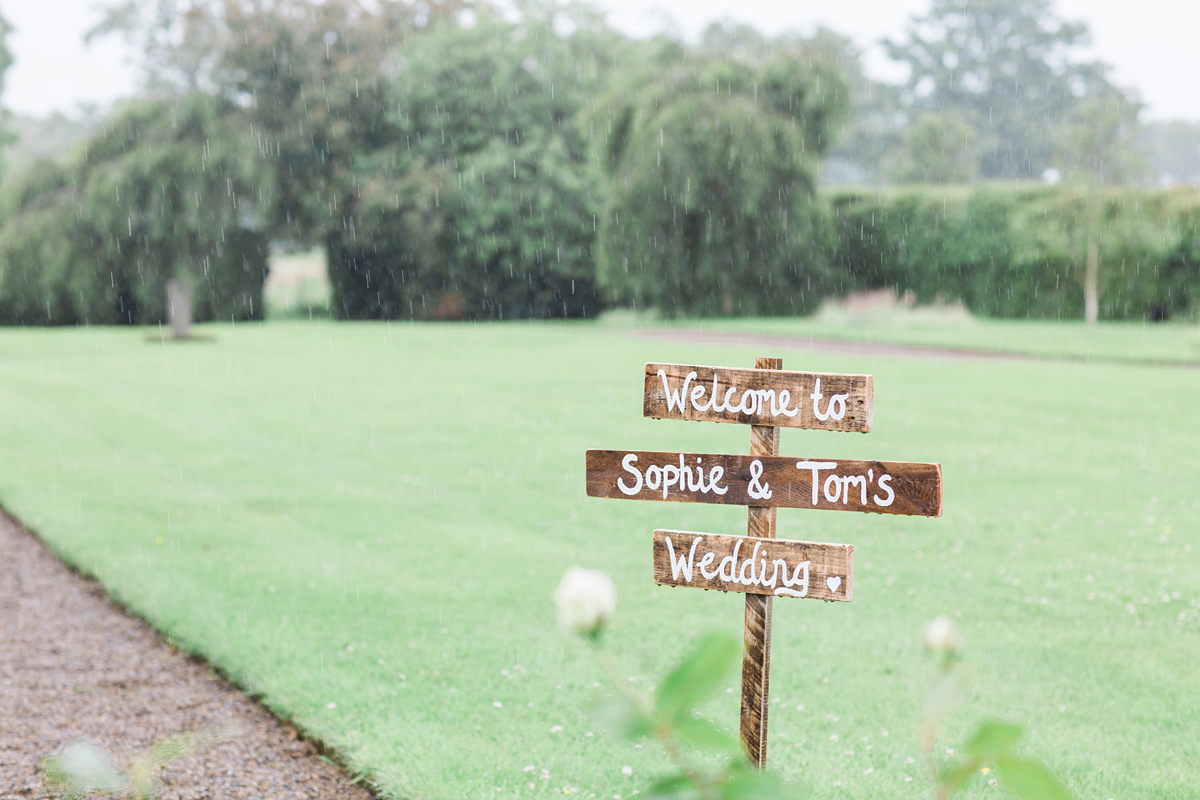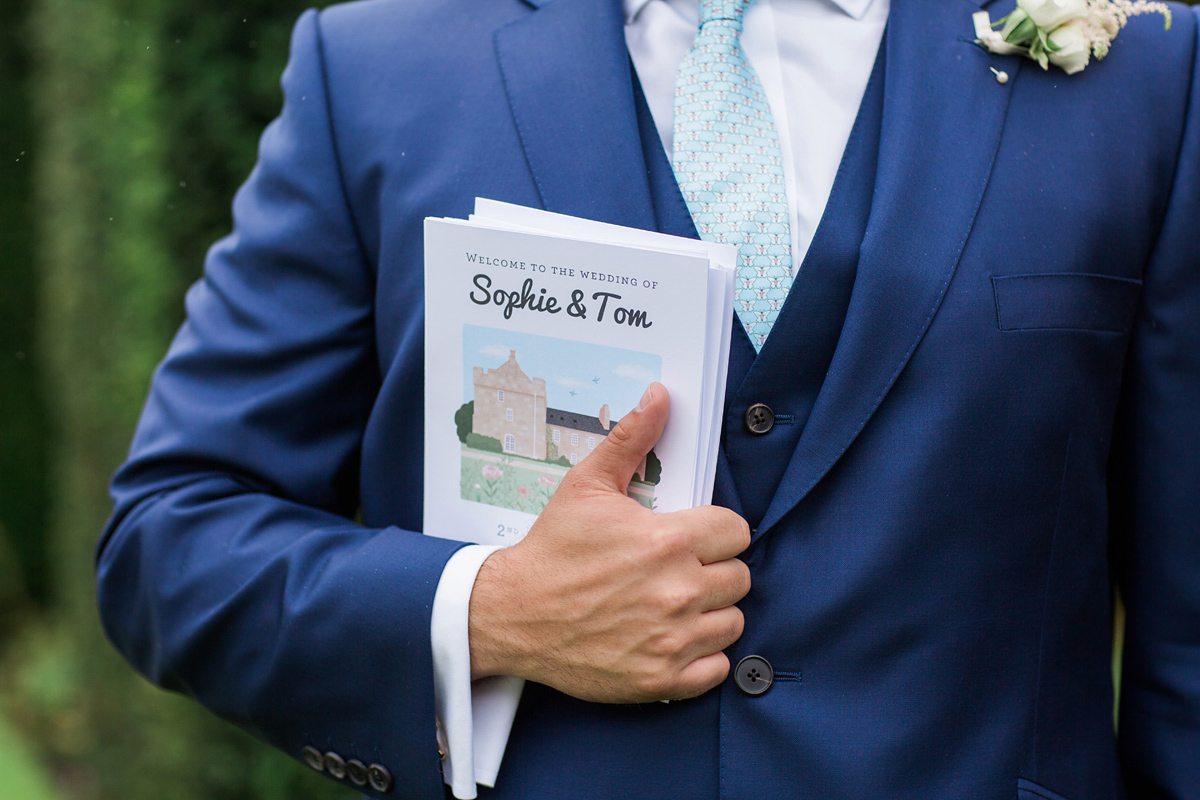 Tom's bespoke tailored suit was from Cad and the Dandy and the groomsmen's suits were hired from Yardsmen. All of the fellas wore ties from Reef Knots and monogrammed shirts from Charles Trewitt. What a stylish bunch!
"Our favourite moment was probably the ceremony as it was so personal to us (the beauty of a civil ceremony is the extent to which you can tailor it) and it was the most emotional moment of the day."
"My dad accompanied me down the aisle to an instrumental of Ben Howard's 'Old Pine' played live by the incredible Bird and the Badman, a singer accompanied by an acoustic guitarist. Then Sarah the singer did a surprise performance of 'Let's Stay Together' by Al Green in the middle of the ceremony – a little cheesy but a fun addition to the ceremony and another way to make it personal to us. The duo then played throughout the drinks reception."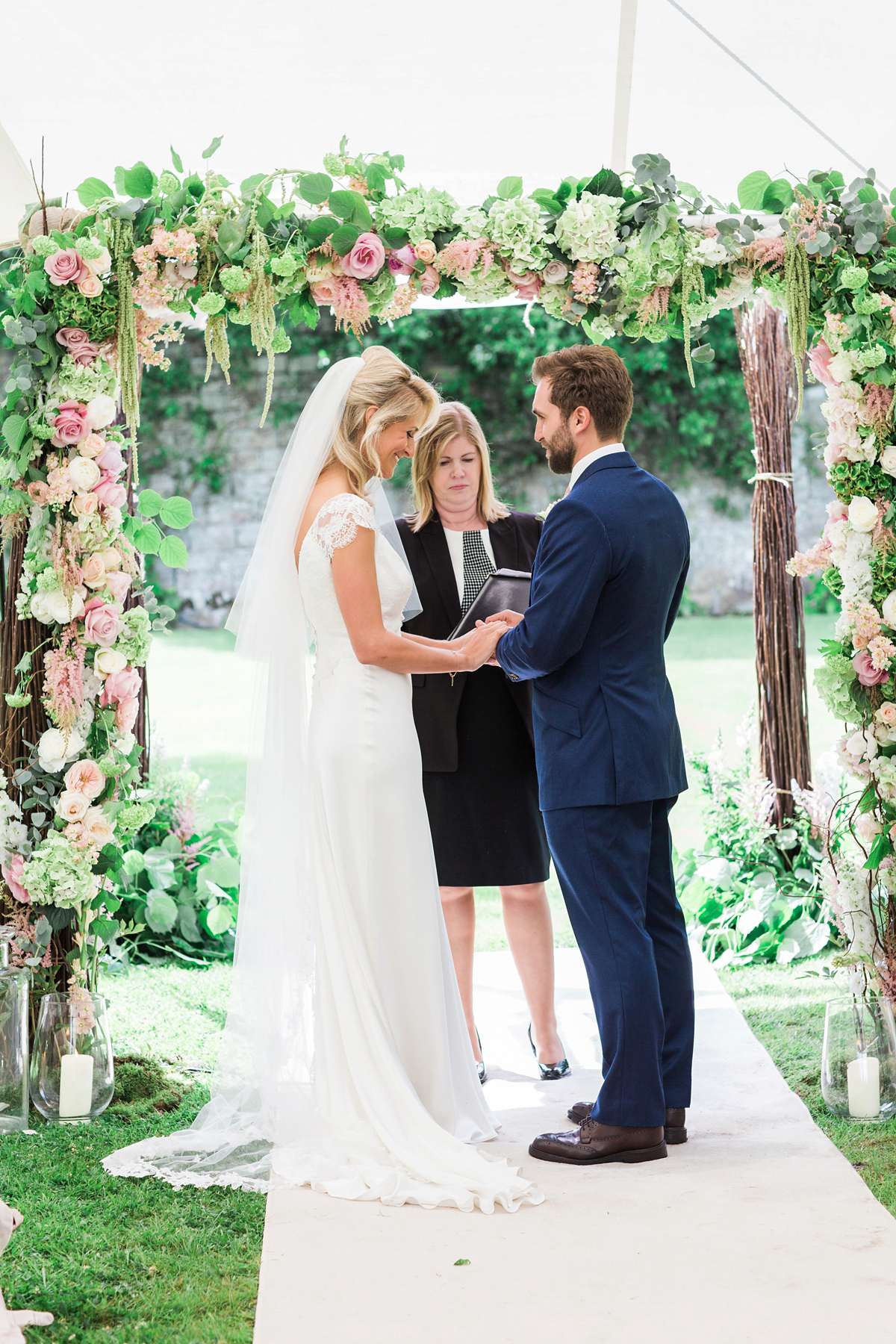 "Our rings were from Daniel Christopher Jewellery in Hatton Garden, as this was where Tom had my engagement ring made."
"We wrote our own vows and our advice would be to make sure you give plenty of time to writing them, use inspiration from the hundreds of examples found online, and agree on a rough structure/style together before you write them so that they are not wildly different and don't over complicate them. We found it was important to read them to each other before the big day, as it would have been to emotional to hear them for the first time during the ceremony in front of all the guests!"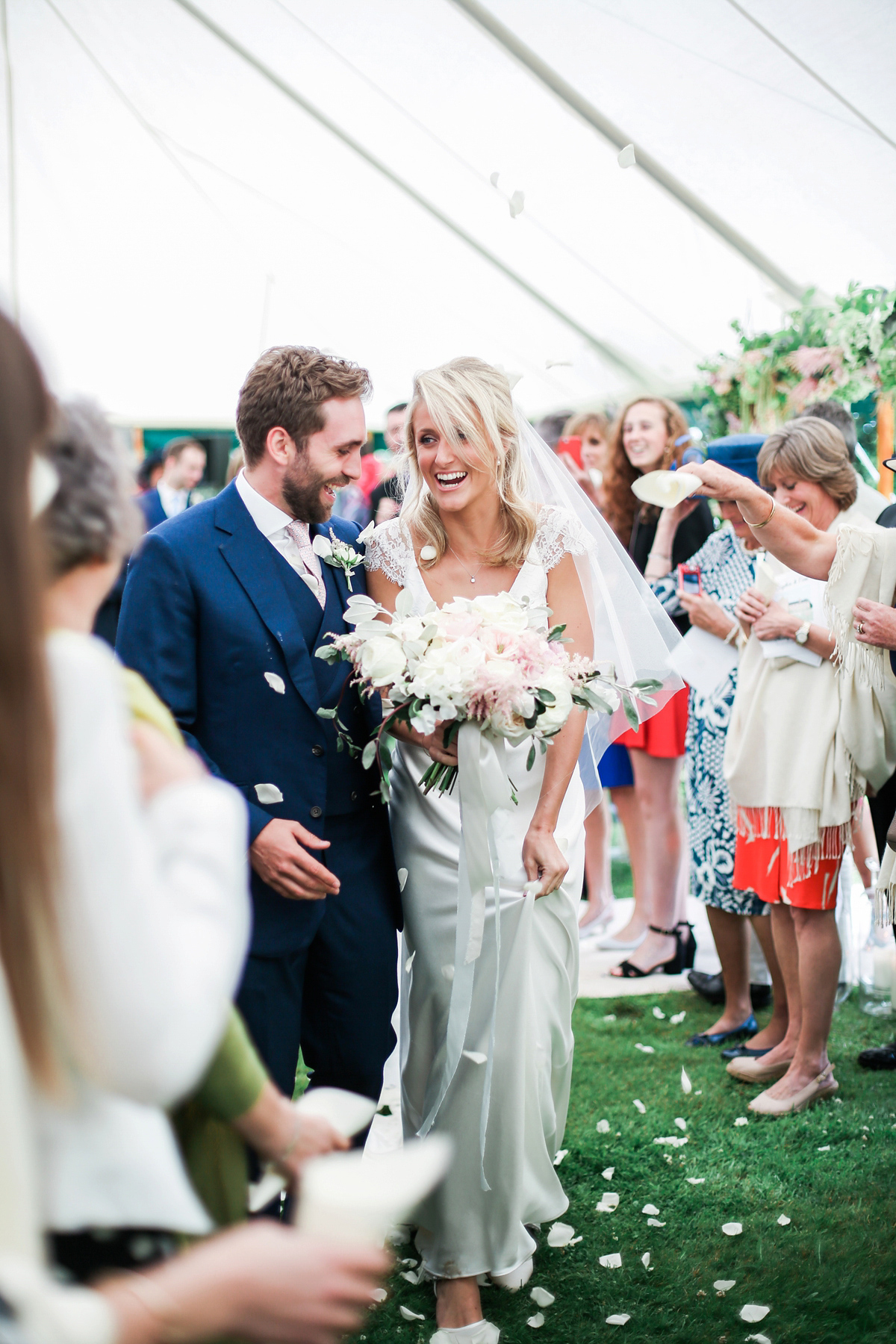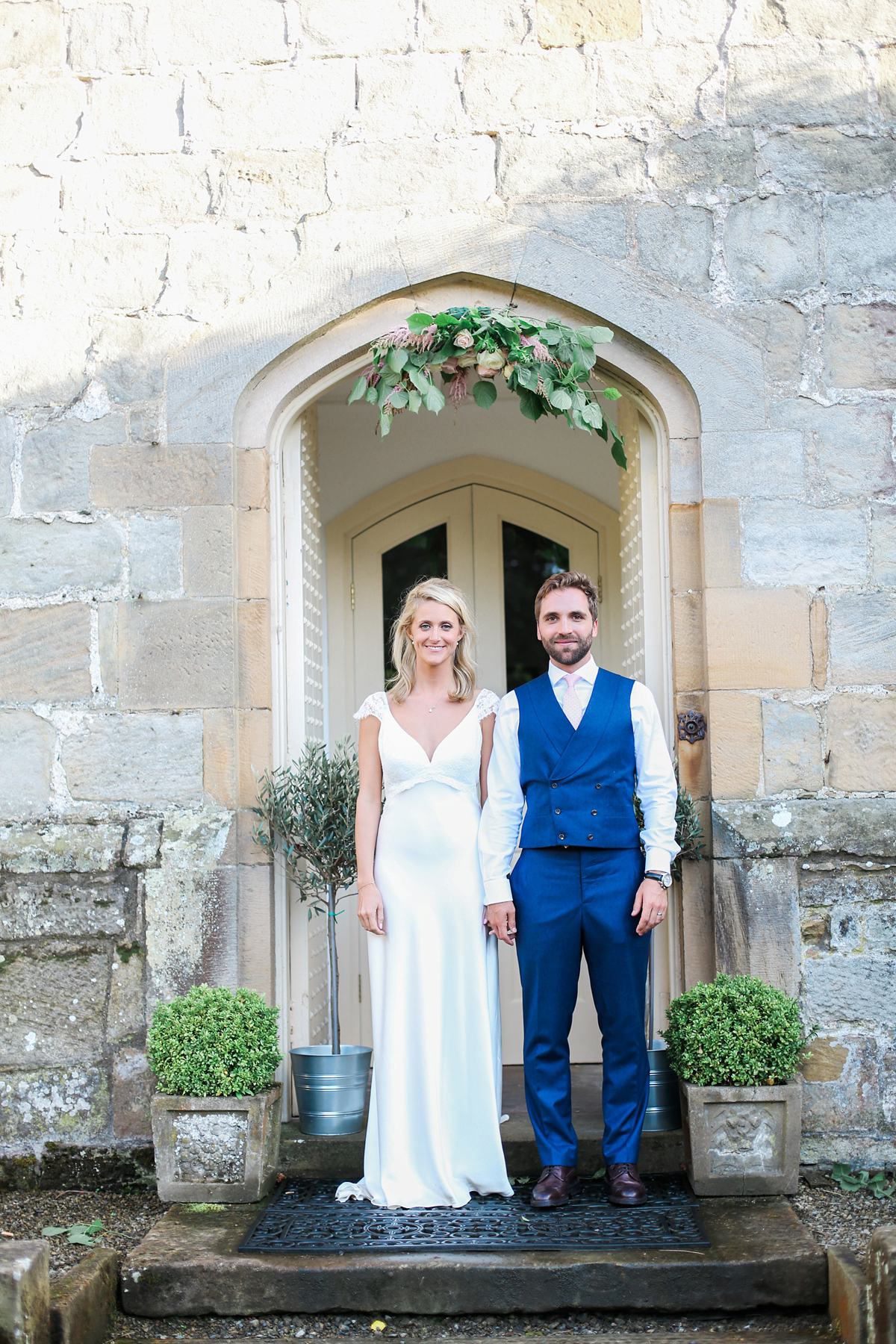 "The festoon lighting by Festoon Lighting Hire complimented the garden feel inside the marquee and included reclaimed wood chandeliers covered in flowers and foliage. Reed Weir was amazing throughout the process – always coming up with creative ideas and helping us to visualise how the lighting would look using CAD drawings."
"He also worked very closely with the florist to make sure it all came together. We were so happy with the effect of the lighting and in particular the reclaimed wood chandeliers which were such a talking point for the whole day."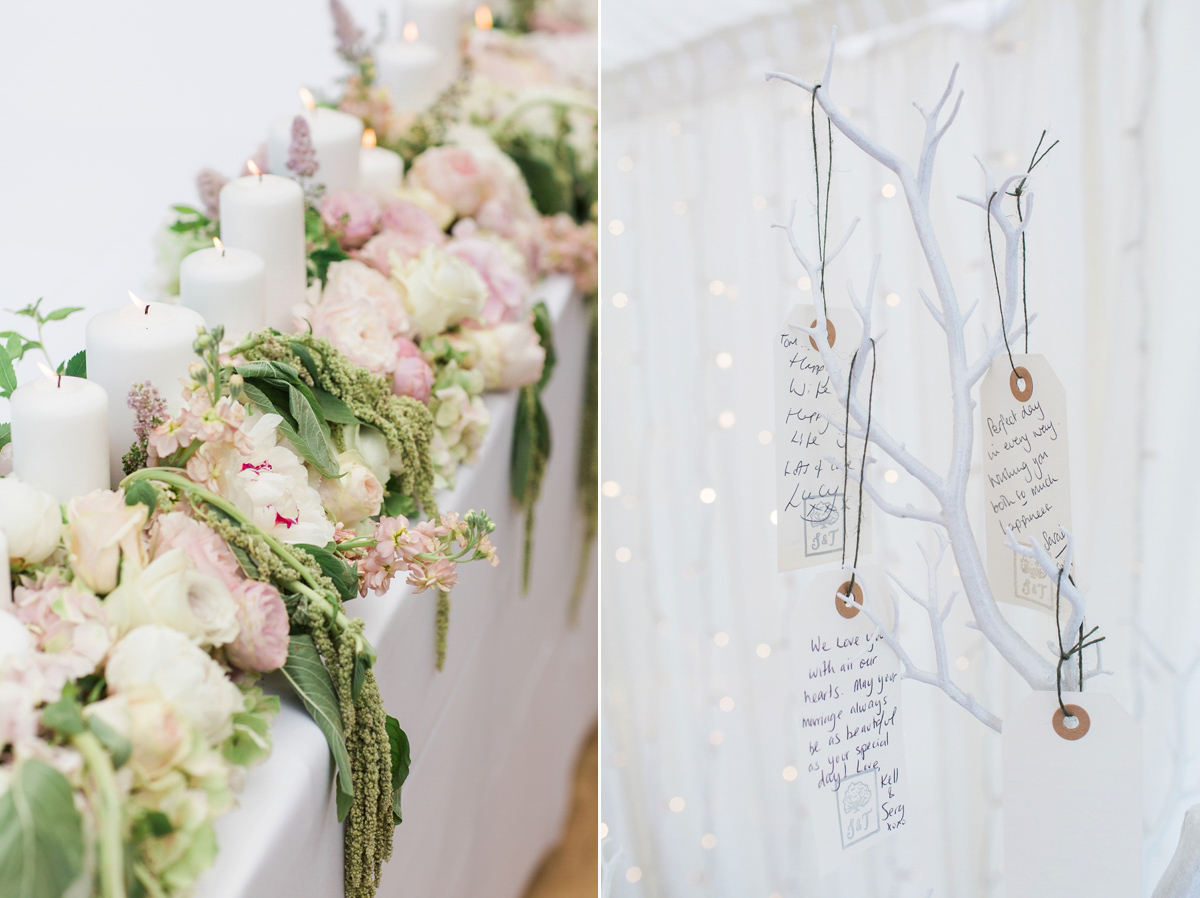 The incredibly scrumptious food was courtesy of William Brewis from Boldon Farmhouse Pantry in Newcastle.
"My family had used William many times before for family parties, which is why we chose him. The food was really important to us as foodies and we wanted to showcase local Northumberland produce to all our guests which is why we chose the menu we did. William did the most incredible job of everything and all the guests were blown away. We had canapés, seafood platter for a starter, beef fillet for main, a 'pimp your pud' for pudding, followed by mini fish and chip cones at 11pm to keep everyone going on the dance-floor."
"Each guest was given a mini succulent plant from the Curious Plant Company on ebay, in keeping with my garden theme, and each plant had a luggage tag tied around it with a personal message written on it."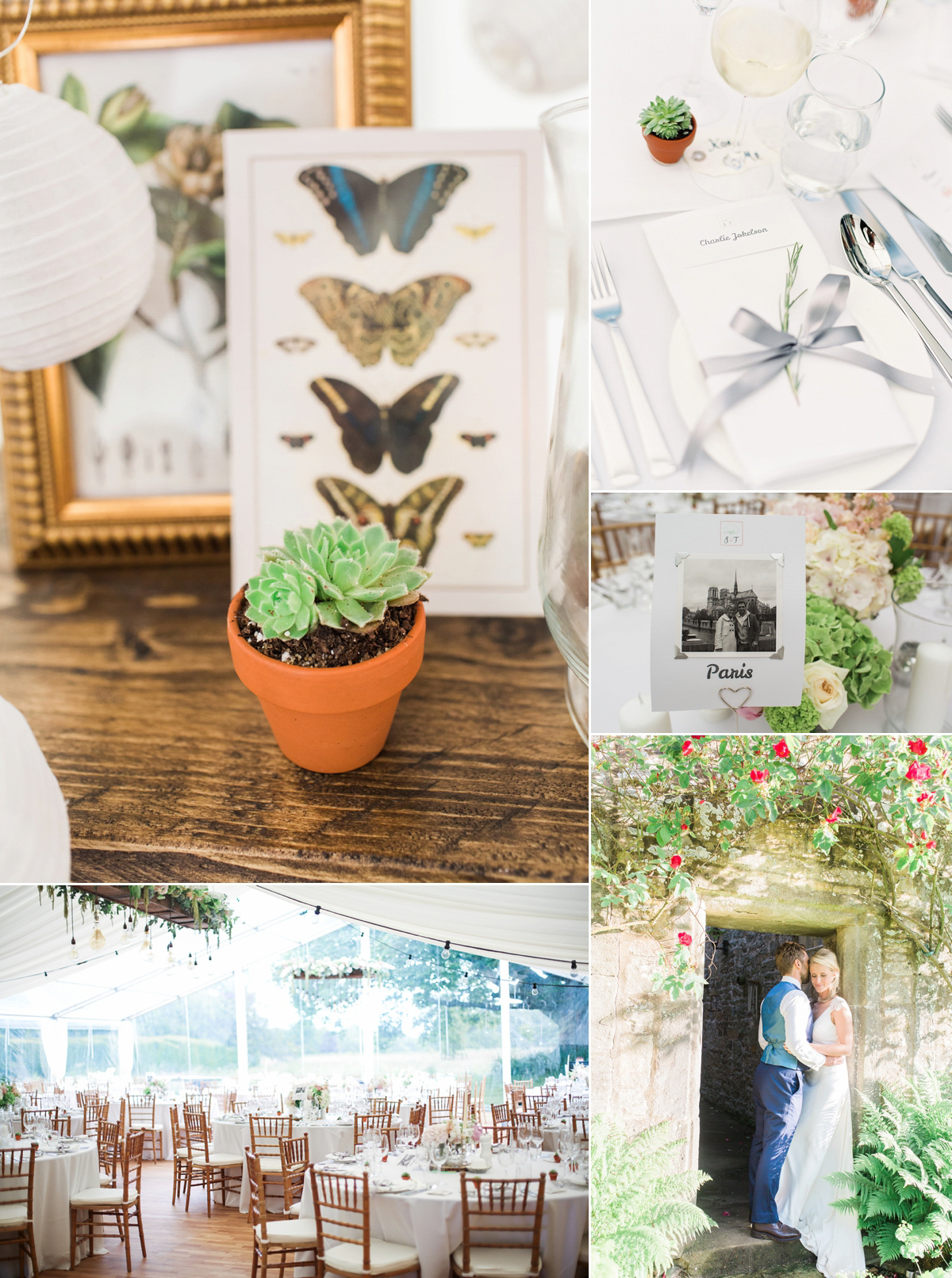 The Master Cakesmith made the couple's delicious three-tiered cake with a thick white ribbon icing and covered it in fresh flowers.
"I saw the style on Instagram and the flavours were raspberry ripple, chocolate orange and peanut butter, which we chose because they were delicious when we tasted them!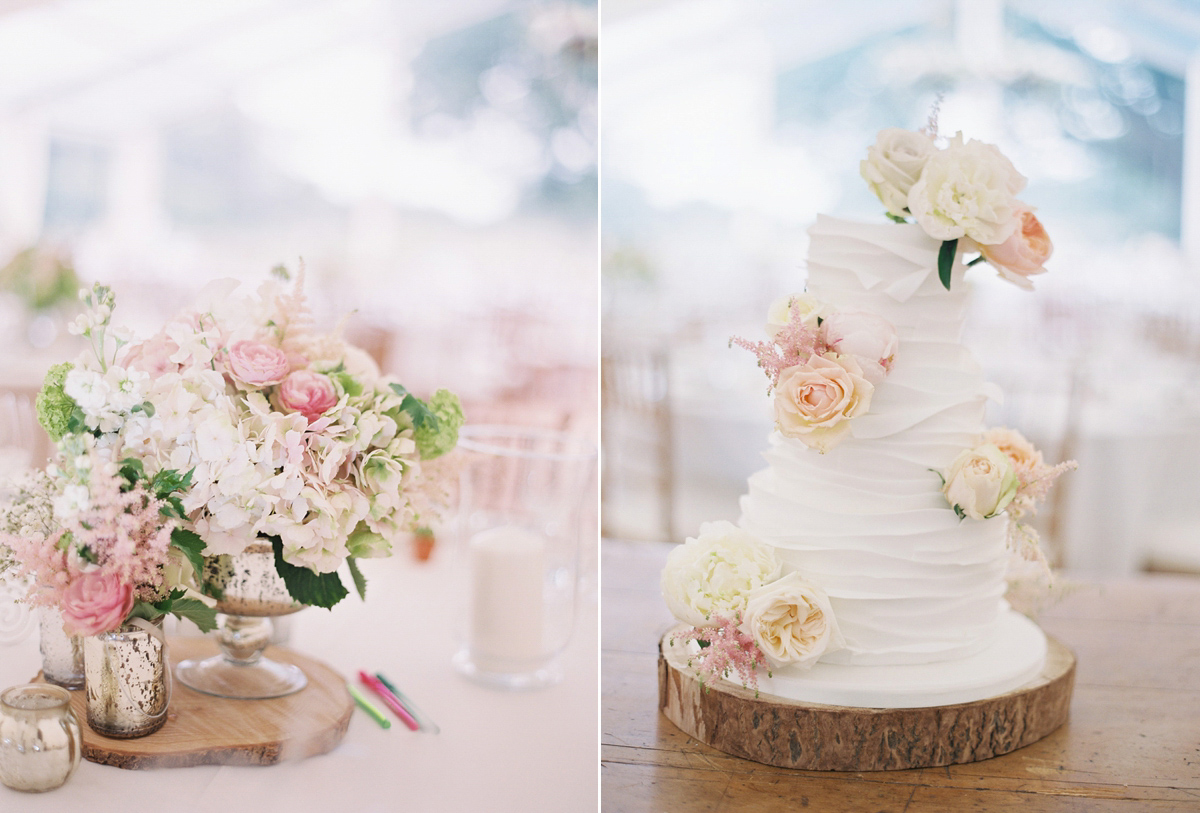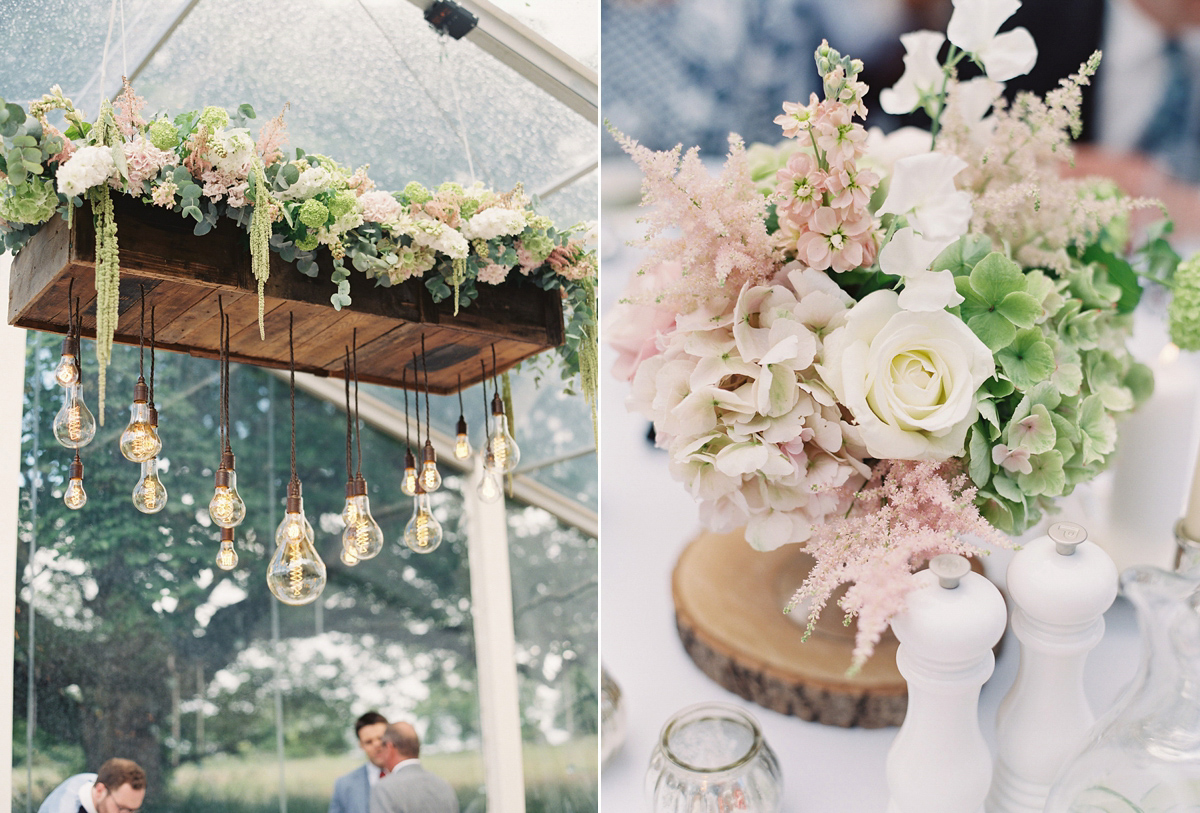 "I was very picky choosing my photographer and was so pleased to find Amy from Amy Fanton Photography. Her style is more editorial and the images are timeless and not over filtered. Being a portrait photographer she beautifully captures the emotions of the day. She is also lovely and as she lives down the road from me we met up a few times during the planning process where she was a great help with tips on styling."
"Amy talked us into doing a pre-wedding shoot as part of the package she offers, which we were a bit unsure about at first but we ended up really appreciating, as it gave us a chance to practice before the big day – and we have gorgeous photos too!"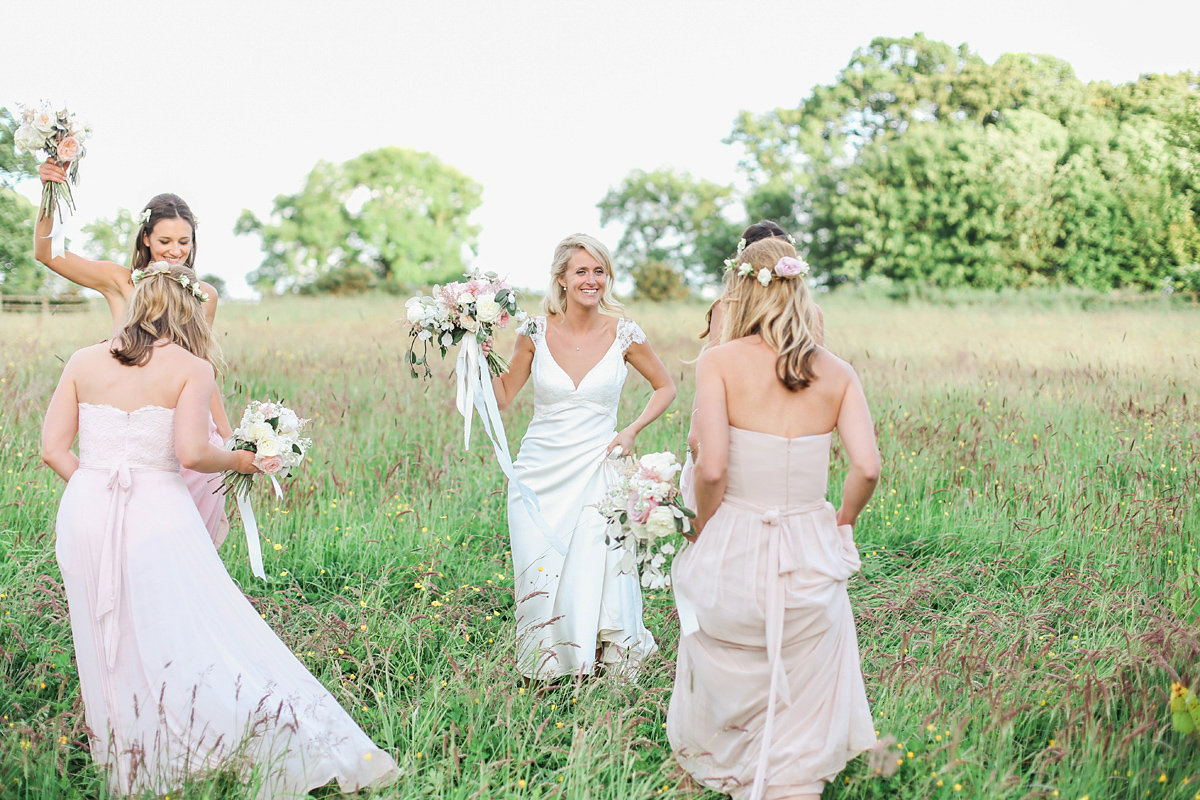 Event Prop Hire provided the bar and seating and the photo booth was supplied by Ross at Snaparazzi Photobooths. In the evening the London based band Forza had the dance floor full from start to finish and played an acoustic version of 'Latch' by Disclosure/Sam Smith for the couple's first dance song.
"We really like the song and the lyrics were perfect and it was a bit different to your traditional first dance song."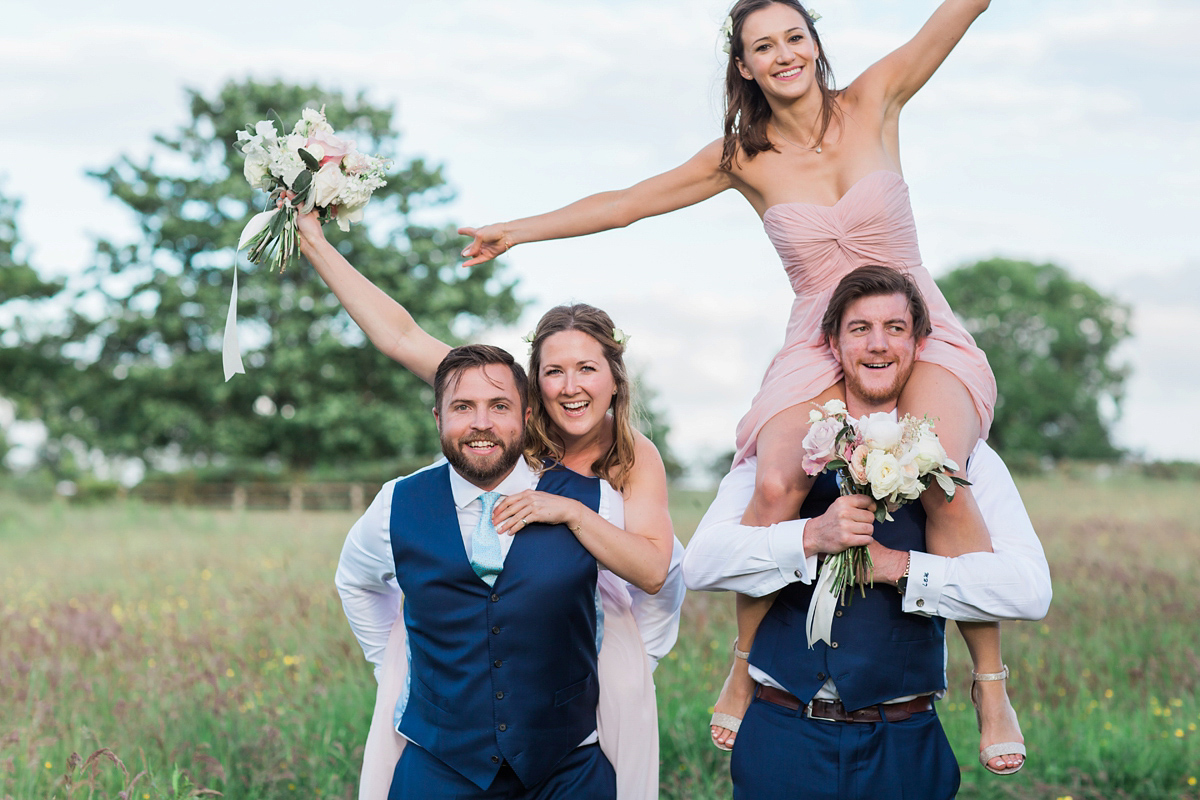 Words of Wedded Wisdom
"Don't stress about all the little details! I'm not saying not to put energy into them because I know I did and I really enjoyed it and our guests did appreciate them, but they're not worth worrying about because they don't make the wedding. On the day it's the big things that really matter – the emotion, the people, the atmosphere, and how you feel."
Golly gosh, I literally cannot stop staring at the images of the styling inside the marquee. What is it about festoon lighting, flowers, and wooden chandeliers? Just amazing. And Sophie was a picture of grace and elegance in her divine dress. Sending a huge thank you to the couple for sharing all the special little moments and to Amy for capturing these so beautifully.
For even more inspo, I urge you to check out the new Twenty17 collection by Sassi Holford that Annabel shared recently – it's utterly divine.
Have a relaxing rest of weekend lovely ones.
Love Jo -x-